The 25 Best Laptop Bags For The Digital Nomad
Look down at your bag — or backpack. If it's not very laptop-friendly despite the fact that you carry one on a daily basis, know that we're here to help you take care of that issue today with our list of the best laptop bags for men. Looking for a laptop bag requires a keen eye — one that focuses on clean, crisp and effective design, plus sharp functionality, rugged toughness and useful style. Our list of the best laptop bags contains plenty of bags that check all of those boxes, and then some.
If you're a bike commuter, a subway straphanger or a speedy-quick driver, you can no doubt put to use of one of the best laptop bags — that goes for whether you're toting your laptop to a coffee shop, a weekday work meeting or a cross-country flight.
We've rounded up picks that combine style, functionality and more than a bit of fashion and function. You'll certainly be pleased, whether you go the more affordable route or a laptop bag more premium — either way, your laptop is well-protected.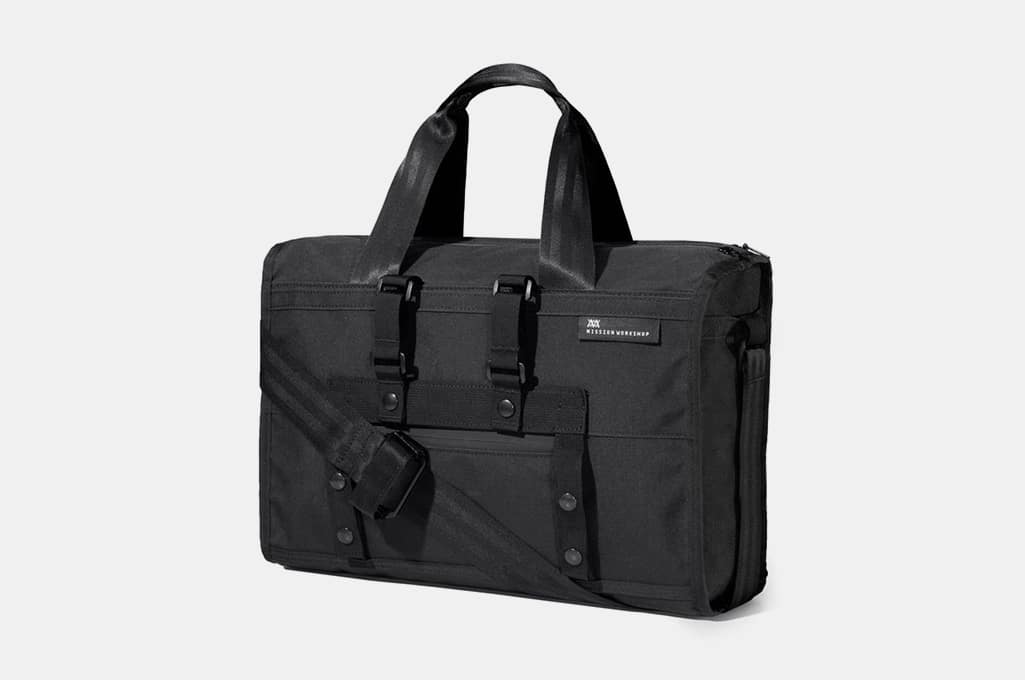 Mission Workshop Transit Laptop Bag
For rugged good looks, extreme durability and a commuter-ready sense of protection, go with the Mission Workshop Waxed Canvas Transit Laptop Bag. Crafted from limited-edition waxed canvas for toughness that'll protect plenty more than your laptop, it features a total of six internal and external pockets and even features the option to attach it to the front of your bike rack — it's truly a go-anywhere bag that'll ensure your everyday haul stays safe and secure. It'll also age the more you use it — and you'll want to use this bag an awful lot.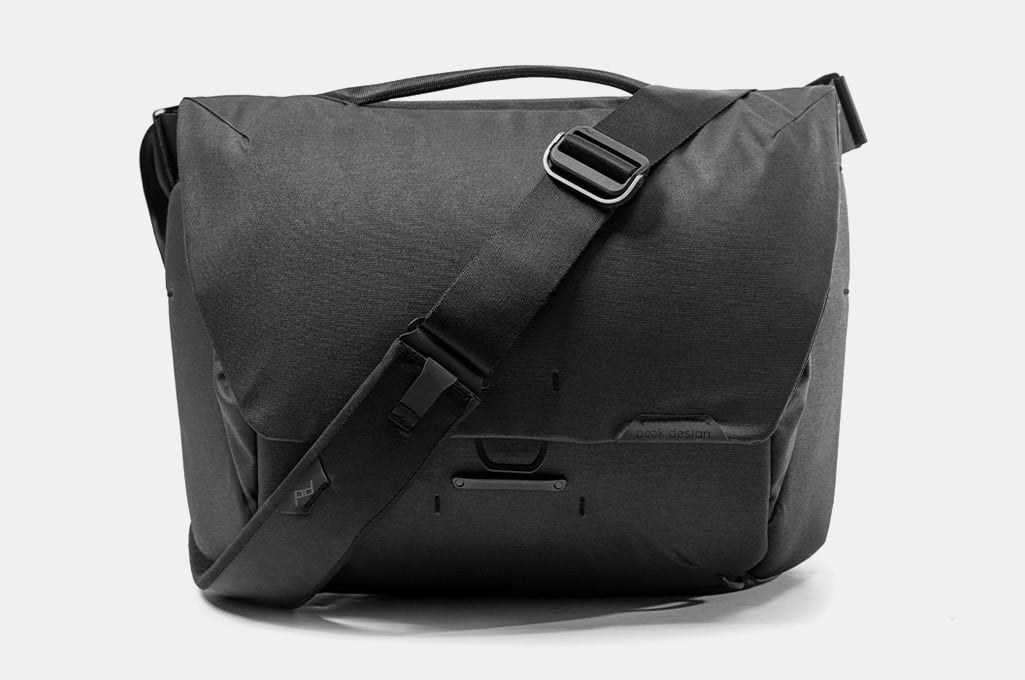 Peak Design Everyday Messenger Bag
For standout durability, a unique and eye-catching design and the type of functionality that lasts and lasts, Peak Design is the place to go. The brand has become renowned for its quick-moving, record-breaking crowdfunding campaigns in advance of new products, and consumers have quickly figured out that the brand knows what it's doing — to say the least.
With features like foldable dividers, durable fabric, a one-of-a-kind seatbelt webbing strap and MagLatch closure, it's second-to-none in terms of functionality. Use it to get to work or to get to your weekend retreat — it can easily handle both.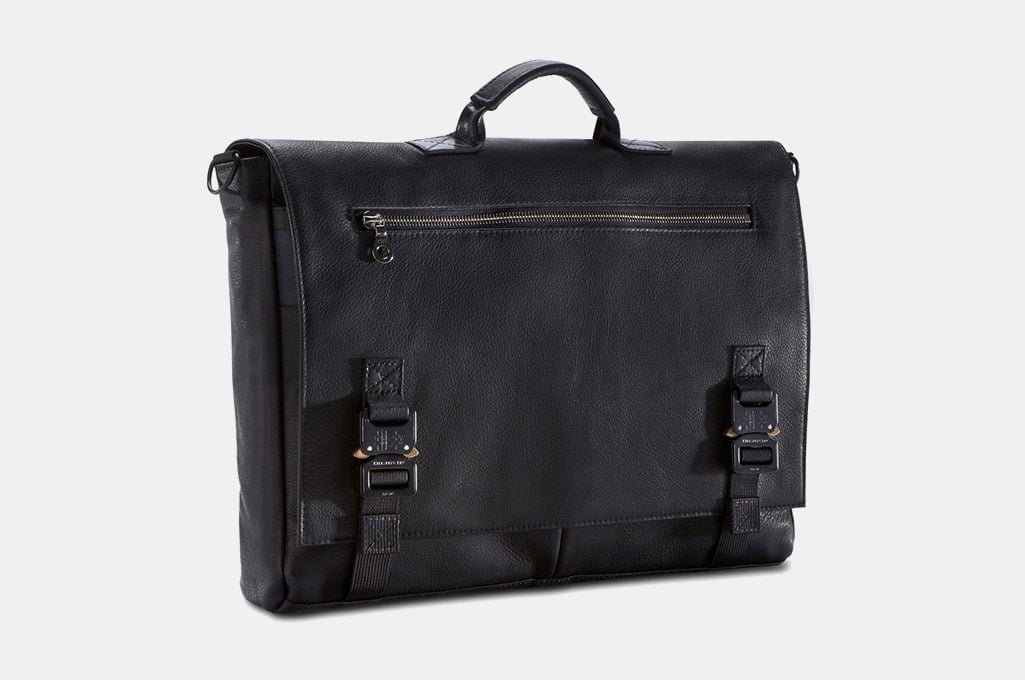 Killspencer Briefcase 2.0
Made from stunning black leather and featuring an investment-worthy price tag to match, the Killspencer 2.0 Briefcase is everything you could want in an upgraded laptop bag, and then some. With a Riri zipper and patented Cobra buckles for plenty of durability, it's the type of bag that'll keep your laptop safe and stylish — the full-grain leather is an unexpectedly premium touch, and the expanding exterior pockets lend a degree of utility that's to be applauded in such a premium bag. It's unlike any bag you've got in your rotation right now, that much is true.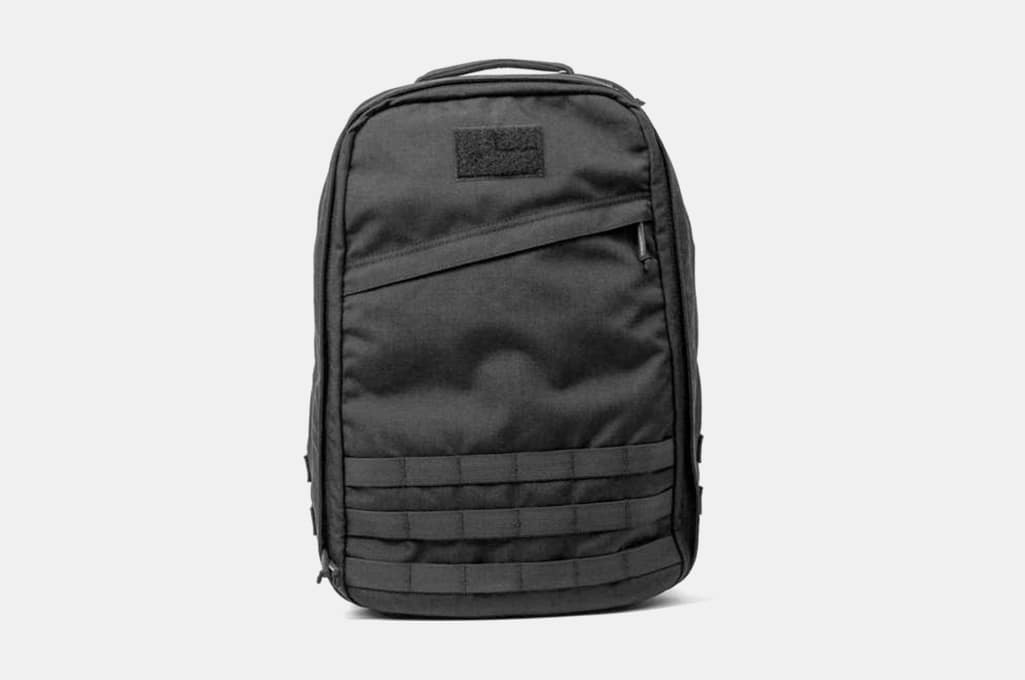 GoRuck GR1
If you wanted a durable laptop bag that's been tested and approved in conditions far more dire than your average office, the GoRuck GR1 is that very bag. Its design comes from Special Forces operatives in New York City and Baghdad, with two rough-and-tumble size options for everyday use (no matter where your day-to-day grind takes you). It's made in America and features everything from tough, reinforced stress points to rugged CORDURDA denier fabric and sleek color options — all huge positives for the guy on the go (Hint: All positives for you).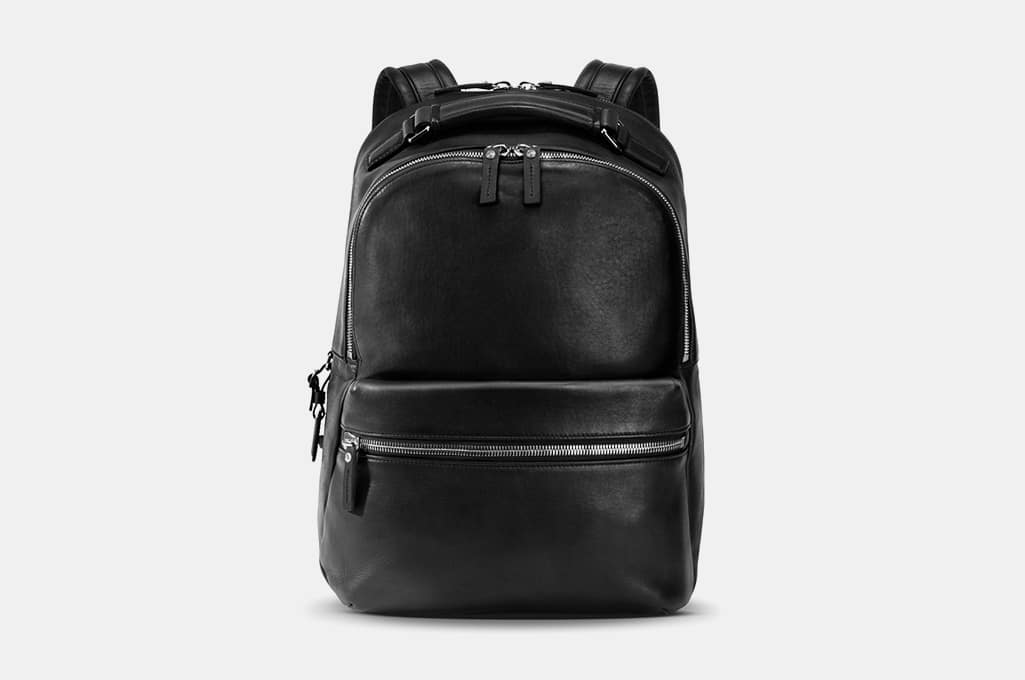 Shinola Runwell Leather Laptop Backpack
If you've got a Shinola watch or another refined, stylish and essential piece of Shinola leather in your everyday carry, you're familiar with the brand's penchant for quality and excellent style — to say the least. The Shinola Runwell Leather Laptop Backpack nails all of the brand's key features, from great design to handsome looks, while also protecting your laptop (and just about anything else you need). There's a reason it retails for about $1,000, and given the brand's commitment to high-quality materials and great looks, it's easy to see why.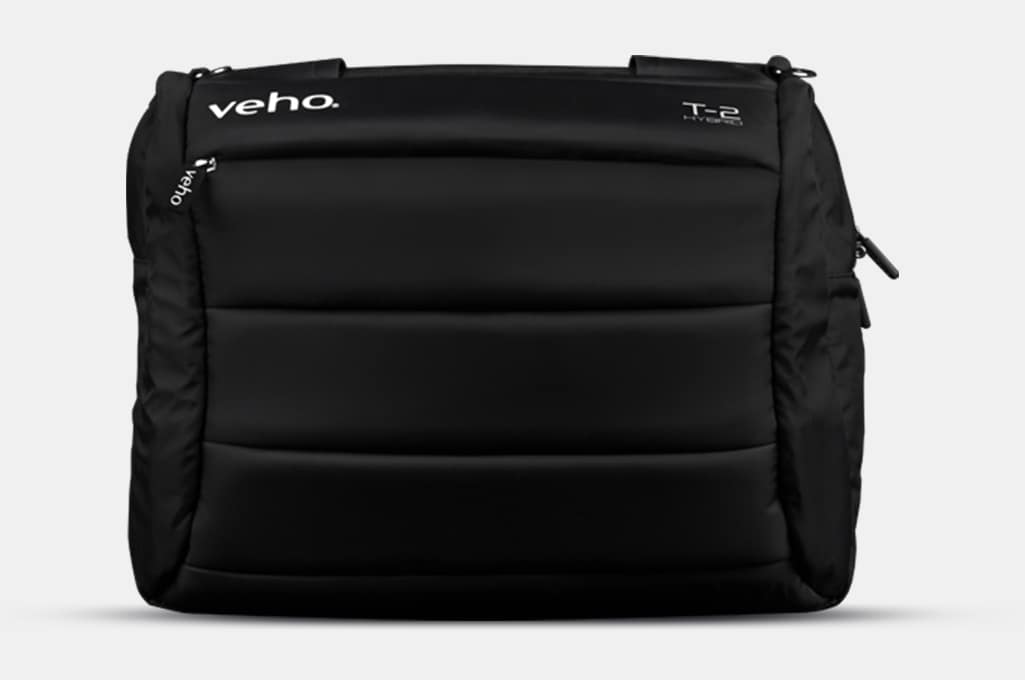 Veho T-2 Hybrid Laptop/Notebook Bag
Veho truly doesn't mess around when it comes to its no-nonsense, no-frills, sleek and tough Hybrid Laptop/Notebook Bag. It boasts what the brand calls "ultimate" equipment protection and the ability to convert from a rucksack to a hybrid laptop bag. Dual padded compartments, versatile black hardware and a discreet black colorway add to the utility of this bag — you're going to want to use it everyday given the stellar protection it'll provide for your most important gear. Throw it over your shoulder with slick sneakers, a bomber jacket and a black tee for city-ready style.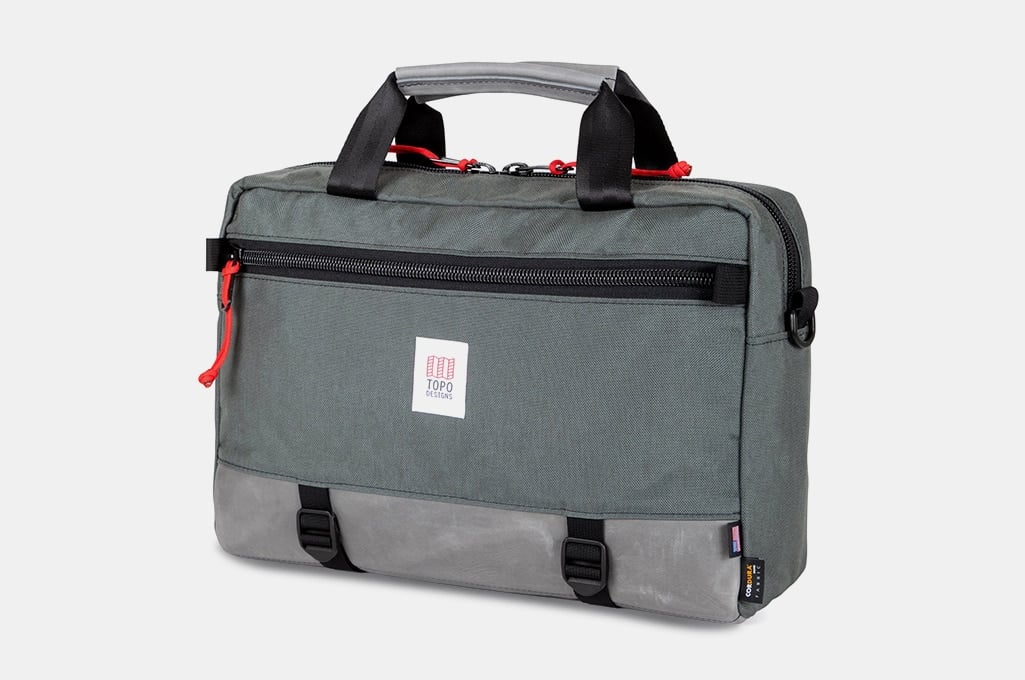 Topo Designs Commuter Briefcase
Add one last bag to your everyday carry with the Topo Designs Commuter Briefcase, a remarkably handy, tough and stylish bag with the specs to match. The CORDURA exterior is handsomely offset by the Horween leather base — a uniquely premium design touch that should age over time. Detachable shoulder straps provide another degree of functionality, while three color options offer up distinctive styling potential. Plus, you get all this and the kind of protection your laptop needs — not that bad at all. Take it on the road or take it to the office — you won't be disappointed.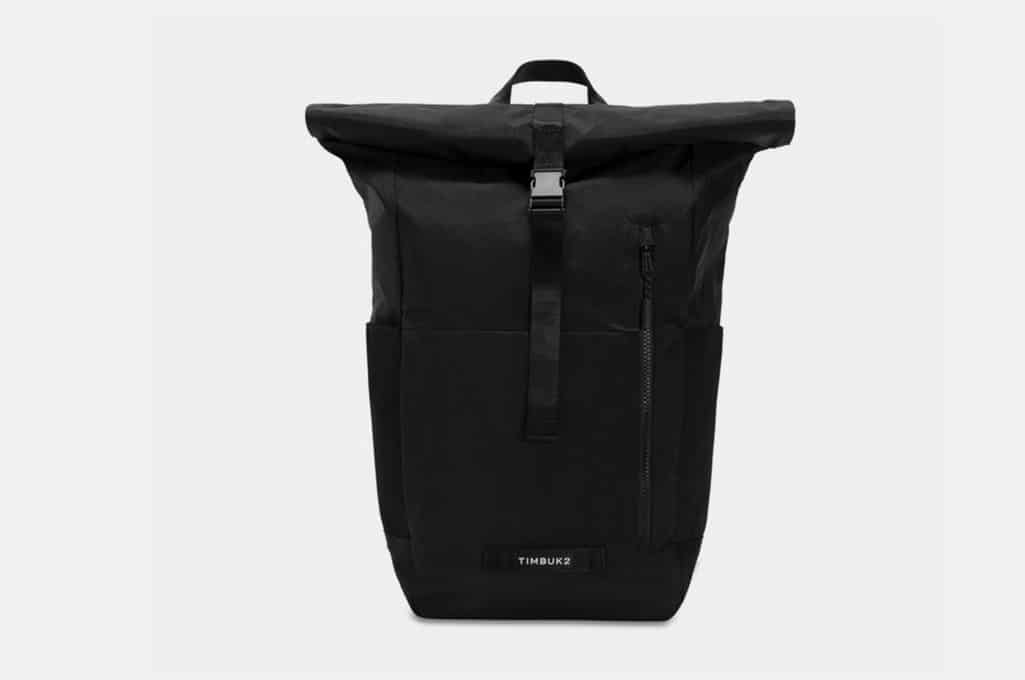 Timbuk2 Tuck Laptop Backpack
If you're looking for a minimalist bag that offers thoughtful utility, this streamlined, roll-top bag is just what every urban commuter needs. This simple sack holds up to 23 liters of stuff, and fits a 15-inch laptop, with a rear-access compartment padded for safety.
Internal slip pockets help keep stuff separated, as do zippered front accessory pouches. The whole kit-and-cabaggle is coated with a durable water-repellent (DWR) finish that holds up to light rain, so whether you're biking to work or running for the train, the possessions in your pack are protected from the elements.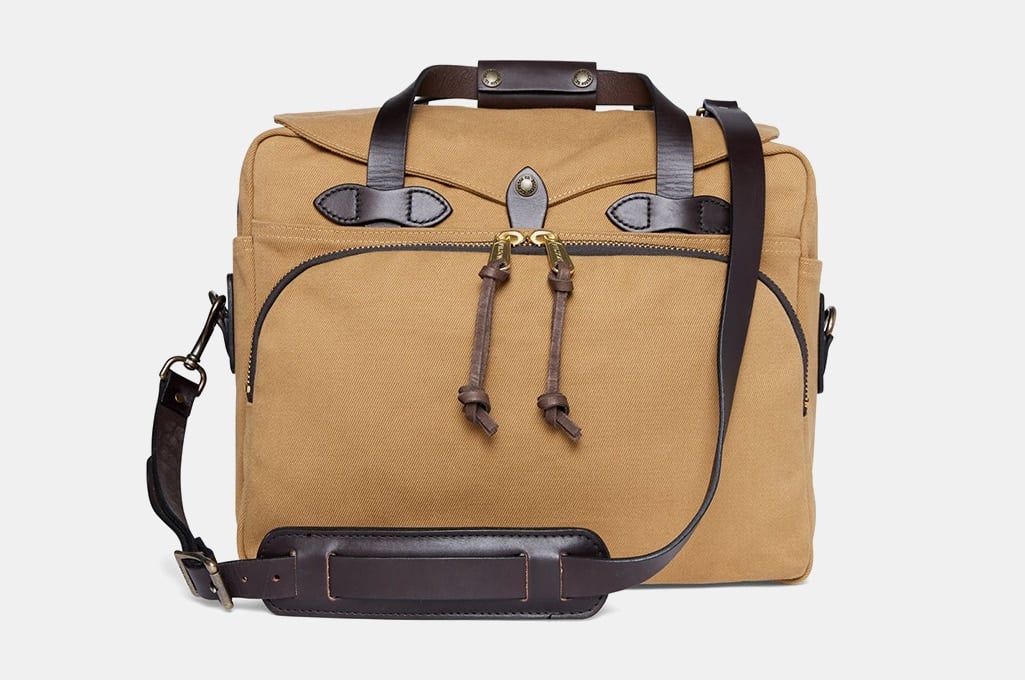 Filson Rugged Twill Padded Computer Bag
Utilitarian bags aren't always the most attractive, TBH, but if you're looking for rugged, yet refined style, Filson delivers with outstanding form and function alike. With a background in outfitting Klondike Gold Rush stampeders that dates to 1897, you won't be surprised that Filson can knock out a resilient, heavy-duty bag. This one is made from lightly waxed, tight-weave, industrial twill to stand up to rain, snow, mud, and more.
However, the bridle leather straps add serious sophistication to the overall appearance, and the interior, fit for a 15-inch laptop, is fully padded with quarter-inch foam. Three interior dividers and front, back, and side pockets offer plenty of compartmentalization.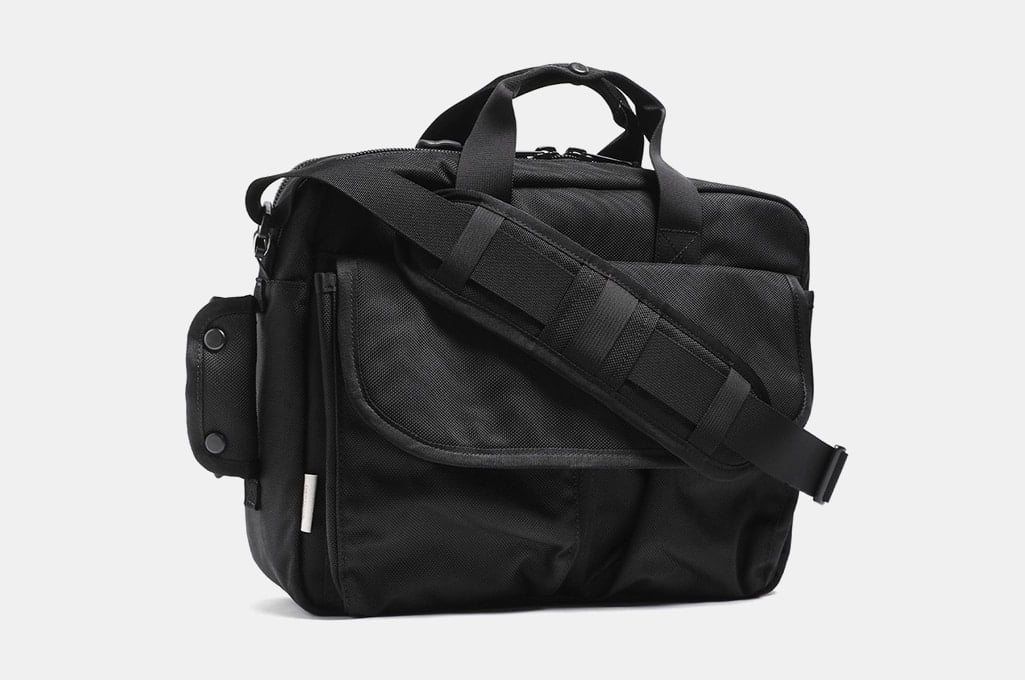 DSPTCH Utility Brief, Ballistic Nylon
This company may be missing a few vowels, but their versatile Utility Brief bag doesn't miss a beat. This convertible product can be worn three different ways—backpack, shoulder bag, or hand carry—and it features a passel of pockets to easily stash and retrieve the things you use every day.
There's a padded slip pocket for laptops up to 15 inches, a roomy, split central compartment featuring a bottle caddy and zippered pencil pouch, and two front pouches covered by a quick release Fidlock flap for quick access to a phone, wallet, or other EDC essentials.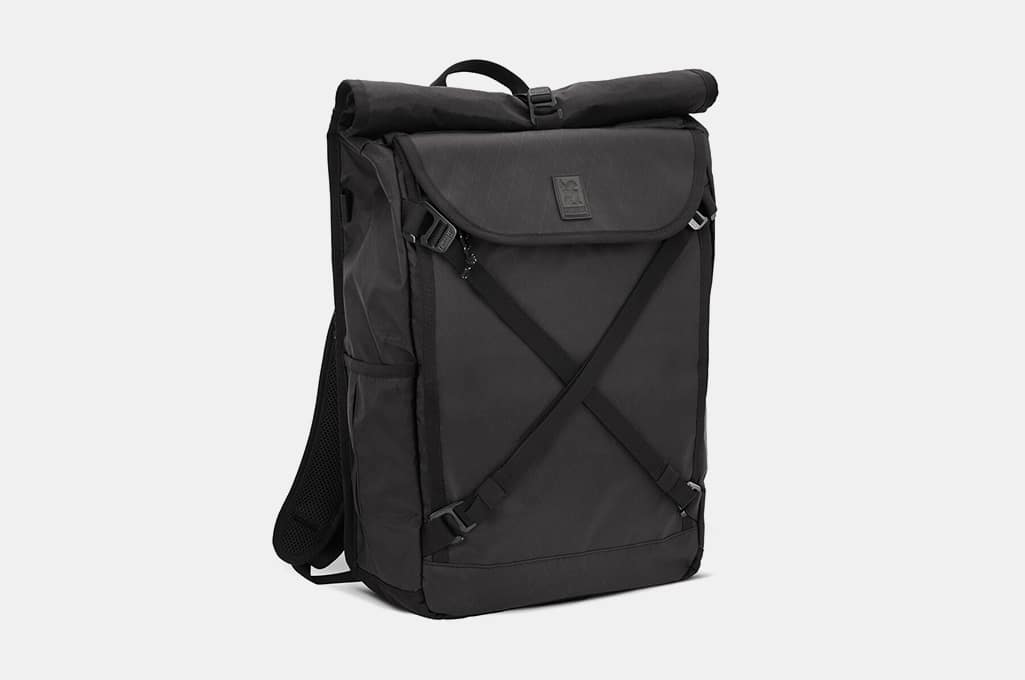 Chrome Industries BLCKCHRM 22X Bravo 3.0
At first glance, there's not a lot to this roll-top backpack, which features one central pocket, an outer pouch with a flap and a zippered front pocket, and two smaller side pockets. But for all that's not present, there's a lot to love about this 100% waterproof bag in 22X Nylon and Cordura TPX Durable Laminate material (inspired by resilient technical sailcloth).
It has a removable tote liner in the main compartment, as well as a unique cross-strap system designed to let you attach extras—slip your coat under the straps or use carabiners to clip on your water bottle, keys, or other accoutrements.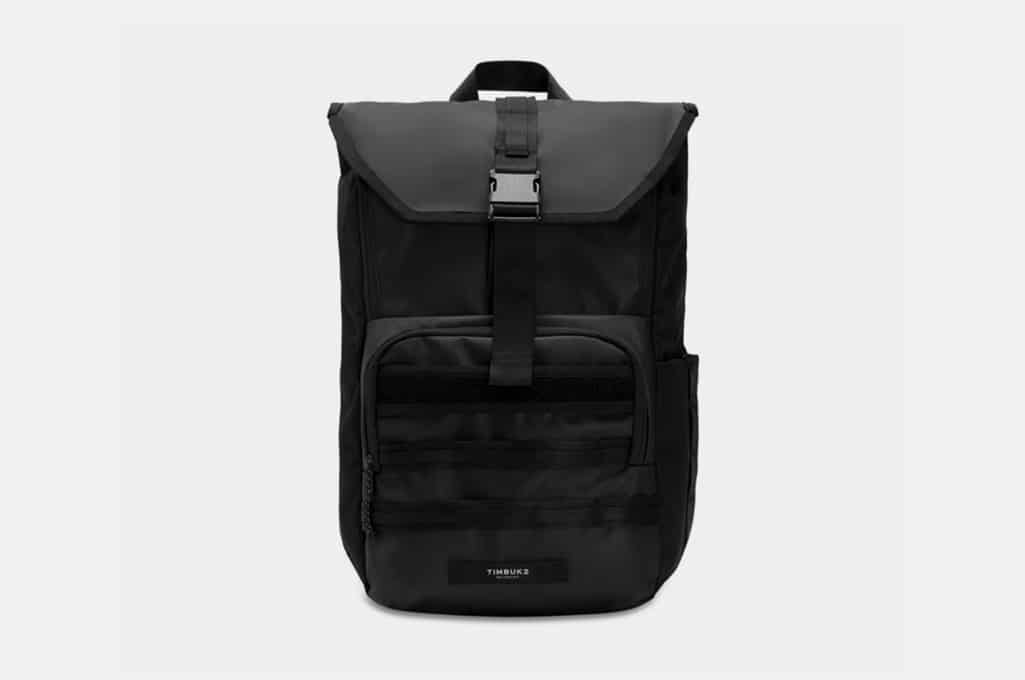 Timbuk2 Spire Laptop Backpack 2.0
Timbuk2 has their stuff together when it comes to laptop transport, and the Spire Backpack is no exception. This slim, yet expandable top-loader holds up to 26 liters, fits laptops up to 17 inches, and weighs just two pounds.
It also features pockets galore, with a split central compartment, a zippered front pocket with other pockets (slip and zippered) inside, a water bottle caddy on the side, and daisy chain webbing ideal for strapping down your bike's U-lock. Water-resistant material keeps your touchy tech dry, too.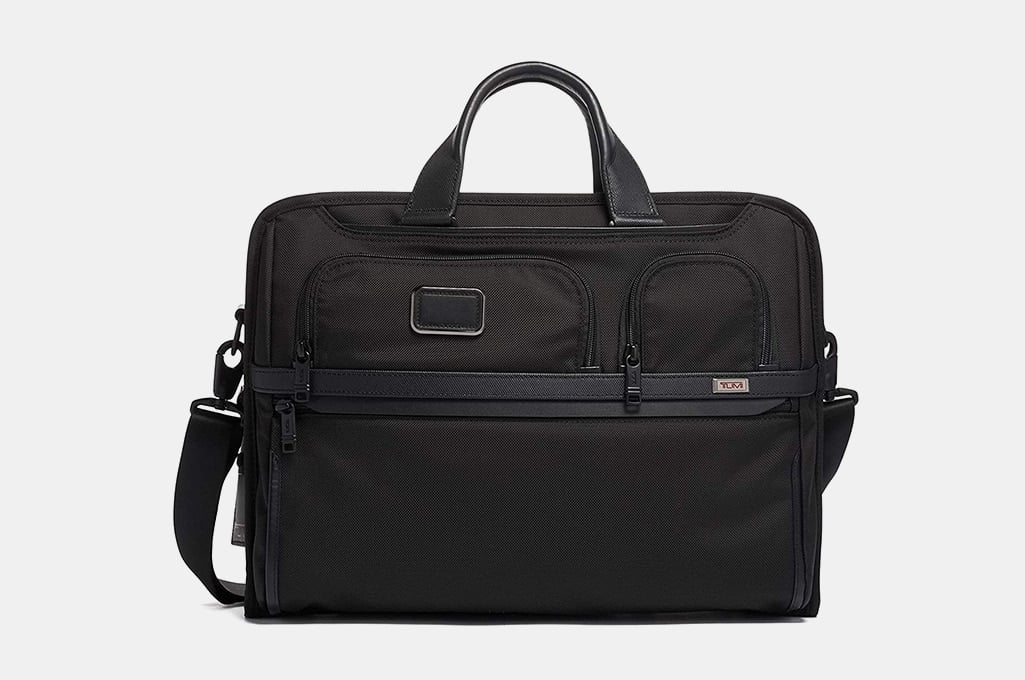 Tumi Alpha 3 Compact Large Screen Laptop Brief
Tumi, known for outstanding luggage, brings the same excellence to their daily carry game with this large screen messenger bag/briefcase that fits laptops up to 17 inches.
Made primarily from ballistic nylon, this tough, yet sleek bag looks equally at home in boardrooms and college classrooms, and it's a standup piece for students, commuters, and travelers alike.
The inner compartment features a padded laptop slip, as well as a compartment featuring a myriad of pockets for organization. Front-side, the bag has three zip pouches, roughly sized for a cell charger, a cell phone or glasses case, and larger fare. The back has a double-zip pocket that acts as a pass-through panel to slide over your telescoping luggage handle, too.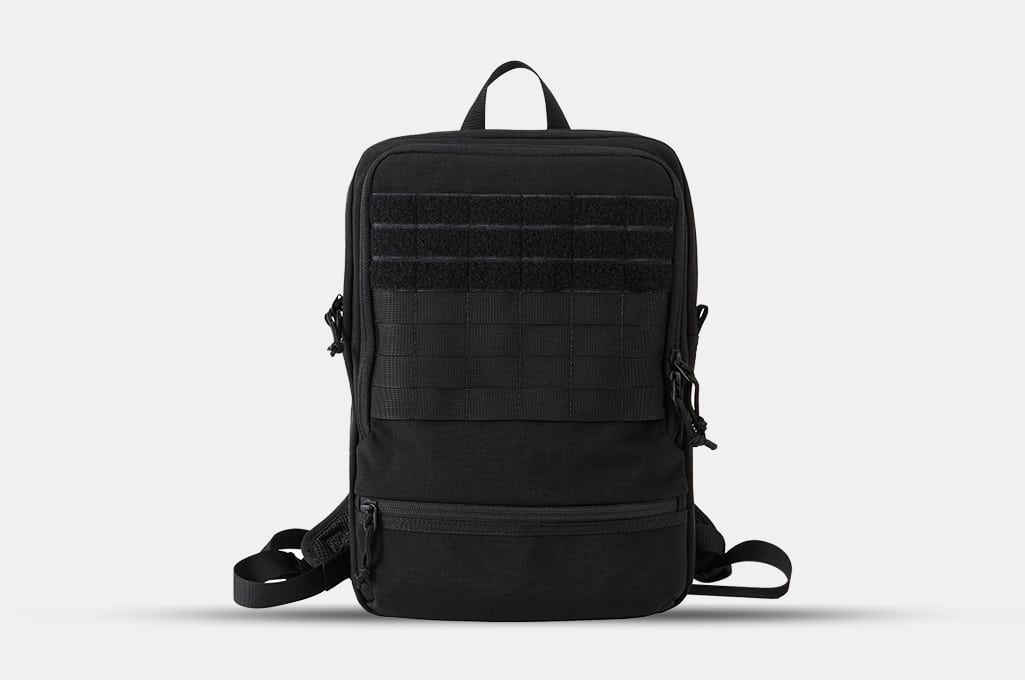 Cargo Works 15" MacBook Pro EDC Backpack
An upgraded version of the 15" EDC Kit, Cargo Works' backpack features more of what customers apparently clamored for, mainly organizational features. Inspired by the M9 med pack, this simple, slim, EDC bag has two slips in the main compartment that are perfect for a laptop and a tablet or notebook, with a bit of space left in the main body for other large items.
Then there's the front zip pocket—a marvel in modern carry—featuring enough interior elastic webbing and mesh pockets to securely stash all of your sundries (cell phone, chargers, mouse, earbuds, pens, pocket knife, multi-tool, protein bars, and more).
Not enough compartments? There's also another zip pocket at the bottom front.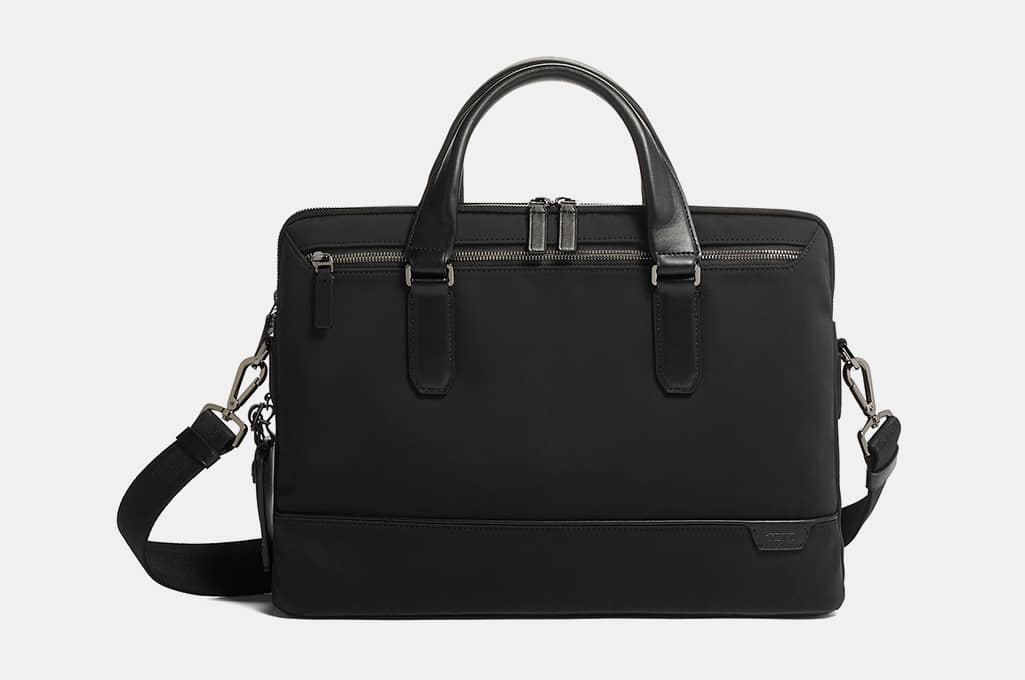 Tumi Sycamore Slim Brief — Harrison
It's Tumi to the rescue again with a slender, sophisticated briefcase so sleek everyone who sees it will want to steal it. A smaller bag, made from nylon tricot material, it fits up to a 14-inch laptop, but despite its diminutive size, you'll enjoy a padded media pocket, a zip pocket, three open pockets, two pen loops, two card pockets, and a key leash inside, as well as a front zip pocket, a pass-through panel on the back, and leather handles.
The center compartment features a magnetic snap closure for easy access and the Tumi Tracer® program makes it easier to find your bag if it gets lost (or your wife steals it).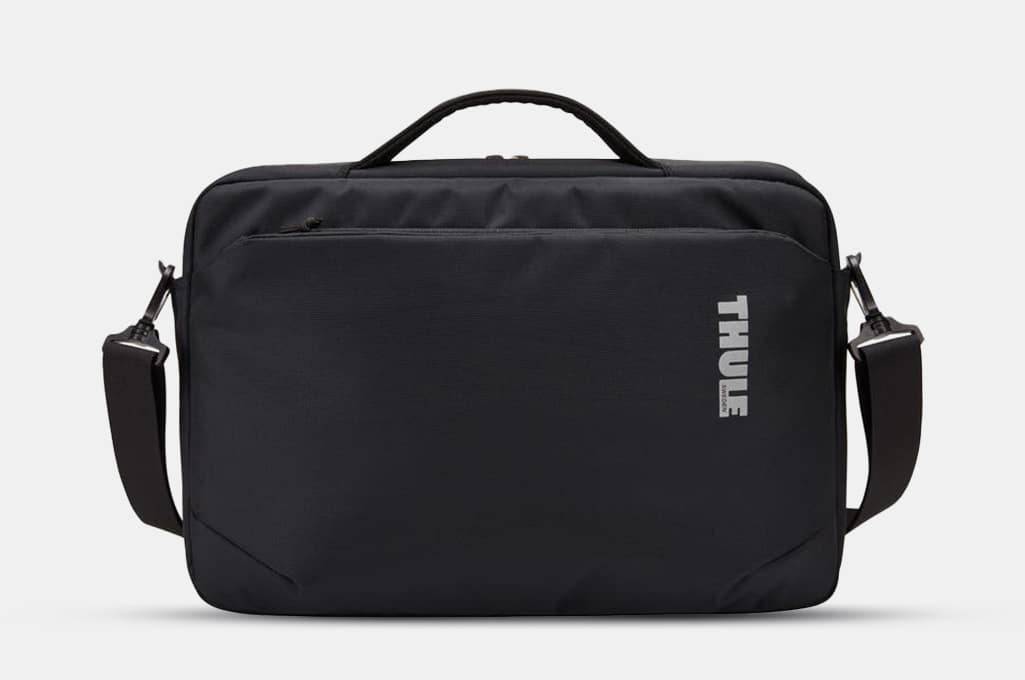 THULE Subterra 15-Inch Laptop Bag
This boxy little bag from Swedish travel brand Thule fits laptops up to 15 inches with security and style.
If you're a fan of Swedish minimalism, you're sure to love the pared-down utility and graceful simplicity of this streamlined messenger bag, which features a padded laptop compartment, interior zip and slip pockets, an exterior zip pocket, and a back pass-through panel for luggage handles. That's pretty much it, and when you think about it, do you really need more?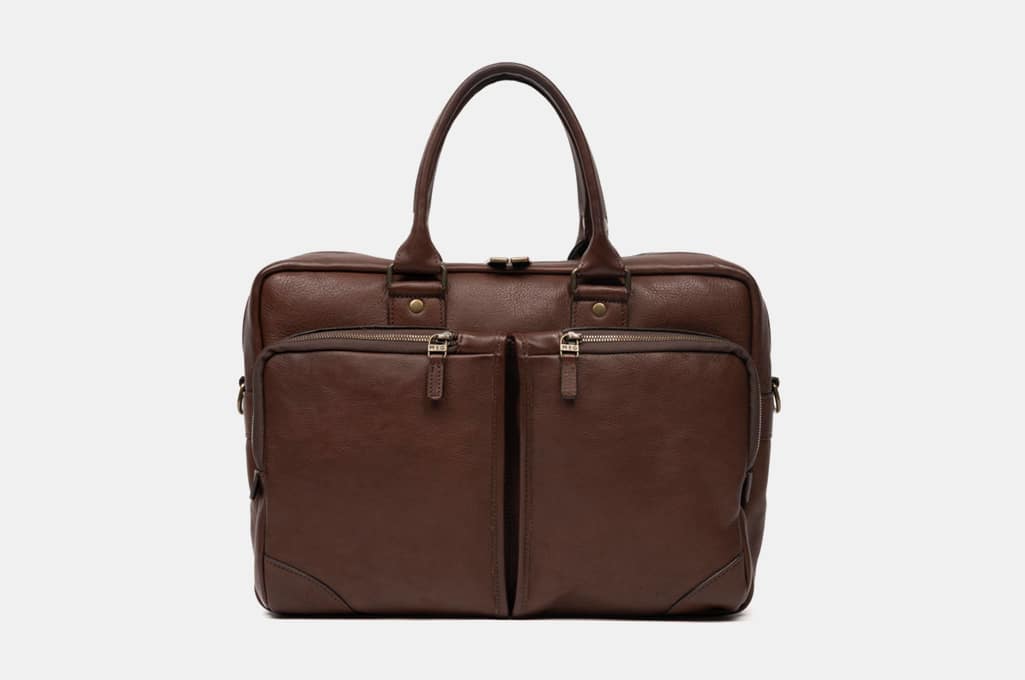 Moore & Giles Seven Hills: Haythe Commuter
Carrying a leather briefcase is a little too old-school for most modern guys, but you can bring a touch of the pro-totes of old to your updated messenger bag with rich, buttery, veg-tanned leather. Let's start with the fact that Moore & Giles chose to make bags from upcycled hides that were little more than byproducts of premium beef prior to Hermann Oak Leather stepping in.
Then there's the central compartment, big enough for a 17-inch laptop, with an extra slip, key clip, and dedicated nooks for your cell phone, business cards, and pens. Two exterior zip pouches and a pass-through panel round out the roster of features, and grace notes like brass rivets and ridged zipper pulls are icing on the cake.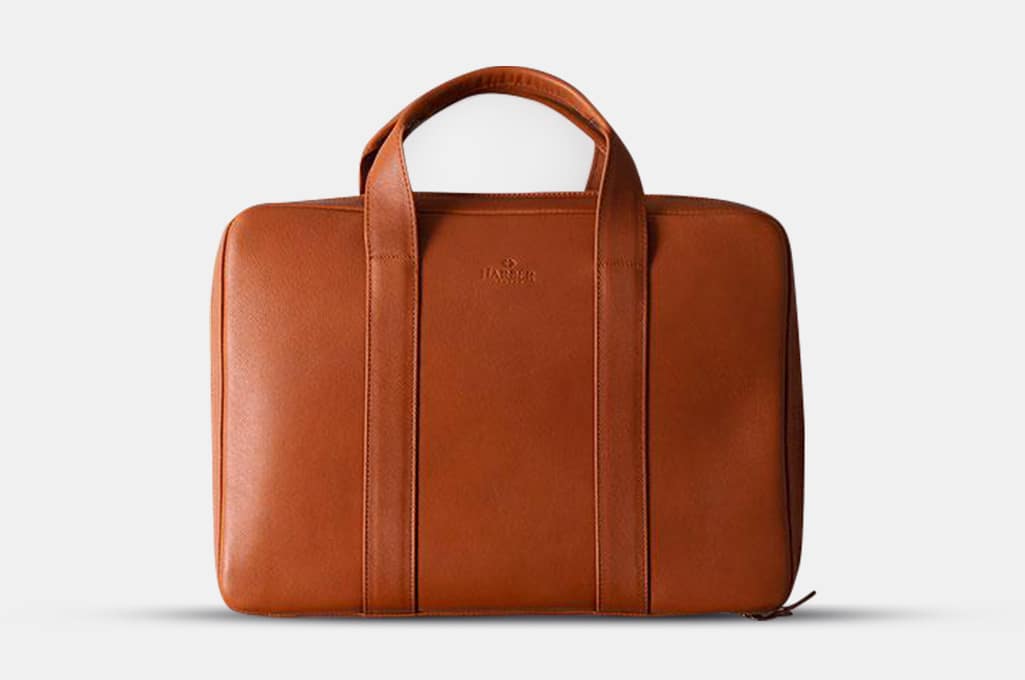 Harber London Leather Laptop Briefcase
If messenger bags are a little too Johnny-come-lately to the professional carry scene for your druthers, you're sure to appreciate this slick folio case from Harber London in premium full-grain leather, handmade by expert craftsmen in Spain.
It butterflies open for full access and features a large slip on each side for laptops or tablets up to 16 inches. There's also a passport pocket, special pockets for A4, A5, and A6 size notebooks, card slips, elastic straps for pens or cables, and two magnetic pouches for chargers, snacks, or whatever.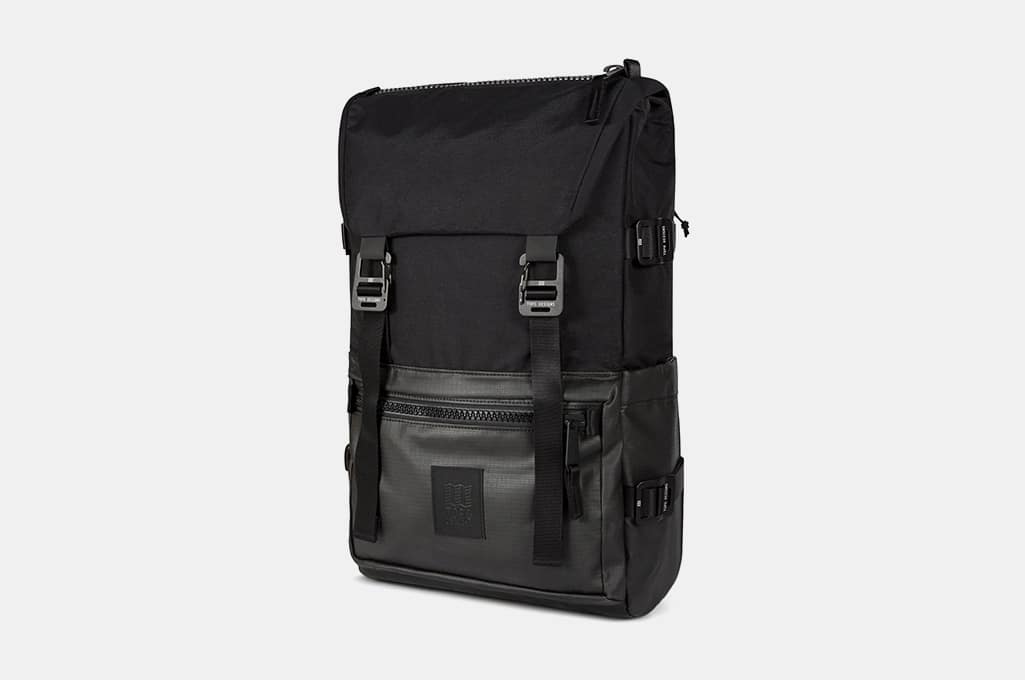 Topo Designs Rover Pack Premium
A tonal black motif gives this top-loading backpack an edge in the style game, with a matte nylon upper half and a shiny, coated polyester ripstop lower, as well as color-matched hardware and label. The utility game is also on point, with not one, but two padded sleeves that fit up to 15-inch laptops, a spacious main compartment, and a large, zippered front pocket.
The top has a drawstring cinch closure, covered by a flat-top flap secured by dual ladder lock buckles, so nothing is falling out. A quilted ballistic back panel makes for comfortable carry.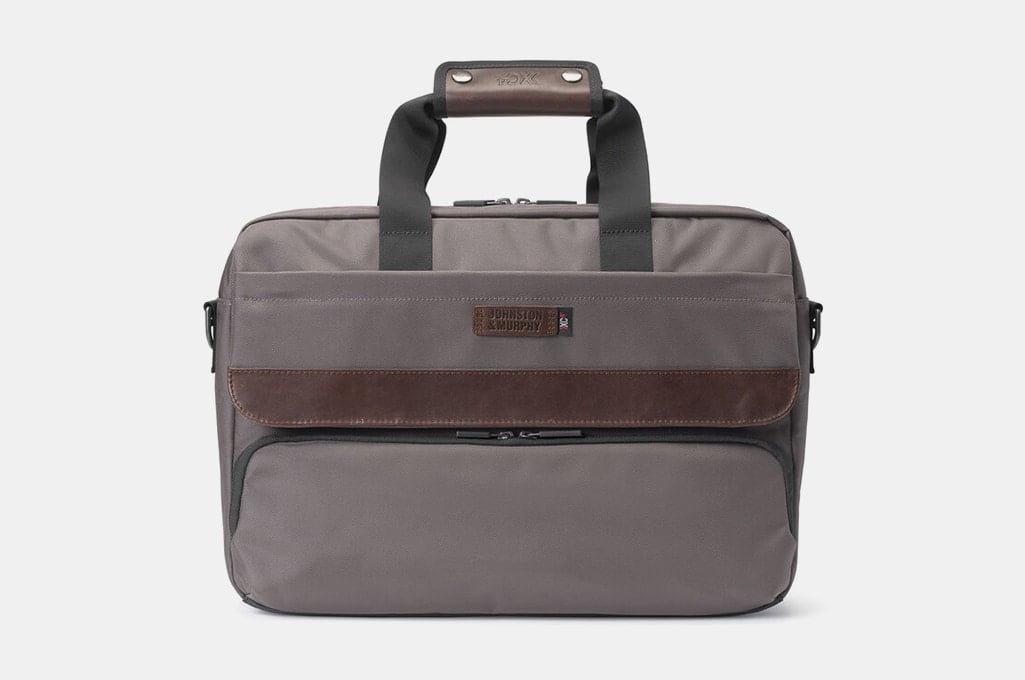 Johnston & Murphy XC4 Briefcase
It's a briefcase! It's a bag! It's a briefcase bag! This Johnston & Murphy snappy, two-tone briefcase bag comes in water-resistant ballistic nylon with full-grain leather detailing, which makes it better than most other briefcases and bags right from the start.
The main compartment features a padded laptop/tablet sleeve and large mesh zip storage pocket while the front features a lower zip and an upper flap (magnetic close) pocket, the latter complete with organizer compartments for a phone, cards, pens, and more. The back offers both a magnetic closure pocket and a pass-through panel.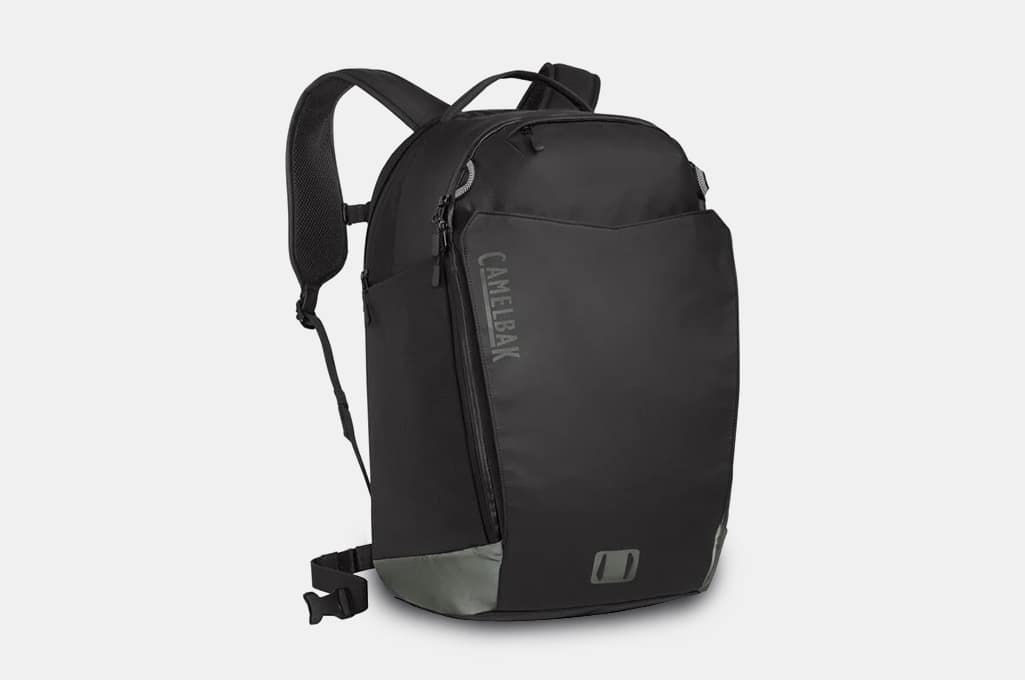 CamelBak H.A.W.G. Commute 30 Backpack
It turns out the company best-known for bladder packs set to keep long-distance runners and hikers hydrated is more than a one-trick camel. Their clamshell laptop bag offers easy access to a 30-liter carry capacity, including a laptop compartment with a weatherproof sleeve, internal zip pockets, a large front pouch with small zip pocket above, a card pocket on the shoulder strap, large side pockets for water bottles, and an upper pocket to house your CamelBak bladder.
Plus, an Air Support™ Back Panel promotes maximum ventilation, while 360-degree reflectivity keeps you safe in low light.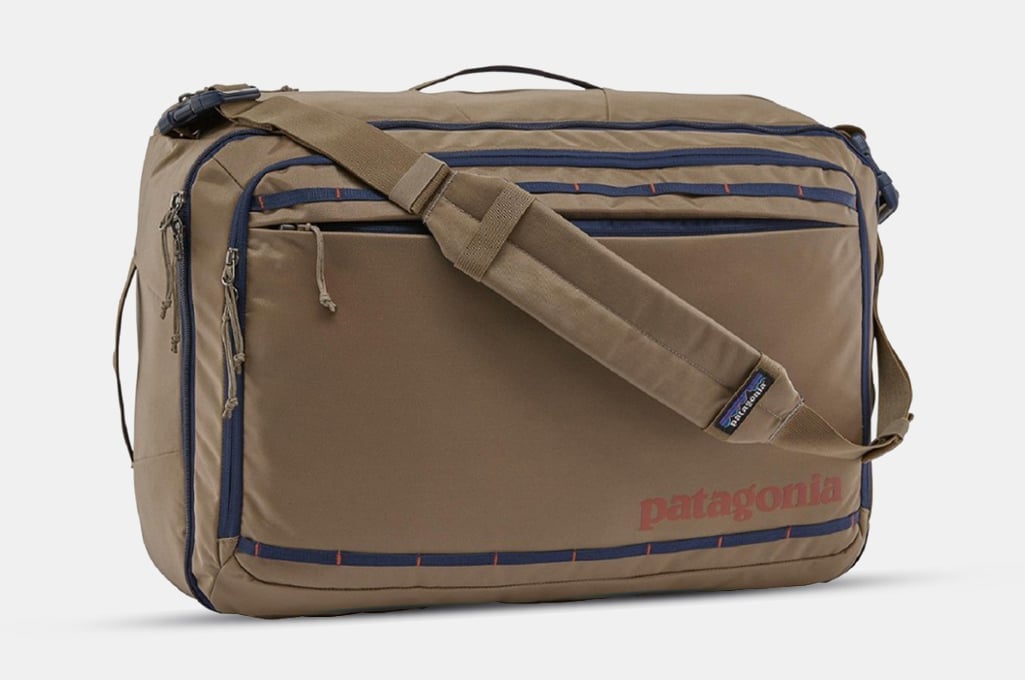 Patagonia Tres MLC Convertible Briefcase
Patagonia's bulky bag, which offers 45 liters of capacity, is perfect for guys that have a lot to carry. Rugged (and 50 percent recycled) plain weave nylon is paired with a recycled polyester lining, both coated in polyurethane and DWR finish.
The main, clamshell compartment opens wide and offers two chambers, with an internal padded sleeve that fits up to 15-inch laptops, as well as a zippered pocket. Organizing extras is easy with two exterior pockets, and a pass-through panel completes the simple, yet spacious design.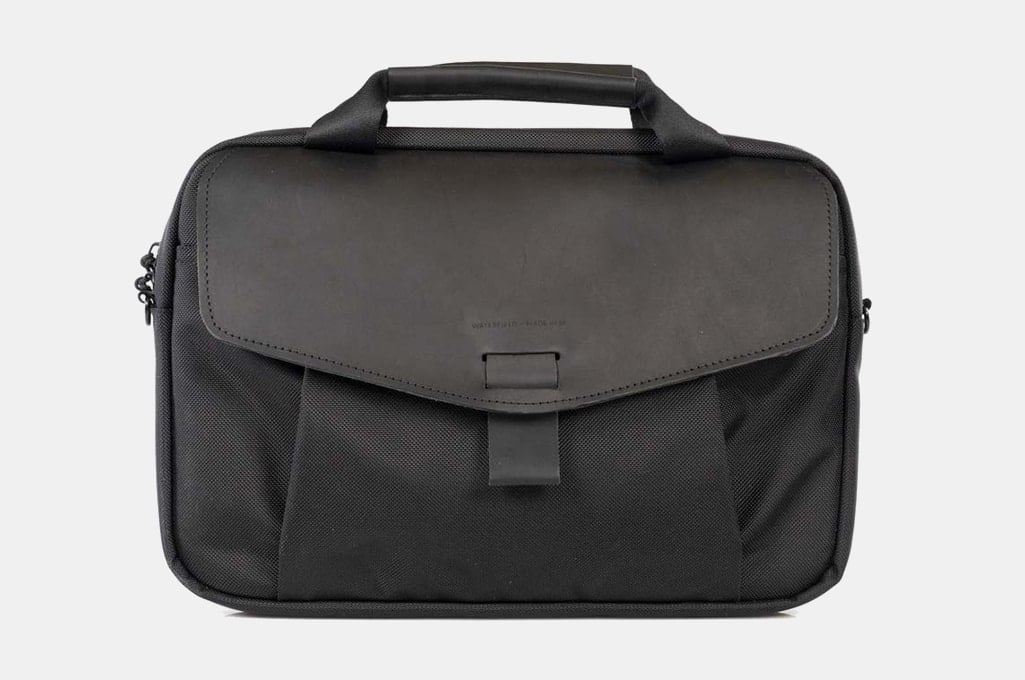 WaterField Designs Outback Duo Laptop Brief
The WaterField Designs distressed satchel in ballistic nylon with leather detail is perfect for the intrepid adventurer on the go. It might not be slick enough for Wall Street, but it's perfect for the average Joe on the subway or jetting to destinations unknown.
The slim profile makes it easy to carry and stow, but you can still fit a laptop up to 16 inches and a tablet up to 13 inches in the two padded compartments, with extra room in the main compartment for travel papers, and space in the front flap pocket (complete with smaller pockets) for EDC extras.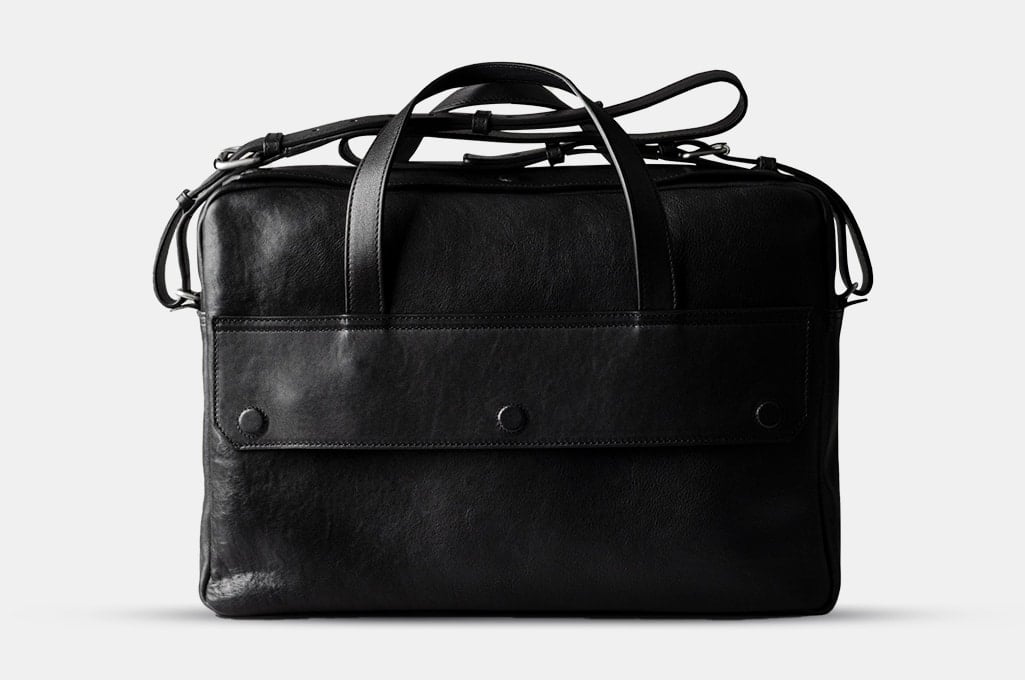 Hard Graft Long Haul Briefcase
The Hard Graft Long Haul Briefcase is best described as an attaché case, with a level of prestige a step above the average messenger bag. Made in Italy, its elegance arises from the use of vegetable-tanned leather, finished with minimal hardware.
The inside is lined with dark gray wool and features a padded pocket for laptops up to 16 inches, as well as a full-width zippered pocket. A front zip pocket is concealed by a large flap, and the back has a pass-through panel for travel. It's a simple, yet stylishly upscale way to tote EDC necessities.
Disclosure: Clicking on these links and making a purchase may earn us a small referral fee, at no extra cost to you. Learn more here.
freestar.config.enabled_slots.push({ placementName: "gearmoose_leaderboard_btf", slotId: "gearmoose_leaderboard_btf" });