Men all over the world are picking up where Jack Kerouac left off. From foragers to artists to consultants, the internet allows our wanderlust and professional goals to meet in the middle. If you're one of these gents, or aspire to be, you'll need one of these 16 best bags for the digital nomad. After all, it takes more than telecommunications technology to pull off the vagabond lifestyle. Whether you prefer working in a library, the woods, a chill coworking space, or an upscale restaurant, one of these bags will surely help you get organized.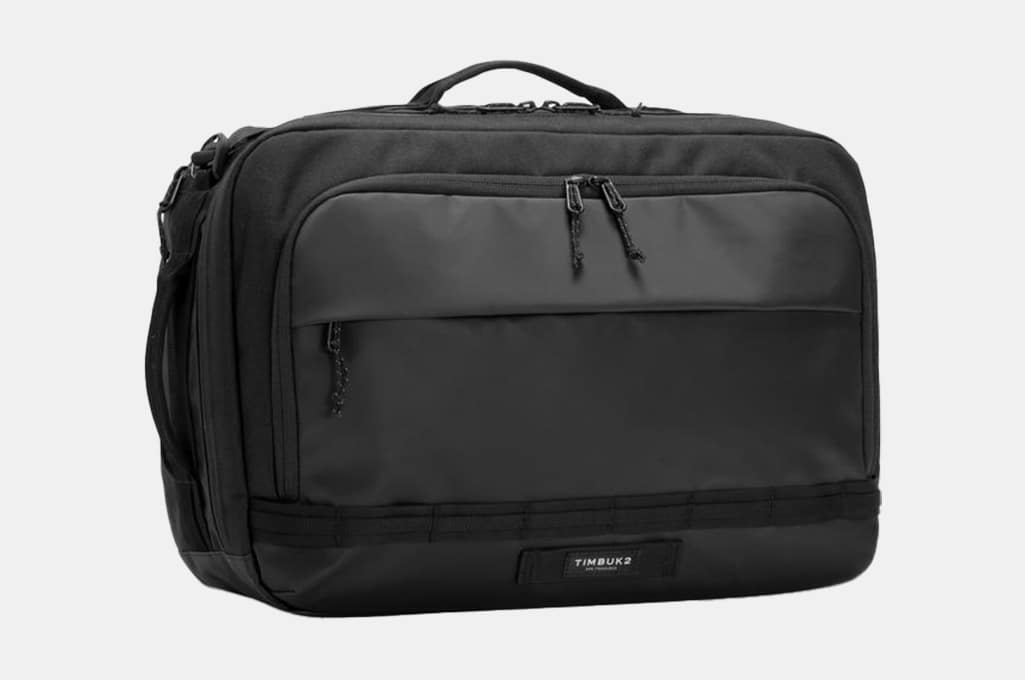 Timbuk Scheme Convertible Briefcase Backpack
The ever-modular Timbuk Scheme Convertible is for the practicalist, the digital nomad who isn't necessarily worried about his image on his YouTube travel channel. The Timbuk's ability to go from briefcase to backpack to messenger bag gives its nomad the ability to also go from coworking spaces and dive bars to fancy boardrooms. The large interior and structured but soft construction means you can use it as a weekender, and the luggage pass through (aka the rear zip pockets) make this guy airport-friendly too. Top all of that off with free shipping and lifetime warranty.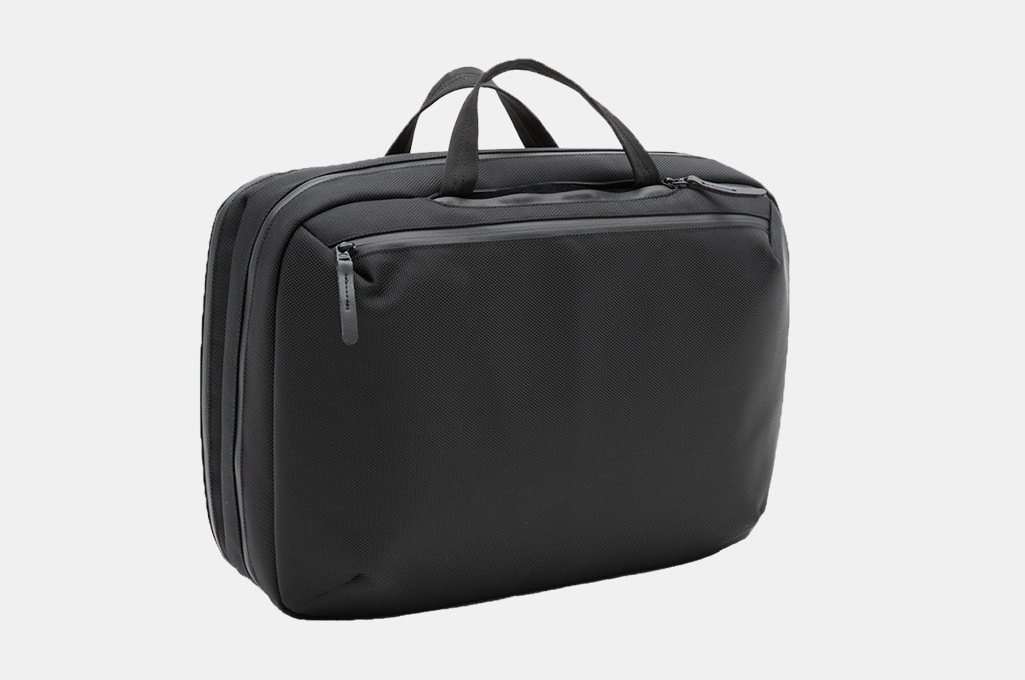 Everyman Hideout 5-Way Commuter Bag
Another versatile transformer, the Everyman Hideout 5-Way Commuter Bag is built for the journeyman who's in a major city one day, then the rain forest or on safari the next. The Hideout's five ways are the backpack way, as a messenger, a sling, the briefcase way, and a clutch format. Its TSA-approved laptop sleeve means you don't need to take it out of your bag when going through the airport security check. Most importantly the Everyman bag is tank-level indestructible. If your travels take you to Hilo, Hawaii, and that volcano goes off, at least you know your laptop will survive.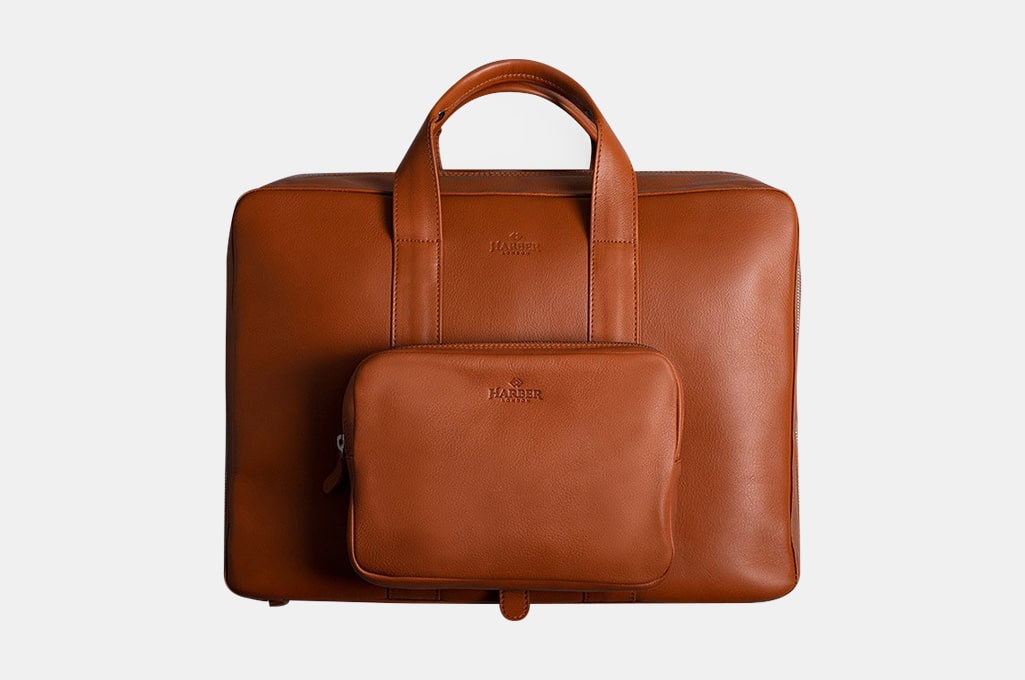 Harber London Leather Work Briefcase
If you're looking for a true gentleman traveler's bag, look no further than the Harber London Leather Work Briefcase. On the outside, this handsome fellow sports a full grain leather body, the kind that patinates with rugged wear but never loses its sense of class. It's like a gent who can build a log cabin but also pair wines with courses. The inside is loaded with strategic pockets and compartments and secret rooms. So while it's fancy enough to be a boardroom briefcase, it has the depth and practicality of a genuine traveler bag.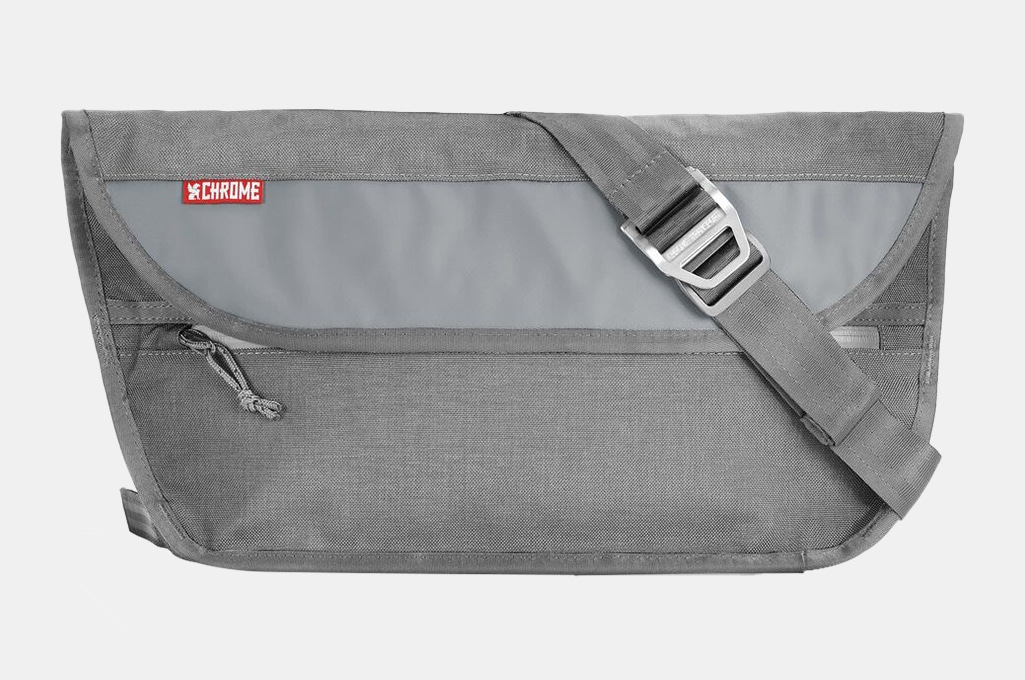 Chrome Industries Simple Messenger
The Chrome Industries Simple Messenger is like the Narnia of messenger bags. What looks to be a compact low profile carrying case actually has a 12-liter volume capacity. This is thanks to its kidney-style design. The bottom has a substantial 5.5 inch by 19 inch area, but it tapers to a perfectly thin and fold-close top, so it sits neatly on your person. Plus it's made of durable tarp, making it an effective bag for those of you always on vespas, bikes, scooters, and skateboards.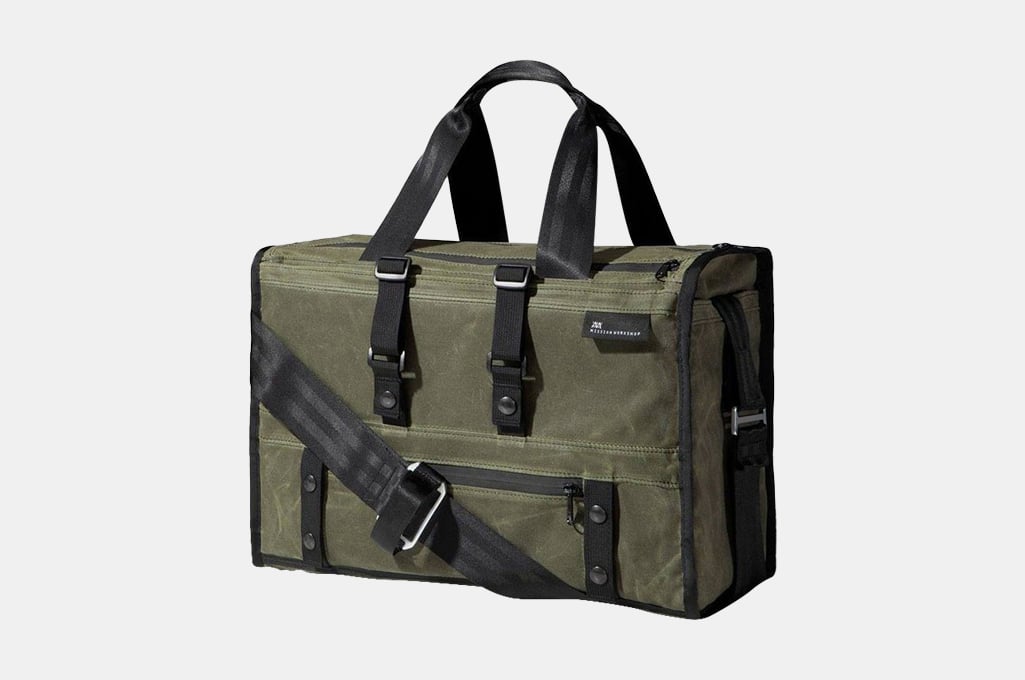 Mission Workshop The Transit: Duffle
Nothing says digital nomad like a messenger you can also use as a make-shift table. The Mission Workshop Transit Bag is a weatherproof duffle with all metal snaps. Its boxy body is structured and tactical looking, but hardly bulky thanks to its shell fabric build. It also very easily attaches to a front porteur bike rack, meaning you can use the Transit Duffle for documents, laptops and tablets, as well as a non-squashable transport case for personal pizzas and quesadillas.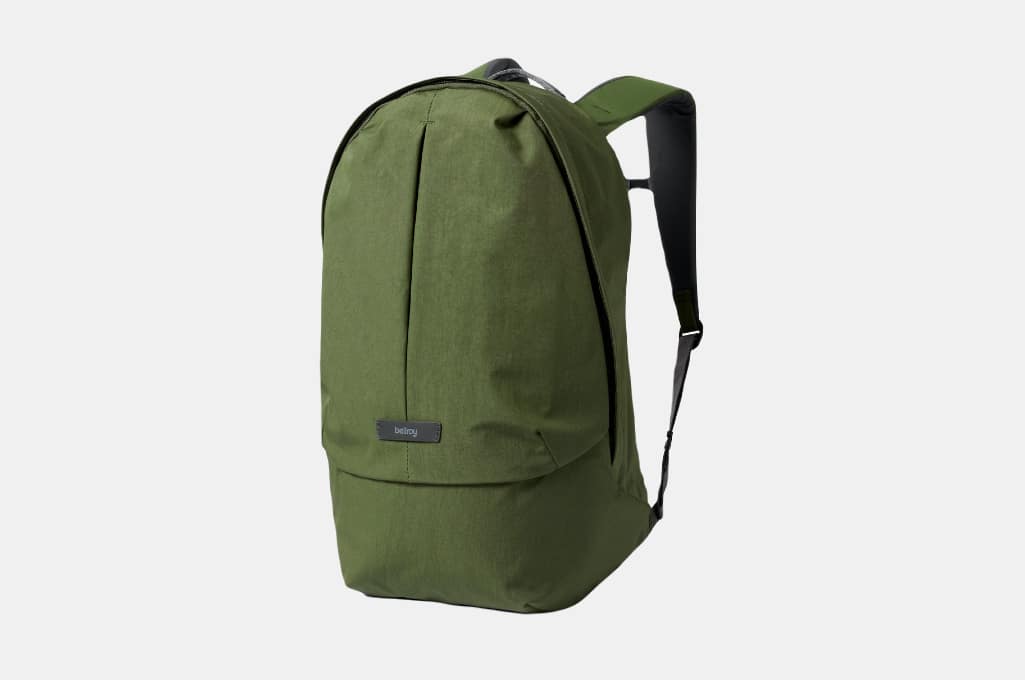 Bellroy Classic Backpack Plus Second Edition
Your highschool Jansport just got a major glow-up. The Bellroy Classic Backpack Plus, Second Edition, is as convenient and adept at distributing weight as an athletic rucksack. The inside though, is souped up with clean and sophisticated compartments, so that all of your belongings can literally stand up straight and secure, instead of jiggling about as you make your way around the world. The padded pack panels and contoured, rolled-edge shoulder straps are also super comfortable. On the style front, Bellroy offers five different colors including a ranger green and an orangey bronze.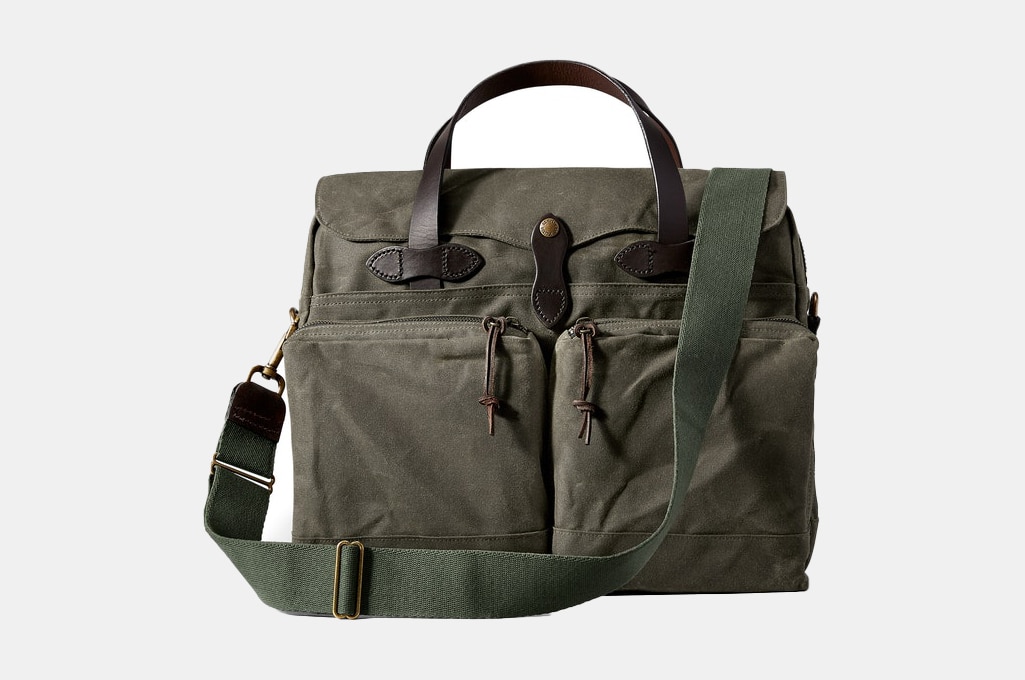 Filson 24-Hour Tin Cloth Briefcase
The cool thing about accessories with a military aesthetic is that they never go out of style, and it's their practicality that makes them look so good. The Filson 24-Hour Tin Cloth Briefcase sports a rugged and practical cloth body, accented with sophisticated leather straps and metal hardware. The oil-finish Tin Cloth is Filson's trademark, and ensures weather doesn't seep into your important files and technology. The 24-Hour Tin Cloth Briefcase can easily go with ripped jeans, a three-piece suit, and any outfit that calls for a trucker hat. Now that's range.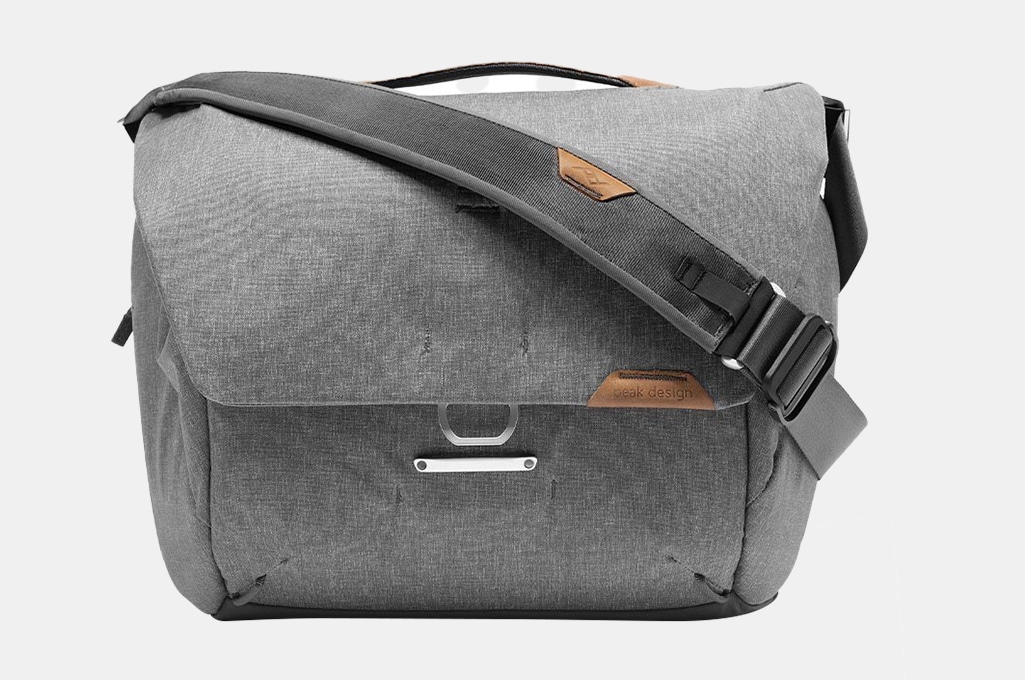 Peak Design Everyday Messenger
To the photojournalists, visual bloggers, and anyone who carries more equipment than just a laptop: Peak Design has your back with their Everyday Messenger. From expensive cameras to 12-packs of beer, this weather-proof carrier organizes and protects your valuables via easy-to-use flex-and-fold dividers. No user manual necessary. Peak Design also gives creatives the respect they deserve with its classy design. While most camera bags scream "send me to the back service entrance," the Everyday Messenger boasts clean lines and a refined and fashionable nylon shell.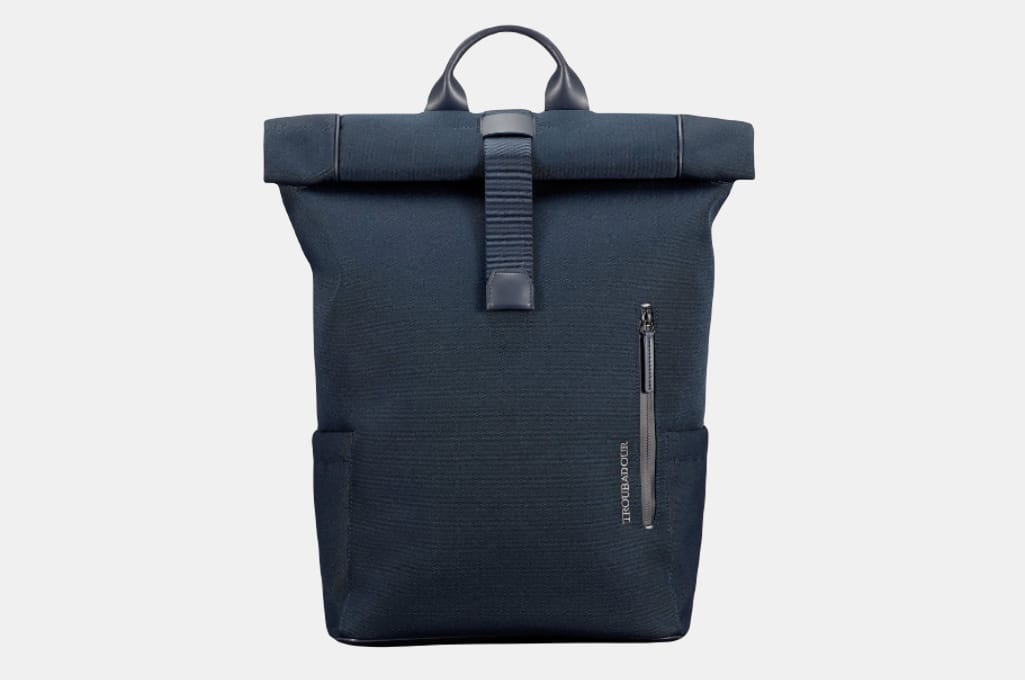 Troubadour Basecamp Backpack
The Troubadour Basecamp Backpack is like a military rucksack that went to charm school. On the practicality front, it's as useful and instinctual to use as a Swiss Army knife. Closing the bag requires a simple roll and snap, there are two retractable bottle holders for water and flasks, and the laptop section is padded for safety. The shoulder straps and back panel are also ergonomic and breathable. Style-wise, this backpack is made out of a subtly textured fabric adorned with leather accents, like a tweed blazer with leather elbows.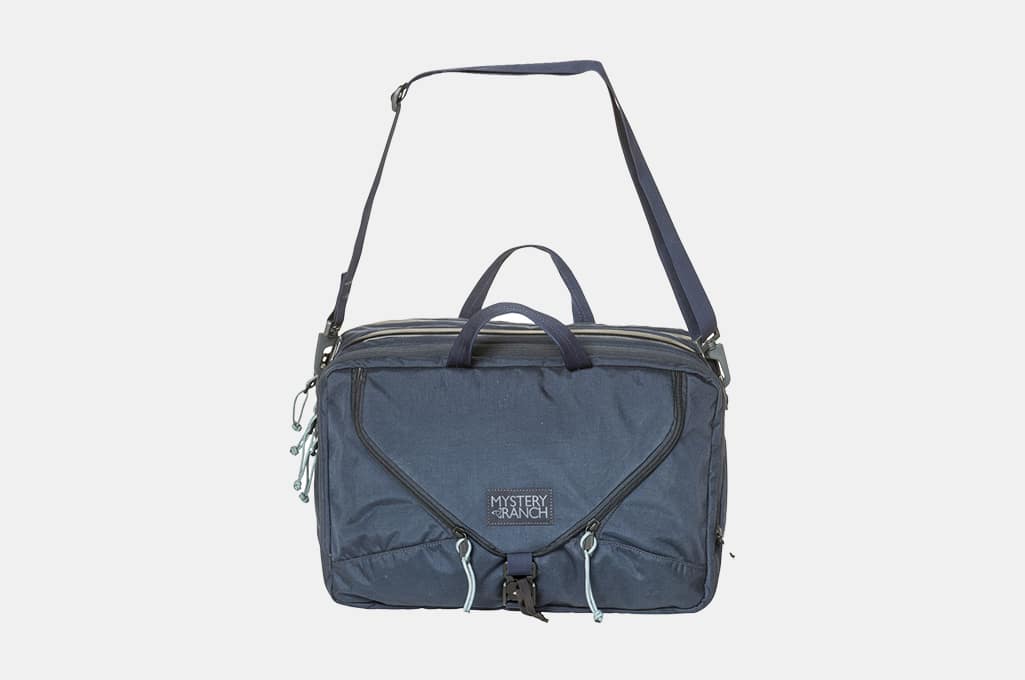 Mystery Ranch 3 Way Briefcase Expandable
Tactile and utilitarian, the Expandable Mystery Ranch 3 Way Briefcase has zippers for days. Do you mod your telescopes, laptops, and cameras? There's a zip pocket for every mini stand or additional computer chip you need to get that specific shot or perform that perfect demo for your clients. It's a converbitable backpack, laptop bag, briefcase, and messenger, and comes in six rugged colors including a waxed wood, a gray gravel, and deep blue shade called "galaxy."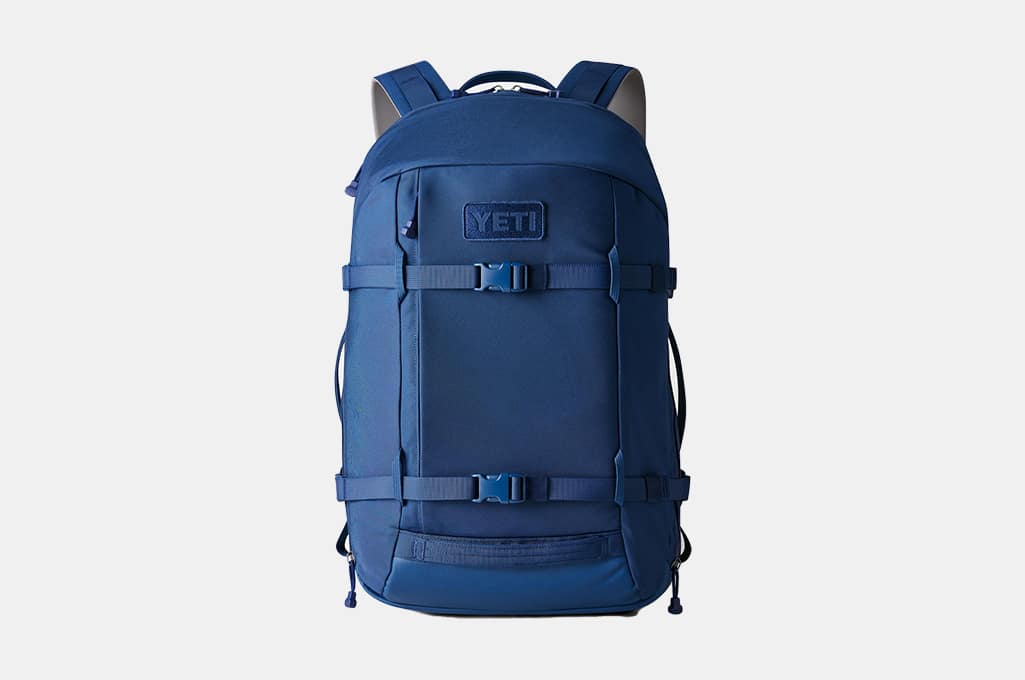 Yeti Crossroads 27L Backpack
One of the most remarkable things about the Yeti Crossroads 27L Backpack is that it's as tough and indestructible as an old Nokia brick phone, but as sleek and modern looking as the latest smartphone. It's built from abrasion-resistant nylon and comes with a large main compartment that opens wide, so you don't have to play that thread-through-the-needle game that some of these slick new bags subject you to. The Crossroads also has many mini-compartments and comes in a brilliant red, a cool navy, and a neutral but chic black.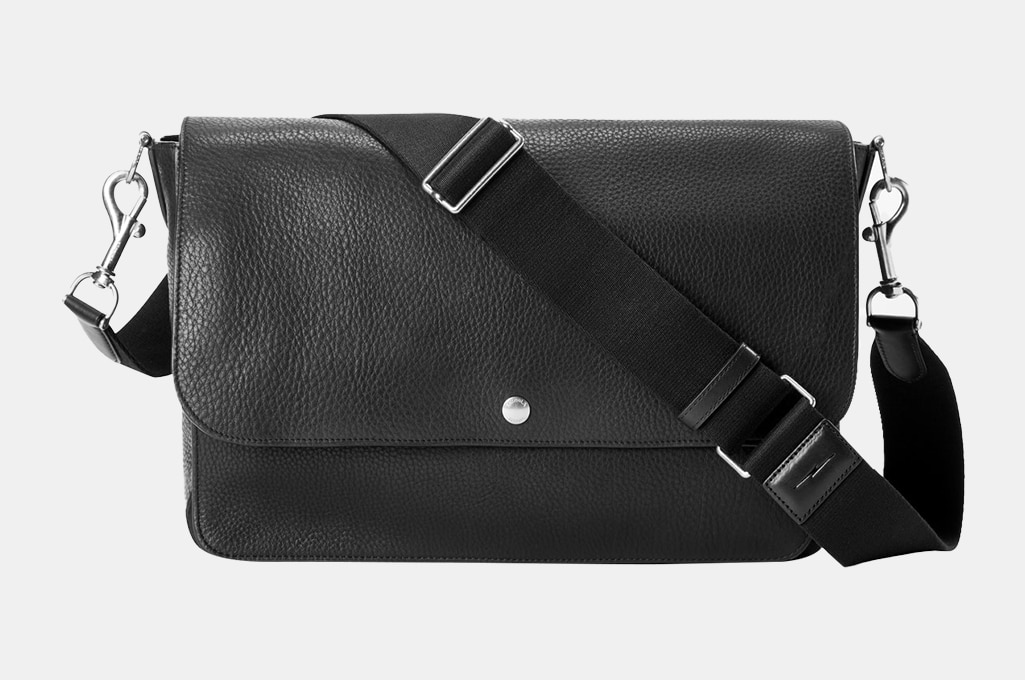 Shinola Canfield Relaxed Messenger
Classy but unstuffy, the Shinola Canfield Relaxed Messenger sports an exquisite pebbled leather made out of Vachetta. This is the same kind of leather that ladies' designer purses are made out of (think Louis Vuitton), and is buttery soft, but full bodied and granular. This bag was vegetable tanned and will patinate handsomely as it ages. It's an overall simple design with practical compartments inside. Trying to look discerning without being flashy? Shinola's got you covered.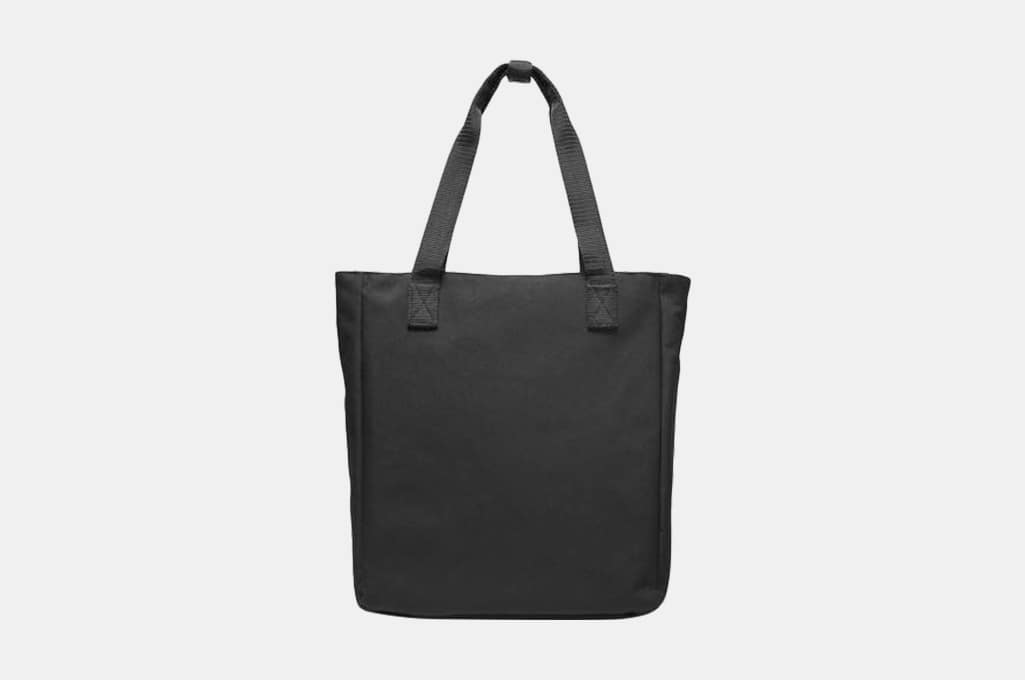 Lo & Sons The Edgemont
The Lo & Sons Edgemont reminds me a bit of those Transformers robot toys. It looks like a no-frills tote bag, but it does everything short of growing airplane wings. It goes from tote to backpack, comes with retractable luggage handles, stash pockets, and a removable insert. On top of that the Edgemont is made of recycled material, and each bag created also saved 17 plastic bottles from a landfill.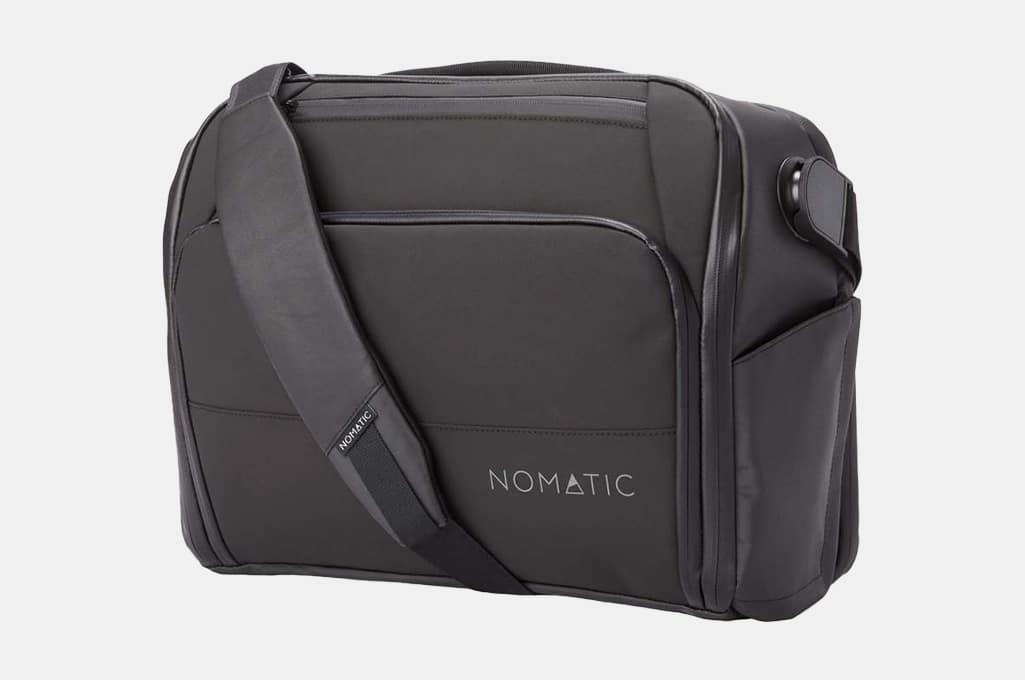 Nomatic Messenger Bag
The ultra-functional Nomatic Messenger Bag is loaded with innovative features—20 to be exact. Here are a few: The patented shoulder strap equipped with a Fidlock magnetic mechanical fastener, usually reserved for high-end professional helmets, has 360 degrees of rotation. The spring-loaded compression buckle makes adjusting the strap easy and actually kind of fun. The magnetic side pockets expand when you place your items in there, but snap flat when you pull the items out, so the pockets aren't sloppily hanging out waiting to get caught on a door handle. The laptop pocket is TSA ready, which is always a plus for you pilgrims. If you're looking for a travel bag that's basically a Rube Goldberg machine, the Nomatic does it all.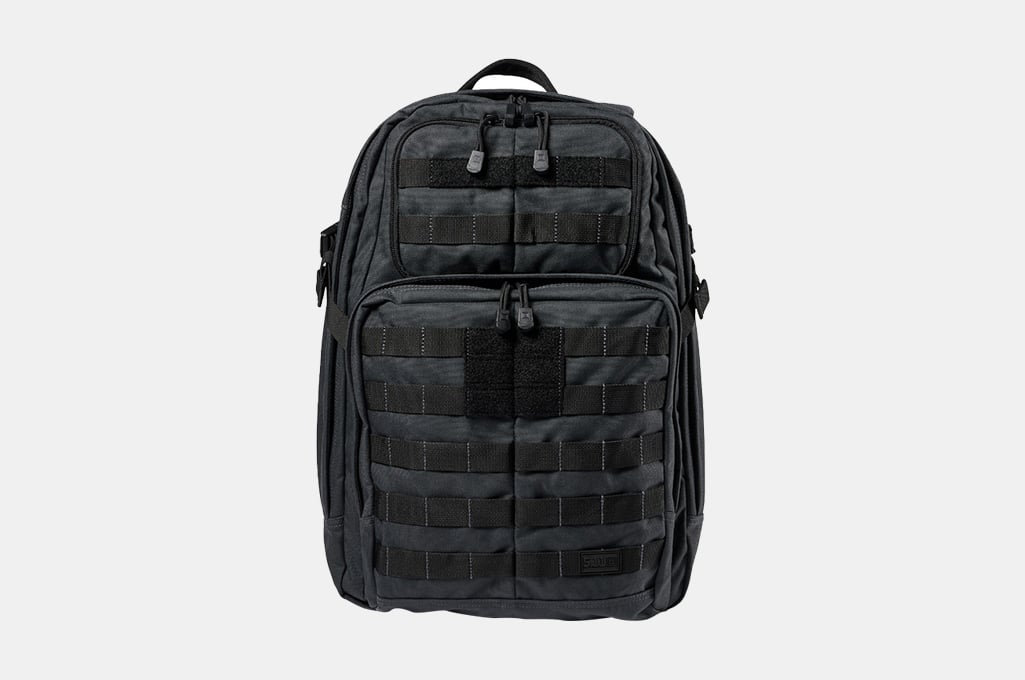 5.11 RUSH24 2.0 Backpack 37L
Whether you're in the actual jungle or the urban jungle, this 2.0 levelled-up 5.11 RUSH24 Backpack has everything its loyal following expects and more. Some added features include increased storage, dual top pockets so your eye contact solution can't leak all over your phone and computer charger, and padded sleeves for your laptop. The 37-liter capacity is impressive, though this can even be expanded using the bottom panel gear loop, and the clever sewn straps throughout the exterior of the backpack. These also add a cool tactical aesthetic, which looks great in ranger green, dark navy, or "kangaroo" aka dark military khaki.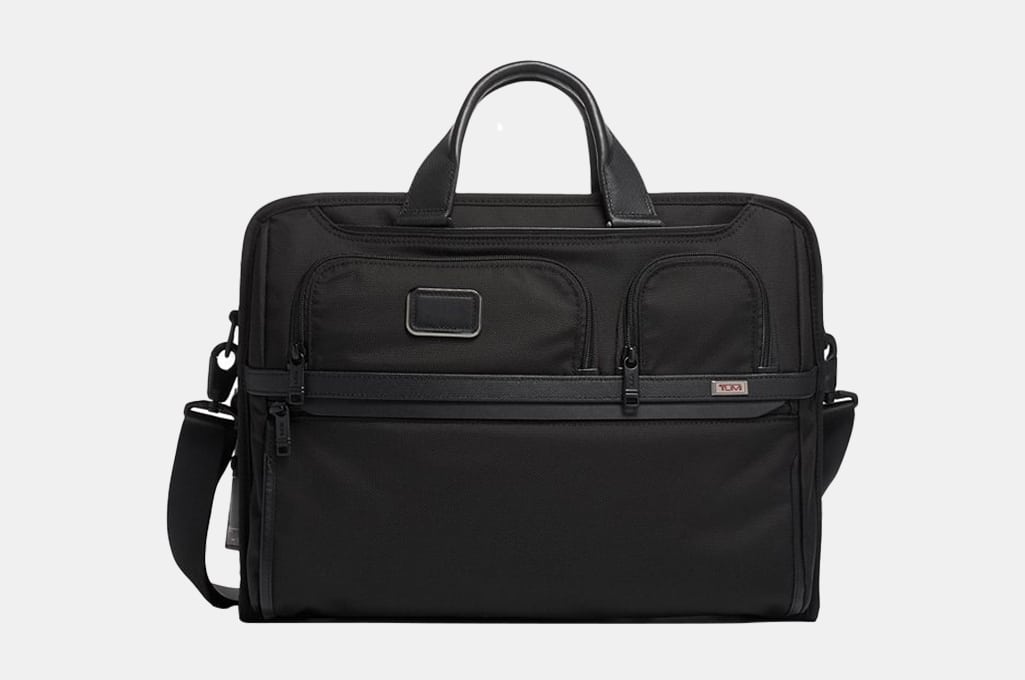 Tumi Expandable Organizer Laptop Brief
Always reliable Tumi serves up a super professional bag with the Expandable Organizer Laptop Brief. It features an expandable main compartment and a traditional accordion file section. They were efficient in the '50s and they're efficient today. This briefcase isn't without its innovative new features though. The articulated shoulder strap ensures the briefcase doesn't keep sliding off of you, while its hooks and sleeves help you add and stack other bags. Just like your dog's breakaway collar ensures he doesn't get caught on bushes and fences, Tumi's breakaway closure system makes sure you can't get caught on some luggage carts and miss your flight.
Disclosure: Clicking on these links and making a purchase may earn us a small referral fee, at no extra cost to you. Learn more here.
freestar.config.enabled_slots.push({ placementName: "gearmoose_leaderboard_btf", slotId: "gearmoose_leaderboard_btf" });