The 25 Best Briefcases For Men
There comes a time every week — if not every day — where the demands of your job and your daily grind call for the best, most well-equipped and most effective gear. If you happen to work in an office or jetset from city to city or cross-country, there's one piece of gear in particular you simply need to have top of mind: The right briefcase for your essentials and your everyday carry.
This isn't the time to be losing papers, pens or flash drives — you'd best come prepared, no doubt about it. After all, that critical preparation is (at least) half the battle, and that's the case (pun intended) whether you're gearing up for a sales pitch, a quarterly presentation or an investor's meeting. Look good, feel good, perform even better … or something like that, right? And the rest of the time outside of those days where you've simply got to crush it, the right briefcase can serve as a reminder of why you do, well, what you do. Heck, for leisurely pursuits and weekend trips, a great deal many of these briefcases are more functional than they are stuffy — you won't exactly find your average business briefcase on this list.
These picks are all functional, rugged, sleek and ready for whatever the day throws your way. And with the right briefcase beside you, we guarantee you'll be just a bit more prepared for whatever that *something* happens to be tomorrow.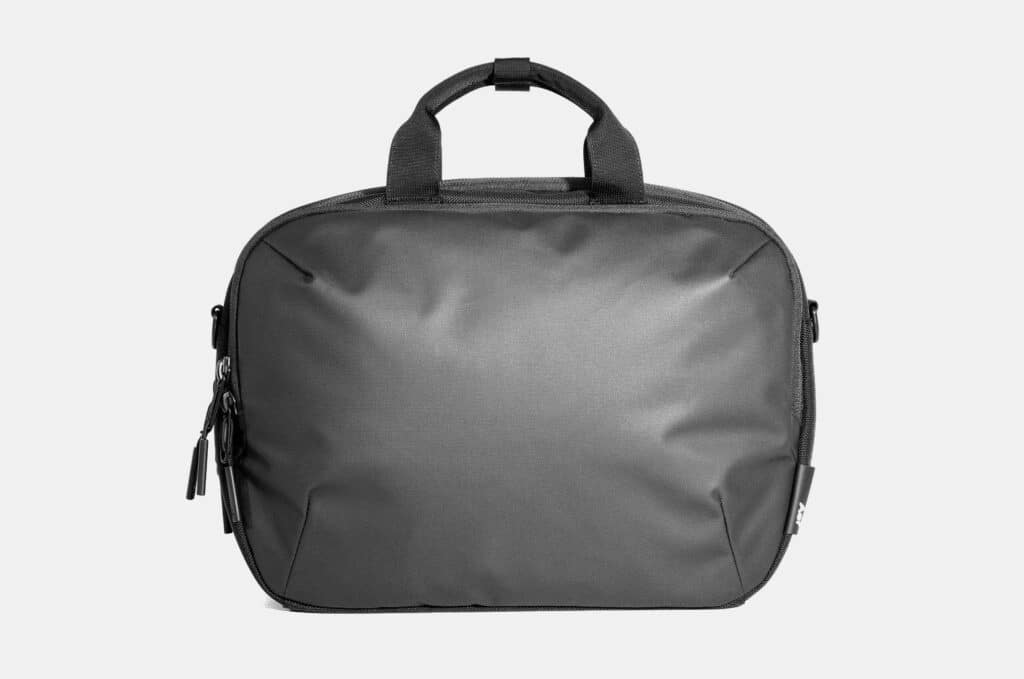 AER Commuter Brief 2
Good looks aside, AER's Commuter Briefcase 2 is an all-in-one, weather-resistant briefcase for both work and travel. But yes, it looks sharp, and is built to last thanks to a durable construction made from 840D nylon with a weather-friendly carbonate polyurethane coating, and 1680D Cordura ballistic nylon.
A smart design provides balanced carrying, purposeful organization, and storage capabilities for a 16-inch laptop, water bottle, and other necessary accoutrements.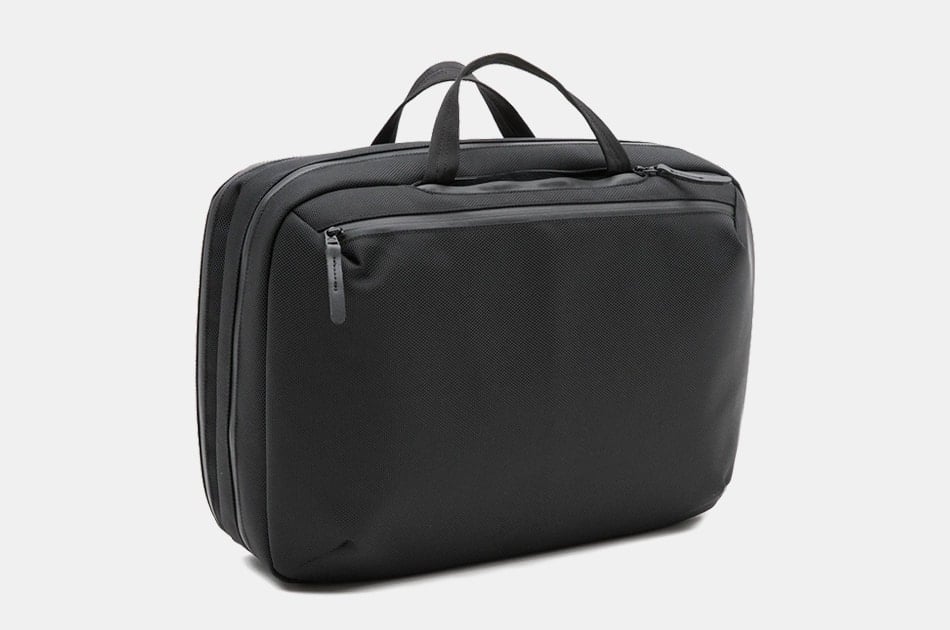 Everyman Hideout 5-Way Commuter Pack
It used to be, briefcases were really only that — just a briefcase, with little else to separate itself from a crowded field. The good news for the discerning shopper among us (like yourself) is that the Everyman Hideout 5-Way Commuter Pack has five — yes, five — different carrying configurations to suit any lifestyle. Of course, the Commuter Pack works well on the road, all owing to its ballistic nylon construction and durable touches like waterproof zippers.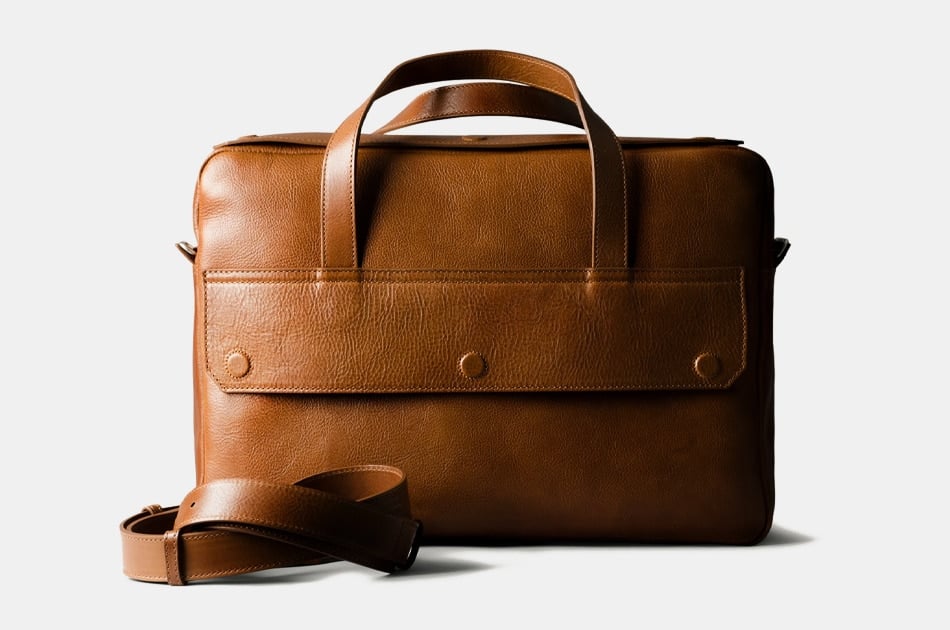 Hard Graft Long Haul Briefcase
The right briefcase — no, one of the best men's briefcases — can seem to call out to you. You know you need its effortless style, its heirloom quality and its rugged toughness in your life. That's not even hogwash — that's just what we see when we check out the Hard Graft Long Haul Briefcase. Vegetable-tanned leather and sleek hardware provide this bag with an air of invincibility, but you'll have to test out this highly stylish briefcase for yourself to figure that out.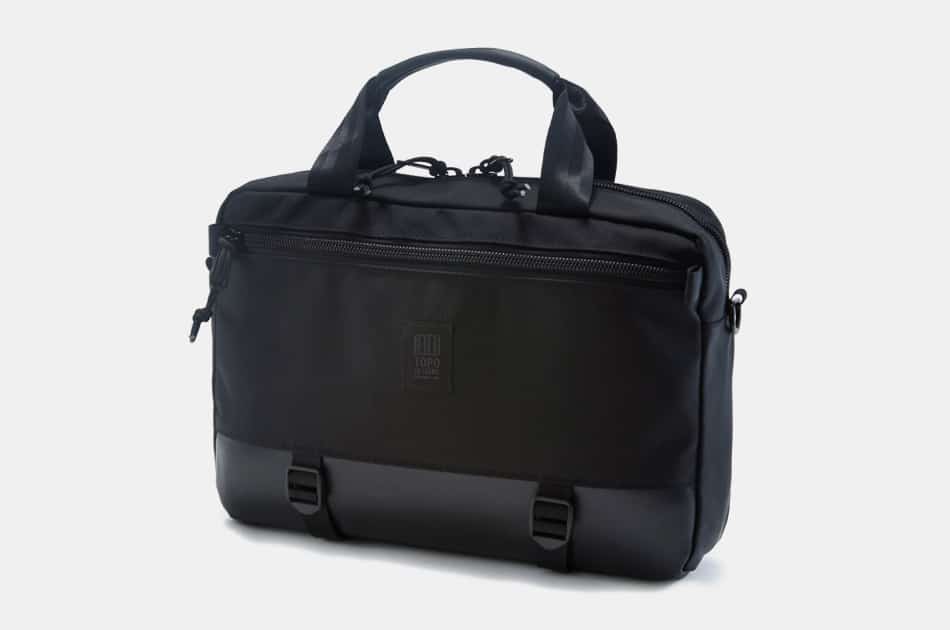 Topo Designs Commuter Briefcase
Since when does an outdoor goods company make a briefcase? Since Topo Designs does, that's when. The Colorado-based brand takes great pride in crafting versatile, dependable gear that moves from the trail to town with ease, and the nicely sized Commuter Briefcase is hard-wearing enough to take on a hike, then easygoing enough to bring with you to the brewery. Plus, it's ridiculously affordable and just downright cool-looking.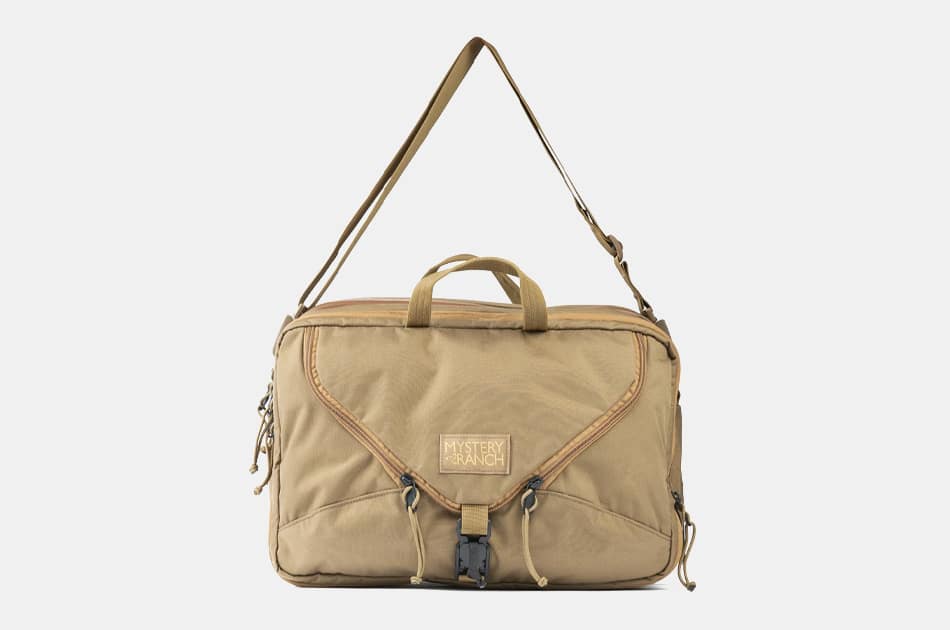 Mystery Ranch 3-Way Expandable Briefcase
Yes, Mystery Ranch — purveyors of adventure-ready packs and backpacks — are now behind the production of (potentially) your new favorite briefcase. This rugged briefcase comes packed with the potential to fit more gear than you think you need — but when the time comes to hit the road once more, you're going to be glad you loaded up the Mystery Ranch Expandable Briefcase.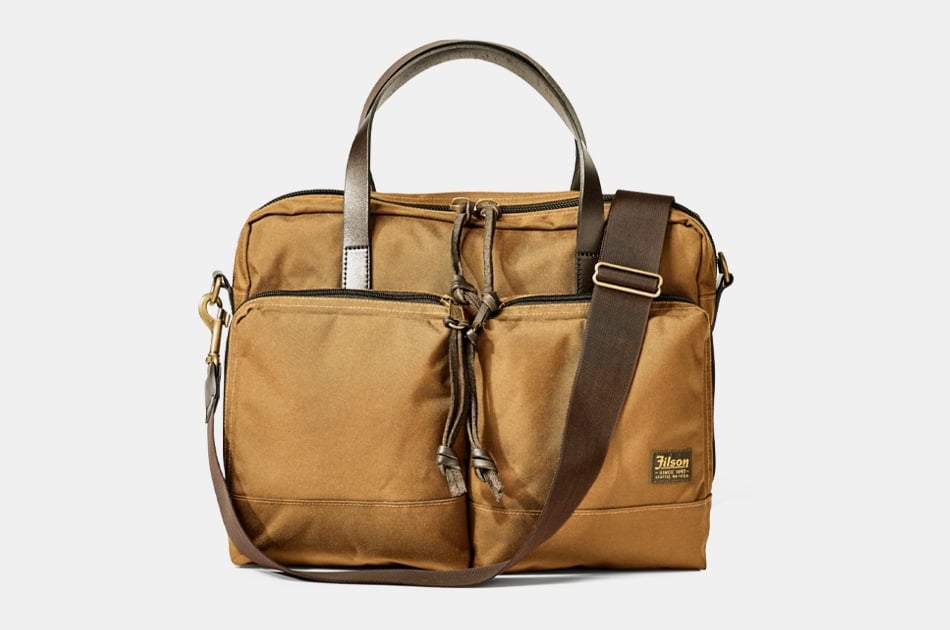 Filson Dryden Briefcase
The Filson Dryden Briefcase, to us, is nearly the stuff of legend. It's the sort of rugged and durable briefcase that any guy would be proud to own — after all, it carries on that famous Filson heritage of quality, dependability and functionality (no matter what). The Dryden Briefcase has all the hallmarks you'd expect of a Filson bag, from the use of Cordura nylon to the handsome leather accents. It covers everything you could want out of an everyday brief, and then some.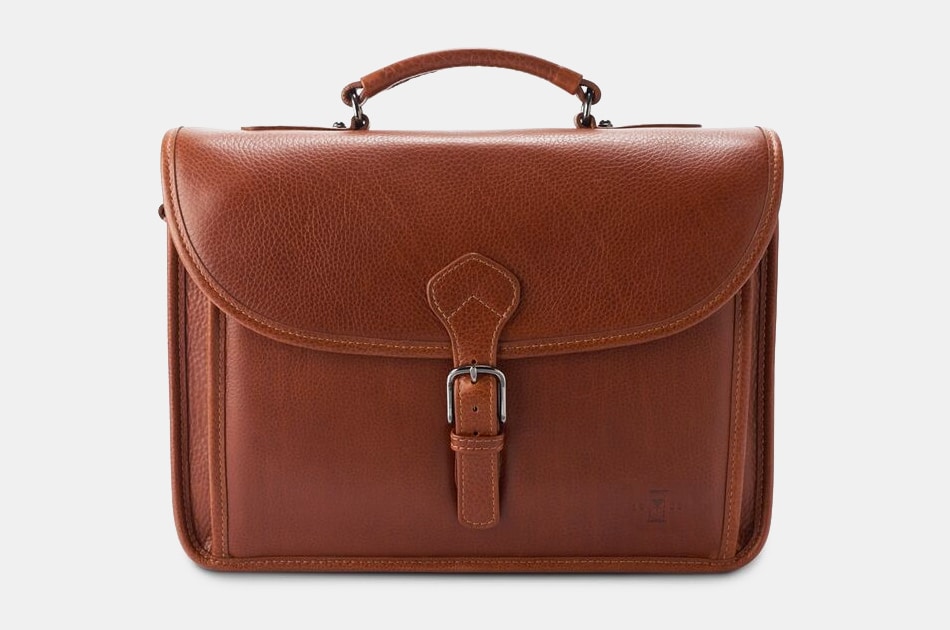 Allen Edmonds American Grain Collection Slim Briefcase
Quick, name the brand that makes some of your favorite dress shoes? OK, now name the brand that makes your … favorite briefcase? They might have something in common, in that they're made by legendary American leather goods brand Allen Edmonds. The brand really goes above and beyond what you'd expect from one that's cut its teeth in making stylish dress shoes, and for the guy who wants quality from head-to-toe, that's very good news indeed. This American Grain Collection Slim Briefcase, after all, is next-level.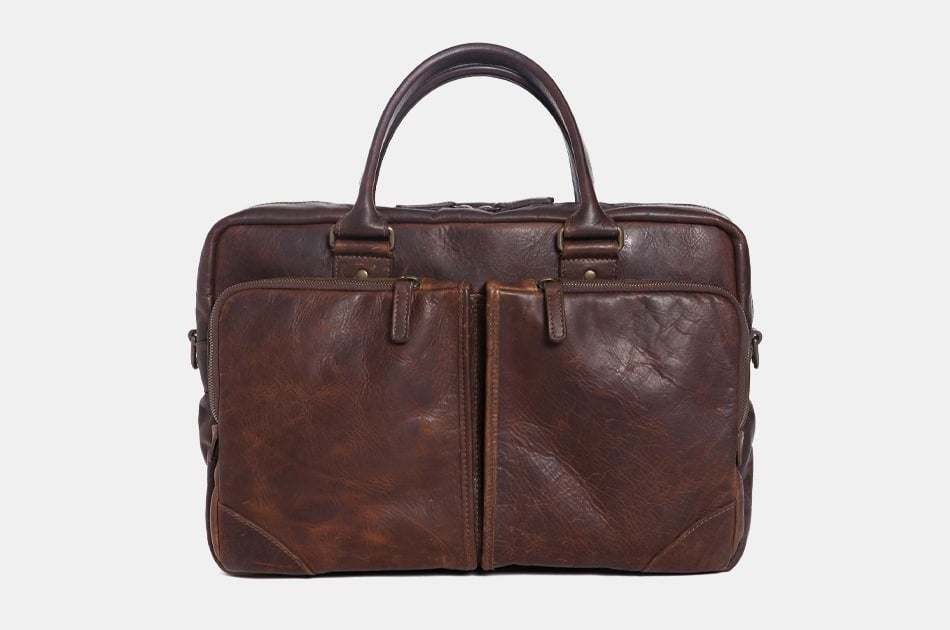 Moore & Giles Haythe Leather Briefcase
The best leather briefcases, just like the best leather boots or the best leather jackets, are often worth investing in — and then watching the dividends pay off for years to come. That's always been the case with Moore & Giles, and the Haythe Leather Briefcase in particular is but one example of the quality and craftsmanship the brand can deliver to your life (and your everyday carry, at that). Yes, you're dropping quite the chunk of change on this leather briefcase, but it's a briefcase that's only going to age more gracefully over time, and we think your personal style is going to be all the better for it.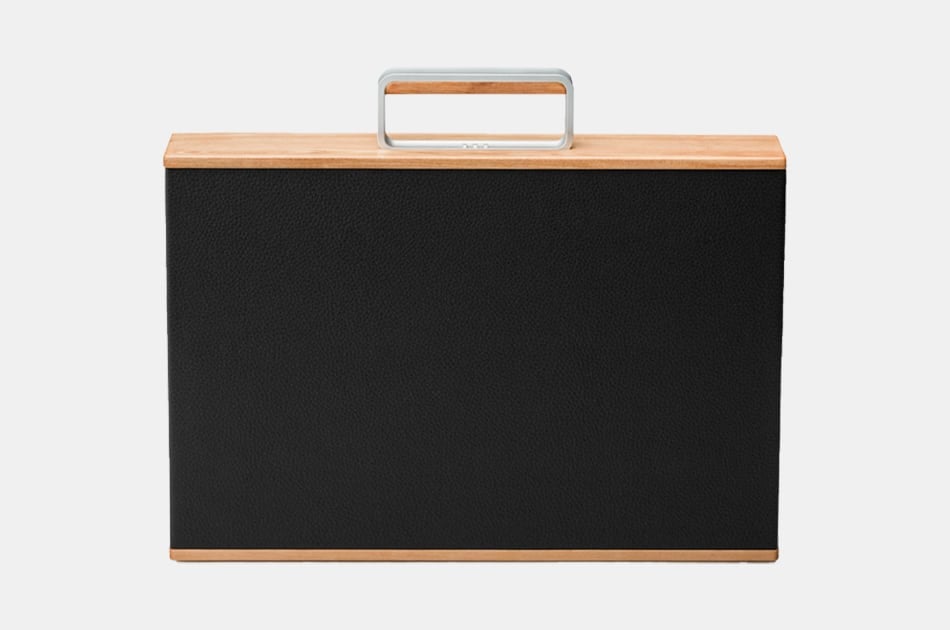 Charles Simon Mackenzie Briefcase
Quality briefcases combine a streak of ingenuity with the kind of innovative design that works for guys the world over — especially those who value futuristic style and clean lines. The Mackenzie Briefcase is made from a unique blend of tough carbon fiber and aluminum on the inside, and then finished off with young bull leather and cherrywood. It's a remarkable briefcase that the modern man needs handy at all times — in fact, it nearly goes without saying that this briefcase could change the way you do business.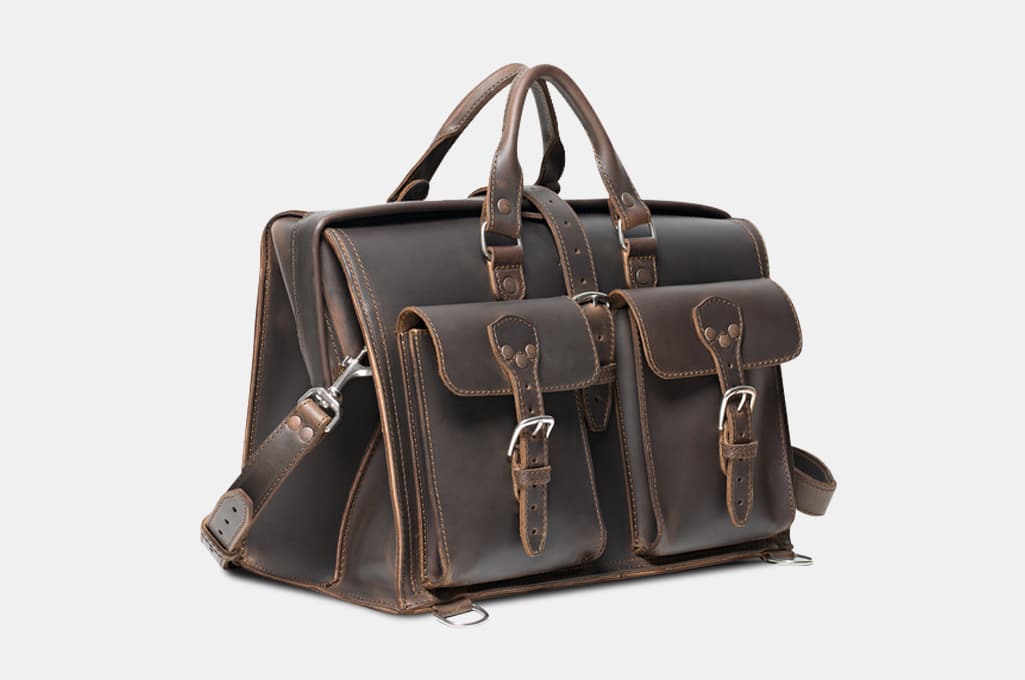 Saddleback Barrister's Leather Briefcase
If you need durability, the Saddleback Barrister's Leather Briefcase is exactly what you're looking for. The briefcase is made with hyper-tough full top grain cowhide leather, which ensures maximum ruggedness while still maintaining the "natural" look of pure, high-quality leather. Just to prove that it means business, Saddleback offers a one hundred—yes, hundred— year warranty. There are no breakable parts, and every buckle, clasp, and strap is fully reinforced. The Gladstone style makes it incredibly easy to open the bag up wide and sort through all the pockets for easy access to your stored items at a moment's notice.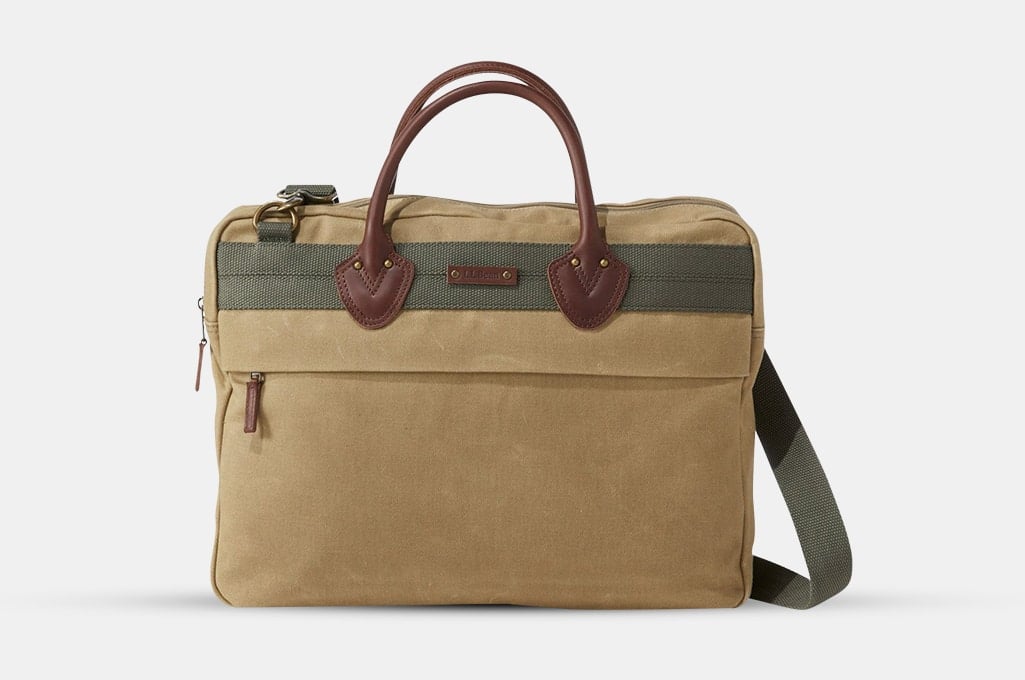 L.L. Bean Waxed Canvas Briefcase
Sometimes, you want a briefcase to dress down, and that's exactly what L.L. Bean intended with its Waxed Canvas Briefcase. As the name suggests, the briefcase is made from tough waxed canvas, which is fully weather- and water-resistant while also being incredibly lightweight. The padded laptop sleeve shields your computer from impact, and the interior zip pockets give you excellent customization of your storage options. With the adjustable strap slung over your shoulder, you're ready to tackle anything the world of business and travel can throw at you.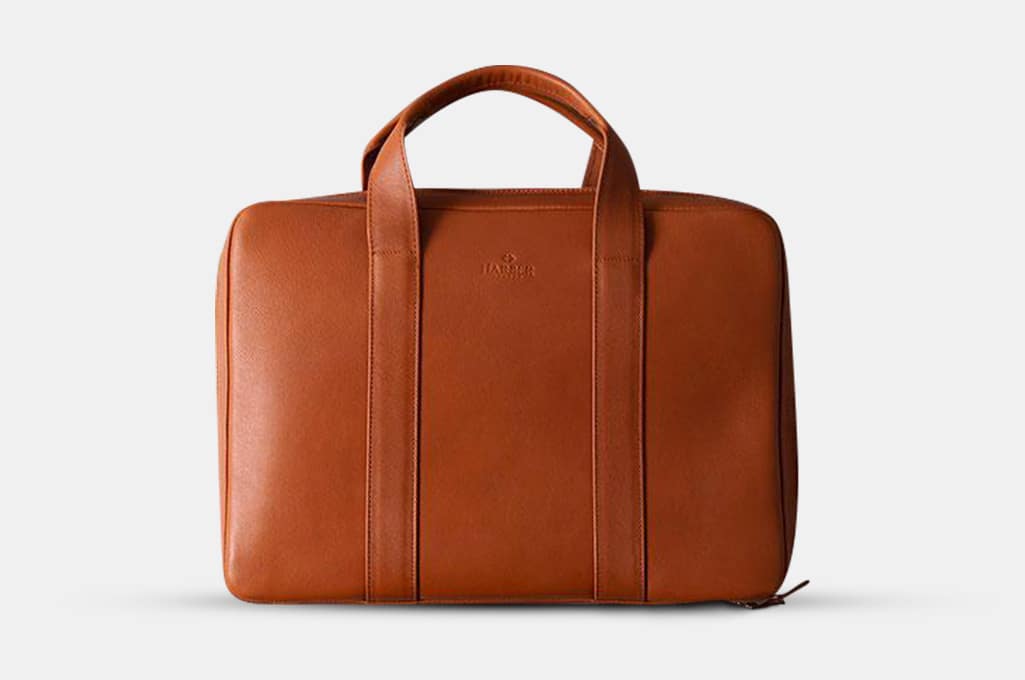 Harber London Laptop Briefcase
Keep your carry-on light and slim with the Harber London Laptop Briefcase. If you're just taking a short trip or a quick flight, this briefcase will be the perfect work companion. Not only does it include a padded laptop pocket, but it's got pockets specifically for notebooks of three sizes, a passport pocket, and inner magnetic pouches that make it easy to organize everything you're packing. Plus, the Spanish handmade full grain leather just gets more and more beautiful the more you use it.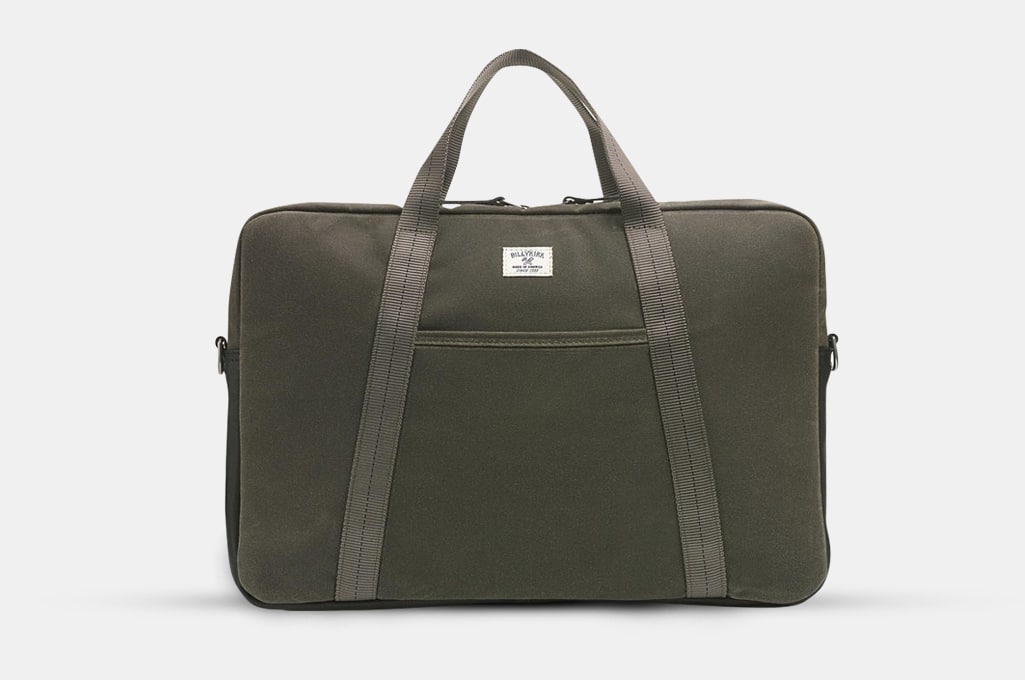 BillyKirk No. 508 Standard Issue Slim Briefcase
Pack only the essentials in the BillyKirk No. 508 Standard Issue Slim Briefcase, a carry-on option designed to be super portable and extra-slim. It's sized for laptops up to sixteen inches across, but with just enough pockets for notebooks, chargers, pens, and your other work basics. The front and back exterior pockets offer a bit more storage space and easy convenience when on the go, but this briefcase is all about trimming down your travel items and taking only what you really need. All this, in a truly classy-looking vegetable-tanned full-grain leather bag.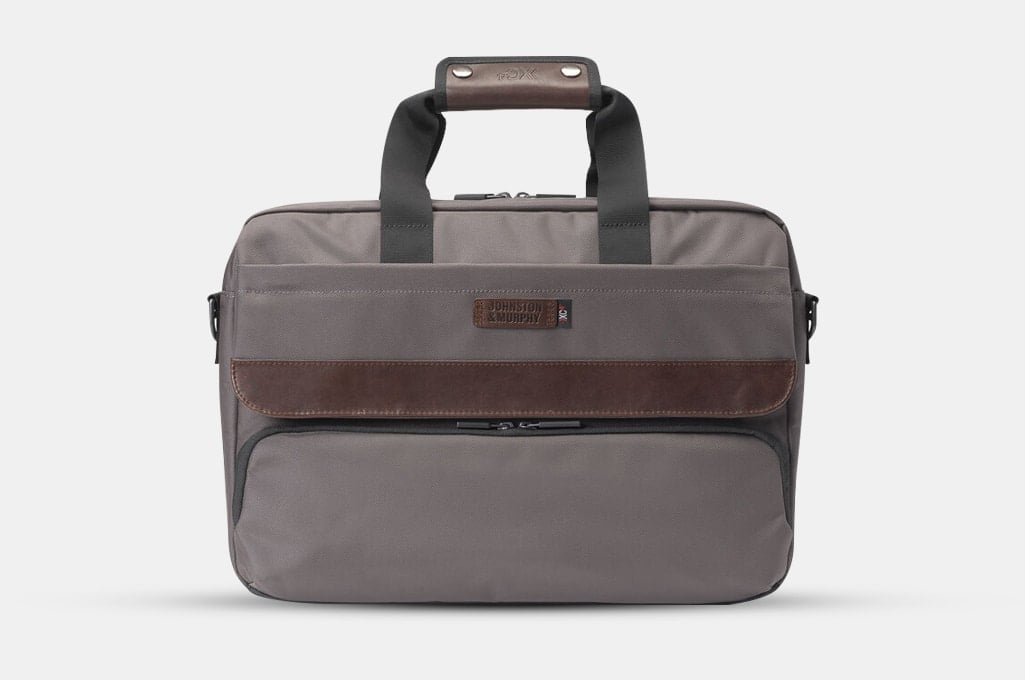 Johnston & Murphy XC4 Briefcase
Johnston & Murphy delivers a masterpiece of durability and convenience with the XC4 Briefcase. Made using super-tough ballistic nylon, the briefcase can handle quite literally the worst of airline travel or city life—it's even water-resistant to shield your devices from the weather. The grey interior lining makes organizing easy because everything you're packing is instantly visible. And check out the organization options: a top main compartment complete with laptop sleeve and mesh storage panel, a magnetic-closure front flap with hidden zip organizer, a magnetic-closure back pocket, and a full front zip lower pocket. Now that's a briefcase that's handy to carry around all day long.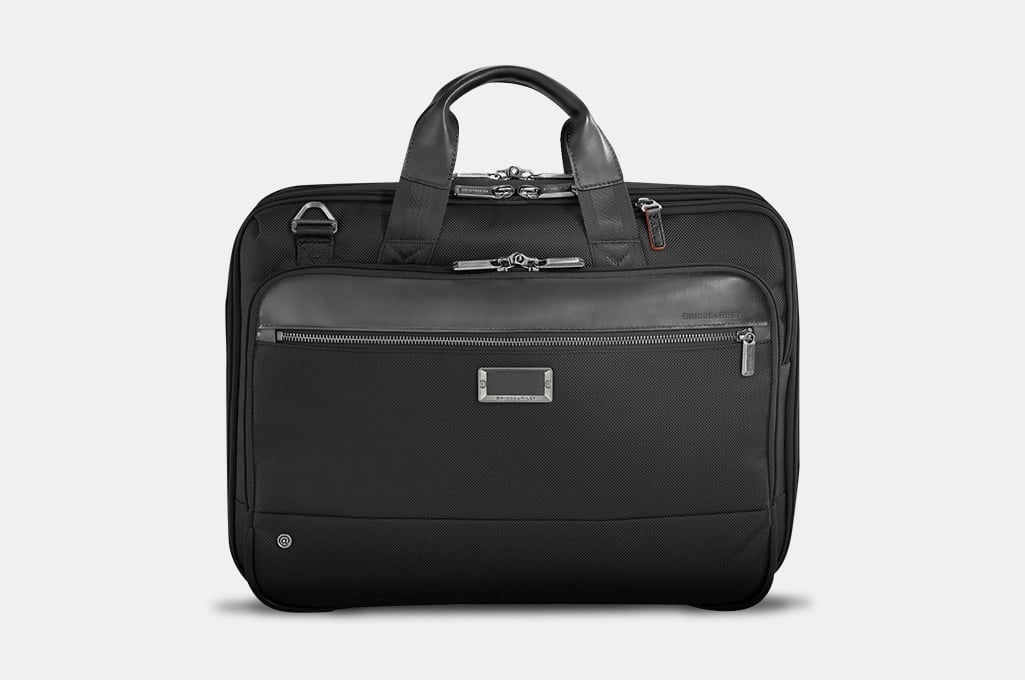 Briggs & Riley @Work Medium Expandable Brief
Sometimes, the classic styles are the best. This Briggs & Riley @Work Medium Expandable Brief delivers that old-school look you've loved for years, but throws in some pretty insane functionality to really maximize value. The expandable shell gives you two-and-a-half extra inches of packing space just in case you need an extra outfit or a few more travel gadgets for your trip. With its fabric-lined three-section interior, you'll always find organizing your items a breeze, and everything will be securely protected against impacts, falls, or careless luggage handlers.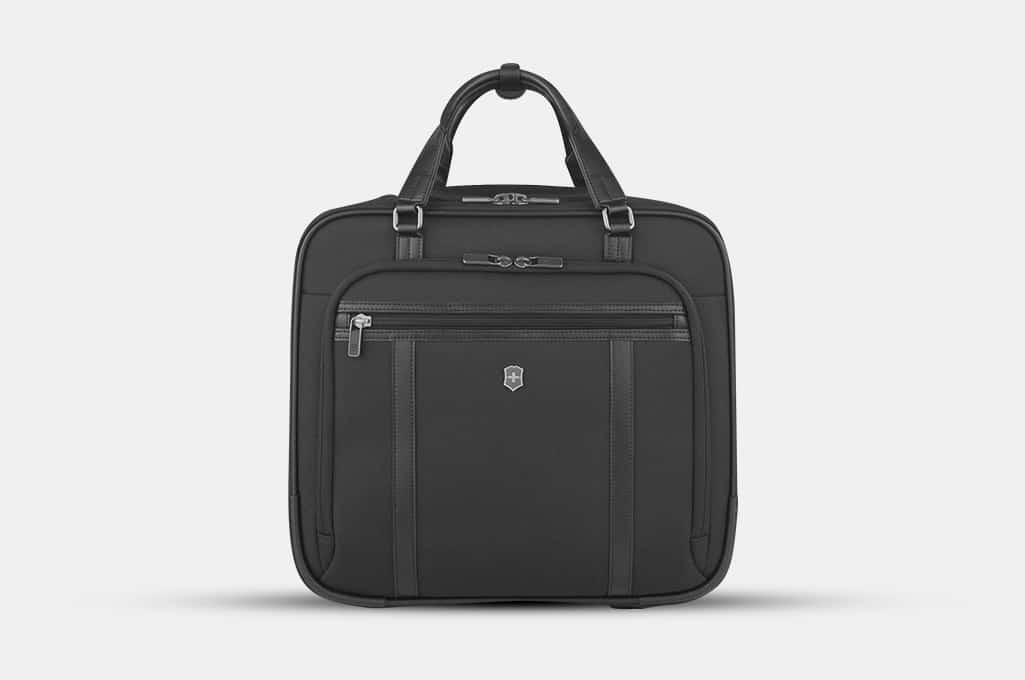 Victorinox Werks Professional CORDURA Wheeled Business Brief Compact
Few brands can offer durability and versatility quite like Victorinox. The Werks Professional CORDURA Wheeled Business Brief Compact is the perfect blend of carry-on and briefcase, with a telescoping handle and built-in wheels that make it super easy to push the bag around the airport, train station, or corporate office. With its smart interior organization options and padded pockets, it makes light work of packing. And just to make sure everything is truly protected, the bag is made with a CORDURA fabric exterior that maximizes durability without sacrificing a shred of style.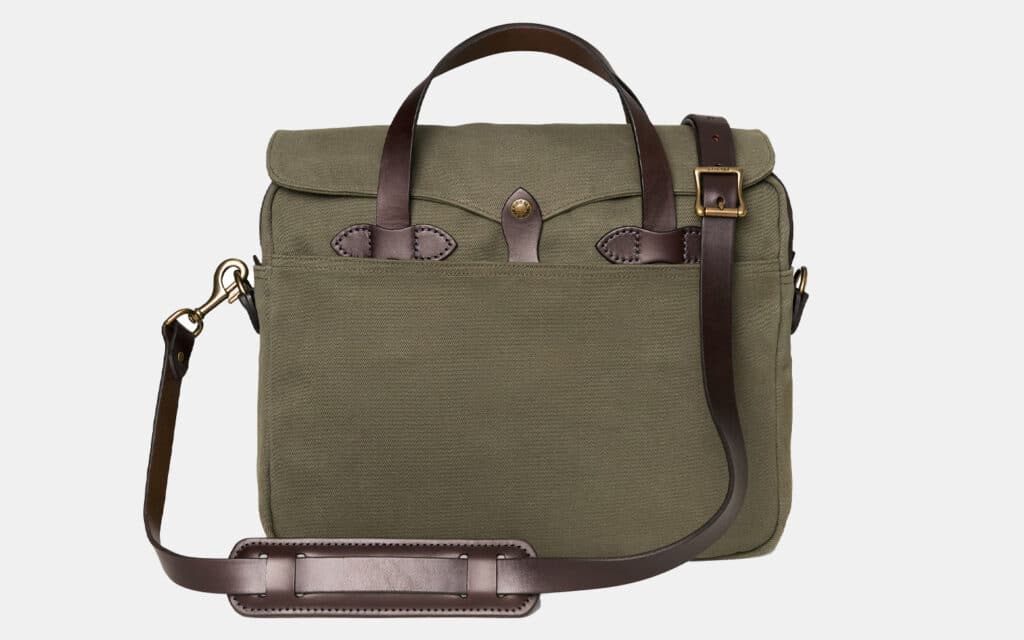 Filson Rugged Twill Original Briefcase
Filson operates according to a simple philosophy: "manufacture uncompromising products using the best available materials and construction". The Rugged Twill Original Briefcase more than lives up to that promise and delivers quality in spades. The industrial-strength twill used for its exterior offers excellent durability without being too heavy, and provides water-resistance on par with waxed canvas. The handles, reinforcements, and straps are made out of super-tough bridle leather that can handle the rigors of travel like a boss. Thanks to the tin cloth binding, interior dividers, and tablet-and-laptop-sized pockets, you'll be able to travel and commute trusting that all of your important items are organized and protected against impact.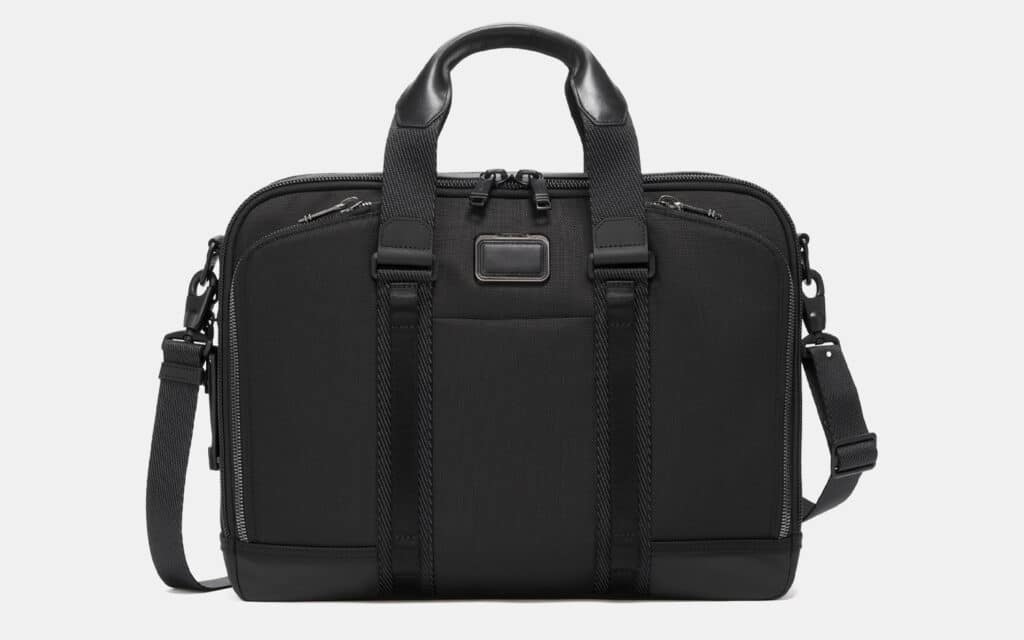 TUMI Advanced Brief
What makes the Advanced Brief by TUMI worthy of its spot on our list? How about the fact that it's made from ultra-tough ballistic nylon, the same material used for ballistic vests? Or perhaps that it's sized just right for carry-on while still being spacious enough to house a laptop up to 15" and all your necessary electronics? The laptop compartment is easily accessible from the outside and features padding enough that even the most delicate MacBook Air will be safe. It's also packed with a mind-boggling number of pockets: front zip pockets, back zip pockets, pen holders, card pockets, media pockets, and more. It also comes with TUMI Tracer, a bar code unique to you that will help TUMI track down your luggage in case it gets lost.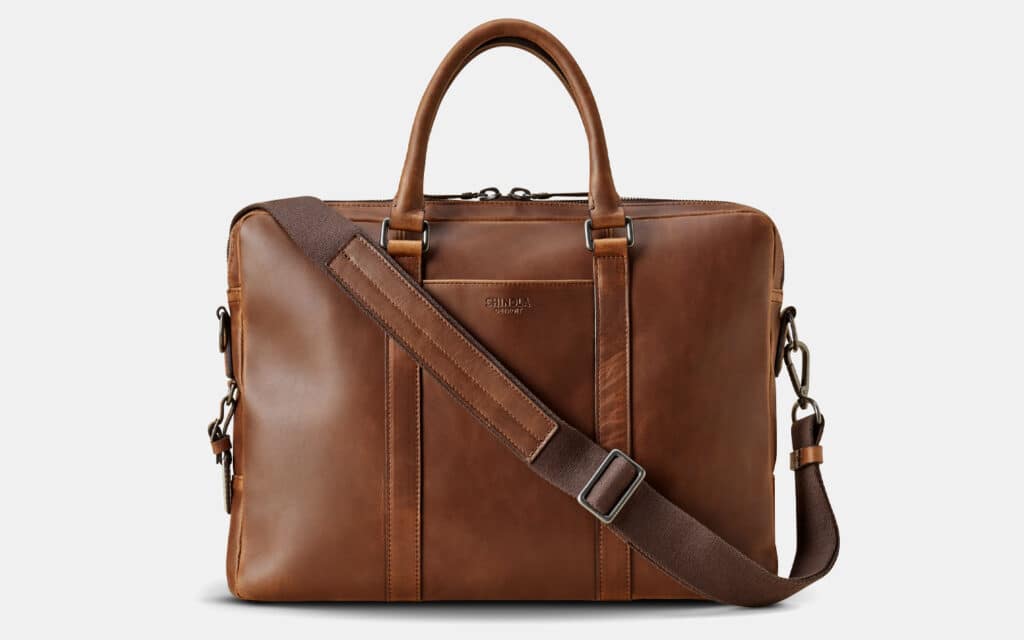 Shinola Detroit Computer Brief
You'd better be ready to spend a pretty penny on this computer bag, because it's far from budget-friendly. However, it's a splurge well worth the investment if you want a leather bag designed to last you a lifetime. The bag is made from premium-quality navigator leather sourced from only the finest tanneries from around the world. The leather is infused with oils that not only give it a creamy feel, but also ensure it's easy to clean and rub out any scratches or scuffs. The leather will patina over time and grow more beautiful the more you use it, developing its own unique look that sets you apart from the crowd. It's designed specifically for commuters and business travelers, with all the storage space you need for your laptop, tablet, smartphone, chargers, and other daily work essentials.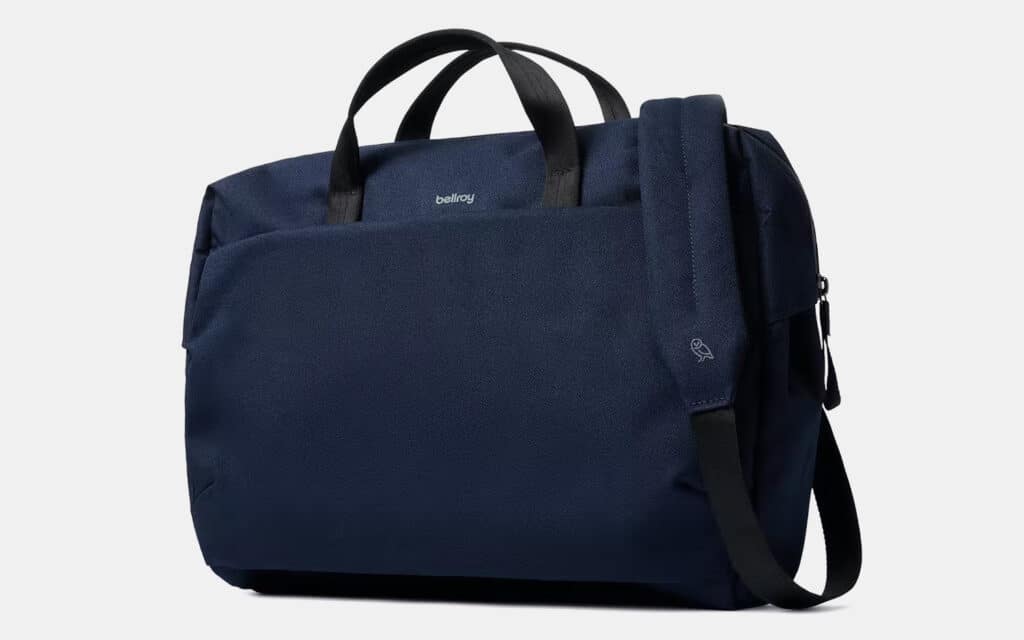 Bellroy Tech Briefcase
Go for a minimalist look and feel with the Bellroy Tech Briefcase, your new best friend on your daily commute. The bag is designed with clean lines and a sleek exterior that looks elegant despite its simplicity, and you'll find the recycled fabric offers excellent water-resistance to keep your delicate items safe in any rain or snow. It's large enough to accommodate laptops up to 16" in diameter and features a wide-mouth opening that makes it beautifully easy to rummage inside and find whatever you need at a glance. Wear it over your shoulder, slung across your back, or even carry it on your luggage thanks to the pass-through integrated into its design. Not only is it well-priced, but it's also backed by a 3-year warranty to ensure maximum quality.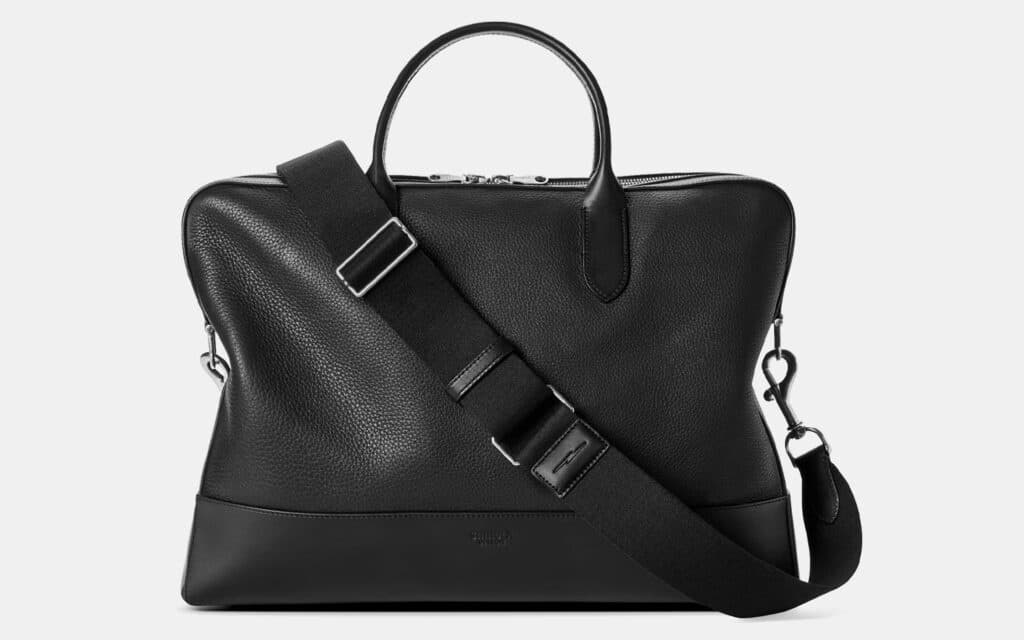 Shinola Detroit Canfield Weekday Brief
Made of natural grain leather, this briefcase by Shinola is a true work of art that only grows more beautiful with every passing year. The Vachetta leather used in its construction is sourced from premium Italian tanneries and vegetable-tanned to ensure maximum quality and durability. You'll love how smooth and soft it feels, and each bag looks absolutely unique right out of the box. Thanks to its laptop pocket and interior zip and slip pockets, organization is a breeze. The leather handles will sit comfortably in your hand all day, or you can use the detachable shoulder strap to carry the bag on your shoulder or across your back. Though far from cheap, it's the only work briefcase you'll ever need—or want—to own for the rest of your life.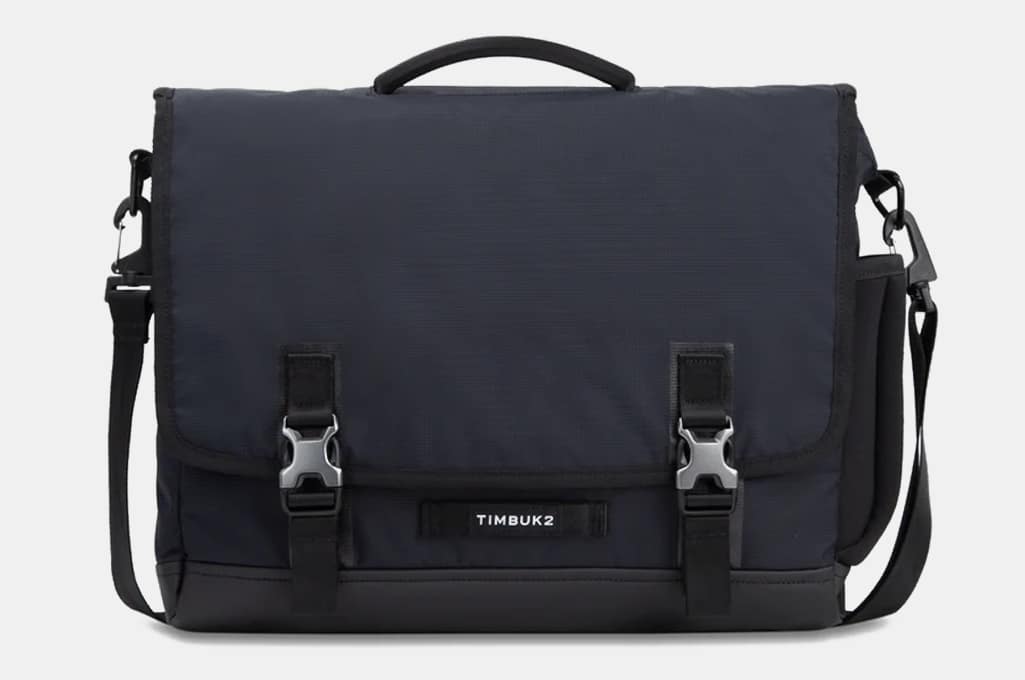 Timbuk2 Closer Laptop Briefcase
This is the perfect non-briefcase briefcase for anyone who wants to carry all their work items around but doesn't want to look stuffy and "over-formal". It wears and feels like a messenger bag, but it's got the briefcase structure and interior organization that makes it easy to keep everything professional and neat. The easy-access laptop compartment makes working on the go a breeze, and you'll love how securely everything is protected against the rain and elements thanks to the closure design. It's tough enough to handle anything life can throw at it and keep you moving at full speed through even the busiest work day.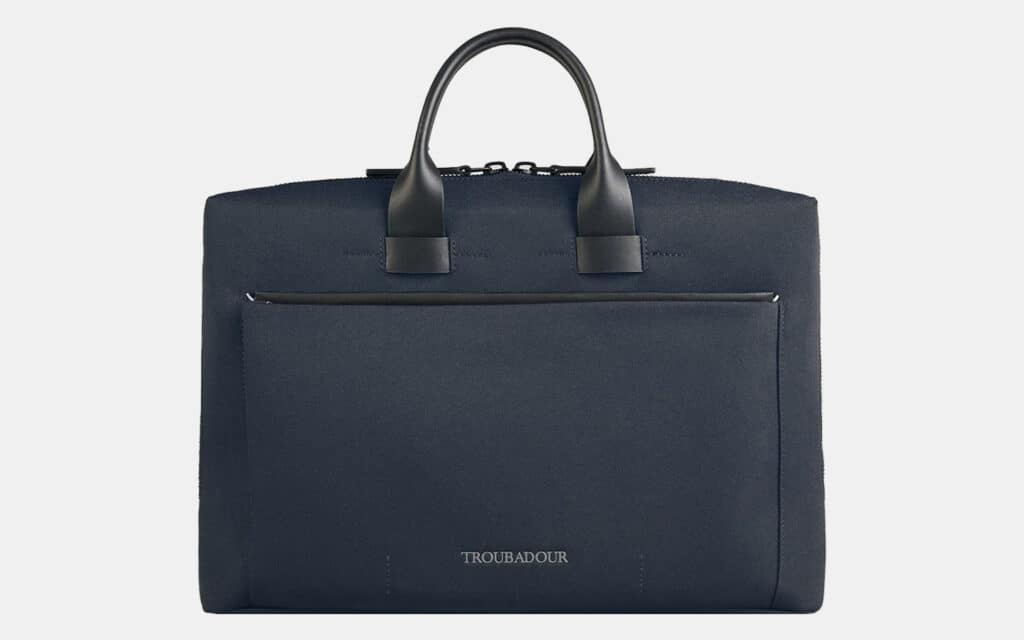 Troubadour Pathfinder Slim Briefcase
You've never seen a briefcase quite like the Troubadour Pathfinder Slim. Though insanely slim, it's spacious enough that you can store everything you could possibly need, and all in a bag that weighs far less than most of the others on our list. It's also fully waterproof so all of its contents will stay dry in even the heaviest downpour. The external pocket ensures you have easy access to your most important documents and paperwork, and the padded laptop pocket can handle oversized laptops (up to sixteen inches) with room to spare. The combination of sturdy leather handles, non-slip shoulder strap, and luggage pass-through guarantees you've got plenty of options for comfortable carrying. Best of all, it's backed by a five-year warranty so you can rest assured you'll get more than your money's worth with this beauty.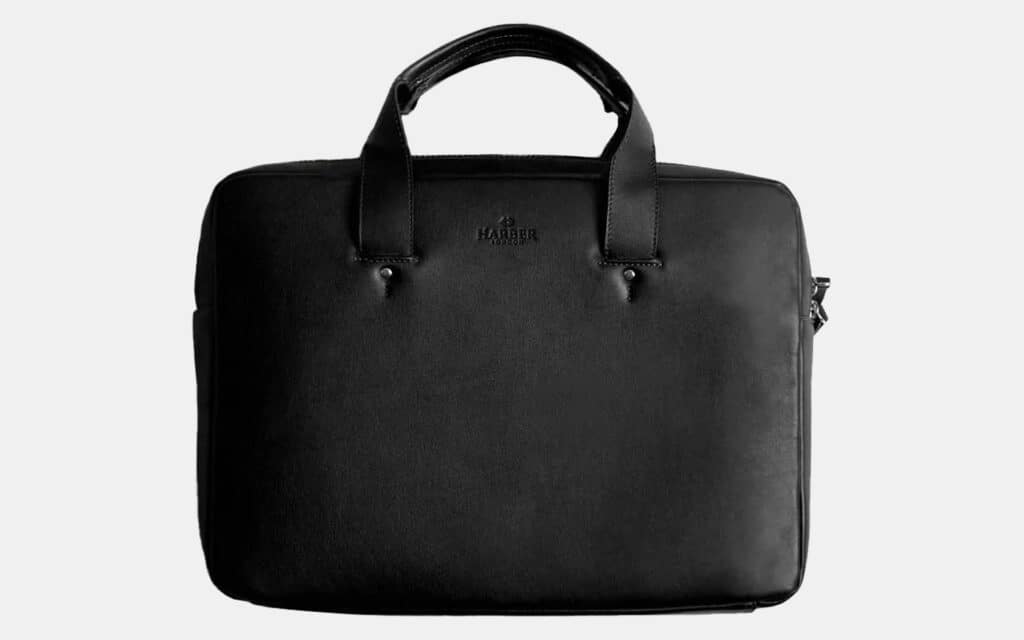 Harber London Everyday Leather Briefcase
The Harber London Everyday Leather Briefcase offers the elegance of a luxury leather briefcase, but without spending a small fortune. The briefcase is handmade by expert craftsmen using full grain leather sourced and assembled in Spain. The more you use it, the more beautiful the patina it develops, until it becomes a work of art in its own right. The bag makes organization easier than ever, thanks to its dedicated charger pockets, passport/notebook pocket, and slots for pens and cords. It's also sized just right for international and local travel, the perfect carry-on solution. It even comes with a magnetic keychain that will ensure all of your precious keys stay safe and on your person in the busiest, most crowded airport.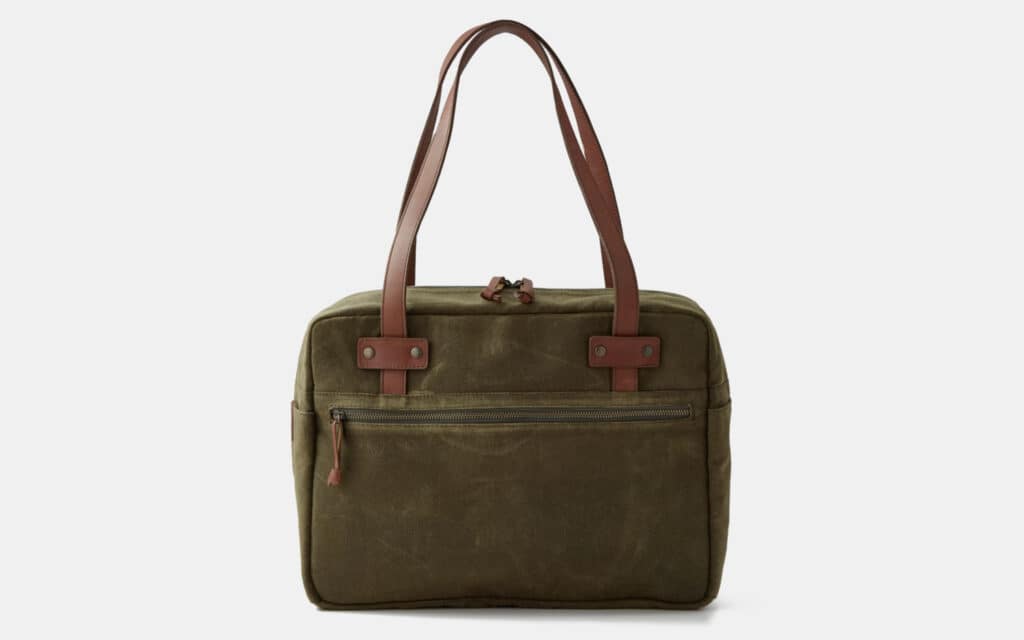 Flint and Tinder Weekender Briefcase
The Weekender Briefcase by Flint and Tinder is the perfect marriage between form and function. It's beautiful enough you'll be proud to walk into work with it slung over your shoulder, but it's built from sturdy waxed canvas that can shrug off rain and snow while also withstanding scuffs, scratches, and dings in your daily commute. The flat bottom design ensures that it stands up on its own to make it easier for you to access its contents, and the multiple zippered compartments and pockets will ensure all your business tools remain neatly stored and easily accessible. The addition of leather straps, accents, and pull tabs add a touch of class as well as excellent durability.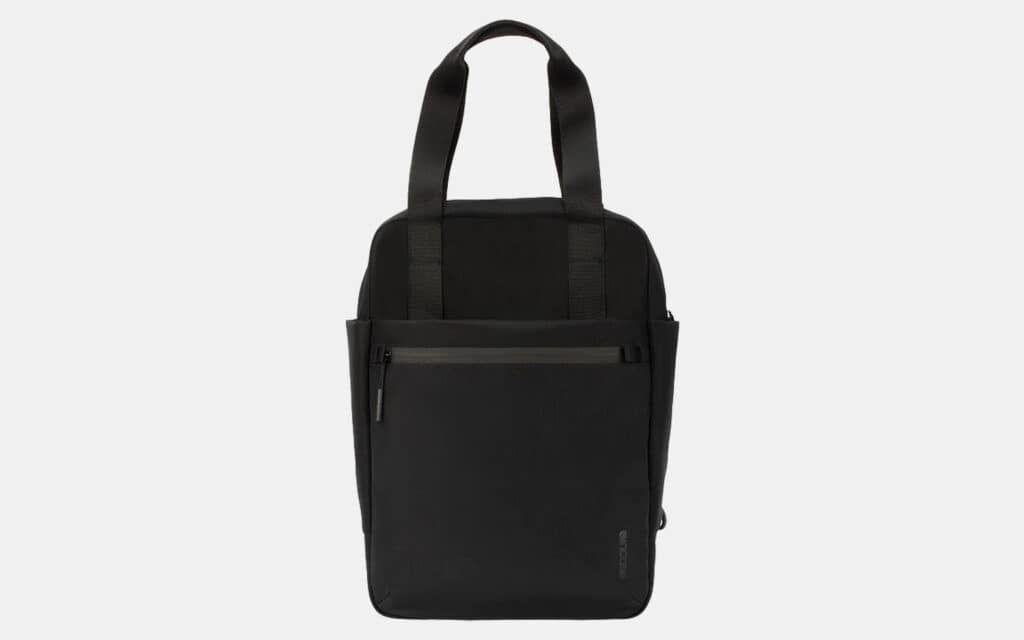 Incase Transfer Two-Way Tote
Carry this bag however you feel most comfortable; it can more than handle it. The Transfer Two-Way Tote by Incase is sized to fit laptops up to sixteen inches, and it's the most mobile bag on our list, thanks to its slim design and light weight. Carry it as a tote or sling it over your shoulder, but trust that all your most important items are within reach in a matter of seconds. Built from ultra-tough ripstop polyester and polyurethane-coated zippers, it will keep all its contents dry in even a downpour. Its many pockets—including an expandable water bottle pocket—are ideal for carrying all your most essential items in the right place and keeping everything tidy. Best of all, it's the most affordable briefcase on this list, and it's durable enough that it will last you for years to come.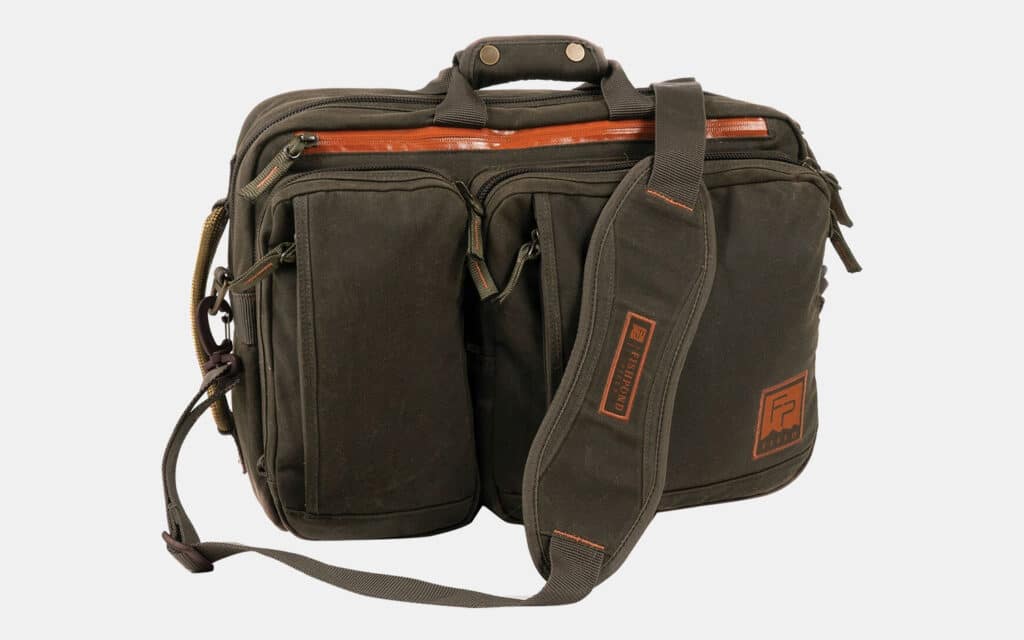 Fishpond Boulder Briefcase
For the outdoorsman who always wants to be ready for any adventure, be it professional or personal, the Fishpond Boulder Briefcase is the perfect solution. It's designed like a briefcase but can be worn like a backpack, and is made using hyper-sturdy and water-repellent waxed canvas. The bag packs a whopping ten pockets inside and out, plus a luggage pass-through that makes it easy to roll along with your carry-on. The cotton used is organic and responsibly sourced, and it's backed by a lifetime manufacturer's warranty. Though it's a bit pricier than some of the most budget-friendly options on our list, it's definitely a briefcase worth considering if you want quality and durability.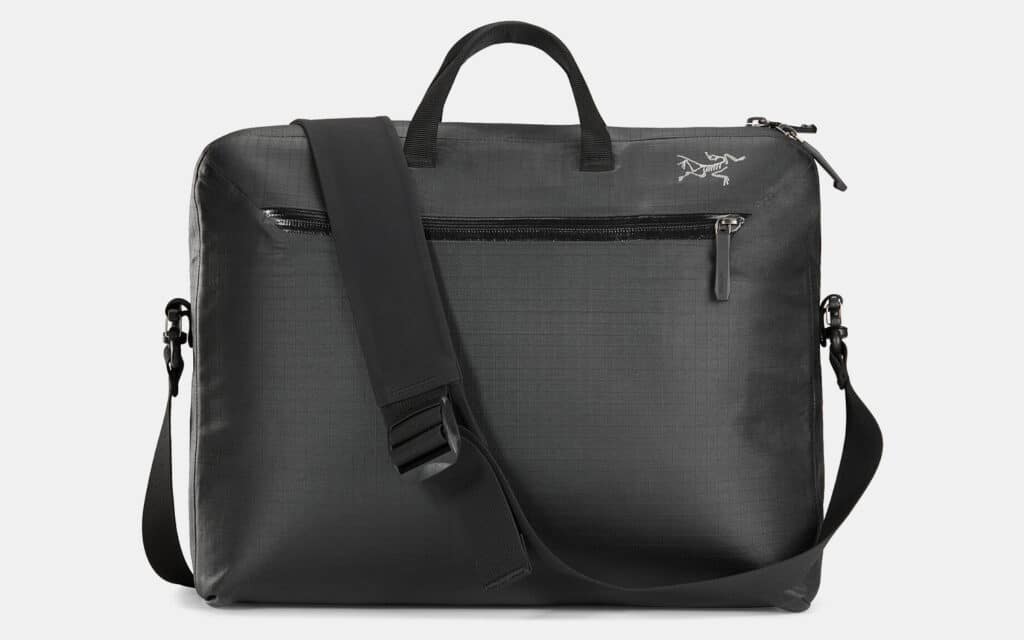 Arc'teryx Granville Briefcase
Whether you're riding the bus, zipping through the streets on an e-bike or electric scooter, or heading overseas to a convention, you'll want the Arc'teryx Granville Briefcase slung over your shoulder. It's made using N400r-AC² fabric with taped seams that offer additional weather protection, and the watertight zippers used for the main compartment and external side pocket will shrug off water like a boss. The main compartment is sized for a fifteen-inch laptop, but there's another pocket sized for legal documents or a second thirteen-inch laptop. It's small enough to fit under plane seats or on your lap on the bus, but offers ample room for your business essentials. Everything about it is ergonomic, tough, and insanely comfortable—the perfect bag for busy professionals.
Disclosure: Clicking on these links and making a purchase may earn us a small referral fee, at no extra cost to you. Learn more here.
freestar.config.enabled_slots.push({ placementName: "gearmoose_leaderboard_btf", slotId: "gearmoose_leaderboard_btf" });