The 25 Best Briefcases For Men
There comes a time every week — if not every day — where the demands of your job and your daily grind call for the best, most well-equipped and most effective gear. If you happen to work in an office or jetset from city to city or cross-country, there's one piece of gear in particular you simply need to have top of mind: The right briefcase for your essentials and your everyday carry.
This isn't the time to be losing papers, pens or flash drives — you'd best come prepared, no doubt about it. After all, that critical preparation is (at least) half the battle, and that's the case (pun intended) whether you're gearing up for a sales pitch, a quarterly presentation or an investor's meeting. Look good, feel good, perform even better … or something like that, right? And the rest of the time outside of those days where you've simply got to crush it, the right briefcase can serve as a reminder of why you do, well, what you do. Heck, for leisurely pursuits and weekend trips, a great deal many of these briefcases are more functional than they are stuffy — you won't exactly find your average business briefcase on this list.
These picks are all functional, rugged, sleek and ready for whatever the day throws your way. And with the right briefcase beside you, we guarantee you'll be just a bit more prepared for whatever that *something* happens to be tomorrow.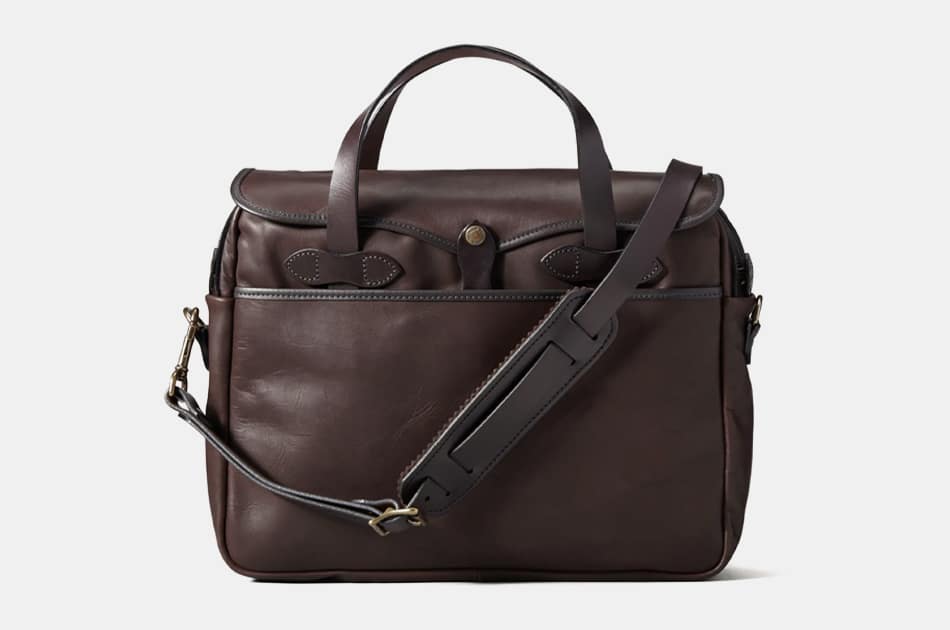 Filson Weatherproof Leather Original Briefcase
Yes, naturally Filson steps up to the plate and delivers its own classically rugged, heritage-inspired take on the briefcase. This isn't just any old leather briefcase, either — the water in question is made to take on weather and tough conditions from the trail to the lodge and back. The rest of the time, in the city, it's just a damn stylish bag to pair up with dark denim, a tan field jacket and your favorite henley. Heirlooms get better over time, and this one certainly will.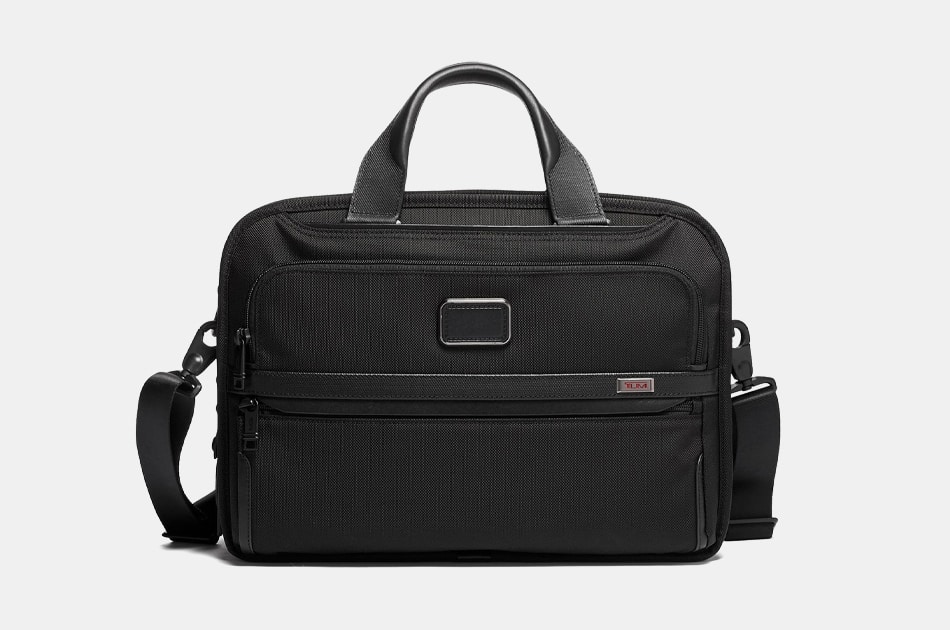 TUMI Alpha 3 Triple Compartment Briefcase
For sleek, utilitarian functionality that's well-suited for the city and for your next business trip, get this TUMI briefcase — the brand's dependability is nearly legendary, and with good reason. The Alpha 3 Triple Compartment Briefcase is made with FXT ballistic nylon and features an interior pocket for your smartphone, plus card slots. The all-black colorway gives it an air of city-ready style that other briefcases skip out on — this TUMI briefcase shows you mean business, in short.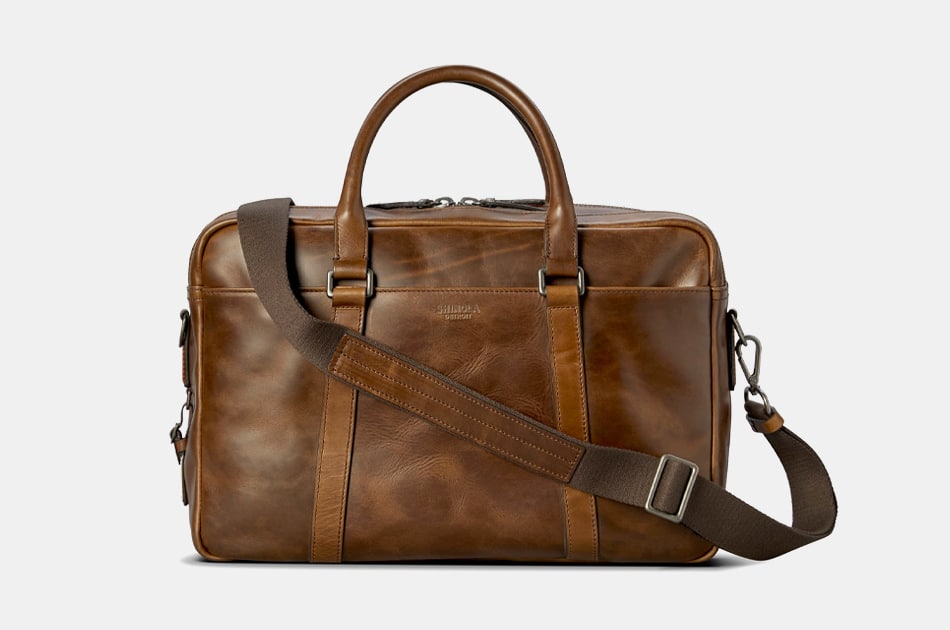 Shinola Navigator leather Briefcase
Yet another way to show you mean business? With this downright impressive, durable, hard-working Shinola Navigator Leather Briefcase, as tough yet stylish a briefcase as you're apt to find these days. Like all great Shinola products, it fits right in with the brand's line of handsome, classic gear. This is the kind of leather briefcase that pulls its weight with a tailored navy suit as well as with more casual style picks (say, a cardigan, henley and blue denim as you head to your local coffee shop).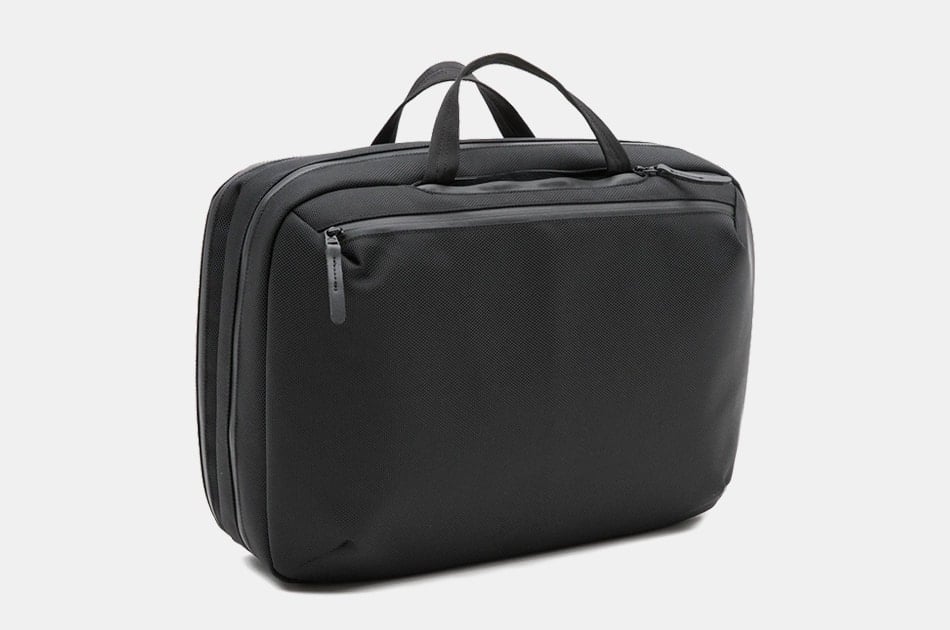 Everyman Hideout 5-Way Commuter Pack
It used to be, briefcases were really only that — just a briefcase, with little else to separate itself from a crowded field. The good news for the discerning shopper among us (like yourself) is that the Everyman Hideout 5-Way Commuter Pack has five — yes, five — different carrying configurations to suit any lifestyle. Of course, the Commuter Pack works well on the road, all owing to its ballistic nylon construction and durable touches like waterproof zippers.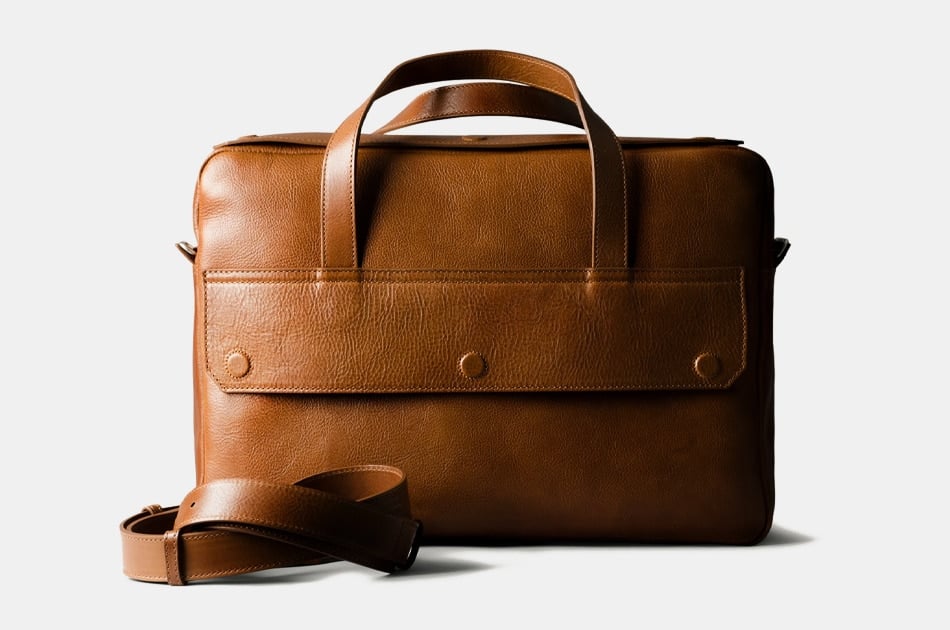 Hard Graft Long Haul Briefcase
The right briefcase — no, one of the best men's briefcases — can seem to call out to you. You know you need its effortless style, its heirloom quality and its rugged toughness in your life. That's not even hogwash — that's just what we see when we check out the Hard Graft Long Haul Briefcase. Vegetable-tanned leather and sleek hardware provide this bag with an air of invincibility, but you'll have to test out this highly stylish briefcase for yourself to figure that out.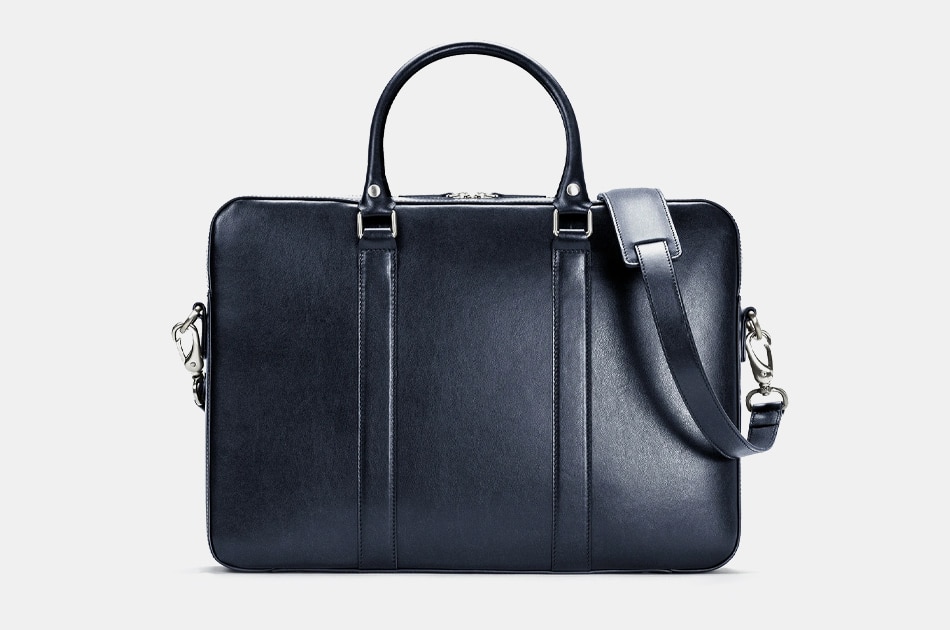 Linjer Soft Briefcase
Linjer started out making sleek, slim wallets for the stylish everyman, and they've since expanded the product line to include all manner of refined, sleek everyday carry essentials. Take the Linjer Soft Briefcase for instance, a sharp and fashionable briefcase that the guy who wears suits on the daily very well might appreciate. If that guy happens to be you? Well, here you go.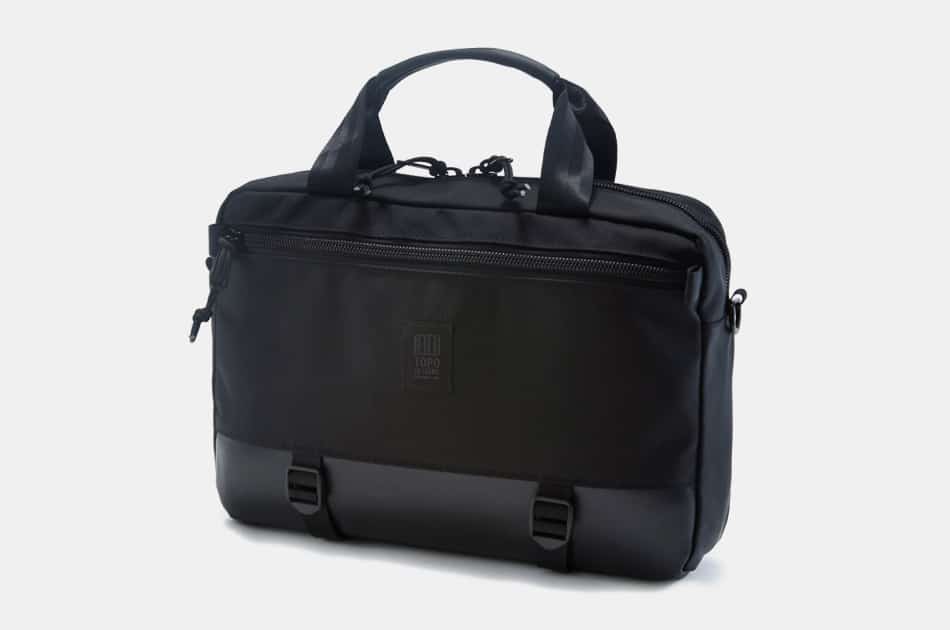 Topo Designs Commuter Briefcase
Since when does an outdoor goods company make a briefcase? Since Topo Designs does, that's when. The Colorado-based brand takes great pride in crafting versatile, dependable gear that moves from the trail to town with ease, and the nicely sized Commuter Briefcase is hard-wearing enough to take on a hike, then easygoing enough to bring with you to the brewery. Plus, it's ridiculously affordable and just downright cool-looking.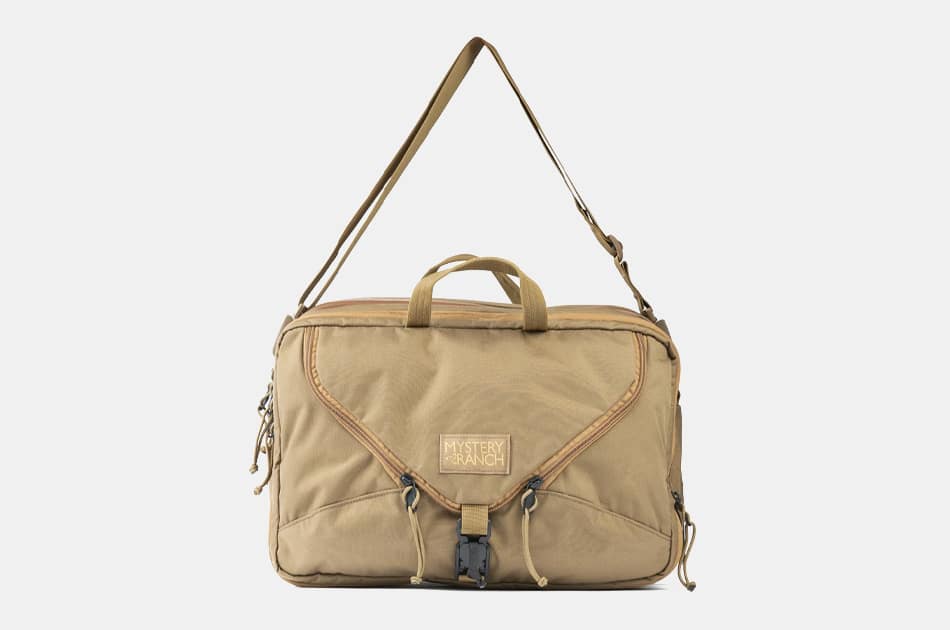 Mystery Ranch 3-Way Expandable Briefcase
Yes, Mystery Ranch — purveyors of adventure-ready packs and backpacks — are now behind the production of (potentially) your new favorite briefcase. This rugged briefcase comes packed with the potential to fit more gear than you think you need — but when the time comes to hit the road once more, you're going to be glad you loaded up the Mystery Ranch Expandable Briefcase.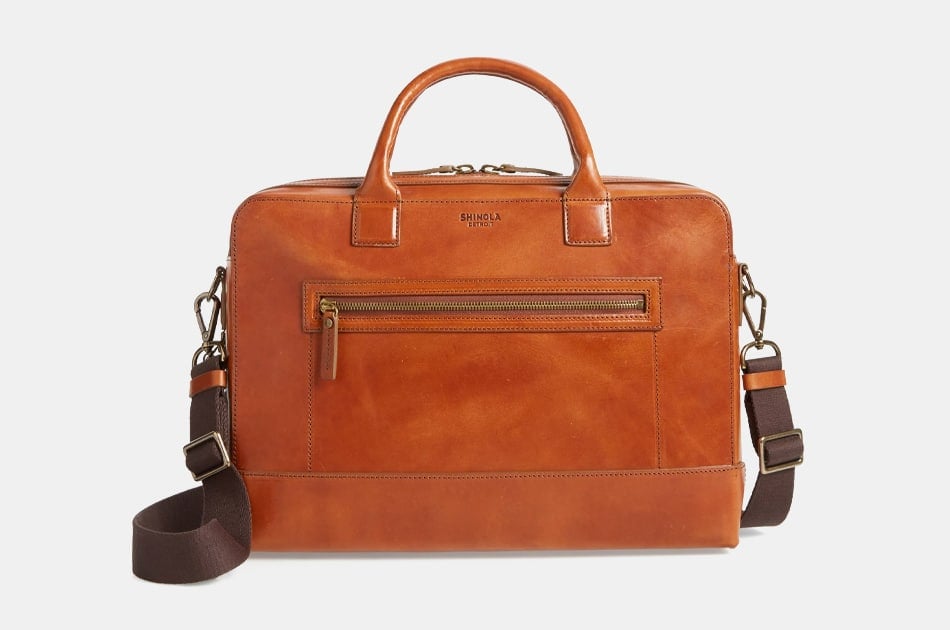 Shinola Harness Bedrock Leather Briefcase
The best briefcases for men start with the best materials and the best construction — leave it to Shinola, then, to come through with standout quality on both fronts. The Shinola Harness Bedrock Leather Briefcase takes the brand's collection of standout leather goods to the next level, and then some. We love the rich bourbon calfskin leather and the made-in-America construction — this is an heirloom-quality piece that's certainly worth the investment.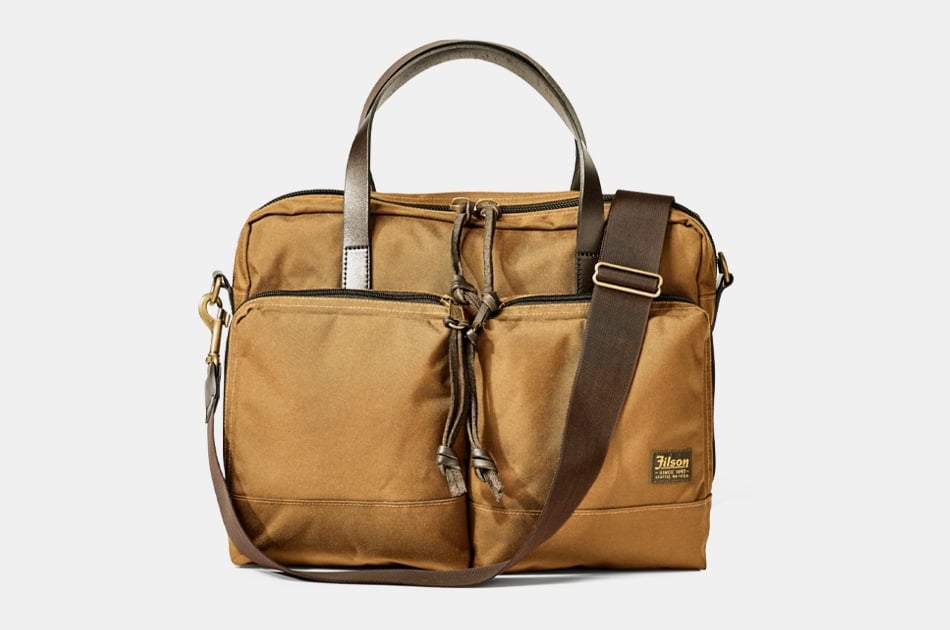 Filson Dryden Briefcase
The Filson Dryden Briefcase, to us, is nearly the stuff of legend. It's the sort of rugged and durable briefcase that any guy would be proud to own — after all, it carries on that famous Filson heritage of quality, dependability and functionality (no matter what). The Dryden Briefcase has all the hallmarks you'd expect of a Filson bag, from the use of Cordura nylon to the handsome leather accents. It covers everything you could want out of an everyday brief, and then some.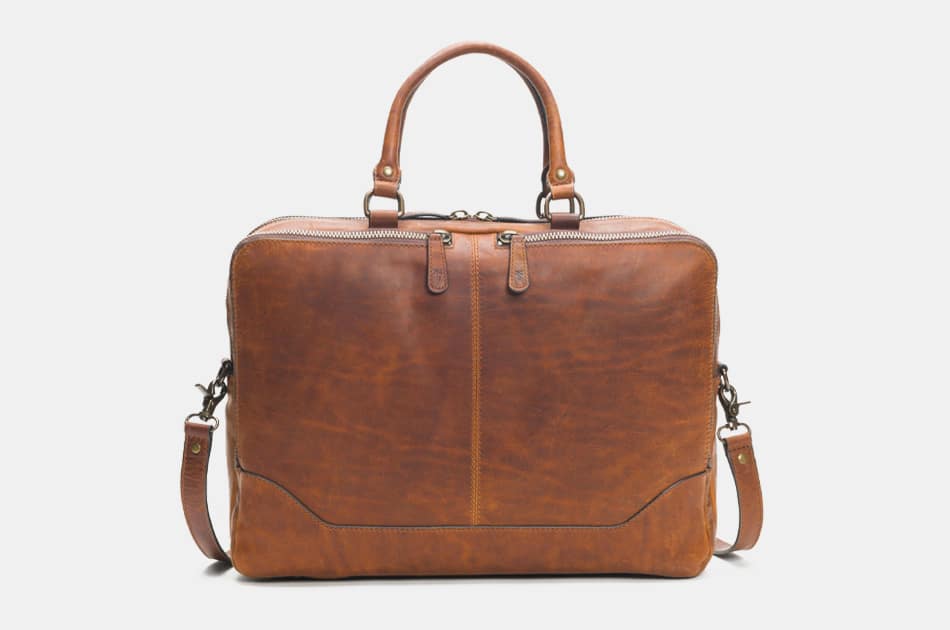 Frye Logan Work Bag
Like plenty of other brands on this list, the heritage-quality leather goods purveyors at Frye do more than one thing well — they craft plenty of durable, remarkable gear for guys, and that includes one of the best-looking briefcases we've come across in quite some time. The Frye Logan Work Bag is an extraordinary complementary piece alongside the brand's rugged-as-can-be leather boots, and we can guarantee it'll break in just as nicely over time.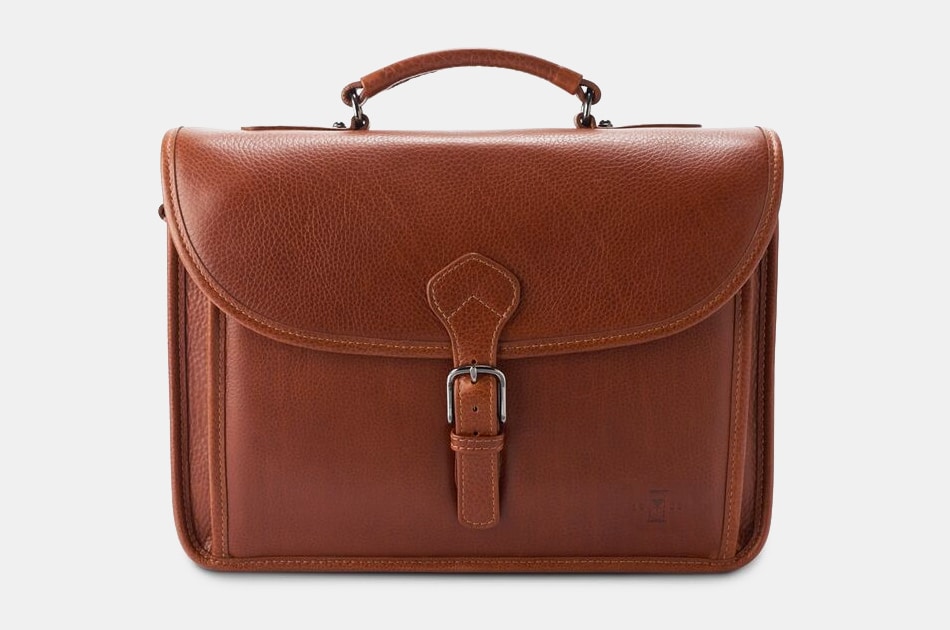 Allen Edmonds American Grain Collection Slim Briefcase
Quick, name the brand that makes some of your favorite dress shoes? OK, now name the brand that makes your … favorite briefcase? They might have something in common, in that they're made by legendary American leather goods brand Allen Edmonds. The brand really goes above and beyond what you'd expect from one that's cut its teeth in making stylish dress shoes, and for the guy who wants quality from head-to-toe, that's very good news indeed. This American Grain Collection Slim Briefcase, after all, is next-level.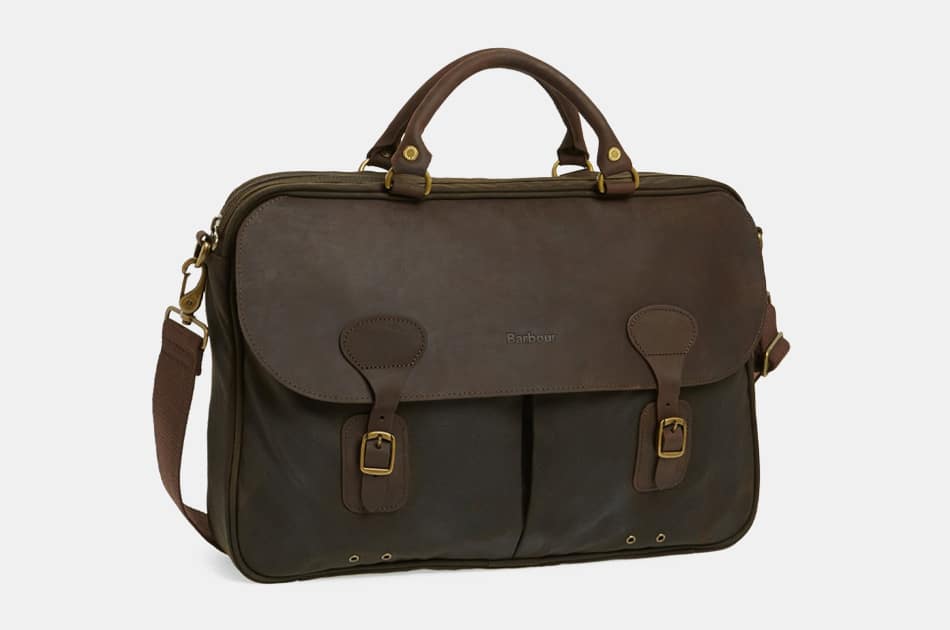 Barbour Waxed Canvas Briefcase
The next time you grab your favorite Barbour jacket to head out on a spring adventure on a blustery day, make sure you're just as equipped with one of the best men's briefcases — and yes, in the spirit of dependable style and rugged appeal, this briefcase also comes from Barbour. The Waxed Canvas Briefcase is made from the brand's classic Olive waxed canvas and finished off with instantly recognizable leather accents — this is Barbour quality all the way.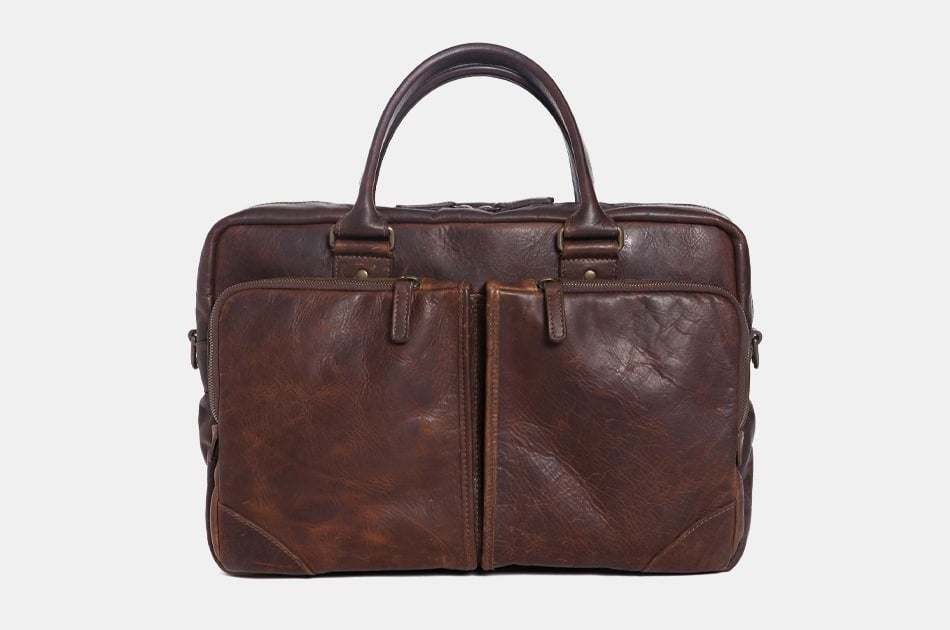 Moore & Giles Haythe Leather Briefcase
The best leather briefcases, just like the best leather boots or the best leather jackets, are often worth investing in — and then watching the dividends pay off for years to come. That's always been the case with Moore & Giles, and the Haythe Leather Briefcase in particular is but one example of the quality and craftsmanship the brand can deliver to your life (and your everyday carry, at that). Yes, you're dropping quite the chunk of change on this leather briefcase, but it's a briefcase that's only going to age more gracefully over time, and we think your personal style is going to be all the better for it.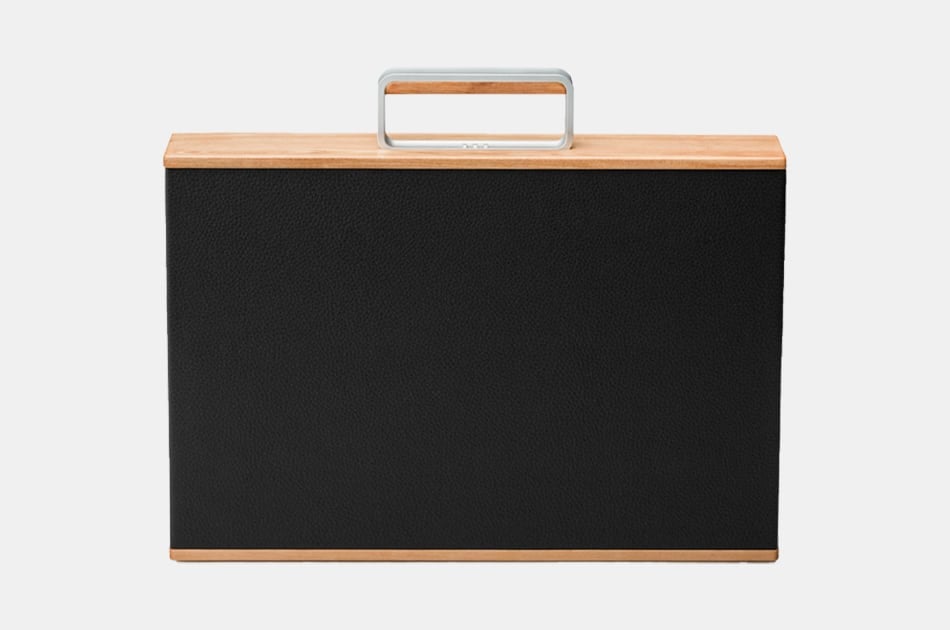 Charles Simon Mackenzie Briefcase
Quality briefcases combine a streak of ingenuity with the kind of innovative design that works for guys the world over — especially those who value futuristic style and clean lines. The Mackenzie Briefcase is made from a unique blend of tough carbon fiber and aluminum on the inside, and then finished off with young bull leather and cherrywood. It's a remarkable briefcase that the modern man needs handy at all times — in fact, it nearly goes without saying that this briefcase could change the way you do business.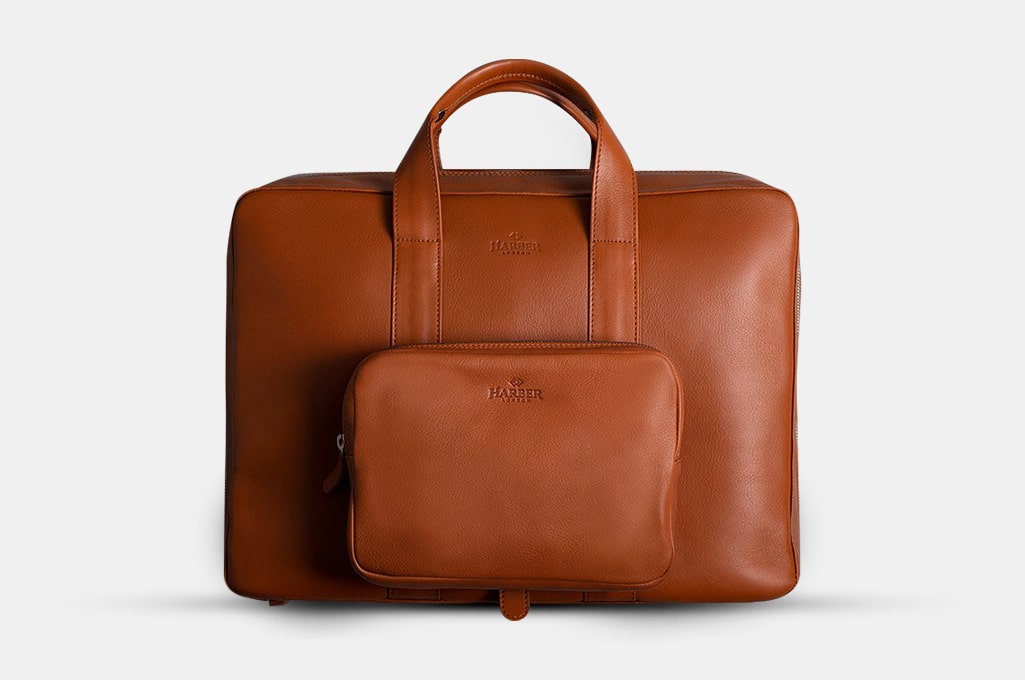 Harber London Leather Work Briefcase
The Harber London Leather Work Briefcase is exactly what you need for your business trips with a perfect blend of style and utility. The Spanish handmade full grain cowhide leather exterior is durable but still looks absolutely elegant—in fact, the patina it develops will just get more gorgeous with every passing year. The suitcase pass-through handles make it easy to haul the briefcase along with your carry-on luggage, and you'll love the many pockets specifically for your laptop, tablet, power bank, and passports.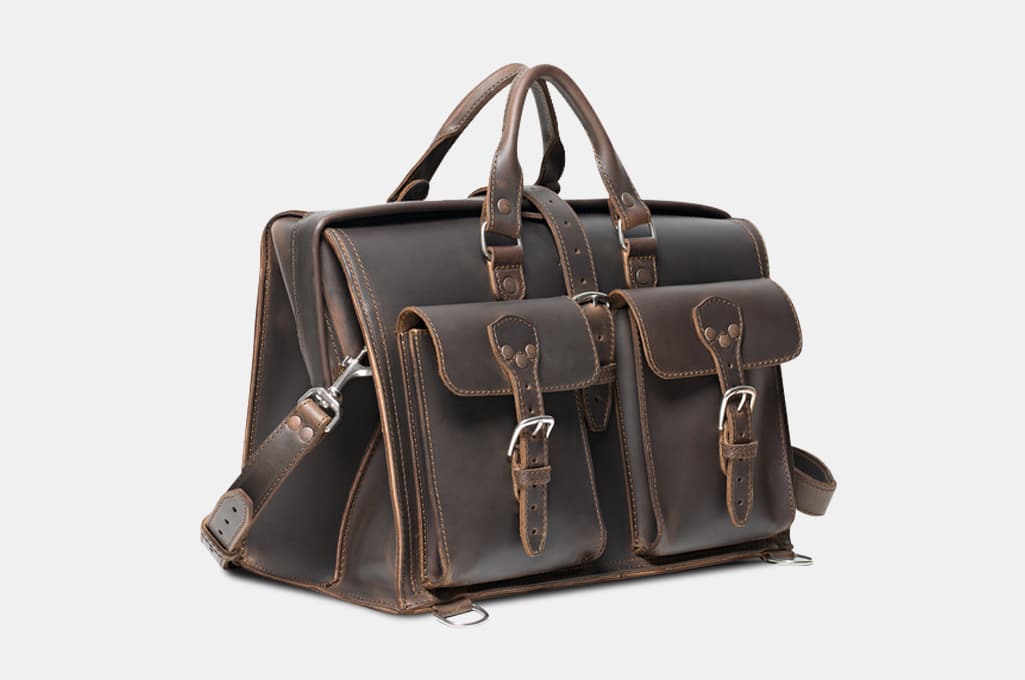 Saddleback Barrister's Leather Briefcase
If you need durability, the Saddleback Barrister's Leather Briefcase is exactly what you're looking for. The briefcase is made with hyper-tough full top grain cowhide leather, which ensures maximum ruggedness while still maintaining the "natural" look of pure, high-quality leather. Just to prove that it means business, Saddleback offers a one hundred—yes, hundred— year warranty. There are no breakable parts, and every buckle, clasp, and strap is fully reinforced. The Gladstone style makes it incredibly easy to open the bag up wide and sort through all the pockets for easy access to your stored items at a moment's notice.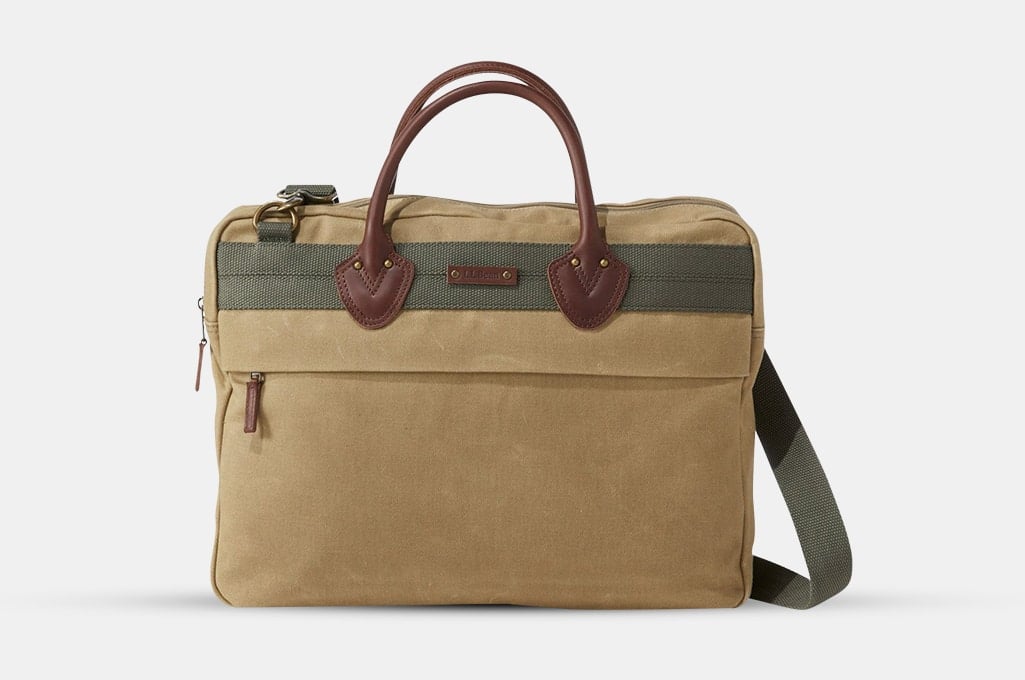 L.L. Bean Waxed Canvas Briefcase
Sometimes, you want a briefcase to dress down, and that's exactly what L.L. Bean intended with its Waxed Canvas Briefcase. As the name suggests, the briefcase is made from tough waxed canvas, which is fully weather- and water-resistant while also being incredibly lightweight. The padded laptop sleeve shields your computer from impact, and the interior zip pockets give you excellent customization of your storage options. With the adjustable strap slung over your shoulder, you're ready to tackle anything the world of business and travel can throw at you.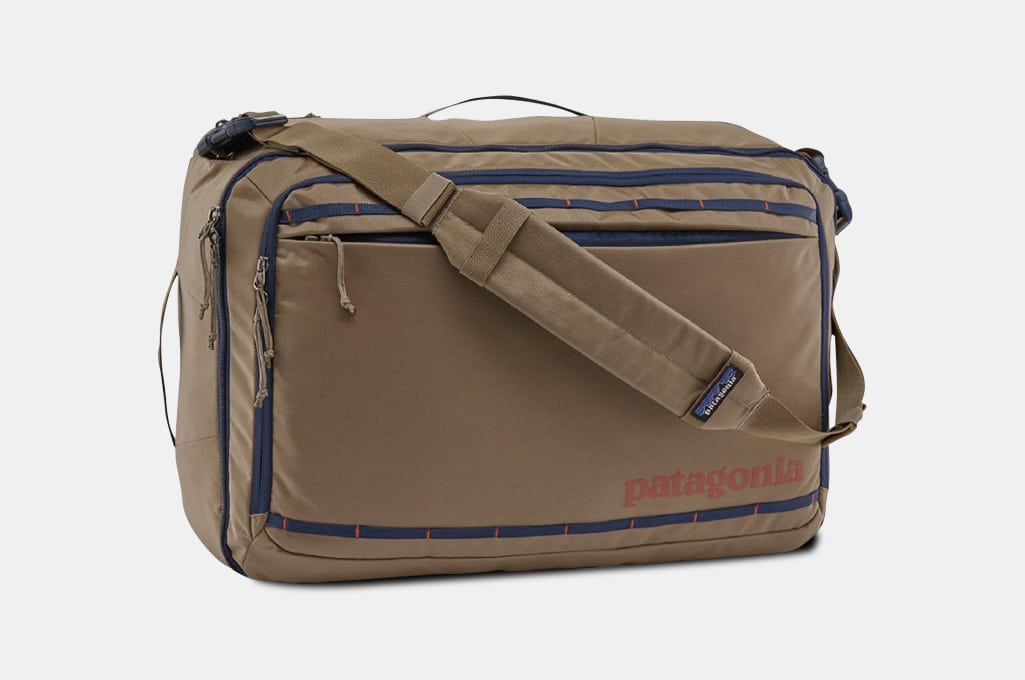 Patagonia Tres MLC Convertible Briefcase
Designed specifically for airplane travel, the Patagonia Tres MLC Convertible Briefcase is the perfect companion for both national and international business trips. The soft-sided bag is easy to fit in any carry-on or slide under your seat, but the surprisingly roomy exterior gives you space for not only your business essentials, but also up to five days' worth of clothing. The exterior is made from a blend of recycled and high-tenacity nylon fabric finished with a polyurethane coating that is water-repellent and highly durable. Thanks to its exterior pockets, you have easy access to all your essentials, and the rear sleeve easily slides over your luggage handle for convenient carrying.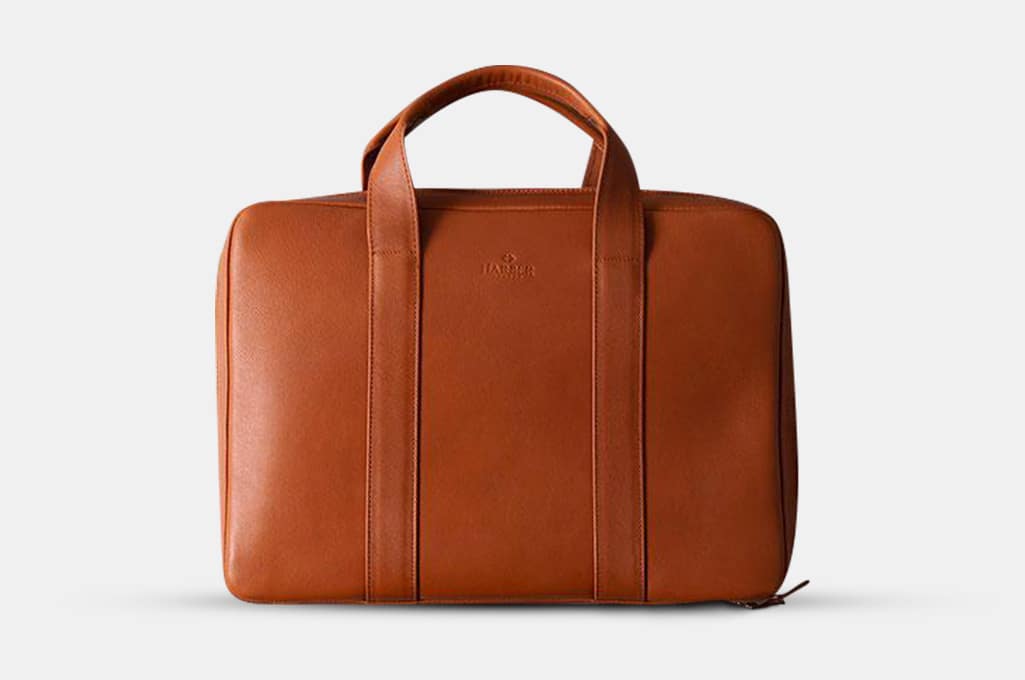 Harber London Laptop Briefcase
Keep your carry-on light and slim with the Harber London Laptop Briefcase. If you're just taking a short trip or a quick flight, this briefcase will be the perfect work companion. Not only does it include a padded laptop pocket, but it's got pockets specifically for notebooks of three sizes, a passport pocket, and inner magnetic pouches that make it easy to organize everything you're packing. Plus, the Spanish handmade full grain leather just gets more and more beautiful the more you use it.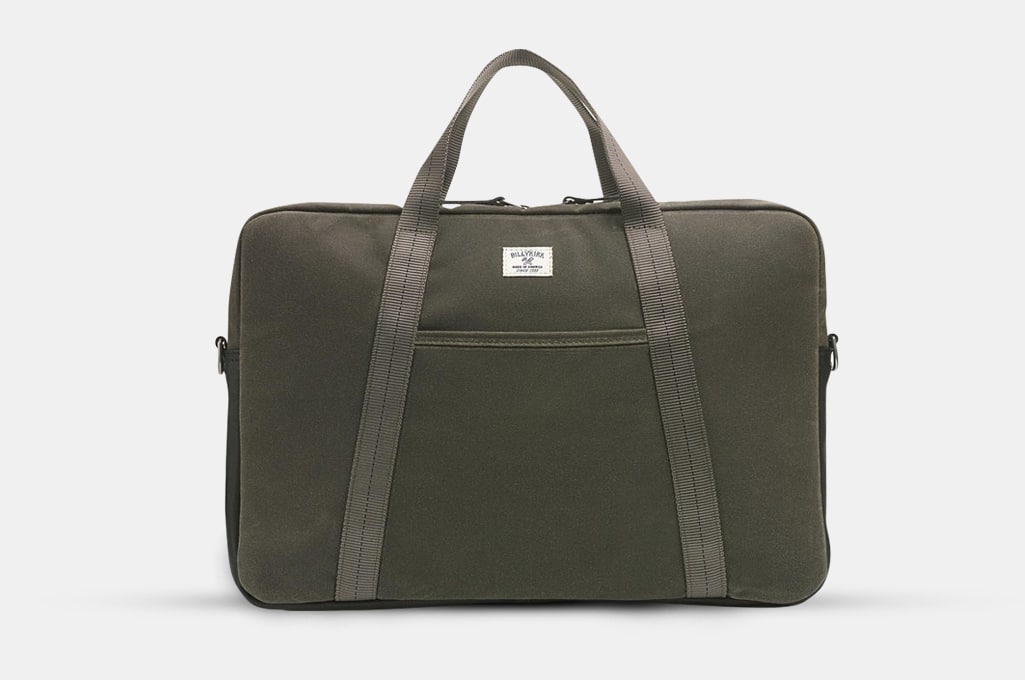 BillyKirk No. 508 Standard Issue Slim Briefcase
Pack only the essentials in the BillyKirk No. 508 Standard Issue Slim Briefcase, a carry-on option designed to be super portable and extra-slim. It's sized for laptops up to sixteen inches across, but with just enough pockets for notebooks, chargers, pens, and your other work basics. The front and back exterior pockets offer a bit more storage space and easy convenience when on the go, but this briefcase is all about trimming down your travel items and taking only what you really need. All this, in a truly classy-looking vegetable-tanned full-grain leather bag.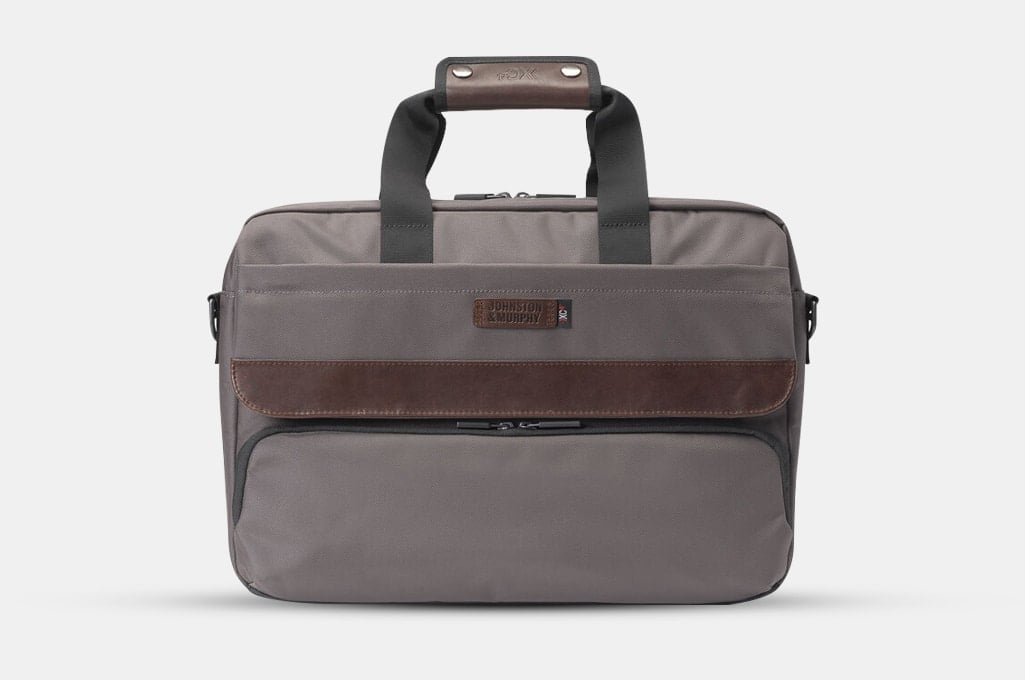 Johnston & Murphy XC4 Briefcase
Johnston & Murphy delivers a masterpiece of durability and convenience with the XC4 Briefcase. Made using super-tough ballistic nylon, the briefcase can handle quite literally the worst of airline travel or city life—it's even water-resistant to shield your devices from the weather. The grey interior lining makes organizing easy because everything you're packing is instantly visible. And check out the organization options: a top main compartment complete with laptop sleeve and mesh storage panel, a magnetic-closure front flap with hidden zip organizer, a magnetic-closure back pocket, and a full front zip lower pocket. Now that's a briefcase that's handy to carry around all day long.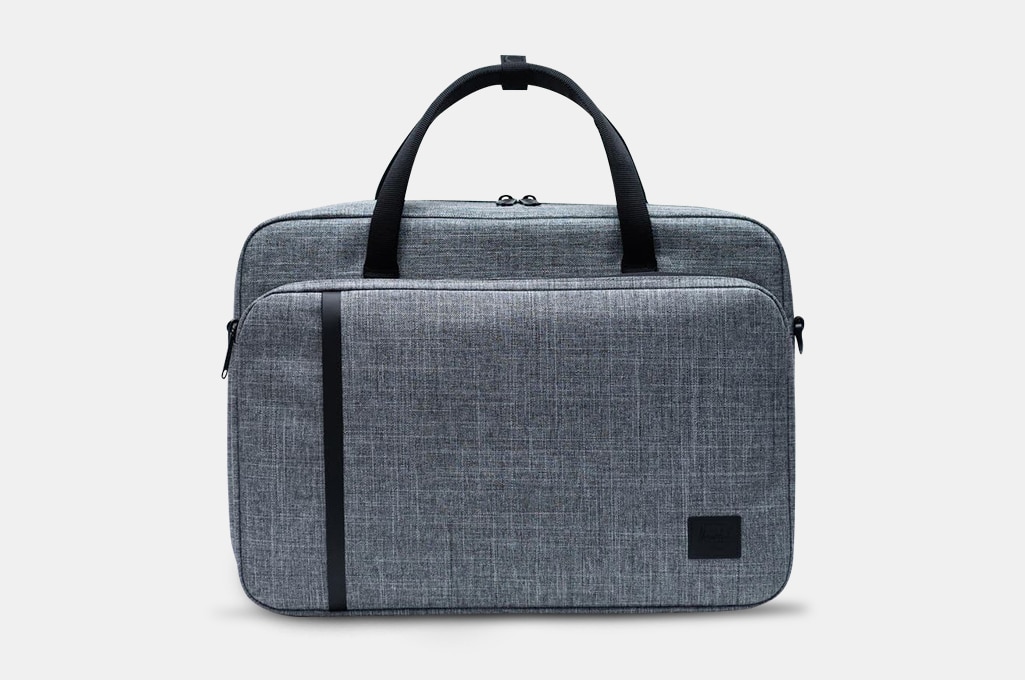 Herschel Supply Co. Gibson Travel Briefcase
Keep it simple and classy with the Herschel Supply Co. Gibson Travel Briefcase. This briefcase looks truly stylish from the moment you lay eyes on it, thanks to the sleek grey exterior. But once you open it up, you'll find it's got all the storage space you need—including zip and wall pockets both inside and out. There's even a padded fleece interior compartment to keep your laptop secure while you travel.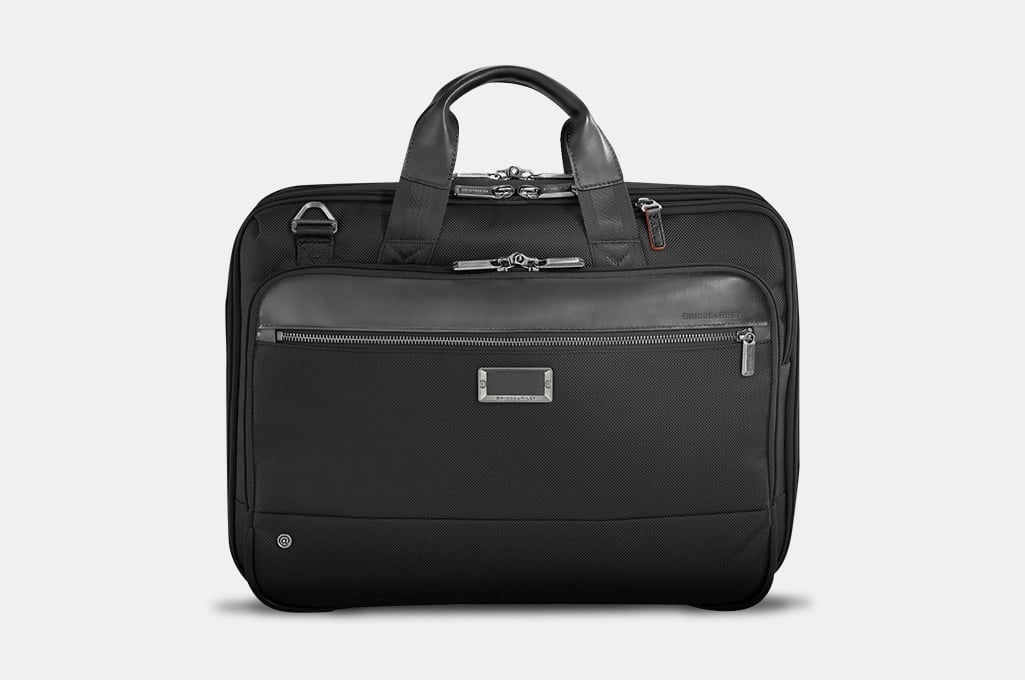 Briggs & Riley @Work Medium Expandable Brief
Sometimes, the classic styles are the best. This Briggs & Riley @Work Medium Expandable Brief delivers that old-school look you've loved for years, but throws in some pretty insane functionality to really maximize value. The expandable shell gives you two-and-a-half extra inches of packing space just in case you need an extra outfit or a few more travel gadgets for your trip. With its fabric-lined three-section interior, you'll always find organizing your items a breeze, and everything will be securely protected against impacts, falls, or careless luggage handlers.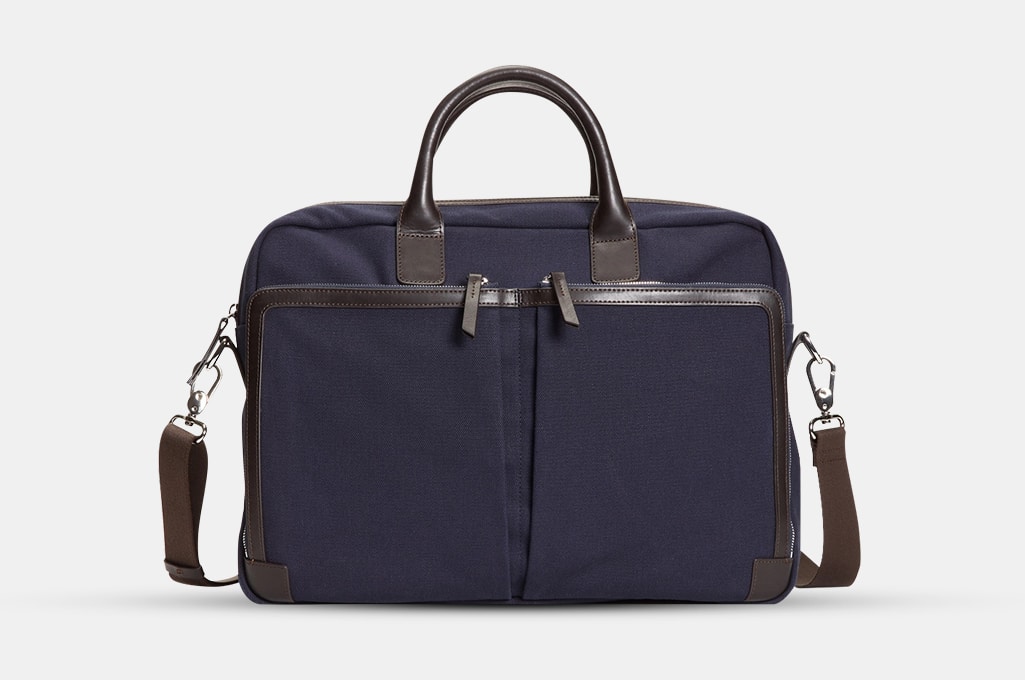 Brooks Brothers Canvas Briefcase
Elevate your style game with the Brooks Brothers Canvas Briefcase, a carry-on item that you'll never get tired of hauling around. The durable canvas not only adds a layer of protection for your travel essentials, but it's also a truly elevated style choice you'll love. With three exterior pockets—two on the front, one on the back—and plenty of interior storage space, you will always travel in luxury with this bag slung over your shoulder.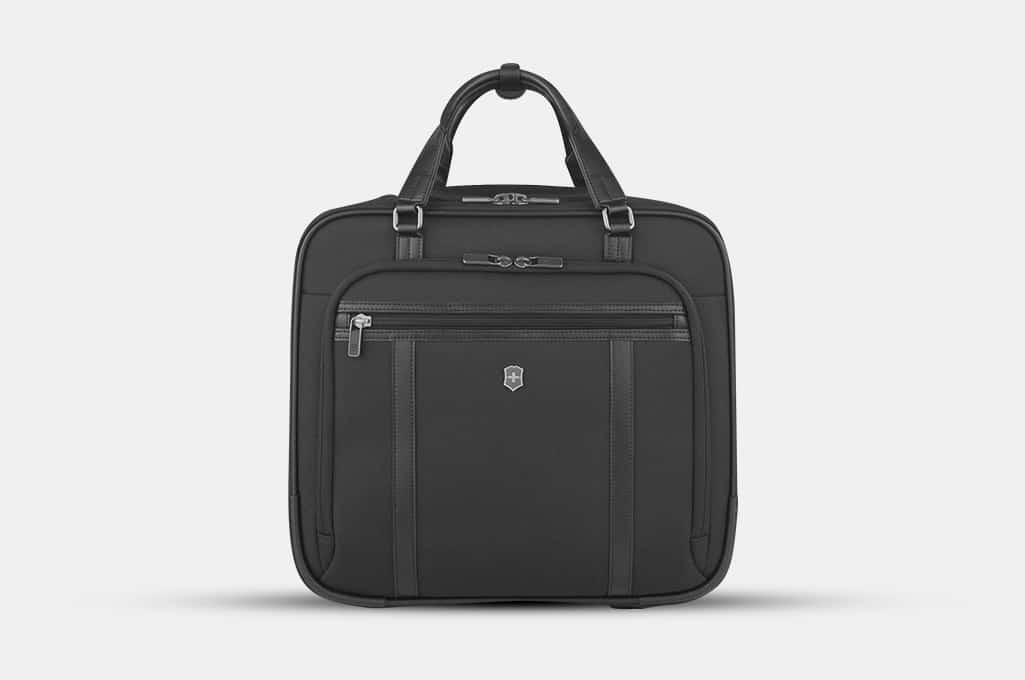 Victorinox Werks Professional CORDURA Wheeled Business Brief Compact
Few brands can offer durability and versatility quite like Victorinox. The Werks Professional CORDURA Wheeled Business Brief Compact is the perfect blend of carry-on and briefcase, with a telescoping handle and built-in wheels that make it super easy to push the bag around the airport, train station, or corporate office. With its smart interior organization options and padded pockets, it makes light work of packing. And just to make sure everything is truly protected, the bag is made with a CORDURA fabric exterior that maximizes durability without sacrificing a shred of style.
Disclosure: Clicking on these links and making a purchase may earn us a small referral fee, at no extra cost to you. Learn more here.
freestar.config.enabled_slots.push({ placementName: "gearmoose_leaderboard_btf", slotId: "gearmoose_leaderboard_btf" });