The 12 Best Men's Workout Socks
The best socks are like ninjas: If you notice them, they're not doing their job very well. At their finest, socks will fade into the background of your perception, leaving you with nothing more than a floating glow of comfort, warmth, and foot-funk-fighting power to sustain you throughout your day.
Not all socks are the best socks, though. And you'll never notice this more than when you're working out, as so many socks are prone to bunching up, falling down, or getting soaked with gym smells. To combat those terrible fates, we've collected a list of the dozen best workout socks a guy could ever ask for. They're arranged in order from lowest rise to highest, so you can pick the perfect pair for your preferences.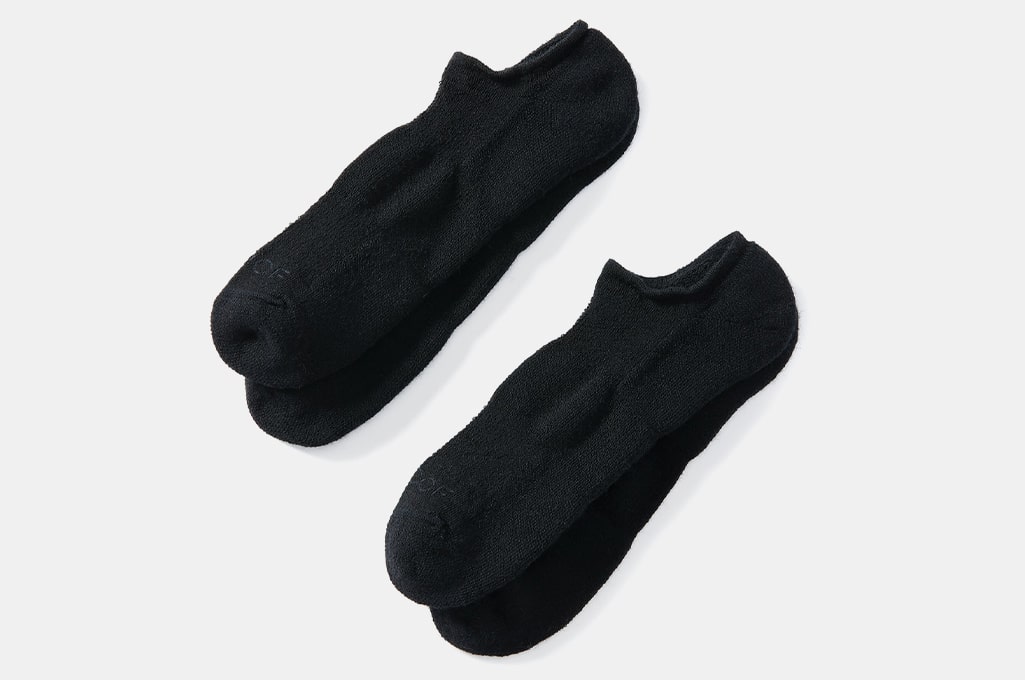 Proof 72-Hour Merino No Show Sock
When you're looking for socks that mean business, merino wool is always a good place to start. On its own, the sheep-derived material is fantastic at regulating temperature and fighting odors. But when it's combined with judicious additions of other fabrics, wool becomes the perfect base for performance footwear. Proof's 72-Hour Merino socks are two thirds merino wool, with nylon for added structure, and just a touch of spandex for comfort and flexibility. True to their name, these socks can stand up to three full days of use—all without driving away anyone that you sit in close quarters with by the end of the third day.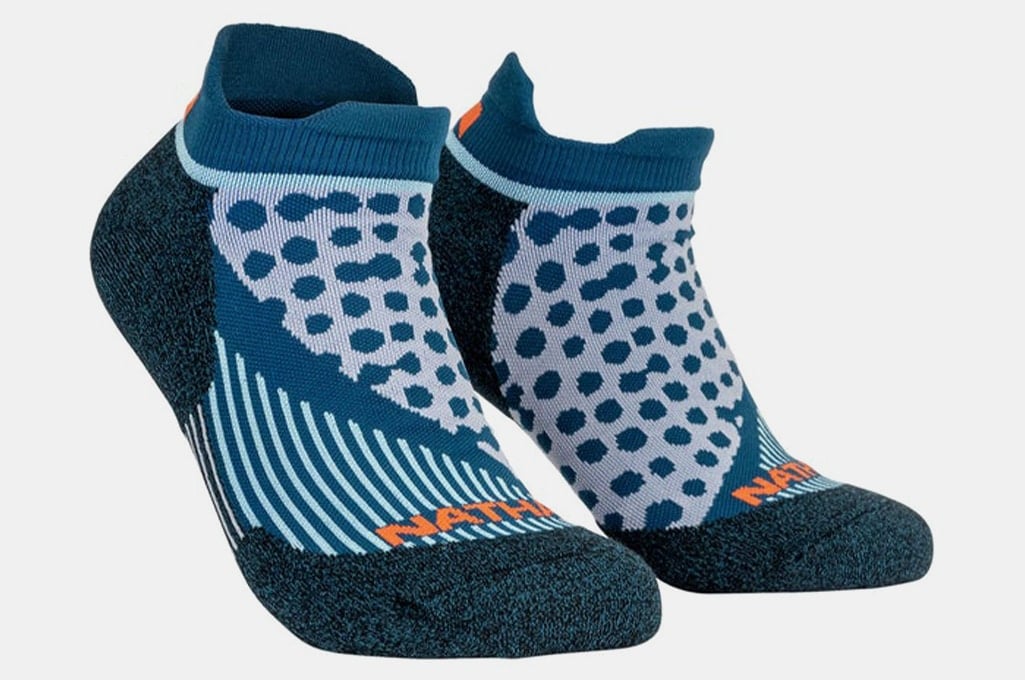 Nathan Low-Cut Running Socks
For sensitive feet, I've not yet found a better pair of workout socks than the ones made by Nathan. They're built from a nylon and rayon base, but it's the proprietary merino wool anti-blister yarns that really make them special. Those combine with a padded heel and toe to make it easy to put in a lot of miles on the pavement, but they're just as capable of making quick switchbacks in an interval training circuit. Also, they represent an excellent value for the price, so you can afford to pick up a few pairs at a time.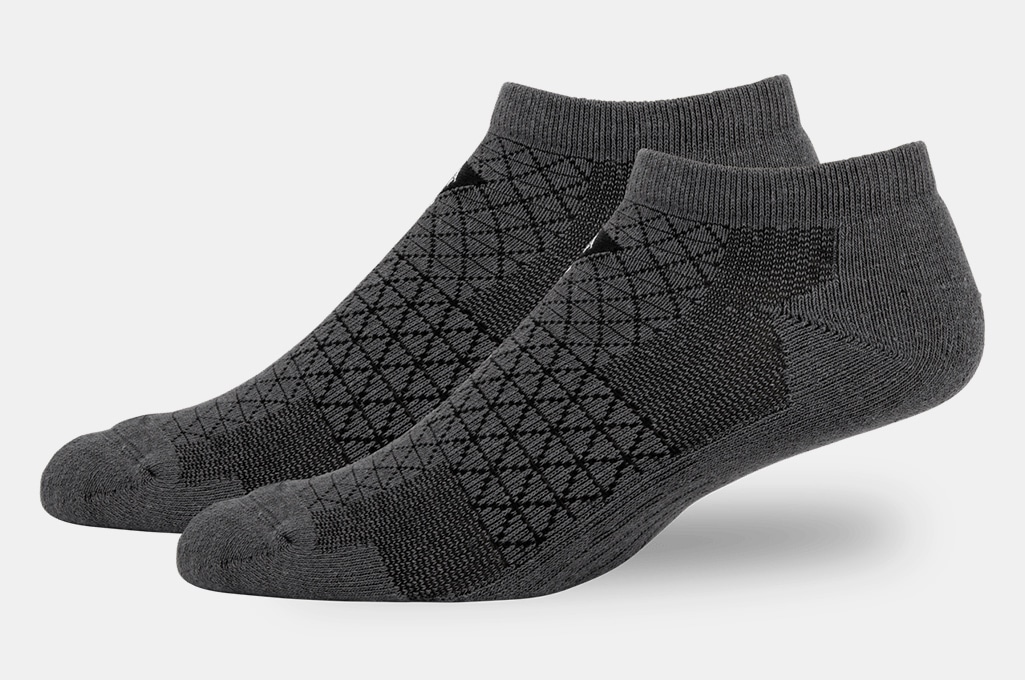 Arvin Goods No Show Hemp Biofiber Socks
The sustainability-minded designers over at Arvin Goods are taking the challenge to create eco-friendly clothing very seriously—especially with their socks, a category that's often the least environmentally responsible type of clothing due to how often they're thrown away. Their new Hemp Biofiber socks would impress even Captain Planet himself, combining a breathable and supportive construction with organic cotton and hemp reclaimed from biowaste. With these socks, your conscience will feel as clean and supported as your feet.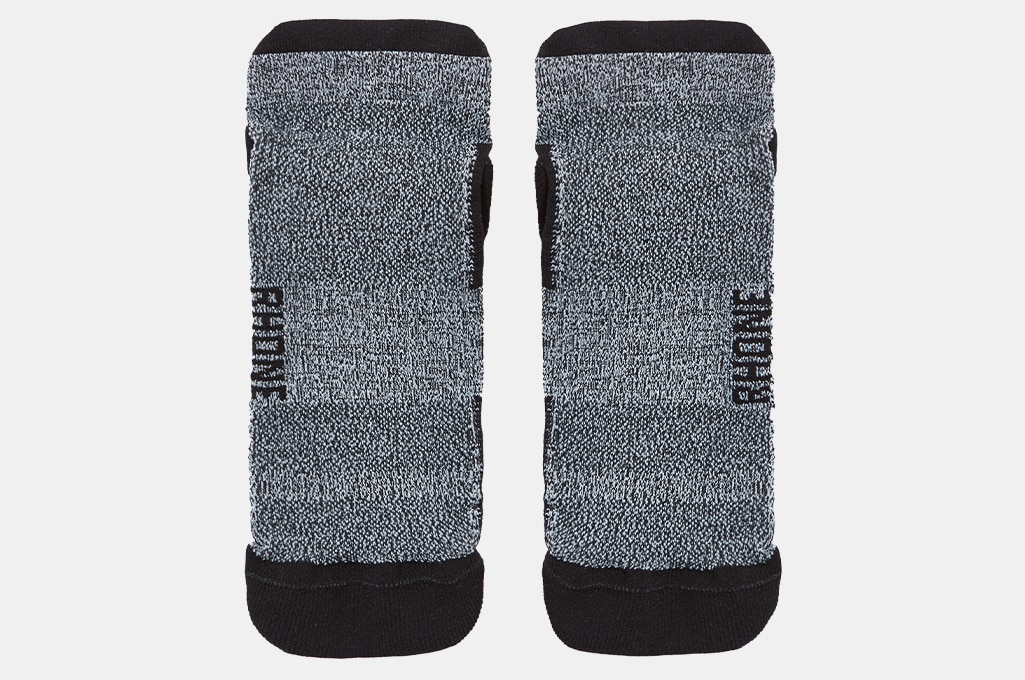 Rhone Active Essentials Ankle Sock
Double-cushioned and lightweight, Rhone's Active Essentials Ankle Socks will make you feel like you're working out on clouds (or pretty close to it). But they're not all soft and cuddly—these uniquely built socks also have a rubber interior at the heels, providing no-slip-grip and excellent traction even when you don't have shoes on. Add in a little bit of anti-odor technology, and you've got a workout sock that you'll keep coming back to time and time again.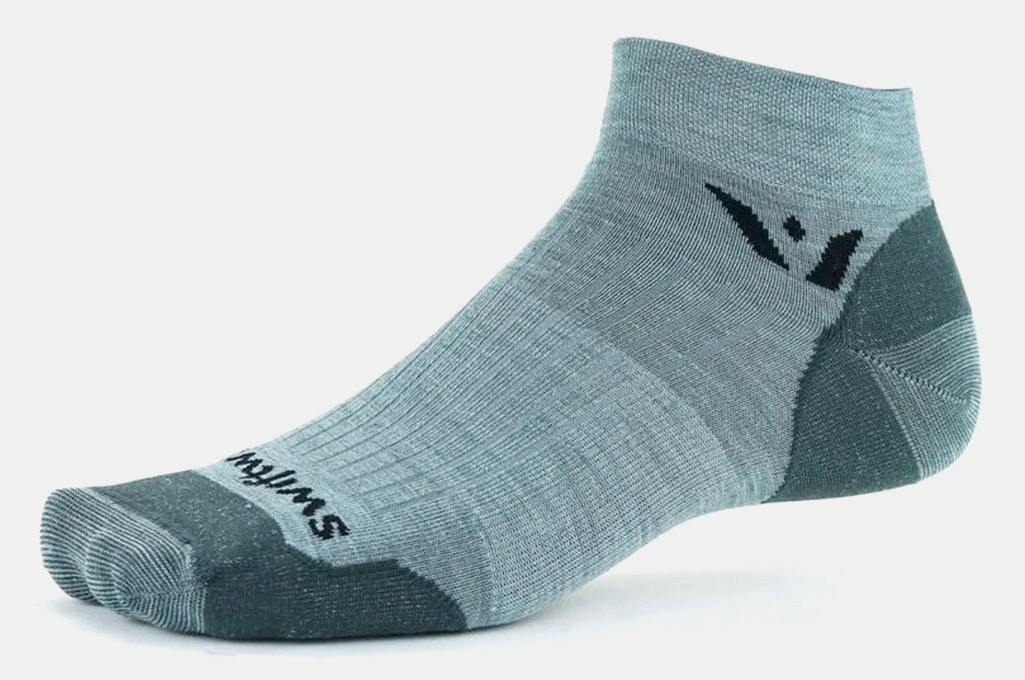 Swiftwick Pursuit One Ultralight Merino Wool Socks
Evenly split between merino wool and nylon, then reinforced with a bit of spandex for comfort and stretch, Swiftwick's Pursuit One socks are an easy go-to for cross training. The ultralight construction provides minimal cushioning, leaving your feet in as neutral a position as possible for weightlifting. But they also offer a significant degree of compression which, combined with the natural qualities of the sock's fibers, will keep your feet at a comfortable temperature no matter how hard you're working out. And for the sensitive feet out there, a seamless toe box and y-shaped heel completely eliminate bunching and snags on the inside of the sock.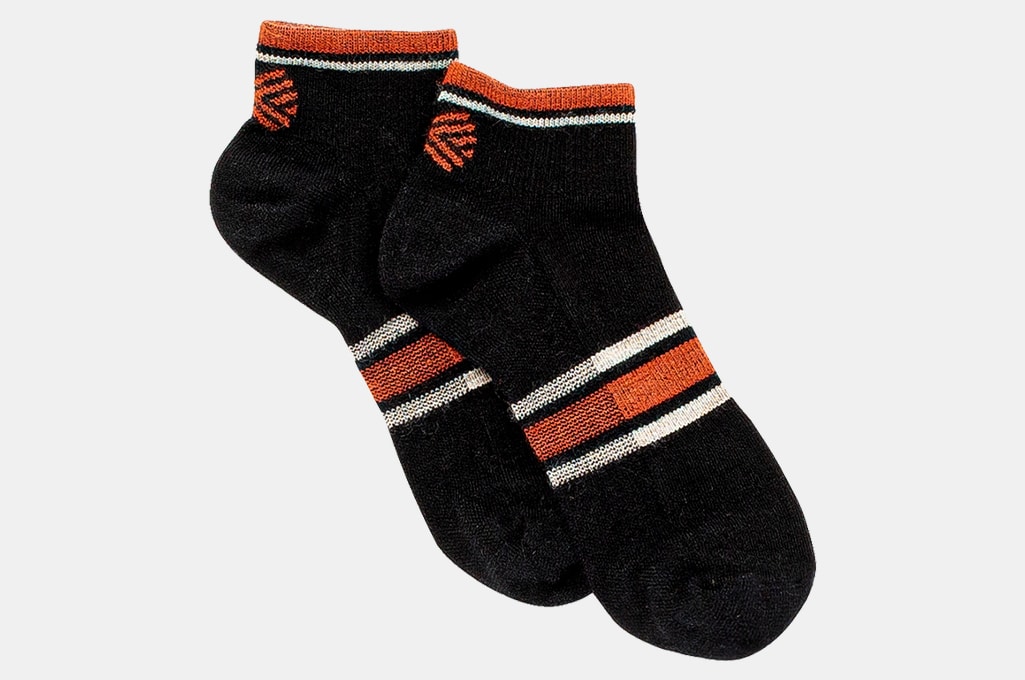 Ibex Low Lite Wool Crew Socks
The arch support mesh in Ibex's Low Lite Crew Socks makes them an excellent choice for anyone who could use a little extra comfort with their workout gear. Built on a merino wool base, nylon and polyester are added to give extra reinforcement at the heel and toe, further increasing the lifespan of the socks. A fully cushioned bottom gives excellent impact resistance for dynamic activities, and a looser venting knit on the top makes them exceptionally breathable. Overall, they're excellent for people with sensitive feet or lower body pains (and really, just pretty great in general).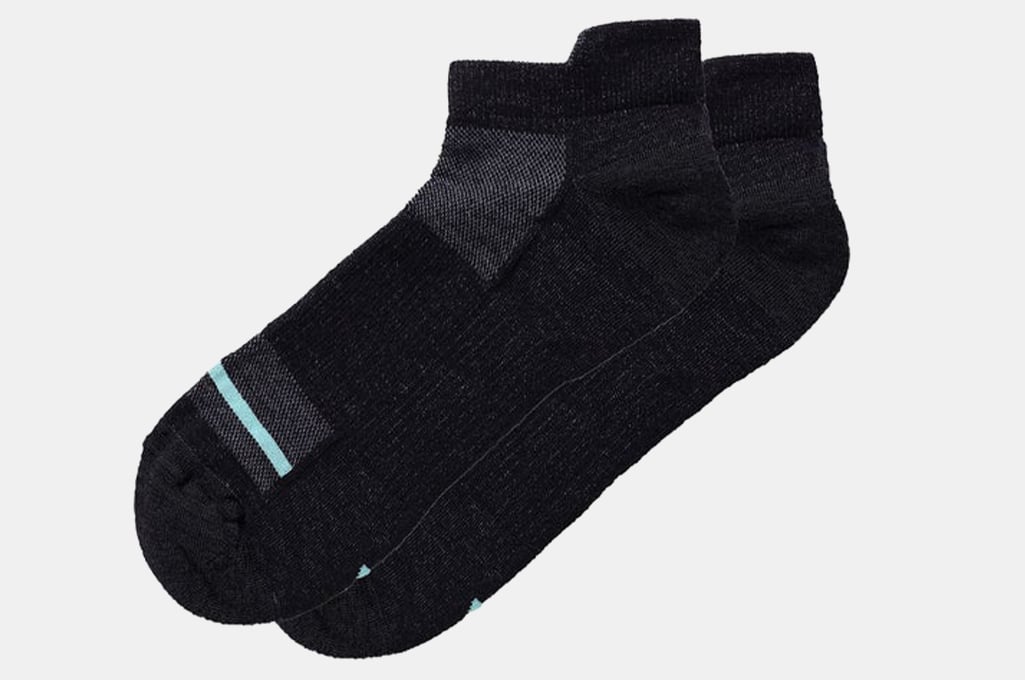 Myles Merino Wool Low Profile Sock
Myles Apparel—that's a play on "miles," by the way—was founded with a very specific idea in mind. They wanted to create workout gear that fell in between the two polar opposites of the category: To make workout gear that is affordable, functional, and performs well no matter your sport. Their demure style is winning big points with guys who just want good quality clothes without all the flash and logos, and the quality of all their goods is top notch. Take their Merino Wool Low Profile Sock, for example—it's built with anti-abrasion cushioning to prevent blisters at the heel and toe, and it's super breathable and odor resistant too. That's all wrapped up in a clean, unadorned package that's sold at a fair price.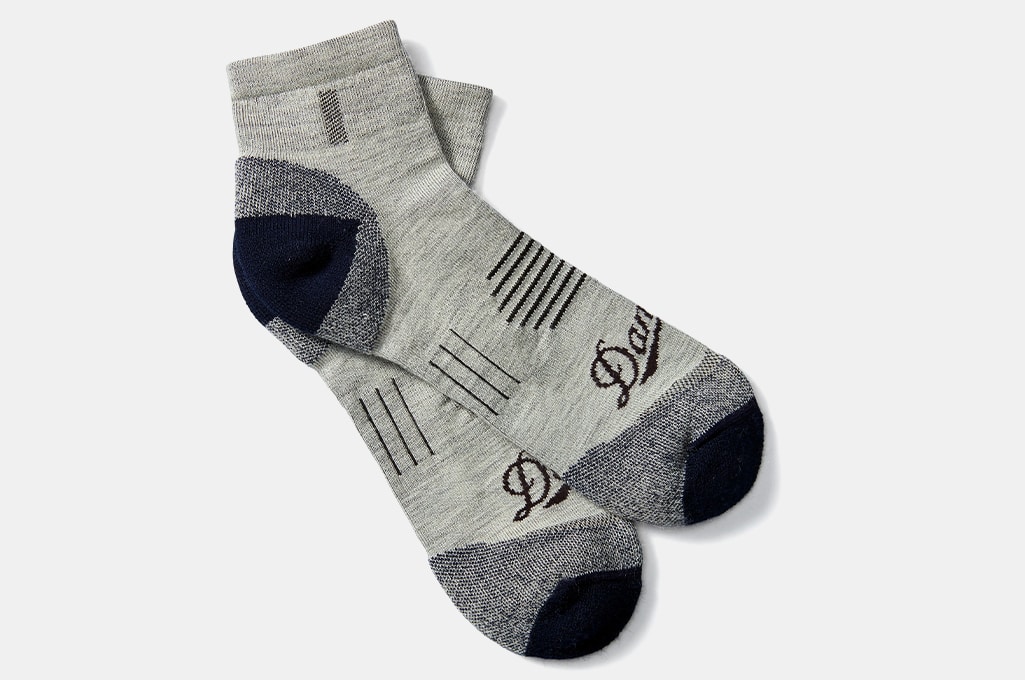 Danner Merino Lightweight Hiking Socks
Here's a tip for you: Lightweight hiking socks are every bit as good for your workouts as any sock that's marketed for other sports. Danner's Merino Lightweight Hiking Socks are some of the nicest you'll find at this low price too, with a fiber blend that's roughly two thirds wool and one third nylon with a tiny bit of lycra. Overall, that makes for a sock that will keep your feet comfortable and dry by wicking away moisture, all while retaining its shape well and not bunching up around your heels or toes.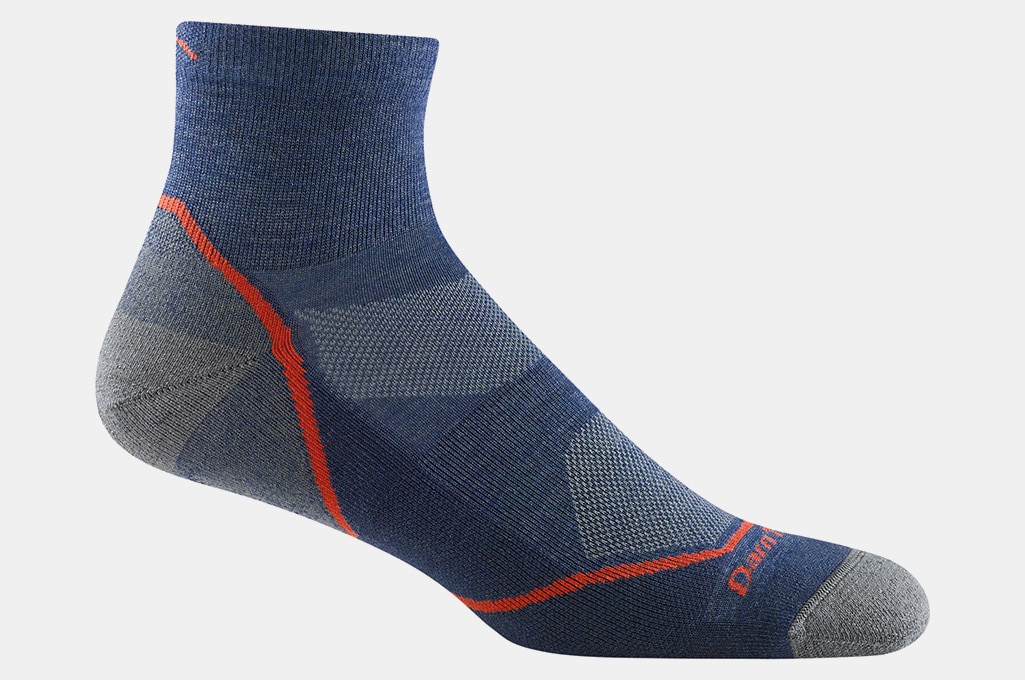 Darn Tough Light Hiker Socks
In the Buy It For Life (BIFL) community, Darn Tough's socks are the stuff of legends. They're about as pricey as a pair of activewear socks will get, but there's a hidden benefit to buying Darn Tough: They're actually guaranteed for life. Yep, that means that if you can manage to wear through a pair of these bad boys, you can get a replacement pair free of charge. Darn Tough's socks have been my everyday wear choice for years, and I recommend that just about every guy own at least a few pairs of them.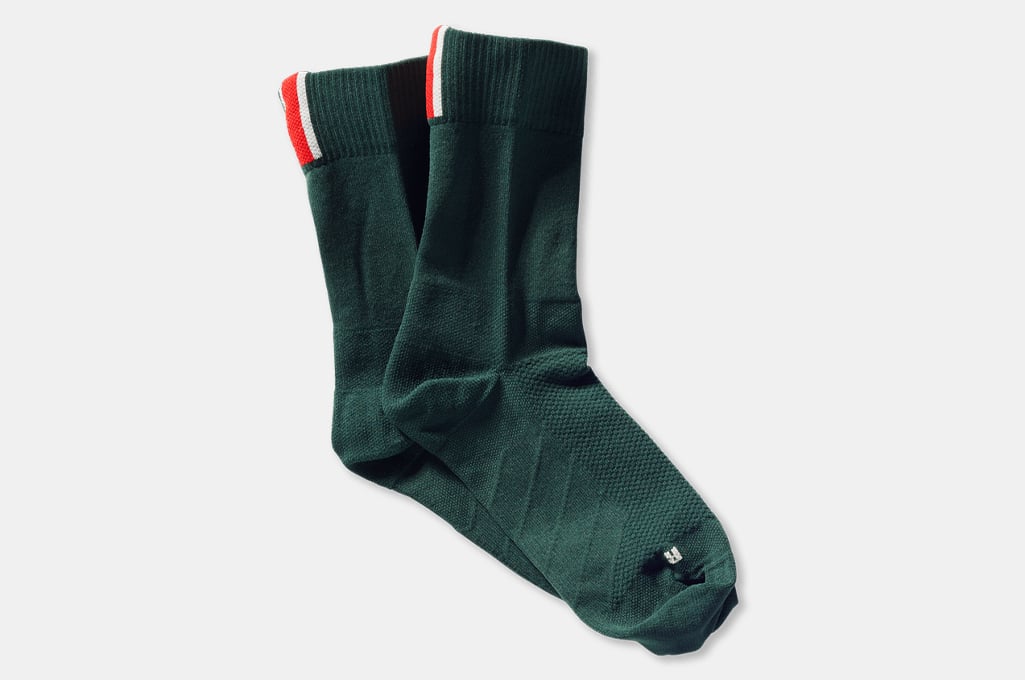 Tracksmith Speed Crew Sock
Tracksmith knows running inside and out, and it's extremely evident in the attention to detail they put into all of their gear. For their Speed Crew Sock, this comes in the form of a 95 percent polyamide, 5 percent elastane blend—providing a nearly perfect fit that stays true to the shape of your lower leg no matter how vigorously you're working out. Added cushioning in the heels supports sprinting work, and so does the signature Tracksmith racing stripe on the back (I swear, it will make you go faster).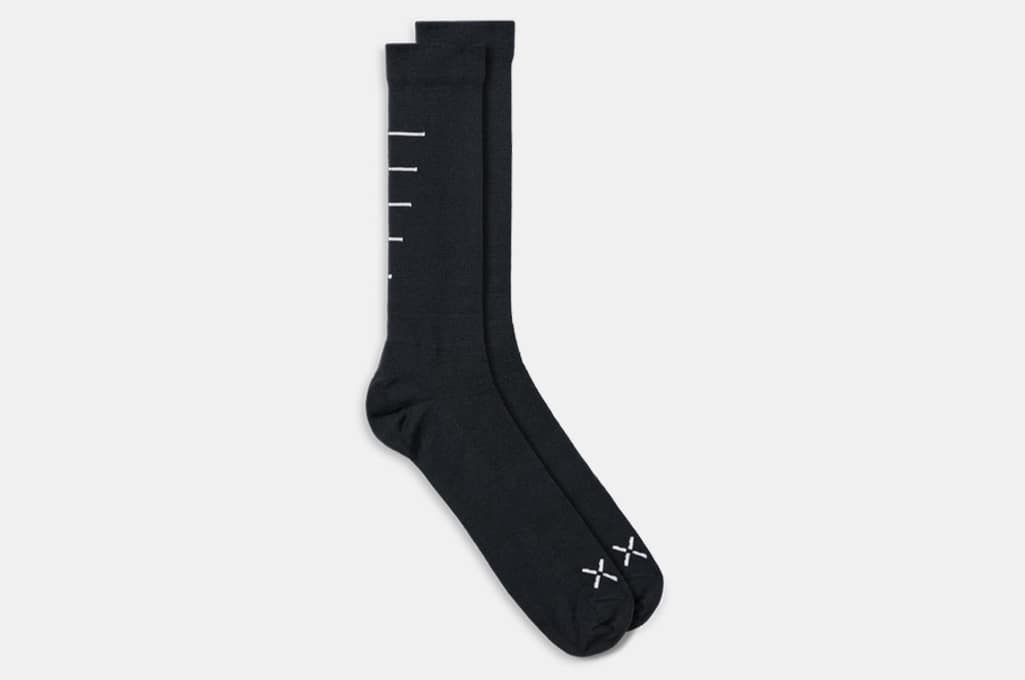 Ten Thousand Merino Tech Socks
The large and in charge Merino Tech Socks from Ten Thousand complement their wool and nylon base with a space-age, silver-infused cotton fiber called XT2. Why? Because by impregnating each fiber with silver, the socks become permanently odor-repellent. That's in addition to natural thermoregulating and breathable qualities, with zone cushioning that provides support exactly where you need it most. And unlike most socks, they're contoured for left and right foot wear, making for an unparalleled fit and feel.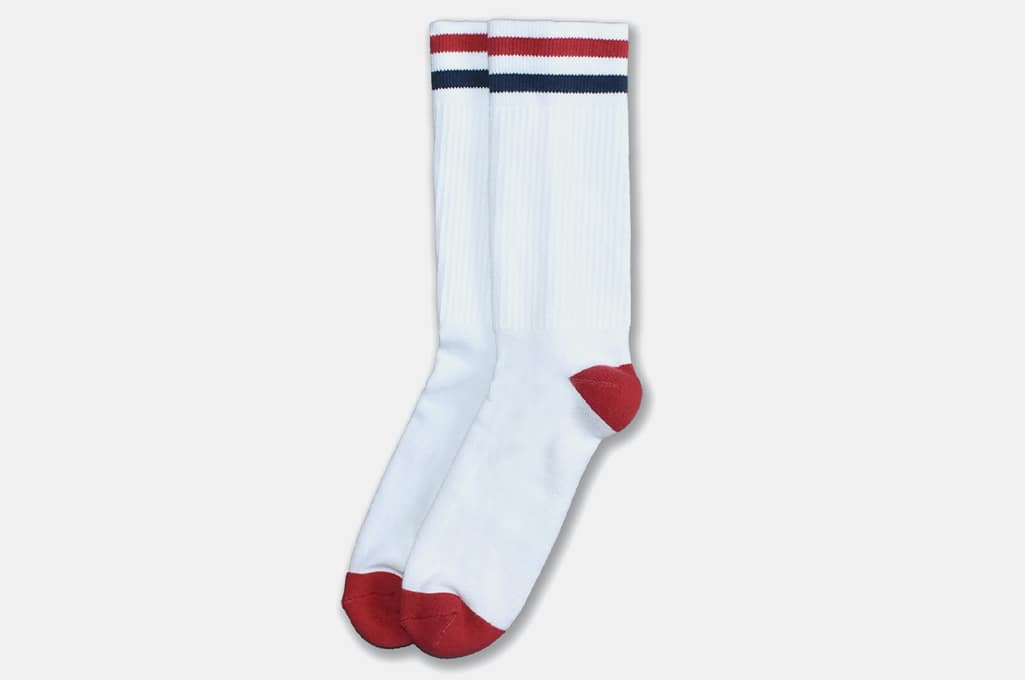 American Trench The Kennedy Luxury Athletic Sock
Everything about American Trench's "The Kennedy" Luxury Athletic Sock screams old school Americana. From the red, white, and blue colorway to the made-in-America goodness, these classic gym socks have got to be the coolest looking pair on this list. But they have some go to match their show too, with a super soft supima cotton construction that's backed up by a padded heel and toe for extra comfort. Grab a pair if you're looking for iconic style matched with comfort and performance.
Disclosure: Clicking on these links and making a purchase may earn us a small referral fee, at no extra cost to you. Learn more here.
freestar.config.enabled_slots.push({ placementName: "gearmoose_leaderboard_btf", slotId: "gearmoose_leaderboard_btf" });