Just when you thought you had your everyday carry complete, an international work assignment — or a jetsetting vacation — comes up. Sure, you've got your passport …but how are you going to transport it (and keep track of it) safely, stylishly and effectively no matter where you go?
It's often said that the smallest style upgrades make the biggest difference, and such is the case with a passport wallet. As an accessory, it's underrated — and definitely underutilized in matters of international travel. The best passport wallets are well-made, handsomely outfitted and made to slide right into your favorite weekender bag or an overcoat pocket. And once you've bought the right one, you absolutely won't regret buying it. It'll tell stories over time and it'll only get better with age — that's a travel accessory worth buying.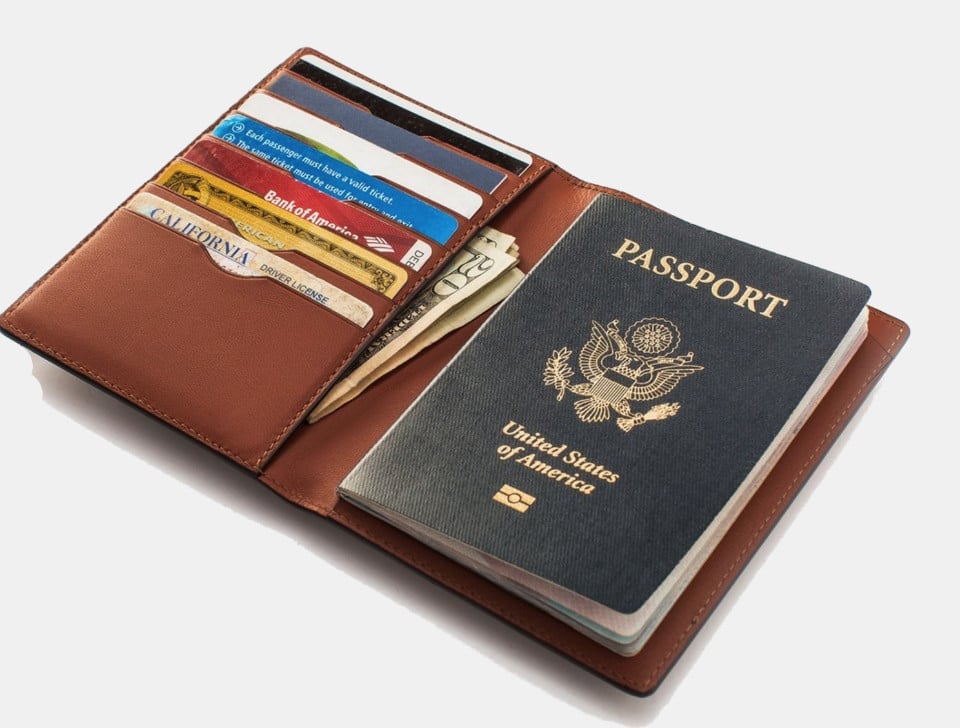 Taylor Stitch Passport Wallet
One could make the argument that any time you travel, you should be packing a bag full of style essentials from Taylor Stitch. It's feasible that the brand could outfit you from head-to-toe on a trip, from pieces like the Taylor Stitch Mariner's Boot to the brand's classic chambray shirts. You can add to your packing list the Taylor Stitch Passport Wallet, from the brand's Minimalist Collection. Available in a traditional Black or Brown, plus a unique shade of Navy, it's a handsome, refined and essential piece to bring with you on your next international trip. – Buy It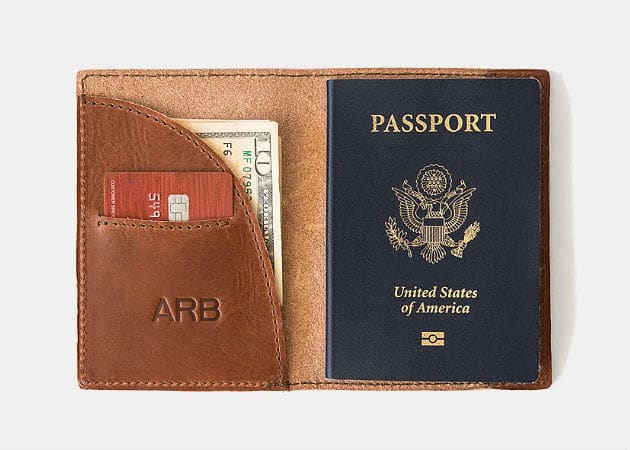 Whipping Post Passport Wallet
Whipping Post makes gear that's built for the refined gentleman who appreciates quality goods. That approach is reflected quite nicely with the brand's Passport Wallet, a rich brown leather piece that'll only look better and better the more you use it — from international business trips to quick jaunts across the northern or southern border, the Whipping Post Passport Wallet will become a piece all your own. The fact that you can customize it with your monogram is essential, handy and extremely smart — no losing this passport wallet on lengthy flights, that much is true. – Buy It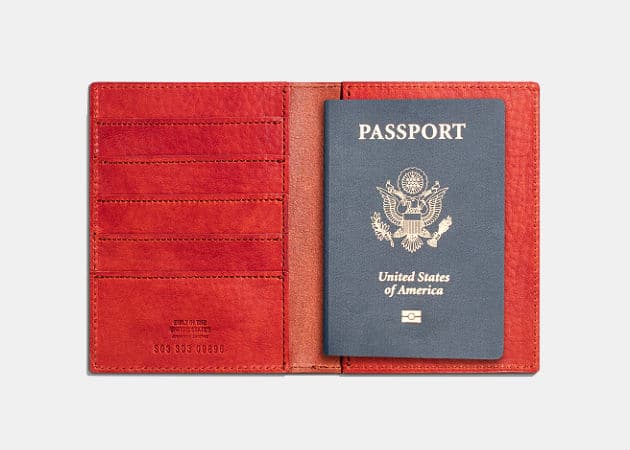 Shinola Leather Passport Wallet
If you're traveling somewhere that requires you look your best at all times, you should probably look into buying a handsome, heritage-quality and heirloom-worthy watch from Shinola. The brand puts the same level of attention to detail, quality and great looks into more underrated pieces, like its Passport Wallet. It doubles as a reliable wallet and is produced using labor-intensive methods at the brand's leather factory. It's the type of quality that can't be beat, and the type of looks you're going to want to have with you as you travel the globe for decades to come. – Buy It
Bellroy Passport Sleeve
When one thinks of stylish travel accessories made with functionality in mind, one should think of — and purchase — gear from Bellroy. Made to hold two to four cards in addition to your passport, the Bellroy Passport Sleeve also comes with a micro travel pen (complete with a refill). It's one of many design details that should make this a pleasing addition to your everyday carry when you travel — and when you throw in the fact that it's made with environmentally certified leather, this is the type of accessory that transcends its purpose and gets better with age. – Buy It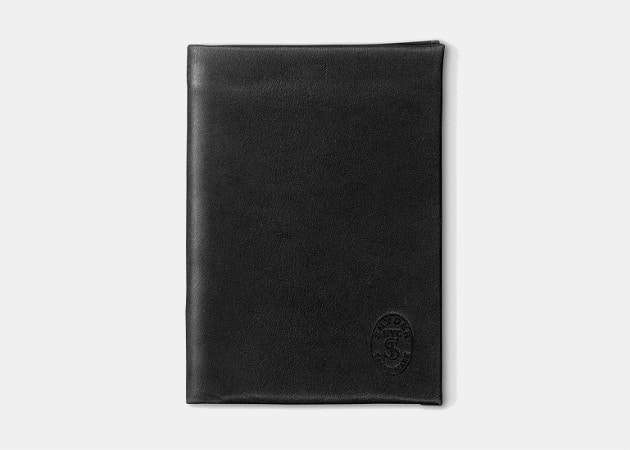 Maxx & Unicorn Passport Wallet
For a one-stop shop that contains all manner of standout, essential menswear goods — from watches to denim, wallets, suits and sneakers — check out inimitable American menswear designer Todd Snyder. Crucially, be sure not to overlook the brand's accessories partnerships with brands like Maxx & Unicorn. With classic details selected by Todd Snyder himself, plus American-made construction coming from Brooklyn, it's the type of refined passport wallet that's going to stylishly complement a Todd Snyder suit or overcoat quite nicely, particularly as you cruise through customs on that big international business trip. – Buy It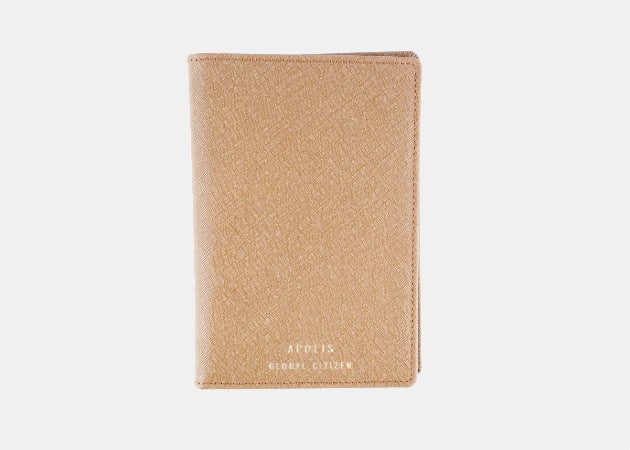 Apolis Transit Issue Passport Holder
It doesn't get much better than the Apolis Transit Issue collection in terms of gear that's made with tons of travel in mind. Using sturdy, comfortable and travel-friendly fabrics fit for work and play, the collection also includes all the accessories you could need — including your next favorite passport holder. It's a small style detail you shouldn't overlook, especially considering it's handcrafted in Taiwan using handsome natural leather designed to get better with age. Stow it in the pocket of one of the brand's famous chore coats and team the whole combo with slim chinos. – Buy It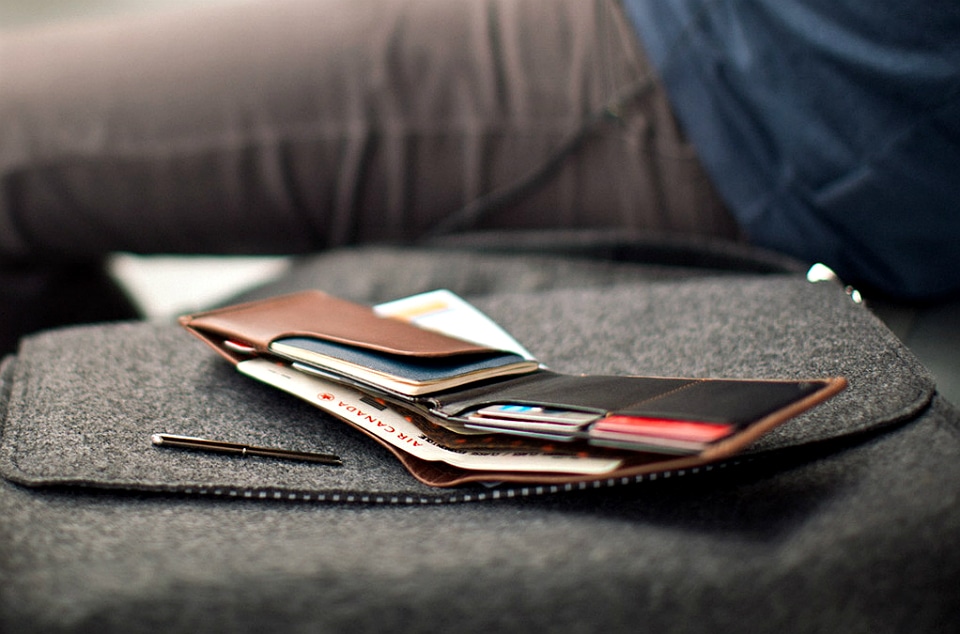 Bellroy Travel Wallet
If you've been thinking about upgrading your passport wallet for a while now, best to do it as soon as you can — particularly if you've got the means to buy the Bellroy Travel Wallet. With a myriad number of leather options for every style preference, you get space for up to 10-plus cards (yes, 10) in addition to a micro travel pen. And it's made, as with other Bellroy products, using premium leather that's environmentally certified. It's also backed by the brand's three-year warranty, but one could argue you'll be able to use it long past that date. – Buy It
Filson Passport and Card Case
Known more for its sturdy, tough bags and remarkable, near-legendary outerwear, there's another product you might want to consider picking up from Filson — the brand's Passport and Card Case. Available in three handsome shades of leather — including the eye-catching Tan colorway — it's designed, cut and sewn at the brand's Seattle headquarters with craftsmanship and quality in mind. Nylon thread stitching keeps everything in place, and there's room for cards and cash in addition to your passport. With all that functionality, you can focus more on your adventures than worrying about your gear. – Buy It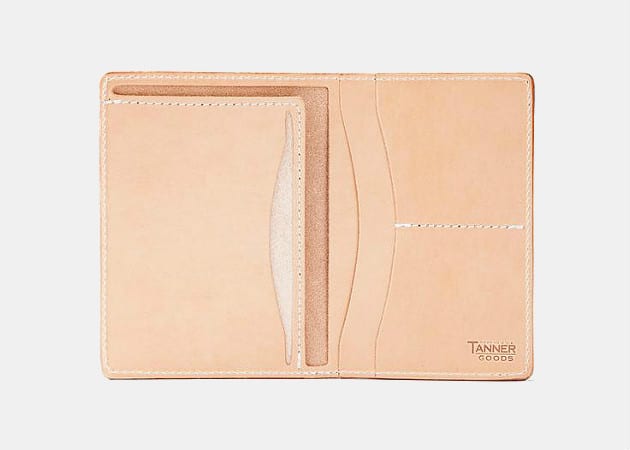 Tanner Goods Travel Wallet
Leave it to Tanner Goods to think of just about everything you could possibly need in one small package for your next international trip. Yes indeed, the Tanner Goods Travel Wallet takes the best of the brand's high-quality, beautiful Natural leather and translates it into one easy-to-carry piece that gives you room for a notebook on one side and your passport on the other. The Travel Wallet gives you all-in-one functionality when one considers it also has space for cards, cash and international currency. Don't let the higher price fool you — it's an investment worth making. – Buy It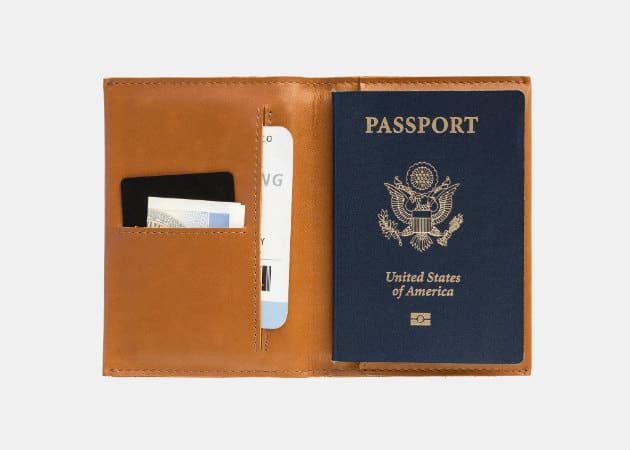 This Is Ground WWT Passport Wallet
This is Ground usually knocks it out of the park when it comes to the brand's handsome, essential and versatile leather goods. Such is the case with the Worldwide Traveler Passport Wallet, aptly named for its ability to crisscross the globe reliably, functionally and most importantly — with crisp style in mind. It's got space for everything from credit cards to your boarding pass and of course, your passport. Going through security can be a hassle, but using this passport wallet won't be at all — that goes for long trips or short overseas jaunts. – Buy It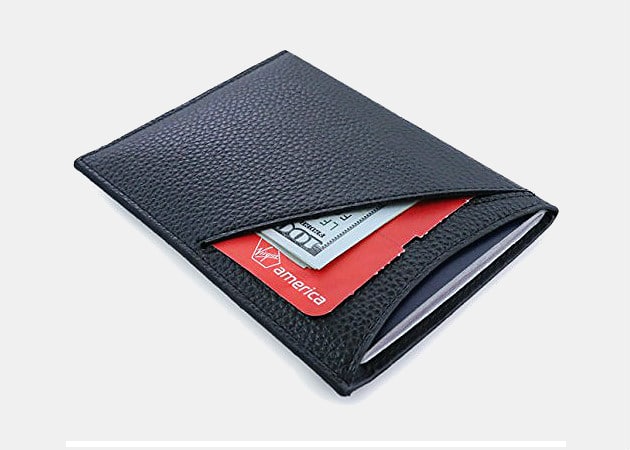 DASH Travel Passport Wallet
Sometimes, it's good to follow the crowd. That's definitely the case with the DASH Travel Passport Wallet, an item that received an astounding $150,000-plus in terms of Kickstarter funding. And sometimes, the argument also follow that it's great to slim down your travel carry — and the DASH Travel Passport Wallet accomplishes that quite nicely, as well. Between space for your passport and room for up to four cards, it's astonishing that it's all designed to fit your front, shirt or back pocket. Available in either Classic or Pebble leather, it's your new favorite everyday carry upgrade. – Buy It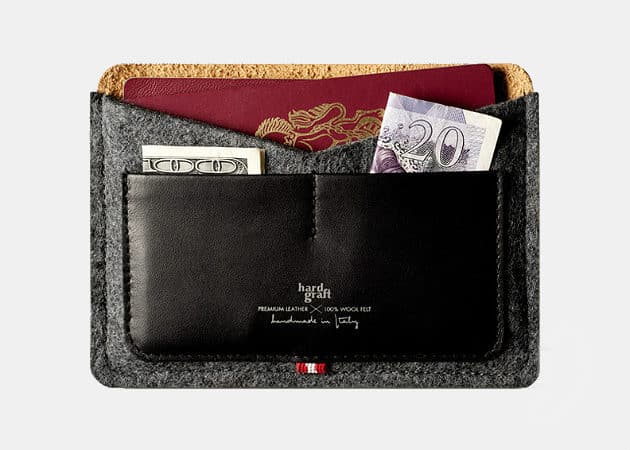 Hard Graft Passport Wallet
Hard Graft admirably combines the classic with the uniquely sturdy and tough, particularly when it comes to new essentials like the brand's multi-faceted passport wallet. It's a beautiful piece, complete with contrast stitching, space for that crucial passport and the type of tough design built to stand up to lots of rigorous travel. The best part about the brand's gear is that it's designed to get better as you go along, no matter where you travel. Slide the wallet into your favorite overcoat or a tough denim jacket, and rack up travel stories galore. – Buy It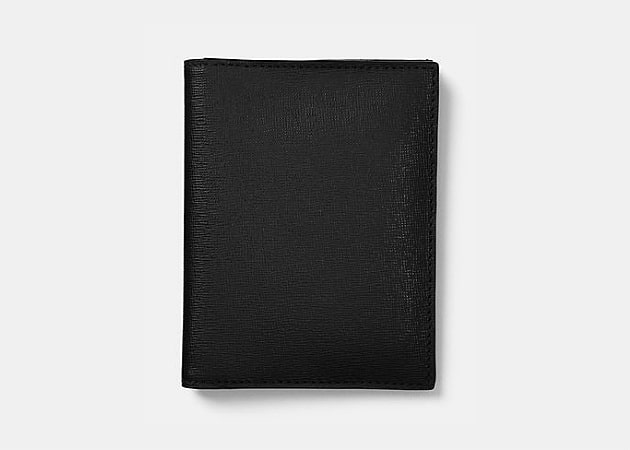 Jack Spade Barrow Passport Wallet
Known for its balance between slightly more fashion-forward pieces and classic essentials for the modern man, Jack Spade is a brand that's worth paying attention to — and buying, if you get the chance. You'd do well to make your first purchase the Passport Wallet — featuring a sleek, minimalist design and an agreeable price for a piece you can use for years, you get space for your passport, as well as quite a few slots for your credit cards. It's the ideal accessory to complement a handsome navy topcoat and your best suit on international business travel. – Buy It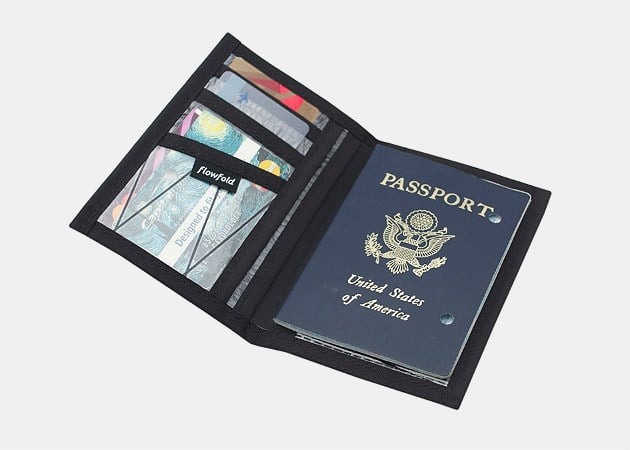 Flowfold Navigator Limited Passport Holder
It might be tough to believe that you can get such an essential piece like the Limited Passport Holder for such a great price (that is, under $50). Especially when you consider that the Flowfold Navigator Limited Passport Holder is made in America, that distinction becomes even more important to note — and when you throw in the fact that the passport holder is sleek, essential and well-made, it's clear you might not get a better item for the price. Get it in Jet Black or a minimal and crisp Slate Grey for an understated approach to travel accessories. – Buy It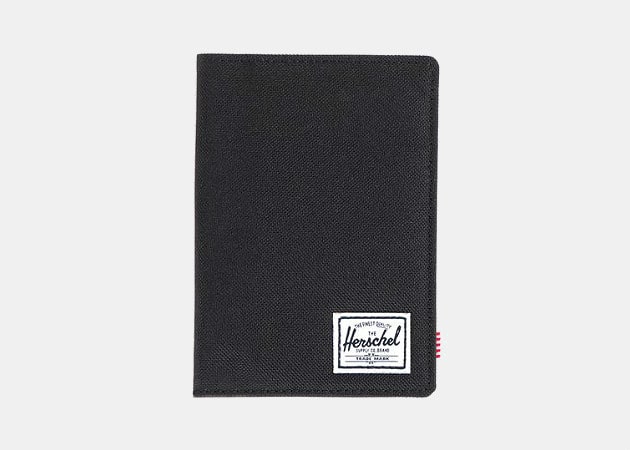 Herschel Supply Co. Raynor Passport Holder
Herschel Supply Co. has crafted a winning design formula in terms of effective, great-looking and tough travel gear. That's true of its Raynor Passport Holder as much as it's true in terms of its instantly recognizable backpacks and duffle bags. So, that means you're getting winning design and great quality for a very solid price. The Raynor Passport Holder comes complete with the brand's striped fabric liner on the interior, plus a classic woven label, an easy-to-use design and the type of price that's more than agreeable for the value. – Buy It
Disclosure: Clicking on these links and making a purchase may earn us a small referral fee, at no extra cost to you. Learn more here.