Just when you thought you had your everyday carry complete, an international work assignment — or a jetsetting vacation — comes up. Sure, you've got your passport …but how are you going to transport it (and keep track of it) safely, stylishly and effectively no matter where you go?
It's often said that the smallest style upgrades make the biggest difference, and such is the case with a passport wallet. As an accessory, it's underrated — and definitely underutilized in matters of international travel. The best passport wallets are well-made, handsomely outfitted and made to slide right into your favorite weekender bag or an overcoat pocket. And once you've bought the right one, you absolutely won't regret buying it. It'll tell stories over time and it'll only get better with age — that's a travel accessory worth buying.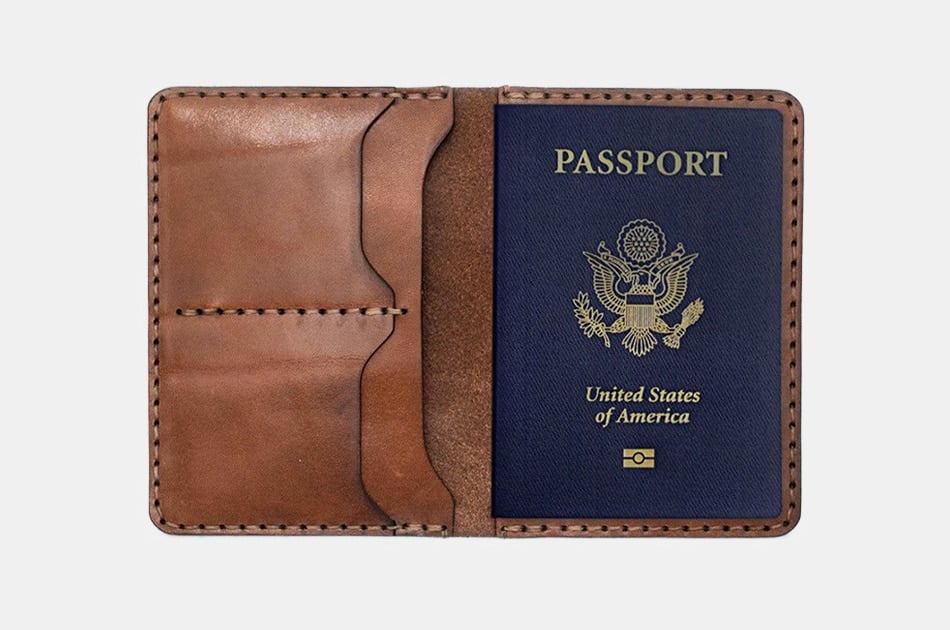 Bexar Goods Passport Wallet
When you find yourself looking for a long-lasting, dependable passport wallet, it's best to turn toward a brand you can trust — in this case, Bexar Goods is that brand. They've got a knack for churning out the best of the best in terms of rugged classics that merge functionality and style, and the Bexar Goods Passport Wallet is a prime example of exactly how it's done. The card slots act as another handy storage tool alongside the passport slot itself, meaning you can even use this when you're not on the road (that's what we'd do, at least).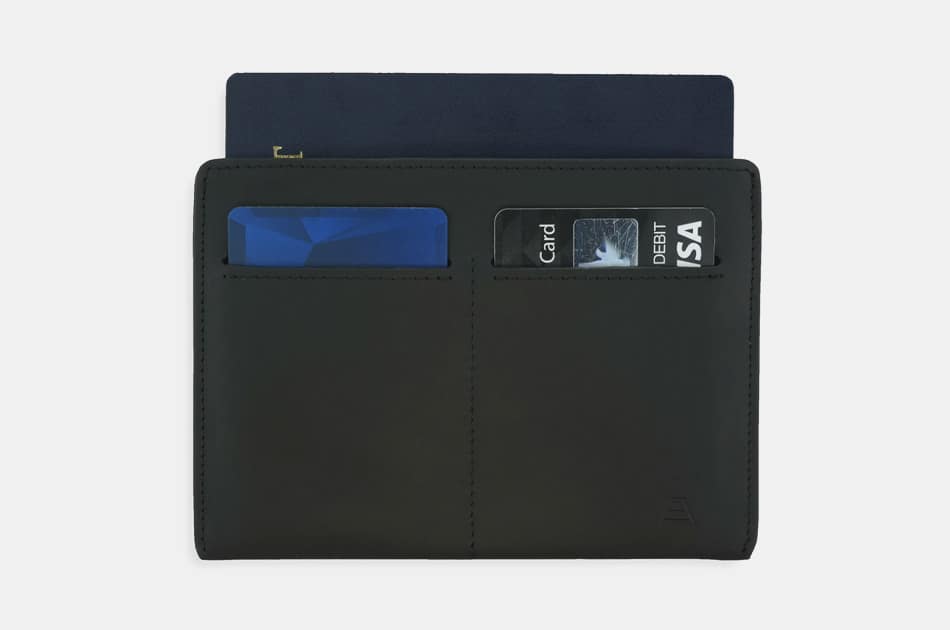 Andar The Atlas Passport Wallet
Andar has grown from humble beginnings just a handful of years ago into a brand now stocked and sold by the inimitable gear purveyors at Huckberry, and it's precisely because of their knack for making innovative, sleek products like the Atlas Passport Wallet. It's one of the best passport wallets for a reason, made with full-grain leather and a sleek design. That design uses card slots and a passport slot for maximum transport potential — consider it the travel upgrade you need now.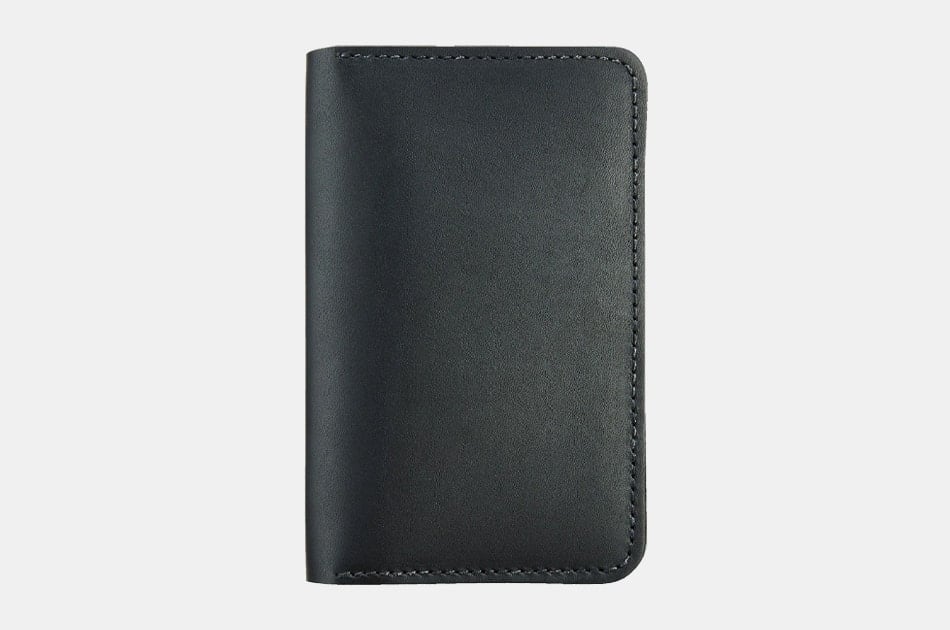 Red Wing Leather Passport Wallet
Think of the best leather goods or leather boots in your wardrobe — we're willing to bet there's a good chance the Red Wing brand might come to mind. And the good news is, you can add another Red Wing essential to your collection now, this time in the form of one of the best passport wallets to handle your everyday carry essentials. As sold by Todd Snyder, it's a nice addition to your shopping cart if you've had your eye on one of the designer's expertly cut shirts or suits.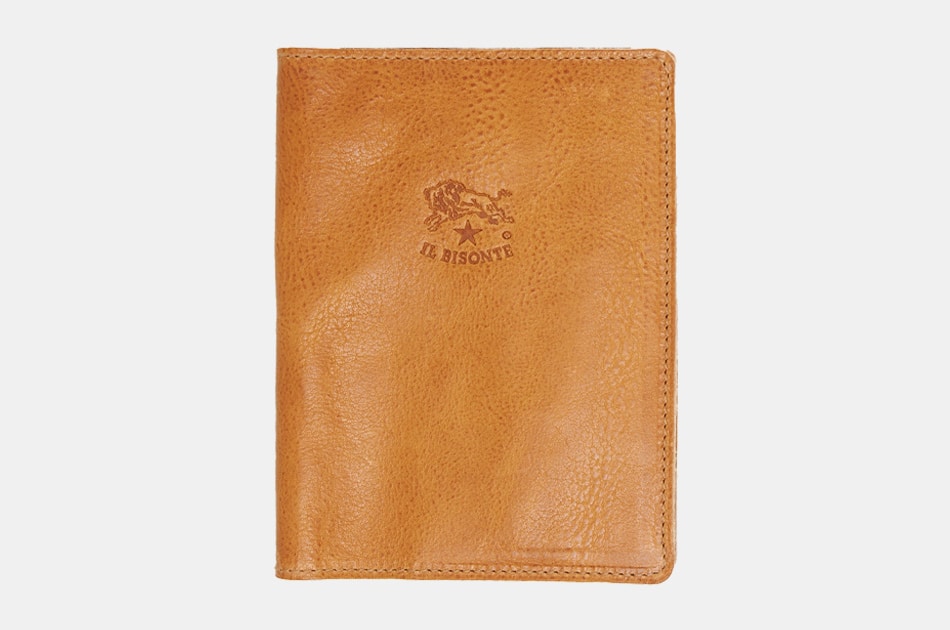 Il Bisonte Cowhide Passport Case
While it might seem unconventional at first, essential leather goods like the refined Il Bisonte Cowhide Passport Case can actually evoke a sense of adventure and wanderlust. After all, it seems like the well-crafted Il Bisonte Passport Case is the perfect companion for a lifetime of globetrotting adventurers, what with its sturdy construction and use of tough cowhide leather (sure to break in the more you carry it with you on globetrotting excursions).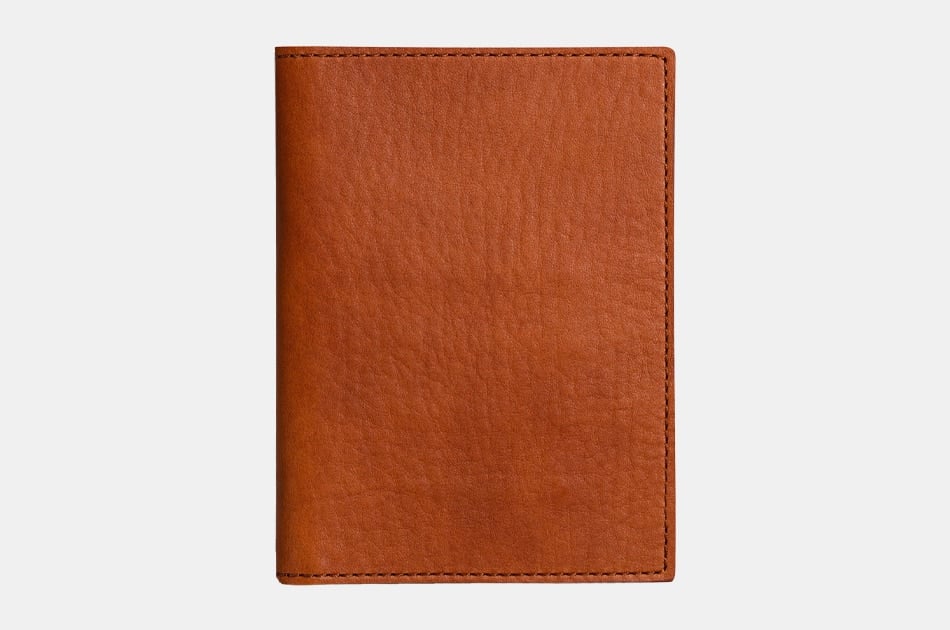 Shinola Leather Passport Wallet
If you're traveling somewhere that requires you look your best at all times, you should probably look into buying a handsome, heritage-quality and heirloom-worthy watch from Shinola. The brand puts the same level of attention to detail, quality and great looks into more underrated pieces, like its Passport Wallet. It doubles as a reliable wallet and is produced using labor-intensive methods at the brand's leather factory. It's the type of quality that can't be beat, and the type of looks you're going to want to have with you as you travel the globe for decades to come.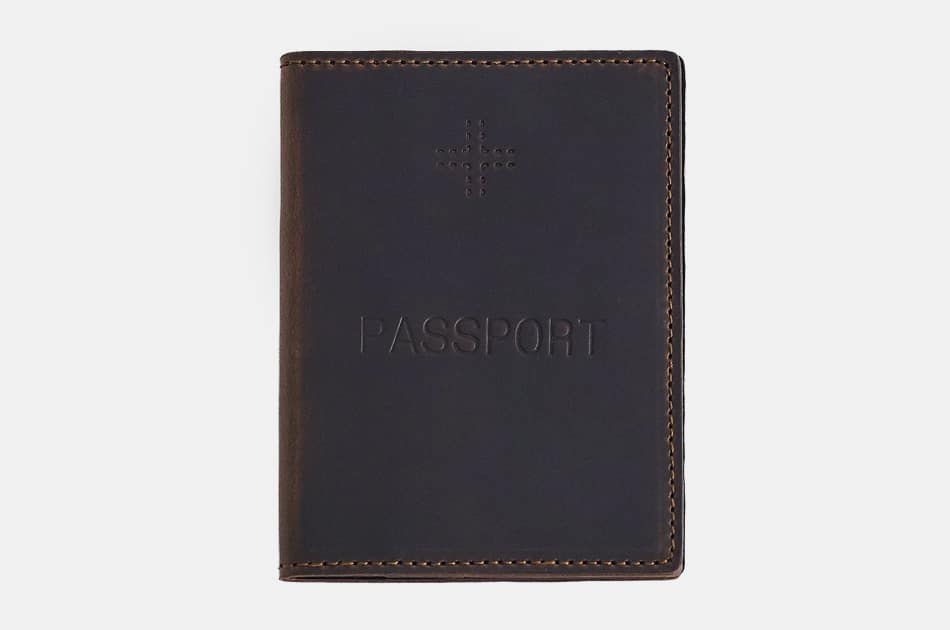 WP Standard Passport Wallet
WP Standard makes gear that's built for the refined gentleman who appreciates quality goods. That approach is reflected quite nicely with the brand's Passport Wallet, a rich brown leather piece that'll only look better and better the more you use it — from international business trips to quick jaunts across the northern or southern border, the WP Standard Passport Wallet will become a piece all your own. The fact that you can customize it with your monogram is essential, handy and extremely smart — no losing this passport wallet on lengthy flights, that much is true.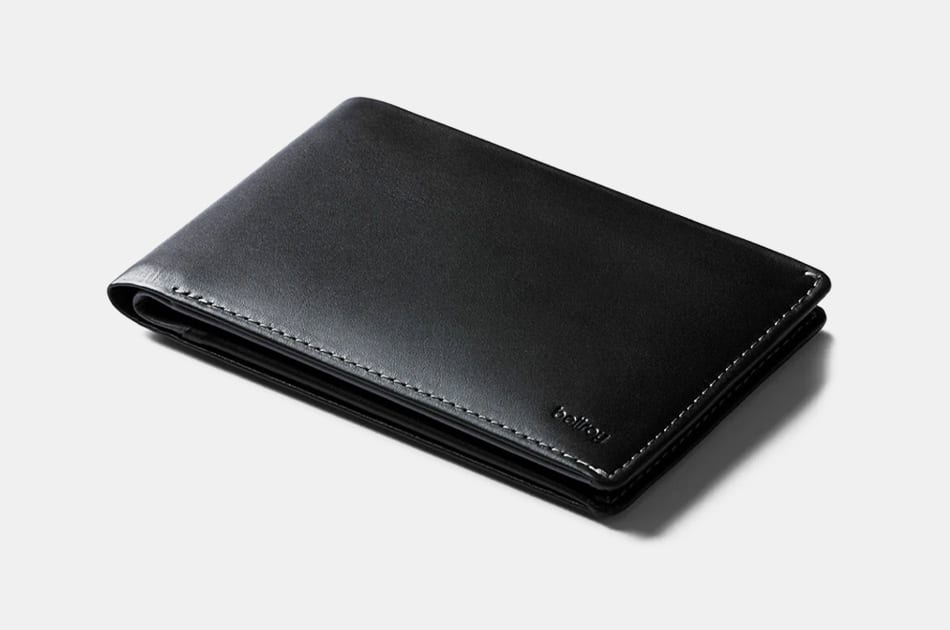 Bellroy Travel Passport Wallet
If you've been thinking about upgrading your passport wallet for a while now, best to do it as soon as you can — particularly if you've got the means to buy the Bellroy Travel Wallet. With a myriad number of leather options for every style preference, you get space for up to 10-plus cards (yes, 10) in addition to a micro travel pen. And it's made, as with other Bellroy products, using premium leather that's environmentally certified. It's also backed by the brand's three-year warranty, but one could argue you'll be able to use it long past that date.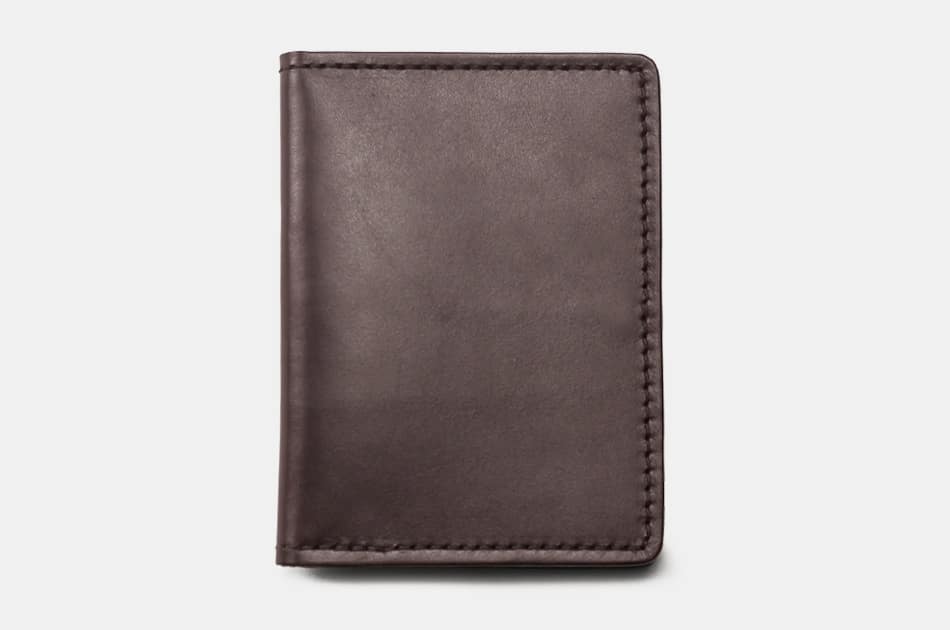 Filson Bridle Leather Passport and Card Case
Known more for its sturdy, tough bags and remarkable, near-legendary outerwear, there's another product you might want to consider picking up from Filson — the brand's Passport and Card Case. Available in three handsome shades of leather — including the eye-catching Tan colorway — it's designed, cut and sewn at the brand's Seattle headquarters with craftsmanship and quality in mind. Nylon thread stitching keeps everything in place, and there's room for cards and cash in addition to your passport. With all that functionality, you can focus more on your adventures than worrying about your gear.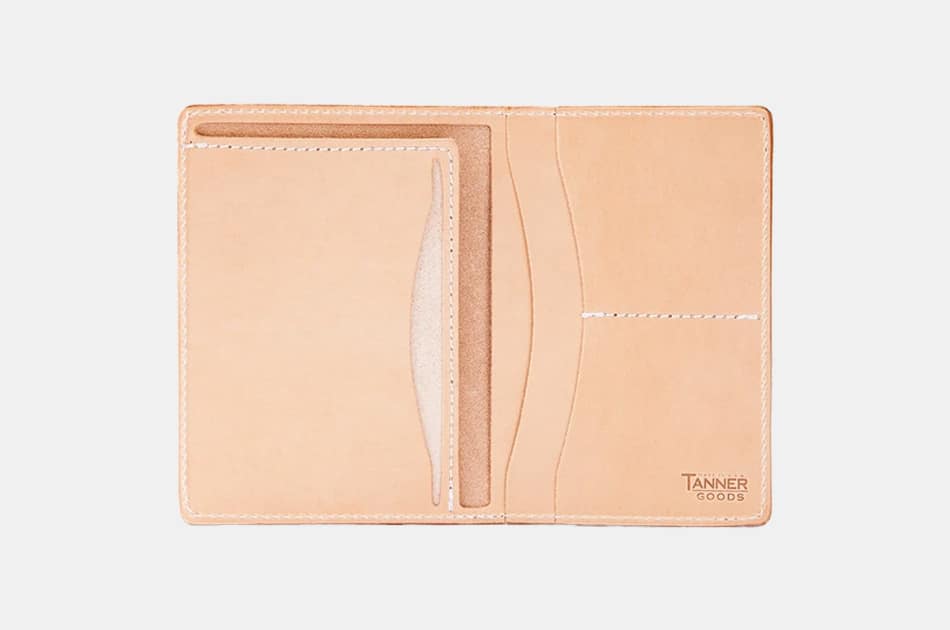 Tanner Goods Travel Wallet
Leave it to Tanner Goods to think of just about everything you could possibly need in one small package for your next international trip. Yes indeed, the Tanner Goods Travel Wallet takes the best of the brand's high-quality, beautiful Natural leather and translates it into one easy-to-carry piece that gives you room for a notebook on one side and your passport on the other. The Travel Wallet gives you all-in-one functionality when one considers it also has space for cards, cash and international currency. Don't let the higher price fool you — it's an investment worth making.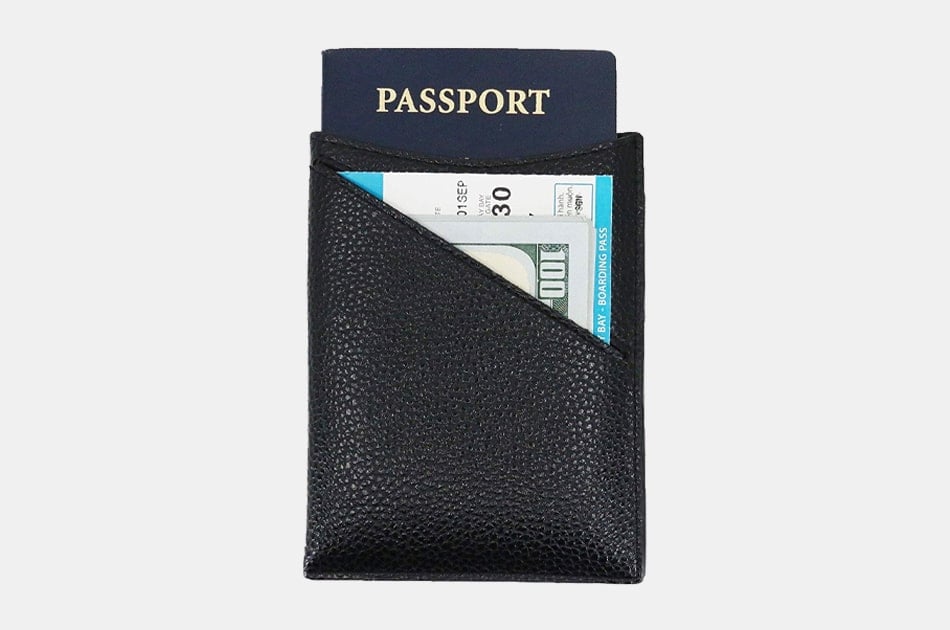 DASH Travel Passport Wallet
Sometimes, it's good to follow the crowd. That's definitely the case with the DASH Travel Passport Wallet, an item that received an astounding $150,000-plus in terms of Kickstarter funding. And sometimes, the argument also follow that it's great to slim down your travel carry — and the DASH Travel Passport Wallet accomplishes that quite nicely, as well. Between space for your passport and room for up to four cards, it's astonishing that it's all designed to fit your front, shirt or back pocket. Available in either Classic or Pebble leather, it's your new favorite everyday carry upgrade.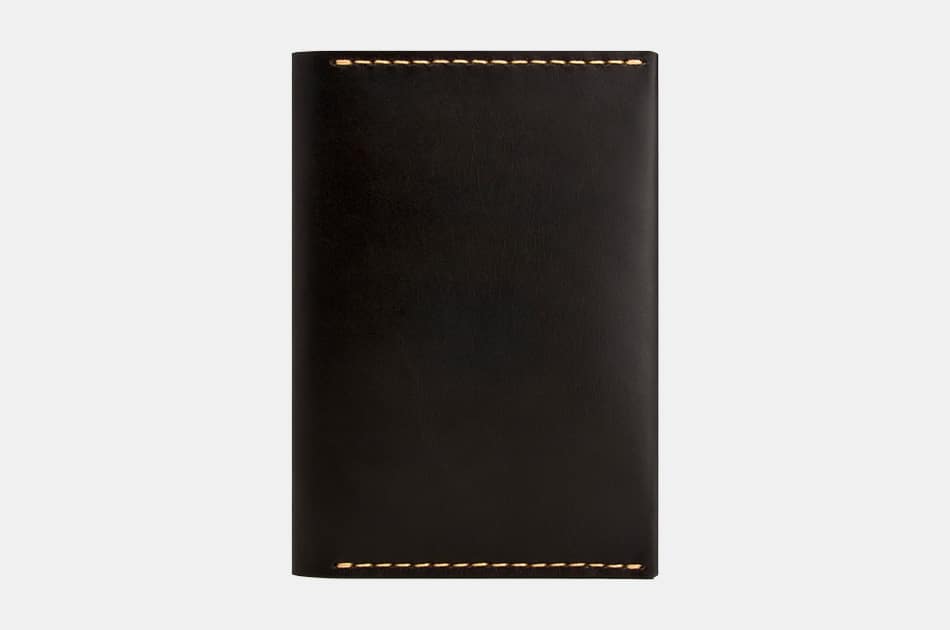 Ezra Arthur Leather Passport Wallet
Horween Chromexcel leather is some of the best stuff on the planet, used in the finest boots and front pocket wallets the world over, and now, it's being put to even better use by Ezra Arthur with the brand's Leather Passport Wallet. The right leather passport wallet should be durable enough to stand up to the rigors of long-distance travel while keeping your valuables safe, and this passport wallet is geared to do that better than nearly any other option (aside from the ones on this list).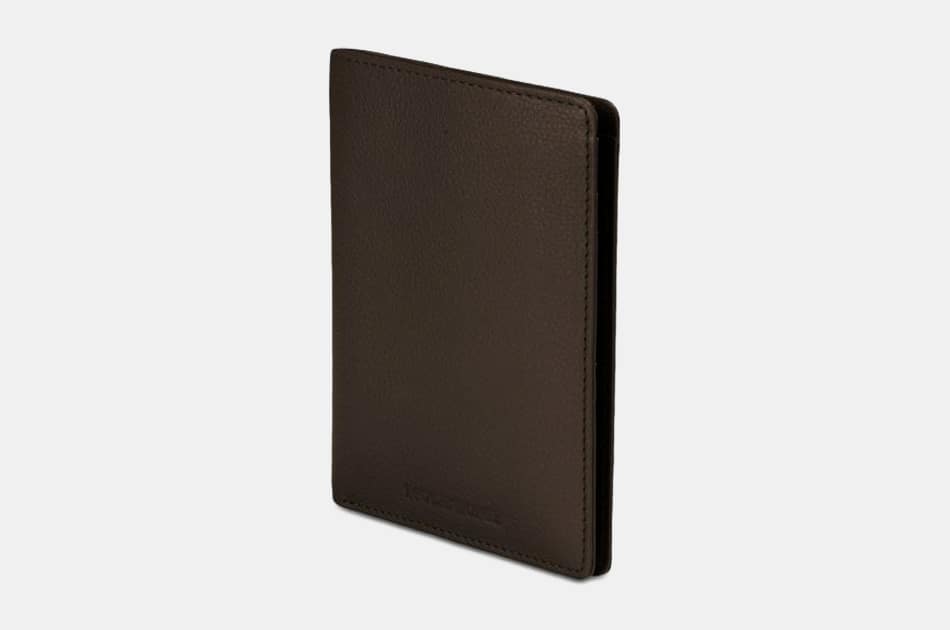 Moleskine Lineage Leather Passport Wallet
Moleskine is nearly in a league of its own when it comes to producing essential but subtly stylish (and seriously useful) notebooks and EDC gear, and that's what makes the Moleskin Lineage Leather Passport Wallet so darn cool. It features a durable passport pocket (naturally), to go along with slots for four credit cards and one slot for cash — truly, it's all taken care of. Just don't forget your Moleskine notebook before you go.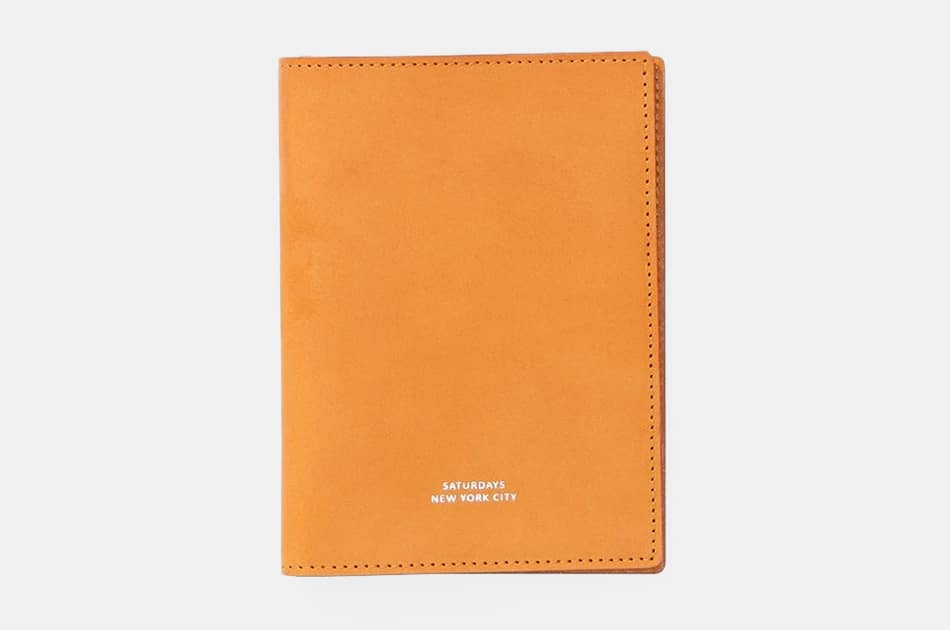 Saturdays NYC Passport Case
The good folks at Saturdays NYC have been defining how stylish guys in the city (and well beyond) dress, and it's only fitting that over time, they've added in stylish home goods and accessories to the mix. Next up on your shopping list from Saturdays NYC is this sleek, well-made leather passport case — it's a fine accessory alongside the brand's chinos, denim and Oxford shirting, so pick it up in time for your next trip.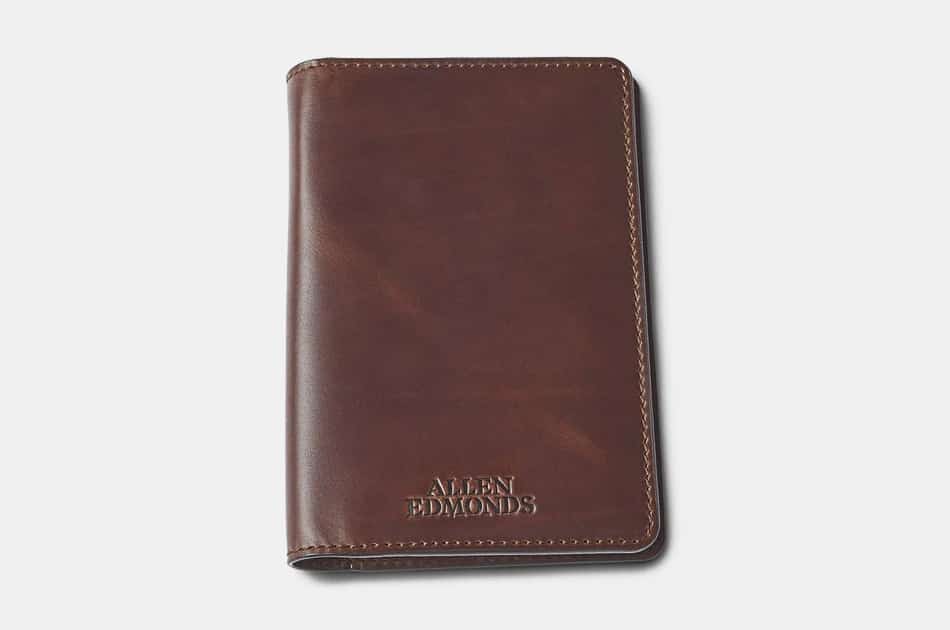 Allen Edmonds Leather Passport Holder
When it comes to the best leather goods on the market, there are certain brands for whom the craftsmanship of a passport seems easy. We're talking specifically about Allen Edmonds, as the lauded American footwear brand uses that same attention to detail to craft a beautiful leather passport holder to upgrade your everyday carry on the go.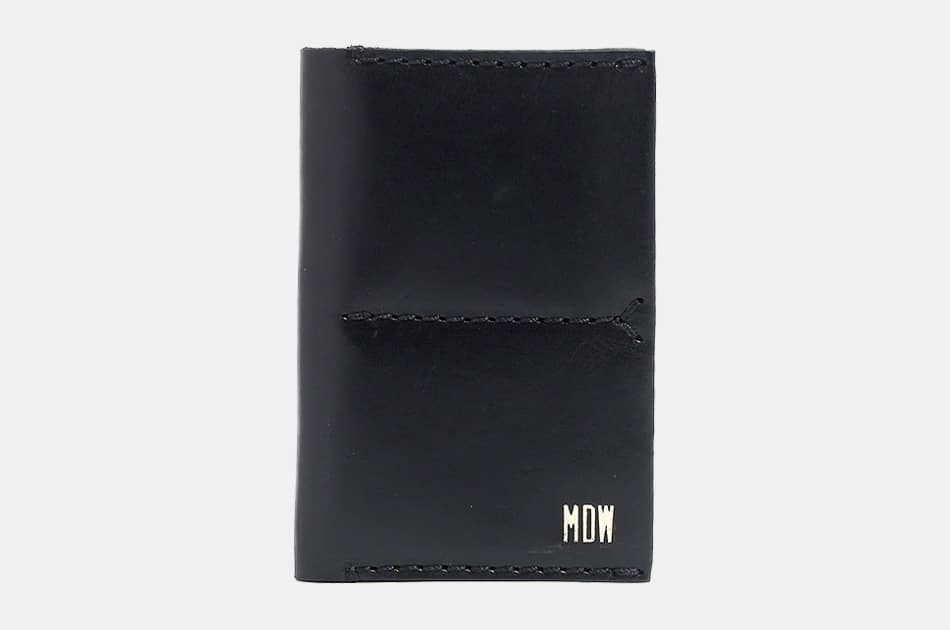 Madewell Leather Passport Case
As you shop for one of the best passport holders in advance of that long-awaited getaway, it make sense to shop around at a brand you trust — like Madewell, part of the J. Crew family of standout brands. This sharp leather passport case is sleek, stylish and an ideal complement to the Madewell Men's family of denim and shirting.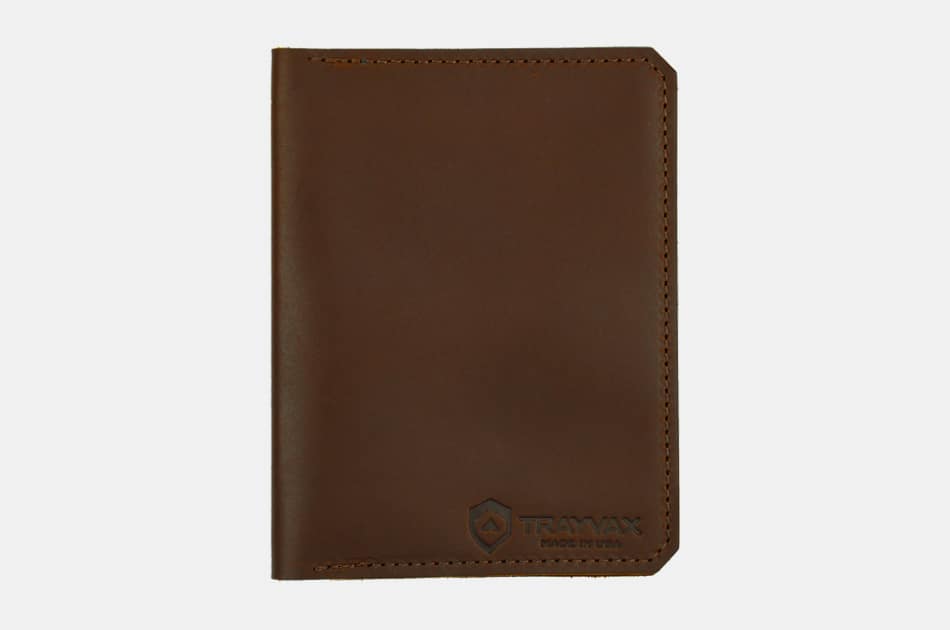 Trayvax Explorer Passport Wallet
The best thing about getting gear that's made in the U.S.A.? You can be sure it's a cut above in terms of quality, execution and durability — and the Trayvax Explorer Passport Wallet is exhibit A as far as one of the best passport wallets. It's subtly stylish and highly affordable for a wallet made in America, and it's sure to last (and last) for years to come.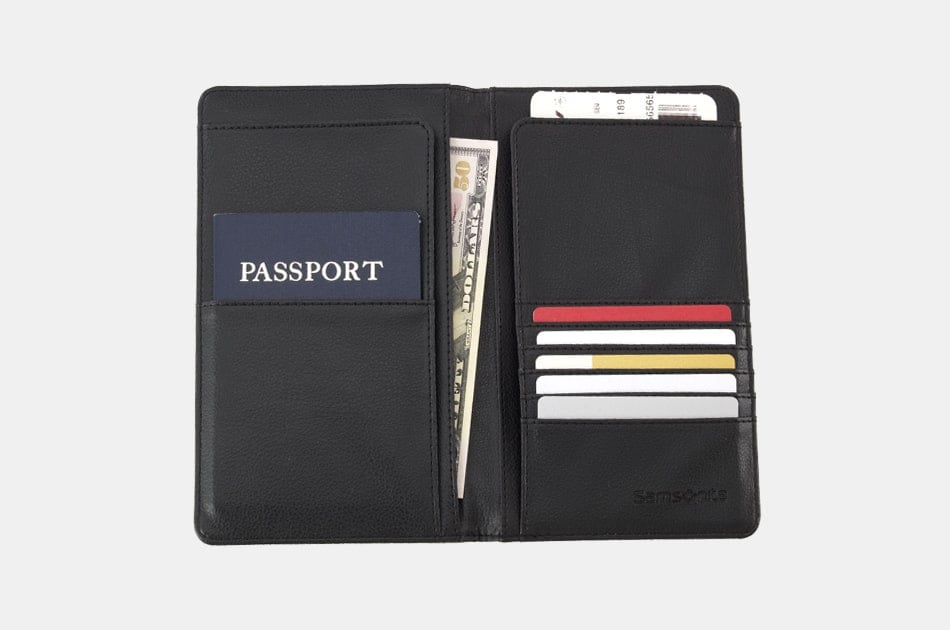 Samsonite Travel Wallet
Samsonite's name precedes itself before you even dig into the fact that they make worthwhile accessories as well as tough luggage — the Travel Wallet is the kind of minimal, cool wallet you need in your everyday carry (and in your luggage on your next international jaunt).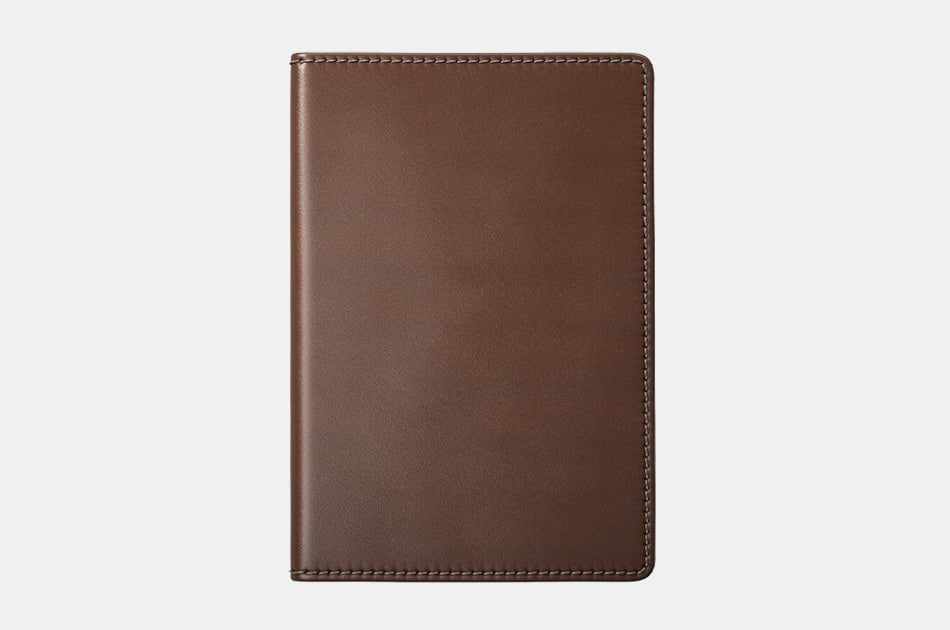 Nomad Passport Wallet With Tile Tracking
Whether you're a seasoned globetrotter or a novice in terms of international travel, horror stories abound in terms of lost valuables overseas — and for seamless travel across borders, you need a great passport wallet to keep your most essential item safe. The Nomad Passport Wallet with Tile Tracking is one of the best passport wallets for achieving that aim handily and in style. It retails for under $100, a downright steal when you consider the fact that it's A) Compatible with the handy Tile app and B) Made with rich Horween leather. It checks all the boxes, so pick it up before your next international trip.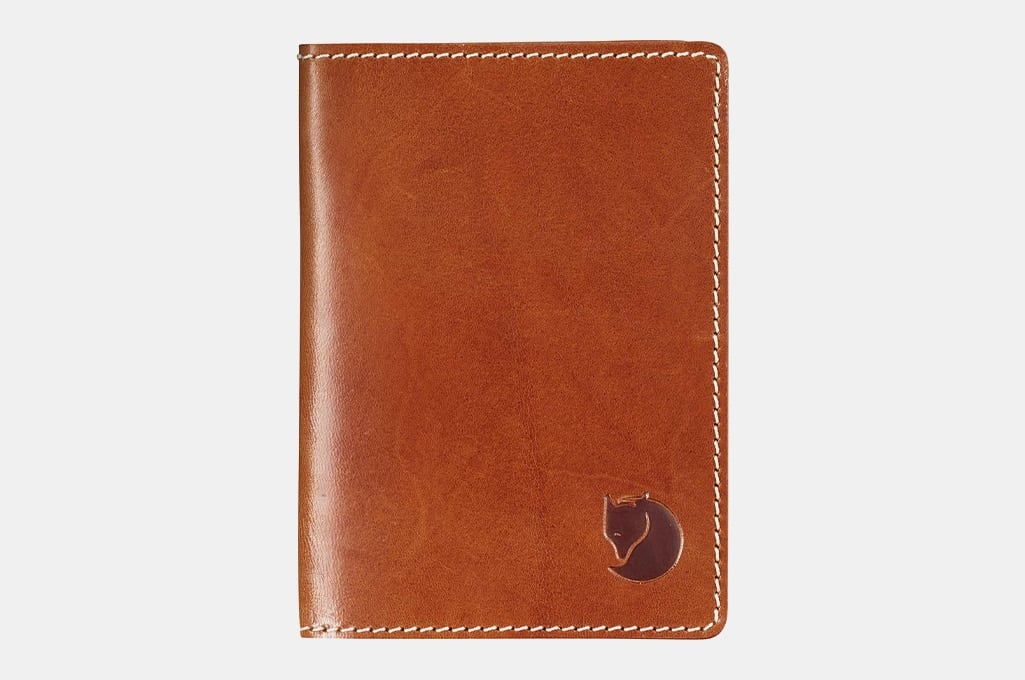 Fjallraven Leather Passport Cover
This neat passport cover from Fjallraven showcases the brand's signature style of clean minimalism meets functionality. The cognac leather is soft but durable, with a slight shine and beautiful light stitching around the edges. Inside, you can stash your passport for safe-keeping, but that's not all. This cover has room for multiple credit cards, an ID and your plane tickets. It will certainly become a must-have in your back pocket while traveling.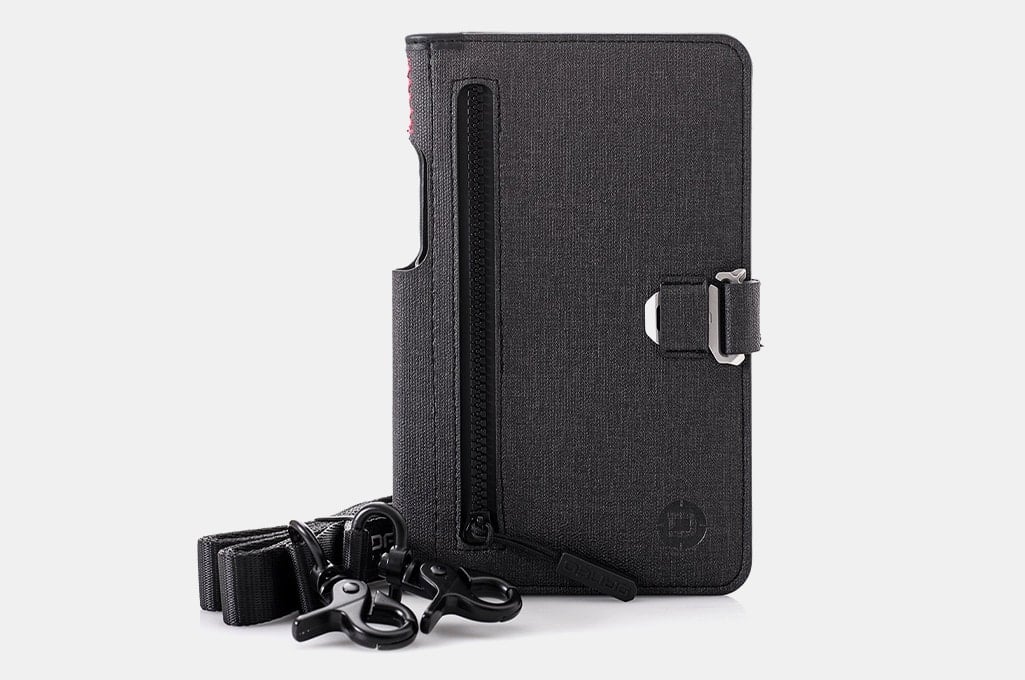 Dango Products P02 Pioneer Travel Wallet
This passport cover from Dango is for the sporty traveller. It's fully equipped with enough storage room and organizational pockets to replace your wallet on a trip. An outer water-resistant zipper pocket holds loose change and other valuables. And there's even a small side compartment to stash a pen and notebook. You can slide this flat wallet into your back pocket or sling it over your shoulder with the detachable carrying strap. Inside, there's enough room to carry several credit cards, a check book, cash, and even a special mini pocket for a camera memory card. Dango truly thought of every travel need when designing this passport cover.
Disclosure: Clicking on these links and making a purchase may earn us a small referral fee, at no extra cost to you. Learn more here.
freestar.config.enabled_slots.push({ placementName: "gearmoose_leaderboard_btf", slotId: "gearmoose_leaderboard_btf" });