The 20 Best Portable Bluetooth Speakers
While the numerous smartphones and tablets on the market provide an adequate listening experience for some via their modest speakers, they'll never be up to par for the true audiophiles. That's why the portable bluetooth speaker market has pretty much exploded in the past few years, because those who love their music have created a demand for a wireless, everyday carry-friendly way to enjoy their favorite playlists no matter where they may be.
Portable bluetooth speakers have evolved extensively over the past half decade, becoming smaller, more portable, more powerful, and more outdoor friendly for listening at the beach, by the pool, or at the campsite. The result is a whole new generation of bluetooth speakers available to the end-user audiophile that not only sound amazing, but that can withstand the elements, fit into your bag, answer your phone calls, and even charge your smartphone. To save you the hassle of sifting through the endless choices, we've compiled this list of the 20 best portable bluetooth speakers, in no particular order.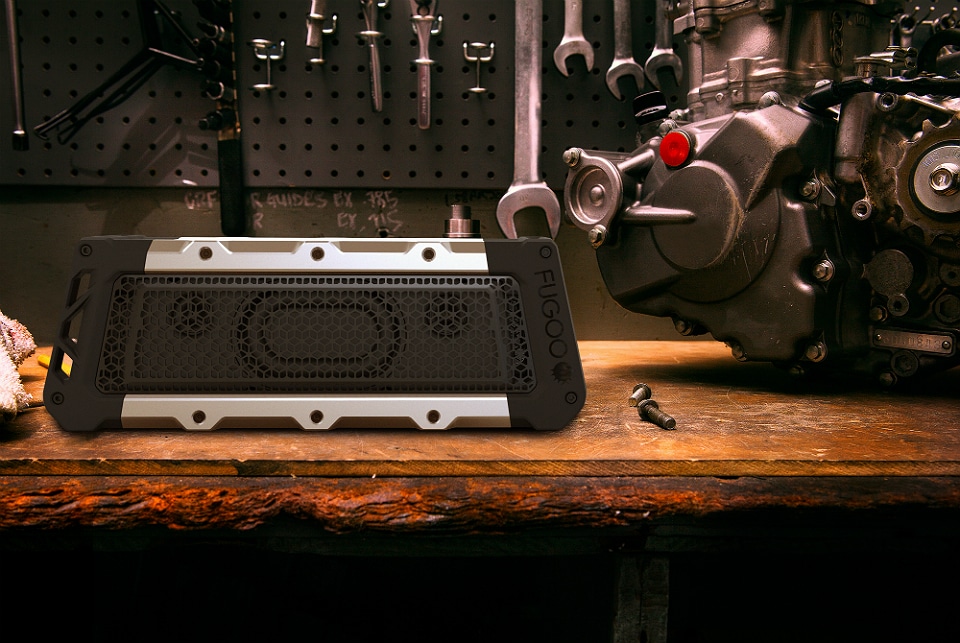 Fugoo Tough XL Speaker
Four times bigger and nearly twice as powerful as it's smaller yet extremely rugged Fugoo Tough Speaker counterpart, the Fugoo Tough XL Speaker can easily churn out 100 decibels of powerful, refined sound in all directions thanks to 8 different acoustic drivers along with strategically-placed speakers on every side of the device's body. Additional features include a portable hand strap, external charging capabilities via USB port, up to 40 hours of batter life on a single charge, Apple Siri and Google voice command compatibility, and fiber-reinforced resin shell covered by a durable aluminum jacket that renders the Tough XL waterproof, shock-proof, and sand-proof, and weather-proof. – $330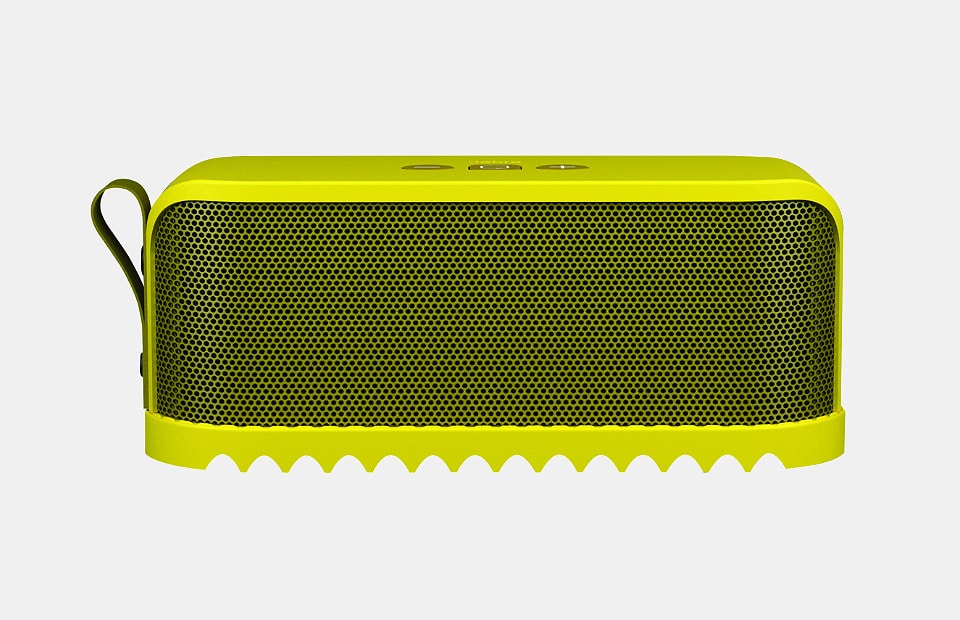 Jabra Solemate Bluetooth Speaker
The Jabra Solemate portable bluetooth speaker strikes a perfect balance between outdoor ruggedness and everyday carry-friendly portability. Its crisp, bass-intensive sound is powered by two acoustic tweeters, a powerful subwoofer, and a proprietary bass radiator that delivers a sound comparable to its more expensive counterparts. Along with standard bluetooth connectivity, the Jabra Solemate features a shoe-like tread on its bottom that not only protects the device from everyday wear and tear, but also inconspicuously houses its 3.5mm cord. – $59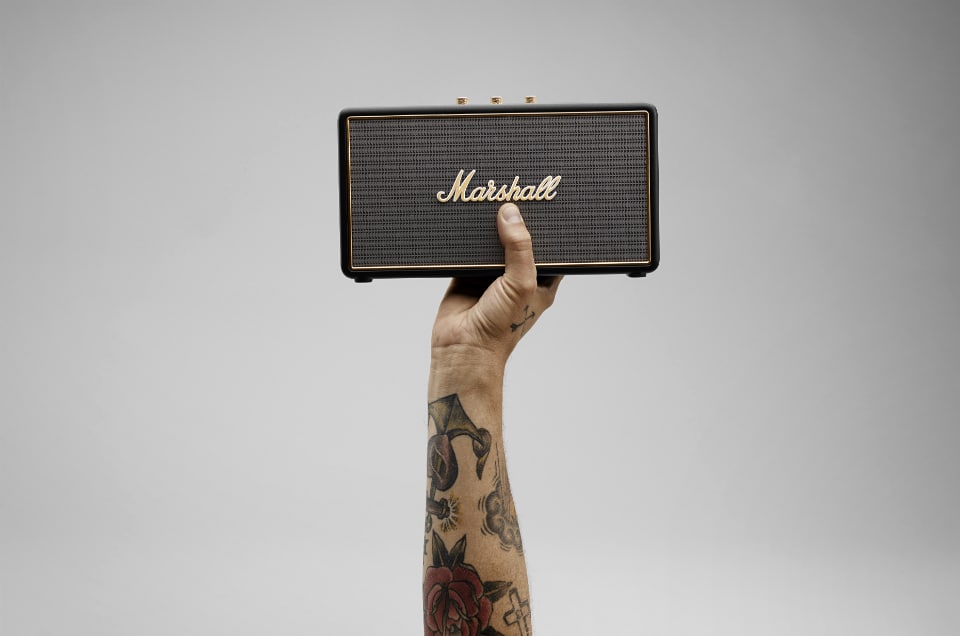 Marshall Stockwell Speaker
Marshall will be expanding it's amp-inspired speaker lineup soon with the all new Stockwell Speaker. Becoming the smallest, most portable speaker the company has created thus far, the Stockwell weighs in at just over two and a half pounds while still promising to deliver the same powerful Marshall sound as it's larger counterparts. Along with a USB charging port and a 25 hour battery, Bluetooth connectivity is once again an option with this speaker, allowing the listener to wirelessly connect playlists from a variety of smart devices. – $250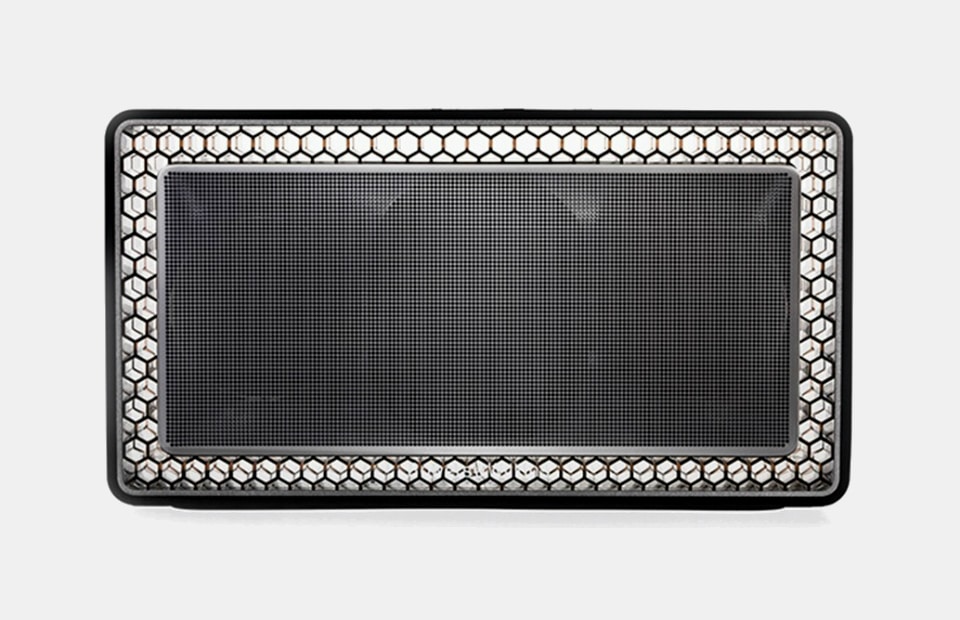 Bowers & Wilkins T7 Portable Speaker
More thought went into the design of the T7 portable speaker than the previous 19 bluetooth speakers combined. It's travel-friendly compact size is complimented by a specially-designed honeycomb of interlocking cells that stabilize the speaker's housing, in turn reducing unwanted distortion and vibration common with some other mini speakers. Along with 50mm drivers and twin bass radiators, the T7 Speaker's design results in a solid sound in an ultra portable package for on the go listening. Additional features include Bluetooth capabilities and an impressive 18 hours of battery life on a single charge. – $350