20 Best RFID-Blocking Wallets
In this day and age, with digital identity theft a constant threat, you can't be too careful with the cards that populate your wallet.  Believe it or not, electronic pickpockets in close enough proximity can use scanning devices to steal the account information stored on the chip in credit, debit, and other cards in your wallet – a crime known as RFID (or radio-frequency identification) skimming.
 
While RFID technology has in many ways improved security for credit transactions, it has also opened the door to significant risk.  On the one hand, it's much easy to copy data from magnetic stripes than to steal it from RFID chips at the point of sale.  However, if a criminal with the right skimming device gets close enough to your chipped cards, the chips could be activated in order to steal the confidential data they contain.
 
The good news is, you don't have to live in constant fear of this outcome.  Plenty of companies now offer RFID blocking wallets that create a virtual shield for your chipped cards, effectively stopping skimming devices from finding and accessing the data stored in RFID chips.  Here are the 20 best RFID blocking wallets — all reliable and attractive — that you might want to consider adding to your everyday carry collection.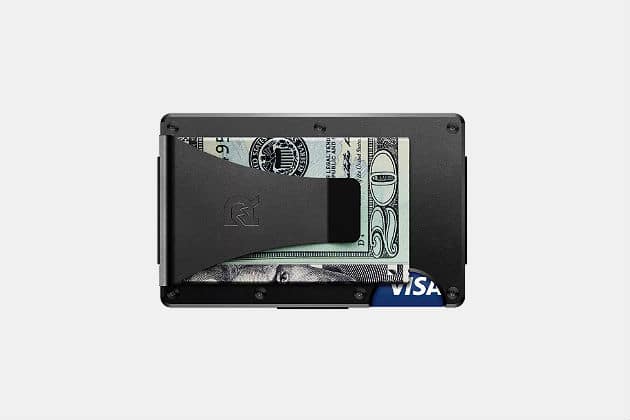 Ridge Wallet
Slim, minimalist wallets are a must for anyone who prefers less bulk in the pocket, but a strong, durable wallet that also offers RFID protection takes the concept to the next level.  The Ridge wallet in anodized aluminum is everything you could want and then some.  Thin layers of aluminum are imbued with RFID blocking technology, the card pocket expands to hold 1-12 cards, and a money clip on the side offers easy access to cash.  Backed by a lifetime warranty. – Shop Now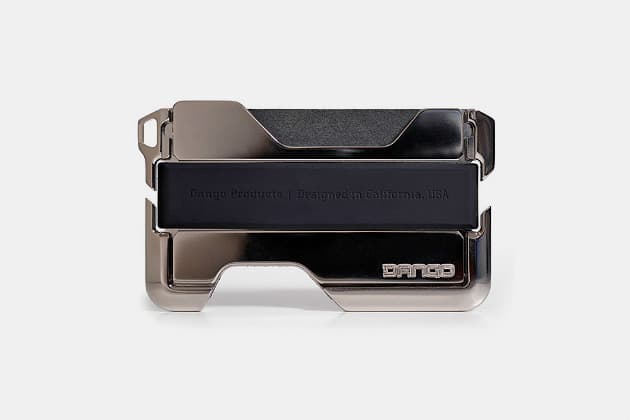 Dango D02 Dapper Wallet
Are you looking for a wallet that looks like it's designed to usher a dapper gentleman through the apocalypse?  Look no further than this offering from Dango, which features a nickel-plated aluminum frame juxtaposed against a genuine top grain leather body.  Sophisticated styling is paired with supreme utility, thanks to RFID tech and storage for up to 12 cards, as well as a silicone band to hold cash for quick access.  Add the MT02 multi-tool, and you're all set for the zombie uprising. – Shop Now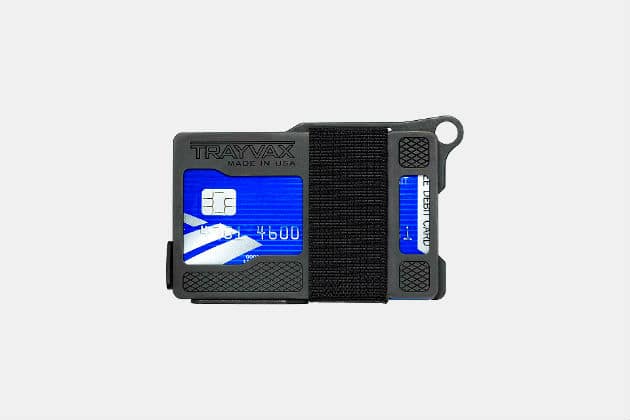 Trayvax Armored Summit Wallet
Ultra-thin and wear resistant, this RFID protected wallet featuring heat-resistant steel plates with a durable melonite finish is perfect for the minimalist seeking a tough-as-nails compartment for 1-7 cards and 1-5 bills.  The wallet essentially consists of two slender plates (with peekaboo cutouts to see which card or ID is facing out) held together by a MIL-SPEC nylon webbing band.  An integrated bottle opener is a fun bonus, and as with other Trayvax products, this made-in-the-states wallet comes with a 65-year heirloom warranty. – Shop Now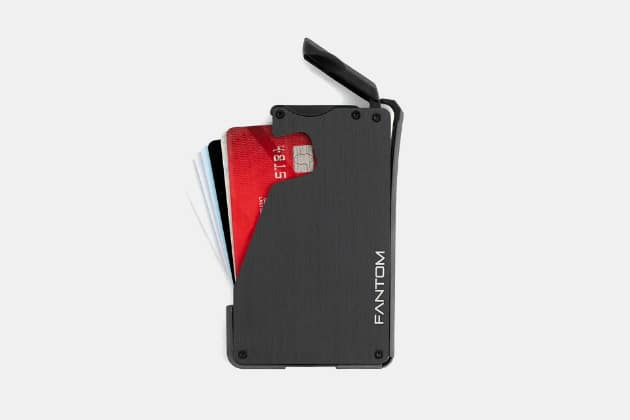 Fantom Wallet
This space-age wallet offers modern appeal thanks to sharp lines, slender styling, and aluminum construction designed to block RFID signals.  There are also several options to customize not only the color of your wallet (as well as add anodized finish in blue, black, or gold), but also the number of cards it can hold in the central compartment (4-7, 6-10, or 8-13).  You can even decide whether or not you want a built-in coin compartment.  A grade 5 titanium money clip completes the package. – Shop Now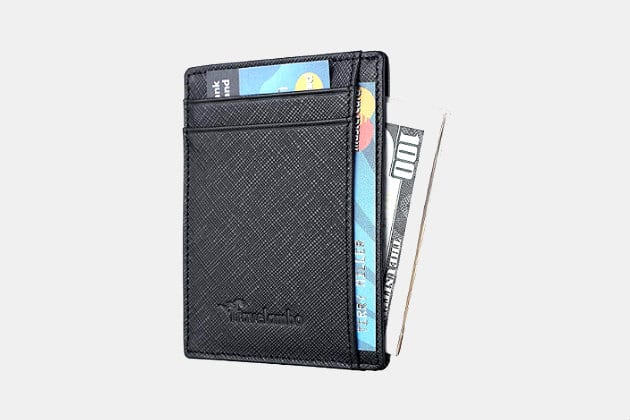 Travelambo RFID Front Pocket Wallet
This tiny wallet in 100% top grained genuine leather looks slick, but pretty basic, with a central cash slip for folded bills and several card slots, plus a quick access ID window for your driver's license.  It also comes in a couple dozen colors to please ladies and men alike.  What you're sure to appreciate more than its diminutive size, however, is the RFID blocking materials designed to protect debit, credit, and ID cards working at a frequency of 13.56 MHz. – Shop Now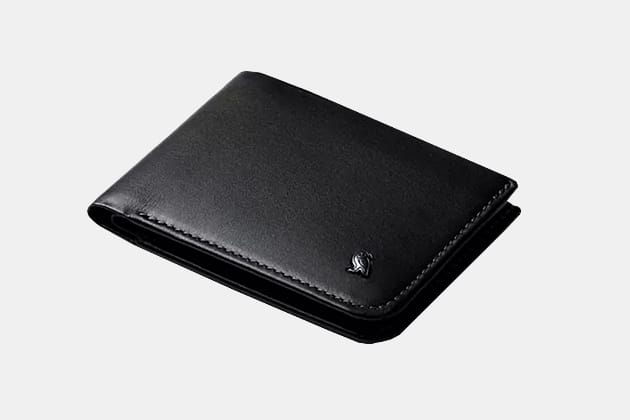 Bellroy Hide & Seek RFID-Blocking Wallet
Not everyone wants a wallet in sleek aluminum with a half dozen tools included.  If you're on the prowl for a classic bifold that happens to feature RFID protection, the Bellroy Hide and Seek wallet delivers with traditional styling in sustainably produced and environmentally-certified genuine leather.  There are four quick access card slots, a protected pocket for cards, a bill slip in the back to store cash, and even a hidden coin pouch.  This outwardly simple wallet packs a lot of interior punch. – Shop Now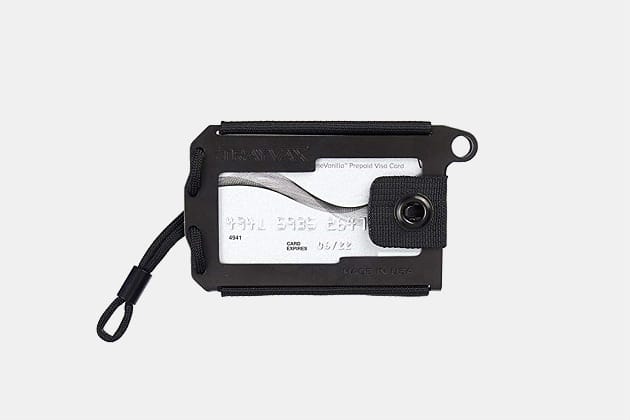 Trayvax Axis Wallet
Utilitarian appeal punctuates the minimal, stainless steel framework of this compact wallet, which purports to hold 1-14 cards and 1-8 bills and offers RFID protection and an ID window, to boot.  A twist on the classic bifold, the metal frame hinges open to reveal a money clip on one side and an adjustable card strap on the other, along with an integrated storage pocket for keys or coins.  Trayvax has also thrown in a MIL-SPEC paracord, not to mention a 65-year heirloom warranty. – Shop Now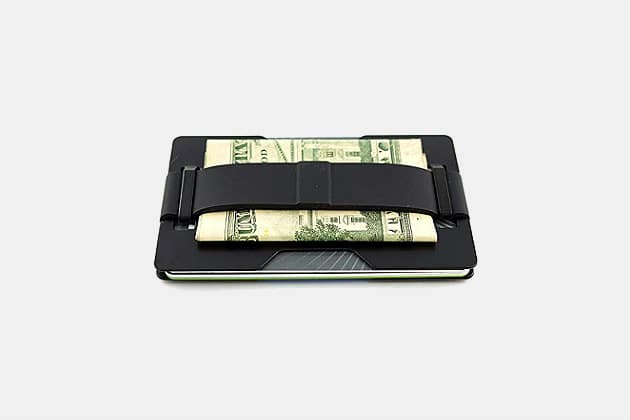 Radix One Black Steel Minimalist Wallet
There's not much to this pared down wallet, which features two strips of heavy gauge stainless steel held together by a flexible silicone band.  Openings on either side make it easy to slide out the 4-10 cards this wallet can hold, and it's easy to pop a few bills under the band on the outside.  Even so, you'll still get the RFID blocking power you need to ensure your personal information remains private.  You'll also enjoy an incredibly slim silhouette. – Shop Now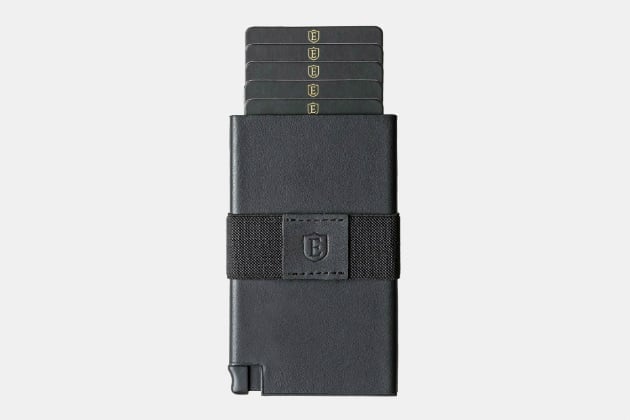 Ekster Senate Card Holder
This card case is oddly elegant, and not just because of the scripty "E" embossed on every surface.  Ekster's ultra-slim wallet is made from sturdy, yet supple, environmentally-friendly leather and offers storage capacity for up to seven cards in the central slip, as well as cash and even coins.  It also has push-button functionality to eject cards for easy access.  A solar-powered tracker card connects to your phone via Bluetooth, which means you can always find your wallet, provided you can find your phone. – Shop Now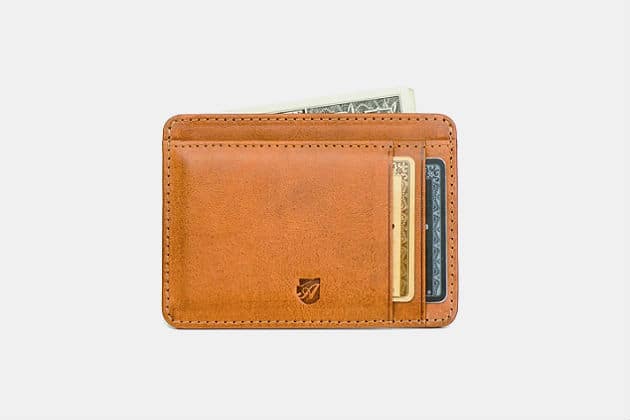 Axess Compact Wallet
Whether you opt for classic black, tan, or cognac or you go for bold blue or green, you'll get a wallet worth keeping thanks to handcrafted construction and smooth, durable, quality leather.  The central pocket of this no-fold wallet is perfect for folded cash or even coins, and four outer pockets can easily hold up to eight cards.  The back pocket features an ID window and the larger outer pocket on the front delivers RFID protection for your most important plastic. – Shop Now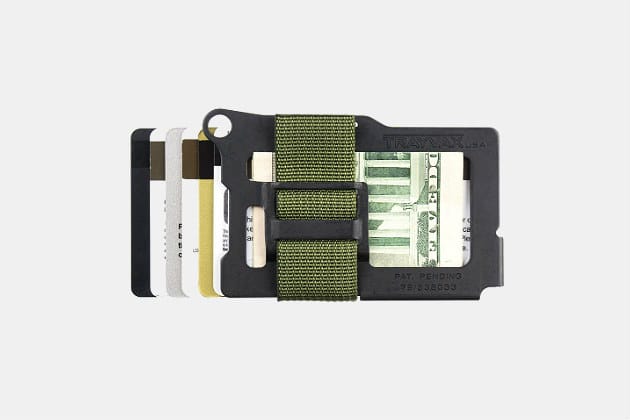 Trayvax Summit Minimalist Wallet
Another submission from Trayvax (with its storied 65-year heirloom warranty), this uber-minimalist wallet includes little more than a resilient, cold-rolled steel plate with durable melonite finish, an integrated money clip, and a strap in MIL-SPEC nylon webbing to secure 1-8 cards and 1-5 bills.  How does it protect against RFID skimming?  We don't know, but they hid the tech in there somewhere.  In the meantime, you'll get the perfect EDC wallet for front or back pocket use and a product that you can proudly say is made in the USA. – Shop Now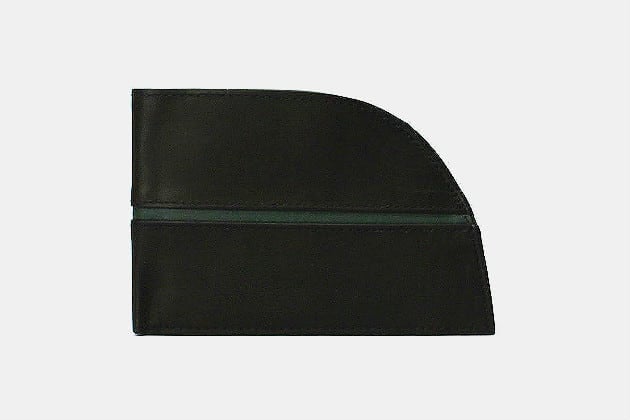 Rogue Front Pocket Wallet
Front pocket wallets are all the rage these days, what with many a man going minimalist and looking for ways to avoid that telltale bulk in the back pocket, not to mention the discomfort of sitting on a brick of a wallet.  This bifold wallet in rugged, crackled, tan Bison leather is both masculine and lovely, with a rounded edge that perfectly fits in a front pocket.  It also holds 6-12 cards and includes a pocket for flat bills, an ID window pocket, and of course, RFID protection. – Shop Now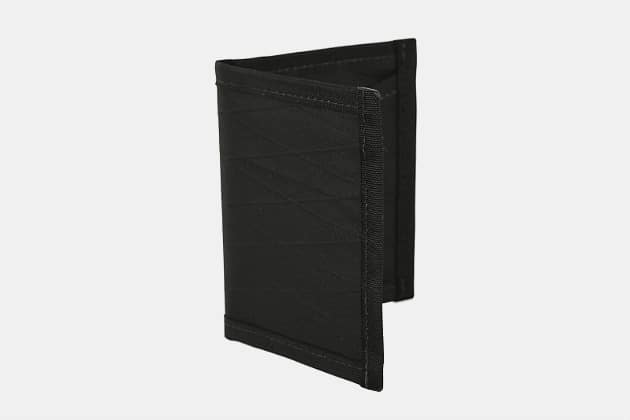 Flowfold Outlier RFID Blocking Wallet
Made from ultra-lightweight X-Pac, a water-resistant outdoor fabric, and edging in ballistic nylon webbing, this wallet is thinner than most leather or aluminum counterparts.  And yet, it still offers RFID blocking technology in the form of high density, pure copper fabric sewn between layers, as well as four slots that can be used for cards or cash.  Even better, this product is made in the USA and comes with a lifetime warranty.  Clean with mild soap and hang to dry when dirty. – Shop Now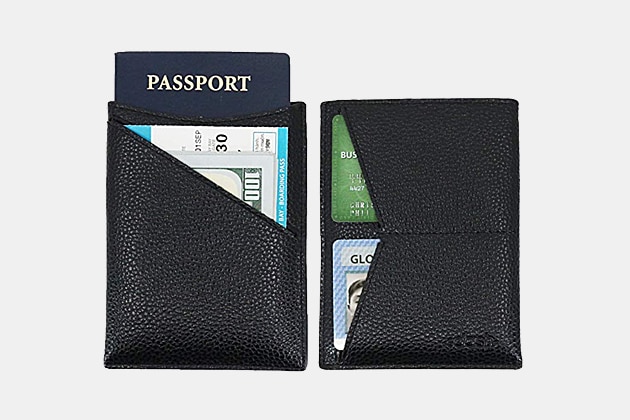 Dash Passport Wallet
If international travel is a way of life, you need a wallet that protects more than just your cards – you need an RFID blocking pouch big enough to fit your passport, as well.  Although larger than your average wallet, this product from Dash still offers a slim enough silhouette to fit in your jacket or pants pocket.  Premium microfiber leather canvases are durable, waterproof, and 100% vegan, and each wallet will hold your passport, 2-4 cards, and international currencies – all the essentials. – Shop Now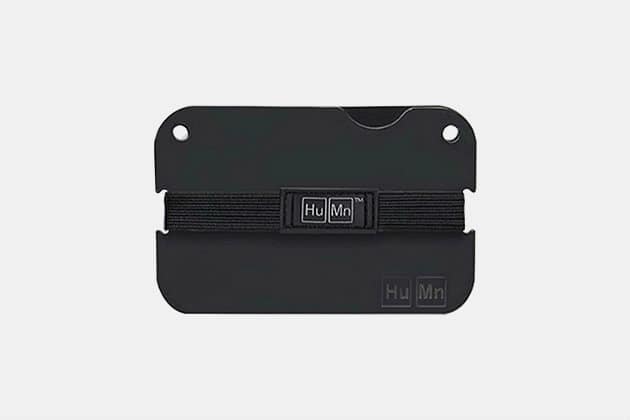 Humn Mini Wallet
Two thin, aircraft grade aluminum plates make up this barely-there wallet, which is held together with a slender, flexible, elastic strap.  It comes in a bunch of colors, from super cool matte black, silver metal, and royal blue to more whimsical shades of powder blue, neon pink, and eye-searing yellow reminiscent of a certain submarine.  How many cards can you squeeze in?  Give it a try and see.  You can also store cash under the band, but for RFID blocking, cards must go between the plates. – Shop Now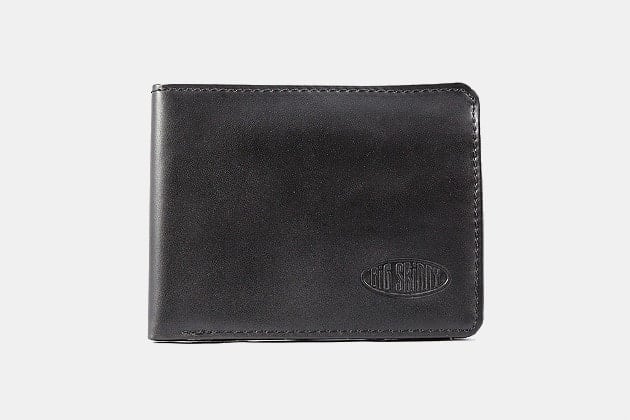 Big Skinny RFID Blocking Leather Bifold Wallet
It's big, it's skinny, it's durable and attractive, and it holds a heck of a lot of stuff that you might need when you're out exploring the wide world.  The bifold design features top grain leather with an ultra-durable, nylon interior that includes non-slip lining so cards won't accidentally escape.  You'll enjoy the large slip for cash and eight card slots, including two large hidden slots and one with an ID window up front.  Rounded corners are designed for added comfort. – Shop Now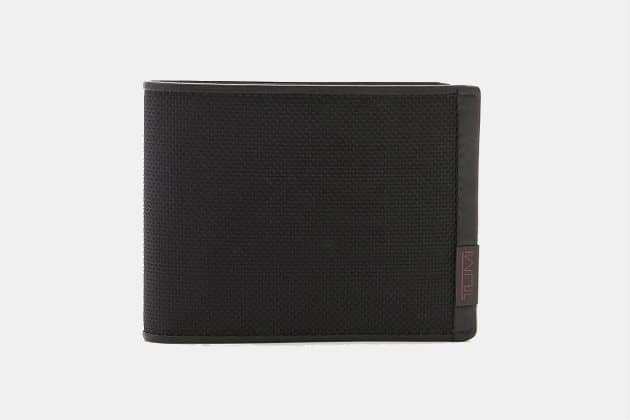 Tumi ID Lock Double Billfold Wallet
Luggage-maker Tumi offers carry solutions for more than your shorts, shirts, and skivvies.  You'll also enjoy their wallets, including this double bifold in ballistic nylon with leather trim and a leather-lined interior.  The inside features two large pockets for flat bills, as well as six card slots.  It also has Tumi ID Lock™ protective lining, a patent pending technology designed to stop identity theft by shielding RFID chips from electronic data reading devices. – Shop Now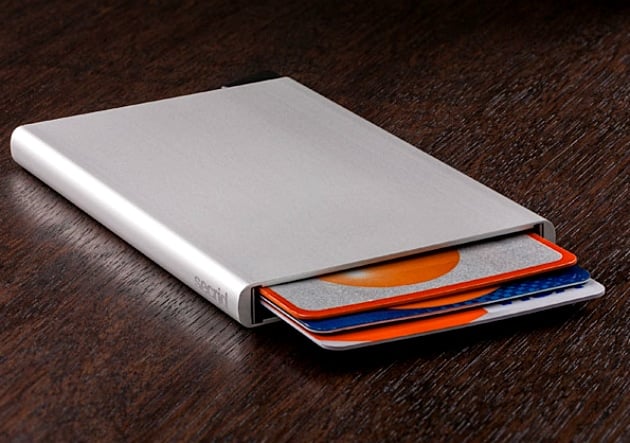 Secrid Cardprotector
On first glance you might mistake this rectangular card case for an iPhone backup battery, but for the empty void in the center that is perfectly suited to holding 4-6 cards.  The boxy design in lightweight aluminum holds a little something extra, though.  Not only does it offer RFID protection, but it features a spring-loaded push mechanism to pop your cards out the top so you don't have to dump the whole kit-and-caboodle on the counter to find your favorite card. – Shop Now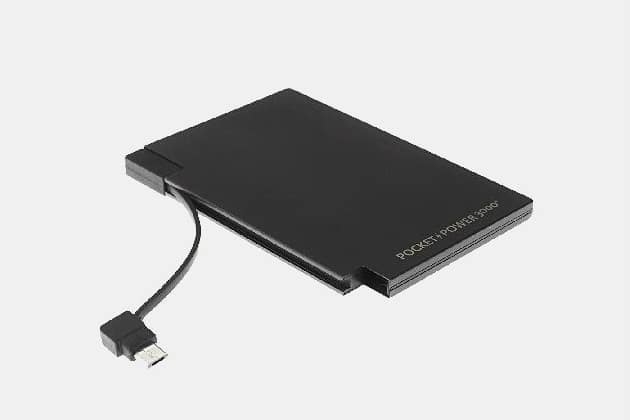 HALO Power Wallet with RFID Protection
"What the heck is a power wallet?", you may well ask.  This tech-savvy cash and card caddy from HALO not only features a bifold design with six card slots and RFID shielding technology; it also includes a rechargeable 3,000 mAh charging unit, micro USB and lightning charging cables, and a 30-pin adapter to juice up smartphones, handheld gaming systems, Bluetooth devices, and more.  Yup, it holds your cash, protects your identity, and brings your Apple or Android phone back to life after hours of streaming Pandora. – Shop Now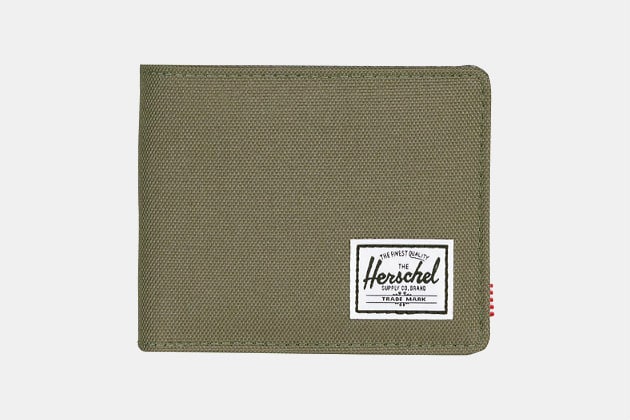 Herschel Supply Roy RFID Bi-Fold Wallet
The textured surface of this sturdy canvas bifold in cotton and polyester is temptingly tactile-friendly.  Aside from the joy of running your fingers over the exterior, you'll almost certainly be pleased by the functionality this wallet delivers, including multiple cards slots, a currency sleeve, and RFID protection to keep your credit cards and ID safe.  It also comes in a slew of colors ranging from staid black, gray, and navy to fun and funky shades of rose, vermillion orange, and woodland camo. – Shop Now