15 Best Rolltop Backpacks
Packing up for a road trip — or your daily grind — requires gear that can do anything. Particularly in the up-and-down winter months (especially in a chilly climate), a tough bag is perhaps the best place to start. And if you're still searching for one, you can't go wrong with a functional, durable rolltop backpack.
You'd be surprised to find how many companies are taking the outdoor-oriented silhouette and fashioning it into a go-to piece for both urban commuters and weekend adventure warriors — trust us, there really are plenty on the market. You want one made from rough-and-tumble fabric, with functionality — think pockets, storage space, sturdy accents — and you want one, well, just about now.
Gear up for the winter ahead with one of the 15 best rolltop backpacks for men — you're definitely going to need it, whether suited up or dressed in rugged fashion for the weekend.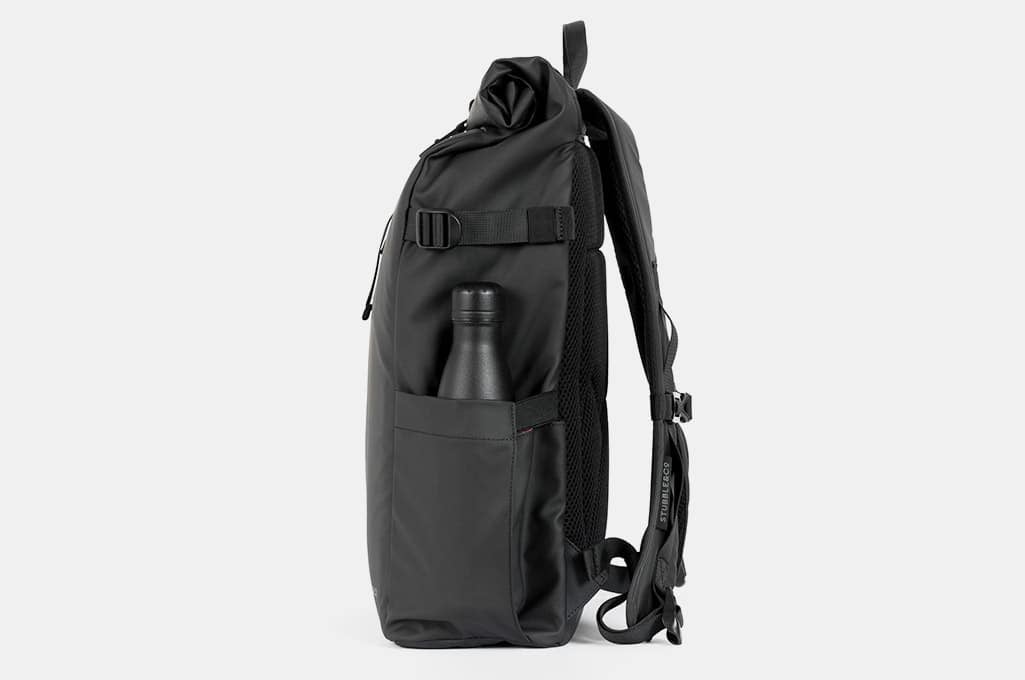 Stubble & Co The Roll Top
Stubble & Co is a British brand that capitalizes on modern style and cutting-edge materials to produce travel-friendly bags suited for both urban and outdoor life. The Roll Top is their latest offering, and it's a bag that wows with its perfect marriage of performance and functionality. At just nine ounces, it's incredibly light for a 20-liter backpack, and you'll love how eco-friendly and rugged the mix of tarpaulin and recycled PET plastic is. It comes with reflective trim to make you stand out on a dark road (an amazing safety feature for cyclists, hikers, and runners), and side pockets perfect for carrying an umbrella, bike lock, or your water bottle. Thanks to the G-clip closure, you've got secure storage and easy access to your belongings in a moment.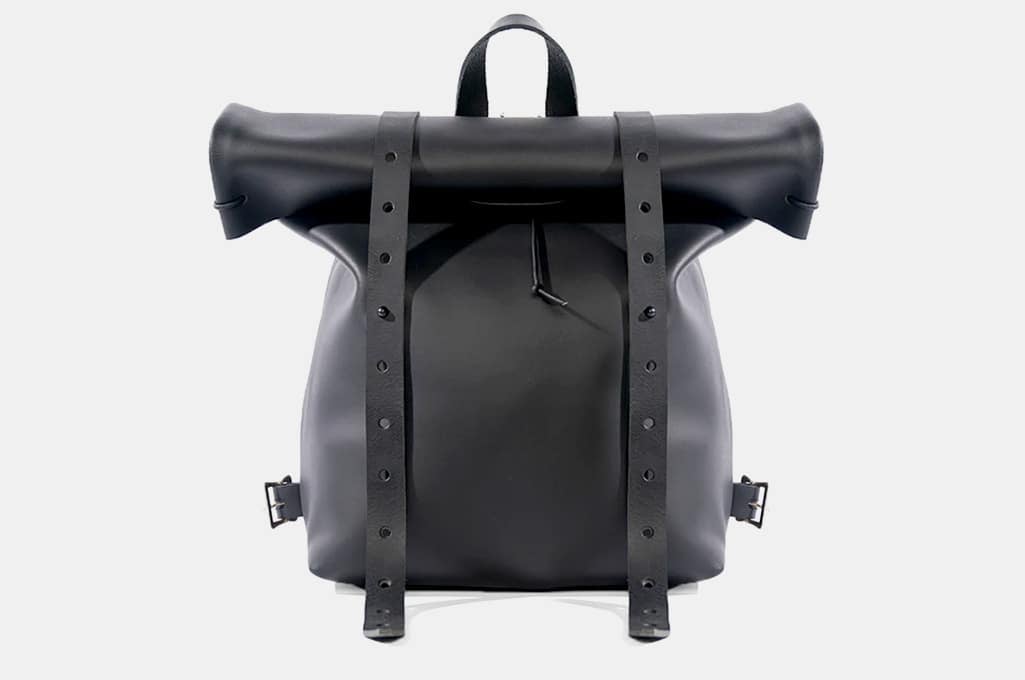 Mifland Rolltop Rucksack
Some backpacks are too great-looking to simply be called a bag — the Mifland Rolltop Rucksack is definitely one of those. It's going to look as great hanging in your workshop as it will on the road for weekend adventures. Made from supple tan leather and featuring sturdy and stylish silver hardware accents, it's a day pack you can certainly take to the office — and then out on a trip immediately after the work day. At under $500, it's a steal given its quality and construction — plus, the standout looks of the Rolltop Rucksack are nearly worth the price in and of itself.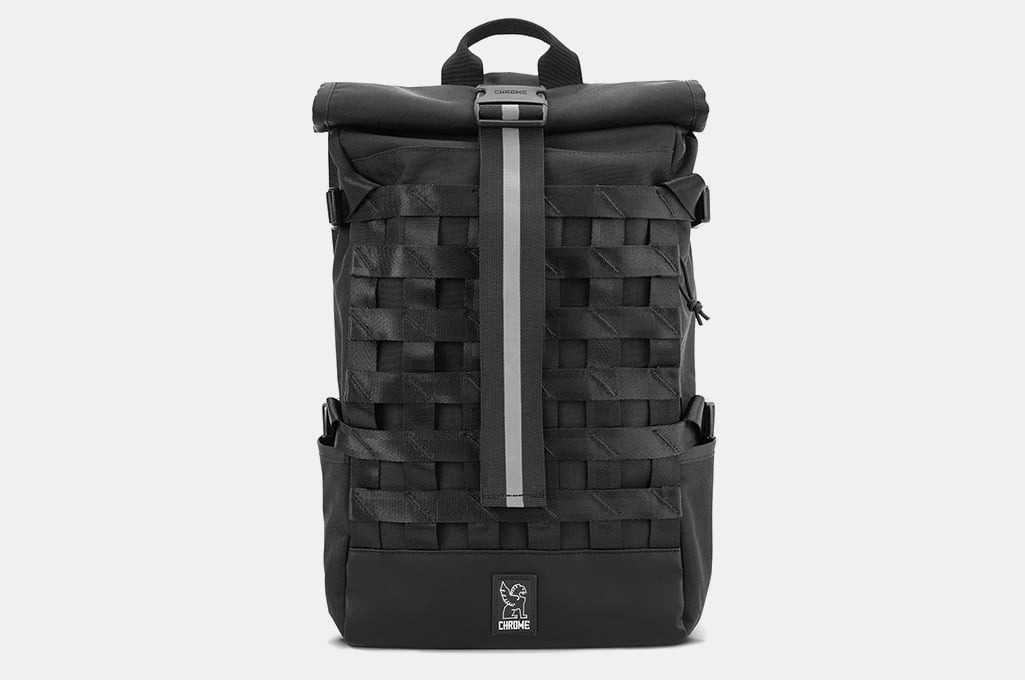 Chrome Barrage Cargo Backpack
When you see a backpack that's not messing around, you know it almost immediately. The Chrome Barrage Cargo Backpack is one such bag, with all the added functionality you expect and need to handle the elements and protect your gear. For one, it's made in American and features 100 percent welded waterproof rolltop functionality — plus a cool-looking, durable cargo net system for extra toughness. It's also made in an array of colors and features a laptop sleeve pocket, an ergonomic shoulder strap design and an abrasion-resistant nylon exterior for plenty of durability. Not sold yet? It's under $200, too.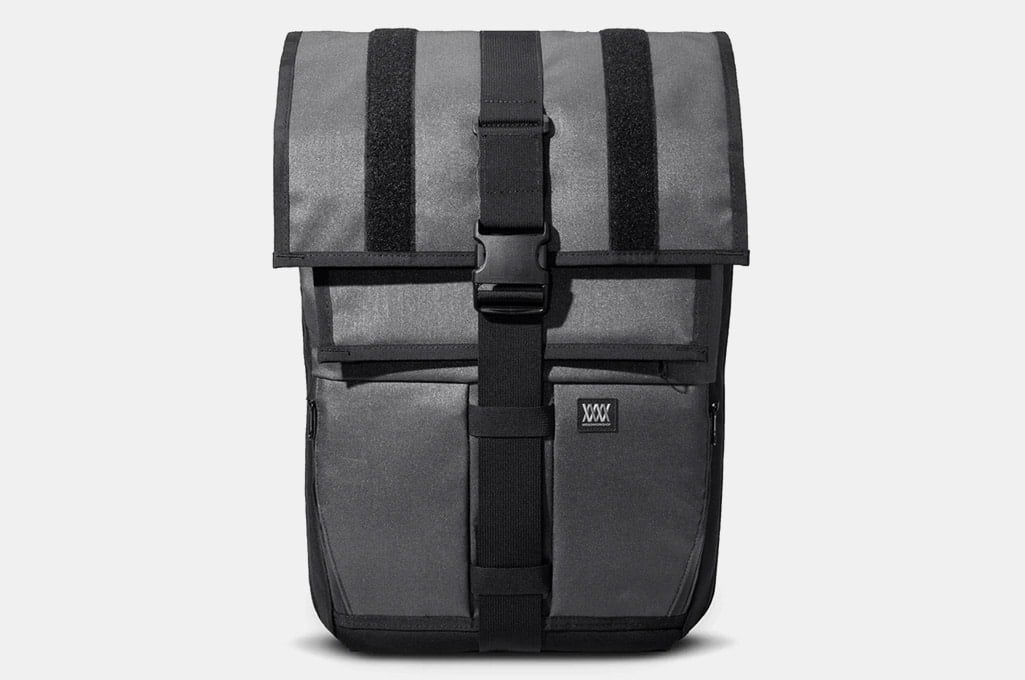 Mission Workshop Vandal Cargo Pack
Mission Workshop gets right to it when it comes to combining sleek, commuter-approved design with top-notch craftsmanship and functionality. Such is the case with the Vandal Cargo Backpack, with a water-resistant main compartment, coated zippers and a stunning carbon fiber-reinforced internal frame suspension system. You can use it either with the rolltop or flap-down configurations, and the Vandal Cargo Backpack's ability to double its space is definitely to be applauded — and used as much as possible, over and over again. Available in versatile and neutral colorways ranging from black to olive, you'd be wise to pick one up right now, and carry it wherever you go.
Whipping Post Roll Top Backpack
Backpacks that combine handsome, rugged good looks and functionality used to be tough to come by — that's not the case anymore, especially when it comes to the Whipping Post Rolltop Backpack. From the 100 percent vegetable-tanned leather in an eye-catching shade of tan to functional touches like the adjustable webbed canvas straps, you'll certainly love using all the space it's got to offer. That includes the internal zippered pocket and two side pockets, and the durable hardware is of particular note. This is the type of backpack to perfectly complement — rather than detract from — dark denim and a military field coat this winter.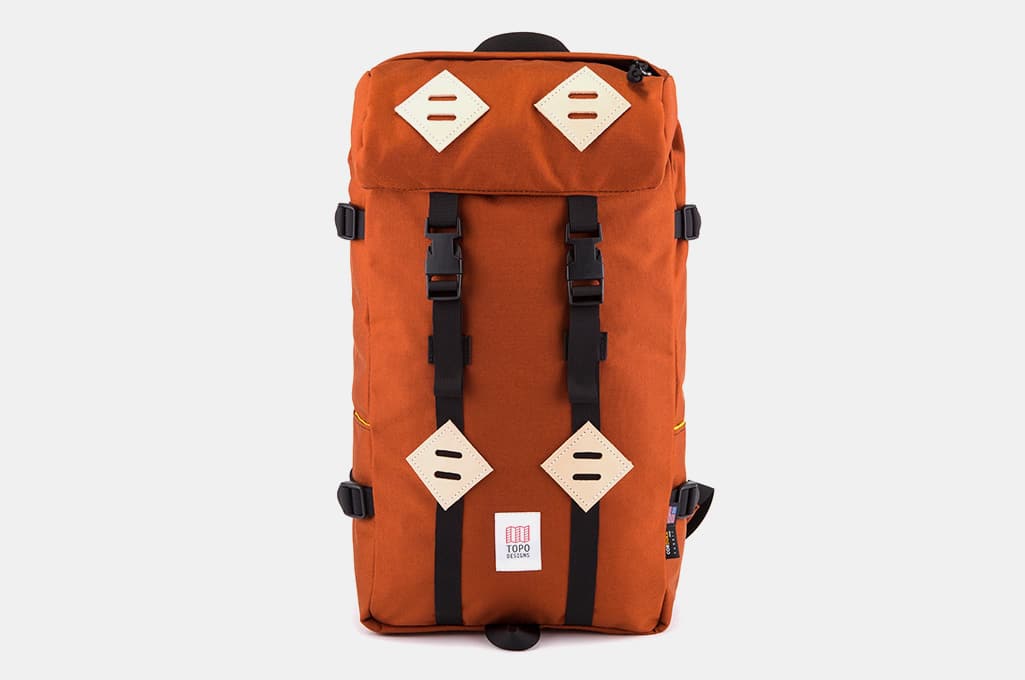 Topo Designs Klettersack
The distinctive, unique Klettersack is one of the products Topo Designs does just about as well as anyone around, with a rough-and-tumble Cordura exterior and more refined touches like natural leather lash tabs. It's the sort of pack that can withstand the toughest conditions thanks to the heavy-duty shoulder straps — reinforced with seatbelt webbing — and the ability to attach extra lights or gear to the lash tabs themselves. You should load up this bag with as much as it can carry (including your laptop), and put it to the test — there's no question that it's a great deal given all that functionality and a sub-$200 price tag.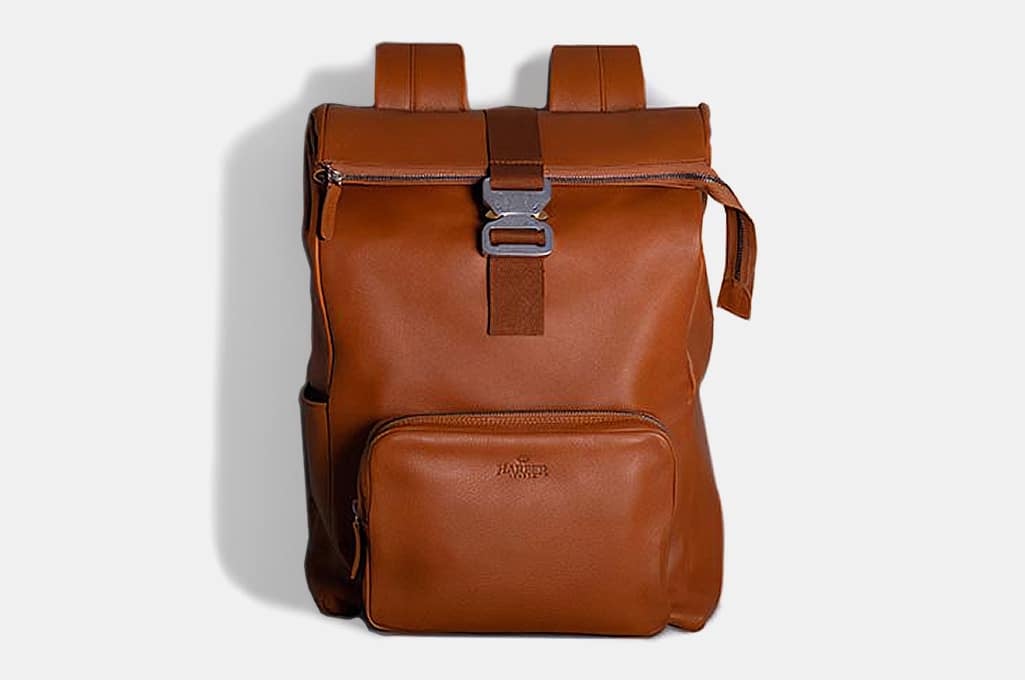 Harber London Leather Roll Top Backpack
Harber London is renowned for exclusive, high-quality leather goods, all painstakingly handcrafted from the finest full grain leather. The Leather Roll Top Backpack exemplifies their marvelous craftsmanship and attention to detail—it's as practical as it is beautiful. Made to fit laptops with screens up to 16 inches, the backpack comes with expandable storage capacity that can hold as much as 18 liters. The modular front inserts allow for more storage space while the interior compartments make it easy for you to organize everything you're carrying. Best of all, the aviation-grade aluminum buckles and built-in luggage and sternum straps make the pack not only more durable, but far more versatile, too.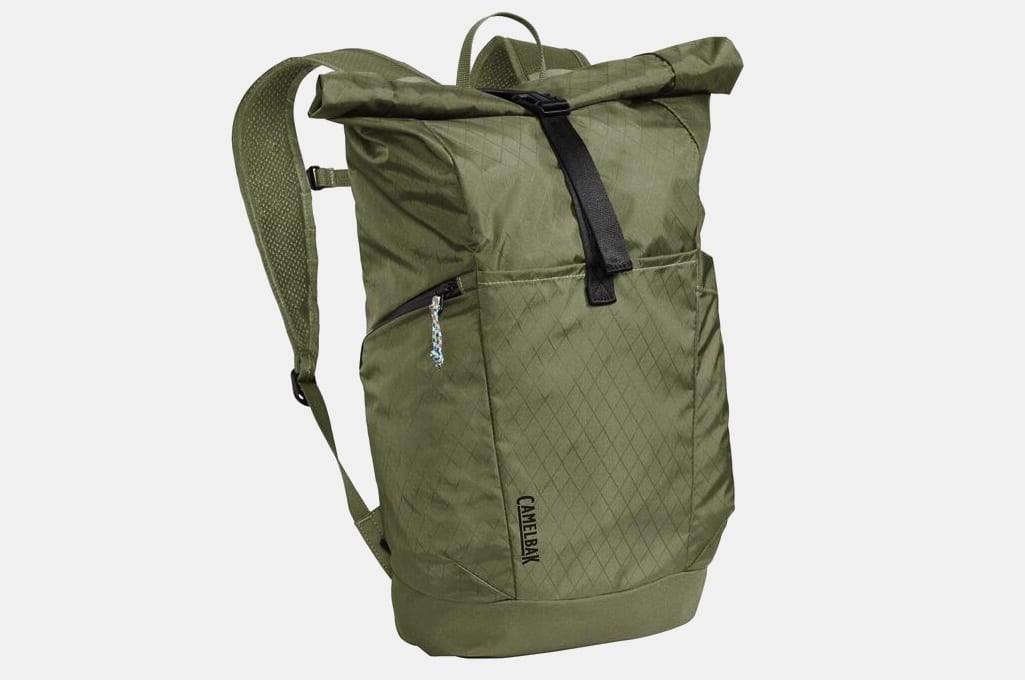 Camelbak Pivot Roll Top Backpack
Camelbak makes tough products for even tougher athletes, and its line of hydration packs are legendary for their amazing utility. The Pivot Roll Top Backpack is no less epic; on the contrary, it blends Camelback's rugged design with maximum user-friendliness. With space for up to twenty liters, weighing in at just twelve ounces, it's the ideal commuter's backpack that can be expanded for day hikes or overnight trips. The internal dividers allow you to keep your electronics, devices, and clothing neat and tidy, and the sturdy zipper will safeguard everything against theft or inclement weather. Best of all, the backpack is made from 50 percent recycled material, including single-use plastics, making it a truly eco-friendly pack.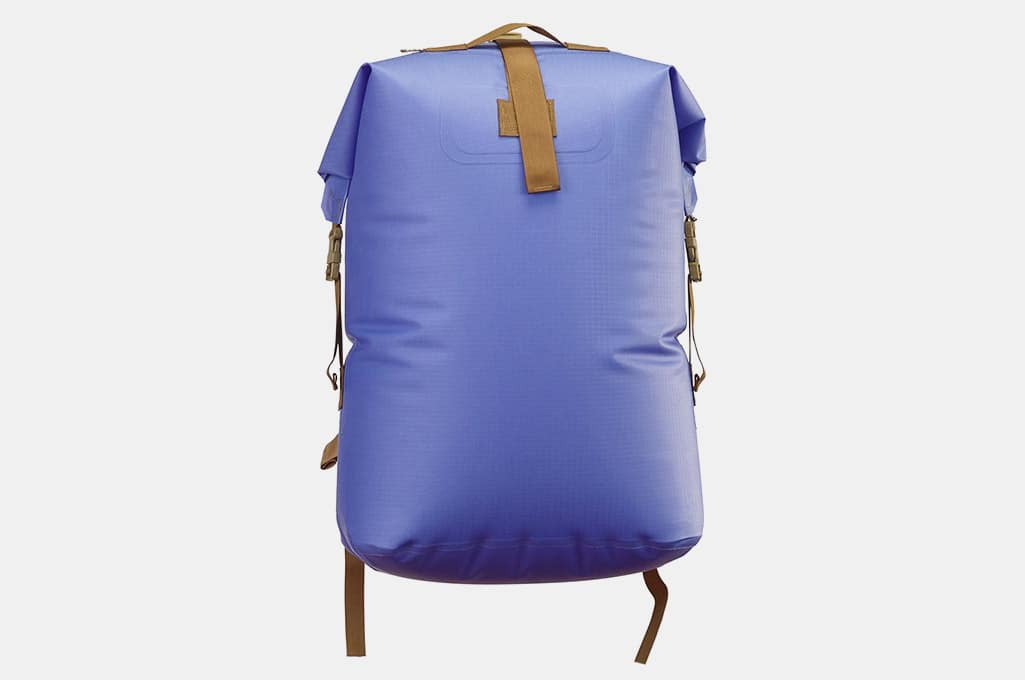 Watershed Westwater Roll-Top Backpack
With the Watershed Westwater Roll-Top Backpack, you get a truly rugged dry bag large enough to carry anything and everything—quite literally. The 65 liter dry bag is made from super-tough ripstop nylon that is fully waterproof and easy to seal against rain, snow, or river water. The roll-up closure on the top is super easy to secure and open for quick, convenient access to everything you're carrying. Between the top lug handle and the quick-attaching backpack straps, you'll have so many ways to haul this bag around with you.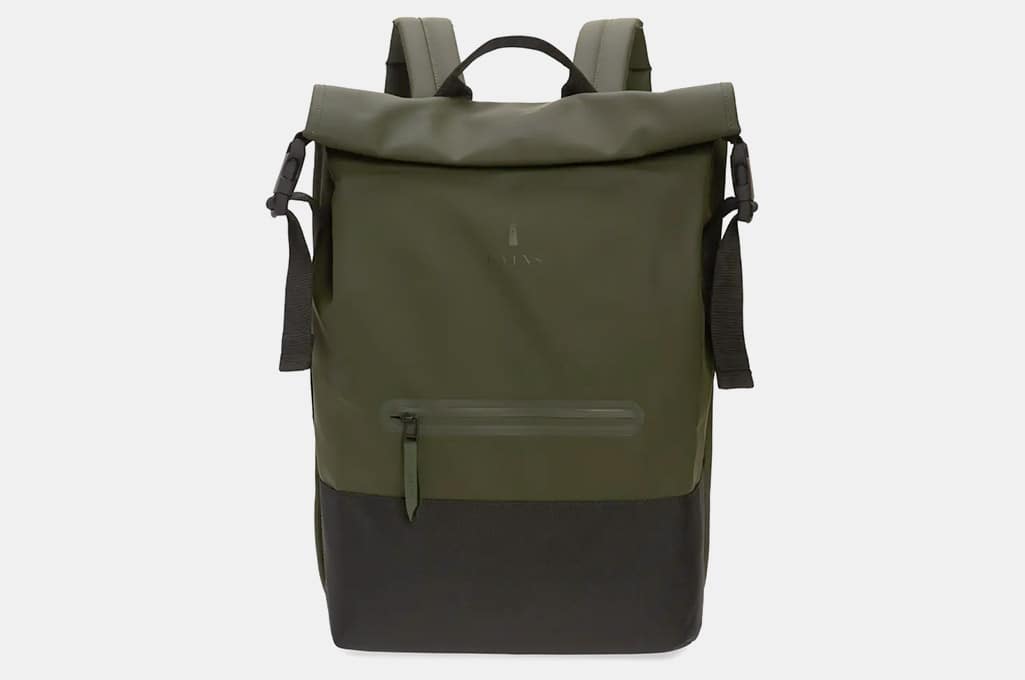 RAINS Waterproof Rolltop Backpack
With this RAINS Waterproof Rolltop Backpack, you'll never have to worry about even the wettest weather damaging your valuables, clothing, or electronics. The bag is made from a blend of synthetic fabrics that are fully waterproof and weatherproof. It comes with an exterior zipper pocket that is equally waterproof, and the roll top is easily clipped to securely close the bag against even the heaviest rain. The padding on the straps and back panel make it a truly comfortable bag to wear around all day long.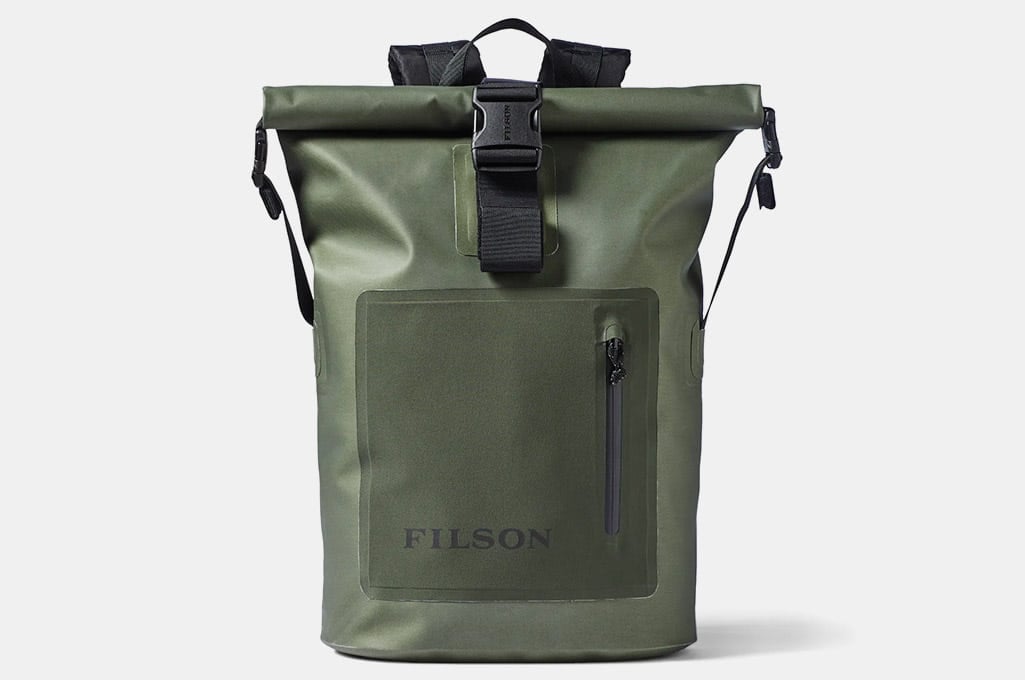 Filson Rolltop Dry Backpack
Filson delivers products "made for hard work," and with one look at this truly hardcore Rolltop Dry Backpack, you'll know that it's the only bag you'll need to own for years to come. Take it with you on any fishing trip, keep it handy when camping in the rainy season, or stick it in the boat for a whitewater rafting trip down the wildest rapids—this pack can handle it all. Made from super-tough 840-denier nylon and coated with thermoplastic polyurethane, it's as waterproof as it gets and abrasion-resistant. The welded seams won't rip, no matter how hard you are on the bag, and the nylon webbing makes it incredibly easy to securely seal the bag.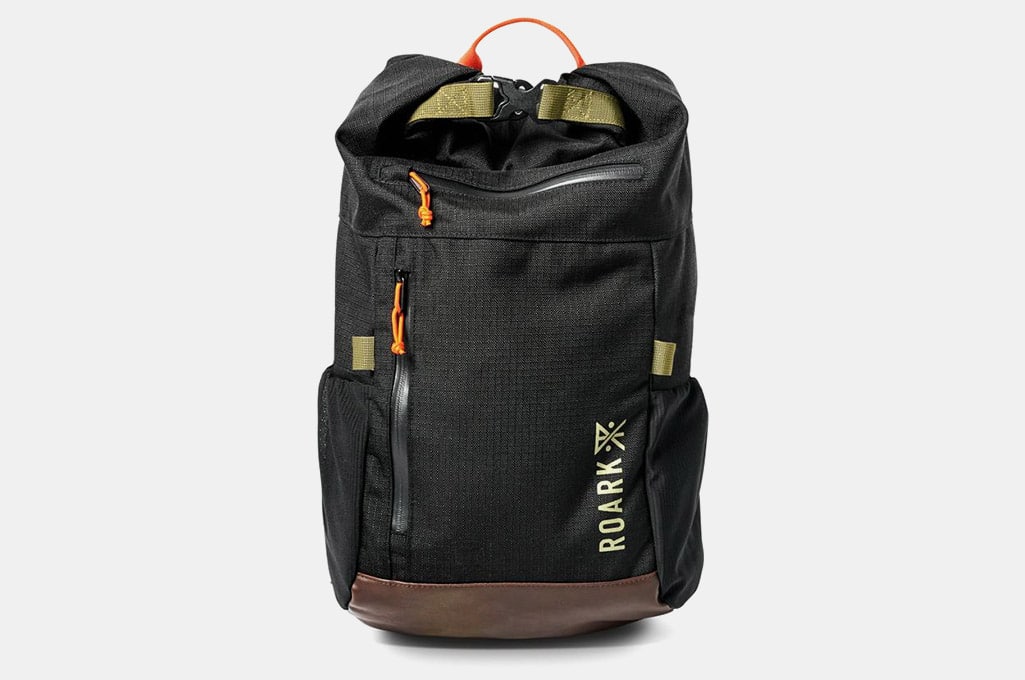 Roark Day Trip Passenger 27L Bag
If you're looking for "adventure-ready goods," you'll definitely want to give this Roark rolltop bag a try. The Day Trip Passenger 27L Bag is the perfect bag for an overnight trip, whether you're road tripping it with buddies, hitting up a music festival, or going to the great outdoors for a night under the stars. The magnetic roll top entry system makes it so much easier to dig into your pack quickly, without the need to fumble around with straps or cinches. If you're carrying around electronics (laptops or tablets), the interior padding will keep them securely in place and protected from impact. World travelers will particularly love this bag, because it comes with a hidden passport pocket that allows you to keep all your travel documents safely out of sight but still easily accessible.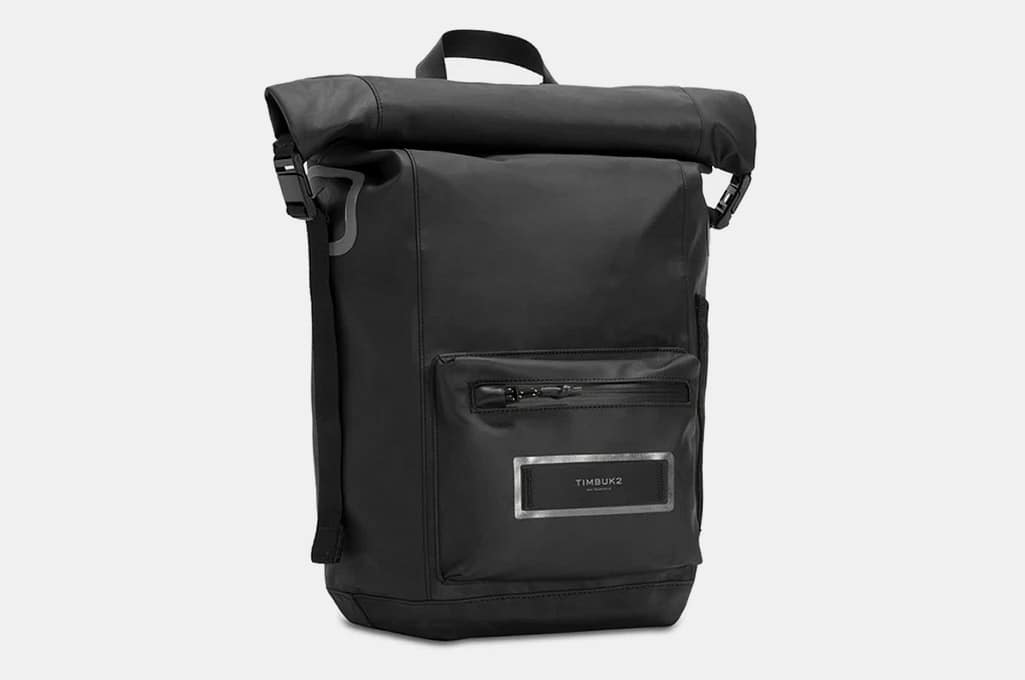 Timbuk2 Especial Supply Roll Top Backpack
Timbuk2 is the go-to brand for guys who need "hard carrying" products—bags and packs that will hold up under hardcore wear-and-tear, the elements, and rowdy baggage handlers. The Especial Supply Roll Top Backpack is the ideal travel companion, thanks to its hyper-rugged, weather-resistant materials. It's not only a beautiful-looking bag, but it's also designed for maximum convenience, with a magnetic roll-top closure that allows you to quickly get at your documents, devices, or deodorant in a pinch. With its built-in padding and the ventilation in the back panel, you'll be cool and comfortable all trip long.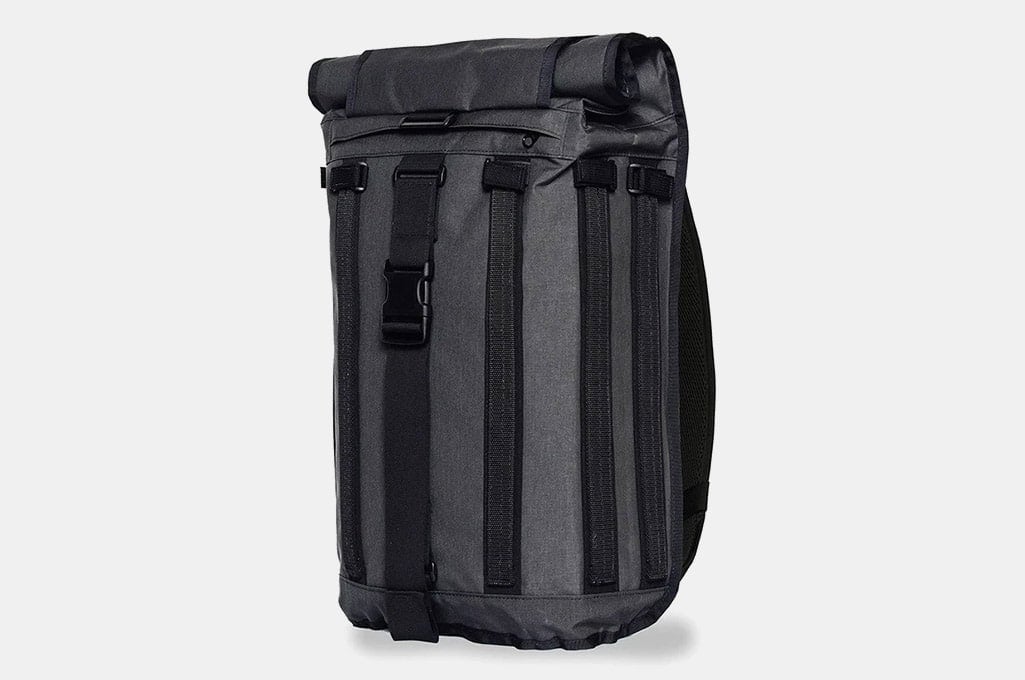 Mission Workshop R6 Arkiv Field Pack 20L
Mission Workshop delivers a truly versatile pack in the form of the R6 Arkiv Field Pack 20L, a plus-sized pack built for anyone and everyone. The pack comes with 20 liters of storage space—more than enough for all the clothing and devices you want to bring—but it doesn't stop there. Arkiv's modular system allows you to add on accessories like a cell phone pocket, a pocket for a utility knife, even a laptop case. Not only are the backpack and all its accessories fully waterproof, but they're backed by a lifetime warranty to make fully certain everything you carry is always protected.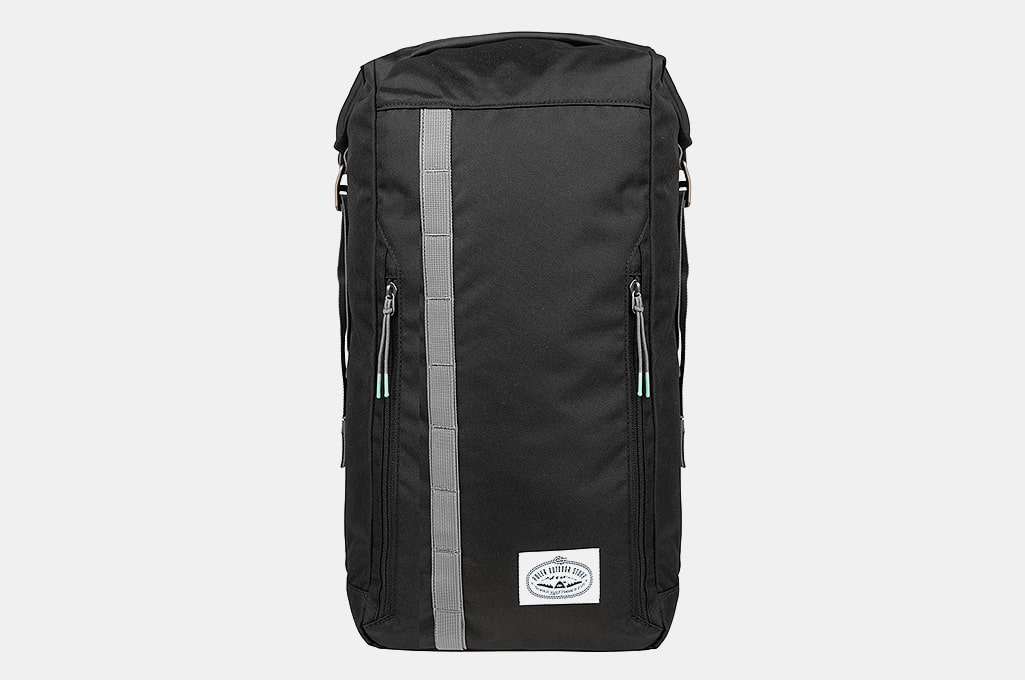 Poler Elevated Rolltop Backpack
Poler is the go-to brand for hyper-tough, cold weather-friendly outdoor gear, and the Elevated Rolltop bag is precisely what you need if you're planning an overnight winter trip to your ice fishing shack, the ski slopes, or your favorite resort. Made with a super tough polyester fabric and a water-repellent finish, it's totally sealed against the elements and padded to be both comfortable and warming while on your back. The fleece-lined interior slip pockets will protect your devices from both wintry temperatures and impacts or scratches. With the two built-in front zipper pockets, you'll have easy storage for anything you need quick access to without needing to unseal the roll top.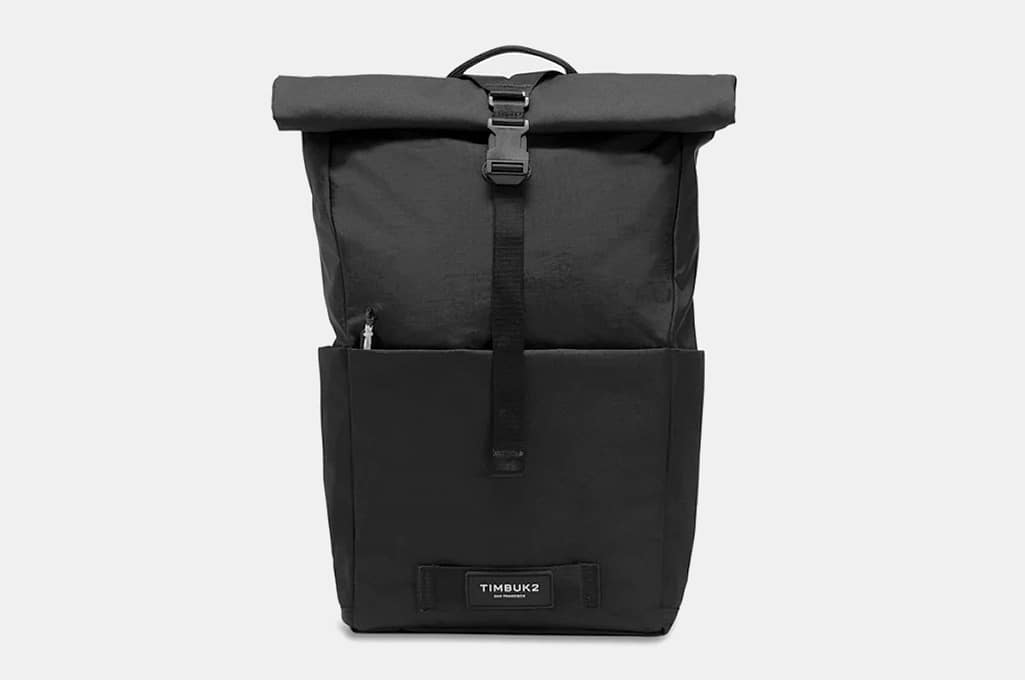 Timbuk2 Hero Laptop Backpack
If you're looking for a truly durable backpack for travel around town or business trips, look no further than the Timbuk2 Hero Laptop Backpack. This bag is made with a simple, no-nonsense design: a sleek roll top with an extra wide mouth that makes it easy to pack and unpack everything you want to carry. The dual side pockets give you storage space for your water bottle and an umbrella in case it rains, and the interior compartments make it easy to organize your books, devices, clothing, and knickknacks. Whether you ride the train or cycle to work, you can always trust that this backpack will handle anything the weather throws at it.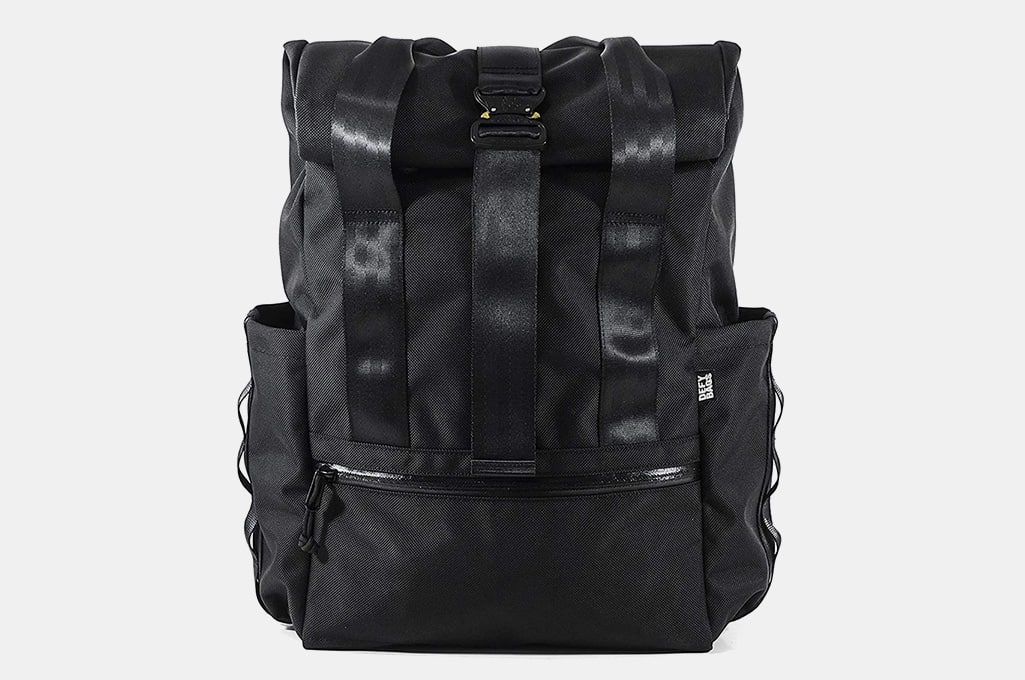 Defy VerBockel Rolltop Backpack 2.0 'Un-Zipped'
Defy specializes in biker gear, producing ultra-tough bags and accessories that make your life on the road so much easier. The VerBockel Rolltop Backpack 2.0 'Un-Zipped' is just what you need for any trip, whether a cross-country longhaul or a short ride around town. Made with ballistic nylon (the material used for military flak jackets) and, it's a hardcore bag that will survive a slide while keeping your clothing, gear, and devices safe. It's a bit heavy at just under four pounds, but with up to 40 liters of storage space, it's the perfect biker-friendly choice.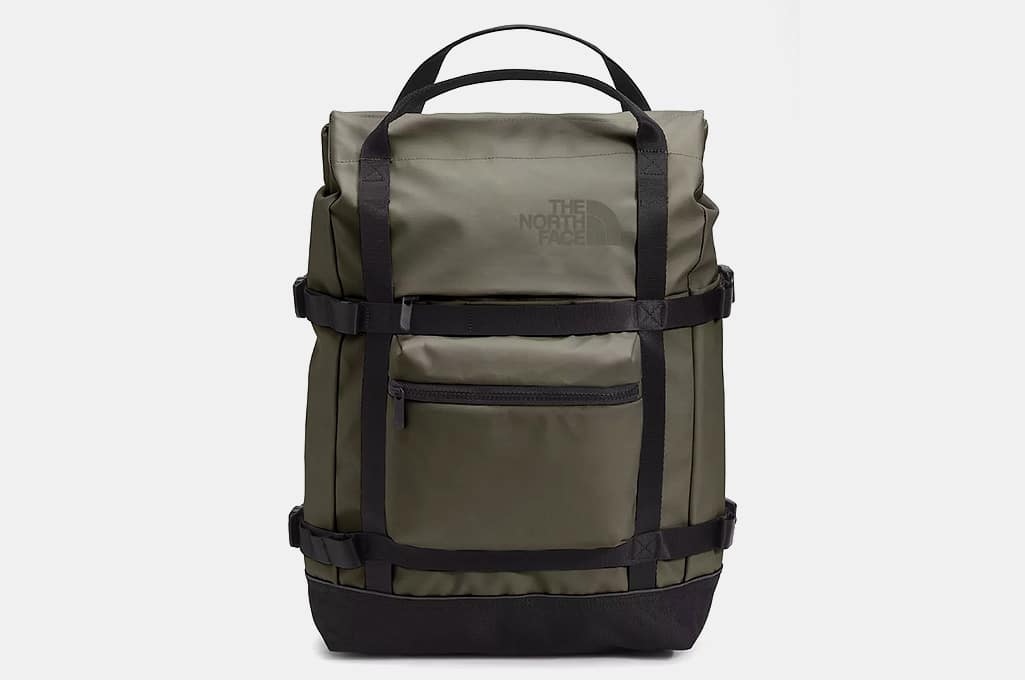 The North Face Commuter Pack
With the North Face, you always know you're getting a tough, outdoors-ready bag that can handle even the worst weather. The Commuter Pack delivers on the brand's trusted reliability, but brings a more user-friendly design that makes it perfect for commuting to and from work in style every day. The 32-liter bag has more than enough storage space for your laptop, tablet, and all your electronic devices, with a fully waterproof exterior that will keep everything secure against the rain, snow, or sleet. Thanks to its magnetic closure, you have quick and easy access to your devices so you can work on the go but pack everything at a moment's notice.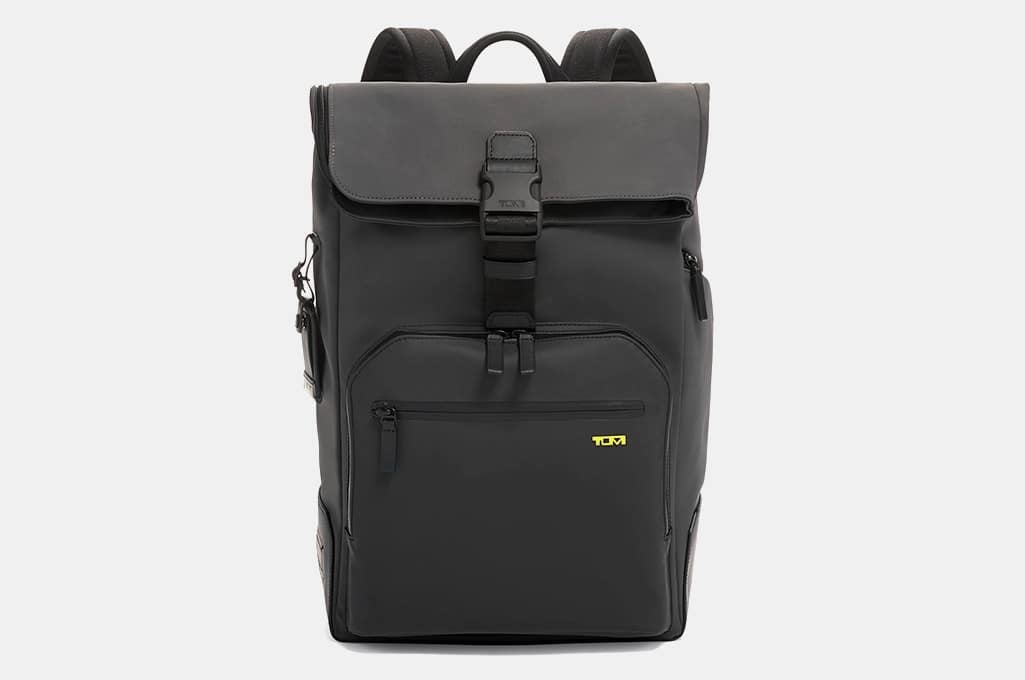 Tumi Osborn Roll Top Backpack
TUMI strives for excellence in design, superior quality, and technical innovation, and the Osborn Roll Top Backpack fires on all cylinders. The minimalist look will absolutely turn heads, but don't think it sacrifices function to bring only form. The bag is super durable, with abrasion-resistant coating on both the front pocket and upper flap to prevent scratches or tears when on the go. Hidden beneath the roll-top is an L-zip pocket where you can store your most important small items (charger, passport, IDs, cash, etc.), and the zip divider makes it easy to stay organized while still having quick access to your gear.
Disclosure: Clicking on these links and making a purchase may earn us a small referral fee, at no extra cost to you. Learn more here.
freestar.config.enabled_slots.push({ placementName: "gearmoose_leaderboard_btf", slotId: "gearmoose_leaderboard_btf" });