15 Best Rolltop Backpacks
Packing up for a road trip — or your daily grind — requires gear that can do anything. Particularly in the up-and-down winter months (especially in a chilly climate), a tough bag is perhaps the best place to start. And if you're still searching for one, you can't go wrong with a functional, durable rolltop backpack.
You'd be surprised to find how many companies are taking the outdoor-oriented silhouette and fashioning it into a go-to piece for both urban commuters and weekend adventure warriors — trust us, there really are plenty on the market. You want one made from rough-and-tumble fabric, with functionality — think pockets, storage space, sturdy accents — and you want one, well, just about now.
Gear up for the winter ahead with one of the 15 best rolltop backpacks for men — you're definitely going to need it, whether suited up or dressed in rugged fashion for the weekend.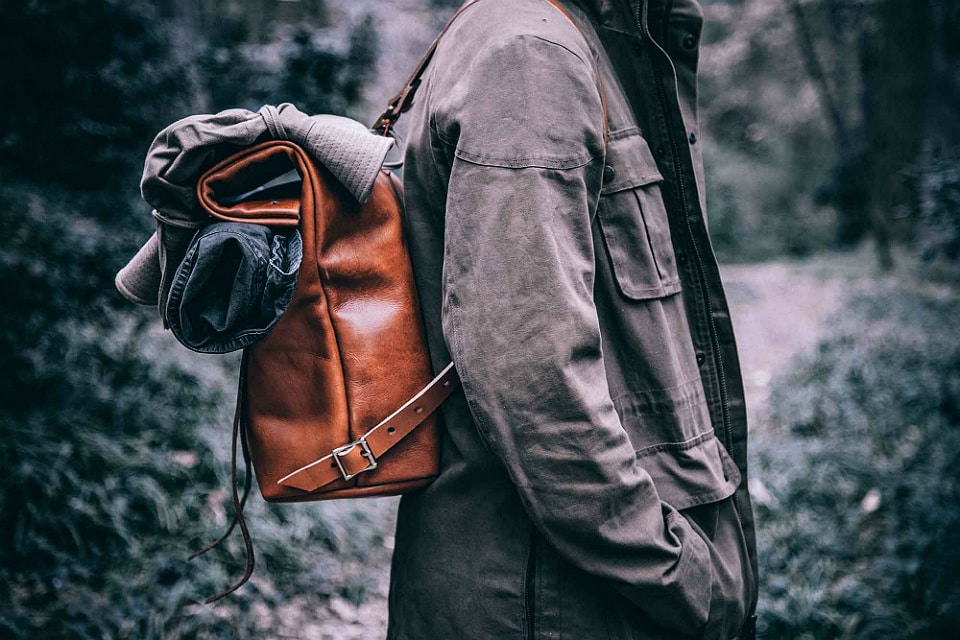 Mifland Rolltop Rucksack
Some backpacks are too great-looking to simply be called a bag — the Mifland Rolltop Rucksack is definitely one of those. It's going to look as great hanging in your workshop as it will on the road for weekend adventures. Made from supple tan leather and featuring sturdy and stylish silver hardware accents, it's a day pack you can certainly take to the office — and then out on a trip immediately after the work day. At under $500, it's a steal given its quality and construction — plus, the standout looks of the Rolltop Rucksack are nearly worth the price in and of itself. – $459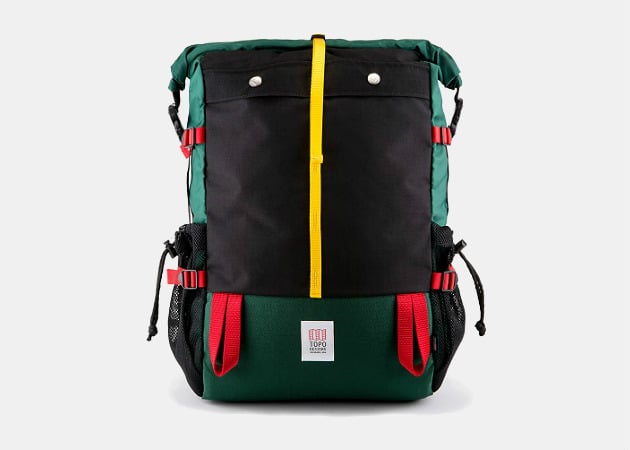 Topo Designs Mountain Rolltop
If there's a place you should start your search for perhaps the most well-made, functionally inclined rolltop backpack on the market, it might just be Topo Designs. The brand knows the ins and outs of designing gear that's outdoor-ready and commuter-friendly, starting with the Mountain Rolltop. With a plethora of pockets — including a large main compartment and a padded laptop sleeve — it's got the space you need for your everyday carry (and even more). To get it for under $200 with its made-in-the-USA construction is practically a downright steal, too. So, whether you use this bag as a weekend pack or for your daily haul, know that it can stand up to it. – $198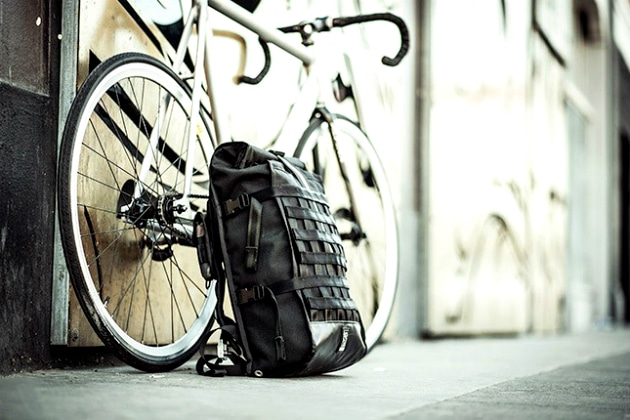 Chrome Barrage Cargo Backpack
When you see a backpack that's not messing around, you know it almost immediately. The Chrome Barrage Cargo Backpack is one such bag, with all the added functionality you expect and need to handle the elements and protect your gear. For one, it's made in American and features 100 percent welded waterproof rolltop functionality — plus a cool-looking, durable cargo net system for extra toughness. It's also made in an array of colors and features a laptop sleeve pocket, an ergonomic shoulder strap design and an abrasion-resistant nylon exterior for plenty of durability. Not sold yet? It's under $200, too. – $180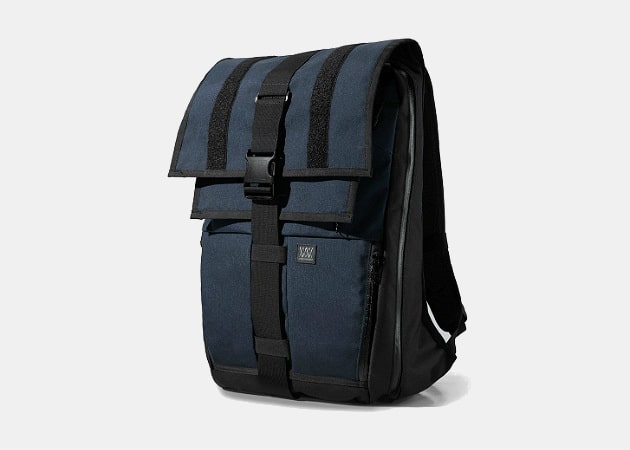 Mission Workshop Vandal Cargo Pack
Mission Workshop gets right to it when it comes to combining sleek, commuter-approved design with top-notch craftsmanship and functionality. Such is the case with the Vandal Cargo Backpack, with a water-resistant main compartment, coated zippers and a stunning carbon fiber-reinforced internal frame suspension system. You can use it either with the rolltop or flap-down configurations, and the Vandal Cargo Backpack's ability to double its space is definitely to be applauded — and used as much as possible, over and over again. Available in versatile and neutral colorways ranging from black to olive, you'd be wise to pick one up right now, and carry it wherever you go. – $325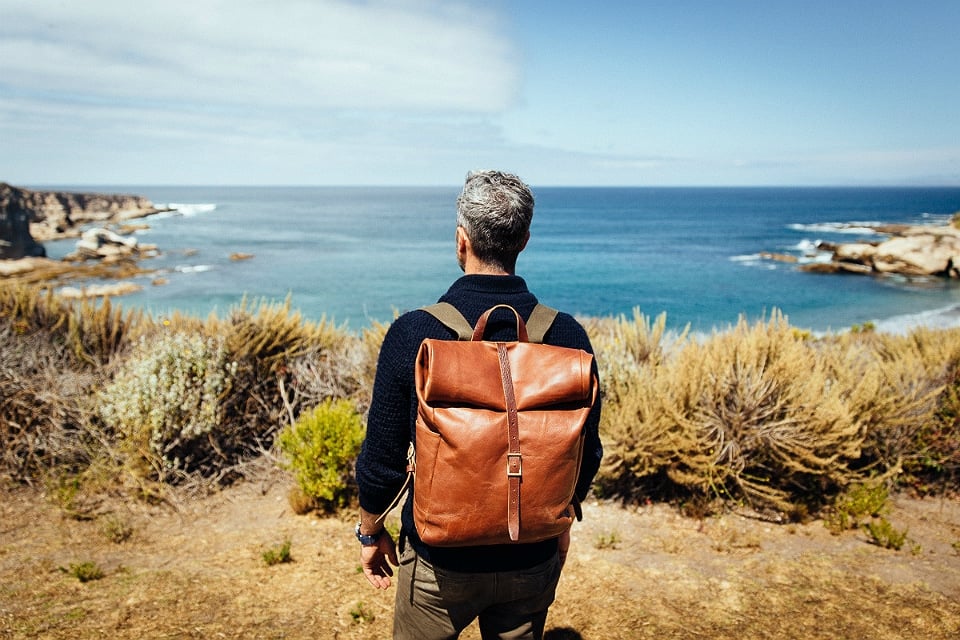 Whipping Post Roll Top Backpack
Backpacks that combine handsome, rugged good looks and functionality used to be tough to come by — that's not the case anymore, especially when it comes to the Whipping Post Rolltop Backpack. From the 100 percent vegetable-tanned leather in an eye-catching shade of tan to functional touches like the adjustable webbed canvas straps, you'll certainly love using all the space it's got to offer. That includes the internal zippered pocket and two side pockets, and the durable hardware is of particular note. This is the type of backpack to perfectly complement — rather than detract from — dark denim and a military field coat this winter. – $225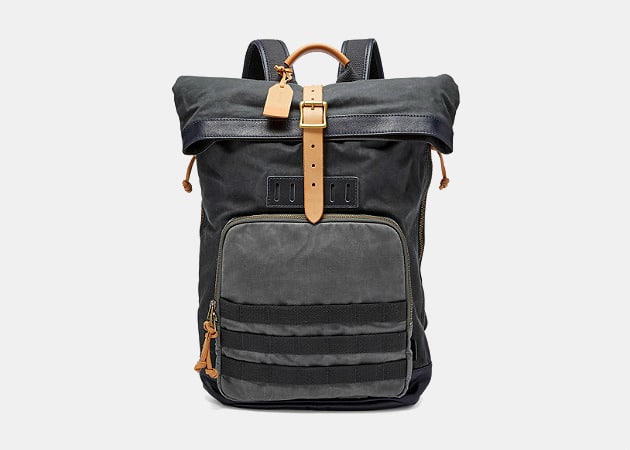 Fossil Defender Rolltop Backpack
If you thought Fossil just made watches, think again. Sturdy, beastly and dependable-looking bags like the Defender Rolltop Backpack are fine examples of the brand's versatility and durability, what with its waxed cotton canvas exterior and handsome accents like leather trim. The black color and contrasting tan leather buckle and zipper pulls class this reliable bag up a notch, and features like the padded laptop pocket and plethora of zipper pockets make it as functional as it is great-looking. It's a surprisingly dressed-up rolltop backpack that you can carry alongside you for business casual days when you just need something a bit more durable. – $228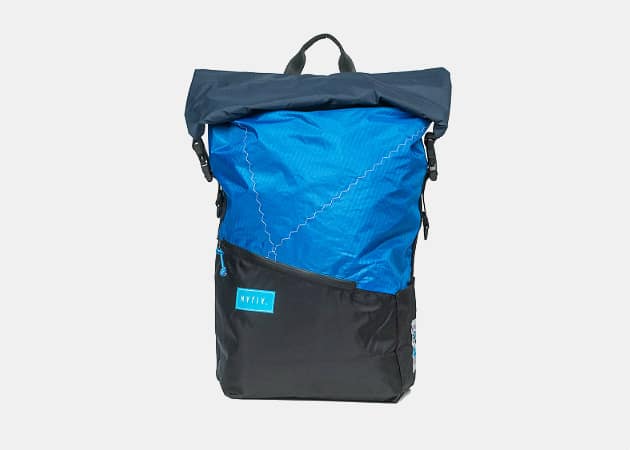 Mafia Tour Pack Rolltop
If you need a speedy, lightweight and durable bag, the Mafia Tour Pack Rolltop is the one to buy — seriously, get on it. With 24 liters of carrying capability, this bag and its design — and backstory — truly are one-of-a-kind. Made from repurposed, sturdy kitesurf sailing cloth, you can be sure this bag is all business and functionality. The rolltop design expands for added carrying space, and the water resistance is definitely an added bonus. With a unique pattern behind every bag due to sailcloth's distinct texture, each piece is cut and sewn in California for durability, functionality and even major style points. – $120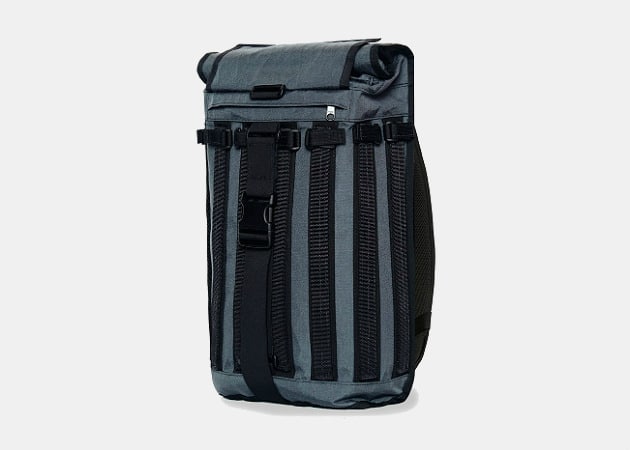 Mission Workshop R8 Arkiv Field Pack
Mission Workshop is at it again with the RB Arkiv Field Pack, a positively monstrous rolltop backpack that can withstand your toughest winter travel challenges — over and over again. Available in either a 20-Liter or 40-Liter size for even more added space and durability, the Arkiv Field Pack gets plenty right — particularly when you consider its sleek black colorway and a host of helpful add-ons. Those add-ons include an external zippered pocket fit for items like your passport, and an interior laptop sleeve to handle your documents and other essentials. Did we mention it's completely waterproof, made in America and finished off by a lifetime warranty? – $325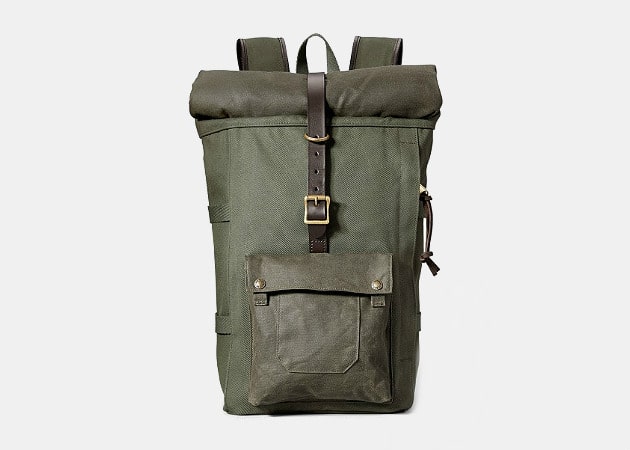 Filson Rolltop Backpack
Renowned worldwide for its legendary attention to detail, style and handsome functionality, Filson complements its line of do-everything outdoor gear with investment-worthy accessories built for your everyday carry — and whatever else you can throw in there. The Rolltop Backpack in a distinctive shade of Otter Green or Tan is the bag you never knew you needed, made from saddle-grade bridle leather, a soft cotton interior lining and a padded leather interior compartment. The fact that it also features the brand's revered water-repellent Tin Cloth and Rugged Twill is applause-worthy, too. Carry wherever you go, and be prepared for plenty of compliments. – Buy It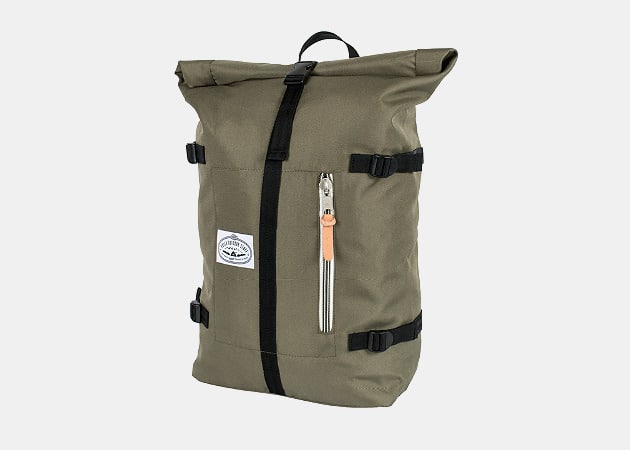 Poler Classic Rolltop Backpack
An eye-catching color and durable, functional specifications definie the Poler Classic Rolltop — and its utility will serve you well for years to come. Made from heavy-duty Campdura fabric, the quality construction sets this bag apart from other rolltop backpacks, particularly in a distinctive shade of orange. The high-tensile strength nylon webbing and an external accessories pocket are added design touches that bring a whole lot to the table when it comes to versatility and the strength to get you and your gear where you need to go. It's unlike nearly any other rolltop backpack on the market, truly. – Buy It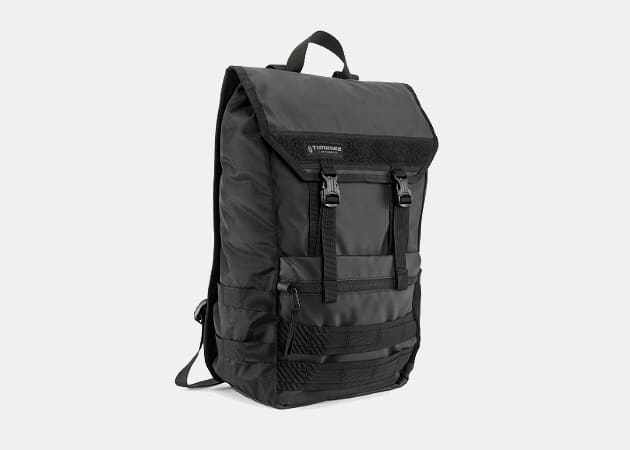 Timbuk2 Rogue Laptop Backpack
Timbuk2 has made its name crafting the best of the best quickly, efficiently and with durability and style in mind. So it goes with the Rogue Laptop Backpack, so named for its ability to handle just about anything you can throw at it — and then some. For just $79, you get the kind of sleek style and functionality for which the brand is known — in this case, that means a large main compartment and a smaller front-zip compartment, on top of an elasticized external side pocket and chain webbing. You certainly won't run out of ways to use this stylish, slick rolltop bag this winter. – Buy It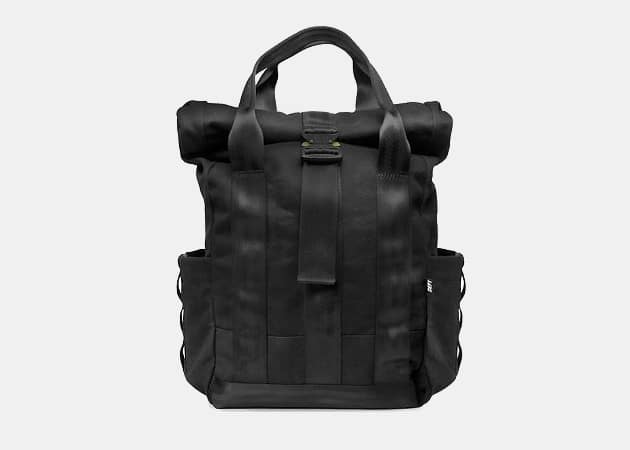 Defy VerBockel Rolltop Backpack
For the situations when you need a bag that's uncompromising in its quality and build, there's the Defy VerBockel Rolltop Backpack. Made from black waxed canvas with 35 liters of helpful carrying space, it's made for, as the brand says, all-weather commuting. One look at the bag certainly reveals as much durability, what with its 100 percent water resistance and and 18.5oz mildew-resistant waxed canvas. Plus, mil-spec shoulder strap webbing makes this the type of bag you can take anywhere. Talk about sturdy, sleek and just what you need to get the job done — time and time again in the seasons to come. – $275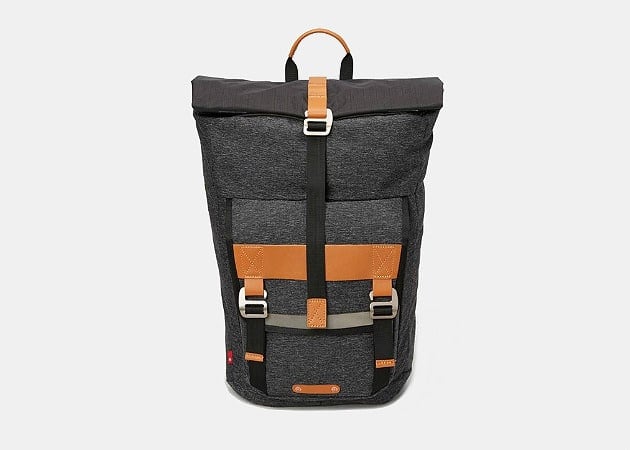 Levi's Commuter Rolltop Backpack
Forget about Levi's just doing hard-wearing, classic denim jeans and jackets. Its Commuter line considers the gear you'll need to add to your everyday menswear ensembles, and it does so in considered, supremely stylish fashion. In a 100 percent grey nylon colorway with water-repellent functionality, style details like genuine leather accents add a bit of polished casual flair to the mix — this is a bag you can grab and go, whether you're heading to the office or heading out on a weekend adventure. The only thing you need now is perhaps a stylish Levi's denim shirt or jeans — right? Right. – $138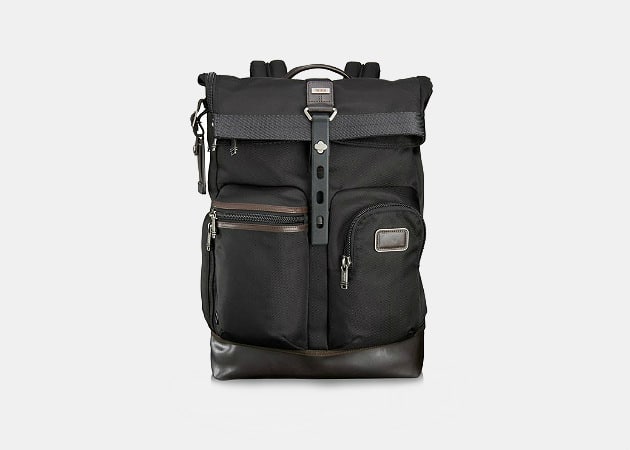 Tumi Luke Roll Top Backpack
Tumi competes as well as, if not better, than anyone in the game with pieces like it's Luke Roll Top Backpack, and it's definitely got the looks and requisite functionality to prove it. Combining black ballistic nylon and handsome brown leather, it's a bag that's both rugged and refined at the same time. It features everything from a laptop pocket to an iPad pocket, and even business card pockets are added into the mix. Waterproof side pockets are a thoughtful design touch that provide you with even more carrying capability, and color options like Hickory or Spruce are definitely the way to go. – Buy It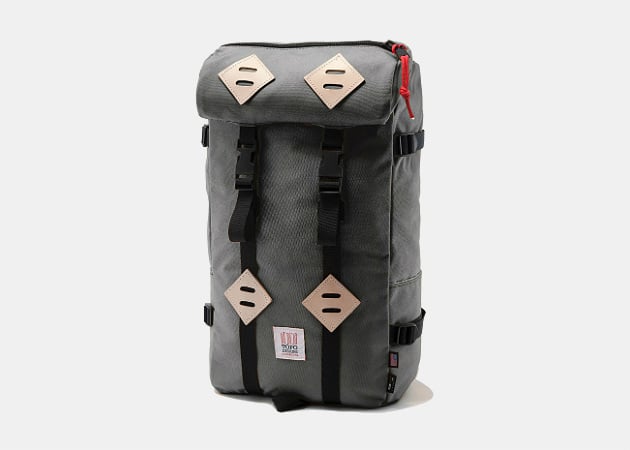 Topo Designs Klettersack
The distinctive, unique Klettersack is one of the products Topo Designs does just about as well as anyone around, with a rough-and-tumble Cordura exterior and more refined touches like natural leather lash tabs. It's the sort of pack that can withstand the toughest conditions thanks to the heavy-duty shoulder straps — reinforced with seatbelt webbing — and the ability to attach extra lights or gear to the lash tabs themselves. You should load up this bag with as much as it can carry (including your laptop), and put it to the test — there's no question that it's a great deal given all that functionality and a sub-$200 price tag. – $169
Disclosure: Clicking on these links and making a purchase may earn us a small referral fee, at no extra cost to you. Learn more here.
freestar.config.enabled_slots.push({ placementName: "gearmoose_leaderboard_btf", slotId: "gearmoose_leaderboard_btf" });