The 16 Best Short Sleeve Button Up Shirts for Summer
Some guys truly dread short sleeve season. If you're one of them, you might think that those summer shirts make you look less like Bond in Thunderball and more like Shaun of the Dead. But as warm weather approaches, I promise you it's more likely the shirts that you're choosing and not you. So, we've rounded up the 16 best short sleeve button up shirts to wear this summer. Whether you're trying to keep cool in the office or stay stylish on the beach, these short sleeve button ups will keep you looking sharp well into fall.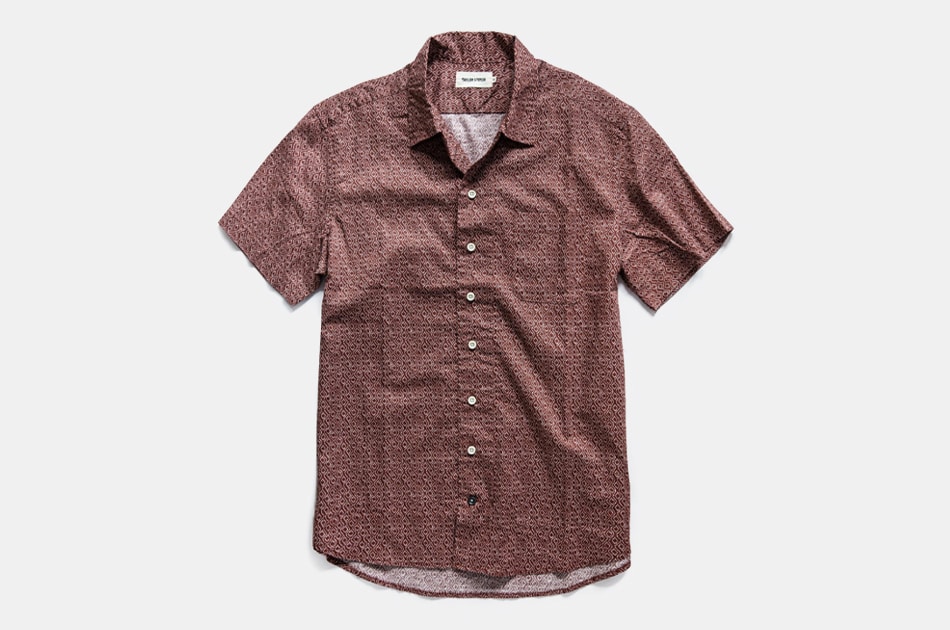 Taylor Stitch Short Sleeve Hawthorne Shirt
The Taylor Stitch Hawthorne comes in a print theme for every type of guy. The Burgundy Trellis features an intricate pattern in a classy and understated crimson color—an excellent short sleeve summer shirt for men who don't like summer shirts. The Dark Navy Seagull is accented with a high-contrast pattern for the fashionably bold, while the Mirage Palm is a palm tree-decked graphic shirt, perfect for the beach or a tiki bar. They all sport a casual camp collar and a lightweight cotton and linen construction.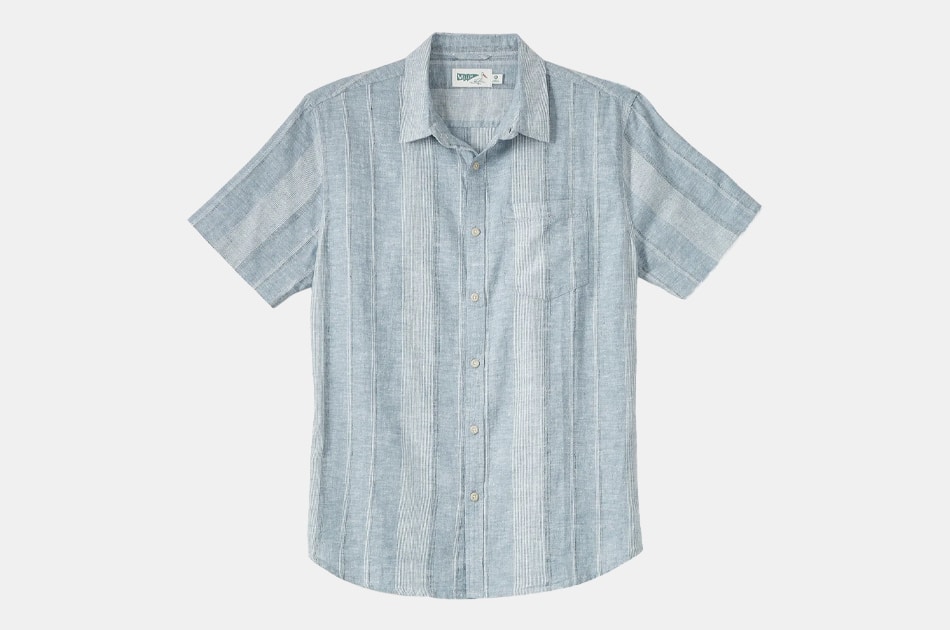 Wellen Hemp-Cotton Buttondown
The relaxed fit and thick but subtle vertical stripes of the Wellen Hemp-Cotton Buttondown truly complement men of all heights and beer-intakes. It's made of 55 percent cotton and 45 percent hemp for a breathable and featherweight feel. Wellen also gets bonus points for using sustainable materials. This short sleeve button up comes with a button down collar, dual chest pockets for your sunglasses, and summer color options like chambray, salmon, and light olive.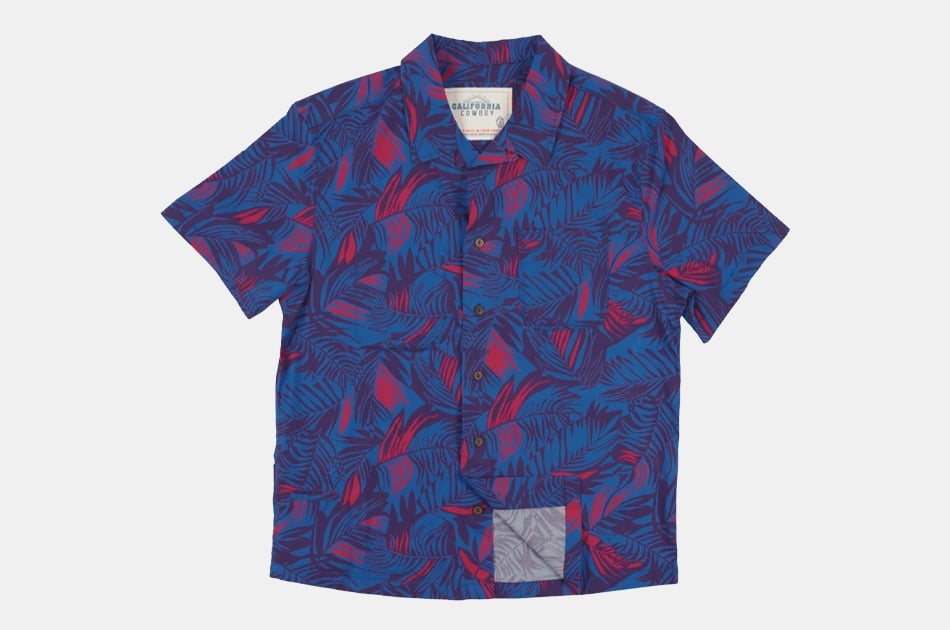 California Cowboy Tropic High Water Shirt
If the Tropic High Water Shirt by California Cowboy were a cocktail, it would be a margarita. Even if it isn't your drink, you have to have one when you're on vacation. From pineapples to florals, their design motifs are delightfully bold. There's even one dedicated to the American road trip, sporting images of cactus plants, buffalo skulls, and vintage sedans. Each shirt has a beer bottle pocket, bottle opener pocket, a sunglasses loop, and comes with a beer koozie and bottle opener. Love the efficient build and comfortable cotton-tencel construction, but want something more subdued? They also offer this short sleeve rendition in simple dark blue.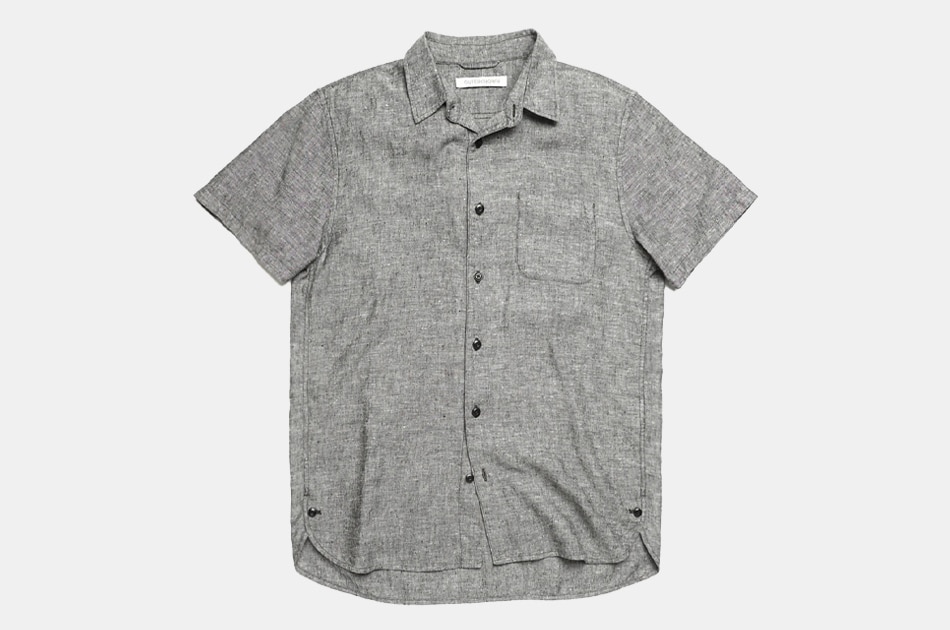 Outerknown Beachcomber Short Sleeve Shirt
If you're not used to wearing light summery colors, the Outerknown Beachcomber shirt is the best way to start. They're designed with warm weather hues like yellow, salmon, and sky blue, but the colors are folded into a faint sandy background, for a subtle desert-chic aesthetic. These airy button up shirts are made from soft hemp and tencel, and the buttons are built with tagua palm nuts, a sustainable plastic alternative.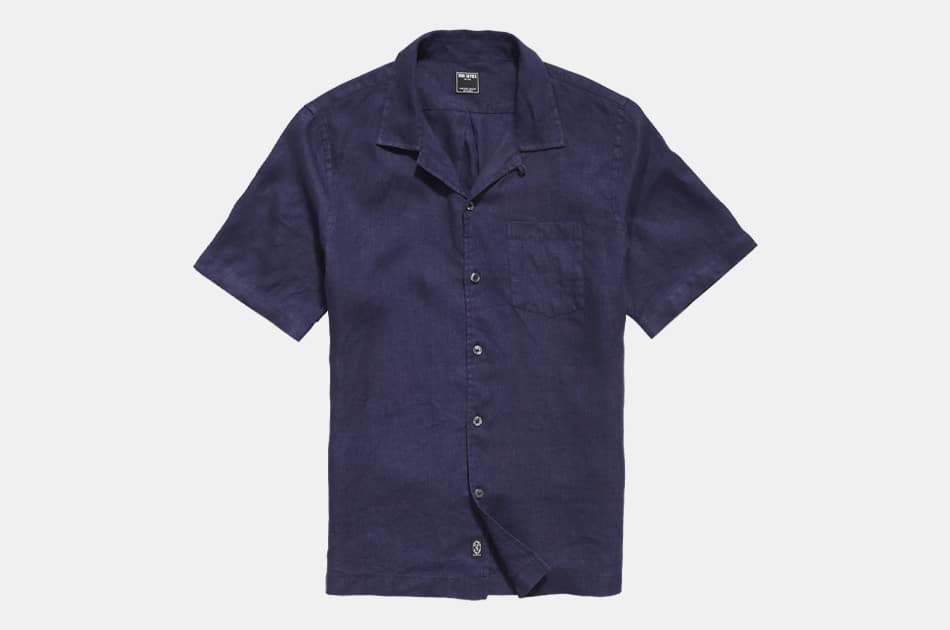 Todd Snyder Irish Linen Camp Collar Short Sleeve Shirt
Classic in every way, the Todd Snyder Irish shirt is 100 percent linen, with a camp collar and a standard straight-hem fit. Your grandfather looked swanky wearing this style while he tended to the backyard grill with a martini in hand, and so will you. Todd Snyder sources their linen from Baird McNutt, a heritage linen producer in Ireland known for their premium quality. You can step up your summer party game with colors like citron and salmon, or keep it classy with simple white or navy.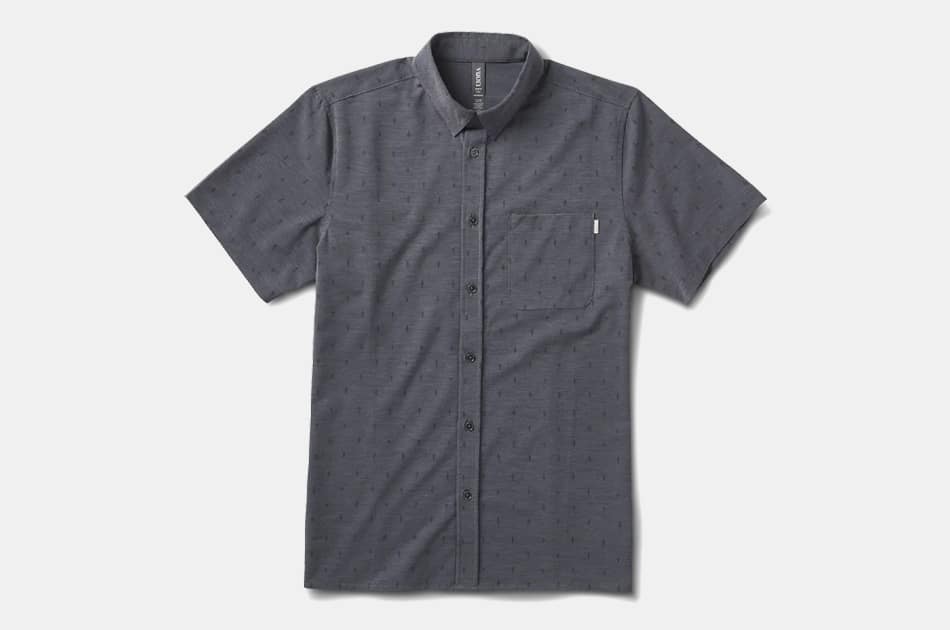 Vuori Short-Sleeve Bridge Button Down
If you're an athletic gent who likes taking a nice jog around the beach before catching some rays, the Vuori Bridge shirt is for you. It's a hot-weather button down, infused with performance capabilities. The stretch fabric is made mostly of polyester, with cotton for softness and a hint of elastane for flexibility. On top of that, it has a UPF rating of 30+, which is an excellent UV-protection rating considering how lightweight this stylish shirt is.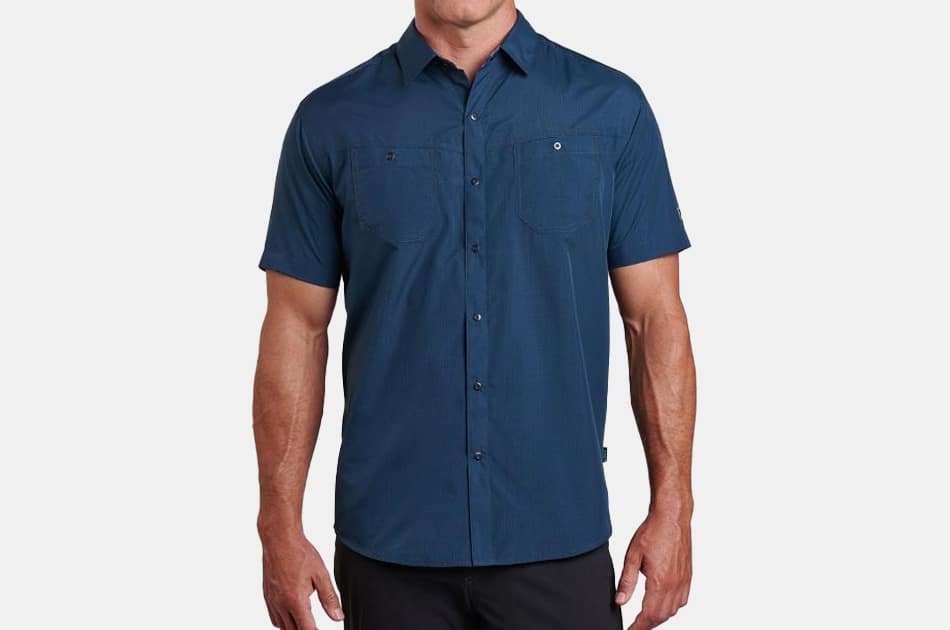 KUHL Stealth Shirt
This short sleeve piece is for you cowboys who mourn putting your denim shirts away for the summer. The KUHL Stealth shirt features a well-structured wrinkle-resistant architecture, including hardware buttons and a Western-style chest with a button-pocket on each side. Yet it's built with a polyester microfiber that's lightweight and wicks moisture, perfect for a warm day. This button up shirt comes in rugged colors like midnight blue and black.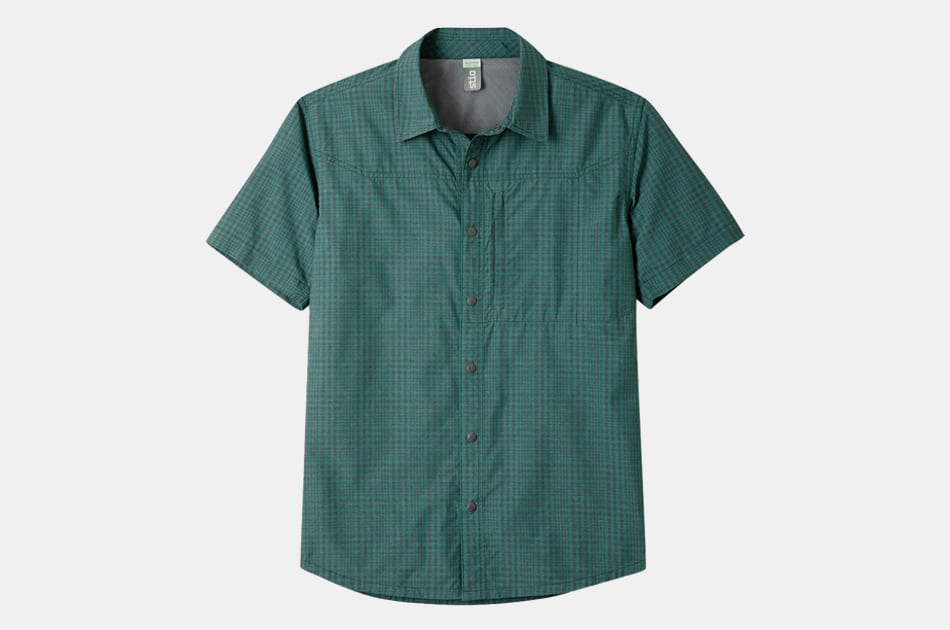 Stio Hagen Trail Shirt
The Stio Hagen Trail Shirt is the summer-time answer to your favorite hiking flannel. It comes in blue, green, yellow, and gray variations, and since it's made of 100 percent polyester, these colors will hold up for years to come. Its construction also means it can withstand wear and tear, so feel free to take that trail shortcut through the bushes. It's treated with a moisture-wicking finish and a whopping UPF 50+ for sun protection, allowing you to stay out and about on those long summer days.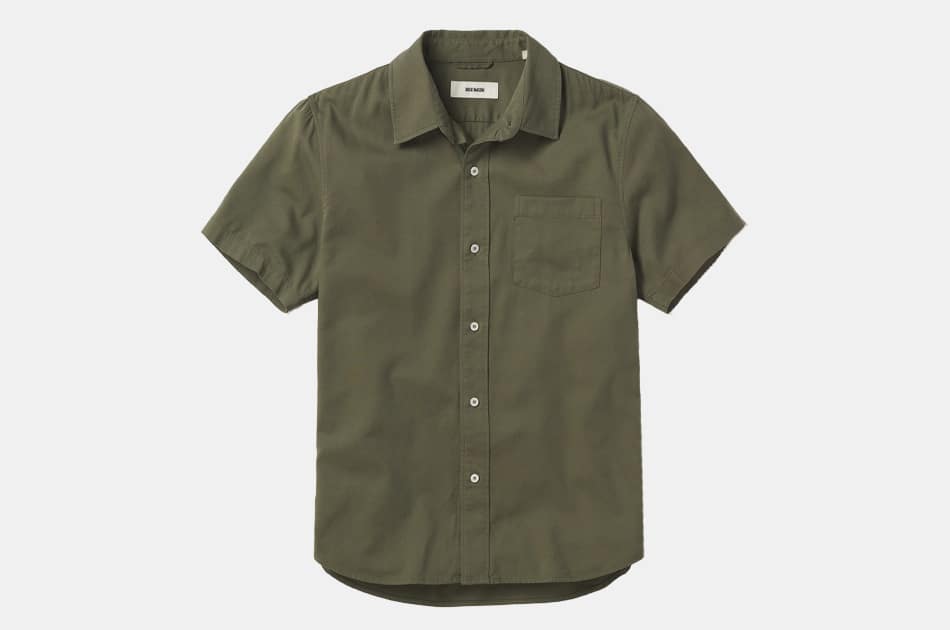 Buck Mason Draped Twill Short Sleeve One Pocket Shirt
Twill shirts are the chinos of the shirt world, not as formal as trousers or dress shirts, but not as casual as jeans or a linen top. The Buck Mason Draped Twill shirt is a fashionable but practical choice for summer casual Fridays at the office. It's built with 60 percent cotton for softness and 40 percent rayon for a silk-like breathability. They come in clean professional colors for guys who take a moderate approach to fashion, but still want to look effortlessly stylish.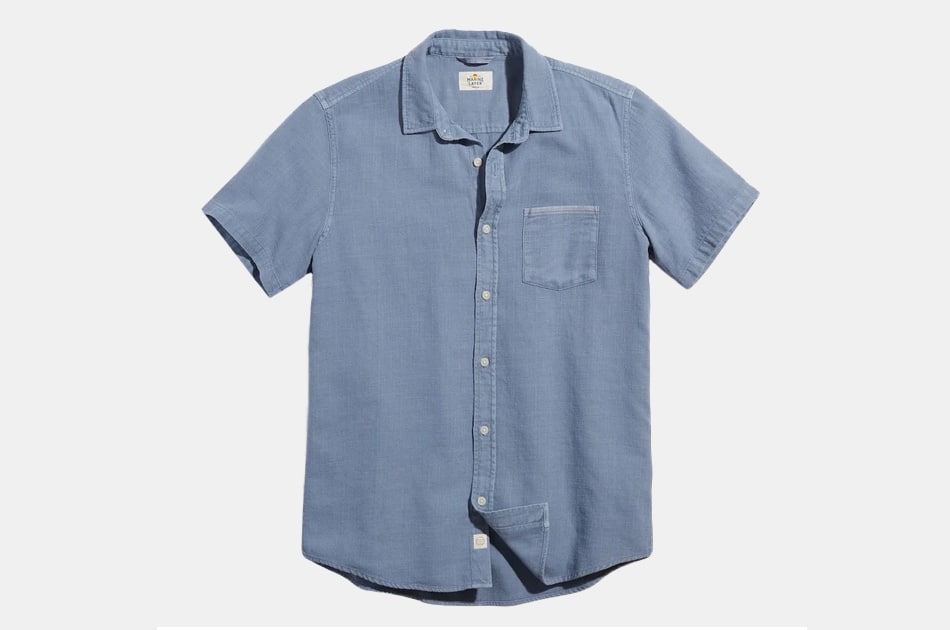 Marine Layer Selvage Short Sleeve Button-Up Shirt
Nothing brings personality to a standard shirt like slub cotton, and the Marine Layer Selvage short sleeve button up shirt keeps those summer parties casual yet snazzy. The subtle but irregularly weaved material gives the shirt a hip downtown vibe, while the dusty blue garment dye has a diet-denim aesthetic. The striped chest pocket is a nice design accent made from selvage production scraps.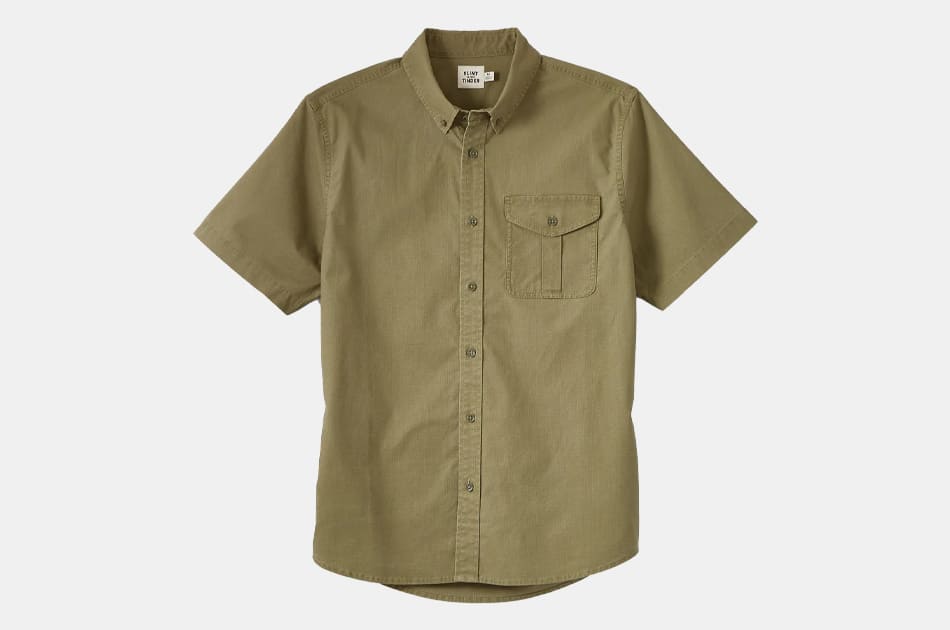 Flint and Tinder Ripstop Stretch Utility Shirt
If a rugged utility shirt combined with a classy summer button-down, you'd get the Flint and Tinder Ripstop Stretch shirt. It's well-structured and built with a button-down collar and fortified button-down pocket. However, its construction is mostly cotton with a touch of spandex, for a light, soft, and moveable shirt. The overall design is "safari-inspired" and comes in two refined earth-tone colors, Burnt Olive and Dust.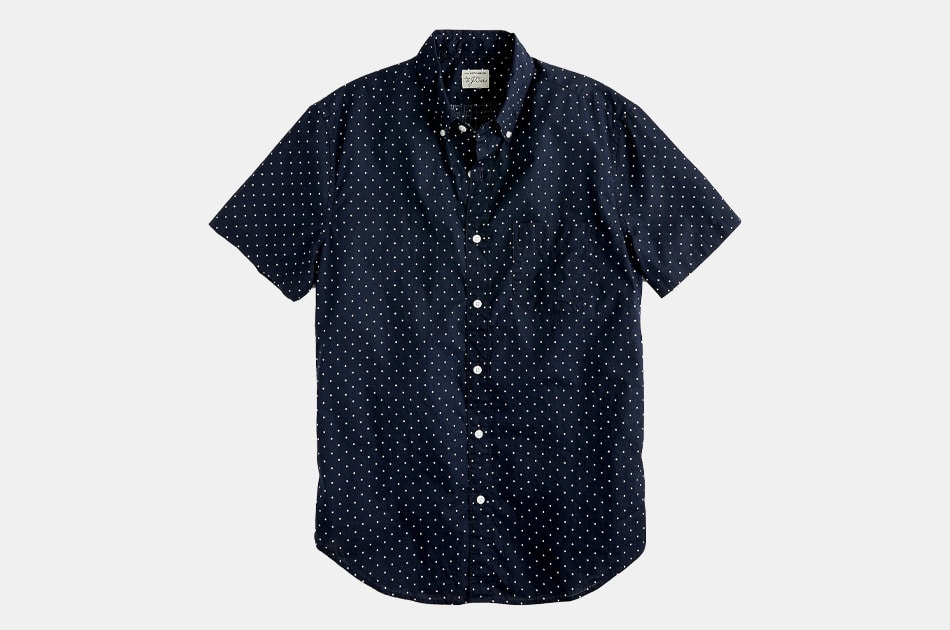 J.Crew Short-Sleeve Stretch Shirt
You don't have to be at a Fourth of July party at a Charleston boat club to rock salmon stripes, pastels, and polka dots. When the days get hot, the fun and classy prints of the J.Crew Short-Sleeve Stretch Shirt are fair game for all guys. In addition to its broad range of styles and colors, this organic cotton shirt comes in an array of sizes, from XS to XXL, classic, slim, and tall. Get that sophisticated fit without paying for a fancy tailor.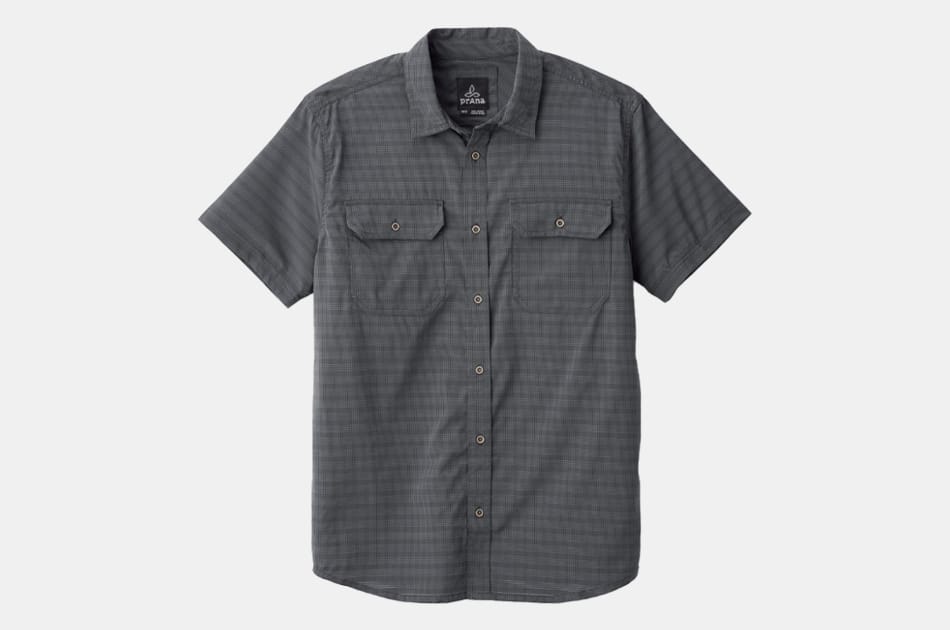 prAna Cayman Shirt
The prAna Cayman Shirt has a robust utility look to it, featuring subtle texturing, and available in dark shades of blue, gray, and green. It's made of a resilient and pliant polyester and features double chest pockets with button-flap closures. It's a substantial short-sleeve that can be worn open with a light t-shirt on warmer days, for a grown-up take on the skater-cool look. Or it can be worn closed on cooler days for a workwear style.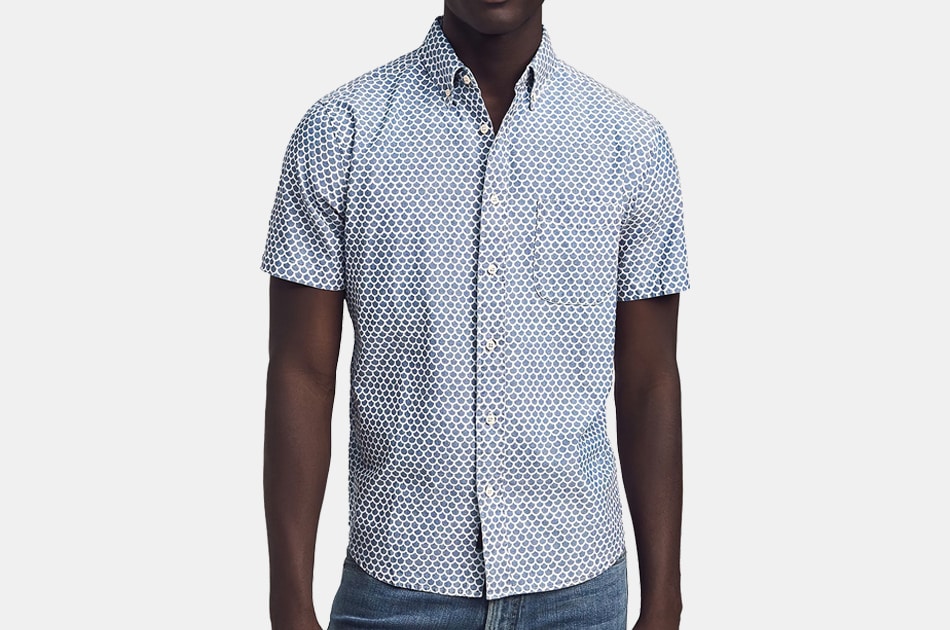 Faherty Short-Sleeve Stretch Playa Shirt
The Faherty Stretch Playa Shirt is the epitome of good coastal vibes. It's adorned with a delightful fishscale pattern that has a Japanese ink drawing quality to it, and comes in three beachy-cool colors. Rose is a light salmon hue, Redux is a washed-out blue, and Midnight is a dark navy with light blue patterns. The shirt's fashion-forward fit includes straight sleeves and a tapered waist, which looks great on any guy whether he's surfing or staying on dry land.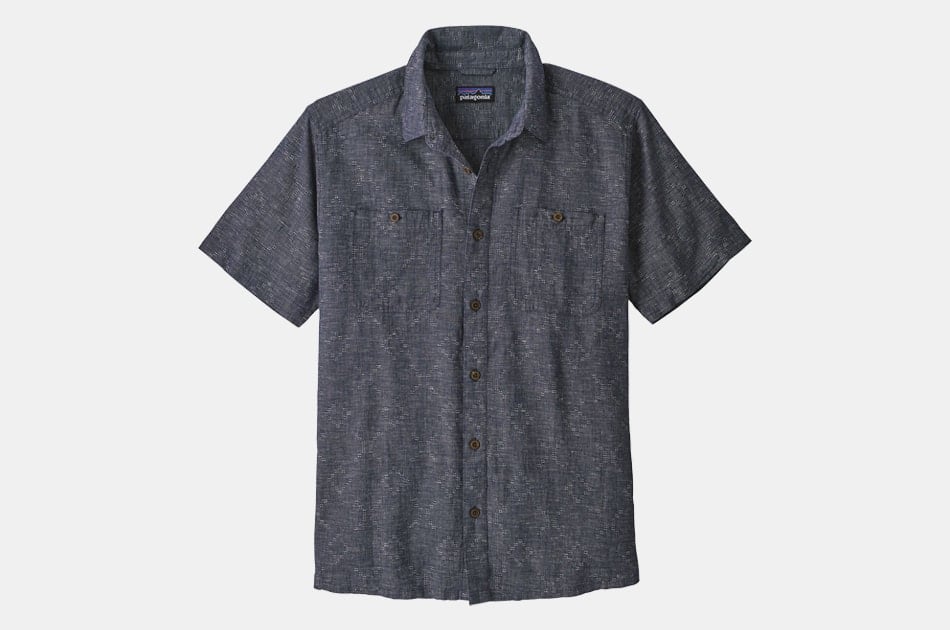 Patagonia Back Step Shirt
From tiki torches to florals to subtle textures, the Patagonia Back Step Shirt boasts a universe of diverse styles. Whether you go for the sophisticated Goshawk Dobby or the irreverent Swamp Stamp Multi, all of the shirts feature island-appropriate coconut buttons, chest pockets, and a vented shirttail that you can tuck or untuck. The Back Step shirt has a hemp-cotton construction for an airy and velvety feel.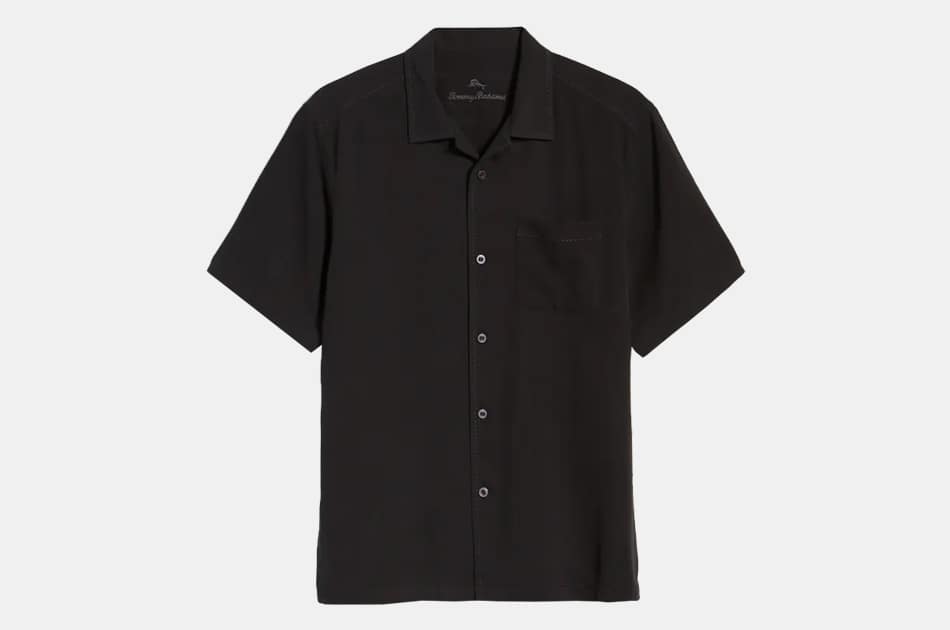 Tommy Bahama Herringbone Short Sleeve Button-Up Camp Shirt
If you think silk shirts are for the last days of disco or Hawaiin retirement, you haven't seen the Tommy Bahama Herringbone Shirt. This short sleeve button up has a delicate elegance from its silk makeup that keeps you cool and refreshed under the sun. However, the herringbone and pick-stitching boost its engineering just enough so that you can wear it to the upscale restaurant at your resort. If you're looking for an elevated vacation look, Tommy Bahama has you covered.
Disclosure: Clicking on these links and making a purchase may earn us a small referral fee, at no extra cost to you. Learn more here.
freestar.config.enabled_slots.push({ placementName: "gearmoose_leaderboard_btf", slotId: "gearmoose_leaderboard_btf" });