The 16 Best Short Sleeve Button Up Shirts for Men
Some guys truly dread short sleeve season. If you're one of them, you might think that those summer shirts make you look less like Bond in Thunderball and more like Shaun of the Dead. But as warm weather approaches, I promise you it's more likely the shirts that you're choosing and not you. So, we've rounded up the 16 best short sleeve button up shirts to wear this summer. Whether you're trying to keep cool in the office or stay stylish on the beach, these short sleeve button ups will keep you looking sharp well into fall.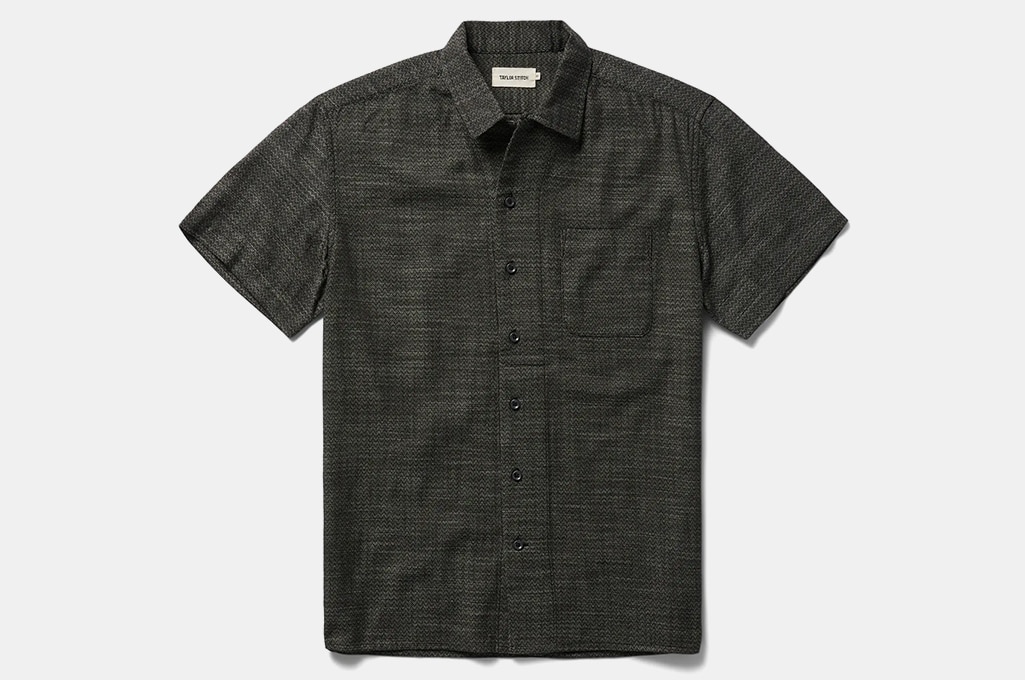 Taylor Stitch Short Sleeve Hawthorne Shirt
It'll be a cold day in heck before we ever stop wanting to wear Taylor Stitch's Short Sleeve Hawthorne Shirt—because this bad boy hits the trifecta of easy-going style, durable construction, and eco-friendly manufacturing. The four ounce organic cotton material (in a handsome dark navy and gray textured weave) is sturdy enough to wear day in and day out, but light enough to keep you cool and comfortable all summer long. Double needle stitching and reinforced button attachments complete the look and ensure you'll be wearing this one for years to come.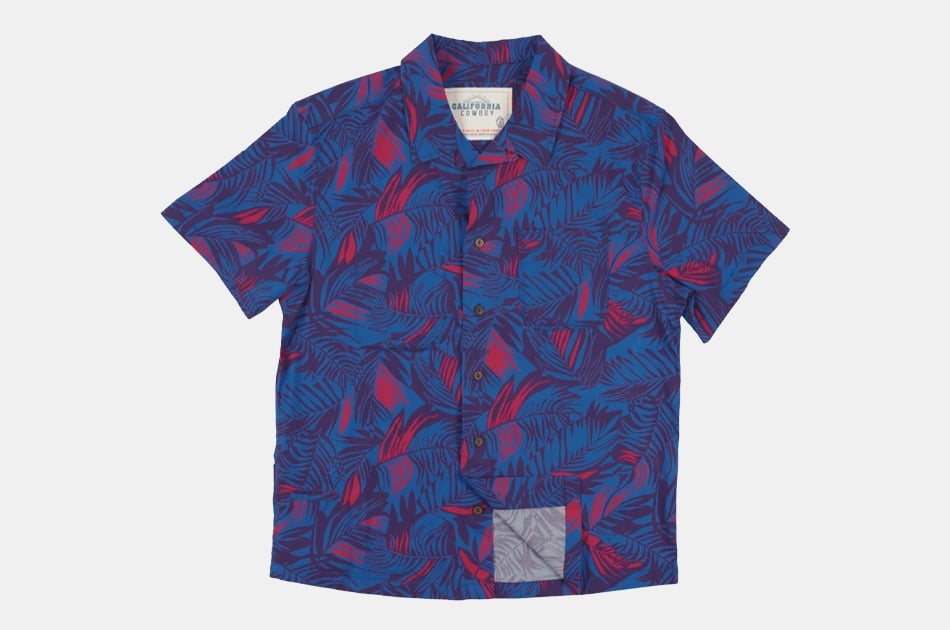 California Cowboy Tropic High Water Shirt
If the Tropic High Water Shirt by California Cowboy were a cocktail, it would be a margarita. Even if it isn't your drink, you have to have one when you're on vacation. From pineapples to florals, their design motifs are delightfully bold. There's even one dedicated to the American road trip, sporting images of cactus plants, buffalo skulls, and vintage sedans. Each shirt has a beer bottle pocket, bottle opener pocket, a sunglasses loop, and comes with a beer koozie and bottle opener. Love the efficient build and comfortable cotton-tencel construction, but want something more subdued? They also offer this short sleeve rendition in simple dark blue.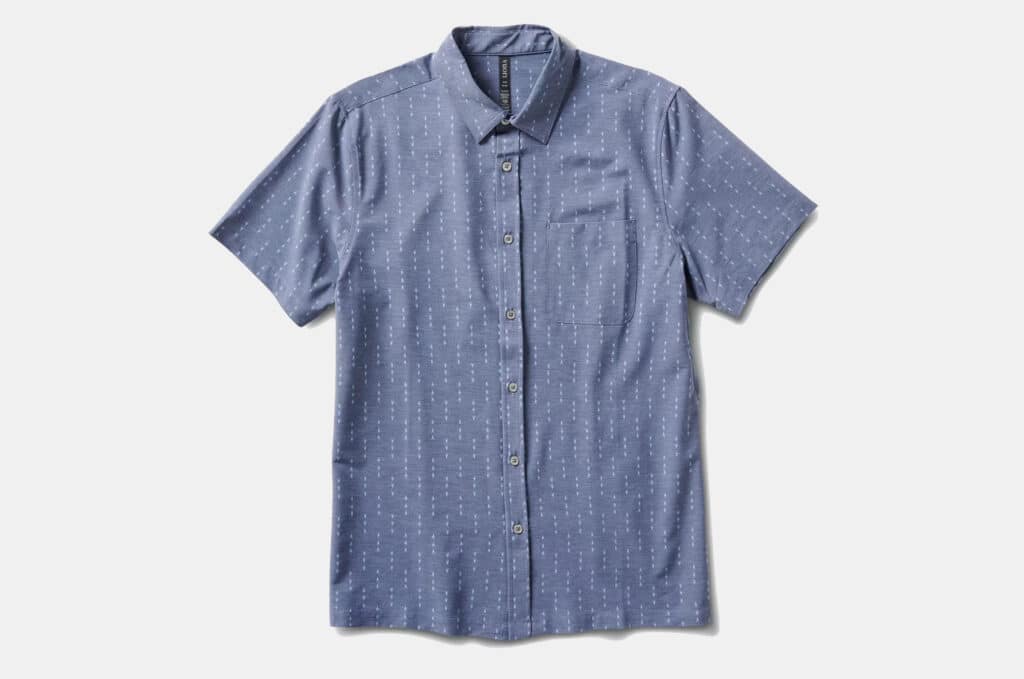 Vuori Short-Sleeve Bridge Button Down
If you're an athletic gent who likes taking a nice jog around the beach before catching some rays, the Vuori Bridge shirt is for you. It's a hot-weather button down, infused with performance capabilities. The stretch fabric is made mostly of polyester, with cotton for softness and a hint of elastane for flexibility. On top of that, it has a UPF rating of 30+, which is an excellent UV-protection rating considering how lightweight this stylish shirt is.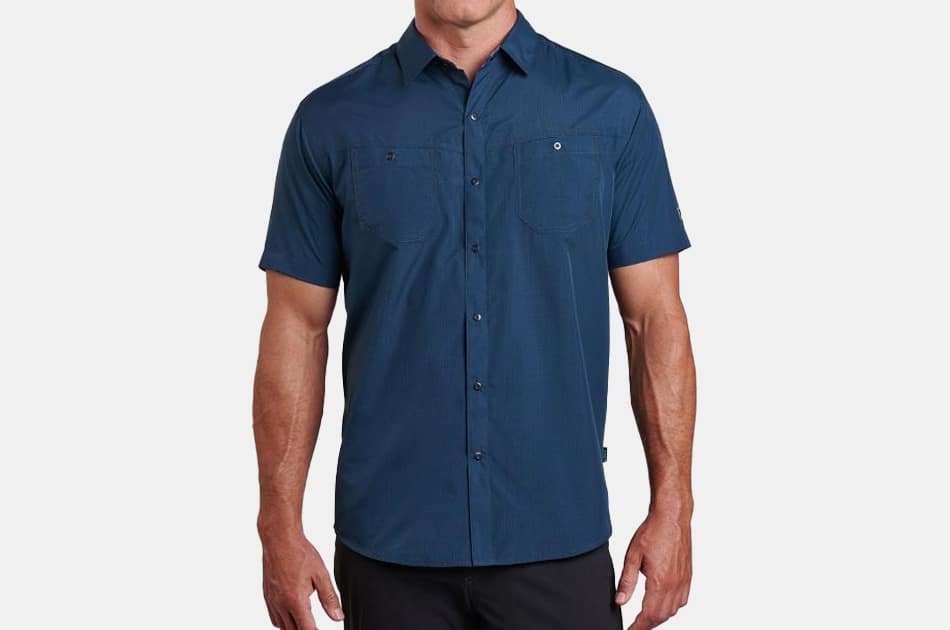 KUHL Stealth Shirt
This short sleeve piece is for you cowboys who mourn putting your denim shirts away for the summer. The KUHL Stealth shirt features a well-structured wrinkle-resistant architecture, including hardware buttons and a Western-style chest with a button-pocket on each side. Yet it's built with a polyester microfiber that's lightweight and wicks moisture, perfect for a warm day. This button up shirt comes in rugged colors like midnight blue and black.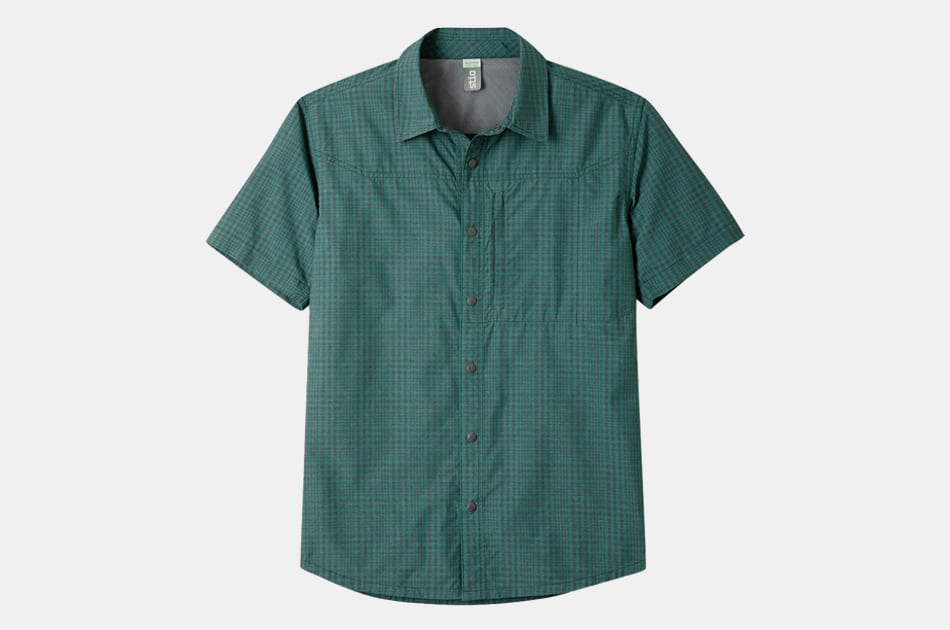 Stio Hagen Trail Shirt
The Stio Hagen Trail Shirt is the summer-time answer to your favorite hiking flannel. It comes in blue, green, yellow, and gray variations, and since it's made of 100 percent polyester, these colors will hold up for years to come. Its construction also means it can withstand wear and tear, so feel free to take that trail shortcut through the bushes. It's treated with a moisture-wicking finish and a whopping UPF 50+ for sun protection, allowing you to stay out and about on those long summer days.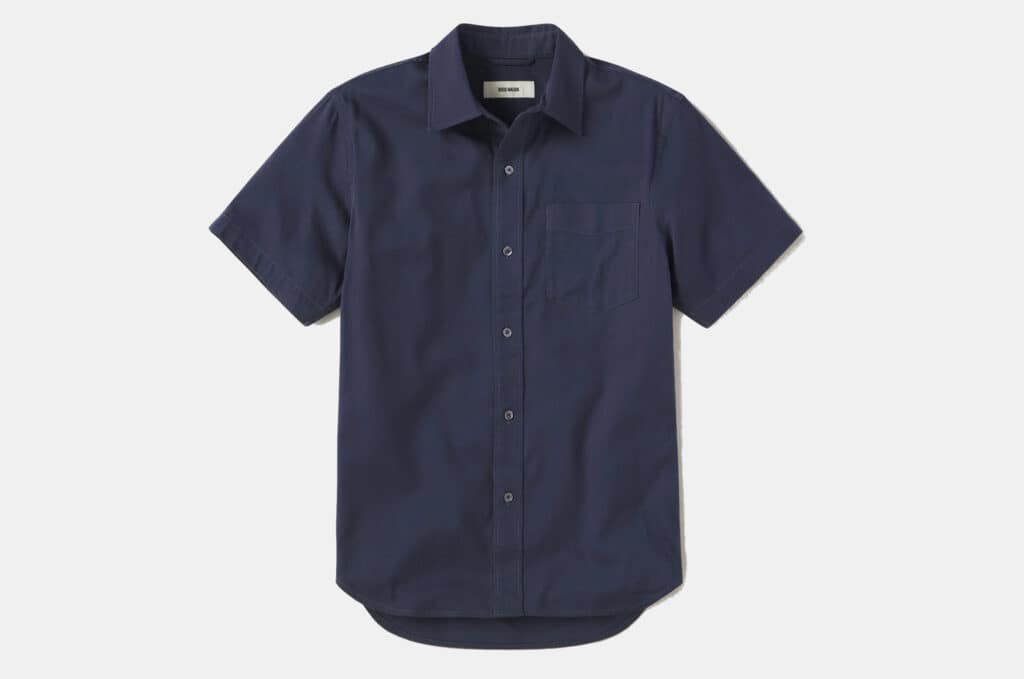 Buck Mason Draped Twill Short Sleeve One Pocket Shirt
Twill shirts are the chinos of the shirt world, not as formal as trousers or dress shirts, but not as casual as jeans or a linen top. The Buck Mason Draped Twill shirt is a fashionable but practical choice for summer casual Fridays at the office. It's built with 60 percent cotton for softness and 40 percent rayon for a silk-like breathability. They come in clean professional colors for guys who take a moderate approach to fashion, but still want to look effortlessly stylish.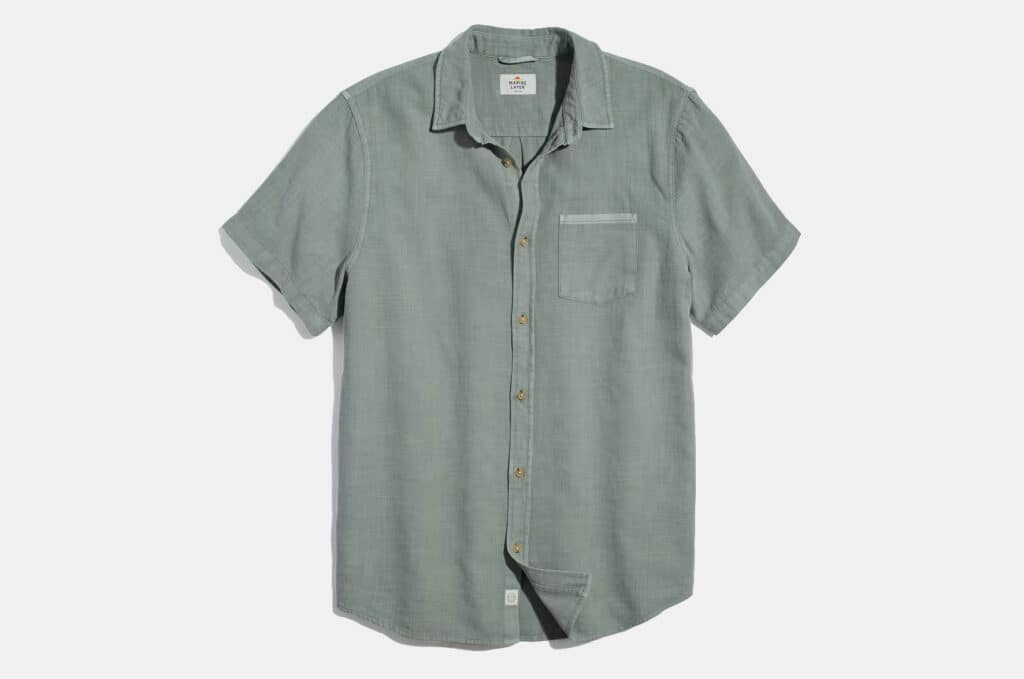 Marine Layer Selvage Short Sleeve Button-Up Shirt
Nothing brings personality to a standard shirt like slub cotton, and the Marine Layer Selvage short sleeve button up shirt keeps those summer parties casual yet snazzy. The subtle but irregularly weaved material gives the shirt a hip downtown vibe, while the dusty blue garment dye has a diet-denim aesthetic. The striped chest pocket is a nice design accent made from selvage production scraps.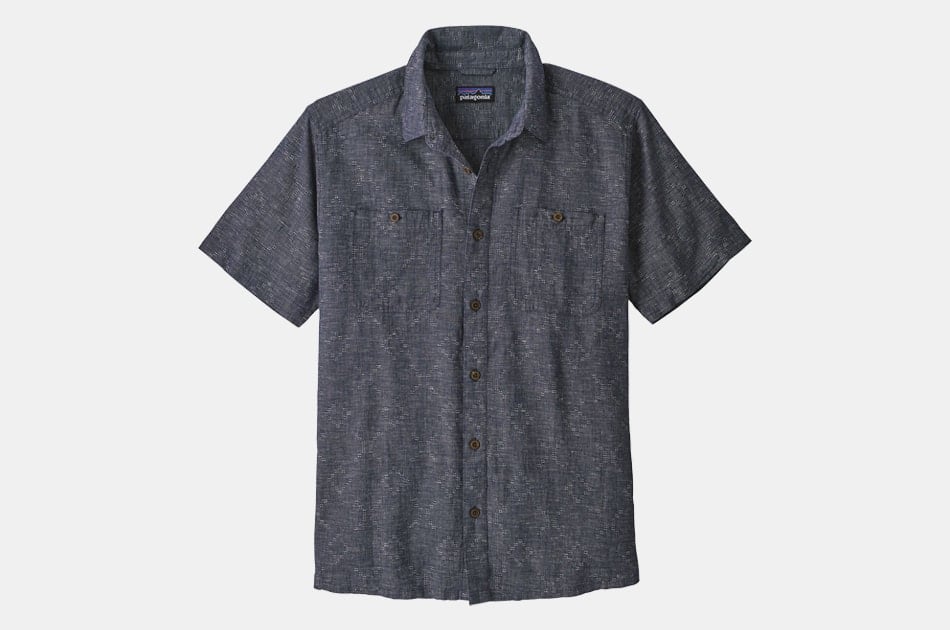 Patagonia Back Step Shirt
From tiki torches to florals to subtle textures, the Patagonia Back Step Shirt boasts a universe of diverse styles. Whether you go for the sophisticated Goshawk Dobby or the irreverent Swamp Stamp Multi, all of the shirts feature island-appropriate coconut buttons, chest pockets, and a vented shirttail that you can tuck or untuck. The Back Step shirt has a hemp-cotton construction for an airy and velvety feel.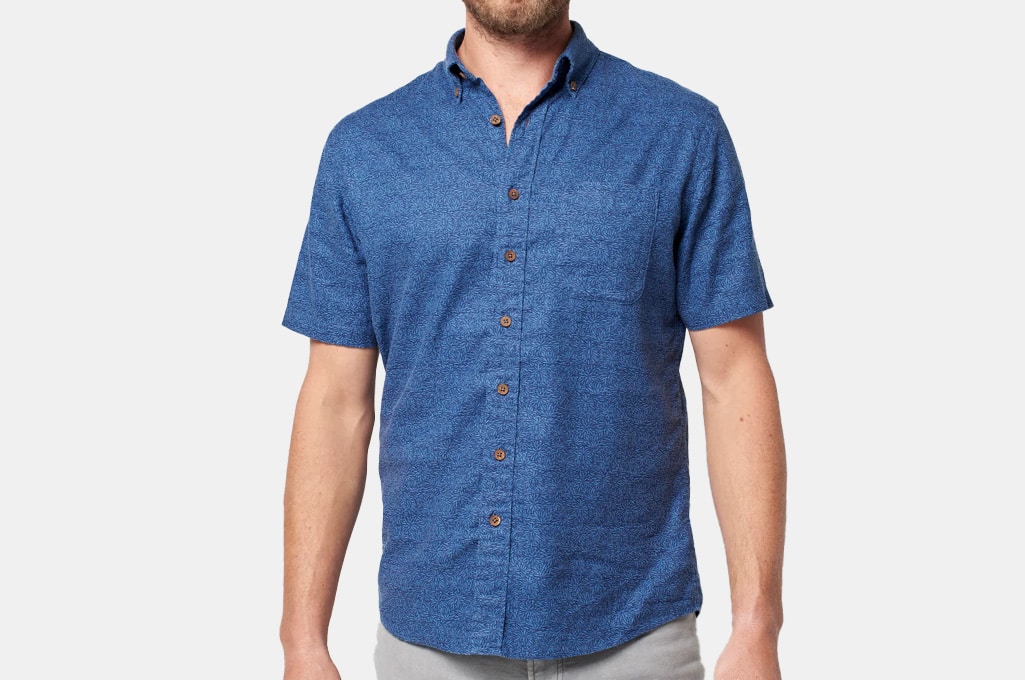 Faherty Short-Sleeve Breeze Shirt
Don't get us wrong: Classically styled cotton short sleeve shirts are a great standby. But when it gets really hot outside, turning towards some of fashion's more recent fabric innovations is a great move. Faherty's Short-Sleeve Breeze Shirt will do the trick like none other, with an eco-friendly hemp, lyocell, and elastance construction that's light, breezy, naturally anti-odor, and just the right amount of stretchy. Its relaxed body and straight fit make it a good choice for casual wear and fun days in the sun.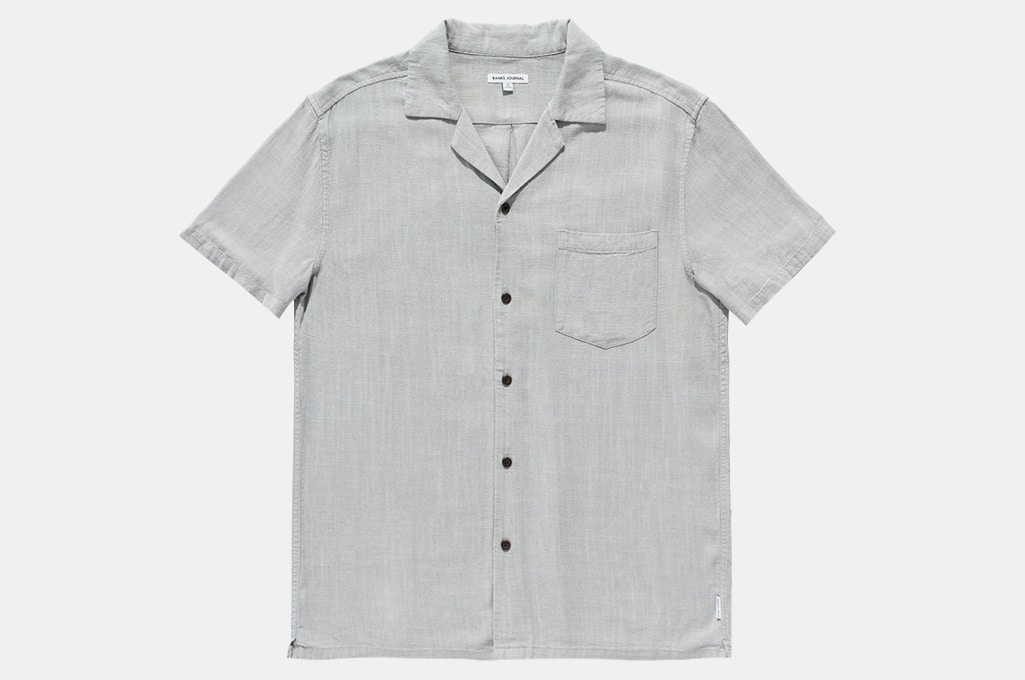 Banks Journal Brighton Short Sleeve Woven Shirt
The same flax plant that gives its meal to health food smoothies everywhere has an arguably better use: The production of linen, an exceptionally soft and breathable natural fiber that can be woven into fabric. Banks Journal's Bright Shirt puts linen to great use by blending it with cotton, creating a best of both worlds scenario where the shirt is durable, comfortable, and naturally airy. Details like a camp collar and straight hem make it a great casual piece, and the washed light gray color is versatile enough to pair with just about any spring or summer outfit.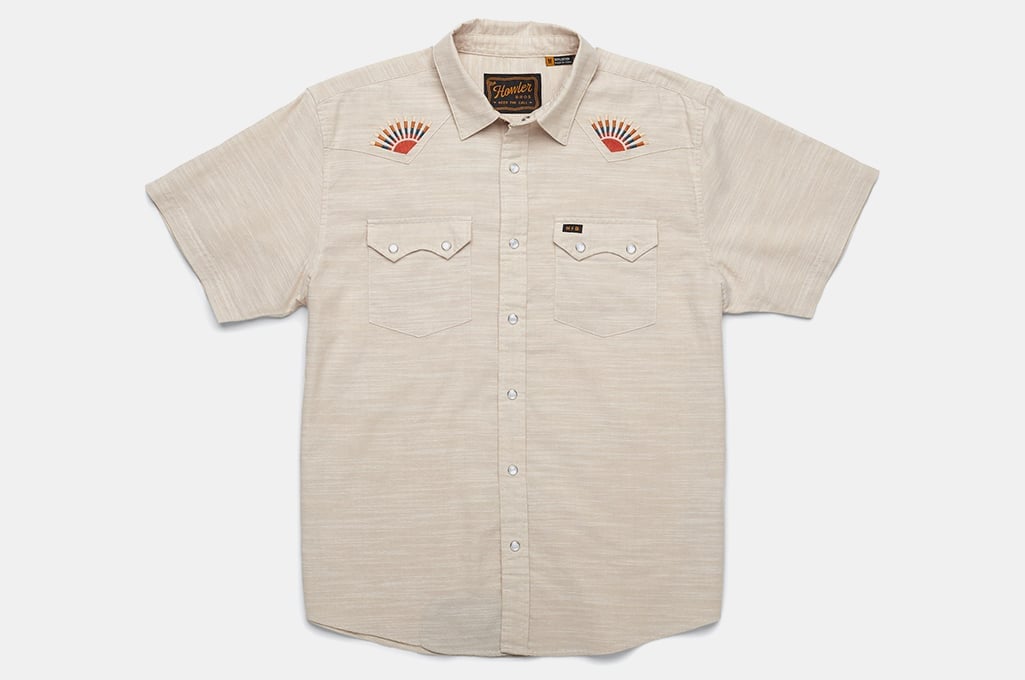 Howler Brothers Crosscut Deluxe Western Shirt
Looking to spice up your button up shirt game? Try tossing in a few heavily detailed Western shirts, like this Crosscut Deluxe one from Howler Brothers. Double-snap chest pockets and detailed embroidery really make this top pop, and the generous additions of pearl snaps on the placket, pocket, and cuffs make sure that you're always dressed your best. As for the shirt itself, it's made with a cotton and polyester blend—cool and breathable enough for a summer's day, but with the added benefit of being quick drying should you start to work up a sweat.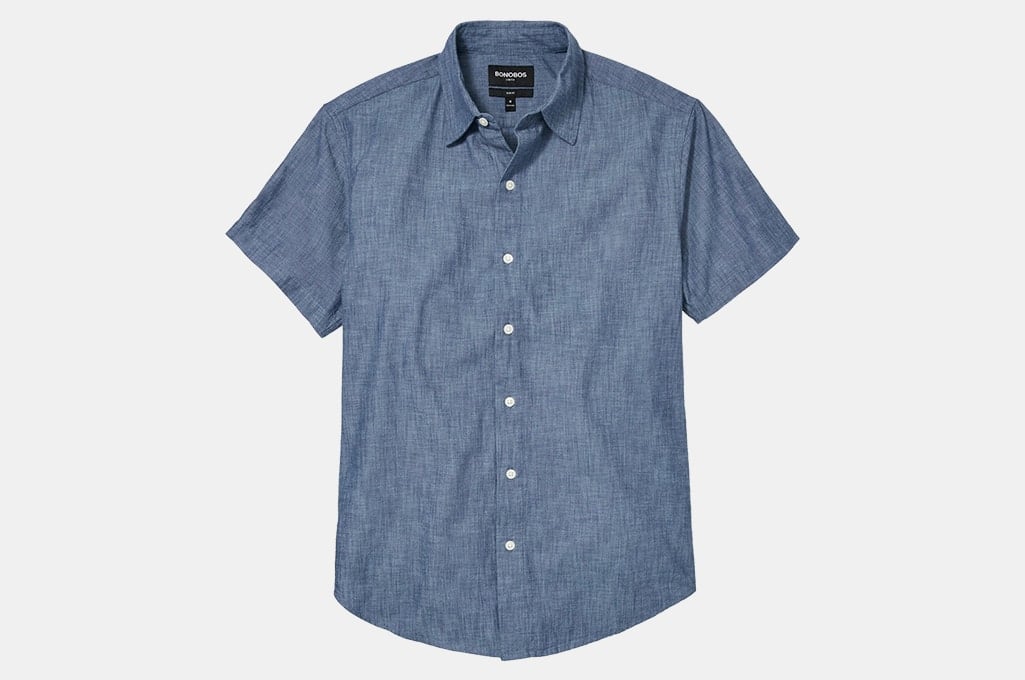 Bonobos Stretch Riviera Short Sleeve Shirt
Plenty of brands offer a short sleeve button down shirt or two. But for the ultimate in color choices, turn to the Stretch Riviera shirt from Bonobos. It's available in a staggering 21 different colors and patterns. That's more than enough to fill your entire closet with—which you just might want to do after you get a feel for how effortlessly classy this shirt wears. Plus, you can choose from four different shirt fits (tailored, slim, standard, or athletic) as well as three different lengths (short, regular, or long) to customize your perfect piece. All said and done, that makes the Bonobos Stretch Riviera shirt an instant classic.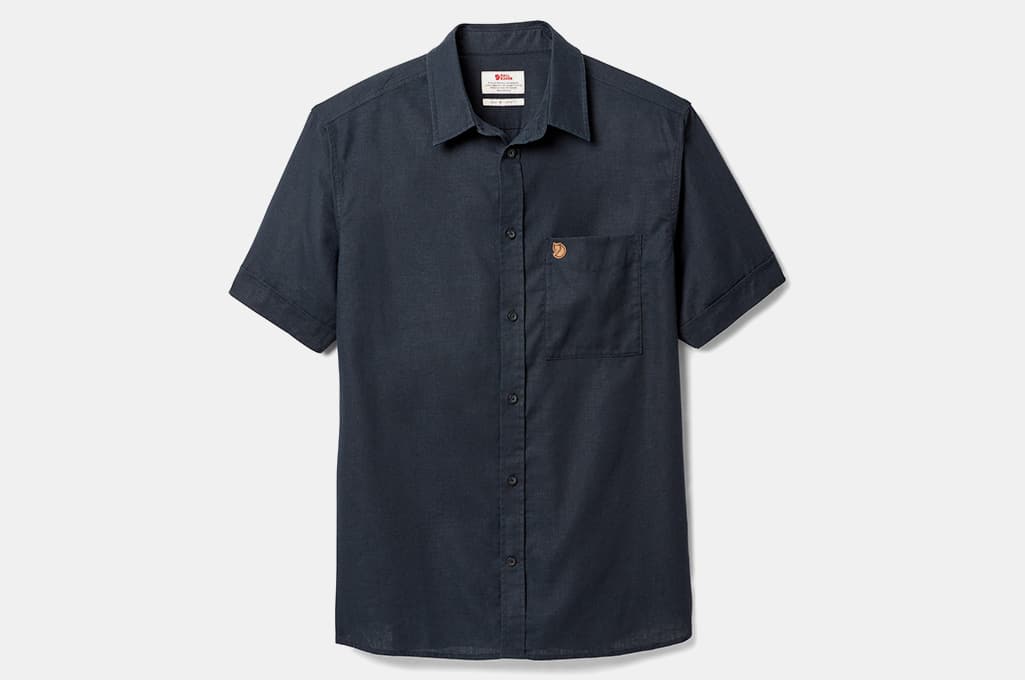 Fjallraven Ovik Travel Shirt
Their backpacks may be tiny, but let us be the first to tell you: Fjallraven's shirts have a fine fit and feel at a very fair price. With much of the same Nordic minimalism that the brand's bags are known for, all four colors of the Ovik Travel Shirt are destined to become casual wardrobe staples throughout the spring and summer. They're made of an eco-friendly hemp and recycled polyester fabric too, so you can feel great about stocking your closet with a few of them—and the hemp has a bonus of being naturally odor-blocking to boot.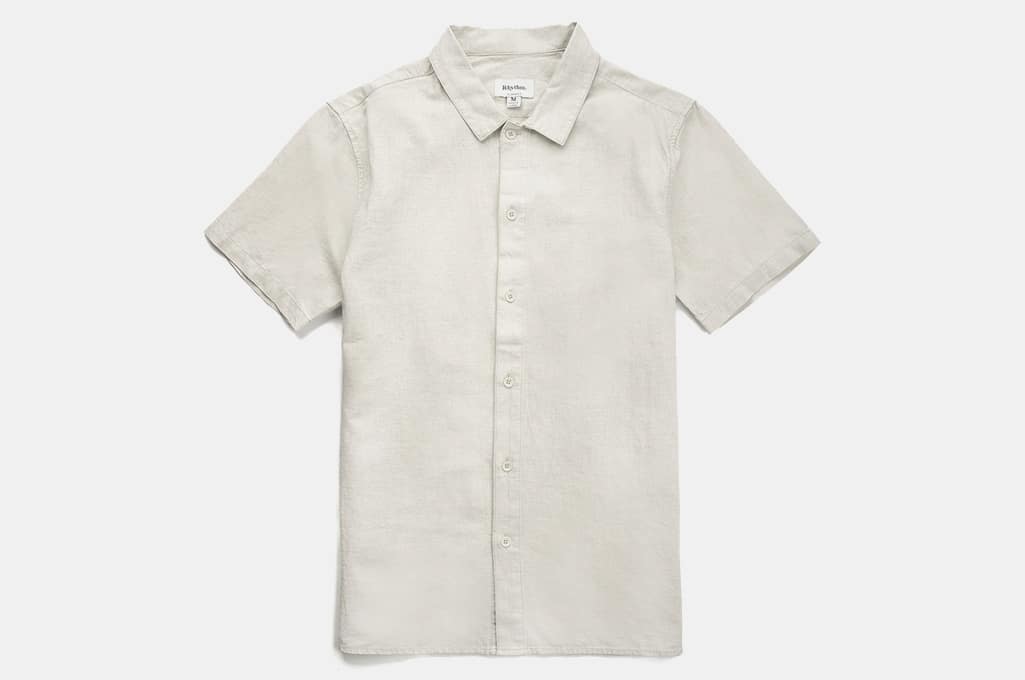 Rhythm Classic Linen Short Sleeve Shirt
Heavy on the linen with a portion of cotton for durability and affordable pricing: That's the Rhythm Classic Linen Short Sleeve Shirt. You'll be hard-pressed to find a better shirt for when the weather turns hot, and especially at this price. A wider fit and straight hem give it a completely casual look too, encouraging you to be your most relaxed summertime self every time you put it on. Get yourself one of these shirts if you really want to embody the sun, surf, and sand lifestyle (no matter where you live).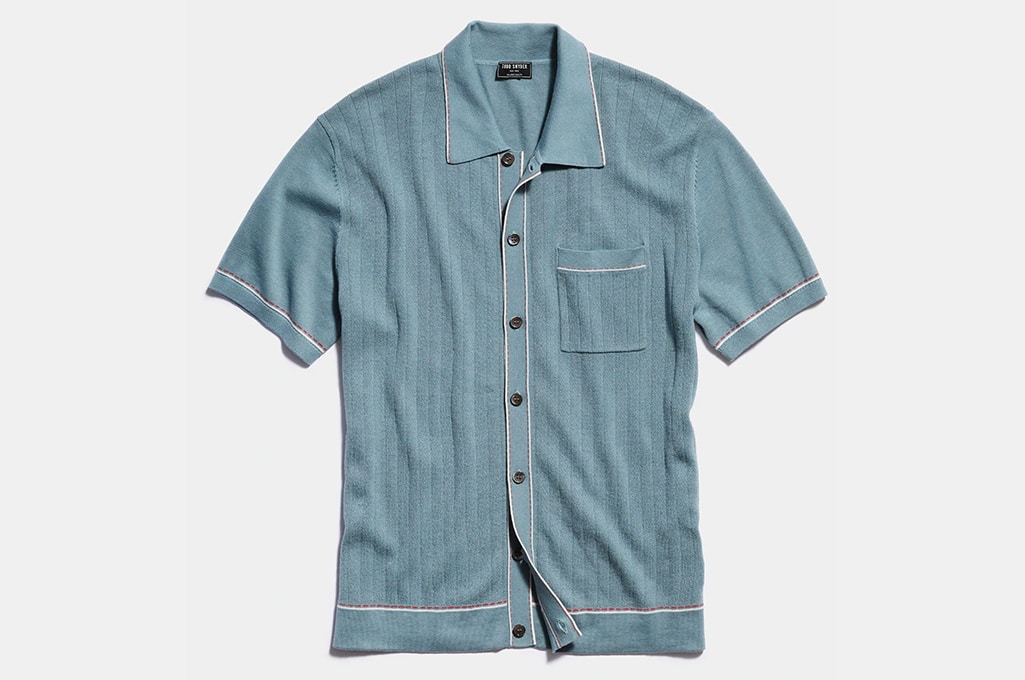 Todd Snyder Cotton Silk short Sleeve Full Placket Polo Shirt
Two styles of shirts vye for summertime supremacy: The short sleeve button down, and the polo. But what if you could have the best of both—the preppy style of a polo, and the casual comfort of a button down—all in one shirt? That's exactly what Todd Snyder's Cotton Silk Short Sleeve Full Placket Polo Shirt offers. Available in six colors (each with contrast tipping on the placket, collar, pocket, and cuffs), it's a soon-to-be style staple that's equal parts old school cool and modern innovation. And thanks to a blend of silk and cotton for its construction, this shirt is almost unbelievably lightweight too.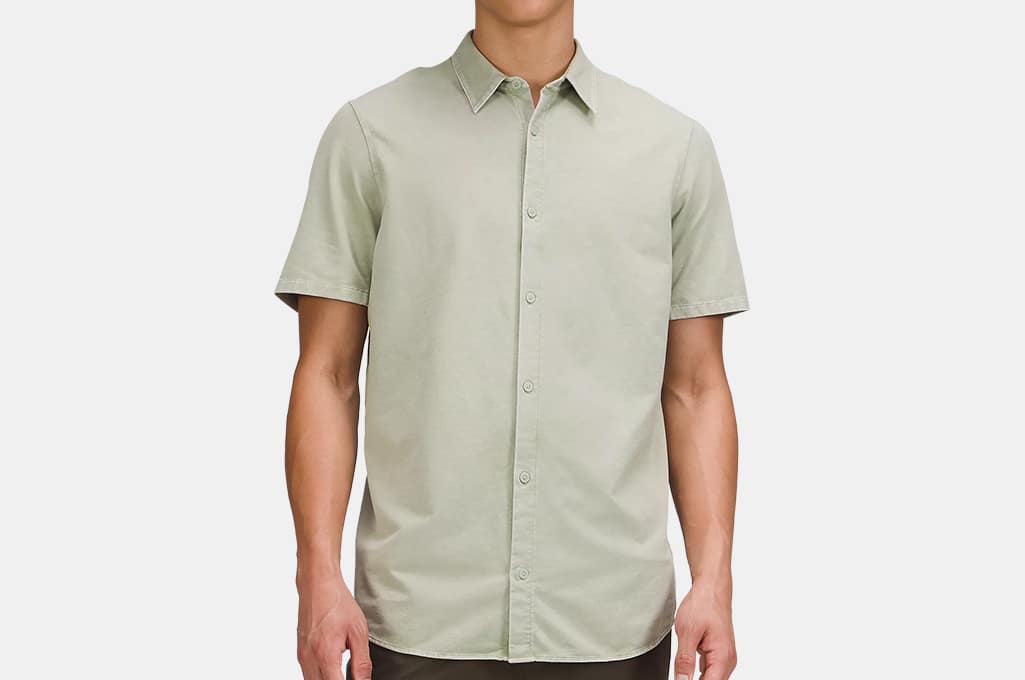 Lululemon Commission Short Sleeve Shirt
If you're mainly familiar with Lululemon as a brand for tight-fitting stretchy pants, it's time to broaden your horizons. Their Commission Short Sleeve Shirt is the perfect way to do so, as it blends the best of athleisure comfort and easy care with a crisp and minimalist look that's great for everyday wear. A four-way stretch fabric makes it a great choice for anytime, anywhere use, including as an excellent top layer for springtime hiking trips. An underarm gusset emphasizes that activewear heritage even more, giving a great natural range of motion that's uncommon in short sleeve button up shirts.
Disclosure: Clicking on these links and making a purchase may earn us a small referral fee, at no extra cost to you. Learn more here.
freestar.config.enabled_slots.push({ placementName: "gearmoose_leaderboard_btf", slotId: "gearmoose_leaderboard_btf" });