The 15 Best Sleeping Pads For Car Camping
There's never been a more important time to get out of the house and breathe some fresh air, away from the stress of everyday life. But if you have your eyes on more than a day trip out of the city, you'll need some camping savvy—and all the associated gear for an outdoor foray.
Unless, that is, you get yourself an awesome sleeping pad to throw down in the back of your car. These are the 15 best sleeping pads. They will turn any vehicle into a comfortable overnight hideaway, giving you the freedom to hit the road and head wherever your urges take you. And if you are the outdoorsy type, many of these can double as light and portable sleeping pads for backpacking trips, too.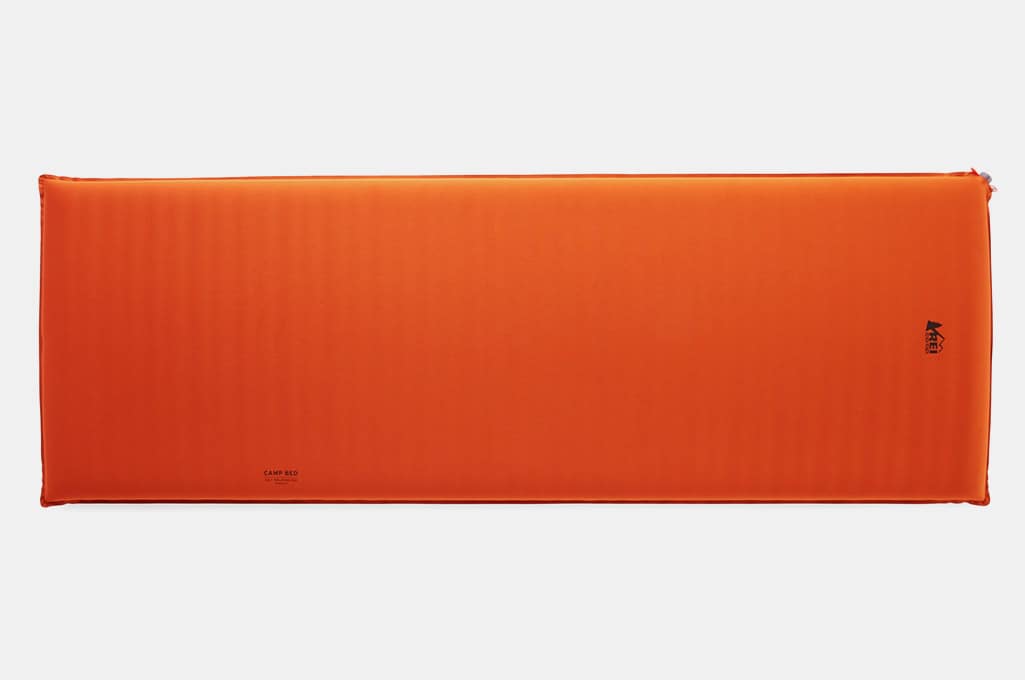 REI Co-op Camp Bed Self-Inflating Sleeping Pad
Budget-savvy campers know to turn to REI's Co-op brand for functional, affordable, and eco-friendly gear. Their self-inflating sleeping pad is a prime example of these qualities, offering a tremendously comfortable sleeping experience at a price that's accessible to everyone. Setup couldn't be simpler: Just roll the sleeping pad out, and it will automatically inflate thanks to its horizontally cored foam filling. A high-flow valve makes it just as easy to put away when you're ready to head home. And if you're on the taller side, you're in luck—because this sleeping pad is also offered in an XL size for a few dollars more.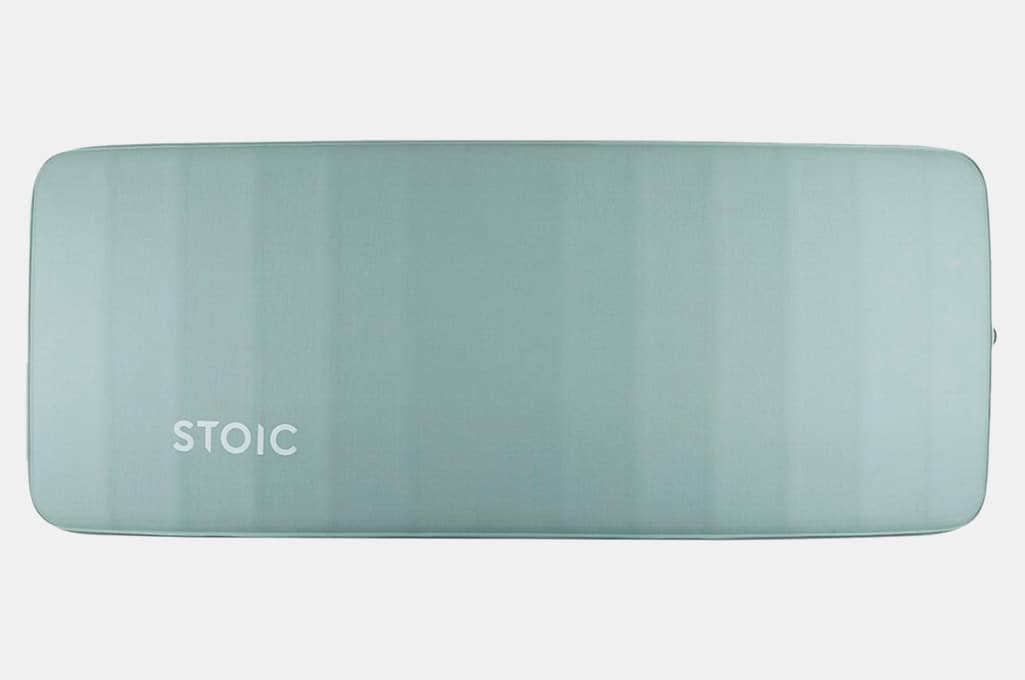 Stoic Single Cloud Camp Bed
Exclusive to Backcountry, the Stoic Single Cloud Camp Bed combines the comfort of a thick mattress topper with the durability of a tarp, making it excellent for sleeping under the stars. The stretchy TPU-coated fabric will keep you comfortable through three seasons, and is water resistant to boot. A high-flow valve makes setup and takedown easy, and the dense foam filling ensures the most comfortable sleep you'll find at this price. And with a limited lifetime warranty, you can be sure that this investment in your comfort will keep you sleeping well for years to come.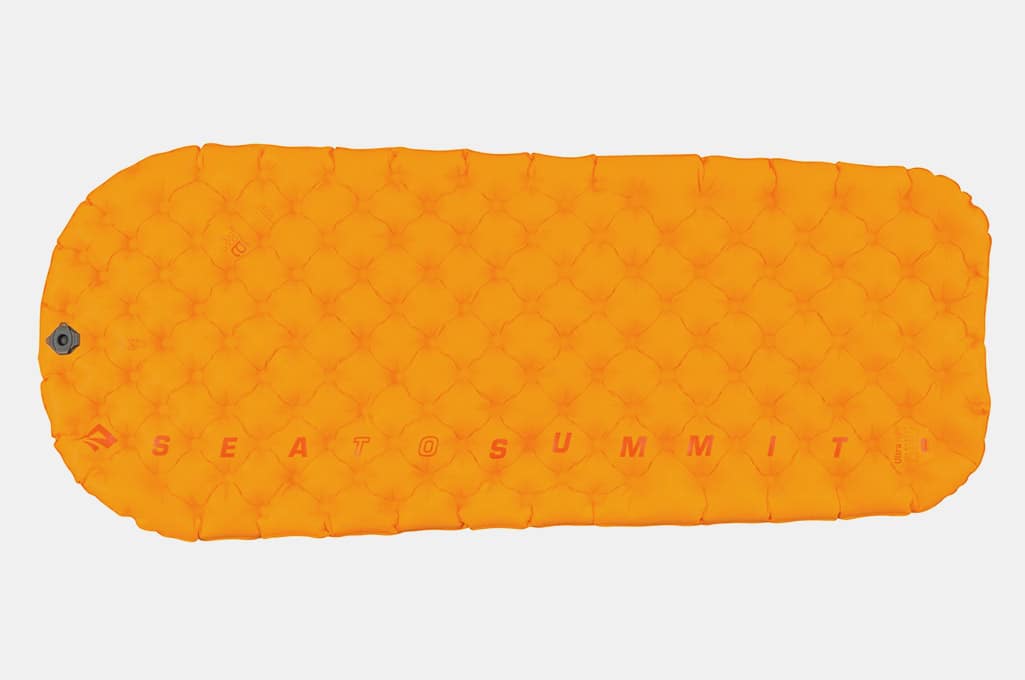 Sea to Summit Ultralight Insulated Air Sleeping Pad
Sea to Summit's Ultralight Insulated Air Sleeping Pad is quite the versatile piece of outdoor equipment. Light enough to take backpacking but comfortable enough to use for car camping, it's a dual investment that will serve you well on any outdoor adventures. The single layer of Air Sprung Cells™ makes it lightweight and easily packable, but provides enough support that your hips won't touch the ground while you sleep. It truly excels at cool to cold weather camping, with an R-value of 3.1 that comes from a combination of Exkin Platinum® fabric and Thermolite® insulation to prevent heat loss like a champ.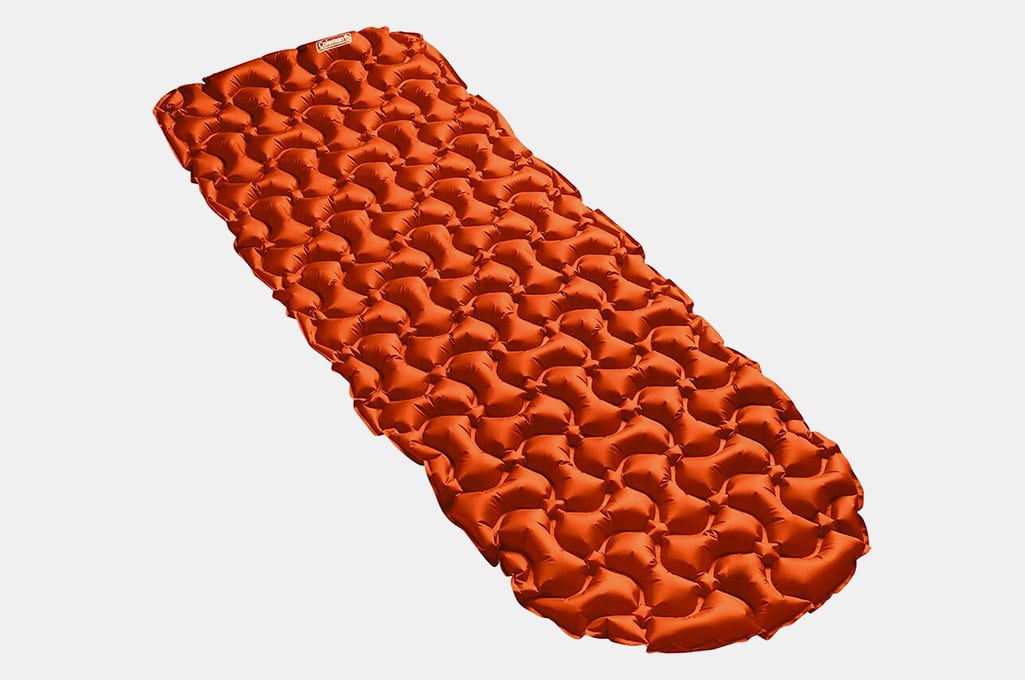 Coleman Kompact Camppad Premium
When storage space is at a premium, Coleman's Kompact sleeping pad is there for you. It packs down super small, self-inflates at your campsite, and has a nested valve that stays out of the way while you're sleeping. The latticework air pocket design makes it surprisingly comfortable too, evenly distributing your weight no matter your sleeping position. But perhaps the coolest thing about this Coleman is how it self-inflates: The same bag you store it away in becomes the pump that adds air to the pad. Very clever, indeed.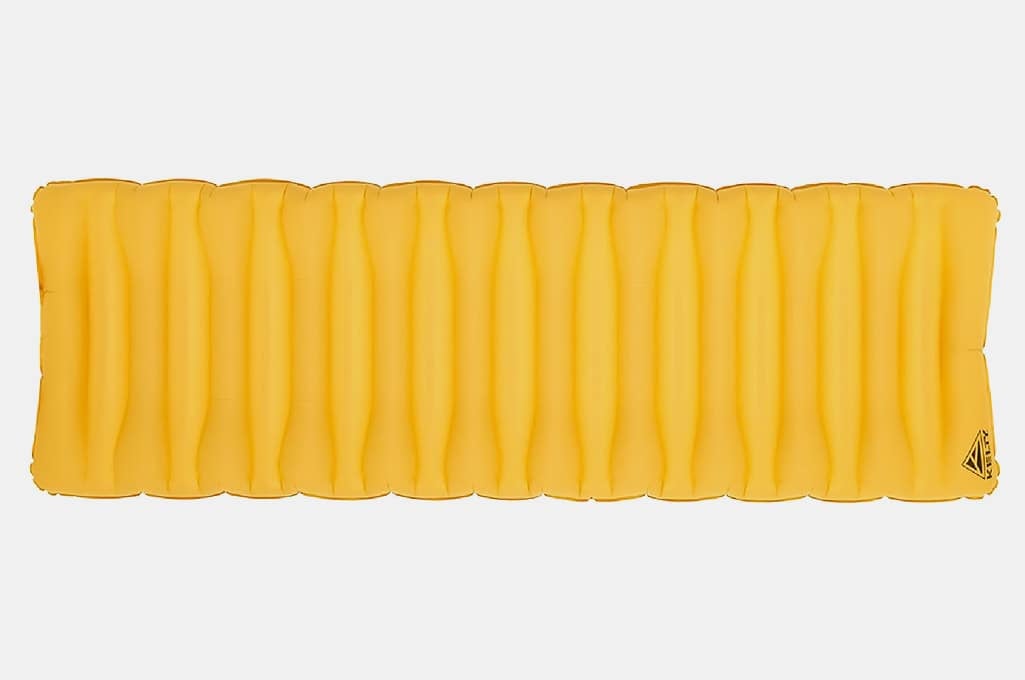 Kelty Galactic Air Sleeping Pad
The most affordable sleeping pad on this list will get you up and out of the house with minimal strain on your wallet. And with three and a half inches of cushy air padding, it's like bringing a full-sized air mattress from home—but so much easier to pack and stow away in its included stuff sack. The only catch: Compared to the other pads on this list, you'll have to do a little more work to get the Kelty set up. It has a high-flow valve that you'll have to inflate using only your lung power.
Therm-a-Rest ProLite Plus Sleeping Pad
If you've had trouble finding your Goldilocks-perfect fit for a sleeping pad, consider Therm-a-Rest's ProLite Plus. It's available in three sizes to accommodate any shape of camper, making it an easily customizable choice for three-season outdoor adventures. The lightweight foam filling makes it easy to compress down for storage, and it almost fully self-inflates when you unroll it—just add a few breaths of air to tune the firmness of the sleeping pad to your liking. Keep in mind, though, that it's made for pairing with a mummy-shaped sleeping bag, and therefore isn't particularly wide.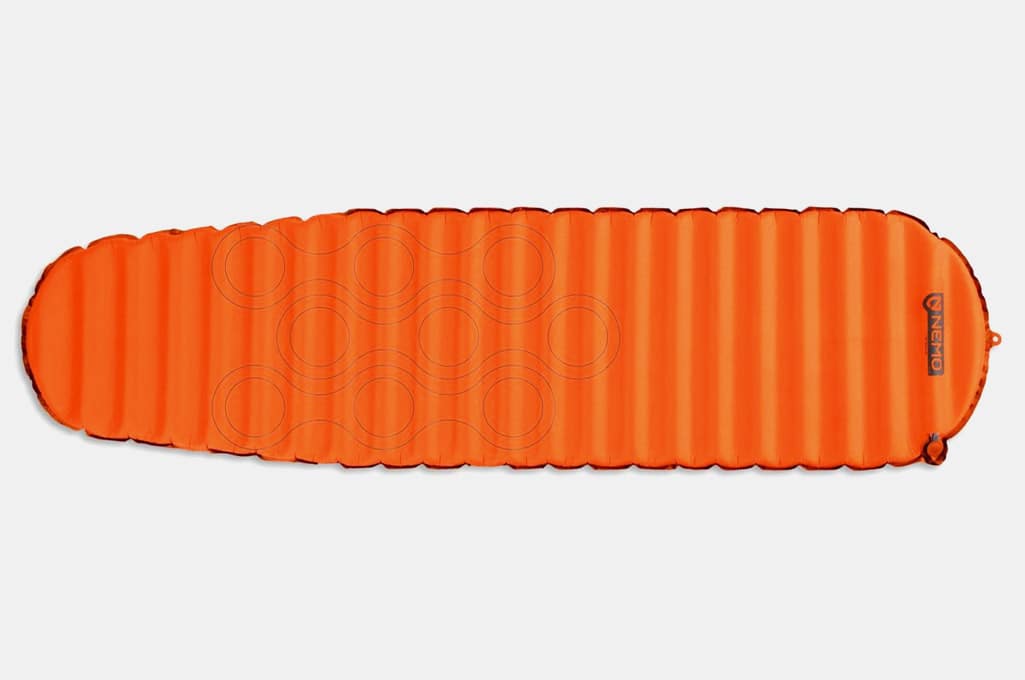 NEMO Flyer Sleeping Pad
When you're looking for a sleeping pad, you'll most often need to choose between a foam pad (comfy but bulkier) or an air pad (lightweight and packable). But what if you could have the best attributes of both in a single sleeping pad? That's what NEMO is doing with their Flyer sleeping pad—using a 3D-sculpted open cell foam combined with a thin inflatable layer to maximize comfort and packability at the same time. And though its hollow cores might make you think this isn't the right choice for chilly nights, think again: It has an R-value of 3.3 that makes it an excellent choice for cool weather camping.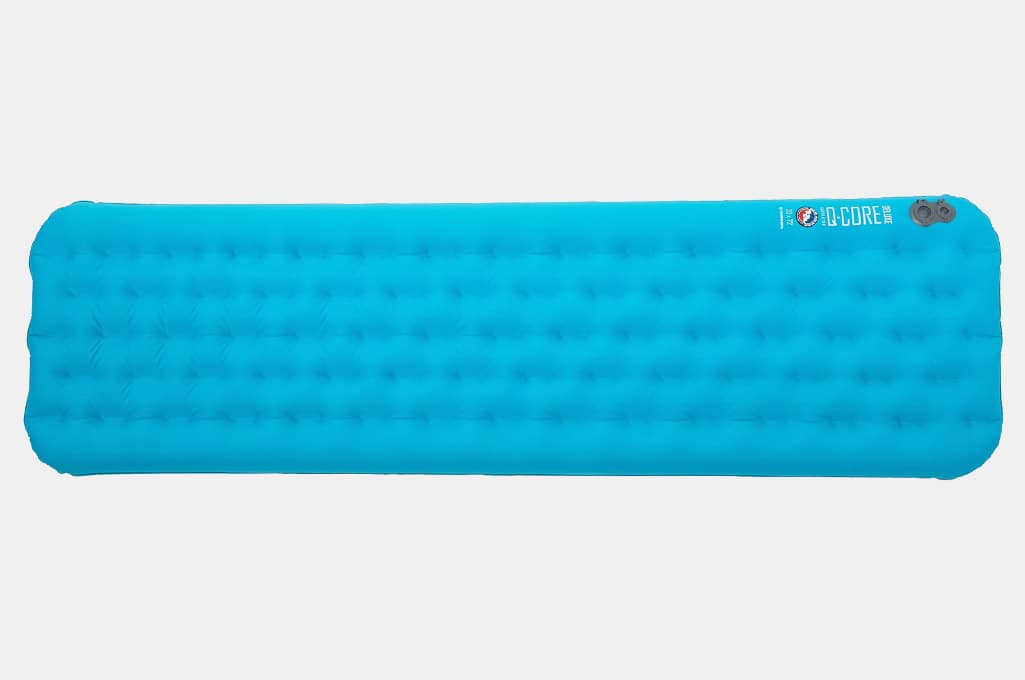 Big Agnes Insulated Q-Core Deluxe Sleeping Pad
With Big Agnes' Insulated Q-Core Deluxe Sleeping Pad, we're getting into the luxury category of single-person pads. Every detail of this pad is built to be the ultimate in sleeping comfort, from the heat reflective insulation to the three and a half inch thick loft to the quiet and stretchy nylon-spandex fabric top. A clever offset I-beam construction makes it much lighter than expected, and provides excellent stability while you sleep. That's all combined with an R-value of 4.3, offering maximum insulation against cold temperatures that will keep you warm and cozy as fall and winter nights set in.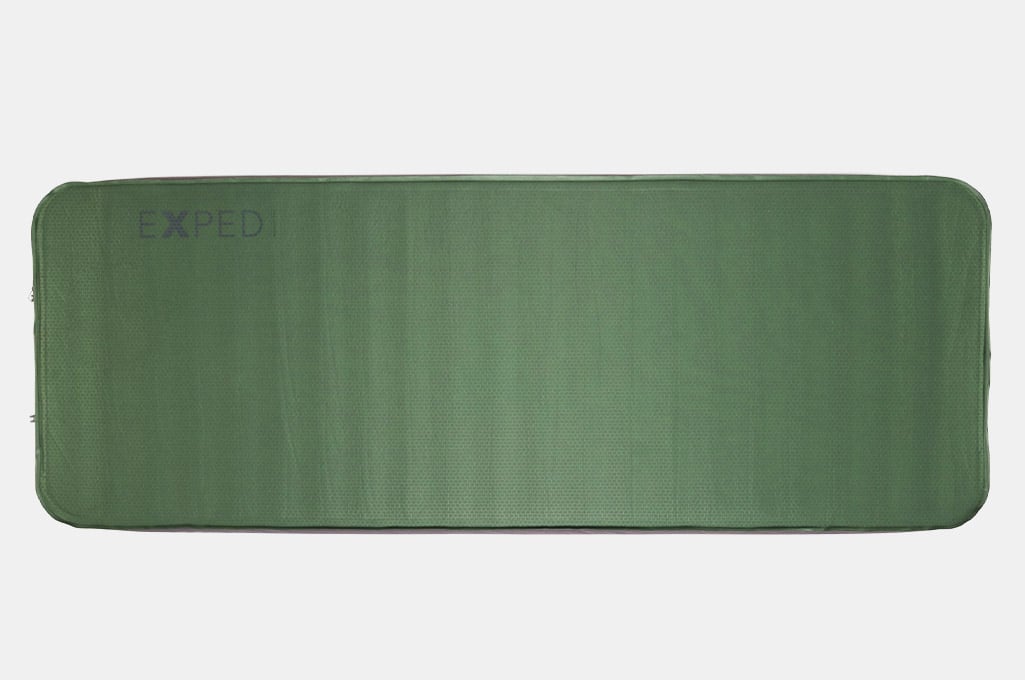 Exped MegaMat 10 Sleeping Pad
When you're ready to get serious about year-round camping comfort, Exped's MegaMat 10 sleeping pad deserves your attention. It's extra wide for all night comfort no matter how much you toss and turn, and has an almost four inch thickness that might make it the most comfortable pad on this list. But that's not where the mega ends for the MegaMat—because it has a huge R-value of 8.1, meaning that you can sleep warm and comfortably straight through the winter. And with easy self-inflation and adjustments via an included minipump, you can fine tune your camping experience to feel like you're sleeping in your own bed.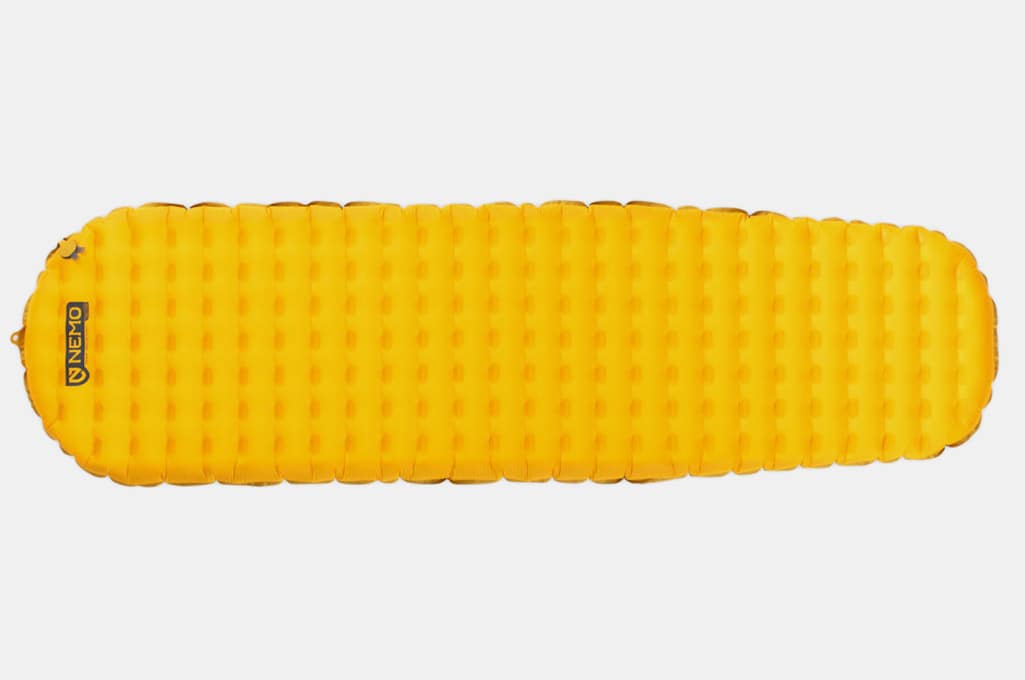 NEMO Tensor Insulated Sleeping Pad
Finding a sleeping pad that's compact and lightweight isn't difficult. Neither is finding one that can protect you from freezing overnight temperatures. But one that can do both? That's truly rare—and it's exactly what NEMO's Tensor sleeping pad offers. The secret is in its double layers of Thermal Mirror™ suspended metalized film, creating a highly heat-capturing system that will keep you comfortable when temperatures dip down to as low as 10 degrees. It's surprisingly comfortable too, with a baffled construction that evenly distributes your weight across the entire pad.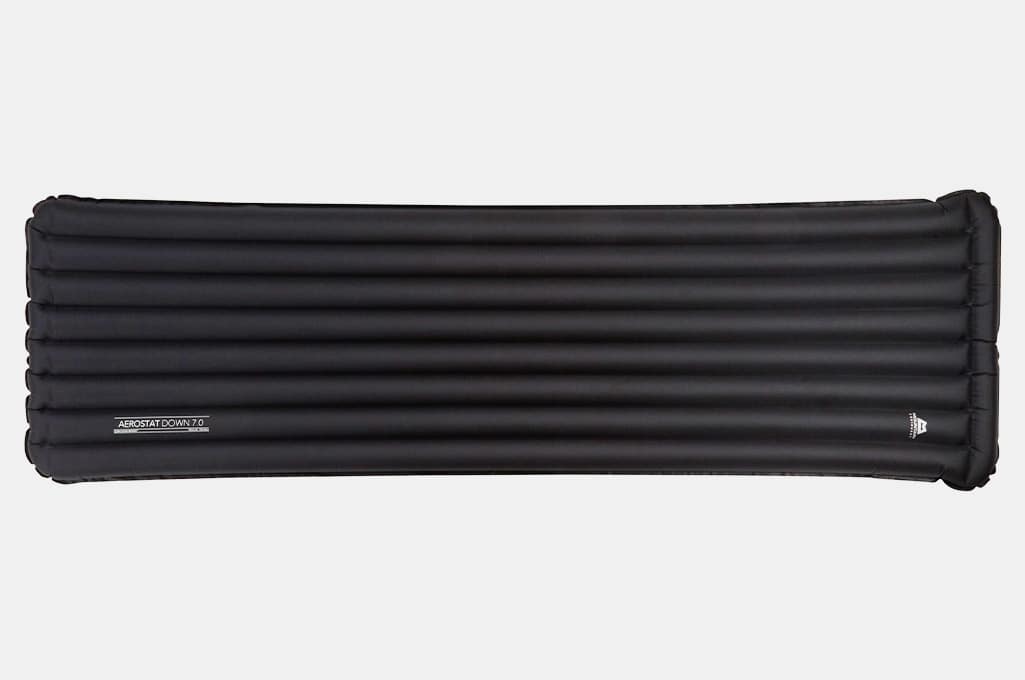 Mountain Equipment Aerostat Down 7.0 Sleeping Pad
For best in class comfort and warmth, Mountain Equipment's Aerostat down sleeping pad is unrivaled. Pure duck down is the gold standard filling for warm, comfortable, insulated sleeping bags. The feathery material provides a natural feel that's impossible to duplicate with synthetic materials—but you rarely see it used outside of sleeping bags. In this nearly three inch thick sleeping pad, you'll reap the benefits of pure 700-fill duck down, giving an excellent R-value of 5.0 that will keep you comfortable through fall and winter camping trips. That's all topped off with a ripstop nylon construction and a convenient stuff sack that transforms into an inflation bag for easy setup and storage.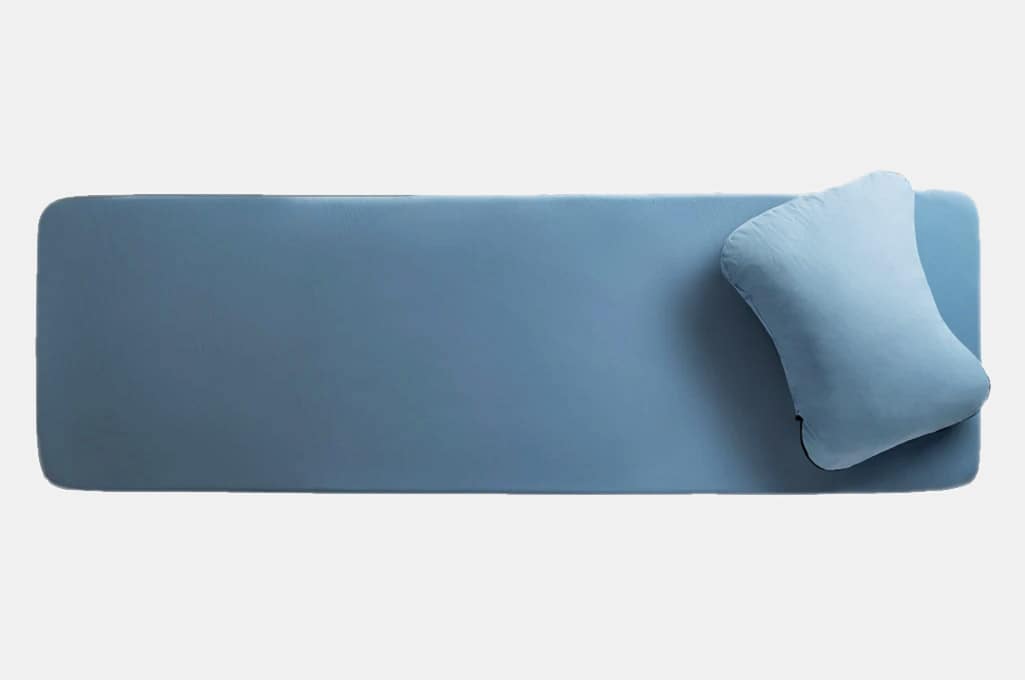 HEST Sleep System Sleeping Pad
Have you ever wanted to take your whole bed with you when you're car camping? I have. But as someone that's tried stuffing their queen mattress into the back of a Jeep one too many times, I can tell you that it's a lot of work. Had I known about the HEST Sleep System sleeping pad, I could have avoided the strain altogether—because this seven inch thick pad is every bit as comfortable as sleeping at home. The two-layer foam construction makes it feel just like a home mattress, and has the double benefit of giving it a massive 11.8 R-value. That means you're set for comfort on your camping trips any time of year, no matter how cold it gets.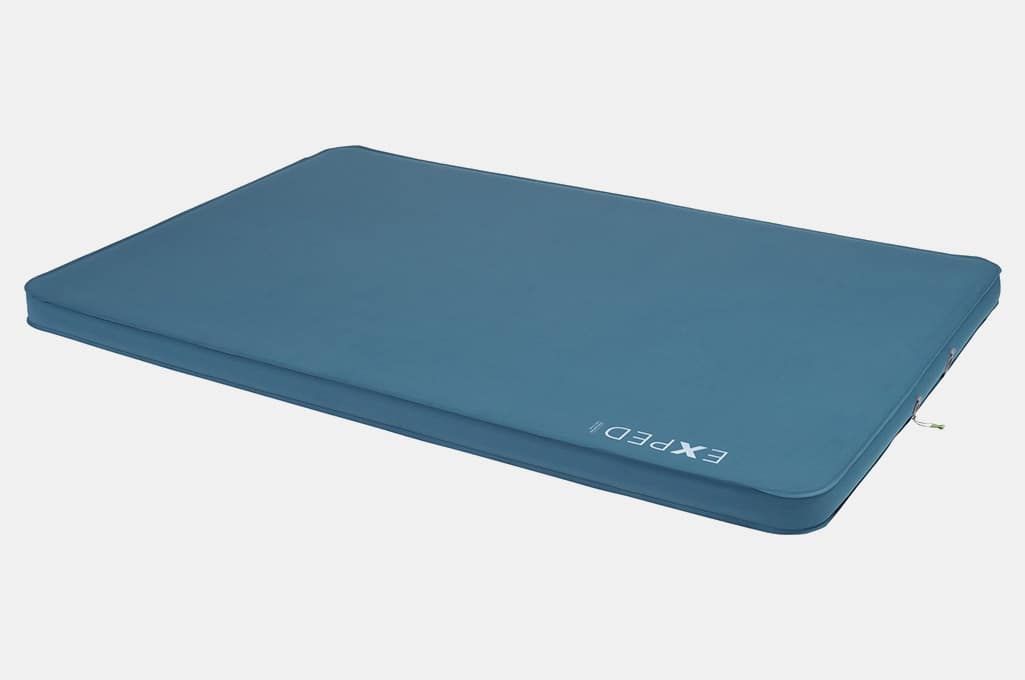 Exped DeepSleep Mat 7.5 Duo Sleeping Pad
A solo car camping trip is good for the soul—but bringing a date to the great outdoors can be just as good for the heart. If your idea of a perfect date involves falling asleep under the stars, upgrading to a double-sized sleeping pad like Exped's DeepSleep is an excellent investment. The three inch open cell foam padding makes it extra plush and comfortable, with a great 8.5 R-value that encourages you to cuddle up and get cozy with your date. That's all topped off with a brushed 75-denier fabric that's soft against the skin and quiet while you're sleeping, making this an excellent choice for evening activities, too.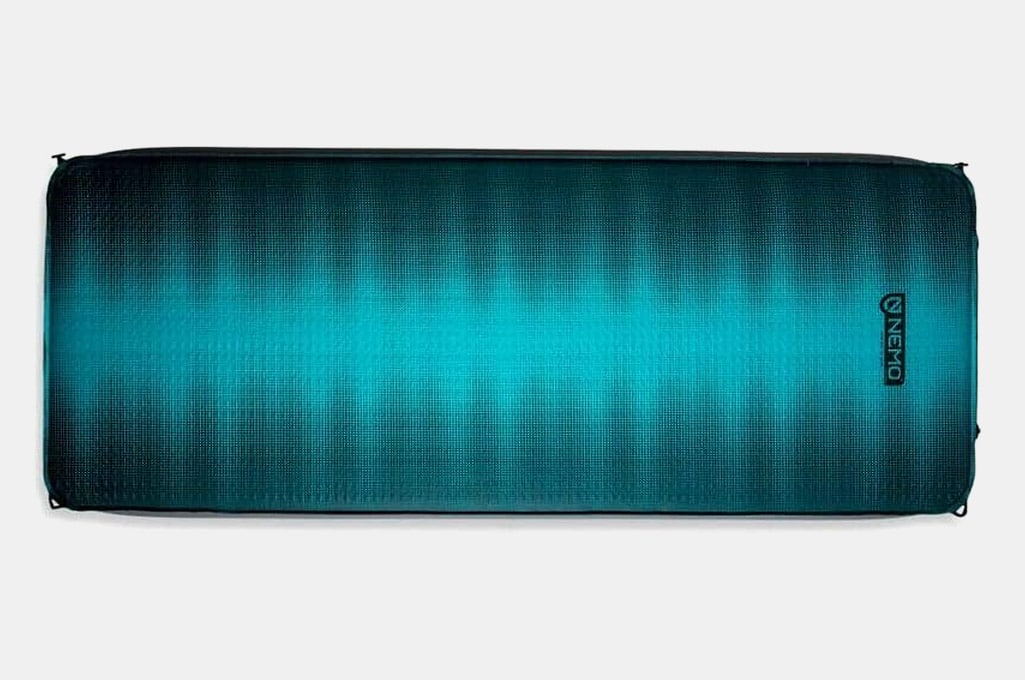 NEMO Roamer Double Sleeping Pad
The largest and thickest double sleeping pad available on the market, NEMO's Roamer is an ideal choice for a couple that loves car camping trips. Offering four inches of open cell foam thickness, it's crazy comfortable and spacious enough for two people to sleep soundly through the night. A clever interior construction provides easy airflow channels, making the work of setting this up with the included inflation sack fast and easy. Once you stow one of these away in the back of your car, you'll be ready to head out for an overnight trip whenever you want.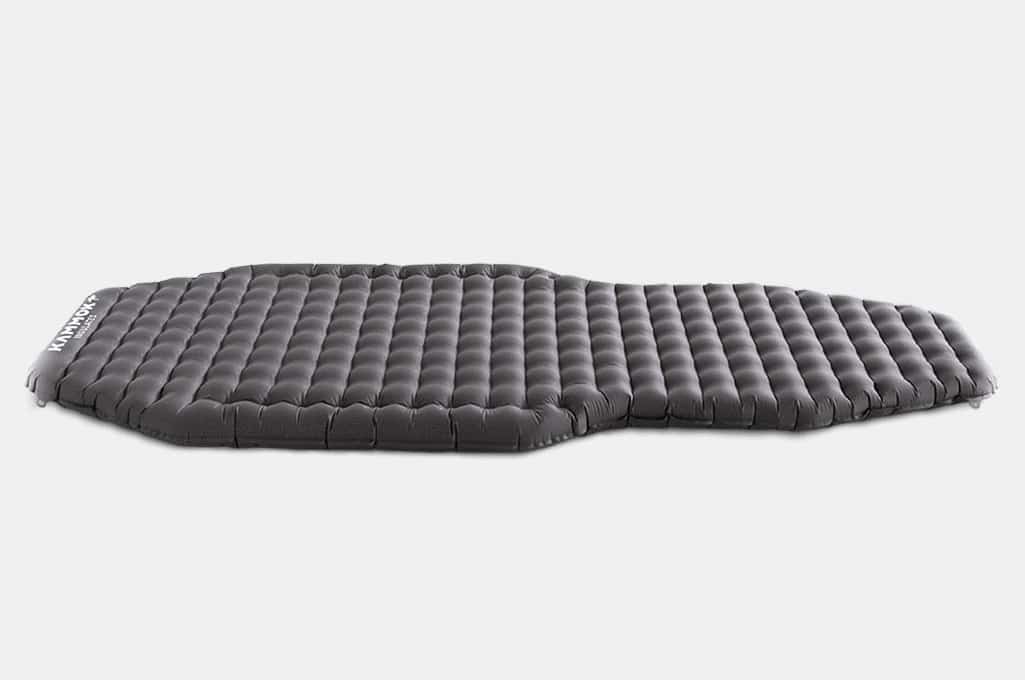 Kammok Insulated Pongo Pad
Having spent two years of my life as a hammock camper, I'd be remiss not to include Kammok's unique Pongo Pad. Shaped specifically for hammock camping but comfy enough for setting up on the ground, it works as an excellent middle option for car campers. You can lay it down in the back of your car for a cushy three inch sleeping pad, or use your car as one anchor point to sling a hammock and sleep fully under the stars.
Disclosure: Clicking on these links and making a purchase may earn us a small referral fee, at no extra cost to you. Learn more here.
freestar.config.enabled_slots.push({ placementName: "gearmoose_leaderboard_btf", slotId: "gearmoose_leaderboard_btf" });