The 12 Best Tactical Gloves
From tactical knives and weapons, pens, and flashlights to the backpacks to carry it all in, tactical gear has been updated many times over to keep up with the rising demands of soldiers in the field, those patrolling the streets, and civilians looking to stay prepared or update their existing tactical everyday carry. So it's no surprise that tactical apparel has kept up with it's hardware counterpart — tactical gloves in particular.
While there are many options to choose from — tactical gloves, combat gloves, shooting gloves, duty gloves, etc. — the best tactical gloves on the market right now offer unparalleled protection in the field while allowing the wearer to maintain complete dexterity and grip on the equipment they operate. We won't judge you for picking up a knockoff brand of gloves from your nearest discount big box store, but for those who take their tactical gear seriously, we've curated this list of the best tactical gloves for work, play, and everything in between.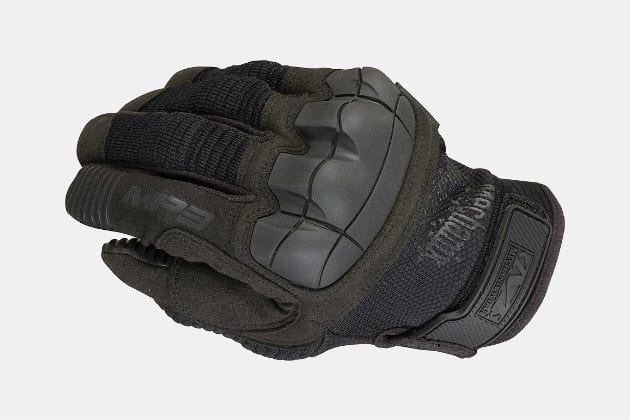 Mechanix M-Pact 3 Covert Combat Gloves
Thanks to a single-piece, impact-absorbing knuckle guard made from thermoplastic rubber, the Mechanix M-Pact 3 Covert gloves are just as at home in combat as they are on patrol in an urban metropolis. EVA padding also protects the outside of the fingers and thumbs from day-to-day impacts, while a reinforced palm and fingertips provide a superior grip on equipment while resisting abrasions and wear-and-tear in the field. For less than $40, you're getting a pair of all-purpose tactical gloves that provide complete hand protection in any environment while maintaining adequate dexterity. – Buy It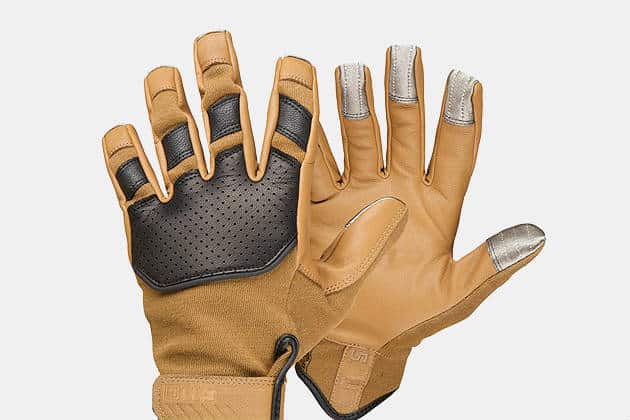 5.11 Screen Ops Tactical Gloves
5.11 has been in the tactical gear game for a while now, and while their knives and boots often leave something to be desired, their pants and tactical gloves are typically on point. Consider the brand's Screen Ops Tactical Gloves for your next purchase if your smartphone spends more time in your hands than in your pocket.
That's right, this pair is touchscreen compatible, which means you can answer phone calls, texts messages, and update your Facebook status at the firing range or while on duty without ever taking these gloves off. And while touchscreen compatibility no doubt sets them apart from other tactical gloves on this list, there's more to them than that.
A seamless goatskin palm means better weapon handling — be it a Sig Sauer P238 or an AR-15 — than comparable gloves at this price point. They're also crafted from a Kevlar knit fabric that renders them resistant to slashes from an assailant's knife and from direct flame impingement. They are, however, not firefighting gloves. So keep them off of the fire truck if you happen to fight fires for a living. – Buy It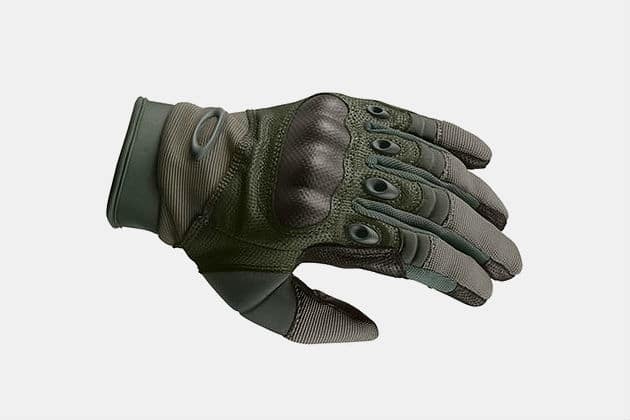 Oakley SI Assault Gloves
If you though Oakley was only a purveyor of sunglasses, bags, and other sports equipment, think again. These all-purpose tactical gloves prove that the brand has expanded their reach to those working in the field.
The feature-rich SI assault gloves include a reinforced leather palm vented for adequate air flow, carbon fiber knuckle plating for rugged impact protection while working, extra surfacing on the palms and fingers for a superior grip, and rubber exhaust ports for maximum breathability. Wear them while on duty or while completing your next DIY home project, and they'll give you the same trusted performance that you've received for years from your favorite pair of Oakley sunglasses. – Buy It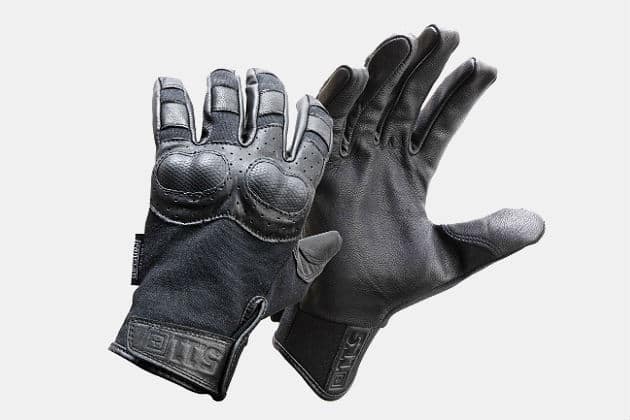 5.11 Tactical Hard Time Gloves
Kevlar, reinforcement, and thermoplastic plating. These are just a few reasons why these mission-ready gloves were designed specifically for operators in the harshest environments both overseas and stateside. Along with rugged knuckle plating and a Kevlar knit construction, the Hard Time Gloves feature 5.11's trademarked TacticalTouch fingertips for superior dexterity while handling firearms and other equipment, along with reinforced finger joints and a seamless goatskin palm. – Buy It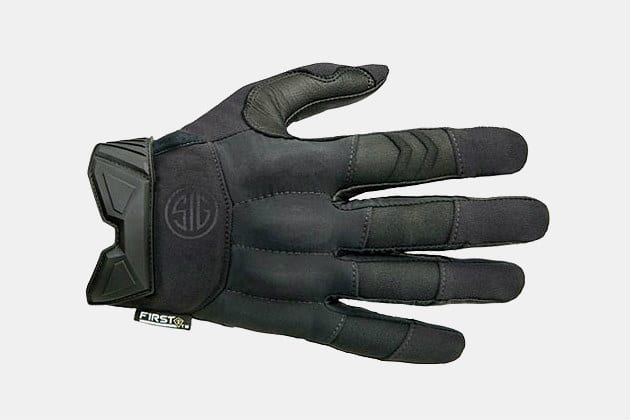 Sig Sauer Tactical Gloves
From their easily-concealable P238 pistol to the revered 1911, we're big fans of Sig Sauer pistols. We're also fans of Glock Safe Action Pistols. To put the issue to rest, we find it perfectly acceptable to be fans of both.
For lengthy sessions at the shooting range running countless boxes of FMJ ammo through your collection of Sig Sauer pistols, consider donning the Sig Sauer Tactical Gloves. They're made in collaboration with First Tactical and feature superior mobility at the shooting range, reinforced neoprene padding throughout, and a trademarked TouchPoint fingertip design for exceptional dexterity. – Buy It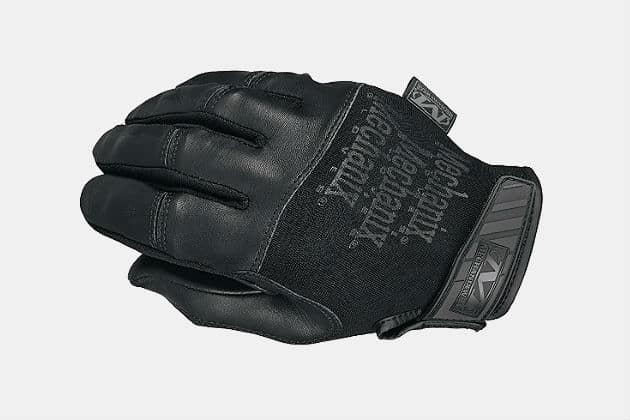 Mechanix Recon Tactical Shooting Gloves
Mechanix Work Wear lands on this list again, this time in the form of the Recon Tactical Shooting Gloves. As the name suggests, these gloves are most at home at the shooting range, and also provide law enforcement officers with superior hand protection out in the field while responding to calls and making arrests.
Three-dimensional patterning allows the Recon Tactical Shooting Gloves to conform to the curves of the hand, and — similar to the 5.11 Screen Ops Gloves mentioned above — they're touchscreen compatible thanks to hair sheep leather implemented into the fingers and palm that also provides plenty of dexterity.
Additional features include a thermoplastic rubber closure for a secure fit and flex points throughout for improved finger mobility. Wear them while patrolling the streets, on your next covert training mission, or at the shooting range. They're quite versatile enough for all three. – Buy It
Outdoor Research Ironsight Gloves
Outdoor brand Outdoor Research does leaves nothing to be desired when it comes to outdoor gear and hiking apparel. And although their tactical gloves are an often overlooked item from their store, we'd be remiss if we didn't mention the Ironsight Gloves here.
Where the Ironsight Gloves really truly is their grip and tactility thanks to a durable yet dexterous synthetic leather construction and anti-slip silicon grip pads on the palms and fingers that provide a superior grip while handling your pistol, taking notes in the field with your tactical pen of choice, or apprehending a perpetrator. They also dry fairly quick, should your work take you into inclement weather and back. – Buy It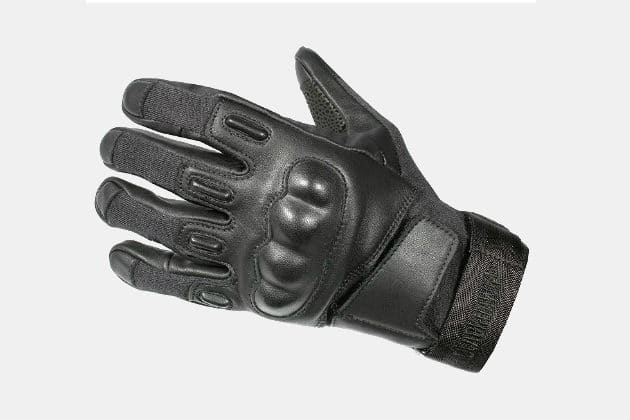 Blackhawk S.O.L.A.G. HD Tactical Gloves
Blackhawk manufactures some of the toughest tactical gear on the market — be it flashlights, holsters, pants, or backpacks — so it makes perfect sense that we mention their S.O.L.A.G. HD Tactical Gloves on this particular list.
The HD in the glove's name stands for heavy duty, and that's a pretty accurate description of them. Designed for tactical operations — like most Blackhawk gear — the S.O.L.A.G. HD Gloves boast dual-layer leather in the palm and fingers for rugged durability while working along with your choice of either NOMEX or Kevlar everywhere else for flame protection should a situation get heated (pun intended) in the field.
Additional features include topside protection of the knuckles and fingers via a molded hard shell covered in leather and a lanyard loop for attaching to the rest of your tactical ensemble when not in use. – Buy It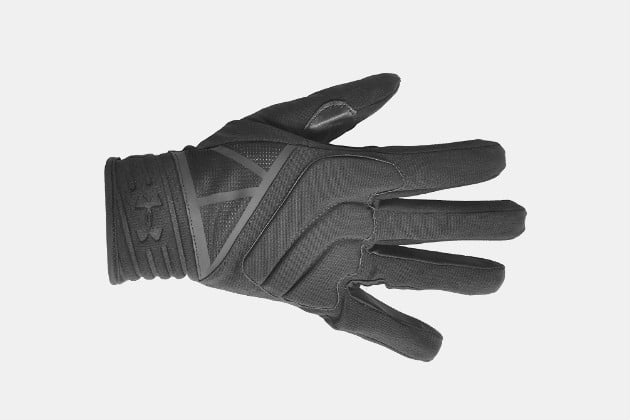 Under Armour Tactical Duty Gloves
Sports and outdoor brand Under Armour has dabbled in the tactical game — albeit on a micro level — for several years, and their small yet worthy collection of tactical gloves never seem to stay in stock for long. Perhaps the best pair of tactical gloves by the brand is their Tactical Duty Gloves.
Compared to the rest of this list, these touchscreen-compatible UA gloves offer the most streamlined fit and are crafted from synthetic leather with a neoprene cuff. And while padding on the back of each pair provide adequate protection from the occasional impact from whatever you may encounter on your shift, they don't necessarily look overly tactical in appearance. That makes them a safe bet for wearing just about anywhere — both on duty and off. – Buy It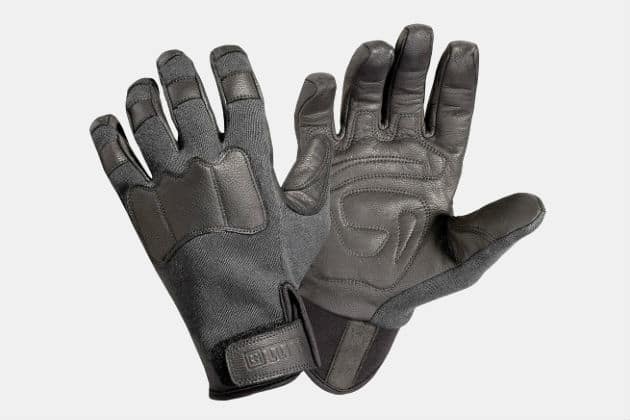 5.11 Tactical Tac AK2 Gloves
The third and most wallet-friendly pair of 5.11 Tactical gloves to make this list are the Tac AK2 Gloves. If you're looking for a pair that are functional enough for everyday wear and you aren't looking to enter any combat zones any time soon, then the Tac AK2 Gloves are a sensible choice.
The flash and slash resistant Kevlar knit fabric is reason enough to buy them, but if you want more, then we'll give you more. 5.11's trademarked TacticalTouch design provides superb dexterity at the fingertips for better weapon handling, while a padded palm, reinforced knuckles and reinforced finger joints won't leave you crying uncle when things get heated while you're pulling riot duty. Or perhaps we've watched Police Academy one too many times. – Buy It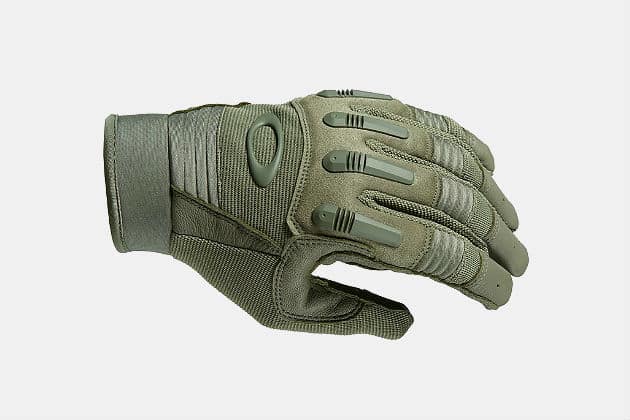 Oakley Transition Tactical Gloves
If Oakley's tactical gloves are half as tough as as their sunglasses — this author still has the same pair purchased over a decade ago despite sitting on them repeatedly — then you should add the Oakley Transition Tactical Gloves to your gear collection immediately.
They're built for activity — whether that is work or play — thanks to extra suede paneling throughout and molded and welded TPR knuckle protection for ultimate impact protection from heavy equipment or the face of someone attempting to harm you. Additional features include airprene and lightweight ribspan paneling integrated into the design for extra protection and unparalleled comfort, and touchscreen compatibility. – Buy It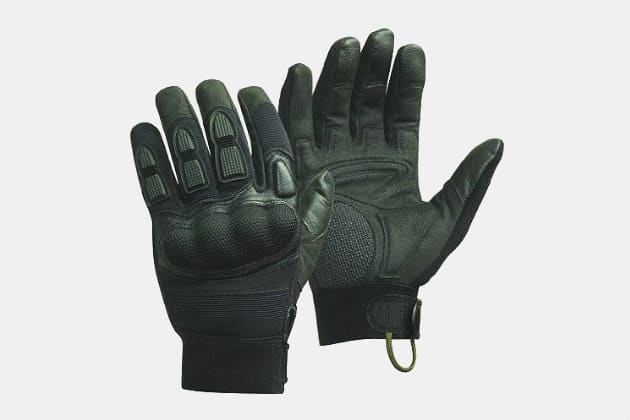 Camelbak Magnum Force Tactical Gloves
Surely you've heard of Camelbak. They've provided hydration to millions via their hydration packs that fit intuitively in your backpack of choice or in a Camelbak hydration backpack all their own. And their Magnum Force Tactical Gloves are just as functional.
They feature everything an operator would want in their field gear — Kevlar-reinforced hard knuckle protection, abrasion-resistant palms, a rugged but breathable synthetic construction, EVA foam trigger finger protection, and fingertips that are tacky enough to perform other tasks that don't include emptying a .45 caliber magazine — in one sleek design. What else do a pair of tactical gloves need? – Buy It
Disclosure: Clicking on these links and making a purchase may earn us a small referral fee, at no extra cost to you. Learn more here.
freestar.config.enabled_slots.push({ placementName: "gearmoose_leaderboard_btf", slotId: "gearmoose_leaderboard_btf" });