The 15 Best Tactical Boots for Men
Taking their cues from the needs of military and law enforcement professionals, tactical boots are often function-over-form to an extreme. Their tough as nails looks aren't just for show—they're built to last for the long haul.
The best tactical boots for men, though, offer more than just bulletproof construction and efficient design. They'll also look good taking you from point A to point B, and often end up being extremely comfortable after you take a little time to break them in.
For this guide, we've collected 15 pairs of the best tactical boots out there, from big names you already know (like Nike and Reebok) as well as smaller outfits that you'd do well to acquaint yourself with (GoRuck, Danner, 5.11). That includes a full range of size and closure styles—but if you're looking for a particular height or zip style there's a good chance that one of these brands offers it as an additional option, so don't be afraid to dig a little bit to get to the really good stuff.
GoRuck MACV-1 Rucking Boots
When you're looking for truly tactical gear with a stylish edge—the kind of stuff that's as home in Bahrain as it is in Bloomington, Indiana—GoRuck's line of American-made gear should be your first stop. Their MACV-1 Rucking Boots are directly inspired by a legendary piece of combat gear: the Vietnam-era jungle boot. They've been upgraded with full grain leather, and paired with 1000D Cordura nylon for a fine-tuned combination of flexibility and durability. And thanks to their wide toe box and bendy rubber outsole, the MACV-1s feel ready to rock right out of the box. They're available in either mid or high coverage, too.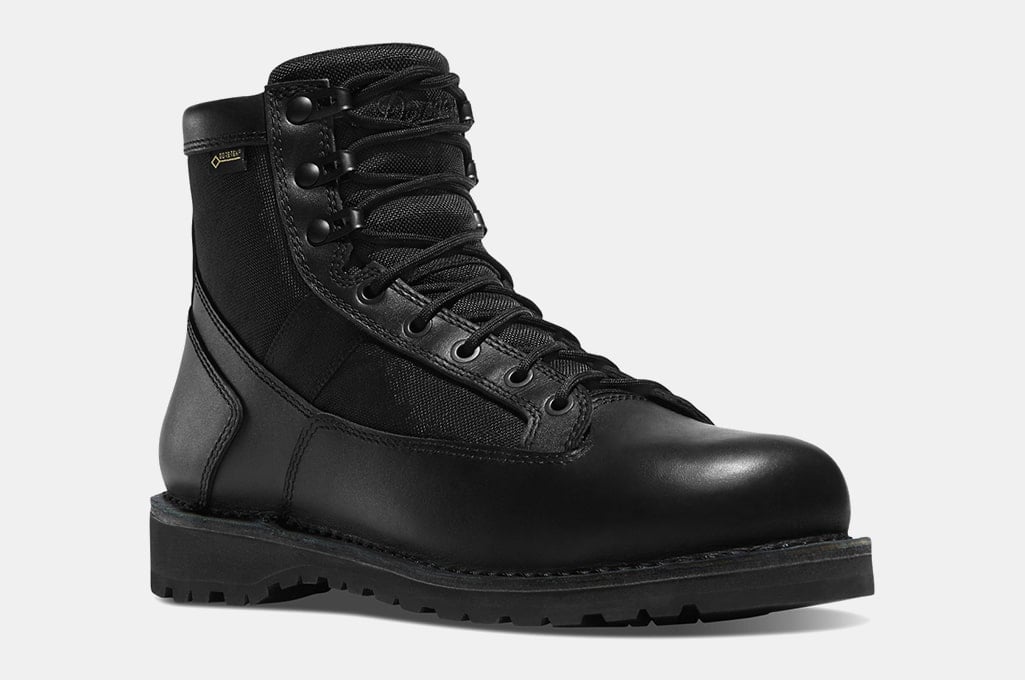 Danner Stalwart Tactical Boots
If there's one real thorn in the side for the buy-it-for-life community, it's this: No pair of shoes is actually going to last your entire lifetime. There are highly regarded boots in the $500 price range that can last for a decade or so, but they're few and far between these days. But this problem is exactly why I keep going back to Danner's boots time and time again: They're made with the assumption that yes, in fact, shoes do wear out. But they shouldn't wear out fast, and they should be able to be rebuilt when the time comes. Get one pair of their Stalwart Tactical Boots (in either six or eight inch heights, with or without a zipper), and you'll be able to have a perfectly broken-in pair of tactical boots for the rest of your life.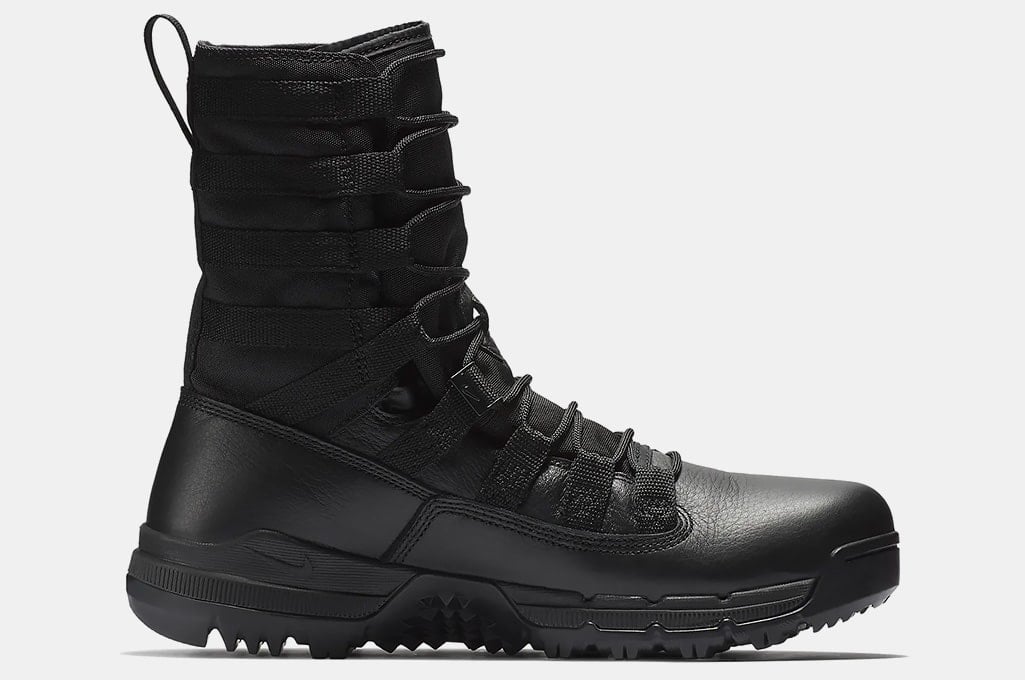 Nike SFB Gen 2 8″ GORE-TEX Boots
The Big Swoosh probably isn't the first name you think of when it comes to tactical gear, but their SFB Gore-Tex Boots are a serious contender in the field. They're some of the most aggressively fitted boots you'll find, with an extremely snug lacing system that provides a lot of support around the ankle. In any other boot, that would feel restricting—but Nike's Free tech equipped flexible outsoles give the SFBs enough movement to keep them from pinching. That's all paired with a powerful multi-directional grip pattern on the soles, allowing for traction on any surface.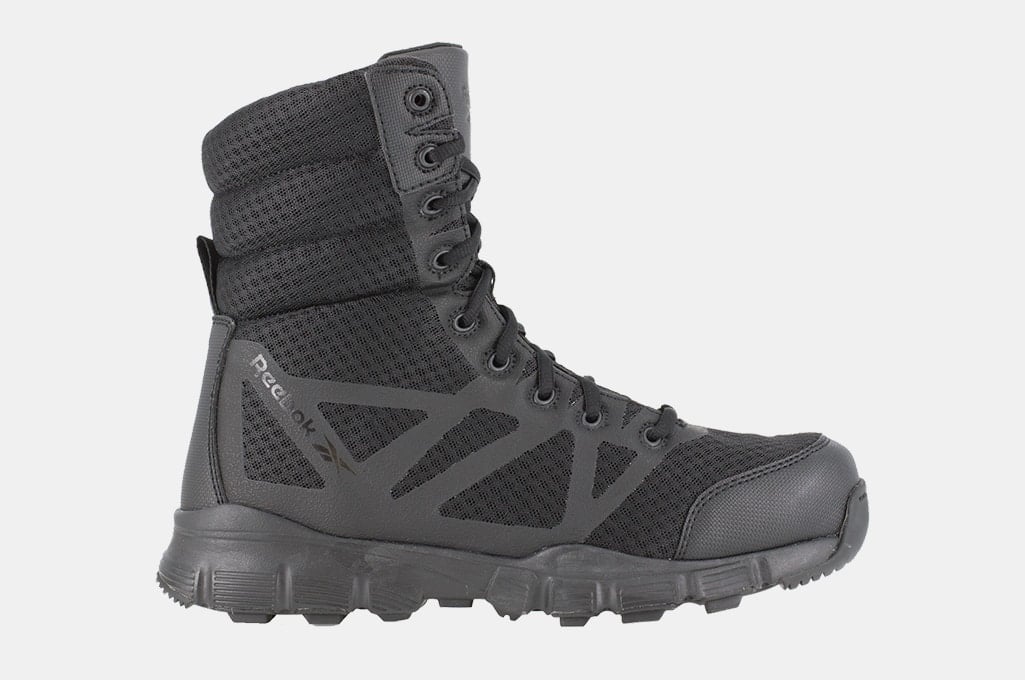 Reebok Dauntless Ultralight Tactical Boots
Made for guys who are working on their feet all day, Reebok's Dauntless Ultralight Boots take all the benefits of tactical footwear—multipurpose versatility, foot and ankle support, high traction outsoles—and put them into an exceptionally lightweight package. Their moisture-wicking micro mesh uppers and lining keep these boots cool and comfortable, and an injected EVA footbed gives them more cushion than almost any other boot in this category. In short, if you want tactical looks with a more foot-friendly feel, Reebok's Dauntless Tactical Boots are an excellent choice.
Under Armour Micro G Valsetz Tactical Boots
As a general rule, "comfort" and "tactical" don't necessarily go hand-in-hand. But just because most combat boots aren't made for comfort doesn't mean that it's impossible. Under Armour's Micro G Valsetz Tactical Boots are a great example: They have the rugged look and feel of a great tactical boot, but lightweight synthetic construction and cushy foam midsole make them light and easy on your toes and arches. But the Valsetzes don't skimp on function, either—they have quick change loops at the heel and tongue, and high traction rubber outsoles for maximum stability.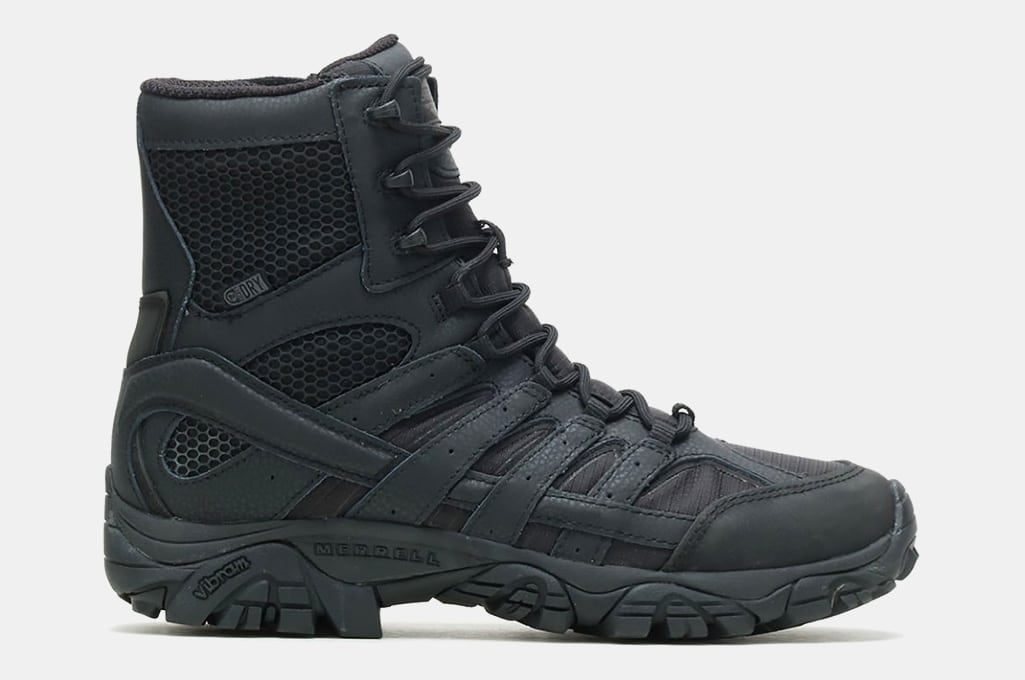 Merrell Moab 2 8″ Tactical Waterproof Boot
If you want a lightweight and easygoing boot, look elsewhere—because Merrel's Moab 2 Tactical Boots are about as heavy duty as they come. But even at an average weight of over two and a half pounds per pair they're impressively versatile, easily doubling as work boots and hiking boots at a moment's notice. Full waterproofing is paired with a breathable inner membrane, letting out just the right amount of moisture to keep your feet comfortable and dry all day long. They're one of only a few tactical boots that's available in a wide width too, which is a great solution for people who find most tactical boots too restrictive.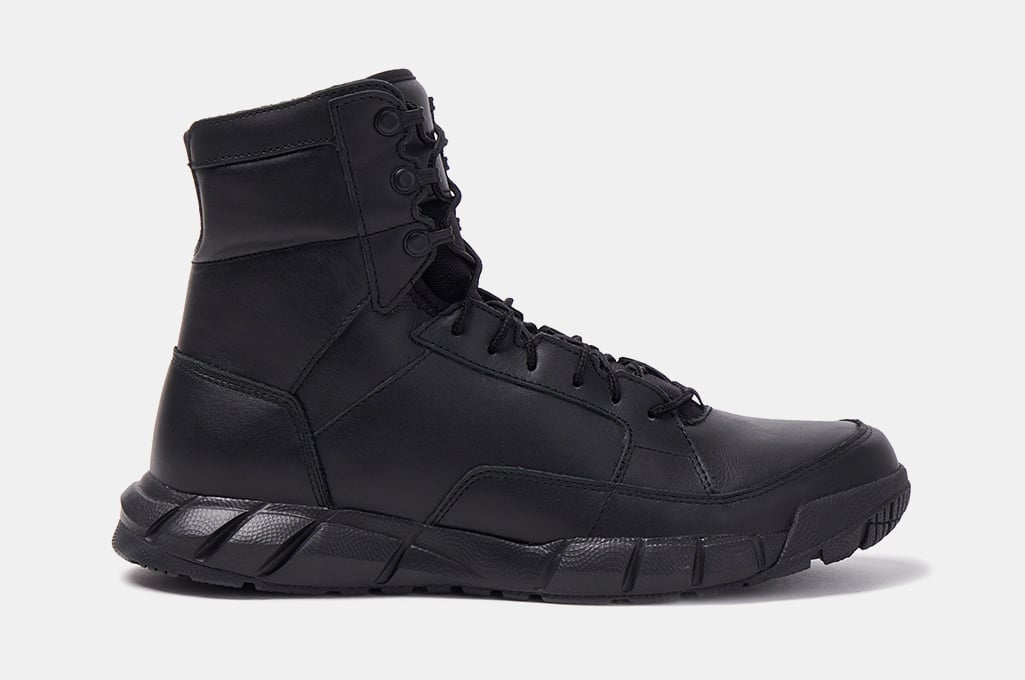 Oakley Light Assault Boot
Designed with on-duty military and law enforcement officials in mind, Oakley's Light Assault Boots are an exercise in simplicity. Their flat black facades are made entirely of leather, giving them both long-lasting durability and the ability to take a good polish. An injected EVA midsole is paired with a molded insert to provide great arch support, and the rubber outsoles are slip-resistant for added stability. Put that all together with a speed lacing system for quick ons and offs, and you have an excellent boot for everyday and professional wear alike.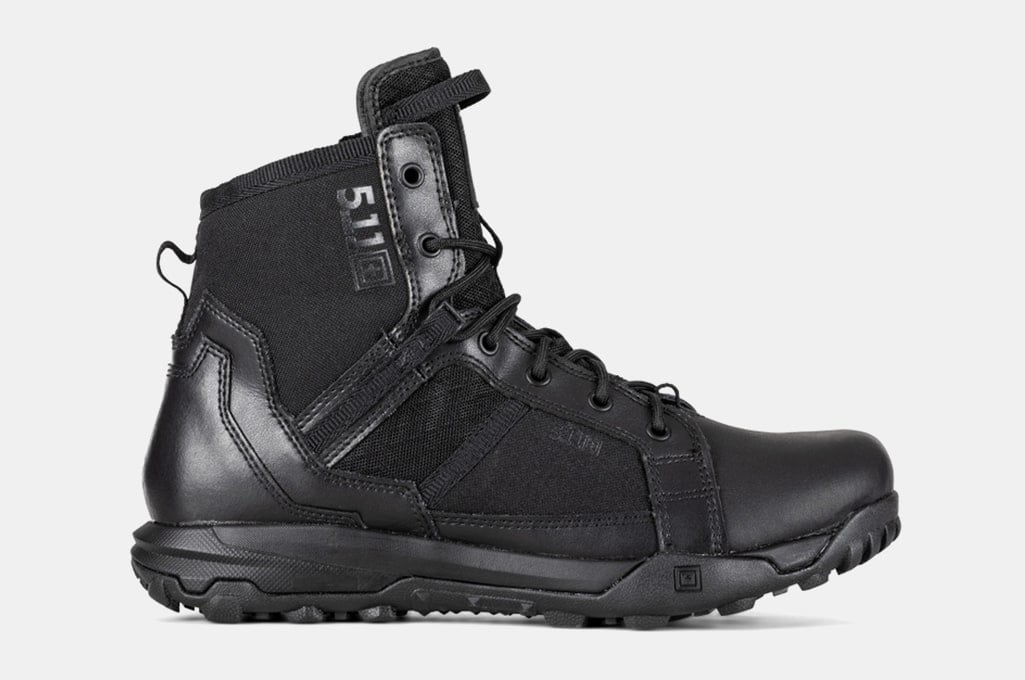 5.11 A/T Side Zip Boot
5.11 is another smaller name in the shoe business that you should definitely know when you're looking for tactical gear. Their A/T Side Zip Boot is built around their core technology: The All Terrain Load Assistance System (A.T.L.A.S.). In simple terms, this means that the entirety of the shoe is designed to be able to carry serious weight, all while providing your feet, knees, and ankles with the support they need to keep going. So if you carry a pack, a tool belt, or your construction materials around with you all day, consider getting this boot that's tailor made to put a spring in your step.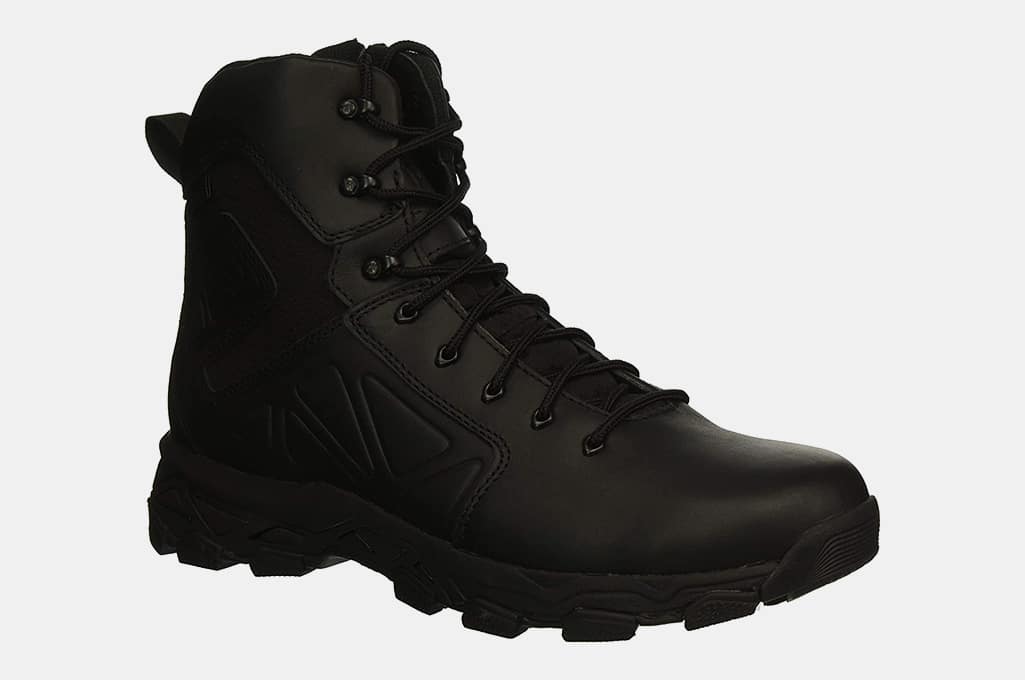 Irish Setter Men's Ravine Tactical Boot
Though they're not always easy to find a pair of, Irish Setter's Ravine Tactical Boots are well worth seeking out for law enforcement or emergency services professionals and others who want to keep their all-blacks nicely polished. Their leather uppers are paired with synthetic stabilizers around the heel to give extra support while still keeping a rich look and feel. And between a slip-resistant rubber outsole, waterproof membrane, and quick-drying lining, these boots are guaranteed to keep you and your feet safe and dry.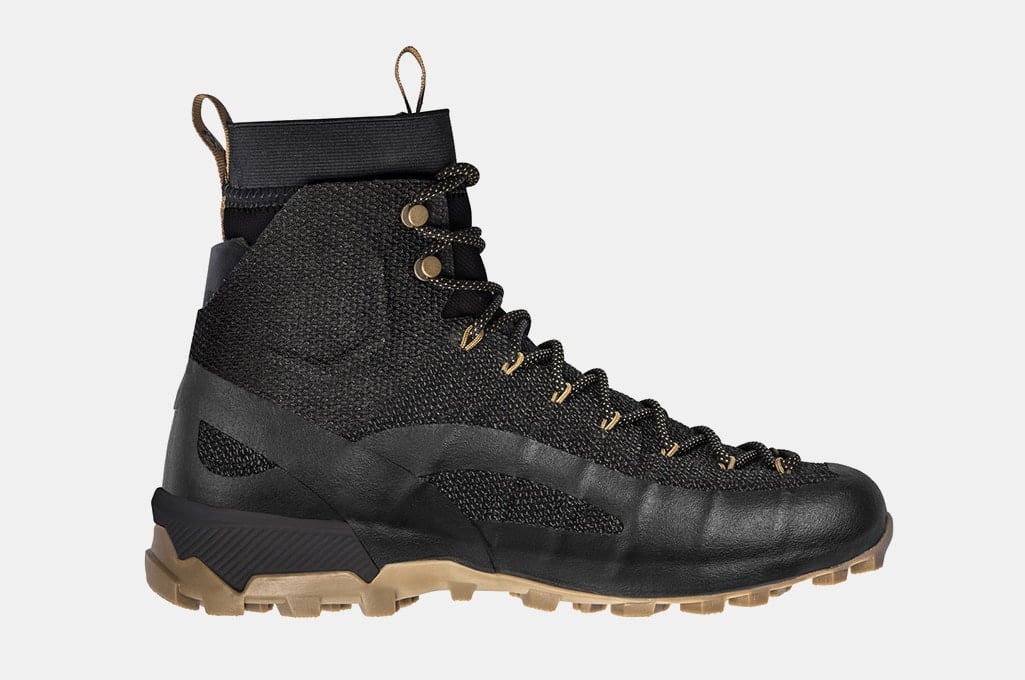 Naglev Combat WP Boots
The only boots in this review not to feature an all-black or all-khaki design have, in fact, a bit of both colors. This may remove Naglev's Combat WP Boots from the running for best work boots for LEOs, but their exceptional technical specs should be enough for anyone else to give them a second look. The trick here is in the unique two-piece construction for Naglev's boots: The outer shell is made from a single piece of kevlar for maximum durability, while the inner boot is made entirely from wool that's paired with a breathable waterproof membrane. That gives them the best combination of durability and comfort that you're going to find in just about any pair of boots, let alone a pair that's fit for tactical use too.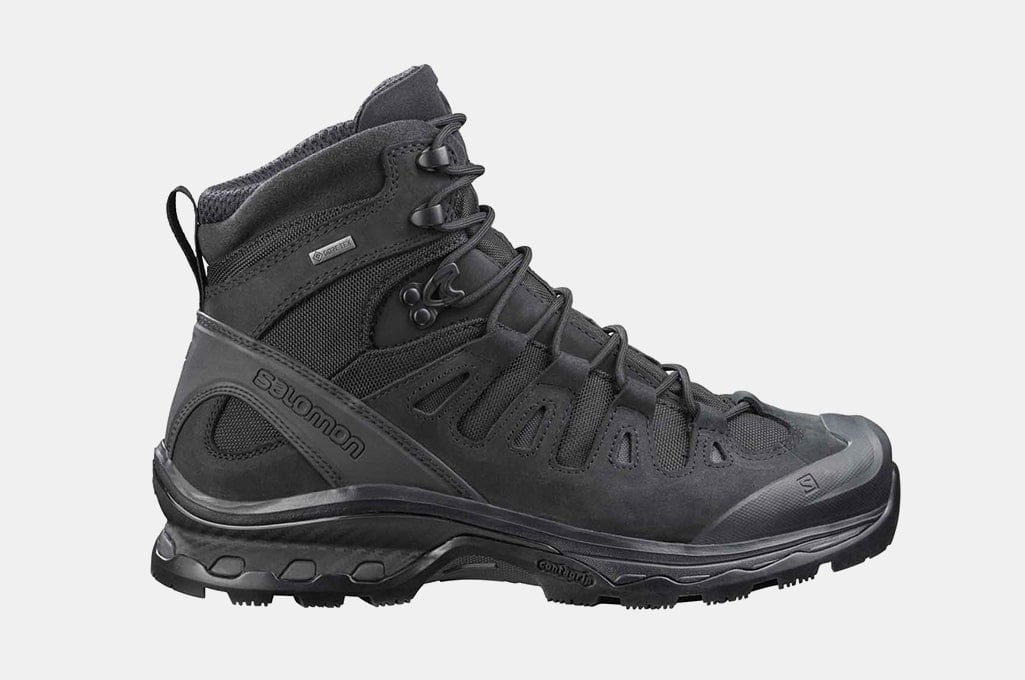 Salomon Quest 4D GTX Forces 2 Waterproof Tactical Boot
For a pair of boots that far exceeds everyday performance, look towards Salomon's Quest 4D Tactical Boots. The core of their functionality comes from Salomon's proprietary 4D Chassis technology—a trail running design applied to a trekking boot shell to create the ultimate in support, stability, comfort, and traction. Breathable Gore-Tex lining keeps your feet dry and comfortable, while a toe cap keeps them safe from sudden impacts. They're excellent all-rounders with a long lifespan that makes them useful for years to come.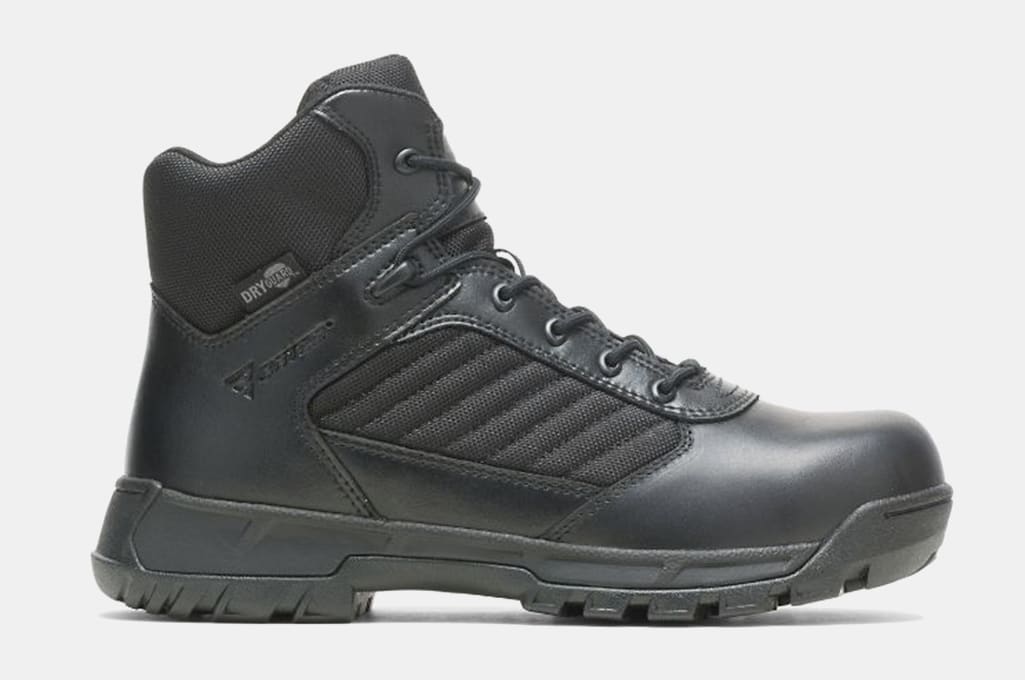 Bates Tactical Sport 2 Mid DRYGuard Boots
One of the most affordable and sporty-looking boots on this list comes from Bates, in the form of their Tactical Sport 2 Boots. Lightweight but strong performance denier polyester provides the durable base for their uppers, while added leather around the toes means they can be polished to a high shine for work. The sport aspects continue inside the shoe, with a lightweight EVA midsole that has plenty of springback for long days of walking, jogging, or running. At just about two pounds per pair, they're one of the lightest weight tactical boots you'll find.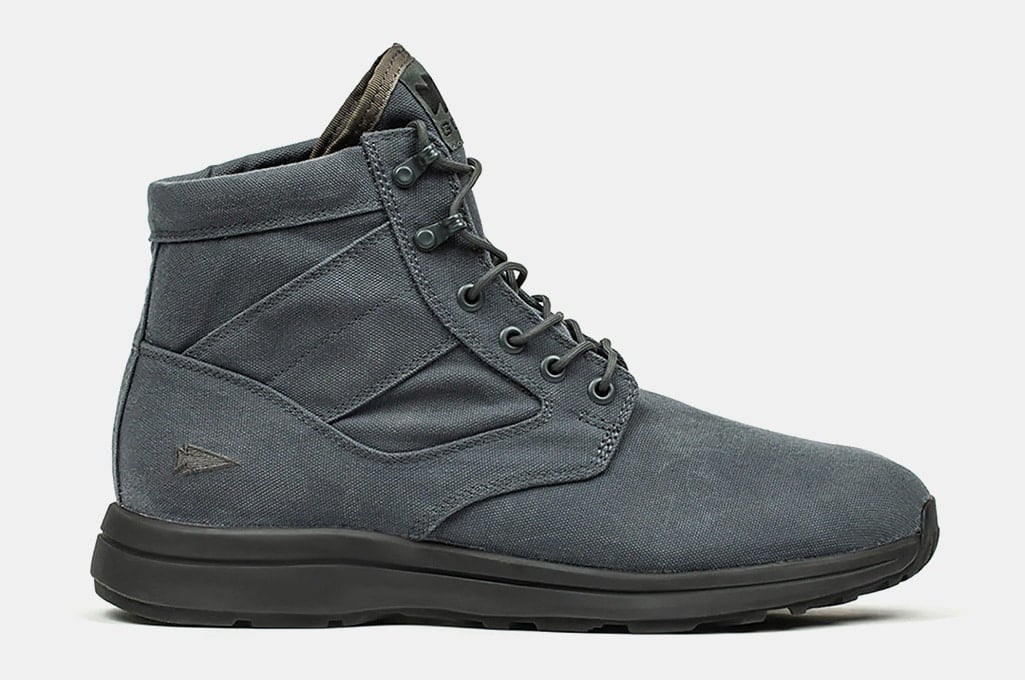 GoRuck Jedburgh Rucking Boots
GoRuck's MACV-1 boots (featured above) have been a favorite in the tactical community since they were first released. But a newcomer in GoRuck's footwear lineup is shaking things up, old school style: Their Jedburgh Rucking Boots, designed and named in honor of the 300 advance infantry fighters who jumped into occupied France during World War II. The boots' "Deception Canvas" uppers are made of tightly woven recycled polyester that's extremely durable and fast drying. That's built on top of the wildly successful MACV-1 platform, ensuring that these boots are as rugged and versatile as the men they're named after.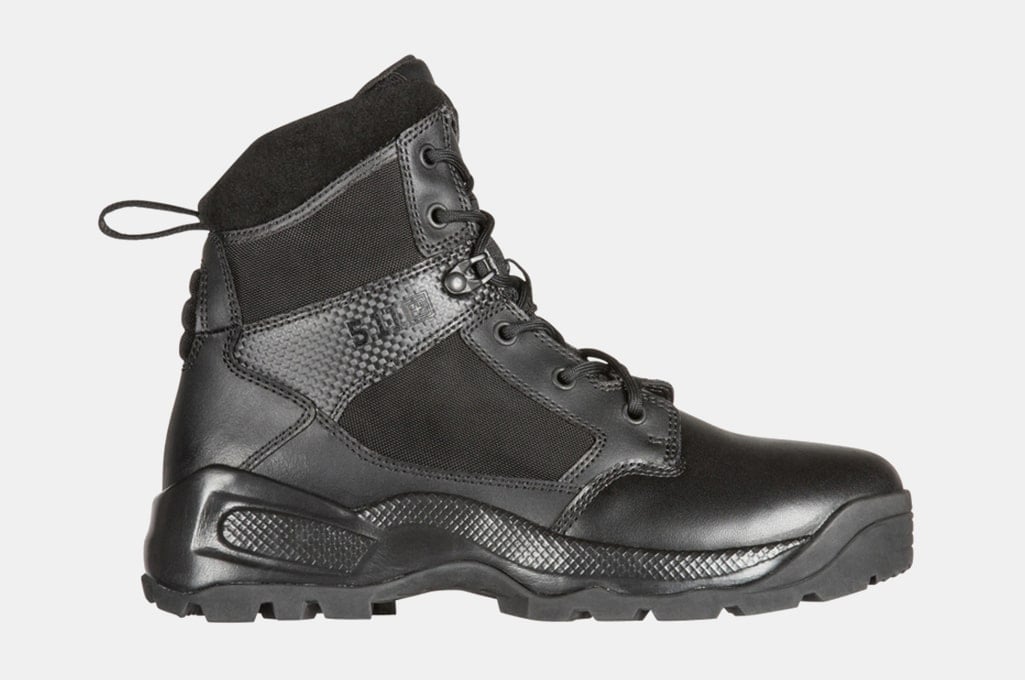 5.11 A.T.A.C. 2.0 Boots
While there are more affordable tactical boots out there, none combine quality and budget-friendly pricing quite as well as 5.11's A.T.A.C. 2.0 Tactical Boots. They're solidly built, with 840D nylon uppers and slip- and oil-resistant outsoles for long wear. That's nicely combined with an interior design that maximizes shock absorption, making even the longest days on your feet feel easy and doable. If you're on a tight budget and need tactical boots for work, these are the best choice for you.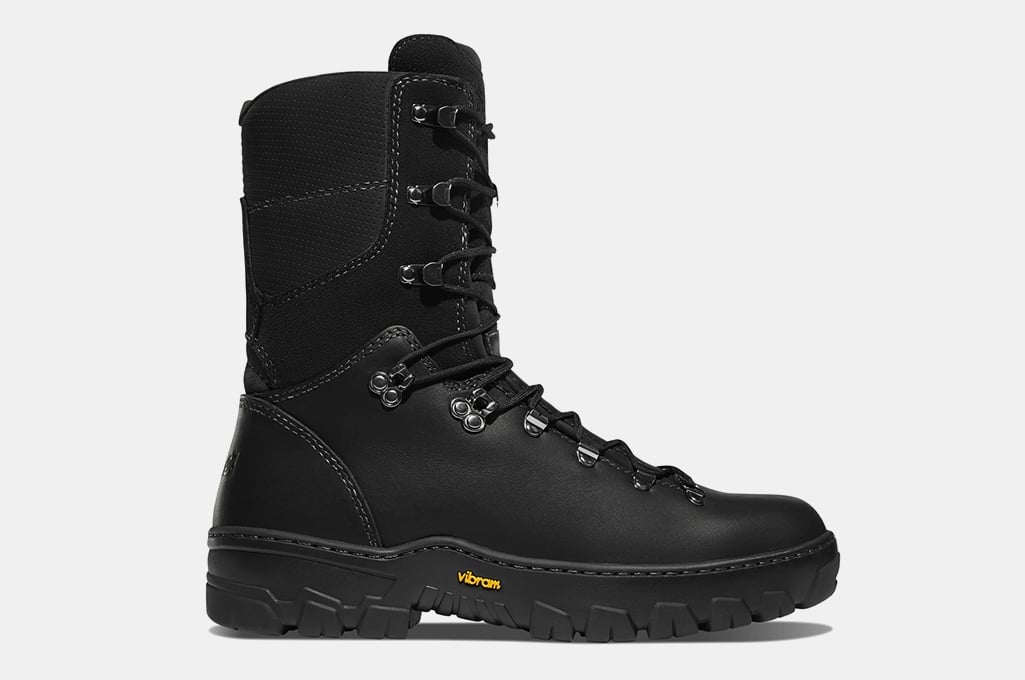 Danner Wildland Tactical Firefighter Boots
Danner's Wildland Firefighter Boots go far above and beyond what most people need out of their tactical boots—but it's exactly this kind of over-preparedness that makes them an awesome choice for people in dangerous lines of work. They're fully certified by the National Fire Protection Association, all while being built on a lightweight and mobile hiking boot frame. Add on a Vibram S587 outsole for maximum slip resistance and outdoor traction, and you have a boot that's ready for the most strenuous situations imaginable.
Disclosure: Clicking on these links and making a purchase may earn us a small referral fee, at no extra cost to you. Learn more here.