The 10 Best Tactical Pants For Men
When it comes to pants, what kind you're wearing is going to depend largely on where you're going and what you plan on doing in said pants. Their are denim pants, work pants, and short pants, but no pants are quite as versatile or as tough as a pair of tactical pants.
Tactical pants — in all their tactical glory — are similar to the classic style of cargo pants except that they possess certain technical modifications — such as the use of lightweight, fast drying, and hard-wearing materials and the use of concealed carry pockets or hidden compartments to name a few — and are sure to outlast any other pair of pants in your closet.
The best tactical pants on the market aren't just reserved for those who work in tactical-related fields such as the FBI, law enforcement and SWAT teams, and military personnel, although certain design elements render them suited to those professions — namely the abundance of pocket storage for tactical gear and reinforced knees for harder use on the job. For those looking for the best tactical pants to wear both on and off the job, we've curated this list of the ten best pairs available today.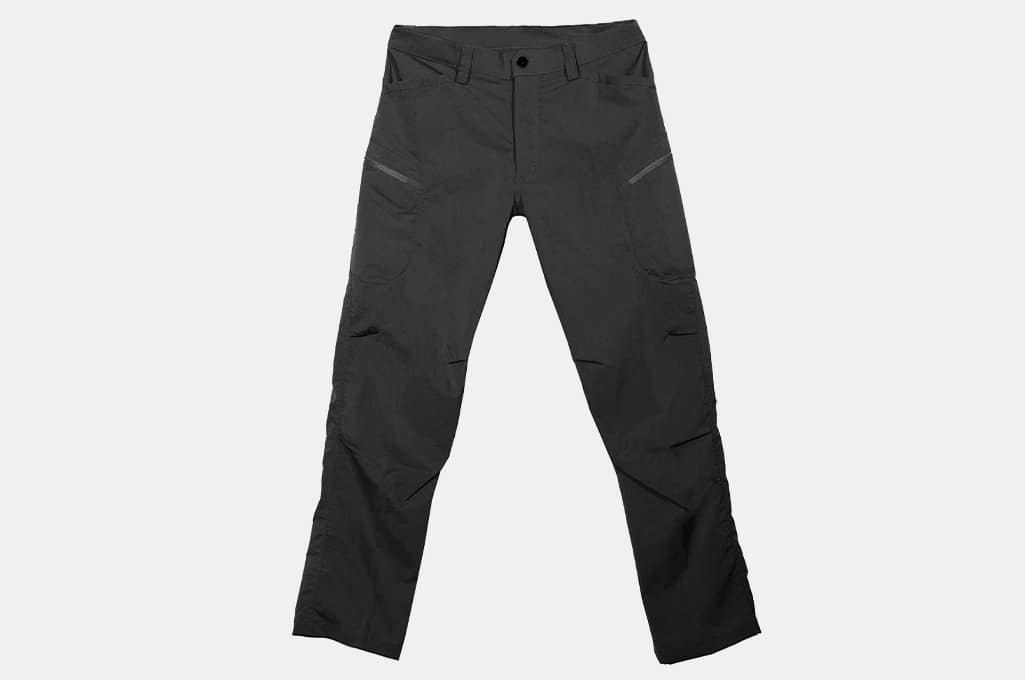 GoRuck Challenge Pants
GoRuck could have simply stopped after creating the GR1 Rucksack and they still would have been a successful brand. But revolutionary brands like them don't really ever stop creating purposeful tactical gear. Luckily for everyone, they went on to create the Challenge Pants. The GoRuck Challenge Pants were designed to meet the demands of their signature GoRuck challenges, which makes them durable enough to withstand pretty much anything you throw their way.
Their trademarked ToughDry material is both rugged and lightweight, which means it will resist the abrasions of outdoor activities (notably GoRuck Challenges) and dries quickly from whatever pool of water you find yourself crawling out of from said outdoor activities.
Additional features include articulated knees for better range of motion, horizontal front pockets for stashing your valuables, and articulated knees and a diamond gusseted crotch that both allow for extra stretch.
Notable Features: GoRuck's trademarked ToughDry material renders these pants extremely tough yet lightweight, especially when wet, while a gusseted crotch allows for more freedom of movement.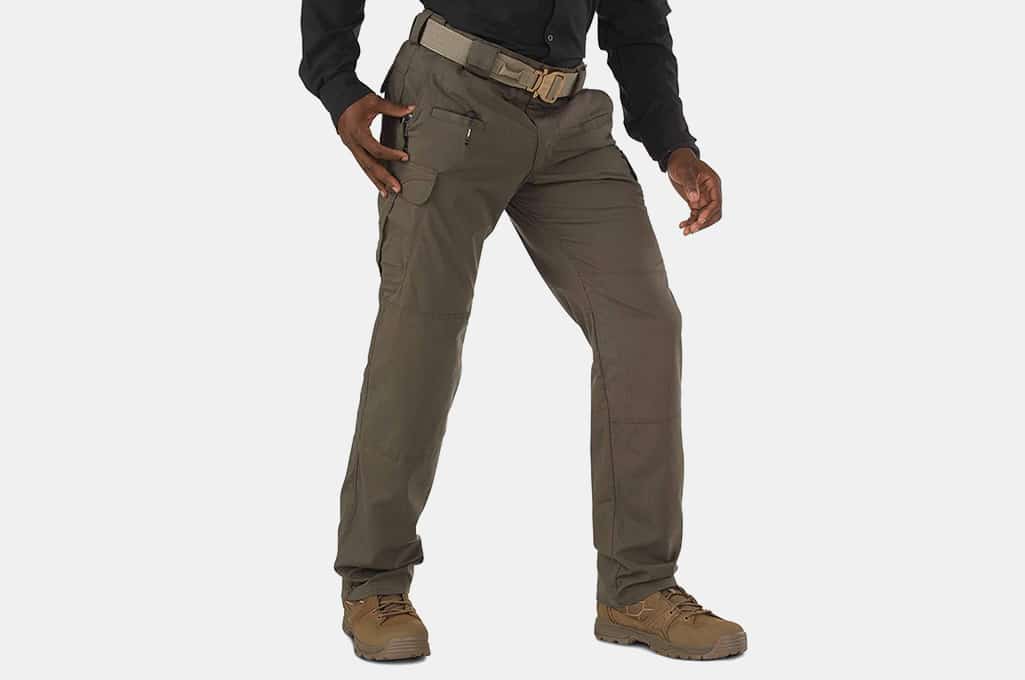 5.11 Tactical Stryke Pants
Every brand has a best seller, and in 5.11's case — as far as tactical pants go — it's the Stryke Pants. The feature-rich Stryke Pants are prototypical tactical pants and boast everything you need in a pair and then some — a rugged ripstop fabric construction with plenty of stretch, a gusseted crotch and articulated knees for improved range of motion, and many, many pockets.
Speaking of pockets, the Stryke Tactical Pants have 12 of them, some of which are very deep for stashing your tactical EDC, and all of which are reinforced for hard wear. They've got everything you need, nothing you don't, and they very well may last forever.
Notable Features: Pockets, pockets, and more pockets. The Stryke Pants have them in spades, so you'll never be short on cargo space. Also, these pants include a bit of stretch so they move with you, not against you.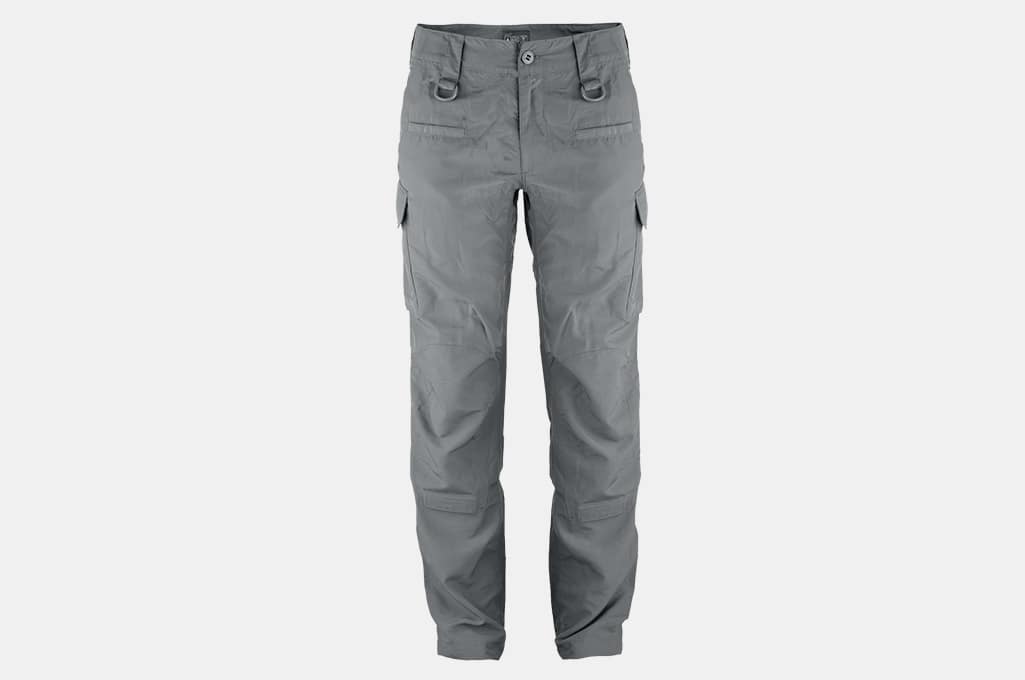 TAD Force 10 AC Cargo Pants
When it comes to tactical gear in general, a great place to always start is with Triple Aught Design. Along with their hard-wearing tactical bags you'll find an assortment of capable tactical pants — most notably the Force 10 AC Cargo Pant.
No matter if you're a special forces soldier operating behind enemy lines or a weekend camping enthusiast, the Force 10 AC Cargo Pants will stand up to the abuse thanks to T-Pro Armor Pad inserts in the knees for added protection and an overbuilt construction from TAD's amphibious cloth fabric that is not only quick-drying, but also extremely lightweight and and exceptionally durable.
Not only will you fit seamlessly into these tactical pants despite changing conditions, so will most of your gear. The Force 10 AC Pants are outfitted with a total of 8 pockets — including a pair of hidden document pockets — perfectly-place D-rings, and internal dividers for better securing your tactical gear.
Notable Features: Hidden document pockets, integrated D-rings, and Armor Pad inserts at the knees make these pants the most versatile on this list.
5.11 Tactical Apex Pants
Designed for tactical, casual, or covert wear, the new Apex Pants by tactical brand 5.11 are quite possibly the most functional pair of pants ever created. They are made from 5.11's stretchy Flex-Tac canvas for superior performance and flexibility in the field, and feature reinforced pockets up front, extra deep thigh-mounted cargo pockets with zip closures on the sides, a fully gusseted crotch, and articulated knees for freedom of movement.
For those serious about concealed carry, the two internal pockets sewn into each cargo pocket and a pair of rear yoke pockets were designed to fit AR magazines while hidden pockets integrated in both the front and rear of the waistband discreetly store a set of flex handcuffs and a handcuff key respectively. Pair them with a pair of the brand's tactical gloves and you'll be ready in the field.
Notable Features: A gusseted crotch and articulated knees deliver easier movement while running, crouching, or crawling. Hidden pockets integrated into the waistband for storing cash, a cuff key, or flex handcuffs.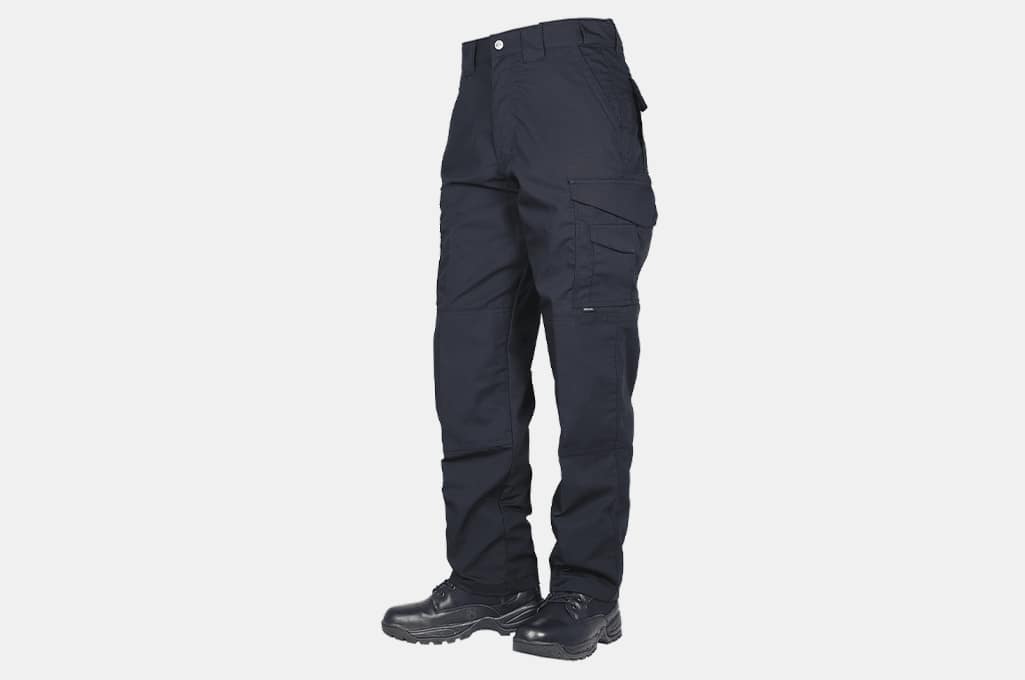 Tru-Spec Original Tactical Pants
Tru-Spec states that their Original Tactical Pants are "the best fitting, most comfortable tactical pants on the market." A claim like that among a list of superb tactical pants is worth noting. To back up that statement, Marine and Full Metal Jacket star R. Lee Ermey refers to them as "the best damn pair of pants I've ever owned."
Deep cargo pockets can easily accommodate a concealed carry pistol while a comfort fit slider waistband eliminates the need for adjustable side tabs and accommodates most paddle-style holsters and inside-the-waistband holsters. For the guy with even more gear than the next, deep front pockets, a pair of knife pockets and expandable back pockets means you most likely won't need a backpack or any other organizer while wearing these pants. Are they the best tactical pants on the market? Perhaps. You be the judge.
Notable Features: Deep cargo pockets provide plenty of carrying space for your gear, while a comfort fit waistband makes these a more comfortable option for extended wear.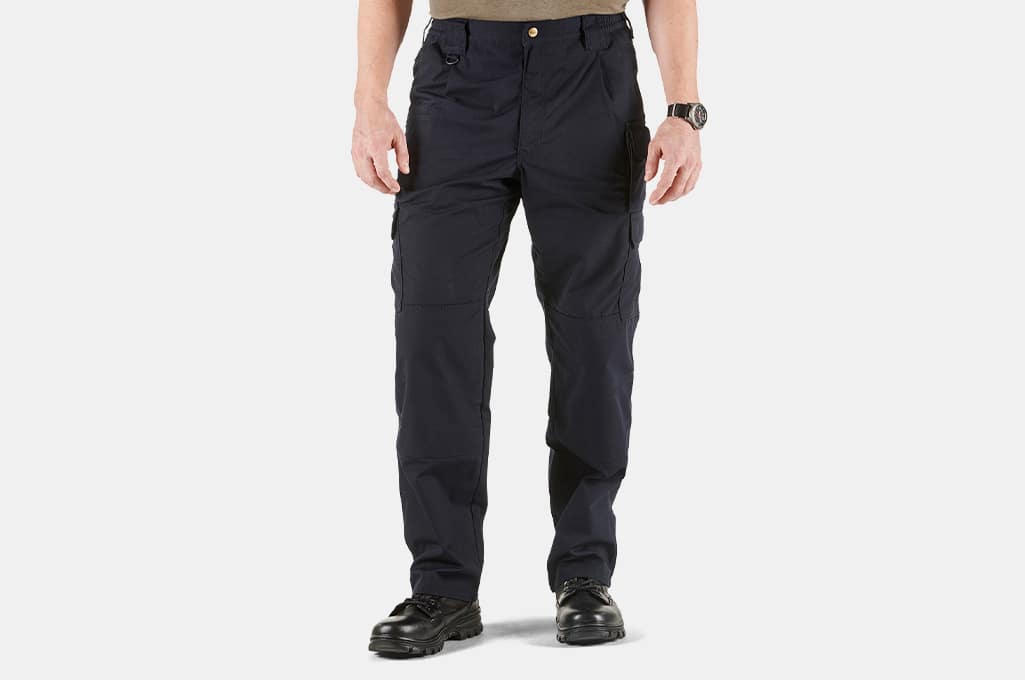 5.11 Taclite Pro Pants
5.11 is in the business of making quality tactical gear, and business is really good for them. Case in point is the Taclite Pro Pants — the second from the brand to make this list. As with everything that comes from 5.11 — except maybe their boots — the Taclite Pro Pants are built for hard work. They're made from a proprietary ripstop fabric with water-repelling Teflon finish, double-reinforcement at the seat and knees, and bar-tacking at crucial seams and stress points.
Other nice touches, such as triple stitching, YKK zippers, and a hip-mounted D-ring separate the Taclite pants from other would-be contenders that didn't quite make the list. They're tough and they're reliable tactical pants for sure, and 8 tactical-sized pockets will easily meet the demands of your growing everyday carry collection.
Notable Features: A ripstop fabric with a water-repelling Teflon coating, double seam reinforcement, bar-tacking at the seams, and triple stitching ensure they'll stand up to more abuse than you can dish out.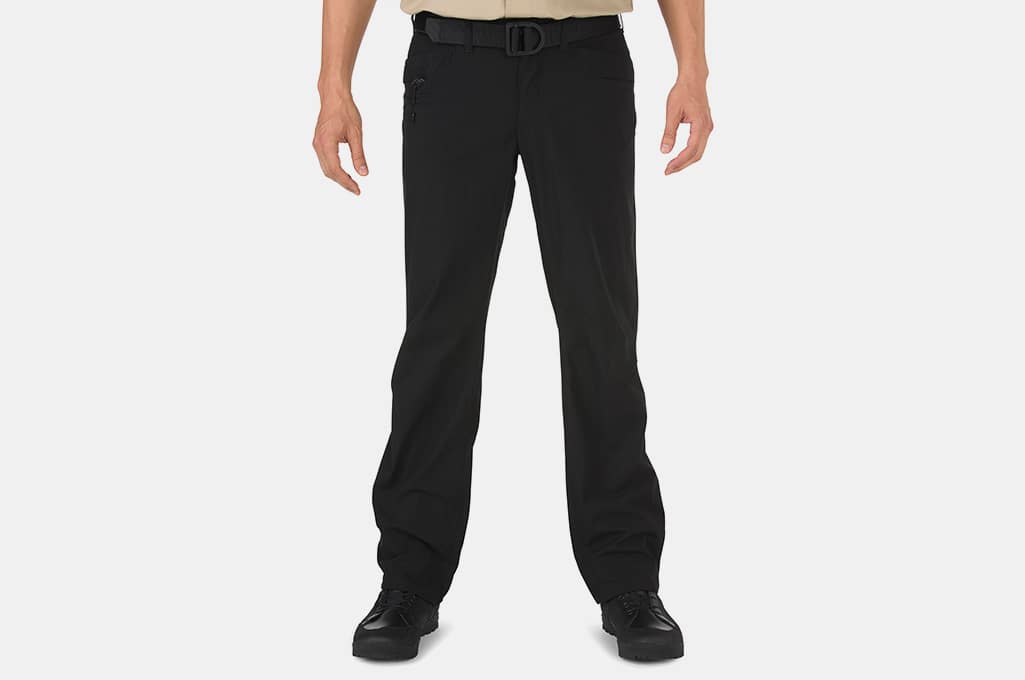 5.11 Tactical Ridgeline Pants
Versatile enough for the range or for everyday casual wear, the 5.11 Ridgeline Pants sport a cleaner design than most of their tactical pant counterparts. But don't let their casual appearance fool you, because they're more than ready to stand up to any tactical environment you could think to wear them into.
Their heavyweight ripstop fabric construction stretches for improved range of motion, while a gusseted crotch, bartacking, and double-stitching throughout prevents unwanted rips and tears in the line of duty. Extra pockets built into the side of the pants accommodate anything from your smartphone to extra AR-15 magazines, and anything in between.
Notable Features: Additional pockets on the sides accommodate a smartphone, extra mags, and other EDC essentials, while the cleaner, stripped-down design makes them suitable for everyday wear without looking too tactical.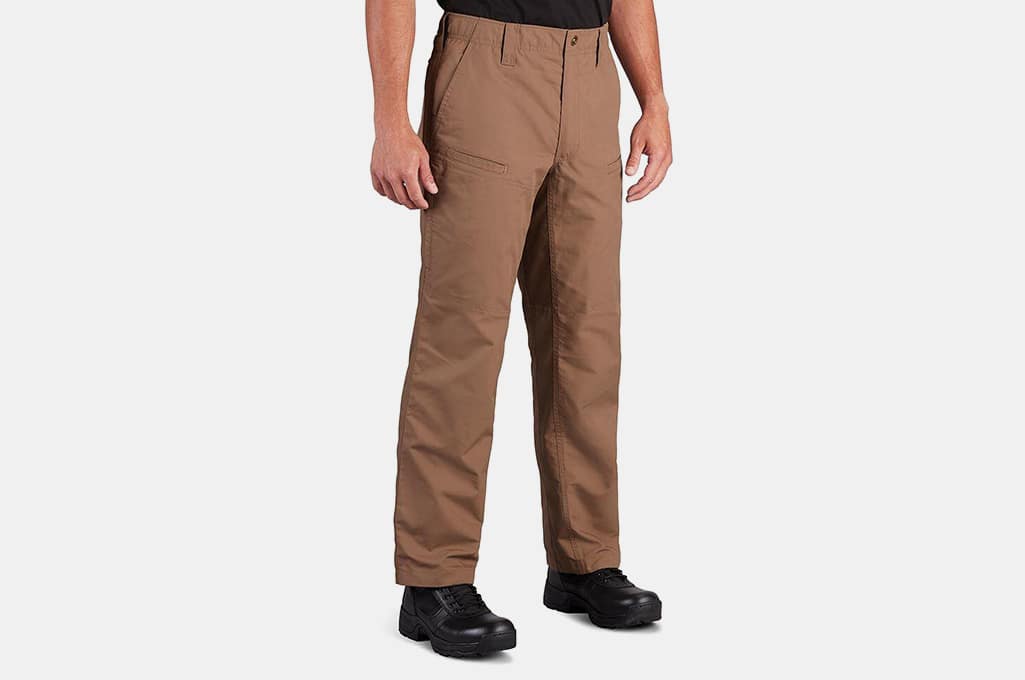 Propper HLX Men's Tactical Pants
The HLX Tactical Pants strike the right balance between comfort and practicality. The fabric is both stretchy for full range of motion and has a durable water repellent treatment to protect from excess moisture, dirt, and mud. And while these pants from Propper are certainly built for action, they have a classic fit and design that makes them just as appropriate for a day at the office as they are for a day on the trails.
The pants come in five neutral colorways and five inseam lengths to ensure there's a fit for every body type and wardrobe. But since they're so versatile (not to mention reasonably priced), we'd understand if you need one of every color.
Notable Features: A classic fit, a stretchy fabric, and a water repellant treatment make the Propper HLX Pants a practical, entry-level choice.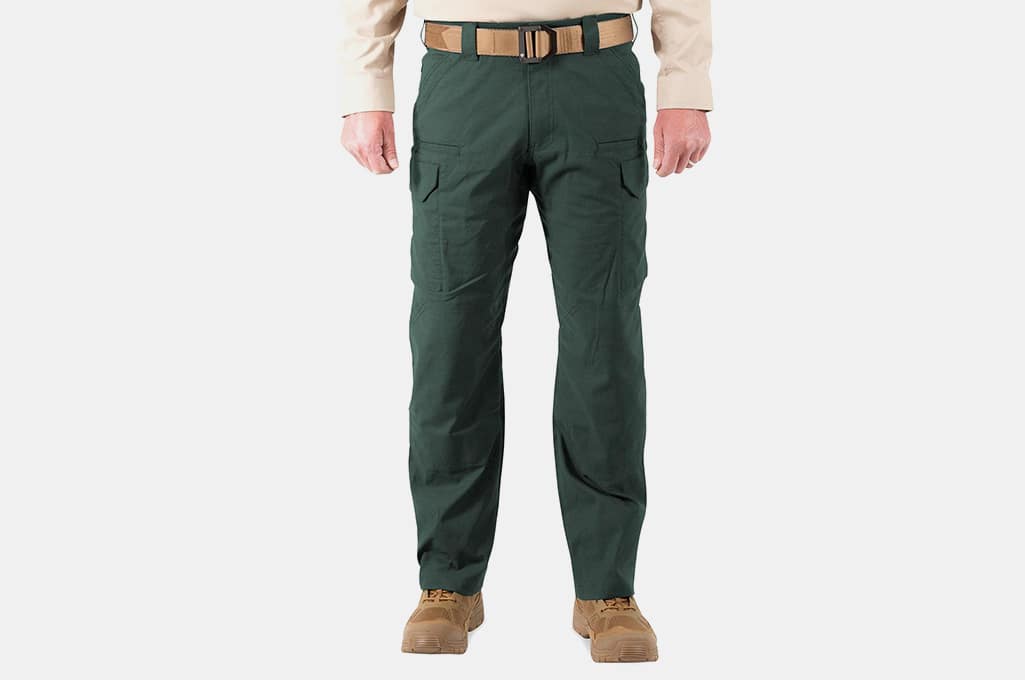 First Tactical Men's V2 Tactical Pants
We appreciate a pair of pants that goes above and beyond, and these rugged pants from First Tactical certainly do. They're made of a polyester-cotton blend that's both breathable, stretchy and water-resistant. The Teflon coating also means that these pants even resist stains, something that we can all benefit from.
With five inseam length options from 30 to 36 inches and nine colorways, including spruce green and classic khaki, these pants can go seamlessly from a construction work zone to a boardroom to a hiking trail. The fabric stays smooth and neat, even under strenuous circumstances or unpredictable weather. And the best part is that no matter what comes your way, you can always throw these pants directly into the washing machine at the end of the day.
Notable Features: Built-in knee pad pockets, a liquid-repelling Teflon coating and plenty of stretch provide plenty of comfort and mobility. These pants were made to last.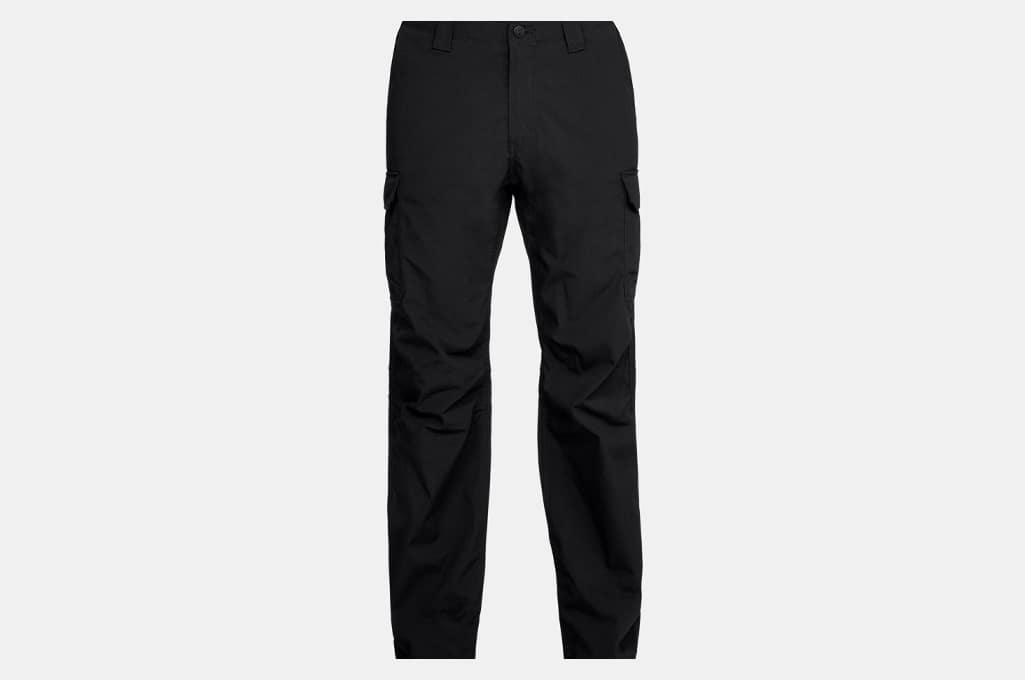 Under Armour Men's UA Storm Tactical Patrol Pants
Under Armour is known for making sport-ready gear, and the Storm Tactical Patrol Pants showcase the brand's athletic design with a good mix of durability and practicality. The Storm technology is ultra-breathable and water repellent, not to mention rip-proof. It's even made with anti-odor technology to prevent bacteria that can cause tactical gear to hold on to unpleasant smells.
To make sure these tactical pants stand the test of time and regular use, UA has reinforced the knees and crotch to ensure that no seams tear, no matter how active you get in them. Spacious velcro pockets on both outer thighs and in the rear give you ample room to stash gear and an offset belt loop design gives proper space for a holster. The waistband is elastic for easy on-and-off and comfort all day long.
Notable Features: Reinforced knees and crotch for durability, big velcro side pockets offer plenty of carrying real estate, and an offset belt loop design for an easier time carrying a holster.
Disclosure: Clicking on these links and making a purchase may earn us a small referral fee, at no extra cost to you. Learn more here.