15 Best Wireless Earbuds Under $50
You can easily drop a wad of cash on truly sensational headphones that provide the comfort, sound quality, longevity, and other features on your checklist.  However, your average, bulky headphones aren't really designed for portable, everyday wear like earbuds are, and they're certainly not ideal for the gym setting.  Performance headphones simply aren't meant to hold up to the excess moisture and intense motion and impact associated with exercise.
This is where wireless, Bluetooth earbuds enter the picture.  These state-of-the-art, in-ear headphones are specially designed to deliver not only the portable options you need on the go, but also features like superior sound, noise cancellation technology, and sweat and water resistance, among other useful benefits.
The level of technology involved and the quality of the connectivity and sound will quickly have you looking for a hefty price tag, but you'll be happy to hear that there are plenty of options on the market for affordable earbuds, many of them delivering incredible value at under 50 bucks a pop.  Your biggest problem will be comparison shopping and trying to figure out how to narrow your options. Along those lines, we've put together a list of several earbuds that offer useful features at a price tag you can afford.  Here are the 15 best wireless earbuds under $50.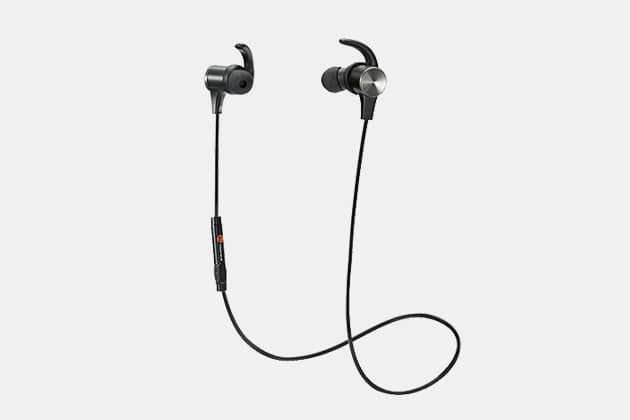 TaoTronics Wireless 5.0 Magnetic Earbuds
At first glance, these earbuds seem to be missing half of the ear hooks.  This is because they aren't intended to hook over the outside of your ear, but rather hook into the concha, or the fold just above where you insert the earbud.  It may seem like a strange design, but it's surprisingly comfortable and secure, even during intense exercise.
When not in use, handy magnets connect the earbuds.  Simply hook them around your neck so they don't fall off.  Bluetooth 4.2 technology pairs quickly with devices and aptX provides enhanced, CD-quality sound, made even better by CVC 6.0 noise cancellation technology.  You'll also enjoy up to nine continuous hours of usage (or 80 hours of standby charge), so you aren't constantly worried about battery drain. – Shop Now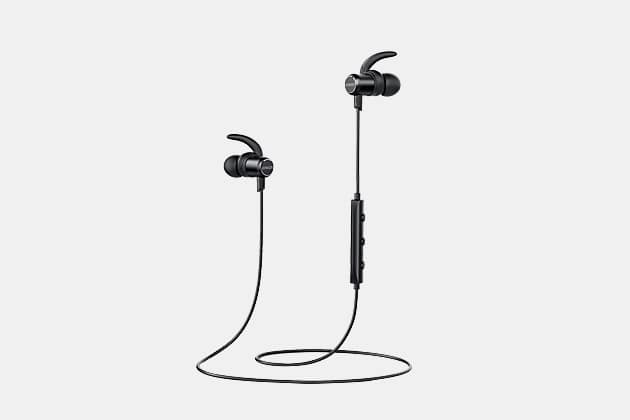 Anker SoundBuds Slim Wireless Earphones
When it comes to earbuds, the last thing you want is bulk, which is why you're sure to love these slim, lightweight (only 15g) Bluetooth headphones.  6mm drivers ensure quality, hi-fi audio with a skip-free connection so your Gaga and Yeezus play uninterrupted.  With seven hours of playtime, you can listen to both of their catalogs from start to finish and then some.  Well, maybe not quite, but close.
Also appealing is the IPX5 nano coating for complete protection against sweat and rain, although probably not a thorough dunking, so you shouldn't take them in the pool.  As a bonus, the buds magnetically attract so you can keep them together when not in use.  The connective neckband comes in red, blue, or black to suit your style preference. – Shop Now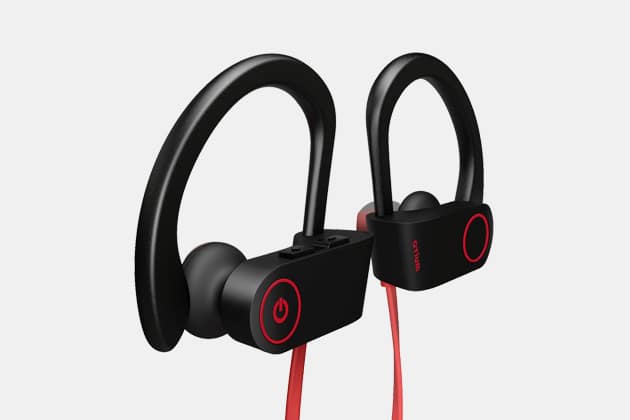 Otium Bluetooth Earbuds
Some people like to wear Bluetooth earphones while walking around town or taking calls.  Others wear them while running, hiking, biking, or sweating to the oldies.  These sleek, state-of-the-art, over the ear headphones are designed for comfort and sweat-proof usage, making them a great choice for active listeners.
The earphones are connected by a flexible neckband so you won't have to deal with dangling, tangling wires, while soft ear hooks and memory foam ear tips ensure optimal comfort.  Bluetooth range extends up to 33 feet from devices and you'll get 7-9 hours of battery life, which you can track on the iOS battery capacity display.  Bluetooth 4.1+EDR delivers superior sound, including bass tones.  You can connect simultaneously to two devices, just in case you want to take a call while listening to your iPod. – Shop Now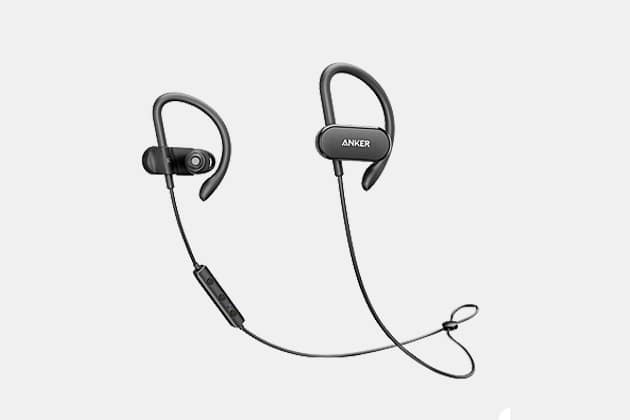 Anker SoundBuds Curve Wireless Earphones
Like the Anker SoundBuds Slim model, these Bluetooth earphones are well under 50$ yet have a lot to offer.  They're obviously not as slim, but they make up for it with added features.  This product delivers curved ear hooks, but it actually gets its name from the fact that the earbuds themselves are curved to fit into your ears with less finagling and greater comfort.
Memory foam tips add to comfort and block out external noise for optimal listening pleasure.  In other words, you can pretend you sound just like The Boss when you're singing along to "Born in the U.S.A.".  No one will be the wiser.  Or everyone.  Whatever – belt it, bro.  With 12.5 hours of music playback and 1.5 hours to a full charge, your voice will give out before your earbuds. – Shop Now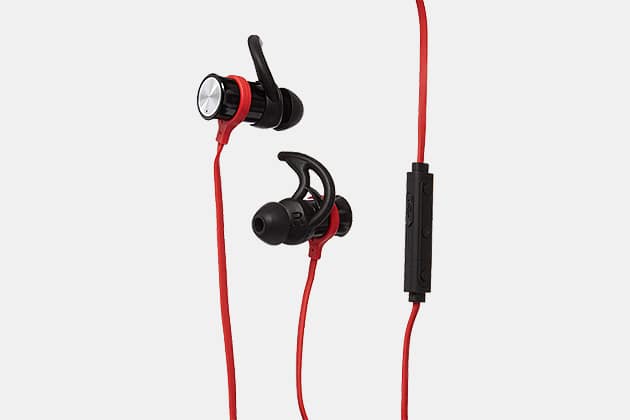 Phaiser BHS-730
What makes these diminutive, lightweight, affordable earbuds special is not the patented "anti-drop" winged earphone tips for secure fit.  It's not the Liquipel nano coating or the sweat-proof lifetime guarantee.  It's not the noise cancelling smart mic or the magnetic buds that turn your headphones into a necklace when not in use.  It's not even the many interchangeable parts that ensure the greatest possible customization and comfort during wear.
No, what makes the Phaiser BHS-730 earbuds so incredible is the sound, and this is all thanks to the fact that they were designed by Swiss audio engineers to deliver superior HD quality through 8mm speakers complete with bullet-shaped Comply T-400 M memory foam tips to cancel external noise.  If a terminator got melted down and turned into these earbuds, even John Connor would wear them. – Shop Now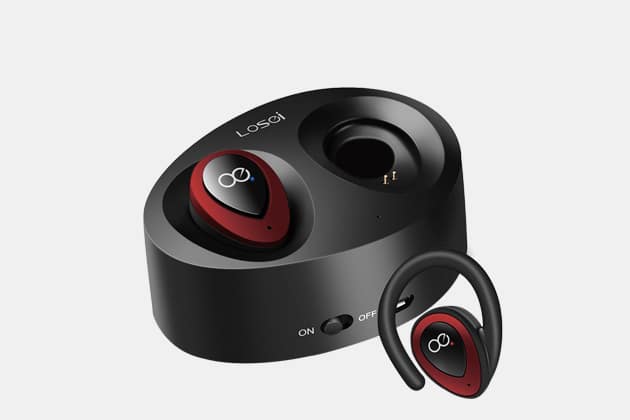 Losei Dual Wireless Earbuds
(**Price Change – $59.99) Okay, let's start by addressing the elephant in the room.  These earbuds seem a little…well…rotund.  The bud itself is ergonomically designed for a comfy and secure fit, but the tear-shaped outer housing is larger than you might expect.  Chalk it up to the built-in 40 mAh lithium polymer battery, which delivers only about three hours of premium play on a full charge.
Not so great, but don't worry, there's a silver lining.  The high-quality chip for stereo sound and bass delivers crisp, clear sound quality so you'll catch every finger-picking minute of your favorite Metallica or Clapton guitar riffs.  Plus, you can always upgrade to the 450 mAh capacity charging case to extend your charge by 3-4 times.  Can I get a hallelujah? – Shop Now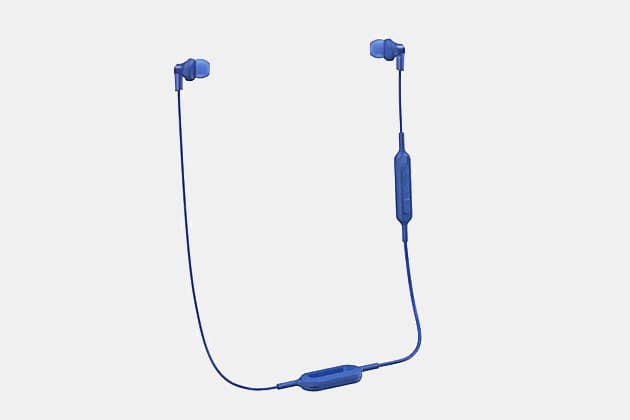 Panasonic Ergofit Wireless In-Ear Headphones
The buds are tiny, the neckband is slender, the design is ergonomic, and most importantly, the sound quality is sick.  The buds are designed to fit snugly in the ear (with three included ear pad sizes for perfect fit) so that external noise is minimized and you enjoy clear treble and resonant bass notes.  Dual 9mm neodymium drivers and wide-frequency response deliver balanced sound and smooth, strong playback.
A full battery charge will deliver four plus hours of playback, but you can also do a quick, 20-minute charge to gain just an hour of music play for those days when you're jetting to the gym but realize you forgot to recharge your headphones.  Options for black, white, blue, or red let you choose the color that perfectly suits your personality. – Shop Now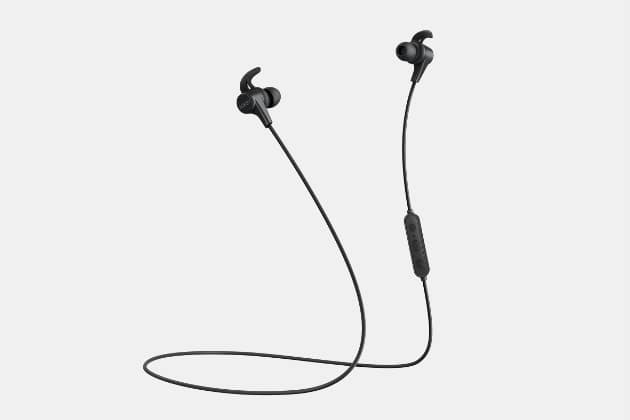 Aukey Latitude Wireless Earbuds
These earbuds are so small and streamlined you'll barely notice you're wearing them, but for the pulse-pounding audio pumping into your ears.  The custom fit ear tips deliver incredible comfort and wedge securely into your ears to eliminate external noise.  They're also IPX4-certified to withstand both water and sweat, which means they'll hold up to the weather when you exercise, rain or shine — not bad for a pair of earbuds under $50.
Bluetooth 4.1 connects you to two devices simultaneously while aptX technology ensures CD-quality sound.  You'll also enjoy the ability to optimize audio setting with EQ switch that lets you favor treble or bass, or simply default to preset balance.  Finally, the earbuds clip together magnetically to ensure your neckband doesn't slip off when you remove your buds. – Shop Now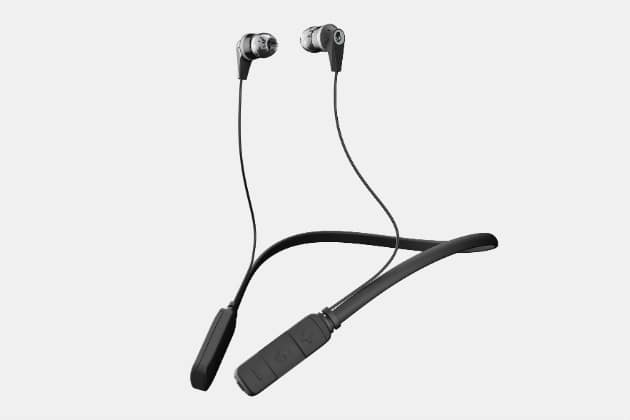 Skullcandy Ink'd Wireless Earbuds
This brand is known for kooky designs and candy colors, and these wireless earbuds do not disappoint, starting with the flexible, yet sturdy neckband that encircles the back of your neck like a collar.  Most neckbands are flimsy enough that you'll lift the entire getup to your ears, with the band draping down.  Skullcandy instead offers earbuds on wires that lift up and away from the stationary band.
The entire design is feather-light and if nothing else, it's original.  Considering the other features, including Supreme Sound and up to eight hours of battery life, you may indeed grow to love this unique collar design.  Noise isolating fit and full-spectrum sound ensure incredible quality and a listening experience that puts other wireless headphones to shame. – Shop Now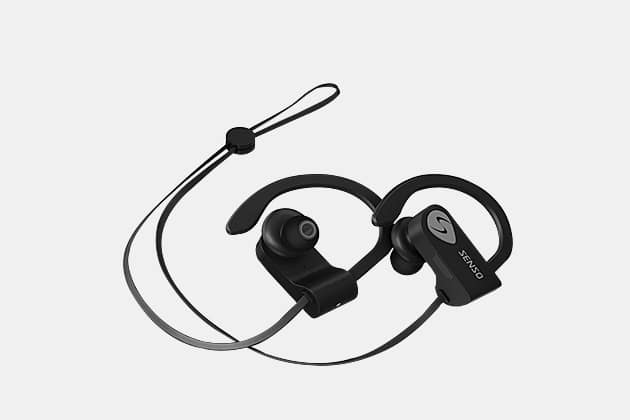 Senso Bluetooth Earphones
Senso's Bluetooth earbuds are so packed with desirable features that one might suspect they simply cherry picked the best technology from competitive brands and then packed it all into one ultra-awesome product.  What will you get with these incredible headphones?  Well, how about Bluetooth 4.1 CSR technology for superior sound quality, CVC 6.0 noise suppression to cancel external noise pollution, flexible ear hooks and gel flex silicone earbuds for ultimate comfort and secure fit, and a waterproof rating of IPX-7?
It also delivers 9 hours of playtime, not to mention 240 standby hours of battery life on just a 1.5-hour quick charge.  It's hard to believe you'll get all these great features in one tiny product, but you get even more – a 1-year manufacturer's warranty, just in case. – Shop Now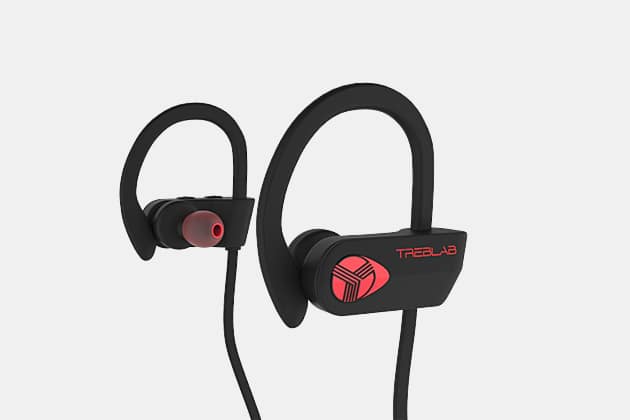 TrebLab XR-500 Wireless Bluetooth Earbuds
It may be all about that bass, 'bout that bass, but TrebLab delivers the sound you want, eight hours of it to be precise. These earbuds are not the smallest or the cheapest, but they do provide the height of comfort, even during intense activity, thanks to secure ear hooks and anti-drop security fins that keep them right where they should be.
True HD sound and passive noise cancelling features ensure that you'll hear only the soundtrack to your workout when you're in the bustling gym or jogging down a busy street.  They're also water resistant.  Plus, reliable connectivity means once you pair with your device, you'll get uninterrupted listening for up to eight hours.  Treblab also assures users that these earbuds are compatible with all (yes, all) Bluetooth enabled devices – a bold claim that thus far has not been disproven. – Shop Now
Anker SoundBuds Sport IE 20 Bluetooth Earphones
Another offering from Anker, these earphones are neither as slim nor as curved as their counterparts elsewhere on this list.  However, they're miniscule, lightweight, and designed for sport usage with all the features you want in your workout earbuds.  Eight-hour playtime is a great start, especially if you're training for a marathon or you love to hike the day away.
Then there's CVC 6.0 noise cancelling technology, aptX CD-quality sound, and Bluetooth 4.1 for seamless connectivity and skip-free playback.  Two sets of ear tips (noise isolating and semi-open) allow you to decide how much outside noise you want to filter in.  They're also comfortable and the earbuds connect with a magnet for safekeeping.  With a 99% favorable user rating on Amazon and an 18-month warranty, you just can't go wrong. – Shop Now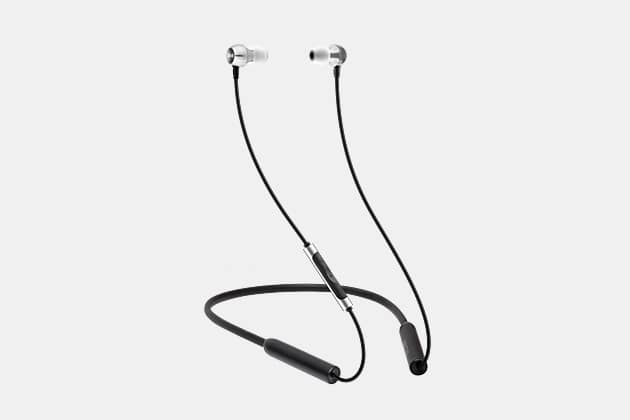 RHA MA390 Wireless Bluetooth Earbuds
(Price Change – Under $70) While these wireless earbuds don't quite fall below the $50 mark at the time of writing this, they're close enough that we felt obliged to include them on this list. These elongated, aluminum earbuds resemble tiny blow dryers, until you attach comfort covers for a snug, stable, and comfortable fit when you wear them.  They offer many desirable features, including small, lightweight construction, IPX4 rating for water/sweat resistance, CD-quality aptX technology, noise isolation, and eight hours of battery life, along with up to 30 days of standby.
They also happen to be compatible with Siri, Cortana, Alexa, and Google Assistant, as well as all major phone brands and operating systems.  This means you'll enjoy voice command functionality that few other earbuds deliver.  They come with a 3-year warranty, to boot.  In other words, RHA has clearly put their money where their mouth is, and you're the one who will benefit with peerless quality, design, and sound. – Shop Now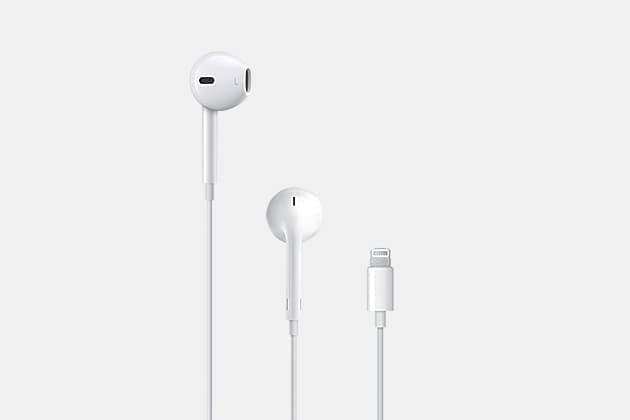 Apple EarPods With Lightning Connector
Before you start sending us mail that these earbuds are in fact, not wireless, we're already privy to that fact. But should any of the previous wireless earbuds not fit the bill, you can't go wrong with Apple's EarPods. Like all Apple products, these earbuds are white, which could be a detractor for anyone who's a little obsessed with keeping them looking clean and new (ahem, me).  Aside from this cosmetic concern, however, you'll find a lot to love in these sleek, molded buds, which require no additional rubber covers to insert comfortably into your earholes.  They're designed with the "geometry of the ear" in mind.
Superior engineering provides premium quality audio, including richer, deeper base.  The lightning connector features a built-in remote for easy control over sound, playback, and calls.  Protection from sweat and water are included for active use.  Of course, you'll need devices that support iOS 10 or later to use, but is anyone still using iOS 9?  Ew.  That's so 2015. – Shop Now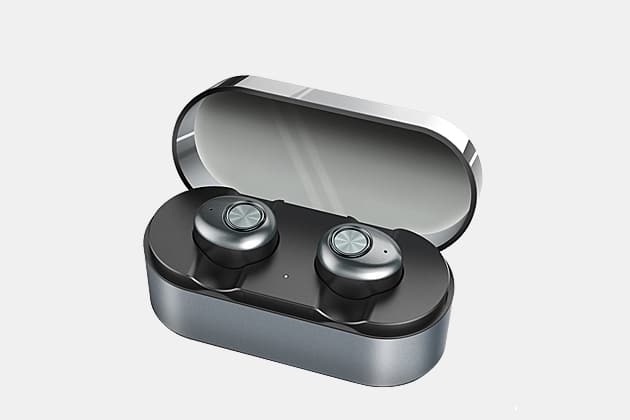 COULAX True Wireless Bluetooth Earbuds
The "true wireless" offered by these COULAX beauties is Bluetooth 4.2, which features faster pairing and less energy draw.  These earbuds also offer a truly wireless experience – no neckband to ensure you don't lose them.  Of course, the mini aspect means they'll fit snugly and securely in your ears and they come in three sizes so you can find the pair that's right for you.
With no wires to speak of, you have the option to share your listening experience with a friend, provided the thought of ear-to-ear sharing doesn't totally gross you out.  A sweat-proof design is a plus for those who like to exercise with wireless sound and you'll get 12 magical hours of playtime on a single charge, plus a handy, portable charging box. – Shop Now
Disclosure: Clicking on these links and making a purchase may earn us a small referral fee, at no extra cost to you. Learn more here.