Do you have a travel wishlist yet? A lineup of those places you'll absolutely go once things return to some semblance of normal? We'd like to suggest one more destination: Boomkamp in the Ryckevelde forest just outside of Bruges in Belgium. Boomkamp just means "tree camp" in Dutch and that's a pretty apt name. With six wood and steel treehouses that hang ten feet off the ground, you can sleep among the trees for a few nights and each morning grab breakfast in a castle that's just across the grounds. 
Each treehouse comes with a bed, lights, and outlets. Plus a pretty sweet view from the floor to ceiling window. Restroom facilities and hot showers are about 80 yards away. Head that direction and you'll also find the Kasteel Ryckevelde with its brasserie (small, casual restaurant) and a summertime pop-up bar called the Parkkaffee.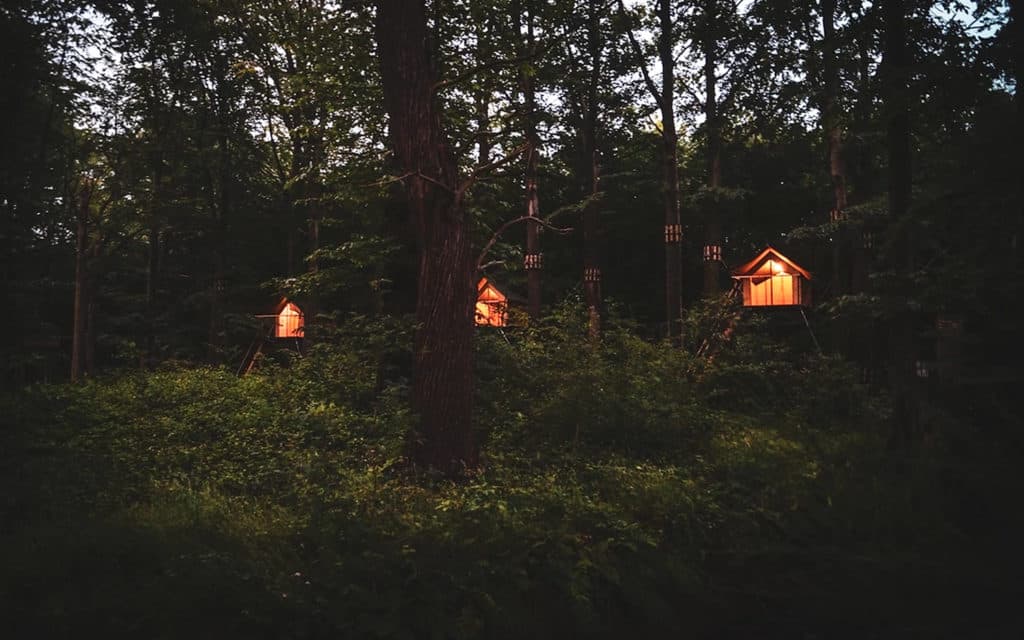 The proprietors of the tiny hotel designed and built the treehouses and also live on the grounds should you need anything during your stay. With the Historic Centre of Brugge (aka one of the best-preserved medieval villages) just fifteen minutes away, the coast about a half hour, and all the history and charm of Belgium all around, you'll have plenty to do…and plenty to dream about between now and the day when travelling is a thing again.
Disclosure: Clicking on these links and making a purchase may earn us a small referral fee, at no extra cost to you. Learn more here.