15 Essentials for a Low-Tech Camping Trip
Even if you abhor the glamping lifestyle that has cheapened the purity and ruggedness of an outdoor escape from all of modern living, there's something to be said for having a scant few creature comforts when you're camping.
Can you sleep on the cold, hard ground with nothing but a tarp? Survive by fishing with a pole made from a stick, outfitted with a hook hanging from dental floss? Well, maybe—but that's not a terribly relaxing way for most people to spend their weekends. 
If you're looking for a way to rough it without going full-on Naked and Afraid, a few low-tech essentials can provide the opportunity to enjoy the great outdoors without giving up your morning cuppa Joe.
Here are a few items every seasoned and well-reasoned camper should pack.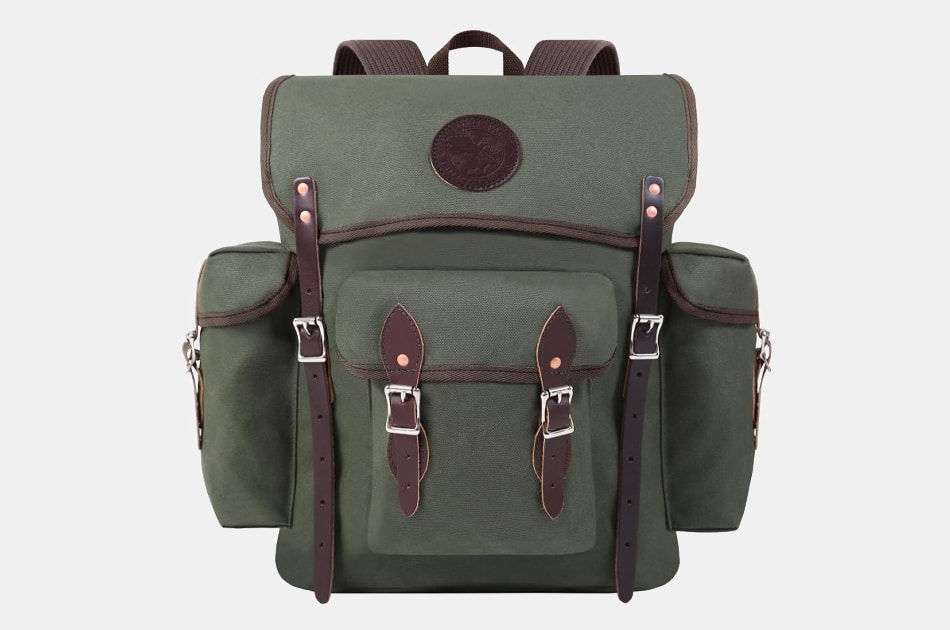 Duluth Pack Wanderer
Backpacks are a dime a dozen, but the right storage strapped to your back when you're hiking to a campsite is worth its weight in gold.
This rugged, canvas pack is not only eye-catching (in 12 color options, including water-resistant waxed textiles), it has 24-liter capacity and plenty of compartments to organize your stuff, including two side pockets that can hold up to 40-ounce. water bottles. Flexible cotton straps make for a comfortable carry, while riveted, hand-cut leather straps are made to last.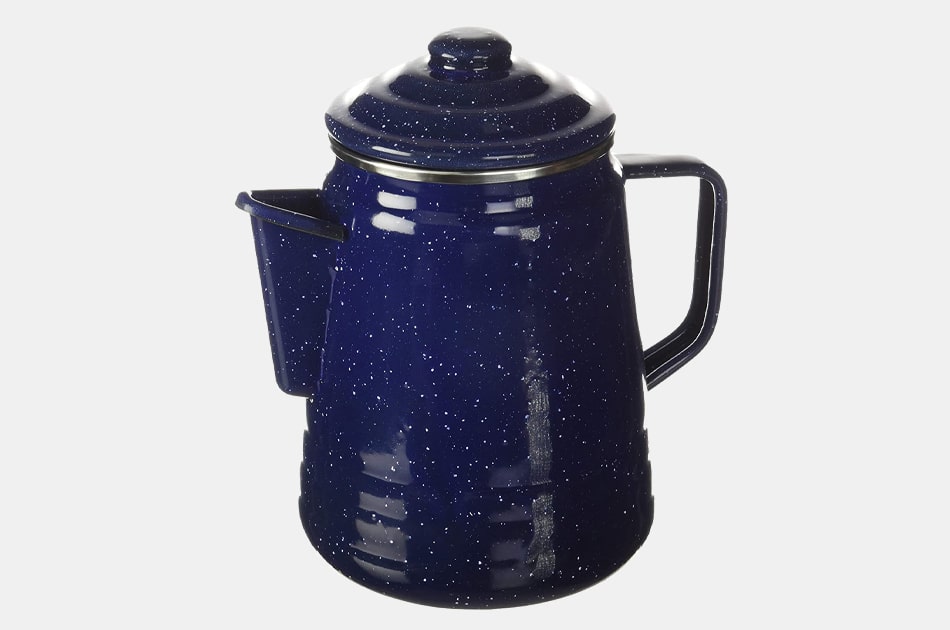 Coleman 9-Cup Percolator
Nothing beats enamelware for lightweight, well-nigh indestructible dinnerware when you're camping. If you've already got coffee cups, it's time to add to your set with this 9-cup percolator that weighs just 0.15 pounds. 
You don't have to worry if the bottom gets singed over an open fire—the double-coated enamel body, handle, and lid all resist cracking and chipping. A quick wipe will remove any soot. Just make sure to use a potholder to grab the hot handle when you're pouring your perc.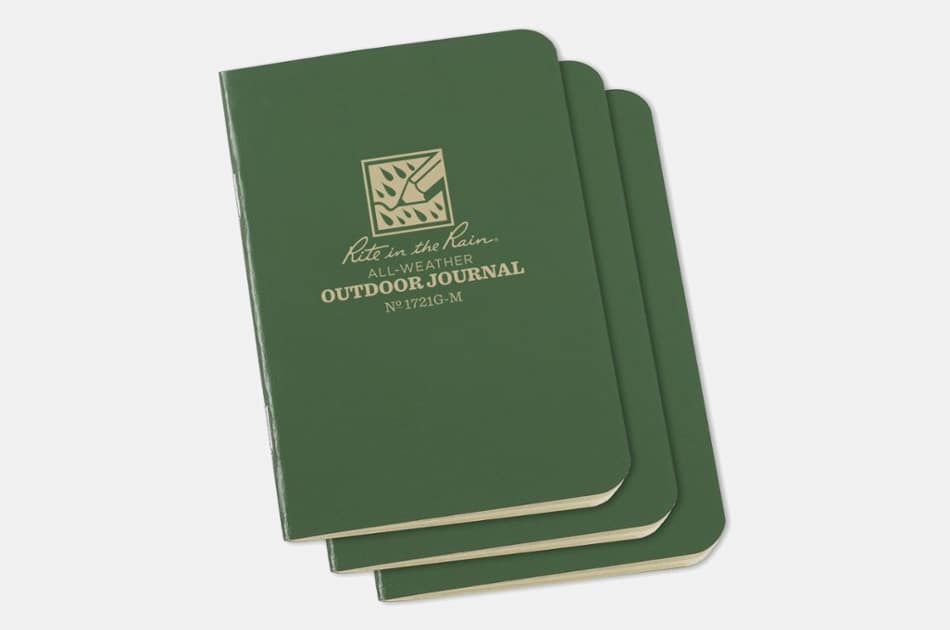 Rite in the Rain Mini Stapled Notebook
You don't think you need an all-weather outdoor journal until you really need one. TBH, not every camper will find cause to write in the rain, but whether you're out bird-watching and taking notes, you're getting Zen with a botanical illustration, or you're composing an emo love letter in the downpour, the all-weather, tear-resistant, archival grade paper is made to repel water, oil, mud, grime and more.
Use pencils, crayons, wax markers, or pressurized pens in any condition. If you prefer a ballpoint pen or permanent marker, wait for dry weather.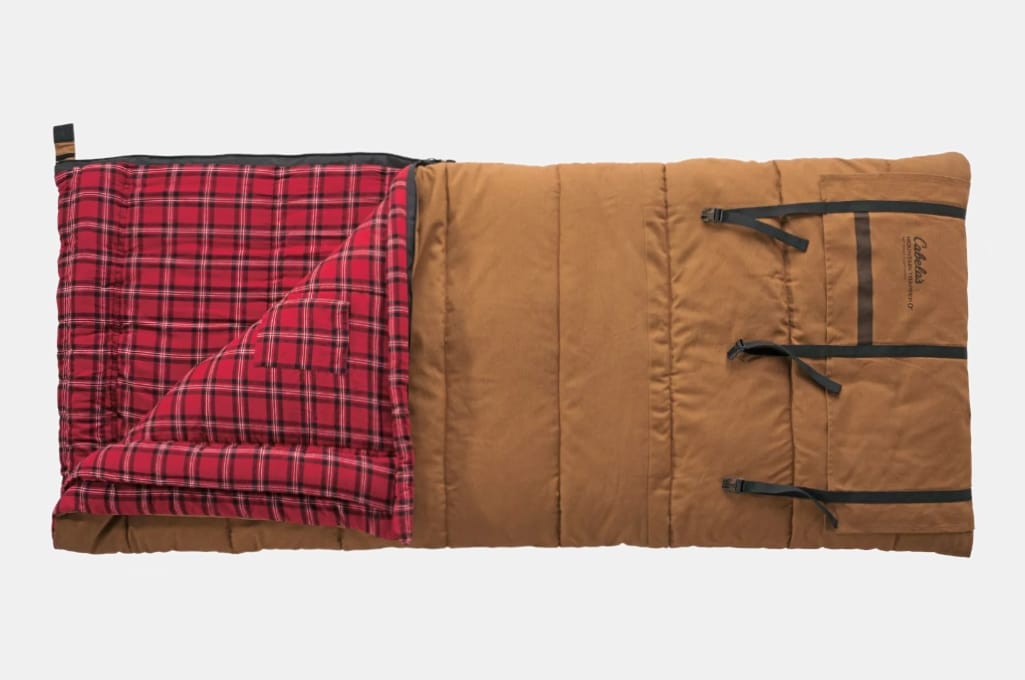 Cabela's Mountain Trapper 0° Sleeping Bag
If you're going to buy a sleeping bag, you might as well get one rated to keep you cozy in temps as low as freezing.
Unless you plan to camp at high altitude outside the summer season, you probably don't need to shell out the dough for sub-zero. This bag in rugged, water-repellent canvas (lined with soft, brushed-cotton flannel) weighs just four pounds, six ounces, thanks to 100 percent polyester insulation.
The "stuff flap" and inner pocket are nice touches for the uber-organized (keep your glasses, a flashlight, and other necessities contained and close at hand).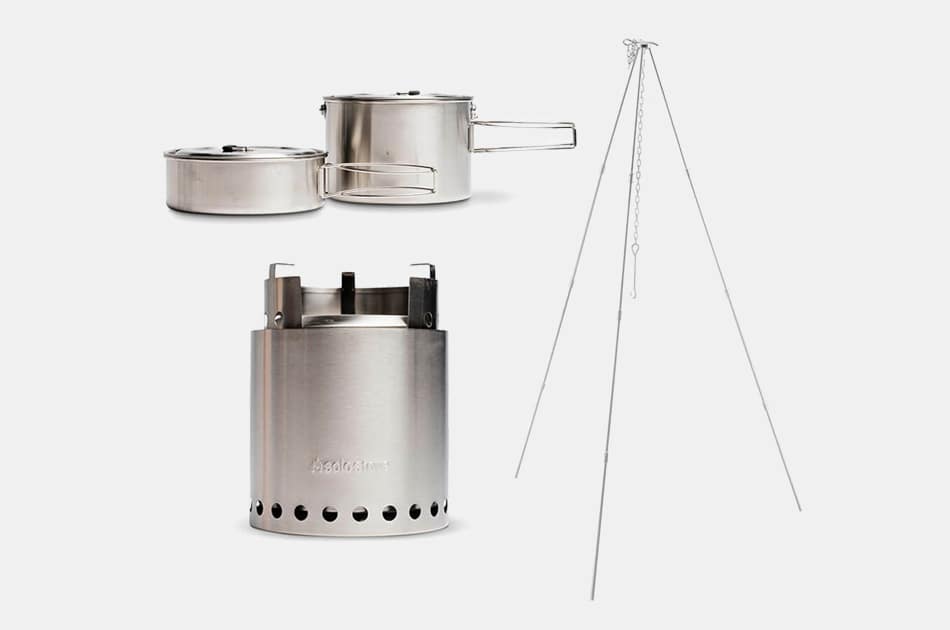 Solo Stove Campfire Gear Kit
Finding the right place to build a campfire can be tough. The low-smoke, wood-burning, stainless steel Solo Stove makes it a lot easier and safer to get the fire going to heat up some food.
At just 2.2 pounds., it won't add much to your carry weight. You can use it to cook everything from hot dogs to trout to marshmallows. The kit comes with a small and large pot (which can nest with the stove inside for transport) and a tripod, providing the accessories for an absolute feast in the forest.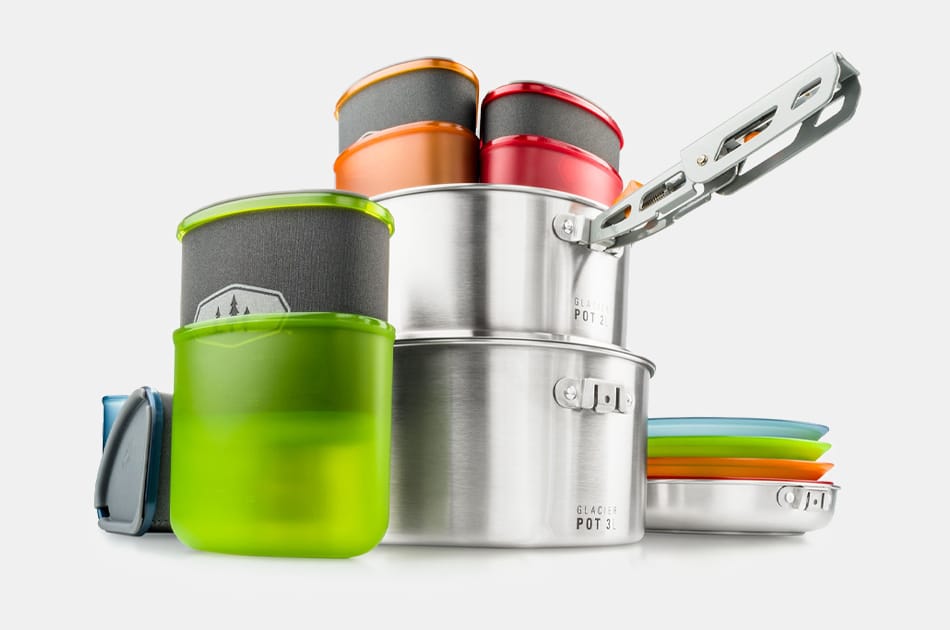 GSI Outdoors Glacier Stainless Camper Set
How much camp cookware can you fit into an 8.4 by 8.4 by 5.4-inch package? Apparently, a three-liter pot, a two-liter pot, a strainer lid, a nine-inch frying pan, a folding pot gripper, a welded storage bag/sink, and service for four campers (four 14-ounce mugs with insulated sleeves and Sip-It tops, four 14-ounce. bowls, and four seven and a half-inch plates)!

BPA-free and brightly colored, these heavy-duty, clad 304 (18/8) stainless steel pieces are durable, food-safe, and easy to spot among your gear. At a total weight of about three and a half pounds, the nesting set is also easy to transport.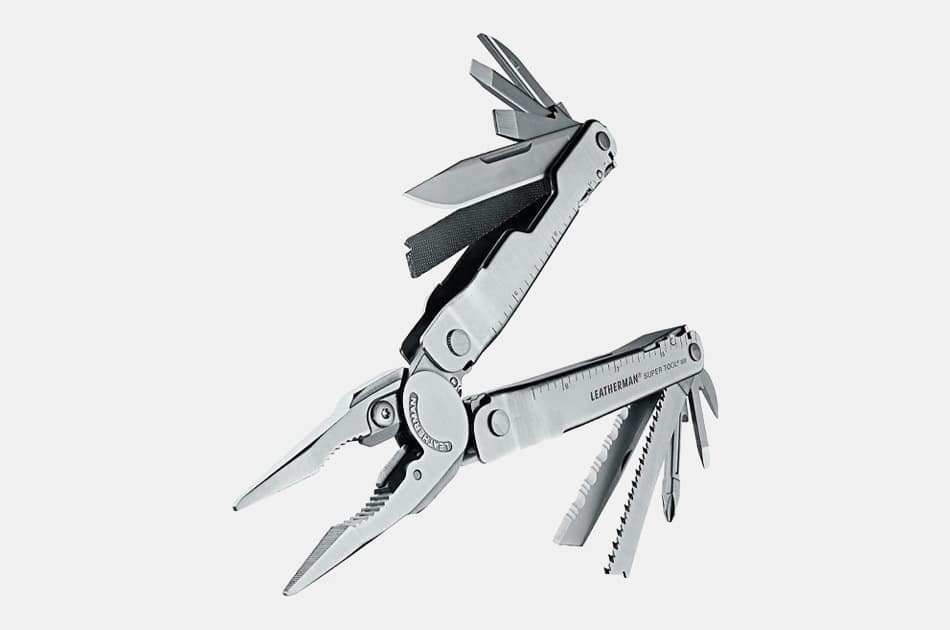 Leatherman Heritage Super Tool 300
Is any camping kit complete without a Leatherman? If you bring literally nothing else into the wild, you can probably survive with a multitool from the most renowned supplier of such handy items.
This popular, compact model includes needlenose and regular pliers, premium replaceable wire and hardwire cutters, extra-long straight edge and serrated knives, a saw, a ruler, can and bottle openers, a wood/metal file, a buncha screwdrivers, and a heck of a lot more.
Want a toolkit in your pocket? Leatherman.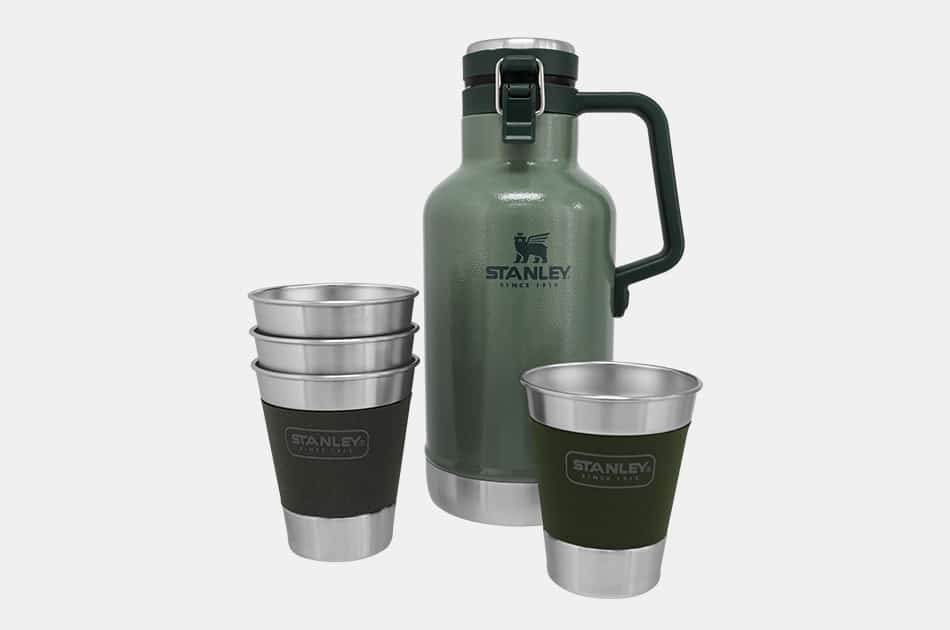 Stanley Classic Outdoor Growler Gift Set
Once you nail down the basics of food and shelter, it's time to turn your attention to what really matters: beer. How are you going to keep it chilly without a trusty fridge in tow?
Simple—a growler from Stanley, whose all-steel, vacuum-insulated thermoses have kept coffee hot and cola cold since before WWI.
This extra-large growler is no exception, offering 24 hours of cold storage—or up to four days, if iced (as well as 18 hours for hot beverages). With 64-ounce capacity and a complement of four stacking steel tumblers, you can sit back and sip a cold one as the stars wheel overhead.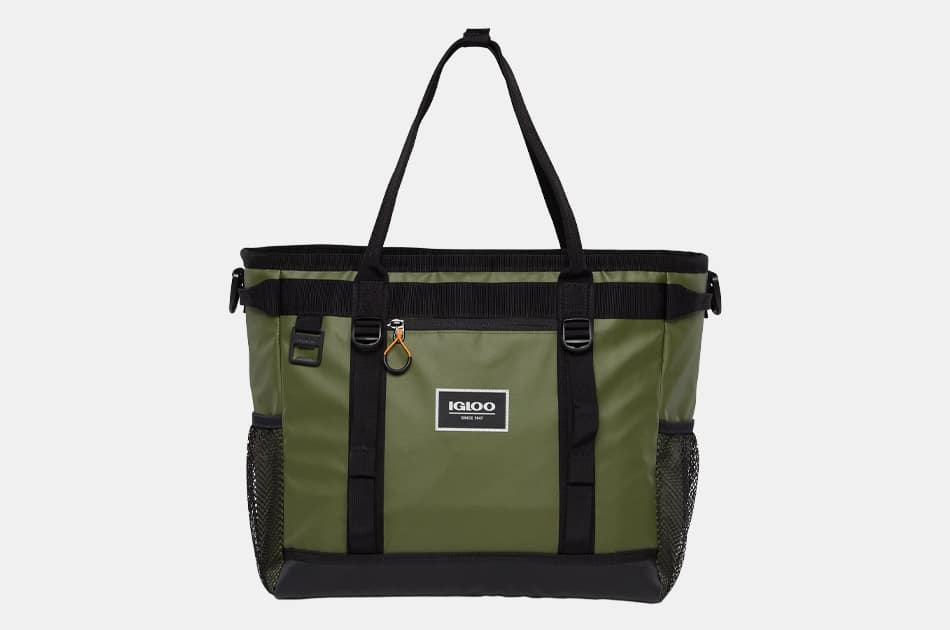 Igloo Pursuit 300-Can Tote
Hauling a large capacity cooler over rough terrain is no joke. Even rugged coolers will tip, tumble, and generally give you cause to curse.
Not so with the Pursuit 300-Can Tote from Igloo, which you simply sling over a shoulder. Granted, it only offers storage capacity for about 30 12 ounce cans, but that's more than enough room to fit food for a day trip or an overnight excursion without weighing you down too much if you pack with care.
Huckberry Large First Aid Kit
The fact that this first aid kit comes in dimensions of ten by seven by three inches may not appeal to minimalists (hey, the product name specifies "large"). With that being said, should you need the potentially life-saving supplies inside, you will not be sorry you hauled it along.
This kit includes all manner of pads, bandages, and gauze, as well as antiseptic towelettes and alcohol gel, burn cream and dressing, scissors and gloves, a first aid fact guide, and a lot more.
It won't help much if you suffer a compound fracture, but it will treat small wounds that could become dangerous if they get infected.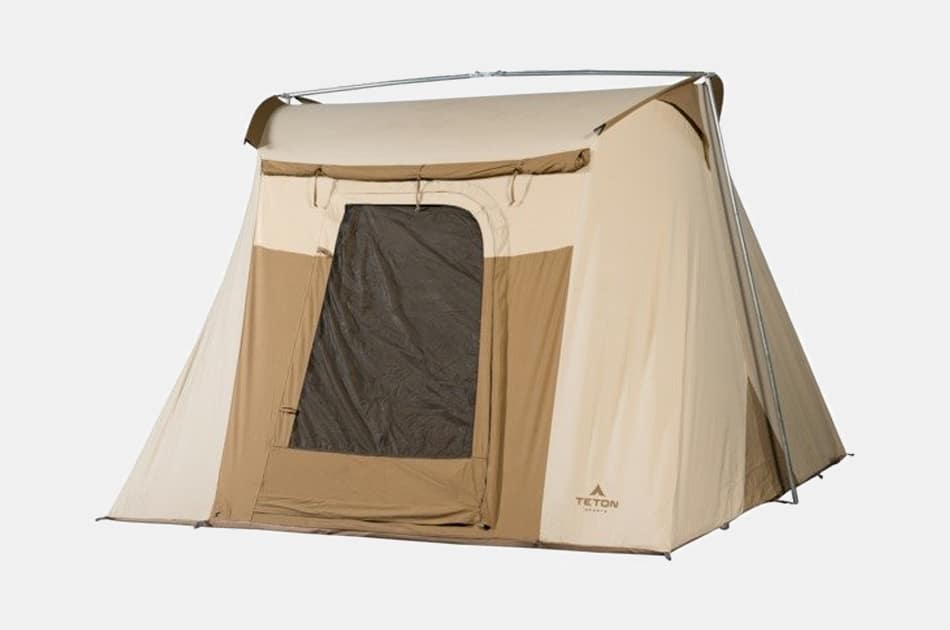 Mesa 10 Canvas Tent
Tents can be a complicated affair. Whatever happened to running a string between two trees and throwing a tarp over the top to create a simple A-frame? Well, wind, for one thing. Animals and bugs, for another.
The good news is that you can enjoy modern amenities like zippered doors without crossing the line into glamping. This ten by ten-foot, cabin-style tent is a great example, with a T-1 top bar, two poles, and heavy-duty steel stakes to hold it in place. 
Durable, breathable, and water-resistant, this simple home away from home also offers handy extras like a gear loft (overhead storage net), a hanging organizer for small stuff, and zippered E-port access (to run electricity to powered items in the tent, if you so choose).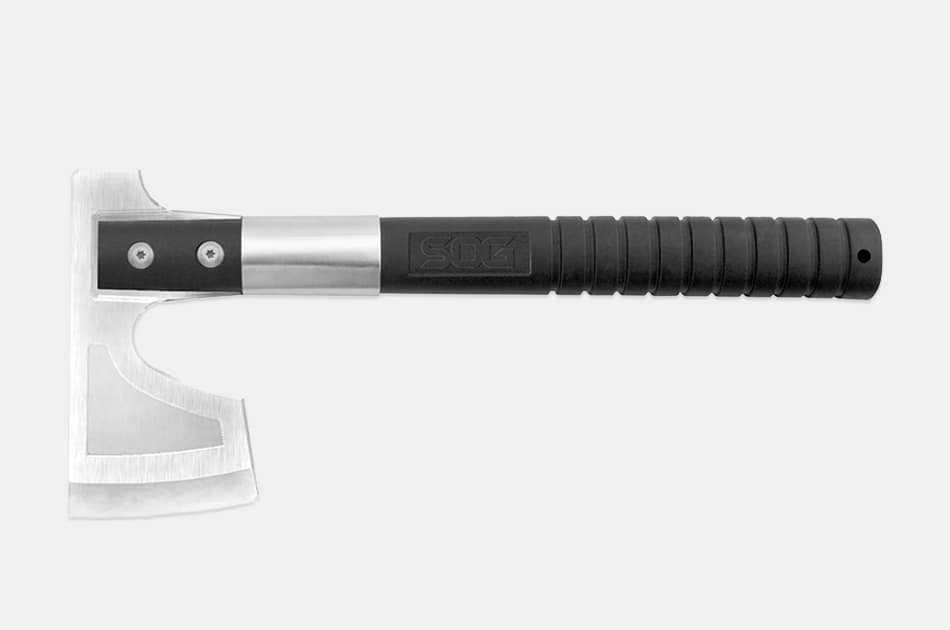 SOG Camp Axe
SOG knows blades. Their reputation is built on their first product, a Bowie knife based on a unique combat weapon carried by U.S. special ops in Vietnam. The popularity of the product led to the creation of an entire line of innovative, field-proven tools tested by elite U.S. military groups.
You might not need combat weapons on your average weekend camping trip, but you're sure to find use for this lightweight, ergonomic hatchet that weighs just a hiccup over a pound. It features a 3.1-inch blade that's perfect for chopping kindling, as well as an 11.5-inch handle that slides easily into a pack or the loop on your utility pants.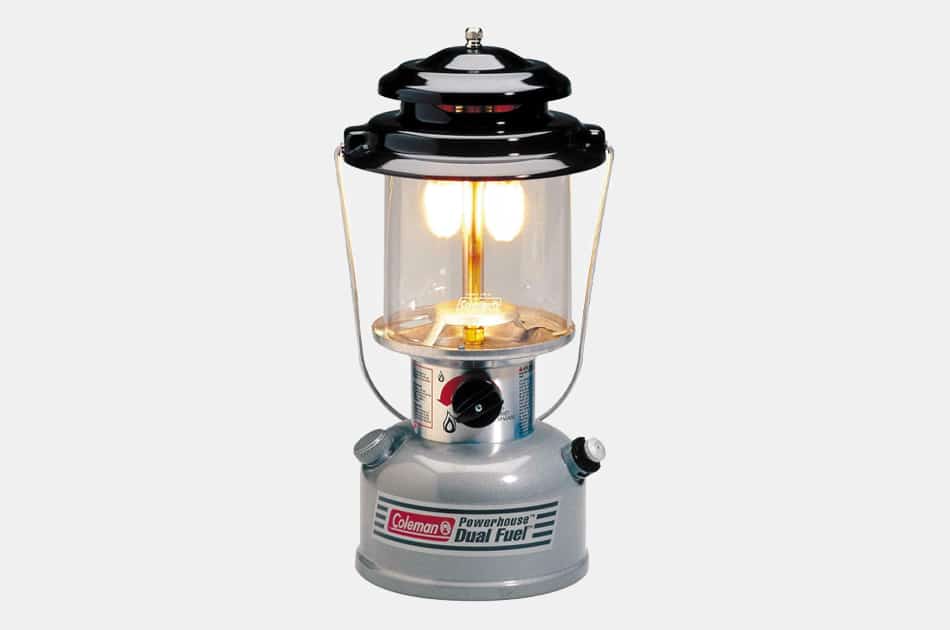 Coleman Powerhouse Dual Fuel Lantern
Our circadian rhythms function best when we open our eyes to sunlight and close them when it gets dark. Of course, there are reasons you might want some illumination after sunset when camping, say, when you have to relieve yourself pre-dawn and you're not keen to trip in the dark and tumbling down a trail on your way to the designated latrine. Or maybe you just want to play cards later than eight pm.
Either way, this dual fuel lantern from camping icon Coleman offers up to 20 hours of light (on low settings) with two and a half pints of Coleman liquid fuel or unleaded gasoline. It's even lit by old-school match technology.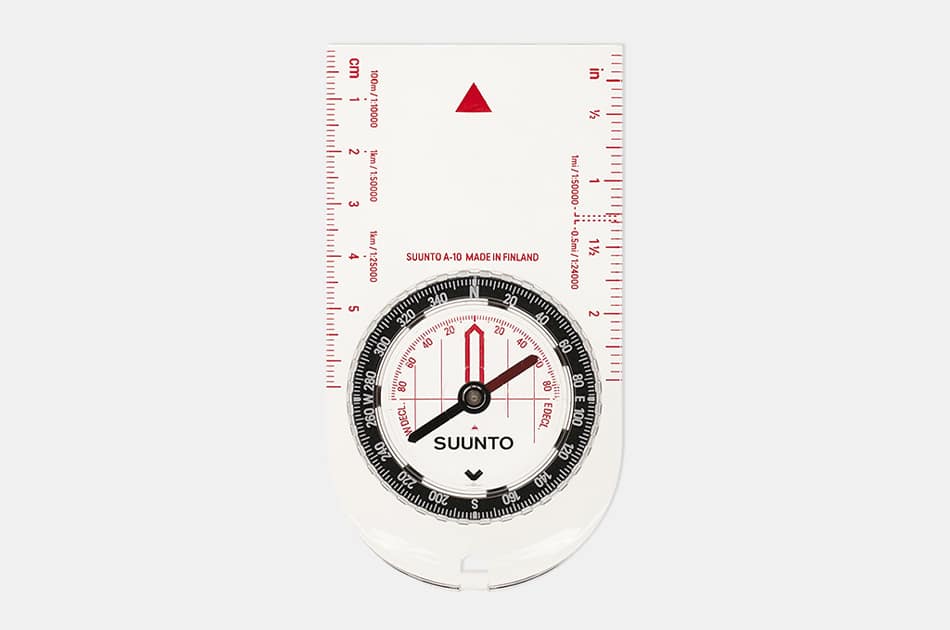 Suunto A-10 Compass
Every Boy Scout knows you can make a compass on the fly by magnetizing a needle, sticking it through a piece of cork, and floating it in water. Or you could just bring a compass when you go camping.
This slim, plastic model features a liquid-filled capsule, a fixed declination correction scale, two short rulers (inches and centimeters), and a detachable, snap-lock lanyard with wrist-lock, so you won't lose it. It's balanced for the northern hemisphere.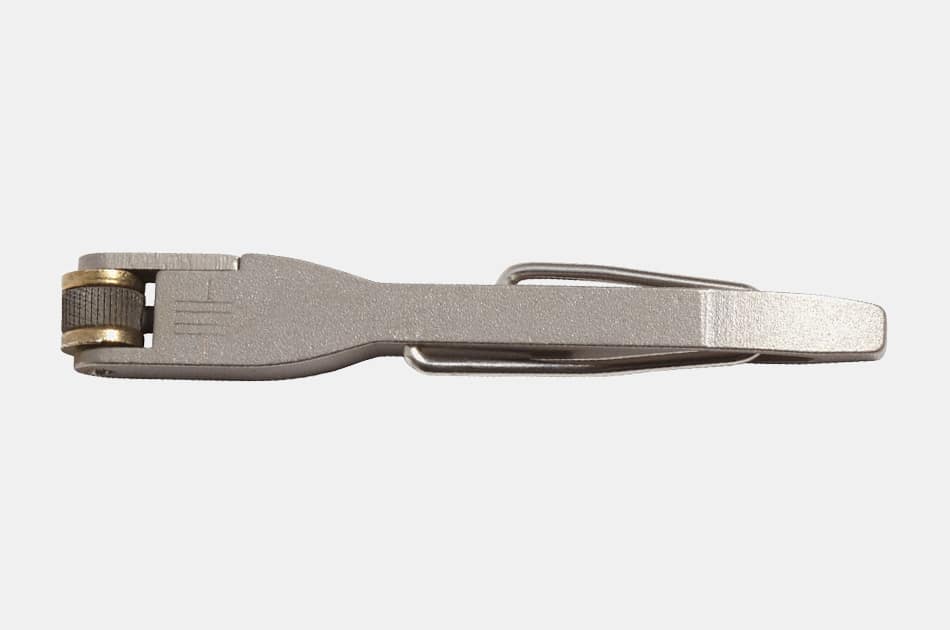 Vargo Titanium Flint Lighter
From the moment Prometheus gave man fire, we've been fascinated and fearful of the stuff (as well we should be). Of course, with proper care, it's great for cooking and keeping us warm.
While you could go all caveman and rub two sticks together, a durable, Titanium flint lighter with a reliable striking mechanism and one-handed operation is probably a lot faster and less frustrating. At just a third of an ounce and two and half inches in length, this one stows anywhere.
Disclosure: Clicking on these links and making a purchase may earn us a small referral fee, at no extra cost to you. Learn more here.
freestar.config.enabled_slots.push({ placementName: "gearmoose_leaderboard_btf", slotId: "gearmoose_leaderboard_btf" });