The 15 Best Tactical Tomahawks
Updated 07/11/2021 by Lizzy Briskin
Its pretty difficult not to notice a man that's wielding a tomahawk. As much respect as a quality tomahawk will earn you, they can also serve more practical, functional purposes beyond intimidation such as forcible entry, self defense, military hand to hand combat applications, and light to medium around-the-house demolition.
While they're much larger and harder to carry than a fixed-blade, most tactical tomahawks sport a rugged, nearly unbreakable steel body and feature several different tools built into the design, increasing its functionality and real world application. Without further ado, here is our list of the best tactical tomahawks money can buy, in no particular order.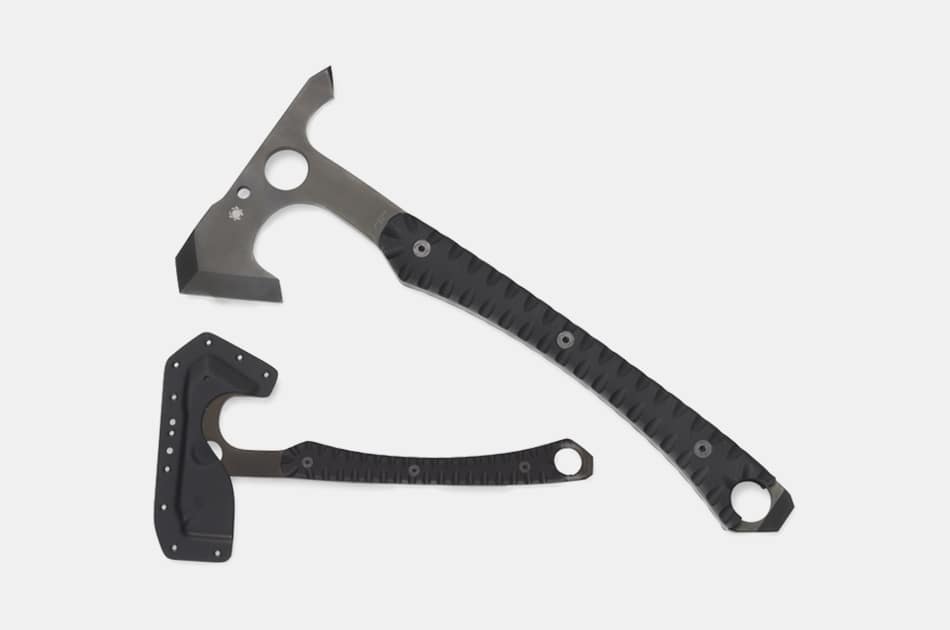 Spyderco Warrior Hawk
From the creative mind of renowned American knife designer Laci Szabo comes a practical, tactical tool suited for cutting, breaching, and close combat. Szabo's background in military and law enforcement shows with this performance tool, which features a one-piece, full-tang construction in steel, with anti-reflective, corrosion-resistant titanium carbonitride coating. 3D machined G-10 scales flank the handle for comfort and non-slip function, and a custom-molded, snap-fit Boltaron sheath ensures safety when not in use. Swing it, throw it, or flip it around to make use of the multi-purpose spike.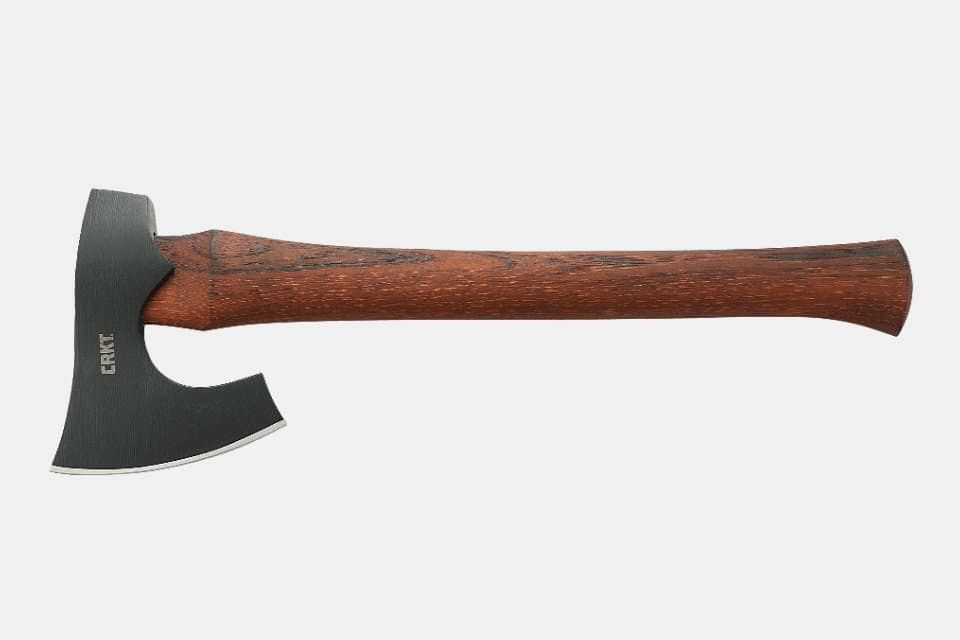 CRKT Freyr Tactical Axe
CRKT has found a way to couple modernity and tradition with its tactical axe designed by artisan Elmer Roush of Brasstown, North Carolina. The blade design leans on traditional viking weaponry for its inspiration, while the material reflects the modern utility of highly resistant, lightweight carbon steel sealed with a protective magnesium phosphate coating. Tennessee Hickory, a tried and true material used for tool handles of all kind, is the wood of choice for this axe handle. Tennessee hickory is known for its shock absorbing qualities, straight grain, high density, and strength — so no need to go modern here.
Even more striking than this old-new juxtaposition is the tactical nature of this axe. At just under 2 pounds in weight and 16 inches in length, it won't wear you down while trudging through the woods on your next backpacking trip.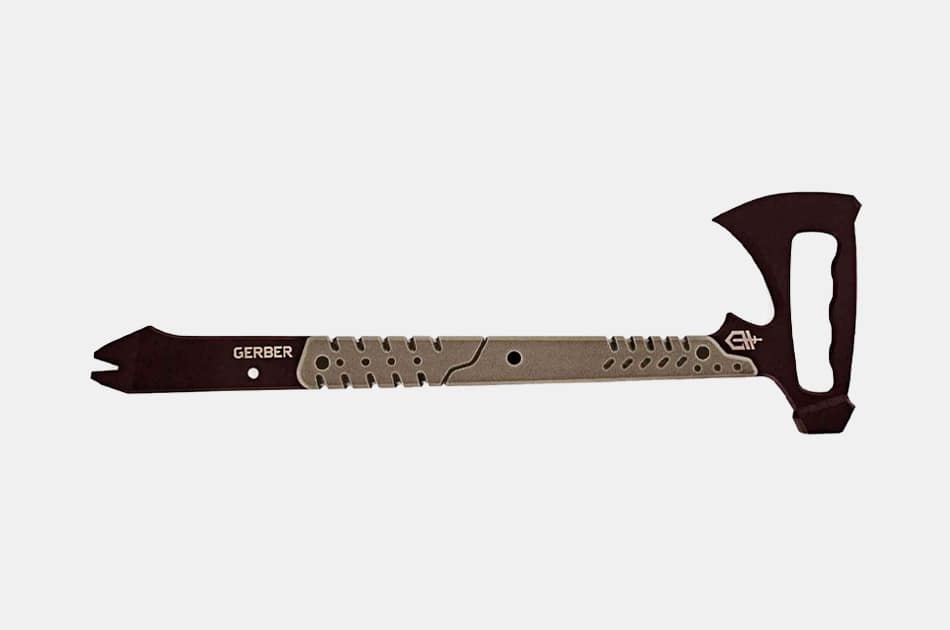 Gerber Downrange Tomahawk
By far the most recognizable tomahawk on this list, the Gerber Downrange Tomahawk was designed to pull military forcible entry and self defense duties thanks to its unique triple purpose axe head. The axe head features a beveled edge that can eat straight through walls and doors, a pry bar on the opposite end with a cutaway grip, and a blunt edge on the back side that pulls hammering duties. The Downrange Tomahawk boasts a 420HC steel body, a sturdy G-10 handle, and absolutely no moving parts — making it a tomahawk you'll only need to buy once.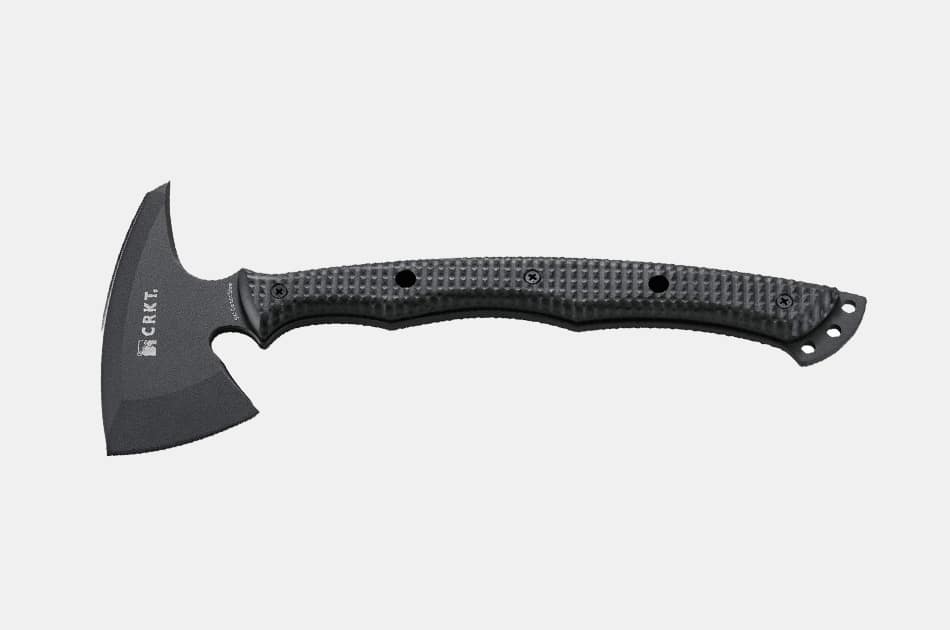 CRKT Kangee Tomahawk
Designed by RMJ Tactical's Ryan Johnson, the Kangee Tomahawk is crafted from a single piece of SK5 carbon steel for superior durability during hard use and features a curved handle and grip choils along the front for improved grip. The rugged hammer head design of the Kangee Tomahawk's blade provides exceptional balance, control, and the toughness needed to demolish anything you swing it at.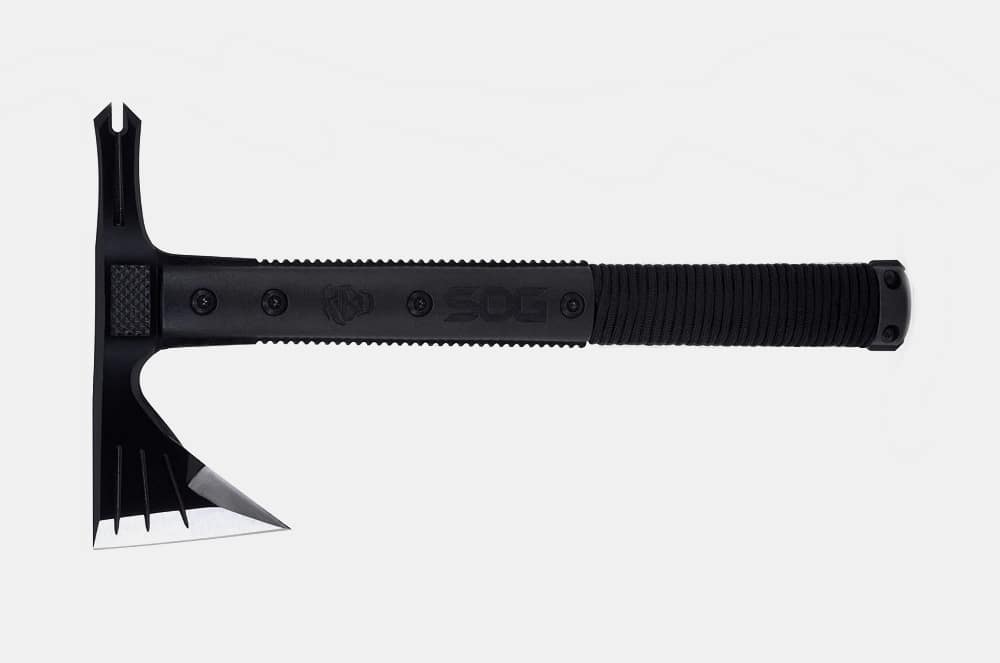 SOG Survival Hawk Tactical Tomahawk
Because SOG specializes in knives and tools for both civilians and the military, it's no surprise that several of their tomahawks made this list. The first mention is the Survival Hawk shown here. This tactical tomahawk is crafted from blacked-out 2CR blade steel and is decked out with all of the trimmings including a reflective paracord-wrapped handle, a nail puller, a straight edge axe head that doubles as a hammer, and a ferrocerium fire starting rod integrated into the handle just in case.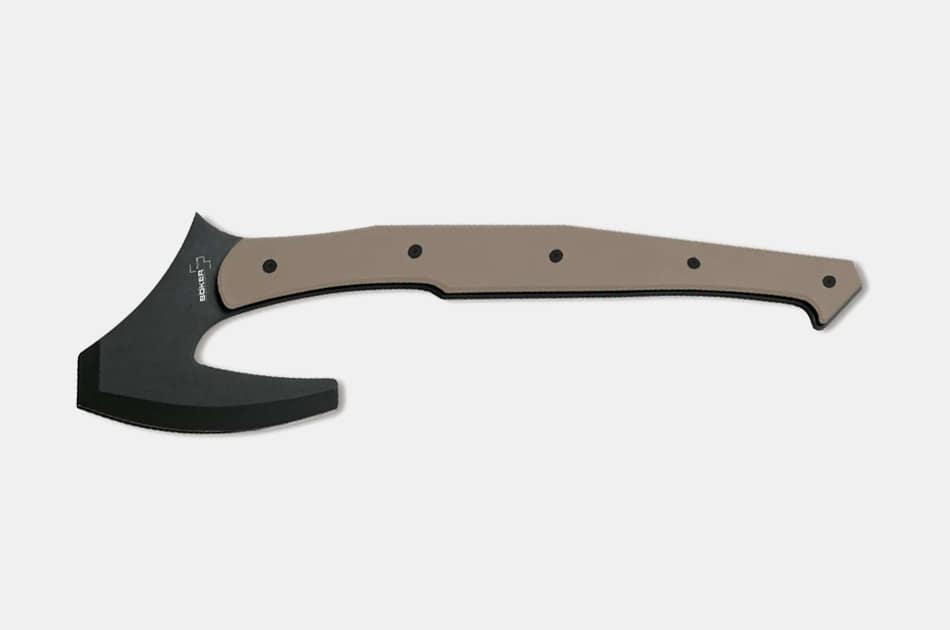 Boker Plus Tomahook Tactical Tomahawk
Tomahawks have been around a good long while, and when it comes to design, there's no need to tamper with perfection. As a result, innovative takes on this tactical tool are rare. Boker bucks the trend with their Tomahook, a long-handled affair with a distinctively hooked head design that you'll have no trouble using in real-world situations. Cutting applications are myriad, thanks to a wide, sharp edge in SK5 carbon steel, coated to resist corrosion. The spike in the back is less prominent than competitive tomahawks, but handy, nonetheless, and the hook provides untold added utility you won't get from other tomahawk models.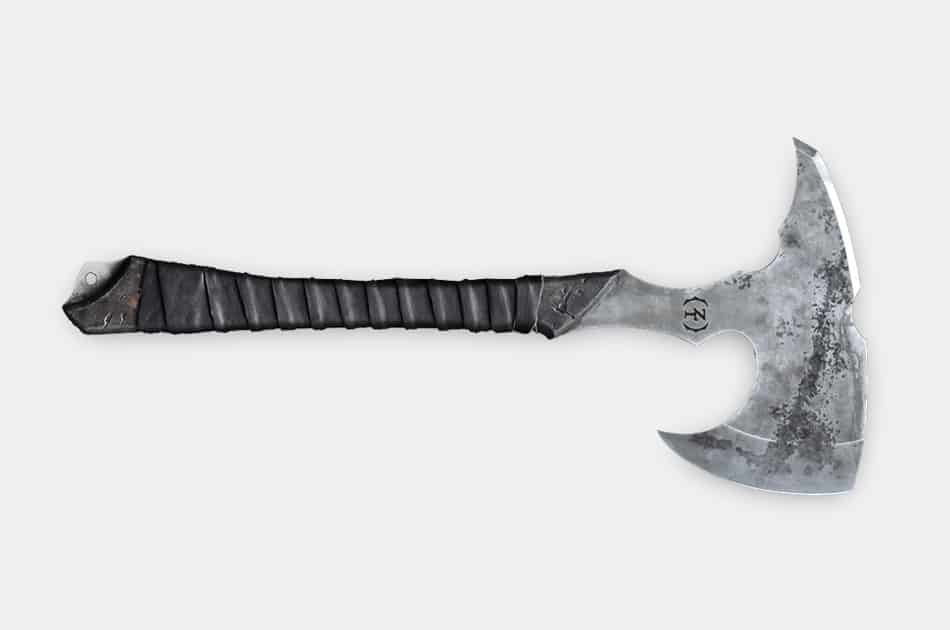 The Traumahawk
The Traumahawk is no ordinary tomahawk. While it certainly plows through doors, windows, and other stationary obstacles when coupled with the right amount of strength or aggression, it was designed specifically for close quarters combat. An all-steel, full-tang construction renders it heavier, and more powerful than most tomahawks, while a hooked axe head will catch and rip your zombie attacker's face right off. Included is a a Kydex blade cover and a leather retaining strap.
M48 Tactical Tomahawk Axe
This tactical tomahawk axe from M48 is both lightweight and powerful. The blade is made with precision-cast stainless steel for durability and strength. It's securely fixed to the handle with three bolts for maximum safety. The axe even comes in three colorways, including bubblegum pink and neon yellow, so you can always spot your axe in a pile. For travel and transport, the tomahawk comes with a nylon sheath that fits snugly on the blade and is highly durable.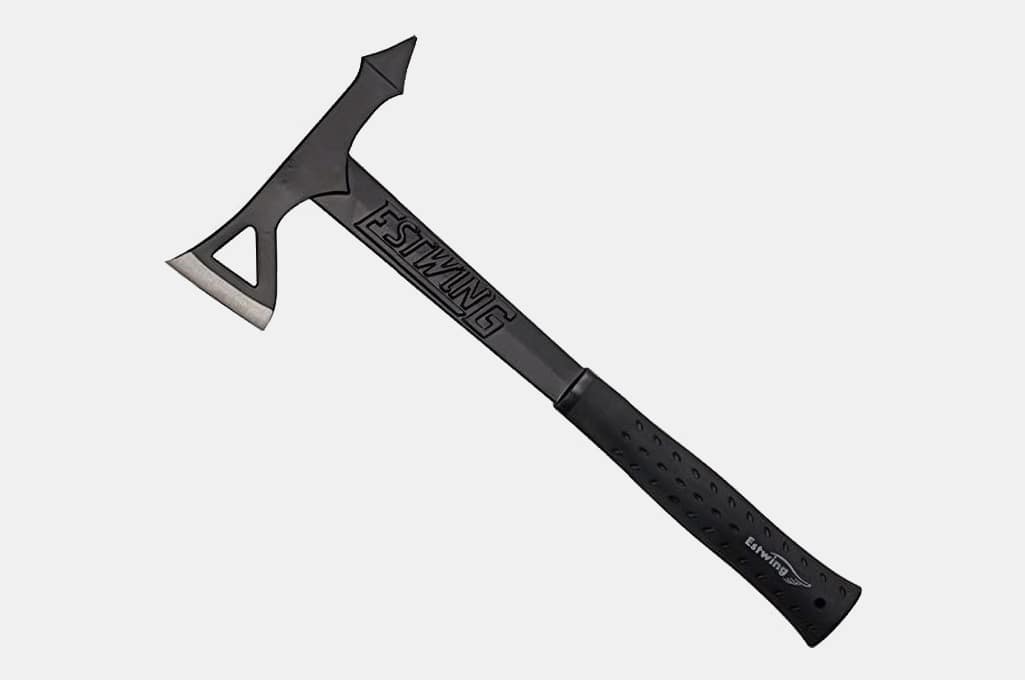 Estwing Tomahawk Axe
This sleek tomahawk axe has a 16.25-inch handle, which is slightly longer than other models. This gives each swing a bit more leverage. And the shock-reducing rubberized grip means you can swing at nearly anything without painful reverberations. You don't even need to wear gloves for hard-hitting axe sessions. The blade is made with forged steel for maximum durability. It's the perfect weight and size to take down thin trees, branches and other small clearing jobs. When you're not using it, cover the blade with the included nylon sheath.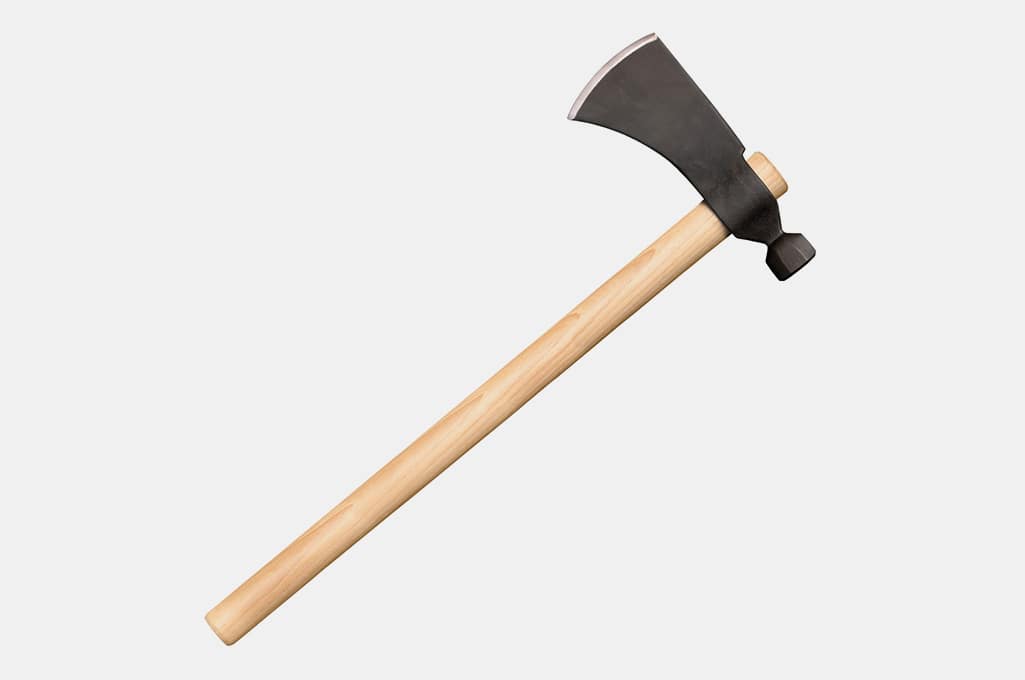 Cold Steel Rifleman's Hawk
This tactical tomahawk unites traditional materials (wood and steel) with a modern design. The wooden handle is a single, smooth piece of American Hickory and offers 22 inches of leverage for chopping and cutting. The 3.5-inch blade is broad enough to handle larger branches and trees. However, the old-fashioned design hints at the best use for this Rifleman's Hawk, which is hammering nails or steaks into the ground, making this a good option for campers. As a bonus, it's also great for throwing and target practice, as the wood and steel parts are well-balanced for flying and sticking.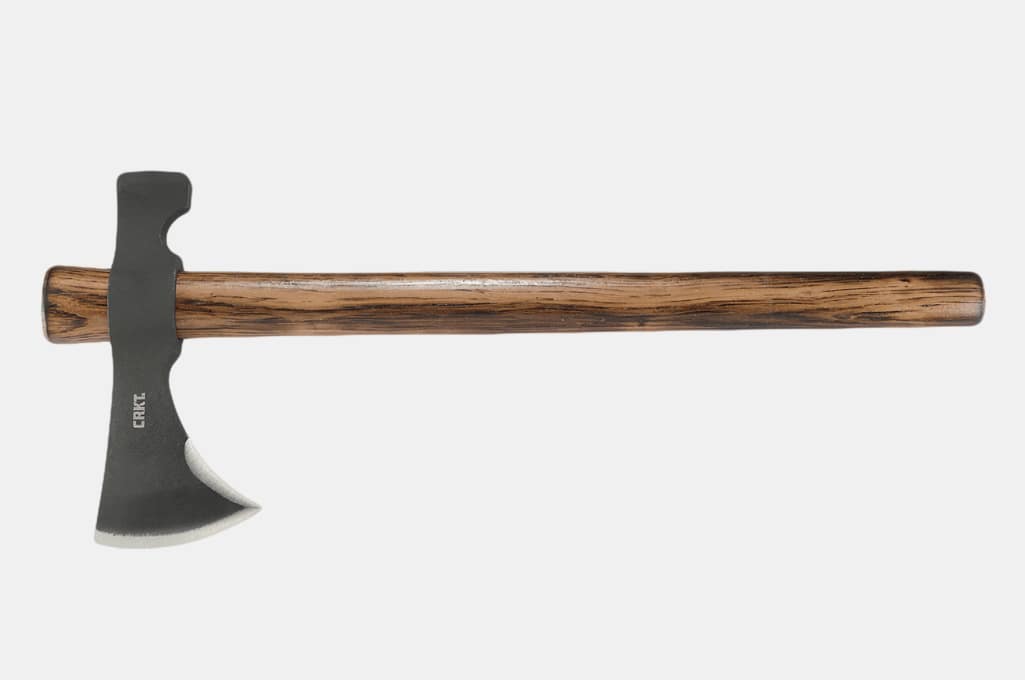 CRKT Black Woods Chogan T-Hawk
If you like a traditional look and feel, this wood-handled tomahawk from CRKT is both classy and functional. The 3.5-inch blade is made with 1055 carbon steel, which is both highly durable and surprisingly lightweight. At 19 inches long and less than 2 pounds, this is a lighter and more portable axe than others. The Tennessee hickory handle has a nice burnt pattern for some texture and color. And the blade is treated with a black magnesium phosphate coating, which protects against rusting and corrosion, making this a great tool to take into the great outdoors.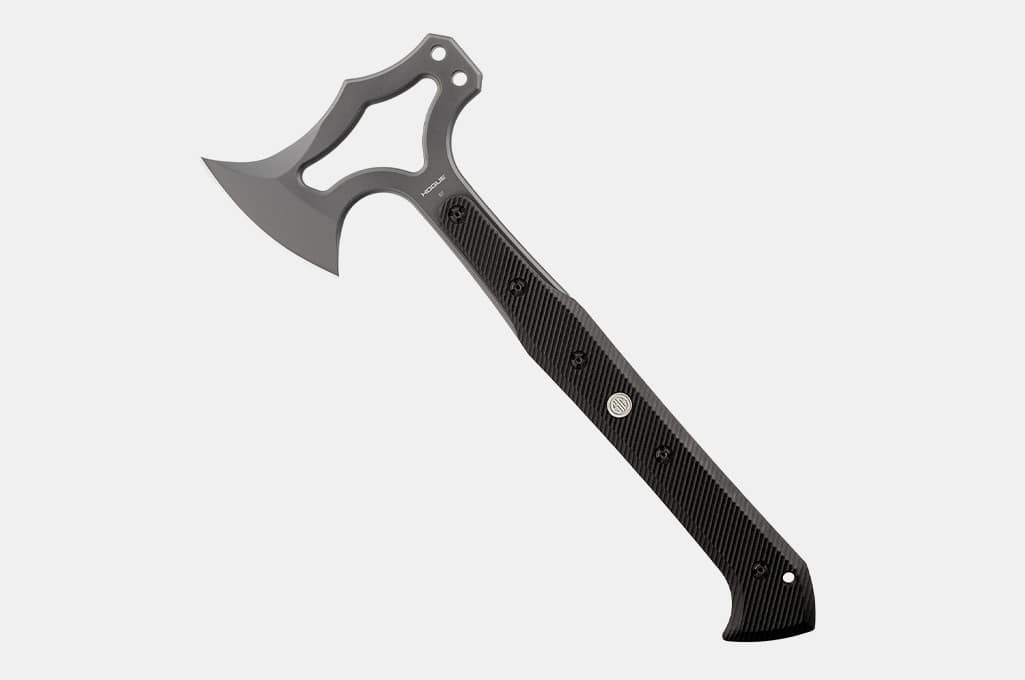 Hogue SIG EX-T01 Tactical Tomahawk
This tactical tomahawk from Hogue is as futuristic looking as the CRKT model is timeless. The blade is hollow, which makes the axe easy to hang for storage. It also makes for a much lighter tool. This axe weighs less than a pound and a half with its form-fitted carrying case. Though this tomahawk doesn't have a pick end like some other options, it makes up for it with a supremely durable and sharp blade, which is hand-honed and heat-treated to resist wear and tear. You can rely on this tactical axe for decades, even with regular use in all kinds of weather conditions.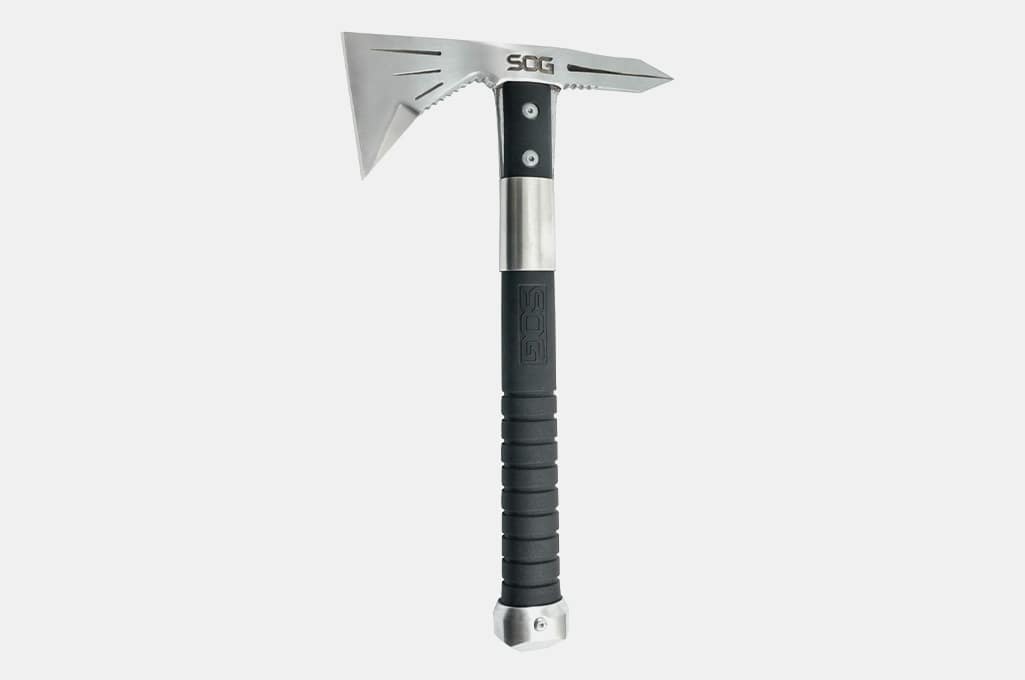 SOG Voodoo Hawk Mini
A miniature tomahawk is ideal for campers, backpackers and climbers looking to cut back on added weight while bringing along the right tools. The Voodoo Hawk Mini has a reliable and sharp 2.75-inch steel blade and a comfortable nylon handle that won't slip. All this in a compact and light 12.5-inch frame makes this one of the lightest hawks on our list. A sleek satin finish gives the blade a clean look, while the rubberized handle helps absorb shock. You can even put your own personal touch on this axe with an engraving.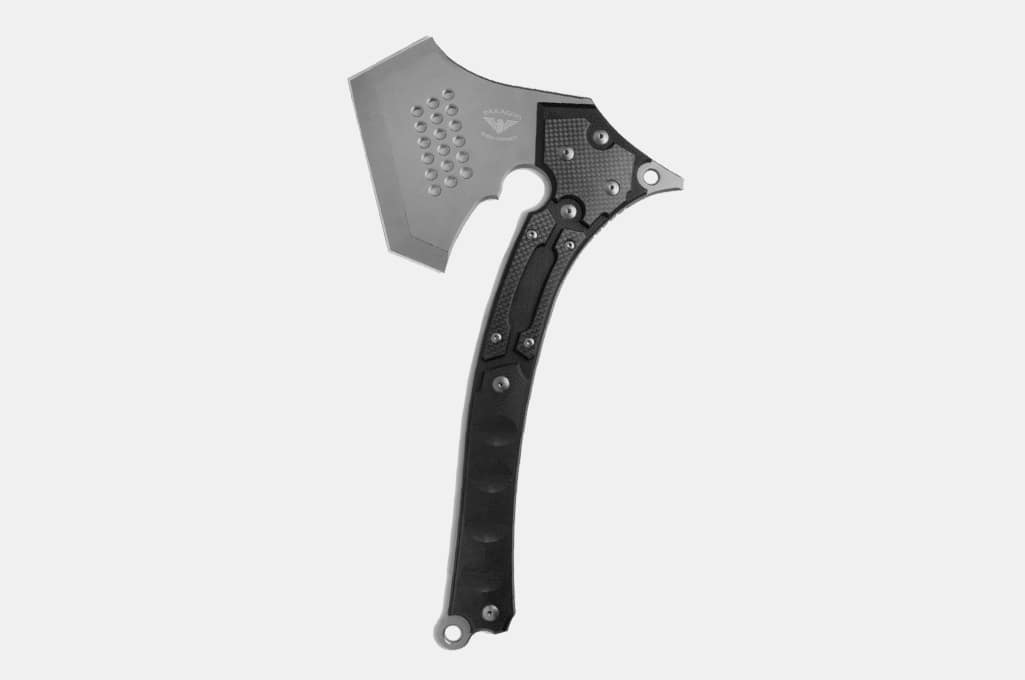 Paragon War Party 13" Tactical Tomahawk Axe
The War Party tactical tomahawk axe looks and acts differently from the other models on this list. It has a curved handle and extra-wide blade for easier, more efficient chopping and cutting. At nearly six inches, this is the longest blade of any axe on our list. And still, thanks to the axe's high-quality carbon fiber construction, it weighs just over two pounds, making it incredibly light for its size. This axe can handle larger cutting jobs than most, making it a great option for serious camping, paddling or backpacking trips.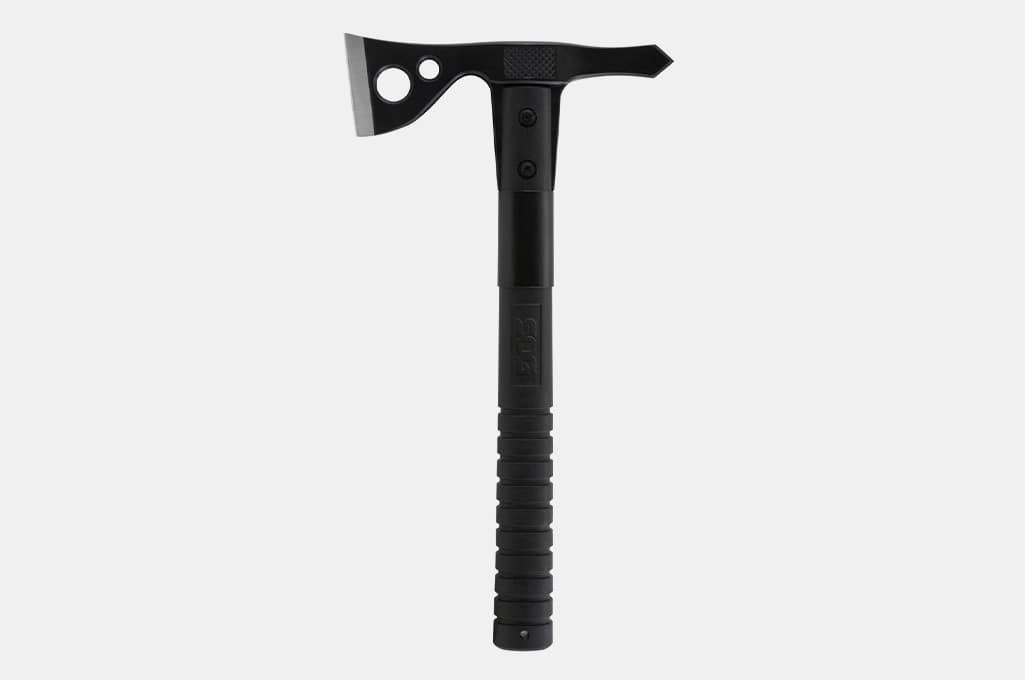 SOG FastHawk
This tomahawk axe from SOG is designed to be as light and packable as possible without sacrificing cutting abilities or functionality. This is the right tool for any cutting, hacking, hammering or even digging you may encounter in the great outdoors. It's also an excellent tool for axe-throwing, as its name suggests. The nylon sheath doubles as a carrying case, as it handily attaches to belts, backpacks and other gear. At 12.5-inches long and one pound, three ounces, this is one of the lighter tomahawk axes for its size and versatility. Plus, the nylon handle absorbs shock and protects your hands during use.
Disclosure: Clicking on these links and making a purchase may earn us a small referral fee, at no extra cost to you. Learn more here.
freestar.config.enabled_slots.push({ placementName: "gearmoose_leaderboard_btf", slotId: "gearmoose_leaderboard_btf" });