The 15 Best Tactical Tomahawks
Its pretty difficult not to notice a man that's wielding a tomahawk. As much respect as a quality tomahawk will earn you, they can also serve more practical, functional purposes beyond intimidation such as forcible entry, self defense, military hand to hand combat applications, and light to medium around-the-house demolition.
While they're much larger and harder to carry than a pocket knife, most tactical tomahawks sport a rugged, nearly unbreakable steel body and feature several different tools built into the design, increasing its functionality and real world application. Without further ado, here is our list of the best tactical tomahawks money can buy, in no particular order.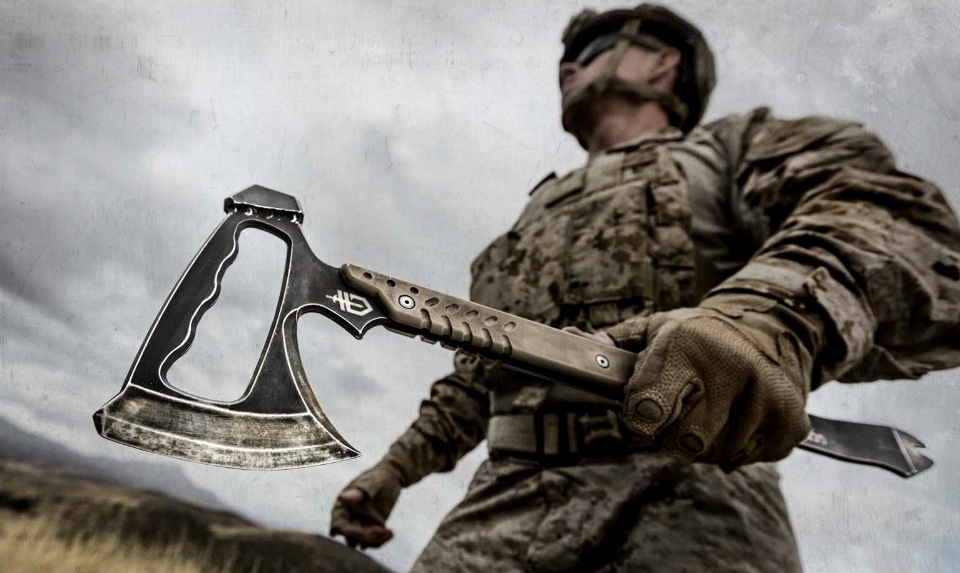 Gerber Downrange Tomahawk
By far the most tactical tomahawk on this list, the Gerber Downrange Tomahawk was designed to pull military forcible entry and self defense duties thanks to its unique triple purpose axe head. The axe head features a beveled edge that can eat straight through walls and doors, a pry bar on the opposite end with a cutaway grip, and a blunt edge on the back side that pulls hammering duties. The Downrange Tomahawk boasts a 420HC steel body, a sturdy G-10 handle, and absolutely no moving parts — making it a tomahawk you'll only need to buy once. BUY IT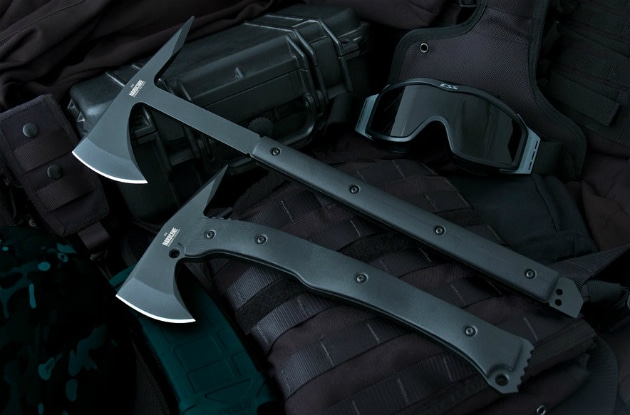 LFT01 Tactical Tomahawk
Don't let the LFT01 Tactical Tomahawk's handsome appearance fool you. It was built to perform. The D2 Tool Steel tomahawk by Australia-based Hardcore Hardware can hammer, chop, dig, cut, break, or smash anything you need it to thanks to a razor sharp axe head, a tanto pointed spike, and a pommel incorporated into the design. Additional features include a lanyard hole for paracord or carabiner attachment, a G-10 contoured handle for improved grip efficiency, and a black Teflon coating that reduces normal wear and tear. BUY IT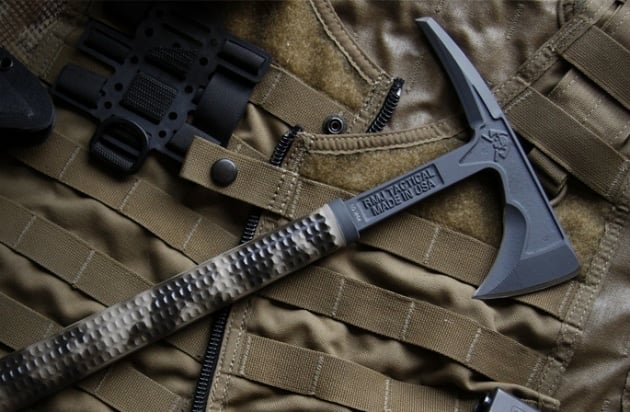 Shrike Tactical Tomahawk
Pit RMJ's Shrike against any other tomahawk on this list, and chances are that the Shrike will win every time. Weighing in at only 27 ounces, this hammer-forged tomahawk features a heat-treated chrome-moly 4140 steel construction that was designed to actually pierce a kevlar helmet. Each Shrike Tomahawk is outfitted with a DuraCoat finish, a handle tang with an insulated, hard rubber over molded non-conductive grip, and a lifetime guarantee. BUY IT
Walther Battle Axe
The top tomahawk choice by us for urban carry — although we don't recommend open carry of a tomahawk on the streets — the Walther Battle Axe not only looks the part, but was built to perform whatever tasks you require of it. It's no coincident that the Walther Battle Axe is made from the same company responsible for James Bond's sidearm, the PPK handgun. Its tough, durable, and ready to inflict damage thanks to a 4.25-inch black coated stainless steel blade, an intimidating rear spike, and a composite handle with a built-in glass breaker on the bottom and a checker-cut grip. BUY IT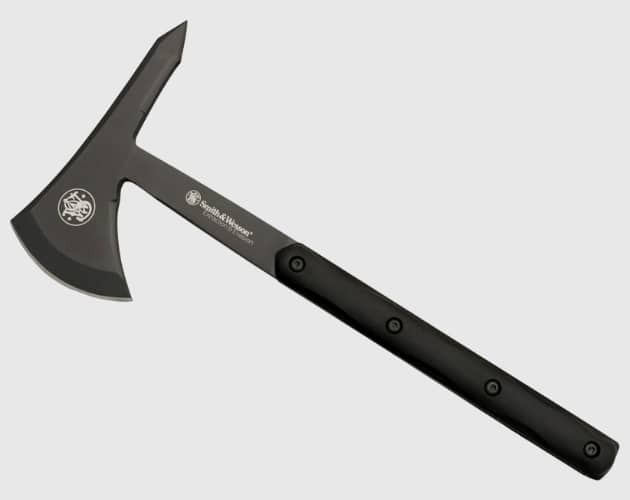 Smith & Wesson Extraction and Evasion Tomahawk
Designed for extraction with obvious self defense applications, firearm manufacturer Smith & Wesson's Extraction & Evasion Tomahawk is one of the heaviest tomahawks on this list, and for good reason. Its 2 pounds, 11 ounce 1070 high carbon steel construction with both a full tang and v-shaped spike renders it perfect for chopping your way to freedom through nearly any obstacle imaginable. Its removable handle grips are finished with a textured Kraton overlay for maximum grip. BUY IT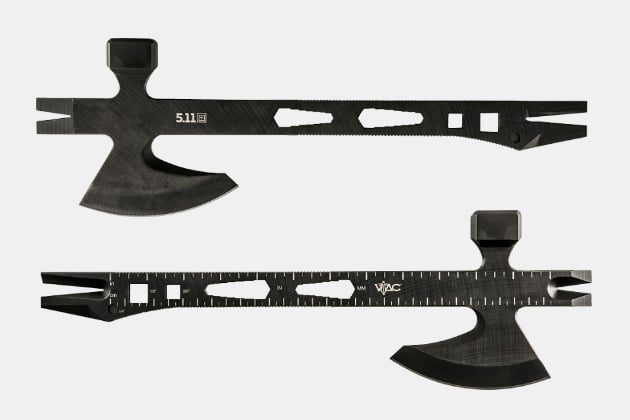 5.11 Operator Axe
Because 5.11 focuses on specialty tactical gear and accessories, it was only a matter of time before the company created their very own tomahawk. Designed by Kyle Lamb of Viking Tactics, the new 5.11 Operator Axe is a highly functional multi-tool crafted from SCM 435 stainless steel with a blacked-out finish. Including the aggressive bearded tomahawk blade, the axe itself features 24 different tools and functions including a hammer point, a pry bar, a jimped shaft and handle for maintaining a solid grip while working, an assortment of built-in metric and standard wrenches and sockets, and a sheet metal cutter. BUY IT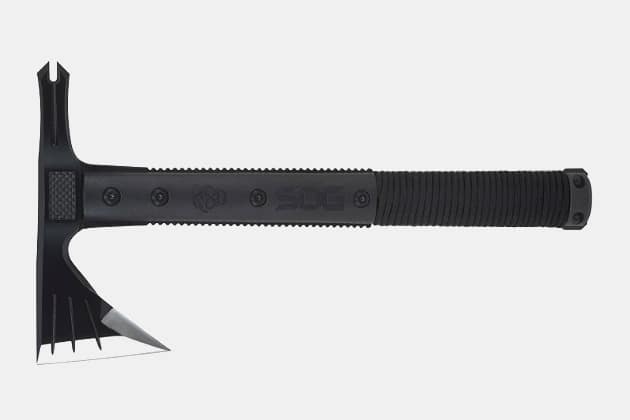 SOG Survival Hawk Tactical Tomahawk
Because SOG specializes in knives and tools for both civilians and the military, it's no surprise that several of their tomahawks made this list. The first mention is the Survival Hawk shown here. This tactical tomahawk is crafted from blacked-out 2CR blade steel and is decked out with all of the trimmings including a reflective paracord-wrapped handle, a nail puller, a straight edge axe head that doubles as a hammer, and a ferrocerium fire starting rod integrated into the handle just in case. BUY IT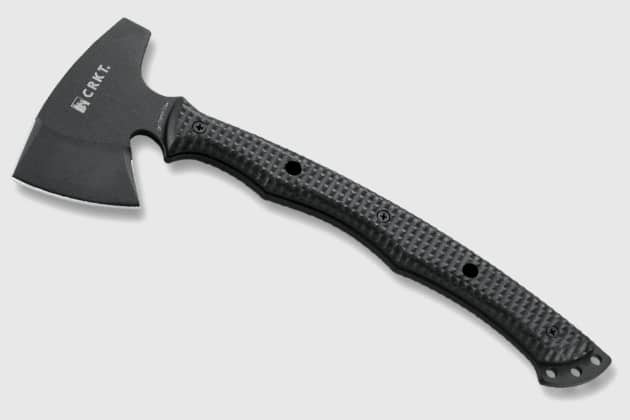 CRKT Chogan Tomahawk
Designed by RMJ Tactical's Ryan Johnson, the Chogan T-Hawk is crafted from a single piece of steel and features a curved handle and grip choils along the front for improved grip. The rugged hammer head design of the Chogan Tomahawk's blade provides exceptional balance, control, and the toughness needed to demolish anything you swing it at. BUY IT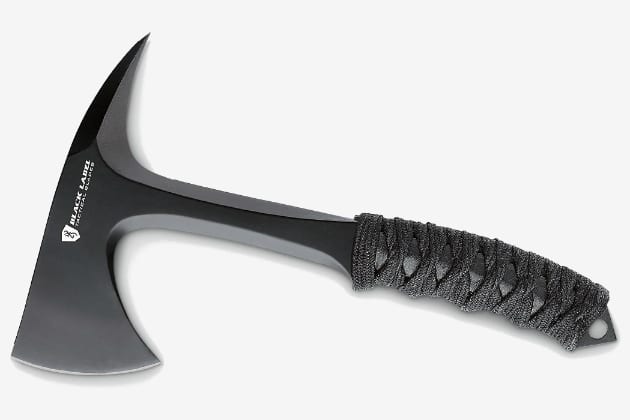 Browning Black Label Shock N' Awe Tomahawk
Some may call it an axe. We prefer to describe it as one pretty intimidating tomahawk. Whatever words you may choose to describe Browning's Black Label Shock N' Awe Tomahawk, there's no doubt that its ready to perform any task you throw at it with a smile on its face. Its forged from a black powder-coated sword-grade 1055 stainless steel and features a 2 3/4-inch axe blade along with a paracord-wrapped handle and an accompanying spiked pommel. BUY IT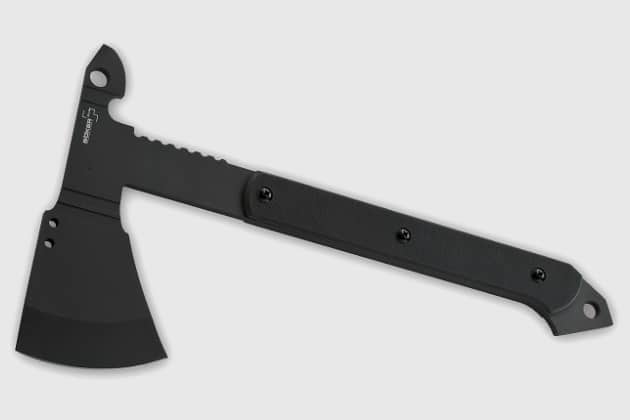 Boker Plus Vox T-Hawk Tactical Tomahawk
Much like their tactical pen, Boker's Vox T-Hawk Tomahawk was designed to be as aesthetically pleasing as it is functional. Its single piece SK5 carbon steel construction features a hollow ground on the cutting edge for maximum sharpness and built-in openings in the tang to reduce weight and drag. The tool itself is protected by a corrosion resistant powder coating, while a paracord wrapped handle is outfitted with large, removable G-10 scales for an impeccable grip. BUY IT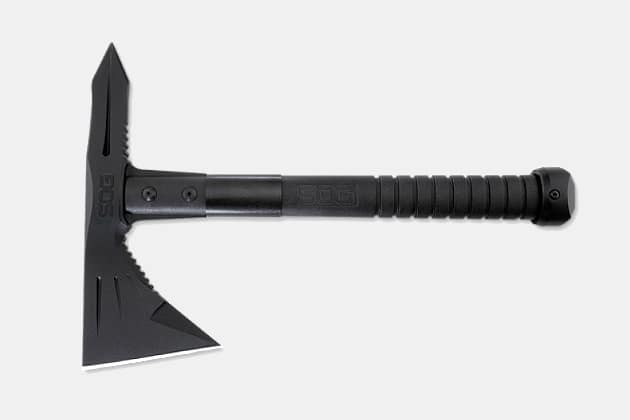 SOG Voodoo Hawk
Designed to be both tactical and portable, this compact tomahawk by SOG can easily be used for self defense or other applications in tight quarters with limited space and features a heavy-duty stainless steel blade, an extended cutting head, a compact glass-reinforced nylon handle, and a metal butt cap. Included is a nylon carry sheath. BUY IT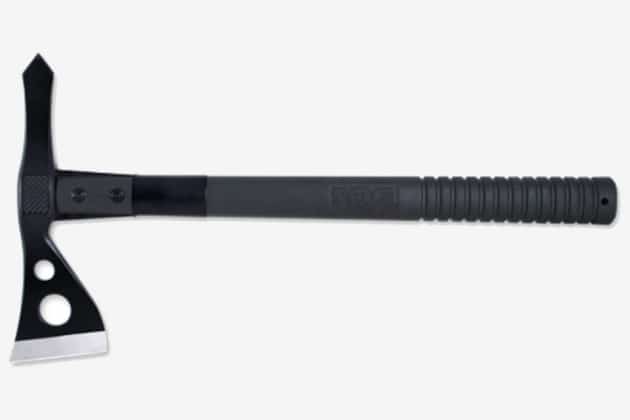 SOG Tactical Tomahawk
Engineered with the same "blending the best tools into one multi-tool" philosophy that their knives and pocket tools are based upon, SOG's Tactical Tomahawk is a capable, extremely versatile tool designed for breaching, excavation, obstacle removal, demolition, and of course self defense. A corrosion resistant 2.75-inch axe blade performs chopping duties while a blunt edge on the opposite end of the hammer turns the tomahawk into a hammer or chisel. The SOG Tomahawk's head is mounted into a rugged, glass reinforced nylon handle that sports a heavy duty steel ferrule and bolts for strength and balance. BUY IT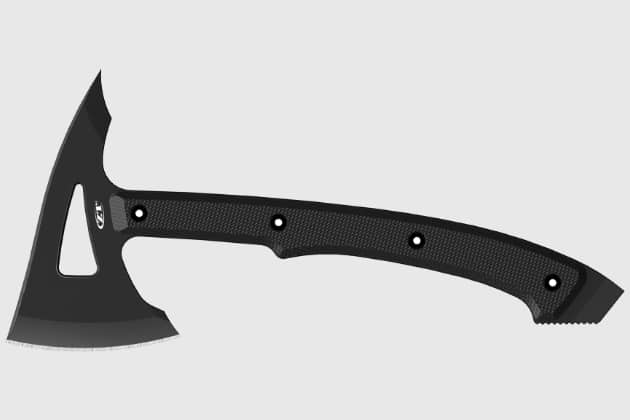 Zero Tolerance Tomahawk
Like most tomahawks, the Zero Tolerance Tomahawk was built for a wide range of uses ranging from dynamic forcible entry to opening wooden crates, while maintaining its structural integrity. It sports a Vanadis powdered steel construction, a back spike for ultimate penetration, a pry bar on the G-10 handle's pommel, and a DLC coating on the blade for protection against wear and tear. BUY IT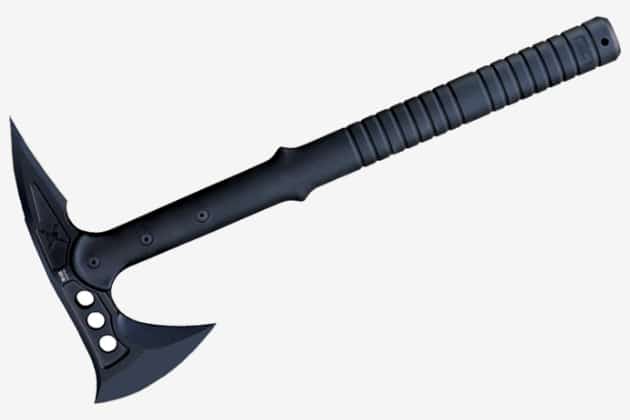 M48 Tactical Tomahawk
The M48 Tactical Tomahawk by United Cutlery sports a wide, unique axe blade design made for pure, unadulterated chopping, slashing, and cutting. Behind the monster axe blade is a sharpened spike essential for breaching walls, doors, or your attacker. The blade is crafted from heavy duty stainless steel, while the fiberglass reinforced nylon handle is secured by 3 separate bolts and comes standard with a nylon snap button sheath. Its extremely lightweight and easy on the wallet, making it the tomahawk of choice for carrying on long journeys hiking through the wilderness as well as controlling a zombie infestation you might encounter on your way home from work. BUY IT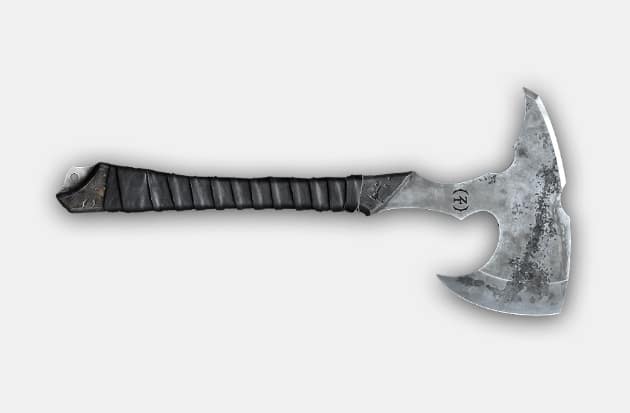 The Traumahawk
The Traumahawk is no ordinary tomahawk. While it certainly plows through doors, windows, and other stationary obstacles when coupled with the right amount of strength or aggression, it was designed specifically for close quarters combat. An all-steel, full-tang construction renders it heavier, and more powerful than most tomahawks, while a hooked axe head will catch and rip your zombie attacker's face right off. Included is a a Kydex blade cover and a leather retaining strap. BUY IT

You May Also Like: The 21 Best Fixed Blade Knives

To see more tomahawks and other tactical gear, subscribe to our
Weekly Email
.
Disclosure: Clicking on these links and making a purchase may earn us a small referral fee, at no extra cost to you. Learn more here.