Tiger Moth Camper Trailer
A few drawbacks to getting a thirty-foot travel trailer: where to store it, what to pull it with, and how to pay for it. Not a problem if you have a trailer port, an F-450, and eighty grand to spare, but if you're working with more standard means, something you can pull with your current truck or SUV and can store in your garage makes a lot of sense. Especially when it's this well-put-together.
You may remember Taxa as the trailer company founded by a former architect for NASA and designer for the International Space Station. They brought out the Cricket trailer years back and while that model is still going strong, you can think of Tiger Moth as a further refinement of the original. With space to sleep two adults in the full size bed, plus storage, storage everywhere, it's a compact, go anywhere adventure habitat.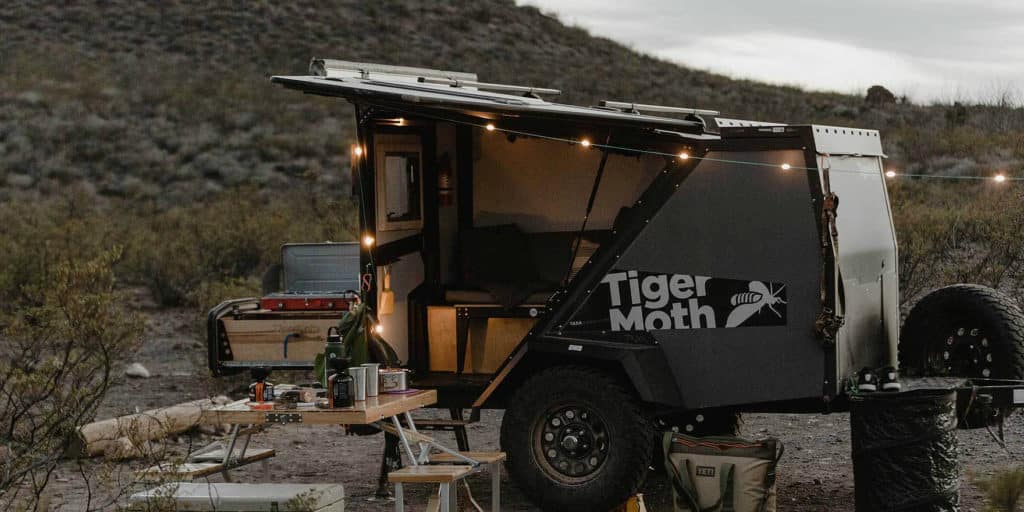 At just twelve feet long and a dry weight of 1,360 pounds you can easily tow it with a RAV-4 and your F-150 wouldn't even know it was there. Yet despite its diminutive size, the Tiger Moth has most of your basic needs covered. In addition to sleeping, the pull out kitchen has storage for food and counter space for prep plus your propane stove. Plugs and lights let you see what you're doing after sunset, and a pull up couch and cafe table give you space to lounge. 
Where some small trailers can feel a touch claustrophobic, here the wide-opening hatch, rear door and windows let in light, air, and best of all, views of the scenery you drove out to see. Options include solar panels and a roof tent that can sleep two more, adding even more utility to a seriously thought-out design.
Disclosure: Clicking on these links and making a purchase may earn us a small referral fee, at no extra cost to you. Learn more here.