10 Best Men's Shorts For Summer
There's something very refreshing — figuratively and literally — about being able to choose a stylish pair of men's shorts for summer instead of the heavier fabrics found on your legs during winter. It can make getting dressed just a bit more fun, and it can make whatever your day-to-day might be a lot more enjoyable.
Lots of brands are taking that approach when designing shorts, too — that is, they're using better (and cooler) fabrics, and they're taking the approach that less is better (so cargo shorts, while functional, are replaced by lightweight chino shorts with fewer pockets). It's fitting, too, that summer weekends are all about getting out and about and being active — to help with those pursuits, we've rounded up the best men's shorts for summer. A great pair of shorts should move with you, and they should combine classic style with a fabric and fit that can go anywhere. Whether that means a pair of shorts you'd wear for a day around on town, or a pair of shorts more suited for a hike in the park, is up to you.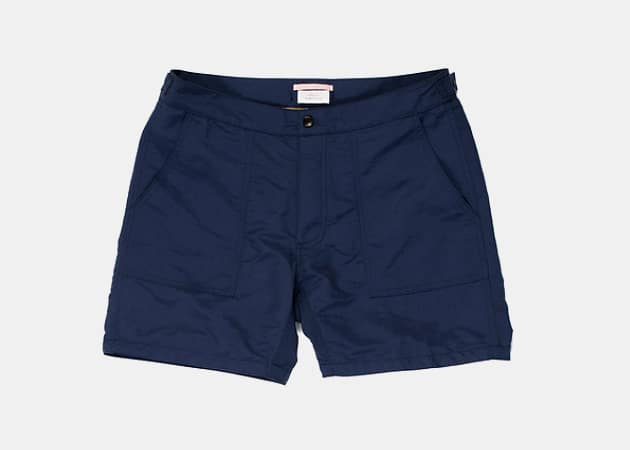 Apolis Transition Scout Short
The epitome of form, function and just a bit of fashion, the Transition Scout Short from Apolis is about as stylish and functional as it gets. It's ready to wear in and out of the water, made from nylon and featuring remarkably clean button side tabs, a flat front and a slim fit designed to hit above the knee. They're also made in California, so you're supporting both responsible and stylish manufacturing. Pair these with a white polo and crisp boat shoes for a summer-ready look, or rock them more daringly with a light grey blazer and a simple olive tee for a weekend coffee date. – $78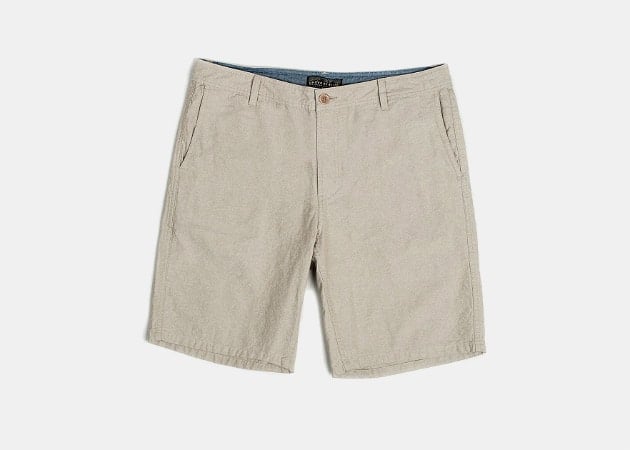 United By Blue Selby Chambray Shorts
A pair of tan chambray shorts is an unexpected style swerve that works for plenty of reasons. While cool blue is a frequent favorite as far as warm-weather style goes, tan chambray is more distinctive, and wears just as easily with style staples like a washed indigo pocket tee and crisp white sneakers. Plus, these shorts combine a tailored fit with a responsible business approach — for every product sold, United By Blue removes one pound of trash from oceans and waterways. At that rate, it's worth buying at least one pair and wearing them as many ways as you can this summer. – $55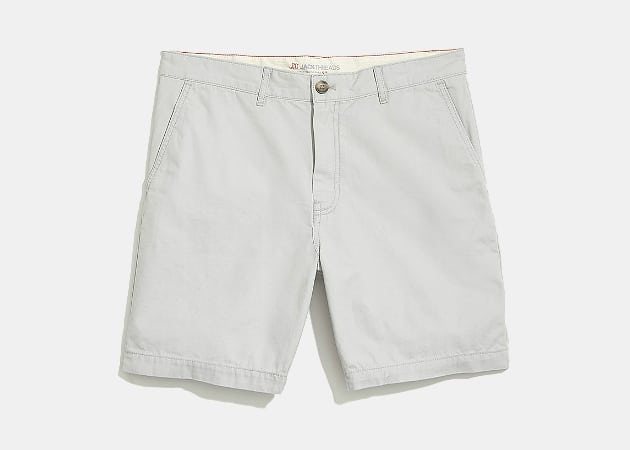 JackThreads Chino Shorts
For those who prefer a short that's a bit dressier by nature, JackThreads is here to help. As with most of the brand's crisp, clean and classic menswear offerings, these chino shorts combine A-plus quality with solid, simple design. The Concrete color shown here is ready to wear with an eye-catching striped tee or beneath an untucked classic blue Oxford (or even a navy blue popover), and the 7-inch inseam should suit taller guys while still looking put-together. At that price point, you could certainly pick up two or three for all your summer trips ahead, as it's ready to wear for days on end. – $39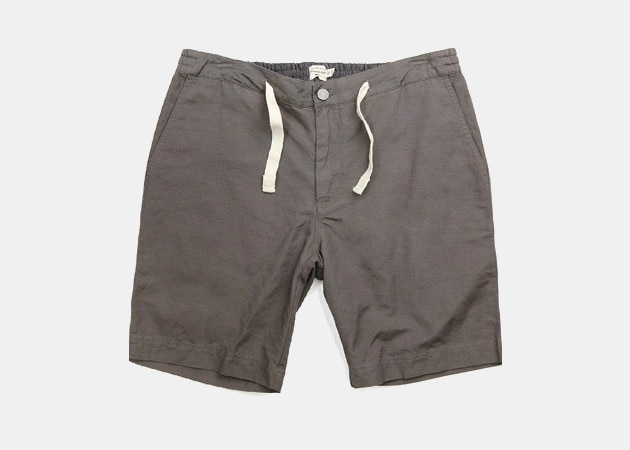 Bridge & Burn Stringer Shorts
Lightweight comfort and fabric is the name of the game when it comes to the Stringer Dune Short from Bridge & Burn. Made from a cotton-linen blend that's lightweight and cooling, that comfort factor is upped even further thanks to a comfortable drawstring waistband and the versatile grey color is helpful in pairing with all sorts of combos. The made-in-America design and construction is also to be applauded, and it's not something you find very often when it comes to summer shorts. One button flap-closure pocket on the rear keeps the silhouette streamlined, and the tailored cut helps you look your best when rocking these shorts with a slub navy polo and classic white sneakers. – $88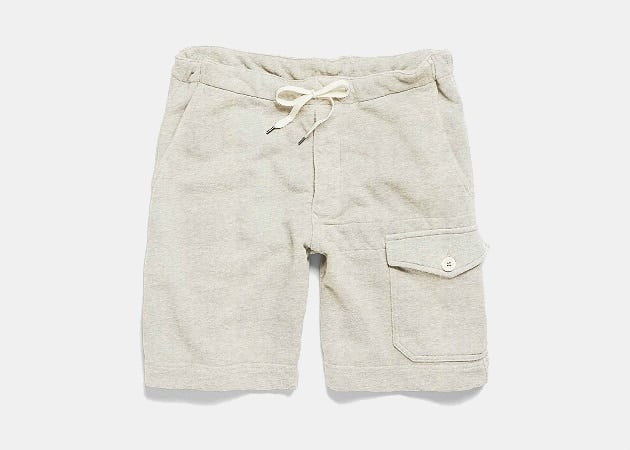 Todd Snyder Thorpe Gym Shorts
The guys at Pistol Lake aren't the only ones getting in on the sporty summer shorts game. American menswear designer Todd Snyder always manages to mix the classic and vintage with the modern and essential, and pieces like the upgraded Thorpe Gym Short are precise examples of that. These shorts are vintage-washed and made from premium French terry fabric, and the front pocket is a neat design touch that also adds some visual interest. The Eggshell Mix color shown here is more eye-catching and unique than most shorts you might have in your wardrobe, so these can be worn to the gym or to your next summer cookout. – $125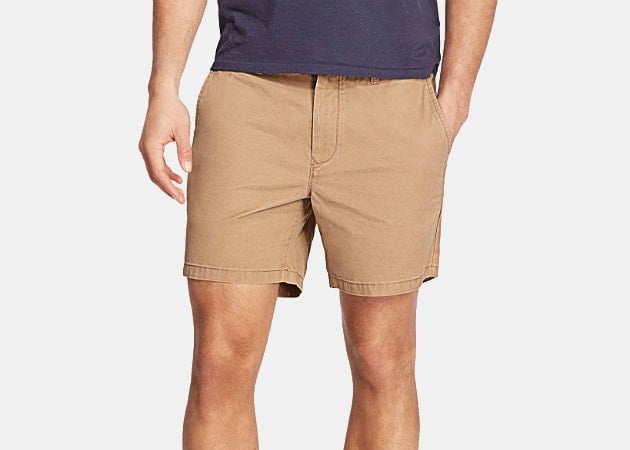 Bonobos Washed Chino Shorts
The same approach to a tailored fit and great design that made Bonobos famous for its chinos has been tailored down (literally) into classic washed chino shorts. Available in an array of colors and crafted from the brand's excellent chino fabric, the Deep Khaki color shown here is perhaps the most versatile. This pair of shorts can be teamed up with everything from a striped navy polo and navy sneakers to an olive short-sleeve henley and vintage ballcap. They're the kind of shorts you can get a ton of wear out of — for just under $70, the quality is on-point. – $68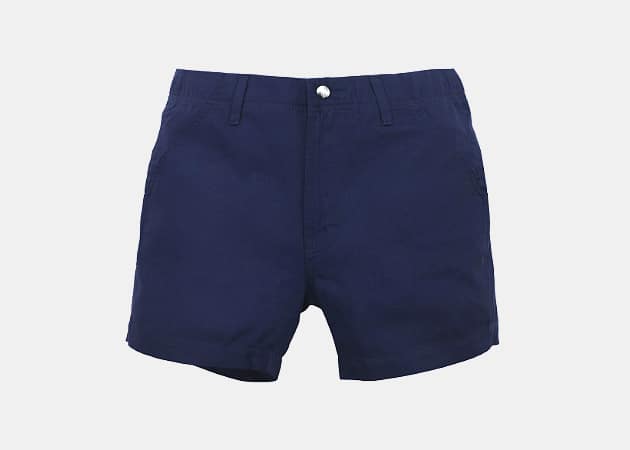 Topo Designs Camp Shorts
If there's one brand that really knows the need to merge functional design touches with a premium look and feel, it's the team at Topo Designs. It's fitting, then, that the brand's Camp Shorts are built from cotton twill that's durable and ready for anything, and it's perhaps more fitting that the shorts are reinforced with extra stitching around stress points. The trim fit is to be applauded, and the rear flap snap pockets are handy for when you need to grab gear quickly. They're the perfect version of shorts you can wear in town and out camping, all in the same day. – $89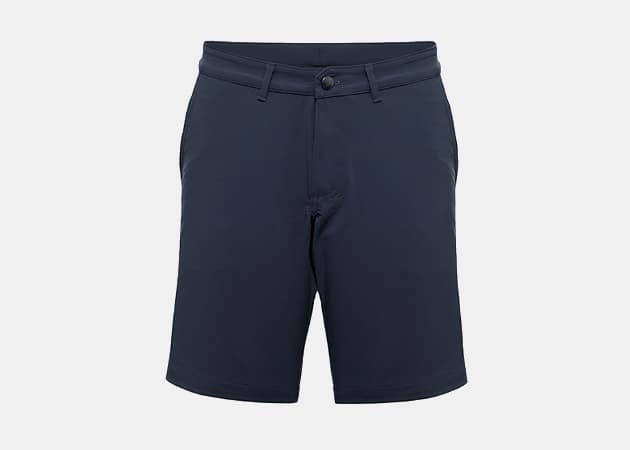 Olivers Apparel Capital Shorts
Shorts built with more strenuous activity in mind are also a must-have this summer, and OLIVERS Apparel has you all set. Its Capital Shorts (newly introduced this past spring) are water-repellent, well-fitting and built with four-way stretch for ease of movement. They also incorporate a stainless steel Italian tack button, a tailored look and side draft and rear welt pockets for a more minimal and dressy look than a standard pair of athletic shorts. However, they're still built with flexibility and performance in mind. That being said, you could still wear them to breakfast on the weekend — just know that you can wear them hiking after. – $98
Swims Paloma Hybrid Chino Shorts
When your day calls for a mix of everything — perhaps a nice stop for coffee, a walk and then a trip to the water, the Paloma Hybrid Chino Short is yet another pair that'll make life significantly easier. The peached fabric looks like a chino, yet the fabric itself doesn't soak when wet — a great enhancement to have when you need to move from one place to the next quickly. They feature an elastic waistband, a fit that's trim and modern, and the ability to be worn with all kinds of pieces, like lightweight white polo or a classic plaid buttondown. – $130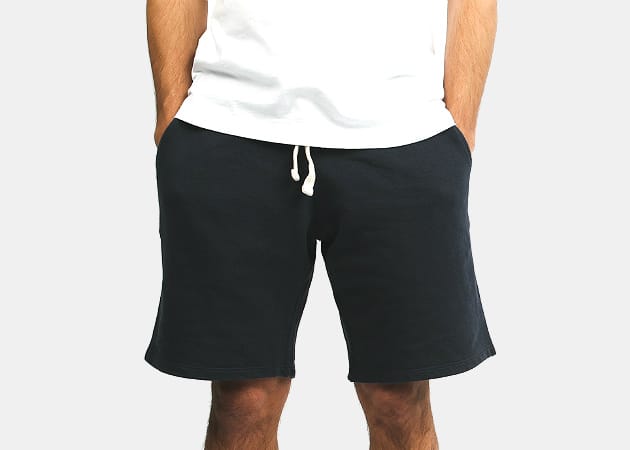 Pistol Lake French Terry Sweatshorts
A sportier yet still classic-and-crisp pair of summer shorts isn't all that bad to have on-hand, even if a pair of khaki shorts is still your warm-weather go-to. The French Terry Sweatshort from Pistol Lake checks all those boxes, made from soft and comfortable cotton and cut to fit above the knee. While they look simple at first glance, they're made with some special hidden features, including an iPhone pocket that your phone slips into. The garment-dyed fabric also adds a vintage design touch that makes these shorts easily wearable with classic white slip-on sneakers or a more easygoing pair of worn-in leather boat shoes. – $55