The 30 Best 90's Comedy Films
Some of you who came up in the 90s have to admit the truth: your were proud of your VHS collection. Then DVDs came to town and you had to start all over again. And now? It's even worse: there's no collection at all, just data on your computer. Who's gonna come over and admire your Watchlist? No one, that's who. So harken back to a time when a trip to Blockbuster was part of your weekend. When checking out the new release shelf was equal parts discovery and adventure. When you knew you had to rewind to be kind.
These 30 best comedy movies of the 90s come from a decade when jokes were a little less politically correct and hilarity wasn't all aloof and ironic. Adam Sandler howled and threw things, the Farrelly brothers brought the bathroom to the big screen, and SNL alums got hysterically into character.
Go down the list and once again enjoy Kevin Smith's geek-philosophers or watch Jim Carrey's face defy the laws of physics. Pick a buddy comedy, a road trip comedy, or a buddy road trip comedy — they're all here. And the best part about watching a 90s comedy tonight? Unlike going to Blockbuster, renting a movie no longer requires pants.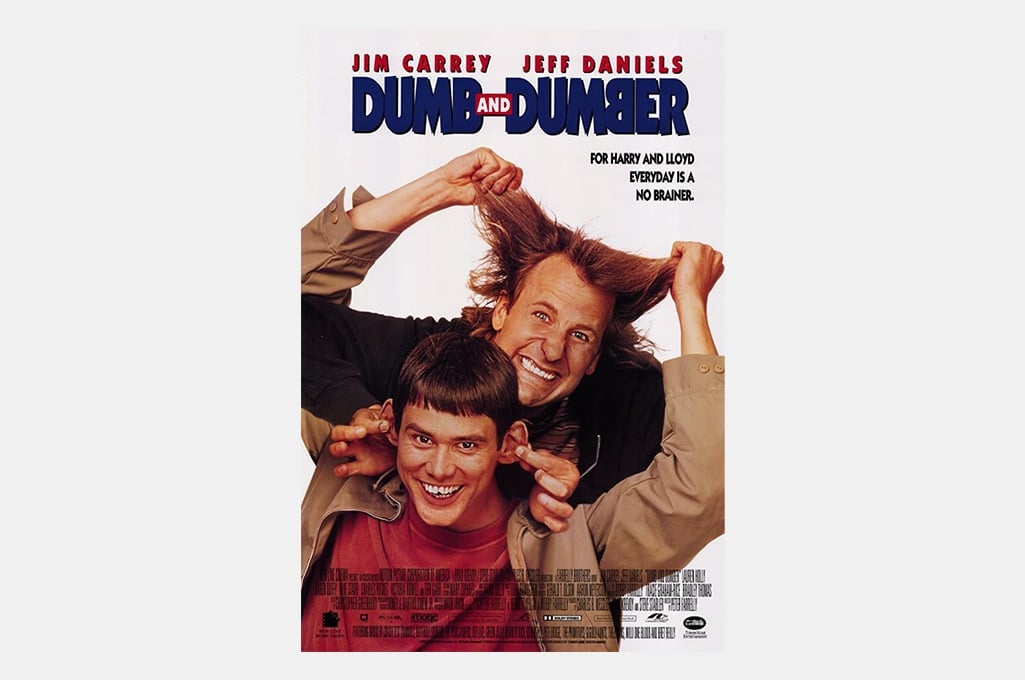 Dumb and Dumber (1994)
"We got no food, we got no jobs…our pets heads are falling off!"
Two unapologetically unintelligent friends head from Providence to Aspen on a mission of goodwill, with trend-setting hair and fashion forward style (you can thank this movie for every tangerine tux in your closet). Road trip insanity includes ingesting soothing ketchup and mustard, trading a dog van for a moped, swapping IOUs for ransom money, and a rather memorable experience with a broken toilet — in the end proving it doesn't take smarts to end up on the side of the road, broke and walking home.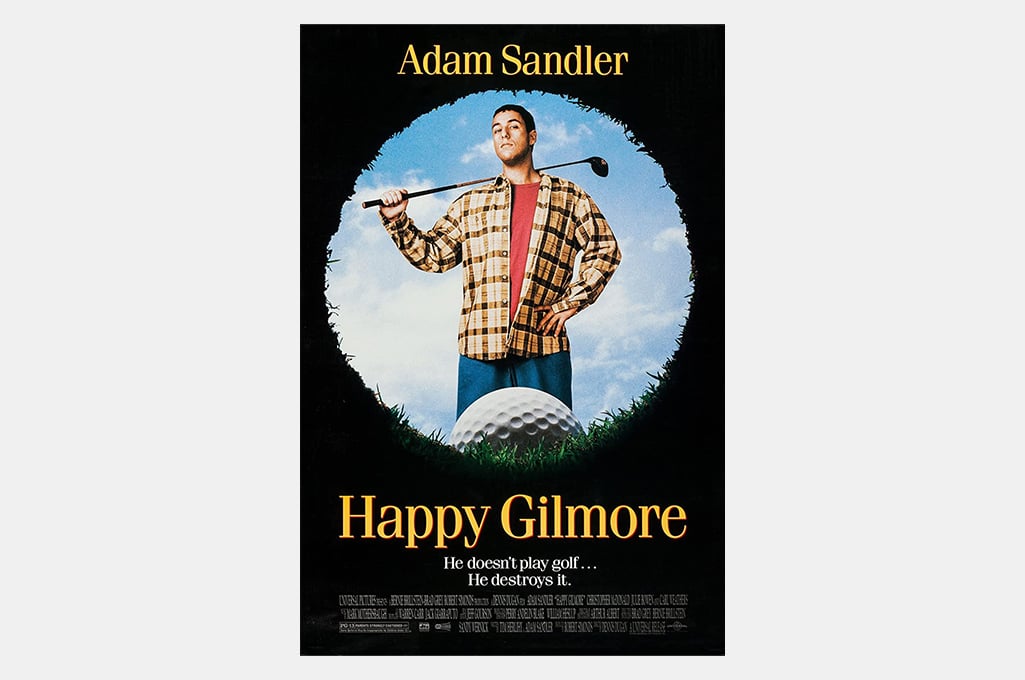 Happy Gilmore (1995)
"The price is wrong, b!tch."
It's Adam Sandler at his unhinged best, weilding a golf club like a hockey stick and trading golf course etiquette for hockey-style aggression. Pitted against the oozing arrogance of his nemesis and golf pro Shooter McGavin, Happy must drive golf balls (and learn to putt) if he is to win enough prize money to save his grandmother's home. With the help of a one-handed coach and a mouth full of top-notch, low-brow insults, Happy delivers exactly what you wish you saw on a PGA tour.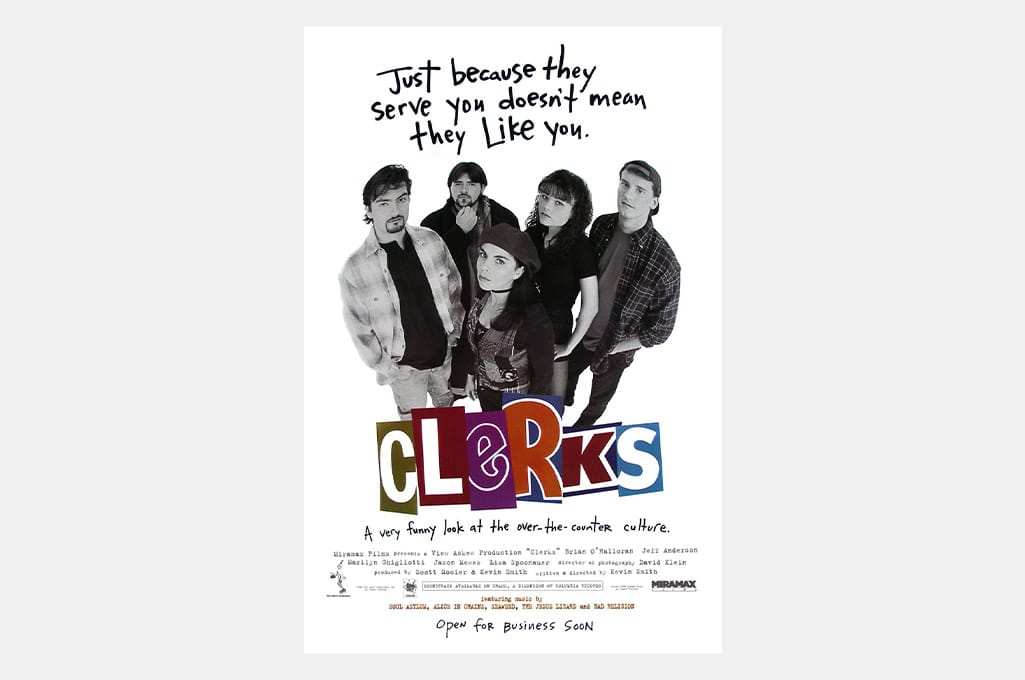 Clerks (1994)
"I'm not even supposed to be here today!"
For every ten-thousand would-be low-budget indie filmmakers in the 90s there was only one Kevin Smith. Taking to heart the write what you know edict, Clerks was shot in the convenience store where Smith worked. About a day in the life of a couple of bored clerks in neighboring shops, Clerks plays out with philosophizing about Star Wars, lasagna toting girlfriends, irate customers and the weed-selling Jay and Silent Bob. It's funny if you never worked retail, and even funnier if you have.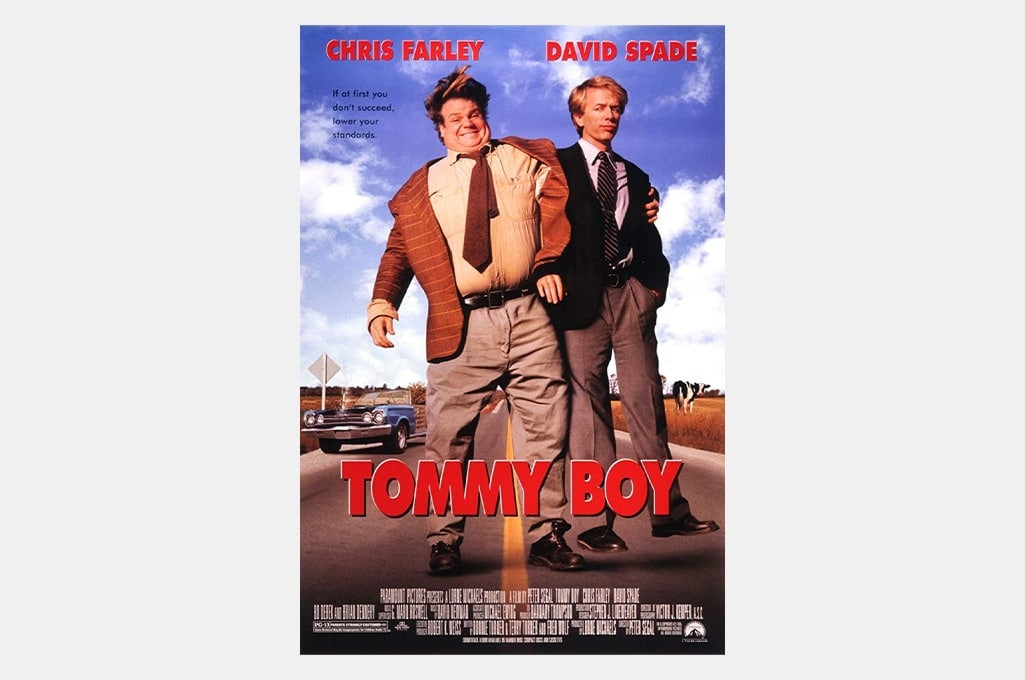 Tommy Boy (1995)
"Richard, who's your favorite little rascal? Alfalfa?… Or is it Spanky?"
Put Chris Farley and David Spade on screen together and things get funny. The first of two movies the former SNL castmates made together, this one follows Tommy and his late father's assistant as they travel the country trying to save the family business. With Spade's deadpan sarcasm and Farley's outsize physical comedy the hard part is picking your favorite scene: desks on fire, fat guy in a little coat, the series of mishaps befalling a '67 Plymouth Belvedere, gasoline soaked dance renditions… All good, all the time.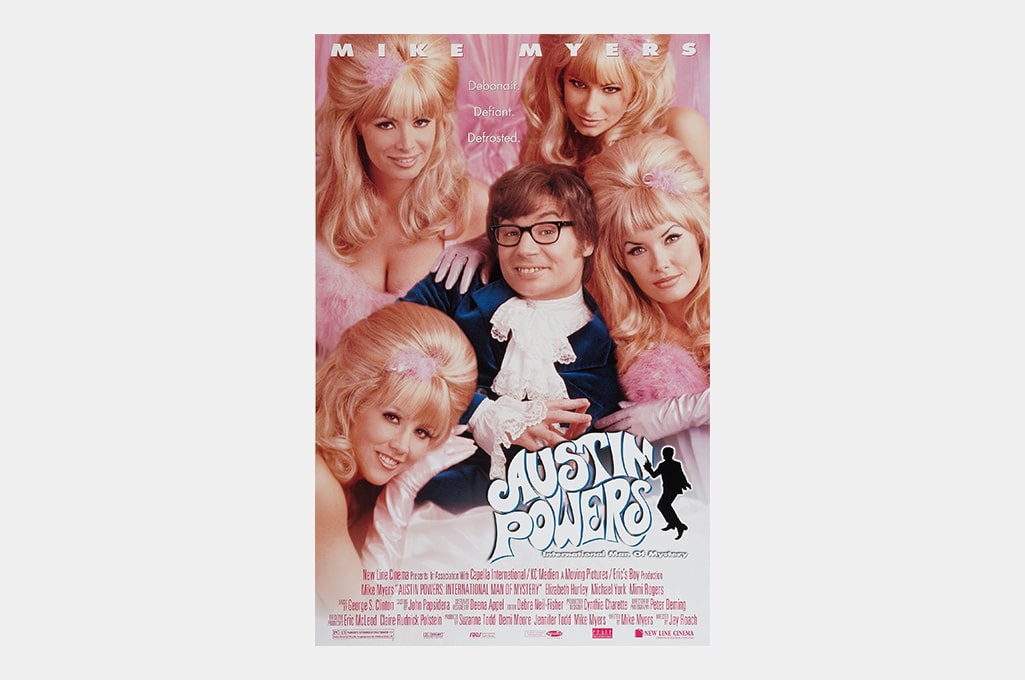 Austin Powers: International Man Of Mystery (1997)
"You know, I have one simple request. And that is to have sharks with frickin' laser beams attached to their heads!"
A British spy cryogenically frozen in the 60s and thawed in the 90s wakes to find sexual mores and dentistry have changed, but the need to fight evil has not. Playing both the titular spy and the evil Dr. Evil, Mike Myers' masterpiece spawned a gaggle of catchphrases and almost as many sequels. Watch it again to appreciate locker-room humor and sight gags, paired with sharp parody, a solid script, and Seth Green as Dr. Evil's slacker teenage son.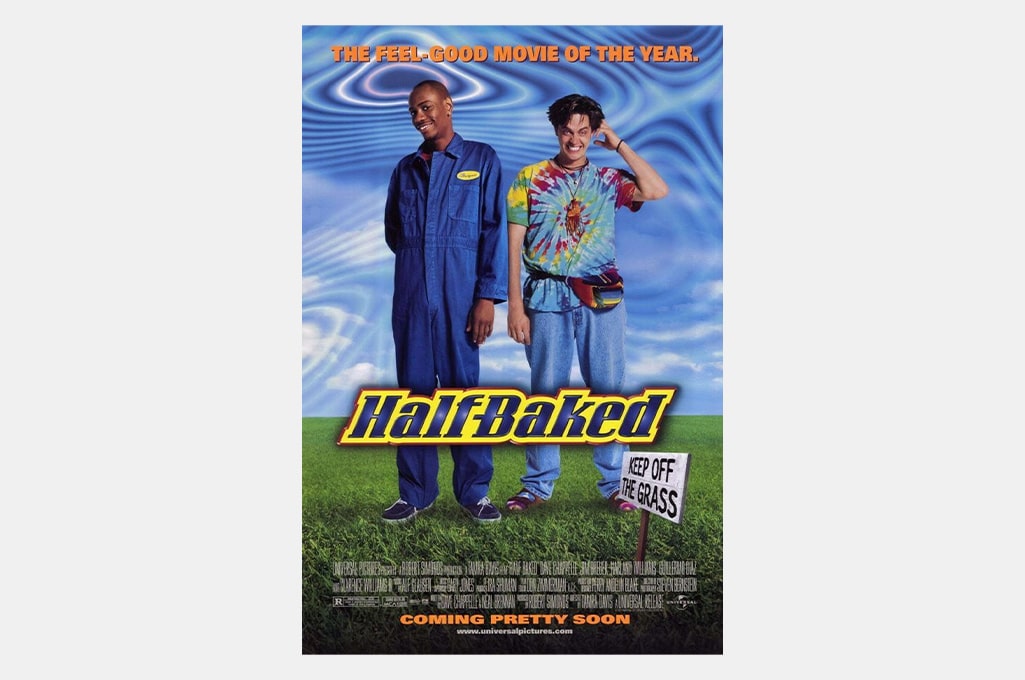 Half Baked (1998)
"You're not a fish, you're a man!"
It's possible you watched this one multiple times with your friends in high school/roommates in college but don't totally remember it. Time to fire it up again to re-experience Dave Chappelle before Chappelle's Show doing double duty playing stoner-turned-weed dealer Thurgood, as well as rapper Sir Smoke-A-Lot. Enjoy just about every stoner joke you can think of, plus cameos by Willie Nelson, Tommy Chong, Snoop Dogg and Jon Stewart. Also you'll once again want to really look at the back of that $20 bill.
Office Space (1999)
"I can't believe what a bunch of nerds we are, we're looking up 'money laundering' in a dictionary."
Anyone who's ever worked in an office (or a restaurant that pushed pieces of flair) will see themselves, their bosses and their co-workers in this lacerating satire. When an IT guy is hypnotized to stop caring, he returns to work brutally honest and gets promoted as a result. Meanwhile a pilfered stapler and a scheme to relieve the company of fractions of pennies fatefully converge, but not before three guys finally do what everyone who has ever used a printer sincerely wants to do.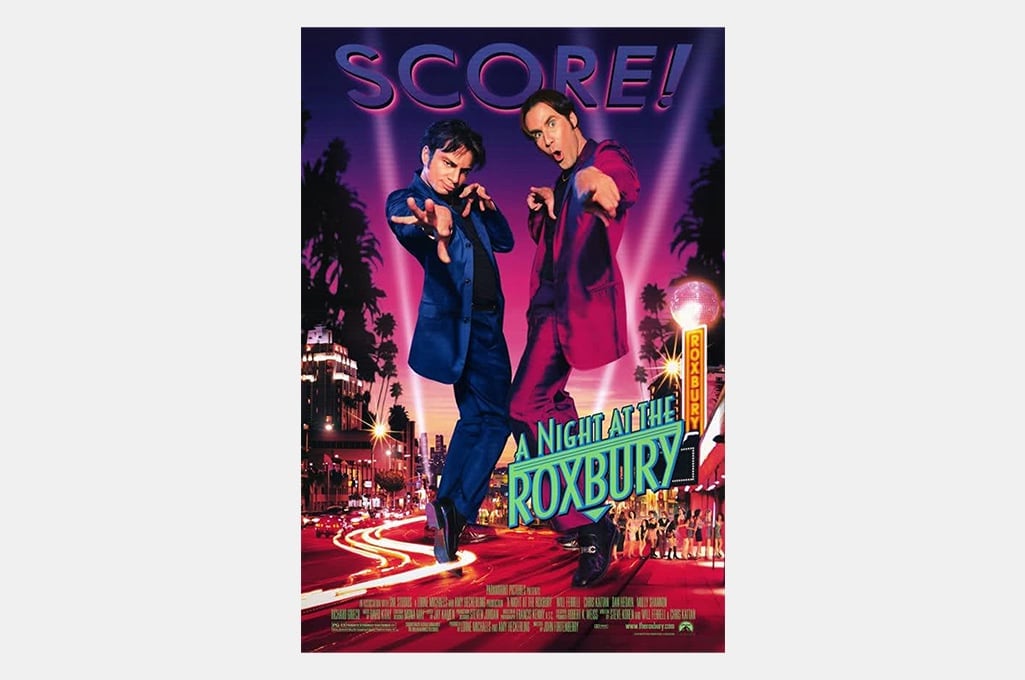 A Night At The Roxbury (1998)
"Did you just grab my ass?"
Two brothers are on a single mission: ditch their B-list existence and open (or at least get into) an A-list nightclub. With the help of satin suits, net shirts, gold chains and Richard Grieco, the Butabi brothers hope to head bob their way into Eurodance utopia inside the Roxbury. Based on their SNL skit about two clubbers with terrible dance moves and even worse luck with the ladies, Will Ferrell and Chris Kattan show exactly what clueless determination looks like.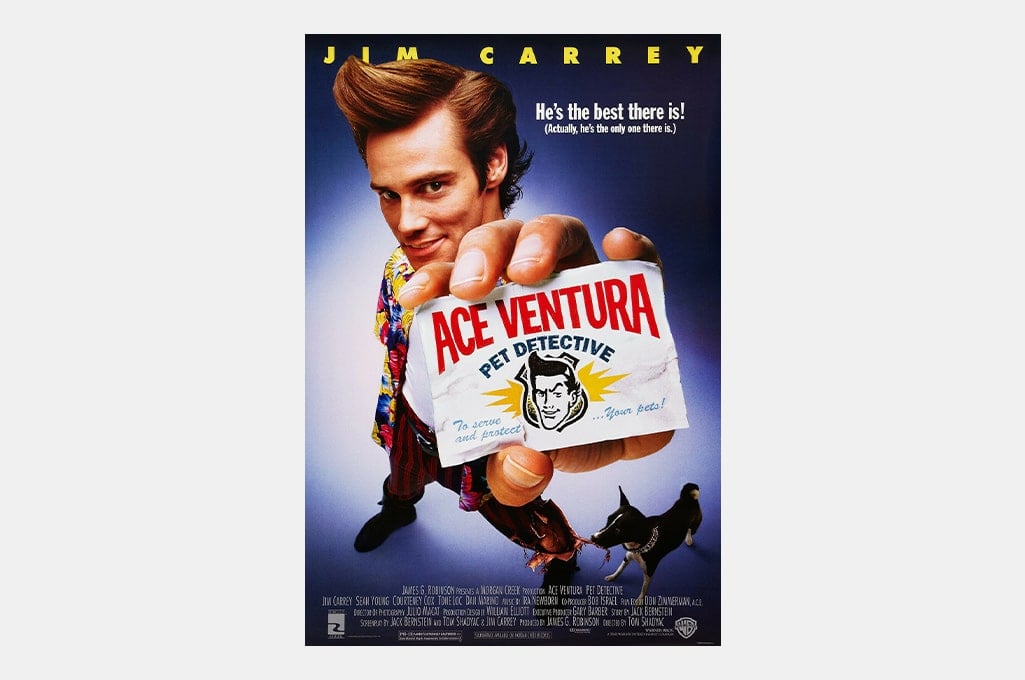 Ace Ventura: Pet Detective (1994)
"Dan Marino should die of gonorrhea and rot in hell. Would you like a cookie, son?"
Along with Dumb and Dumber and the Mask, Ace Ventura made 1994 a really big year for Jim Carrey. Starring here as a private investigator who finds lost pets and other missing domesticated creatures, this time Ace is looking for the Miami Dolphins' mascot with help from a police officer played by Tone Loc and a NFL publicist played by Courteney Cox. Carrey's rubber-faced, accent-rich detective keeps the energy untamed and the weirdness relentless as he searches for a porpoise and on occasion lets his butt do the talking.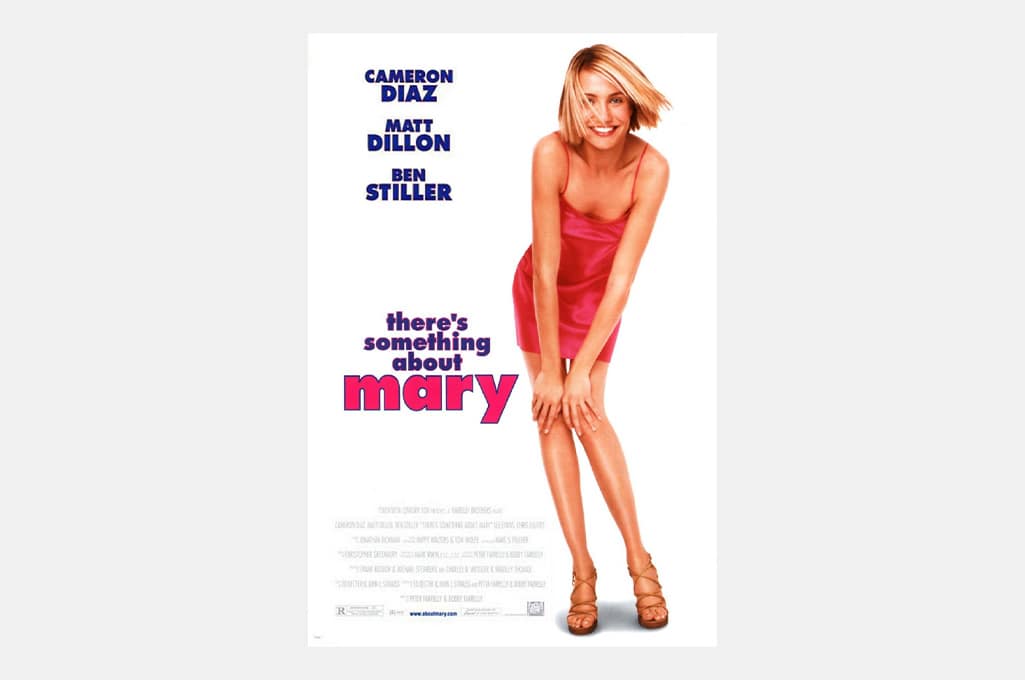 There's Something About Mary (1998)
"Is that… hair gel?"
She's the one that got away, due to a very unfortunate zipper incident on prom night. Now a decade later, Ted (Ben Stiller) wants to find Mary (Cameron Diaz) to see if he has a chance with her. Unfortunately everyone else wants a chance too. It's a film that manages to be sweetly romantic and grossly gross at the same time, with big teeth, evil lap dogs, fish hooks, and Brett Fa-ver-uh. If the lyrics to Build Me Up, Buttercup don't get stuck in your head, you watched a different movie.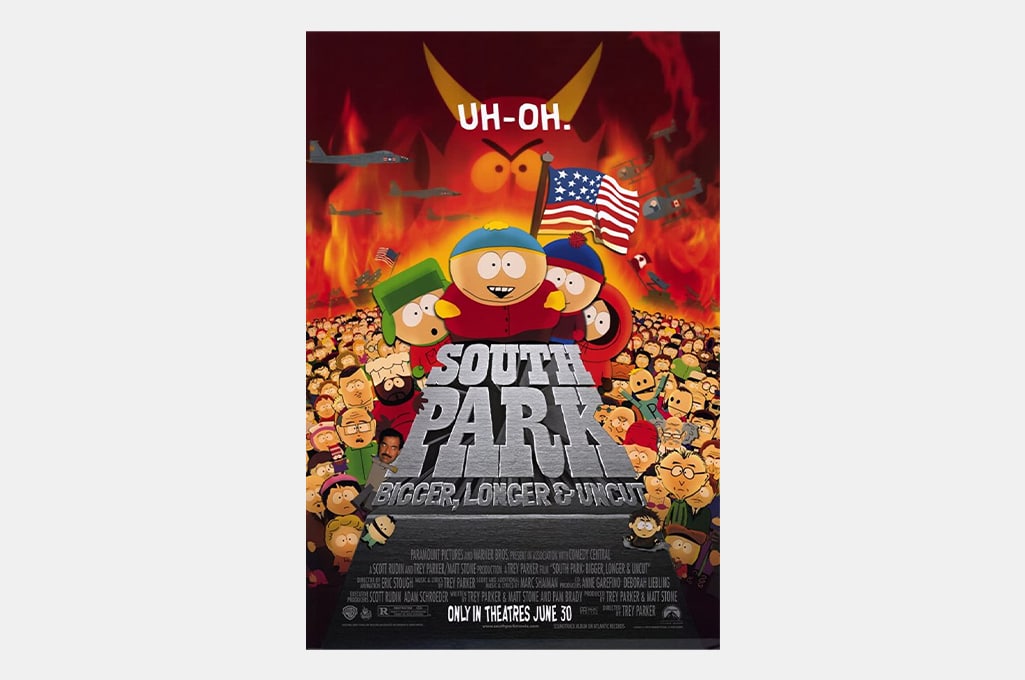 South Park: Bigger, Longer & Uncut (1999)
"All Canadian-American citizens are to report to one of these death camps right away. Did I say death camps? I meant happy camps."
By the time of its big screen debut, South Park the series had only been around for two years, but it was already a cultural favorite (and is currently airing its twenty-first season). The movie, which earned a spot in the record books for the most swearing in an animated feature, takes shots at the irrationality of parental ire and the controversies about the show itself. Featuring four third grade friends, musical numbers, Satan, a blasphemous French boy, and Canadians with bisected heads.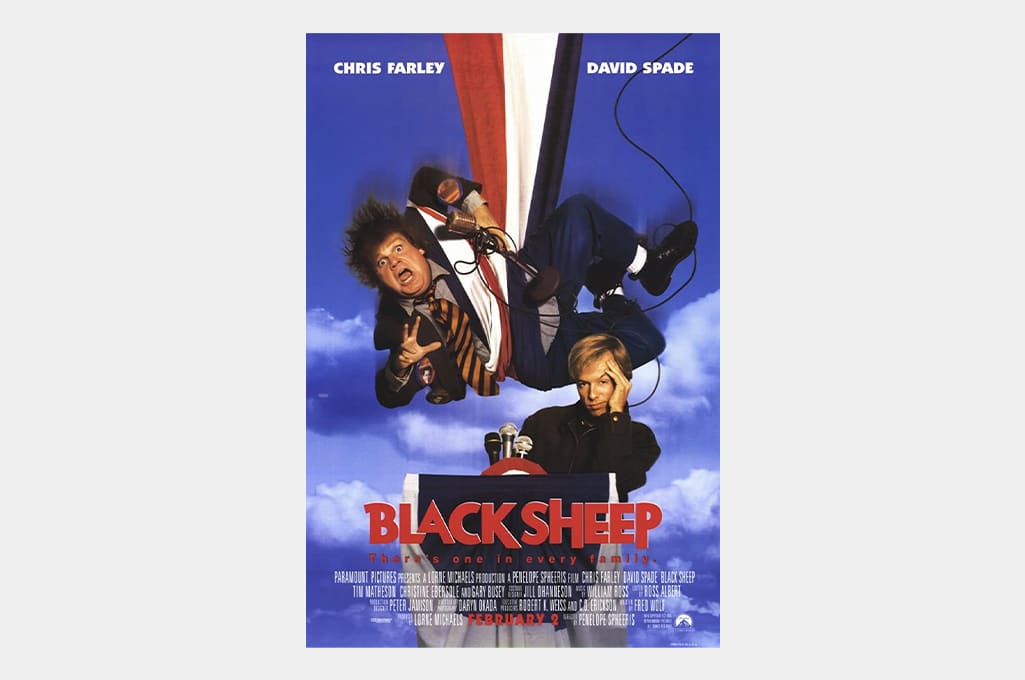 Black Sheep (1996)
"I'm just dandy! I got a bowl of chocolate pudding in my underpants!"
The second, and sadly, last film David Spade and Chris Farley made together revolves around a gubernatorial campaign in Washington state. While Farley's character, Mike, isn't very good at campaigning for his brother, he's really good at subjecting his body to remarkable levels of harm. He gets dragged by a car, smashed by a fridge, hoisted up an antenna and hurled down a mountainside only to stand up, dust himself off and do it again.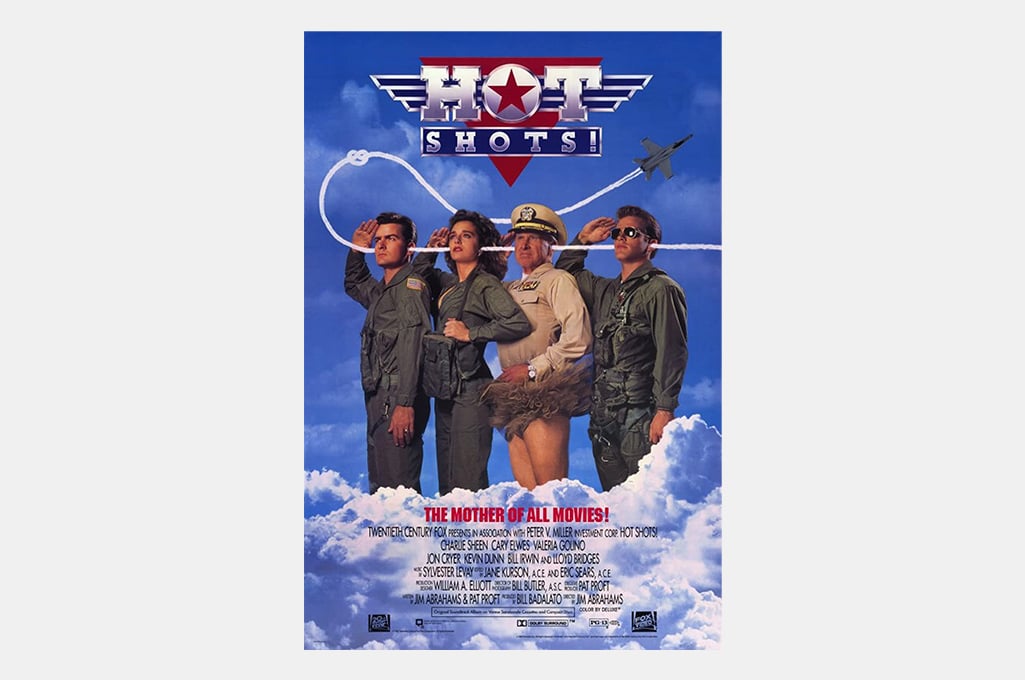 Hot Shots! (1991)
"I love soup. I mean I think I love soup. It's either soup or duck. Which one do you shoot?"
The widespread success of Top Gun left it begging for parody. Five years later, Hot Shots! answered in full force. Starring Charlie Sheen as a troubled Navy pilot brought back into service for one last mission, this spoof manages to pack in dozens of movie references — from Gone With the Wind to The Fabulous Baker Boys to Superman — along with bizarre non-sequiturs, killer one-liners and exaggerated movie clichés that run scatter-shot through the film. Bonus: A new way to eat olives and cook bacon.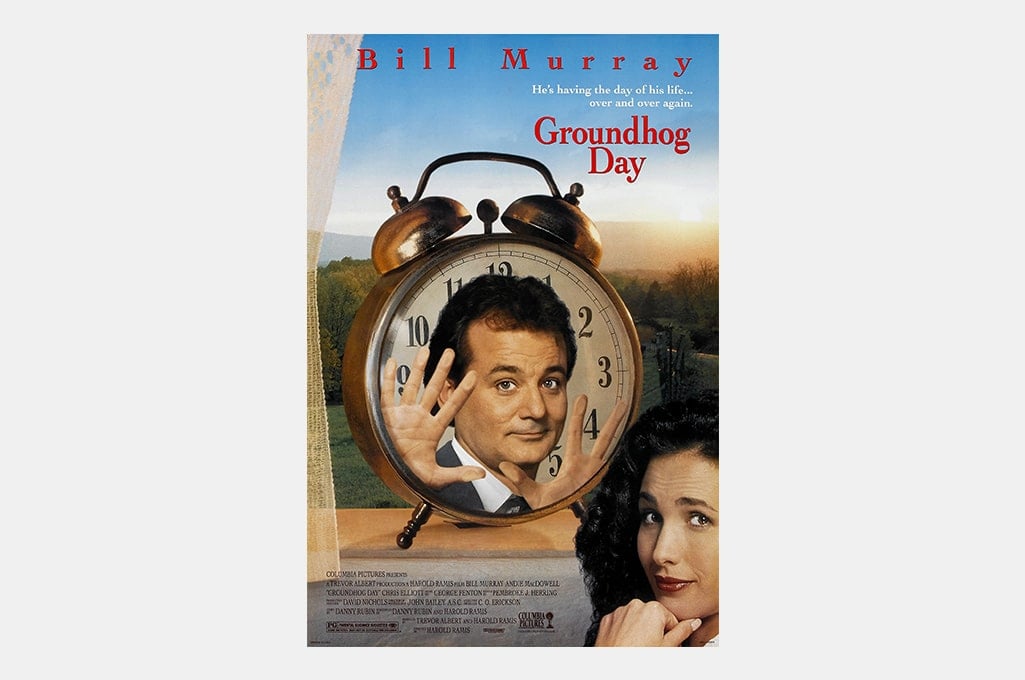 Groundhog Day (1993)
"It's gonna be cold. It's gonna be gray. And it's gonna last you for the rest of your life."
If you could live the same day an infinite number of times, chances are you wouldn't pick the dreary February day you spent stranded in Punxsutawney, PA. But that's exactly the day weatherman Phil Connors gets to repeat. Bill Murray is comically excellent as a man who realizes he's living in a world with no tomorrow and can do whatever he wants. Drinking and womanizing are his obvious first plans of action, which then morph into creative suicide before shifting into systematic altruism and self-improvement.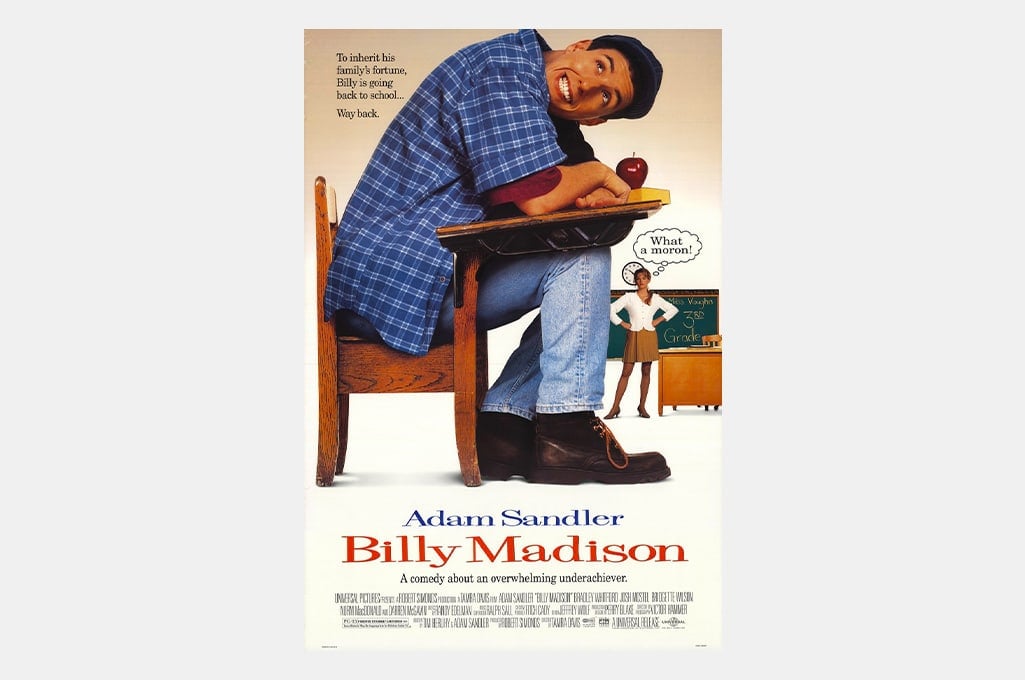 Billy Madison (1995)
"Mr. Madison, what you just said is one of the most insanely idiotic things I have ever heard."
It almost sounds like a nightmare: go back to school and do every grade all over again. In order to prove to his father he's worthy of running the company business, party animal Billy Madison will successfully pass first through twelfth grade, otherwise the company goes to an oily underling (played by the always good Bradley Whitford). Putting Adam Sandler in a role that allows him to interact with playground equipment, sit behind tiny desks and eat glue is the perfect vehicle for the hilarious yet eternally adolescent comic.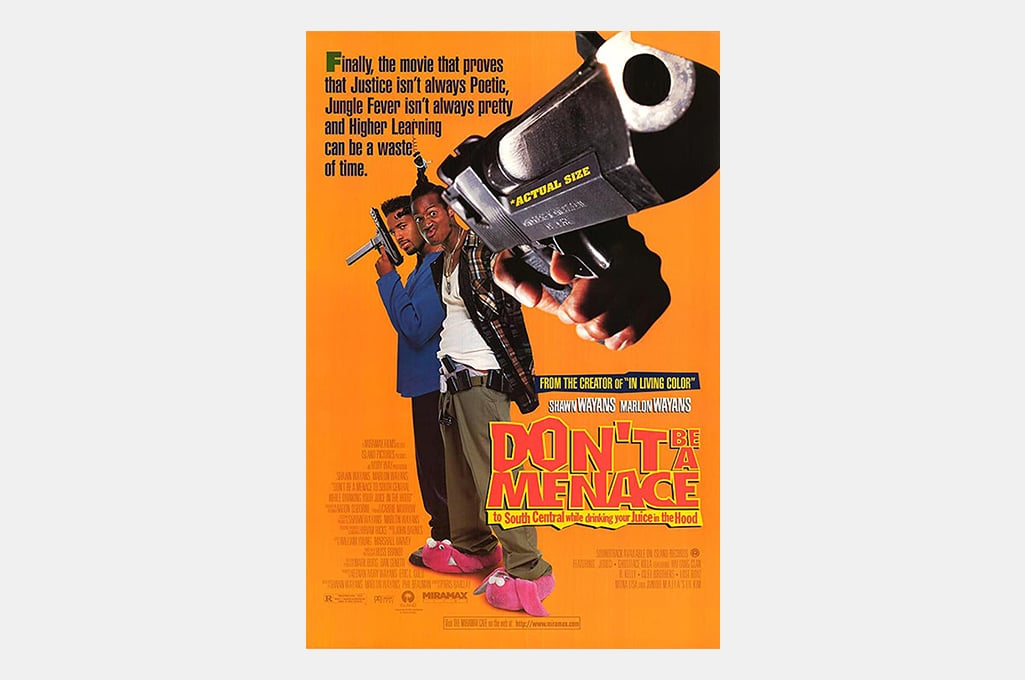 Don't Be A Menace To South Central While Drinking Your Juice In The Hood (1996)
"Everyone in the hood been up in her! She got more kids than Mrs. Wayans!"
The second stop on the Wayans brothers' spoof train (starting with Keenen Ivory's 1988 I'm Gonna Git You Sucka and continuing on through Scary Movie, Dance Flick and Marlon Wayan's 2016 parody, Fifty Shades of Black) Don't Be a Menace… takes on the slew of 90s dramas set in the 'hood. Written by and starring Shawn and Marlon and produced by Keenan Ivory, this packs parodies of Boyz In the Hood, Menace II Society and South Central — and that's just the films referenced in the title.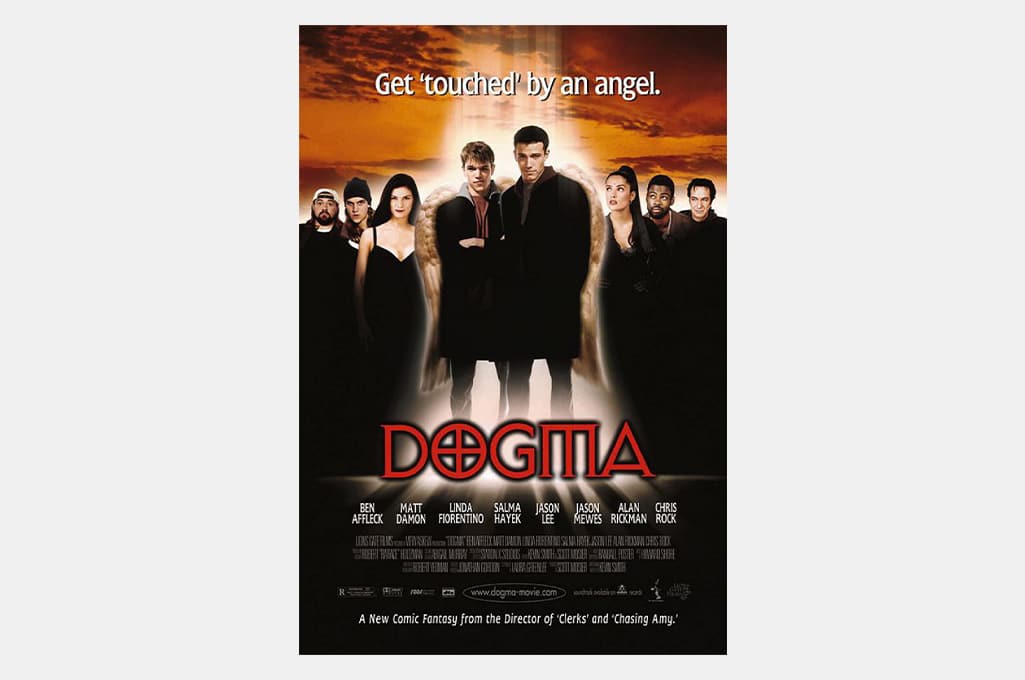 Dogma (1999)
"Mass genocide is the most exhausting activity one can engage in, next to soccer."
Matt Damon and Ben Affleck play fallen angels banished to Wisconsin who plan to get back into heaven on a loophole, which would unfortunately disprove God's infallibility and undo all existence. With help from Jay and Silent Bob as prophets and Chris Rock playing the thirteenth apostle Rufus, an abortion clinic counselor does what she must to save the universe from nullification. It also features the late great George Carlin as a Cardinal trying to rebrand Catholicism by introducing the "Buddy Christ" and Alanis Morissette in the role of God.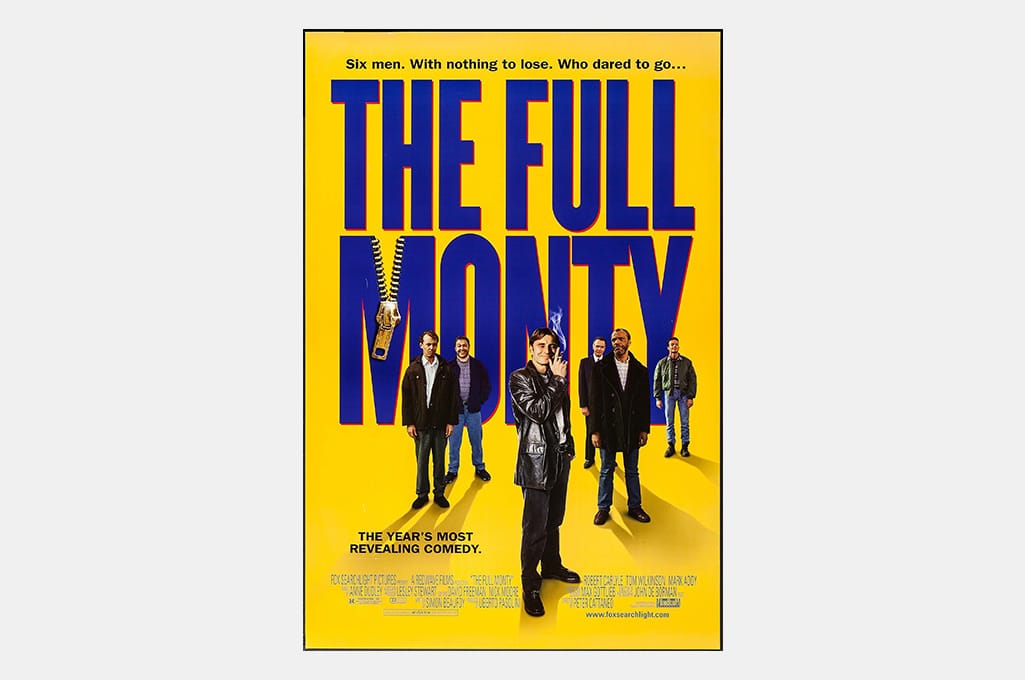 The Full Monty (1997)
"Anti-wrinkle cream there may be, but anti-fat-bastard cream there is none."
If around 1997 you found yourself singing Hot Chocolate, Tom Jones and Donna Summer, this was the reason. Six guys in an English industrial town are down on their luck after the mills close. When they find out women in town paid money to see Chippendale dancers, they decide they can do it one better — as soon as they learn to dance. While the premise itself is enough to bring the comedy, the film gets even better with the inclusion of likeable characters and good acting.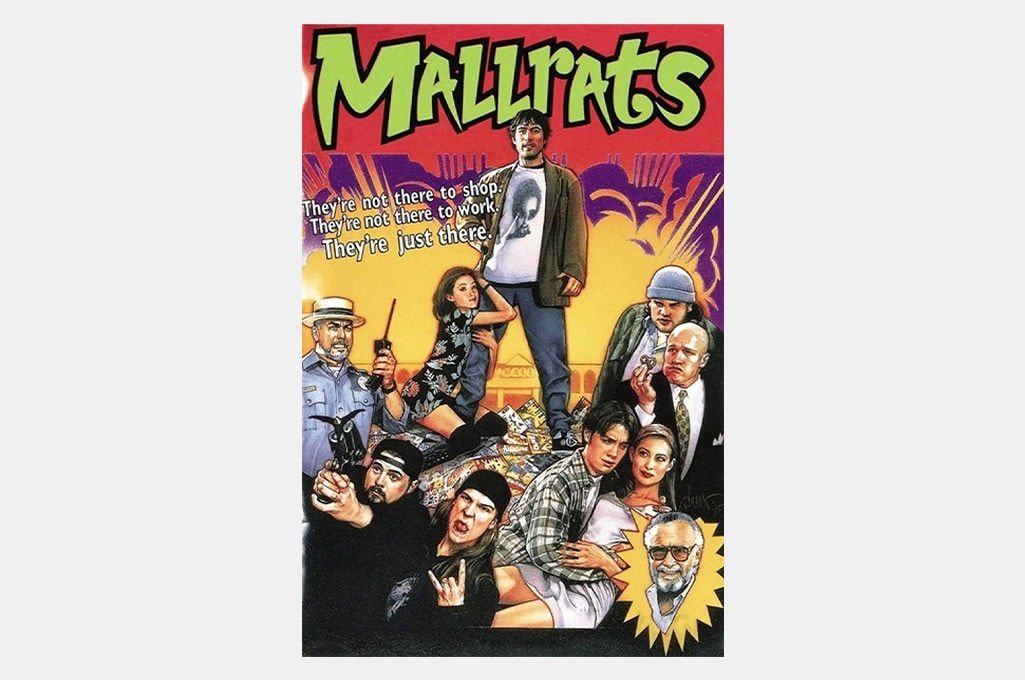 Mallrats (1995)
"He seems to be really hung up on super heroes' sex organs."
Heading to the mall with your buddy after being dumped by your girlfriend is an extremely 90s thing to do. Add to that a few magic eye posters, a dating game show, Shannen Doherty, songs by Bush, Weezer and Silverchair, and Mallrats becomes a sort of love letter to the first half of that decade. Kevin Smith's answer to the success of Clerks gives us bad relationship advice, superhero reproduction debates, a Stan Lee cameo, skateboarder-turned-actor Jason Lee in his first major role, and of course, more Jay and Silent Bob.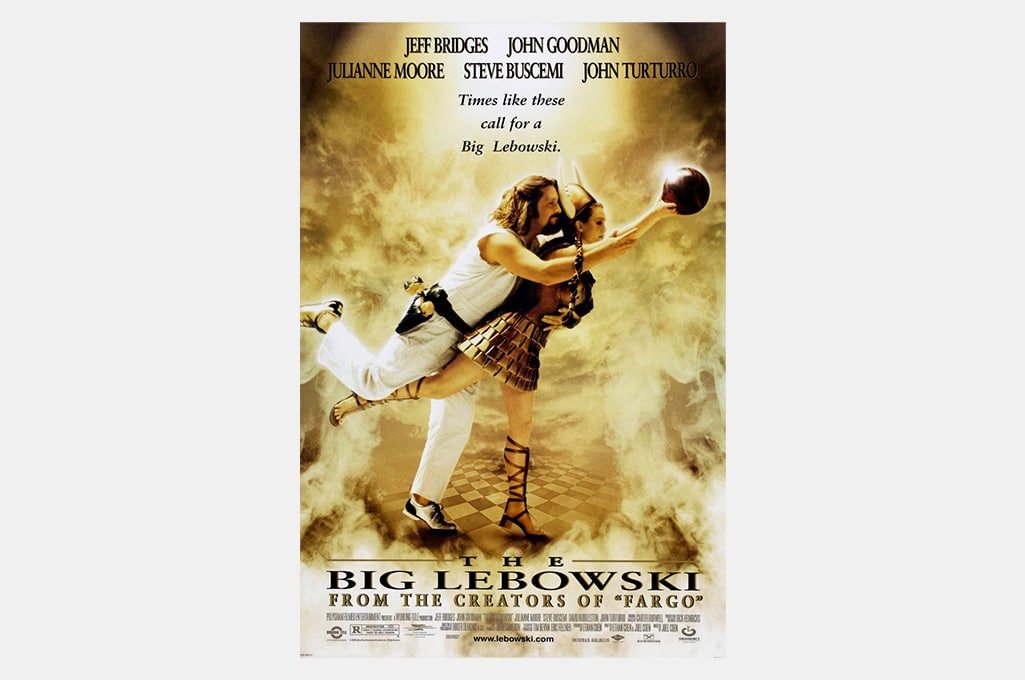 The Big Lebowski (1998)
"The Dude abides."
Twenty years ago, a movie came along with a near perfect mix of bowling, dream sequences, marmots, rugs that tie the room together, mistaken identity, kidnapping, nihilism, porn, and somebody's toe all set against the backdrop of early 90s Los Angeles. With Jeff Bridges as the Dude and John Goodman playing his volatile bowling partner, The Big Lebowski is the Coen brothers' take on the detective noir, complete with an interlocking plot overshadowed by the indelible characters and endlessly quotable dialogue. Fix yourself a White Russian and take it easy, man.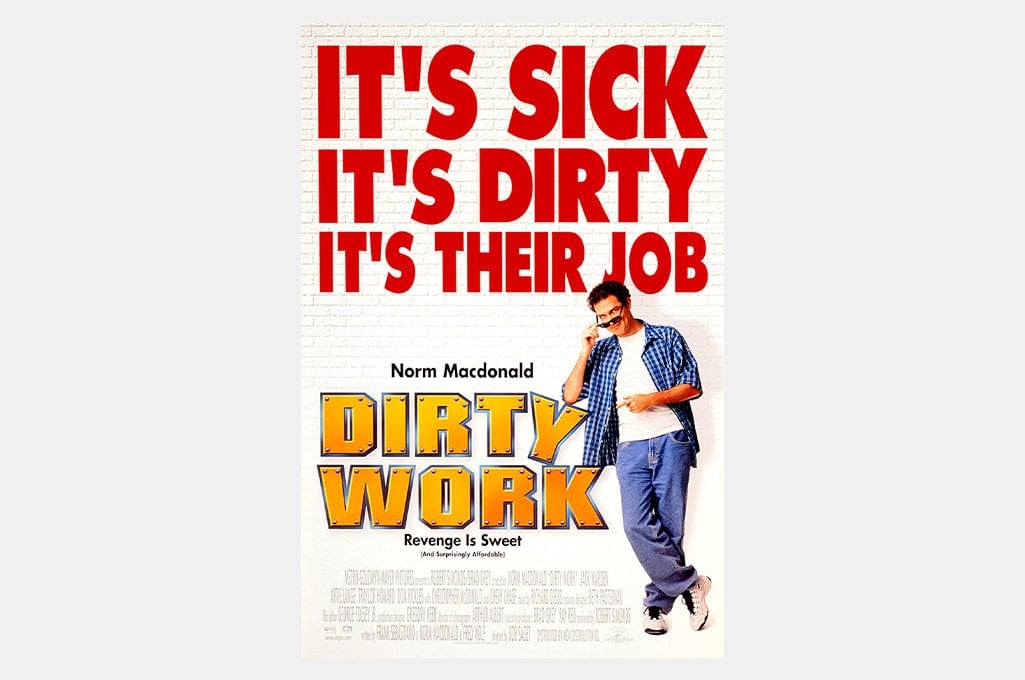 Dirty Work (1998)
"Ha! You didn't count on my loyal army of prostitutes, did you?"
Norm Macdonald and Artie Lange play two buddies who find they're good at revenge, so naturally, they go into business doing revenge for hire. Directed by Bob Saget, in a shift from his more wholesome work on Full House and hosting America's Funniest Home Videos, Dirty Work mixes bar brawls set to the Piña Colada Song, trunks full of hookers, dead fish-inspired shoot-outs, a disturbing cameo with Adam Sandler as satan, and Chris Farley's last film appearance.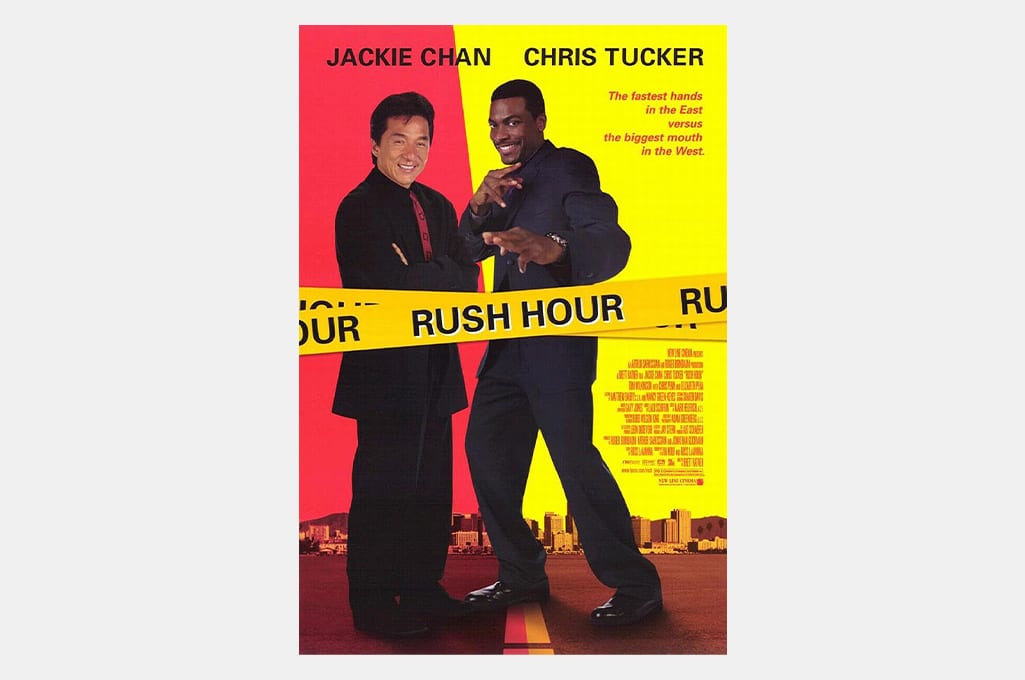 Rush Hour (1998)
"We're the most hated cops in all the free world. My own mama's ashamed of me. She tells everybody I'm a drug dealer."
An east-meets-west take on the buddy cop genre, Rush Hour pairs Hong Kong martial arts star Jackie Chan with high-volume comedian Chris Tucker. The pair play detectives trying to find the kidnapped daughter of the Chinese consul in Los Angeles. With Chan doing his own stunts and Tucker improvising all over the place, the two keep the action and banter turned up to ten. The chemistry between the unlikely partners was so good, two sequels came out of the pairing.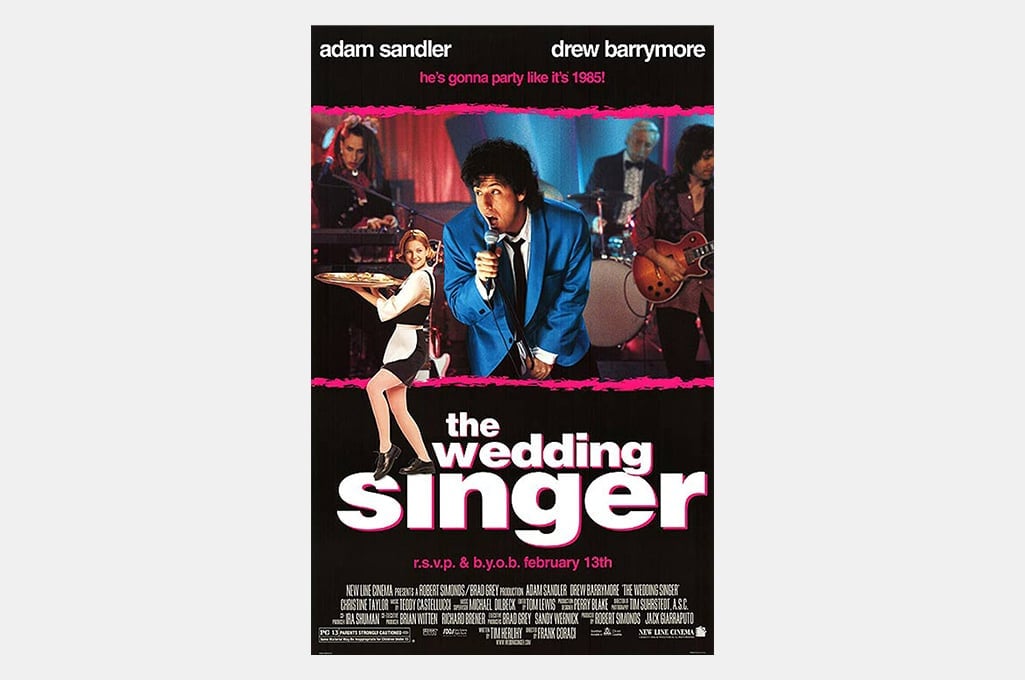 The Wedding Singer (1998)
"I have a microphone, and you don't, SO YOU WILL LISTEN TO EVERY DAMN WORD I HAVE TO SAY!"
Here's a movie that got us nostalgic for the 80s just one decade after the fact. Watch it now for Adam Sandler sporting a neckwarmer, covering 80s songs at weddings, and getting an assist from Billy Idol. It's a slightly subdued Sandler, which is not to say tame, but as he goes for the girl, played by Drew Barrymore, he keeps (some) of his explosive lunacy in check. His depressed rendition of Love Stinks and performance of his own Somebody Kill Me are both priceless.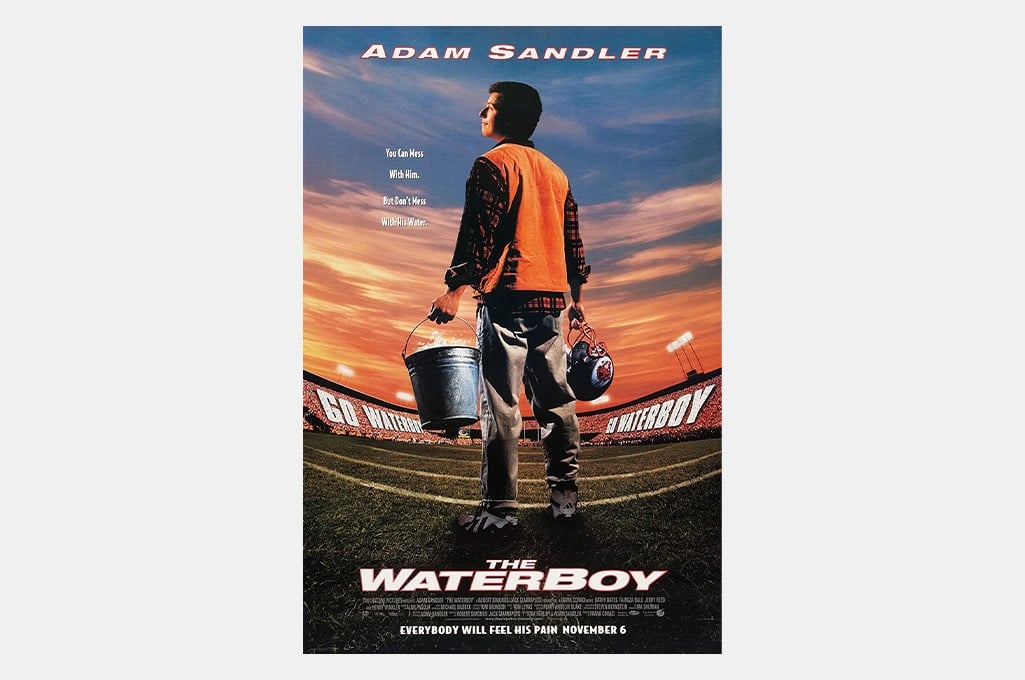 The WaterBoy (1998)
"Waaater sucks! It really really sucks!"
The same year they made The Wedding Singer together, Adam Sandler and director Frank Coraci teamed up again for The Waterboy. Perhaps most memorable for Sandler's stuttering Cajun and his "visualize and attack" sacking technique, this movie gives the actor free reign to perfect both his 90s shticks — acting like a giant child and body slamming his problems. Kathy Bates plays his mother who cooks up bayou delicacies and lives with a donkey while Henry Winkler plays the coach who helps Sandler's character focus his rage.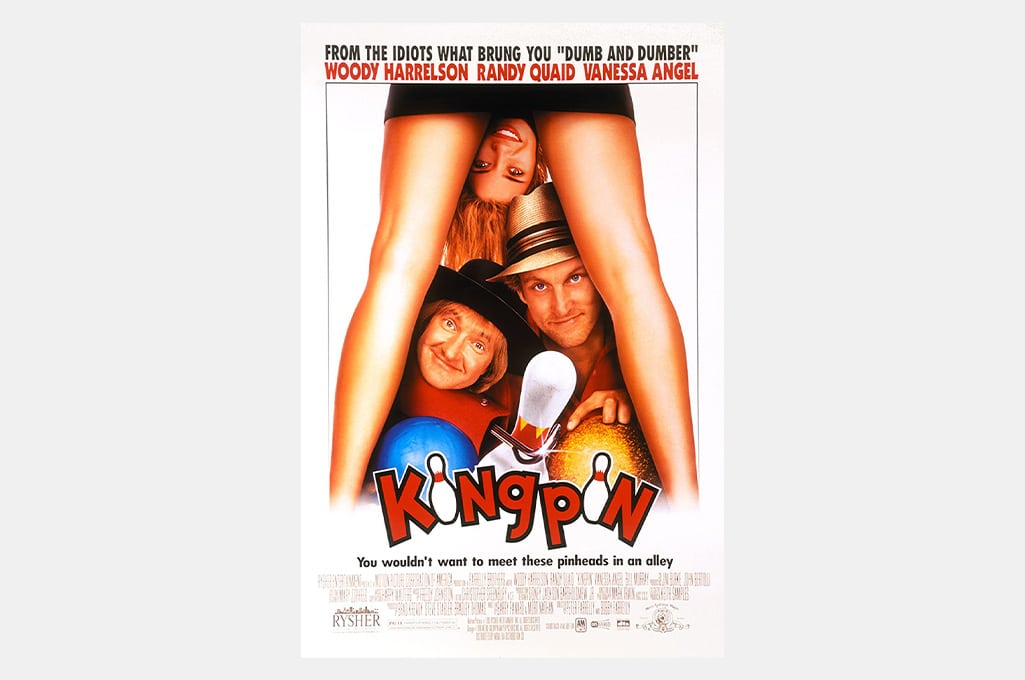 Kingpin (1996)
"I hope you don't mind, I got up a little early, so I took the liberty of milking your cow for you."
Start with bowling, add in a prosthetic hand, the Amish, Bill Murray winging it, and Farrelly brothers humor, and you get the perfect recipe for wackiness. Starring Woody Harrelson as an ex-bowler and Randy Quaid as his Amish protégé, the story follows the two as they head off to win a million dollar bowling tournament in Reno, hustling their fellow bowlers along the way. The showdown in Reno pits bowler against bowler and Murray's spectacular toupee against Harrelson's amazing comb-over.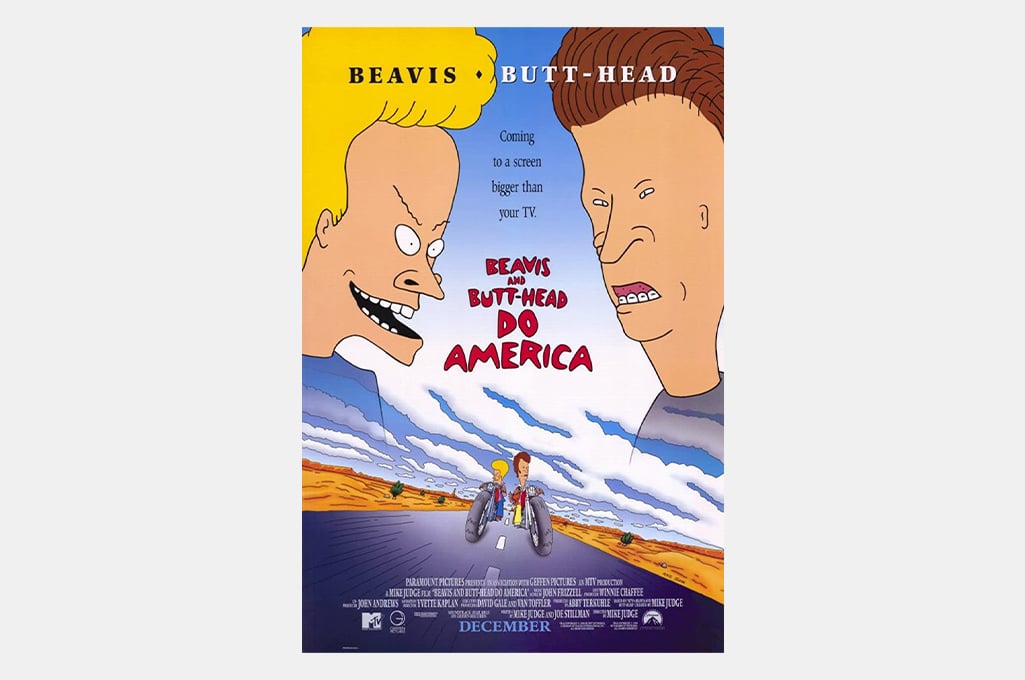 Beavis and Butt-Head Do America (1996)
"Huh huh huh huh. He said, 'extend.'"
Watch an episode of Beavis and Butt-Head (as anyone alive in the 90s was required to do) and it's instantly clear what the intellectually challenged dudes would miss most, should it ever go missing: the TV. As the pair go in search of their beloved set, they visit national landmarks, tangle with arms-smugglers, possibly meet their dads and unleash the great Cornholio. Includes voice acting from Bruce Willis, Demi Moore and David Letterman with creator Mike Judge voicing the sex-obsessed teens.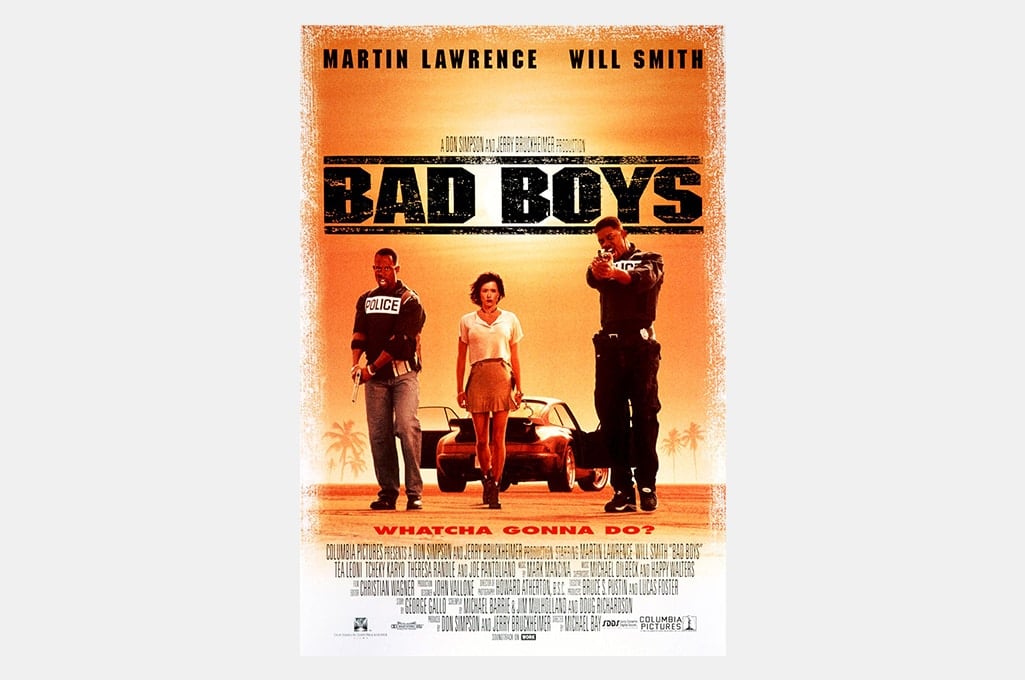 Bad Boys (1995)
"Now back up, put the gun down, and get me a pack of tropical fruit bubbleicious."
In Michael Bay's first feature, his signature explosions light up the screen on the regular. The relatively standard action fare is elevated by the suave humor of Will Smith and the off-kilter energy of Martin Lawrence. They play the movie as a comedy that just happens to have a high body count and dramatic consequences, and it works. As two narcos trying to solve a case before the FBI steps in and takes over, Smith and Lawrence form a buddy cop rapport that carried them through a sequel — with another in the works.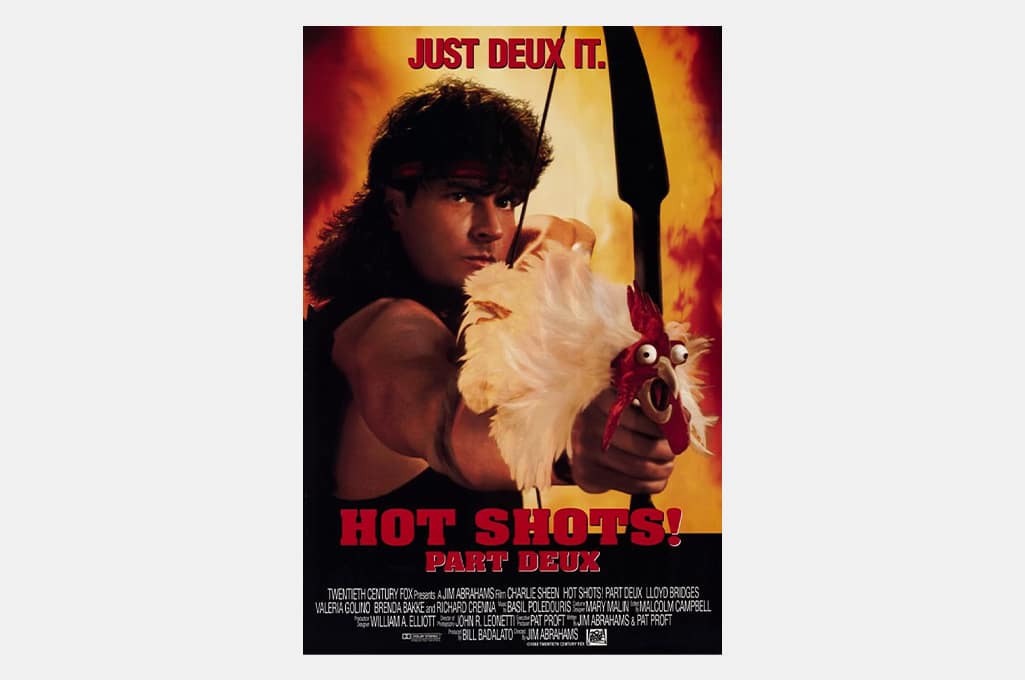 Hot Shots! Part Deux (1993)
"We'll settle this the old Navy way: first guy to die, loses."
Charlie Sheen, Lloyd Bridges and Valeria Golino return (along with the director) for another shot at skewering popular cinema. Building on the spoof-mania of the first film, Part Deux takes on the Rambo franchise as its base, but throws in references to Basic Instinct, Terminator 2, Lady and the Tramp and Casablanca, just to name a few. Sheen even parodies his role in Platoon — just before passing by his father as he parodies his own role from Apocalypse Now.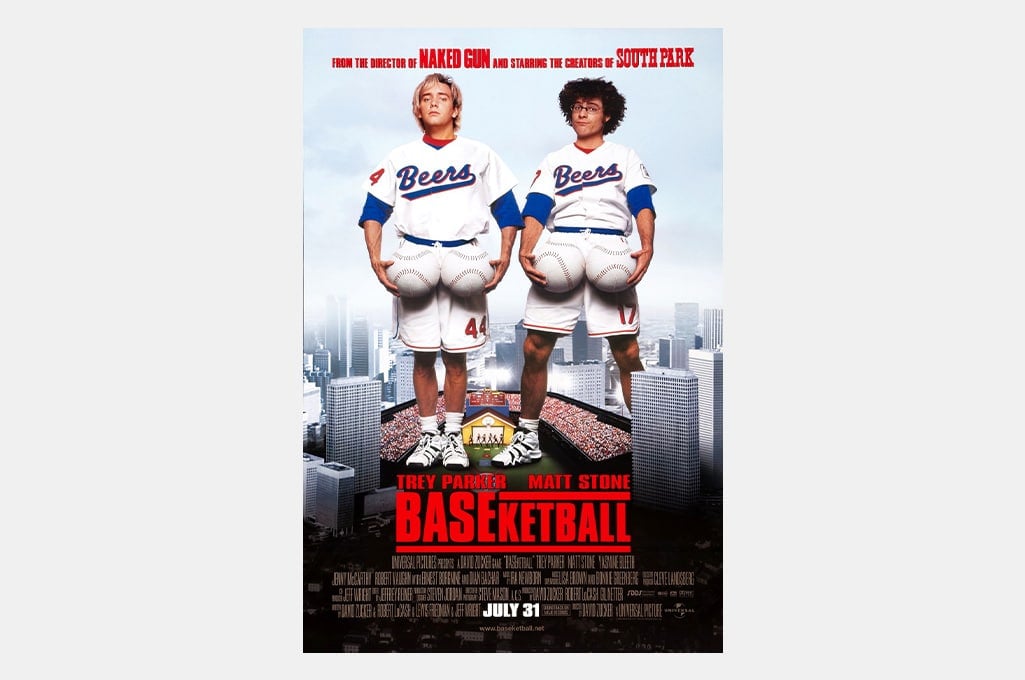 BASEketball (1998)
"You're excited? Feel these nipples!"
Taking a break from South Park creative duties, Trey Parker and Matt Stone get in front of the camera to star in a sports comedy written and directed by David Zucker, of Naked Gun fame. After a sport they created in a driveway (that combines bits of basketball and baseball) becomes a nationwide success, the two friends have to contend with the rampant commercialism that eventually infects professional sports, but not before using BASEketball's unique psyche-out technique to hilarious effect.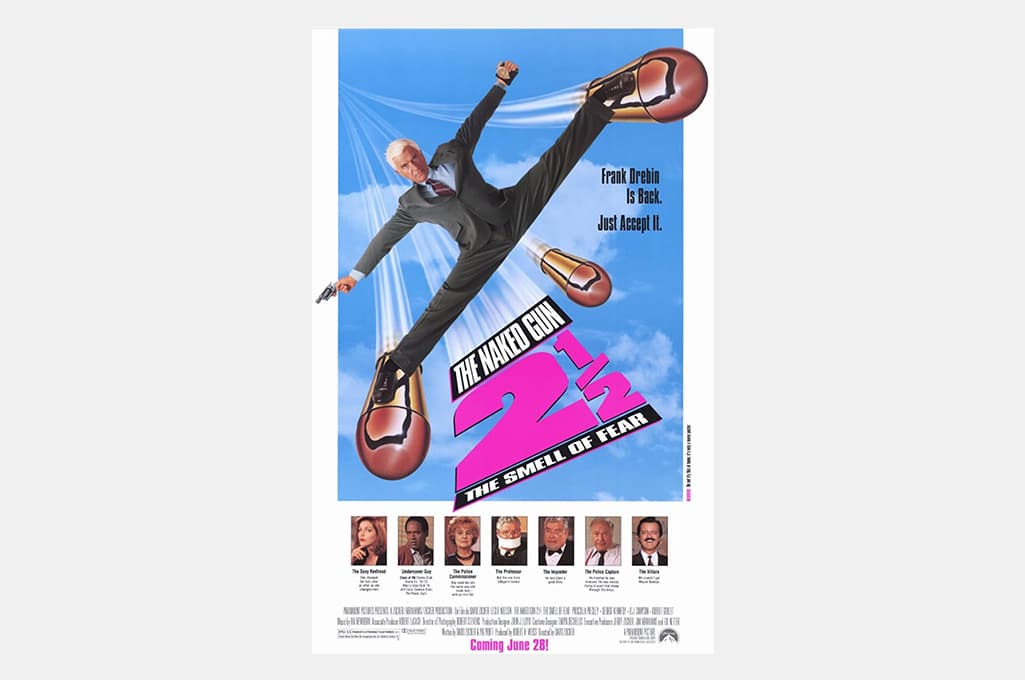 The Naked Gun 2½: The Smell of Fear (1991)
"The truth hurts, doesn't it? Oh sure, maybe not as much as landing on a bicycle with the seat missing, but it hurts!"
The only movie on the list with OJ Simpson in it, this second installment of The Naked Gun series puts Leslie Nielsen back in the lead role, this time on a mission to thwart oil and coal industry leaders as they attempt to sabotage a report in favor of renewable energy by kidnapping and replacing the scientist who wrote it. The puns fly fast and furious through most scenes with a good dose of pratfalling and slapstick to round it all out.
Disclosure: Clicking on these links and making a purchase may earn us a small referral fee, at no extra cost to you. Learn more here.
freestar.config.enabled_slots.push({ placementName: "gearmoose_leaderboard_btf", slotId: "gearmoose_leaderboard_btf" });