10 Beer Glasses To Pair With Your Favorite Beer Style
If you're a beer drinker (we're talking about a real beer drinker) you're probably completely happy cracking open a bottle or can and downing it right there in the parking lot, on your back deck, or a hiking trail—without the use of a cup, glass, goblet, or red Solo cup. This is perfectly acceptable behavior at a tailgate, after mowing the lawn, or on a camping trip. There's no reason to waste a drinking receptacle in these cases. It just doesn't make any sense. You already have the drinking vessel right there. You simply need to use a bottle opener or your fingers to get to that delicious, fizzy, crisp goodness.
But there are other occasions when the use of a drinking vessel is completely necessary. We're talking about fancy dinners, drinks out at a bar, or when you're actually trying to taste that stout, porter, or New England-style IPA you just poured. Sure, you can spend all afternoon crushing light, crispy pilsner cans, but when it comes to a Saison, barleywine, or barrel-aged beer, you're going to be much happier enjoying it in the proper glassware.
We're not here to tell you how to drink your beer, but If you spent $19 on a four-pack of 16-ounce cans you're probably going to get more out of the brewer's hard work by pouring them into an American style pint glass, IPA glass, Stout glass, tulip glass, or any number of all appropriate drinking glasses.
Below, you'll find ten of our favorites. Each was created to be paired with specific beers to give the drinker the best overall sensory experience. We're talking about the nose, palate, everything. These are the best beer glasses to buy if you really want to enjoy your favorite beers. Keep scrolling to check them all out.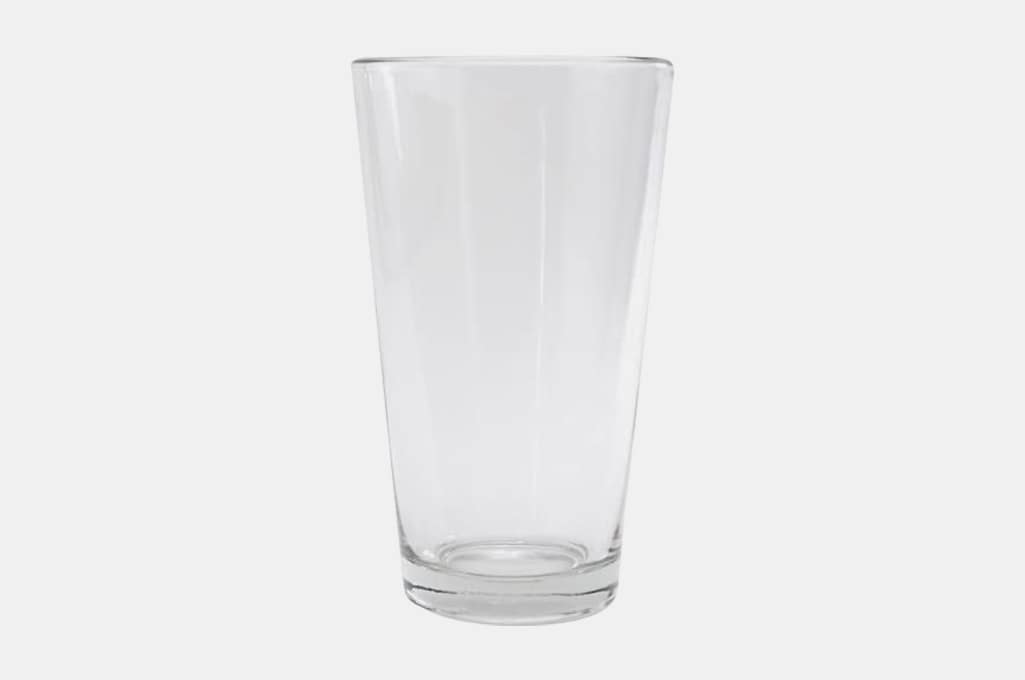 American Style Pint Glass
Even semi-regular beer drinkers have seen the American-style pint glass at their favorite bar, pub, or brewhouse. This is the most commonly used beer glassware for serving beer. It's 16-ounces, made of clear glass, and has a simple, elegant design. It starts with the cylinder at the bottom and slowly gets wider as it moves up. Also referred to as the Shaker glass, it's used as a serving vessel for IPAs, stouts, lagers, and pretty much every kind of beer.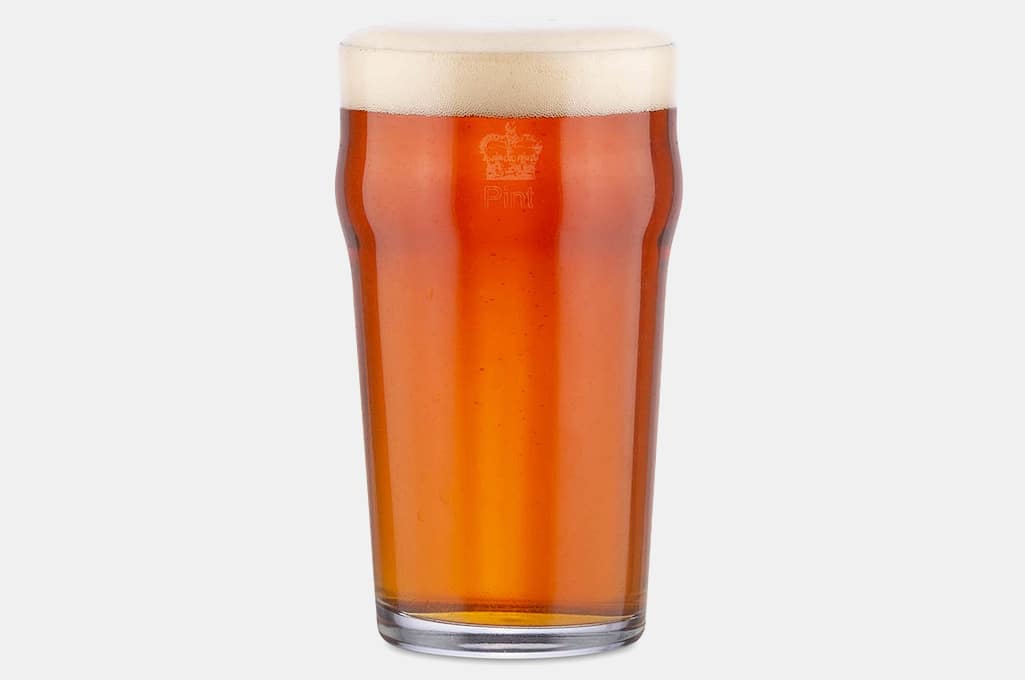 Imperial Pint Glass
Similar to the American Style pint glass, the Imperial pint glass is glass, clear, and starts with a cylindrical bottom that slowly widens as it goes up. The difference is that the Imperial Pint glass is 20-ounces and it has a rounded, bulging ridge right before the lip of the glass. Otherwise, it's pretty similar to the classic American style. This is a popular glass for ciders, lagers, pilsner, and many popular British beer styles. But like the other pint glass, you can fill it with any beer style.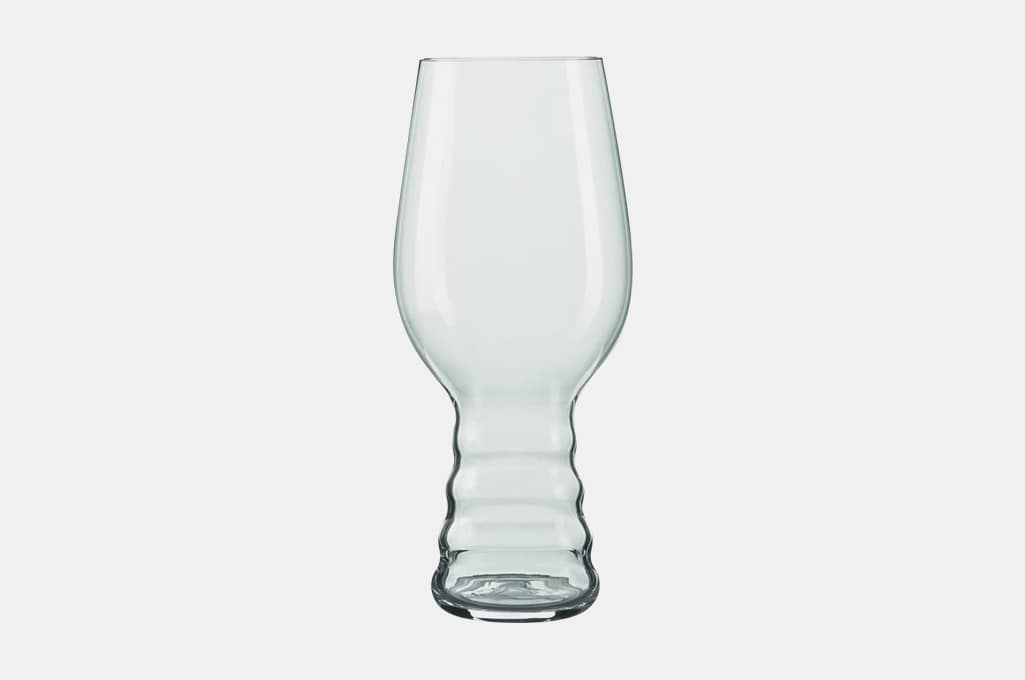 IPA Glass
If you're new to beer, you might not have realized that there's a specific glass that was designed for the India Pale Ale. Created in collaboration with Spiegelau, Dogfish Head's Sam Calagione, and Sierra Nevada's Ken Grossman, the IPA glass has a skinny, rippled bottom that opens up into a wide area before the lip. It was created to give drinkers the best sensory experience while drinking IPAs by opening up the hop-filled aromas and, in doing so, opening up the overall flavor.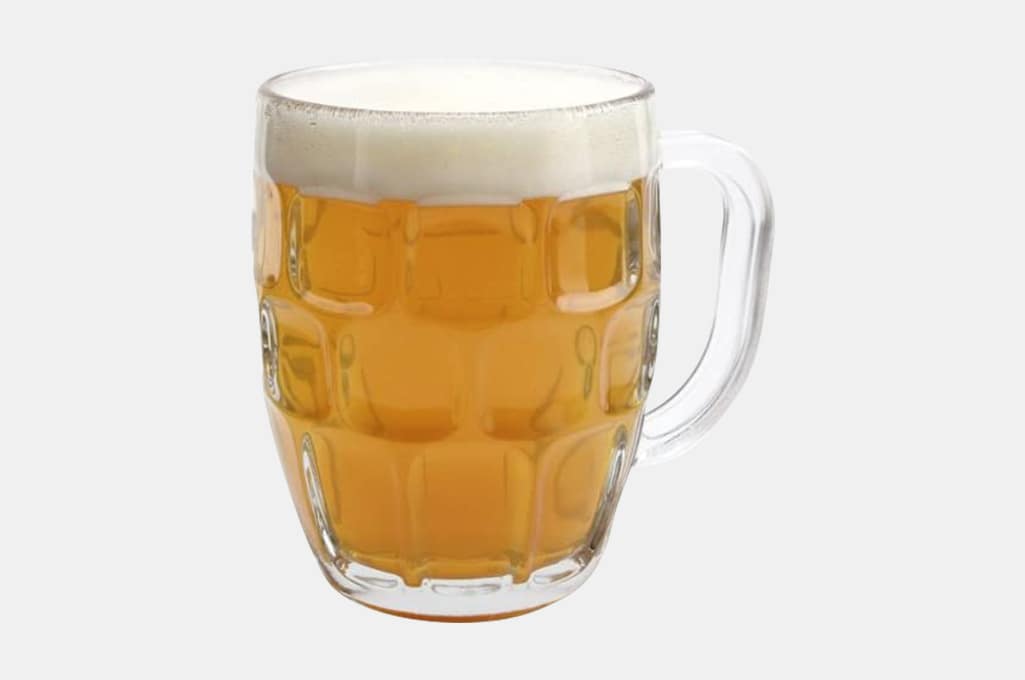 Beer Mug
The classic glass beer mug just might be the most fun vessel to drink beer out of. Also known as a dimple stein beer mug, it holds 20-ounces and looks great doing it. Its wide mouth and dimpled design make it one of the best-looking beer glasses you can buy. The handle was created so that the warmth from your hand won't change the temperature of your favorite beer while you sip it. It's an acceptable vessel for lagers, pale, ales, and most lighter beers. You probably don't want to drink a dark beer like a stout or porter using this glass.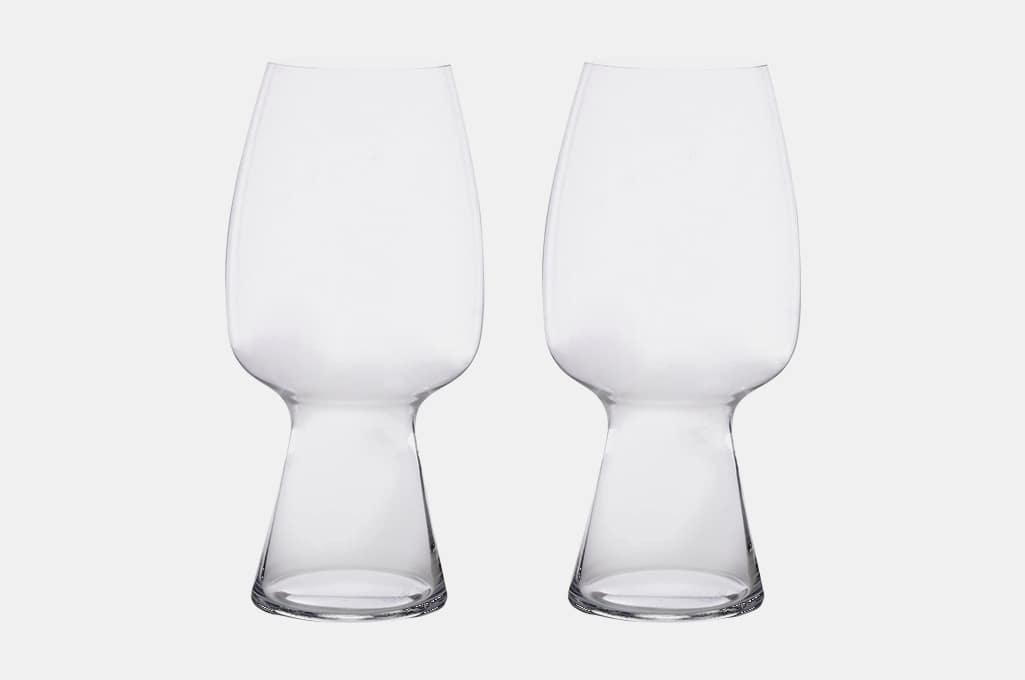 Stout Glass
If you've ever ordered a Guinness (or another well-known stout) at a bar or pub, it was probably served in a classic stout glass. But, in recent years, an even better stout glass has appeared. This one looks similar to the IPA glass but doesn't have a ripple design at the stem. The stout glass is designed with a hollow stem that opens up into a wide bowl-like area as it works its way up. It was created, like the IPA glass, to open up the roasted, coffee-like flavors of your favorite stout, thereby adding to the overall taste experience.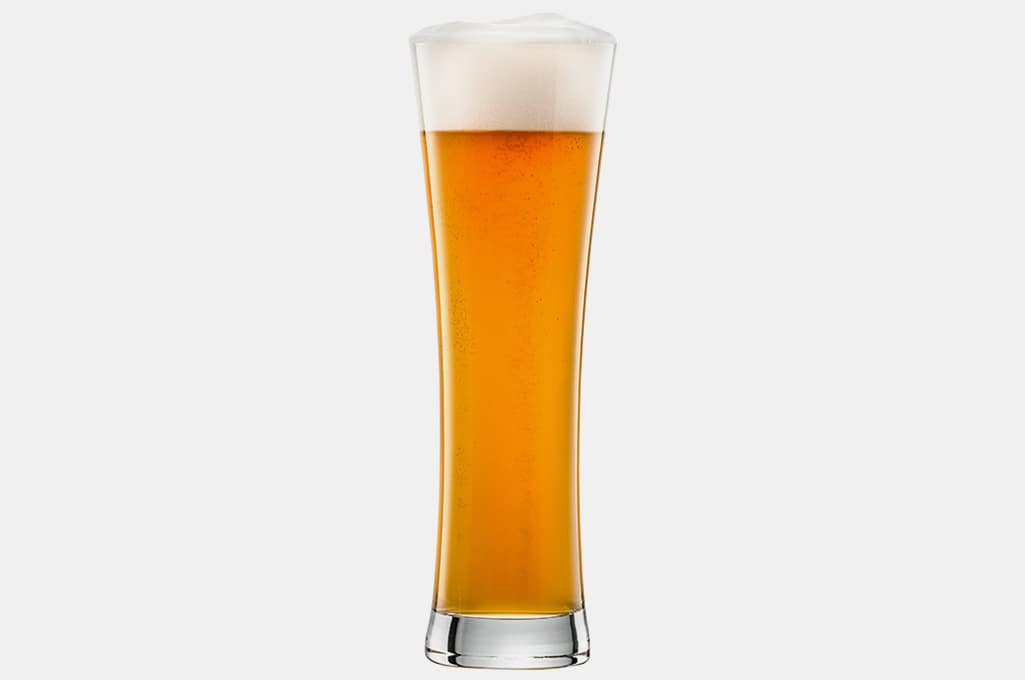 Weizen Glass
If you're not an avid wheat beer (or hefeweizen) drinker you might not realize that there is a specific glass designed for wheat beer. The Weizen glass, not surprisingly, comes from Germany. It starts with a narrow bottom that gets wider and rounder as it works its way up to the top. Like many of the other drinking glasses on this list, the Weizen glass was designed this way to release the sweet, wheat, yeasty aromas. It's also open enough so that the wheat beer retains its thick, white, foamy head.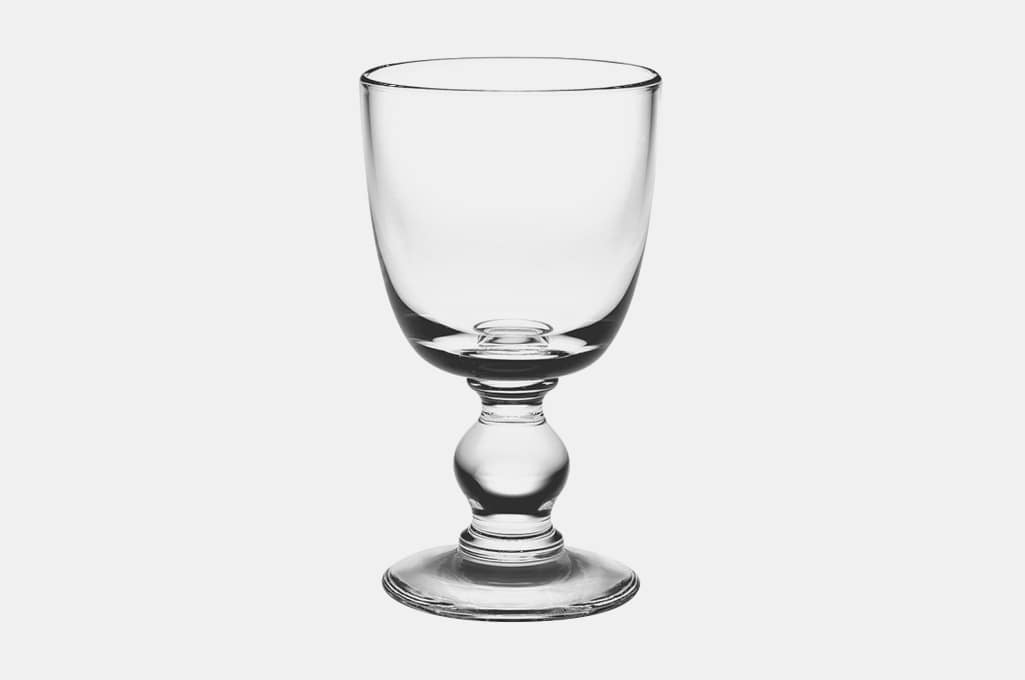 Goblet Glass
You might feel like a king or queen when drinking from a Goblet glass, but it has more of a purpose than simply making the beer drinker appear to be a member of a royal family. In the simplest terms, a goblet-style glass has a long, thick stem that opens up into more or less a bowl for drinking. It's big, it's bold, and it's fancy. Usually maltier, darker beers are served in these types of glasses in an effort to open up the bold flavors and aromas.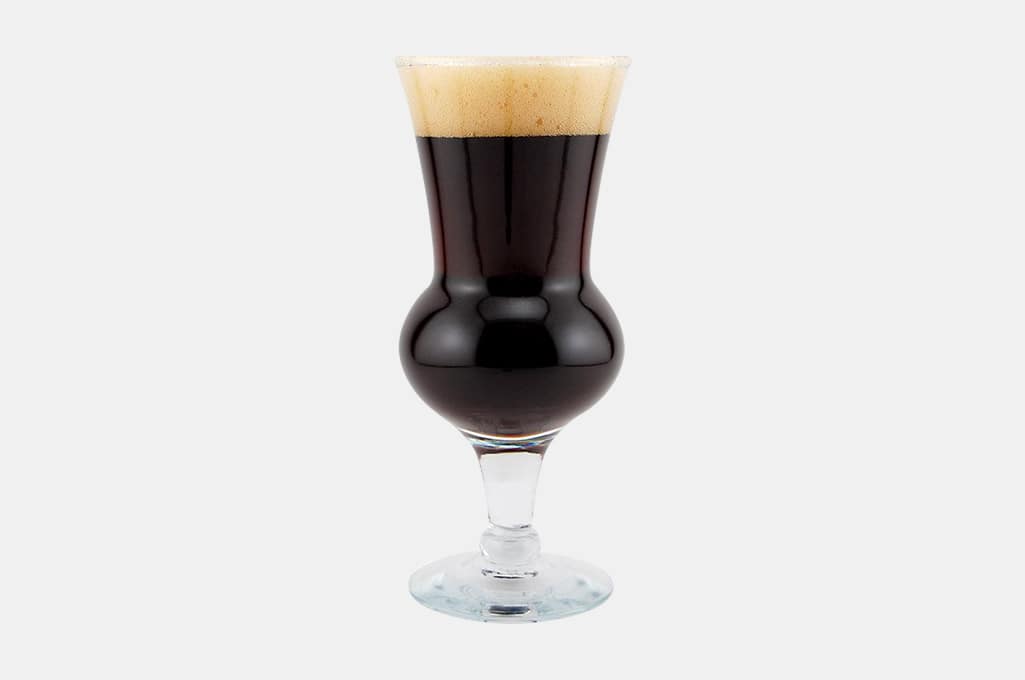 Thistle Glass
You've probably never seen this uniquely-shaped glass. It starts with a thick stem that opens up in a round, cylindrical area, and eventually into a slightly wider opening. It's well suited for scotch ales, brown ales, and darker, malty beers. It was designed to let the darker, higher alcohol content beers breathe and open them up while keeping your body heat away from the glass itself. This is definitely not a glass for beer newbies.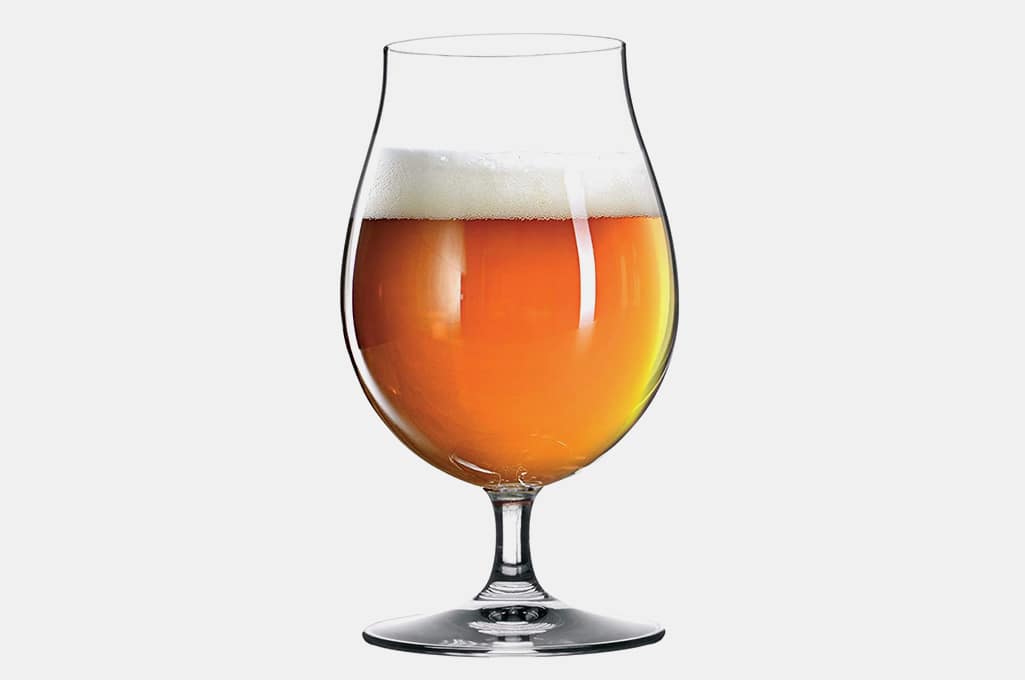 Tulip Glass
If you're a whiskey drinker, you've probably sipped a whiskey-specific tulip glass. Today, we're talking about the beer version. If you've ever ordered a Belgian strong ale or barrel-aged stout at a bar or brewery, chances are it was served in one of these glasses. It starts with a thick stem that opens up into a wide cylinder that starts to get narrower at the top. It was created to highlight the aromas and flavors of rich, dark, bold beers like wild ales, sour beers, barleywines, and barrel-aged stouts and porters.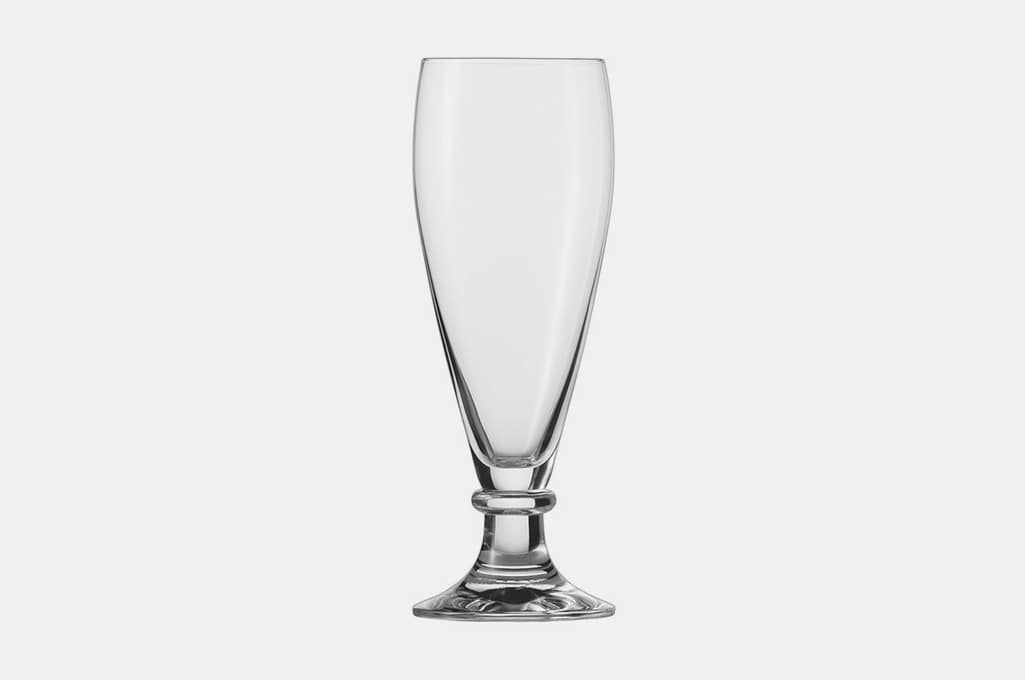 Pilsner Glass
Like the IPA glass, we're pretty sure you can guess what this beer glass is for. Often compared to a mixture of a Champagne flute and an American-style pint glass, the pilsner glass starts with a small cylindrical bottom that slowly tapers into a wider mouth as it goes up. It was created for (you guessed it) pilsners. These crisp, refreshing, light, sweet beers shine in this iconic glass, but they can be used for other lighter styles as well.
Disclosure: Clicking on these links and making a purchase may earn us a small referral fee, at no extra cost to you. Learn more here.
freestar.config.enabled_slots.push({ placementName: "gearmoose_leaderboard_btf", slotId: "gearmoose_leaderboard_btf" });