16 Best Bluetooth Speakers Under $100
Before smartphones, we all understood that if you wanted to make a call on the go, you had to first find a pay phone, and if you wanted to get a call, you had to wait by the phone at home.  Today, leaving your cell phone at home on accident could be enough to trigger a panic attic due to separation anxiety.
 
Technology is a short leash, to be sure, but we get a lot of benefit in the bargain.  Just think about the beauty of the Bluetooth speaker.  This handy amplifier can let you add booming bass and incredible volume to the tunes stored on your smartphone or other devices, which otherwise couldn't surpass the volume of a loud conversation, much less a party.
 
In addition, many Bluetooth speakers — notably speakers under 100 dollars — are starting to offer a lot more bang for your buck with voice command capabilities and even the ability to access personal assistant programs like Alexa and Google.  Still, you don't necessarily want to spend an arm and a leg on what essentially amounts to a megaphone for your smartphone.  Good news – there are plenty of choice wireless speakers that come in under the $100 mark.  Here are 16 of the best bluetooth speakers that won't break the bank.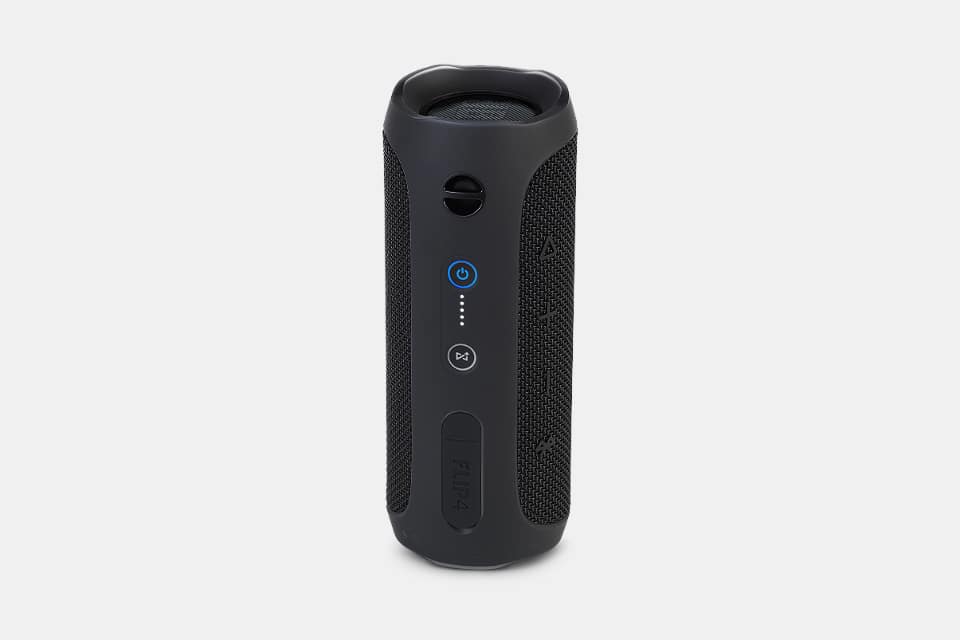 JBL Flip 4
Unless you've been living under a rock, you're probably familiar with JBL's commitment to quality sound, and despite the fact that this diminutive speaker could probably fit in an evening clutch, it packs a lot of punch.  It not only connects wirelessly to two devices simultaneously so you can toggle between music sources, but it's also waterproof (IPX7) and provides up to 12 hours of play on a charge, thanks to a 3000mAh rechargeable Li-ion battery.  It also offers voice assistant integration, and of course, the powerful sound JBL is known for. – Shop Now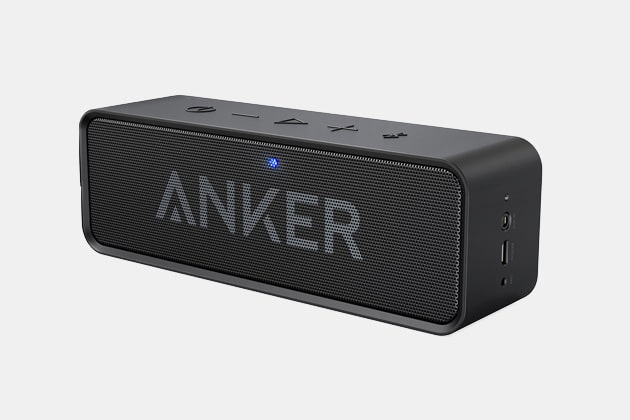 Anker Soundcore Bluetooth Speaker
The 66-foot Bluetooth range is certain to come in handy when you're circulating with a tray of drinks or hors d'oeuvres, but what you'll probably enjoy more is the clean, clear sound quality, featuring less than 1% harmonic distortion, thanks to dual high-performance drivers and a patented spiral bass port.  The high capacity Li-ion battery delivers an incredible 24 hours of play time on a charge, and drop-proof durability will stand up to life's little mishaps.  Stick it in your backpack or carry-on to ensure superior sound when the party starts. – Shop Now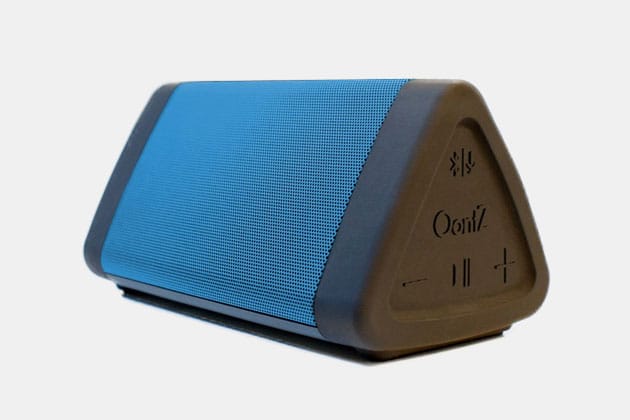 Oontz Angle 3
This triangular speaker is certainly stable and interesting to look at, especially with options in bright red and blue, but that's the least of what you'll get when you add this fun speaker to your gadget menagerie.  Two neodymium drivers and a bass radiator deliver crystal clear, distortion-free sound, whether you're soaring at the top of Mariah's 7-octave range (it's cool, bro, she sings like an angel) or you want Dre's sick bass beats to reverberate through your internal organs.  10 watts of power ensure eardrum-rattling volume in a splash-proof, ultra-lightweight package. – Shop Now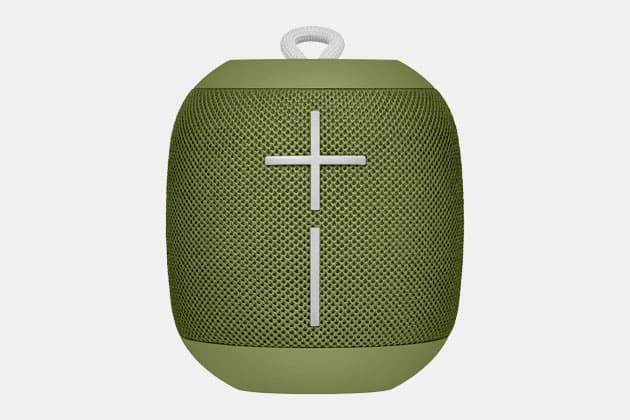 UE WonderBoom
Compact doesn't begin to describe this tiny, waterproof speaker, which delivers a surprising amount of sound, considering it's about the size of an apple.  The spherical designs deliver 360 degrees of sound at up to 86 decibels and you can double up speakers to increase sound.  Th Bluetooth range is only about 33 feet, but you'll get up to 10 hours of play time on a charge.  It's also waterproof (IPX7) and reportedly, virtually indestructible, if drop tests are to be believed.  Hang it on your backpack or bike to bring your soundtrack wherever life takes you. – Shop Now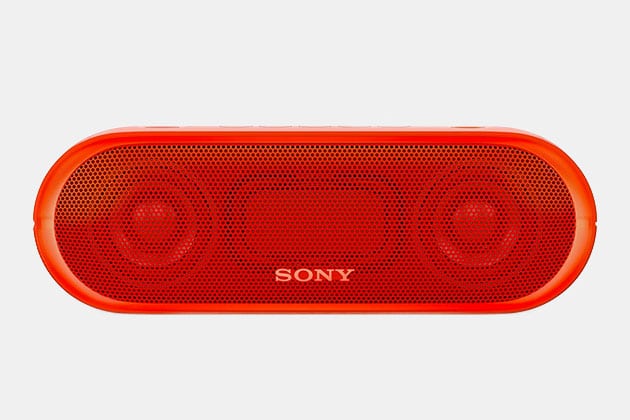 Sony SRS-XB20
The standout feature of this portable speaker is that it comes with its own lighting (you can choose from a slew of single-color options).  Of course, it still needs to deliver on the sound front, which is why you'll surely appreciate the full-range stereo speakers, complete with dual passive radiators that fuel the EXTRA BASS boost option.  It's also water resistant, it offers up to 12 hours of battery life, and you can connect up to 10 speakers and manage your sound from your smartphone using Sony's Music Center app. – Shop Now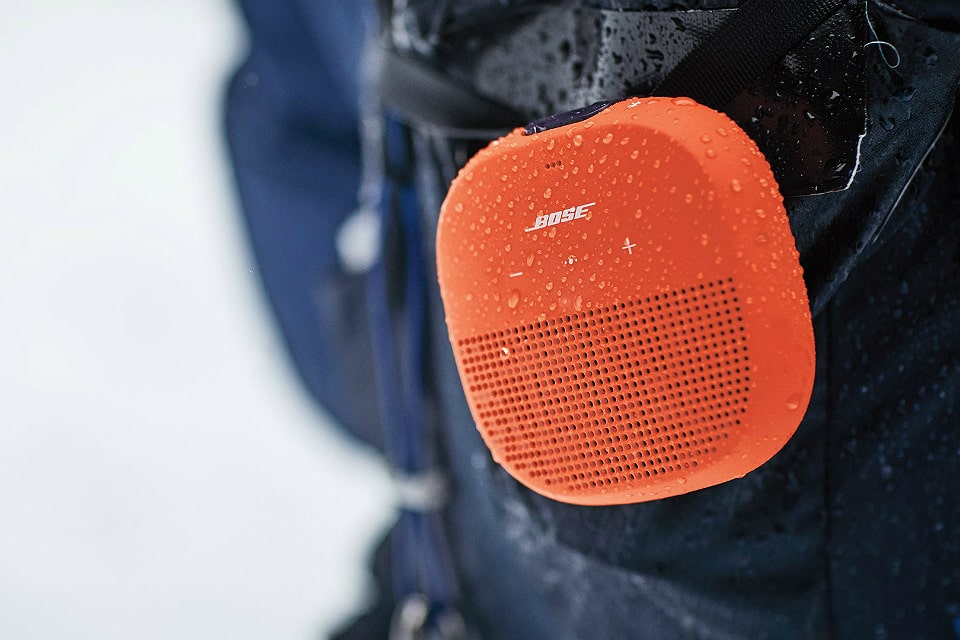 Bose SoundLink Micro
Bose is to sound as the harpsichord was to Bach – a conduit for truly incredible ear candy.  Luckily, the SoundLink Micro is a LOT smaller than a harpsichord.  With dimensions of roughly 4"x4"x1.5", you can fit it practically anywhere, and the handy, tear-resistant silicone strap ensures that it stays in place on your backpack, belt loop, or handlebars.  The custom transducer and passive radiators create a sound more powerful than a speaker this size has any right to produce, and it all comes in a rugged, waterproof, silicone case that resists dents, cracks, and scratches. – Shop Now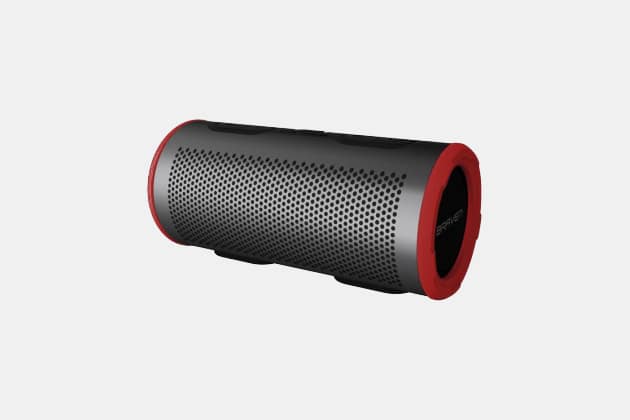 Braven Stryde 360 Speaker
A cylindrical speaker offering 360-degree sound from dual passive radiators, the Stryde 360 offers both power and portability.  A 2500mAh battery equates to 12 hours of sound and the IP67 waterproofing means you won't have to worry about a dunk when you take it out by the pool or the beach to enjoy a summer soundtrack.  Built-in voice control makes for easy commands via smartphone, but there are also exterior buttons for manual track changes and volume adjustments.  The cylinder design fits in cup holders and water bottle cages for easy transport. – Shop Now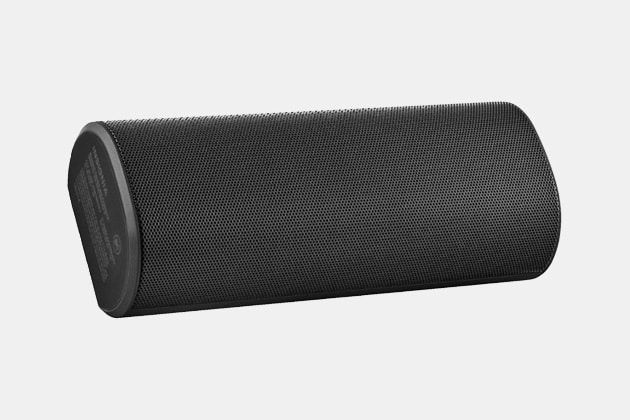 Insignia Brick 2 Portable Bluetooth Speaker
Bricks don't have a lot of redeeming features – they tend to be bulky and heavy.  But when it comes to speakers, one the size of a brick is considered relatively portable.  This little Bluetooth Brick offers up to 40 hours of play time and you have the option to use some of your juice to power up mobile devices (via USB cable).  It's also water resistant, it features a Bluetooth range of 33 feet, and the sound is clear and rich.  At roughly 3"x7.5"x3", it can easily fit in a duffel or backpack. – Shop Now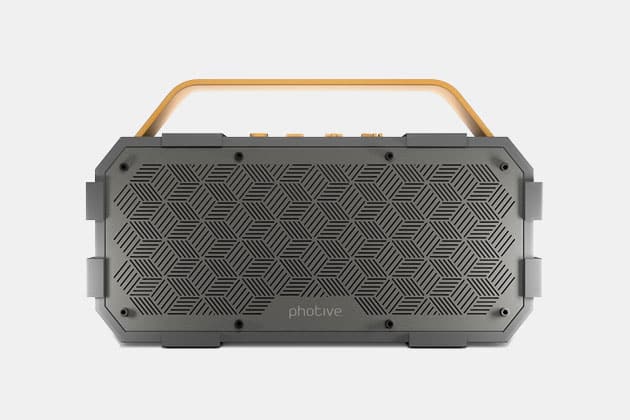 Photive M90 Portable Waterproof Bluetooth Speaker
If you're looking for a portable speaker the size of a boombox, with powerful sound to match, you're going to love the Photive M90, with dimensions of 11"x3.5"x6".  Even so, it's only two pounds and it comes with a handle for easy carry.  It also looks cool as hell, with a boxy design that's waterproof and shock absorbing for indoor and outdoor use.  With 20W stereo sound, a passive subwoofer, and 10 hours of battery life, you can toss it in the sand to enjoy heavy bass beats all day at the beach. – Shop Now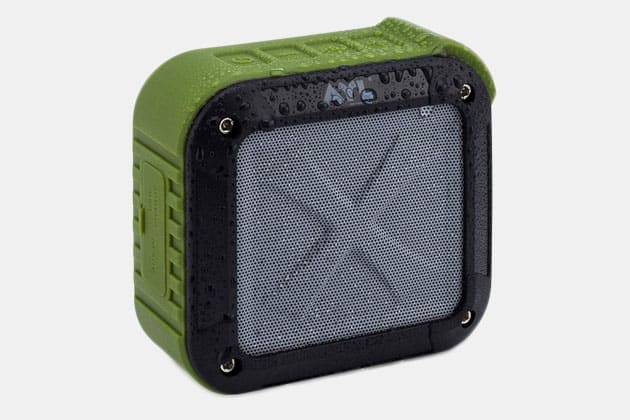 AYL SoundFit
Nature-themed colors like Ocean Blue and Forest Green let you know this speaker is designed for outdoor use (although it also comes in classic black).  The IPX5 waterproofing protects against wetness, if not complete submersion, and it's built tough to withstand rugged use.  Bluetooth 4.0 delivers a range of 33 feet and the AYL SoundFit offers universal compatibility with a range of devices.  You'll enjoy 12 hours of play time with high-quality sound and strong bass.  At dimensions of about 3.5"x2"x4", it's easy to transport, so you'll always have powerful audio. – Shop Now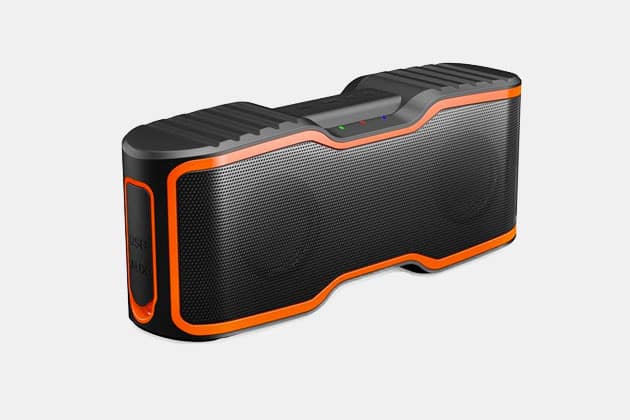 AOMAIS Sport II Portable Bluetooth Speaker
The shape of this speaker is weirdly reminiscent of the earliest cell phones (you know, the ones that looked a bit brickish?…no, you're probably way too young to remember).  Suffice it to say, it's blocky at roughly 3"x7.5"x2".  Still, it's fairly portable, fully waterproof (IPX7), and built for durability.  It also features a respectable Bluetooth range of 66 feet, a 20W speaker and dual full-range drivers for crisp audio quality, and up to 12 hours of play time with the 2500mAh battery, not to mention hands-free calling capabilities thanks to the built-in mic. – Shop Now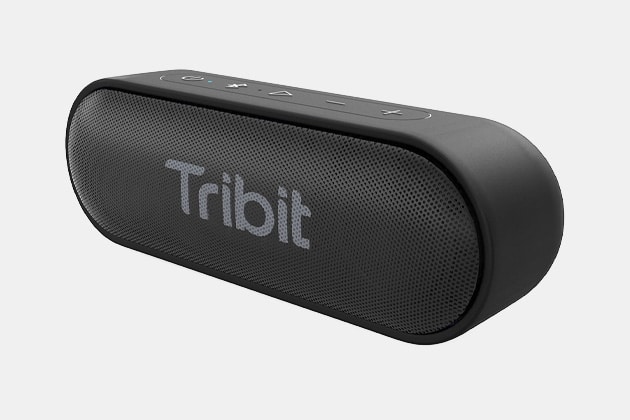 Tribit XSound Go Bluetooth Speaker
The classic pencil-case design makes this portable speaker easy to slip into a backpack or store in the cup holder in your car.  It can also go into your shower caddy or the cup holder on your pool float since it's totally waterproof (IPX7).  This speaker offers an immersive listening experience with 6W power drivers and state-of-the-art bass radiators.  You'll also get 66 feet of Bluetooth range and 24 hours of continuous use on a charge.  It even has a voice input function for access to Siri and Google via connected Bluetooth devices. – Shop Now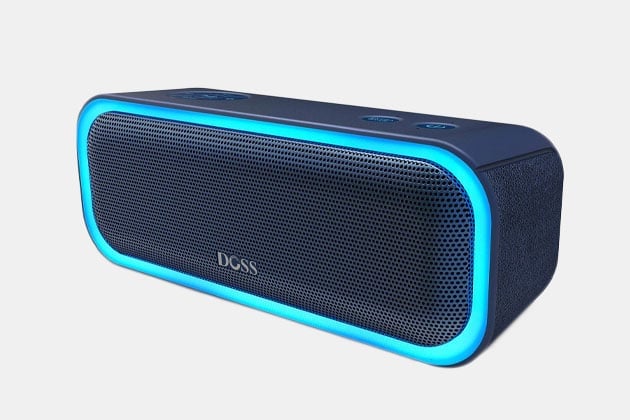 DOSS SoundBox Pro Portable Wireless Bluetooth Speaker
Like the Sony SRS-XB20, this speaker has built-in lighting for funsies, but this one offers color-changing LEDs (six colors and three illumination patterns) that sync with music to flash in time with the beat.  Light show aside, you'll likely enjoy the inclusion of two full-range and dual passive radiators that deliver 20W stereo sound with bright highs and active extra bass.  You can pair with two speakers simultaneously for extra oomph, connect at a distance of up to 66 feet, and engage in hands-free calling to get your gang to the party. – Shop Now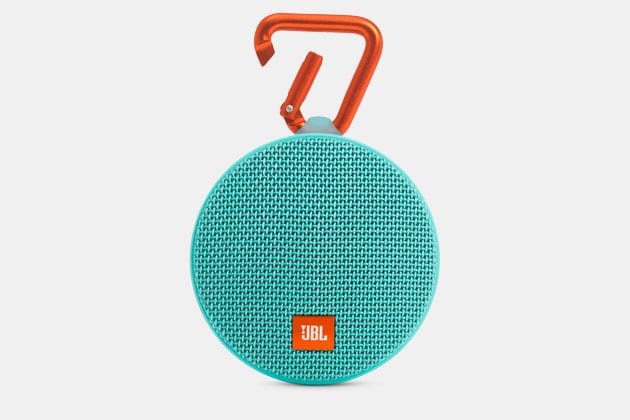 JBL Clip 2
A JBL speaker that fits in the palm of your hand?  Yes, Virginia, there is a Santa Claus, and fairies are dancing on the lawn, probably to music emanating from this magical device.  It's small, it's lightweight, it's waterproof (IPX7), and it comes with a giant carabiner that attaches to anything, from your backpack strap, to your belt loop, to your pooch's collar.  You'll also get up to eight hours of listening time and the pristine audio JBL is known for, along with echo-free talk functionality.  Wirelessly connect two speakers for extra sound. – Shop Now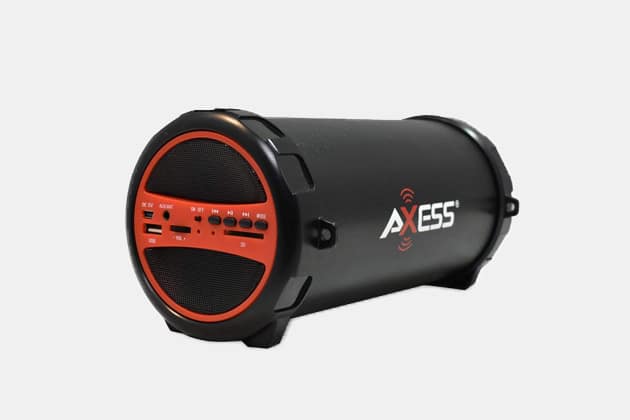 AXESS SPBT1031 Portable Bluetooth
This speaker isn't the smallest at roughly 11.5"x6.5"x6.5", and it weighs in at three pounds, which doesn't sound like much until you're hiking 10 miles and every ounce makes a difference.  For the average user, however, the dimensions are trumped by easy Bluetooth connectivity, a 32-foot range, and surprisingly well-balanced audio that offers clean treble, deep bass, and clear mid-tones.  The stellar sound is probably due to two 2-inch, 2W horns and a 3-inch, 5W subwoofer.  It also comes with a carry strap to make up for the awkward sizing. – Shop Now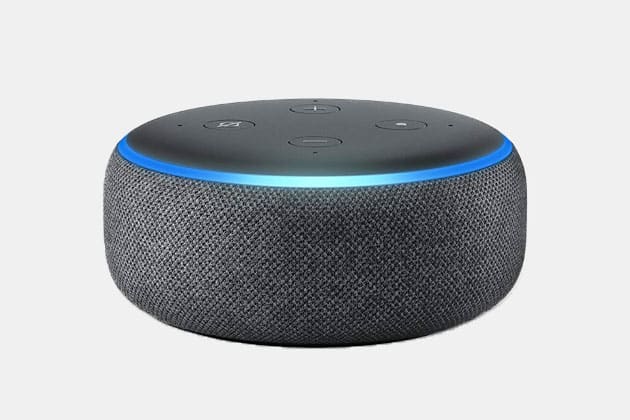 Amazon Echo Dot
It may look a bit like an oversized hockey puck, but this 3rd generation Alexa device is no biscuit in the basket.  This voice controlled personal assistant plays music, answers questions, sets alarms, and pairs with other Dots and Bluetooth devices.  You can even use it with other smart home devices to adjust your thermostat or turn on the lights simply by asking.  It will also call and message hands-free for you, in case you're in the middle of making mom's meatloaf and you can't for the life of you remember the secret ingredient. – Shop Now