10 Best Boat Shoes For Men
When given the choice between more mundane or even <sandalsa href="http://gearmoose.com/greats-royale-white/">classic white sneakers, there's a key alternative that stylish guys and style beginners alike can slip on — it's the boat shoe, and the best boat shoes for men all have a few things in common.
Even though it's a style that's been around for decades, and although it's got classically preppy connotations, the boat shoe is back in a big way. Brands are slimming down the silhouette, using new materials and constructions, and playing off their heritage to offer up options that look sleek, smart and refined. Of course, classic options built with rich, durable leather are also on the market, and those styles pair just as easily with your favorite pair of chino shorts as they do with a chambray shirt and rolled dark denim. In fact, some of the boat shoes below could even work with a blazer and chinos at the office — and then out for drinks after. There's really no wrong way to wear the best boat shoes for summer, particularly when they're built as well as the ones seen here.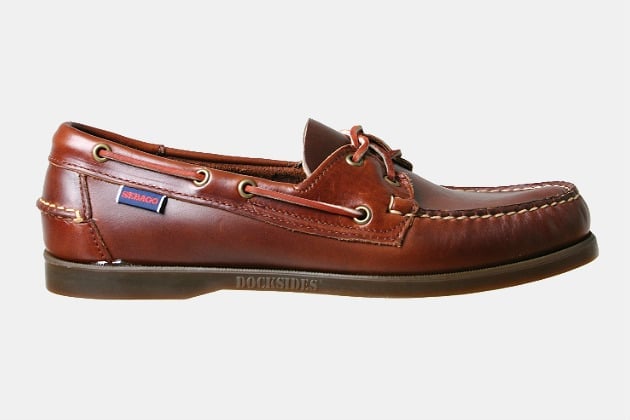 Sebago Docksides Leather Boat Shoes
Boat shoes are nearly synonymous with a brand like Sebago, what with their mix of classic style, East Coast prep and enduring silhouette. These handsewn boat shoes feature moccasion construction and are made from a single piece of leather, finished with expert attention to detail. The slip-resistant sole really should help you down by the docks, and the non-corrosive brass eyelets ensure they really can take a bit more of a beating than your standard pair of boat shoes. When they're made from a waxy brown leather that's versatile and unique, that means you can wear them just about anywhere you please. – $100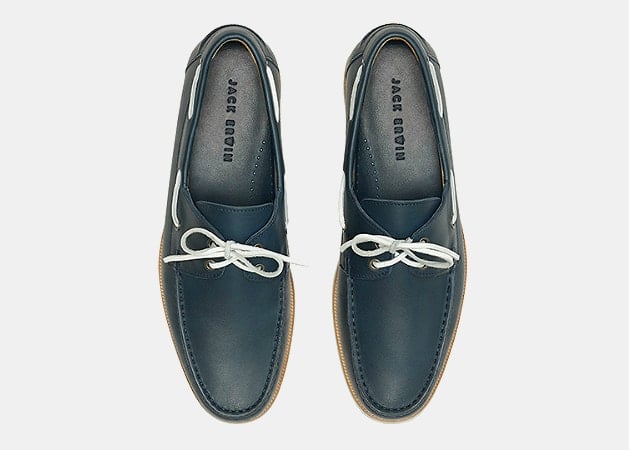 Jack Erwin Cooper Boat Shoes
While brands like Sebago stick to their tried-and-true heritage when it comes to boat shoes (and there's nothing wrong with that), the folks at Jack Erwin are taking the classic boat shoe and upgrading it for modern times. They used a custom loafer last to create a sleeker silhouette, and went a step further (literally) by using a durable caramel nubuck to make a pair that's sleek and decidedly not clunky. The rich color plays well off summer-friendly shades like indigo or light wash denim (and even chinos), so you don't need to take them off when you head into work on Monday. – $125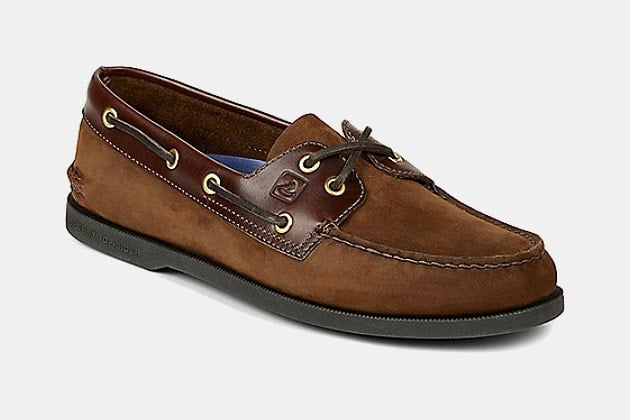 Sperry Authentic Original 2-Eye Boat Shoe
Sperry is another brand that, like the team over at Sebago, has a distinct and long heritage when it comes to crafting boat shoes. Pairs like the Authentic Original 2-Eye Boat Shoe prove that in full force, with the combination of brown leather and brown nubuck working particularly well here. The Authentic Original is built with craftsmanship and durability in mind, the same sort of thing Sebago has focused on since 1935. Although these have a classic feel, they'll add substantial class to a heathered pocket tee and a pair of rolled tan chinos when you head to your next backyard barbeque. – $95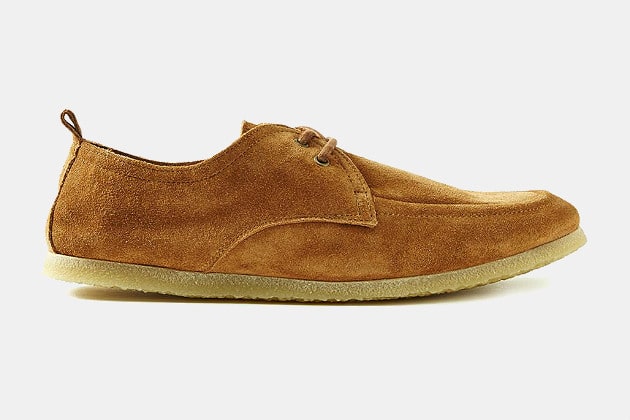 Frank & Oak Suede Moccasin Boat Shoes
Brands that focus their design efforts on more modern apparel and accessories are recognizing the versatile styling potential of the boat shoe, too. The style crafted by Frank & Oak leans decidedly more style-forward but still incorporates the traditional silhouette of a boat shoe with the cool look of a moccasin. The result is a suede shoe that manages to look sleek and yet casual. In that same vein, it's a footwear option that works with dark jeans and a light wash denim jacket, or with a white button-down shirt. The rubber outsole gives them a laidback feel, but the silhouette says they're ready for anything. – $115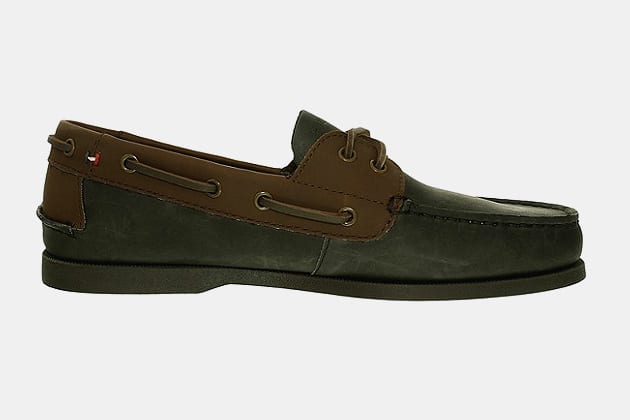 Tommy Hilfiger Bowman Boat Shoe
With a plethora of options in its versatile, crisp Bowman Boat Shoe silhouette, Tommy Hilfiger might have just found the perfect shoe when it comes to pairing up with its array of classic polos, Oxford shirts and chinos. In the sharp-yet-accessible combo of Chestnut and Black, they've made a boat shoe that feels utilitarian yet wearable alongside some colorful shorts and a simple pocket tee or as part of a slightly dressier ensemble (like dark denim and a blue chambray shirt). At a variety of agreeable price points, you can't go wrong from a brand as classic as Tommy Hilfiger. – $45+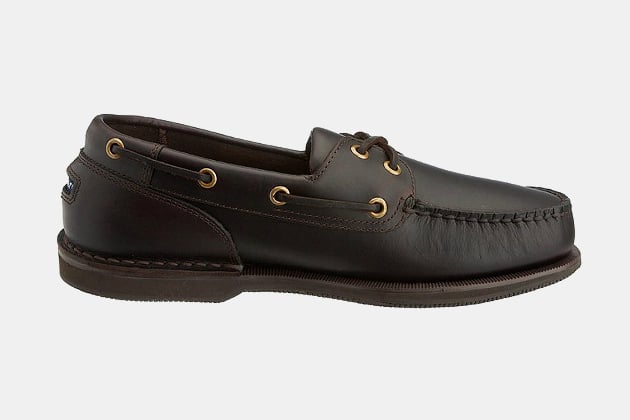 Rockport Ports of Call Perth Slip-on Boat Shoe
Sometimes, style that just gets the job done, looks nice and doesn't break the bank is the way to go. That's what Rockport does here with its Ports of Call Perth Slip-on Boat Shoe. At under $60, it's the way to go if you want to rock a pair of boat shoes on a budget. The dark brown leather contrasts nicely with the brass eyelets, and that same combination ensures these are boat shoes fit to wear with everything from slim stone chinos to your favorite pair of navy chino shorts while standing up to summer sun outing after outing. – $58
VANS Chauffeur SF Boat Shoes
Some boat shoes toe the line between classic style and a modern look, but the VANS Chauffeur Boat Shoe takes that idea one step further for a modern hybrid that's as crisp and stylish as it is classically inspired. It's part-loafer, part plain slip-on and part sneaker, all with classic VANS technology built in. Specifically, the shoe makes use of a new UltraCush sockliner, which means you can slip these on no sweat. The brand's classic rubber waffle outsole gives them the traction you'd expect from a boat shoe, while the unexpected dark navy color contrasts nicely with the gum rubber, brown laces and brass eyelets. – $57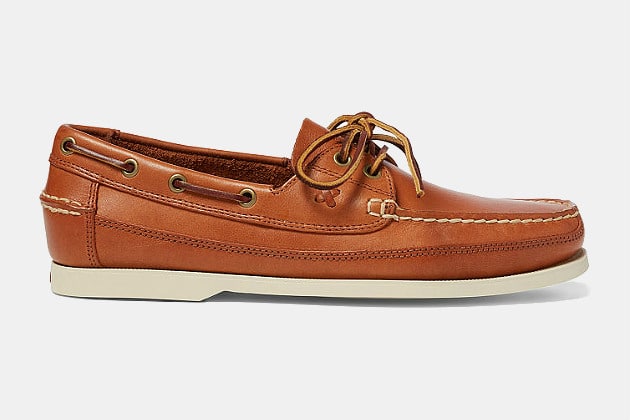 Polo Ralph Lauren Barnard Calfskin Boat Shoe
While most would expect boat shoes to be made out of a darker brown or black (those are traditional boat shoe colors, after all), Polo Ralph Lauren pushes the envelope with a teak-on-teak combo. The supple calfskin leather ensures these boat shoes are comfortable and stylish at the same time. The contrast stitching and rawhide laces are design touches that would finish off any pair of shoes handsomely, let alone a pair of dependable boat shoes like these. Rock them now and rock them right into your Labor Day vacation in style without worrying about whether they'll hold up — they're built to last. – $80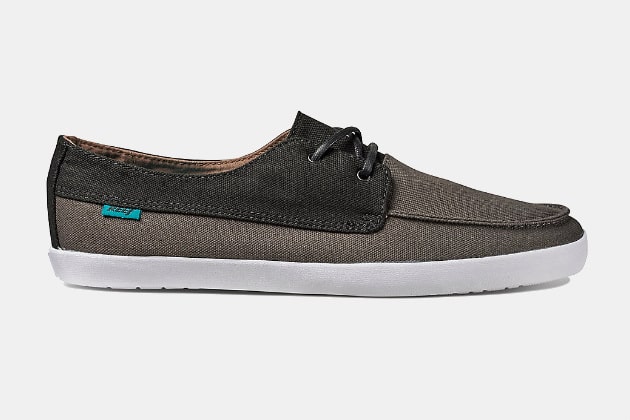 Reef Deckhand Low
Just as with some of the other picks on this list, the Reef Deckhand Low combines the styling potential of a summer sneaker with the look, feel and silhouette of a boat shoe. The canvas upper provides significant durability on the outside, while the compression-molded wax texture cushion insole offers up a unique amount of comfort on the inside. They're machine-washable, so they can handle plenty of treks along the beach, in addition to time spent on the boardwalk through the rest of this summer. And the color combo makes them ready to pair with your favorite pair of swim trunks or a crisp set of chinos. – $48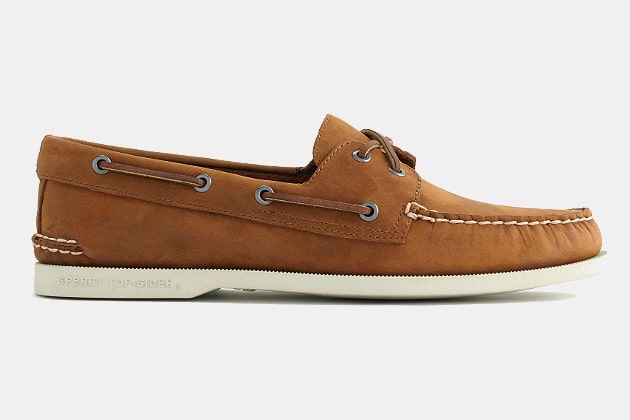 Sperry for J.Crew Authentic Original 2-Eye Broken-In Boat Shoes
When two classic brands like Sperry and J. Crew team up on an item as classic as the boat shoe, you know the results are bound to be great. From the worn-in finish to the cotton chambray lining, these boat shoes are fit to be worn with plenty of other classic American style staples. The elasticized tongue makes them easy to slip on, and the white contrast hand-stitching is yet another sign of the craftsmanship, style and effort that goes into each pair. Team that up with the agreeable price, and you're looking at what just might be your favorite pair of boat shoes for summer. – $98