We don't need to tell you what a camping hatchet is for, if you've ever camped with one, it's overtly apparent — it's for everything. And if you've ever camped without one, the lack was probably physically painful. Instead of letting that happen again, check out our list of the 16 best camping hatchets and prepare yourself.
Smaller than an axe and operated one-handed, the camping hatchet fits in easily with your gear or even in your pack and takes care of what needs doing — clearing an area, splitting wood, making kindling, pounding tent spikes, opening beers, fashioning hot dog spears, and fulfilling fifty other duties that you won't think of until you're performing them.
Our list includes hickory handles and multi-tools. Hatchets in the ten-inch range and longer nearly-axe like beasts. There are cheaper buy-it-and-go models, and heritage-worthy investment pieces that your grandkids will hope to inherit. Hatchets for hunting, hatchets for zombie fighting. Whatever you're planning to do out there in the wild, somewhere on this list is your next hatchet. The camping hatchet you need to do darn near anything when the rest of your tools are far enough away they may as well be on Mars.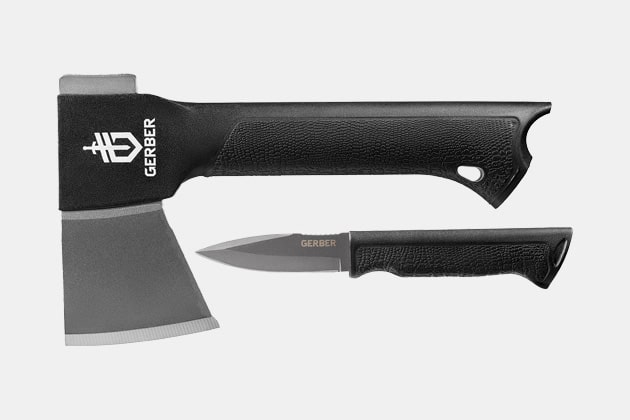 Gerber Gator Combo Axe
Blade length: 2.7" • Overall length: 8.75" • Weight: 1lb 7oz
A two-in-one option, this Gerber Combo Axe is a one-handed, short-grip hatchet with a knife secured inside the handle. On the hatchet, you get a forged steel head with a low-friction surface to keep it from getting stuck as you chop. The hatchet handle is nearly unbreakable, made from glass-filled nylon and covered in Gator Grip, Gerber's proprietary textured rubber that gives you no-slip control even after the two-hundredth swing. The hidden knife is seven inches long with a nearly three inch blade, perfect for doing anything the hatchet can't. – Shop Now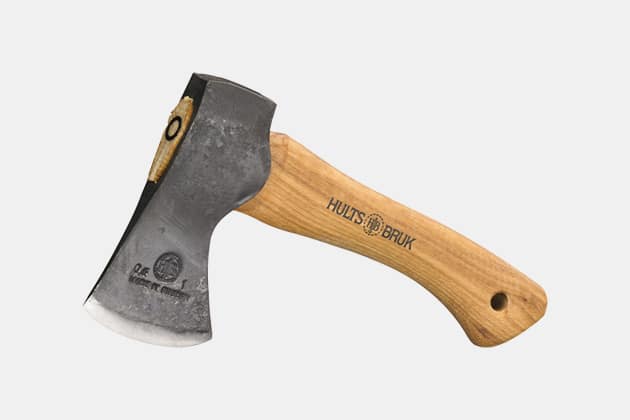 Hults Bruk Jonaker Hatchet
Blade length: 3" • Overall length: 9.4" • Weight: 1lb 8oz
If it's heritage you're after, how about a company that's been making axes and hatchets since 1697? When Swedish company Hults Bruk started hand-forging their axes, a good axe was the difference between surviving a winter and not. Their tools are still made in the same foundry by hand, at the rate of 100,000 a year. Not mass-produced by a long shot. The Jonaker is their most compact hatchet and comes with a leather sheath, ideal for any camp pack. – Shop Now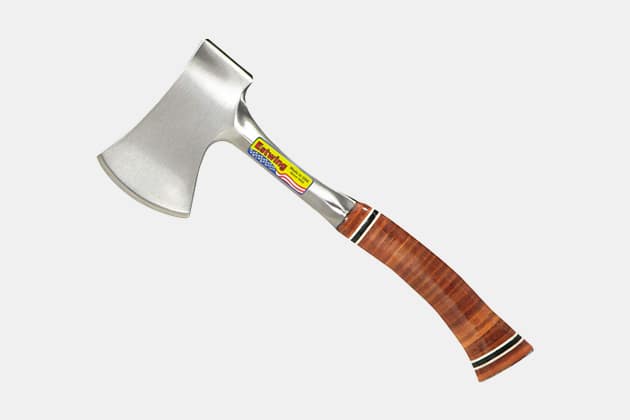 Estwing Sportsman's Axe Camping Hatchet
Blade length: 2.75" • Overall length: 12.5" • Weight: 1lb 6oz
You might remember this one from that time you went camping with your granddad. Estwing has been making tools out of their Illinois manufacturing plant since the 1920s. This one is from their Sportsman's Axe line: the twelve inch Camping Hatchet, forged in a solid piece from head to handle out of American steel. The handle is wrapped in genuine leather that's hand-sanded and lacquered to a shine. It's a handsome hatchet, one that will outlast your own grandkids. – Shop Now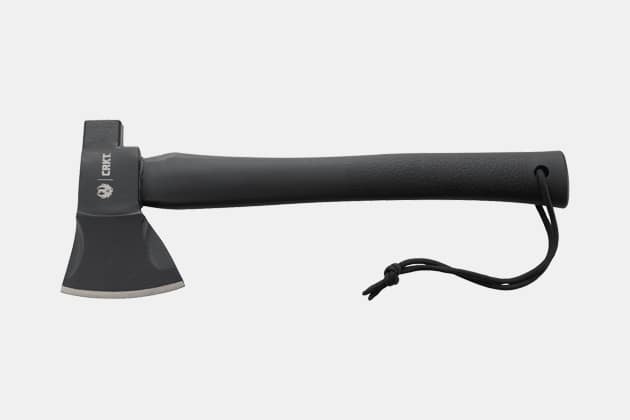 CRKT Black Powder Hatchet
Blade length: 3.61" • Overall length: 13.2" • Weight: 1lb 11oz
Columbia River Knife & Tool partners with knife designers and inventors all over the world to make their line of highly original blades and tools. This Black Powder Hatchet was designed by Ryan Johnson of RMJ Tactical, a Tennessee-based knife and tactical tomahawk company. The hatchet head is made from carbon steel with a hammer at the back and a blade that's over three inches. The black powder coating and black glass fiber/polypropylene handle made this one cool looking — and durable — hatchet. – Shop Now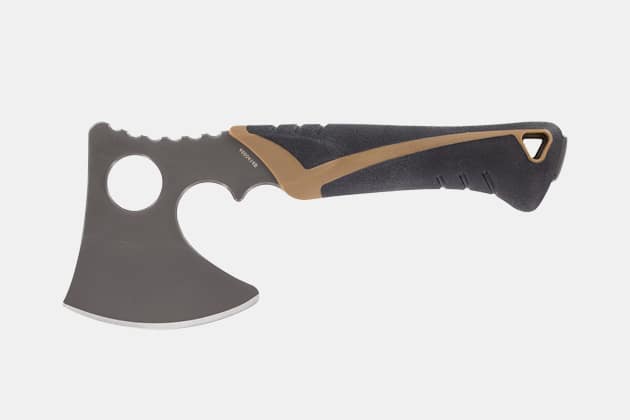 Gerber Myth Hatchet
Blade length: 3.5" • Overall length: 9.2" • Weight: 15oz
If your camping adventures will include procuring your own dinner from the land that surrounds you, get the Gerber Myth Hatchet. It chops wood as deftly as it does bone and the rubber grip won't get all slippy on you when you're elbow deep in underbelly. Of course, those who plan on having cans of beans for dinner will also find something to like here: a robustly chunky size and hardened-steel forged blade with a special grind that keeps an edge longer than average. – Shop Now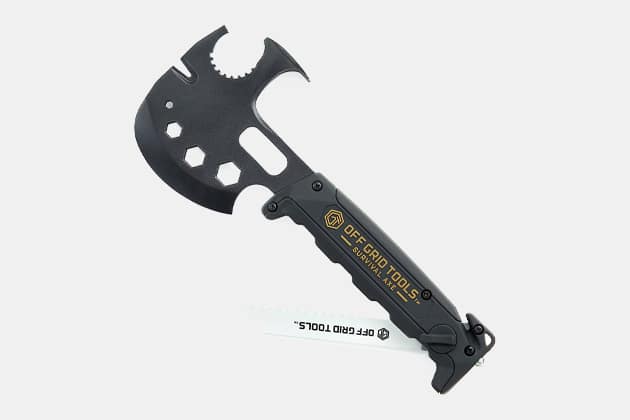 Off Grid Tools Survival Axe
Overall length: 11.5" • Weight: 1lb 11oz
It doesn't look like an ordinary hatchet, because it's not trying to be one. The Survival Axe from Off Grid Tools aims to give you 31 functions in one foot-long tool. From seat belt cutter to hammer and claw, to a fold-out 6" sawzall blade, this is a ready-for-whatever multi-tool that happens to have a sharpenable hatchet blade on its carbon steel body. It's black oxide-coated and has a glass-filled nylon handle with a rubberized grip to maintain comfort as you use it 31 different ways. – Shop Now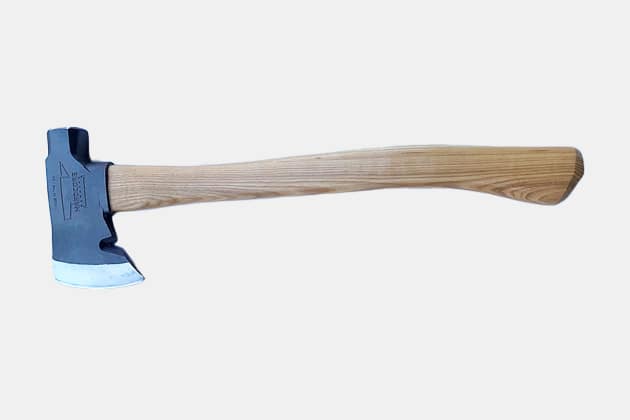 Hardcore Hammers Hatchet
Overall length: 18" • Weight: 2lb 8oz
It's made in the US and called the Hardcore Survivalist Hatchet. Big bonus: it's the only hatchet on our list that's specifically designed for zombie apocalypse survival settings. With a big, solid American hickory curved handle and a weighty 19 ounce head, this is a hatchet that cuts like a full-sized axe. On the back of the head is a hammer with Hardcore Hammer's patented recessed striking head. This is one tool that lets you pound nails, chop wood, and fight back an undead horde. – Shop Now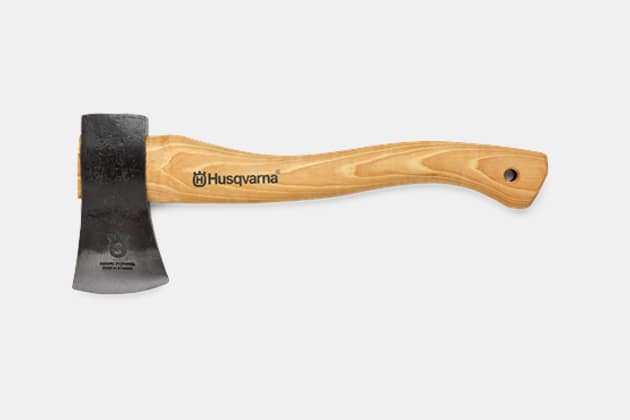 Husqvarna Hatchet
Blade length: 3" • Overall length: 15" • Weight: 1lb 8oz
Their bright orange chainsaws and futuristic robot lawn mowers get all the attention, but the Swedish company also puts some weight behind hand tools. This is their wood-handled hatchet made from hickory and measuring in at about 15 inches with the head. It won't cost you quite as much as some of the other Swedish axes out there but it's a solid piece with a distinctive curve to the handle. – Shop Now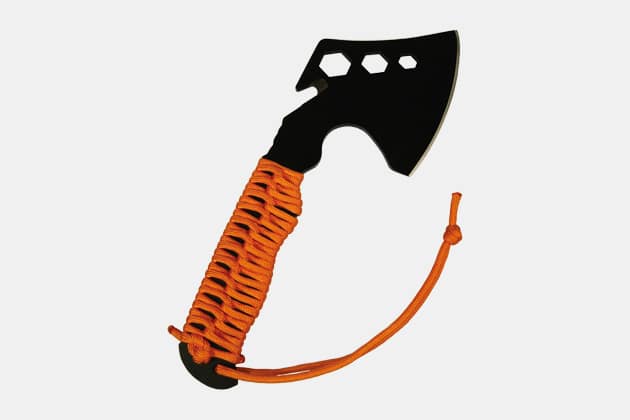 UST ParaHatchet
Blade length: 3.4" • Overall length: 9.7" • Weight: 11oz
This all-steel hatchet packs a few extra bells and whistles — like an eight foot length of orange paracord wrapped around the handle, plus hex wrenches and a wire cutter cut into the blade, with a sheath that boasts an extra pocket for the included magnesium fire starter. At under ten inches and a little over eleven ounces, it'll make an ideal backup tool, one you'll be glad to have when the unexpected shifts into reality. – Shop Now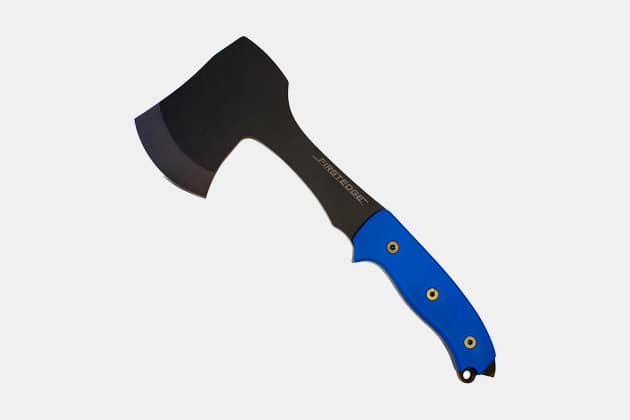 FirstEdge Survival Hatchet
Blade length: 3.2" • Overall length: 12.75" • Weight: 1lb 15oz
At nearly two pounds, this is a serious hatchet. And not just because of the weight. Made by FirstEdge, the hatchet features Elmax, a stainless alloy that gets high marks for strength, wear resistance, and corrosion resistance. The extra sharp fine edge maintains its sharpness as well as carbon steel, but doesn't have the rust/corrosion drawbacks. You get your choice of four colors in the G10 fiberglass handle, and a molded KYDEX sheath is included. Like everything FirstEdge makes, the hatchet is made in the US and comes with a lifetime warranty. – Shop Now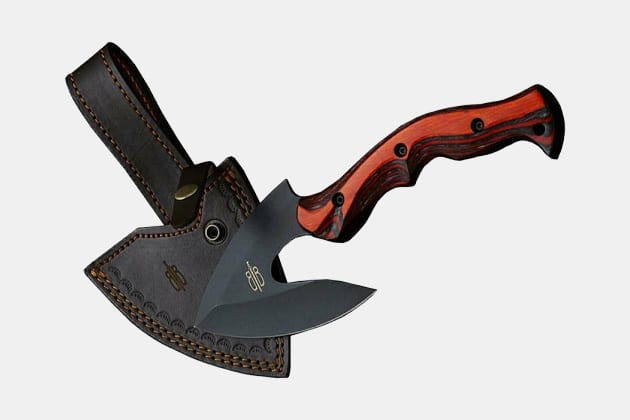 BuckNBear Tactical Hatchet
Blade length: 4.5" • Overall length: 10" • Weight: 1lb
This short but tough tactical hatchet will be one of those tools you enjoy admiring almost as much as you enjoy using. The carved handle is made from the hard and beautiful burl wood of a maple tree, and the head has a unique spiked blade shape that not only looks cool, but gives the hatchet extra functionality — cutting, chopping, scraping, and piercing. Made by BuckNBear, a knife company specializing in handsome Damascus, D2, and high carbon folders, bowies, kitchen knives — and even swords. – Shop Now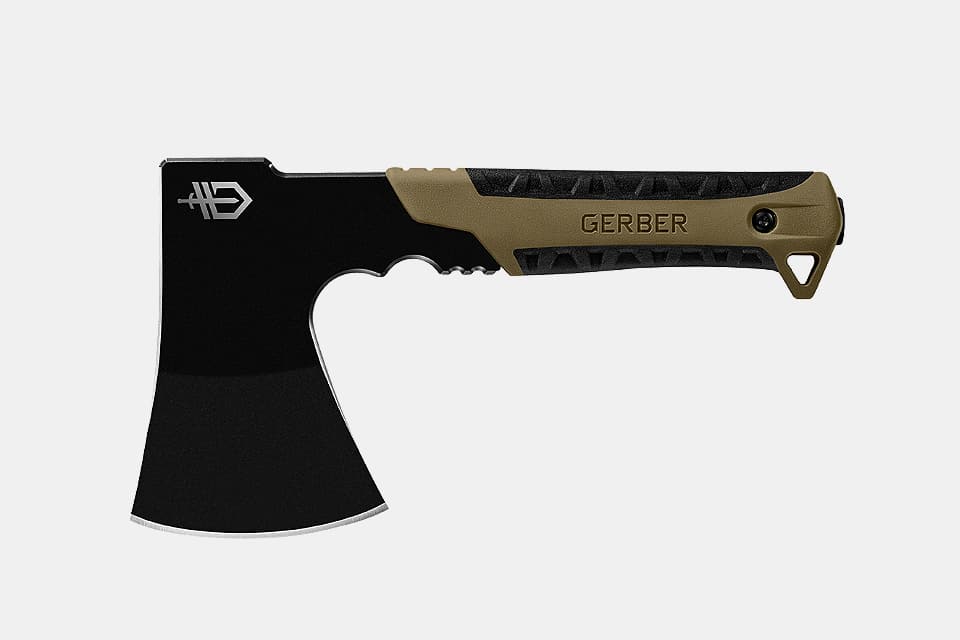 Gerber Pack Hatchet Camping Axe
Blade length: 3.5" • Overall length: 9.5" • Weight: 1lb 9oz
This new offering from Gerber is a simple but burly hatchet that's perfect for a pack. The price is reasonable enough that you won't feel squeamish putting it through its paces at the campsite. Finger grooves just below the head give you close up control for shaving off bits of starter but the hatchet's substantial enough to give you a good chop. It's got a stonewashed finish and a rubberized grip in your choice of flat sage or coyote brown. – Shop Now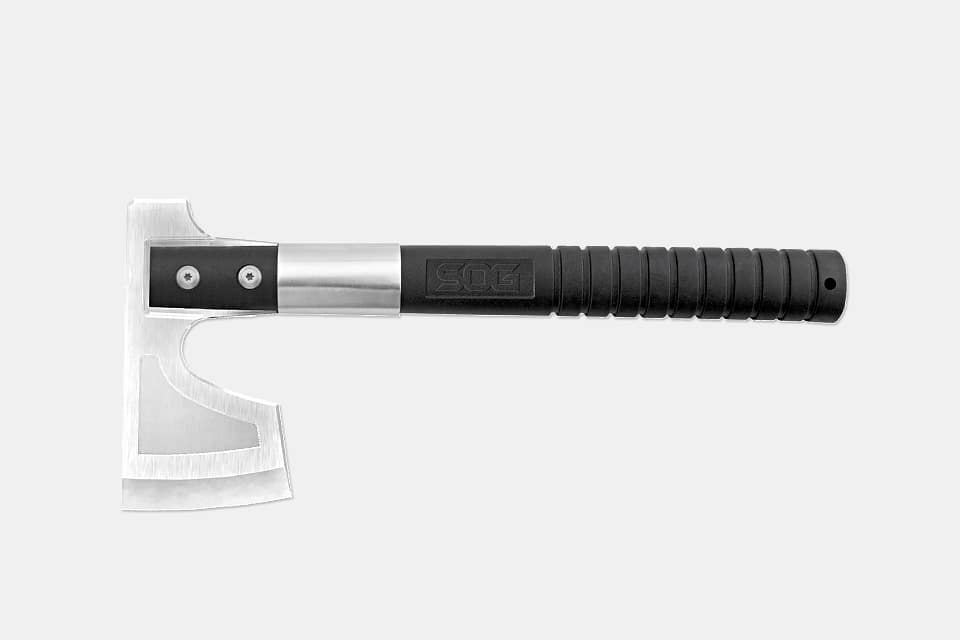 SOG Camp Hatchet
Blade length: 3.1" • Overall length: 11.5" • Weight: 1lb
Another great option with a hammer at the back of the head, this Camping Hatchet from Seattle-born SOG is a stainless steel workhorse with a glass-filled black nylon handle. The sheath itself is also black nylon, and along with the compact size (under twelve inches) this is a no-nonsense, moderately priced hatchet that will make short work of splitting wood, clearing an area, and setting up camp. – Shop Now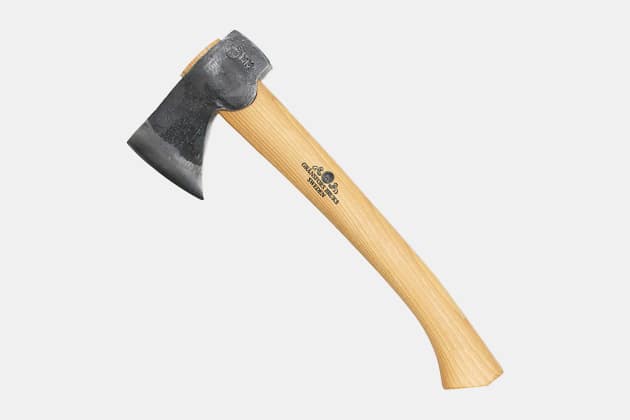 Gränsfors Small Hatchet
Overall length: 10" • Weight: 11oz
This axe looks like something you inherited from a Viking. Compact, rugged, and Swedish, the Gränsfors Small Hatchet is made from recycled steel with a hickory handle and a vegetable tanned leather sheath. The head has a rounded poll at the back for dispatching fish. And if you're wondering how an artifact such as this is made, their axe forge in Bergsjö, Sweden is open to the public for tours. – Shop Now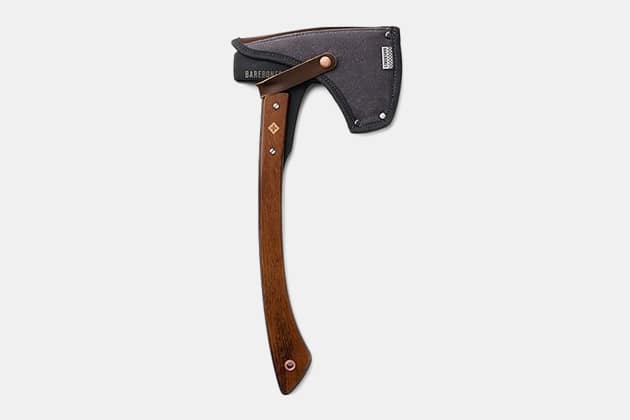 Barebones Hatchet
Overall length: 16" • Weight: 3lb 12oz
The camp tools that Barebones make have one eye on function and the other on looks. Their hatchet measures up as the heaviest and longest on our list, for those looking for something verging on axe territory. The high-carbon steel tang extends the length of the handle, which is covered in stained and polished hickory. This isn't the hatchet to bring solo camping — when you pull this out at the campsite, you'll want someone there who can be properly impressed. – Shop Now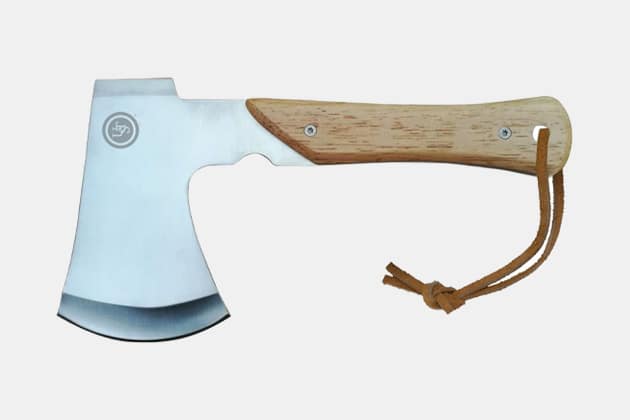 UST Heritage Camp Ax
Overall length: 10" • Weight: 15oz
If you like the idea of a wood-handled, heritage styled, compact hatchet, but don't like the monetary investment required for some of the Swedish versions, check out this basic and brawny number from Ultimate Survival Tech. Full tang construction and a stainless blade give the blade longevity while the included leather sheath and small pack size makes it ready to slide right into rotation as your go-to camp hatchet. – Shop Now