The 12 Best Cardigans for Men
Pictured above: Schott Yak Blend Cardigan Sweater
Think cardigans are only for old men and hipsters? Think again. The humble cardigan has been around since the mid-1800s in some form or another, and about every 20 years it makes another splash on the men's fashion scene. It's the true phoenix of the menswear world, and at this point it's transcended the fashion cycles that have stripped lesser garments from the closets of men everywhere.
My grandfather introduced me to the joys of a well-made cardigan and the many ways you can incorporate one into your outfits. It's simultaneously a perfect around-the-house sweater and a refined yet cozy layering piece that's fit for wintertime dates. With that in mind, we hope that you enjoy an even dozen of the best cardigans for men. They represent the best of the best in cozy style, and come in a variety of weights and styles sure to please any guy with aspirations of dressing well this winter.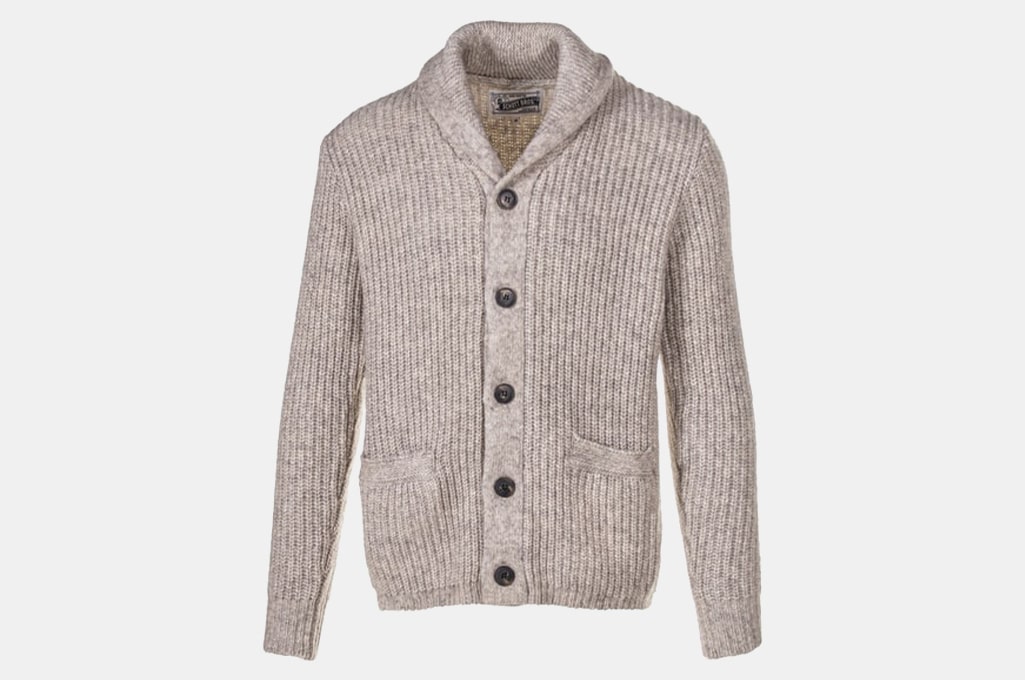 Schott Yak Blend Cardigan Sweater
Though better known for their leather jackets, American clothing producer Schott has put together one of the best casual-wear cardigans we've seen in quite a while. It's made from a cotton, polyester, and yak wool blend that makes it one of the lightest sweaters on this list, and an excellent choice as a layering piece through both fall and winter. Check out those oversized buttons, too—they're immediately apparent in a subtle way that just adds to this cardigan's fashion cred.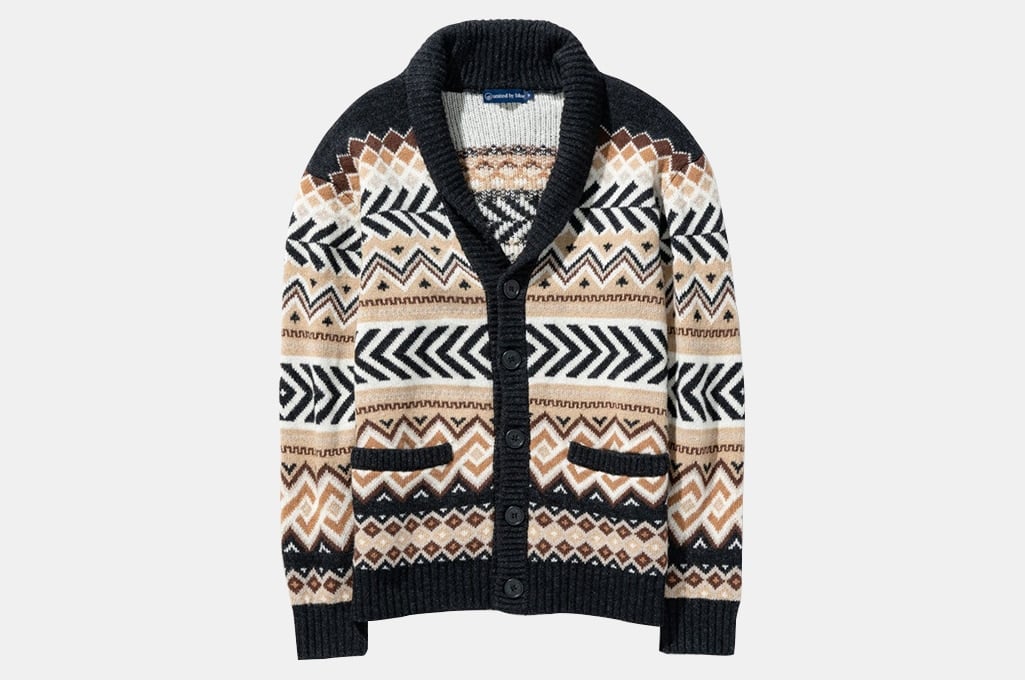 United By Blue Recycled Wool Fair Isle Cardigan
Want to help the world at the same time you save yourself from the winter cold? United By Blue's Wool Fair Isle Cardigan can give you the best of both worlds. It's made with 40 percent recycled wool and 20 percent recycled polyamide in addition to 40 percent of sustainably harvested new wool, then decorated in the classic fair isle style. A ribbed shawl, deep pockets, and snug cuffs make it super warm and cozy too. Even better, whenever you buy an item from United By Blue, they pledge to remove a pound of trash from the ocean through organized cleanup efforts.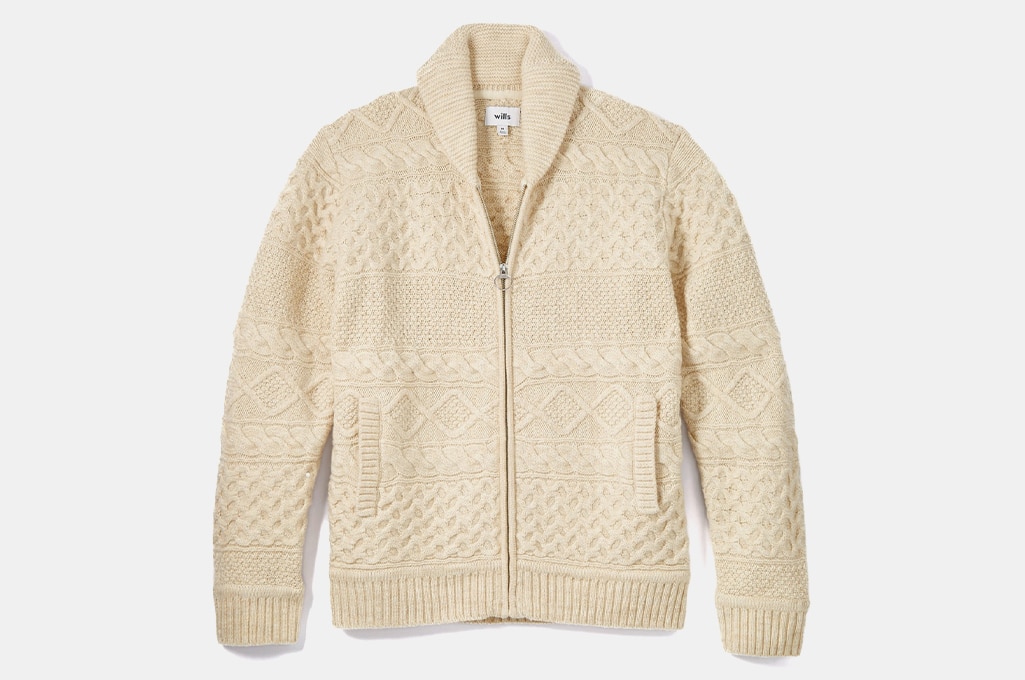 Wills Aran Cable Cardigan
Among the pantheon of style icons that have worn cardigans to great effect, Steve McQueen is probably the most memorable (Mr. Rogers aside, of course). His ability to effortlessly sport a cream colored cardigan both on screen and in real life gives every guy something to aspire to. And if you're interested in capturing a little bit of that old school cool, take a look at the Wills Aran Cable Cardigan. It's inspired by the one that McQueen wore on screen, then brought into the modern day with a zippered front and 100 percent Patagonian wool construction.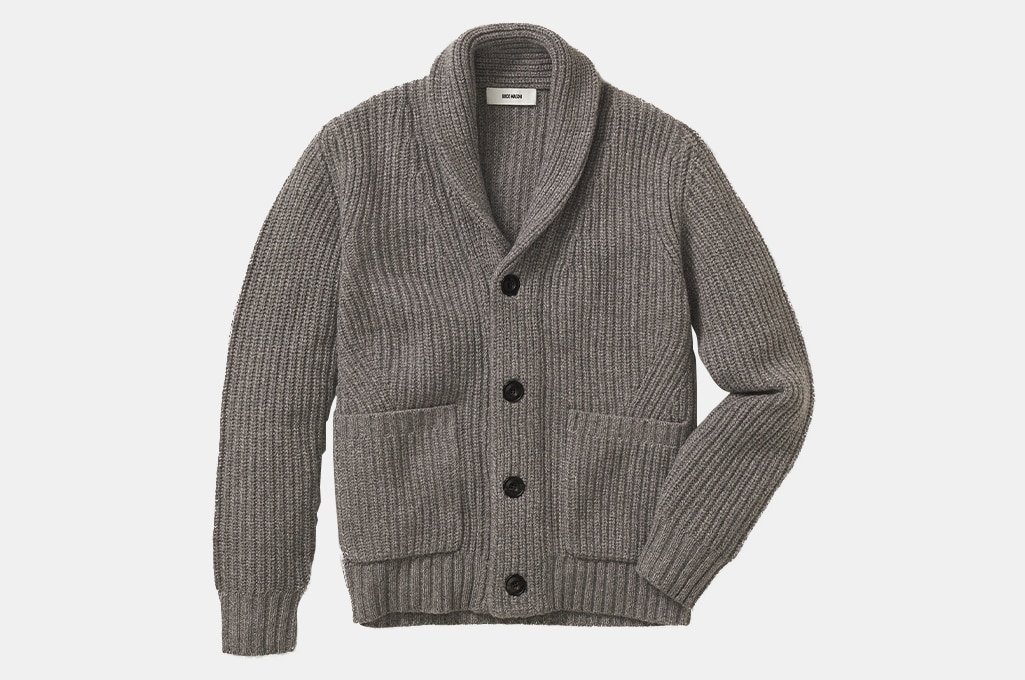 Buck Mason Herdsman Shawl Cardigan
When you're really getting into cold weather gear, it pays to know as much as you can about what your clothes are made from. Cotton is fine for wearing around the house, but it'll give less outdoor performance than you're really looking for. Wool is excellent for its thermal regulating qualities, but can vary in softness based on the producer. Buck Mason has what seems like the perfect solution to this in their Herdsman Shawl Cardigan—a blend of high performance merino wool and a touch of ultra-soft cashmere, knit together into a perfectly comfortable and cozy cardigan. It'll look great over a t-shirt at home, or layered with a button down or blazer for going out on the town.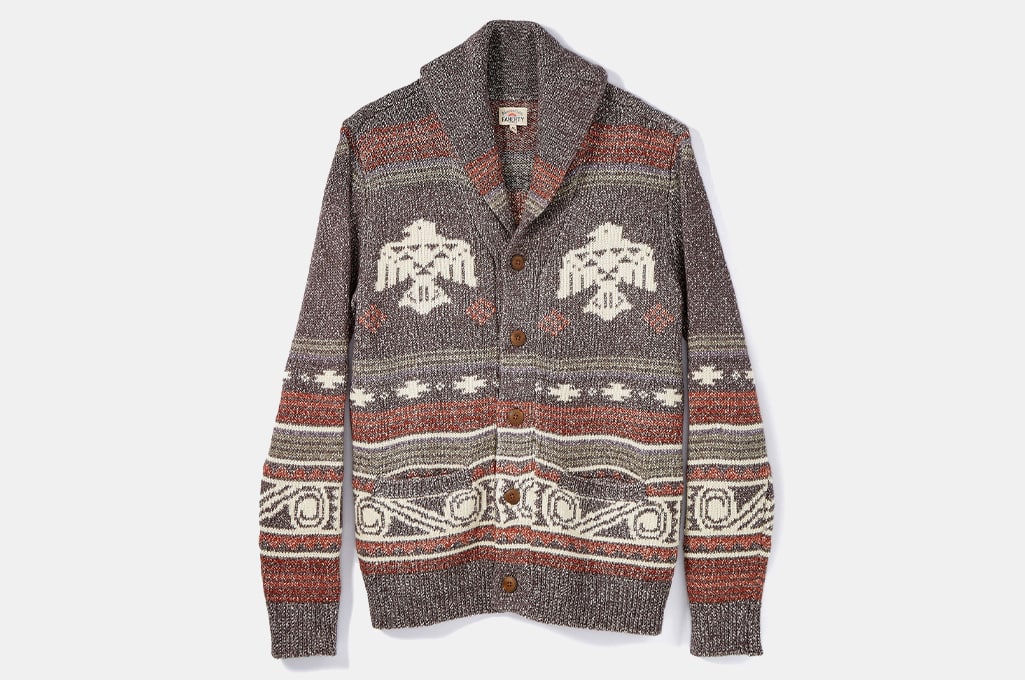 Faherty Brand Thunderbird Cardigan
Sometimes, you want more decoration out of your cardigan than all-weather performance. If that's the case for you, Faherty Brand's Thunderbird Cardigan will catch your attention. A cotton and acrylic blend means it's made for show more than go, and show it does: Because of a collaboration with Native American artist Steven Paul Judd, this cardigan is emblazoned with the most distinctive design of any sweater on this list. It fills the role of "dress cardigan" beautifully.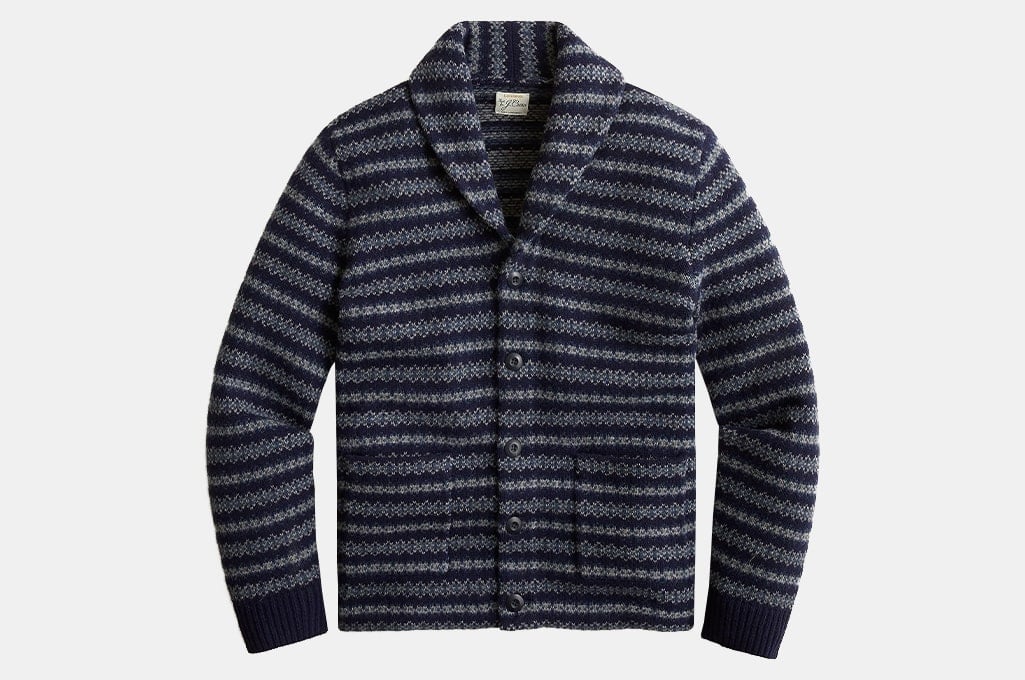 J. Crew Fair Isle Lambswool Cardigan Sweater
Most wool comes from fully grown sheep. But the extra-soft lambswool comes from—you guessed it—lambs, the more youthful version of sheep. J. Crew has put this baby sheep's wool to good use in their Fair Isle Lambswool Cardigan Sweater, a refined take on the style that comes with a slimmer fit than many choices on this list. Compared to most fair isle style sweaters it's very reserved, with a pleasantly laid-back grey and blue striping. Deep pockets and a chunky shawl collar complete the cardigan style.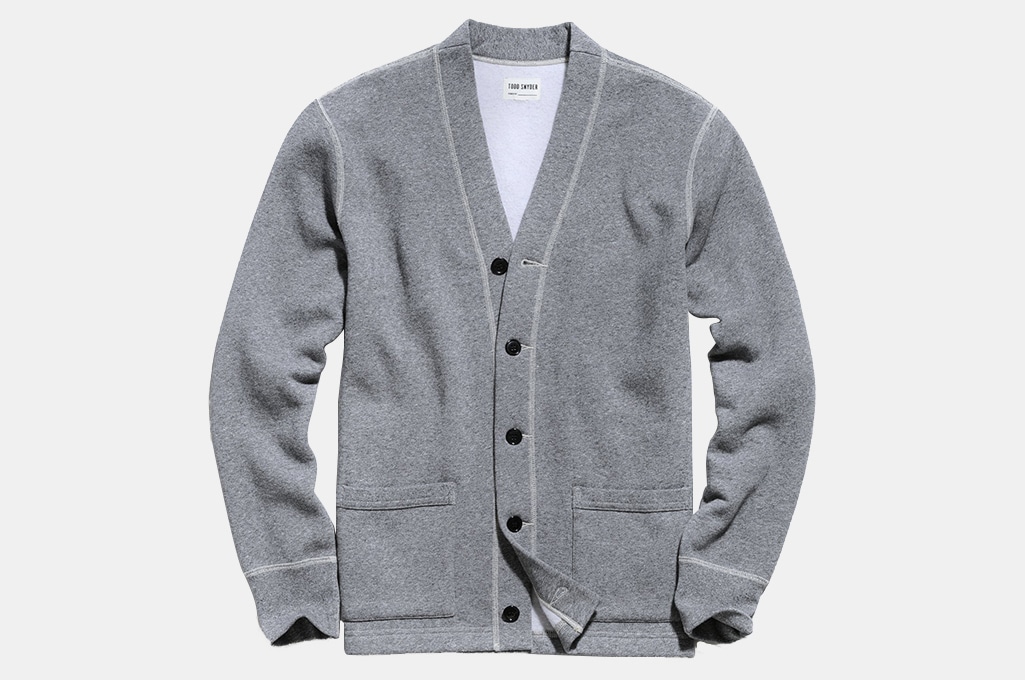 Todd Snyder Garment Dyed Cardigan Sweatshirt
One part cardigan, one part old school sweatshirt, and completely awesome: That's the formula behind Todd Snyder's ingenious Garment Dyed Cardigan Sweatshirt. It's as thin and smooth as a sweatshirt, but built with a cardigan silhouette that lets you pair it with anything you want. THe 20-ounce French terry (from an 80 percent cotton/20 percent polyester blend) gives it enough weight to keep you warm, all while staying mobile and pliable as you wear it. And it's handmade in Canada too, by a company that still stitches with the type of old sewing machines that guarantee long-term durability.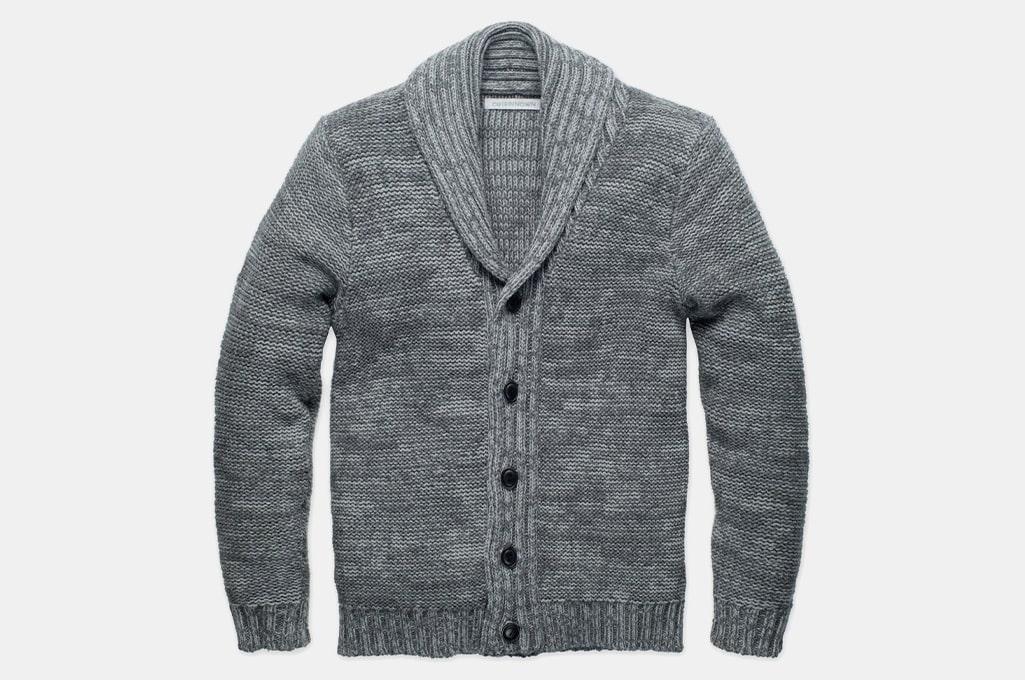 Outerknown Northbeach Cardigan
Most cardigans aim for one side or the other of the weight spectrum: Lightweight and easy to throw on, or heavyweight and warming. That's due in large part to their fabrics, with cotton or wool predominating. Outerknown's Northbeach Cardigan fits right into the Goldilocks middle, with a blend of sustainable merino wool and organic cotton that makes it an ideal layering piece throughout the entire winter. Take particular note of the texture on this one, too; it's knit in a way that gives it eye-catching variations in color throughout the sweater.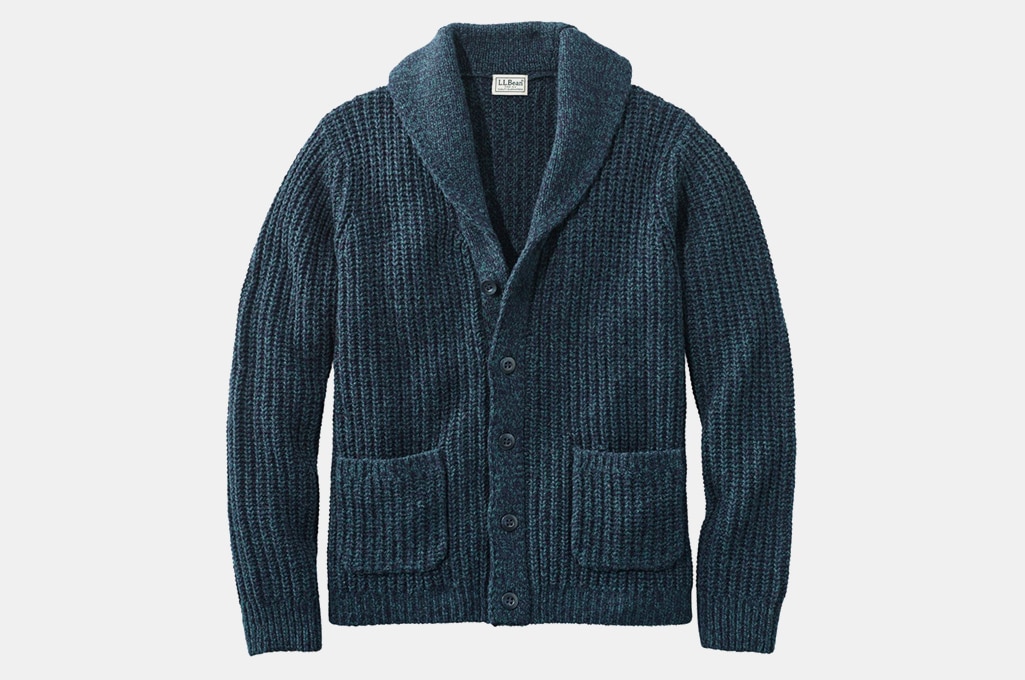 L.L. Bean Classic Ragg Wool Cardigan
We get it: Cardigans are pretty pricey. At least, the good ones are. That's why we were stoked to find the L.L. Bean Classic Ragg Wool Cardigan, the only 100 percent lambswool sweater we've seen that comes in under $100. It has all the details you'd expect from a classic cardigan, from the big pockets to the form-fitting cuffs to the generous shawl. And since it's made from 100 percent wool, it does a good job of balancing weight and warmth. Extra bonus: It's available in tall sizes, too.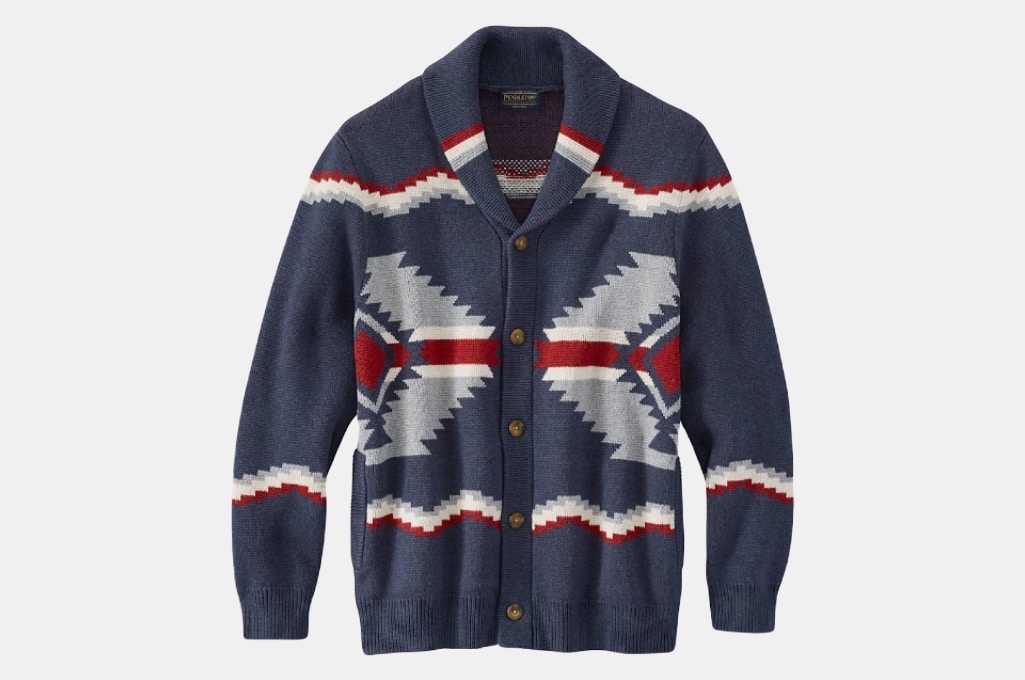 Pendleton Highland Cardigan
Pendleton started weaving their wares up in the Pacific Northwest back in 1863 and today, their blankets and sweaters are synonymous with chill-vanquishing style. The Highland Cardigan is made from an all-cotton knit that's hefty enough to serve as a light jacket. The shawl collar and classic Pendleton pattern combine to create a timeless layer that you'll want to wear the moment the temperature dips.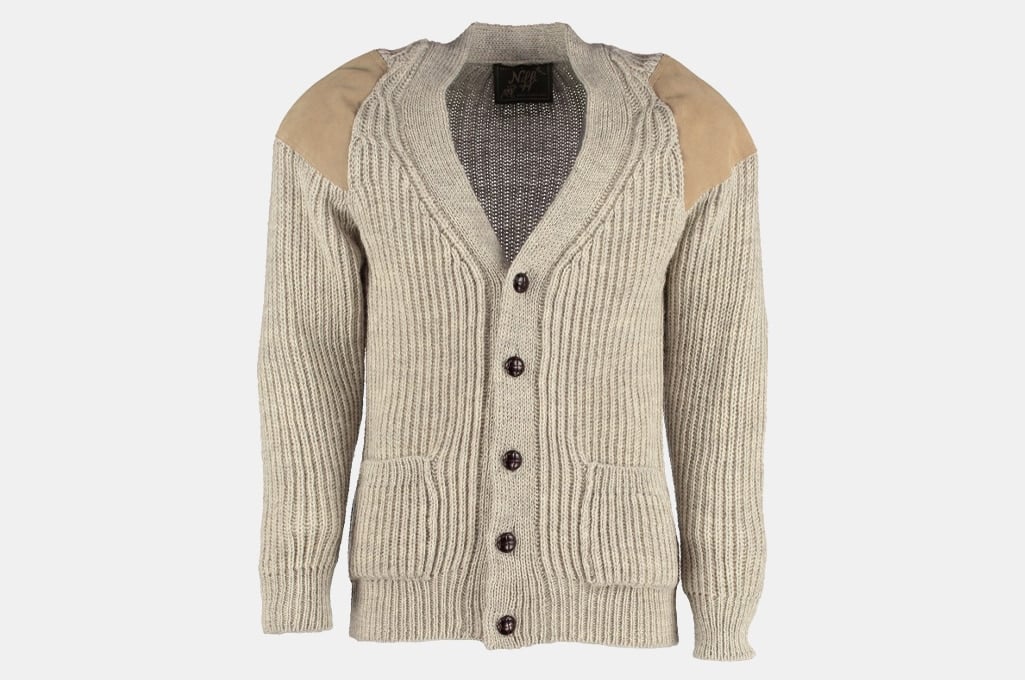 Outdoor Knitwear Light Grey Welsh Southwold Cardigan
For our last two picks, we go back to the cardigan's birthplace in the British Isles. Outdoor Knitwear is a heritage British clothing company, originally founded in 1922, and a longtime producer of functional layers for outdoorsmen and the military. Their Light Grey Welsh Southwold Cardigan shows a good bit of this history, with its 100 percent British wool construction and hard-wearing suede shoulders and elbow patches. Well worth the wait if you're ordering anywhere outside of the UK.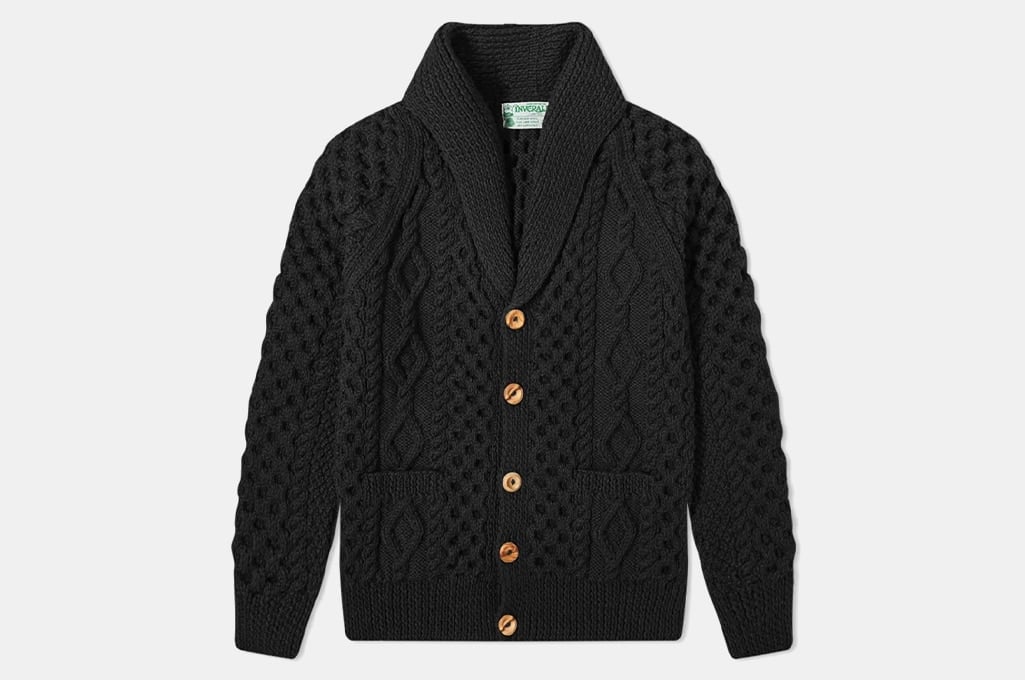 Inverallan 6A Shawl Cardigan
And now for the cardigan brand that inspired my love for the style: Inverallan. My Grandpa Harold swore by Inverallan's clothing, and I'm inclined to believe him—he did, after all, wear one of their sweaters for the better part of four decades. For the finest in heavyweight warmth and coziness, look towards their 6A Shawl Cardigan. It's cable-knit from thick gauge wool, and given an oversized shawl collar to block out any errant wind. If this particular fit isn't your style, I'd strongly encourage you to check out everything else this brand has to offer.
Disclosure: Clicking on these links and making a purchase may earn us a small referral fee, at no extra cost to you. Learn more here.
freestar.config.enabled_slots.push({ placementName: "gearmoose_leaderboard_btf", slotId: "gearmoose_leaderboard_btf" });