The 25 Best Concealed Carry Pistols
If you we're on a mission to trace the history of modern concealed carry in the United States, you'd eventually be lead to Florida in the 1980s. Former NRA president Marion Hammer went forth and fought to create the nation's first "shall issue" right to carry law. She won. From then to now we've seen the rise of concealed carry in the United States at a rate no one could ever predict. And with a rise in concealed carry permits, we've also seen a rise in the concealed carry guns available.
There are just so many concealed carry options today that narrowing our list to just 10 would have been a disservice, so we are listing here what we believe to be the 25 best available options on the market.
A side note: While we list here what we believe to be the best concealed carry guns on the market right now, the term "best" is highly subjective. The very best concealed carry pistol for one person may not be the best option for another. There are many variables to consider when choosing a concealed carry firearm, such as choice of clothing, time of year, the size of pistol and caliber you are comfortable with, personal preference, etc. Keep this in mind as you read through our list.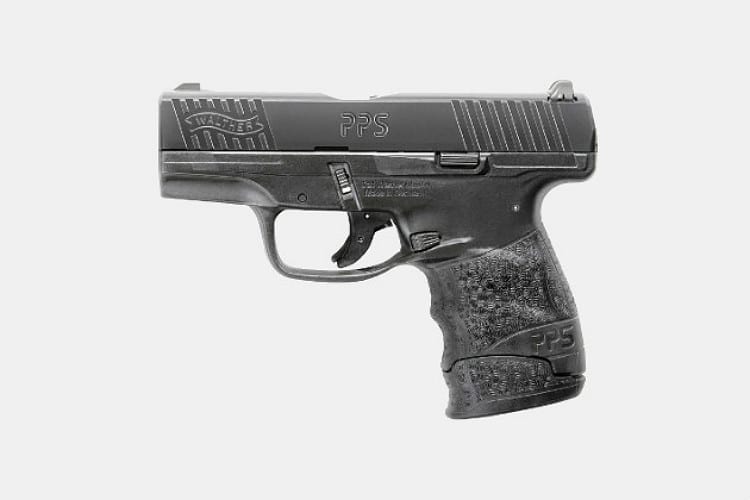 Walther PPS M1 and M2
The Walther PPS was one of the first polymer frame single stack 9mms designed for concealed carry. This polymer frame pistol's main strength is its modularity. You can swap back straps to change the grip size and you can also use three different capacity magazines that all offered a longer or shorter grip. Walther has a good reputation for triggers and the PPS proudly continues that tradition.
The PPS is an inch thin at its widest point. The gun lacks an external safety but features a trigger safety and is perfect for deep cover carry in an IWB configuration. The original model features the European style trigger guard magazines release, however the M2 variant is a bit more Americanized with a standard magazine release.
Both the M1 and M2 variants share numerous features but differ in several ways. For Walther purists, the M1 model is the way to go. For shooters who refuse to use metric the M2 is perfect. Either gun will serve you well and both are severely underrated.
Recommended Holster: Tulster IWB Profile Holster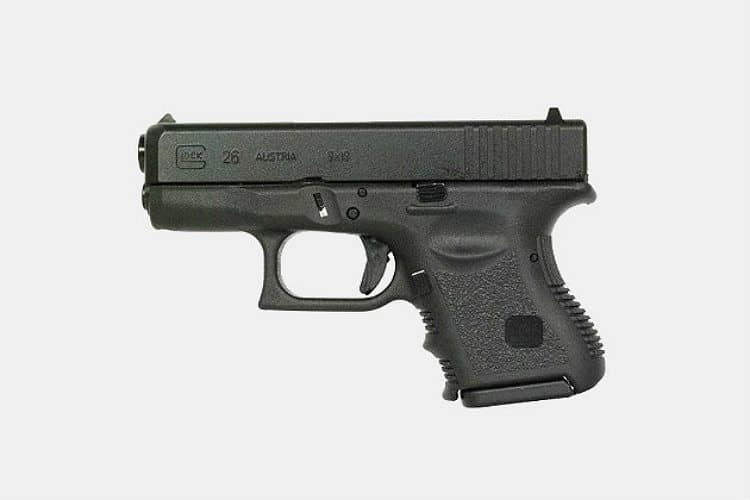 Glock 26
The Glock 26 is the original baby Glock. This 9mm subcompact pistol is the littlest brother to the Glock 17 and 19 family. The Glock 26 is nearly identical to its older brothers, except for it's smaller, more carry-friendly dimensions, yet is still compatible with the 15, 17, and 33 round magazines built for the bigger Glocks. The Glock 26 comes standard with a compact, flush-fitting, 10 round magazine that offers a good measure of firepower.
The Glock 26 is extremely popular and has opened up countless options for accessories and holsters. You can carry a Glock 26 any way you'd imagine. For those who like to tinker with and upgrade their concealed carry pistol, the Glock 26 is a great choice. You can swap just about every part in a Glock to customize it to your individual carry needs.
The Glock 26 is primed and packaged with that legendary Austrian reliability. It may be small in stature, but its bite is just as fierce as its bark.
Recommended Holster: Alien Gear ShapeShift 4.0 IWB Holster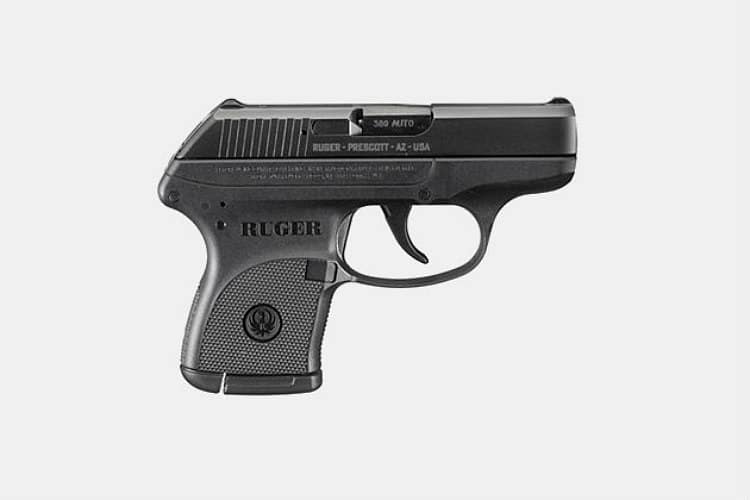 Ruger LCP
If the term 'pocket pistol' appeals to you, then the Ruger LCP is right up your alley. The LCP is Ruger's smallest pistol and one of the smallest automatics on the market. It fits in the palm of your hand, offers you 6 rounds of 380 ACP. This formidable little side arm weighs only 9.6 ounces and has an overall length of 5.16 inches. The LCP is also a hammer fired gun that lacks an external safety.
With a gun this small you really need to take the time to learn to shoot it. Small pistols can be a challenge but are well worth their ability to be concealed under clothing, and this is a gun so small you'll have no excuse to ever leave it behind. The LCP is also very affordable and can be found at under 200 dollars for the base model.
Recommended Holster: Fobus KT2G Evolution Holster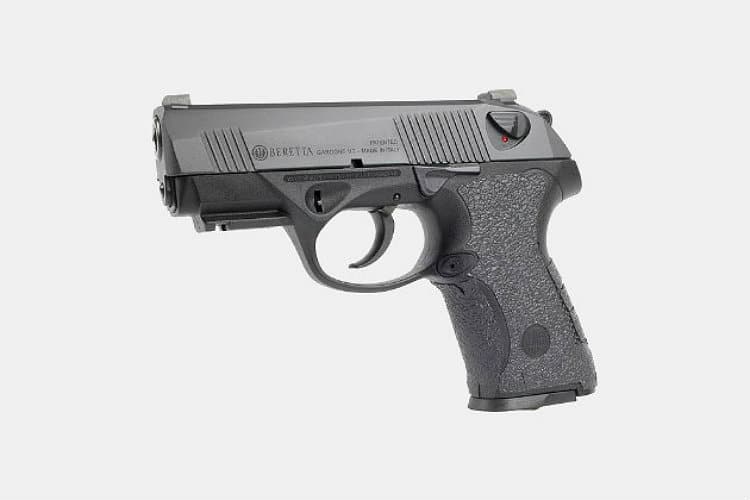 Beretta PX4 Storm Compact Carry
The Beretta PX4 Storm line of handguns is a fascinating departure from Beretta's love of full metal frames. The PX4 Storm line sports polymer frames, DA/SA actions, and a unique rotating barrel system. The barrel rotating system helps decrease felt recoil and muzzle rise. As the barrel twists, the recoil and muzzle rise is subject to radial dissipation. The Compact Carry model is unique. Beretta took their PX4 design to Ernest Langdon, a famed firearms instructor, and this is exactly what he came back with.
This compact pistol packs 15 rounds of 9mm and is outfitted with custom features from front to rear. The Storm Compact Carry comes equipped with night sights, stealth levers, and a custom trigger. At first glance, the Compact Carry is an odd duck. It's a compact slide on a full-sized grip. The result is a smaller package and profile hat's both easy to carry and easy to shoot. It's a Perfect Storm of features if you will.
Recommended Holster: Alien Gear Cloak Tuck 3.5 IWB Holster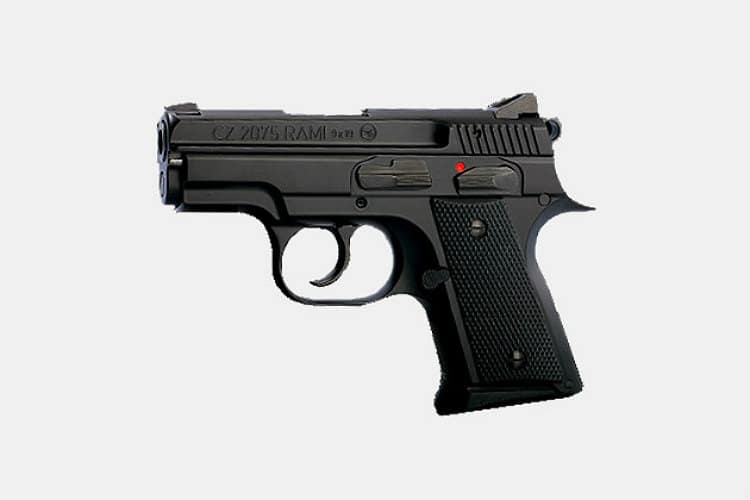 CZ RAMI 2075
The CZ lineup of firearms is severely underrated in the United States. While most companies are building pistols from polymer, CZ has stayed true to metal frames. And the RAMI is one of the few modern subcompact handguns with a metal frame. This certainly adds a bit of weight to the gun, but it also helps to eat recoil and makes the 9mm pleasant to shoot.
The 2075 is a double stack gun that comes in 9mm and 40 S&W, and can accept standard CZ 75 magazines for extended capacities. It comes standard with a 10-round magazine, as well as a 14 round magazine with a grip extension. The gun is a DA/SA model with an external safety and a simple manual of arms and is outfitted with CZ's legendary ergonomics that fits most people's hands like a glove.
The takeaway: If you don't mind the extra weight, the RAMI is a one heckuva easy shooting gun. It's low bore axis delivers little muzzle rise and the weight already reduces recoil. The soft-shooting nature also makes it perfect for beginners.
Recommended Holster: We The People IWB Kydex Holster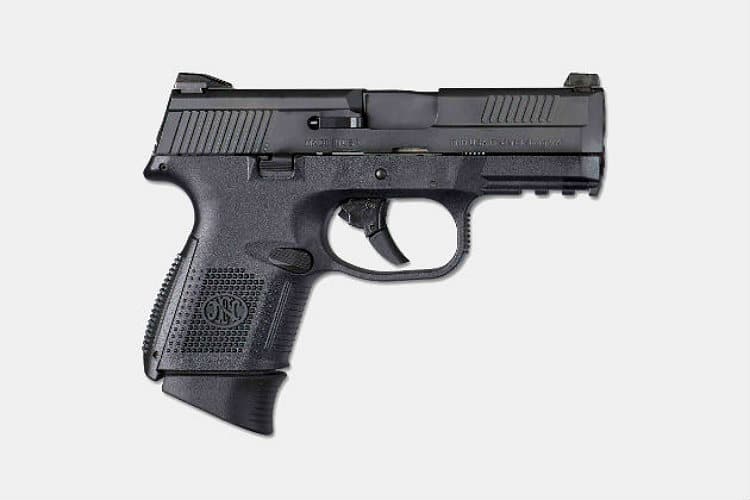 The FNS-C
The FNS series of handguns from FN are reliable, well made, and ergonomic. They proved so popular in fact, that FN finally produced the FNS-C — the subcompact variant of the FNS. The FNS-C isn't just a sawn-off FNS though. At the core, the guns are the same, but when it comes to compact pistols it's the outside that counts. The outside of the gun has been trimmed and smoothed over to ensure a snag-free draw and to increase the carrier's overall comfort.
The gun itself is nice and compact for carrying with a 3.6-inch barrel and it still packs a double stack magazine. It also comes standard with two 12 round magazines, and a single 17 round magazine for those longer days at the shooting range.
The FNS-C has a larger front sight dot than the FNS and the gun is available in both 9mm and 40 S&W. The FNS-C isn't the smallest pistol you could carry, but it does offer substantial round capacity in a relatively small package.
Recommended Holster: Concealment Express IWB KYDEX Holster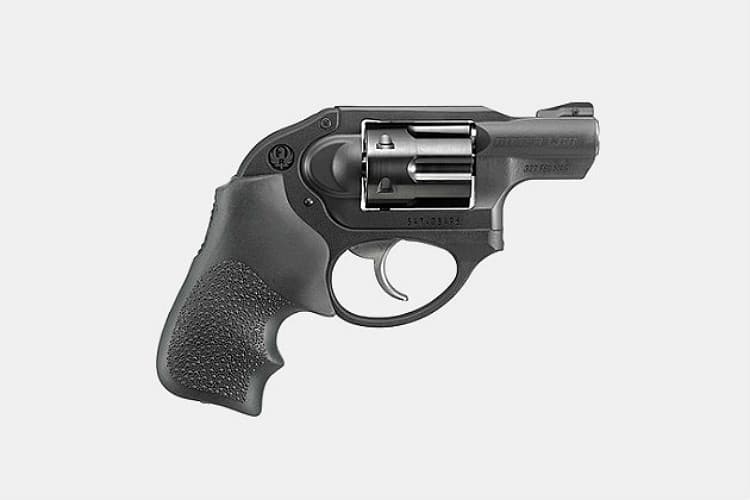 Ruger LCR
The Ruger LCR is what happens when a J frame and a Glock make a baby. Ruger introduced this 5 shot snub-nosed revolver in 2009 and it instantly turned heads. A polymer revolver! Why? Well, it turns out that polymer means lightweight and affordable. The LCR's polymer frame reduces weight and keeps the price well below scandium levels. The LCR is a DAO revolver with a friction reducing cam in the fire control group that gives you an outstandingly smooth double action trigger. The LCR became popular enough that S&W and Taurus followed suit with their own polymer frame revolvers.
The LCR is chambered in a variety of cartridges, including the 38 Special, 357 Magnum, 9mm, 327 Federal Magnum, 22 LR, and 22 WMR. There is also the LCRx, which is the same gun but features an exposed hammer for taking single action shots.
If it's a wheel gun you want the Ruger LCR is a modern and practical choice for concealed carry.
Subscribe to our Email List to have an awesome collection of gear sent straight to your inbox every Tuesday. If we post it, you'll get it. No need to ever miss a thing.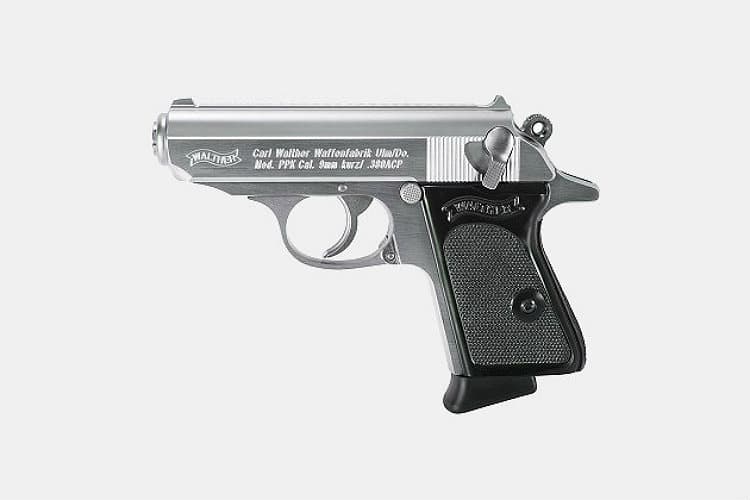 Walther PPK
What's the best way to describe the PPK? Classy? Gorgeous? How about legendary? The Walther PPK is well known for being James Bond's weapon of choice for dozens of novels and movies. This compact .380 ACP pistol is a classic design that uses a DA/SA design with a slide mounted safety and decocker. The PPK utilizes an all metal frame and a 6-round flush fitting magazine or an extended 7 round magazine with a pinky extension.
The Walther PPK is a small design that rides the line between pocket pistol and compact pistol. It will fit in most pockets but is quite substantial for pocket carry. The fixed barrel and blowback design doesn't help with recoil mitigation, but the fixed barrel makes the gun exceptionally accurate.
The Walther PPK is simply classy. You can't look at it without being drawn to its vintage roots, and its timeless appeal.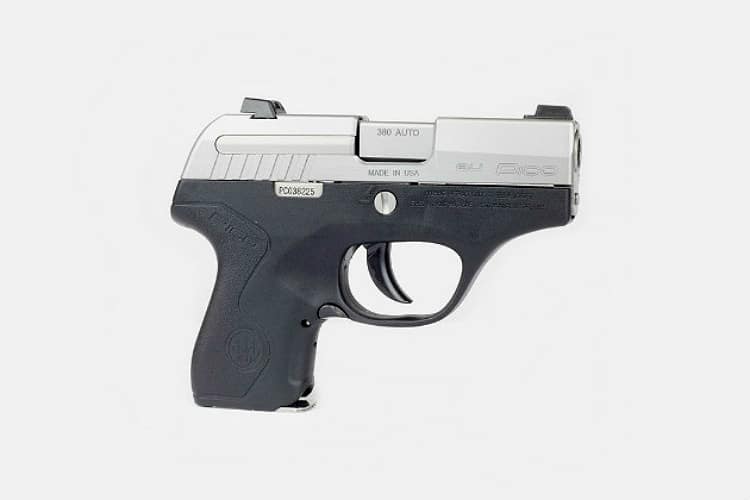 Beretta Pico
While we've already covered Beretta's Compact Carry on this list, the brand's Pico deserves its place here as well. The Pico is a micro-compact pocket pistol designed for deep cover. Beretta claims it's the slimmest .380 on the market and after having one in my hands, I tend to believe them. The sides of the Pico are super smooth and perfect for comfortable pocket carry while the minimalist design suits a concealed carry pistol well.
The Pico packs 6+1 rounds of .380 ACP and two magazines — one comes with a grip extension and the other is flush. One of the best features of the Pico is the customization available to the end user. The Beretta Pico uses a modular chassis design that allows the user to pop it out and plant it in different grip modules. The end user can change the grip to accommodate different colors, and even laser aiming modules and flashlights.
Colt Mustang
Who doesn't love a 1911? Some concealed carriers may not due to their metal frame and heavyweight, but Colt surely loves them. Colt took the 1911 to school when it designed the Colt Mustang into a modern carry pistol. The Colt Mustang takes a 1911 and shrinks it to pocket-sized dimensions, and then further reduces the pistol's weight with the use of polymer when building the frame. This Micro 1911 is a 380 ACP that gives the shooter 6 rounds of 380 in an easy shooting, single action package.
It weighs a mere 18.5 ounces, packs a 2.75-inch barrel and an overall length of 5.5 inches. The Colt Mustang takes the familiar controls of a 1911 and translates them to a pocket pistol. It's an easy shooting and reliable gun that Colt has taken care to craft, and the single action trigger ensures the trigger is light, smooth, and up to Colt's high standards.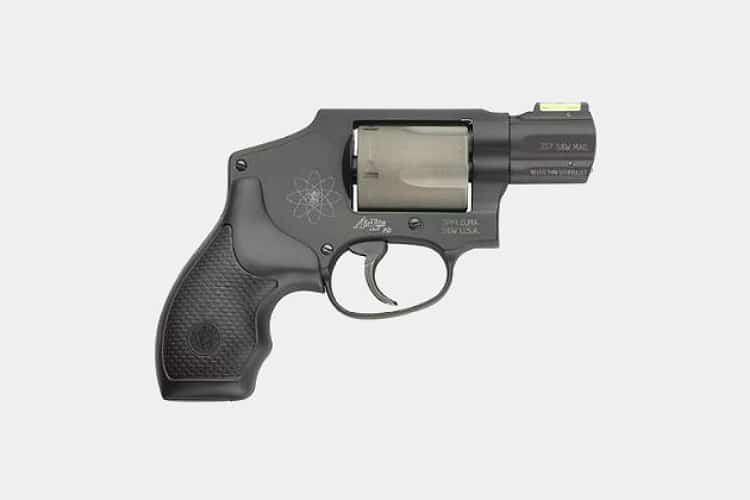 S&W 340PD
If you want magnum power in a lightweight package, the 340PD from S&W is likely the lightest option out there. In fact, this J frame snub nose weighs only 11.8 ounces. For a .357 Magnum to achieve a sub 12-ounce weight is impressive, and without a hammer, the revolver is perfect for deep carry. It's easy to draw from concealment and comfortable to carry all day long.
The S&W 340PD uses a titanium alloy for the cylinder and the frame is made from a scandium alloy. Both metals are super lightweight and incredibly strong. The gun is well thought out and comes outfitted with a hi-viz fiber optic front sight for point shooting. And while looks may not matter to everyone, I'm personally impressed by how nice this gun looks. The slab side barrel, the titanium frame, and dark black finish set the 340PD apart from most other J frames on the market.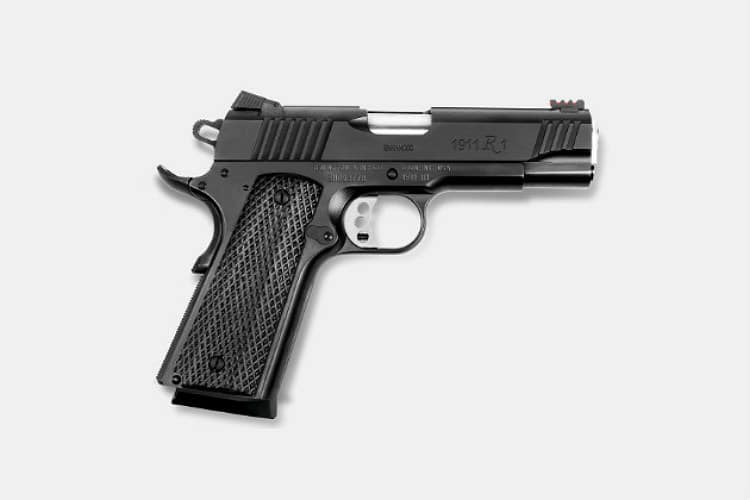 Remington 1911 R1 Enhanced Commander
If you like the classics — be it music, cars, and guns — the Remington R1 Enhanced Commander is the concealed carry gun for you. The 1911 R1 Enhanced Commander is a classic .45 ACP 1911 with a 4.25-inch barrel. 1911s are classic guns, and while they're heavier than polymer models, they actually conceal well. The R1 is no different –it is thin and its perfect for IWB carry. The R1 offers an 8 round magazine, and Remington is nice enough to include 2 magazines in the package. The design mixes a bit of new with old. It keeps the classic style of the 1911 while modernizing the system to keep the gun up to date with more modern choices.
The R1 Enhanced comes with Novak cut hi-viz fiber optic sights, an adjustable skeletonized trigger, front and rear slide serrations, an oversized and flared ejection port as well as an extended beavertail grip safety. The pistol is a dream to carry and a blast to shoot. The all-metal frame absorbs recoil well while the trimmed barrel gives you a faster and more intuitive draw. It's a gun that's stunning to look at, and function truly follows form.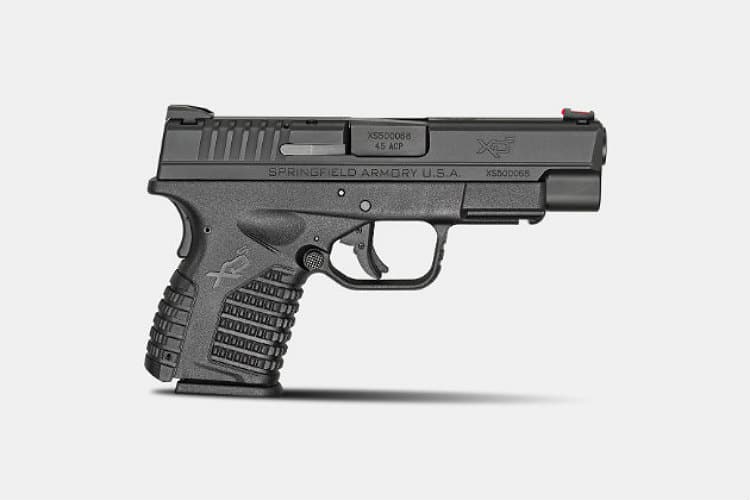 Springfield XD-S
When the world was looking at single stack 9mms, Springfield decided to go a different route. They created a single stack 9mm, but they also tossed in a single stack .45 ACP known as the XD-S. The design was simple, rugged and effective. There are two models of the XD-S, but I think the best is the 4-inch barrel model. While it is bigger if you are carrying IWB the extra barrel length rarely matters for concealment. The short subcompact grip is what really matters when it comes to deep concealment.
The longer barrel offers lots of advantages. There is a longer sight radius that makes shooting straight a bit easier and the extra length gives your rounds a little more velocity. The XD-S is a thin gun that is comfortable to carry. Its packed with high viz night sights, a grip and trigger safety, as well as an extended magazine with grip adapter for a full-sized design. And while the XD-S 4 inch is an odd-looking gun, but it's easy to carry and shoot.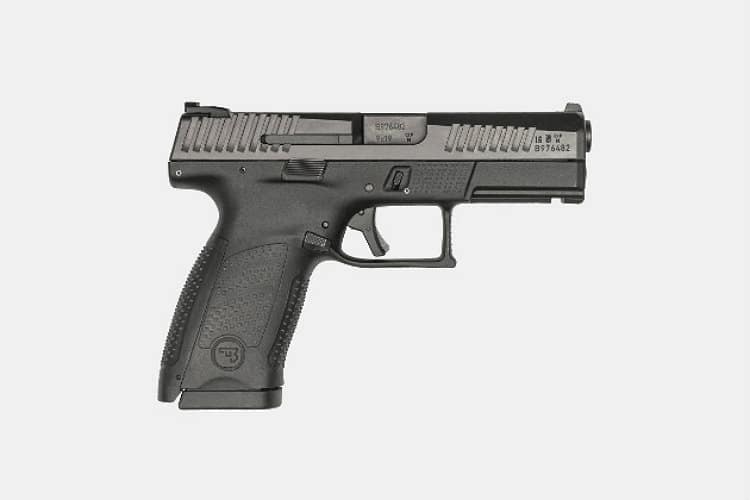 CZ P-10C
One of CZ's newer guns is the P-10C — a compact semi-automatic handgun designed for those who like their compacts not so compact. It's not a pocket pistol but is still fairly easy to conceal. This 9mm, polymer frame, striker fired handgun is roughly the same size as a Glock 19. The gun uses a 4.02-inch barrel, has an overall length of 7.3 inches, and weighs 26 ounces.
The P-10C is not just another striker fired Glock wannabe. CZ put a lot of time and effort into making this into a fantastic pistol. The CZ P-10C features an outstanding trigger, one of the best we've seen on a striker fired gun in some time. One of the nicer touches is the incorporation of three dot metal sights in a time where many companies are just using polymer sights. Even better, both the magazine release and the slide stop on the CZ-P10C are ambidextrous — a small detail that matters to many left-handed concealed carriers.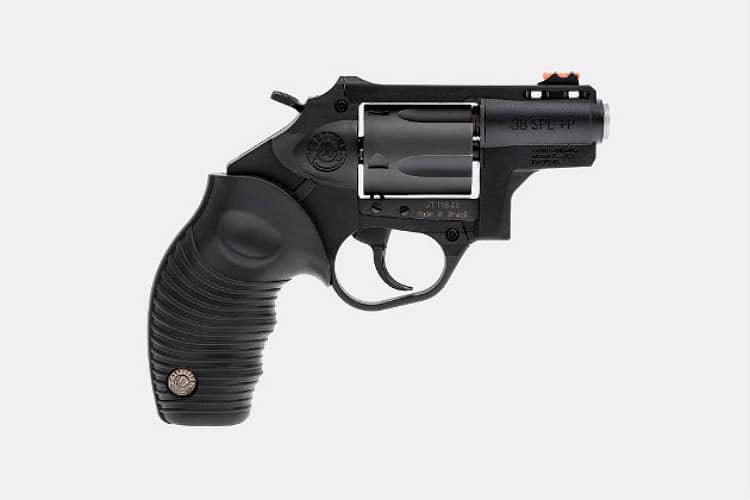 Taurus Model 85 Polymer
The Ruger LCR may have been the first revolver to use a heavy dose of polymer, but several companies followed suit. This includes Taurus. The Taurus Model 85 Polymer is the affordable option for the shooter on a budget. The Taurus Model 85 Poly is a snub nose J frame revolver that takes some important cues in revolver advancement. The polymer frame design is lightweight and comes in at a little over 18 ounces. It delivers 5 rounds of .38 Special yet is rated for the more powerful +P rounds.
The Model 85 utilizes an external hammer, but the external portion is small and as close to snag free as you can get. The addition of an external hammer gives shooters the option to take a single, accurate shot. The gun incorporates a hi-viz front sight for easy front sight acquisition in day or low light situations. Lastly, Taurus incorporates their awesome ribber grips to help reduce recoil and control this polymer pocket rocket.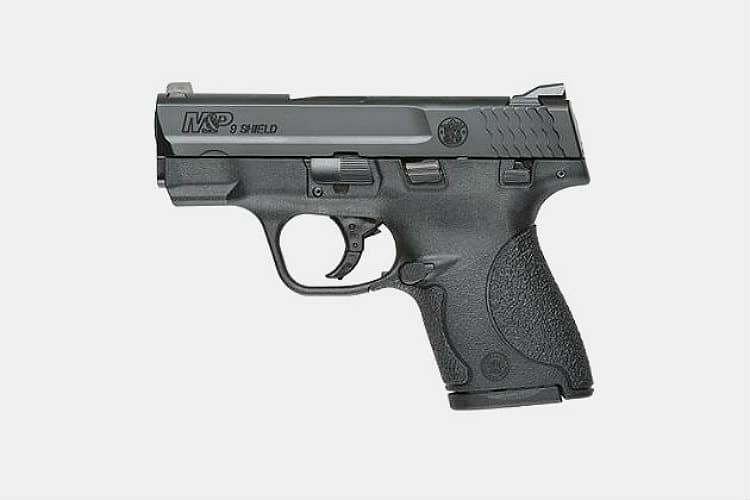 S&W Shield
The S&W Shield opened the floodgates for concealed carry single stack 9mms. Like any new iPhone release, The S&W Shield was one of the hardest guns to get the year it was released. Single stack, concealed carry guns existed before, but this was one of the first from a major company and was released at a time where concealed carry was a growing trend. The Shield is available in 9mm, 40 S&W and now 45 ACP. The Shield is a simple striker fired gun that's dependable, accurate, and affordable.
The Shield is a comfortable to carry gun with a polymer frame for reduced weight. The pistol is in its second generation and remains one of the most popular concealed carry guns out there. Due to its popularity, there are tons of holsters, upgrades, and additional accessories for owners who like a little customization. The S&W Shield comes from one of America's oldest gunmakers and maintains their reputation well.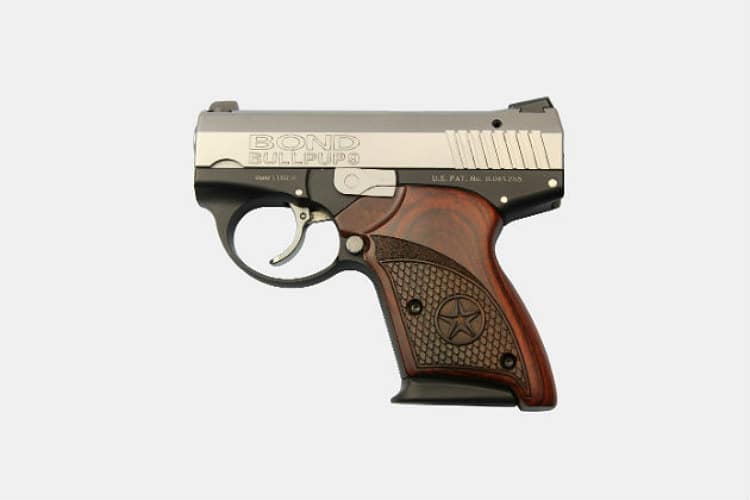 Bond Arms Bullpup
If you want something truly unique and well-made — and price isn't a major concern — then the Bond Arms Bullpup is for you. Bullpup typically refers to a long gun, a rifle, shotgun, or even a machine gun. The Bullpup 9 is unique in that it's a bullpup handgun, which basically means that it packs more barrel in less space. The gun has a 3.35-inch barrel and has an overall length of 5.1 inches and, compared to competitors, is 1.5 inches shorter with a competitive barrel length.
The Bond Arms Bullpup 9 started life as the Boberg XR9 and evolved into the Bullpup 9 through the refinement of Bond Arms. This finely machined gun is gorgeous, stylish, and outfitted with a set of gorgeous dark wood grips. And while most people should never actually see your concealed carry gun, the pleasure of knowing how a beautiful your pistol looks will be all yours.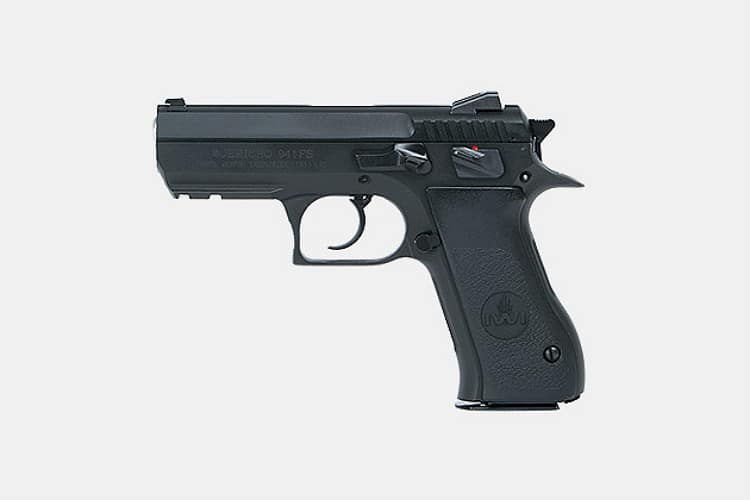 Jericho 941 FS
There are a lot of Jericho pistols out there, so to avoid confusion I'm picking out my favorite model. And clearly the best model for concealed carry is the Jericho FS Compact. The Jericho FS Compact is an all-metal gun that features a frame mounted safety and a 3.8-inch barrel. The all-metal design makes it heavier, but this helps reduce recoil. With a striking profile that is unmistakable, the Jericho is based on the CZ 75 and modified by the Israeli military to meet their police and military needs. The Jericho reminds me of a shark. It's finely tuned, crafted to be dangerous, but man can it be beautiful.
The Jericho is an easy shooting gun due to its heavier weight and low bore axis. The reduced recoil and reduced muzzle flip make the pistol incredibly easy to handle — rapid and accurate fire is surprisingly easy. The Jericho FS comes in 9mm, 40 S&W, and 45 ACP. It's an outstanding gun with a well-earned reputation for its Israeli service and thanks to its low recoil, it really is great for beginners.
Kahr PM9
The Kahr PM9 is an interesting handgun. It's a safe, reliable, miniature automatic 9mm pistol that handles like a much larger pistol. The gun is small, but the recoil and muzzle rise are minimal. It's hard to explain without the gun in your hand, but shooting it is best described as a pleasant experience. The trigger is fascinating and functions much like that of a revolver.
The PM9's trigger is also almost like a revolver. It's a longer trigger pull, but it's smooth and lightweight. This adds a degree to safety with the gun and allows the shooter to slowly stage the trigger for an accurate and sure trigger pull. The Kahr's small, 3.1-inch barrel size and snag free design makes it easy to carry and quite comfortable.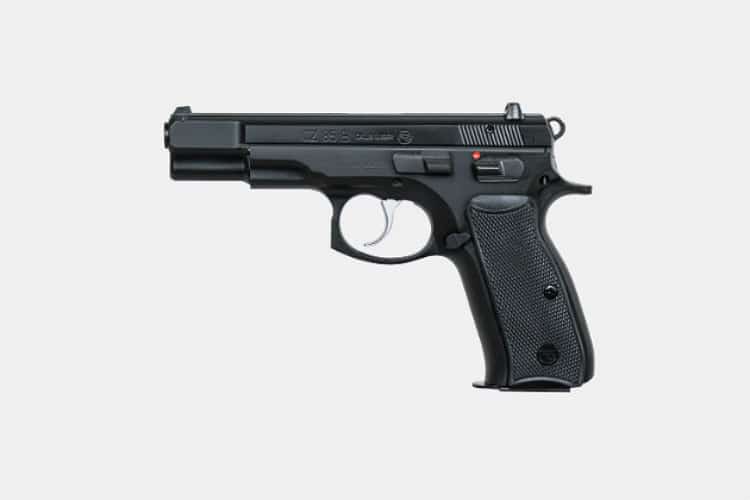 CZ 85
The CZ 85 is a discontinued compact variant of the superbly popular CZ 75. The CZ 75 is the most cloned and reproduced pistol worldwide. It serves countless military and police forces. The CZ 85 is a similar design but is trimmed down for easier carry. The CZ 85 keeps the 75's outstanding ergonomics, easy handling, and low bore axis. The low bore axis helps reduce muzzle vise and makes shooting fast easy.
The CZ 85 is an all metal gun, but svelte in design. It's so thin and small and crafted with such precision you feel like its made for you. The slide rails ride inside the frame and this reduces the gun's profile and lowers the bore axis. This makes it comfortable to carry day in and day out. The CZ series are popular enough shooters have a large selection of holsters, upgrades, and magazines. Although discontinued by the manufacturer, the CZ 85 can still be found in various markets and is perfect if you want something a little different, and you want to stand out from the standard concealed carry crowd.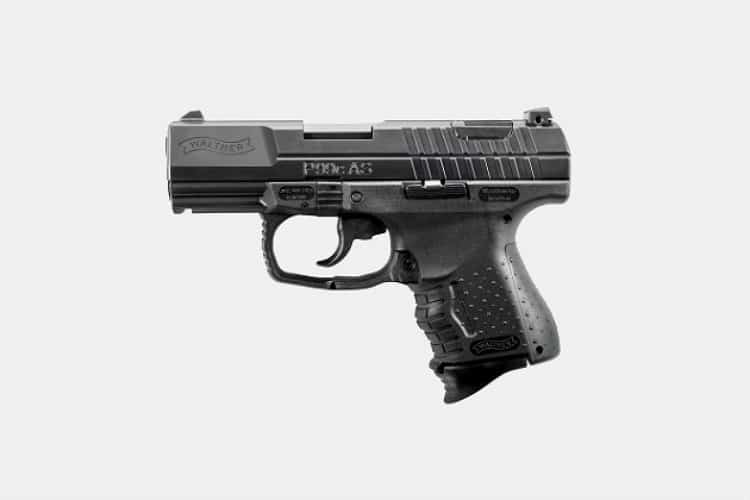 Walther P99C
The Walther P99C is a subcompact version of the Walther P99 — most famously served by Pierce Brosnan's version of James Bond. The Walther P99C is a fascinating and unique little pistol thanks to three different firing modes. The gun is striker fired but is one of the rare examples of a double action / single action striker fired gun. The first pull of the trigger is long but smooth. After the first shot is fired the gun reverts to single action and has a shorter and lighter trigger pull.
The third firing mode is the anti-stress mode. It combined a single action's light trigger pull with the double actions longer trigger pull. This makes it a two-stage gun where the first stage is a long trigger pull and the second stage is a standard single action design. The Walther features robust and outstanding ergonomics and is lightweight and easy to carry. Its trigger is sleek, smooth, and one of the best stock triggers on the market.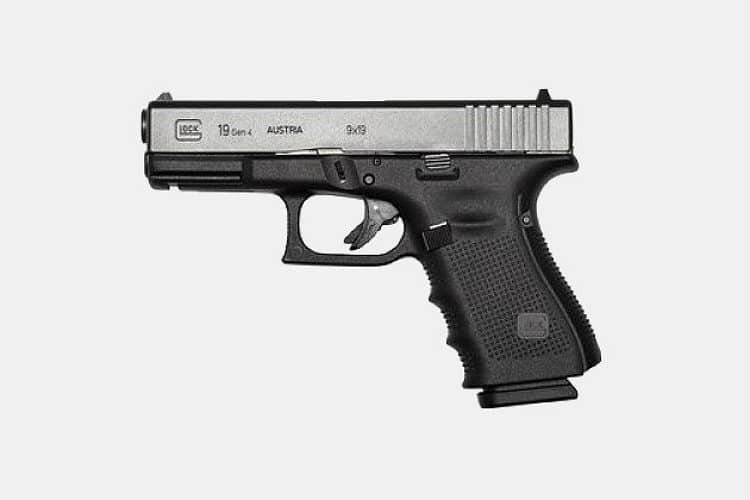 Glock 19
The Glock 19 is by far Glock's most popular handgun in the civilian market. It's considered a compact model of the Glock 17 and is slightly shorter and lighter — rendering it easy to conceal, but at the same time easy to shoot. It's one of the best compromises between size and ease of shooting. The Glock 19 is a 9mm, has a 15-round magazine and is available in several different models including the optics ready MOS, the Gen 5 Glocks, and of course the 19X model.
The Glock 19 gives users a simple gun that works. It's incredibly reliable and can take a beating and keep on kicking. The Glock 19 is a rugged gun that shoots straight and always goes bang when you need it. It isn't fancy, but man does it work when you need it to. It's the choice of civilians, special operations, and competition shooters for a reason.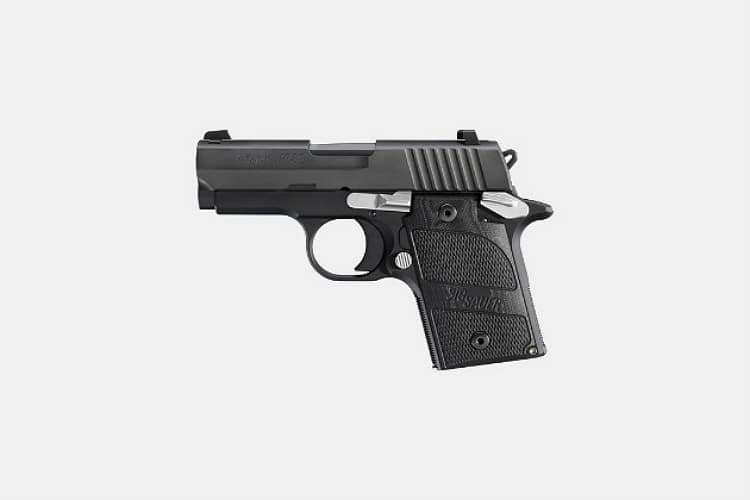 SIG Sauer P938
The SIG Sauer P938 is essentially a mini 1911 in 9mm form. It's super small and impressively thin while an all metal design really helps eat recoil and makes this tiny gun comfortable to shoot. The P938 is a single action gun and utilizes a simple frame safety. SIG eliminated the grip safety from the 1911 design for the sake of simplicity and it's not missed by many. SIG did keep the outstanding 1911 trigger and positive reset. Running the gun is like feeling silk in your hands. It's smooth, sexy, and perfect for concealed carry.
SIG Sauer makes a ton of different models of these guns, including models with custom finishes, lasers, grips etc. The P938 is pocket-sized and fits well anyway you want to carry it. Most models come with SIG Brite Night Sights which gives you an accurate and easy shooting gun 24/7.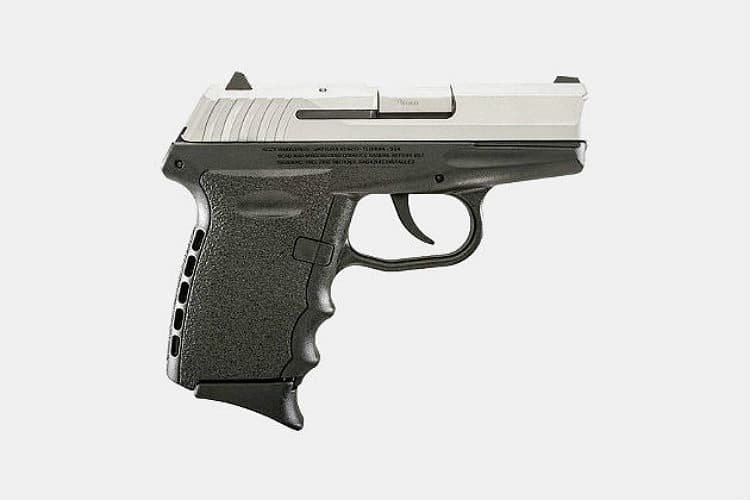 SCCY CPX 2
Budgets, we all have them, and that extends often to our gun of choice. I knew I couldn't leave a budget-friendly gun off of the list. The SCCY CPX 2 is an American made subcompact pistol that rocks a hammer and a ten-round magazine. The gun is produced with budget concealed carry in mind, but they aren't junk guns. They're smooth shooters and utilize a simple and robust design. They also manage to look good while doing it, and it's quite hard to find a budget gun that runs, much less one that looks good while doing it.
The SCCY CPX 2 comes with a stainless steel slide in your choice of 9 different frame colors. The double action design does provide a heavy, longer trigger pull, but it's not unmanageable, and the safety free design certainly benefits from a heavier trigger for safety reasons. The SCCY CPX 2 also has an MSRP of $269.99, and routinely goes for well under that. This gives those on a tight budget a quality choice for concealed carry.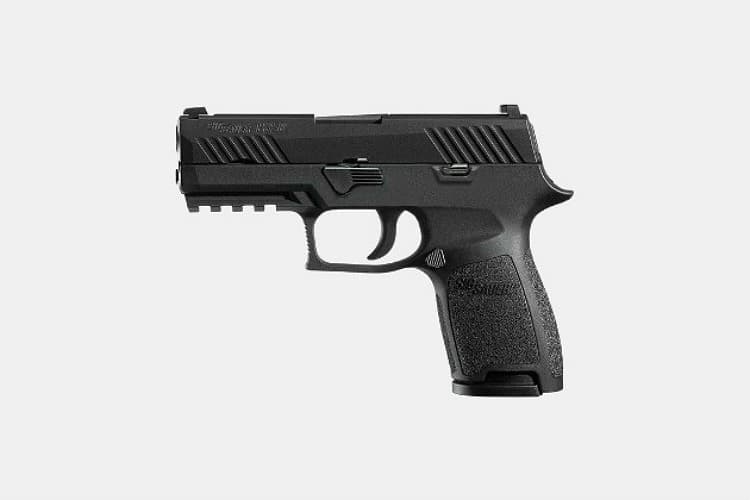 SIG Sauer P320
Last, but certainly not least is the SIG P320. The SIG P320 is a fascinating gun and it's hard to really pin it down. Its designed to be modular and the serialized portion is removable. What this means is a full-sized SIG P320 can become a subcompact P320 by swapping frames and slides.
The SIG P320 is a striker fired gun that utilizes a double stack magazine. You can start with either a full size, compact, or subcompact model and from there, the sky is the limit. The Subcompact model is likely the best for concealed carry. The SC model sports a 3.6-inch barrel, weighs 24.9 ounces and has an overall length of 6.7 inches. The pistol comes outfitted with the fantastic SIG Brite sights and its available in 9mm and 40 S&W.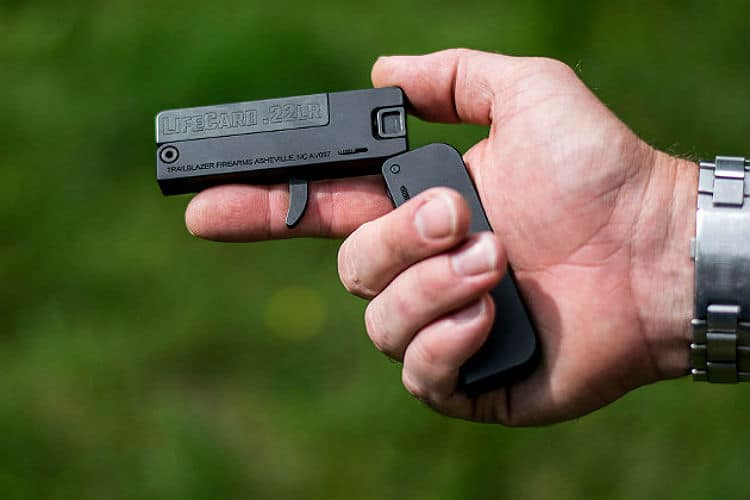 Bonus: Trailblazer Firearms LifeCard 22 LR
I knew I said I'd Limit this list to 25 picks, but we are going to tack on one 'Wildcard' option. We are doing this because it's literally a card. The LifeCard 22 LR is a cool little gun. It's roughly the same length and height as a credit card, it's half an inch thick, and weighs a mere 7 ounces. When the gun is called into action it unfolds and starts to actually look like a gun.
There are some downsides. It's only a 22 LR and you only get one round of it. This gives you one shot, in a not so powerful caliber to get the job done. The upside is it doesn't look like a gun. There isn't a pistol on the market that is easier to conceal than this. It may not be your primary carry gun, but its that one you'll never have an excuse not to carry.
It's limited in application but does provide the user a gun they can carry anywhere, and in any style of clothing. (Speedos excluded.)
Disclosure: Clicking on these links and making a purchase may earn us a small referral fee, at no extra cost to you. Learn more here.