The 10 Best Coolers Under $100
Even before we reach dad status, the call of outdoor grilling season is in every man's DNA. Some may briefly crawl back indoors for the Stanley Cup or Opening Day, but the year's first mild afternoon officially means it's time to get those coolers outside. Yet, no two coolers are alike. If you're driving from Nashville to South Dakota for a pheasant hunt, your cooler should be skid-free, not sliding around the back of your truck. If you're taking the family out for a beach day, you'll want sand-resistance.
Keep your beers safe with the 10 best coolers under $100. We've provided a variety of different features per cooler, all in the under 100 dollars realm.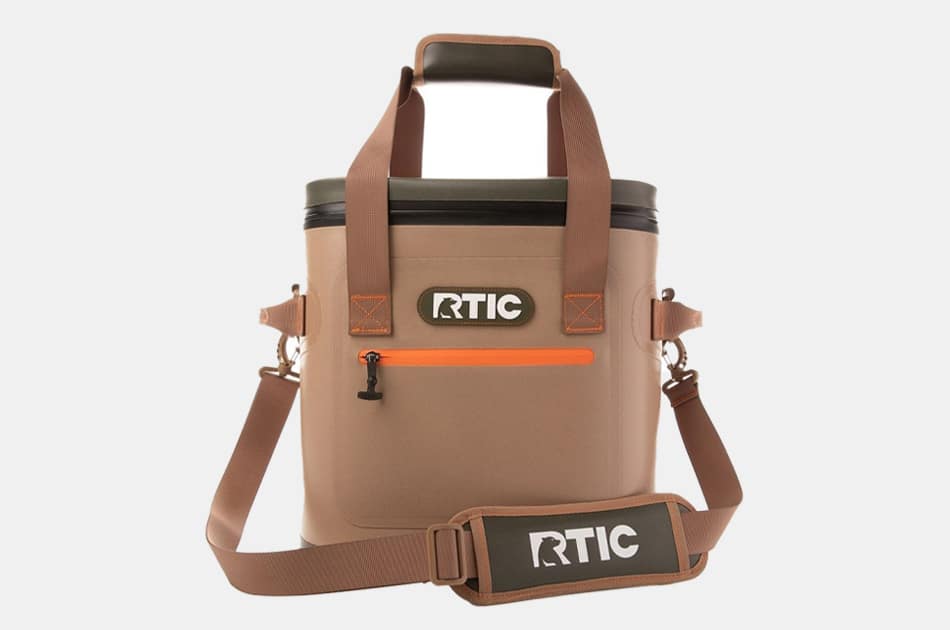 RTIC Soft Pack Cooler
Payload: 20 Cans
An adventure-focused and direct-to-consumer brand, RTIC keeps their prices low by keeping importing, retailing, and marketing all in one place. This 20-pack cooler features a soft vinyl shell that's fully leak-proof, keeps sand at bay, and even floats on the water. Even the color options are beach and pool-friendly—coral, seafoam, citrus, to name a few. It also comes in a camo print and boasts 10-day, mildew-resistant insulation for you campers out there.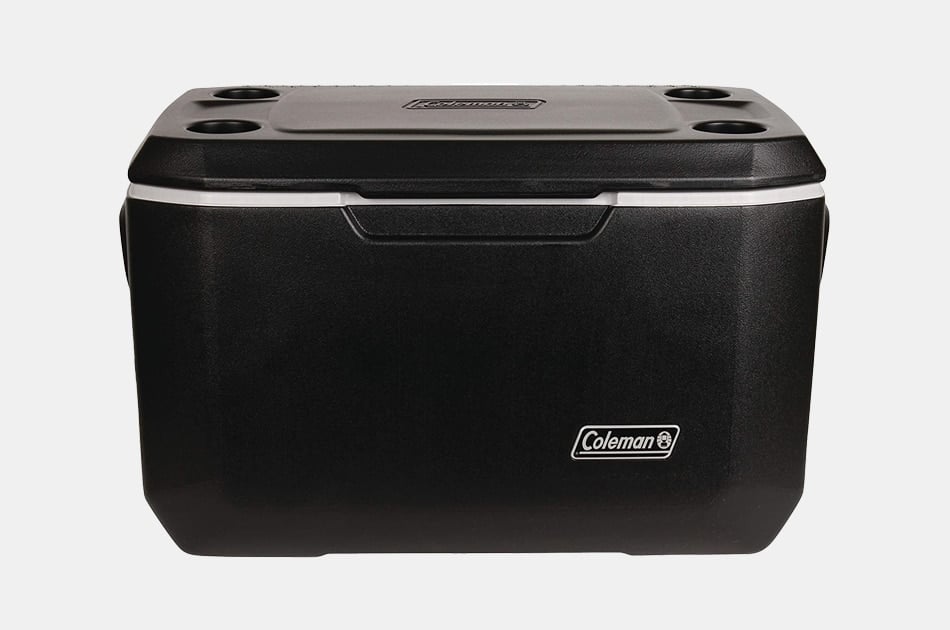 Coleman Xtreme 5 Cooler
Payload: 100 Cans
If you're hosting an outdoor picnic for the extended family, this cooler is your guy. For under 100 dollars, it can hold up to 100 cans and comes with a leak-resistant channel for easy draining without having to break your back. This robust unit is also useful on multi-day camping trips. Cup holders are built into the lid, which can hold up to 250 pounds of seating capacity. Moreover, Coleman's Xtreme Technology insulation keeps ice for five days in 90 degree Fahrenheit weather.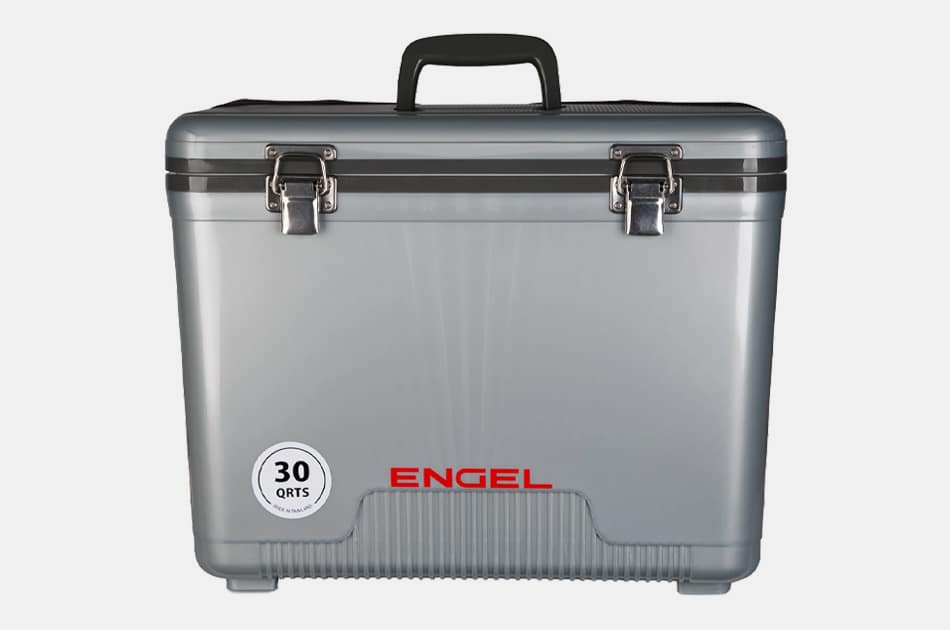 Engel 30 Quart Cooler
Payload: 48 Cans
Engel pioneered portable refrigerators as far back as 1962, so it's no surprise that they're confident enough to slap a five-year warranty on this unit. Several companies build rotomolded coolers these days, but this is the original high-performance model. Rotomolding is used to build walls that are stable and uniformly thick, with a high-quality finish. This cooler also comes with a hanging accessory tray and high-grade polystyrene insulation that will keep ice for 10 days. Additionally, you can use it as a stylish dry box for emergency kits and electronics.
Igloo BMX 25 Qt Cooler
Payload: 37 Cans
The eye-catching construction of the BMX is industrial, robust, yet sleek. It isn't just good-looking though. Its plastic is blow-molded, which means it's extra durable, and features a reinforced grab handle and a stainless steel kick-plate for added sturdiness. The BMX can hold 37 12-ounce cans, and will keep those bad boys cold for four days thanks to the extra thick wall foam and rubber lid t-latches. Its anti-skid bottoms also make this unit perfect for long drives in the back of your truck. It's hands-down the best cooler under 100 bucks you can buy this summer.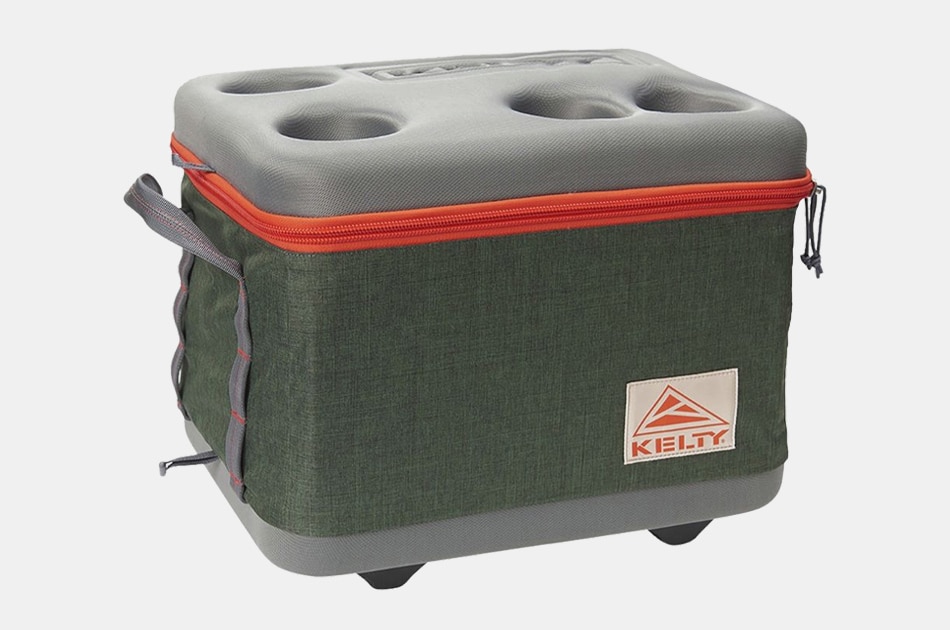 Kelty Folding Cooler
Payload: 40 Cans
This cooler is as versatile as an Autobot Transformer. The under $100, 25 Liter model can stow up to 40 cans and boasts the insulation performance of a heavier hard-shelled unit, but with the ability to fold flat for easy storage. With its cup holder lid, this also means that you can have a flat table if you're roughing it on the campground floor, or a taller table if you've got a nice log to sit on. The hours-insulating lining is BPA-free, and the shell is an outdoorsy hunter green with a fun orange zipper.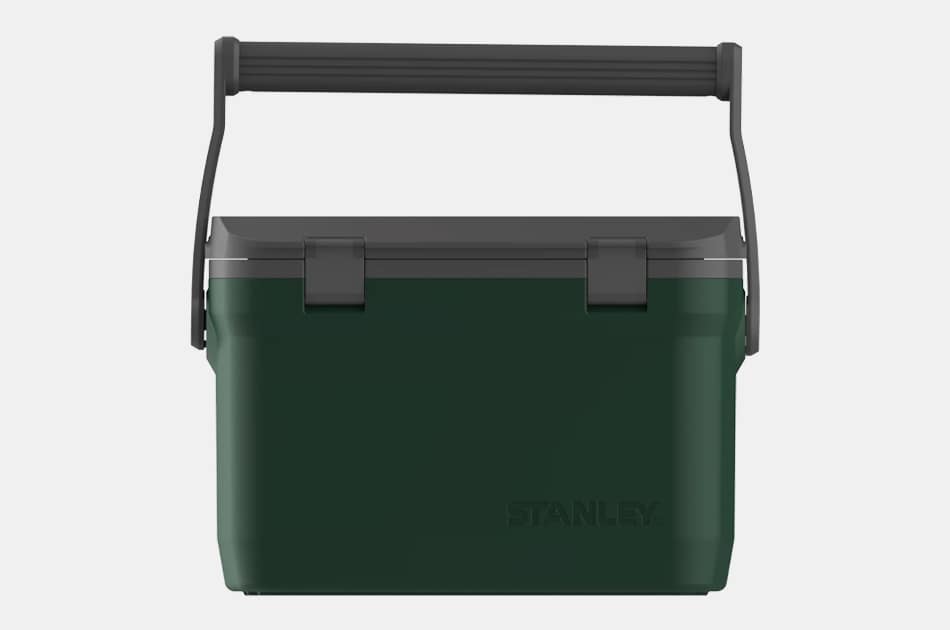 Stanley Adventure Cooler
Payload: 21 Cans
Stanley is all about innovating food and beverage container solutions, so you can definitely level up your tailgate game with the Adventure Cooler. It's strong but lightweight at 6.6 pounds, leak-proof, and is built with more than twice the insulating foam of comparable units. It holds 21 cans and keeps ice frozen for over a day. Another useful feature is the adjustable bungee on the lid for additional, non-cool storage.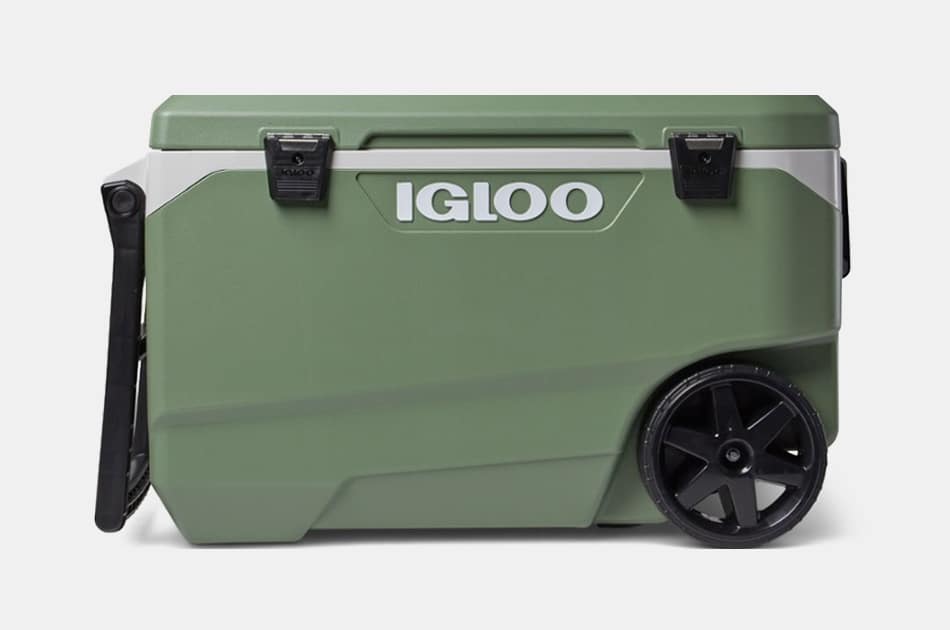 Igloo ECOCOOL Roller Cooler
Payload: 137 Cans
This wheel-equipped cooler boasts multiple cooling technologies, keeping your beers cold for up to five days despite its large size. The outside is made of ECOCOOL, which is usually used in refrigerators to improve cooling efficiency. The inner lid is MaxCold foam, which gives it its five-day capacity. And finally, Igloo's THERMECOOL insulation is the world's first plastic cooling system that's produced renewably. The wheels and comfort-grip handle add convenience for group hikes and tailgate hopping.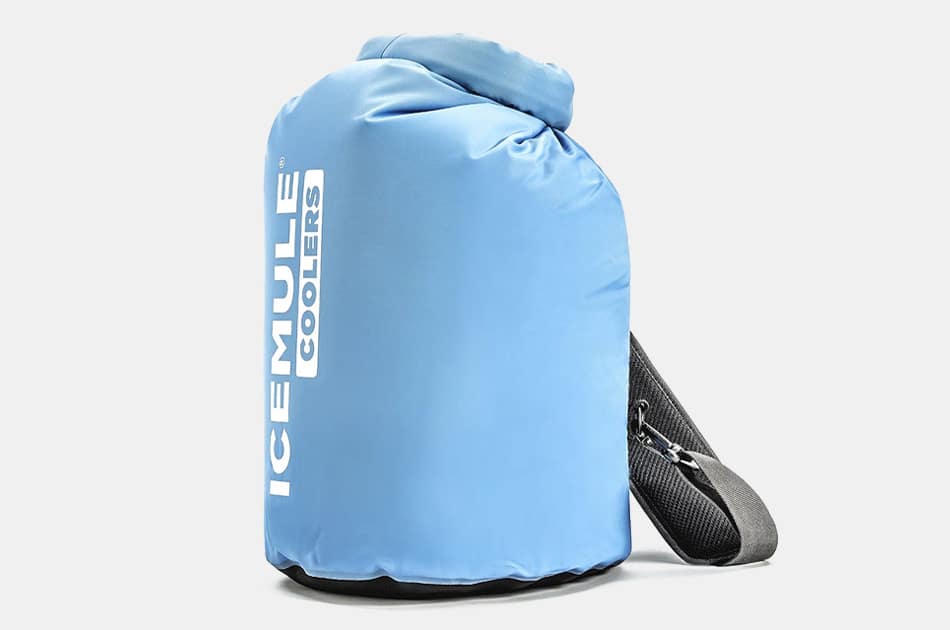 Icemule Classic 20L Cooler
Payload: 18 Cans
This soft-shell, lightweight cooler is the easiest unit on the list, perfect for day trips and soccer games. Once you've finished your drinks, you can roll it up and pack it away. At only two pounds, it isn't constructed with a lot of material, but what's there effectively keeps your drinks cool for 24 hours. Their PolarLayer technology actually allows you to release and add extra air to the insulation layer through their IM AirValve. This bolsters its insulation capabilities, and lets you modify the bulk level. It has a 20-liter capacity and comes in summery colors like "sunshine" yellow and seafoam.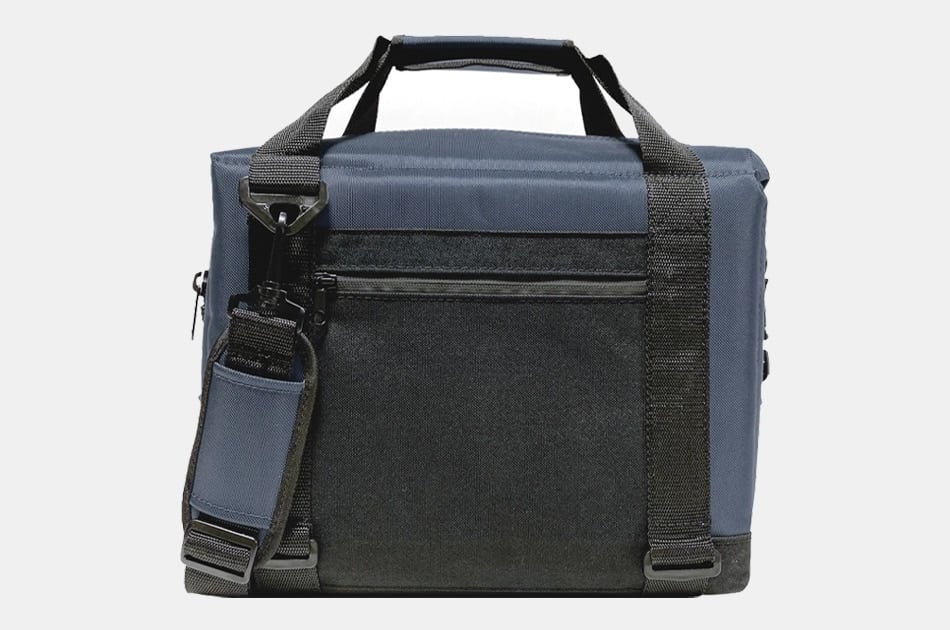 Polar Bear Coolers 12 Pack Soft Cooler
Payload: 12 Cans
This no-nonsense portable cooler is simple and effective, keeping your ice frozen for 24-plus hours, even in 100 degree weather. Polar Bear's patented construction comes with a leak-proof soft exterior, and a puncture-resistant, sweat-proof nylon liner that's FDA-approved. Effectively antimicrobial, you can keep perishables in there along with your drinks. It holds 12 cans, and you can even get it monogrammed.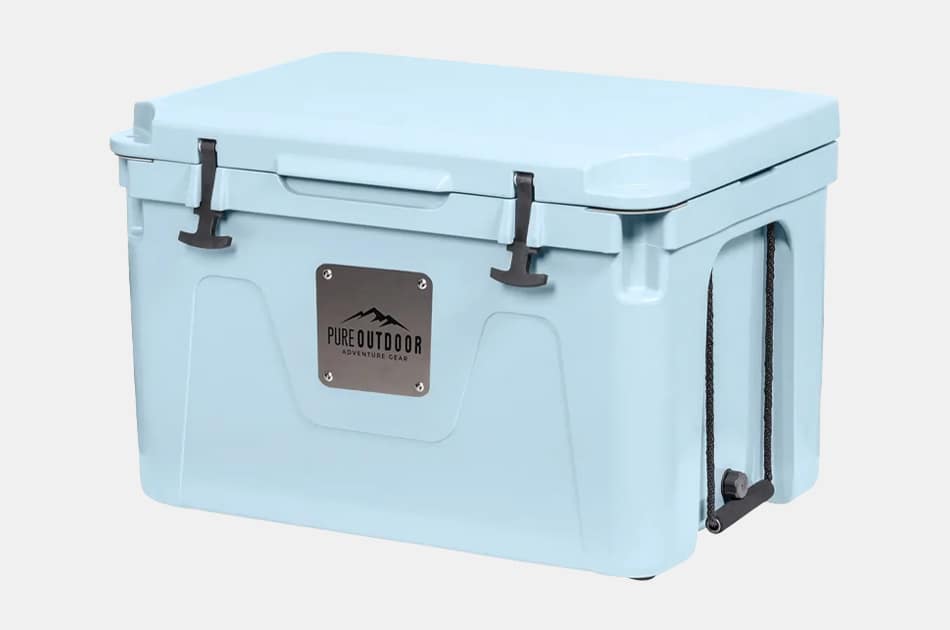 Pure Outdoor Emperor 25 Cooler
Payload: 35+ Cans
Monoprice focuses on affordable technology, so this bang-for-buck, under $100 cooler offering includes some intelligent yet simple design. The durable polyurethane body and lid of the unit are pressure-injected. This is a special process that enhances the material's strength, but allows manufacturers to build in complex, efficient details. This unit is also steel-reinforced and comes with a bottle opener, perfect for camping or boating.
Disclosure: Clicking on these links and making a purchase may earn us a small referral fee, at no extra cost to you. Learn more here.
freestar.config.enabled_slots.push({ placementName: "gearmoose_leaderboard_btf", slotId: "gearmoose_leaderboard_btf" });