The 20 Best Key Organizers For Everyday Carry
While keys are an essential part of our lives, opening everything from houses and cars, to mailboxes, lockers, and lock boxes, they can quickly become the bane of your existence when you're forced to carry dozens of jagged bits of metal on a woefully inadequate ring. Keys not only add uncomfortable bulk to pockets, but they jangle like the dickens when you walk, and somehow, they manage to get lost literally every time you walk in the house and put them down. How do they end up in the fridge or under the couch?  Perhaps the underpants gnomes are diversifying. Step one: Collect keys. Step two: ? Step three: Profit.
The obvious solution is a key organizer that corrals your keys in a jingle-free, compact containment system, eliminating bulk and offering opportunities to scale up as you add new keys. In some cases, you can even find smart options that allow for easy location using your smartphone, although you may want to keep your stick of truth handy to fight off underpants gnomes, just in case. In the meantime, here are some of the best key organizers to consider for your EDC arsenal.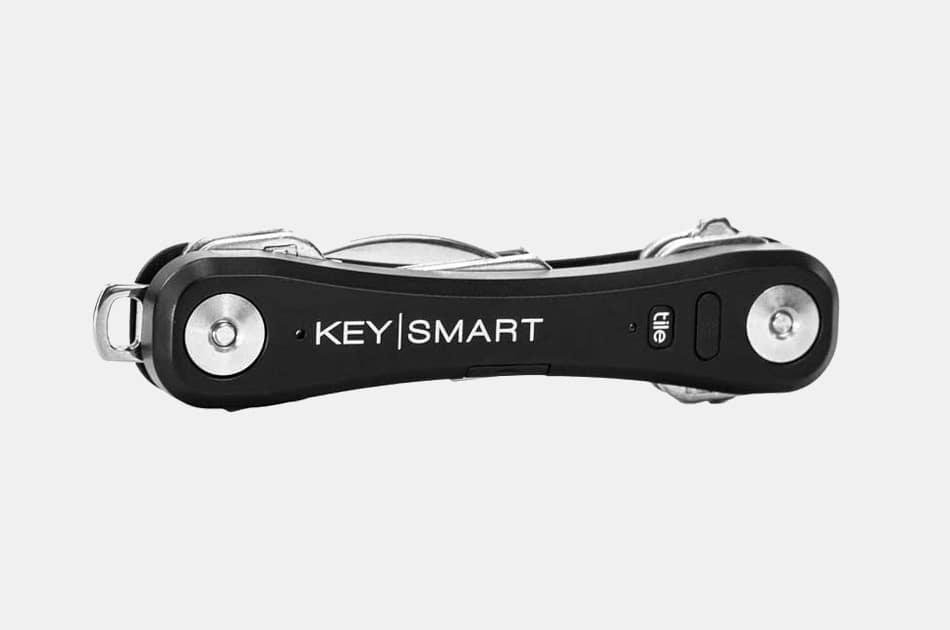 KeySmart Pro with Tile
What's worse: fumbling with a bulky ring of keys, or losing them altogether? With KeySmart Pro with Tile, you won't have to worry about either scenario. This compact key caddy fits up to 14 keys in a case about the size of a Swiss Army Knife, creating a slim, controlled version of your pocket-full-o'-keys.
They stay contained until you flip them out for use, so you won't have to deal with uncomfortable bulk or jangling in your pocket. Even better, the casing includes Tile technology, so you can use your smartphone to locate your keys on a map or simply make them ring — no more casting about in despair every morning when you're already late for work.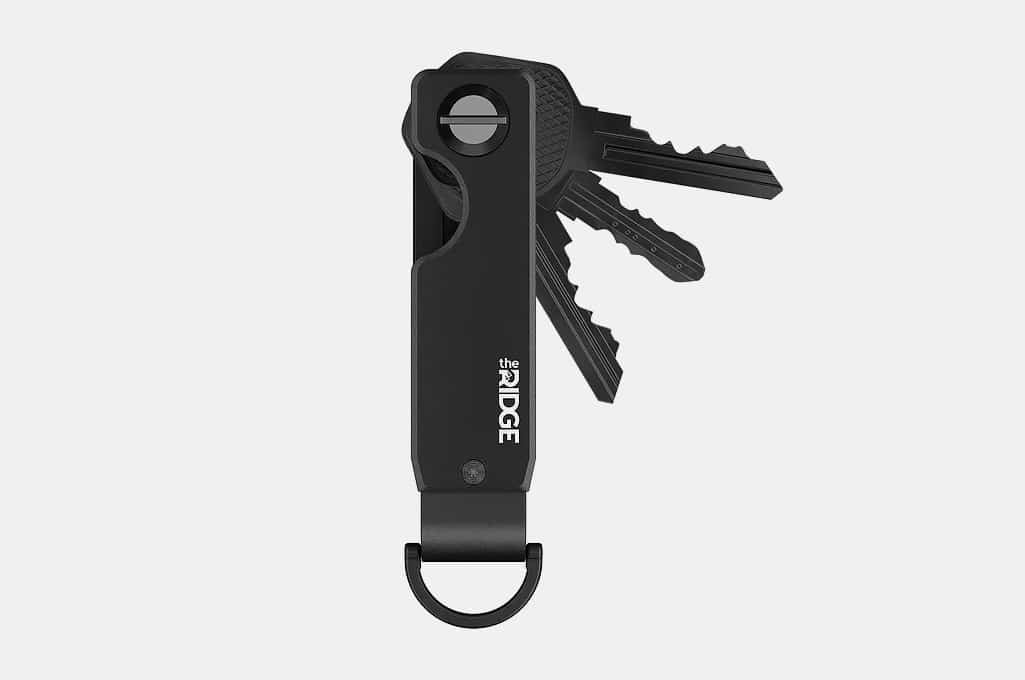 The Ridge Keycase
Keep all your keys neat, tidy, and protected with The Ridge's Keycase. This case is made using hyper-tough 6061-T6 aluminum that features a black anodized finish that adds both durability and a sleek, modern look. The clip is equally hardcore, made from manganese spring steel.
With space to fit anywhere between two and six keys, it'll offer you more than enough storage space for all your home, office, bike, and travel keys. The D-ring at the end will also hold your key fobs and car keys, and thanks the tension plate system (patent pending), you can trust the key holder will never fall apart or wear out no matter how many times you open and close it.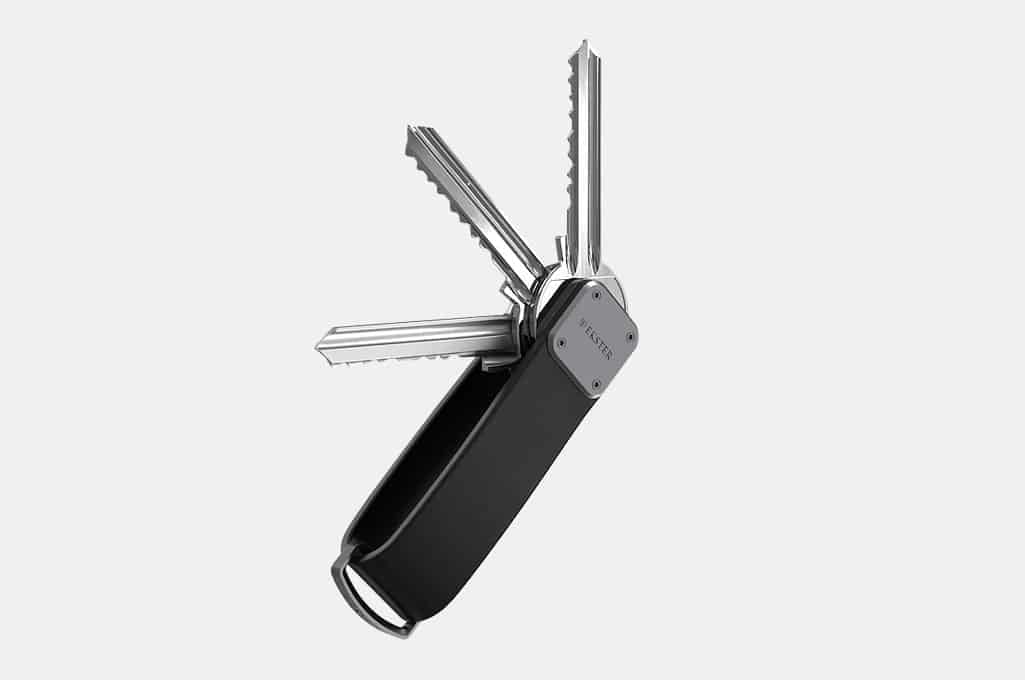 Ekster Key Case
Quick, easy, and convenient: that's the promise Ekster makes and delivers with its Key Case. The key holder is opened with just a few quick turns of the locking mechanism, which can be adjusted using a coin or key. Once open, you can easily slide in up to eight keys, then close it quickly again and trust it'll never accidentally pop open. The provided D-ring makes it easy to attach larger keys, key fobs, and car keys in addition to all your smaller daily keys.
The premium leather will grow more beautiful with every passing year as it develops a lovely patina. Best of all, if you're prone to losing things, it's easy to add an Ekster tracker (for an added fee) to ensure you always know where the keys are. I (Andy) have had this one for nearly a year now and can't imagine going back to a messy, jangling key ring ever again.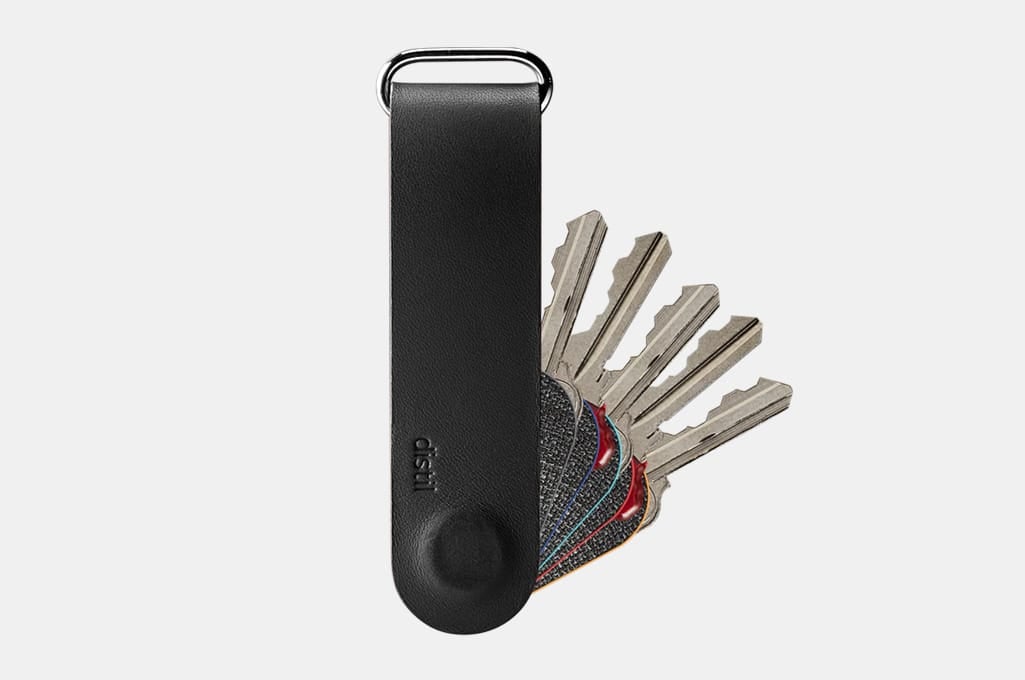 Distil Union KeyLoop Kit
Give your EDC loadout a style upgrade with this gorgeous eco-certified leather Keyloop Kit by Distil Union. It's got space enough to hold up to six keys, and the "KeyMod Sticks" are magnets that you can stick onto your keys to easily and magnetically adhere the keys to the ring.
It's also got space to hold one key fob, which attaches to the provided stainless steel and brass fob ring. Once the key fob is assembled, the magnets make it easy to fan all your keys out and see them at a glance. It's a key organizer built for your maximum convenience and comfort.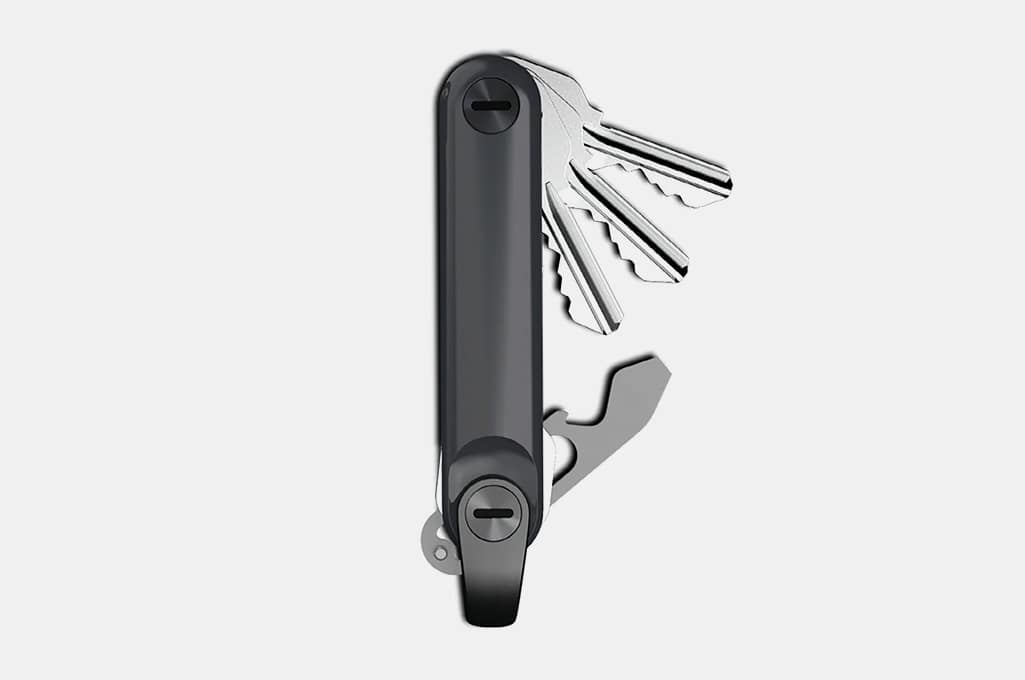 KeySmart Max
If you're the kind of guy who tends to lose their keys, the KeySmart Max is definitely the organizer for you. Not only is it built tough—using a Polycarbonate Plastic (PC) shell and Acrylonitrile butadiene styrene (ABS) band—but it comes with a Tile tracker built right into the body. It's easy to pair the KeySmart Max with your phone via Bluetooth, and the 150-meter range makes it easy to find anywhere in your house, car, or office.
The built-in 160mAh battery will be easily charged thanks to the provided cable, so you never have to worry about running out of power. And you'll love the addition of bottle opener, flathead screwdriver, and flashlight integrated into its design—it's a multi-tool in every sense of the word.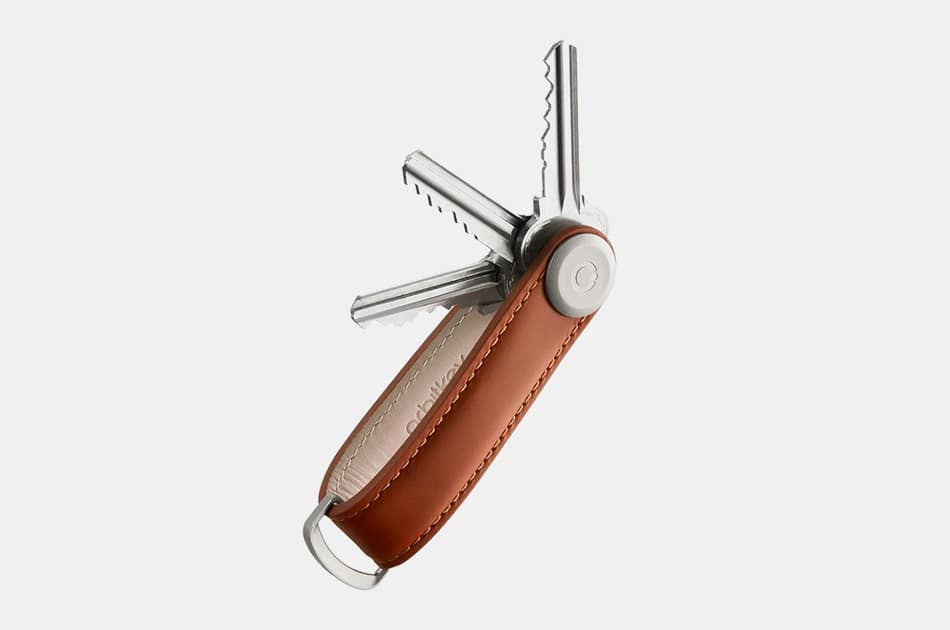 OrbitKey Key Organizer
Minimalism and ease of use go hand-in-hand with OrbitKey 2.0, a simple and streamlined tool for organizing up to seven keys of nearly any size, or six keys and a small bottle opener, because you should always be prepared to pop bottle tops. This jingle-free organizer is little more than a loop of sturdy canvas, nylon, or premium leather that wraps around stacked keys lengthwise.
The loop includes an easy-open post that your keys slide onto, complete with an integrated locking mechanism so it doesn't accidentally pop open and spill keys in pockets or elsewhere.  Comes with a D-ring to attach your key fob.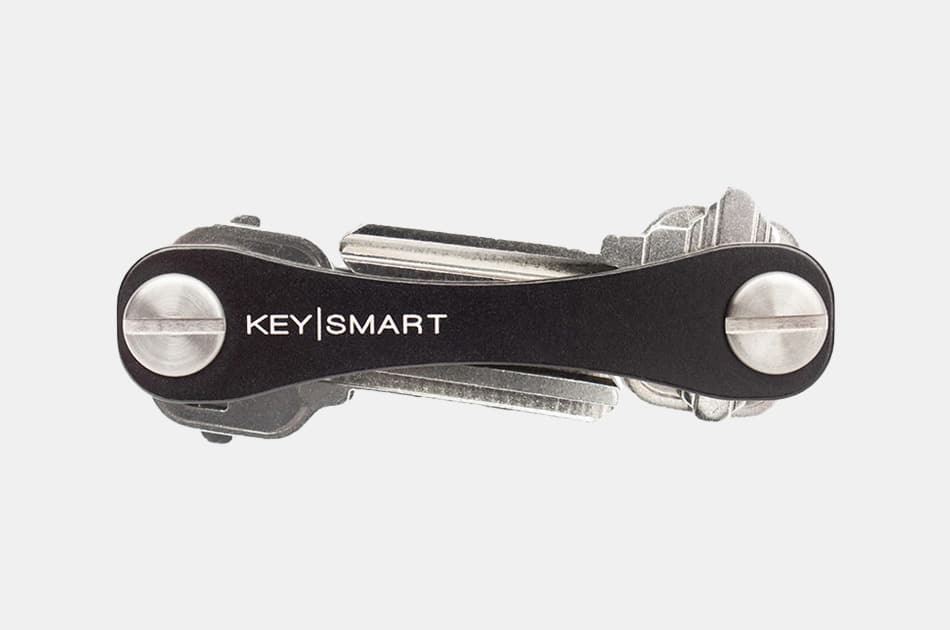 KeySmart Key Organizer
This handy key organizer in aircraft-grade aluminum and stainless steel doesn't waste a millimeter of space, with posts at either end to hold keys, which meet in the middle, tooth to tooth, so to speak.
The configuration not only makes for a truly compact way to store keys, but because the ends stick out just a bit on either side, it's quick and easy to swivel them out when it's time to open a lock. You can fit up to eight keys (four on either end) of up to 80mm in length, and there's a removable loop to add a key fob.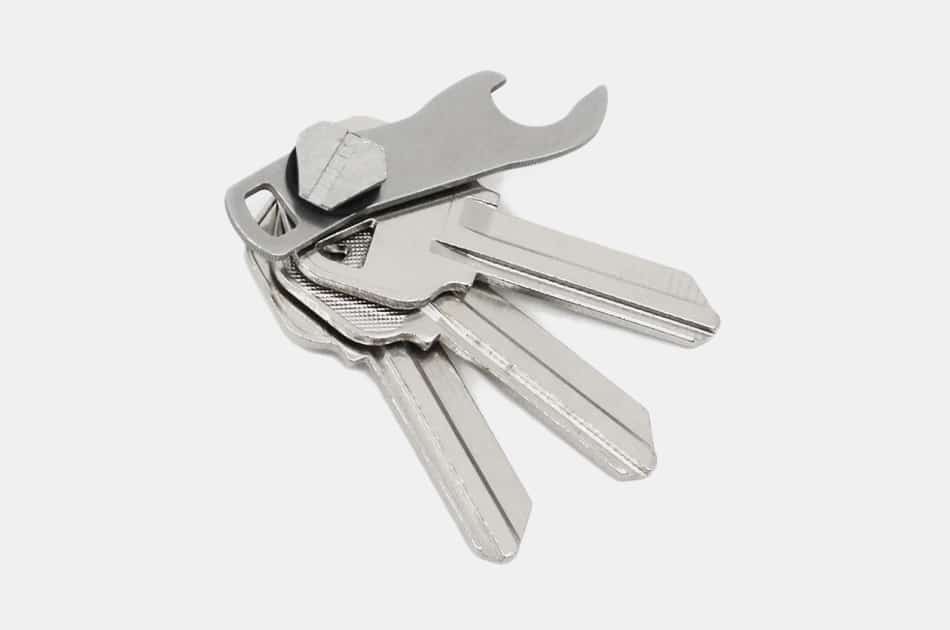 Slughaus Micro EDC Key Organizer
Slughaus is adept at crafting things in tiny packages, such as their popular Bullet Light. The Micro EDC Key Organizer is no exception, with its minimalist, bolt-like styling that includes no added components, not even a housing to cover keys.
This simple bolt can hold 10 to 12 keys and it comes with a nifty multi-tool meant for basic tasks like slicing, prying, and swiftly jettisoning any bottle tops that prevent you from sipping your suds.  With three male and three female screws, three extenders, and twelve spacers, you can extend your organizer to fit a slew of keys, or keep it minimal with just a few of the most important ones.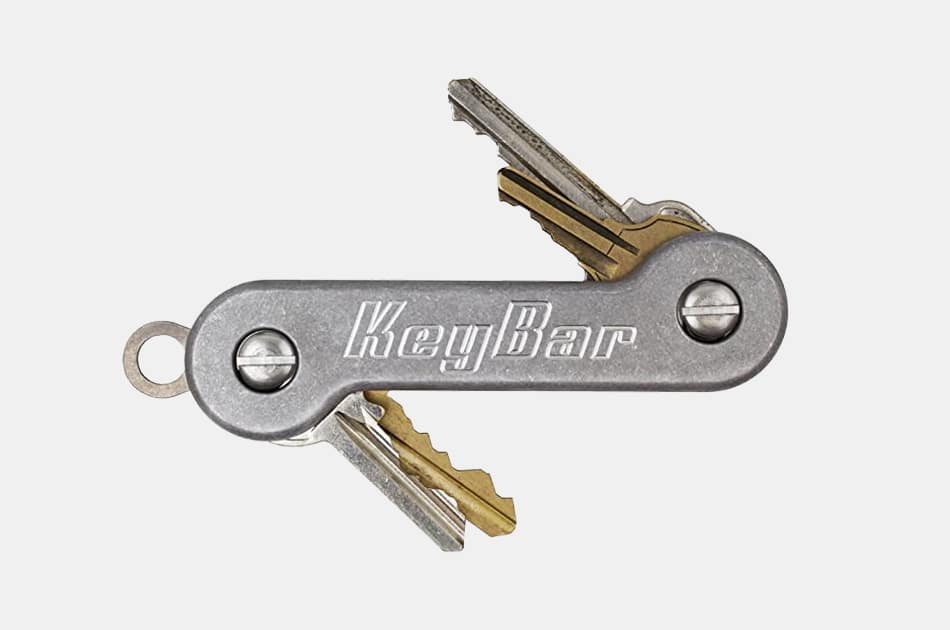 KeyBar Key Organizer
Options abound with this rugged, resilient key organizer in aircraft grade aluminum and stainless steel hardware. It starts with the option to add keys at both ends of the bar, so you can organize by two categories (home and work keys, for example). Even better, however, is that this bar expands to fit even more keys, thanks to three different bolt lengths included.
You can hold anywhere from 12 to 28 keys depending on the screws you choose.  Ergonomically designed to minimize bulk and eliminate jangling, this attractive organizer will save space and stop keys from poking holes in your pockets.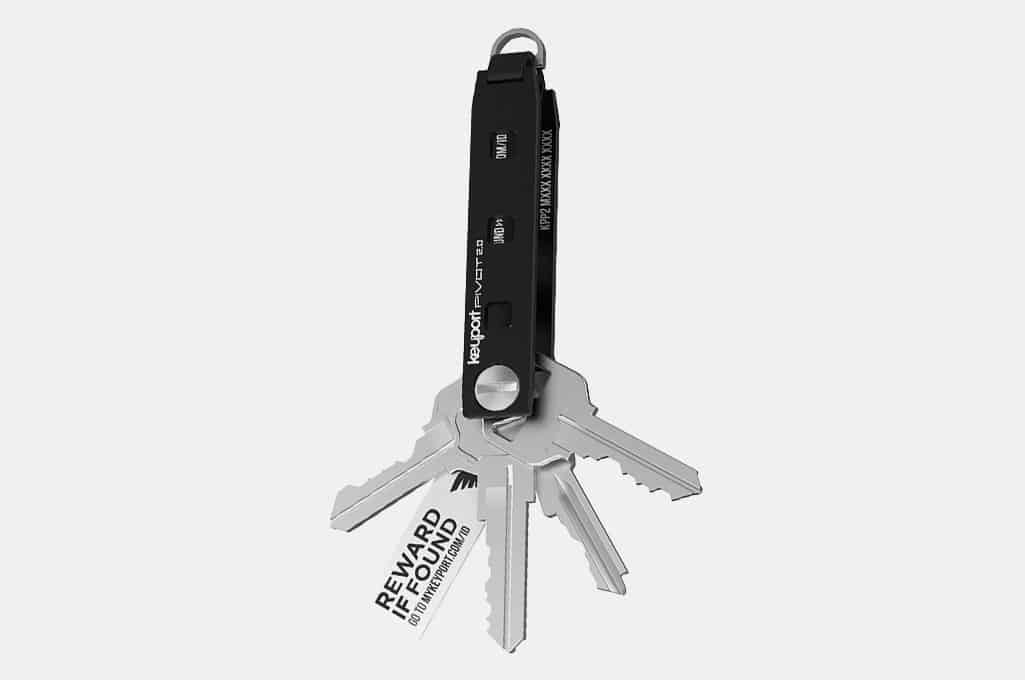 Keyport Pivot 2.0 Key Organizer
Sometimes you need more than a simple key organizer. Sometimes you need a multitool, along with a flashlight to show you where your keys are supposed to go in the dark. If you're looking for a multi-functional organizer, Keyport has you covered with their Swiss Army style product. 
Like most key organizers, it features a post to slide keys onto, as well as a simple, wraparound casing that contains keys until you want to pivot them out for use.  It comes with a 10-in-1 pocket tool, as well as a built-in light, and you can customize with modular attachments, including a pocket knife, micro charger cables, a pocket clip, and more.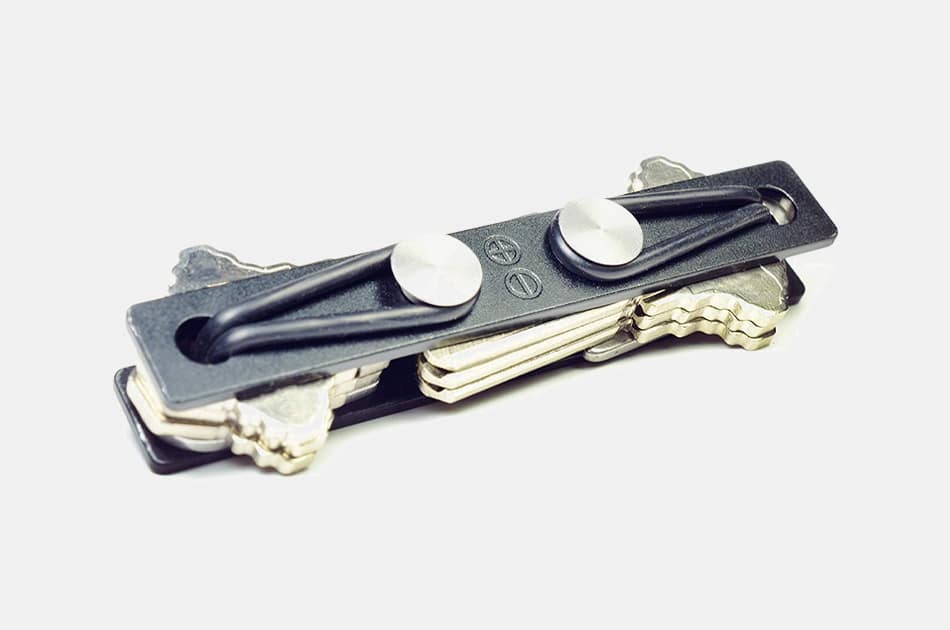 Screwpop Tether Key Organizer
If you're tired of having to reach for tools to open your key organizer and adjust the number of keys, you're sure to enjoy the easy utility of the Screwpop Tether Key Organizer, a tool-less system in anodized aluminum that relies on stretchy O-rings that slide through keys and casing and loop around exterior pins to hold everything snugly in place.
Four different O-ring sizes let you customize your rig to hold up to 24 keys, and you can easily add and remove keys by simply unlooping the O-ring.  Comes with a stainless steel bottle opener that lies flat with keys.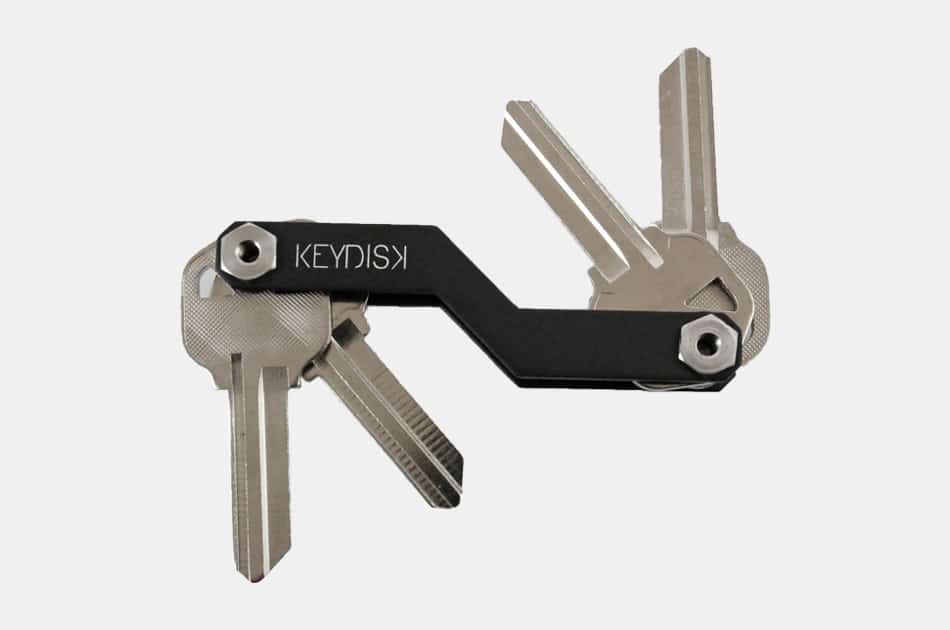 KeyDisk Mini Key Organizer
If you're fed up with key organizers that leave pointy ends sticking out the sides, where they catch on pockets and pivot out, you're sure to like the innovative KeyDisk Mini Key Organizer. In anodized, aerograde aluminum, it features a jog in the middle of the casing that ensures keys stacked at either end fit together at the teeth in a straight and streamlined manner, instead of jutting out at strange angles.
It fits up to ten keys with rubber spacers and a set of extenders to ensure easy pivoting without the worry that keys might pop out of their casing at inopportune moments — as in, are you happy to see me, or are those just ill-behaved keys in your pocket?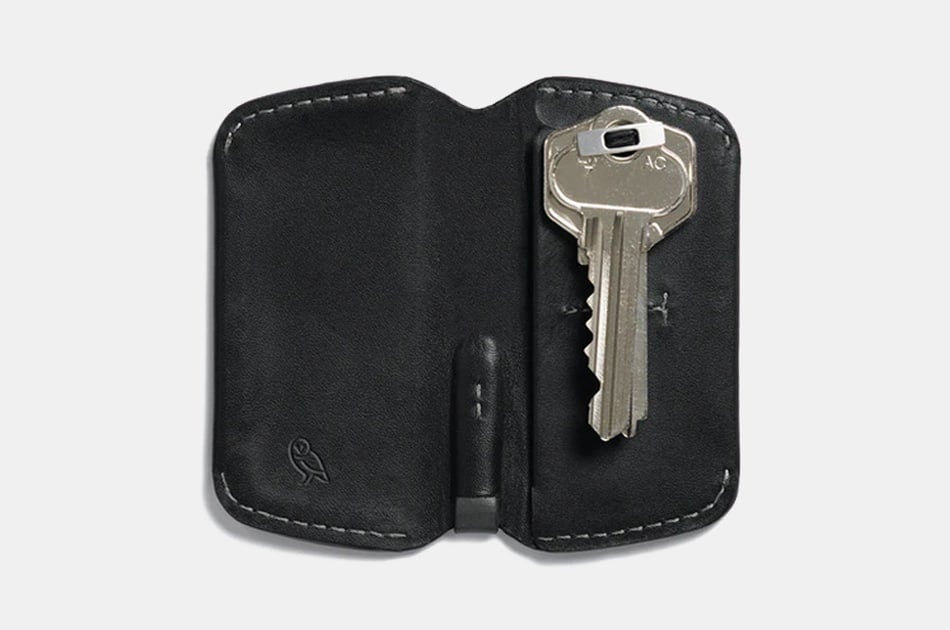 Bellroy Leather Key Cover
Minimalist design can be overrated, especially if you're looking for an attractive form in addition to EDC functionality.  This is where Bellroy gets it right, with a luxe, premium leather key cover that looks like a teensy billfold for keys.  With dimensions of just 3.1×1.6×0.3" (LWD), you won't have to fret about another bulky item in your pocket. 
You can simply slip two to four keys on the post in this bifold, snap it closed, and rely on the magnetic closure to keep keys contained. Use the included leather loop to add your fob on the outside. Backed by a three-year warranty.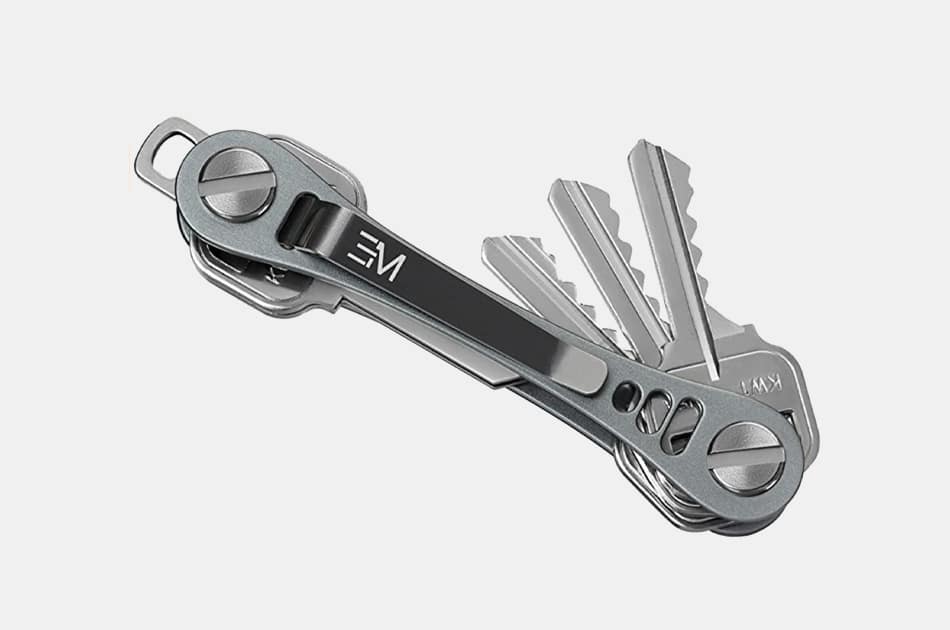 E&M Compact Key Holder
Despite its diminutive size, this compact key holder offers a ton of utility.  Designed in aircraft-grade aluminum for lightweight durability, it includes three screw sizes to fit up to six keys, seven to ten keys, or eleven to fourteen keys, depending on your needs. No need to fuss with tricky extensions — just swap in the proper screws as needed.
Thick, rubber washers keep keys snug so they don't jangle or pivot out from the posts on either end. A detachable key chain allows you to add a fob on one end, while an optional pocket clip is easy to attach and detach.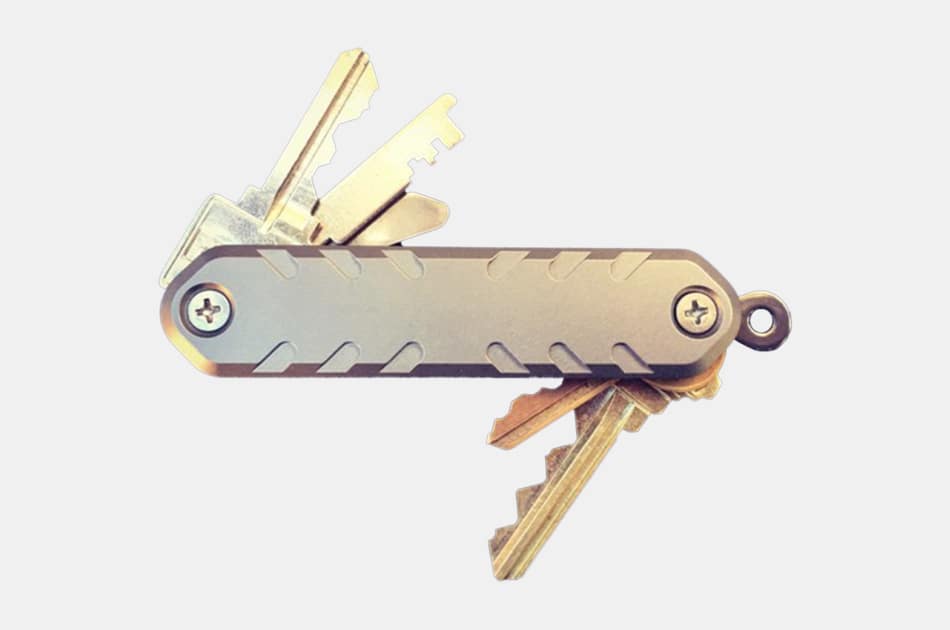 Superior Titanium Key-Armor Minimalist Key Organizer
You'd be hard pressed to find a prettier key organizer than this Key-Armor model in natural titanium finish.  The scales are beautiful, to be sure, but they're also smooth to the touch and well-nigh indestructible. Tough, lightweight construction is ideal for EDC organization, and patented design ensures that your keys are always contained and quiet. 
Carry up to twelve keys (six per end) with included hardware, or simply add longer screws to hold more. The machine grip is for more than just looks — it's a tactile guide that can help you to find and pull needed keys, even when the porch light is off.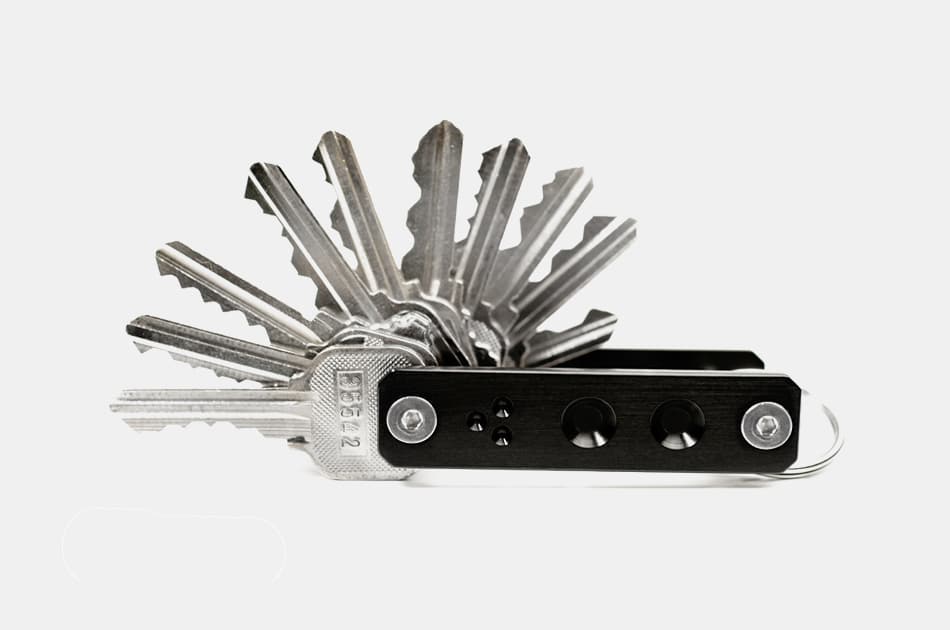 CINEIK V1 K-Addict Key Organizer
While not as slim or sleek as some competitors, this robust key organizer delivers the strong, compact, and lightweight function you need to hold a heck of a lot of keys. CNC machined with microfinish anodized mil-spec type II class 2 (except for the titanium model), this organizer also features 18/8 stainless steel hardware and fitted nylon washers for exceptionally fluid movement.
This product won't rust or corrode and it's resistant to scratching. A building kit is provided for easy adjustments, and you can easily find longer screws at your local hardware store to increase capacity to up to 51 keys.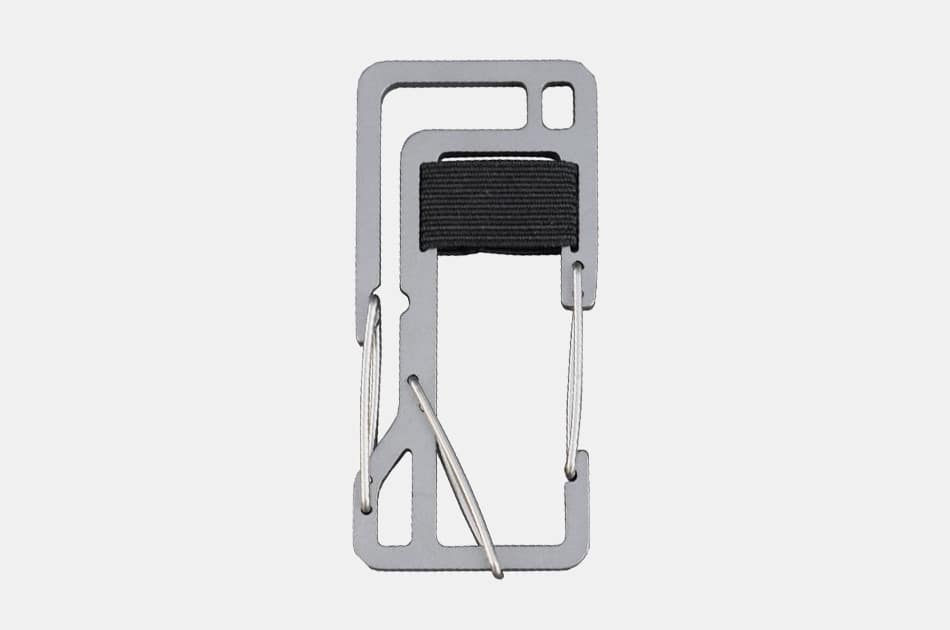 KT7 Key Titan Carabiner
There are few simpler ways to store your keys than on a ring, but if you want a standard keyring on steroids, this key carabiner fits the bill.  Choose from models that hold up to five, seven, or ten keys. Easily and securely clip them in, carabiner style.
When you've got your keys in line, flip them up into the elastic loop in the body of the carabiner to keep them safely stowed. Then, use the second carabiner clip to attach the whole kit and caboodle to a belt loop, backpack, or purse strap. This clip includes a built-in bottle opener and key ring loop to add a fob.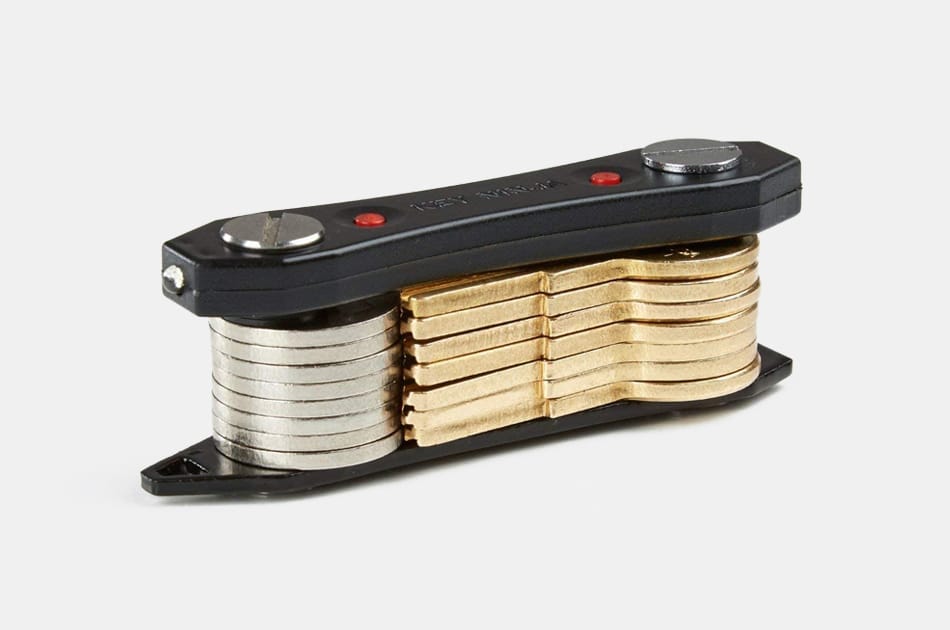 Key Ninja
Are you beset by up to 30 keys poking holes in your pockets?  Quickly corral them with the stealthy Key Ninja, a simple tool with bolts on either end and slim scales to encase your keys.  With aluminum and plastic construction, this organizer is incredibly lightweight, and it comes with two LED lights to brighten either end, so you never have to fumble for keys in the dark or try to insert them in a lock by touch alone.
A built-in bottle opener is sure to come in handy, and a bonus "S" hook offers added capacity for large keys or a fob.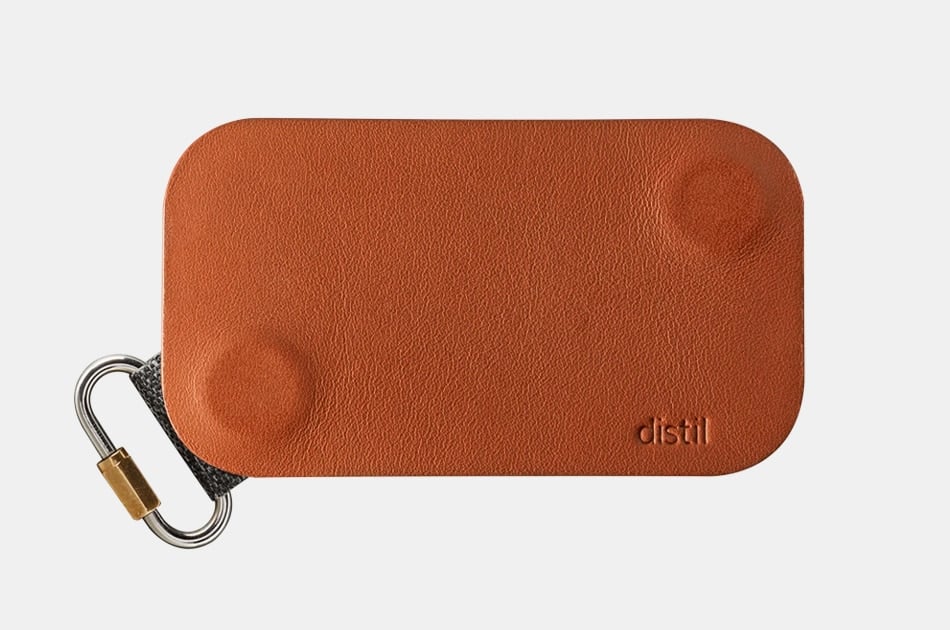 Distil Union Key Folio Cover
The name pretty much gives it away — this covered key folio is basically two strips of leather designed to keep your keys contained like a little leather pocket. The system includes KeyMod Sticks, which are flexible strips that utilize 3m repositionable adhesive to hold your keys in place.
Want to swap in a new key? MagLock nesting magnets in the corner of each KeyMod Stick allow you to easily snap keys in place, where they'll swivel freely, or stay put when the folio is closed. As a bonus, the entire folio will stick to any magnetic surface, so slap the whole bundle on the fridge and find your keys without fail.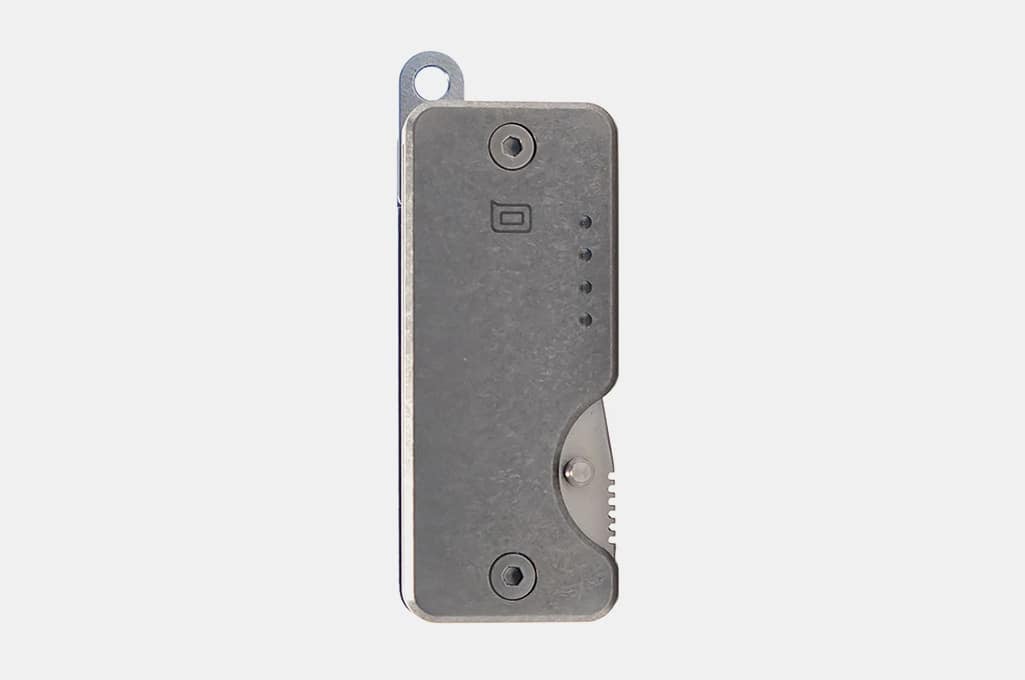 Quiet Carry The Shorty G2 Key Organizer
If you want to trim down your daily loadout, you'll love The Shorty G2 Key Organizer by Quiet Carry. This little key organizer has space enough for up to five keys (with the extension posts), but also includes a removable blade that can replace your EDC knife. The blade is just under two inches long, short enough to keep in your pocket but long enough to be used for opening boxes, letters, packages, and anything else around the home or office.
The knife is made using tough 416 Stainless Steel and is housed within a body of hyper-durable 6AL 4V Titanium. However you use it, whatever your adventures, you can trust this key organizer can handle anything life throws at you. 
Disclosure: Clicking on these links and making a purchase may earn us a small referral fee, at no extra cost to you. Learn more here.