The 16 Best Men's Dress Socks
Before you can slide into that new pair of dress shoes you might've just picked up, stop consider another detail: The kind of dress socks you're wearing. Yes, that's right: There are plain, everyday dress socks, the kind that might have seen too much wear and tear, might not mesh well with the rest of your look, and simply might not be up to snuff. And then, well, reader, there are dress socks.
The best dress socks are a serious step above (pun intended) what you've possibly been wearing for years — and if you've been the type to dread receiving socks as a gift, we can assure you that you'd actually welcome getting any of the pairs of stylish dress socks shown below — that's nearly a guarantee.
A quality pair of dress socks combine next-level fabrics with subtle style and classic looks — the sort of socks you'd be proud to wear with your best suit and razor-sharp dress shoes. You might even look forward to showing off some ankle with these highly stylish, essential socks — it's your call, but you can't go wrong with any of the pairs on this list. New style and plenty of comfort await your feet.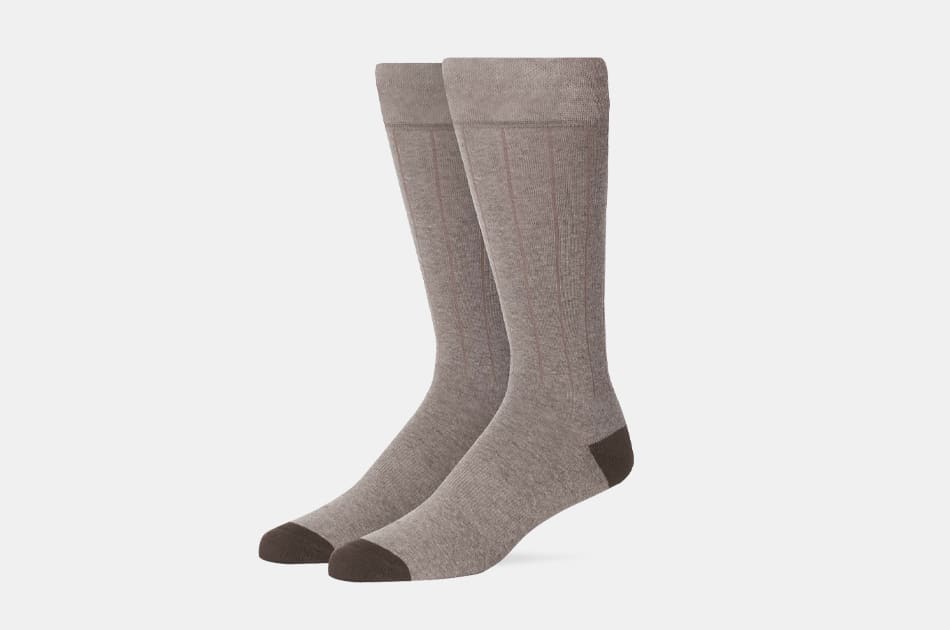 Mack Weldon Silver Extended Crew Dress Socks
Don't do a double-take just yet — the brand that makes everything from stellar workout gear to chino-like pants fit for lounging and brunch … has delivered with quite the take on men's dress socks. It's the use of silver, what with its anti-microbial technology, that gives these socks the kind of all-day performance you need. The styling potential here is no-fuss and no-frills — something to be admired.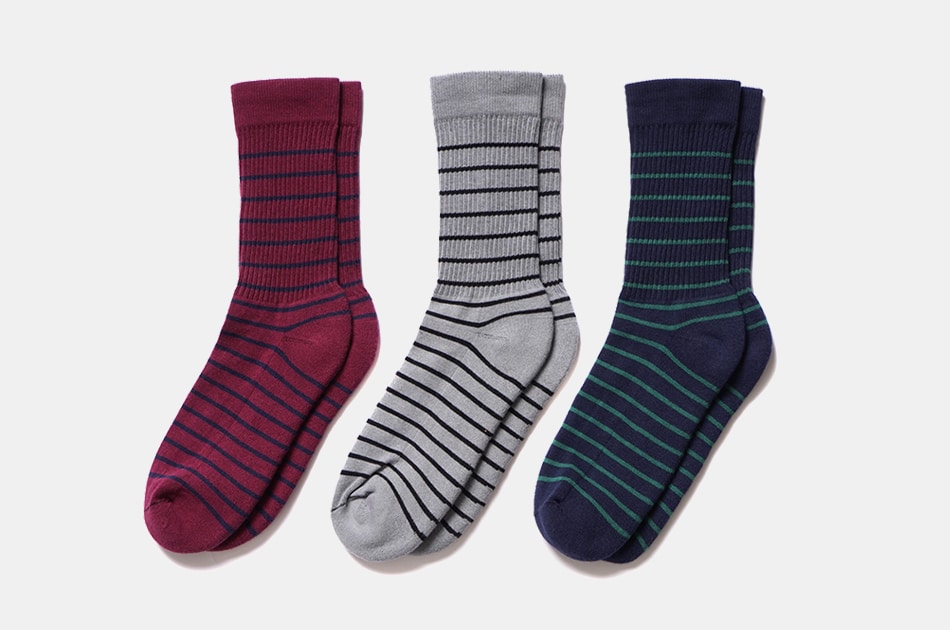 American Trench Thin Stripe Socks
We've been big fans of American Trench for a long, long time — to say the least. The brand takes the right approach to carefully crafting staple pieces for men, from outerwear to handsome sweaters to your new favorite dress socks. Available in three versatile color combinations with stripes for a nice pop, these Supima cotton socks deliver everything you'd expect from a set of made-in-America socks, and then some.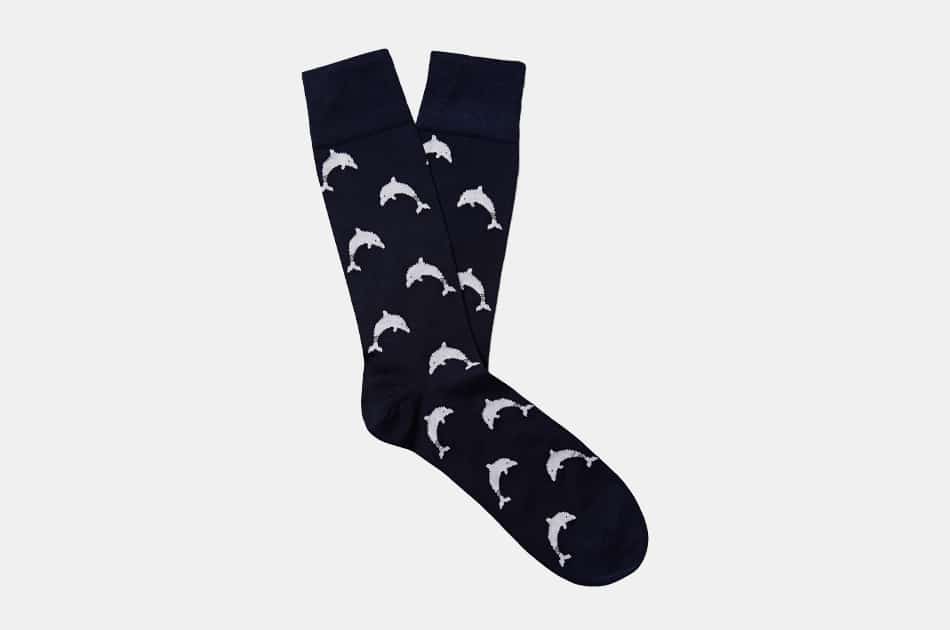 Thom Browne Cotton-Jacquard Socks
One of the foremost innovators in tailored menswear over the last decade or so can also produce quite the pair of luxurious dress socks (the price tag alone speaks for itself). Thom Browne's history as a designer also speaks for itself, so these stylish, understated and yet high-quality dress socks are the right way to go about upgrading your sock drawer in a hurry.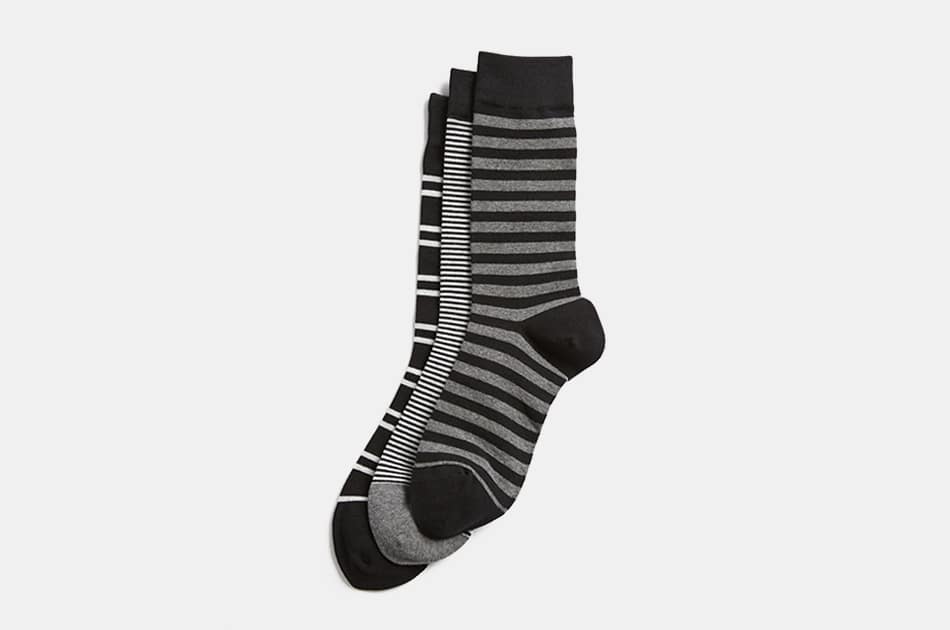 Frank And Oak Striped Socks
The best complement we can think of to your Frank And Oak denim or chinos? Aside from a pair of the brand's sleek sneakers or dress shoes, why not add some dependable Frank And Oak socks to your shopping cart, yes? The best part is, you're getting three pairs of socks here, a nice and effective way to amplify your sock game in a hurry.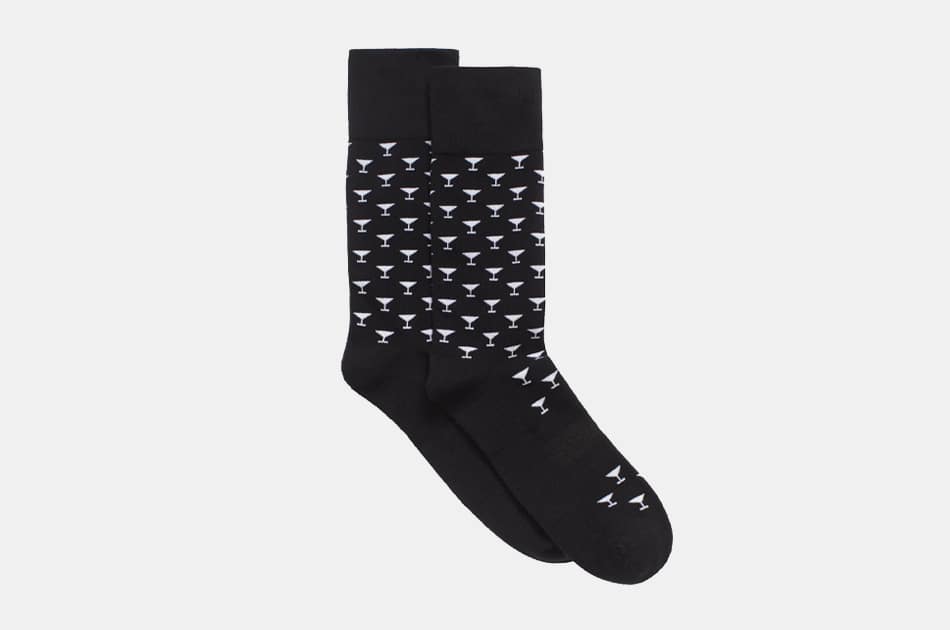 Bonobos Cotton-Blend Dress Socks
The great thing about so many brands trying their hand at dress socks? The results are often enviable — and these brands just so happen to be delivering, as you can see, some of the best men's dress socks. Bonobos has expanded its product assortment over the years to include reliable, stylish dress socks that sit comfortably beneath the brand's perfectly tapered chinos, and that's just the way we like it.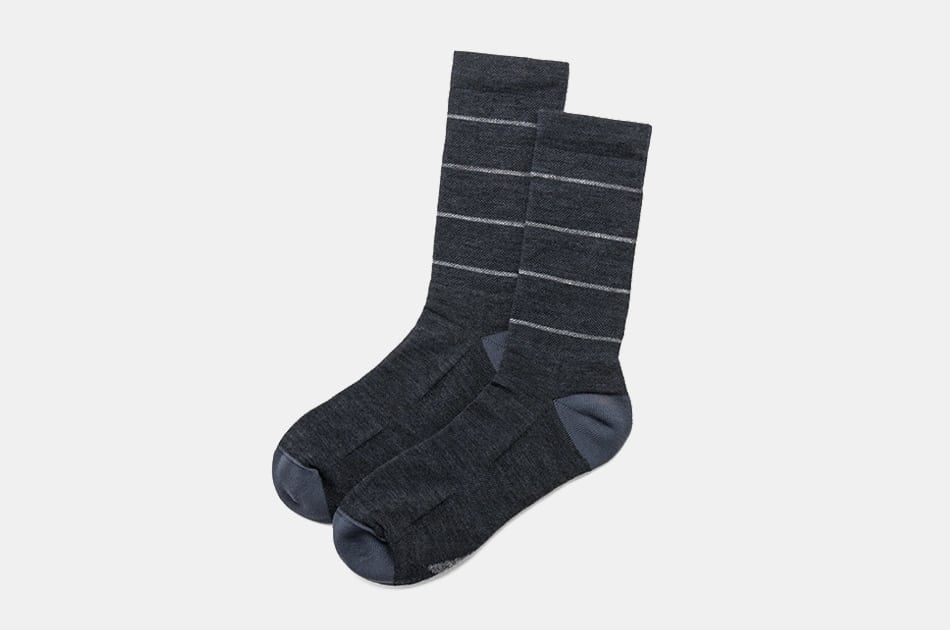 Taylor Stitch Merino Socks
If you weren't aware that Taylor Stitch made stylish dress socks, well, now you're acquainted. The brand's Merino Socks are every bit as timeless and versatile as you'd expect from a brand that excels at crafting durable chambray shirting, standout chinos and tough waxed outerwear — and of course, you're going to need a pair of merino socks to team with your favorite Taylor Stitch boots.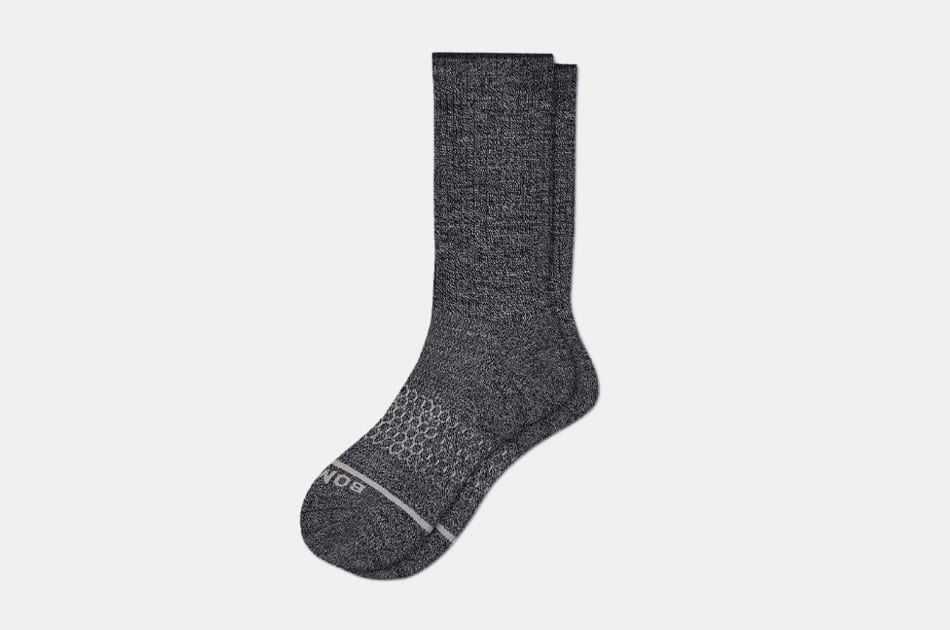 Bombas Merino Wool Socks
You're certainly not apt to find many brands quite like Bombas when it comes to crafting men's dress socks — dress socks with quite the purpose, at that. Namely, the brand has donated millions of pairs of socks to those in need, and in the meantime, they've also focused on crafting socks of the utmost quality (like the subtle-yet-stylish pair shown here).
Brooks Brothers Cashmere Crew Socks
The iconic nature of Brooks Brothers menswear is pretty tough to overstate — they're a long-running brand that's mastered just about all the gear a guy could want, and that includes your stylish, everyday accessories in addition to its lineup of stone-cold classics (take its Oxford shirts, for instance). These essential Cashmere Crew Socks are ridiculously high-quality, made with the utmost care for long-lasting style and performance.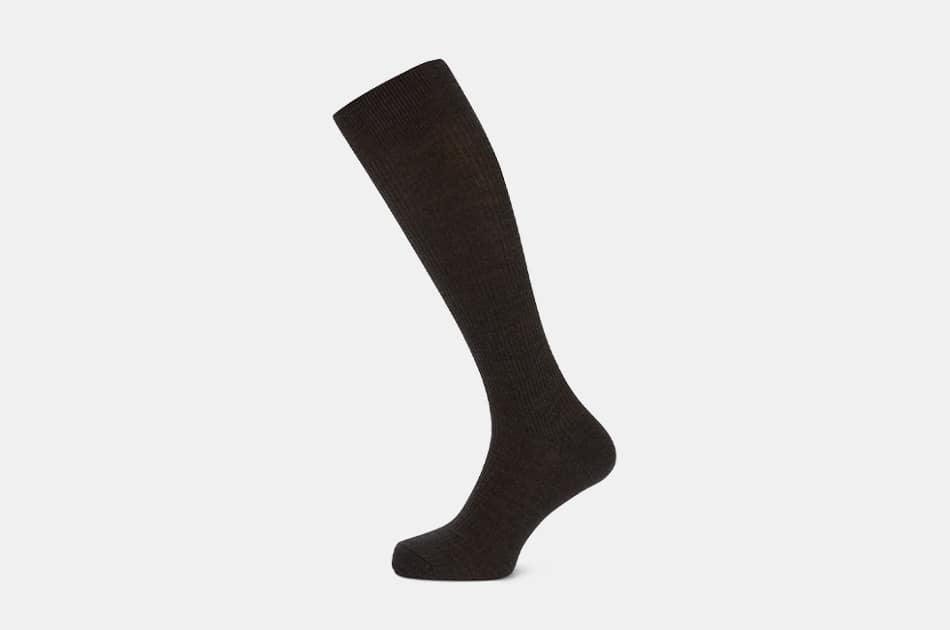 Turnbull & Asser Merino Wool Socks
Among brands that immediately spring to mind when it comes to the best tailored menswear on the planet, surely you've got an eye toward Turnbull & Asser. And what better way to complement a perfectly tailored Turnbull & Asser dress shirt than with some refined, luxurious (and splurge-worthy) merino wool socks? There's no better way, we can confirm.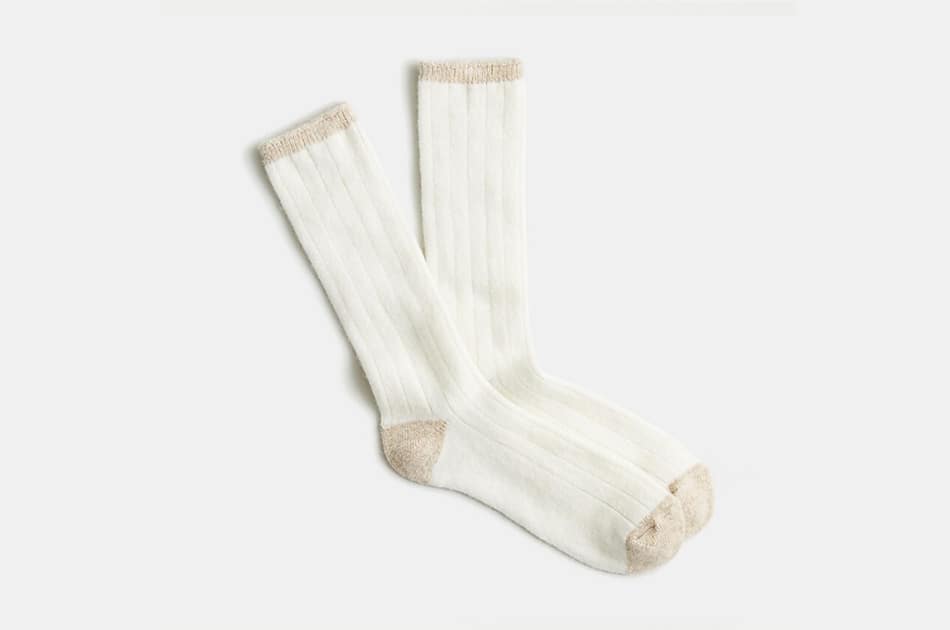 J. Crew Italian Cashmere Socks
The next time you swing through J. Crew to pick up a pair of the brand's slim denim or perhaps an unstoppable, expertly washed shirt or crewneck sweatshirt, considering adding a pair of the brand's stylish socks to your cart (and eventually, your wardrobe). These J. Crew Italian Cashmere Socks deliver nothing but the finest quality — ideal for pairing with those Alden Indy Boots from J. Crew that you've been eyeing.
Pantherella Vale Socks
Whether or not you're a fan of Pantherella or you associate them with, perhaps, an older, well-dressed relative in your family, there's no denying the exceptional quality of Pantherella socks. They deliver the sort of quality not often found in socks (or any other item, for that matter) — that's worth investing in. Get yourself multiple pairs in multiple colors to match up with your sharpest tailored looks.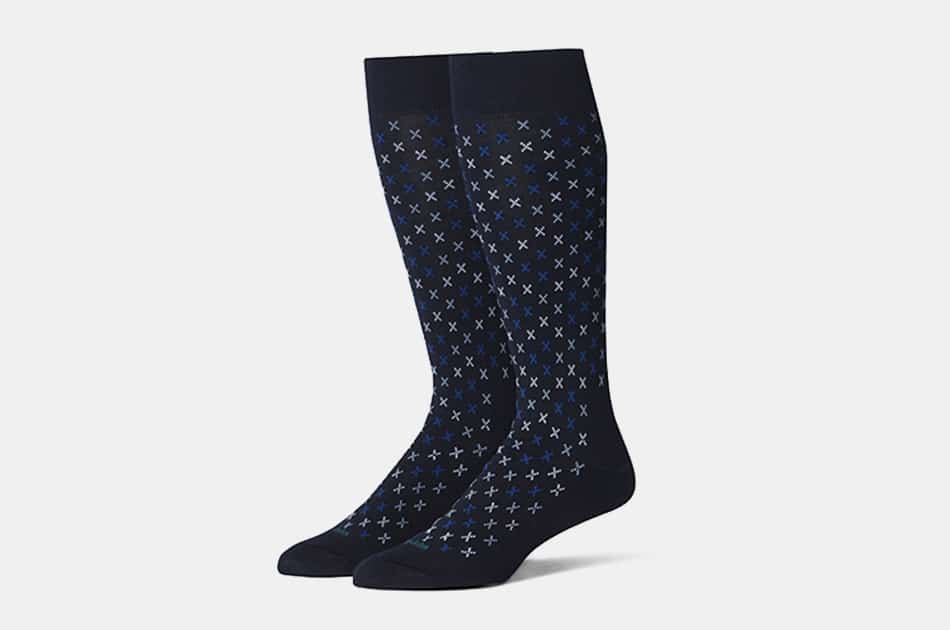 Tommy John Micro Stitch Stay-Up Dress Socks
The best dress socks are designed to stand out quietly when worn with old standby essentials, be it your sharpest navy suit or a sleek charcoal suit — and Tommy John seems to have delivered in terms of a quality pair of socks that fit the bill for any dressy occasion. Designed to stay up without slipping, we'd say these dress socks are a perfect counterpart to some of the best basics you can buy at Tommy John, naturally.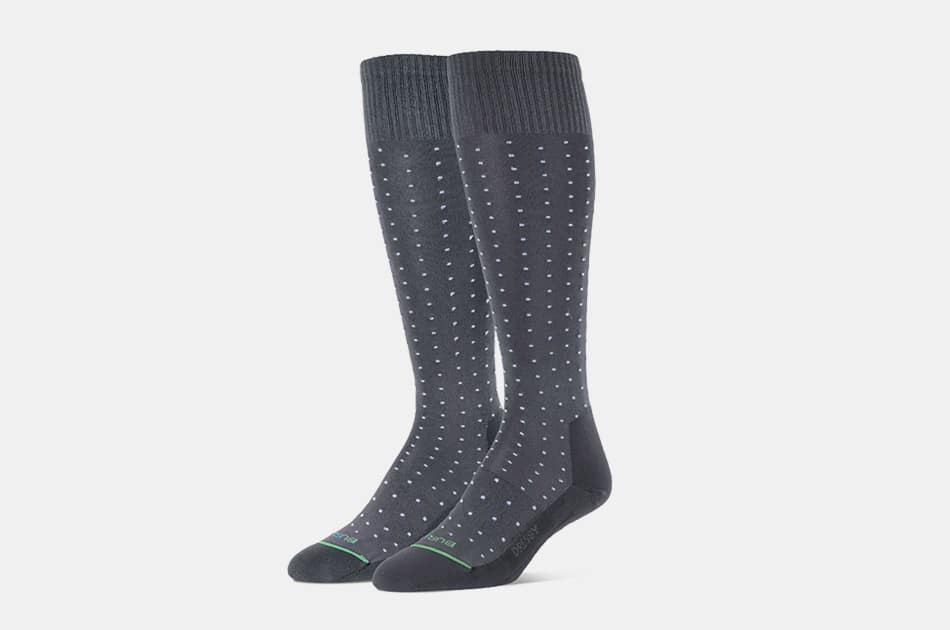 Burlix Dress Socks
Socks that blend quality and style — with an eye toward keeping your feet and legs in prime condition — are a rare breed, but not so anymore. That's all thanks to Burlix, which has delivered a pair of over-the-calf dress socks with proprietary Stay Up technology to avoid dreaded slipping throughout the day. These socks also come in a range of crisp, dependable colorways and subtle patterns, so you needn't worry about finding the right match for your dress pants (if you get more than one pair, that is — and we think you should do so).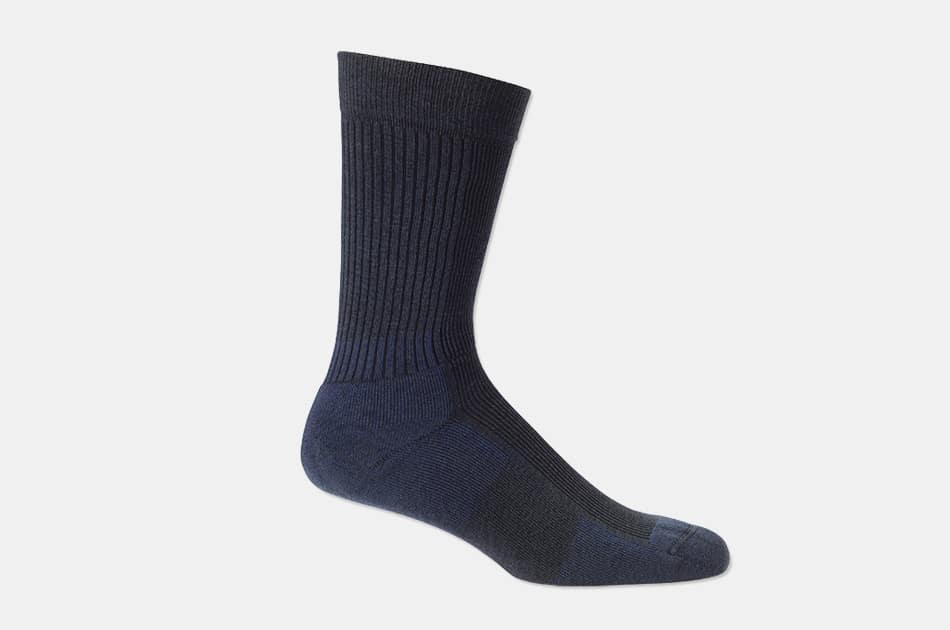 Orvis Invincible Socks
Although you know Orvis for the brand's ultra-tough waxed jackets and warm thermal shirts, they've also done quite the job at crafting a pair of unbeatable, truly invincible socks. These socks live up to their name, packed with plenty of plush comfort and durability — not to mention a neutral colorway that pairs with mostly anything in your wardrobe, from denim to chinos and navy dress trousers.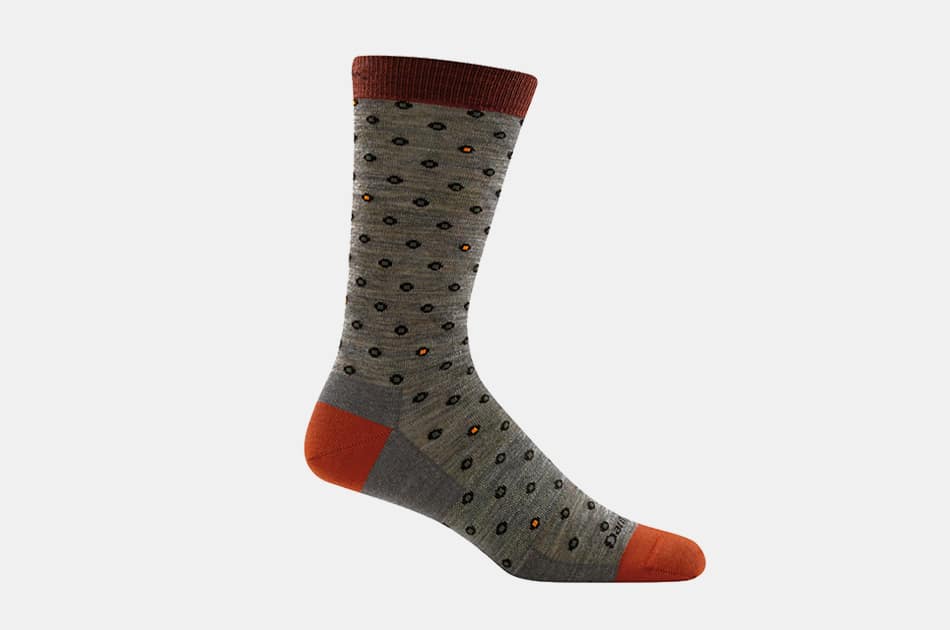 Darn Tough Fish Eye Socks
Before you step into your rugged leather boots or your crisply shined dress shoes, make sure your socks are up to snuff — after all, you won't be anywhere near as effective in matters of style and performance without the right socks. That's where Darn Tough comes into play, using merino wool fabric and a custom design to avoid blisters or bunching.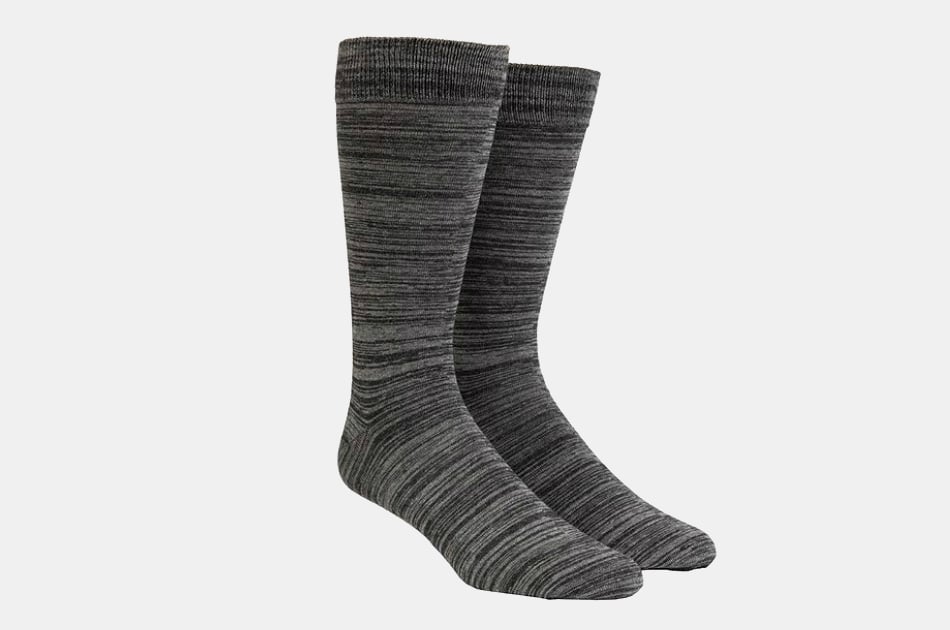 The Tie Bar Charcoal Dress Socks
Where to turn to get a pair of dress socks fit to be matched up with your favorite tie and dress shirt? Why, The Tie Bar, of course. The brand that pioneered the art of crafting affordable ties simply gets the job done when it comes to sharp, subtly stylish and attainable dress socks that can work with just about any other product in the brand's lineup.
Disclosure: Clicking on these links and making a purchase may earn us a small referral fee, at no extra cost to you. Learn more here.