The 12 Best Hand Creams For Men
The little things, especially in your grooming routine, actually make a bigger difference than you might think at first. If you've got the basics covered — if you think you've found your favorite scent, your favorite moisturizer, the best pomade — we'd urge you to take one last look at your medicine cabinet and your daily routine to figure out what's missing. Because there's a lot of ground to cover when it comes to the best grooming essentials, perhaps your routine is missing a great hand cream — of course, not just any hand cream will do.
The best men's hand cream can moisturize and soothe your hands, especially if you happen to be washing them more than normal during the coronavirus pandemic. It's a real issue, and moisturizing your hands is but one way to keep them in tip-top shape. If you work with your hands a lot — or just a little — there's still no question you should consider one of these men's hand creams to elevate your daily routine.
Think of this as a small step you can take to ensure quality skincare for the whole day — just as you would with the use of a moisturizer or an eye cream. And if you thought your hands didn't need that kind of care, take a quick look at 'em — maybe they're dry and irritated. You've got to fix that ASAP, so go with one of these essential hand creams for men. Your hands, certainly, will thank you.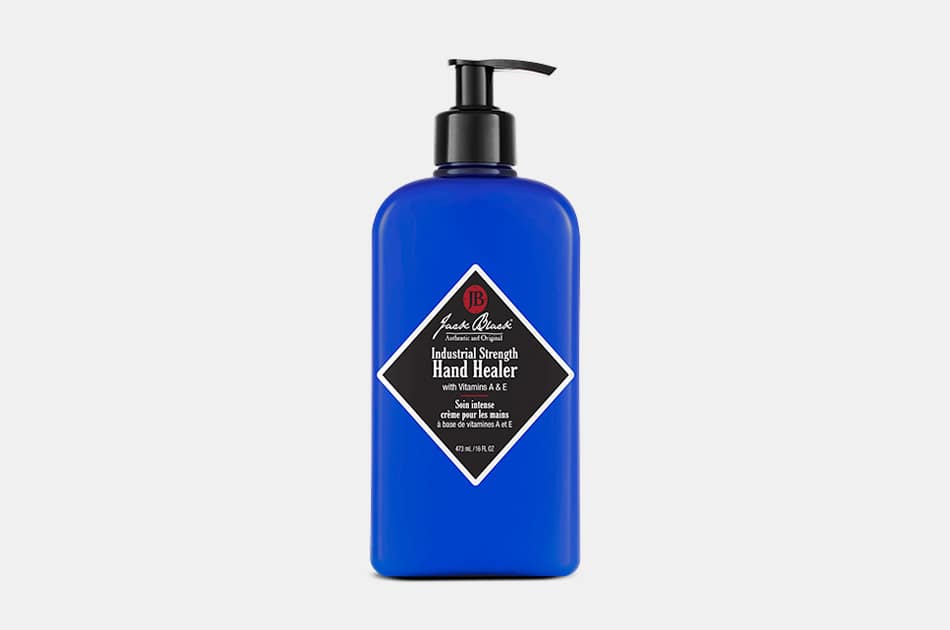 Jack Black Industrial Strength Hand Healer
Instant relief for dry, chapped hands.
If you doubted the quality and longevity of Jack Black's range of grooming essentials, doubt no more. The Industrial Strength Hand Healer is every bit as good as advertised, and every bit up to the task of moisturizing and refreshing your hands, no matter how hard you've been working with them. Add this to your cart along with some of the brand's high-quality shaving essentials for a true A-to-Z approach in your grooming routine.
Key Ingredients: Vitamin A, Vitamin E, Liposomes, Macadamia Nut Oil, Glycerin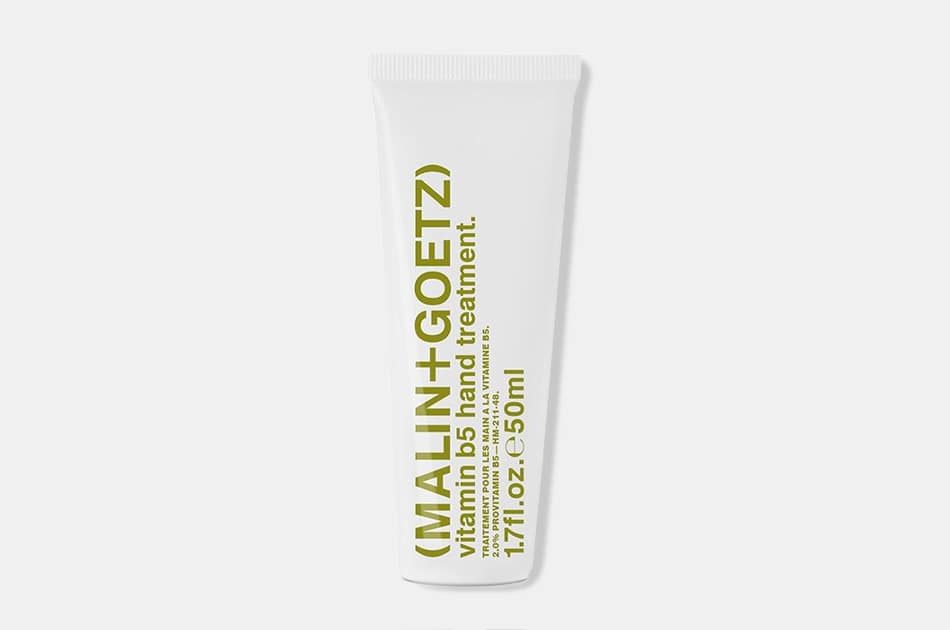 Malin + Goetz Vitamin B5 Hand Treatment
Absorbs quickly without the messy residue.
For all the essential quality that Malin + Goetz offers to your grooming regimen (and indeed, your way of life), we'd argue that this brand's must-haves are certainly worth the extra investment. The Malin + Goetz Vitamin B5 Hand Treatment gets a surefire upgrade via the vitamins that make up its namesake, and we love that honey is part of the ingredient mix here.
Key Ingredients: Vitamin B5, Shea Butter, Sodium PCA, Glycerin, Honey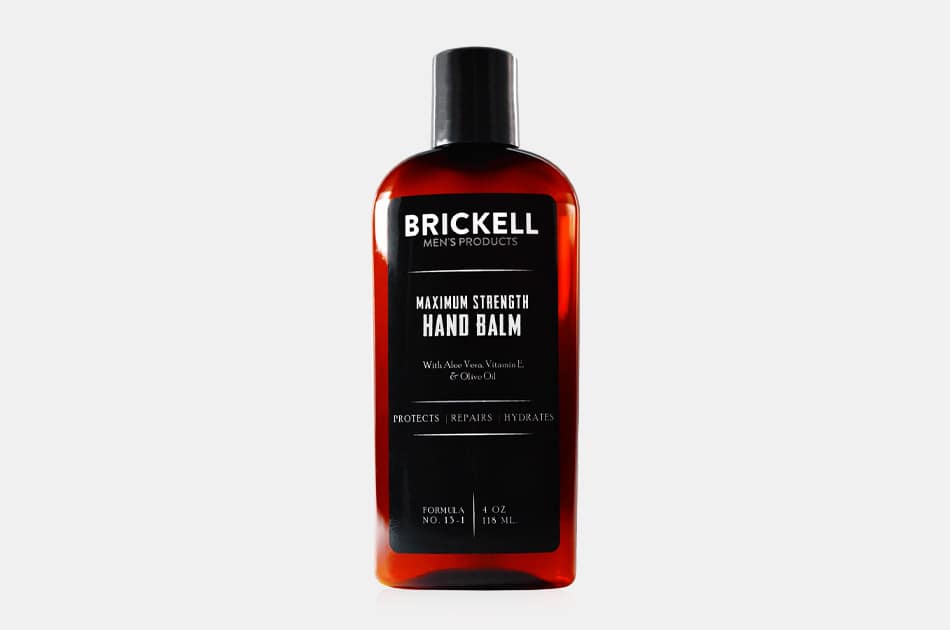 Brickell Maximum Strength Men's Hand Cream
A Lightweight, fast absorbing, and non-greasy balm.
Brickell has quietly been upping its game for years now when it comes to the best grooming essentials for men, doing so with a time-honored approach that takes inspiration from its Miami HQ (where the right skincare can go a long way). The Brickell Maximum Strength Hand Cream is the next step in making your hands the softest and most nourished they've ever been.
Key Ingredients: Vitamin E, Shea Butter, Jojoba Oil, Coconut Oil, Olive Oil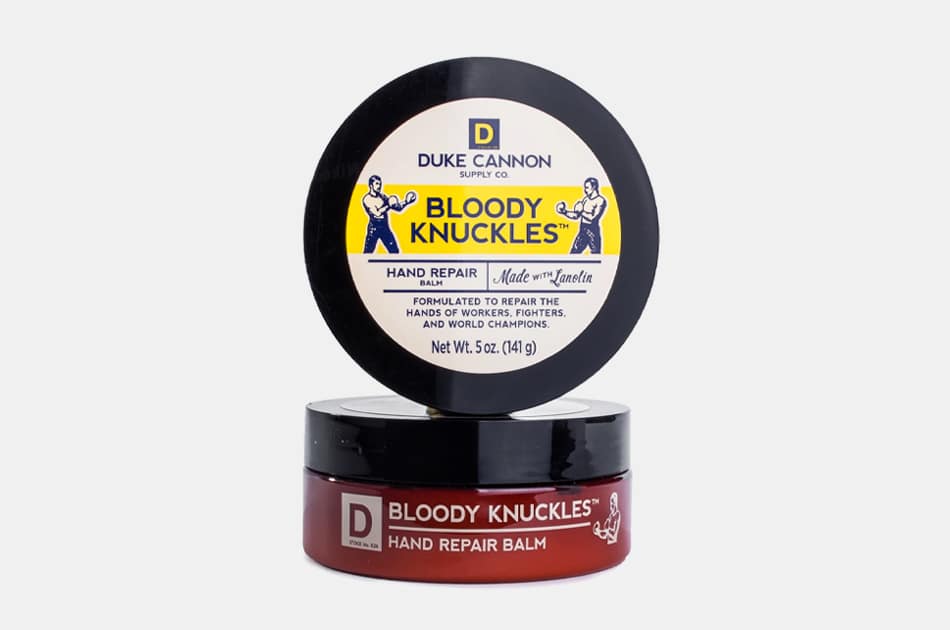 Duke Cannon Bloody Knuckles Hand Repair Balm
A long-lasting hand cream made with lanolin.
Duke Cannon doesn't dare to mess around when it comes to meeting the demands of the hard-working fellas who love its products, and they've taken a no-nonsense approach to the Bloody Knuckles Hand Repair Balm. We love the use of lanolin for added moisture, yet this hand cream is also made to leave a non-greasy feeling. That's quality we can vouch for — Duke Cannon would say the same.
Key Ingredients: Lanolin, Shea Butter, Glycerin, Jojoba Oil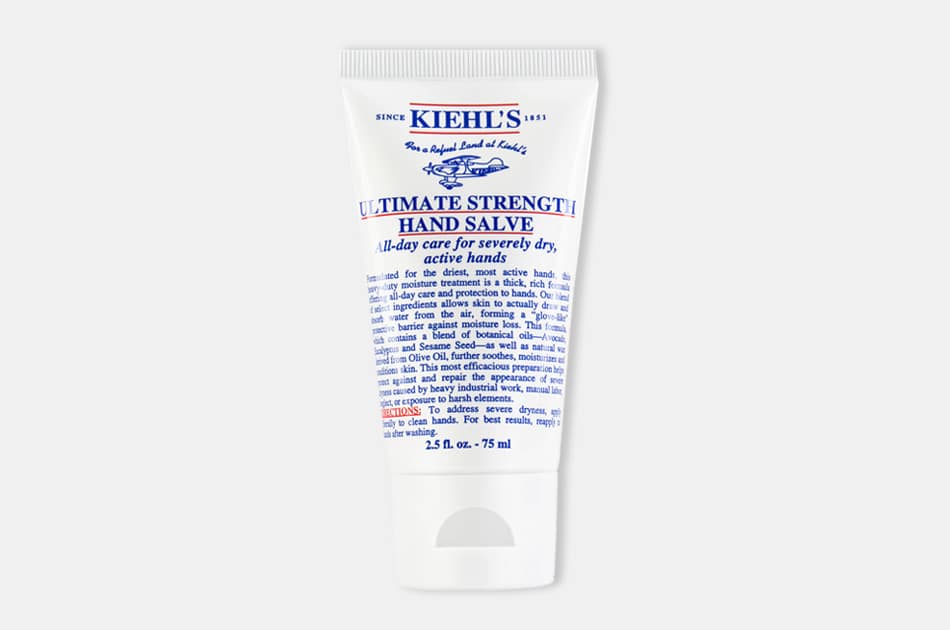 Kiehl's Ultimate Strength Hand Salve
A thick, rich formula that provides all-day care for dry hands.
When Kiehl's calls its Hand Salve "Ultimate Strength," you can rest assured the legendary grooming brand isn't mincing words — this hand salve manages to be one of the best hand creams for men at a relatively affordable price, too. This hand salve is made with likes of avocado oil and eucalyptus oil, giving it a leg (hand?) up on the competition, for starters.
Key Ingredients: Avacado Oil, Sesame Oil, Eucalyptus Oil, Vitamin E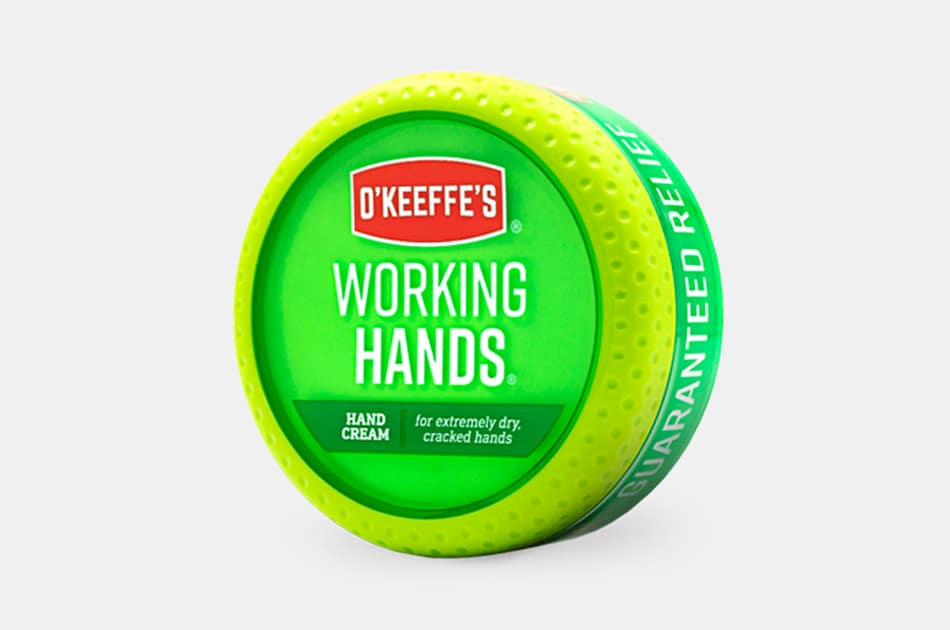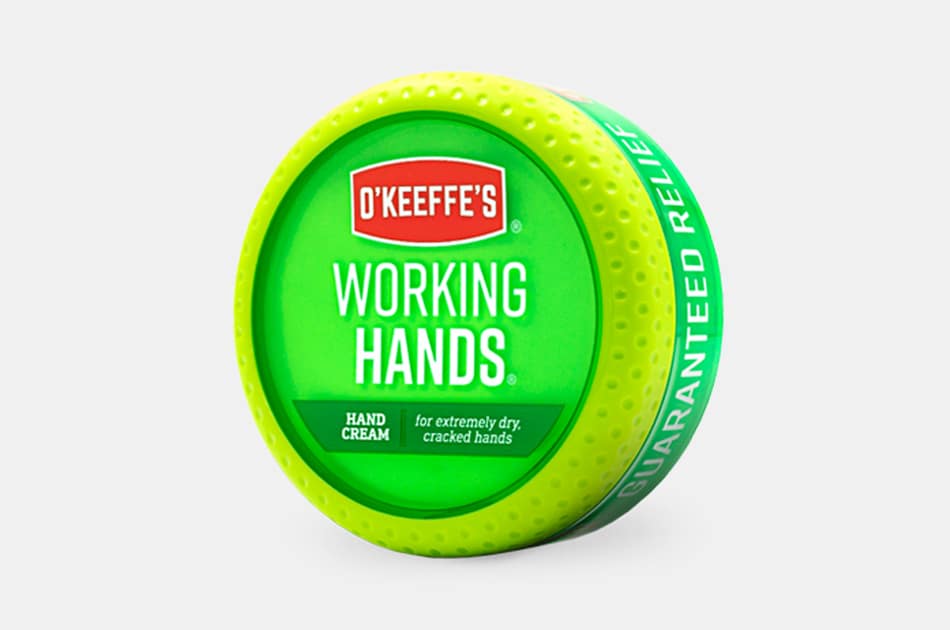 O'Keefe's Working Hands Hand Cream
Cost efficient yet highly-effective.
The best men's grooming brands take an old-school approach to crafting, say, the best men's hand cream — take O'Keefe's, for instance. The Working Hands Hand Cream is no-nonsense and no-fuss, made to be used every single day and sold at a very agreeable price. Don't get ready for (or wrap up) a day of work without it. Heck, stock up if you feel so inclined.
Key Ingredients: Water, Glycerin, Mineral Oil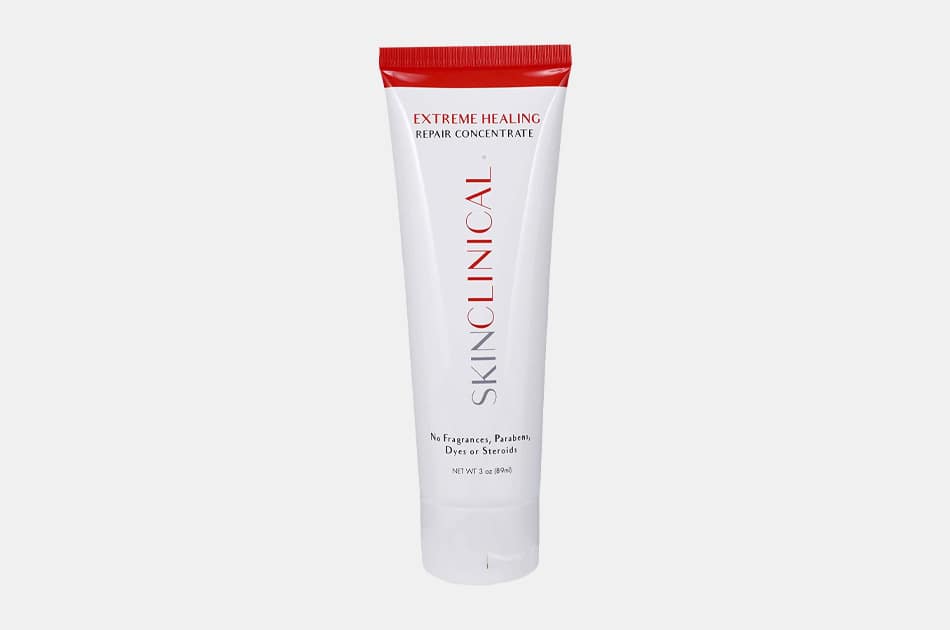 Skin Clinical Extreme Healing Repair Cream
A clinically-proven moisturizing lotion for severely dry and cracked skin.
When a regular hand lotion simply won't cut it, it's best to up the ante a bit and reach for a hand cream with some serious power behind it. That's where the Skin Clinical Extreme Healing Repair Cream comes into play, made with patented ingredients to stimulate "healthy cell regeneration" and more elastic, softer skin. Sounds great to us — how about you?
Key Ingredients: Patented SBD-4 Technology extracted from the Angelica Sinensis Flower.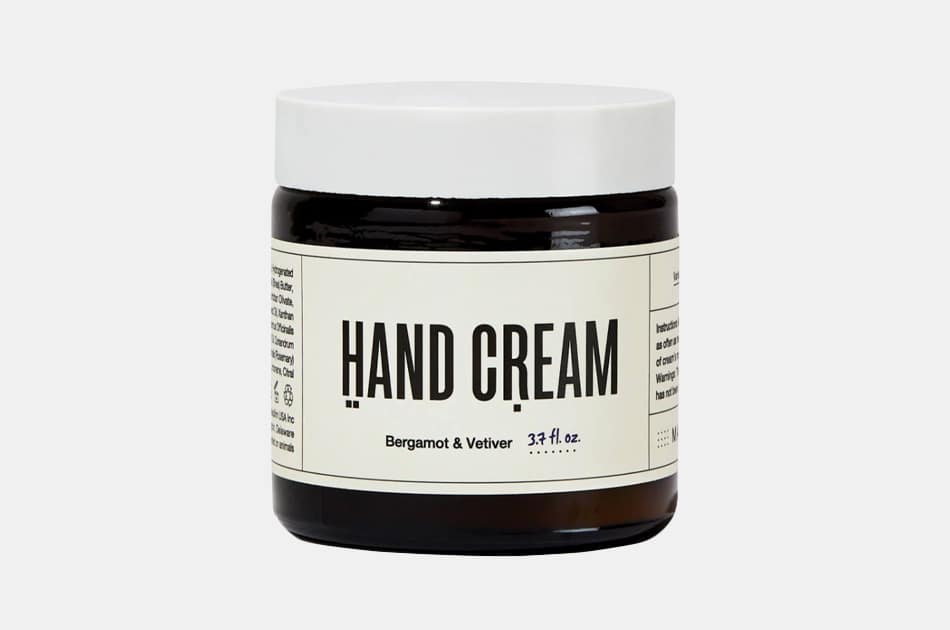 Maapilim Hand Cream
Nourishing Mediterranean ingredients.
We love the versatility of the Maapilim line, and the brand's emphasis on making high-quality men's grooming products with unique ingredients like bergamot and vetiver (in the case of this hand cream). It's especially helpful to have a hand cream, well, handy as we deal with chilly spring winds that can wreak havoc on your skin, so we can't recommend this one enough.
Key Ingredients: Aloe Vera, Jojoba Oil, Rosemary oil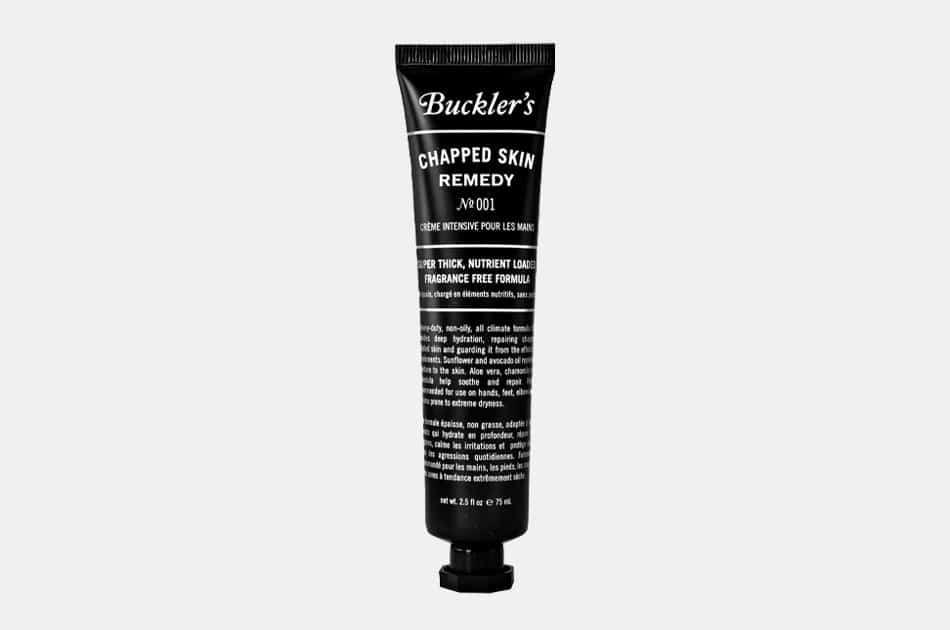 Buckler's Chapped Skin Remedy
A Heavy-duty, non-oily formula that guards skin from the elements.
Buckler's knows what its customers want, and in this case, that's an effective hand cream that helps soothe irritated skin and provides what the brand calls deep hydration. Sounds pretty great, right? It's also essential that even the bottle itself looks cool — Buckler's, again, knows its customers want great design in addition to high-quality functionality.
Key ingredients: Water, Aloe Juice, Shea Butter, Sunflower Oil, Vitamin E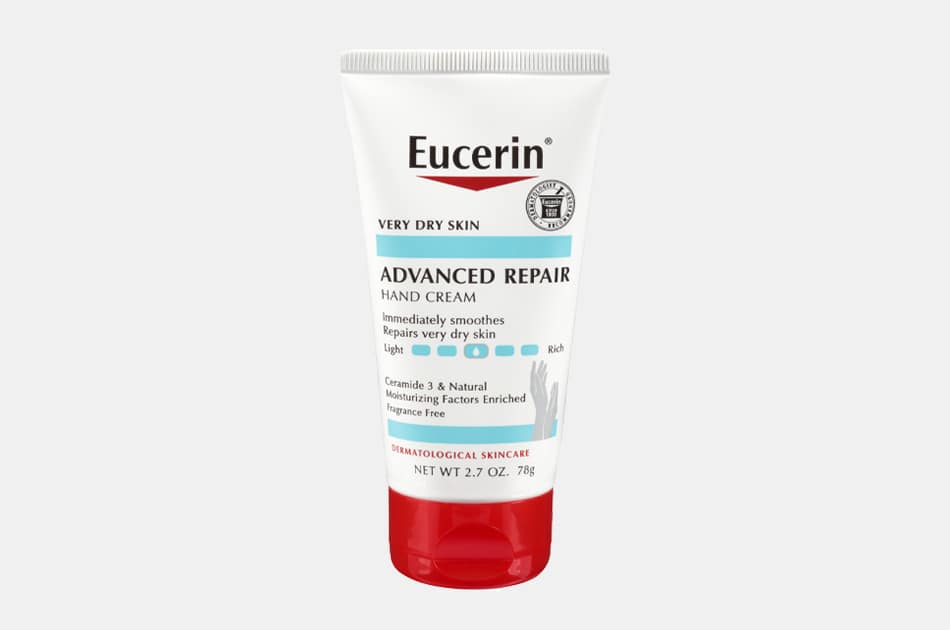 Eucerin Advanced Repair Hand Cream
Noticeably smoother hands after just one use.
Searching for a simple, no-fuss brand that delivers some of the best hand cream around? It's ideal to turn toward an old standby, we think. Eucerin's Advanced Repair Hand Cream is made to work hard where you need it most, and especially if you find yourself completing plenty of hard-wearing projects in your garage at home this season, it's the one to buy now.
Key Ingredients: Synthetic Ceramides that are biologically-identical to the skin's natural barrier.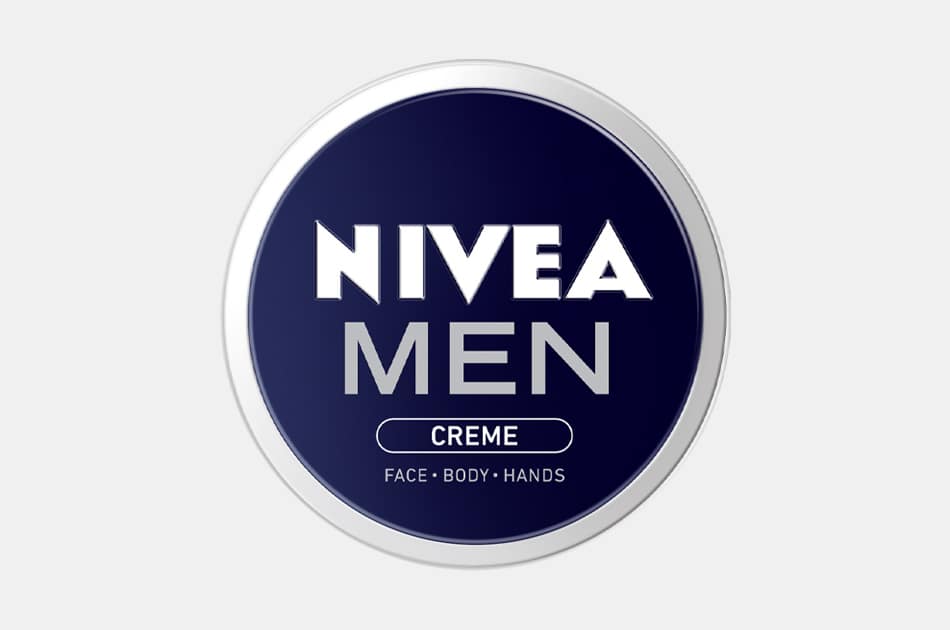 Nivea Men Creme
Also Suitable for the face and body.
Nivea Men has perfected the art of delivering utilitarian men's grooming products that actually do way more than you might expect — and if you happen to be searching for one of the best men's hand creams at the moment, there's no better brand to buy now. This hand creme is actually made for your face, body and hands, and it's built to be non-greasy and fast-absorbing.
Key Ingredients: Water, Glycerin, Mineral Oil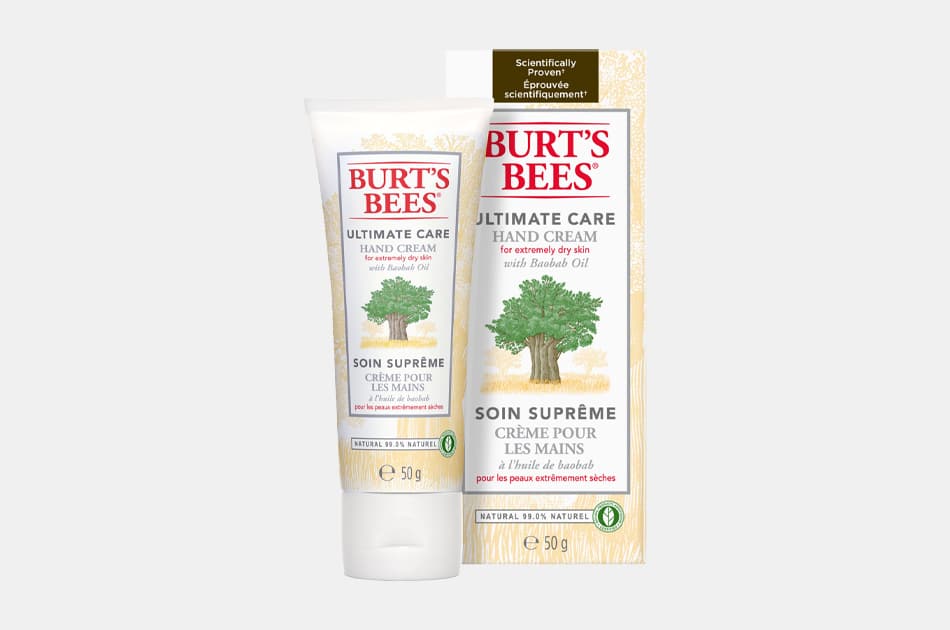 Burt's Bees Ultimate Care Hand Cream
Quick-absorbing formula for all-day moisturization.
The brand ubiquitous for its lip balm actually plenty of other products worth checking out — in this case, the Ultimate Hand Cream could replace any hand cream in your rotation at the moment. Made with nearly 99 percent natural ingredients and designed to exfoliate and soothe your hands, we can't get enough of this excellent hand cream — we think you won't be able to, either.
Key Ingredients: Baobab Oil, Pumpkin Seed Oil, Green Tea Extract
Disclosure: Clicking on these links and making a purchase may earn us a small referral fee, at no extra cost to you. Learn more here.