Our 15 Favorite Men's Running Gloves For Winter
If you want to keep running through the winter, you have to get a pair of gloves. I mean, I guess you could go without them—just wiping your snot onto your bare, freezing hands—but running is challenging enough without subjecting yourself to quasi-medieval tortures.
We sifted through the dozens of running gloves available today to collect 15 of the best examples of men's running gloves for this winter. Far from being just a way to keep your hands warm, many of these gloves offer specialized designs that make it easier to use your phone, wipe your nose, and generally stay fully functional no matter how low the thermometer drops.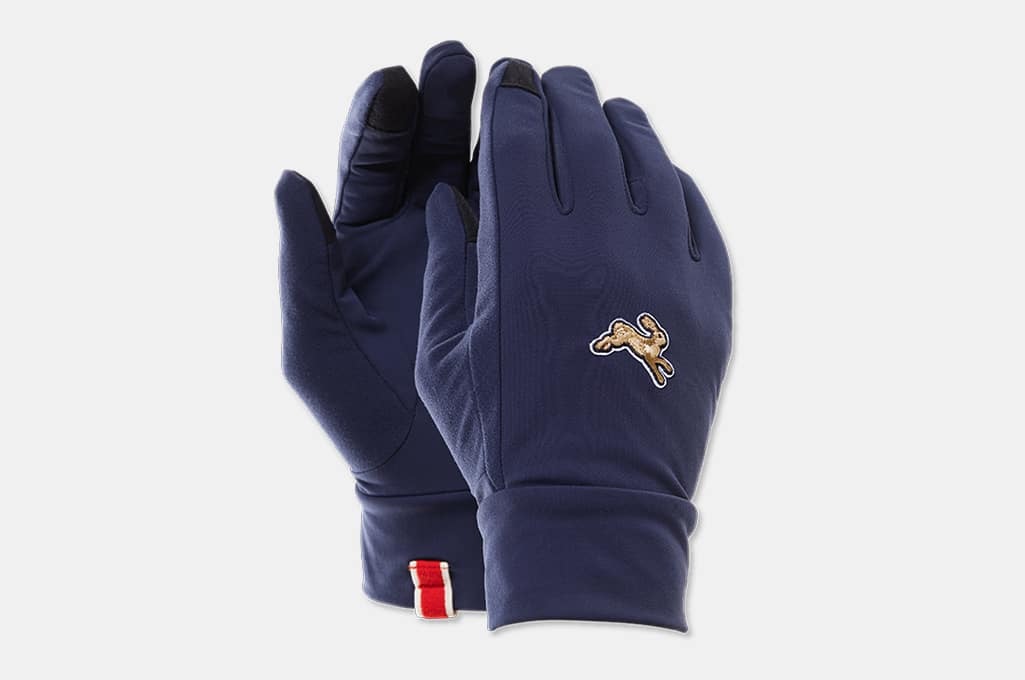 Tracksmith Inverno Running Gloves
Need just about anything that has to do with running? Look to Tracksmith first. They're consistently one of our favorite brands when it comes to workout gear in general, but they really define the game when it comes to detail-oriented clothing for running. Their Inverno Running Gloves are top notch, with a polyester and elastane blend that makes them soft and breathable with just the right amount of stretch. A brush back of the hand is what really sets them apart from other gloves, though—it makes it easy to keep your nose dry without chafing. And they're equipped with touch screen pads on the forefinger and thumb too, so you'll never have to take them off while you're outdoors.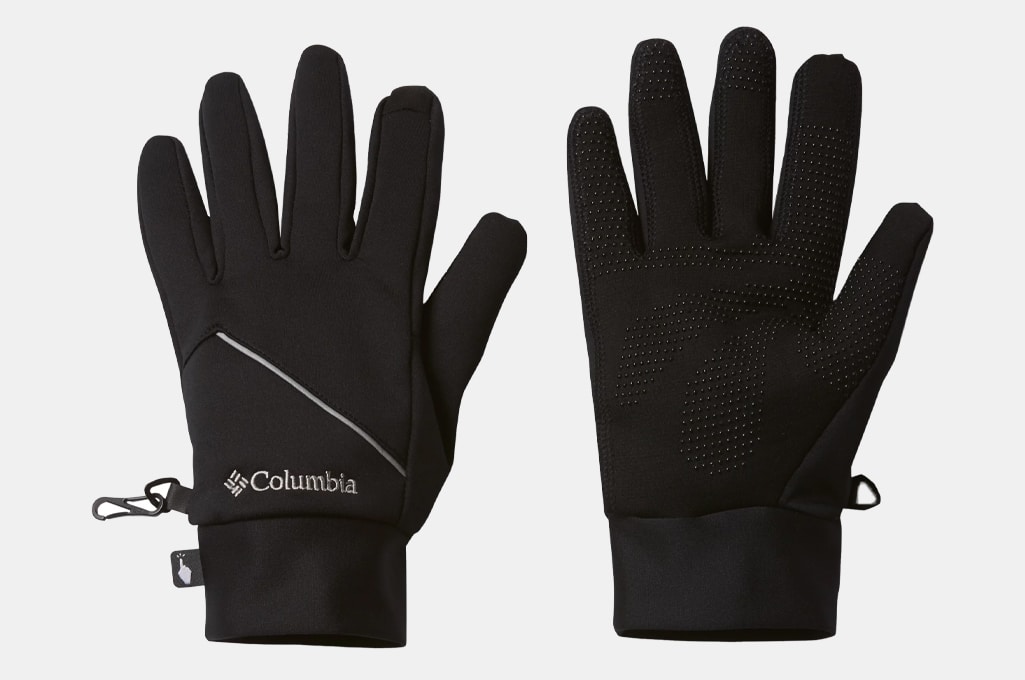 Columbia Men's Trail Summit Running Gloves
Whether you're heading out for a full day of winter hiking or hitting the trails for a few hours of running, Columbia's Trail Summit Running Gloves will keep you warm. That's because their shells are made with Columbia's proprietary Omni-Heat fleece, allowing them to do an amazingly efficient job of sealing your natural heat into your hands. A silicone palm grip adds stability and traction for if you're carrying your phone or walking sticks, and the touch screen compatible fingertips further reinforce this. And for all you early morning outdoor enthusiasts, a little reflective stripe adds another layer of safety to your outfits.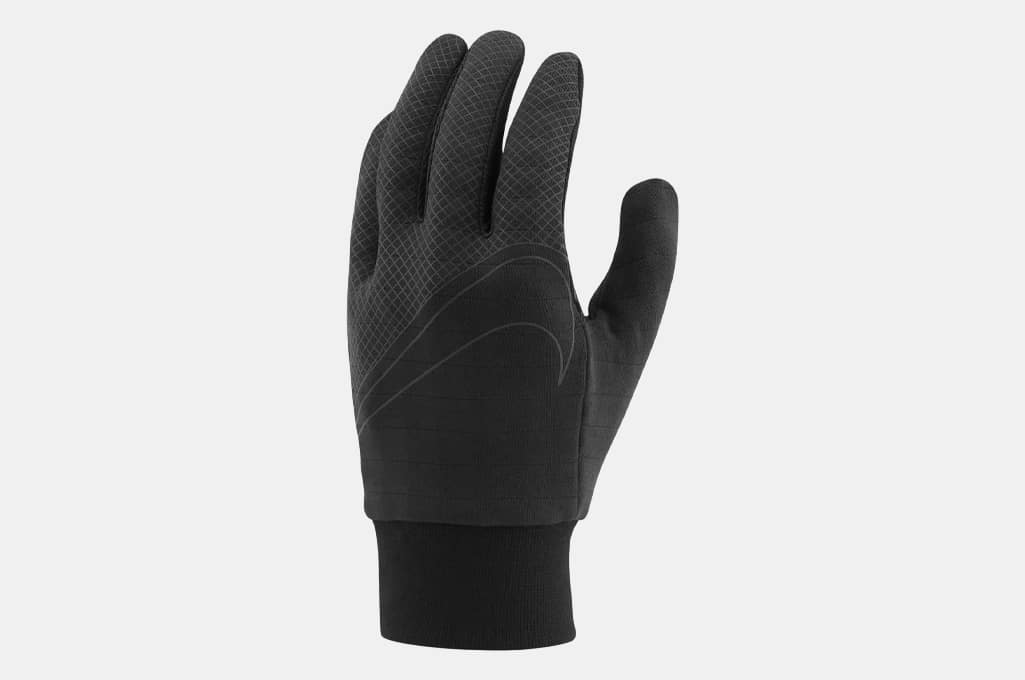 Nike Sphere 360 Men's Running Gloves
Nike has been working on their sports gear for an awfully long time—and this has given them some of the most finely-tuned fabric blends in the sportswear business. For their Sphere 360 Running Gloves, the big swoosh incorporates a judicious amount of spandex into the palm, back, and cuffs to give it a snug fit. They have heavier insulation than a lot of the gloves on this list, allowing them to subtly circulate your body's natural warmth to keep your hands warm in winter's worst conditions. That same fabric is nice and moisture wicking though, so you won't get a case of warm and clammy hands with pruny fingertips. As you might expect, the gloves are also touch screen compatible.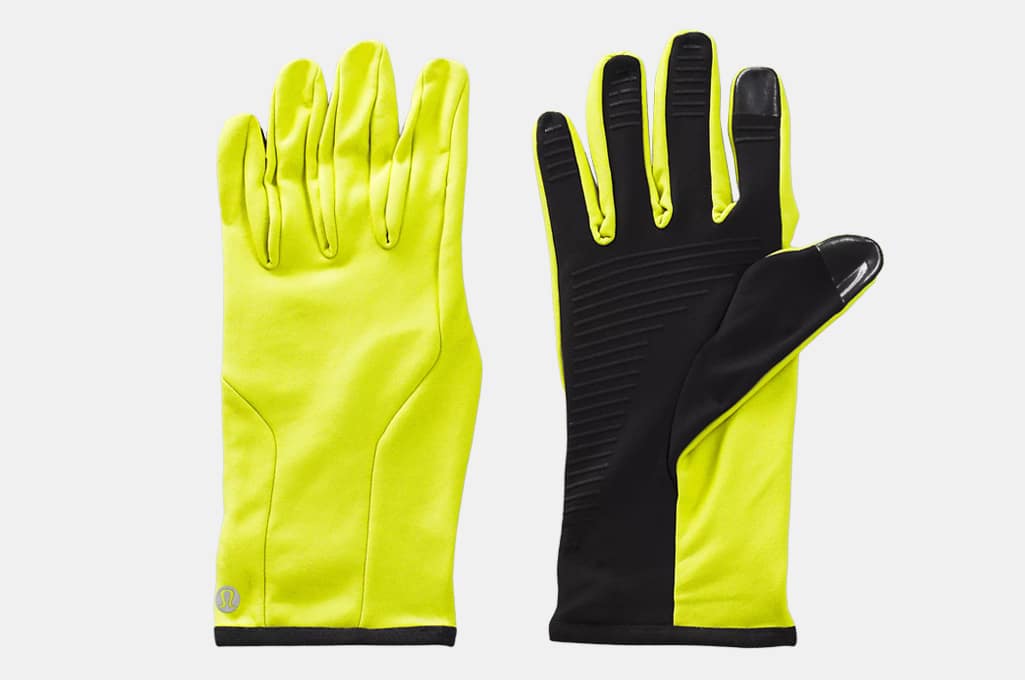 Lululemon Cold Terrain Run Gloves
In running gloves, there's "high visibility" that's provided by reflective details—and then there's the Big Bird bright yellow running gloves from Lululemon. Anyone who's up before sunrise or out for a run after sunset should bump these to the top of their list. Four-way stretch for a snug fit is combined with a water repellent finish, then topped off with tech-friendly forefinger and thumb pads. They're relatively lightweight, and perfect for people who tend to run hot while they're exercising or anyone who wants a glove for the shoulder seasons.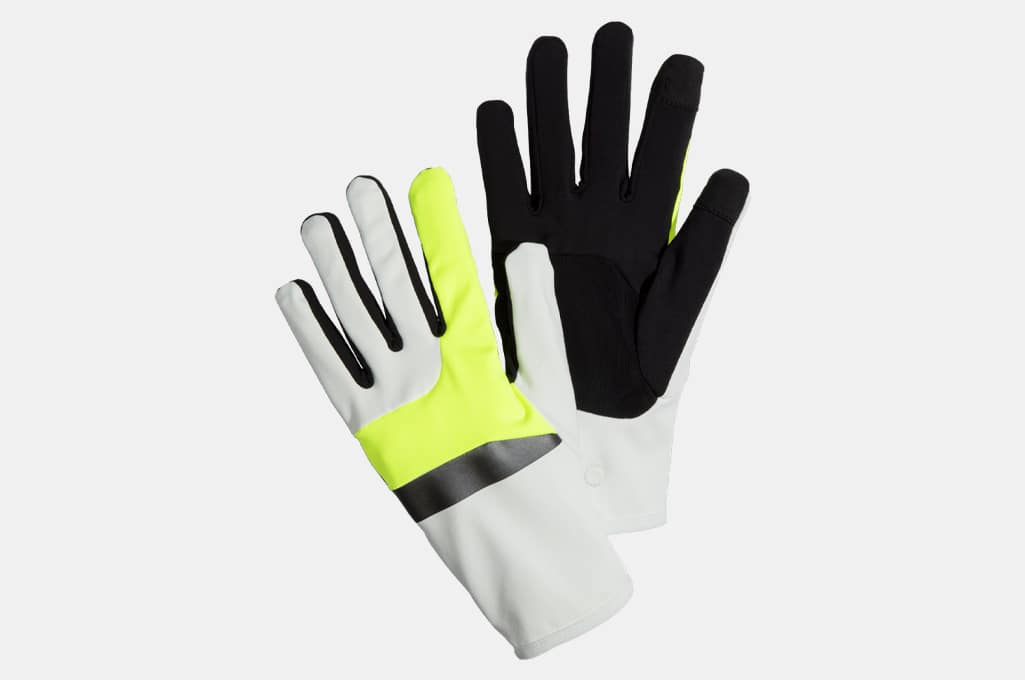 Brooks Fusion Midweight Running Gloves
Care for a pair of running gloves that you're absolutely certain not to misplace? Go for the Brooks Fusion Midweight Running Gloves in either magenta or their limited edition icy grey/black/nightlife, and you'll always have your mitts when it's time to hit the great outdoors. That's not just because of the bright colors—the cuffs on these bad boys are magnetized to keep them together as a pair while they knock around in your bag. As far as warmth goes, a little mesh ventilation on the palm keeps them from cooking your hands once you get up to speed.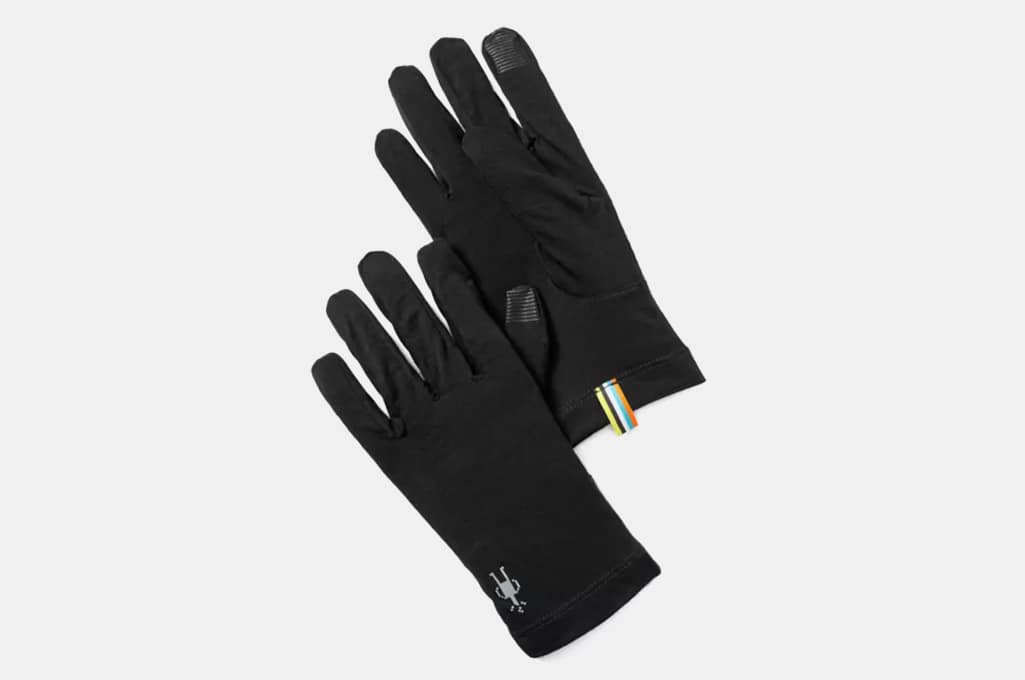 Smartwool Merino 150 Gloves
If you asked a dozen material designers to come up with a fabric that was perfectly temperature regulating, anti-bacterial and anti-odor, and completely sustainable to produce, they'd be flummoxed. But that's exactly what we have merino sheep to thank for, courtesy of their wool that is absolutely perfect for outdoor activities. Smartwool leads the game in merino wool activewear, and their Merino 150 Gloves put all the benefits of sheep fibers front and center. A little bit of nylon in the blend helps them keep their shape, and touch screen sensitive forefingers and thumbs let you operate your gadgets as you please.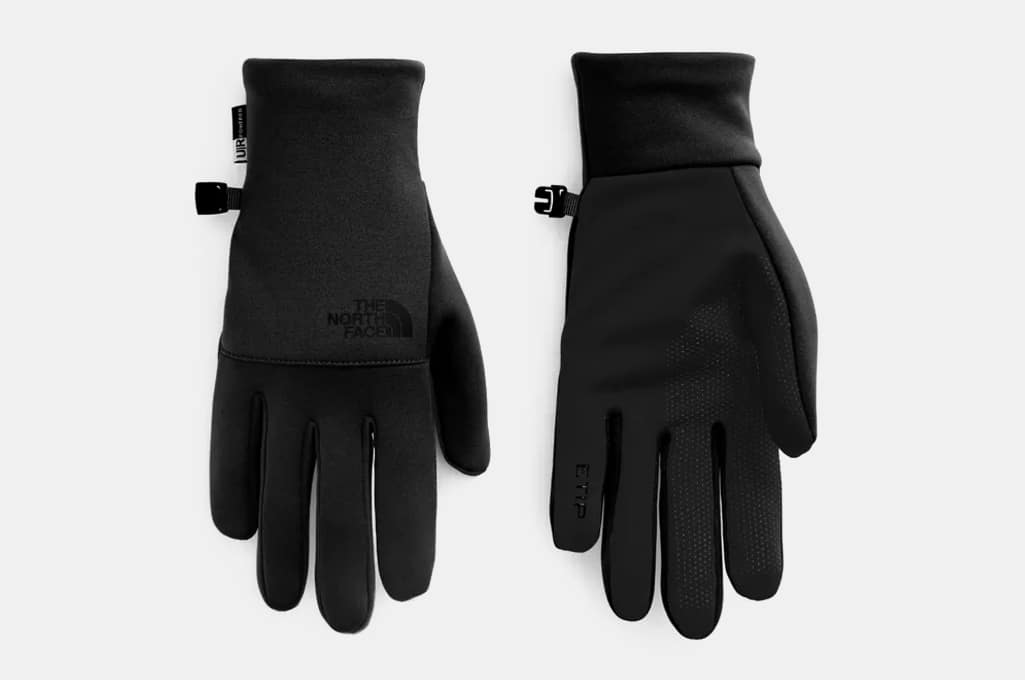 The North Face Etip Recycled Running Gloves
There are a lot of running glove options out there, from the most natural to the most high-tech materials around. But unlike the push for recycled and sustainable materials in many other categories, gloves haven't seen much love in that area. If you're looking for gloves with minimal environmental impact, The North Face's Etip Recycled Running Gloves are the best option. As their name implies, they're made from recycled materials (polyester in this case). Then they're given a good dose of four-way stretch and five-finger smartphone compatibility, just for good measure.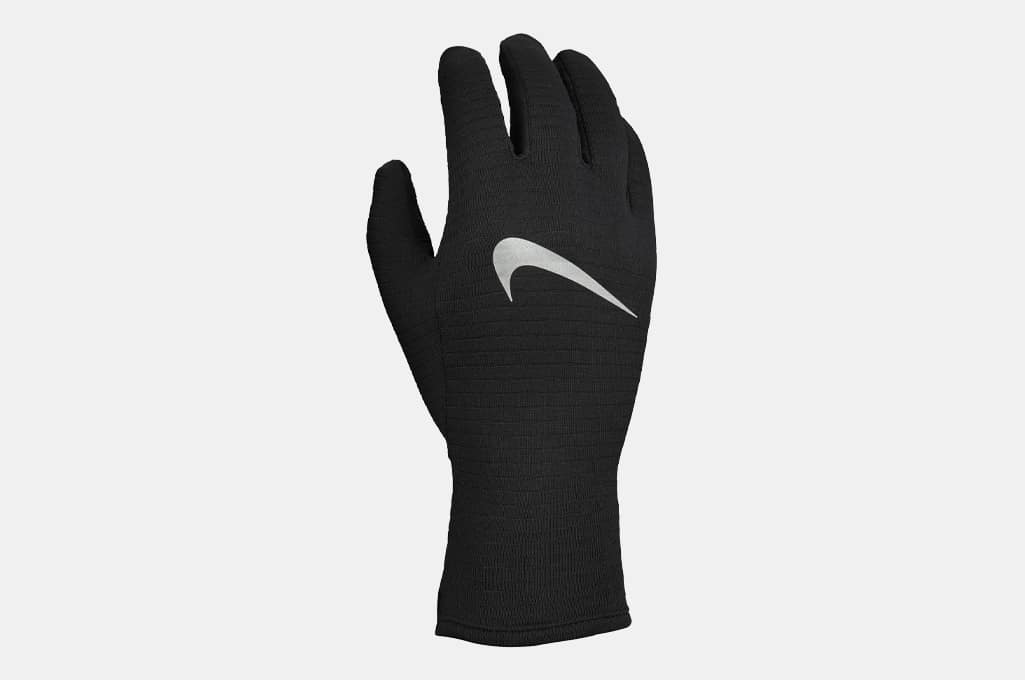 Nike Men's Sphere 3.0 Running Gloves
Nike's iconic swoosh has become the de facto symbol for people who just do it. And it makes sense too: No other logo is quite as iconic, or makes quite such an immediate connection with getting out into the world and exercising. So if you're looking for a little boost of motivation to accompany those chilly winter runs, consider getting the boldly branded Nike Sphere 3.0 Running Gloves. They have that big swoosh to get your attention, and a specialized fabric that helps to circulate heat and keep your whole hand warm while you run.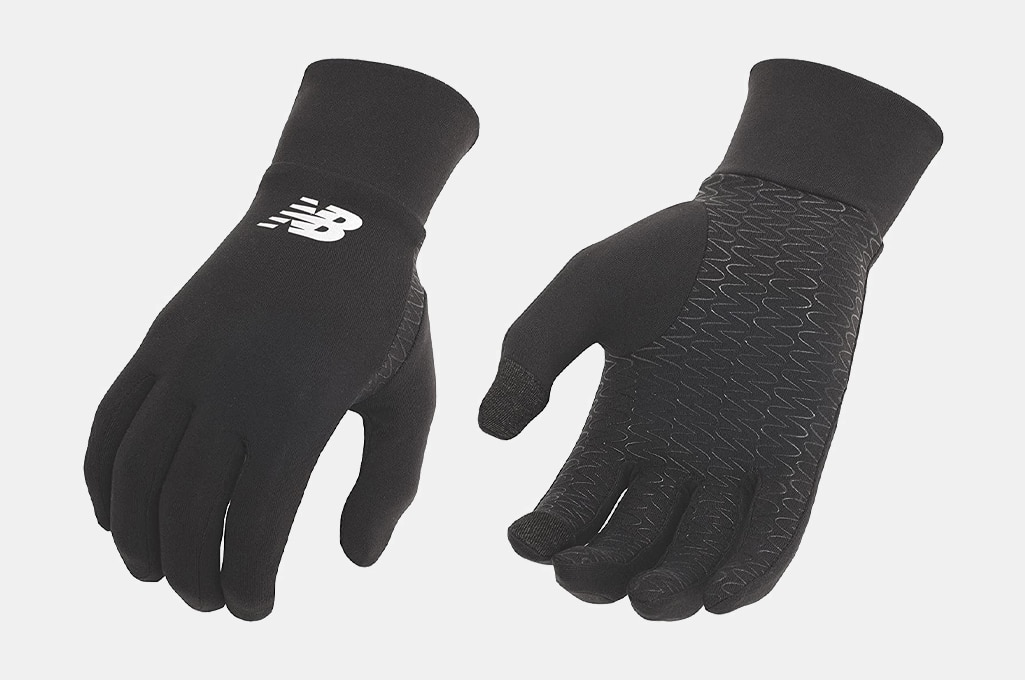 New Balance Lightweight Touchscreen Running Gloves
New Balance's Touchscreen Running Gloves may be advertised as lightweight, but the insulation that they provide is pretty beefy. Coming in at 240 gsm, they're more than capable of keeping you warm and cozy during your snowy or rainy runs. The full-sized palm grippers give maximum control while you're using your smartphone, and forefinger and thumb pads let you fiddle with your apps to your heart's content. And unlike quite a few types of running gloves, they're completely machine washable for easy clean up.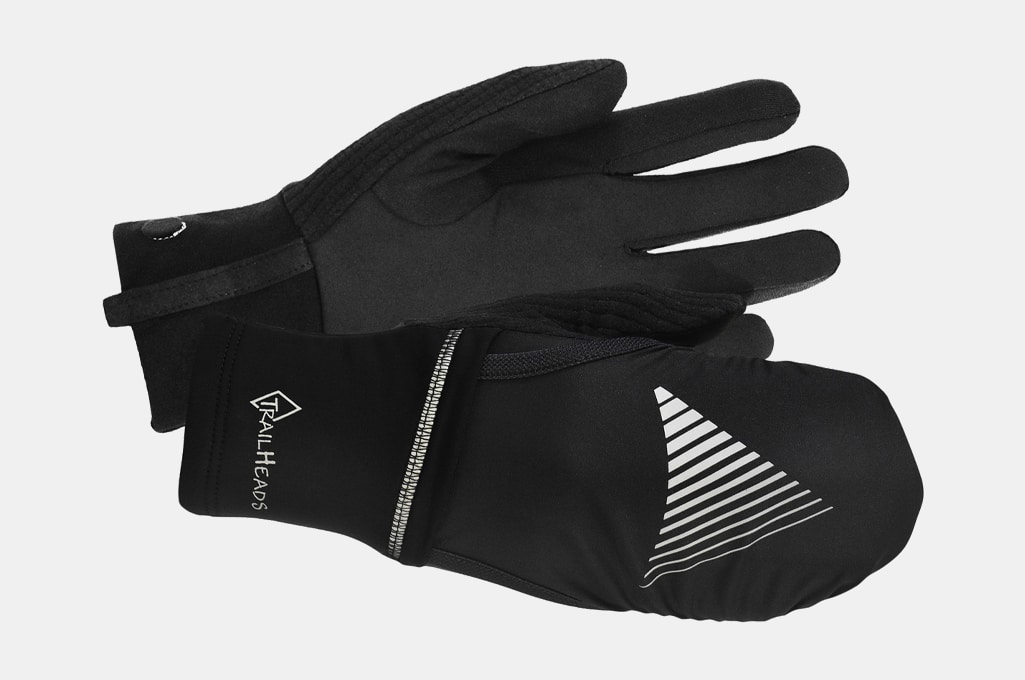 TrailHeads Convertible Running Gloves
What's part sleek glove, part cushy mitten, and all awesome? TrailHeads' Convertible Running Gloves, of course. These gloves are made for the coldest of cold days, with a mitten cover that expands from a zippered pocket near the wrist to provide maximum protection. That's in addition to a graciously extended cuff that can tuck nicely over your base layers to seal in your body heat. In glove mode, they're also equipped with touch screen compatible thumbs and forefingers.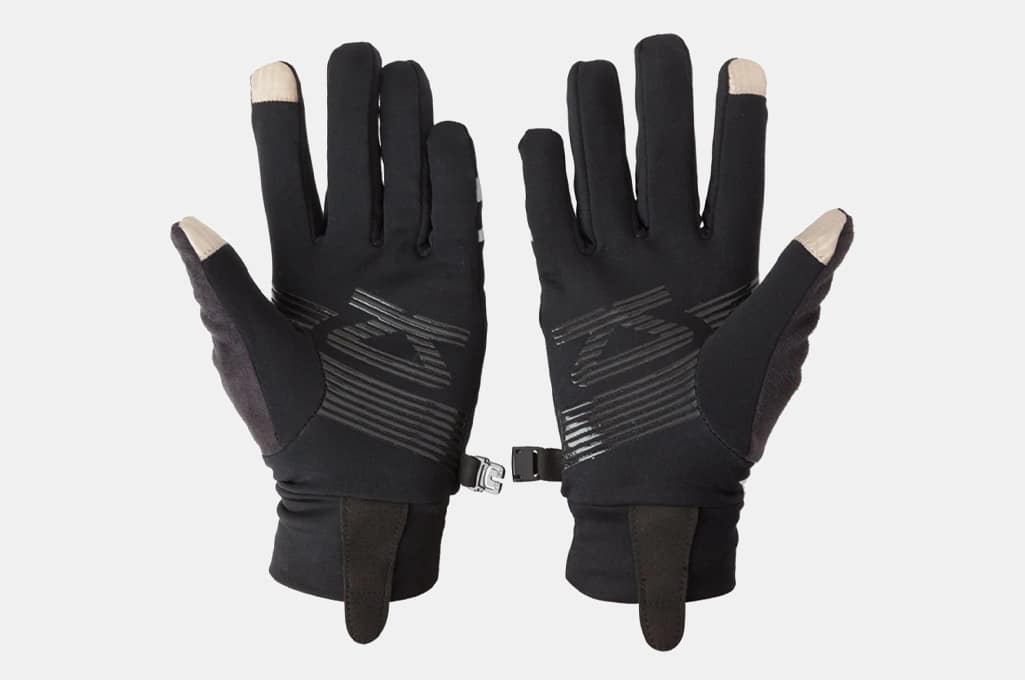 Zensah Smart Running Gloves
Few if any running gloves combine as many useful design elements as Zensah's Smart Running Gloves at the majorly affordable price they're offered at. For less than almost any other glove on this list, the Zensahs offer touchscreen compatibility, excellent warmth and breathability, four way stretch, and a micro sueded thumb back to wipe your nose with. And they clip together too, to make it easier to keep them in check when you store them in your bag.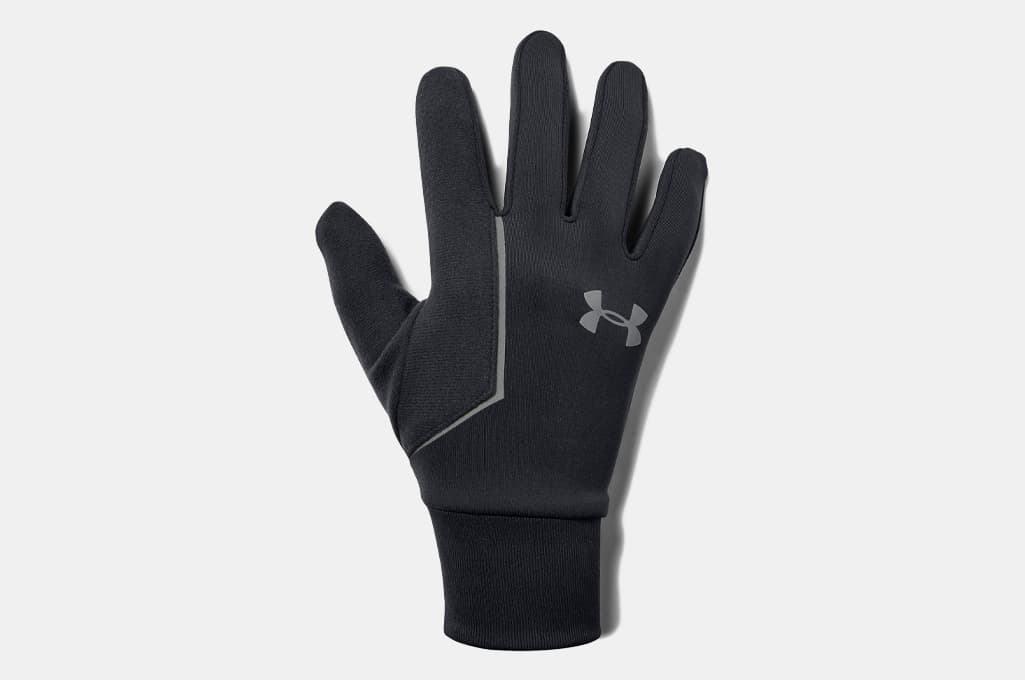 Under Armour Men's Storm Run Liner Gloves
Winter days don't always bring the same amount of cold. If you're in a part of the world where December days might be 20 degrees or 50 degrees, Under Armour's Storm Run Liner Gloves are your best bet. They're intended to be worn on their own to provide super lightweight protection, and they're thin and smooth enough that they can be used as liners for larger gloves on colder days. And they're soft as heck all around too.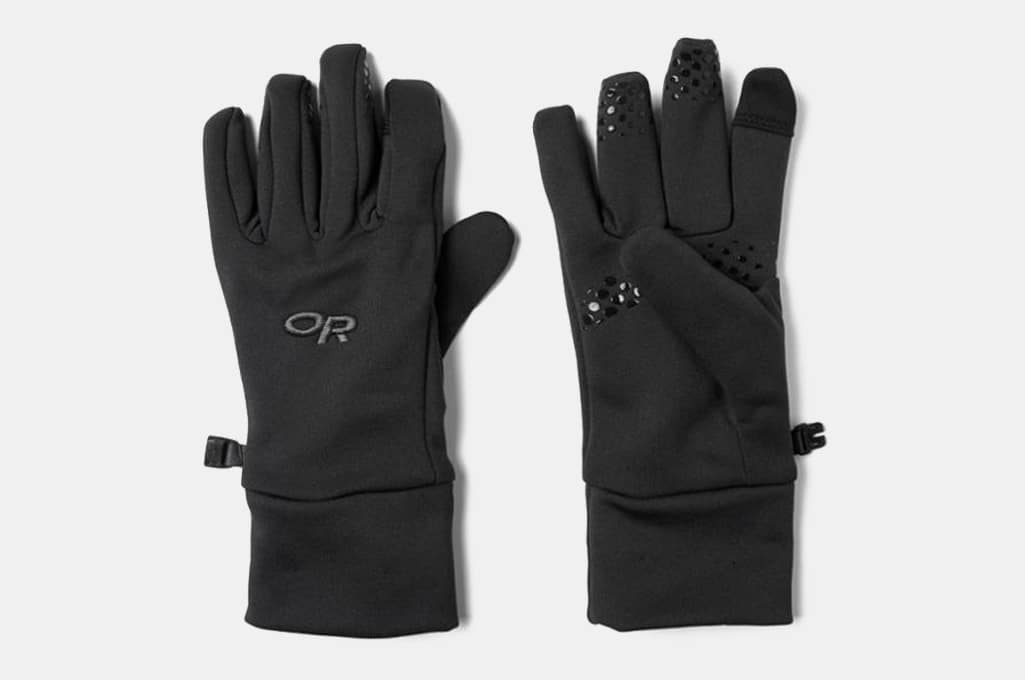 Outdoor Research Vigor Heavyweight Sensor Gloves
Not just one pair of gloves, but two—or at least, that's what Outdoor Research's Vigor Heavyweight Sensor Gloves will feel like while you're wearing them. They're double-layered for extra warmth, and decked out with non-slip silicone grips and touchscreen compatible finger and thumb tips. Their specially designed fleece does a great job of regulating temperature as well, so even after you get warmed up you won't end up sweating your gloves into a puddle.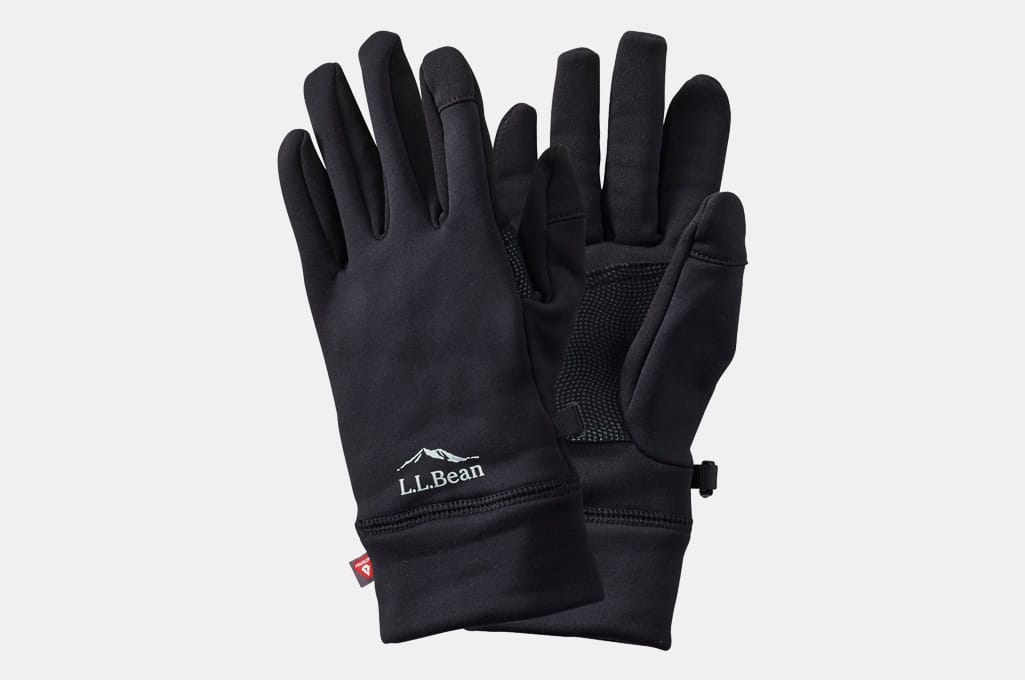 L.L. Bean Primaloft Therma-Stretch Fleece Gloves
The Therma-Stretch fabric in L.L. Bean's Primaloft gloves is about as close to merino wool as you can get, without having to pay for wool's premium pricing. It's made of a careful blend of polyester, nylon, and spandex that's specially designed to maximize its breathability, moisture wicking, and quick drying properties. And since they fit so snugly, you can easily use them as either a glove liner or as your only layer, giving you options for cold and not so cold days.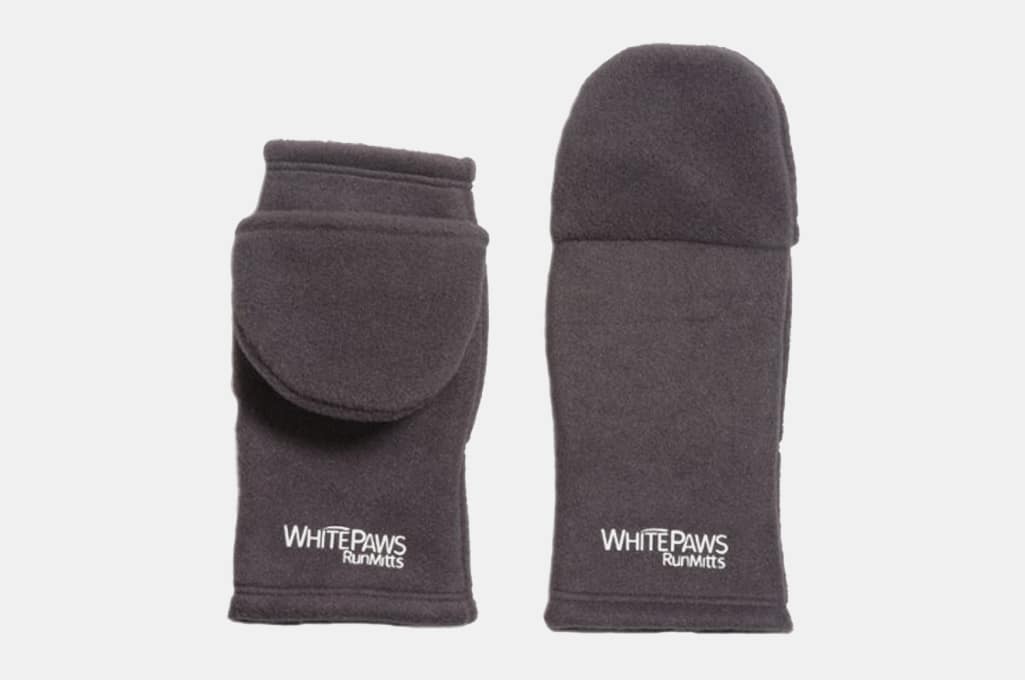 WhitePaws RunMitts Double Velour Fleece Mittens
What's the best possible insulator when it gets really cold? Funnily enough, insulation is best provided by the micro-climate between your skin and the clothes you wear. So it makes sense that to maximize your winter warmth on your hands, you shouldn't leave your individual digits fending for themselves. WhitePaws caught onto this, and their unique RunMitts are perfectly designed for people who suffer from seriously cold fingers. If the single-pocket fleece construction isn't enough for you, they also have slots to fit in a few hand warmers.
Disclosure: Clicking on these links and making a purchase may earn us a small referral fee, at no extra cost to you. Learn more here.
freestar.config.enabled_slots.push({ placementName: "gearmoose_leaderboard_btf", slotId: "gearmoose_leaderboard_btf" });