The 12 Best Slippers For Men
When it comes to the gear that shapes your everyday life, your adventures and your routine and your workday, perhaps you're more focused on what to wear when you step out of the house — as in, the indigo denim, leather boots and Oxford shirt (for example) that comprise your daily #OOTD. But what happens when life gets in the way, when something like, say, the coronavirus upends your routine and forces you home for longer than expected? That's where we think the right gear still comes in handy. After all, you're not just going to traipse around your house in pajamas all the time, right? We certainly hope not.
Just as a solid t-shirt or a casual Oxford and some stretch denim or tapered joggers can go a long way toward stepping up your off-duty, at-home or weekend look, so too can a very overlooked home essential — a pair of slippers. And no, we're not talking about the kind of slippers you wore as a kid, perhaps ones a little too fluffy or colorful.
We're talking about premium slippers made with remarkable materials, ones that use some of the same touches as your favorite sneakers or chukka boots, and very often, ones that are made by some of those same brands. For the rest of spring, and then the rest of the time you're spending at home, you're going to need a pair of the best men's slippers — best start here.
SeaVees Stag Slippers
See? We mentioned that the brands that specialize in crafting other types of your favorite footwear (in this case, perfectly breezy sneakers) also have done a heck of a job at expanding their product lines into the men's slippers arena. The SeaVees Stag Slippers are understated and subtly stylish, almost more like a pair of espadrilles than a traditional slipper. Get the Heather Black color to give your Work-From-Home style a major upgrade.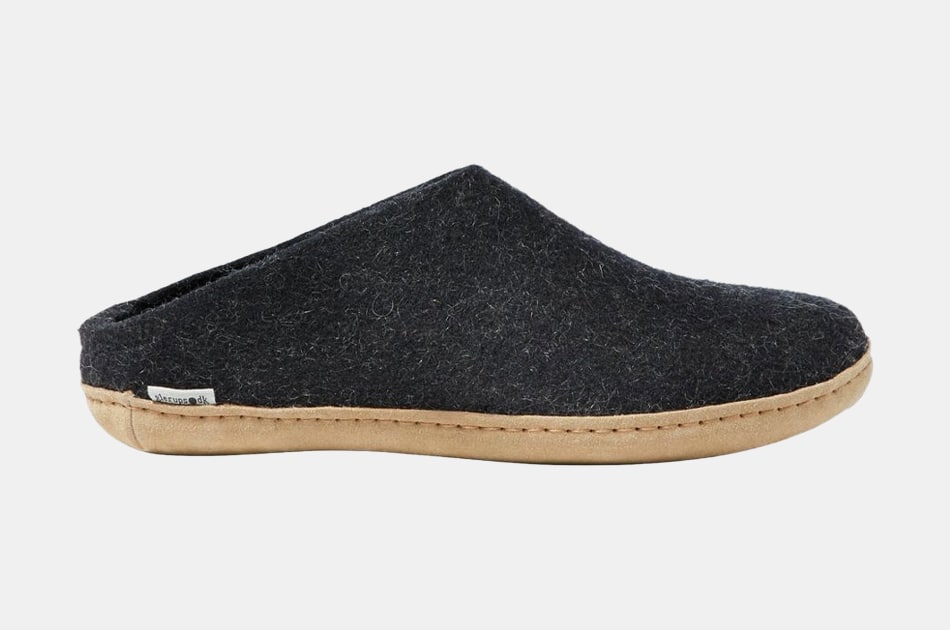 Glerups Wool Slippers
We turn to craftsmanship-oriented brands that know a thing or two about constructing durable, solid-as-can-be goods — and that holds true when we're on the hunt for a pair of the best men's slippers, too. Glerups Wool Slippers as sold by L.L. Bean hold true to the brand's promise of quality, heritage and comfort — especially for those days when you want to pad around the house in something a bit warmer than average. Heck, get ready to throw these on to get more firewood (when winter rolls around) and then leave them on all day.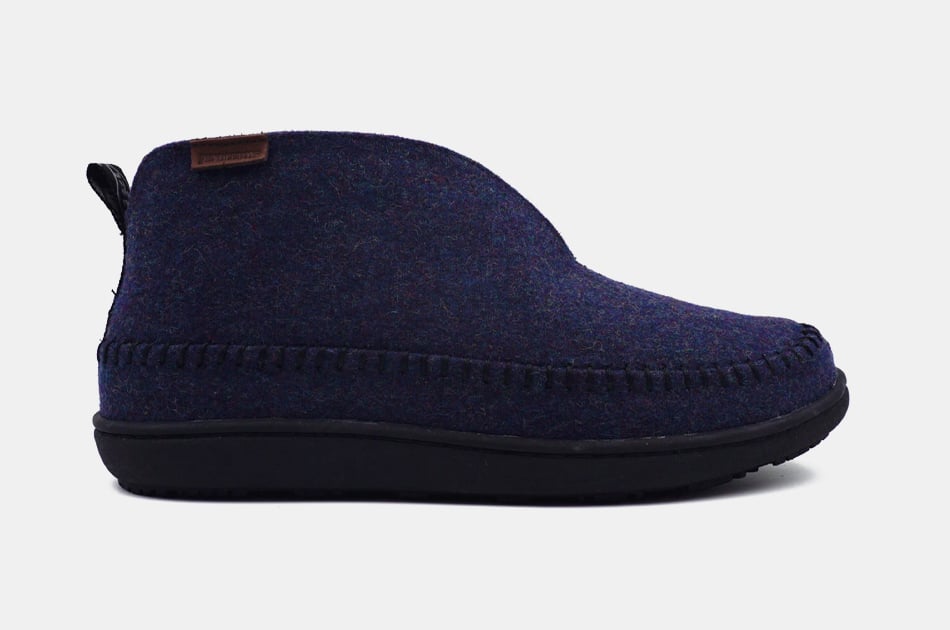 Pendleton Mountain Mid Slippers
Pendleton's exceptional fabric and quality construction is turned toward the right slippers for right now (and beyond) — the Mountain Mid Slippers are some of the coolest slippers you can buy right now. They've got a moccasin silhouette that's actually more like a moc chukka boot than traditional slippers, and the shearling lining and cozy Pendleton wool upper are nearly the perfect combo. Dare we say … you should look forward to wearing these slippers.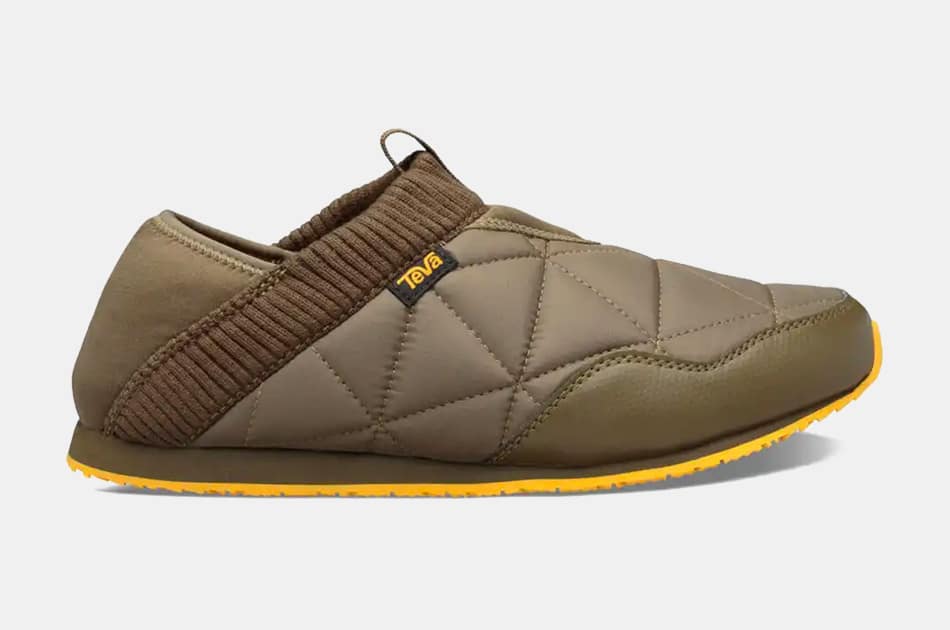 Teva Ember Moc
Leave it to Teva to offer up a simply delightful, comfortable-as-heck pair of shoes that are both slippers and, well, casual, non-traditional shoes you can rock outside of the house with ease. GORE-TEX fabric is molded into a quilted upper that's treated for water-repellency despite the low profile and collapsible heel. The rubber outsole offers as much cushion (if not more) than any other pair of sneakers in your wardrobe, and these have a nice, outdoors-y style to them. Yes, wear them outside of the house.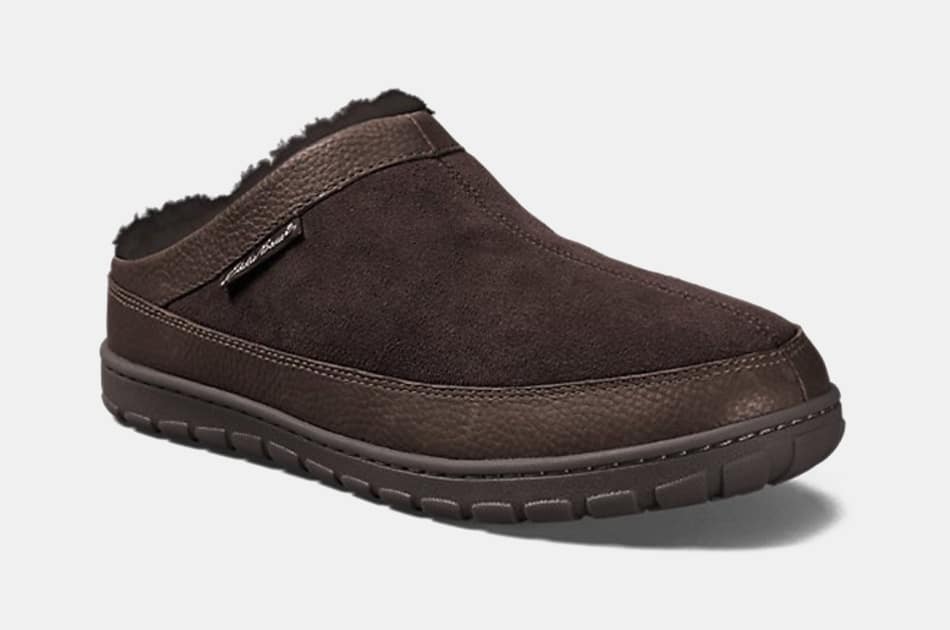 Eddie Bauer Shearling Scuff Slipper
Eddie Bauer makes outstanding flannel shirts and jackets, so it should come as no surprise that the brand also does a great job at making a classic pair of slippers for plenty of time working from home. The Shearling Scuff Slippers are toasty enough to be worn on their own right now and through into fall and winter.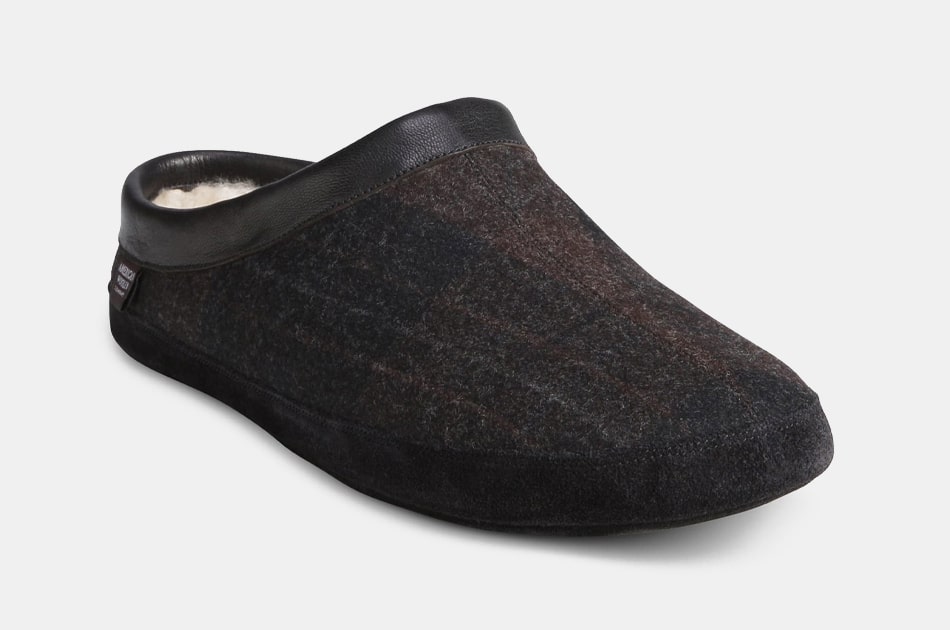 Allen Edmonds Kipp Genuine Shearling Lined Slippers
Just as with your other favorite footwear brands, Allen Edmonds has delivered its own take on the slipper that's going to be a nice change of pace from wearing your Allen Edmonds dress shoes to the office everyday. The Kipp Genuine Shearling-Lined Slippers are a cozy new work-from-home staple.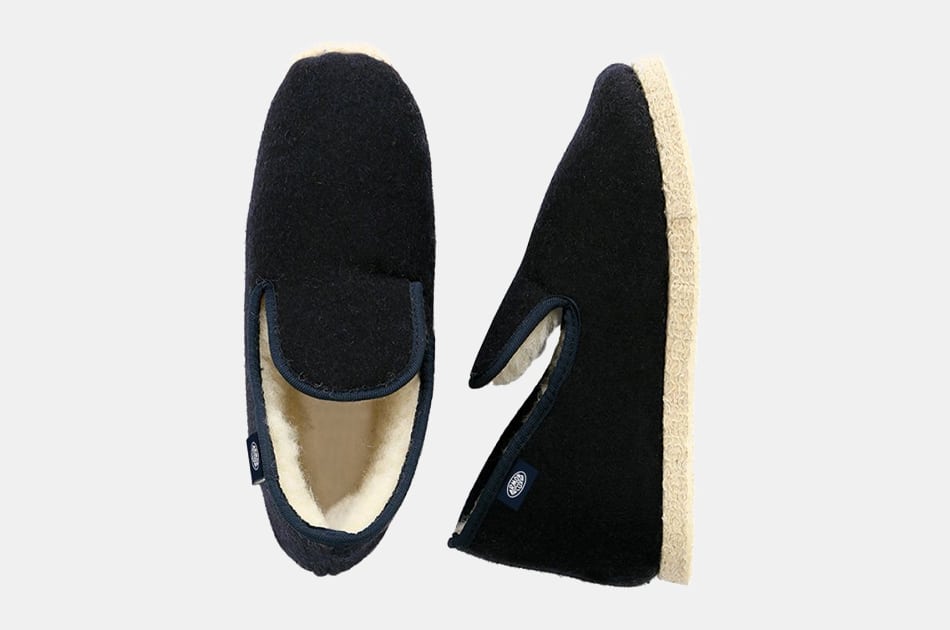 Armor-Lux Wool Slippers
Armor-Lux makes genuine and seriously neat striped shirts and sweaters for both lounging at home and working from your home office, so what better way to complement one of those essentials than with a pair of Armor-Lux slippers? Yes, this brand can do it all — these wool slippers are cozy, understated, stylish and of course, affordable.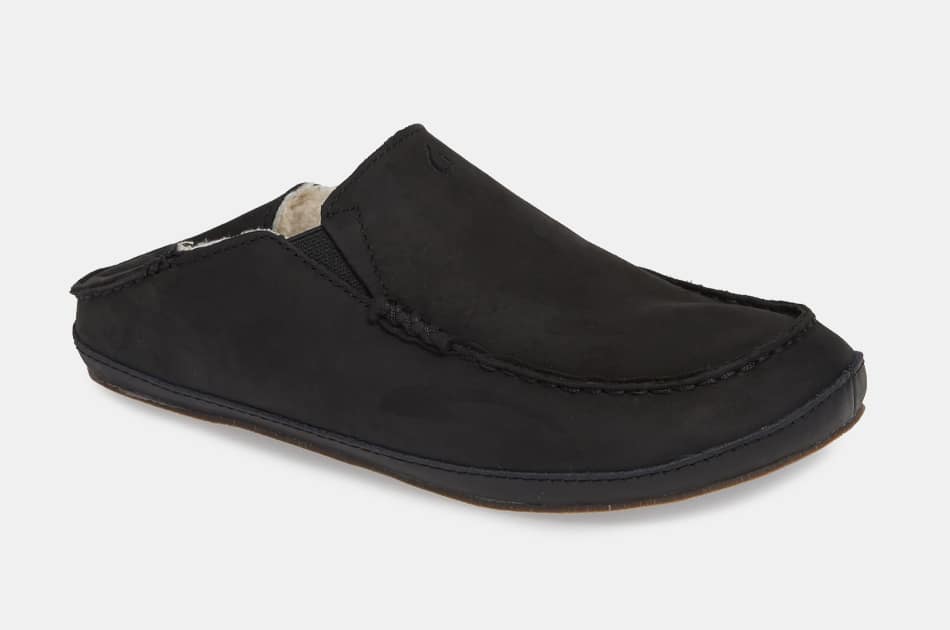 Olukai Moloa Shearling Slippers
OluKai does things differently when it comes to crafting its rugged, tough leather boots and slip-ons, and it's only fitting that the brand would take the same tack when making the Moloa Shearling Slippers. Available in a range of colors for every style — and finished off with a suede upper that's suitable for daily wear — these are your new must-have slippers.
Toms Berkeley Slippers
Toms is a brand that continues to surprise and delight beyond its classic, hard-wearing espadrilles. From high-top sneakers to the Berkeley Slippers, there's a pair of Toms in your closet for every occasion now, and we love the rubber outsole and textile upper for wearing inside or outside of the house.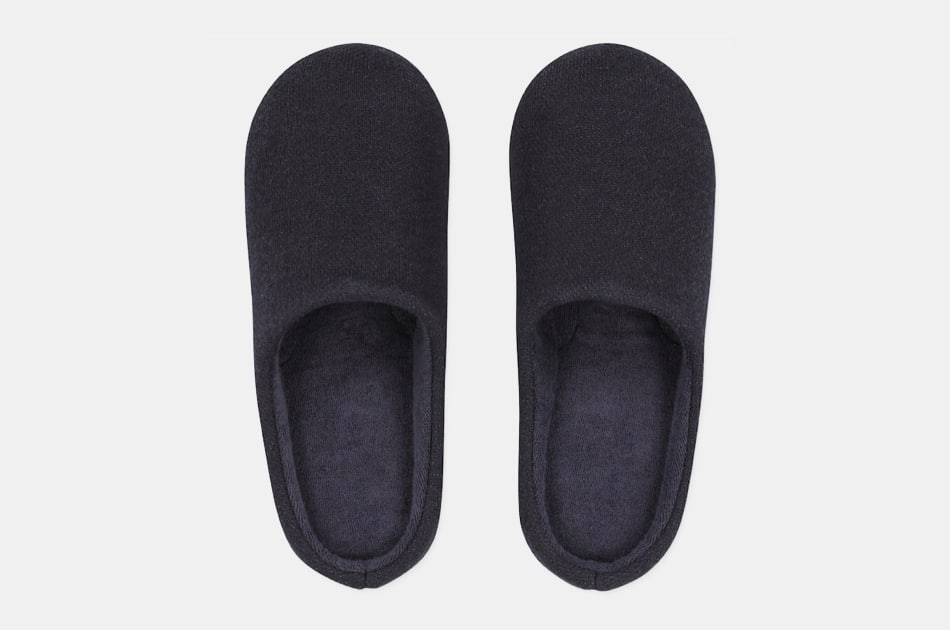 Uniqlo Slippers
Want to go ultra-affordable without sacrificing quality when searching for a pair of the best men's slippers? Uniqlo, as one might expect, is the way to go. Pair these simple slippers (under $15!) with slim sweatpants in a versatile color like navy.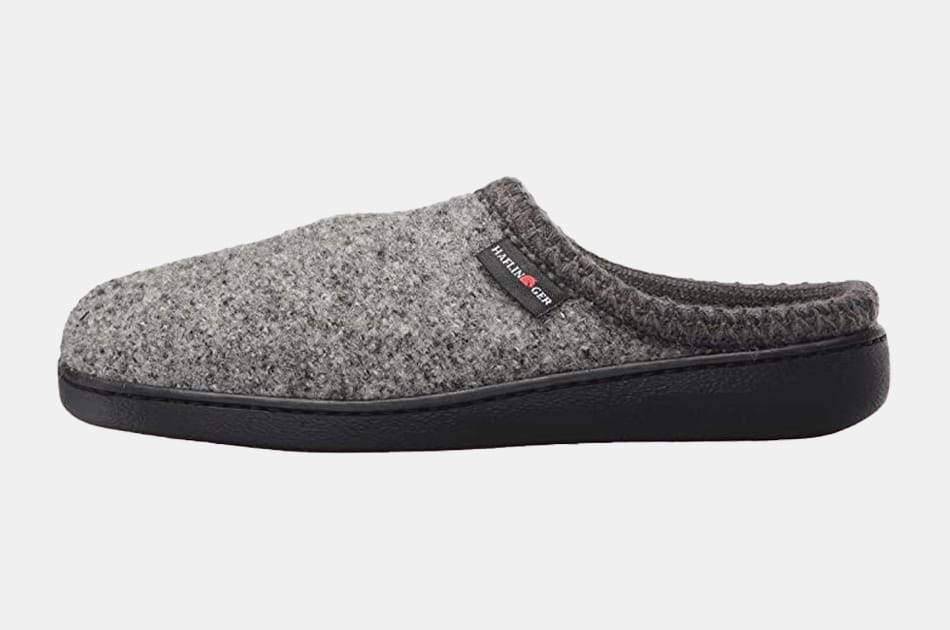 Haflinger AT Classic Hardsole Slippers
For stepping out of the house while keeping it casual and cozy, we're big fans of slippers with a sole — yes, it's true. Halfinger's slippers feature a boiled wool upper for plenty of comfort, to go along with a surprisingly durable sole you can wear around your house all day — and then out and about to get some fresh air.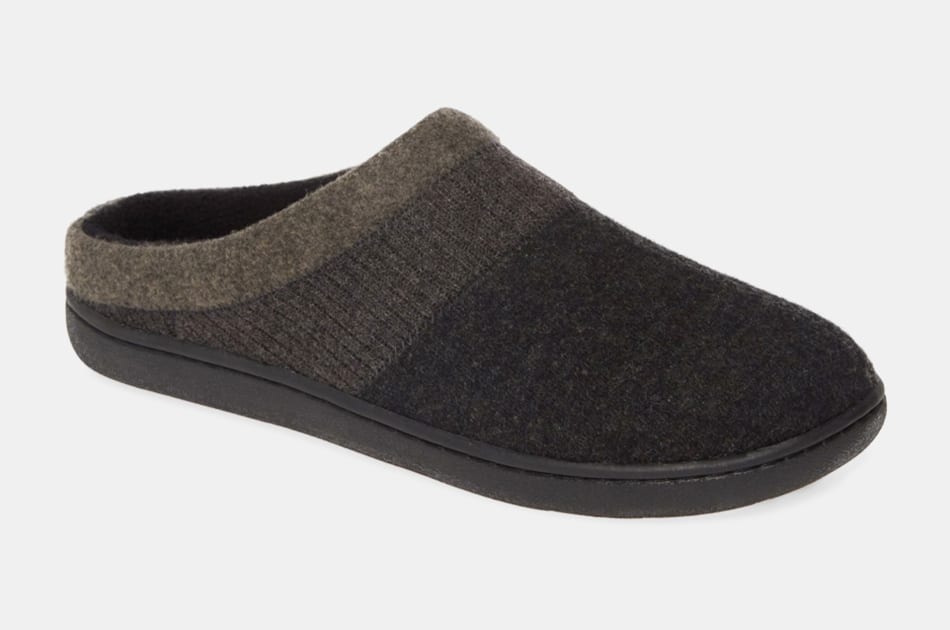 Tempur-Pedic Tony Slipper
Yes, Tempur-Pedic makes slippers, too. This brand certainly knows plenty about comfort, and we'd expect that these effective, functional slippers — available for under $50 — are certainly no different. Your work-from-home set-up just got even more comfortable.
Disclosure: Clicking on these links and making a purchase may earn us a small referral fee, at no extra cost to you. Learn more here.