The 15 Best Packable Daypacks
What's better than a backpack? How about a backpack… That you can pack in your backpack?
If you've never experienced the joy of having a pack that's the exact right size for your activities, then having an Inception-style backpack setup might seem like overkill. But as a long-term traveler and frequent hiker, let me tell you: Setting yourself up with a Goldilocks-perfect pack that's not too big and not too small will go such a long way towards making your life better.
Stuff one of these packable daypacks into your main bag, and you'll be ready for quick trips at a moment's notice (without having to carry your entire life around on your back).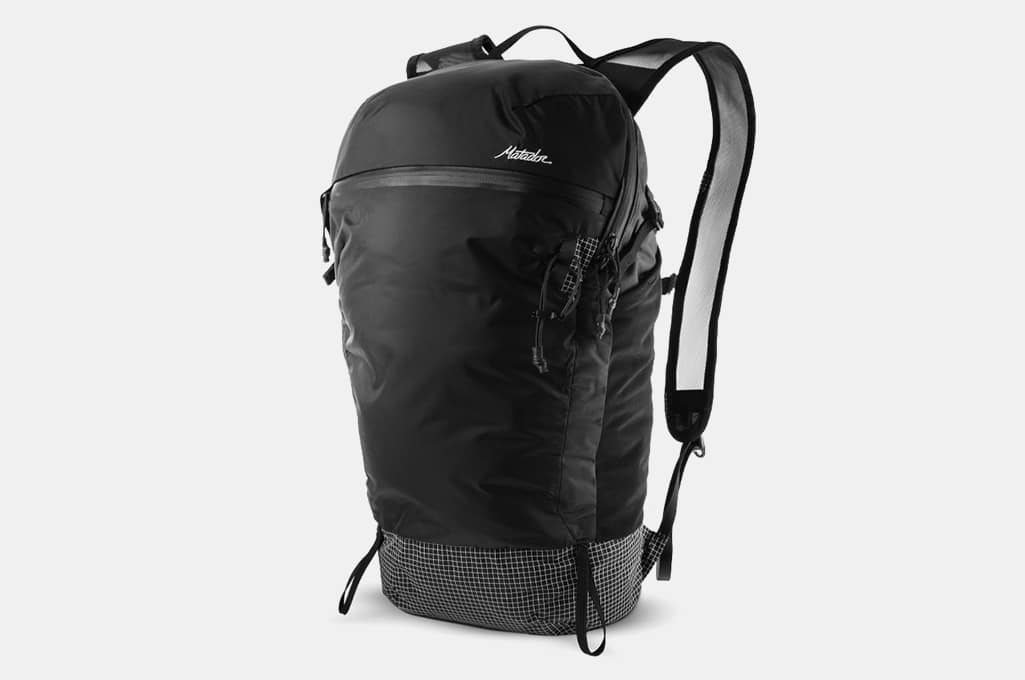 Matador Freefly 16 Packable Backpack
There are plenty of brands that make packable backpacks—but very few that focus on that style as their main attraction. It's understandable: Making one bag that's packable and utilitarian is hard enough, let alone a whole lineup of them. But Matador really has the whole packable bag thing down, and choosing just one of their awesome backpacks was tough. For day trips though, the Freefly 16 is the way to go. It's incredibly lightweight and packs down to fit in the palm of your hand, all while offering a weatherproof and durable reinforced nylon construction. And final details like a sternum strap and contoured straps make it wear more like a high-performance ultralight pack.
Body Material: Ripstop Robic nylon
Capacity: 16 L
Open Dimensions: 19" H x 10" W x 6" D
Folded Dimensions: 3.75" x 3.75" x 5.5"
Weight: 6.7 oz
Price: $79.99
Key Features: Ultralight and completely weatherproof, Matador's Freefly backpack is tough enough to become your main pack but compact enough for quick adventures.
Sea to Summit Ultra-Sil Travel Day Pack
The tiny 2.5-ounce weight on Sea to Summit's Ultra-Sil Travel Day Pack makes it one of the best urban daytrip bags in the world. From the gym to the grocery to a quick hike and back, it's always there for you—and the carabiner on its included stuff sack makes that quite literal. But what really separates the Ultra-Sil from similarly sized packs is its durability: the Cordura nylon construction has been finished with added silicon, giving it more stretch and resistance to tearing than your standard polyester bags. And bar-tack reinforced stitching means it's doubly covered on all the friction points where a lesser bag would fail.
Body Material: Siliconized Cordura nylon
Capacity: 20 L
Open Dimensions: 19" H x 11" W x 8" D
Folded Dimensions: 2.5" x 3.5"
Weight: 2.5 oz
Price: $39.95
Key Features: Even though it packs down to the size of a tennis ball, the Ultra-Sil Travel Day Pack boasts a surprisingly large 20 liter capacity to store all your gear.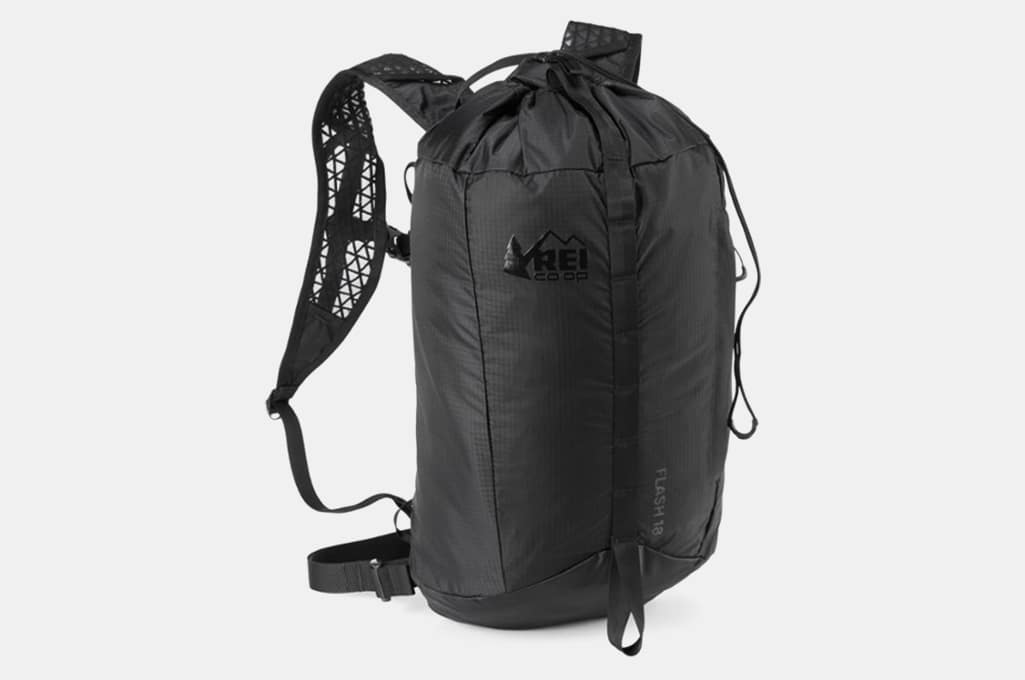 REI Co-op Flash 18 Pack
When you need rock-solid outdoor gear at a budget-friendly price, REI's Co-op brand should be one of the first places you look. Their Flash 18 Pack is an excellent example of the stripped down, quality focused aesthetic that REI Co-op is known for: Simple but not simplistic, with refined enough features to satisfy gadget junkies and minimalists alike. Hip and sternum straps combine with a surprisingly sturdy construction to make this a good pack to take out from your base camp, and it's compatible with a hydration pack for longer trips, too. That's especially hard to find in a bag that's priced this affordably.
Body Material: Recycled nylon
Capacity: 18 L
Open Dimensions: 18"H x 10" W x 8" D
Folded Dimensions: Not specified
Weight: 9.5 oz
Price: $39.95
Key Features: A hip belt and sternum strap make the Flash 18 pack feel closer to a full-sized hiking bag than a daypack, but it still stuffs down small for easy storage.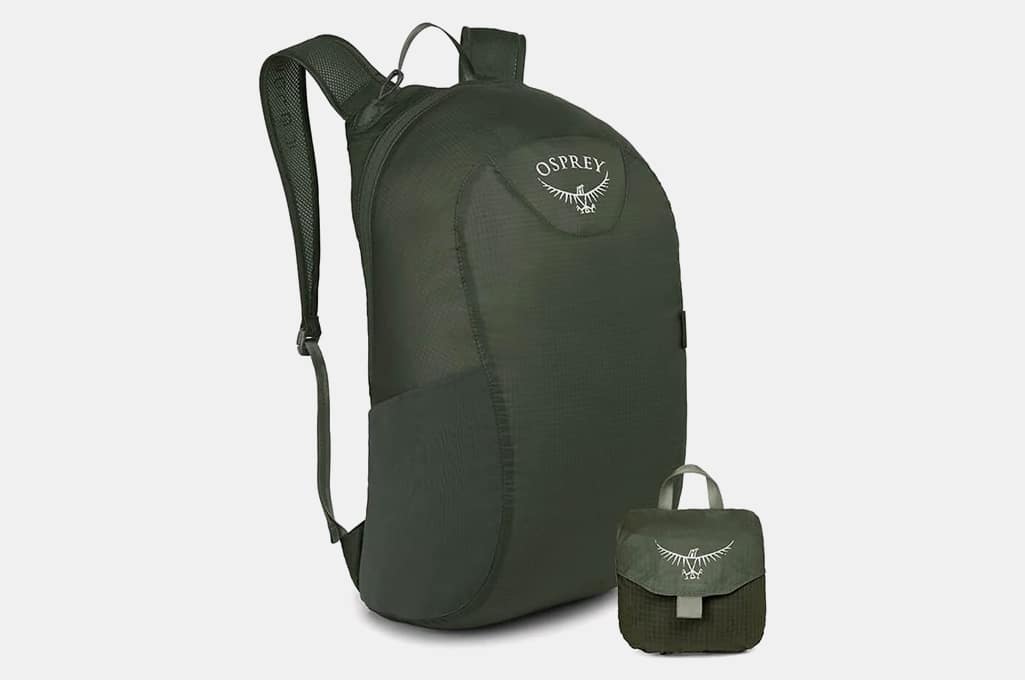 Osprey Ultralight Stuff Pack
With its minimalist appearance and three-ounce pack weight, Osprey's Ultralight Stuff Pack is the stuff that adventures are made of (pun intended). The smooth and sleek lines of this pack have serious integrity even while fully loaded, making it an excellent choice for both work and play. This is mirrored even when the Stuff Pack is packed away, where the included storage bag seals itself with velcro, ready for your next adventure. When it's time to pick up and go where the wind may take you, this Osprey pack is the way to get from here to there.
Body Material: 40D ripstop nylon
Capacity: 18 L
Open Dimensions: 17"H x 9" W x 7" D
Folded Dimensions: Not specified
Weight: 3.2 oz
Price: $35
Key Features: Ultralight is right—at just 3.2 ounces, Osprey's Stuff Pack is one of the easiest ways to add storage to your daily pack without weighing yourself down.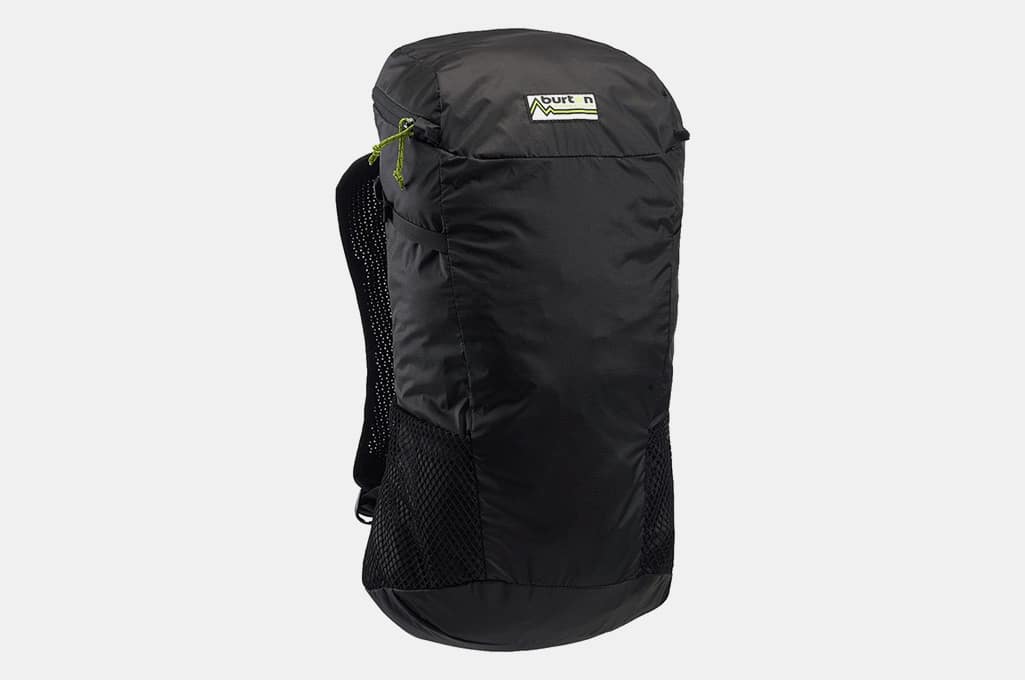 Burton Packable Skyward 25L Daypack
At a generous 25-liter capacity, Burton's Packable Skyward Daypack is blurring the lines between a dedicated hiking bag and an adventure-ready travel pack. But if you're a bigger guy who finds most travel packs look undersized on you—or you want the perfect bag to complement your big 60-liter long-term pack—then this bag will fit you perfectly. The 70D ripstop nylon construction is beefier than what's offered in most daypacks, and a limited lifetime warranty means you're covered for anything short of natural wear and tear. An excellent choice for anyone whose idea of minimalism still includes a full set of picnicking amenities.
Body Material: Ripstop nylon with a silicon coating
Capacity: 25 L
Open Dimensions: 21" H x 10" W x 8" D
Folded Dimensions: Not specified
Weight: 11.2 oz
Price: $43.96
Key Features: A limited lifetime warranty and Bluesign approved eco-friendly manufacturing make Burton's Skyward Daypack an investment that's clean on your conscience.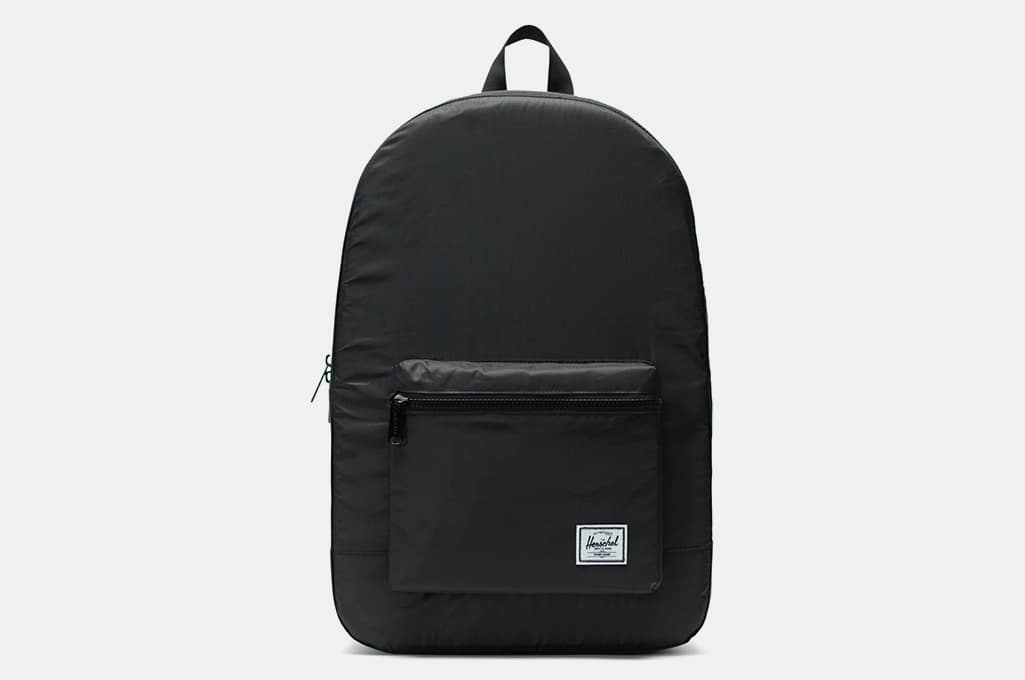 Herschel Packable Daypack
Our neighbors from the North at Herschel really do an excellent job of making distinctive, fashionable, and affordable clothing and accessories. Check out their Packable Daypack for proof: At half the price of many options on this list, it still has a uniquely attractive look and feel that's backed up with solid construction and 15 different color options to suit your tastes. The exterior tech pocket makes it easy to keep your phone and keys within arm's reach, and the interior stuff pocket lets you pack it down flat for flexible, on-the-go use.
Body Material: Ripstop polyester
Capacity: 24.5 L
Open Dimensions: 17.75″ H x 12.25″ W x 5″ D
Folded Dimensions: Not specified
Weight: 6.7 oz
Price: $31.99
Key Features: A clean, minimalist style and affordable price tag make Herschel's Daypack an excellent way to upgrade your daily carry.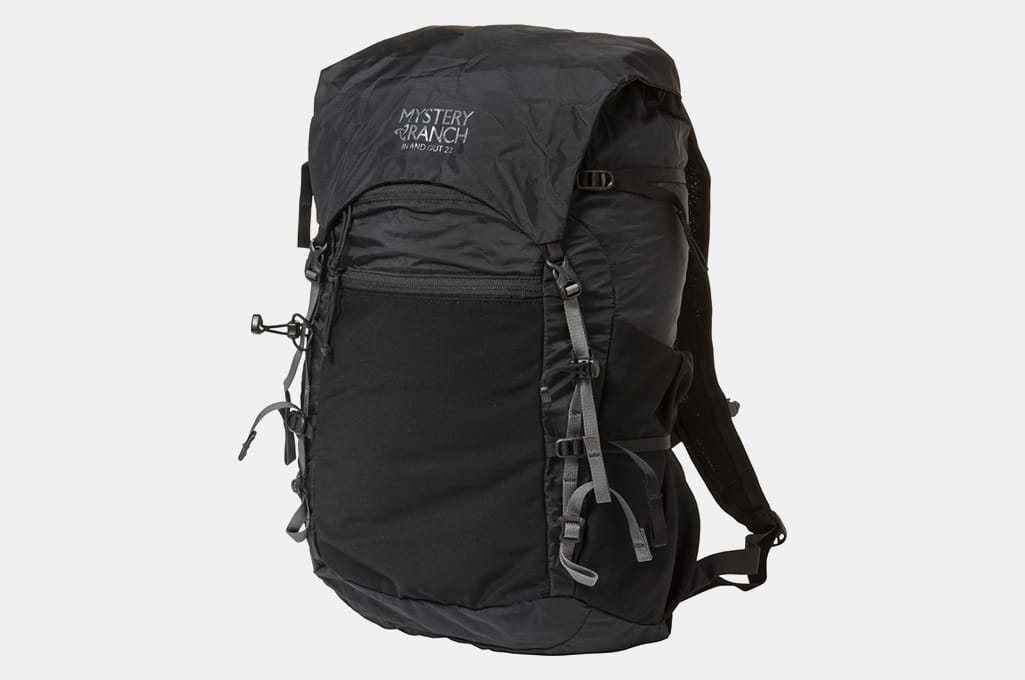 Mystery Ranch In & Out Packable Backpack
Pushing the limits of what a packable backpack can offer, Mystery Ranch's In & Out is a rugged, durable, and fully featured hiking pack that just happens to fold into a compact eight-by-four-inch rectangle. A drawstring top opening makes top-down packing and unpacking easy, and the matching weather-resistant flap will keep your gear safe and dry. Contoured and padded shoulder straps pair with a sternum strap to evenly distribute the weight of the bag's 22 liter capacity, and extra zippered pockets, tool carry loops, and hydration pack compatibility add the final touches to the In & Out's high performance functionality.
Body Material: 100D Cordura Mini Rip fabric
Capacity: 22 L
Open Dimensions: 16.25″x9.5″x8.25″
Folded Dimensions: 8.5″ H x 4.5" W x 4″ D
Weight: 14.4 oz
Price: $89
Key Features: Contoured shoulder straps with adjustable sternum strap, two, external zippered access pockets, one, side stretch-woven water bottle pocket, two tool carry loops with secure straps, side compression straps, and 2 L (70 oz) hydration reservior pocket against frame with ports to drinking tube above shoulders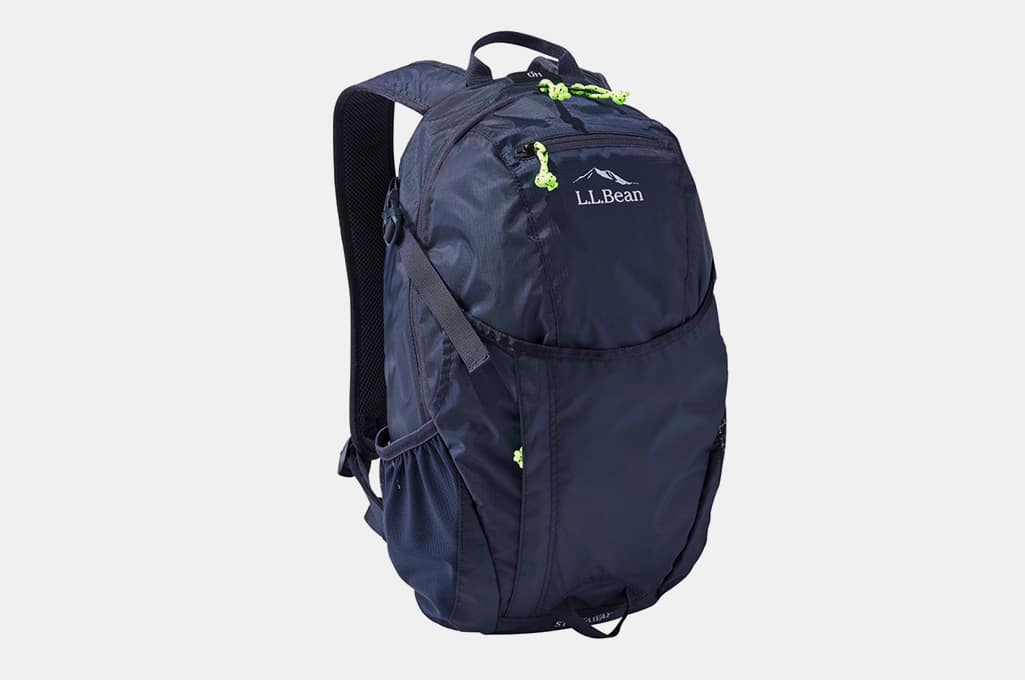 L.L. Bean Stowaway Pack
If you want your purchase to be as good for the environment as it is for your travel ambitions, consider buying L.L. Bean's Stowaway Pack for your daily carry needs. It's made from recycled plastic bottles, refashioned into 70D ripstop fabric that offers a great compromise between strength and weight. Back paneling and mesh straps combine with sternum straps and a waist belt to make this bag really darned close to a full fledged hiking pack—and with 22 liters of storage space, it has more than enough room to accommodate any hiking day trip's loadout.
Body Material: 70D recycled polyester ripstop
Capacity: 22 L
Open Dimensions: 19″ H x 10″ W x 7″ D
Folded Dimensions: Not specified
Weight: 14 oz
Price: $59.95
Key Features: Lots of padding and lots of pockets make the Stowaway pack both comfortable and organization-focused.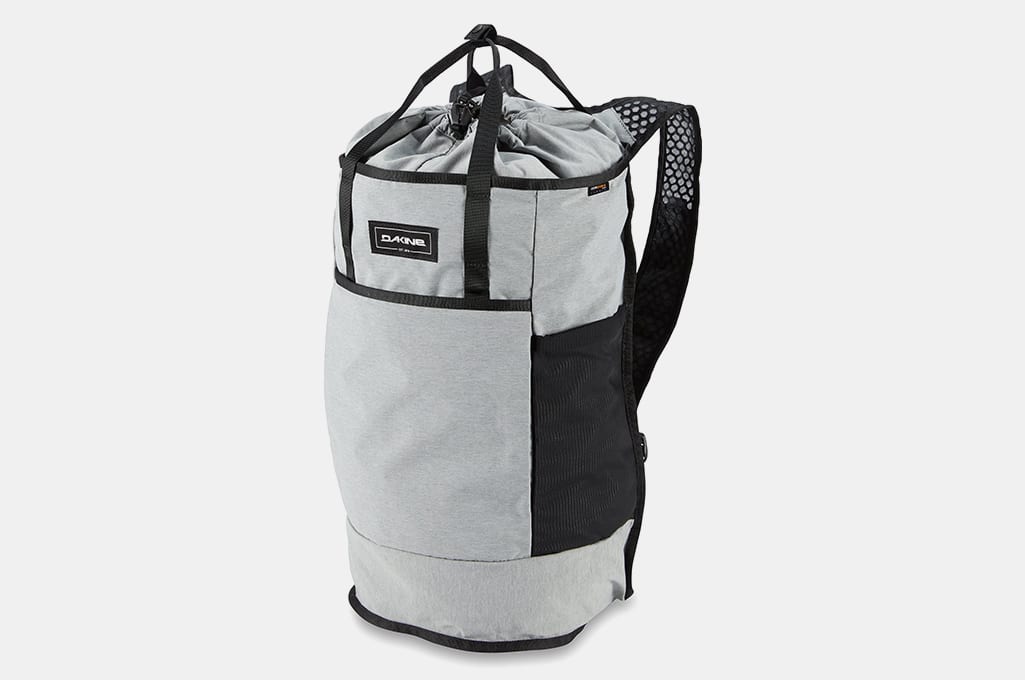 DAKINE Packable 22L Backpack
Another eco-friendly option with a different shape and design is DAKINE's Packable Backpack. Two of the three colors are made from recycled polyester, woven into a ripstop texture and given a durable water repellent finish perfect for everyday use. But if you need a stronger ripstop material guaranteed to last longer, go for the Grayscale colorway with its Cordura construction. No matter which material and color you choose, you'll get a generous selection of pockets for all your gear, including a side-mounted mesh water bottle pocket that will encourage you to stay hydrated.
Body Material: Nylon, polyester, and/or Cordura (depends on color choice)
Capacity: 22 L
Open Dimensions: 18" H x 10.25" W x 8" D
Folded Dimensions: Not specified
Weight: Not specified
Price: $65
Key Features: Lots of pockets give you lots of options for how to carry your gear, and a sternum strap keeps even a fully loaded pack nicely stabilized.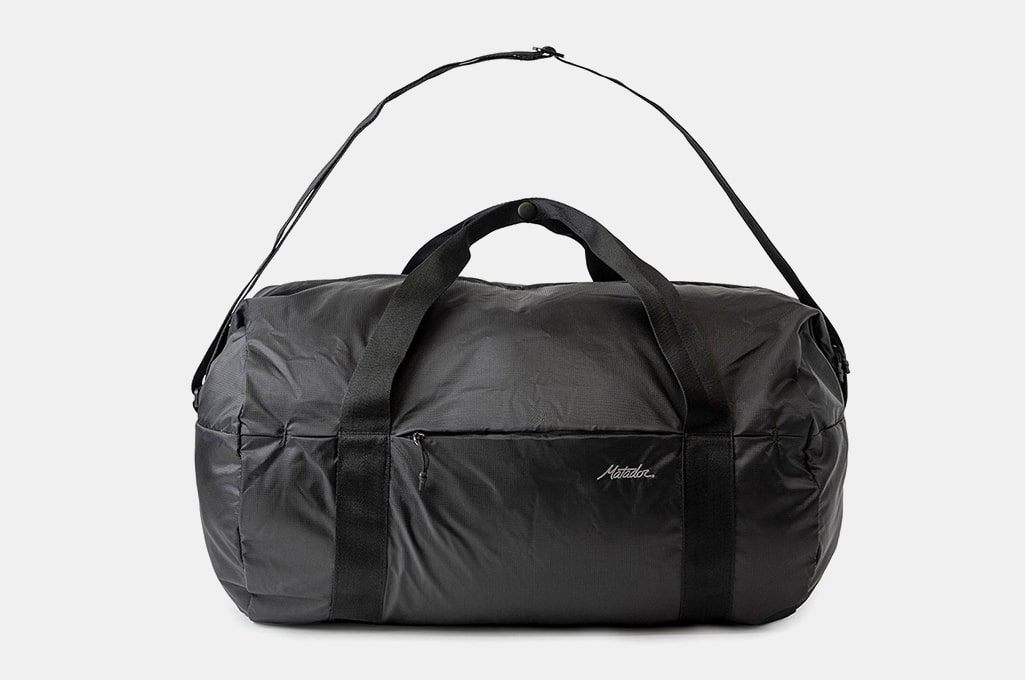 Matador On-Grid Packable Duffel Bag
Backpacks offer a lot of flexibility in organizing your gear exactly as you want it. But is this always a good thing? When all you want to do is toss a few essentials in your bag and head out the door, not always. In situations like that, Matador's On-Grid Packable Duffel Bag is probably a better choice. It's built from waterproof nylon that's been given an extra durable ripstop coating for long-lasting performance, and equipped with a no-nonsense set of quick access pockets and gear loops—perfect for grab and go efficiency.
Body Material: 100D waterproof Robic nylon
Capacity: 25 L
Open Dimensions: 18" H x 11.5" W x 11.5" D
Folded Dimensions: 7.5" H x 5.5" W x 2.5" D
Weight: 9.17 oz
Price: $54.99
Key Features: It doesn't get much more convenient than a duffel bag for grab-and-go travel, and this one can pack down inside your everyday bag to expand your storage options in a flash.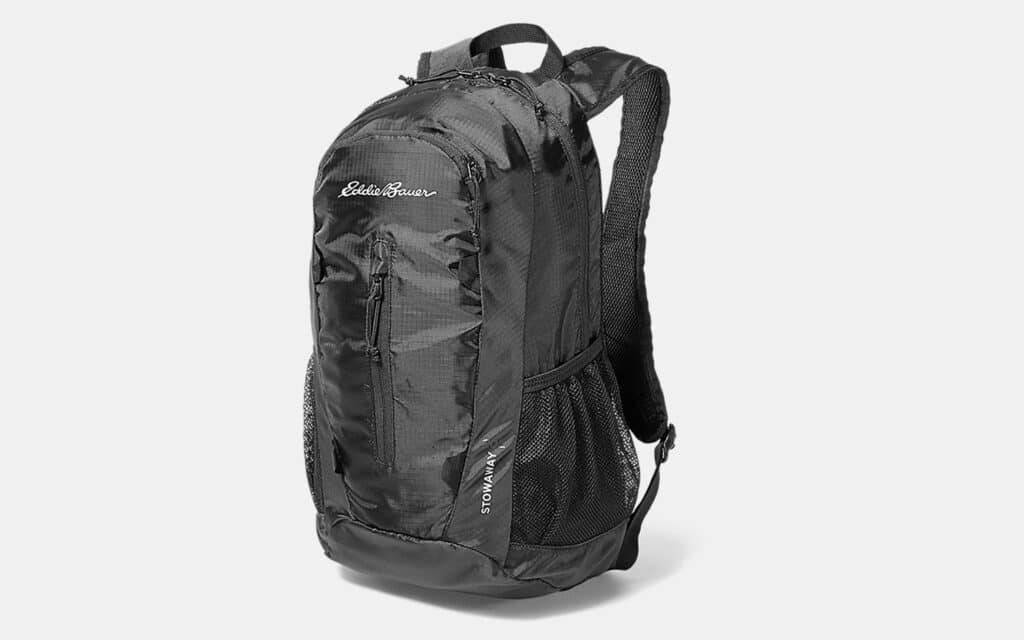 Eddie Bauer Stowaway Packable 20L Backpack
Keep your daypack simple and practical with this bad boy. Designed to fold up beautifully small and tuck away into its own pocket, it's compact enough when not in use that you can stow it in your luggage or carry-on so you've got it available at a moment's notice. It's lightweight enough you'll hardly notice its weight while hiking, camping, or strolling around town, but it's made from ultra-tough 200-denier nylon that has a waterproof coating to shrug off rain and sleet as easily as abrasion. With two external zip pockets, two elasticized mesh side pockets, an interior Velcro-secured back panel pocket, and a large internal compartment, it offers all the storage space you need for your day trips.
Body Material: 200-denier ripstop polyester
Capacity: 20 L
Open Dimensions: 18″H x 10″W x 9″D
Folded Dimensions: 8.5″H x 7″W x 1.5″D
Weight: 11 oz
Price: $15 (normally $30)
Key Features: StormRepel® WR finish sheds moisture, two external zip pockets for securing water bottles, two elasticized mesh side pockets, one interior Velcro® back panel pocket, four front lashing loops to attach a carabiner or clip light, and lightly padded adjustable shoulder straps with breathable mesh lining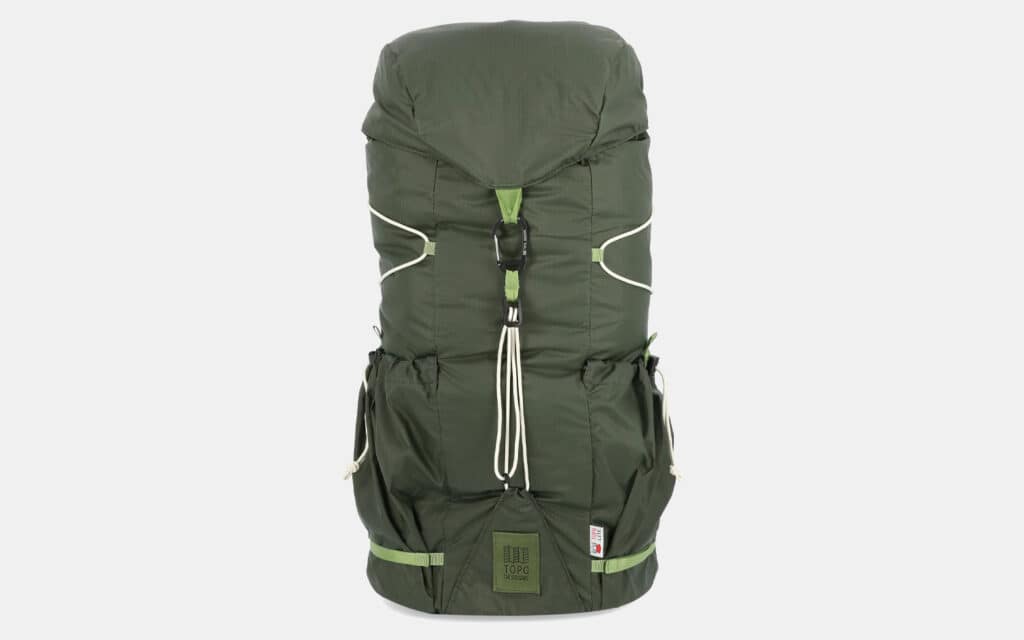 Topo Designs TopoLite Cinch Pack 16L
Sling this bag over your shoulders on any hike, trek, or overnight cycling trip, and you'll guarantee easy access to all your most important essentials. Made from a durable recycled ripstop nylon, it's resistant to abrasions and tears, and features a silicone coating that repels water very effectively. Though it's one of the smaller bags on our list—just sixteen liters of storage space—thanks to all its many pockets and spacious compartments, it will fit everything you need to carry on a day trip. It's also designed to fold down into itself so you can stow it in your luggage. For the price, it's a backpack worth carefully considering.
Body Material: 40D lightweight 100% recycled nylon ripstop with silicone water resistant coating
Capacity: 16 L
Open Dimensions: 16″h x 11″w x 7″d
Folded Dimensions: Not specified
Weight: Not specified
Price: $79
Key Features: Large main compartment with zippered hood pocket, side water bottle pockets with cinch closure, adjustable micro cord attachment points with custom Topo carabiner, and YKK zippers with micro cord pulls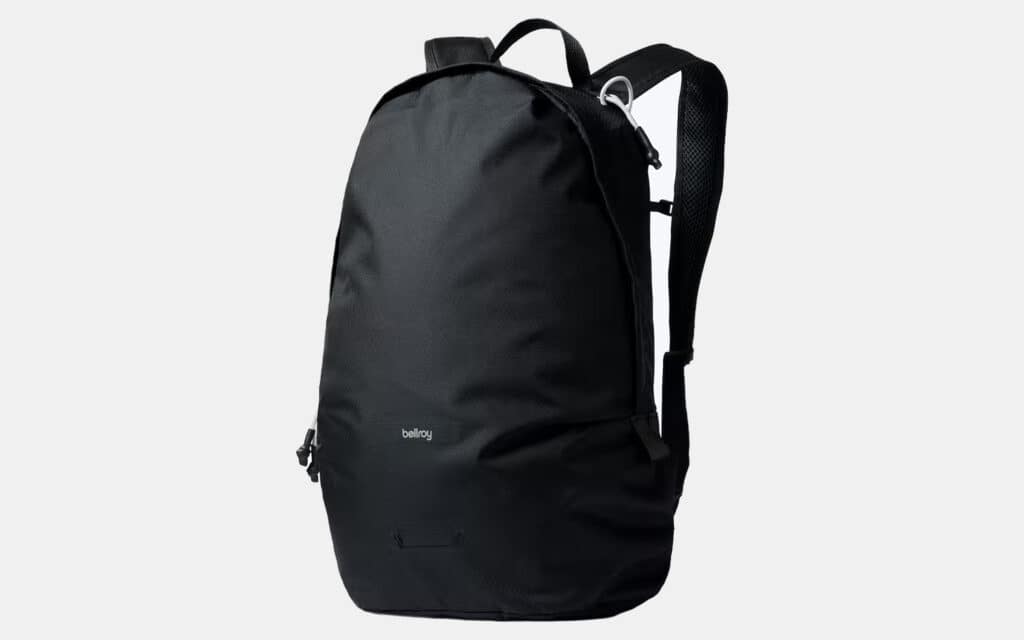 Bellroy Lite Daypack
If there's one thing Bellroy guarantees, it's durability and longevity. That's why the Lite Daypack is backed by a three-year warranty, and that's how you can trust that this ultra-light backpack is a good option for your next trip. The nylon fabric is made using recycled PET plastic bottles, and it's actually 300% lighter than comparable fabrics. You'll hardly feel it sitting on your shoulders, but you'll love the fact that it is fully optimized for packing, complete with a stretch bottle pocket, internal document sleeve, essentials pocket, and even a pocket for your sunglasses. The shoulder straps and back panels are thickly padded and feature a breathable mesh that will keep you wonderfully cool even after a long day of hiking. Thanks to the accessory attachment loops, including a bike light loop, you can customize this pack according to your daily use.
Body Material: Durable ripstop and made from 100% recycled PET plastic bottles
Capacity: 20 L
Open Dimensions: 18.9″h x 10.6″w x 7.1″d
Folded Dimensions: Not specified
Weight: 12.35 oz
Price: $99
Key Features: Internal document sleeve, elevated essentials pocket with key clip, stretch bottle pocket, raised sunglasses pocket with water-resistant zip, padded, breathable mesh back panels and shoulder straps, adjustable and detachable sternum strap, multiple accessory attachment loops, integrated bike light loop, easy-grab zipper pulls, and backed by 3-year warranty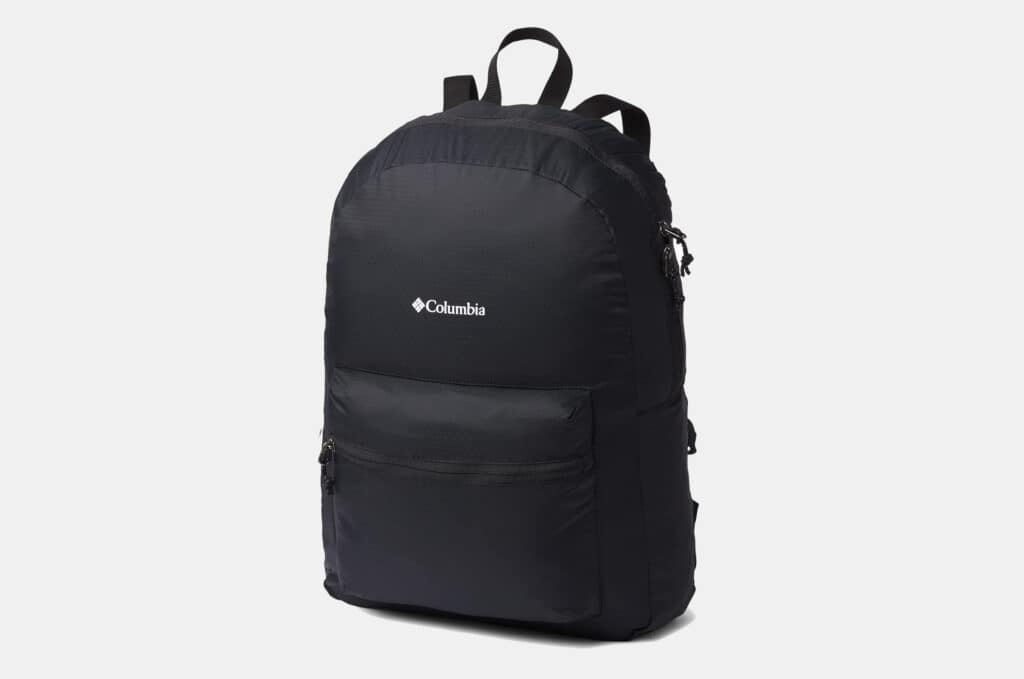 Columbia Lightweight Packable 21L Backpack
When it comes to hard-wearing, good-looking, long-lasting sport-friendly gear, you know Columbia is a brand name you can trust. The Lightweight Packable 21L Backpack is built with the same durability and stylish design as you've come to expect from Columbia, using a tough ripstop nylon that can handle hardcore outdoor activities but is still lightweight enough to serve as a compact daypack. The front accessory pocket gives you easy access to your most important EDC essentials, while the spacious interior compartment makes packing your clothes, toiletries, and electronics a breeze. The reflective zipper pulls are a nice touch to help make you more visible (and thus safer) when hiking or walking after dark or in low-light environments. Best of all, it's insanely affordable.
Body Material: 100% Nylon Ripstop with PU coating
Capacity: 21 L
Open Dimensions: 18.1″ x 12.6″ x 4.7″
Folded Dimensions: Not specified
Weight: 5.9 oz
Price: $21+
Key Features: Internal divider sleeve, front accessory pocket, and reflective zipper pulls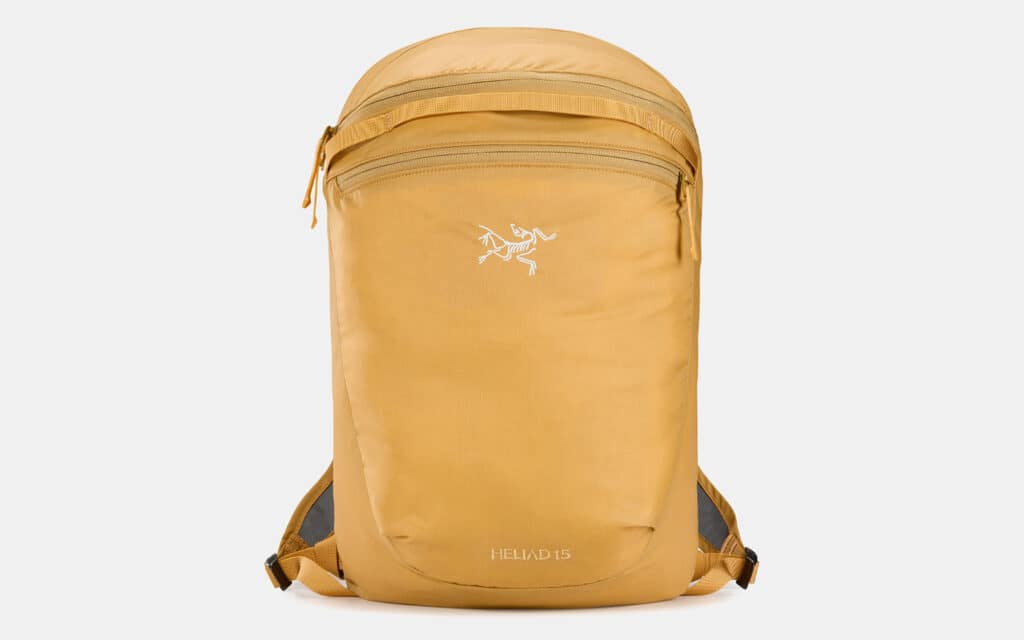 Arc'teryx Heliad 15 Backpack
The Arc'teryx Heliad 15 Backpack is built to last you years of regular day-trips, whether they're out into the woods, whitewater kayaking, or to some far-flung exotic holiday destination. It's light enough it won't add extra weight when packed into your carry on, and folds down into a neat little package in its own stuff sack it will fit into any corner of your suitcase or duffel bag. But it's sized just right to accommodate a hydration bladder, tablet, mini-laptop, or your clothing, and is made using a tough-as-nails nylon ripstop that won't be easily damaged no matter how rough you are with it. You'll especially love the top-access compartment, which makes packing and accessing everything beautifully streamlined.
Body Material: 100D Cordura Mini Ripstop® with silicone and PU coatings – bluesign Approved Material, FC0 DWR
Capacity: 15 L
Open Dimensions: 15.7″ x 9.8″ x 7.9″
Folded Dimensions: Not specified
Weight: 7.1 oz
Price: $60
Key Features: Top grab handle for easy grab-and-go access, internal sleeve fits tablets up to 10″, internal stash pocket for hydration bladder or tablet computer, main compartment with internal zippered security pocket, and external zippered pocket with key clip for access to wallet, phone, keys, etc.
Disclosure: Clicking on these links and making a purchase may earn us a small referral fee, at no extra cost to you. Learn more here.
freestar.config.enabled_slots.push({ placementName: "gearmoose_leaderboard_btf", slotId: "gearmoose_leaderboard_btf" });