The 12 Best Shaving Kits For Men
You have a choice when it comes to shaving: It can be a chore you perform each morning, a literal pain in the neck (and chin and cheeks), or it can be something mildly pleasing, a ritual that starts your day with a few minutes of focus. To help you win the war against begrudging drudgery, we tracked down the 12 best men's shaving kits that will make your morning shave classier, cooler, or at least more convenient.
The safety razor is making a comeback. The brush and shave puck too. There's a club that will send you blades on the regular and shave soaps that smell like sandalwood, cedar, and like nothing at all. Some kits come outfitted in a travel bag, some let you hang your implements on a stand. There's even one shaving kit here that comes with a notebook, and one that packs a block of something called alum (we'll explain later).
Pick a kit that's geared for a get-to-the-point, utilitarian shave, or one that celebrates the four-step, full-service face spa. Ditch that disposable Bic and can of Barbasol rusting up your sink. Buy yourself one of these shaving kits and start looking forward to your morning routine. Or at least stop dreading it.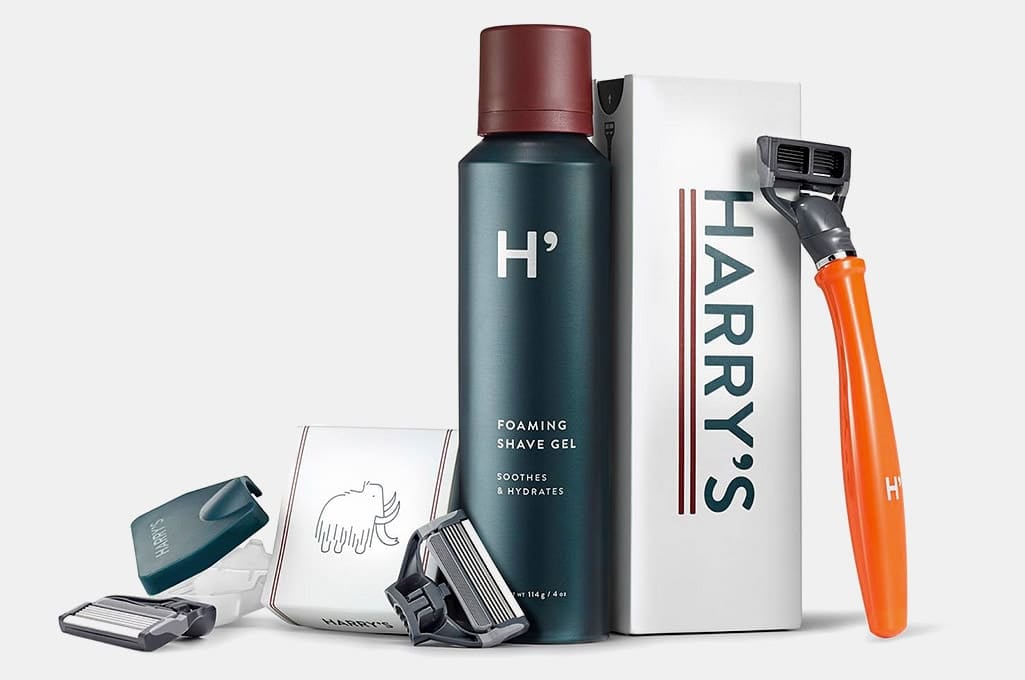 Harry's Truman Shave Set
5 Blade Razor • Shave Cream
If you're into the no-frills approach to a good shave, Harry's has it. They make fancier shave kits (see below) but if you see an engravable zink handle and think, "Engravable zinc handle? What do I need with an engravable zinc handle? Who am I, the Sultan of Brunei?" We hear you. You want something fully de-frilled. The Truman Razor Shave Set still has Harry's five-blade, German engineered cartridge, which includes the precision trimmer and rubber flex head, but there are no engravable handles here–this one has a rubberized handle instead. It still feels like quality in your hand, with a weighted core for proper shave handling. And it still looks quite nice, at an even nicer price.
Along with the razor, you get a tube of their Shave Cream that offers a good glide, close shave, and refreshing zip. And while you can't engrave the Truman razor, we're betting you'll still know it's yours since it'll be in your bathroom.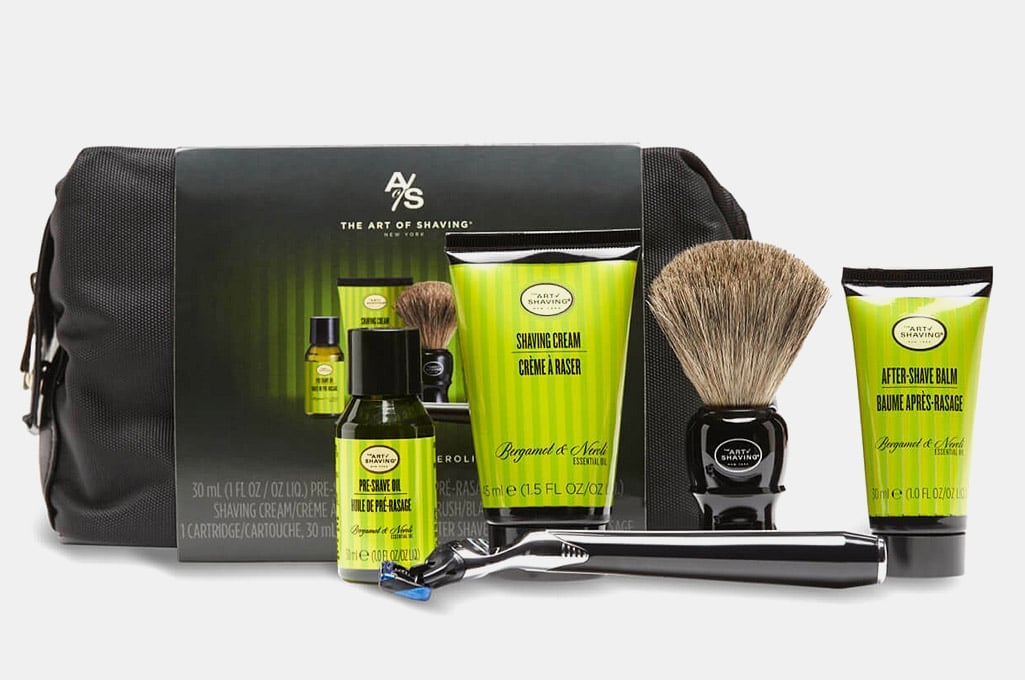 The Art Of Shaving Travel Shaving Kit
5 Blade Razor • Shave Brush • Pre-Shave Oil • Shaving Cream • After Shave Balm • Black Wash Bag
Back in 2009 Proctor and Gamble acquired the upscale, Manhattan-based men's grooming brand and retail store The Art of Shaving. Unlike other P&G products, you won't find their goods at your local Walgreens — think Bloomingdales, Saks Fifth Avenue or, better yet, right here on the illustrious web. Built around their Morris Park five blade razor, this travel shaving kit also comes with pre-shave oil, shaving cream and aftershave balm (in sizes that make TSA agents happy), along with their Genuine Black shaving brush.
You get your choice of lavender, sandalwood or unscented for the oil, cream and balm. The shave brush — made from genuine badger hair — helps lift up facial hair while exfoliating skin so you get a closer, relatively bump-free shave. The razor itself has a weighted ABS and chrome-plated handle with a Gillette Fusion ProGlide cartridge. The razor and the other four pieces fit nicely inside a carry-on-ready zippered bag.
Anthony Perfect Shave Kit
Facial Cleanser • Pre-Shave Oil • Shave Cream • After Shave Balm • Dopp Bag
Who is this Anthony and what's he doing in your bathroom? Former real estate developer Anthony Sosnick used to buy and sell entertainment venues, but then detoured into the grooming products for men arena. So far it's working out for him, and for your face. This kit is designed to keep the irritation, ingrown hairs and shaving burn at bay with a four step regimen.
Start with the Glycolic Facial Cleanser that softens and lifts stubble. Then add a few drops of the Pre-Shave Oil followed by the Shave Cream which has rosemary and eucalyptus to cool skin and perform antiseptic duty, and squalene to lubricate. Post shave, finish up with the After Shave Balm that cools with cornmint, eucalyptus and rosemary extracts and heals with aloe vera. Faithfully followed, the process promises to eliminate the bumps and irritations from shaving, all thanks to a guy named Anthony.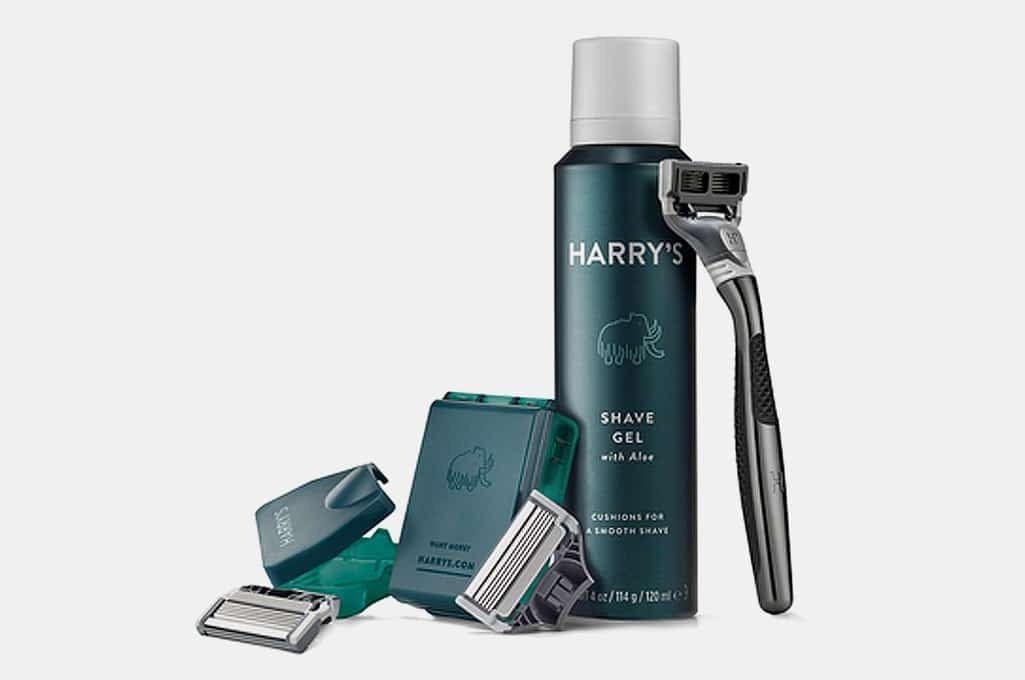 Harry's Winston Shave Set
5 Blade Razor • 3 Cartridges • Shave Cream or Shave Gel
You're the type who puts down honest hardworking dollars and wants something honest and hardworking in return — Harry's has the shave set for you. The guys behind this five-year-old company were not impressed by the fancy design gimmickry of overpriced drugstore razors. So they bought a German blade factory and started making low-frill, high-quality blades that ship direct and cost less than those mach-fusion gizmos.
The Winston set gets you an engravable zinc handle, three blade cartridges with travel cover, and your choice of foaming shave gel or moisturizing shave cream. The blade cartridges have a rubber flex hinge with the right amount of give, a lubricating strip, and five German-engineered blades. There's also a precision trimmer blade at the top of the cartridge for sideburn upkeep and under-the-nose maintenance. Basically everything you need to shave your face, hold the fluff.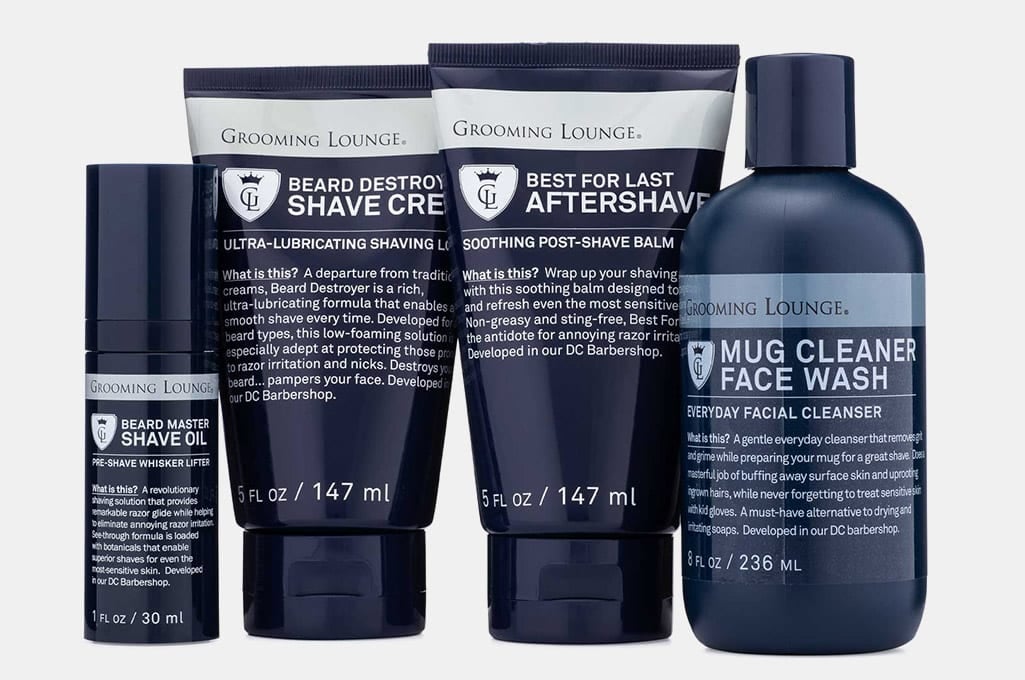 Grooming Lounge "The Greatest Shave Ever" Kit
Face Wash • Shave Oil • Shave Cream • Aftershave • Dopp Bag
A kit that promises to deliver the "greatest shave ever" better have some impressive product to back up that claim. Grooming Lounge is the DC-based men's brand offering the kit and since each product is developed and tested by the grooming experts working in the brand's barbershop/men's spas, there's a fair amount expertise backing up that big promise.
The shave kit features full-sizes of their Mug Cleaner Face Wash, Beard Master Shave Oil, Beard Destroyer Shave Cream and their Best For Last Aftershave. It all comes in a black Grooming Lounge dopp bag and each is either unscented or comes in a refreshing clove aroma. Using each of the four products in succession delivers an irritation-, bump- and cut-free shave, leaving you feeling like you just paid a professional DC barber for a hot towel shave, but didn't actually have to leave your bathroom.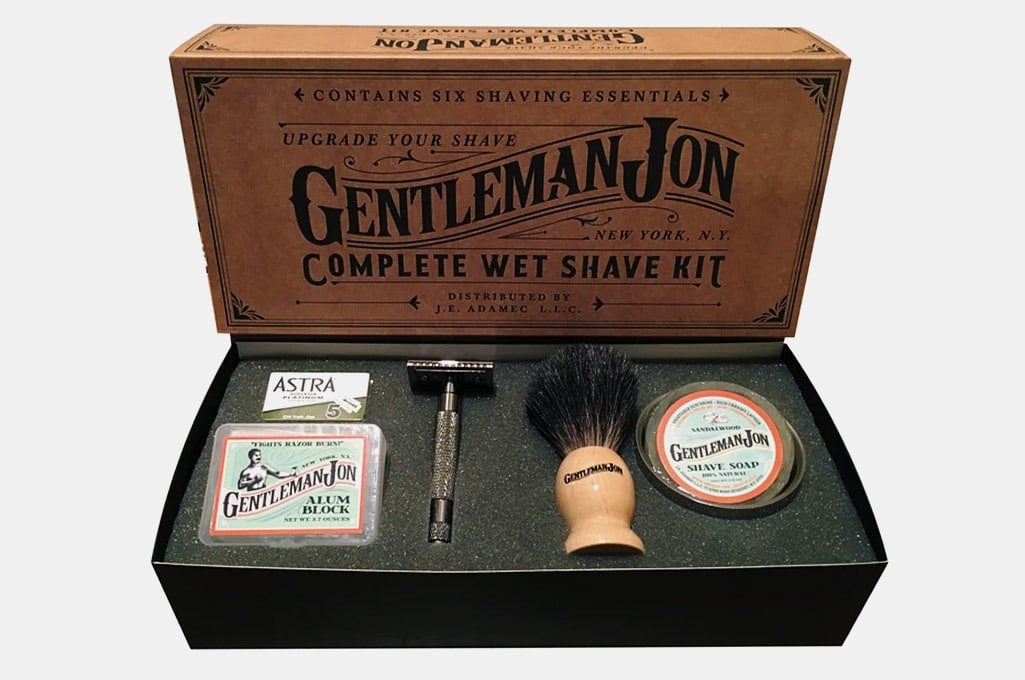 Gentleman Jon Complete Wet Shave Kit
Safety Razor • 5 Blades • Shave Brush • Shave Soap • Alum Block • Steel Bowl
Picture a Victorian pugilist: bare chested, fists raised, clean shaven but for that spectacular moustache. Now picture his shaving routine — we're betting he'd use a kit akin to this one. Brought to you by Gentleman Jon, this everything-old-is-new-again set features the trusty safety razor, five Astra Platinum double edge replacement blades, a puck of sandalwood shave soap, plus a badger hair brush and sparkling steel bowl to froth up that vintage lather.
Once you've shaved away that pesky facial hair (except, of course, for the illustrious 'stache) get out Gentleman Jon's alum block. It's 100% pure potassium alum, a natural mineral found in rocks and in the human body that was once widely used and is again gaining followers in this modern era. It has antiseptic properties, stops bleeding, tones skin and closes pores. The final touch in a kit that gives you everything you need to shave like it's 1899.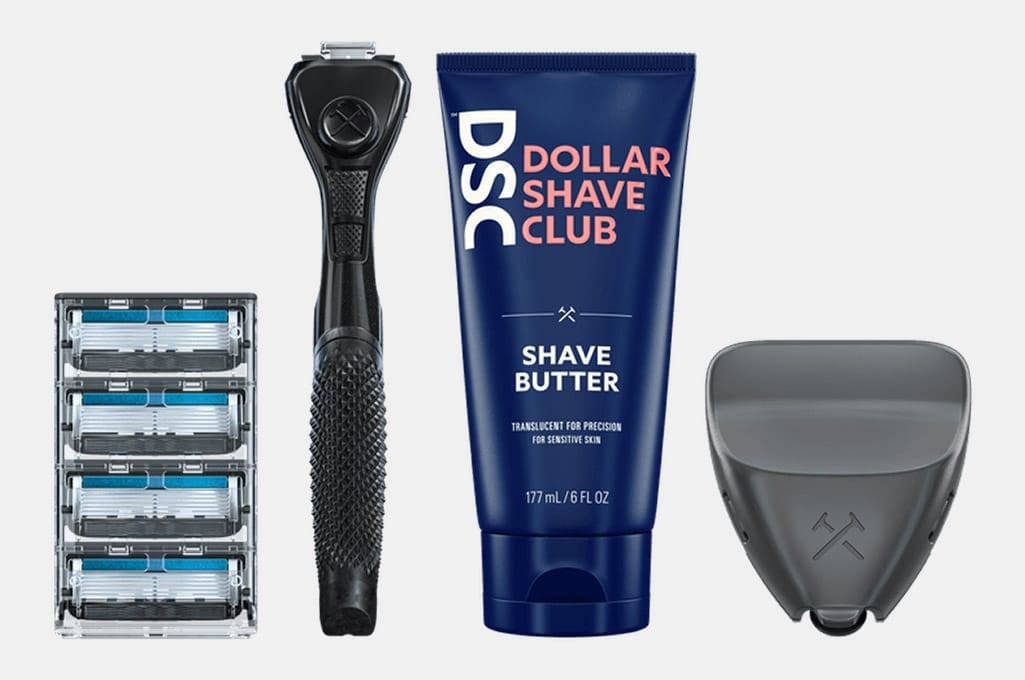 Dollar Shave Club Shave Essentials Kit
Shave Butter • Safety Razor • 4 Blade Refills • Razor Cover
Dollar Shave Club is all about delivering quality and simplicity with no frills or fluff, all at a price tag you'll love—and they do exactly that with the Shave Essentials Kit. This kit has everything you need to shave: a durable safety razor, six blade refills, a razor cover (for safe and easy storage while traveling), and shave butter.
The razor itself is beautifully designed, with a solid metal handle covered by a diamond-patterned rubber grip that will be easy to hold even if the razor is wet or soapy. The six-blade heads deliver an ultra-precise shave, with a flexible head that can adapt to the curves of your face. The kit provides four refills to make sure you've got a steady supply for months of regular use. For those who hate foamy shaving cream, the provided Shave Butter is a transparent layer of lubrication that will soften your facial hair, reduce skin irritation and razor burn, and give you a better all-around shave every time.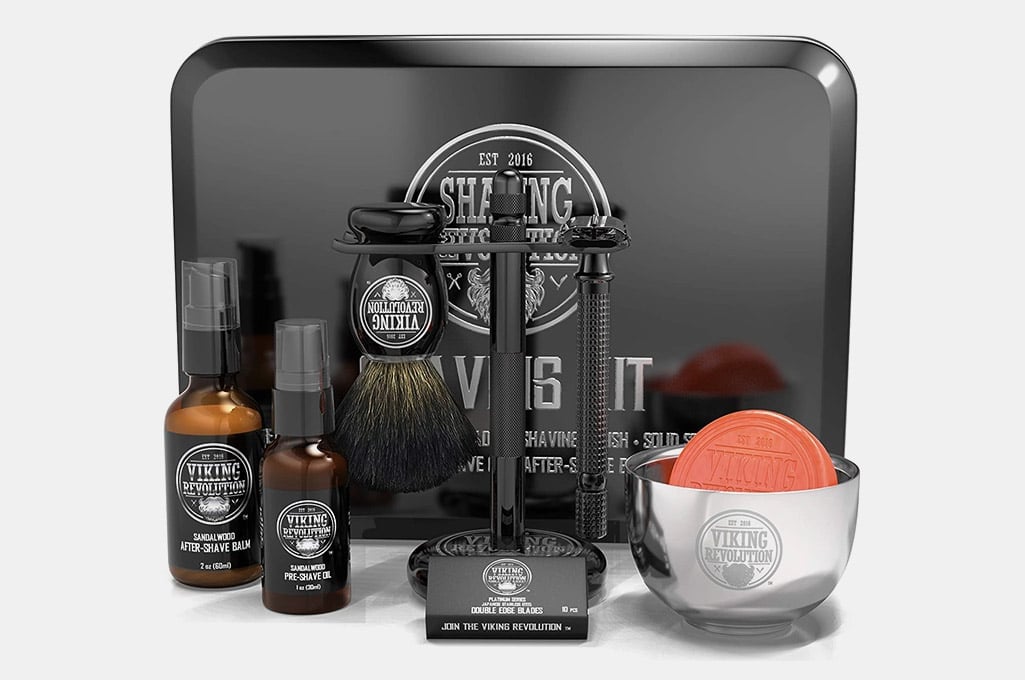 Viking Revolution Luxury Safety Razor Shaving Kit
Shaving Soap • Safety Razor • 10 Blade Refills • Razor Stand • Pre-Shave Oil • Aftershave Balm • Shaving Brush and Bowl
Viking Revolution is the beard care brand for guys who "get it," who know how to balance their ultra-masculinity with manly scents and precise grooming. The Luxury Safety Razor Shaving Kit provides everything you need to get a close, careful shave—not just the razor, but all the tools of the trade.
The set is made using all premium-quality materials, and you'll feel that from the moment you pick up the solid razor and slide the uber-sharp blade across your skin. The kit comes with ten blade replacements that will keep their edge and deliver a beautifully precise shave every time. You also get a brush and bowl that makes it easy to apply the provided shaving foam. Apply the pre-shave oil to soften your skin and hair, and once you're done, the lightly-scented aftershave is guaranteed to make you smell as fresh and clean as you look.
Jack Black The Closer Shaving Set
Shave Lather • Safety Razor • 2 Blade Refills • Moisturizer
Elegance, reliability, and masculinity: those are the three things Jack Black delivers best in its products, and the Closer Shaving Set absolutely fits the bill. You get more than just a shave—it's a shaving "experience" that will leave your skin healthier and you feeling more chic than ever.
The five-blade cartridge razor delivers an amazingly close shave, with German-made steel and a beautifully designed razor body that is incredibly easy to maneuver over your face. With the thick, luxurious shave lather, you'll get a close shave without risking razor burn or skin irritation, and your skin will be nourished and softened by the foam. Finally, finish it off with the softening moisturizer, which even provides 20 SPF to protect your skin against UV damage and dryness all day long.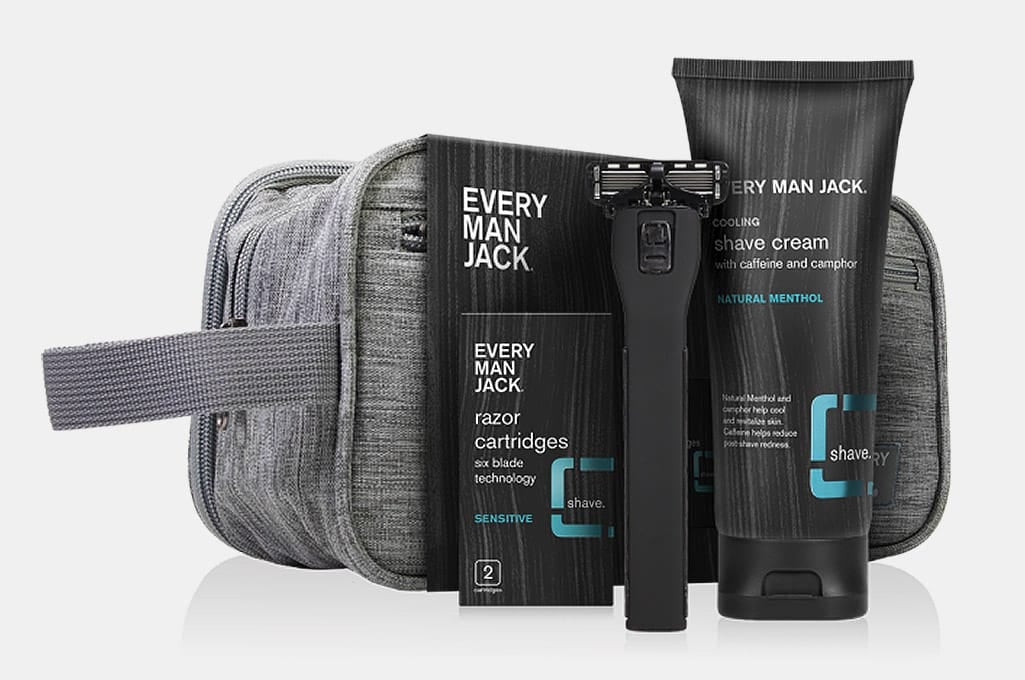 Every Man Jack Natural Menthol Shave Kit
Shave Gel • Safety Razor • 2 Blade Refills • Premium Dopp Kit
For guys who want premium products made using cruelty-free, naturally derived, and vegan-friendly ingredients, look no further than this Every Man Jack Natural Menthol Shave Kit. All of the ingredients in the shave gel are natural and clean (including aloe vera, coconut oil, and natural menthol), delivering quality nourishment to your skin while still protecting the environment.
The scent of the shave gel is naturally refreshing and an absolute treat for your senses, but paired with the durable six-blade cartridges, it also guarantees a closer shave. And, just to make sure you're getting maximum value out of this shave kit, Every Man Jack includes a dopp kit to carry everything around safely—the perfect travel companion.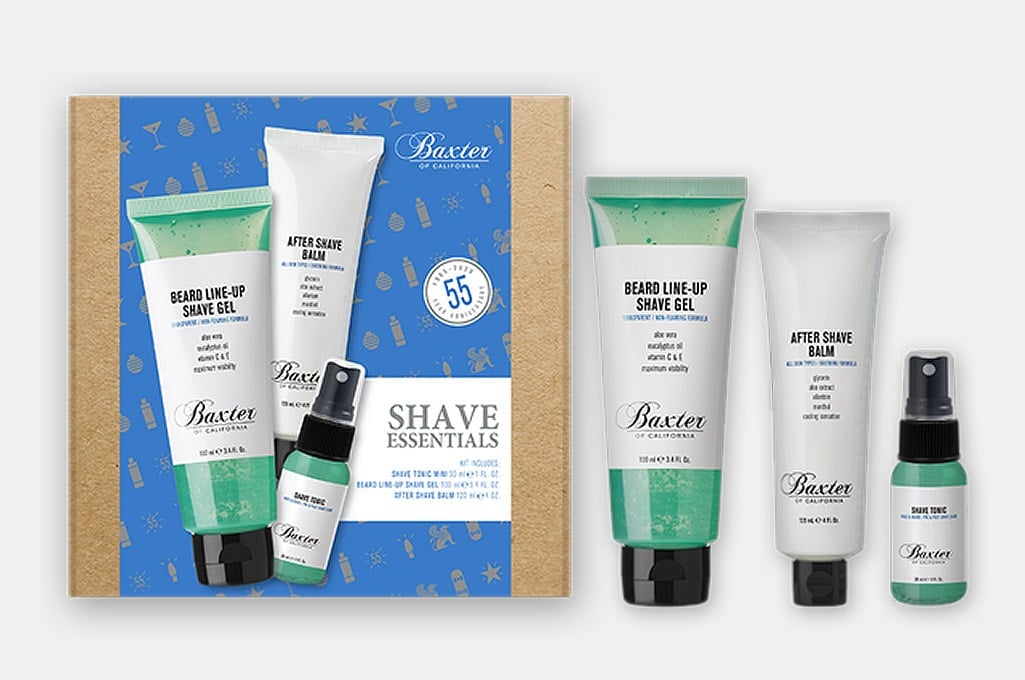 Baxter of California Shave Essentials Kit
Shave Gel • Shave Tonic • After-Shave Balm
Baxter of California aims to be "experts in men's grooming and personal care," and one look at the Shave Essentials Kit makes it pretty clear they do an amazing job of reaching that goal. This kit doesn't include a razor or blades—it's assumed you've already got one you love—but it provides all the other essentials for a close, precise shave: a shave tonic to prepare your skin and soften your hair, a transparent shave gel that eliminates the need for foam and provides lubrication during your shave, and an after-shave balm that will soothe your skin, reduce redness, and leave your face smelling delightful. It's a handy kit to carry around with you wherever you go, and at a price point you'll love.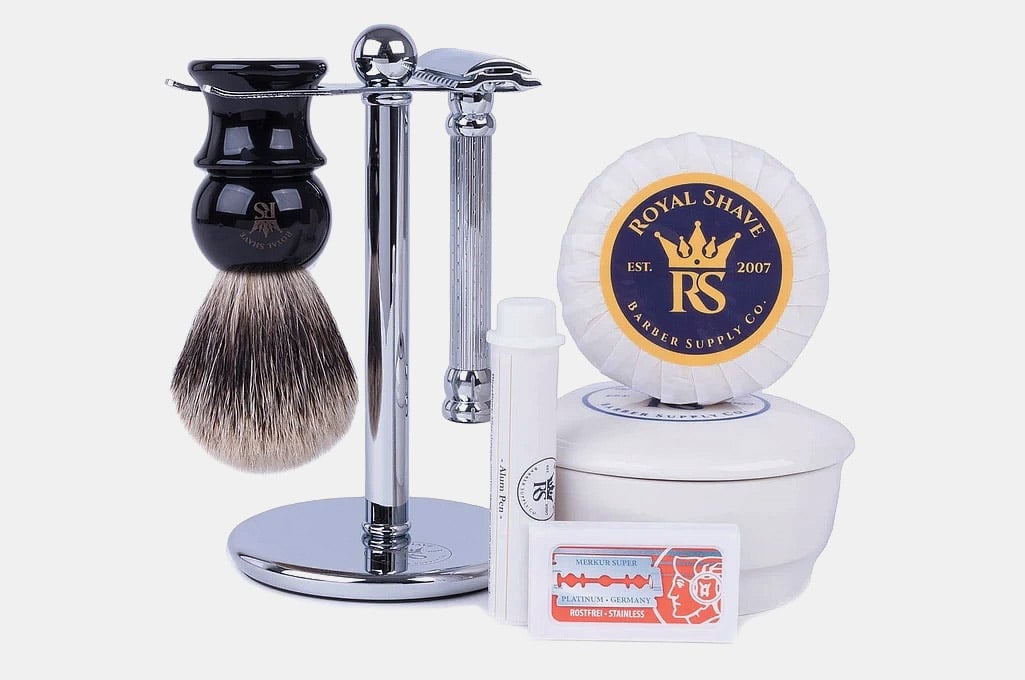 RoyalShave Merkur 47C Safety Razor Set
Shave Soap • Safety Razor • Shaving Soap • Ceramic Bowl • Shave Brush • Shaving Stand
For the man who wants to wet shave in style, the RoyalShave Merkur 47C Safety Razor Set is precisely what you need. The kit is put together from top-quality materials and reliable products made by a family-owned American company in the classic European style. The long-handled razor is balanced to perfection, with an incredibly sharp mid-weight cartridge that delivers an insanely close shave while gliding easily over your skin. The brush and bowl make it a cinch to mix up and apply the shave foam to your face, and you'll love the lemon sandalwood scent on your skin.
Disclosure: Clicking on these links and making a purchase may earn us a small referral fee, at no extra cost to you. Learn more here.
freestar.config.enabled_slots.push({ placementName: "gearmoose_leaderboard_btf", slotId: "gearmoose_leaderboard_btf" });