The 15 Best Summer T-Shirts For Men
Even when it's hot out, a T-shirt is just a T-shirt — right? Wrong. If you're into looking your best and staying cool, grabbing one of the best summer T-shirts is an absolute must.
Although simple in construction and look, the slim T-shirt is an all-American classic. It's like any great style upgrade, made better than before thanks to high-quality fabrics, modern fits, visually interesting design touches and versatile styling potential. Sure, when the mercury rises, it can be quite easy to throw in the towel and try to ditch a shirt and tie, but you can still do so in style.
Even in a regular office (and particularly if you work in a casual environment), the slim T-shirt can work wonders for any guy with paired with something dressier, like a lightweight navy blazer, khaki chinos and white sneakers. Try out that combo during your 9-to-5, and reach for one of the best summer T-shirts over and over again as it gets even hotter this season.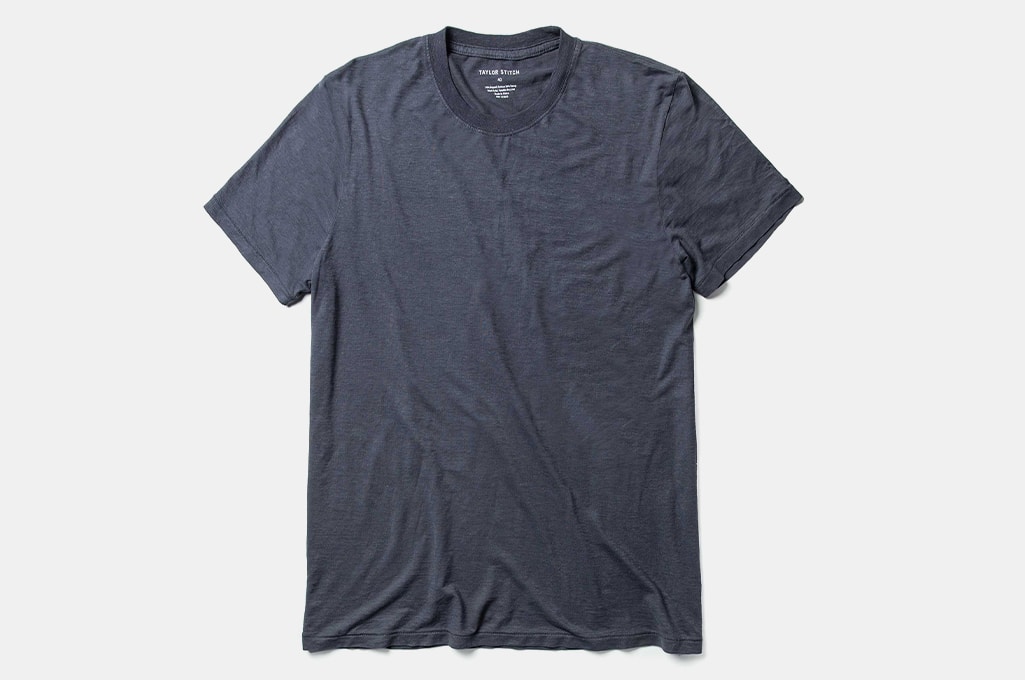 Taylor Stitch The Cotton Hemp Tee
Taylor Stitch is a brand trying to lead the charge to greater sustainability in the clothing industry, using sustainable fabrics and manufacturing practices that protect the environment. The Cotton Hemp Tee uses a mixture of organic cotton and hemp that is surprisingly soft while still offering maximum durability. The shirt is light enough to serve as a base layer in the cold, but is an amazing summer T-shirt to keep you cool when the weather turns hot. The cotton-hemp blend is pre-washed to prevent shrinkage, and you'll love how well it holds up to regular washing without pilling or fading. It's a shirt that looks good, wears well, and is priced perfectly.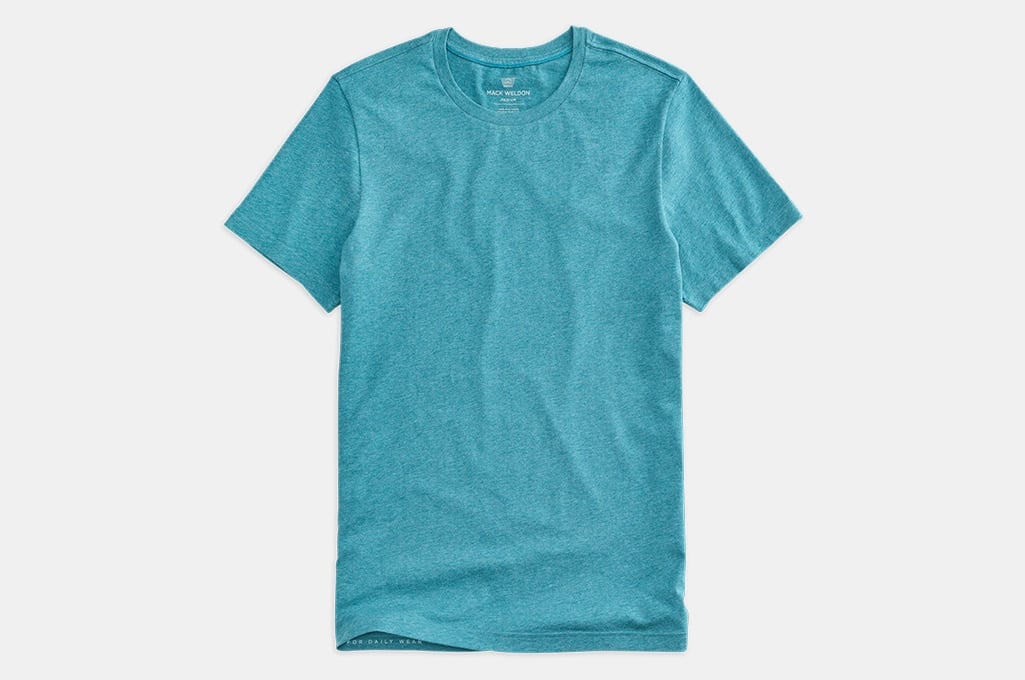 Mack Weldon Pima Crew Neck T-Shirt
If you're lucky and know where to shop, there'll come a time when you throw on a T-shirt and can tell from the get-go that it's worth the money and time spent finding it. That's what Mack Weldon is all about, and the brand gets plenty of things right when it comes to its Pima Crew Neck T-Shirts. They're super soft thanks to the enzyme washing process, and they fit slim and modern. In fact, the look and feel is nice enough that you can rock one on its own with light wash jeans, or with a denim jacket and slim khaki chinos for a bar crawl or Sunday brunch.
Buck Mason Pima Classic Tee
Buck Mason delivers "only the essentials," comfortable, durable, everyday clothes that will serve your every need and be stylish in any situation. The Pima Classic Tee is exactly that, a super-soft, breathable tee made from pure pima cotton that has been washed for maximum softness. From the moment you first slip it on, it has the feel of your favorite, well-loved T-shirt, a vintage look, and a straight hem that sits just below waist level—perfect for tucking in or letting it hang. It's highly versatile and makes a great pick for both summer and winter.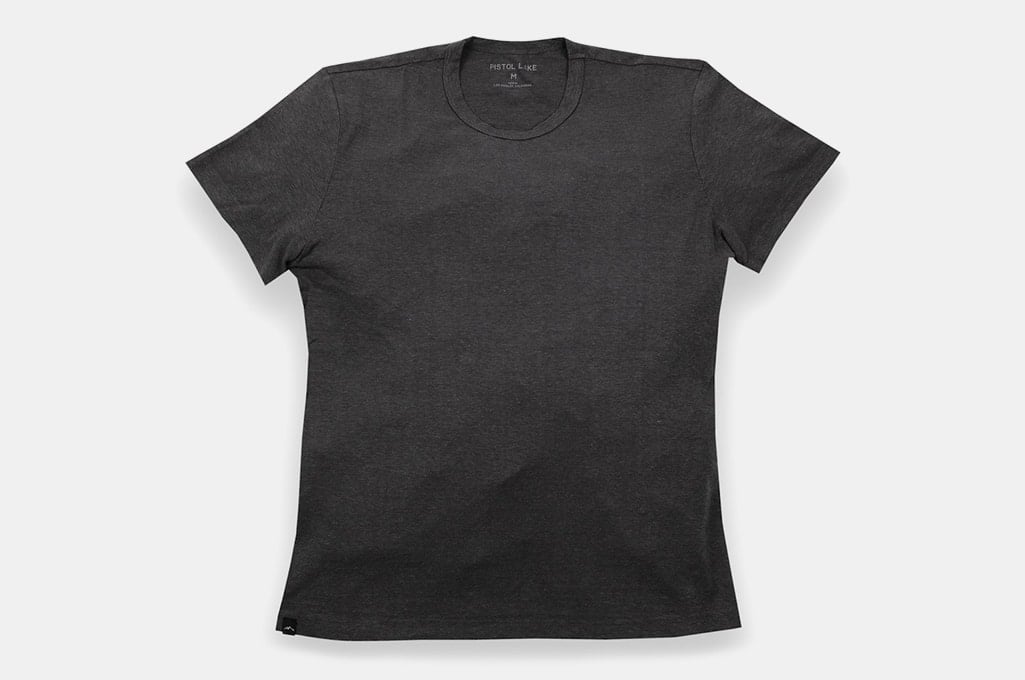 Pistol Lake All-Day Hemp Tee
Pistol Lake is a brand attempting to make a difference in the world, using ethical manufacturing practices that turn recycled fabrics into handcrafted works of art and comfort. Like so many of their products, the All-Day Hemp Tee takes a sustainable fabric (hemp) and transforms it into a stylish item of clothing that you'll be proud to wear all day every day. The mix of organic hemp and cotton jersey makes the shirt wonderfully soft and breathable, and the midweight fabric is designed for a moldable, personalized fit. It's even odor-resistant, thanks to the hemp fibers woven into the durable tee, making it perfect for outdoor and athletic use as well as lounging in comfort.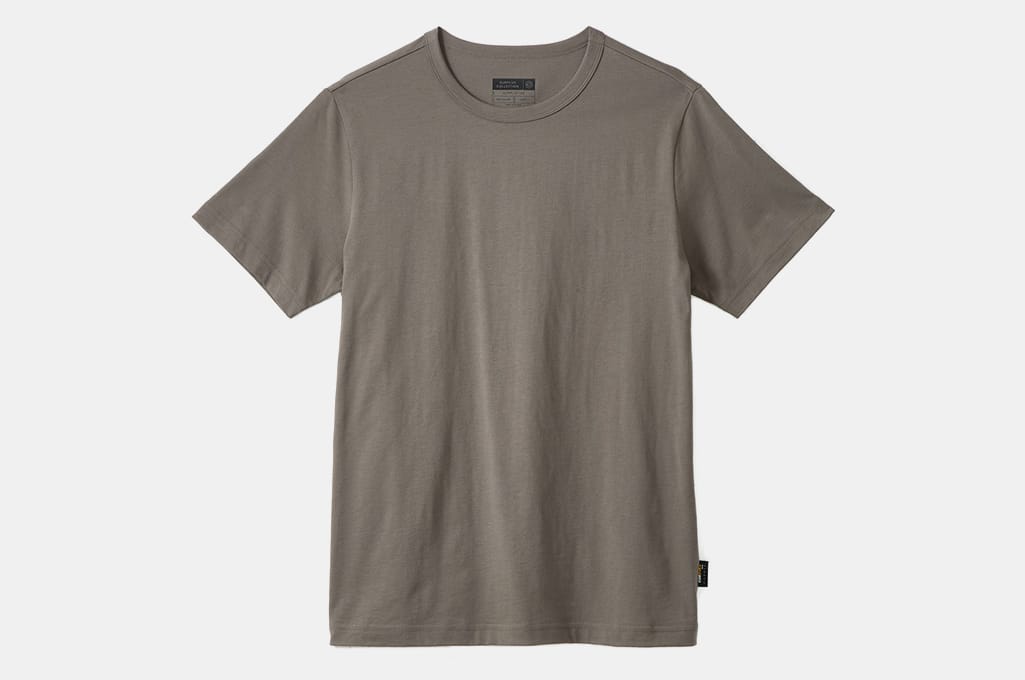 Flint and Tinder Surplus Collection Tee
If you're looking for hard-wearing, American-made, practical clothing, Flint and Tinder is the brand for you. The Surplus Collection Tee is designed with military toughness and civilian comfort in mind. This shirt is ultra-rugged, using a blend of Cordura and military-inspired cotton that will handle the wear and tear of camping, hiking, backpacking, or trekking with ease. It's a shirt built for "getting things done", lightweight enough to be highly versatile and suitable for any outdoor, athletic, or high-intensity activity. You'll find this shirt keeps up with your intense activities for years to come, and looks good all the while.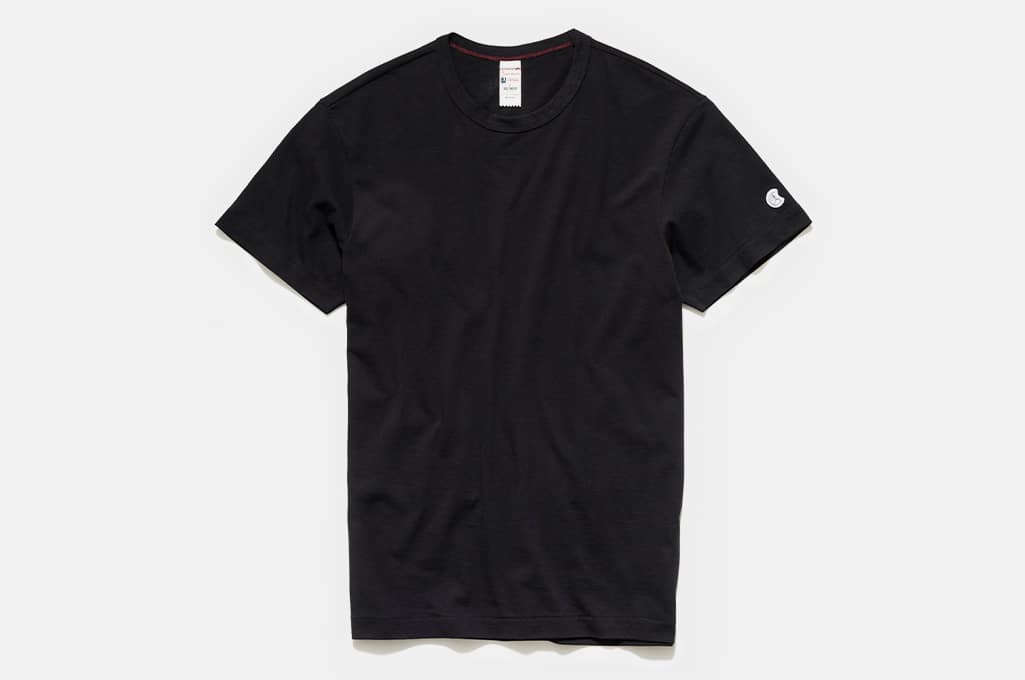 Todd Snyder Champion Basic Jersey Tee
There's nothing quite as reliable and familiar as a classically stylish black tee, and the Todd Snyder Champion Basic Jersey Tee makes the perfect addition to your wardrobe. Crafted by iconic menswear designer Todd Snyder, this premium knit T-shirt is made from buttery soft yet tough-as-nails cotton jersey and styled for elegance as well as comfort. It's the shirt to wear with your sweats, jeans, board shorts, or even a suit jacket, with hand-stitched details that will draw the eye. It's just the right balance between refined and relaxed, the shirt you'll always want to have on hand when dressing your best.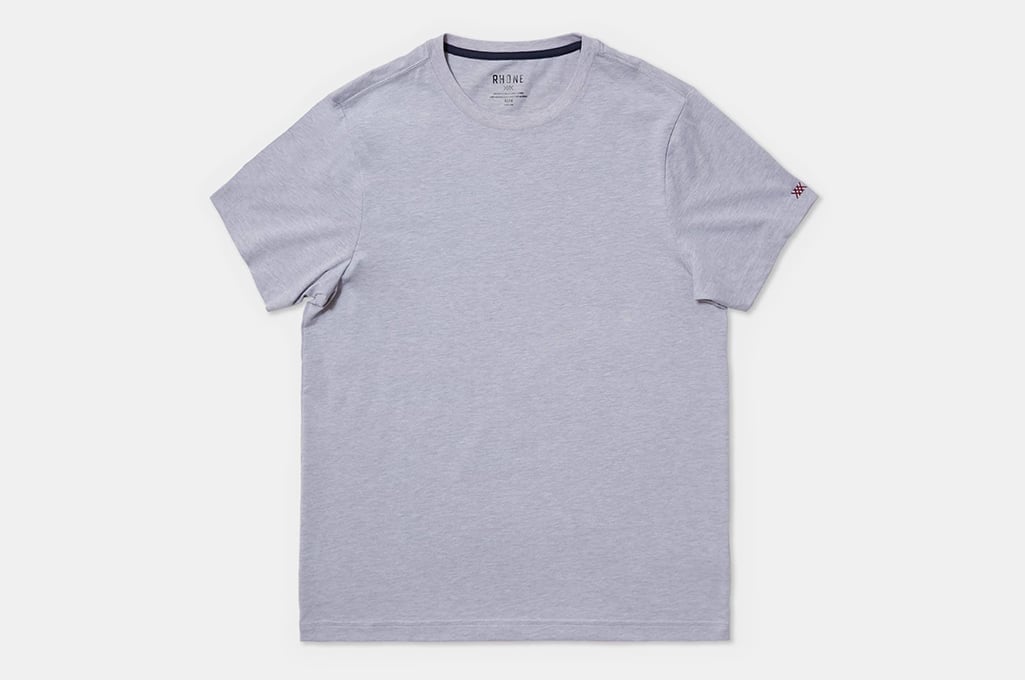 Rhone Element Tee
The Rhone brand is all about responsibility to the planet, which is why the Element Tee uses only organic pima cotton and all-recycled polyester and spandex fabrics. The blend of natural and synthetic fibers gives the shirt a beautiful amount of stretch and excellent durability, making it ideal for your runs, gym training sessions, or heading out for drinks with your friends. The fabric has integrated anti-odor technology that will keep both you and the shirt smelling fresh and clean all day, even in the sweat-inducing summer heat. This is a shirt that delivers comfort, reliability, and sustainability all in one amazing package.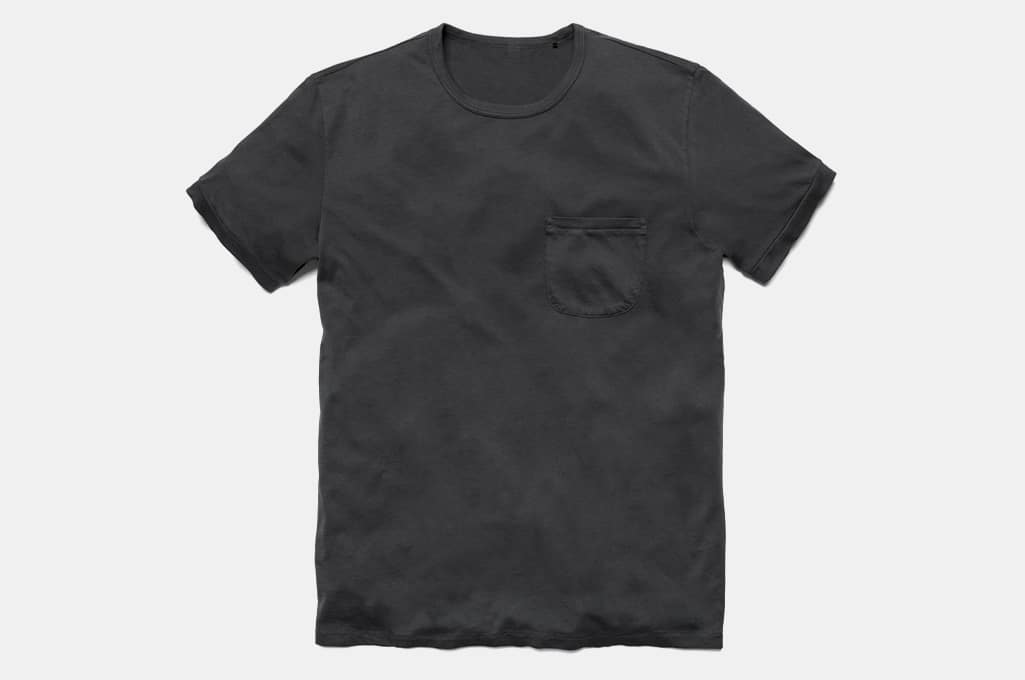 Outerknown Sojourn Pocket Tee
The Outerknown Sojourn Pocket Tee is built for adventure, combining durable construction, a relaxed neckline, light weight, and top-notch durability into a single shirt that you'll want to take with you on any vacation, business trip, or road trip. Made from pure organic Pima cotton, the shirt has been pigment-dyed to give it a lived-in look and feel that you'll immediately fall in love with. The stitching at the hem and signature rib trim on the sleeves, neckline, and chest pocket will never run or break, ensuring this T-shirt handles anything you throw at it. Whether you take it on a hiking trip, beach vacation, or jungle trek, you know this shirt's going to deliver the quality and comfort you need.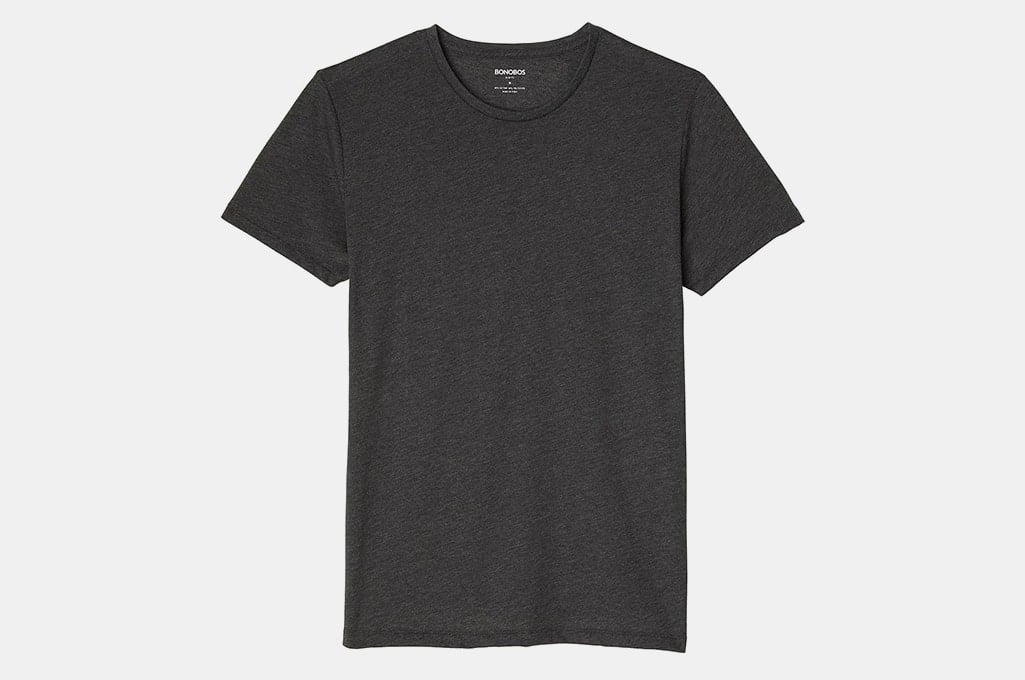 Bonobos Soft Everyday Tee
Sometimes you just want a super-soft, super-comfy T-shirt to wear around your house on the days when you're going nowhere and seeing no one—and that's exactly what the Bonobos Soft Everyday Tee delivers. Don't get us wrong: it's a stylish slim-fit, crew-necked shirt that will look good when out and about. However, what makes it such a great choice is how sleek and silky it feels on your skin, like you're dressing in a cloud. The blend of polyester and cotton makes it perfect for days that you're relaxing in front of the TV, getting your gaming on, or playing intense board games with your friends. The shirt will keep you cool, looking clean, and smelling fresh all day long.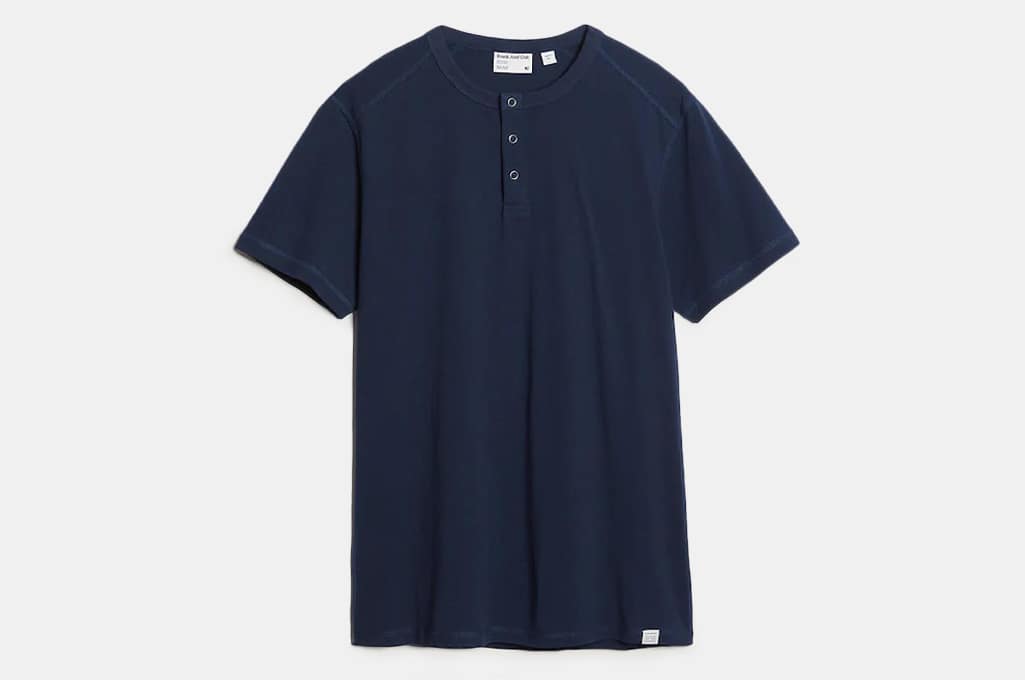 Frank and Oak The Temperature Control Henley
Frank and Oak combines sustainable practices, fashion-forward designs, quality fabrics, and Canadian manufacturing standards to produce top-notch clothing—like The Temperature Control Henley. This shirt is made from a beautifully versatile and durable combination of organic cotton and the brand's signature CoolMax polyester that delivers both moisture-wicking and temperature-controlling properties. It's the perfect shirt for hot days under the summer sun, but works great as a base layer for those snowboarding and ski trips. Prepare to fall in love with the simple design and classic style of this high-quality tee.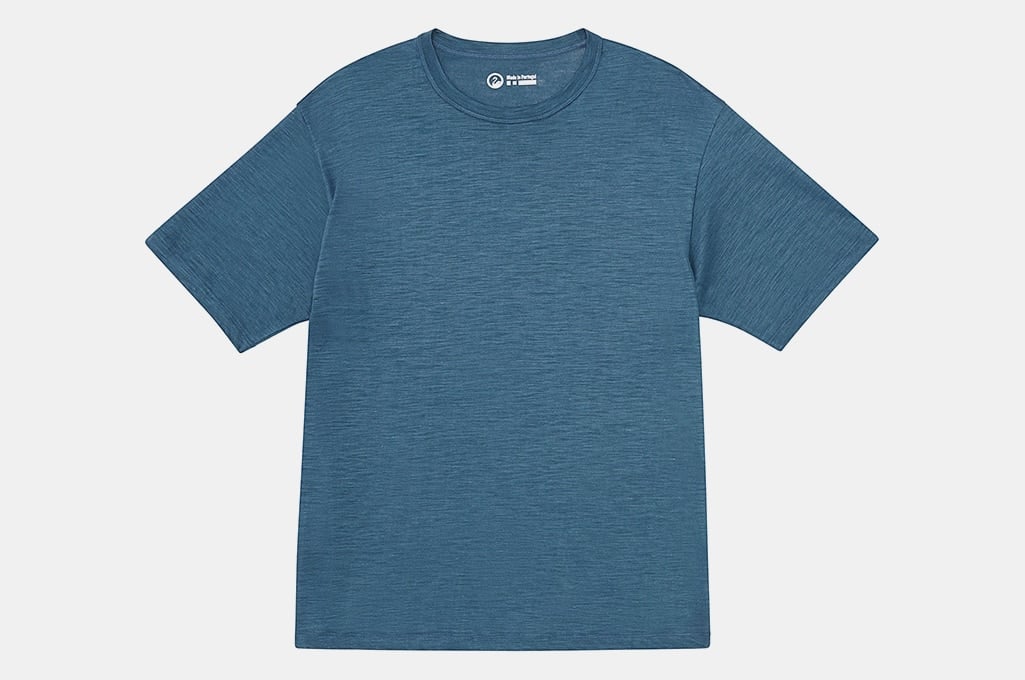 Outlier Ramielust Cut Two T-Shirt
For the man who wants to stand out from the crowd, the Outlier Ramielust Cut Two T-Shirt is the perfect way to draw attention to yourself. It's as stylish as it is comfortable, with a box cut and squared-out shoulders that will accentuate your physique without getting in the way of your daily activities. The shirt is loose and light enough that it'll feel breezy on your body, and the fabric will keep you cool, dry, and relaxed all day long, no matter how blistering the heat.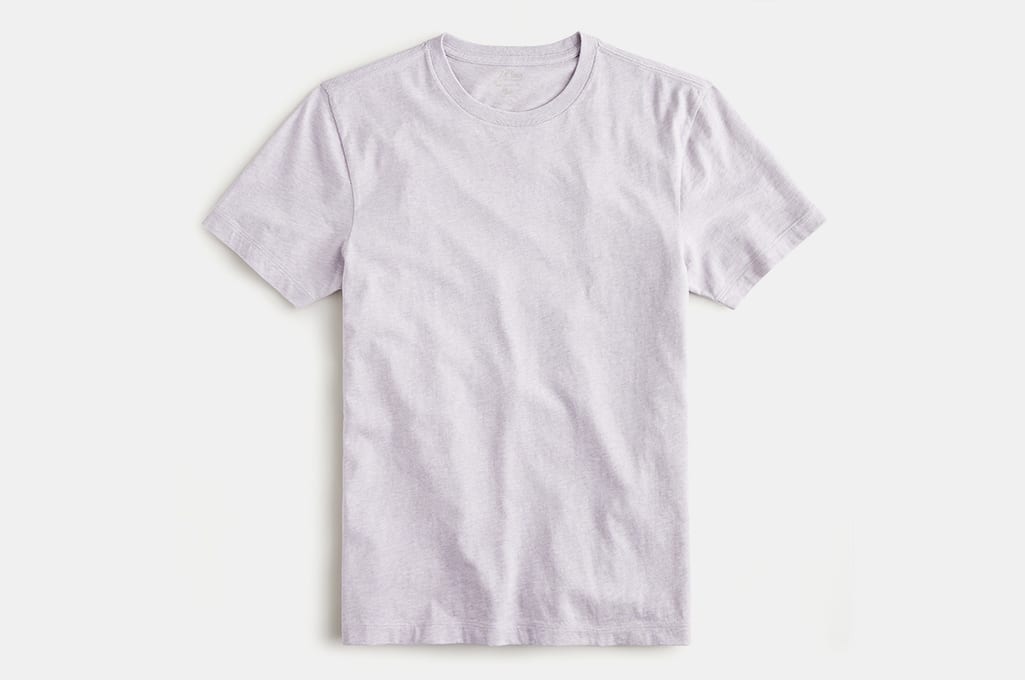 J.Crew Slim Broken-in Short-Sleeve T-shirt
With the J.Crew brand, you know exactly what you're getting every time: stylish clothes designed for class, comfort, and everyday use. The Slim Broken-In Short-Sleeve T-shirt just happens to be one of their best summer offerings for men who hate the heat. The cotton is beautifully breathable, lightweight, and cooling, and the shirt is cut just right to feel breezy without compromising durability. It's designed to look and feel like your favorite well-loved T-shirt (hence the name "broken-in"), with dyed-in colors that will never run or fade even after months in the sun. Best of all, it's made using sustainable fabrics and certified Fair Trade.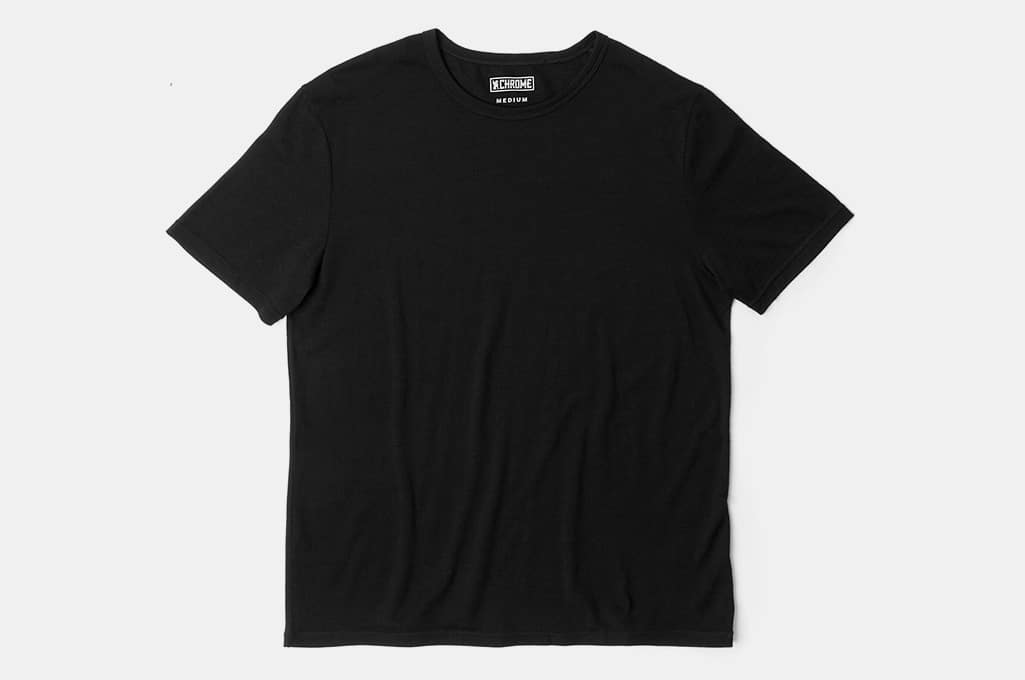 Chrome Merino Short Sleeve Tee
If you're looking for the sort of clothing you can always keep packed in your weekender bag or backpack, the Chrome Merino Short Sleeve Tee is exactly what you need. Made with a blend of super-tough merino wool and ultra-versatile polyester, the shirt delivers durability, breathability, and versatility like few other summer tees can. The merino wool is excellent at regulating your temperature, resisting odor, and wicking away moisture, and the addition of synthetic fiber just doubles down on what makes it so great. The classic performance fit tee will look great, keep up with any outdoor activity (camping, hiking, boating, swimming, you name it), and help you stay cool all summer long.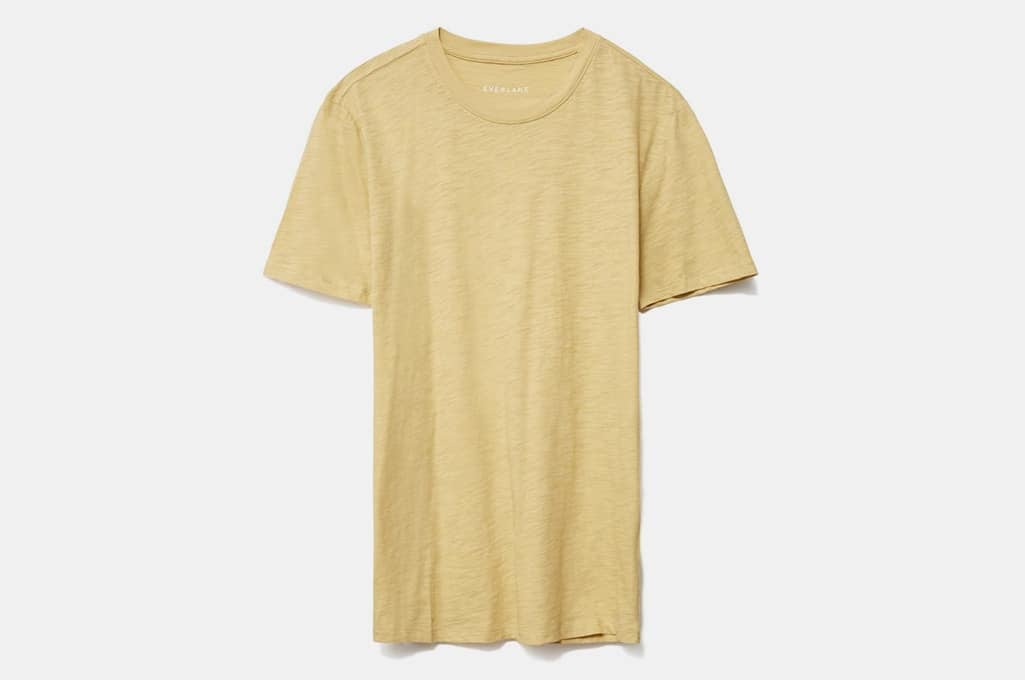 Everlane The Air Crew Tee
"Ethically made. Designed to last." That's Everlane's promise to consumers, and the brand has gone the extra mile to use organic, renewable, and sustainable fabrics in their products. The Air Crew Tee is made using 100 percent cotton, and it's a lightweight slub tee shirt that looks amazing and feels incredibly soft on your skin. The fine-gauge cotton is perfect for those hot summer days when you need to keep cool, letting out your body heat while letting in the breeze. Definitely the shirt you want to have handy on any beach, lake, or lounge day.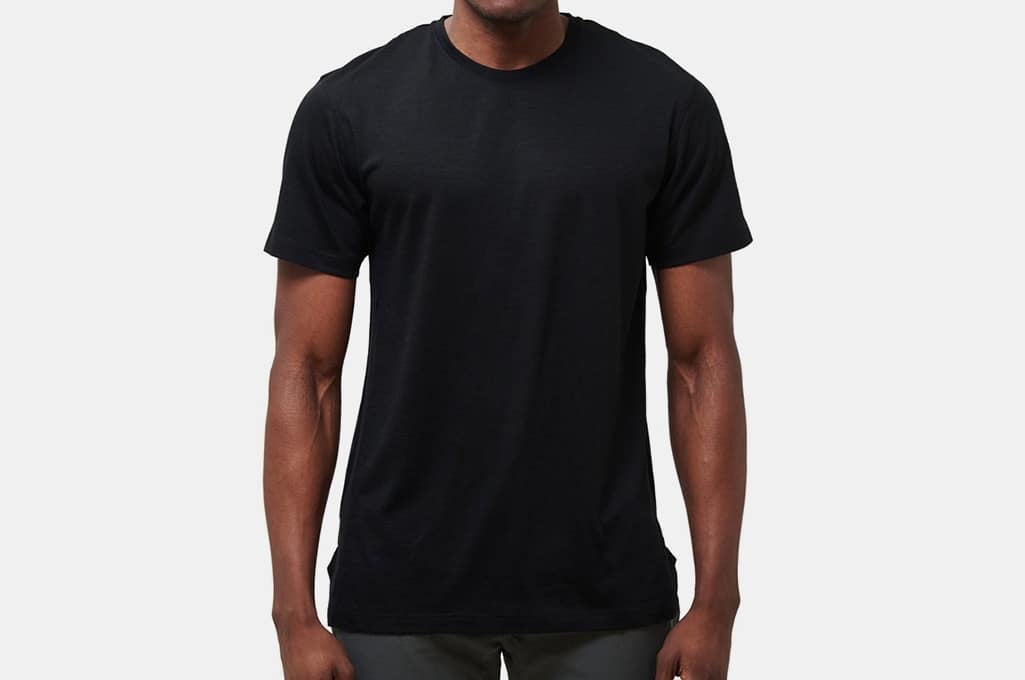 Western Rise StrongCore Merino Tee
At first glance, a wool-blend T-shirt might seem like an odd pick for summer. But trust us on this one. The StrongCore Merino Tee blends extra durable nylon with fine merino wool fibers to create something that's truly better than the sum of its parts. Since merino is naturally temperature regulating and odor-resistant, you get a tee that's perfect for hot and humid weather. And since one of the drawbacks of wool is its delicate nature, the added nylon gives it season-after-season durability. Western Rise calls it "the only tee you need" and we're inclined to agree with them.
Disclosure: Clicking on these links and making a purchase may earn us a small referral fee, at no extra cost to you. Learn more here.
freestar.config.enabled_slots.push({ placementName: "gearmoose_leaderboard_btf", slotId: "gearmoose_leaderboard_btf" });