12 Best Sunscreens For Men
Perhaps the last thing you're thinking about when you rush out the door in the morning is sunscreen — however, it certainly shouldn't be that way. The best sunscreens for men can work overtime for you on the daily, and they can certainly come in handy on many a beach vacation or outdoor adventure. The trick lies in finding the right one — something that's high-quality, made to last and packed with the right ingredients.
It doesn't hurt if the sunscreen itself is made by a company that specializes in crafting other high-quality skin and grooming products — in fact, it makes shopping that much easier. And you certainly don't want to hit the beach or pool without properly protecting your skin. It goes without saying that sunscreen belongs in your dopp kit and your medicine cabinet this season — use it as a daily base layer, and especially take care when heading out on a camping trip or day hike.
We've narrowed our list down to 10, because we think shopping for the best sunscreen should be easy. We'll leave the research and real-world testing up to you, but quality sunscreen is an essential you certainly shouldn't go without this summer — to say the very least.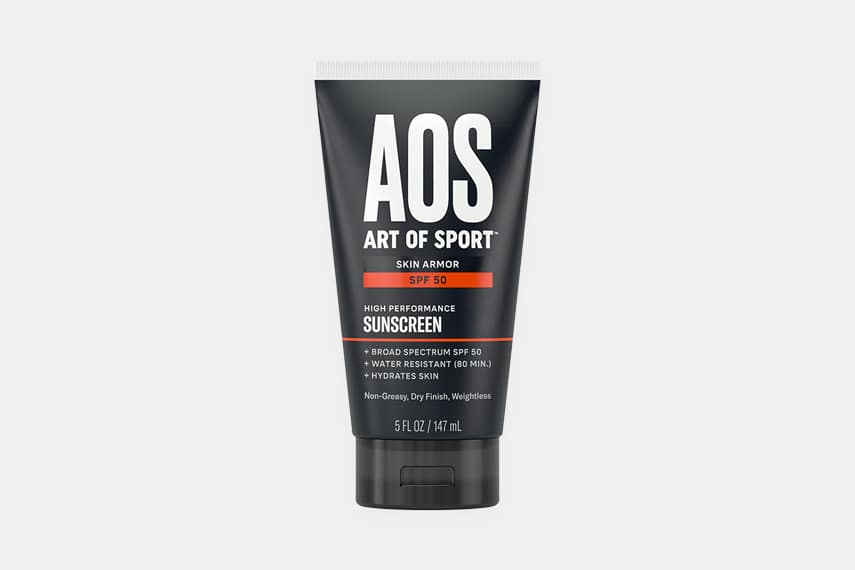 Art Of Sport Skin Armor Sunscreen SPF 50
Editor's Pick: Spending long hours in the sun, whether on the job or on the beach — or during a particularly arduous hike or training session — can catch up to you, and quickly. In fact, it can catch up to your skin even quicker than you might expect. But there are ways to fight back against the sun — and at the risk of sounding overly dramatic, the Art of Sport Skin Armor Sunscreen just might be the best way to do that.
It's packed with all the performance attributes you never knew you needed in a sunscreen, from the powerful SPF 50 protection to touches that are unique to Art of Sport. Take, for instance, the fact that it's weightless and rubs in quickly — no added mess. Add to that the fact that it's made without harmful chemicals, parabens or alcohol. Top it all off with the fact that it's also reef-friendly — an ever-more crucial way to take care of the environment while enjoying the pleasures of a snorkeling expedition or deep-sea dive. It's the Art of Sport approach that makes the difference, and that's exactly what you need in your sunscreen.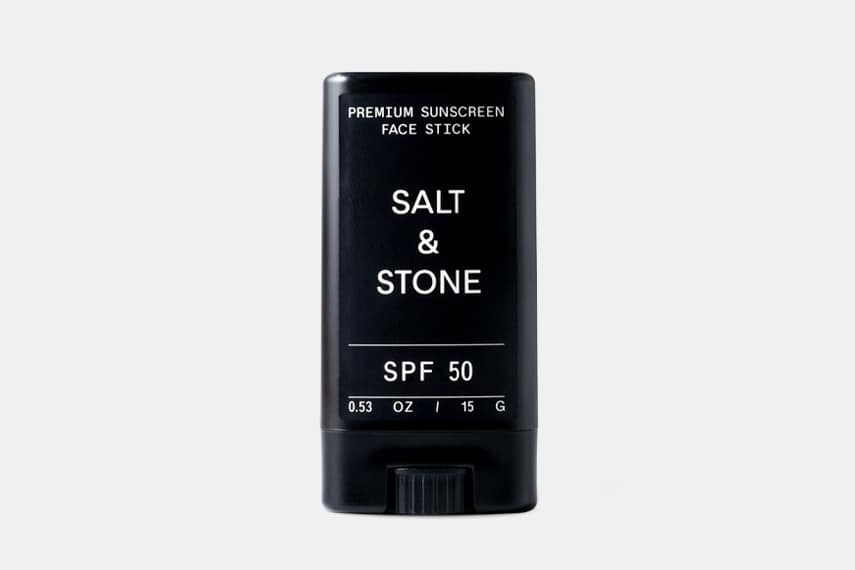 Salt & Stone Sunscreen Face Stick
Best All-Natural Sunscreen: As easy as it can be to hone in on picking up stylish swim trunks or packing up a cooler full of your favorite beer before you head to the beach, the one thing that seems to be an afterthought might actually be your top priority — that is to say, sunscreen is an essential too many guys overlook. That goes for putting on sunscreen on the daily, but the handy, functional Salt & Stone Sunscreen Face Stick is here to change all that, and it's as easy as purchasing through Huckberry.
The right sunscreen can go a long way in protecting your face and providing nutrition and moisture to your skin on the daily, and with an antioxidant-rich, mineral-based formula at the ready, Salt & Stone has delivered on the best new sunscreen to buy right now. It also happens to be cruelty-free, and is made in the States, to boot.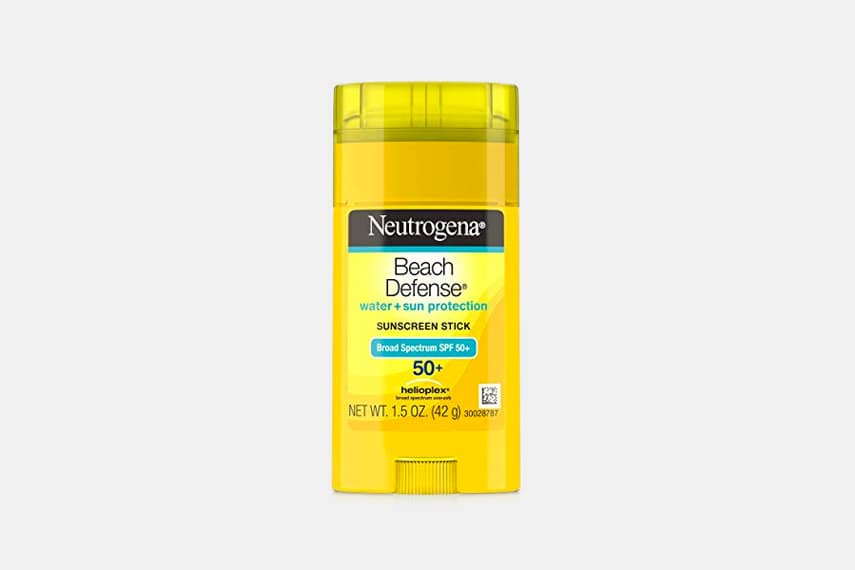 Neutrogena Beach Defense Water + Sun Protection Sunscreen Stick SPF 50+
Best Mess-Free Sunscreen: Don't have time to deal with messy, ineffective sunscreens? Who does? The latest from Neutrogena takes care of that problem quite handily — so what's the secret behind the Beach Defense Water + Sun Protection? Namely, it comes in a handy, portable stick form, making it all the easier to apply and use. Grab it, toss it in your canvas tote, and get ready to head to the beach. All you need now? Stylish swim trunks and a great cotton T-shirt.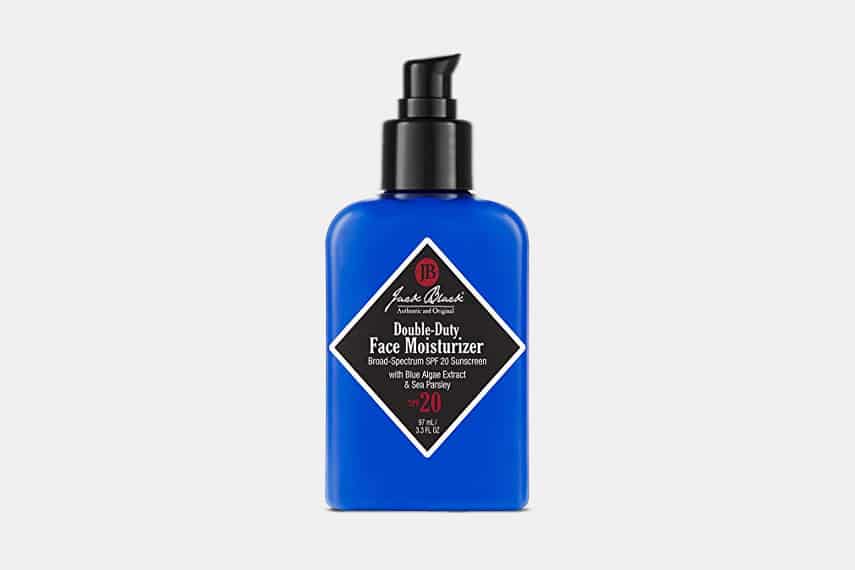 Jack Black Double-Duty Face Moisturizer SPF 20
Best SPF Moisturizer For Men: Jack Black knows what guys want, it's as simple as that. No fuss and no frills — simply excellent quality skin care delivered at an agreeable price (and with cool packaging, to boot). The Double-Duty Face Moisturizer provides both a lightweight daily finish and the power to protect your face from the sun's rays, all in one convenient package. Blue algae extract and sea parsley provide a fine complement to your daily remedy, as easy to use as it gets. This handy bottle is nothing short of your secret weapon, offering hydration while improving your skin's appearance at the same time.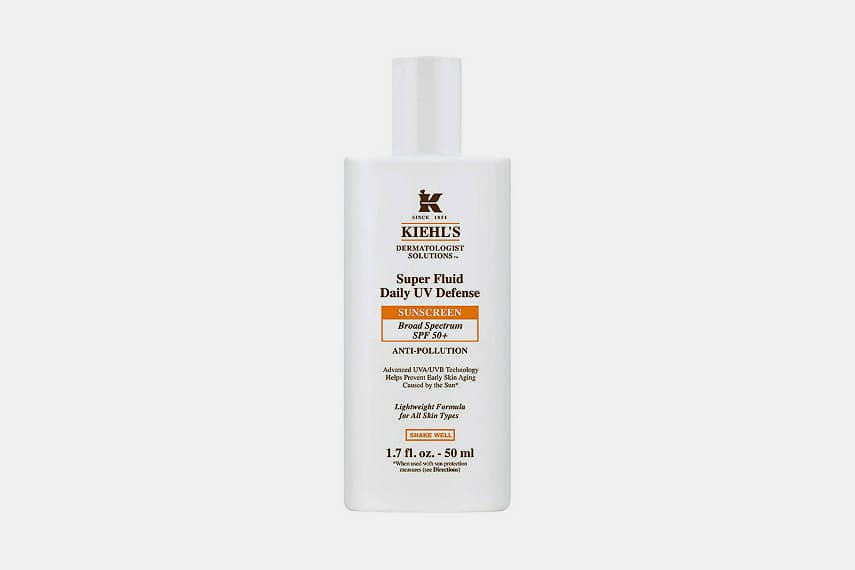 Kiehl's Super Fluid Daily UV Defense Broad Spectrum SPF 50+
Kiehl's certainly has a long lineage of providing excellent skin care for guys everywhere, and so it's with that in mind that we recommend the UV Guard SPF 50+, a heck of an excellent sunscreen for your money. It's water-resistant for more than an hour, and packs a punch when it comes to Vitamin E and Vitamin C, plus caffeine. It's the small, underrated ingredients that help a sunscreen stand out from the pack, and we certainly encourage you to seek out out ones like this option from Kiehl's.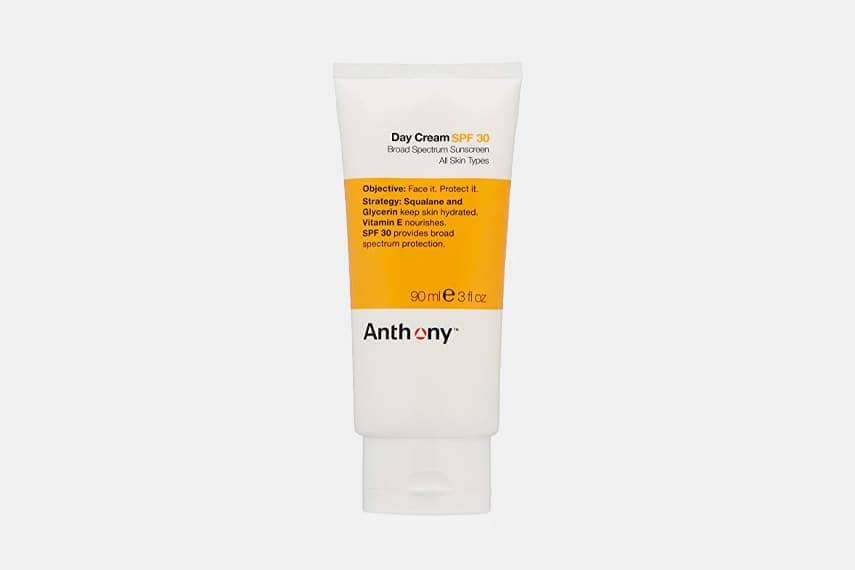 Anthony Day Cream SPF 30
Right off the bat, on the packaging itself, Anthony tells you exactly what you're getting in terms of its Day Cream. Made with nourishing and protecting ingredients like glycerin and squalane, the SPF 30 Day Cream provides broad protection and care for your skin. It's but one among a host of Anthony products we'd recommend for your skin, but it's well worth the $30-plus investment. Be sure to stock up, or better yet .. join the brand's Auto-Replenishment program as soon as you can.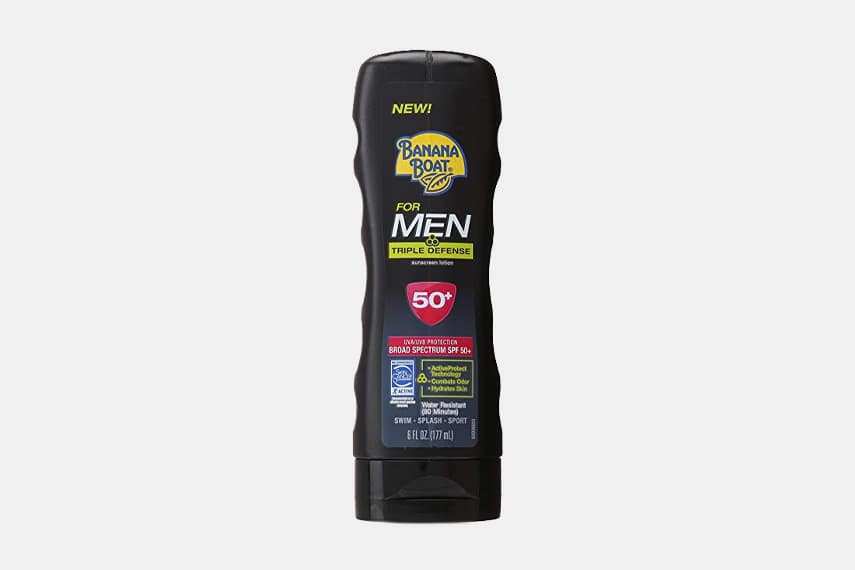 Banana Boat Triple Defense Sunscreen for Men SPF 50+
Best Overall Sunscreen For Men: Surely, you remember Banana Boat and using this venerable sunscreen as a kid — right? They've taken a new approach here, beefing up the functionality of the product with the new Triple Defense Sunscreen for Men, featuring a whopping SPF of 50. In short, it's the affordable and highly useful sunscreen you need to use when you head to the beach or out on a grueling hike in the months ahead. You simply can't go wrong. We'd buy multiple bottles, if we had to put our money on the line.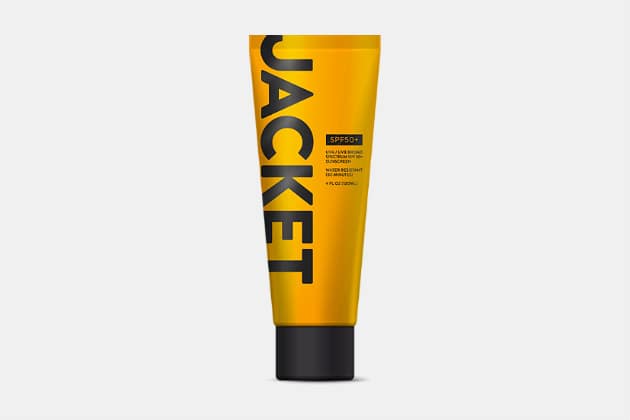 Jacket SPF 50+ Sunscreen
The intro page on the Jacket Sunscreen Web site tells you all you need to know — putting on this sunscreen is, in short, like putting a jacket on, providing the ultimate in quality protection and performance. It's water-resistant, and it's also made to repair damage from the sun's rays. Even the bottle design and logo are sporty and made with the outdoorsman in mind — it's the kind of sunscreen that you don't have to worry about using before you head out a long run or a day on the water.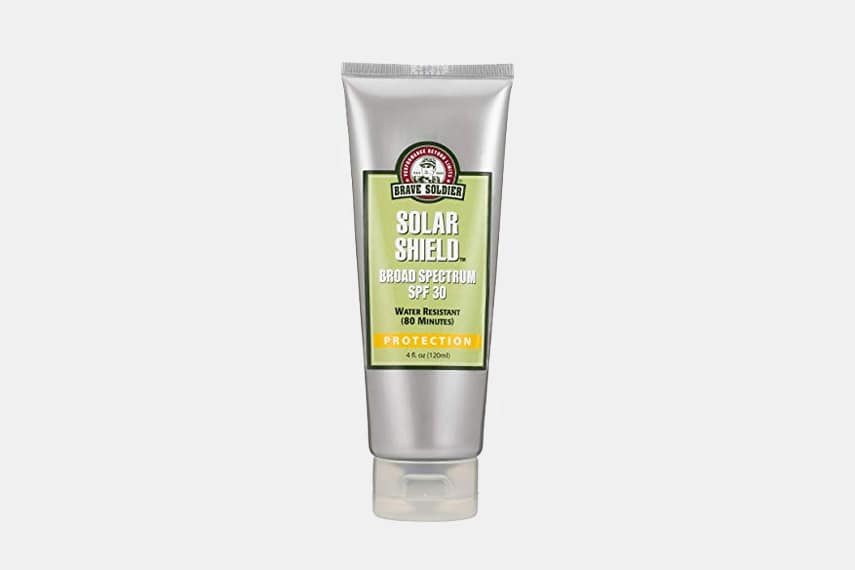 Brave Soldier Solar Shield SPF 30
If there was one sunscreen that could do it all, it might just be the Brave Soldier Solar Shield SPF 30. Made to moisturize and protect the skin, it's an essential if ever there was one — in fact, it can be used as a facial moisturizer as readily as it can be used as a sun block. We'd recommend you do both, seeing as it's perfect for delicate skin and made to last for long periods of time. The Solar Shield SPF 30 certainly offers some serious bang for your buck.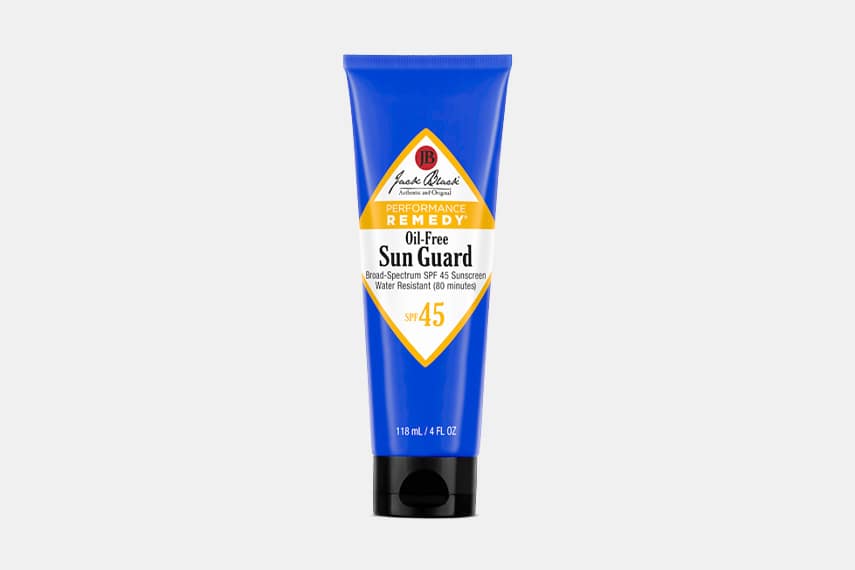 Jack Black Oil Free Sun Guard SPF 45
Avoiding the oily, greasy feeling of some sunscreens is what Jack Black had in mind when crafting the Oil Free Sun Guard (featuring a helpful SPF rating of 45, to boot). It's also vitamin-enriched, plus made to resist sweat and water. If you're the type of guy who likes to get out and about in the summer months, then the Sun Guard is made to stand up to whatever you can throw at it. In short, it'll soothe and heal while protecting your skin — that's essential, if you ask us.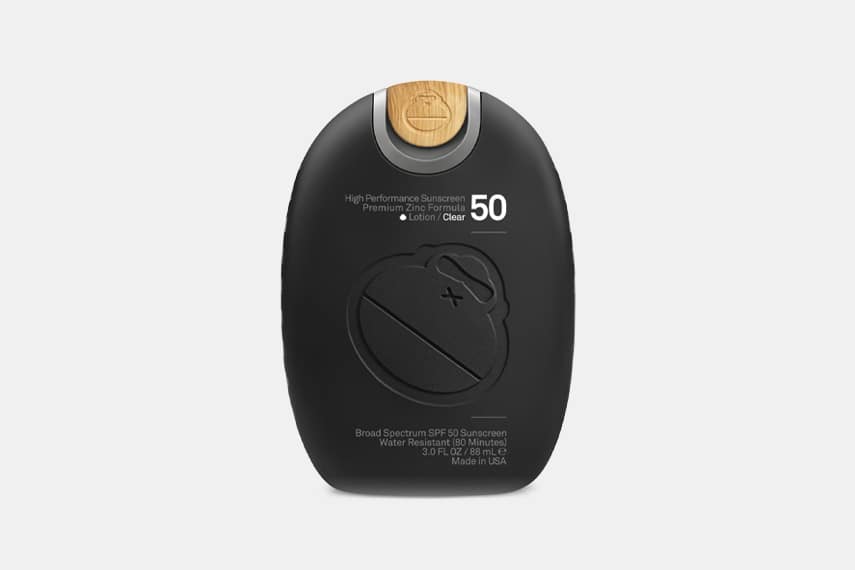 Sun Bum Signature SPF 50 Sunscreen
It can be tough to find sunscreens that are good for you and performance-ready — the Signature SPF 50 Sunscreen from Sun Bum does both of those things, however. It's mineral-based and offers broad UV protection, all the better to use when exploring a new locale, surfing for hours on end, or simply lounging on your favorite beach (Corona in hand, of course). It also won't come off during the heat of the day — all the more reason to stay out in the sun just a bit longer.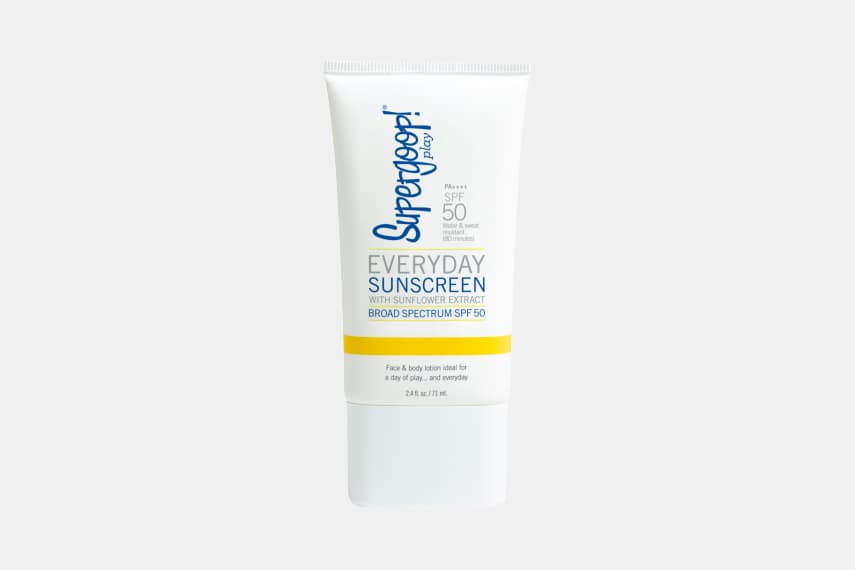 Supergoop SPF 50 Everyday Sunscreen
The SPF 50 capability behind Supergoop's Everyday Sunscreen, combined with the affordable price, makes it a necessary part of your beach bag (along with a soft pocket tee from Flint and Tinder, we think). It's finished with citrus and basil, and it's nice and lightweight on your skin. Sounds like a summer must-have to us.
Disclosure: Clicking on these links and making a purchase may earn us a small referral fee, at no extra cost to you. Learn more here.