The 16 Best Sunscreens For Men
Perhaps the last thing you're thinking about when you rush out the door in the morning is sunscreen — however, it certainly shouldn't be that way. The best sunscreens for men can work overtime for you on the daily, and they can certainly come in handy on many a beach vacation or outdoor adventure. The trick lies in finding the right one — something that's high-quality, made to last and packed with the right ingredients.
It doesn't hurt if the sunscreen itself is made by a company that specializes in crafting other high-quality skin and grooming products — in fact, it makes shopping that much easier. And you certainly don't want to hit the beach or pool without properly protecting your skin. It goes without saying that sunscreen belongs in your dopp kit and your medicine cabinet this season — use it as a daily base layer, and especially take care when heading out on a camping trip or day hike.
We've narrowed our list down to 16, because we think shopping for the best sunscreen should be easy. We'll leave the research and real-world testing up to you, but quality sunscreen is an essential you certainly shouldn't go without this summer — to say the very least. Here are the 16 best men's sunscreens to protect you from the unforgiving rays of sunshine this summer.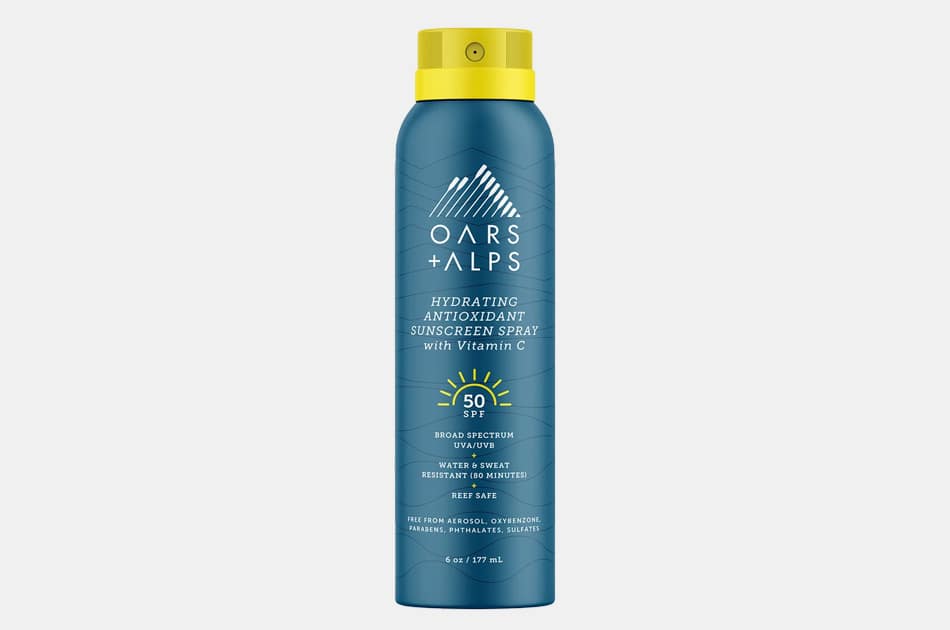 Editor's Pick: Oars + Alps Hydrating Antioxidant SPF 50 Spray
This sunscreen does more than just protect your skin from UV exposure. Spray it on and enjoy the double benefit of antioxidants from Vitamin C and yes, Alpine Caribou Moss. It might not sound like an ingredient you're eager to lather on your skin, but Oars + Alps has formulated their sunscreen blend to offer the best skin defense, and Caribou Moss is part of it. And for dry skin, this SPF 50 spray also contains olive leaf extract to moisturize. If you're avoiding aerosol, Oars + Alps packages their sunscreen in a recyclable non-aerosol canister for environmentally-friendly sun protection.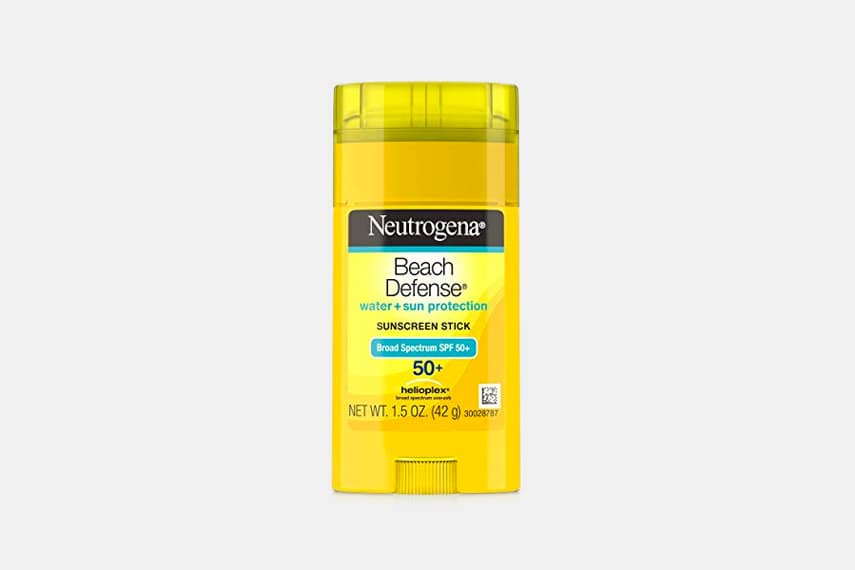 Best Mess-Free Sunscreen: Neutrogena Beach Defense Water + Sun Protection Sunscreen Stick SPF 50+
Don't have time to deal with messy, ineffective sunscreens? Who does? The latest from Neutrogena takes care of that problem quite handily — so what's the secret behind the Beach Defense Water + Sun Protection? Namely, it comes in a handy, portable stick form, making it all the easier to apply and use. Grab it, toss it in your canvas tote, and get ready to head to the beach. All you need now? Stylish swim trunks and a great cotton T-shirt.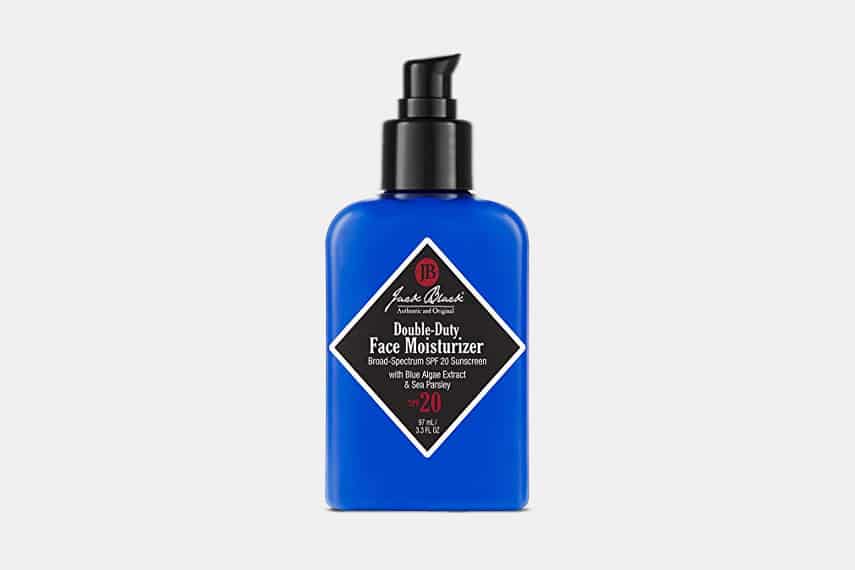 Best SPF Moisturizer For Men: Jack Black Double-Duty Face Moisturizer SPF 20
Jack Black knows what guys want, it's as simple as that. No fuss and no frills — simply excellent quality skin care delivered at an agreeable price (and with cool packaging, to boot). The Double-Duty Face Moisturizer provides both a lightweight daily finish and the power to protect your face from the sun's rays, all in one convenient package. Blue algae extract and sea parsley provide a fine complement to your daily remedy, as easy to use as it gets. This handy bottle is nothing short of your secret weapon, offering hydration while improving your skin's appearance at the same time.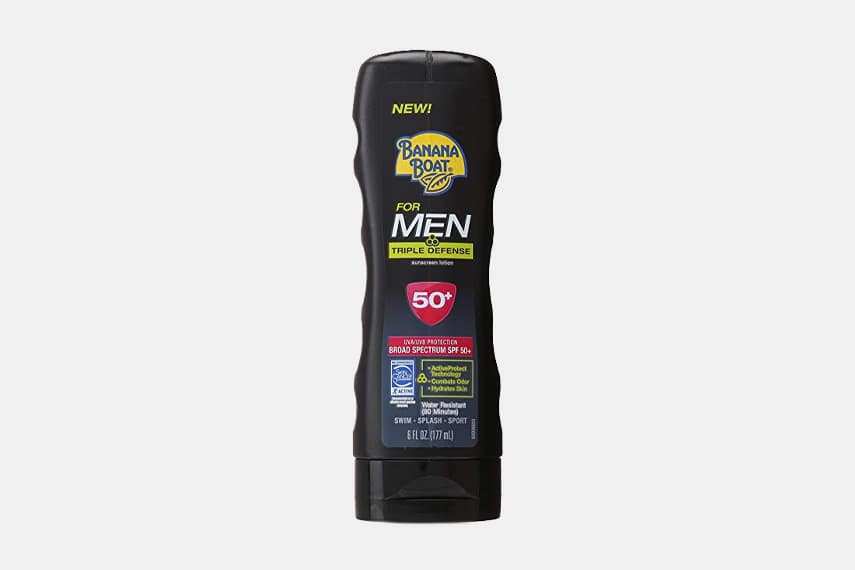 Best Overall : Banana Boat Triple Defense Sunscreen for Men SPF 50+
Surely, you remember Banana Boat and using this venerable sunscreen as a kid — right? They've taken a new approach here, beefing up the functionality of the product with the new Triple Defense Sunscreen for Men, featuring a whopping SPF of 50. In short, it's the affordable and highly useful sunscreen you need to use when you head to the beach or out on a grueling hike in the months ahead. You simply can't go wrong. We'd buy multiple bottles, if we had to put our money on the line.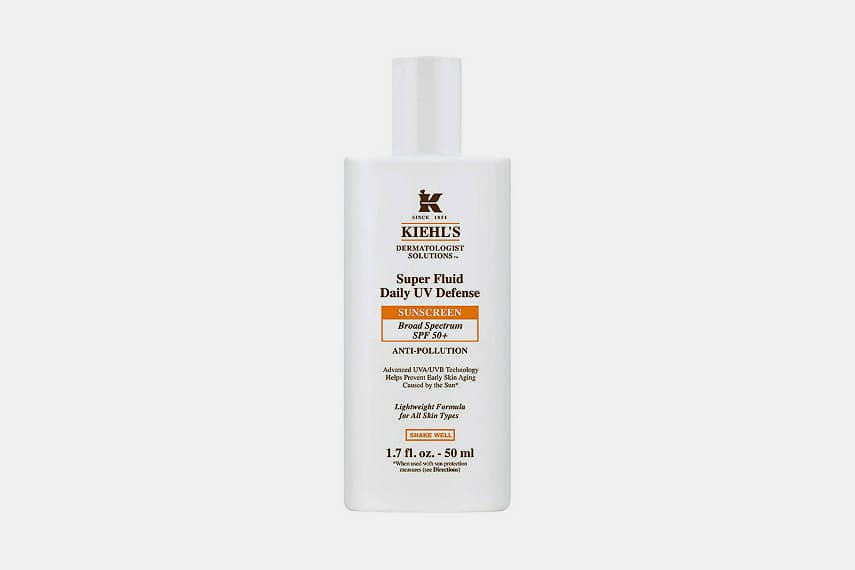 Best For Your Face: Kiehl's Super Fluid Daily UV Defense Broad Spectrum SPF 50+ Sunscreen
Kiehl's certainly has a long lineage of providing excellent skin care for guys everywhere, and so it's with that in mind that we recommend the UV Guard SPF 50+, a heck of an excellent sunscreen for your money. It's water-resistant for more than an hour, and packs a punch when it comes to Vitamin E and Vitamin C, plus caffeine. It's the small, underrated ingredients that help a sunscreen stand out from the pack, and we certainly encourage you to seek out out sunscreens like this option from Kiehl's.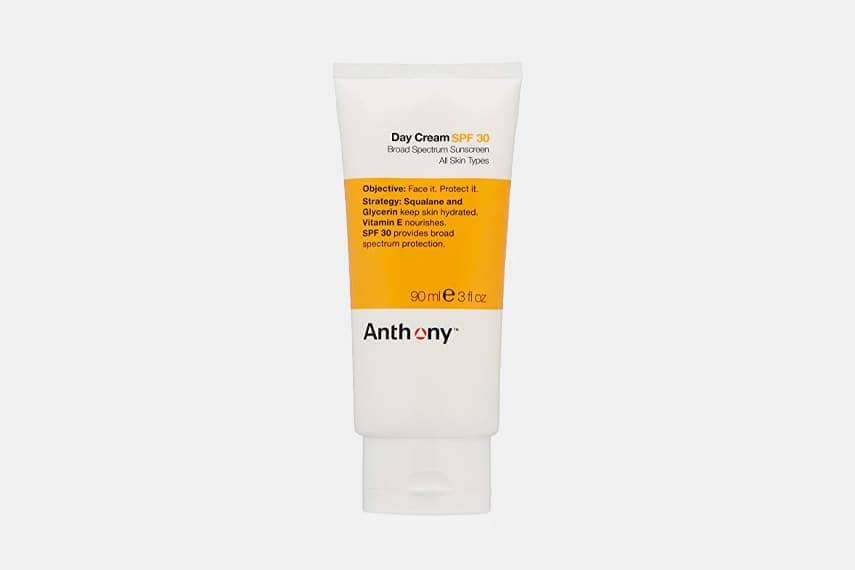 Best For Improving Elasticity and Appearance: Anthony Day Cream SPF 30 Sunscreen
Right off the bat, on the packaging itself, Anthony tells you exactly what you're getting in terms of its Day Cream. Made with nourishing and protecting ingredients like glycerin and squalane, the SPF 30 Day Cream provides broad protection and care for your skin. It's but one among a host of Anthony products we'd recommend for your skin, but it's well worth the $30-plus investment. Be sure to stock up, or better yet .. join the brand's Auto-Replenishment program as soon as you can.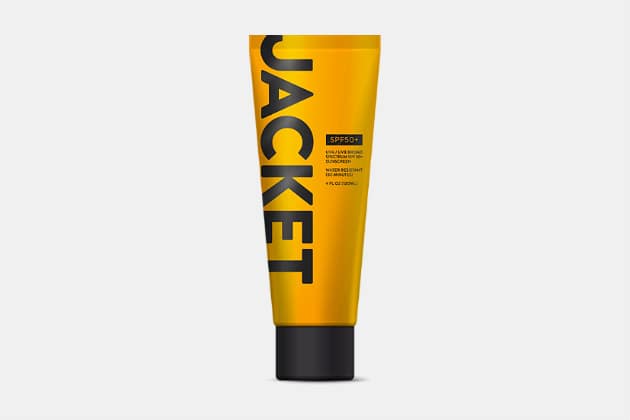 Best For Men That Sweat: Jacket SPF 50+ Men's Sunscreen
The intro page on the Jacket Sunscreen Web site tells you all you need to know — putting on this sunscreen is, in short, like putting a jacket on, providing the ultimate in quality protection and performance. It's water-resistant, and it's also made to repair damage from the sun's rays. Even the bottle design and logo are sporty and made with the outdoorsman in mind — it's the kind of sunscreen that you don't have to worry about using before you head out a long run or a day on the water.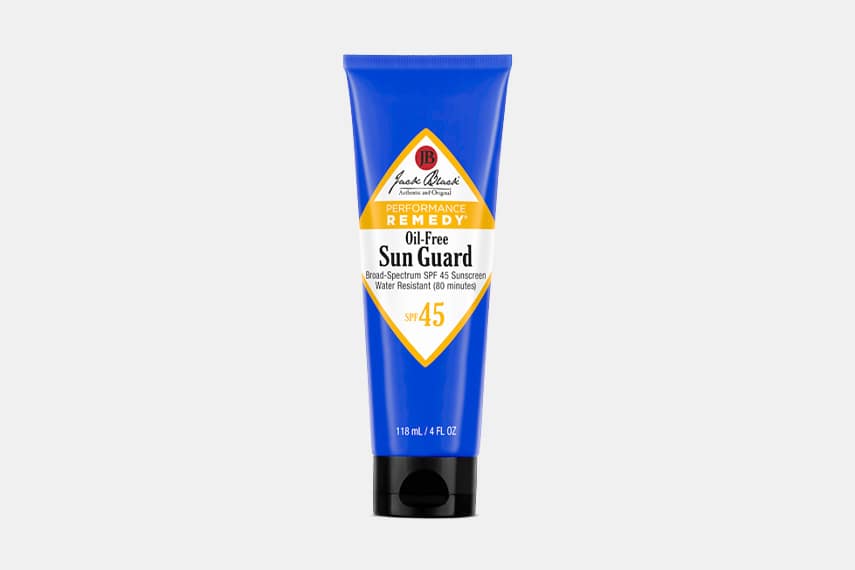 Best For Healing While Protecting: Jack Black Oil Free Sun Guard SPF 45 Sunscreen
Avoiding the oily, greasy feeling of some sunscreens is what Jack Black had in mind when crafting the Oil Free Sun Guard (featuring a helpful SPF rating of 45, to boot). It's also vitamin-enriched, plus made to resist sweat and water. If you're the type of guy who likes to get out and about in the summer months, then the Sun Guard is made to stand up to whatever you can throw at it. In short, it'll soothe and heal while protecting your skin — that's essential, if you ask us.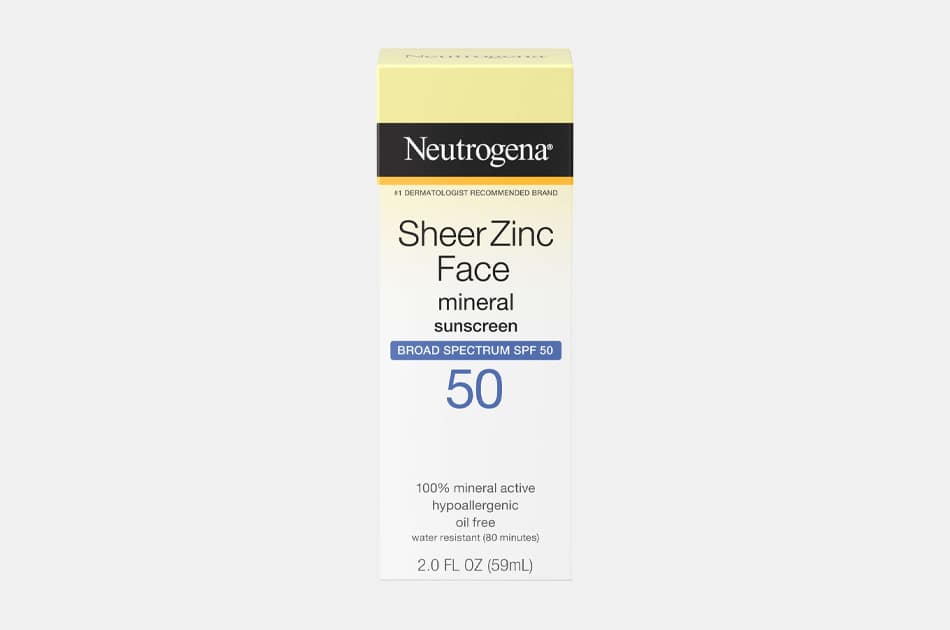 Best Non-Greasy Sunscreen: Sheer Zinc Face Dry-Touch Sunscreen Broad Spectrum SPF 50
Finding the right sunscreen for the summer months sometimes requires you amp things up a notch — after all, it's not like the sun is going to give you any breaks. That's where the tried-and-true skincare pros at Neutrogena can help you — with SPF 50 protection built in, you shouldn't leave the house without lathering up. Made with mineral active ingredients and formulated with the brand's Purescreen naturally-sourced 100% zinc oxide technology, this is a must-buy sunscreen to keep you safe out there this summer.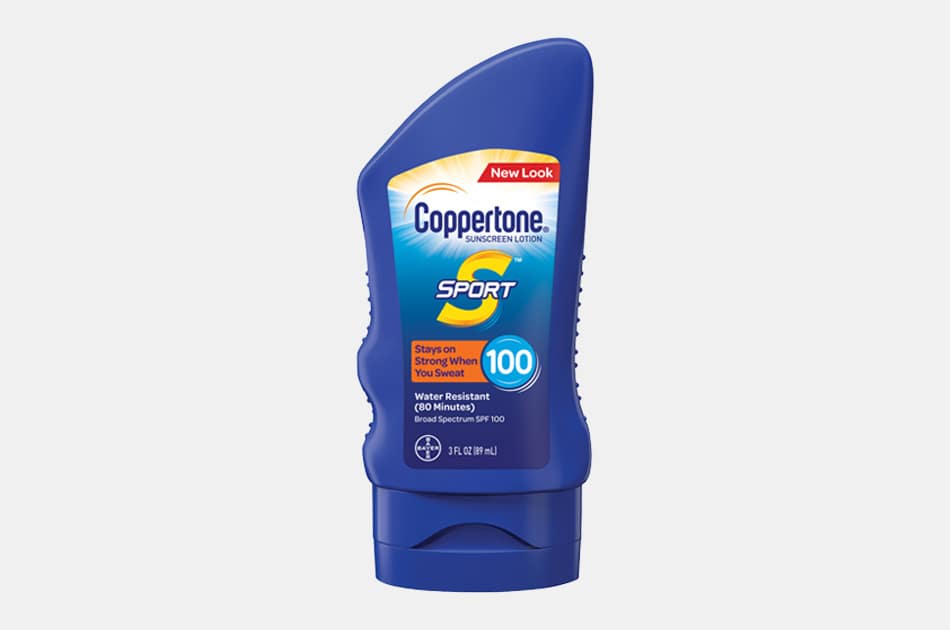 Most Powerful Sunscreen: Coppertone Sport SPF 100 Sunscreen
We mentioned that sometimes, the right sunscreen requires you to really amp things up — as in, amping up the type of sun protection you use on the daily. For the guy who never stops moving, from the beach to the boardwalk to the BBQ and back out for some volleyball, there's Coppertone Sport. And no, that's not a typo — they've really gone ahead and made a powerful SPF 100 sunscreen with the active guy in mind. The compact design is more than helpful, too.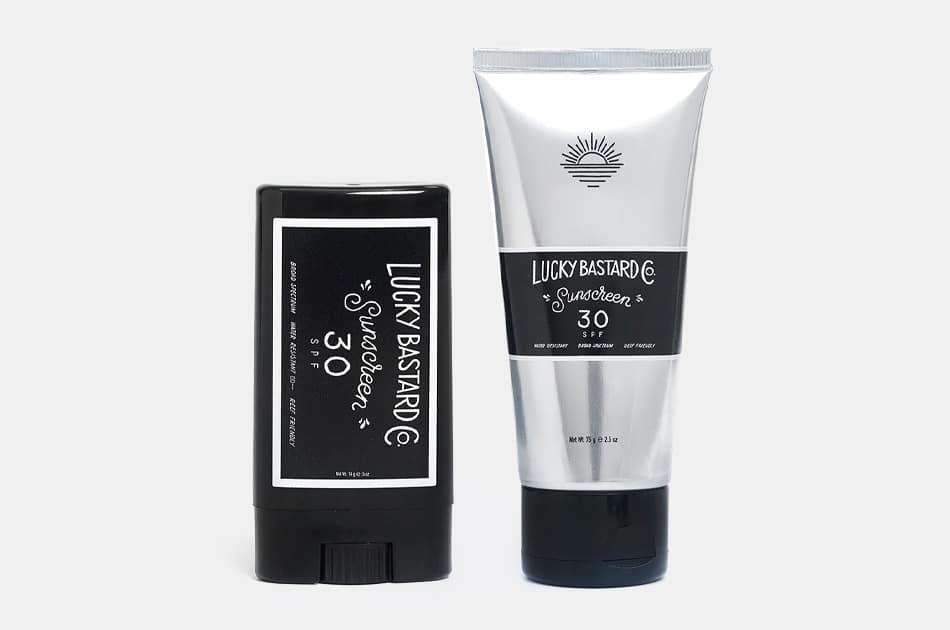 Best Environmentally Safe Sunscreen: Lucky Bastard Reef-Safe Sunscreen
It's only fitting that Lucky Bastard — masters of craft men's lip balm — would also offer up some of the best sunscreen for guys (and really, anyone). Lucky Bastard's Reef-Safe Sunscreen lives up to its name, and then some. That is to say, it's non-toxic, it's reef-safe, and it's handmade, so you won't be able to find another sunscreen that comes close to this kind of functionality and quality.
Best Cooling Sunscreen: Kiehl's Activated Sun Protector Sunscreen
You rely on Kiehl's for all kinds of quality skincare products on the daily, so why not add another must-buy men's grooming essential in the form of one of the best sunscreens for men, yes?
It's lightweight and made with a non-greasy finish so you can wear it in comfort all day long. The compact size is an added benefit if you find yourself on the go a lot during the summer months (and who doesn't?). Plus, it's water-resistant and geared to provide broad-spectrum protection.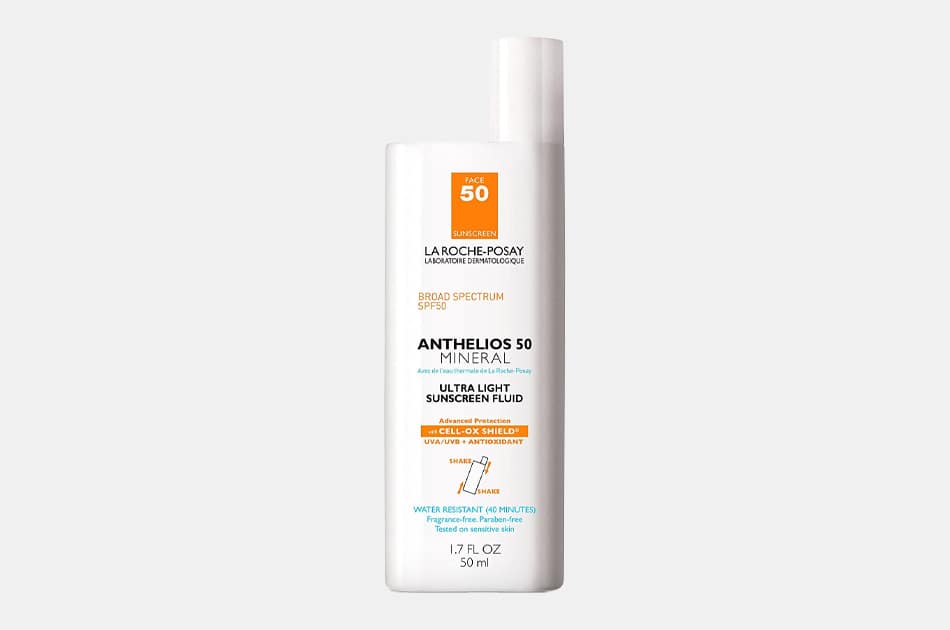 Best Fast-Absorbing Sunscreen: Anthelios Mineral Zinc Oxide Sunscreen SPF 50
The best sunscreen for men goes above and beyond what you'd expect from your typical drug store sunscreen — that's what Anthelios has managed to unlock with this lightweight, mineral zinc oxide sunscreen for maximum face protection. Summer's rays can do a number on your face if left unchecked, so we recommend nipping it in the bud earlier with this reliable and premium sunscreen. It's also made with sensitive skin in mind, so you can be sure the brand has you covered (literally).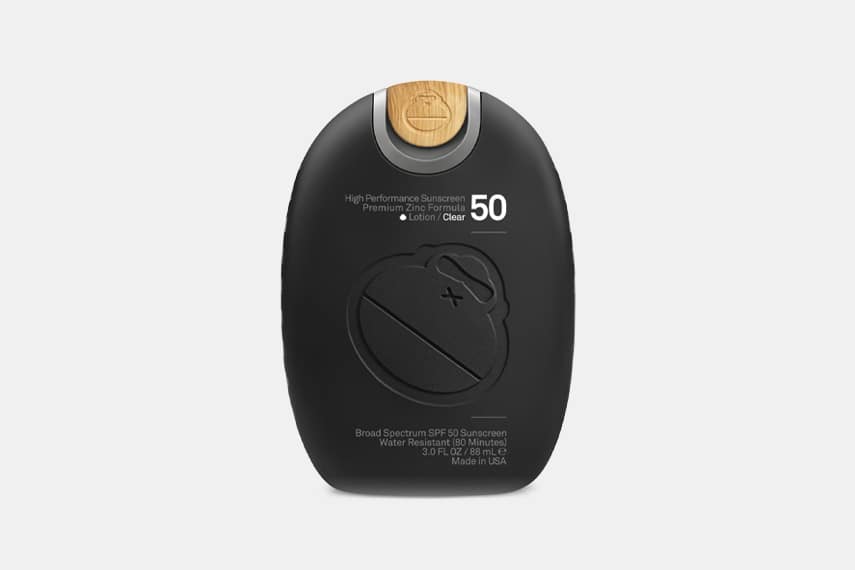 Best Long-Lasting Sunscreen: Sun Bum Signature SPF 50 Sunscreen
It can be tough to find sunscreens that are good for you and performance-ready — the Signature SPF 50 Sunscreen from Sun Bum does both of those things, however. It's mineral-based and offers broad UV protection, all the better to use when exploring a new locale, surfing for hours on end, or simply lounging on your favorite beach (Corona in hand, of course). It also won't come off during the heat of the day — all the more reason to stay out in the sun just a bit longer.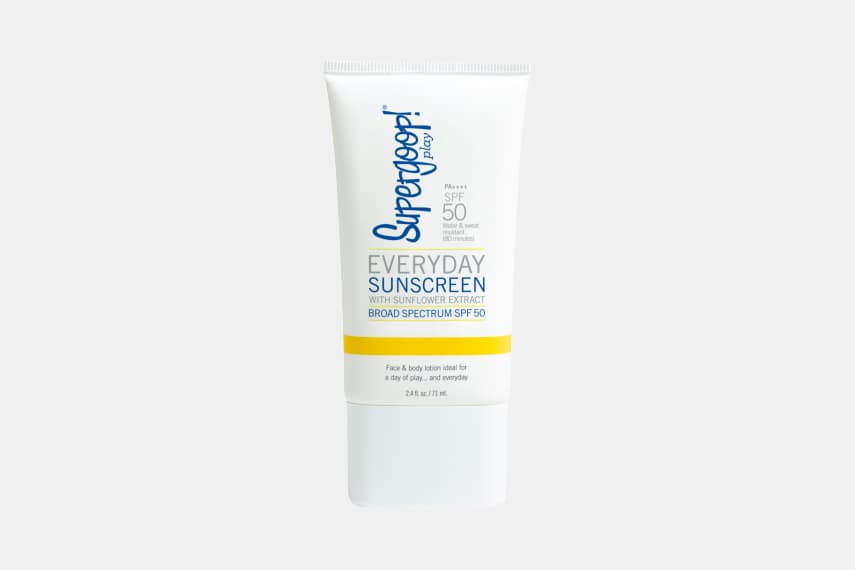 Best for Water and Sweat Resistance: Supergoop SPF 50 Everyday Sunscreen
The SPF 50 capability behind Supergoop's Everyday Sunscreen, combined with the affordable price, makes it a necessary part of your beach bag (along with a soft pocket tee from Flint and Tinder, we think). It's finished with citrus and basil, and it's nice and lightweight on your skin. Sounds like a summer must-have to us.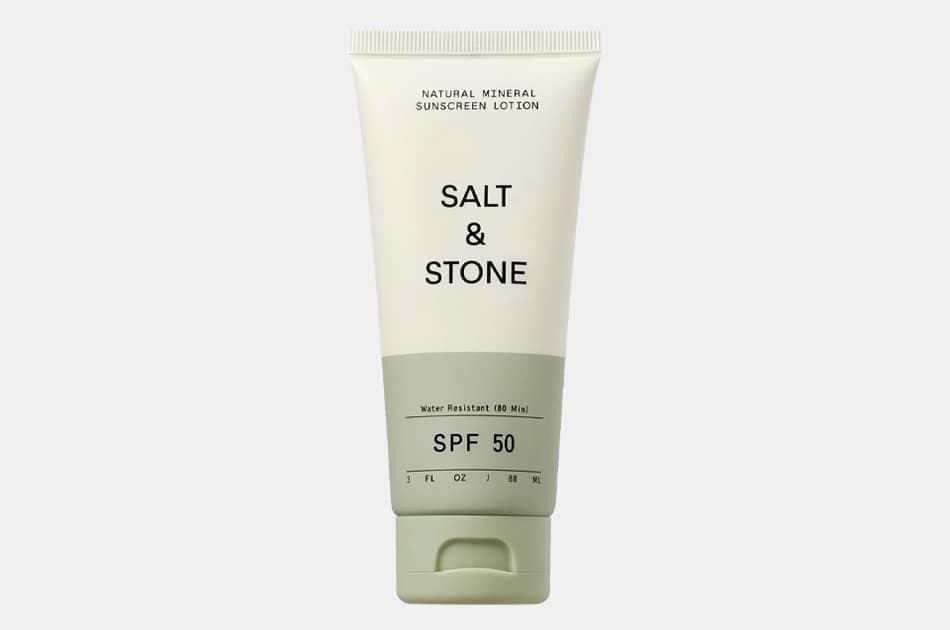 Best For UVA and UVB Rays: Salt & Stone Natural Mineral Sunscreen Lotion SPF 50
This lotion sunscreen from Salt & Stone is totally fragrance-free with a creamy, soft texture that absorbs quickly without any greasy shine or chalky residue. The all-natural formula contains zinc oxide, which is shown to protect skin from both UVA and UVB rays, something not all sunscreens do. Not to mention, the discreet, minimalist tube is both attractive and the perfect size for travel. It stows comfortably in a backpack or carry-on so you'll never be caught without sun protection.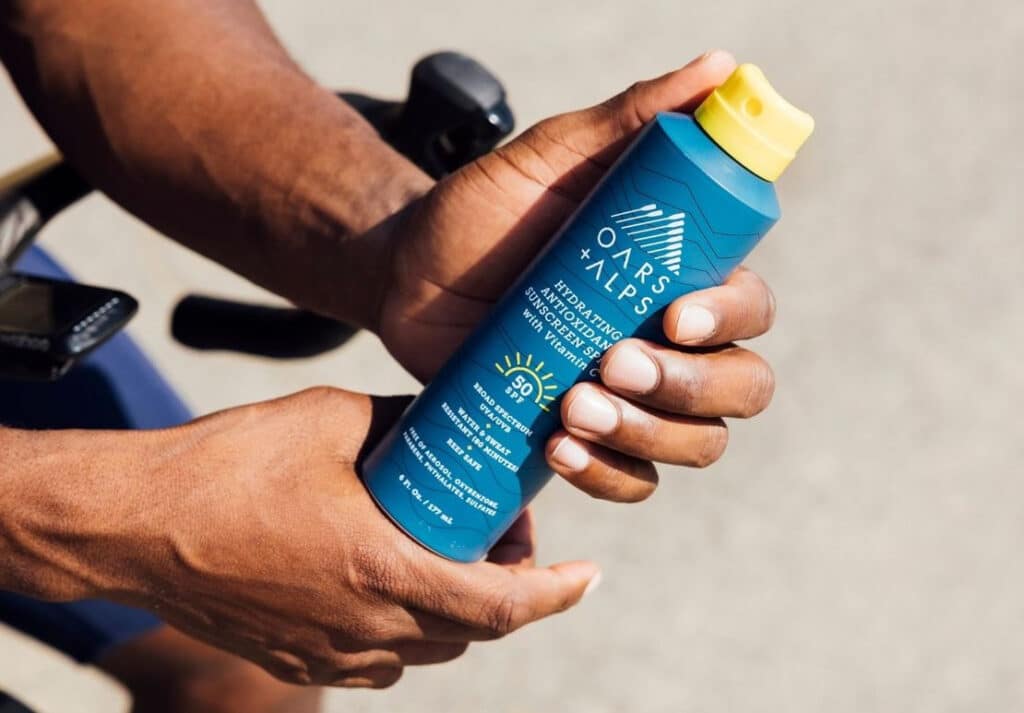 Disclosure: Clicking on these links and making a purchase may earn us a small referral fee, at no extra cost to you. Learn more here.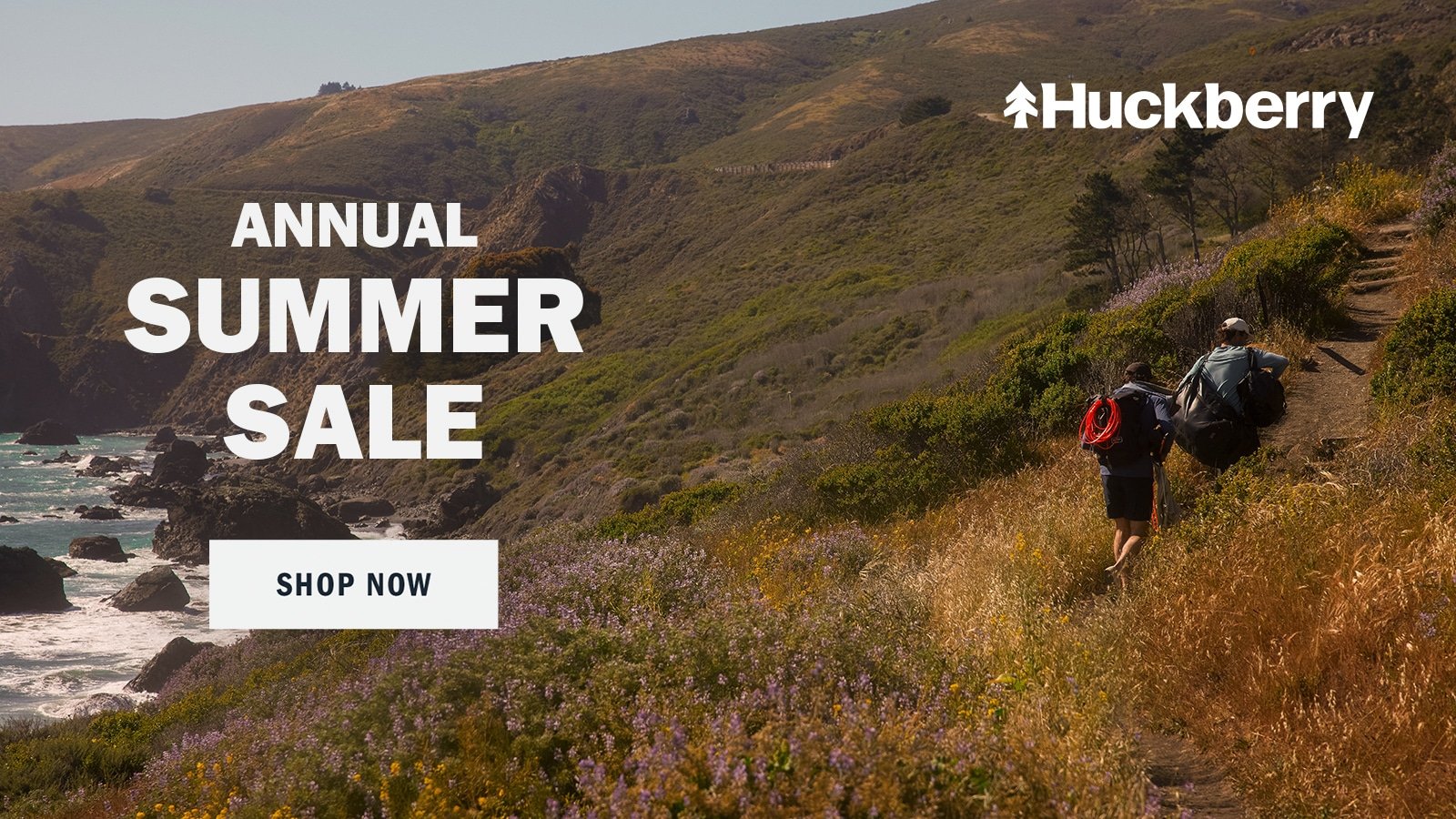 freestar.config.enabled_slots.push({ placementName: "gearmoose_leaderboard_btf", slotId: "gearmoose_leaderboard_btf" });