A man would be lost without his wallet, and that is a fact. It secures his identity, his proof of health and car insurance, photos of his family, the occasional protection in case of a romantic night in or out, and most importantly— his money.
When it comes to wallets, a tactical bill fold is ideal. A man needs a compact survival tool for life's most demanding moments— from opening a beer bottle to sawing a tree branch in half. Why settle for a mere slot for money and cards when you could have so much more at your fingertips— or in this case, your very own pocket? Here are the 10 best tactical wallets for every gentleman to consider.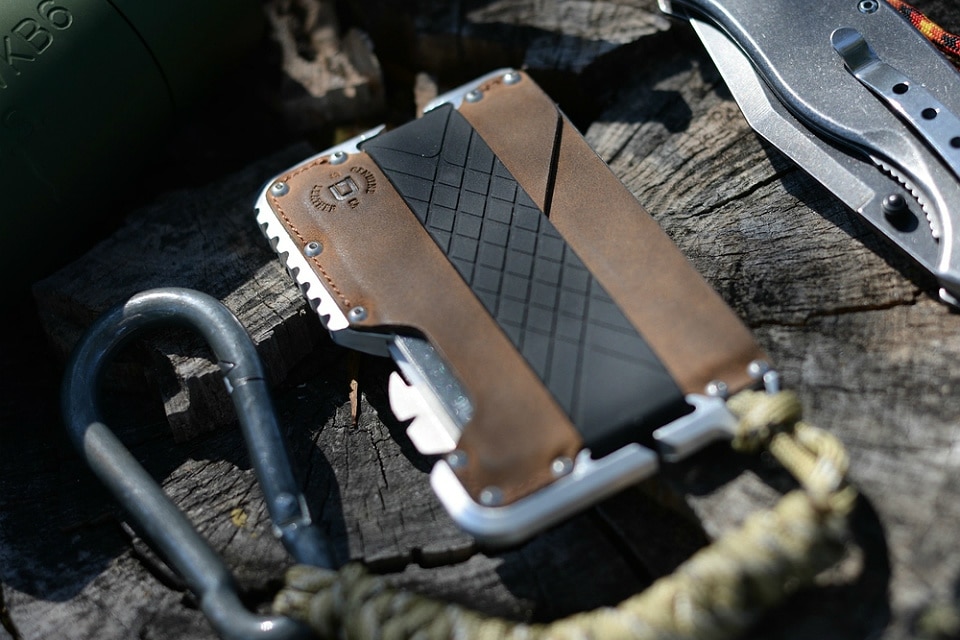 Dango Tactical Wallet
The sleek and slim design of the Dango Tactical Wallet is suitable for any aspiring secret agent. You might as well be ready to dive out of planes and parachute into wildfires with this multipurpose tool. From a ruler to rope tensioners, this impressive bill fold has it all. It is nearly indestructible with its high grade leather and aerospace-approved aluminum materials. Become the all-American hero with this jet black tactical wallet. Pair it with a modern pilot watch for a highly-functional everyday carry. – Buy It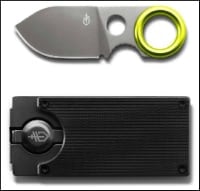 Gerber GDC Money Clip
With the Gerber GDC Money Clip, the household name is proven to be for more than just babies and toddlers. This dynamic wallet design fits up to 5 credit cards within the clip itself, but it also contains a sharp 1.75 inch blade for outdoor utility needs. Discover your inner woodsman with this practical, durable, and rust-proof money clip design. Get the most out of your new blade by inserting your thumb in the serrated hole for the ultimate firm grip. – Buy It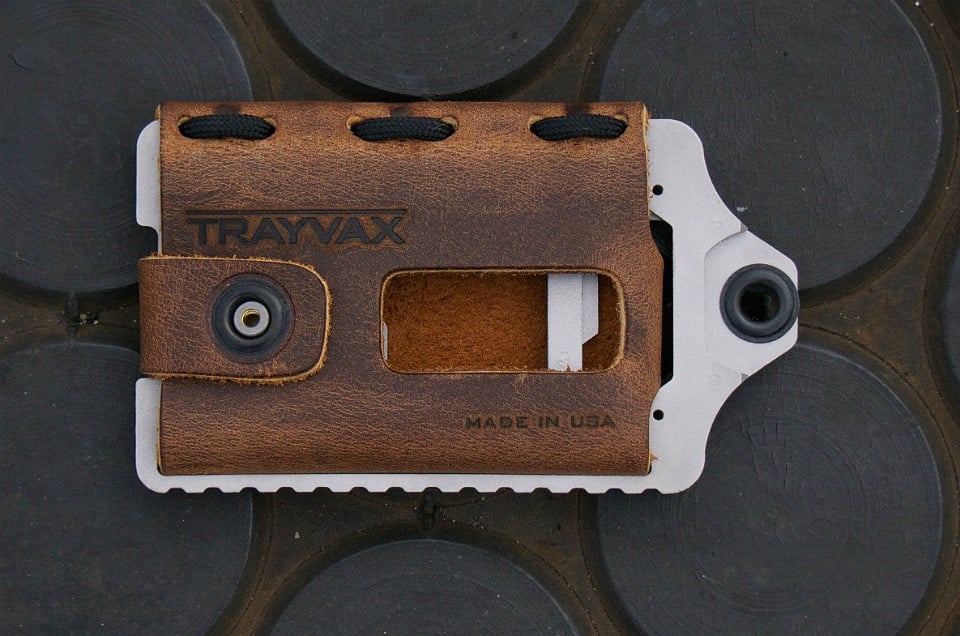 Trayvax Wallet
If you live an exciting and active lifestyle, then you may want to consider the multipurpose functionality of the Trayvax Wallet. Colored in jet black, this American made tactical wallet expands to hold anywhere from 3 to 14 cards while presenting opportunity for even more hidden features. It includes a bottle opener as well as a MIL-SPEC paracord for moments of absolute survival and necessity. This neatly packaged item is comprised of heat-resistant elastic and even has a lifetime warranty for when things get "a little rough." – Buy It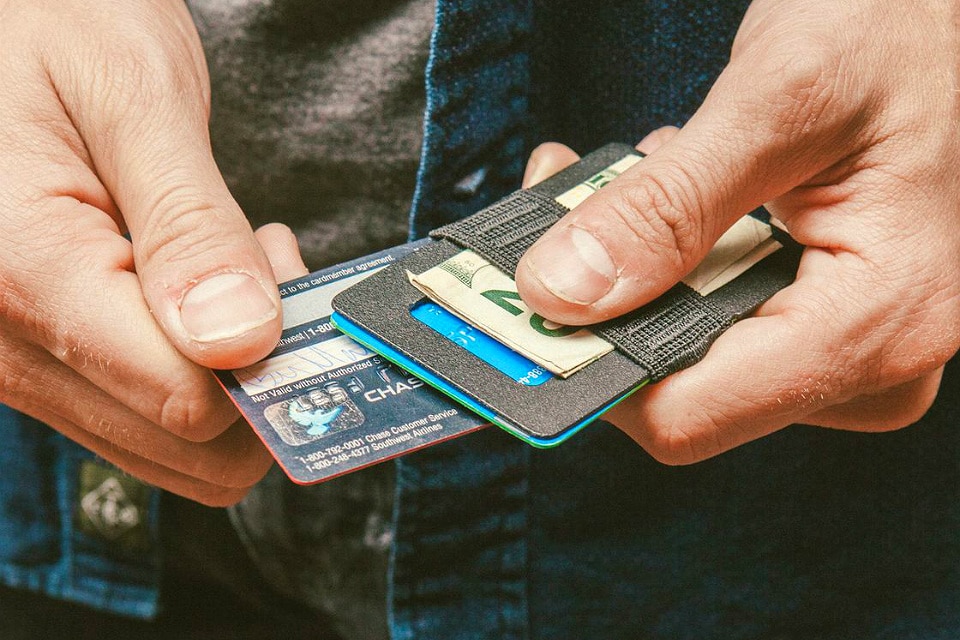 Spine Titanium Wallet + Bottle Opener
The Spine Titanium Wallet is a durable minimalist wallet that fits comfortably in your pocket. Its slender design is simple yet effective with the ability to protect up to 10 cards with rust-proof and non-magnetic covering. The lightweight titanium and elastic strap make it easy to use but strong enough to grab a hold on your valuables. Never fuss with money and cards again with the affordable Spine Titanium Wallet design. – Buy It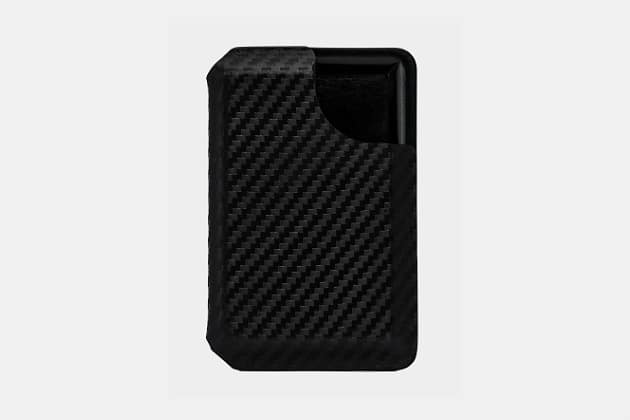 The Combat Wallet
The Combat Wallet is the most militant of its market with up to three available sizes and optional RFID protection. It is comprised of black carbon fiber and is completely customizable to fit all styles of Combat Wallet clips. The curved edges of this beast make it ready for battle and help it to ensure that the entirety of its contents are secure at all times. Even better, the PATENT PENDING design allows users to fan cards out for easy selection on an every day carry basis. – Buy It
Hazard 4 Mil iWallet
Every wallet should be capable of protecting your credit cards and cash, even when they're mobile! The Hazard 4 Mil-iWallet is the only bill fold in the list that provides safe keeping for your phone as well as your cards. Designed more like a traditional three-fold wallet, the Hazard 4 Mil-iWallet includes a Nylon strap, internal padding, laminated fabric, and a D-ring to allow for attachments and an easy read of identification. Don't worry about the size! This 2-in-1 case has you storing all of your valuables in one sleek and secure spot. – Buy It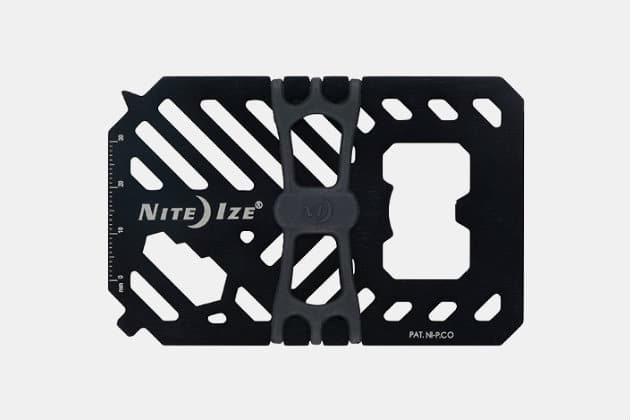 Nite Ize Financial Tool Multi-Tool Wallet
Looking for a toolbox on the go? You may have very well found it with the Financial Tool Multi-Tool Wallet. Complete with the essentials such as ruler, a screwdriver, a bottle opener, a wrench, and more; this travel-safe and lightweight device is made of stainless steel for ultimate protection of your physical finances. Why settle for just a wallet when you can have a little extra help all throughout your daily adventures? Impress your kids on your next weekend camping trip or show your date how to really start a fire with this all-in-one pocket kit. – Buy It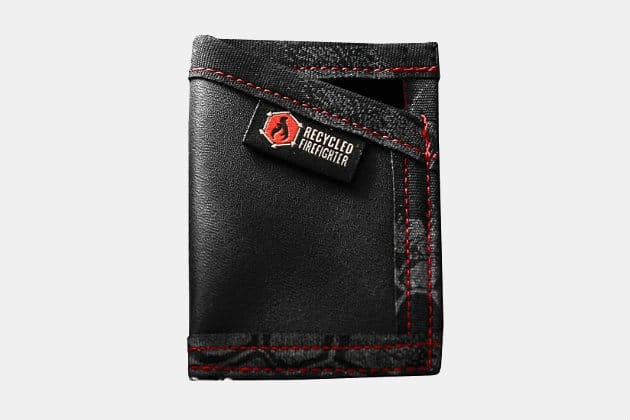 5.11 Tactical x Recycled Firefighter Sergeant Leather Wallet
Are you a man who is a fan of his boots? You might love this 5.11 Tactical x Recycled Firefighter Sergeant Leather Wallet comprised of American made military boot leather and MIL-SPEC Nylon ribbon. This wallet introduces durability at its finest with fire, water, and impact resistant qualities. It is a simple design for the simple man in search of something slender, lightweight, and right to the point. It can carry up to 8 credit cards and is a limited edition model. Get it while you can, or spend your days carrying a load of regret that you don't have the best protection possible! – Buy It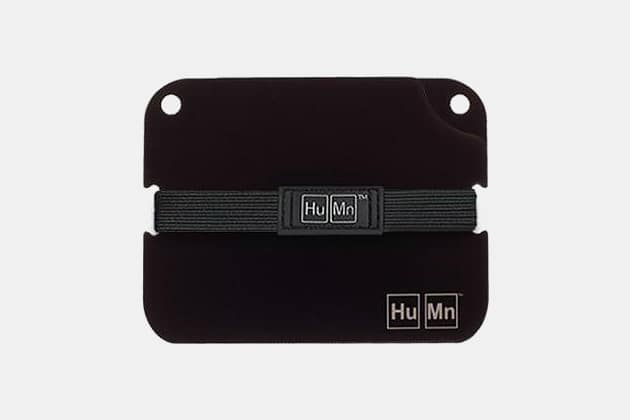 HuMn Wallet 2
The Humn Wallet 2 has stepped it up from the company's mini version by expanding its aircraft grade aluminum design to 3.85 inches in width to 2.96 inches in height. The corrosion and scratch resistant material is completely customizable in terms of color with 10 different options. The Humn Wallet 2 snugly fits up to 6 credit cards within the confines of its strap, with the option of an expansion plate as well as 2 exterior compartments. Fly though your day like a true pilot with this aerodynamic, indestructible, and practical wallet model. – Buy It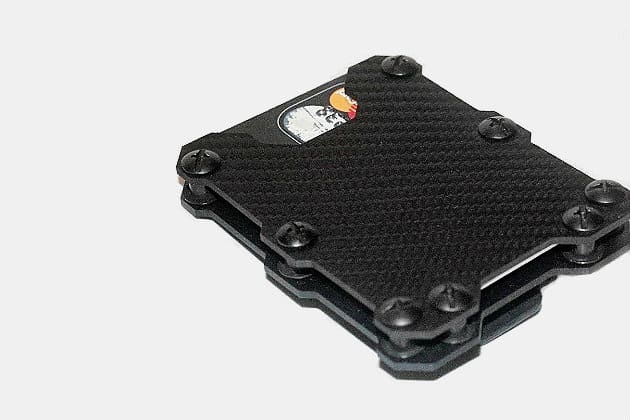 Apex Concealment Tactical Wallet 2
If RoboCop ever owned a wallet, then it would have been the Apex Concealment Tactical Wallet 2. This monster of a bill fold is made up of Kydex and Melonite for a lifespan that may outlast your own! The lightweight design comes in 7 different color options and presents a tough machine-like aesthetic. Suit up like the futuristic Terminator kind of guy you've always wanted to be, and go with the Apex Concealment Tactical Wallet 2! – Buy It
Disclosure: Clicking on these links and making a purchase may earn us a small referral fee, at no extra cost to you. Learn more here.
freestar.config.enabled_slots.push({ placementName: "gearmoose_leaderboard_btf", slotId: "gearmoose_leaderboard_btf" });