Even though travel is something most of us have had to forego in 2020, dreaming about where we'll go when the world returns to some semblance of normalcy is a nice departure from the tedium of daily life. Why not indulge your travel fantasies and give yourself something to look forward to by ordering a new travel mug to round out your camping kit?
Whether you end up using it for the daily commute when you go back to your office, you take it on camping trips for years to come, or it simply sits on the desk in your home office as a promise of future travel, there are several good options that can accompany you on your next outing, and help you keep your coffee hot in the meantime.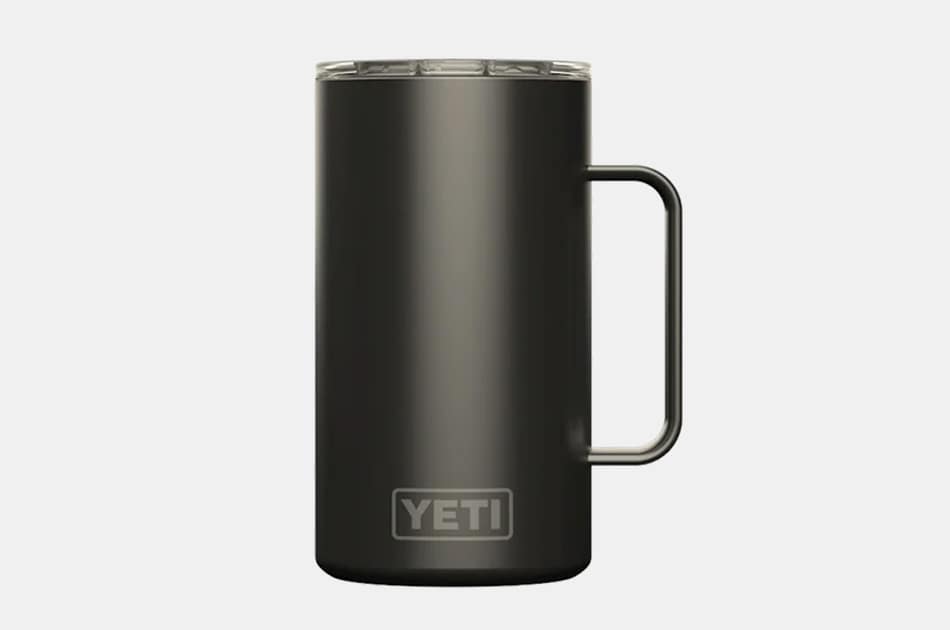 Yeti Rambler 24 oz Mug
Sleek, simple, and available in a slew of colors (from standards like stainless steel and black, to more personalized hues like ice pink and seafoam green), this 18/8, kitchen-grade stainless steel tumbler with Quadgrip stainless handle is resistant to punctures and rust, so it can probably survive being dropped off a cliff or knocked into a campfire. It also features double-wall vacuum insulation to maintain the temperature of your drink, and as a bonus, it's dishwasher safe.
Stanley Classic Trigger Action Travel Mug
Stanley thermoses are a standby for blue collar workers and campers alike, so you can bet their 16-ounce travel mug is going to feature the same resilience and incredible capacity to keep your coffee piping hot or your water ice cold. Built from stainless steel and featuring QuadVac insulation, this handle-less mug is great for cup holders. However, you're sure to love the one-handed, trigger action design, as well as a grit guard that keep dust and dirt from fouling your drink. Comes in classic Hammertone Green, Nightfall, and Black.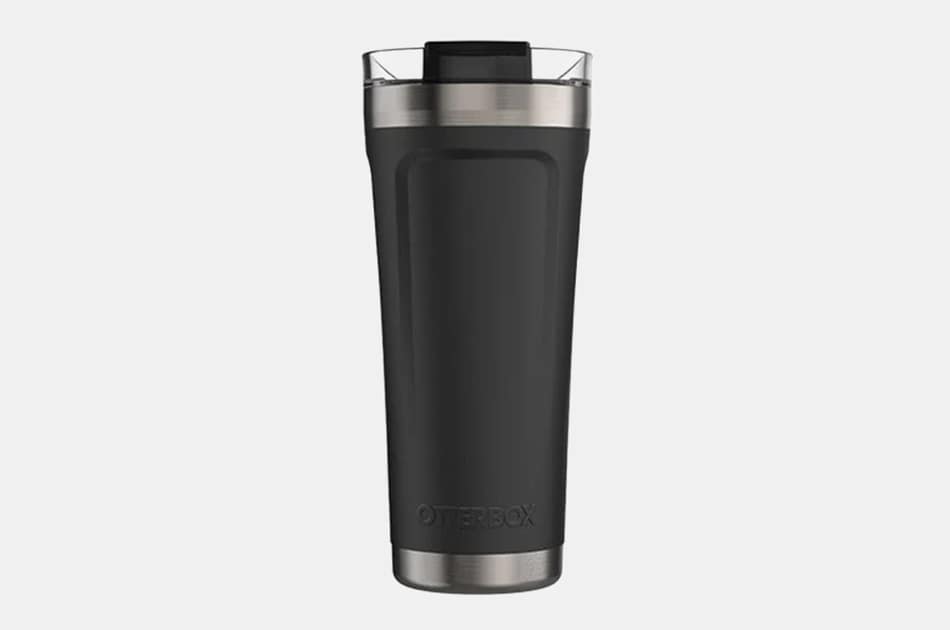 Otterbox Elevation 20 Tumbler
Otterbox may be best known for protecting your smartphone from daily drops, but if you haven't yet discovered their outdoor collection, you may be surprised to learn that they also manufacture outstanding coolers, dry bags, drinkware, and accessories. This simple cylinder in food-grade stainless steel with copper lining holds 20 ounces of your favorite bevs and leaves no condensation rings, thanks to the sweat-resistant design. Pick your lid (straw, French press, shaker, and more) or get the whole line of accessories for versatility.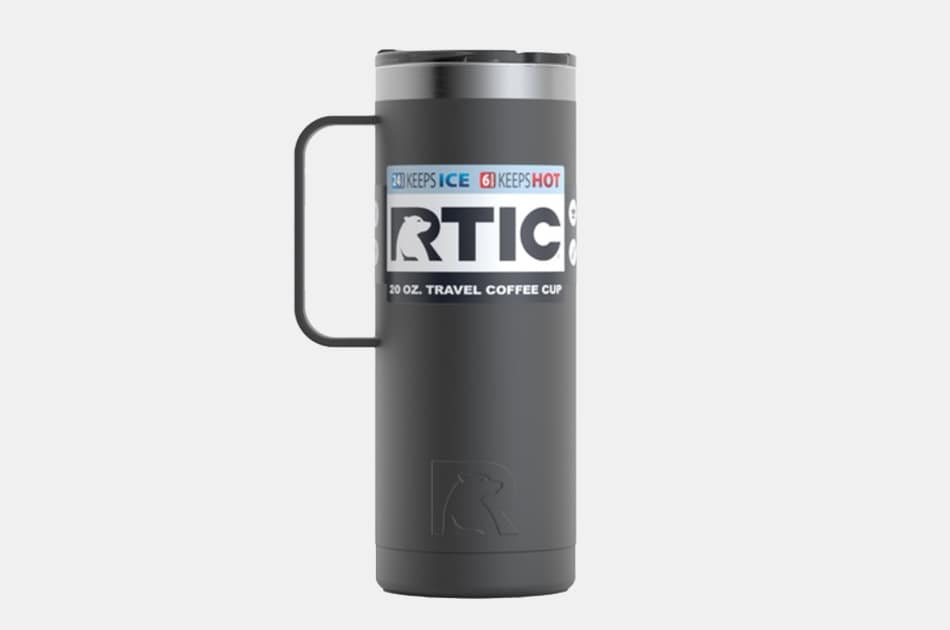 RTIC Travel Mug
If you frequently put your travel mug into a cup holder, you may be hesitant to buy one with an otherwise convenient handle. RTIC has the solution, thanks to their slim, 20-ounce travel mug. Kitchen-grade stainless steel and double-wall vacuum insulation ensure durability and performance, with heat guaranteed up to 6 hours, or chill that lasts up to 24. If you're prone to spills, you're sure to appreciate the screw on, flip-top closure.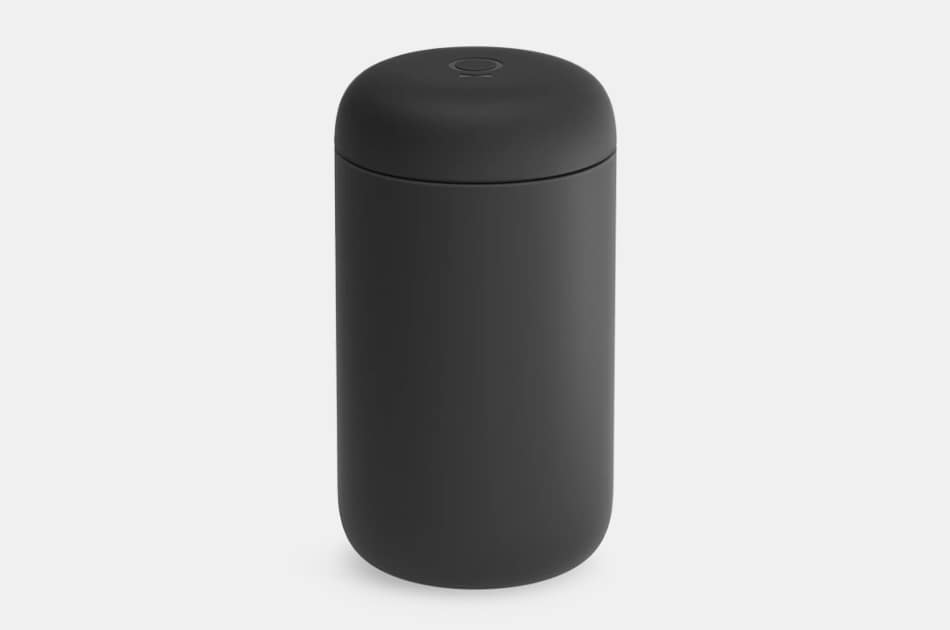 Carter Everywhere Mug
At first glance, you might mistake this capsule-like mug for a Bluetooth speaker or an Alexa. While the Everywhere Mug prioritizes insulation and rugged endurance, like competitors, Carter also strives to enhance the brewing and sipping experience with an aesthetically pleasing exterior that happens to fit most coffee makers. How many travel mugs fit into your Keurig? Like, none. Available in matte neutrals (black, white, or gray), as well as a handful of bright, attractive hues.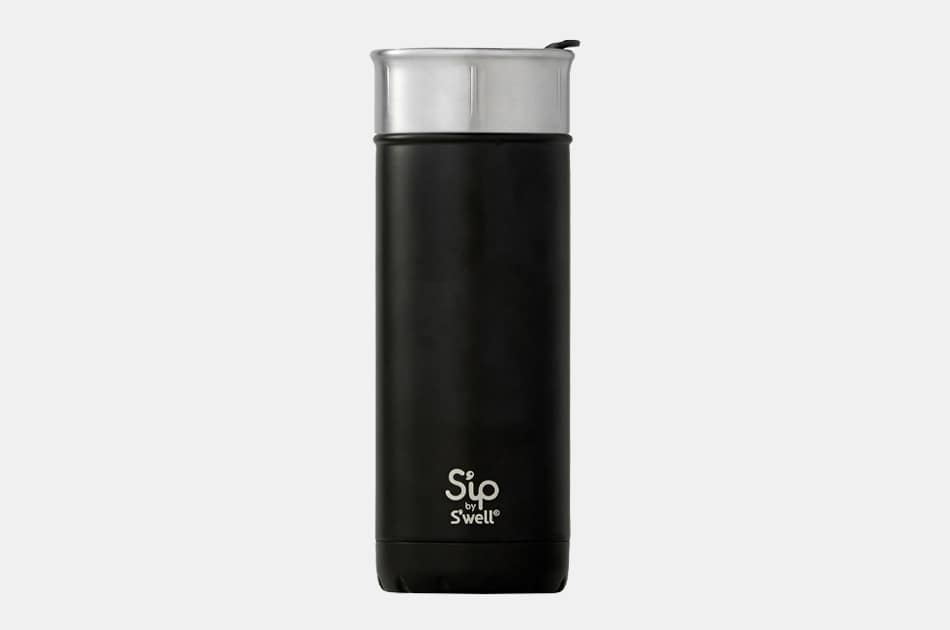 S'ip by S'well Travel Mug
Will the S'ip by S'well travel mug go perfectly with s'mores by the campfire? All signs point to yes, especially if you're in the market for a 16-ounce beverage receptacle in 18/8 stainless steel with double-walled vacuum insulation that keeps drinks hot for up to 4 hours or cold up to 16. This model is hand-wash only, but it is free of BPA and BPS, so you essentially trade a minor convenience for a healthier product.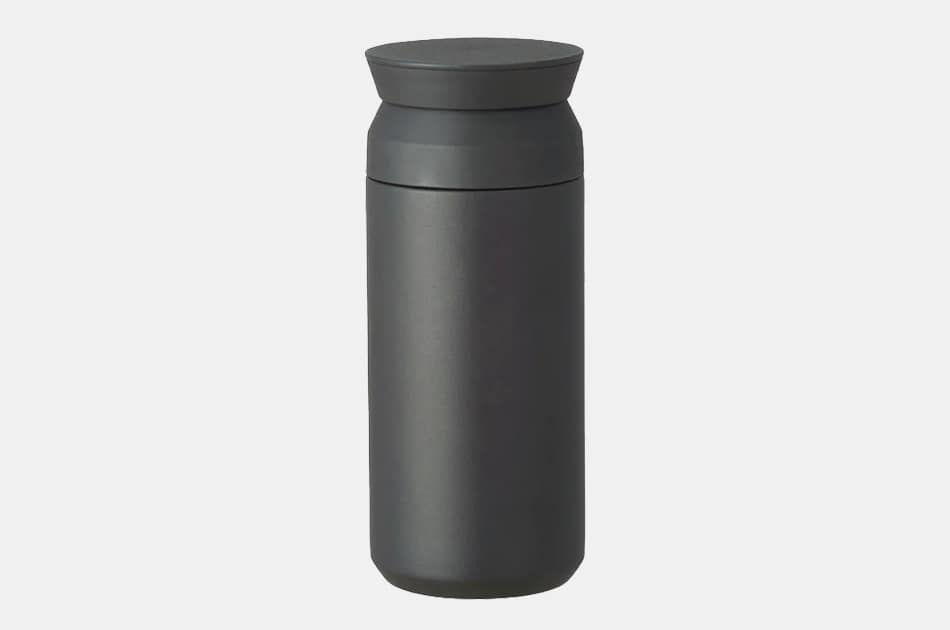 Kinto Travel Tumbler
I don't want to say this tumbler looks a bit like the urn holding my grannie's ashes, but I will say, I'm not going to set it on the mantle and risk a dusty surprise when I absentmindedly go for a sip of water. The good news is, it's ideal to use pretty much anywhere else, thanks to rugged, 18/8 stainless steel and double-wall vacuum insulation. It won't hold lingering flavors from drinks past and the easy drinking cap lets you take a sip from any side.
Snow Peak Titanium Kanpai Bottle
Whether you say kanpai, ganbei, prost, skaal, slainte, or cheers when you clink glasses, you're sure to enjoy sharing a toasty or frosty beverage with this slick travel mug in durable titanium, with vacuum sealed double walls. The cylinder fits perfectly in cup holders and backpack drink pockets alike, and three different lids are designed to work with various liquid temps, keeping icy drinks chilled and hot drinks steamy.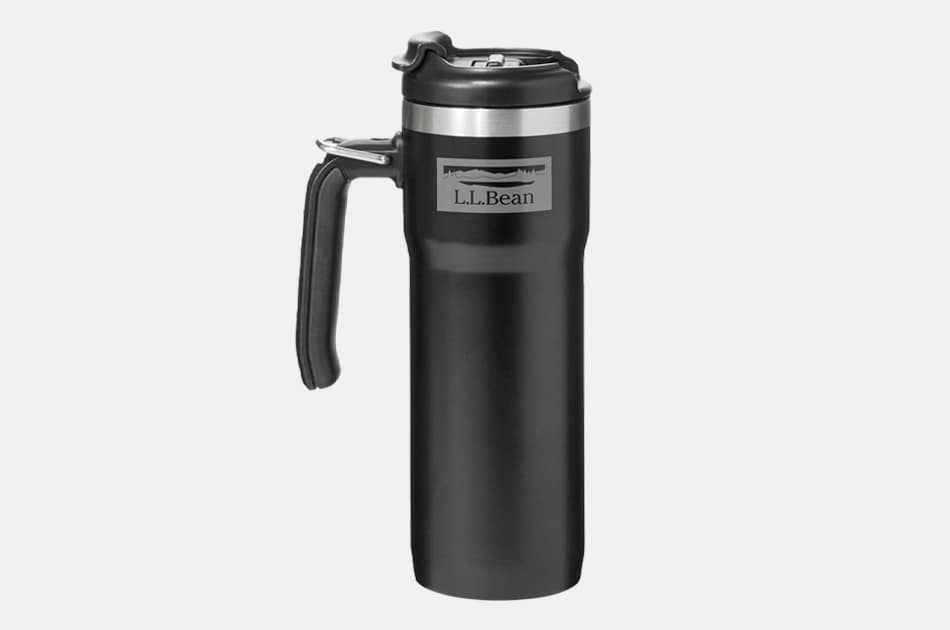 L.L.Bean TwinLock Vacuum Travel Mug
Sure, L.L. Bean makes clothing that's like the textile embodiment of a Norman Rockwell painting, and their duck boots are weirdly iconic, but can they make a decent travel mug? The answer is a resounding yes. Not only is this 20-ounce cylinder in rugged, vacuum-insulated stainless steel the perfect travel companion, with 100% BPA-free construction and a leakproof TwinLock design, but the mug is dishwasher safe and the lid can be disassembled for deep cleaning.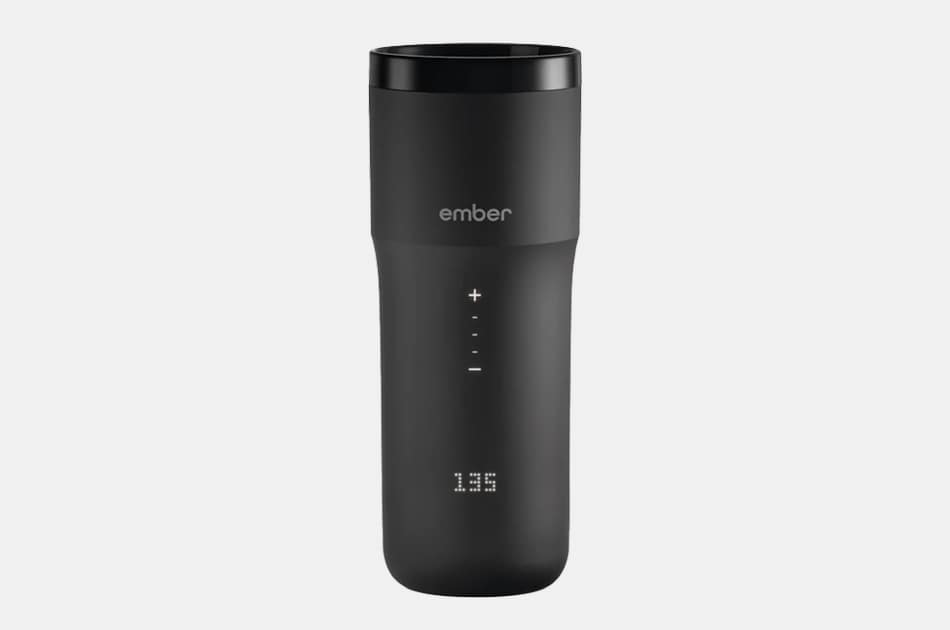 Ember Travel Mug²
The price of this pretty travel mug may throw you for a loop, but Ember offers some fairly unconventional features in their high-tech beverage receptacle. Sure, it's leak-proof, dishwasher safe, and designed to hold 12 ounces of liquid, but this smart mug actually lets you set the temp to keep your drink at and then sustains it precisely for up to three hours. With a touch display, a temperature range of 120-145 degrees (F), and the uncanny ability to keep your coffee or tea perfectly warm until you finish it all, it's hard to find any flaws.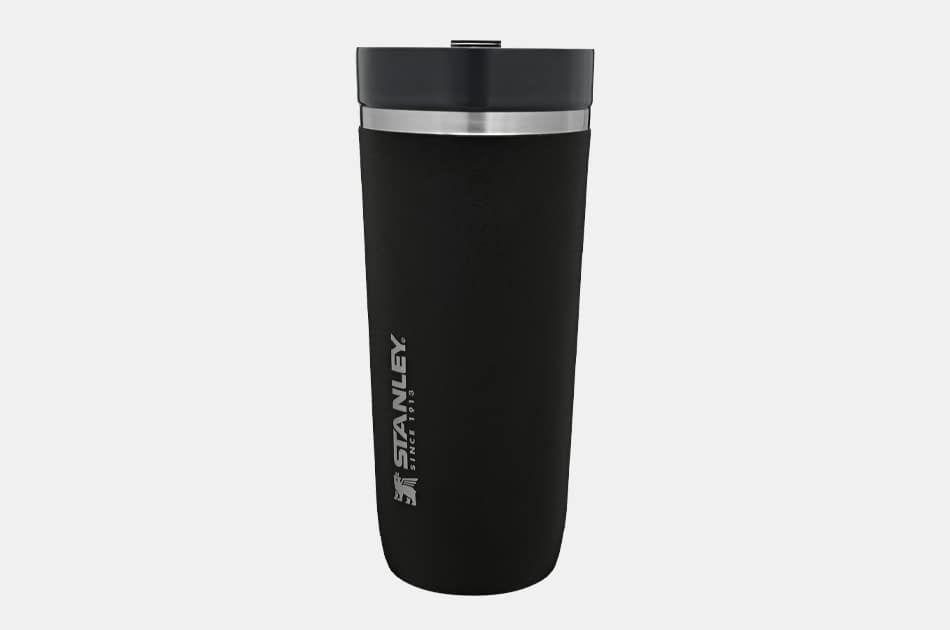 Stanley Go Tumbler with Ceramivac
Another from Stanley, this travel mug nearly doubles your caffeine intake with a whopping 24 ounces of liquid capacity. The stainless steel construction is finished in trademark Ceramivac, for a "cleaner drink experience". What does this mean? Essentially, it feels like you're holding a ceramic mug. Plus, double-walled vacuum insulation keeps drinks hot for 6 hours, cold for 12 hours, or iced up to 40 hours. It also features a non-skid base and splash-proof, press-fit Tritan lid, and despite all the bells and whistles, it's dishwasher safe.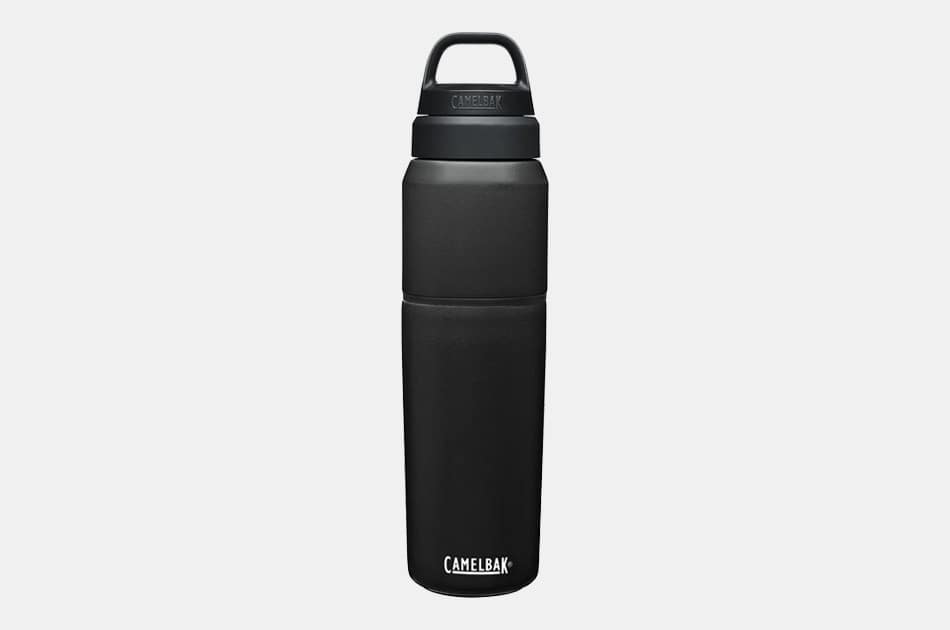 CamelBak MultiBev Travel Bottle & Cup
The backpack sippers from this outdoorsy expert are legendary among the hiking, biking, and marathoning crowd, and the MultiBev bottle is set to be an instant classic, thanks to 2-in-1 functionality that includes a 22-ounce water bottle and a 16-ounce detachable cup, both in powder coat stainless steel, so you can have your coffee and drink it, too. The Roll and Fold lid has just enough space to stow your tea bag or miniature snack.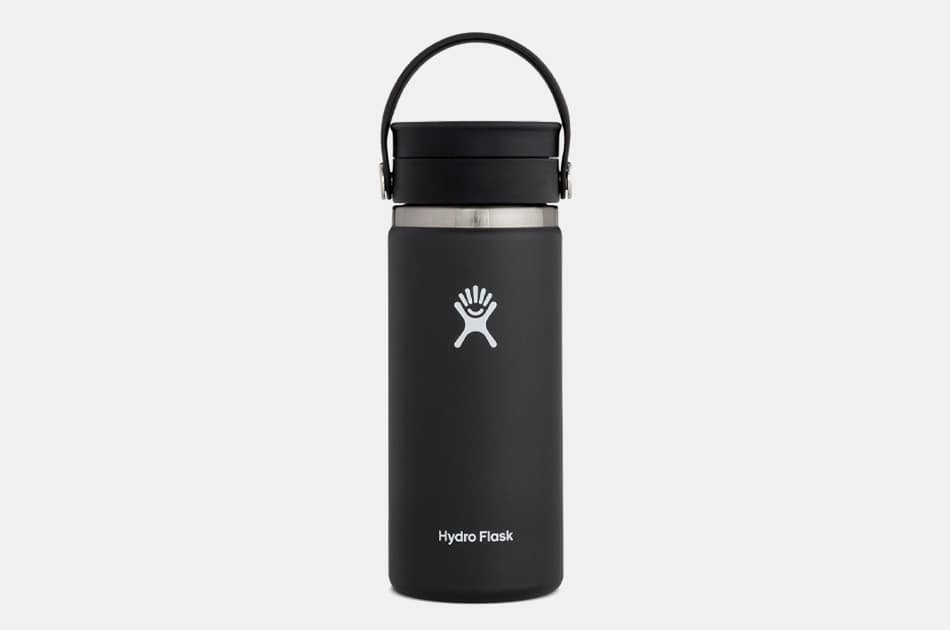 Hydro Flask Stainless Steel Coffee Travel Mug
Hydro Flask has become a major contender in the reusable water bottle market thanks to a solid reputation for quality construction, desirable features, and a limited lifetime warranty against manufacturing defect. This 16-ounce, wide-mouth mug in stainless steel has a leak-proof lid that's compatible with other Hydro Flask mugs, and makes for easy fill with hot or cold beverages, soup, or any liquid you want to take on the go.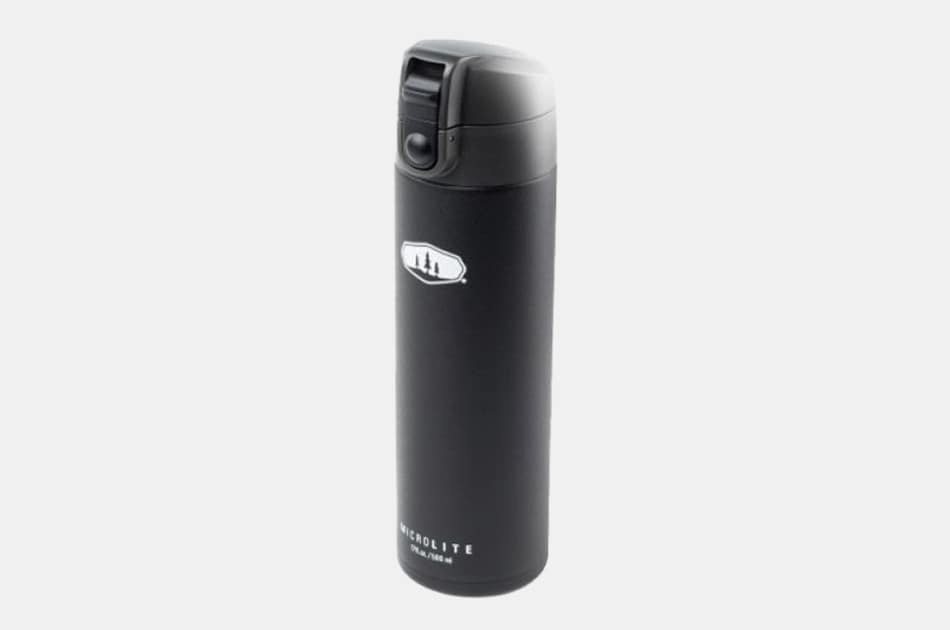 GSI Outdoors Microlite 500 Flip Vacuum Mug
If you're looking for a stainless steel travel mug that's lighter than the bevy of heavyweights dominating the market these days, you'll be happy to hear that GSI Outdoors had the same thought. Their 17-ounce vacuum mug features thin, 2-mm walls that make it 33% lighter than traditional designs, although the vacuum-insulated form still keeps your drinks hot or cold. The push-button, flip-top cap offers easy, one-handed operation and locks in the closed position for travel.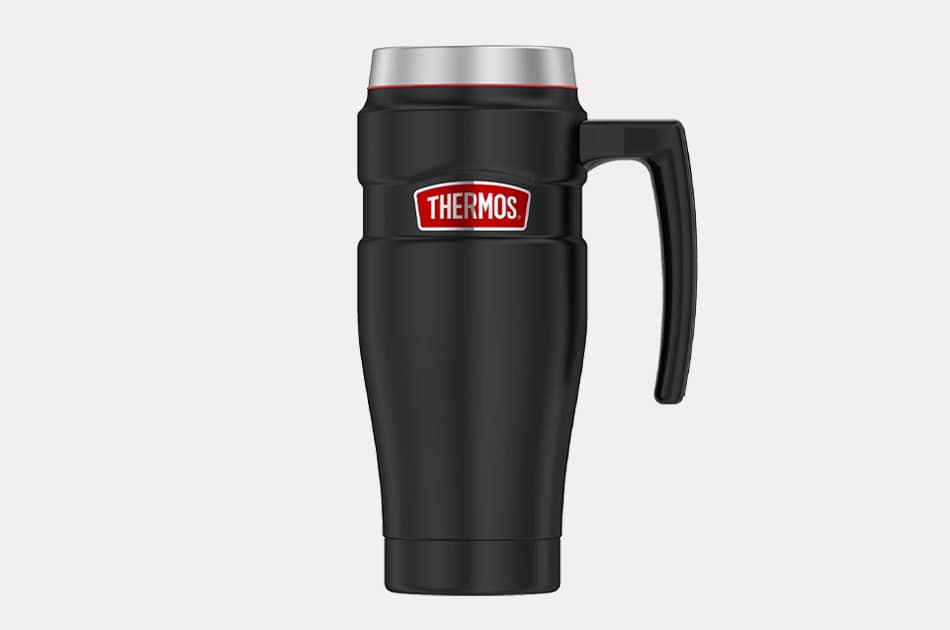 Thermos Stainless King Travel Mug
With a name like Thermos, it's not hard to guess what this company does best. Their 16-ounce travel mug comes in a range of shiny or matte shades, but what's likely to catch your interest is the stainless steel construction and vacuum insulation technology that not only keeps drinks hot for 7 hours or cold for 18, but also ensures a cool exterior that won't burn your mitts while you sip your cuppa Joe, and won't sweat when you switch to iced tea.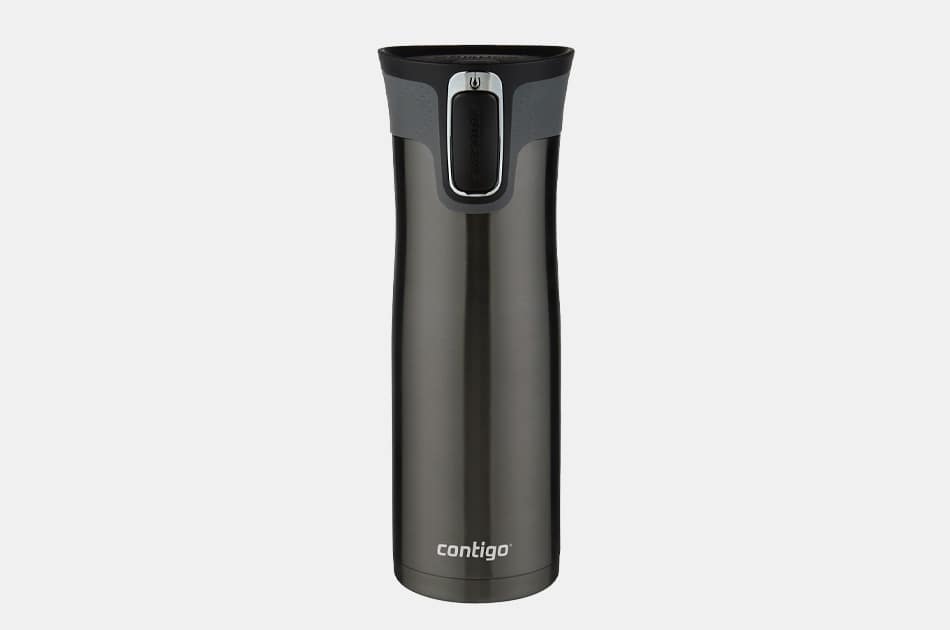 Contigo Autoseal West Loop Vacuum-Insulated Travel Mug
You may not be as familiar with Contigo as Stanley or Hydro Flask, but they make a mean travel mug that's sure to earn your respect. Thermalock vacuum insulation keeps drinks hot up to 7 hours or cold up to 18, Autoseal lids are leak-proof AND spill-proof, and push-button operation makes one-handed drinking a snap. This handy canister is also top rack dishwasher safe for easy cleaning.
Disclosure: Clicking on these links and making a purchase may earn us a small referral fee, at no extra cost to you. Learn more here.