The 12 Best Travel Pillows For Frequent Flyers
A good travel pillow can mean the difference between a comfortable trip and a (literal) pain in the neck. In short: No traveler, by air or otherwise, should go without a trusty travel pillow.
But the best travel pillows? They're something else entirely—marvels of ergonomic engineering with dozens of thoughtful design features. We think they're the bees knees, which is why we've collected a dozen of these paragons of plush comfort for you to peruse.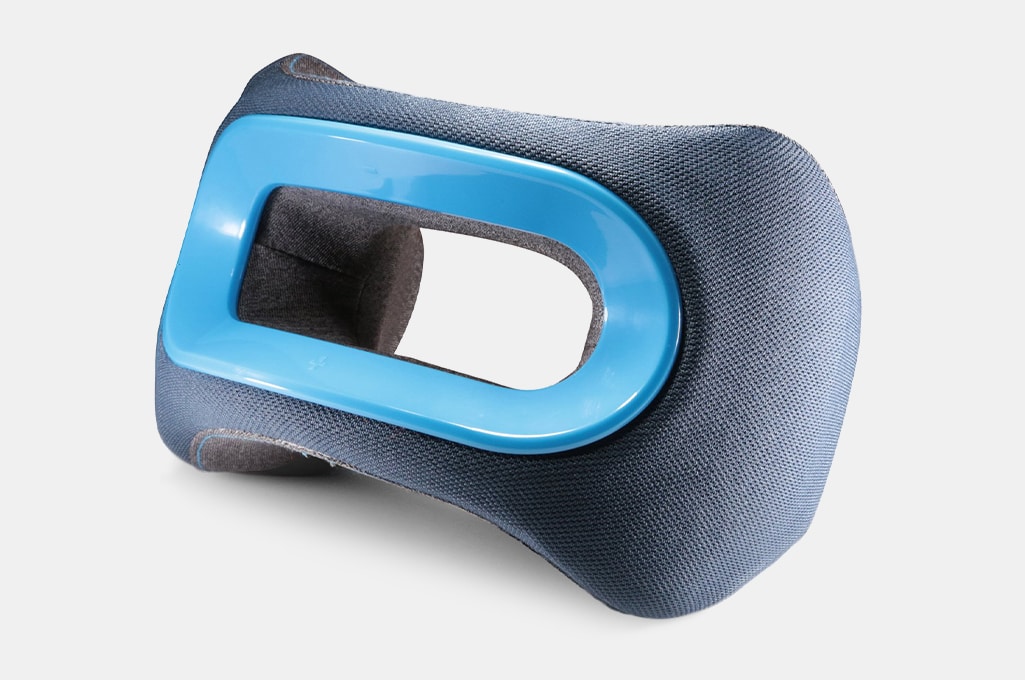 Bullbird BR2 Travel Pillow
In our age of smartphones and laptops, who doesn't spend too much of their time looking down? If all that stooping has put a kink in your posture, Bullbird's BR2 Travel Pillow just might set them straight.
Both lightweight (at just 6.5 ounces) and minimalist in design, Bullbird's pillow is built specifically for air travel. Whether you're on a long haul flight and need a full night's sleep, or just a quick nap on your short trip, Bullbird's got you covered. And because it was designed in coordination with medical engineers, it can accommodate a wide range of people while providing perfect neck and head alignment.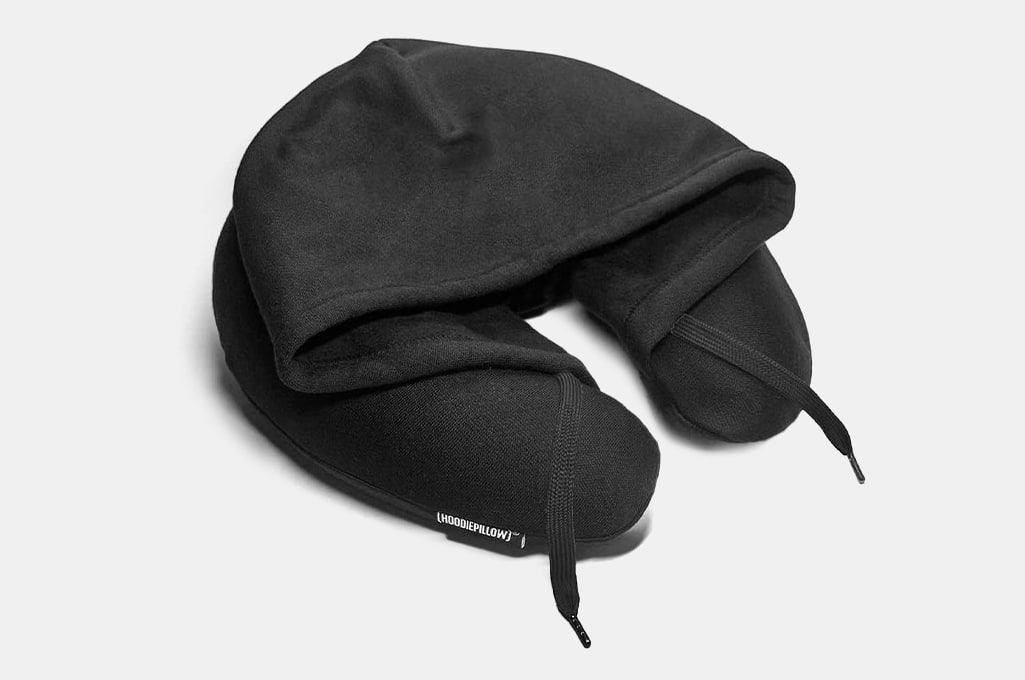 HoodiePillow Travel Pillow
You know how every time you try to sleep on a plane, there's inevitably that one person who has to have as many reading lights on as possible? Packing a blindfold is an option, but I can do you one better: The HoodiePillow.
The premise is simple, combining a luxury fleece and memory foam pillow with an adjustable hood. Pop it around your neck like a standard travel pillow, then luxuriate in the warmth, darkness, and noise dampening effects of your newfound hood. Does it look a little bit silly? Yes. But I'd encourage you to try it out, as it provides a privacy that's especially comforting on long flights.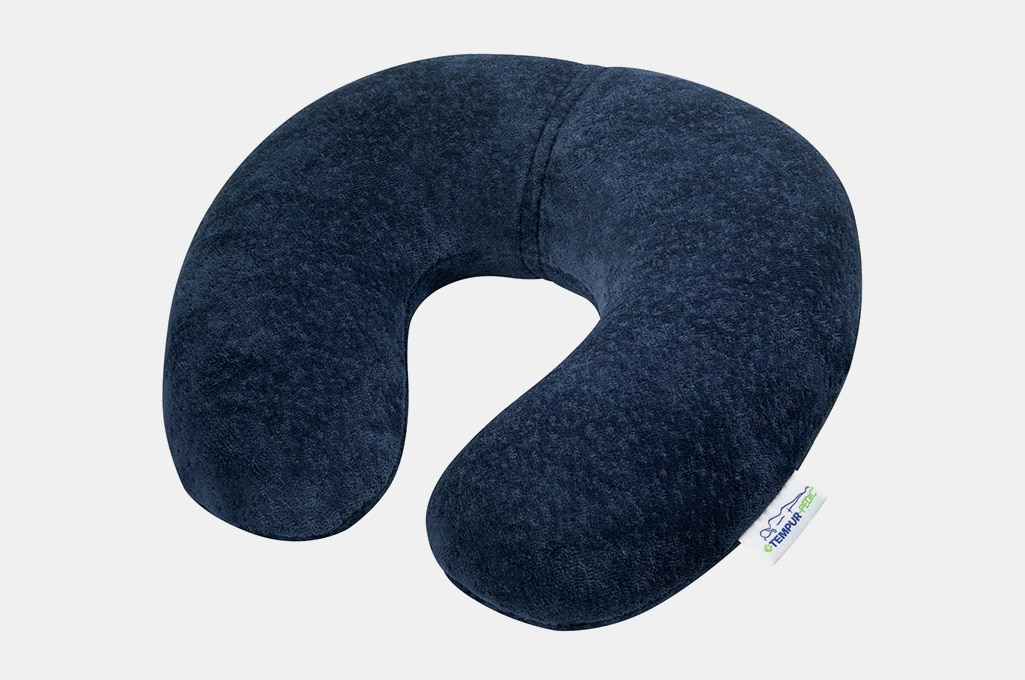 Tempur-Pedic Travel Pillow
Since they're best known for their award-winning mattresses, it should come as no surprise that Tempur-Pedic makes an excellent travel pillow as well. The design is simple and familiar, with no bells and whistles to distract from its main selling point: The incredibly comfortable, proprietary Tempur filling. That specialized composite foam gives a medium-firm cushion, offering plenty of support for sleeping on long-haul flights. And with a five-year warranty, you can rest assured that you'll be resting assured for years to come.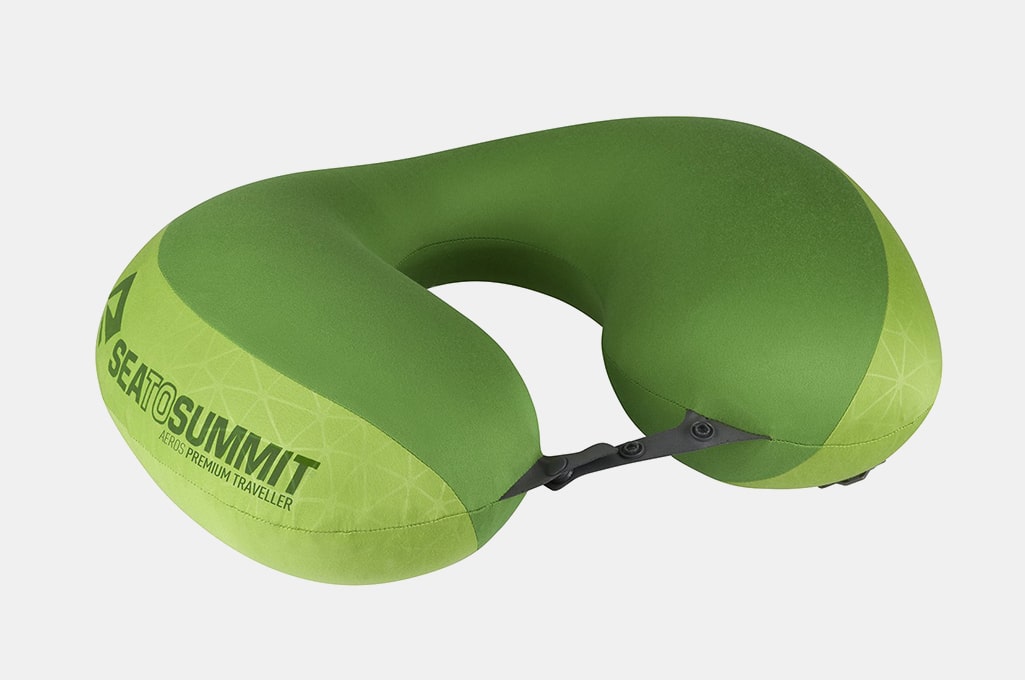 Sea To Summit Aeros Premium Traveller Pillow
Packing for your trip is stressful enough. Why worry about carting around a bulky neck pillow with you while you're in the airport?
Sea to Summit takes their camping gear expertise and applies it to the air travel pillow in their Aeros Premium Traveller Pillow. Weighing about as much as a deck of cards and roughly the size of a construction worker's tape measure, it's easily the most portable and packable of the pillows featured here. That's thanks to an inflatable design with an easy-use valve—but don't think that means it's lacking in the comfort department, because the brushed 50D polyester knit really makes it stand out from other inflatable travel pillows.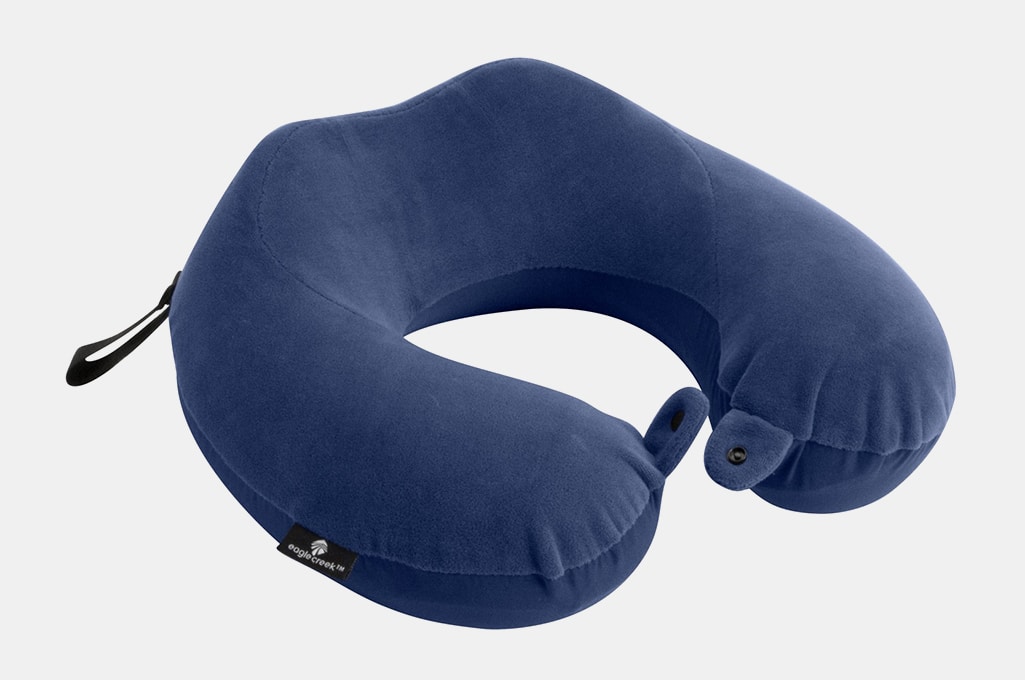 Eagle Creek Memory Foam Neck Pillow
Eagle Creek's Memory Foam Neck Pillow is my go-to choice for urban backpacking trips. I owned one for two wonderful years before losing it in a Mexico City hostel—and it saved me from many sleepless nights on planes, trains, and busses.
Here's why I hold this pillow in high regard: It's simple, affordable, reliable, and easy to attach to your backpack. The fleece cover is soft and comfy too, and removable (especially important for easy washing during long-term travel). That's all wrapped up with a hybrid shape that's actually comfortable enough to use as a regular pillow, should your hotel's pillows not live up to your expectations.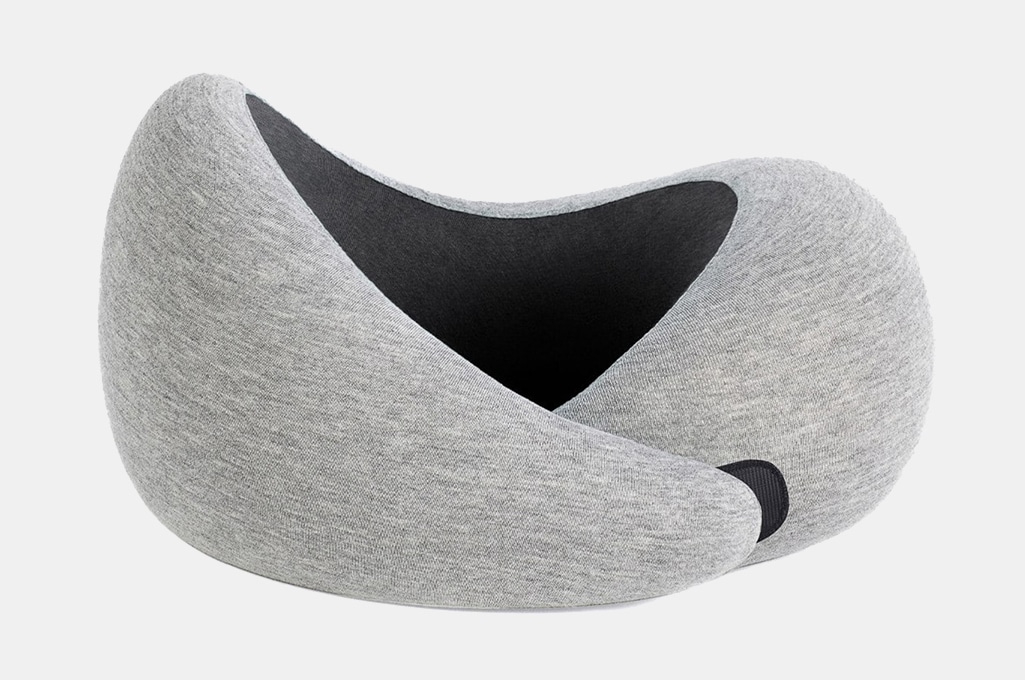 OstrichPillow Ergonomic Travel Pillow
You know a travel pillow maker is onto something when they come up with a design that wouldn't look out of place in a Black Mirror episode, right? The OstrichPillow's odd design is for a very specific, very good reason though: No matter how you wear it, it will naturally accommodate your head tilting while you sleep. The memory foam core provides a medium level of padding, while still allowing the whole pillow to pack down small into its stuff sack. So if you'd like a travel pillow that can double as a futuristic fashion accessory, the OstrichPillow is the way to go.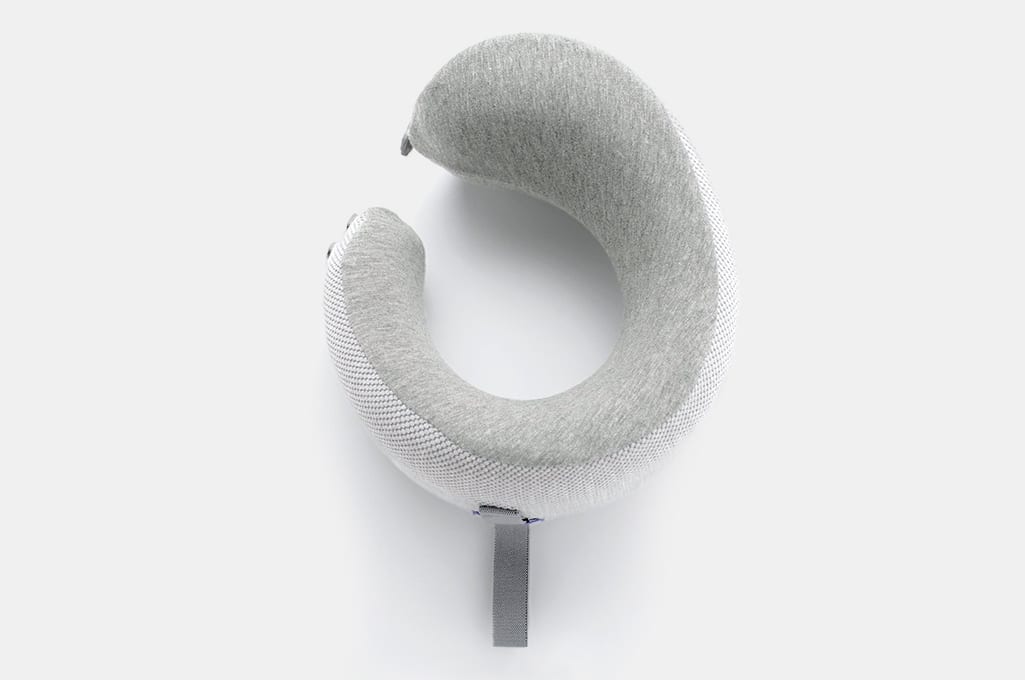 Cushion Lab Ergonomic Travel Pillow
The scientists, travel experts, and ergonomists at Cushion Lab spent years designing their Ergonomic Travel Pillow with one goal in mind: Make one travel pillow that can fit every type of traveler. And it seems they've had remarkable success, as SmarterTravel magazine named them as the Best Travel Pillow of 2019 (though I'm sure it's still just as excellent in 2021). That's all thanks to a 360 degree wrap, supporting your neck and chin while keeping you cozy and comfortable. Even better, it collapses down to the size of a coffee cup for easy storage while traveling.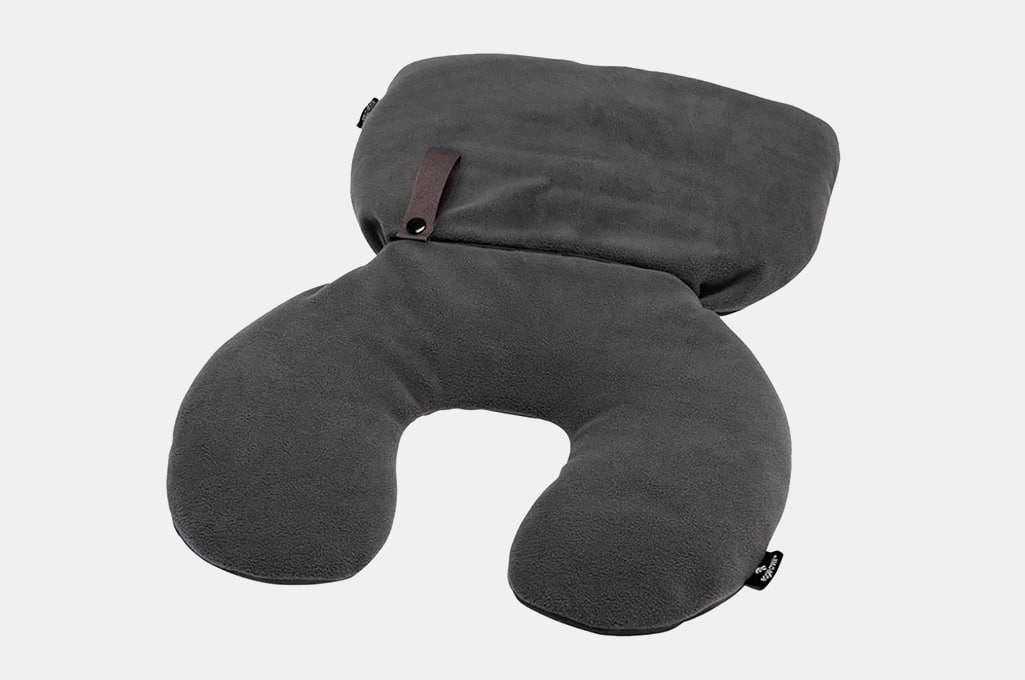 Eagle Creek 2-in-1 Travel Pillow
Pillow people know that, once you get to your hotel, not just any pillow will do. But do you really want to carry along both a neck pillow for your flight, and an extra pillow for your bed? What's next, throw pillows? Of course not—which is why Eagle Creek's 2-in-1 Travel Pillow is the padding of choice for efficiency-minded travelers. It transforms quickly from contoured neck pillow to traditional rectangle, mixing the best of airplane and bed pillows into one affordable and efficient package. An excellent choice for minimalists and over-preparers alike.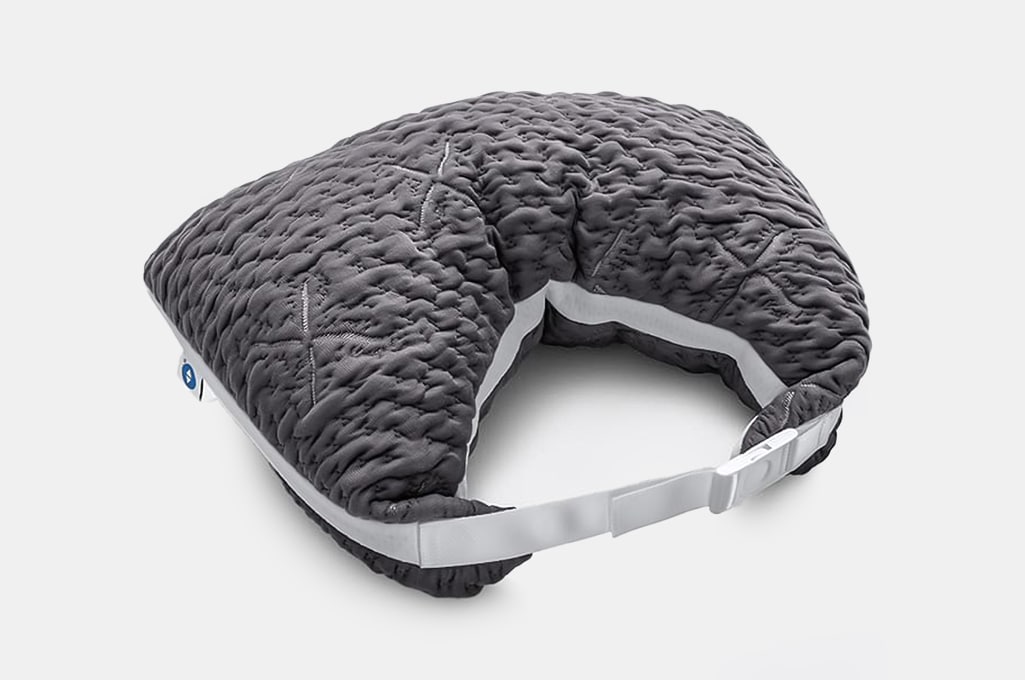 Sleep Number Travel Pillow
Sleep Number's beds are famous for their ability to adjust to a sleeper's firmness preference, delivering a wonderful night's sleep via customizable loft. And while the Sleep Number Travel Pillow doesn't have the same electronically-adjusting firmness, it does a remarkable job of naturally adjusting to your desired texture. That's thanks to a combination of memory foam pieces and down alternative fibers that gives the pillow just enough loft without becoming too squishy. And with a one-year limited warranty and a 30-day exchange period, you can afford to take this pillow on a risk-free test run and see if it suits your sleeping habits.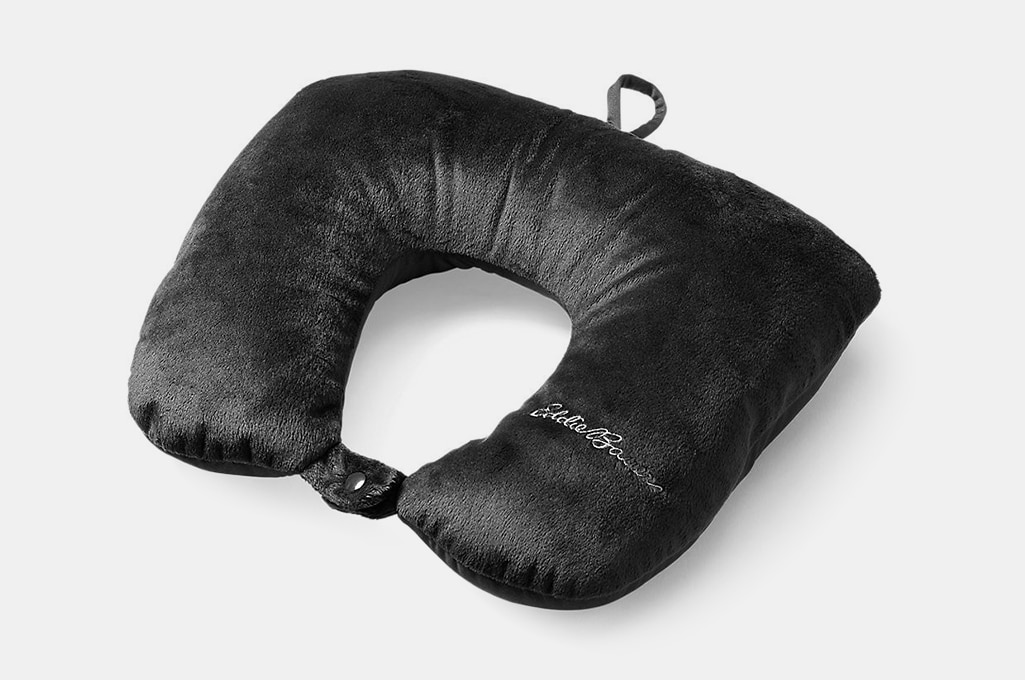 Eddie Bauer Two-in-One Travel Pillow
Another flip-flopping pillow that can double as a neck pillow or regular old rectangle, Eddie Bauer's Two-in-One Travel Pillow is the most affordable of its kind. A polyester and spandex cover gives it a soft and plush exterior, but the filling is this pillow's most unique selling point. Instead of the foam that's used in most travel pillows, small plastic beads make this a versatile pillow that's great for anyone who uses a knee pillow, too. It's an excellent all-rounder of a pillow that's great for more than just taking on your next trip.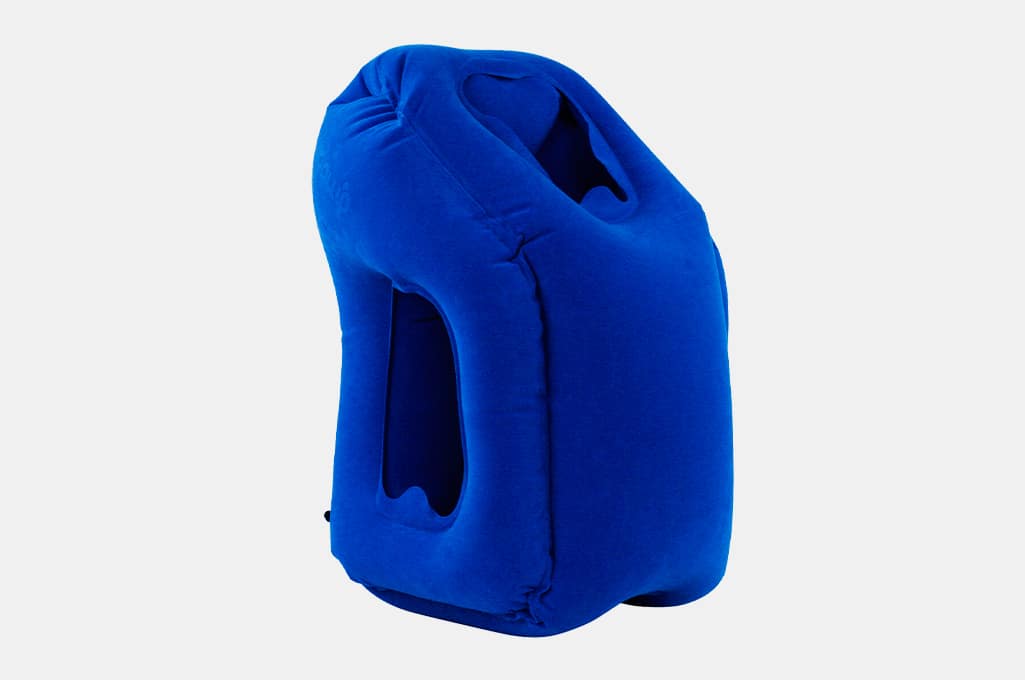 Woollip Travel Pillow
Be honest: Have you ever wanted the experience of snuggling a big fluffy dog while you sleep on a plane? If you hadn't thought about it before, I'm betting that you're game for it now. And while I'm pretty sure airlines frown upon using service animals as pillows, Woollip's Travel Pillow is the next best thing. I mean, just look at it: The whole thing is like hugging a strange, amorphous, sleep-inducing animal. Or if that's a bit too weird for you, it's like a massage chair that you can use while sitting up in your airplane seat, which is pretty cool too.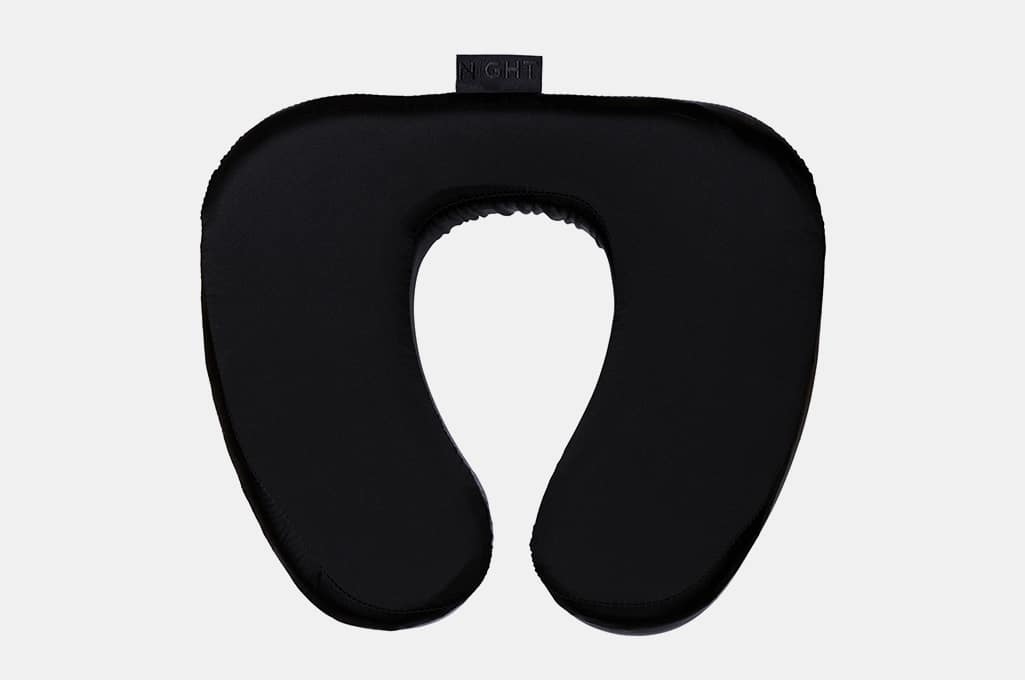 Trisilk Travel Pillow
What do you get when you double the usual padding of a travel pillow, and then cover it in luxurious silk? The amazingly comfortable Trisilk Travel Pillow. While the minimalist in me shudders at the size of this pillow and its inability to be packed down for storage, it's an undeniably opulent sleeping experience. If you want to give yourself first-class treatment (no matter which section you're flying in), I can heartily recommend Trisilk's travel pillow.
Disclosure: Clicking on these links and making a purchase may earn us a small referral fee, at no extra cost to you. Learn more here.
freestar.config.enabled_slots.push({ placementName: "gearmoose_leaderboard_btf", slotId: "gearmoose_leaderboard_btf" });