We love cocktails. But sometimes it feels like, when it comes to mixed drinks, winter seems to get lost in the shuffle. Instead of crafting refreshing boozy cocktails as we do in spring, summer, and even the early days of the fall, we instead opt to drink our single malt scotch, bourbon, rye, dark rum, aged tequila, and Irish whiskey neat or on the rocks. On a freezing winter day, we simply want that warming feeling paired with the malty, sweet whiskey flavor with nothing else.
Even though winter doesn't seem like a season for cocktails, there are a handful that make the cut. We're talking about mixed drinks that literally only work in the winter: hot cocktails. You likely wouldn't enjoy a hot toddy, hot buttered rum, mulled wine, or an Irish coffee in the midst of a summer heatwave anyway. Today we're turning our full attention to potentially the best hot cocktail ever created: the Irish Coffee.
You might be wondering why we consider Irish coffee to be the best hot cocktail. Well, while something like the hot toddy simply has booze, citrus, and other warming ingredients, it doesn't have any caffeine. When we drink a hot toddy, regardless of whether or not we have a winter cold, we want to take a nap. After an afternoon Irish coffee, we're energized and ready to take on the rest of the day.
Now is the time to whip up an Irish coffee. Don't wait until St. Patrick's Day. If you wait until mid-March to enjoy the boozy, warming, caffeinated goodness that is the Irish coffee, you're truly doing yourself a disservice. For the uninitiated, Irish coffee is a hot cocktail made with Irish whiskey (hence the name), hot coffee, sugar (usually brown sugar), and heavy cream. The key is that everything is mixed together and then the cream is added to the top. Part of the fun is drinking the boozy, slightly bitter, coffee-fueled drink through the creamy topper.
If simply envisioning how delicious, warming and boozy Irish coffees are isn't enough to get you to try one this winter, maybe the fact that January 25 is National Irish Coffee Day should.
Before we really delve into this, here's a simple, easy-to-remember recipe to create a rocking Irish coffee you'll want to drink from now until the spring thaw (and maybe even on a few unseasonably cool days after that).
Irish Coffee Ingredients:
1.5-ounces Irish Whiskey
1-teaspoon brown sugar
1-ounce cream (whipped if you prefer)
1-cup hot coffee
Preparation:
Brew the coffee then heat together with the brown sugar and whiskey before pouring it into a mug or Irish coffee glass (if you have one on hand). Add cream and sprinkle a little cinnamon on top for added flavor.
Below, you'll find five of our favorite Irish whiskey and coffee pairings. These duos are guaranteed to keep you caffeinated and happy from now until springtime.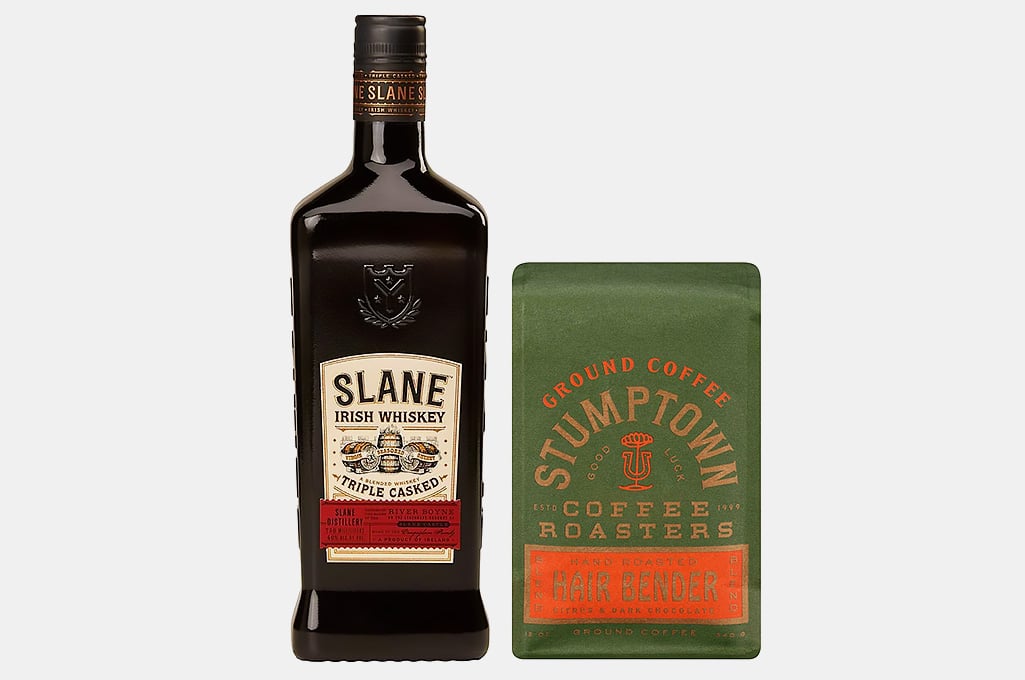 Slane Irish Whiskey + Stumptown Hair Bender
There are many notable Irish whiskeys on the market. The problem is that it seems like some of the bigger names get all the press. One less talked about whiskey that should be on your radar is Slane Irish Whiskey. Named for the village where it's made, this 80-proof blend of grain and malt whiskeys is aged in virgin oak barrels as well as seasoned whiskey casks, and oloroso sherry casks. The result is a mellow, sweet, easy-to-drink whiskey that pairs well with a semi-sweet, extremely balanced coffee like Stumptown Hair Bender. This blend of coffee beans from Latin American Indonesia and Africa is known for its chocolate, dried fruit, and slight citrus flavor. All work in unison with the flavors of Slane Irish Whiskey.
Redbreast Lustau Sherry Finish Single Pot Whiskey + Cooper's Cask Kenya AA Medium Dark Roast
Sherried whisky is a big deal in the single malt Scotch world. While it's not as popular in Irish whiskey, you can still find a few gems like Redbreast Lustau Edition. This collaboration between Spanish Bodegas Lustau and Midleton Distillery is known for its well-balanced flavor highlighted by sweet sherry, dried cherries, slight spices, and rich oak. This sweet, mellow whiskey pairs perfectly with a big, bold Kenyan coffee like Cooper's Cask Kenya AA Medium Dark Roast. The reason is that the bitter chocolate, nutty, rich, robust flavor tempers the fruitier flavors and pairs well with the stone fruit and chocolate flavors.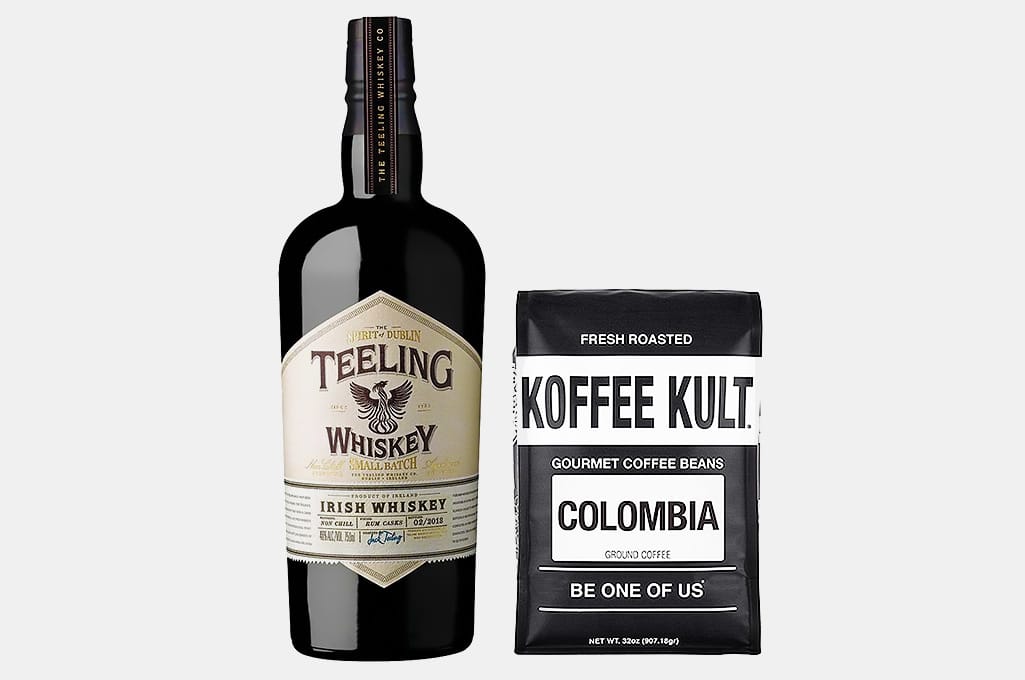 Teeling Small Batch Irish Whiskey + Koffee Kult Colombian Coffee Beans Huila Region Medium Roast
When you crack open a bottle of Teeling Small Batch Irish Whiskey, you might not even want to mix with it. It's that good. This blend of hand-picked grain and malt whiskeys is aged in ex-bourbon barrels before spending an additional twelve months in Central American rum barrels. The result is a velvety smooth, mellow sipper with notes of vanilla beans, slight spices, dried fruits, and sweet rum. This flavor profile pairs very well with a rich, bold Colombian coffee like Koffee Kult Colombian Coffee Beans Huila Region Medium Roast. This 100 percent Colombian Huila Speciality Grade fresh roasted coffee carries notes of dark chocolate, a fruity, sweetness, and medium acidity.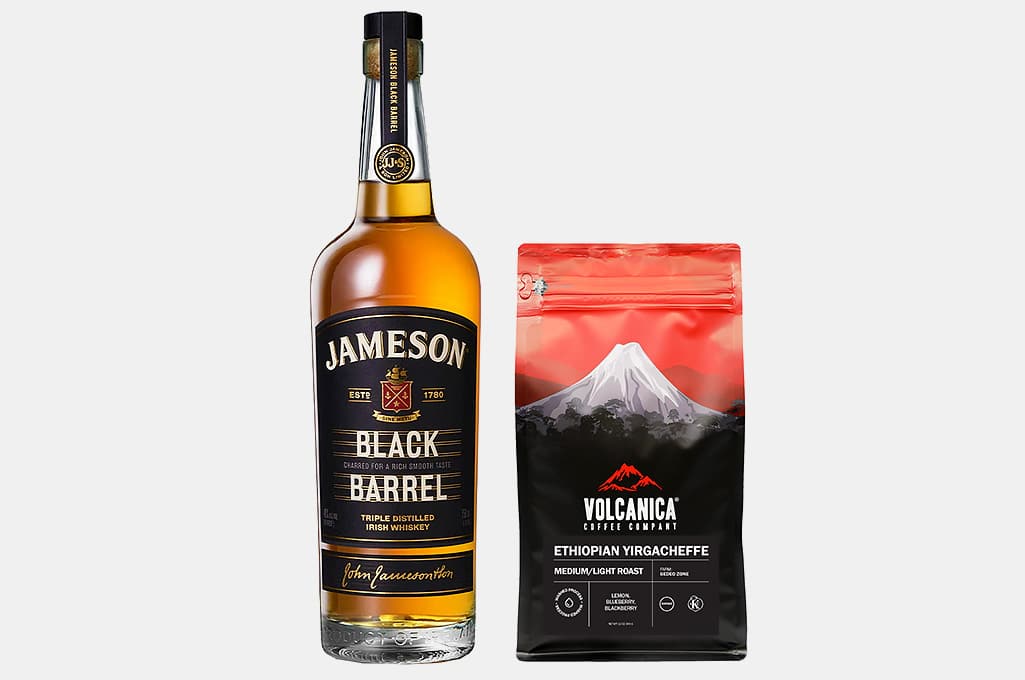 Jameson Black Barrel Irish Whiskey + Volcanica Ethiopian Yirgacheffe
While you can't go wrong with simply buying a bottle of Jameson Irish Whiskey to use as a base for your Irish Coffee, we suggest stepping up to Jameson Black Barrel. It gets its name because it's matured in double charred barrels. This extra charring gives this whiskey a rich, bold flavor with notes of candied almonds, sweet vanilla beans, and subtle wintry spices. All of these flavors pair well with medium roast Ethiopian coffee like Volcanica Ethiopian Yirgacheffe. Its mild acidity and flavors of ripe berries, fruit esters, and slight spice pair perfectly with the bold, rich notes of Jameson Black Barrel.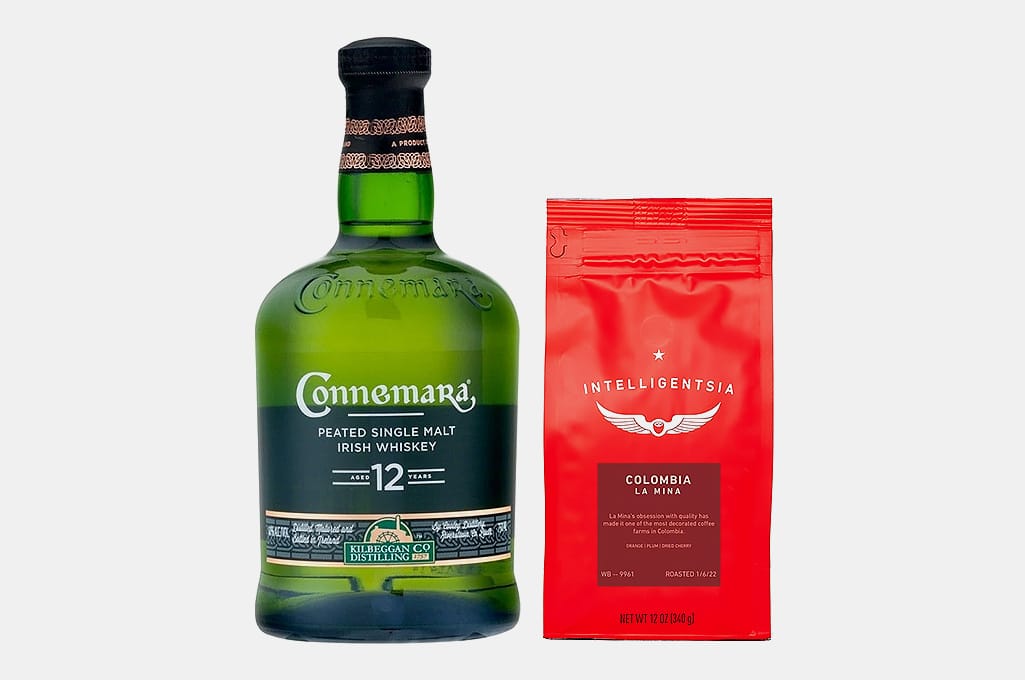 Connemara 12 Year Old Peated Single Malt Irish Whiskey + Intelligentsia Certified Organic Colombian La Mina
We're going to go a little out of bounds here. Connemara 12-Year-Old is a peated single malt Irish Whiskey. For those unaware, this means, because the malted barley is smoked over peat fires, it has a smoky, almost campfire-like flavor. Connemara 12 is known for its nutty, butterscotch, dried fruit, slight spice, and smoky flavor. It pairs well with a well-rounded, mellow Colombian coffee. We suggest Intelligentsia Certified Organic Colombian La Mina. This single-origin, organic Colombian coffee is known for its ripe apple, nutty, sweetly fruity, brown sugar flavors, and low acidity. It's a great compliment to a sweet, smoky, bold whiskey.
Disclosure: Clicking on these links and making a purchase may earn us a small referral fee, at no extra cost to you. Learn more here.
freestar.config.enabled_slots.push({ placementName: "gearmoose_leaderboard_btf", slotId: "gearmoose_leaderboard_btf" });