It's about time that Irish Whiskey gets restored to its rightful place in the fine spirit pantheon. Once the most popular spirit in the world — the word whiskey even comes from the Irish/Gaelic uisce beatha, or "water of life" — its stake of the spirit market fell to an all time low by the late '60s, with just two operating distilleries.
But now, we're on the forefront of an Irish whiskey renaissance. With so many awesome Irish whiskeys under $50, you'd be silly not to take a dram of golden poets' inspiration. When you drink from one of these bottles, you'll be making a long lineage of distillers, tipplers, and barrel makers proud.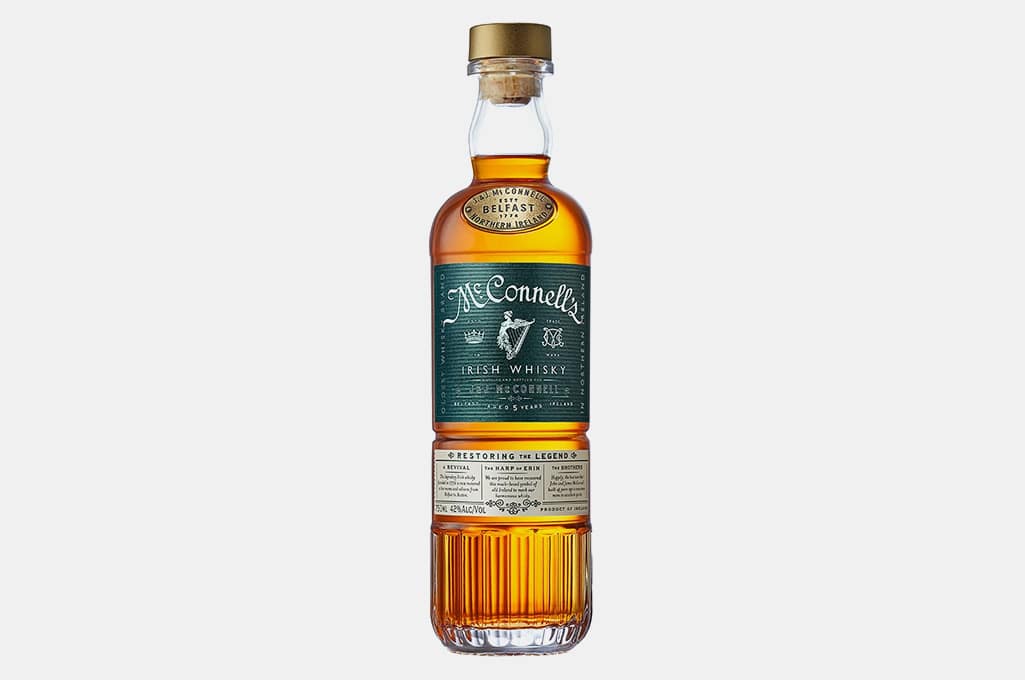 McConnell's Irish Whiskey
The Original McConnell distillery dates back to the beginnings of American independence in 1776. A long-time favorite of American colonists, this whiskey fell on hard times through Prohibition and world wars and was closed in the 1930s.
But now, with help from a group of international investors and intensive study of old mash bills, McConnell's is back in the game. It's a curiously delicious brew, made with both malt and grain whiskeys that are then matured in ex-bourbon barrels. This creates a distinctively rich and honeyed character with a smooth, herbal finish.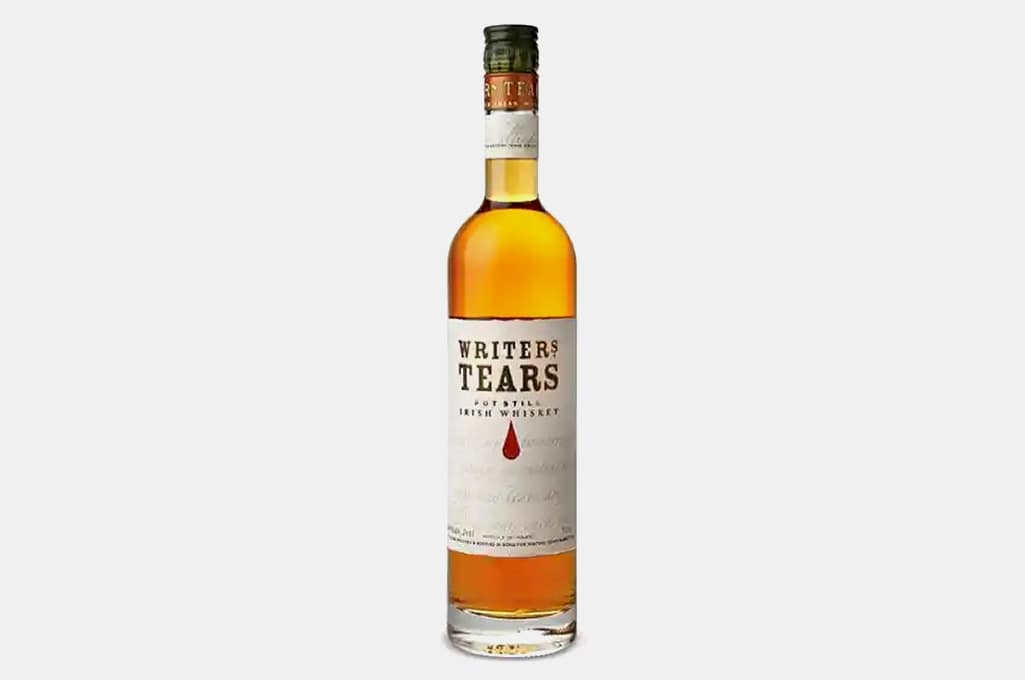 Writers' Tears Pot Still Irish Whiskey
Copper pot stills are the distillation tool of choice for authentic Irish whiskeys. As opposed to the now-popular column stills, copper pots retain more of the aromatics and oily character of the grains used for making whiskey. They're also trickier to produce a consistently delicious spirit from — which makes Writers' Tears Pot Still whiskey all the more impressive.
On the nose, this whiskey is fresh, green and floral. On first sip, you'll notice a distinct but gentle gingerbread spice. And on its long and developing finish, a hint of charred wood and chocolate. I would sip this whiskey neat, or with a few drops of spring water.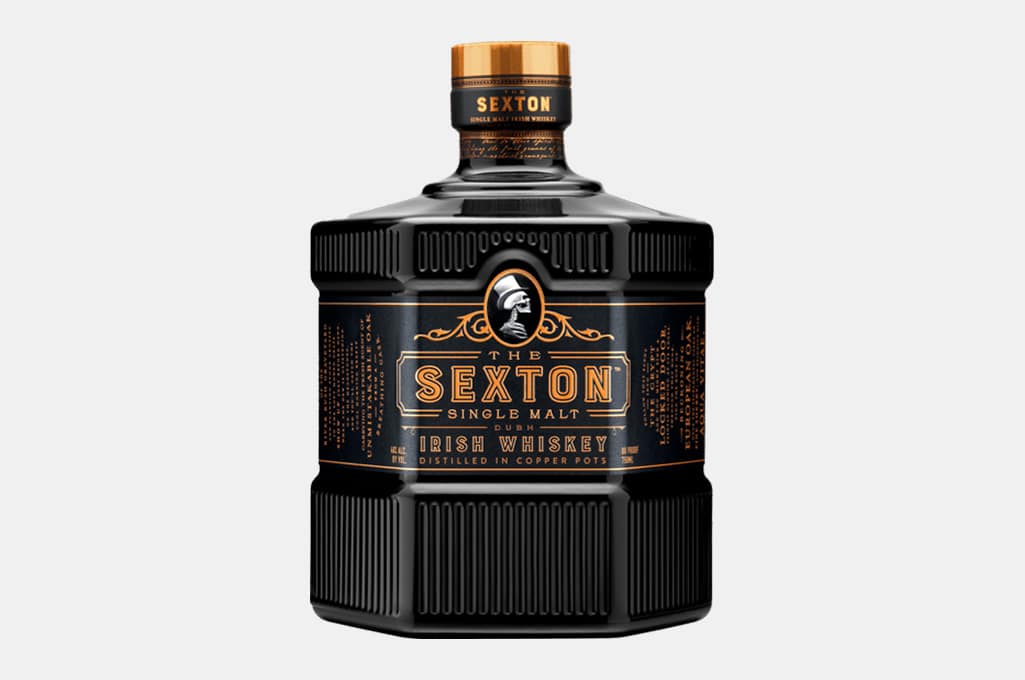 The Sexton Irish Whiskey
Instantly recognizable for its distinct bottle, The Sexton is the most affordable single malt Irish whiskey available right now. And really, it's an incredible bargain for the flavor — a heady melange of dried fruits, wildflower honey, and toasted nuts. That complex palate comes from a lengthy four-year resting in used Sherry barrels that impart their own distinct flavor, creating a long and evolving finish.
The Sexton is one of my top picks for use in cocktails. Manhattans and Old Fashioneds benefit from its nutty middle body, and it's a great substitute for Scotch in modern classics like the Penicillin.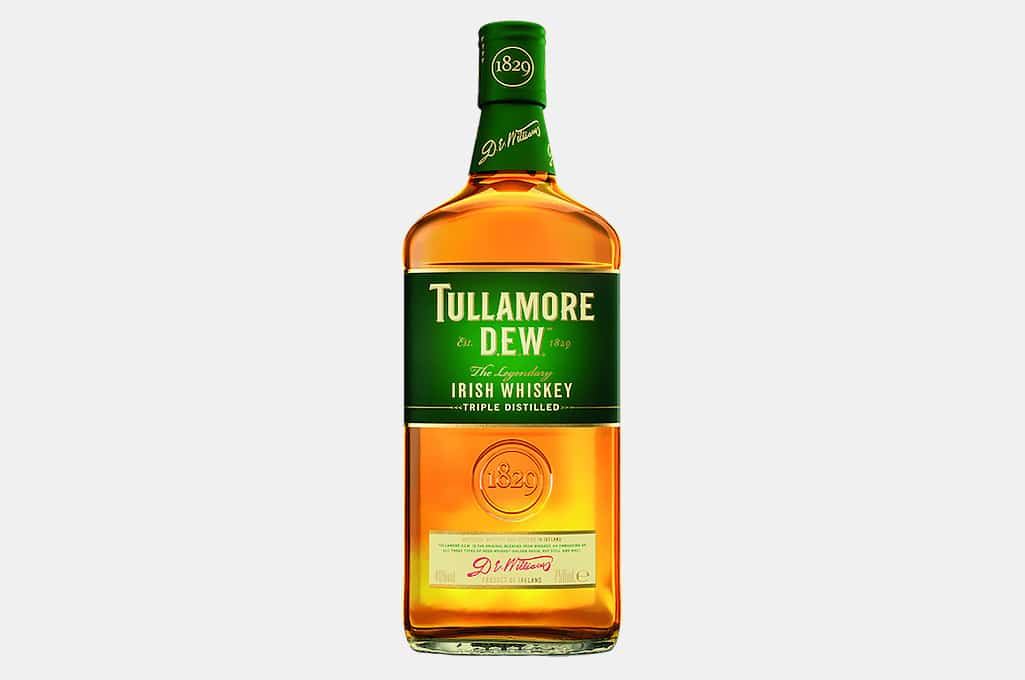 Tullamore D.E.W. Irish Whiskey
Tullamore Dew is an excellent (and affordable) alternative to the giants of Irish whiskey, Bushmills and Jameson. Made from a blend of three distinct spirits — grain whiskey, malt whiskey, and pot still whiskey — it's a superbly balanced spirit that you can't go wrong drinking. Care for a serving neat as a nightcap? Mix it with ginger beer in an Irish Mule on a hot day? Whiskey and soda as a pre-dinner cocktail? Tullamore is great for all of these and more.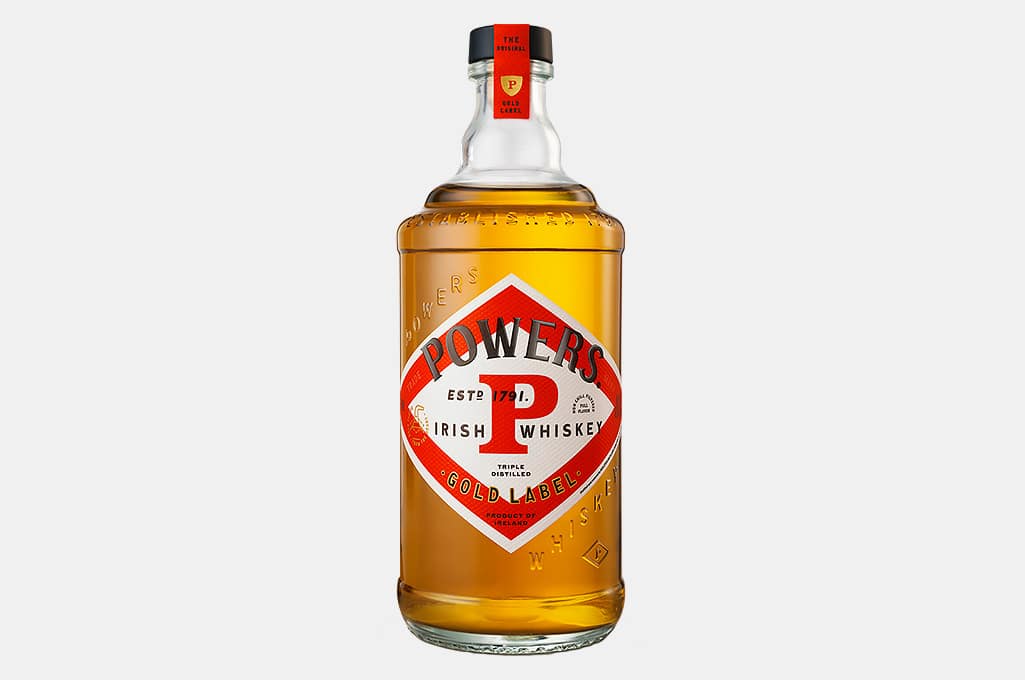 Powers Gold Label
Every whiskey drinker has a debt of gratitude to the Powers family for helping to establish Irish Distillers in 1966, ensuring that Irish whiskey would live on through its darkest days. So raise a glass of their Gold Label in salutations! It's a powerfully peppery take on Irish whiskey, with bold vanilla and toasted wood on the palate. A prime candidate for mixing in your favorite whiskey cocktail.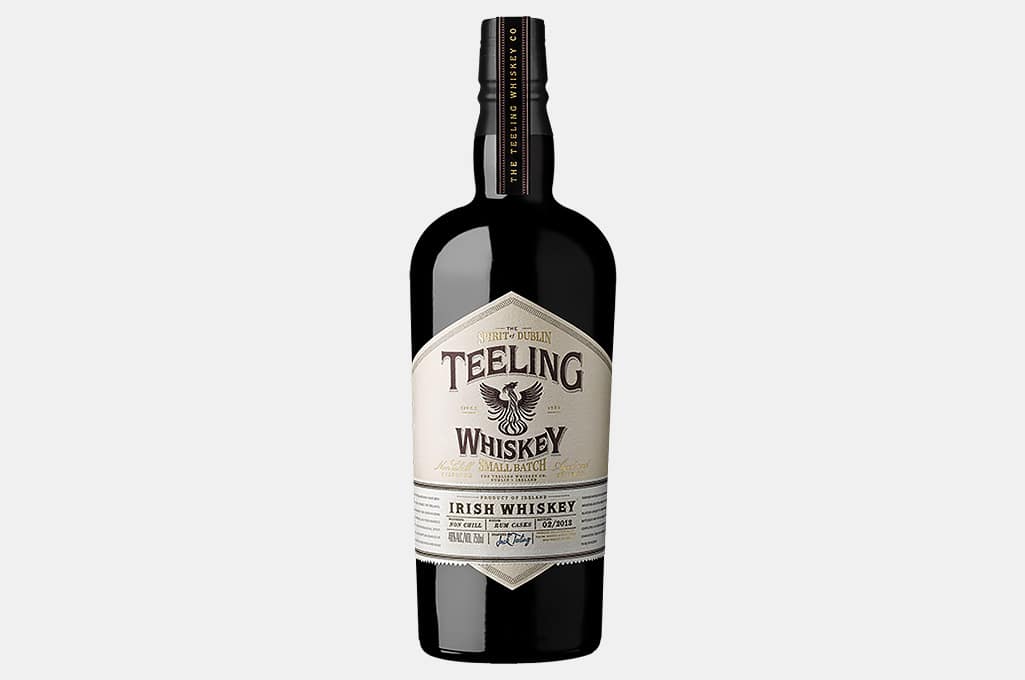 Teeling Small Batch Irish Whiskey
Dublin-based Teeling Whiskey is the poster child of reopened Irish distilleries, with its new facilities located just a few doors down from where the old distillery once resided. With this newly invigorated enthusiasm for whiskey, Teeling's producers give respectful nods to the past while looking towards a bright and innovative future for their spirit.
Case in point: Their Small Batch bottling, a blend of malt and grain whiskeys that are matured first in ex-bourbon barrels, then finished in richly caramelized rum casks. This gives a stronger dried fruit tone to the whiskey than most Irish bottlings, with plenty of cinnamon and vanilla on the nose for good measure.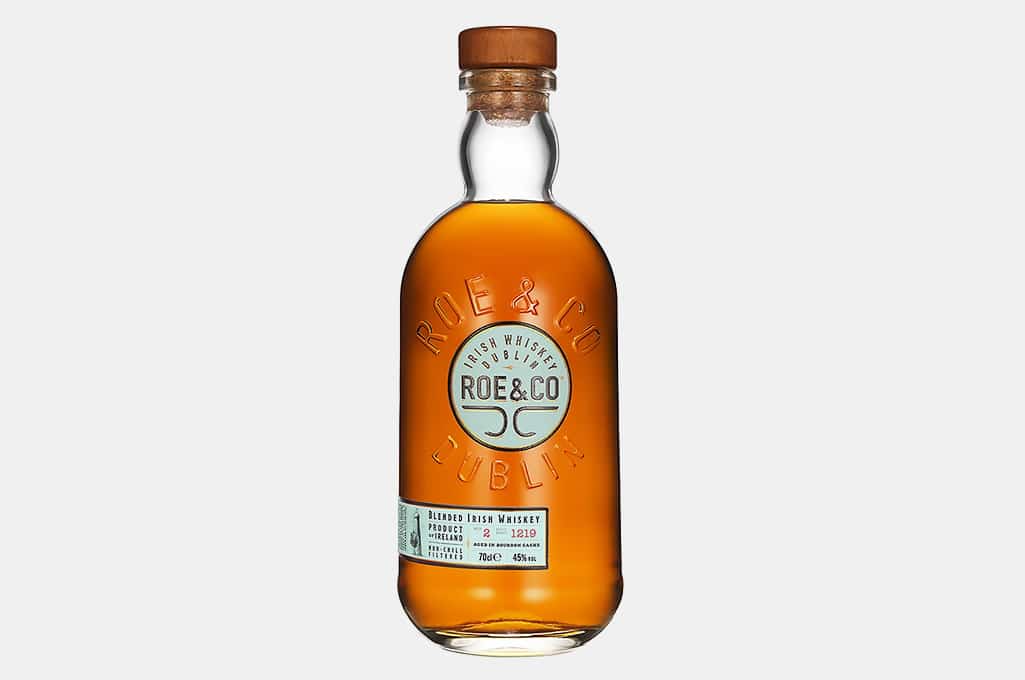 Roe & Co. Irish Whiskey
Named after George Roe, founder of what was once the most successful distillery in Ireland, Roe & Co. Irish Whiskey looks to honor its Dublin roots. It's a blended whiskey that's the brainchild of master blender Caroline Martin, a 30-year veteran of the distilling craft. An intensely fruity malt character is balanced by creaminess from the grain whiskey, and accented with a touch of caramel from the ex-bourbon barrels used in its aging. Combined, all of that makes for a long, smooth, and easy finish.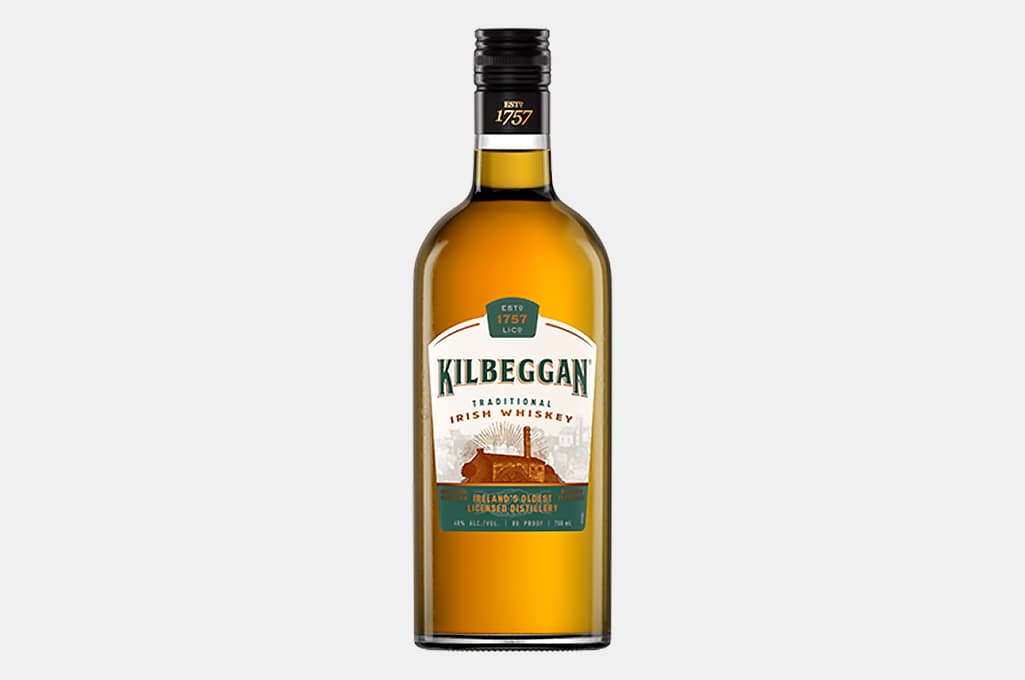 Kilbeggan Traditional Irish Whiskey
"When we started, there was no money. If we wanted to get something done, we had to do it ourselves." That's what Kitty Flynn, the town historian for Kilbeggan, Ireland had to say about rebuilding and revitalizing their once-proud distillery. And we're thankful that they put this tremendous effort into it — because Kilbeggan's Traditional bottling is one of the finest examples of this spirit you'll ever taste.
The nose for Kilbeggan's Traditional is full of caramel, vanilla, and toasted wood. On the delicately candied palate, you'll find almond nougat, peach, and caramel. But the finish? Long, dry, and distinctly wood. It's an absolute pleasure to sip on any time of day.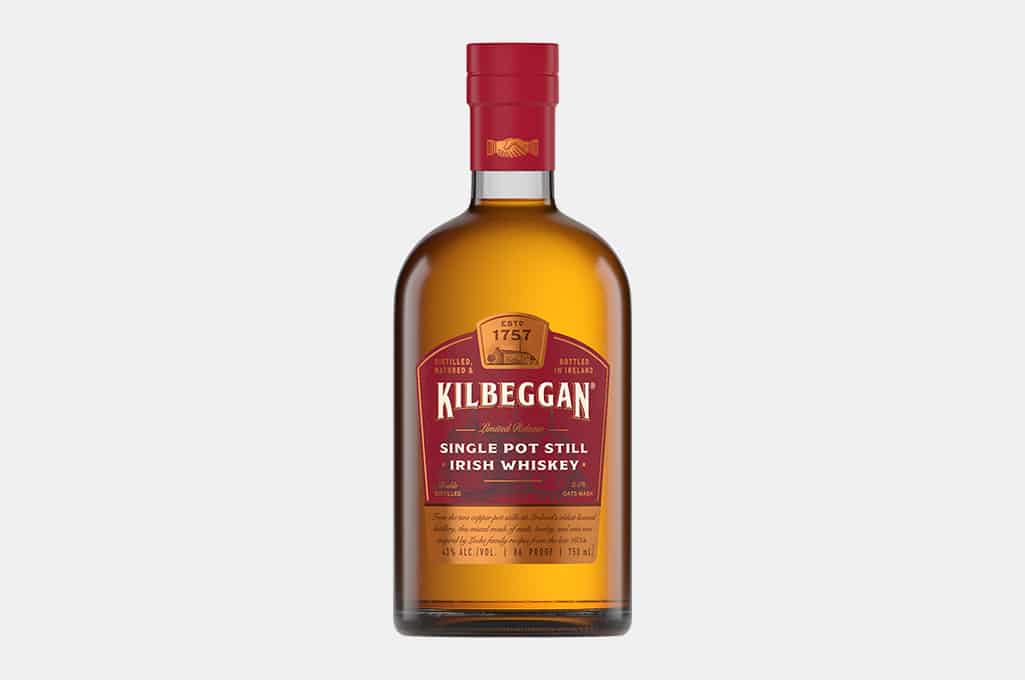 Kilbeggan Single Pot Still Irish Whiskey
There's pot still whiskeys, and then there's Kilbeggan's Pot Still — which has the honor of being made in the world's oldest working whiskey pot still. That's not just a marketing gimmick, either. The longer a pot still has been used, the more character it develops and imparts on whiskeys made in it.
For this bottle, that pot still character shows up most clearly in its oily, viscous mouthfeel and fresh, crisp, floral aroma. There's a hint of spice from start to finish, with a pleasantly dry palate that's mellow as can be.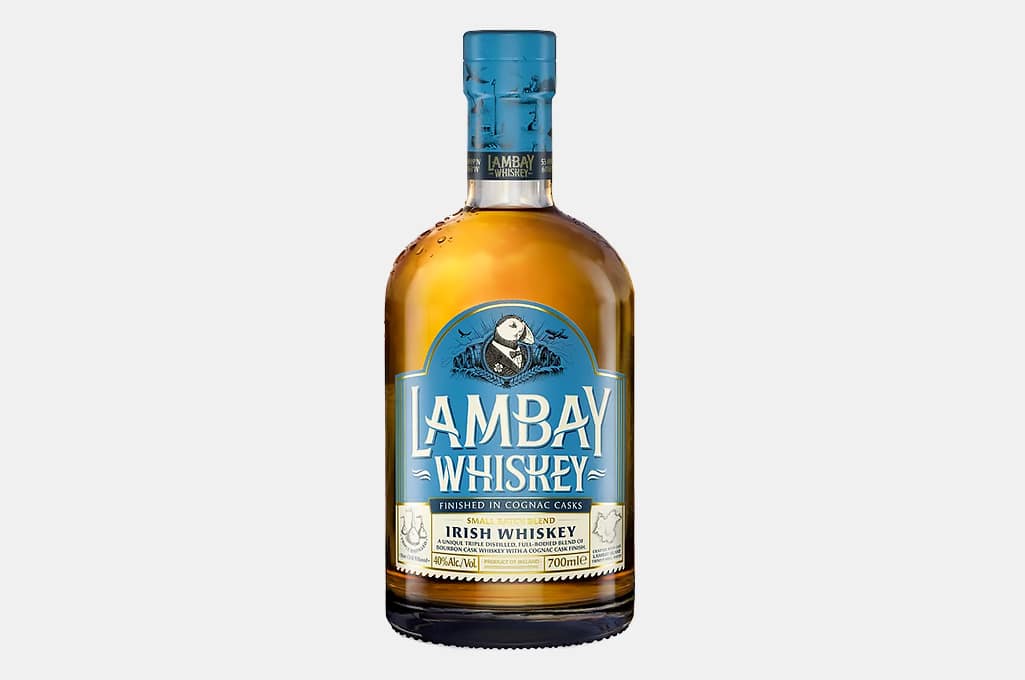 Lambay Small Batch Irish Whisky
Lambay's Small Batch Whisky deviates strongly from the historical norms for Irish spirits. They've even gone and made a bargain with — gasp — the French! This comes in the form of a cognac barrel finishing, lending a regal and uncommonly long finish to their whiskey. Overall, it's a smooth, complex, and rich spirit that will appeal to scotch, cognac, and bourbon drinkers alike. Because of that, Lambay gets my nomination for "best Irish whiskey to give as a gift".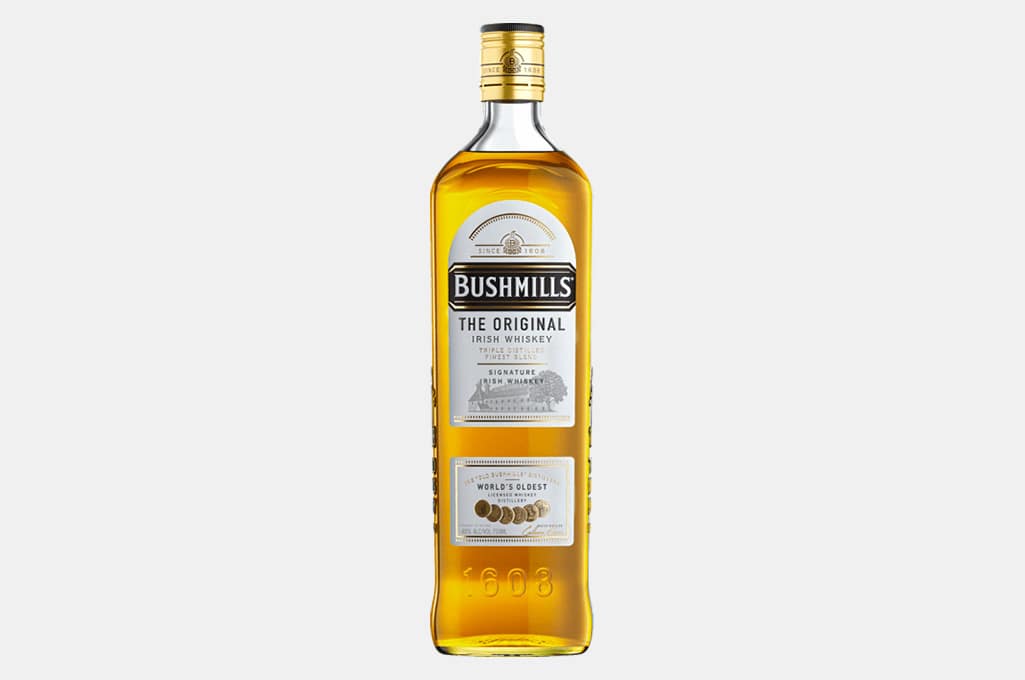 Bushmills Irish Whiskey
We could hardly talk about Irish whiskey without mentioning Bushmills — the oldest licensed distillery in the world, by some accounts. And while they have a wide range of bottlings, Bushmills' flagship whiskey is the best place to start. The recipe has been unchanged since 1888, and is still one of the most approachable Irish whiskeys on the market. Its soft and honeyed taste lends itself well to sipping neat, or being made into a refreshing whiskey and soda.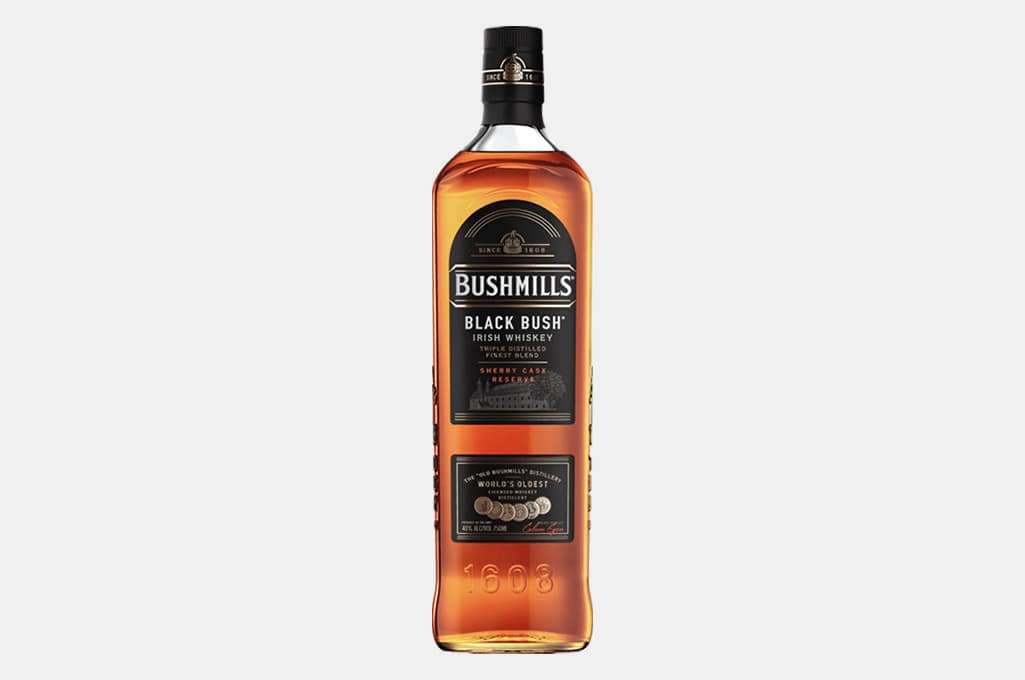 Bushmills Black Bush Irish Whiskey
A step up in price and two shades darker than the original Bushmills, their Black Bush is a deep and intensely flavored whiskey. That comes both from the heavily toasted grains used in its mash bill as well as a lengthy aging in charred bourbon barrels and oloroso sherry casks. The end result? A rich, fruity, and smooth whiskey with lingering flavors of caramel and charred oak. It's fantastic when used in place of bourbon or rye for classic cocktails.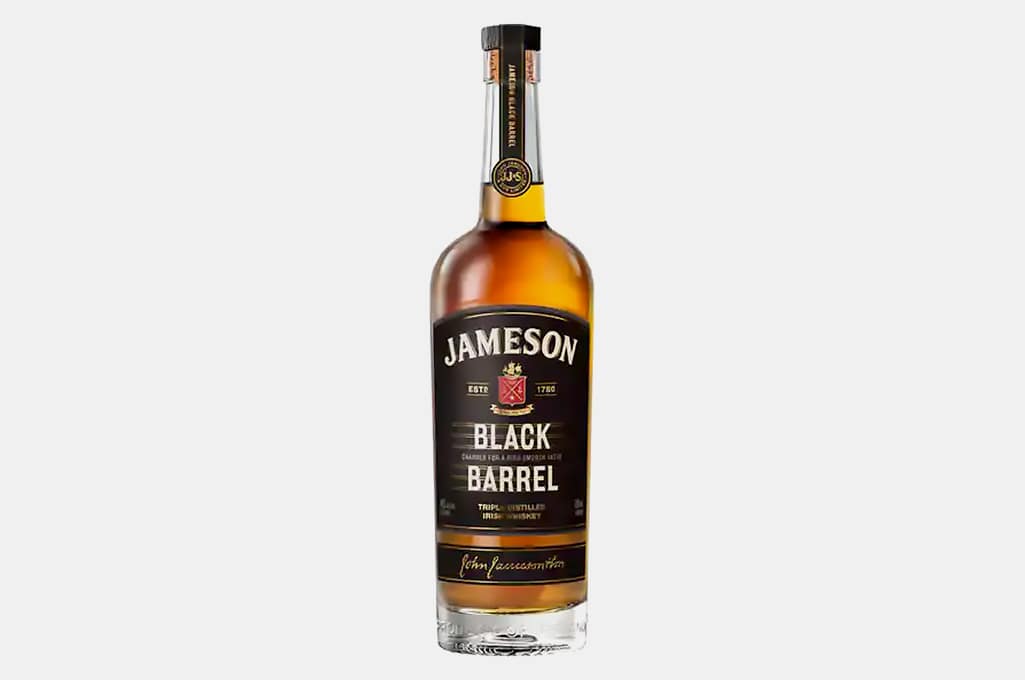 Jameson Black Barrel
Jameson's Black Barrel bottling is a serious step up in flavor from their original. Gone are the smooth, neutral, and restrained characteristics of Jameson's green bottle — and in their place comes a robust char, creamy toffee aromas, and a long toasted wood and vanilla finish. It's my favorite Jameson bottle for drinking neat, though it makes a fine Old Fashioned as well. A great whiskey to bring to parties where you don't know what everyone likes drinking.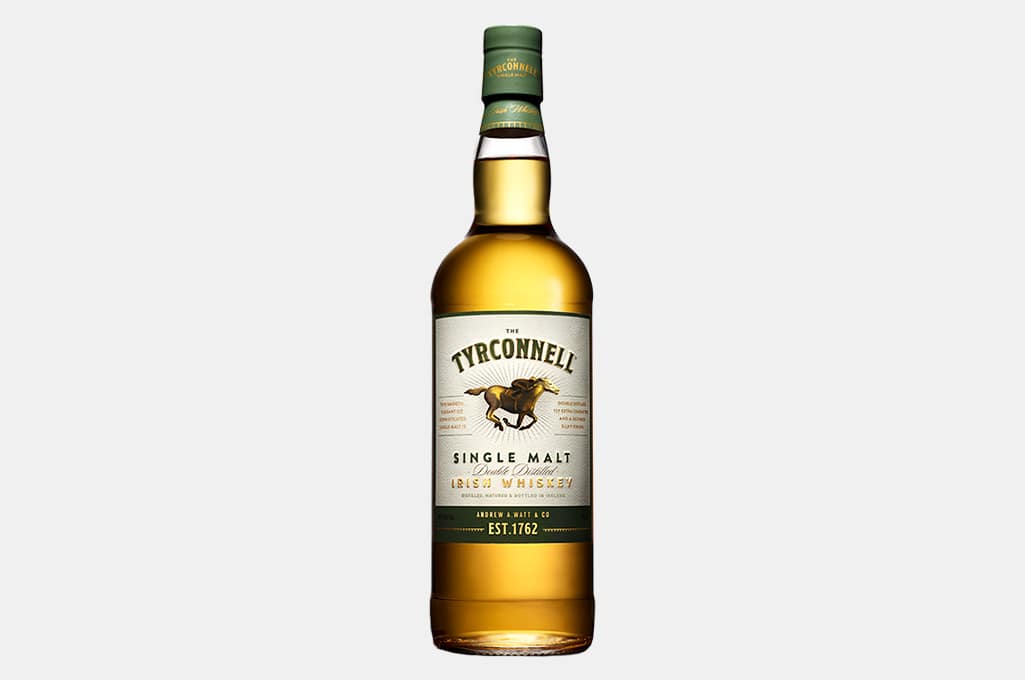 Tyrconnell Original Single Malt Irish Whiskey
The story of Tyrconnell whiskey is one of success seemingly found at random. Named after a horse that was entered into a race on a whim — who then happened to win — it quickly became a bestseller in late 1800s Ireland. It would go on to become something of a legend in Irish distilling, signifying the importance of taking risks and following your gut feelings. The whiskey itself is delicious without being overly complex, with aromas of roasted nuts complemented by a silky smooth finish.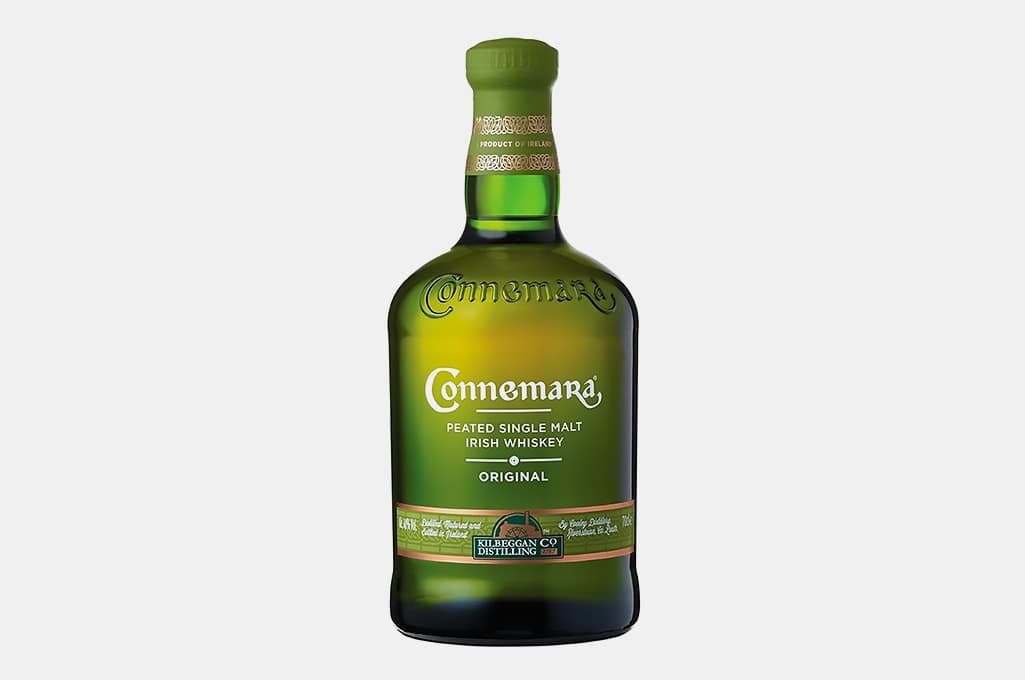 Connemara Original Peated Single Malt Irish Whiskey
Connemara is a curiosity in the Irish whiskey world. Thanks to generous additions of smoked peat, it's more akin to a scotch than an Irish whiskey. The result is a wonderfully smoky spirit that still maintains Irish whiskey's signature smoothness and honeyed characteristics. Peat smoke is immediately apparent on the nose, which pairs delightfully with the sweet and honeyed flavor and long, spicy finish. Sip it neat, and take your time with this complex spirit.
Disclosure: Clicking on these links and making a purchase may earn us a small referral fee, at no extra cost to you. Learn more here.