12 Holiday Getaway Essentials
When we say it's that time of year … you know exactly what we mean, right? Time to hit the road, gifts in tow. Yessir, if you're just checking a few last-minute items off your holiday gifting list … you're not alone. What shouldn't be a struggle, though, is how to dress for holiday travel this season.
We think we've got the perfect set of gear for your holiday getaway, and with no time to spare. It's all about dressing in casual, versatile comfort — the kind of clothing that works for your flight or car ride, and then just as stylishly at dinner or drinks.
From seasonal layers to everyday style staples, our picks for holiday getaway style nail that fine line between understated and festive, with some added mobility thrown in for good measure. Can you dig it? From all of us at GearMoose, happy holidays and be sure to dress in style before you skip town.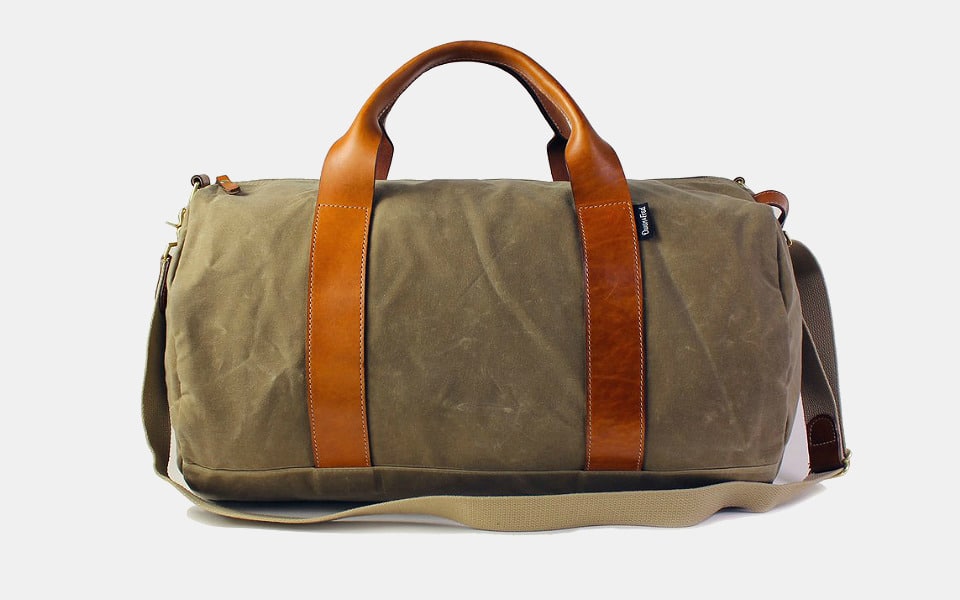 Boarding Pass NYC Voyager Waxed Weekender
OK, first things first — the right weekender bag is going to go a long way toward helping you start your holiday trip in style. And this handsome-yet-tough waxed weekender from Boarding Pass NYC (formerly Owen & Fred) is a heck of a way to start out any trip. Crafted from Martexin waxed canvas and featuring bridle leather detailing, it's got plenty of space for comfortable shoes, Christmas gifts and your favorite holiday menswear essentials (like the rest of this list). – Buy It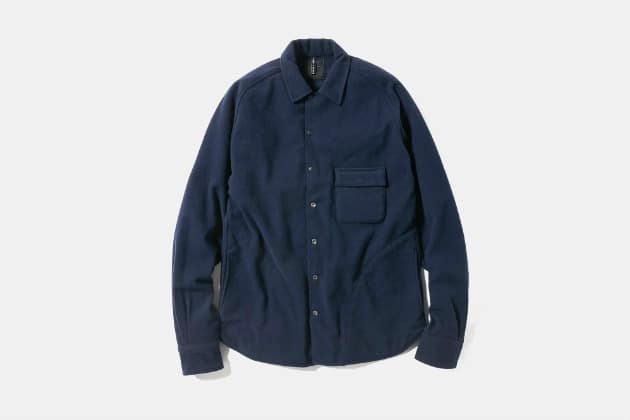 Goldwin Coverall Shirt Jacket
Any combo of holiday travel, by land or air, requires layering and movement — potentially into significantly colder weather (or airport A/C). The Coverall Shirt Jacket from Goldwin works perfectly for any situation. It's neutral in color, it's easy to throw on and take off, and it's made from a blend of wool and nylon that's not too stuffy or too breezy. Plus, plenty of pockets make for easy storage. – Buy It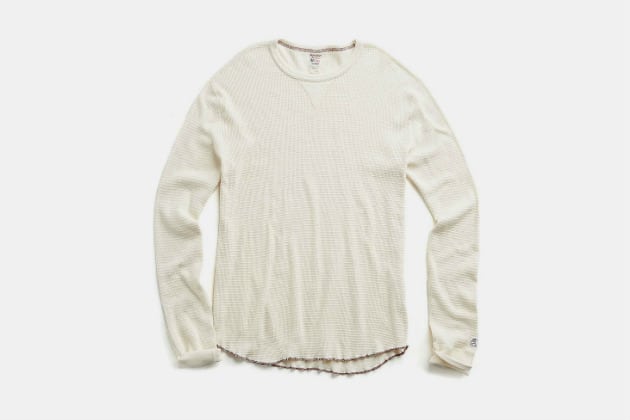 Todd Snyder + Champion Long-Sleeve Thermal Crewneck in Vintage White
We trust Todd Snyder's partnership with Champion as much as we trust any menswear partnership out there, and it's essential, easygoing pieces like this thermal shirt that take the cake. Featuring pleasingly rugged style and wearability, this thermal crewneck works on its own sans shirt jacket, and it also layers up quite handsomely. It's an upgrade over a plain tee, and that means you can wear it to grab a brew at your final destination, too. – Buy It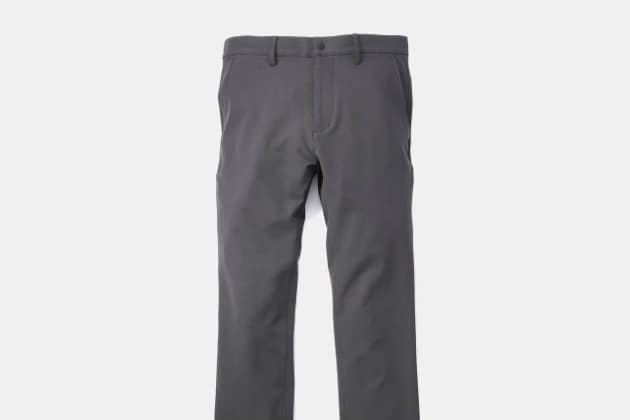 Proof Nomad Pants
Want the look of chinos and the comfort of sweatpants? The Proof Nomad Pants are a winner in all categories, from tailored-yet-flexible fit to the neutral color and the four-way stretch fabric. It's sustainable and also geared to repel beer, water and coffee — just about the perfect pair of travel pants, if you ask us. Pair them up with leather boots or suede chukkas for travel style that's seasonally friendly and classic. – Buy It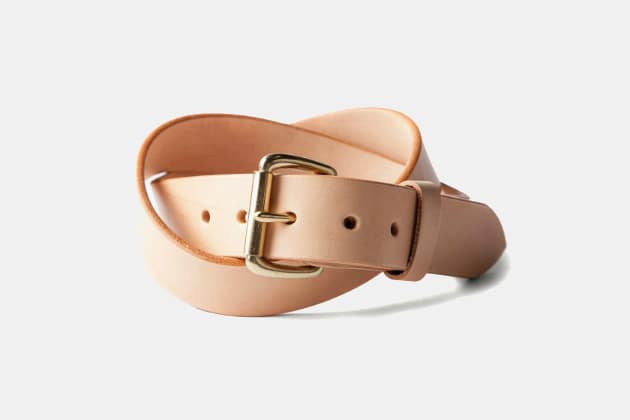 Tanner Goods Standard Belt
Let's not mess around here — a solid, sturdy leather belt is an essential any time of year. That's certainly the case when it comes to holiday travel and the ensuing festivities; while you might have to take off your belt to go through airport security, it helps to be wearing a well-made one that can also work the rest of the weekend. This durable belt works with jeans, chinos or corduroys — Christmas style covered. – Buy It
Lems Boulder Boot
It helps to have comfortable footwear for travel — to say the least. Yet, you shouldn't sacrifice any of the crucial style you need for the holiday season, either. That's where the Boulder Boots from Lems come into play. They're as unique a pair of boots as you'll find, easy to pull on and take off, and even easier to fold up and toss in your bag. We haven't even mentioned that they're stain and moisture-resistant, which makes 'em all the better for long winter travel days. – Buy It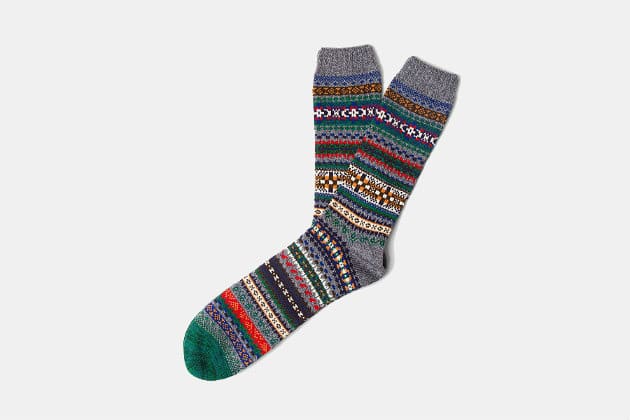 CHUP Coill Socks
Stylish socks are an accessory you might not give much thought to the rest of the year — until you find yourself, sans shoes, at your in-laws' house. Socks from a brand like CHUP feature cool colors and patterns, plus high-quality construction — no need to worry about wearing holes through these socks. Plus, they fit in nicely with the rest of your travel gear while adding a bit of punchy style. If we were in your shoes, we'd want nothing but CHUPS on our feet. – Buy It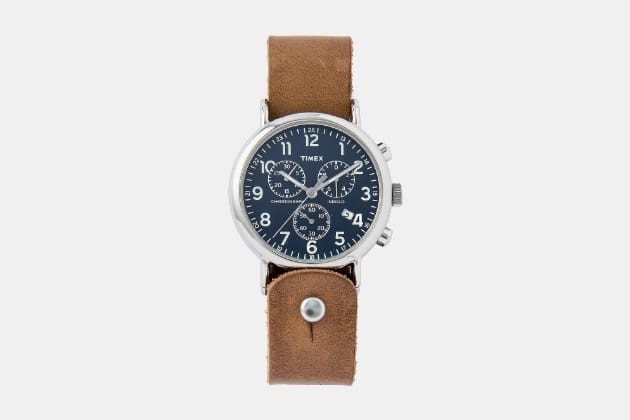 Timex x Form-Function-Form Horween Leather Chronograph
A dependable watch is a given any time of the year, but staying on time becomes all the more crucial during the holiday season. That goes for catching your flight, hopping on a train or making it on-time to Christmas with the family. Leave the digital watch at home — the exceptionally well-crafted Horween leather strap from Form-Function-Form adds some rugged style, while the refined Timex chronograph finishes off this watch nicely. – Buy It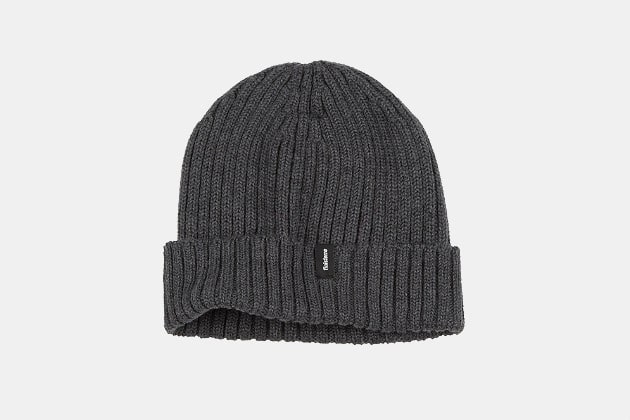 Finisterre Fisherman Beanie
Unless you're heading south for Christmas, it's liable to be just a bit chilly this season. So, be sure to pack (and wear) your Finisterre Fisherman Beanie, a watch cap that's as ready for a holiday weekend winter hike as it is for a relaxing evening around the bonfire. A neutral color and a great price make this piece hard to pass up — you should snag this one before your trip, without a doubt. – Buy It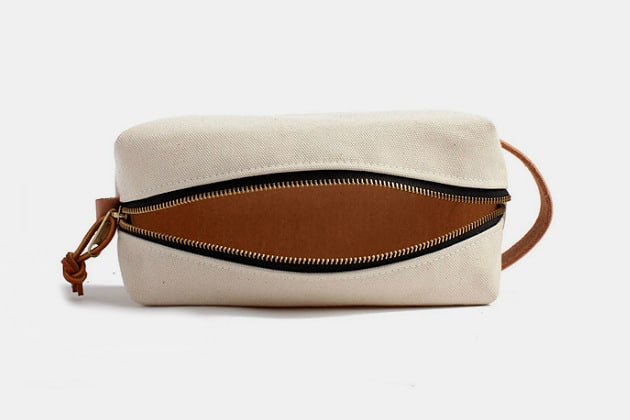 Joshu+Vela Dopp Kit
When hitting the road, you're going to need to bring your favorite grooming essentials with you. And as we always say, the small style details make a big difference — so it only makes sense that your dopp kit should measure up accordingly. We love the crafted touches Joshu+Vela brings to its accessories, and this standout dopp kit sure looks a heck of a lot nicer to pack than a plain plastic bag. – Buy It
Bushwick Kitchen Trees Knees Maple Syrup Gift Set
Here's an idea for you — if you know where the exact address where your travels are taking you to this season, send along a gift ahead of time. Especially if you're visiting your in-laws. The Bushwick Kitchen Trees Knees Maple Syrup Gift Set features three types of tasty maple syrup, all made with handcrafted flair in Brooklyn. If your host serves pancakes or waffles, you'll even get to test this out. – Buy It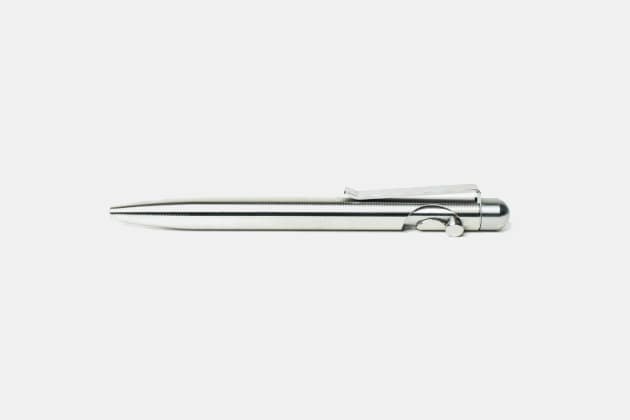 Tactile Turn Titanium Slider Pen
Are we recommending that you pack a pen in your bag? Yes indeed, we are. A well-made pen makes a great last-minute stocking stuffer for the guy or gal who enjoys the lost art of, well, writing things down. And we'd certainly suggest you pack this pen and your own trusty notebook to help pass the time on your flight or car ride — you never know when inspiration might hit, even surrounding the holidays. – Buy It
Disclosure: Clicking on these links and making a purchase may earn us a small referral fee, at no extra cost to you. Learn more here.