The 25 Best Dopp Kits For Men
So, your bag's all packed with sturdy and stylish road trip essentials, from tough denim to dependable boots. But what's the crucial finishing touch, aside from a layering piece like a stylish rain jacket? What's the one item that's going to be able to go anywhere, any trip, regardless of temperature, time of year or terrain? It's not what you might think. In fact, it should already be in your bag (and maybe as part of your everyday carry).
The humble dopp kit is often unassuming, and if you haven't been carrying around the right one, it's likely been an afterthought when it comes to packing. But for something that can hold everything from grooming essentials to handy extras like a simple pen or a notebook, it's something that you should definitely give some thought. The dopp kits spotlighted here cover an array of options from brands both well-known and heritage-inspired, and some that are worth looking into more. The second you get your hands on a great dopp kit, it's clear that it's one item that might just work in every bag you carry — from here on out.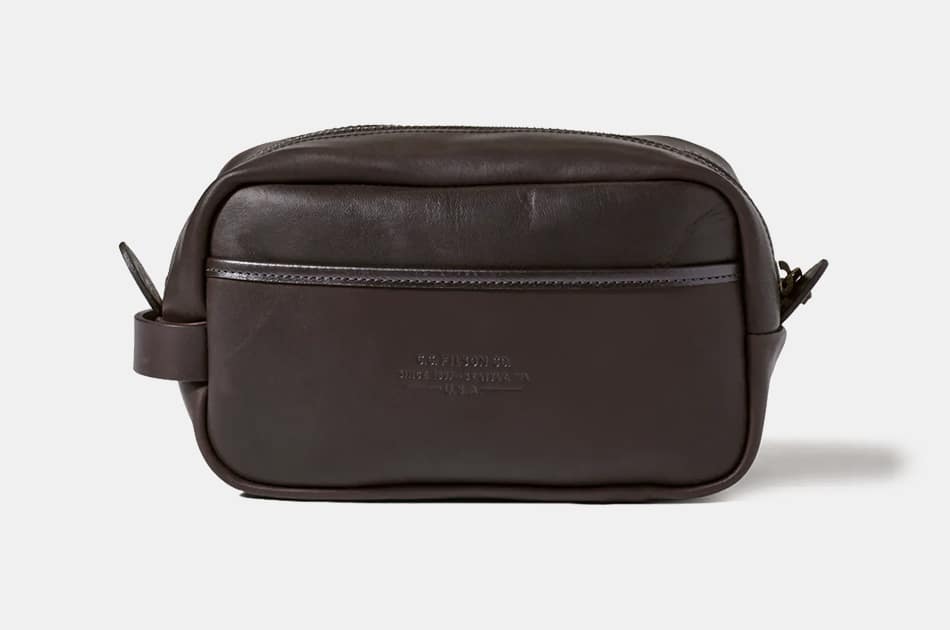 Filson Weatherproof Leather Travel Kit
We often think that the best gear for men can come from the same brand across several categories — a brand like Filson, at that. And when it comes to the best dopp kits for men, well, rest assured that they deliver every bit as ruggedly as they do with Filson's classic flannel shirts and tough outerwear. The final piece of your next gear haul for that outdoor adventure this winter (and beyond) should be the Filson Weatherproof Leather Travel Kit — they've really thought of everything.
AER Dopp Kit
The best men's dopp kits are often sleek and functional, the ideal way to get from point A to point B without missing a beat — or mishandling any of your crucial grooming picks. For no-nonsense style and a sharp look, it's tough to go wrong with the minimally designed AER Dopp Kit for every adventure you can dream up. The slick black color makes this ideal for adventures both tactical and more laidback.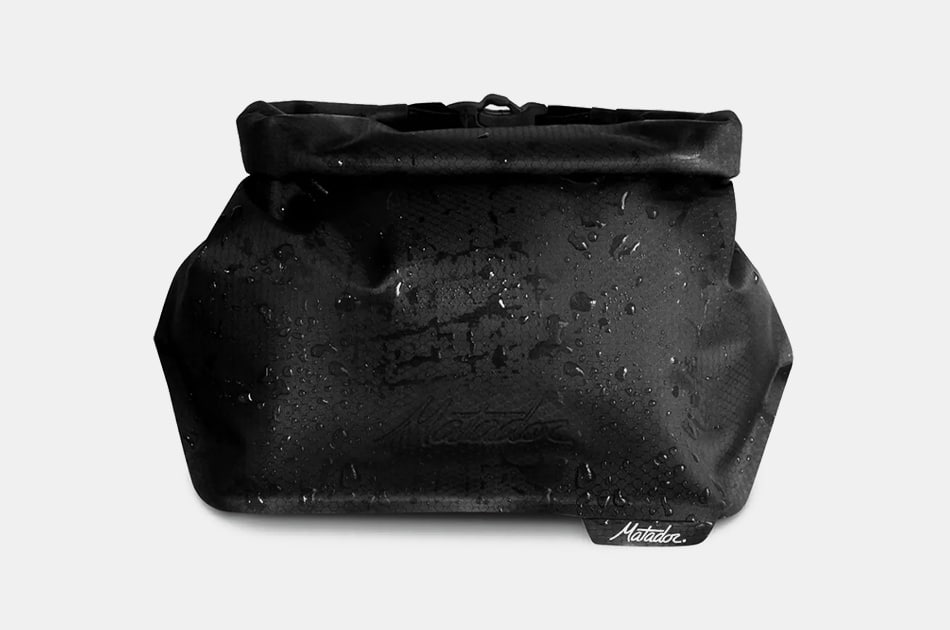 Matador FlatPak Toiletry Case
There are times when space is tight in your duffel bag or carry-on, times when you need to utilize every bit of space possible without missing a beat and without sacrificing your favorite essentials or your need for tough, functional gear. When it comes down to it, that's why you need a dopp kit like the Matador FlatPak Toiletry Case, a seriously effective and minimal dopp kit that can also take a beating.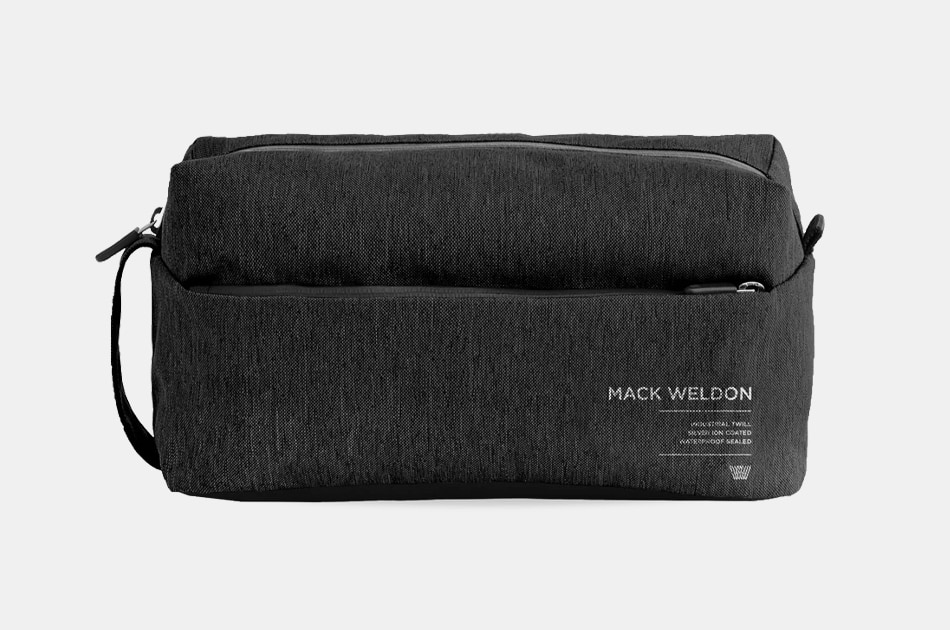 Mack Weldon Ion Travel Kit
It's fitting that one of the brands we love for making highly stylish travel gear also delivers on the small details, too — in this instance, that'd be one of the best dopp kits for men via the Mack Weldon Ion Travel Kit. It's the right way to haul your grooming essentials, just as the brand's perfectly cut sweatpants and tees are the right gear to wear for a long day of travel.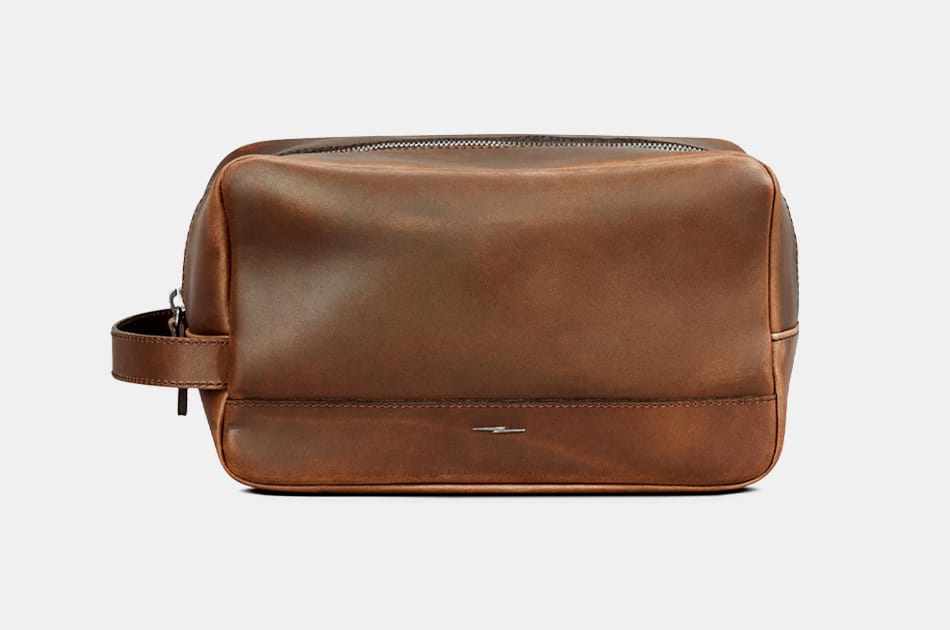 Shinola Navigator Zip Travel Kit
Any style-minded guy would assuredly do well to consider picking up a rugged, classic Shinola watch — and then of course, we'd recommend adding to that gear rotation with the brand's dopp kit. In this case, the handsome and cleanly designed Navigator Zip Travel Kit is the right way to go about it. This is an investment-level dopp kit, but it's more than worth your hard-earned cash.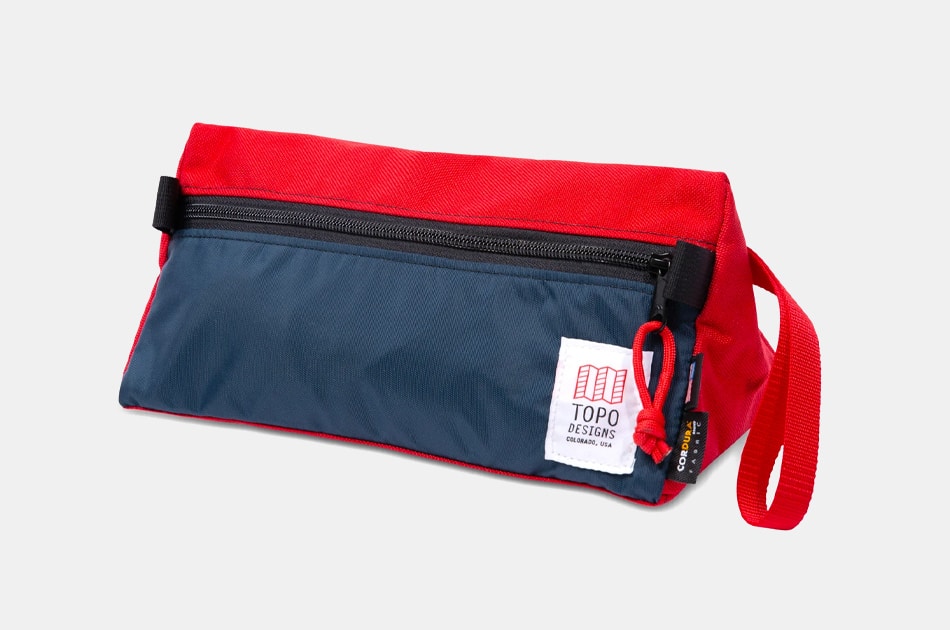 Topo Designs Dopp Kit
Made from rugged 1000D Cordura fabric for durability, the very affordable yet very durable Dopp Kit by Topo Designs features a unique triangular design that easily fits onto shelves and counters, along with a water resistant inner liner for easy cleaning.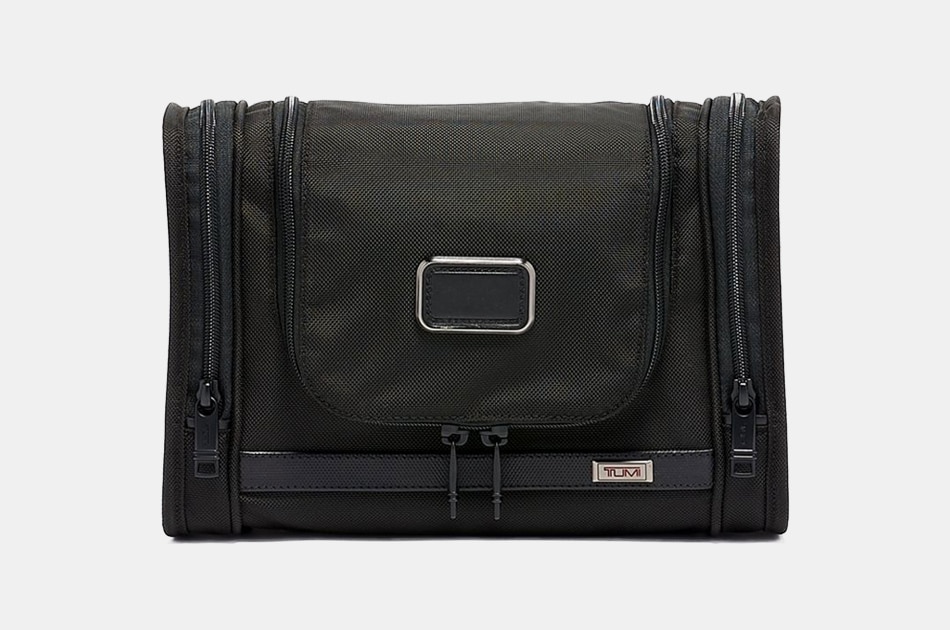 Tumi Alpha 3 Hanging Travel Kit
When you travel frequently, you get used to small spaces. But your luggage or dopp kit might not adapt so well. The Alpha Hanging Travel kit by Tumi solves those problems, using tough ballistic nylon and a sharp, crisp design to make a bag that'll hold your toiletries and use space quite efficiently.
Tanner Goods Drifter Dopp Kit
We've long admired Tanner Goods for the brand's unflinching commitment to goods that bridge the best of American-made design with sharp, clean style — it's the brand's Pacific Northwest heritage that's most impressive, and pieces like the Drifter Dopp Kit (available via our pals at Huckberry) exemplify this approach nicely. Consider it the ideal way to haul everything from your everyday carry to your natural deodorant and solid cologne the next time you hit the road.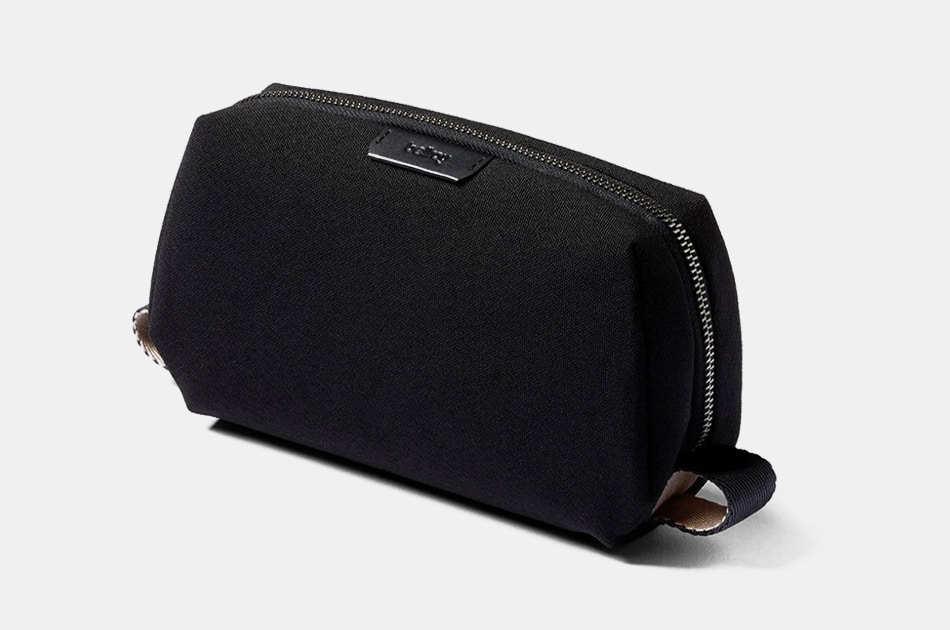 Bellroy Dopp Kit
Just when you thought you had your everyday carry covered, Bellroy comes along with a standout dopp kit to load up on your next trip — the brand specializes in the sort of sleek essentials you can use on the daily, no matter what. This dopp kit is no different, what with its slick design and easy-to-use functionality — your packing isn't complete without a quality dopp kit, so consider adding this one to your rotation ASAP.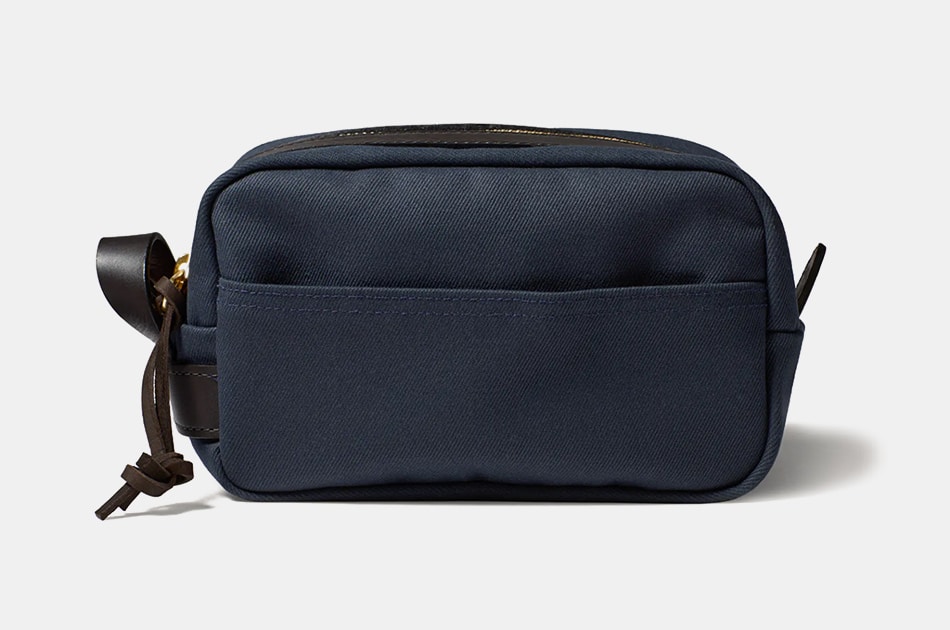 Filson Travel Kit
For 125 bucks, you're getting a travel kit that's made with the same heritage style in mind as Filson's extraordinary bags and jackets. This particular dopp kit uses Bridle Leather accents and a rustproof zipper for tough style that doesn't miss a bit, whether you're on a fishing trip or a weekend at your cabin.
Orvis Bullhide Travel Kit
We appreciate the fact that Orvis delivers uncompromising quality and toughness throughout its entire line of gear — that goes for pieces like the brand's outdoor-inspired henleys, tough waxed jackets and incredible chore pants, and they've even placed a premium on accessories, including the Bullhide Travel Kit. It's an easy pick for those on the go — don't hit the road without it.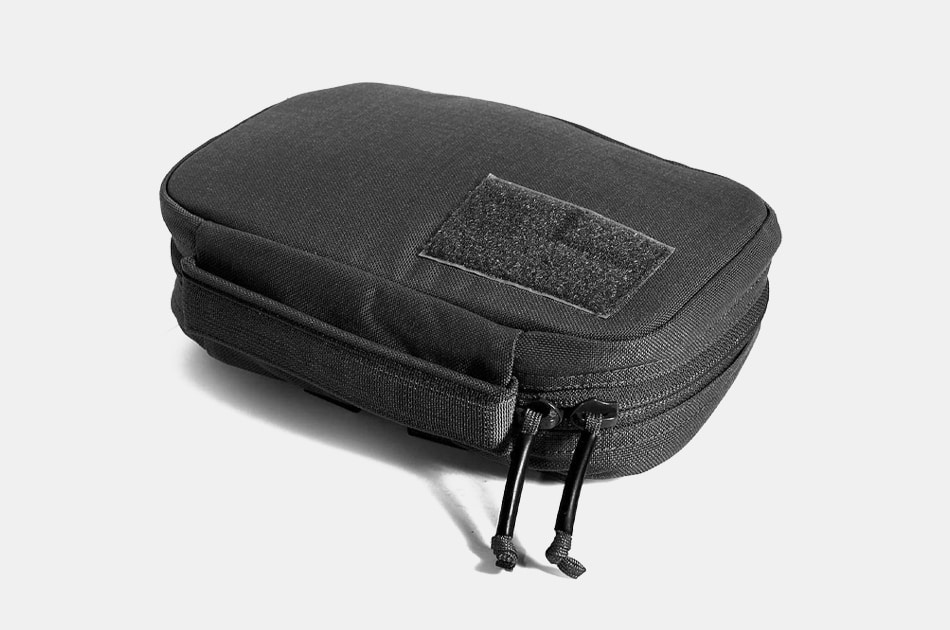 GoRuck Padded Field Pocket
When you need some of the toughest men's gear on the planet, from shirting to tactical field pants to your everyday carry, take a good look at GoRuck — and then get ready to add the brand to your shopping cart. The Padded Field Pocket offers some of the toughest functionality and rugged appeal that we've seen from a dopp kit, and there's no telling how useful you'll find this minimally designed yet absurdly tough, multi-purpose travel kit.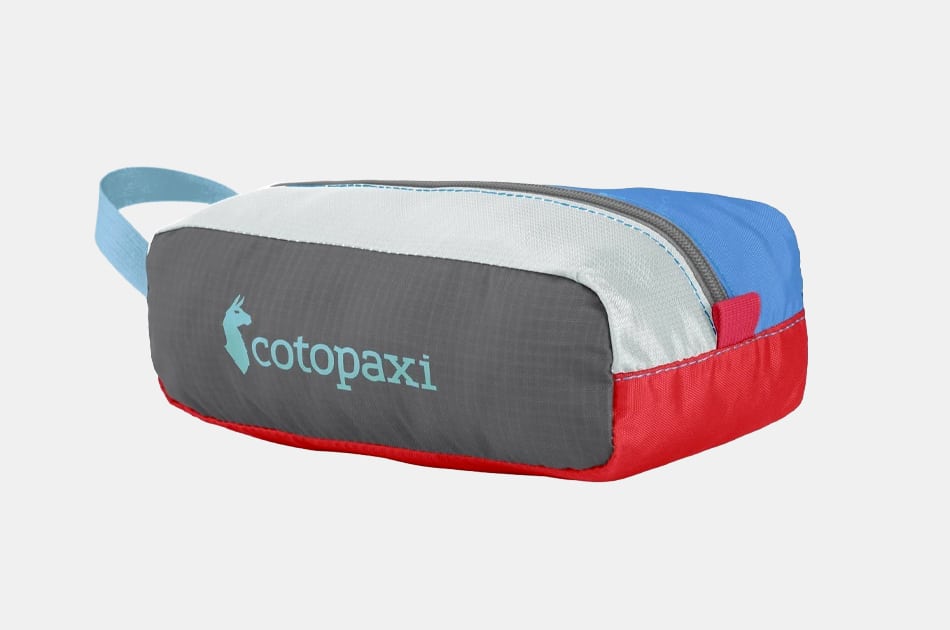 Cotopaxi Del Día Dopp Kit
Travel should be, above all else, fun and eye-opening — and who's to say that same spirit can't extend toward your accessories and what you're packing in your bag? That's where the Cotopaxi Del Dia Dopp Kit comes into play. It's an affordably priced, durably made dopp kit for those times when you want to inject some color and spirit into your packing rotation, and it'll hold just the right amount of grooming must-haves for any time of the year.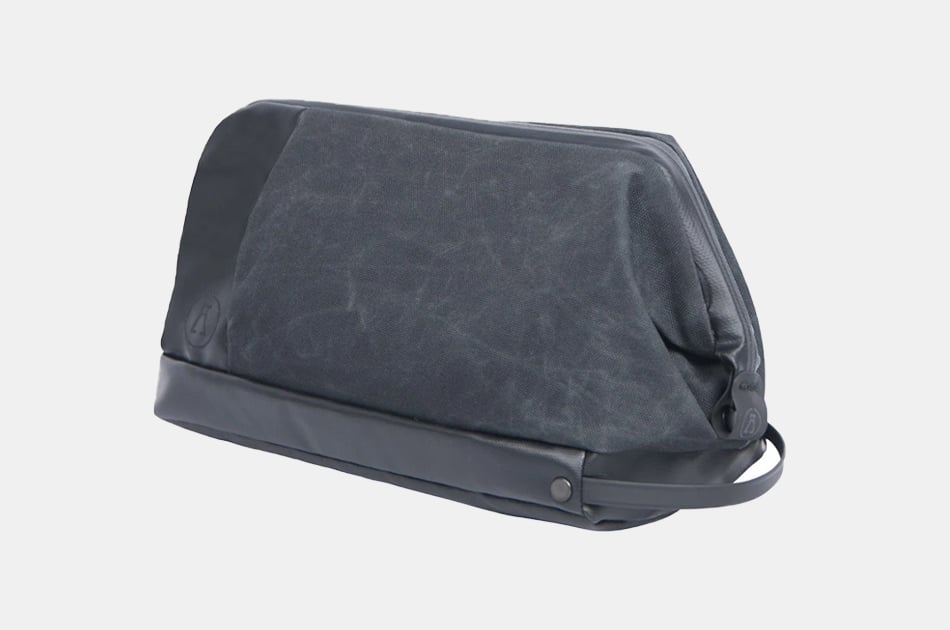 Alchemy Equipment AEL015 Dopp Kit
A crucially overlooked part of any packing list is, sometimes, your dopp kit — but that's all about to change thanks to the Alchemy Equipment AEL015 Dopp Kit, one of the toughest, best dopp kits on the market. It all comes down to the tough waxed fabric and durable construction, a crucial way to jumpstart your packing process while keeping your grooming essentials in the best shape possible.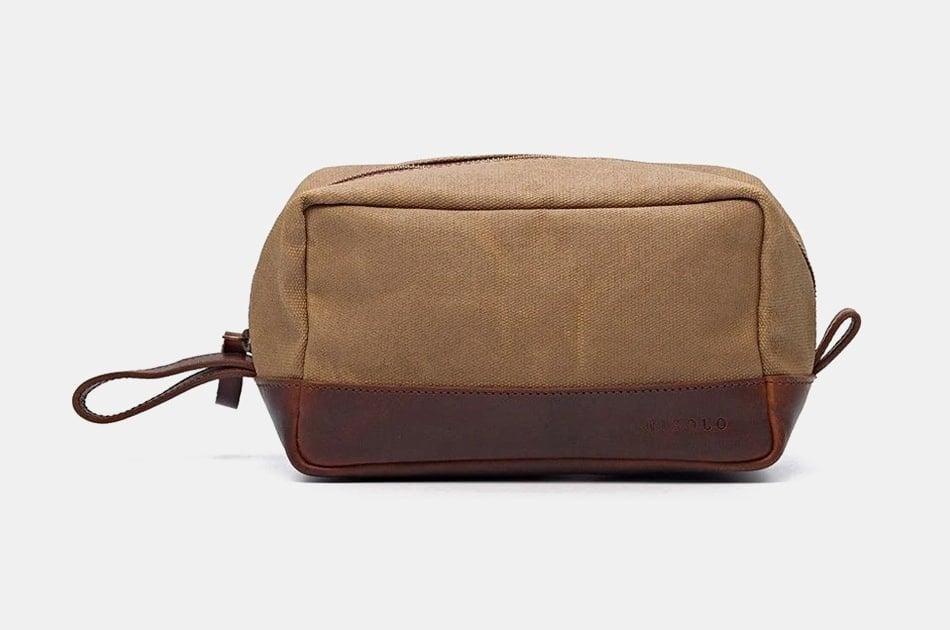 Nisolo Durango Dopp Kit
We positively can't get enough of Nisolo's rugged leather boots and handsome leather goods, and that list now includes the standout Nisolo Durango Dopp Kit, a perfect complement to, yes, a pair of the brand's boots for your next road trip. There's no other way to go about it — you need one of the best men's dopp kits ASAP.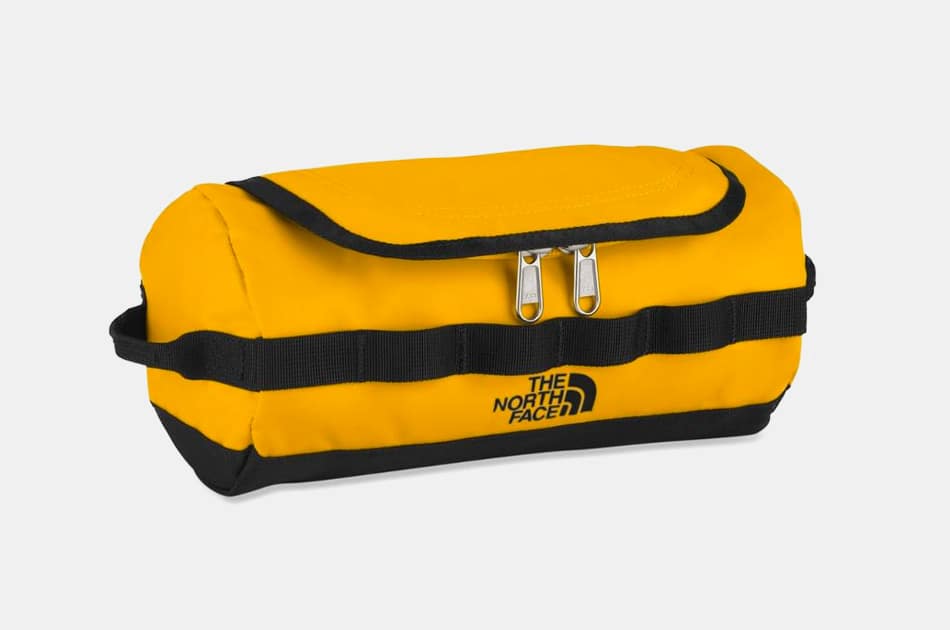 The North Face Base Camp Travel Cannister
The North Face aims to outfit you from the bottom of the mountain to the top, and it' definitely succeeds with its Base Camp Travel Canister. Designed with dual haul handles for easy carrying and clipping onto other devices, the polyester and nylon blend should hold up well when faced with extreme conditions or everyday travels.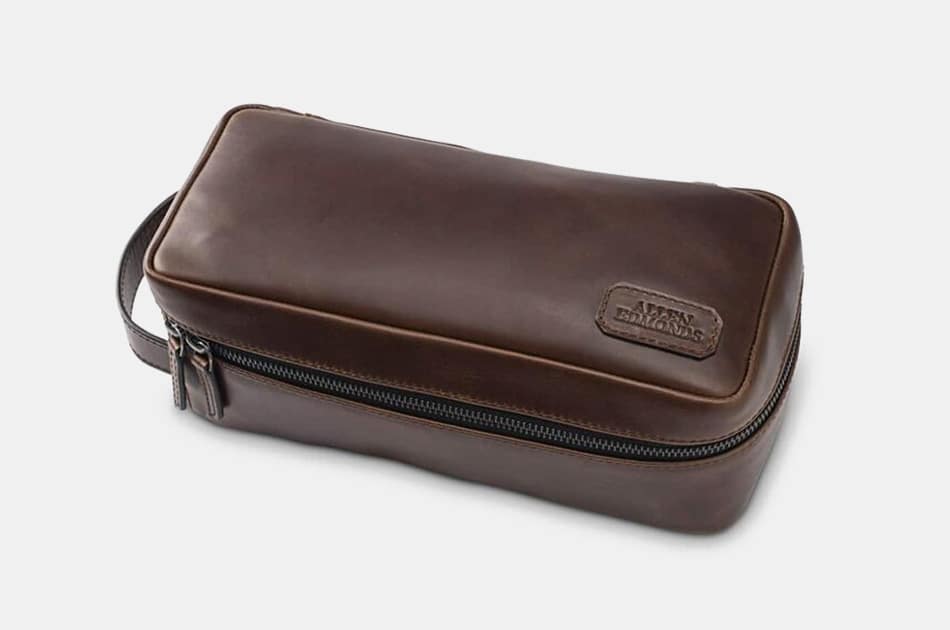 Allen Edmonds Leather Dopp Kit
Allen Edmonds delivers stunning quality with a dopp kit crafted in the same manner as its world-class dress shoes. Its Leather Dopp Kit doesn't come cheap, but it's assuredly a piece you'll have for the rest of your travels. It's made with full-grain leather and a water-repellant nylon lining for the ultimate study in durability, and its looks are stunning.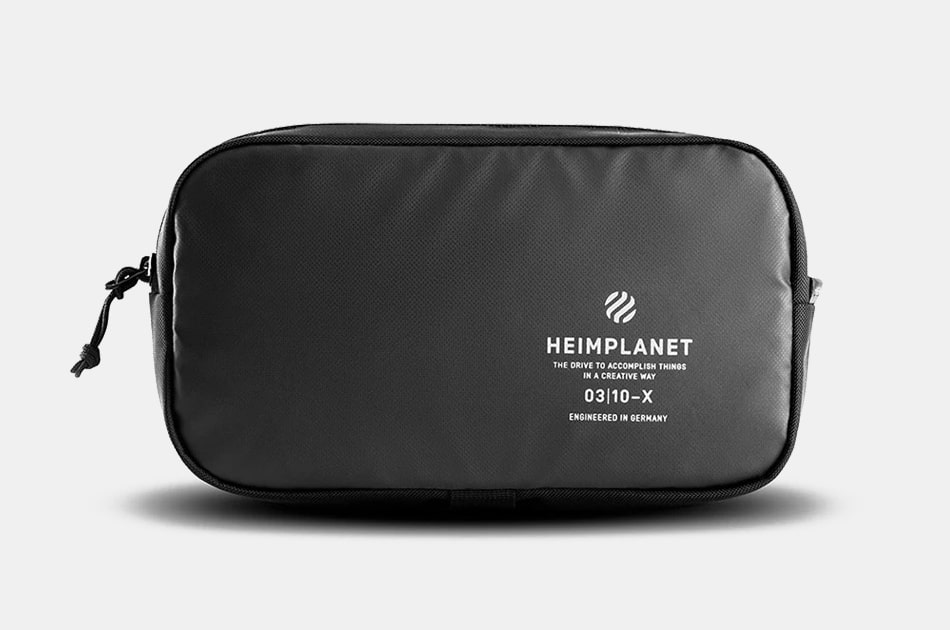 Heimplanet Monolith Dopp Kit
When is it worth it to invest in a dopp kit? When you've simply got to have the best of the best in terms of standout men's gear — so, anytime you need to hit the road, that is. The Heimplanet Monolith Dopp Kit handily checks all the right boxes in terms of functionality and style, and while it'll set you back more than $70, that's a small price to pay for keeping your grooming essentials in fine form.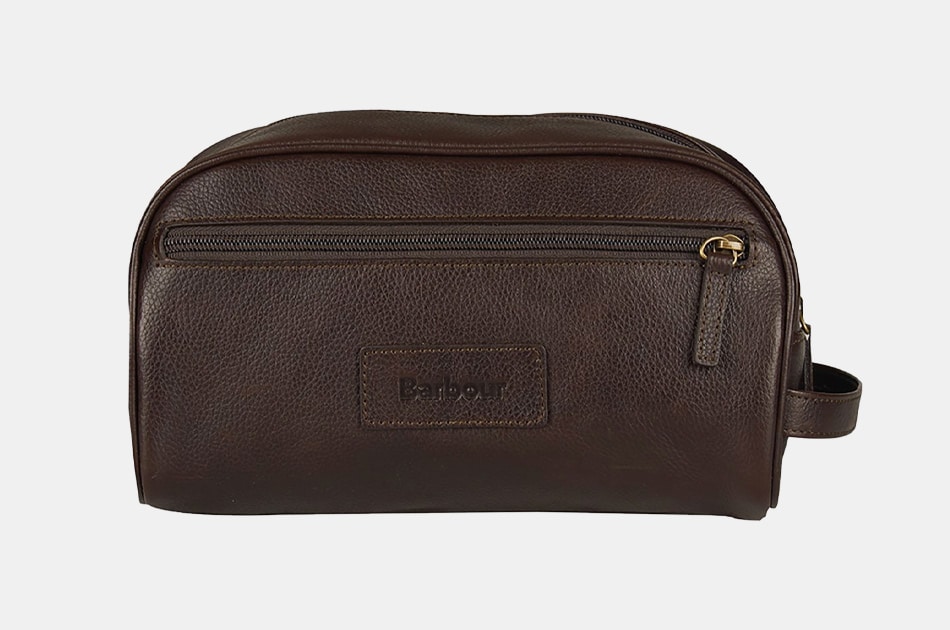 Barbour Leather Washbag
Barbour is among another set of brands that's out to take over your wardrobe small piece by small piece. The brand's Leather Washbag uses no-fuss leather and a simple zip closure to handle your grooming essentials. An exterior zipper pocket should also make packing for the road quite easier.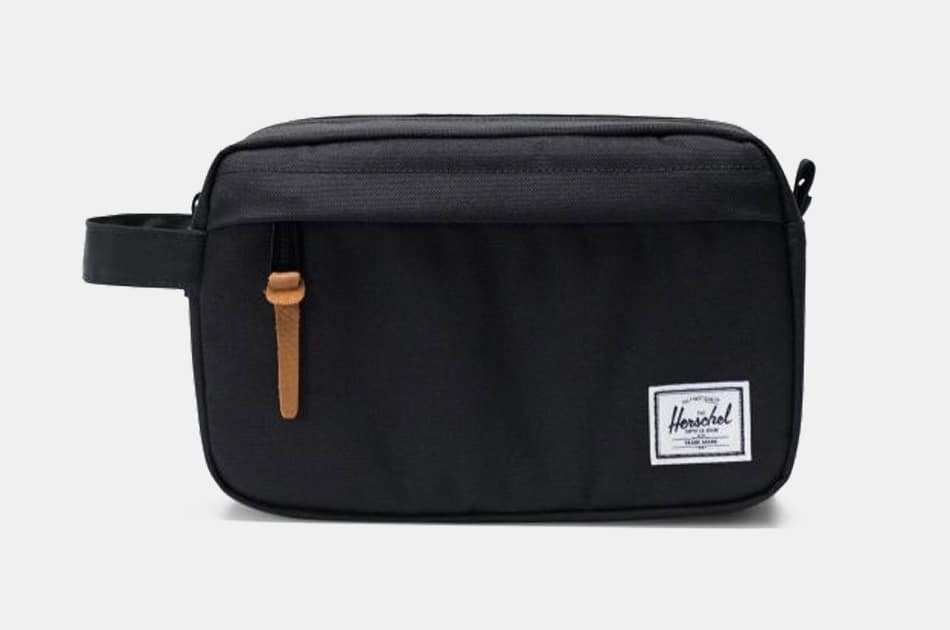 Herschel Supply Co. Chapter Travel Kit
Herschel Supply Co. does larger bags and backpacks quite well, so it's no surprise that its Chapter Travel Kit checks all the boxes one might expect. It's got the brand's distinctive striped fabric liner, the customary logo patch that's a hallmark of good design, and a waterproof main compartment to keep all your essentials dry.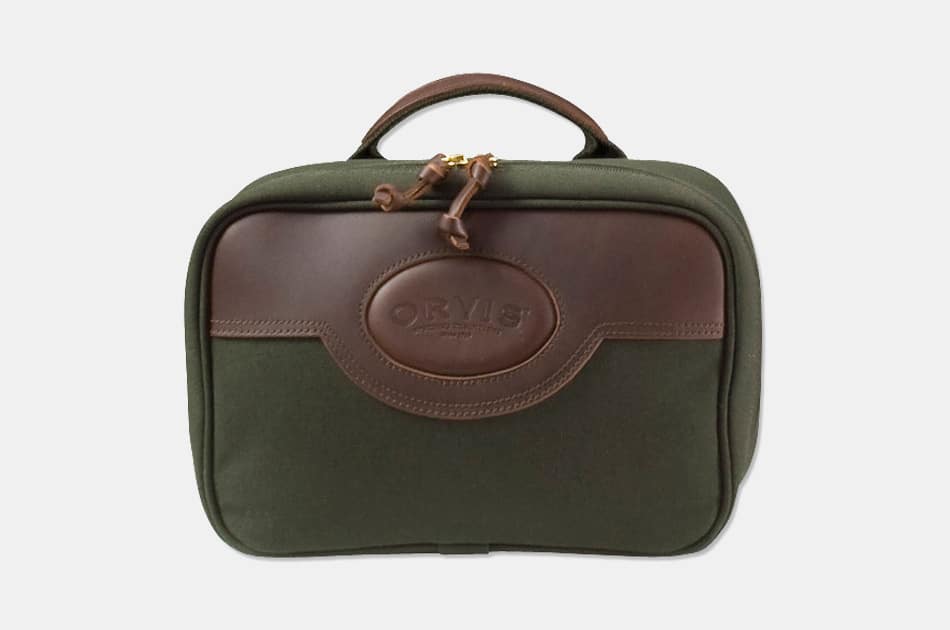 Orvis Hanging Travel Kit
Orvis, maker of great outdoor gear, does just as well with a hanging travel kit that mixes genuine leather and canvas with multitude of internal zipper pockets and mesh organizers. There's plenty of space for all the toiletries you need, and then some. For long travels, that's tough to beat.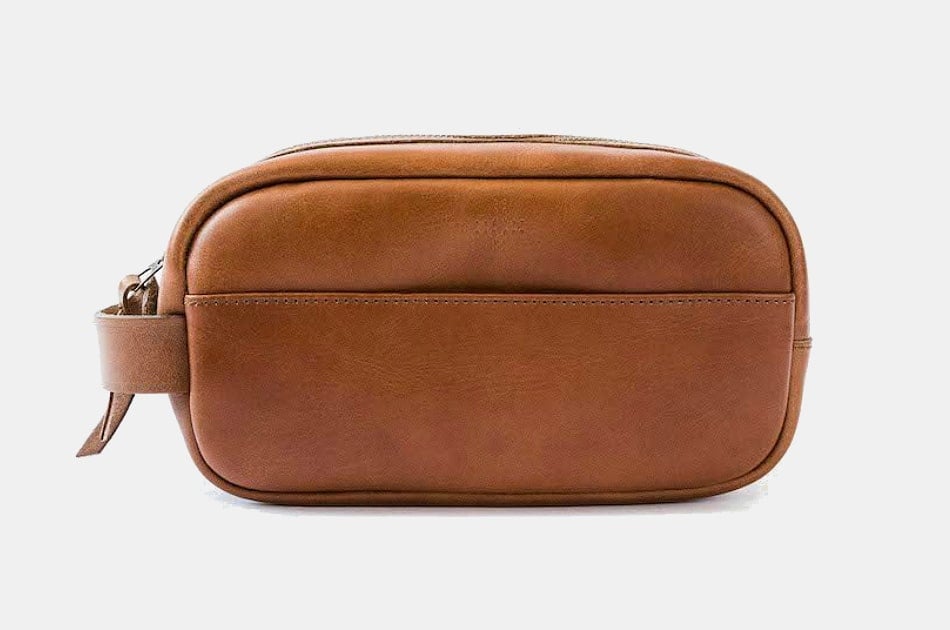 WP Standard Leather Dopp Kit
The same shade of handsome, rich cognac that characterizes your favorite dress shoes also comes into play in this stunning dopp kit. It comes built with an internal zipper pocket to carry any extras you might have lying around, and it looks equally great alongside your favorite messenger bag or leather backpack.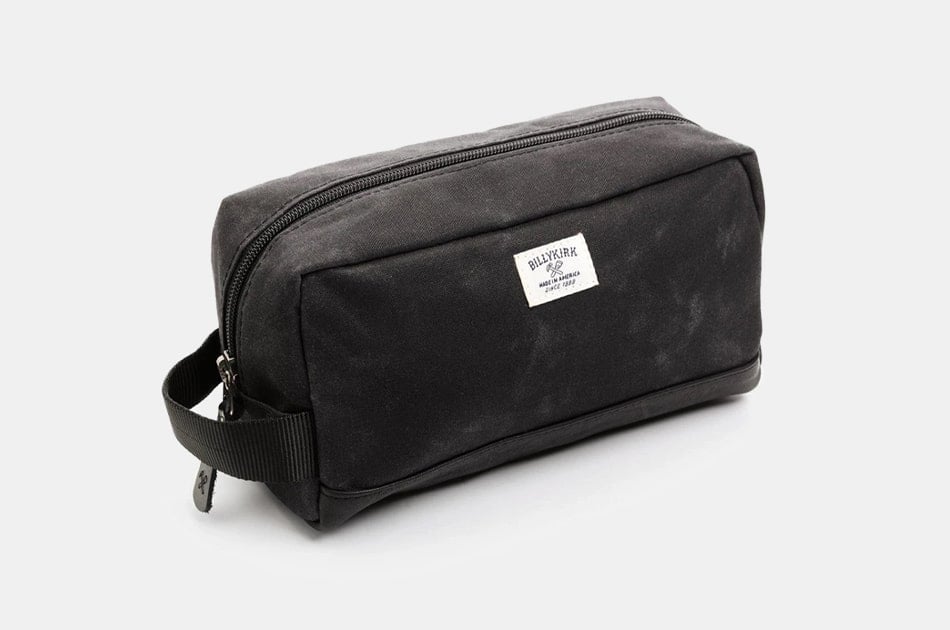 BillyKirk No. 258 Waxed Canvas Dopp Kit
It's not often you'll find a dopp kit that's built to the same specifications as much larger bags (with the exception of the brands on this list), but Billykirk succeeds in doing so with a navy waxed canvas dopp kit. The piece is made in America and features olive nylon lining to finish things off.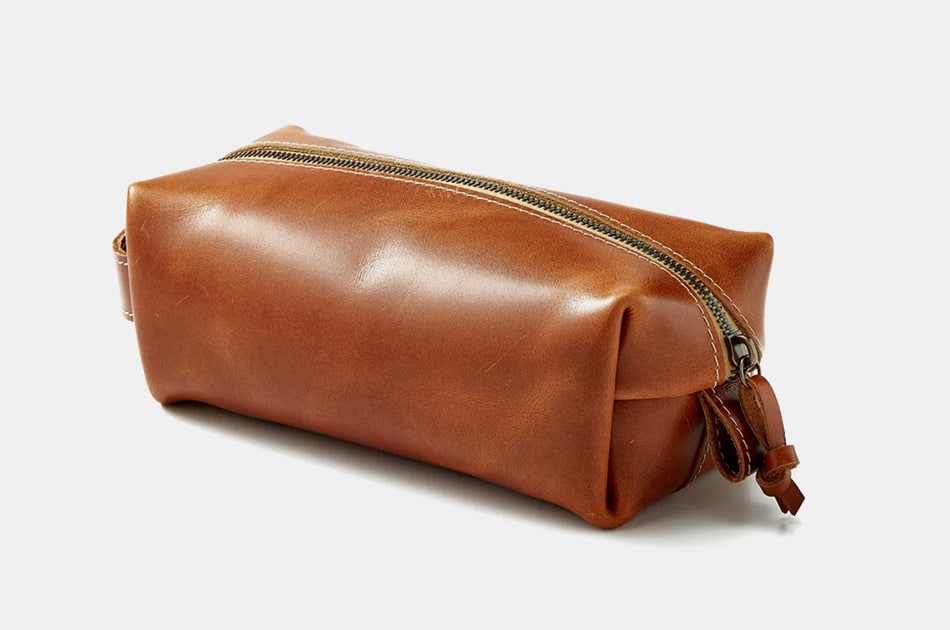 Flint and Tinder Full-Grain Leather Dopp Kit
The right brands for a new year and your next trip often specialize in more than one area of excellence — take Flint and Tinder, for instance. This all-American brand just does things the right way, and that goes for producing one of the best dopp kits on the market right now. This handsome full-grain leather dopp kit is tough, rugged and highly functional. It's the perfect pairing alongside a classic shirt or some denim from Flint and Tinder, in short.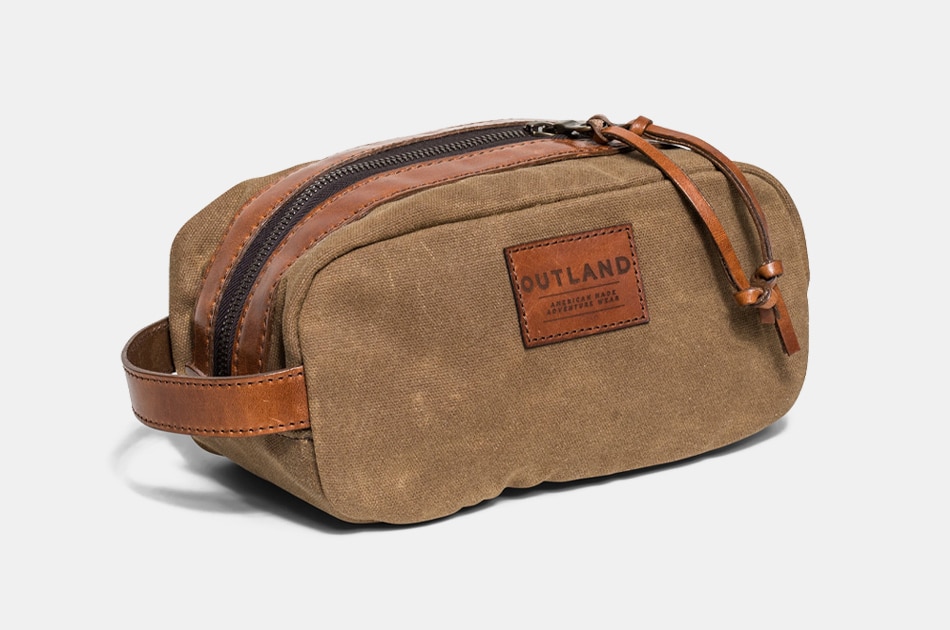 Bexar Goods Waxed Canvas Dopp Kit
It's refreshing when a brand delivers on both toughness and functionality when it comes to the best men's dopp kits — to go along with a hearty dose of style and a rugged, classic aesthetic, of course. Such is the case with Bexar Goods and the LAND Dopp Kit, crafted from a pleasingly timeless field tan waxed canvas with handsome leather accents for added design points. It's the perfect dopp kit to carry all your grooming picks in — we know that much to be true.
Disclosure: Clicking on these links and making a purchase may earn us a small referral fee, at no extra cost to you. Learn more here.
freestar.config.enabled_slots.push({ placementName: "gearmoose_leaderboard_btf", slotId: "gearmoose_leaderboard_btf" });