The 10 Best Vehicles For Surviving an Apocalypse
When the world is in shambles, you're going to need something more suitable than your Hyundai Elantra to get yourself around most any terrain as well as protect you from looters, rabid packs of wolves, and of course, zombies. While compiling this list of the ten best apocalypse survival vehicles, we took into account the fact that you'll definitely need a moderate fuel supply stashed away to drive these monsters for a while. If, however, fuel is scarce following a societal breakdown of apocalyptic proportions, then be sure and take a look at our essential zombie gear, since you'll be going at it on foot.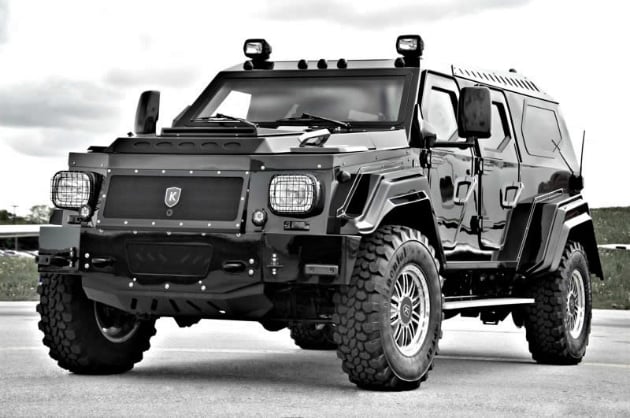 Knight XV Armored SUV
The Knight XV by Conquest Vehicles is a fully armored tactical-ready luxury vehicle built to meet the requirements of ballistic testing. This beast on four wheels is powered by a biofueled 6.8-Liter V10 engine and includes transparent tinted armored glass, cabin seating, front and rear night vision cameras, a dual screen rear console with side-mounted laptop stations, ballistic fiberglass bumpers and fenders, custom aluminum wheels, and navigation and bluetooth systems. Although it sticks out like a sore thumb, there's not much that's going to penetrate the Knight XV once its located. LEARN MORE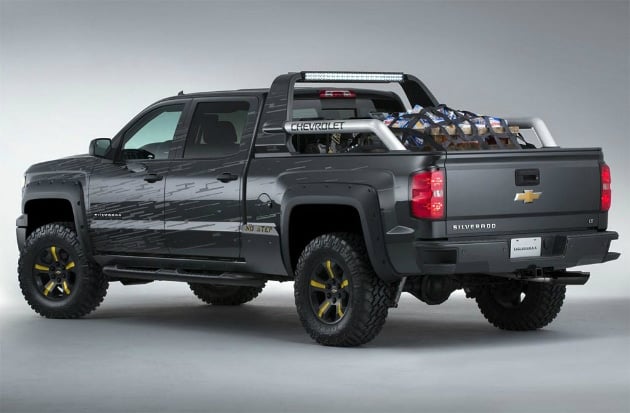 Chevrolet Silverado Black Ops Concept
A pickup truck seems a logical choice for carrying around all of your food and gear with you during an apocalypse, however the Chevrolet Silverado Black Ops Concept Vehicle does so much more. Along with 4×4 capabilities, a lifted suspension system and a 355 horsepower 5.3-Liter V8 engine, the Black Ops Concept sports lower body armor in case you run into some unexpected land mines, built-in gas masks, a military first aid kit, a solar power pack and built-in generator, and a lockable truck vault for stashing your food and weapons. LEARN MORE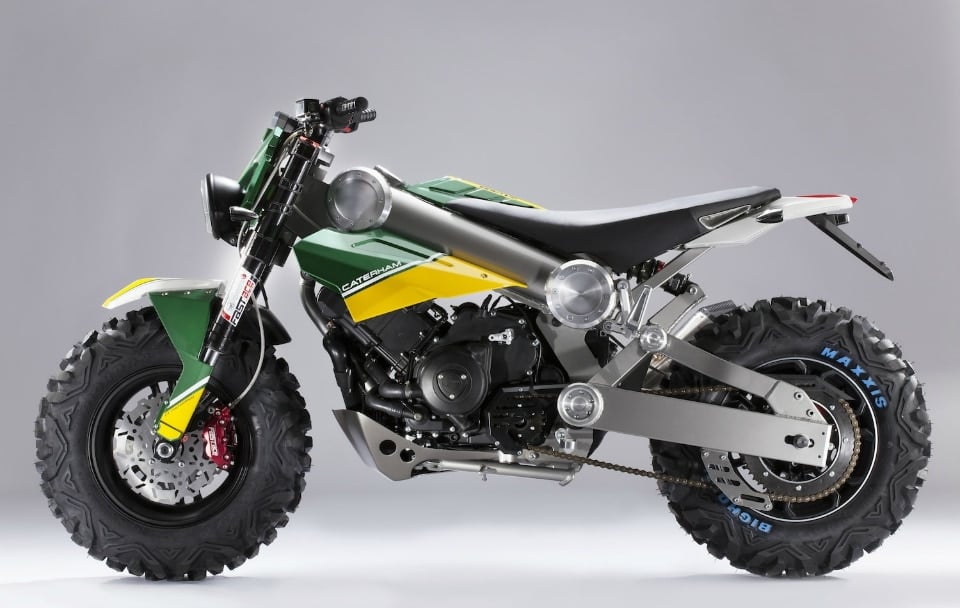 Caterham Brutus 750 Motorcycle
Motorcycles will have their place following an apocalypse because they're lightweight, quick, and easily maneuverable through tight spaces. The Caterham Brutus 750 Motorcycle is especially apocalypse friendly thanks to a responsive, fuel-friendly 750cc single cylinder engine, trail-worthy tires, and a special design that not only easily adapts to any terrain both on and off-road, but also converts into a snowmobile. LEARN MORE
Ghe-O Rescue
Following an apocalypse, its safe to say that the highways and interstates will be congested with broken-down vehicles that are not on this list, and generally not drivable after years of neglect. Luckily, the Ghe-O Rescue can tackle any terrain on the Earth's surface. Along with a heavy duty transmission, lockable axles, and a waterproof 500 horsepower diesel or gasoline engine, the Ghe-O Rescue can be specially outfitted with pneumatic wheel pillows that allow the vehicle to float on water, snow tracks, a medical stretcher, a plow, and a 620 liter water pump for quick response firefighting. LEARN MORE

You May Also Like: The 21 Best Fixed Blade Knives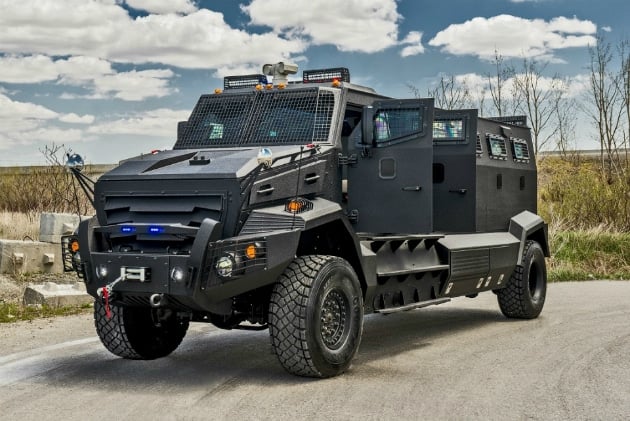 INKAS Huron APC
A heavily armored vehicle designed for both military and post apocalyptic survival operations, the INKAS Huron APC tactical armored vehicle features a ballistic design with special armor protection that can withstand hits from large-caliber ammunition, projectiles, and hordes of brain-hungry zombies. Additional features include a blast-protected floor that is impermeable to hand grenades and land mines, an optional roof-mounted gun turret, noise insulation, a rugged, off-road design, and a fuel-guzzling 8.3-Liter Paccar Engine with a ten-speed manual Allison transmission. Keeping the tank full will definitely be a problem, however once your fuel rations run dry, the INKAS Huron APC could just as easily double as your house. LEARN MORE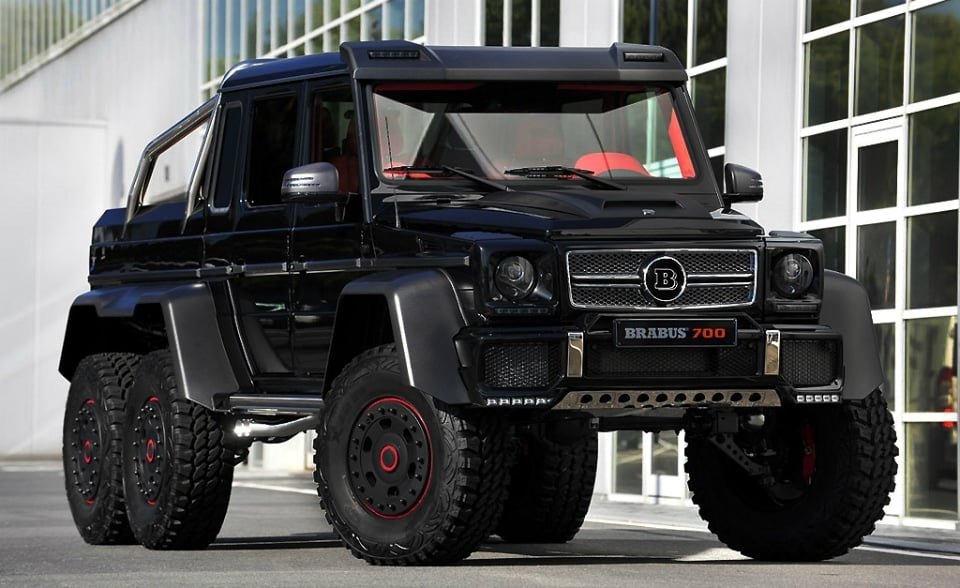 Brabus B63S
When you're in doubt about what to drive should you survive the apocalypse, just remember that bigger is usually better. There aren't many vehicles bigger than the Mercedes-Benz G63-inspired Brabus B63S, thanks to a beefed-up suspension, large off-road tires, a front spoiler, a carbon fiber wheel scoop, and prominent wheel arches. A 700 horsepower 5.5-Liter V8 engine is good for a top speed of 160 MPH, more than powerful enough to outrun or even run over the hordes of zombies coming after you. LEARN MORE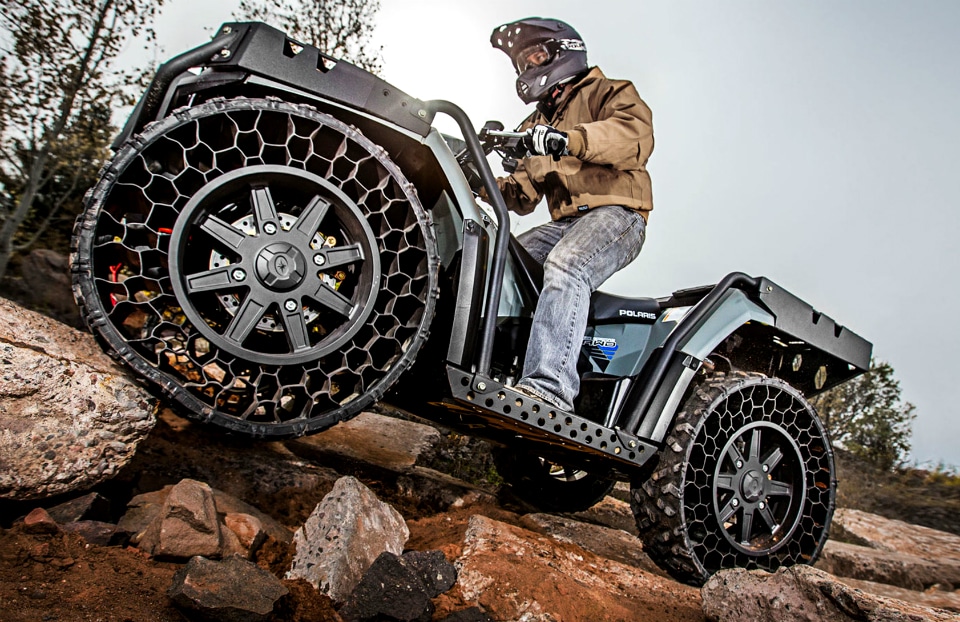 Polaris Sportsman WV850 H.O.
Why does the Polaris Sportsman WV850 H.O. qualify as an apocalypse survival vehicle? Not only is an ATV quick, fuel efficient, and perfect for tackling tight, rough terrain, but the WV850 H.O. features a bullet proof steel exoskeleton, steel racks, a 77 horsepower single speed transmission, an impressive towing capacity of 1,500 pounds, and the world's first ever non-pneumatic tires that can take a licking from a .50 caliber round of ammo and still keep riding for the next 350 miles. LEARN MORE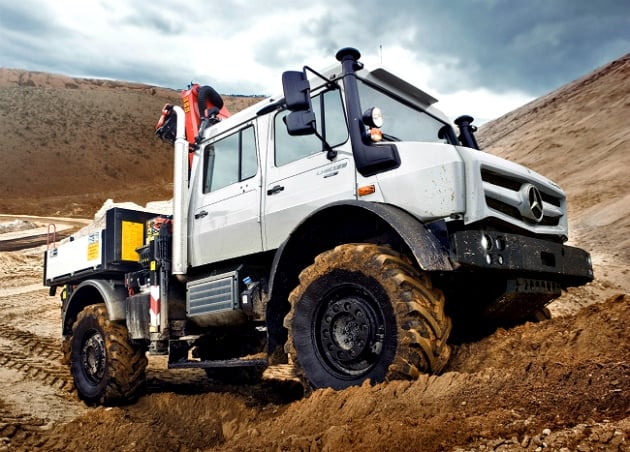 2014 Mercedes-Benz Unimog
Nothing short of a tank is stopping a Mercedes-Benz Unimog. It features an Apocalypse ready panoramic cab, interior ventilation system, a hydraulics system, an on-board tire inflation system that ensures the appropriate tire pressure for whatever terrain you're crossing, and ten different models to choose from, the obvious choice for surviving the apocalypse being the unstoppable 7.7-Liter engine with 8 forward gears and 6 reverse gears capable of 354 horsepower. LEARN MORE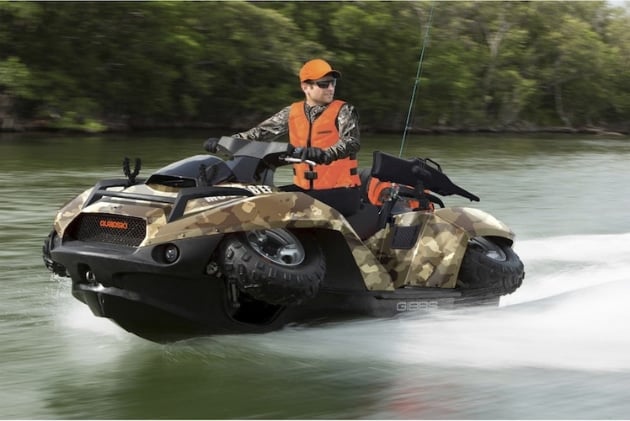 Quadski Amphibious ATV
Unless zombie movies have been completely inaccurate for the past 60 years, we're pretty sure that zombies can't swim, which is why owning a Quadski Amphibious ATV after an apocalypse is a logical choice. Essentially an ATV and Waverunner rolled into one package, the Quadski goes from land to water in 4 seconds at the push of a button, while a BMW 4-cyclinder engine allows you to travel up to 45 miles per hour on both land and water. LEARN MORE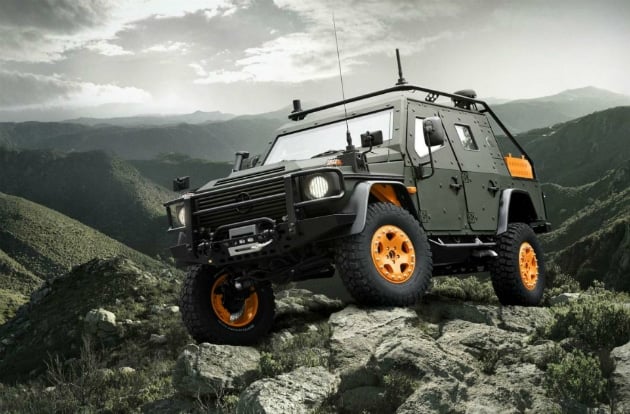 Mercedes-Benz G-Wagon LAPV 6.X
Designed as a patrol vehicle for dangerous parts of the world, the Mercedes-Benz G-Wagon LAPV 6.X will be just at home amid the chaos and ruin of an apocalypse thanks to a steel body with reinforced armor plating, an armored underbody that protects against driving in explosive minefields and rough off-road conditions, an adjustable suspension system with over 18-inches of ground clearance, an on-board tire inflation system, and an integrated communications system. LEARN MORE

You May Also Like: The 10 Best Tomahawks