The 10 Best Henleys For Men
No matter the time of year, there's nearly no item in the menswear vernacular that can shift one's look so dramatically as a rugged, tough henley. It's been a style staple for decades, and long before that, was worn time and again by workers busying themselves with hard-wearing, rough-and-tumble matters of industry — oftentimes building the country from the ground up. It bridges that middle ground between form and function; it's more visually interesting than a plain crewneck tee, and it offers durability in the form of a thicker-knit button collar.
With short or long sleeves, a Henley can be layered up under a thick shawl cardigan or used to dress down a suit. It's the perfect mix of sporty and stylish — and was originally worn by rowers in the English town Henley-on-Thames, too. So it's no surprise that the picks on the list are rooted in similarly masculine, tough style and pack in tons of heritage. Sometimes, that style and toughness comes at a cost, but more often than not, it's worth it to pick up a solid piece of knitwear that can add visual interest to any get-up — again, no matter the time of year.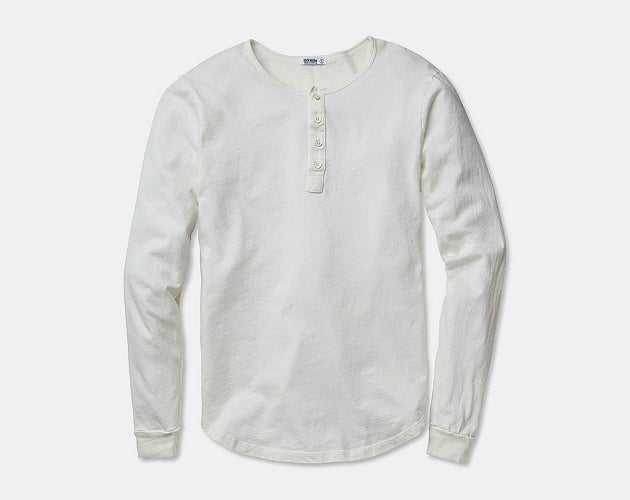 Buck Mason Natural Henley
When you're looking for outfit details that make a difference, consider reaching for a well-crafted henley from Buck Mason. Made in Los Angeles and featuring styling details like a four-button placket and a rounded hem, the 100 percent pima cotton blend should be breathable, durable and remarkably ready to rock under a chambray shirt or on its own on a breezy summer night. The four-button collar is sturdy and can stand up to chilly weather in winter, too. It would be equally at home under a quilted shirt-jacket or a crewneck sweater, for a very agreeable price. – $48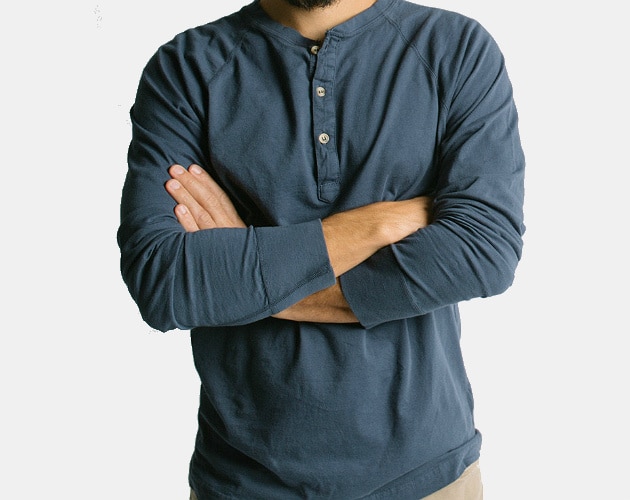 Pistol Lake Henley
While a traditional white henley is versatile and stylish, there's something about a faded shade of navy that stands out against everything from khaki chinos and a grey bomber to your favorite pair of equally faded raw denim. Pistol Lake is among a host of brands that make great knitwear in America, and the brand's plans to expand into its own factory are surely welcomed by those who eagerly await their handcrafted knits. Wear this henley with khaki shorts now, and wear it again and again with grey selvedge denim this fall. – $40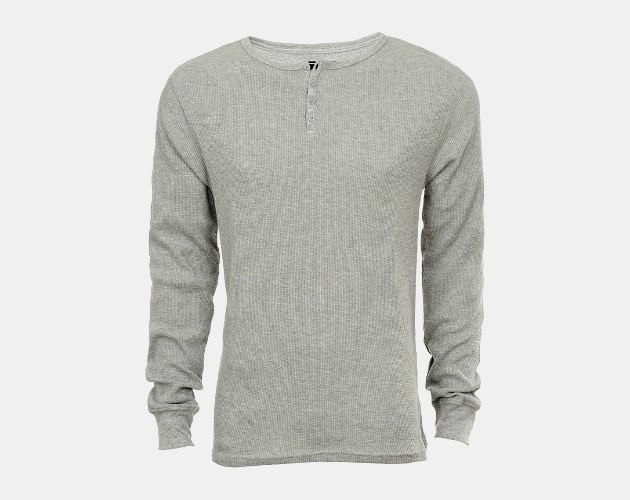 JACHS NY Grey Waffle Knit Henley
Sometimes, simple style is better when it comes to particularly rugged pieces like henleys. A grey waffle-knit henley is definitely minimal in style, and it can serve a double function — it's a unique alternative to layering a crewneck sweater on chilly days on the water, and an equally ready base piece when tossed on in the fall and winter. JACHS focuses on simple, stylish basics, and this henley is definitely ready to be paired up with slim black jeans and beat-up boots for bar crawls and nights spent at rock concerts — or more laidback campsite evenings. – $35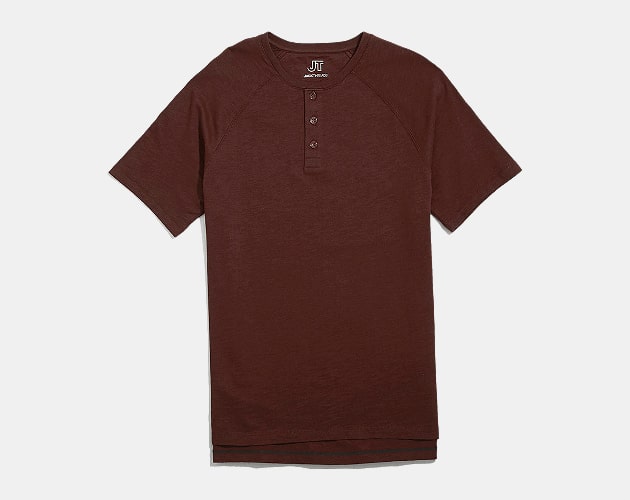 JackThreads The Daily Slub Henley
As fun to wear as a tremendous long-sleeve henley can be, they absolutely have their place in the spring and summer, too. A short-sleeve slub henley is your alternative to tossing on a plain white tee, particularly when matched up with other spring style essentials like light-wash denim or sturdy selvedge — or even linen shorts. Paired with sneakers and navy chinos, it's weekend-ready. Rock it at work under an easygoing, unconstructed blazer for a cool look (in both function and fashion), and maybe grab a couple at that great price. – $24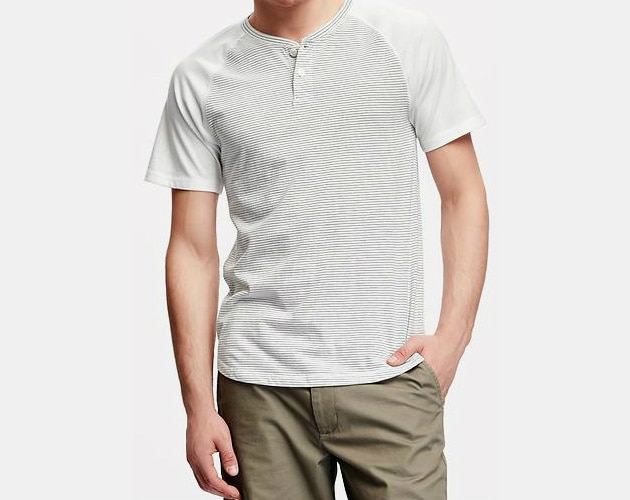 Old Navy Henley Raglan Tee
Reaching for a solid henley that's a change of pace from a regular T-shirt or even a polo doesn't have to be expensive. In fact, brands like Old Navy are making quality knitwear pieces that are a great value. If you're only rotating henleys into your rotation infrequently, something cost-effective (yet not paper-thin) is the way to go. The short sleeves will keep you cool, too. Plus, a shot of pattern and texture helps mix things up. And lastly: At this price, you could grab a handful of henleys and be set for the summer. – $13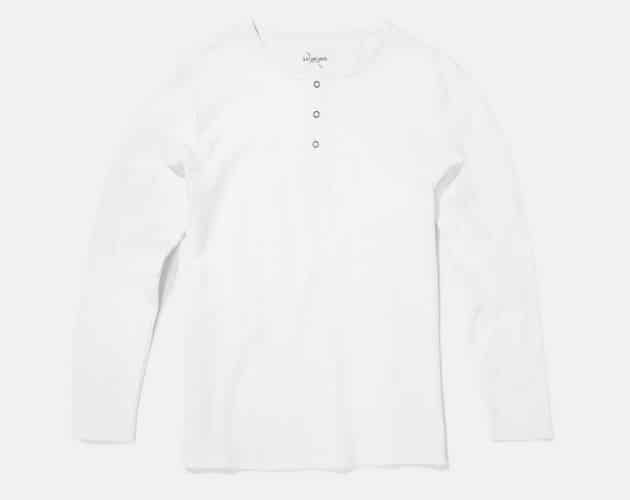 Saturdays Surf NYC Mitch Henley
Some henleys are deceptively dressier than they seem. Although still casual in nature, Saturdays Surf NYC — a brand that knows a thing or two about easygoing basics — takes a few extra steps to ensure this henley can be worn on its own or rocked under a light blazer. Namely, the poplin-lined placket and and poplin-taped collar are unique touches compared to other button henleys, and the heathered rib adds more visual interest. Worn under either a leather jacket or a navy blazer, this henley's going to stand out. – $80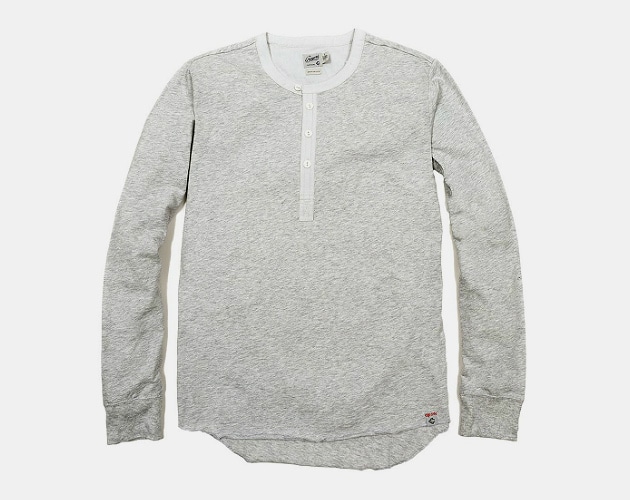 Grayers Todd Henley
It's fitting that Grayers draws its name from the movement that saw men trade in tailored wear for sportier flannel trousers (the brand's namesake). So, its Todd Henley is a simliar mix of casual and crisp. Sporting a chambray placket and four fisheye buttons for a slightly dressier look, this henley has a little something extra that should make it worth a look. The curved hem is a pleasing design detail, and the light gray heather color is versatile for pairing with slim khaki chinos or dark indigo denim — regardless of the season. – $47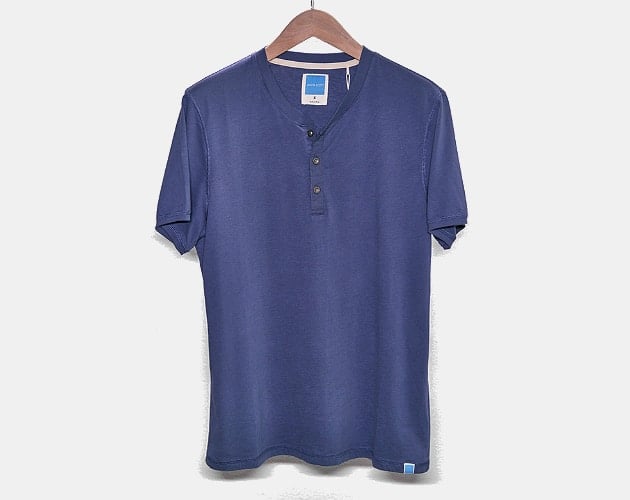 Jason Scott Banks Henley in Indigo
How many henleys on the market have antique metal buttons? Plus a slim, modern fit? Not all that many — but this Jason Scott number certainly has all that and a bit more. It's made in Peru from remarkably soft 100 percent pima cotton, and it combines two sorts of ideal summer style — that is, a breezy indigo color and critically, short sleeves. Take it for a spin with a khaki blazer when traveling, or pair it with a weathered dark denim jacket for a blue-on-blue look that's about as far away from a Canadian tuxedo as it gets. – $96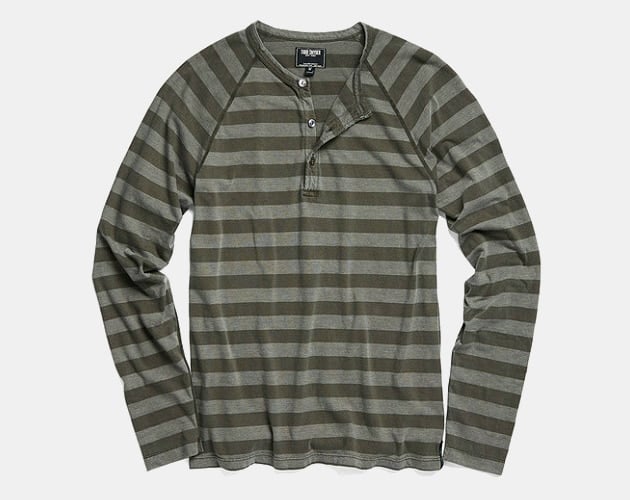 Todd Snyder Stripe Weathered Henley in Surplus
There aren't many designers out there who do what Todd Snyder does — namely, taking vintage, sport-inspired silhouettes and updating them for the modern guy in quality fabrics and fits. He specializes in designs that combine rugged and refined influences — like this henley, which is slim and sharp enough to wear with a navy blazer, but tough enough to wear on its own with selvedge denim and a tough pair of leather chukka boots. The raglan sleeves give it a flattering fit, and the olive stripes work flawlessly in all four seasons. – $115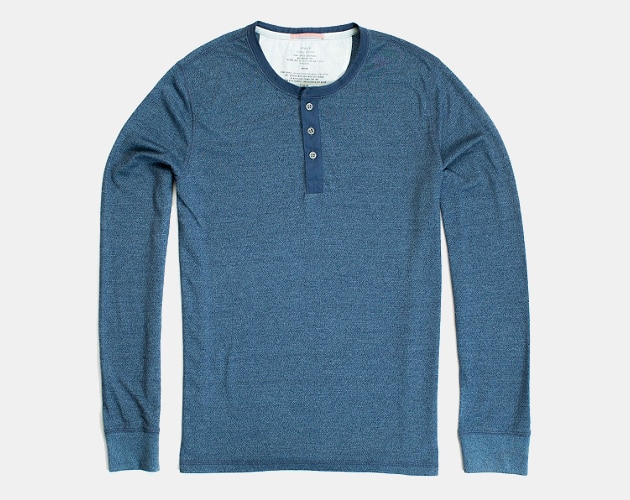 Apolis Standard Issue Longsleeve Henley in Raw Indigo
When you feel like reaching for an ultra-premium henley that's built to last, reach for this raw indigo henley from Apolis. The construction and craftsmanship behind it is second to none — as Certified B Corporation, Apolis produces its quality goods to higher standards and in better factory conditions than other companies, and that's a very good thing for consumers and the workers themselves. It's sewn in Peru from a soft cotton-viscose blend, and it's built to wear in over time — just as your favorite pair of denim will fade and tell a story with every wear. – $98