It's come to our attention that some of you haven't switched your wallet to a minimalist, front pocket carry. And that's fine. We're not here to tell you your business. But if sitting on a worn out piece of cowhide is starting to tweak your back and weigh you down, you've got options.
Minimalist wallets out there are made from aluminum plates, leather pouches, even stainless steel contraptions. All of which are great. But then… there's titanium. It's an element, but is also used in an alloy form. It's light, but strong. It resists corrosion and is good enough for use in space applications and body implants. So, yes, it makes for a damn fine wallet.
Our list of the ten best titanium wallets has options for everyone. Sleek and pared down. Multifunctional. Patented designs. These wallets are among the best out there. The makers have figured out ingenious techniques for utilizing titanium to carry your effects — from bands to clips to none of the above. Pick one of these durable titanium wallets and it may be the last wallet you ever have to buy.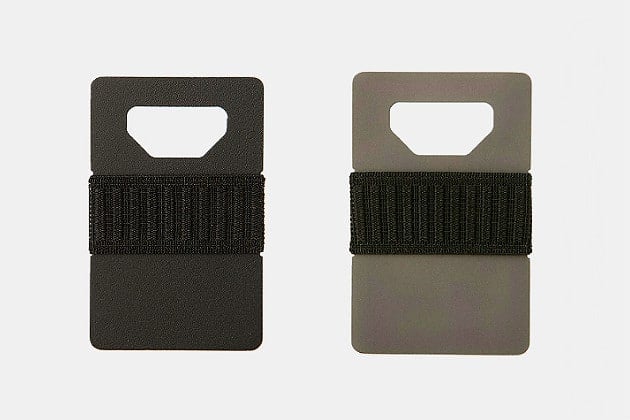 Spine Titanium Wallet
We think long and hard about what goes into the GearMoose shop. The Spine Wallet hits all necessary marks: minimal, durable, effective. It also assists in the consumption of beer. While not a requirement of your EDC, that never hurts. A simple titanium plate and strong elastic band pair up to hold your cards on one side and cash on the other, while a simple notch cut into the titanium pops caps. The Spine is about as simple as it gets and is more affordable than most titanium wallets out there. – Shop Now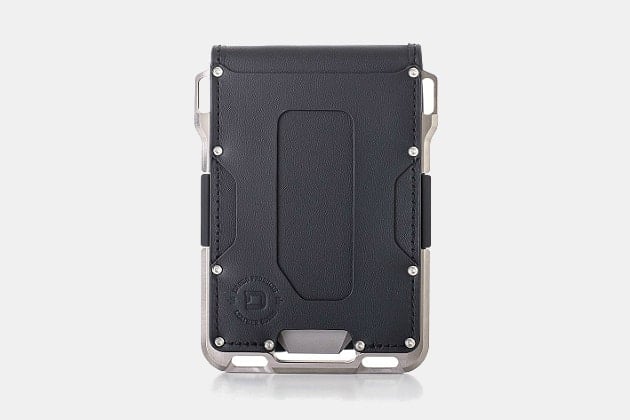 Dango M1 Titanium Maverick Tactical Bifold Wallet
Can your bifold hack through a seatbelt if needed? This one can. Dango is best known for making wallets that do more than simply carry your plastic and legal tender, and their new M1 Titanium Maverick Tactical comes equipped with a ten-function multi tool. The wallet itself is a light and strong titanium chassis with a leather exterior bolted to it. The multi tool fits in the main card compartment and locks into the chassis when you need extra leverage. – Shop Now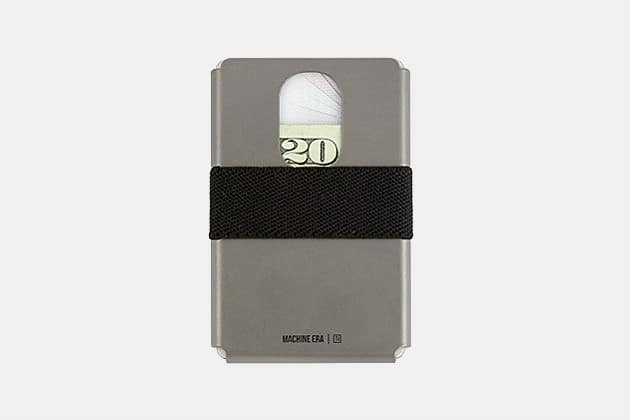 Ti5 Titanium Slim Wallet
Machine Era uses manual and CNC machines to craft slim wallets and machined pens in their Richmond, Virginia shop. Their Ti5 Wallet is made from aerospace grade titanium and coated in PVD DLC — basically hard, resistant stuff used on aircraft and firearm parts. A plate curved at the edges accepts cards and cash, with an elastic band holding it all together. You can get up to seven cards in there and the hole in the back is also a beer opener. – Shop Now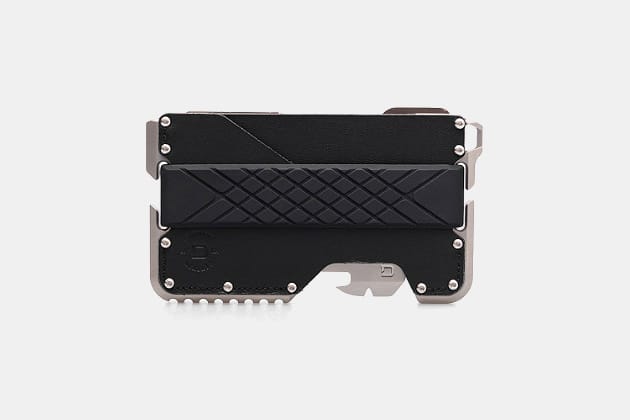 Dango T02 Titanium Tactical Wallet
No free rides in your pocket, eh? This wallet holds cash and cards (up to twelve), but also saws, cuts, pries nails, and provides a stand for your phone. The T02's frame and backplate are both titanium with a leather pocket bolted to the frame. A silicone band circles the whole thing, providing tension and a money strap. The stainless steel multi-tool fits in with your cards until it comes time to use it, when it snaps into the safety locks to cut, saw and definitely not freeload in your pocket. – Shop Now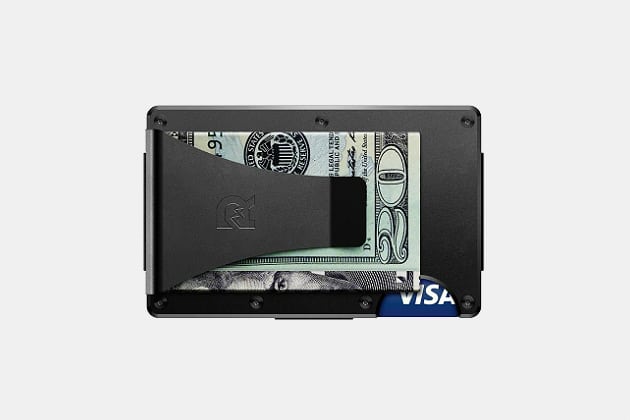 Ridge Titanium Wallet
Start with two RFID-blocking aluminum plates, held together with an internal elastic band, layer on the anodized titanium plates, and top it off with an elastic cash band. The result is the Ridge Titanium Wallet. It'll hold from one to twelve cards inside, plus cash in the external band. And should that internal elastic band give out on you, the wallet comes with its very own Torx driver to disassemble your Ridge and add in new elastic. – Shop Now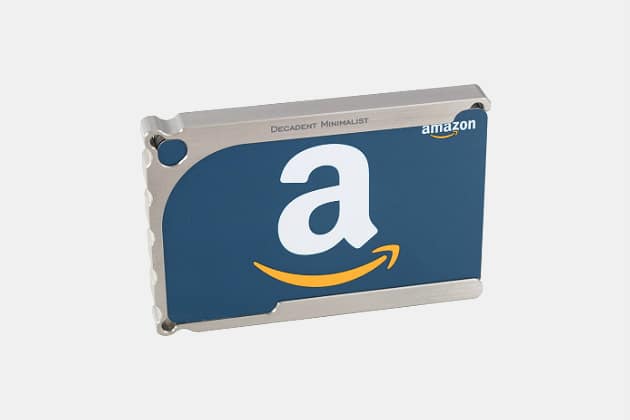 Decadent DM1 Titanium Minimalist Wallet
Before the cards go in, the DM1 looks more like an engine part than a wallet. Where most titanium wallets put the titanium at the front and back, the metal on this one wraps around the edges. Three sizes of wallets will carry up to four, eight, or twelve cards and all of them will hold as few as one card (though, why are you only carrying one card?). With no screws, bands, or straps to wear out, this is a low- to no-maintenance wallet. And for anyone concerned about the security of a three-sided wallet, each card makes a satisfying click when properly inserted. – Shop Now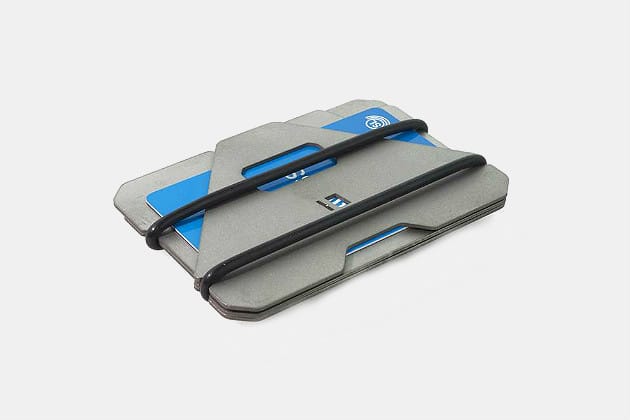 Obstructures A3 Titanium Wallet
Bottle opener, yes. Titanium plates, check. Three of them in fact. One triangle-shaped. How are they held together? Two, black, round eighth-of-an-inch thick o-rings ingeniously slide between the notches on the plates, giving you access to your items. You can arrange the plates as you wish, using the triangle as a divider inside your wallet, or on the outside for quicker access. It's made by guys who started out making aluminum guitars, so cool is definitely on this wallet's radar. – Shop Now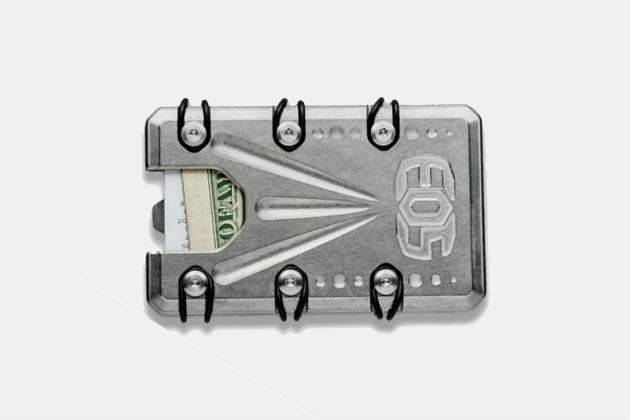 EOS Titanium 2.0 Wallet
Many who go for titanium are content to let the cool grey of the raw material dictate the color palette. But if you want a little variety in your EDC scheme, one of the myriad options from EOS will suffice. In addition to a bead-blasted and raw version, they've got a flame treated wallet and a whole line of titanium wallets coated in Cerakote, a highly-protective ceramic coating. The plates are held together with six o-rings and can accommodate twenty cards. Around back is the Fulcrum titanium money clip. – Shop Now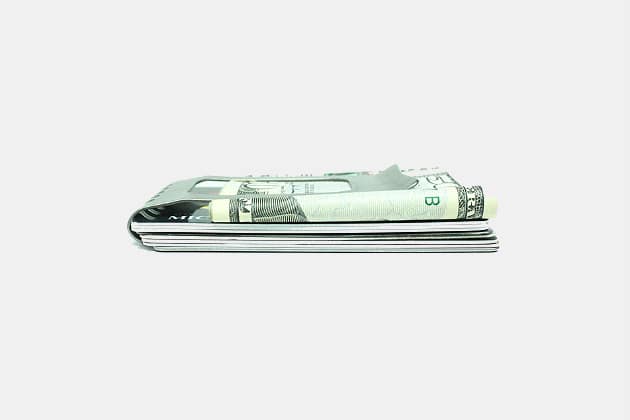 Ti2 Titanium Wallet
Good things come from Hawaii, like this wallet for example. Using Grade 5 titanium — an alloy that offers good spring and just the right elasticity — this clip style wallet is water-jetted from single piece of metal and, like all titanium, won't rust or corrode. This single-piece construction also means there's very little that can go wrong with your new wallet. The Ti2 was born on Kickstarter where its makers are also responsible for a pretty impressive titanium carabiner multi tool. – Shop Now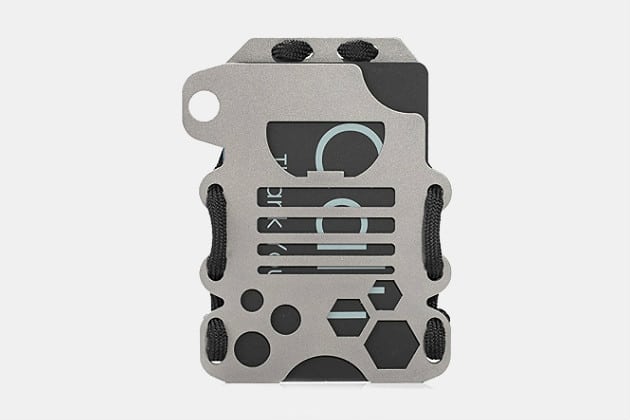 Calti Tactical Titanium Minimalist Wallet
The challenge with asking a sheet of metal to hold your stuff lies in the tension. How do you get something that will hold your particulars securely, yet still allow access without being overly complicated? Bands and clips are the usual answers but this one from Calti Tactical goes a third route and uses threaded paracord to adjust tension. The titanium plates also offer a bottle opener, wrenches for on-the-spot bolt tightening, and various slots for measuring. – Shop Now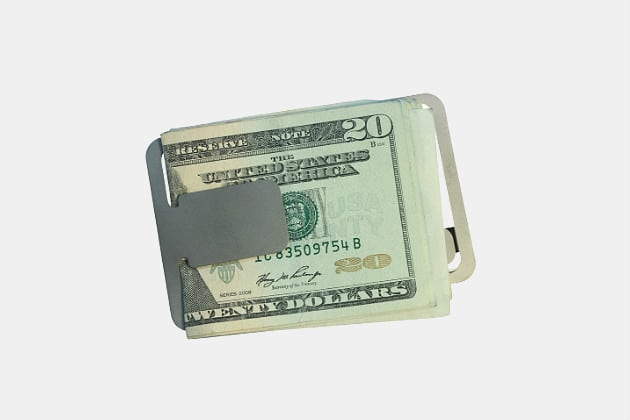 Flexy Titanium Un-Wallet
Technically, this shouldn't be on the list. It's not a wallet. Like it says in the title, it's an Un-Wallet. But since it holds your cash (fifty bills) and cards (up to ten) and will outlast your current car, we think it qualifies. Machined from a single piece of titanium, the dual clips let you put your paper on one side and your plastic on the other. Carbon Tactics, the makers of the Flexy, often head to Kickstarter to fund titanium and carbon fiber belts, tools and other projects. The Flexy was their first success. – Shop Now
Disclosure: Clicking on these links and making a purchase may earn us a small referral fee, at no extra cost to you. Learn more here.
freestar.config.enabled_slots.push({ placementName: "gearmoose_leaderboard_btf", slotId: "gearmoose_leaderboard_btf" });