The 18 Best Graphic Tees for Men
The t-shirt started to become a wardrobe essential in 1951, when Marlon Brandon wore one in the film adaptation of A Streetcar Named Desire. Many would say that the ultimate evolution, the final boss, of t-shirts is the ever-versatile graphic tee. The 18 best graphic tees for men that we've got for you here represent every category we love, from artistic aesthetics to irreverent imagery.
Are you more like Sean Penn's Jeff Spicoli in Fast Times at Ridgemont High, with his too-cool-for-school Colt 45 tee? Or maybe you're like Napoleon Dynamite, whose iconic Vote for Pedro shirt inspired others to get involved in civic life. My favorite graphic tee is Bart Simpson's Mad Magazine "Down with homework" shirt that incited a student riot, resulting in Springfield Elementary adopting school uniforms. If pop culture references and rock concerts haven't convinced you that graphic tees are great, the entries in this roundup will.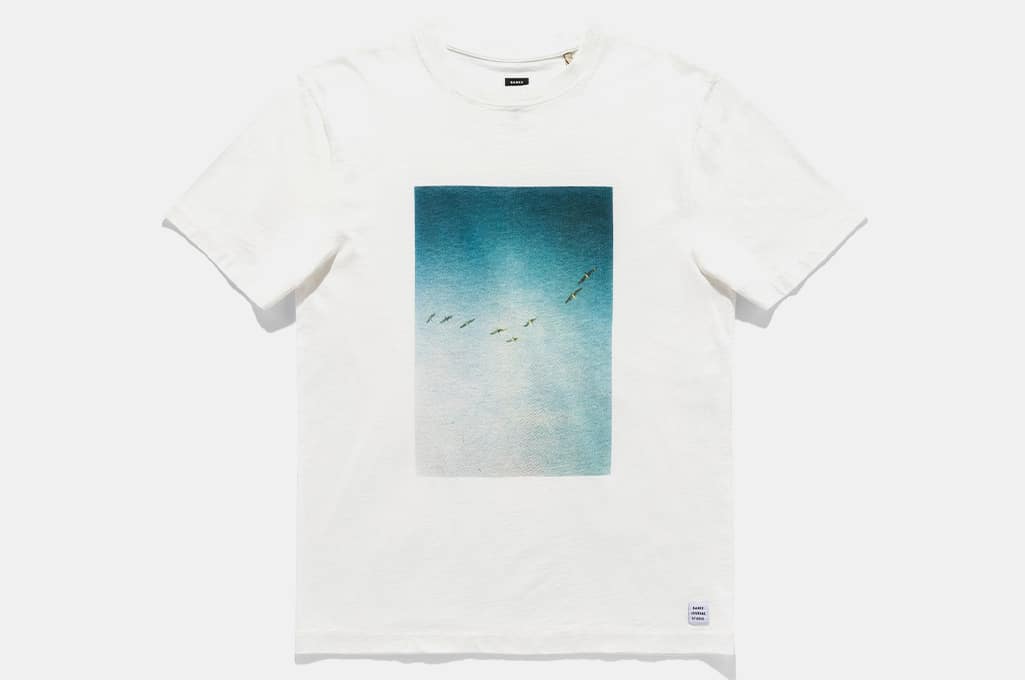 Banks Journal Zak Bush Birds Tee Shirt
This Banks Journal Shirt features a brilliant photograph, Birds, by Zak Bush, an LA-based photographer known for his surfing pictures. The peaceful and vivid imagery of blue skies boasts a saturated yet feathery color that lends itself to the shirt's single-stitched jersey knit. The cotton is organic and the bio enzyme wash ensures a soft surface that adds brightness to the fabric while reducing pilling.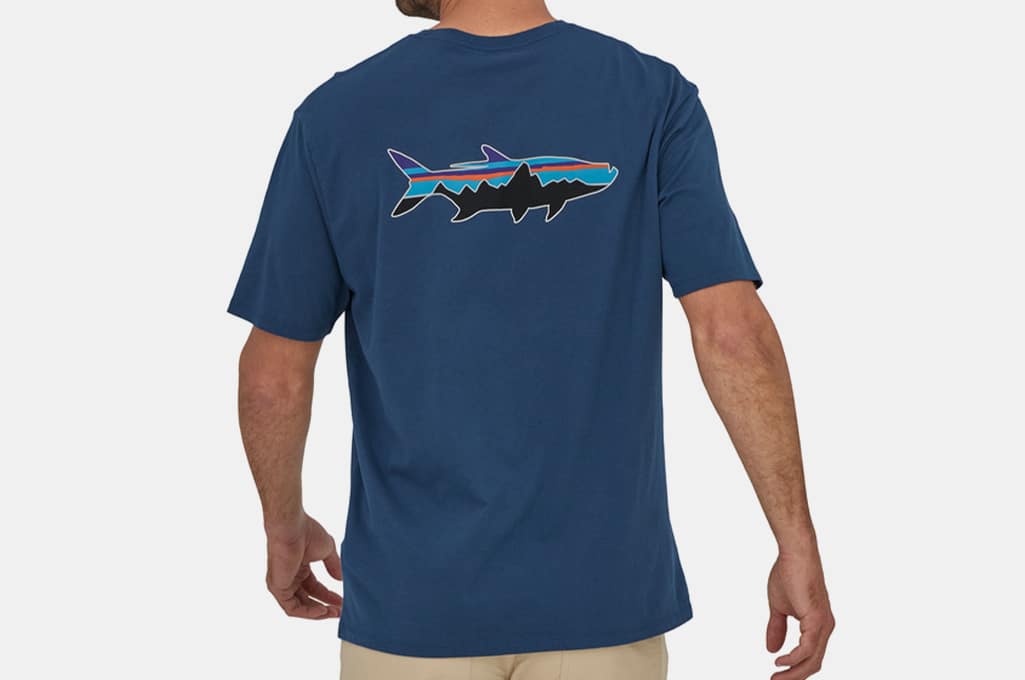 Patagonia Men's Fitz Roy Fish Organic Cotton T-Shirt
Fishermen and folks who enjoy by-the-water recreation will love the back of the Patagonia Fitz Roy Fish T-Shirt, made completely of organic cotton. It comes in grey, black, tidepool blue, and sedge green with the Patagonia logo on the chest and a colorful fish silhouette on the back. The cotton is 100 percent virgin, uses 84 percent less water, and develops 16 percent less CO2 than regular cotton t-shirts do when they're being made. Feel good when you wear this shirt, whether it's with board shorts or angler pants.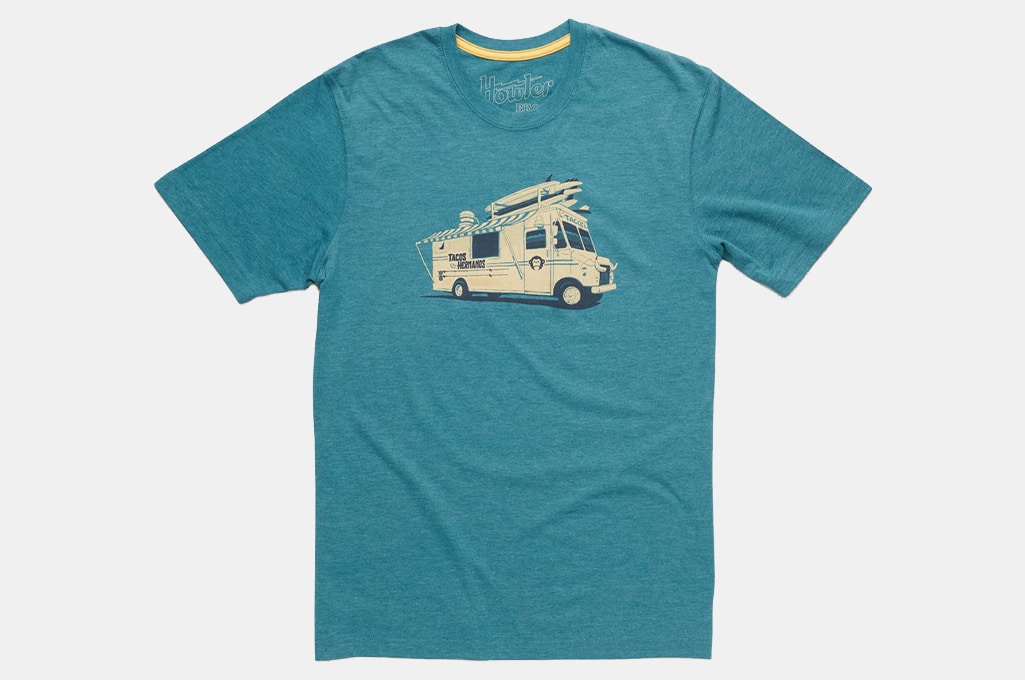 Howler Brothers Hermanos Tacos T-Shirt
Let's be real, few things in life make people as happy as the sight of a taco truck. The Howler Brothers Hermanos Tacos T-shirt features a delightful screenprint of a quintessential taco truck, combining detailed illustration with the charming sparseness of vintage cartoon title cards. It's made of soft cotton for comfort and polyester for durability. The contrast shoulder stitching and contrast taping are a stylish touch too. Another great thing about this fun-looking regular-fit shirt? Its bargain price tag.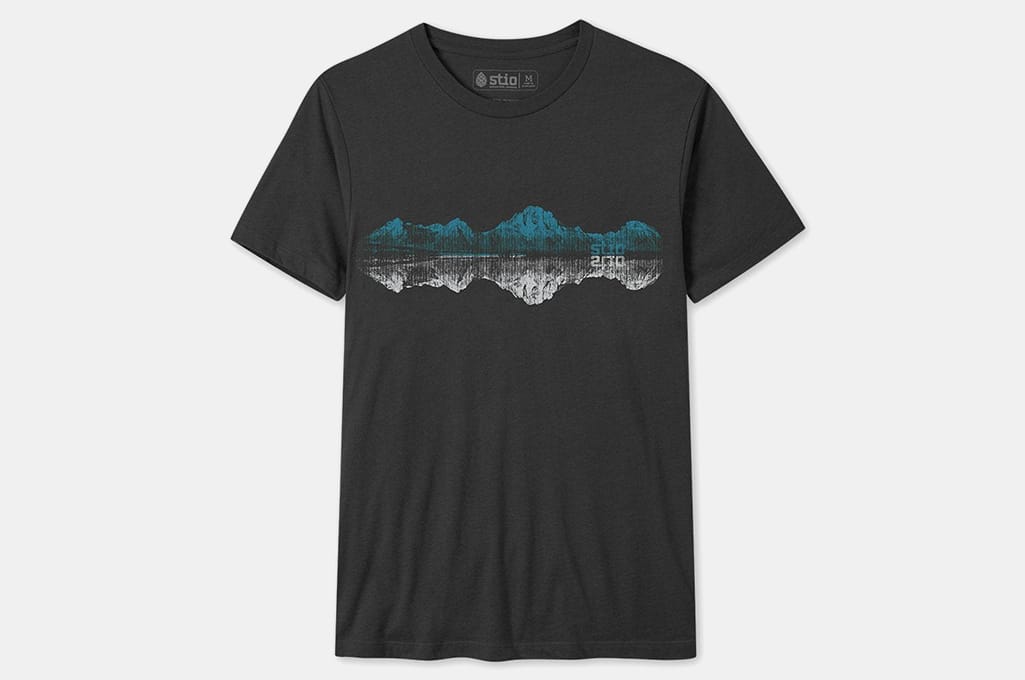 Stio Men's Mountain Mirror Tee
Even photographs don't do justice to the majestic Mount Moran in Wyoming's Grand Teton Park. However, its expressive interpretation on the Stio Mountain Mirror Tee is definitely eye-catching and beautiful. The stamp-like art depicts the mountains reflecting off of Jackson Lake, on a cotton-poly blend canvas, with a heathered colored background that matches the effervescent feel of the Tetons.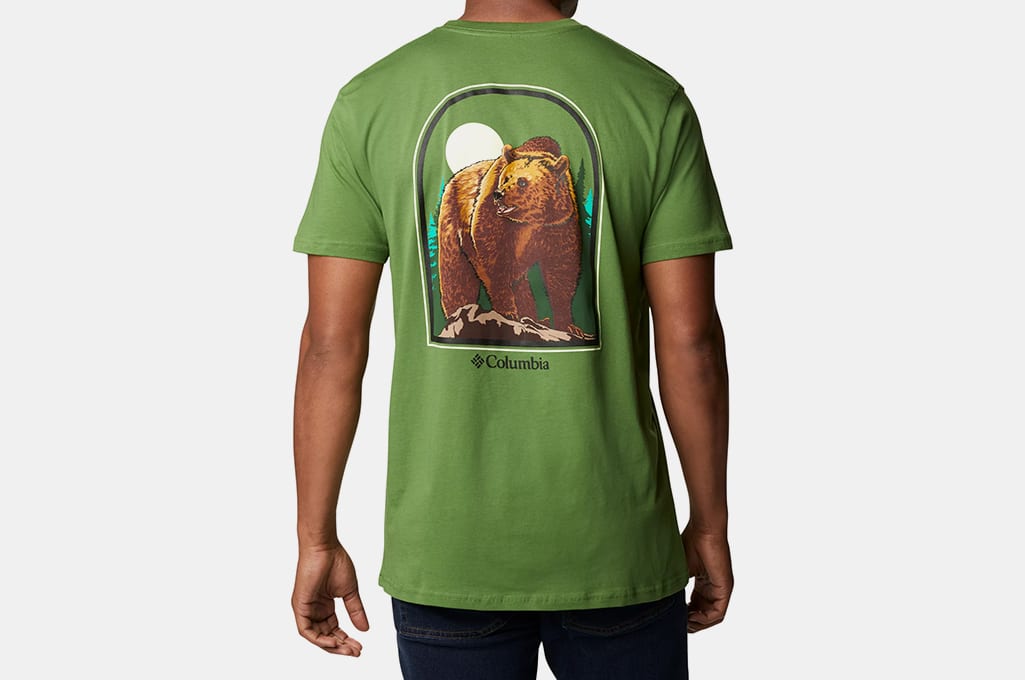 Columbia Men's Camber Graphic T-Shirt
The back of the Columbia Camber Graphic T-Shirt is decked with a technically-sound yet animated depiction of a Pacific Northwest grizzly. Plus, that bear has a Mona Lisa vibe about him (is he smiling or is it an optical illusion? Wear this shirt during your next group hike and spark a lively debate). There are two color options, a standard green version, and heathered grey version which is a touch stronger thanks to its ten percent polyester makeup.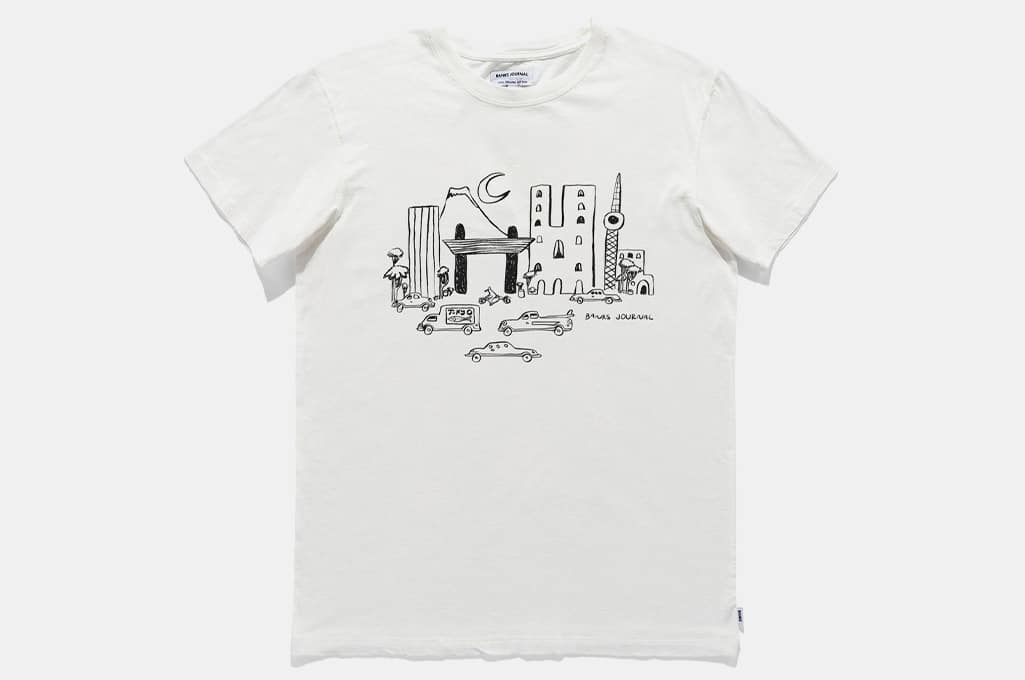 Banks Journal Tokyo Classic Tee Shirt
The Banks Journal Tokyo Classic Tee Shirt is a 100 percent organic cotton crewneck that appropriately characterizes the Japanese capital in an artistic, and happy way. The black-line drawing is abbreviated and simple, but articulate, not forgetting important details like Mount Fuji and the Tokyo Sky Tree. The shirt gets extra environmental points for using recycled materials even for the labels.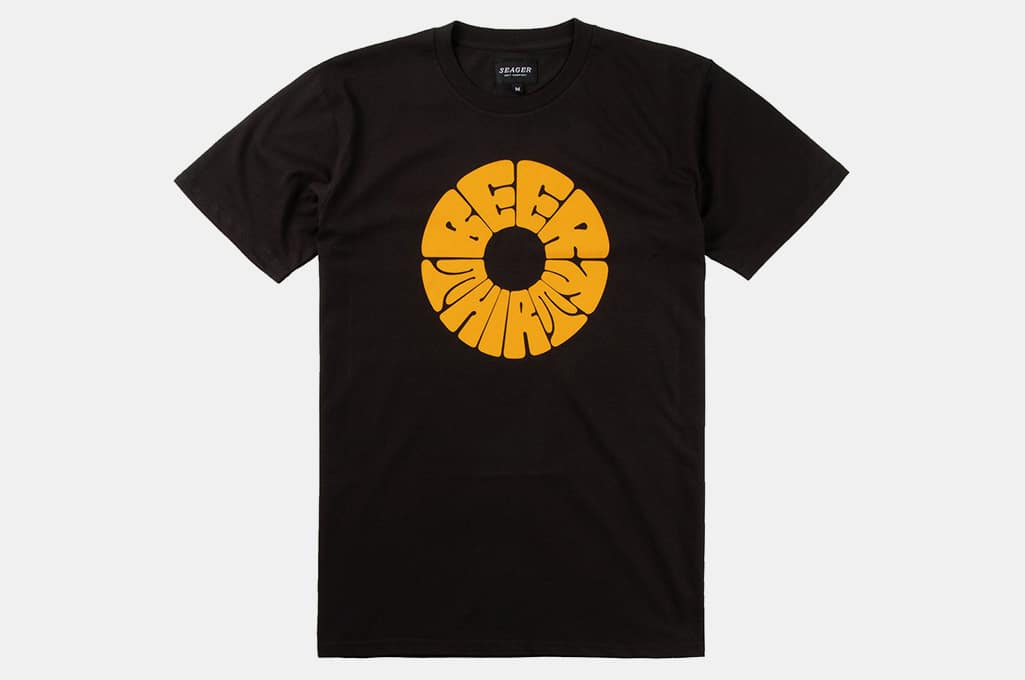 Seager Co. Beer:30 Tee Coal
Have you ever wanted to wear an irreverent and punny graphic tee, but never found one that actually looked good? Leave it to the Seager Company to answer such a prayer with their Beer:30 Tee. The water-based screen print on the front chest sports a sort of "organized psychedelic" design, and slightly abstracts the beer thirty text. This cotton shirt is printed in California.
Men's Merino Sport Mountain Journey Graphic Tee
A tee made for the explorer, the Merino Sport Mountain Journey Shirt is built for as much adventure as the graphic on it indicates. The chest is adorned with a mountain illustration overlaid with a compass rosette, laying thick the travel theme. This shirt is made of merino and durable recycled polyester, is equipped with flatlock-anti-chafing seams, and protects against the sun's rays with its UPF 20+ rating. Complete the motif with some hiking boots to feel extra cool.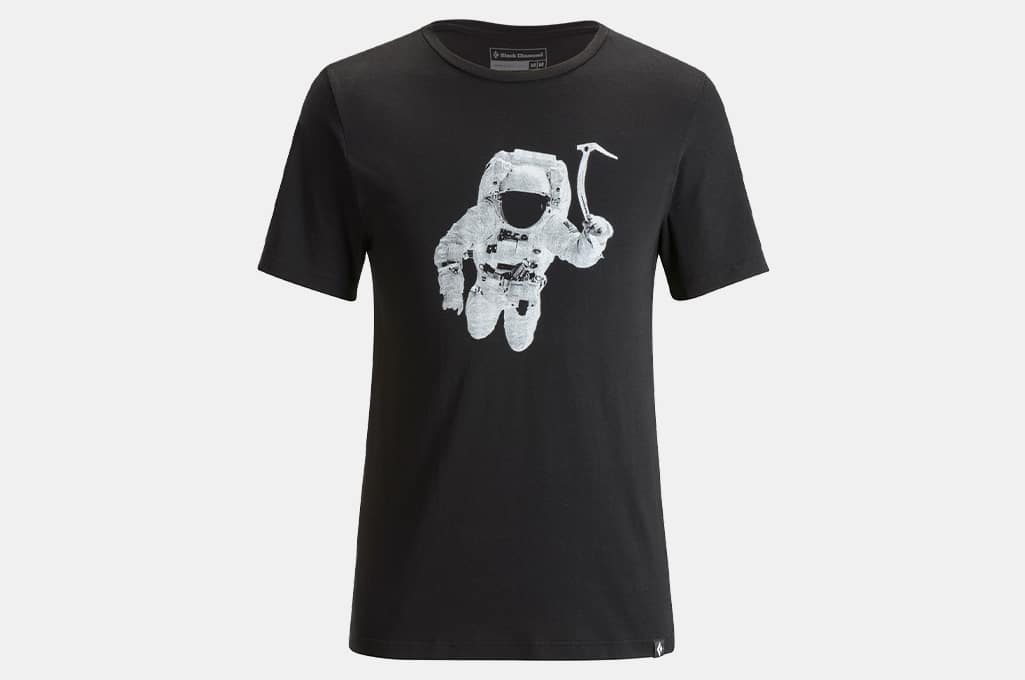 Black Diamond Spaceshot T-Shirt – Men's
The Black Diamond Spaceshot T-Shirt has a lot of crossover appeal among unlike demographics. This space-themed top would sit well in the closets of science lovers and technology school graduates, next to their NASA graphic tees. Meanwhile, '80s music lovers and nostalgia buffs might see a resemblance between the spaceman on the front of the tee and MTV's iconic moonman. This shirt is cotton and spandex, with a pre-shrunk regular fit offering lots of mobility.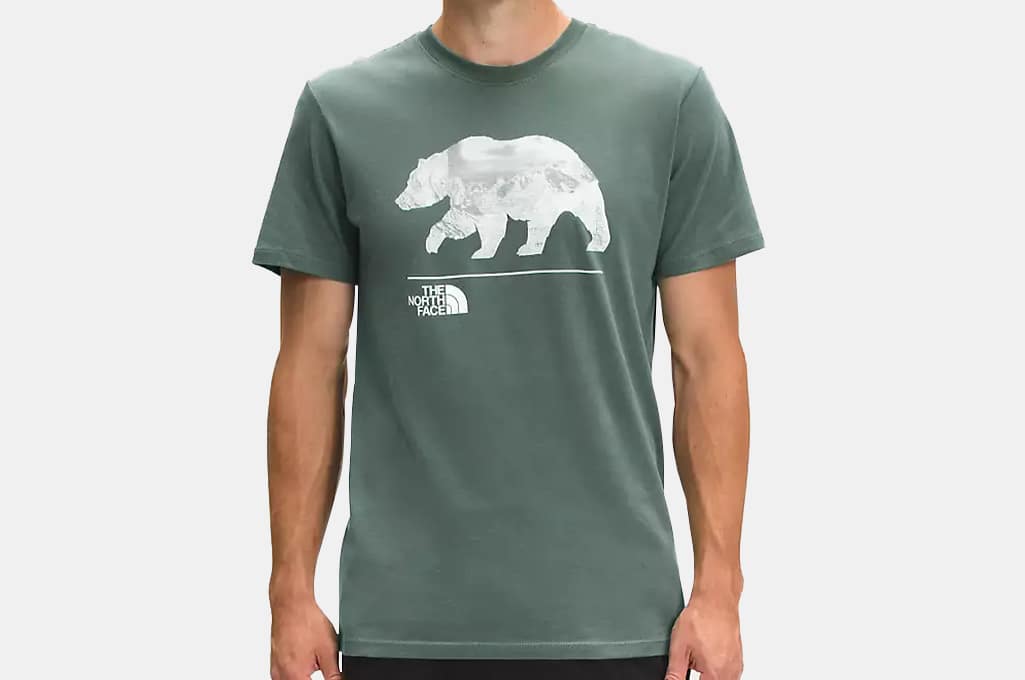 The North Face Men's Bearscape Short Sleeve Tee
North Face's Bearscape Tee can be worn most anywhere. It's comfortable, thanks to its soft cotton jersey construction, but also wrinkle-resistant. On top of that, its ribbing has a touch of polyester, adding durability where it counts the most. The clever Bearscape on the front is a clearly drawn bear silhouette, but the details within it abstractly resemble a mountain range. The graphic designers definitely had fun with this one.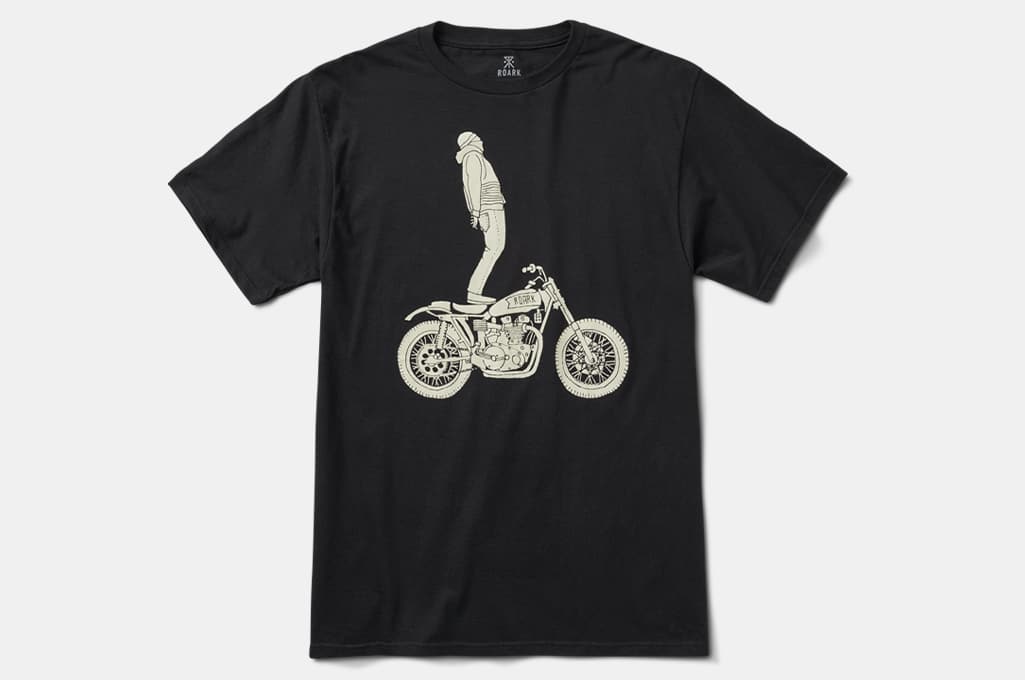 Roark Ghostrider Staple Tee
Few of us are as thrilling as the character depicted in the artwork on this shirt—but at least we can wear him. The Roark Ghostrider Staple Tee is a minimalist shirt that, according to the brand, urges us to figuratively "let go of the handlebars." The stark black background emphasizes the fantastic image, which exudes all of the absurdist and deeper-than-you-realize fun of early-era Adult Swim on Cartoon Network.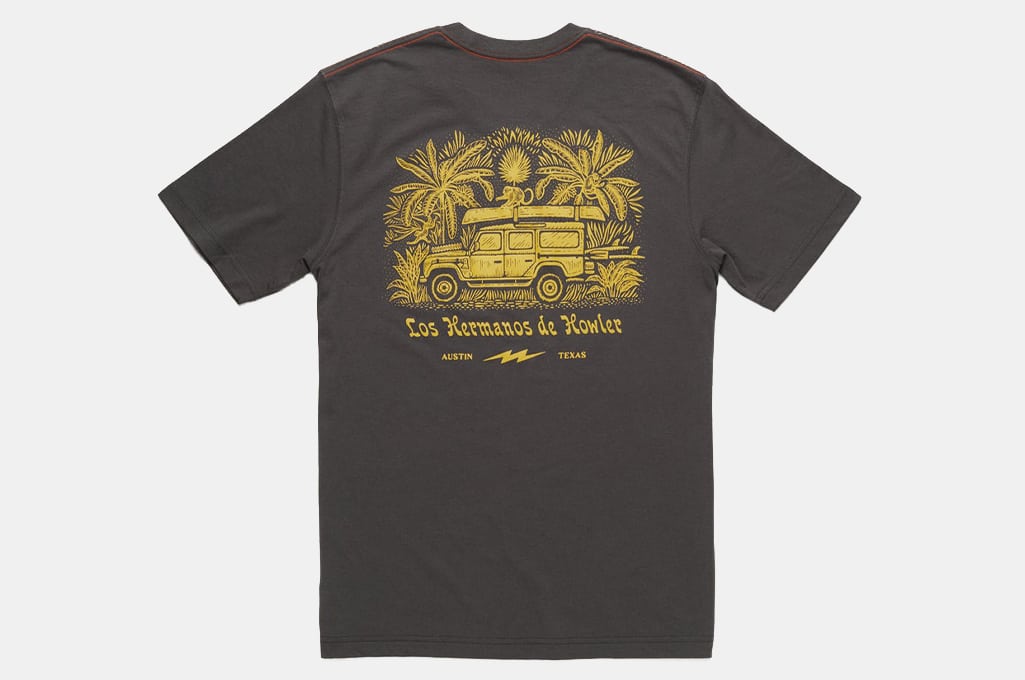 Howler Brothers Jungle Pilgrimage T-Shirt
The spirited graphic on the back of this Howler Brothers shirt is blocked out in a bright yellow, which makes it even more engaging on top of the stylish but muted grey background. The Jungle Pilgrimage artwork features a jeep in a lively exotic backdrop. A contrast-stitched shoulder rounds out the overall striking aesthetic, all of which lives on a soft and strong poly-blend canvas.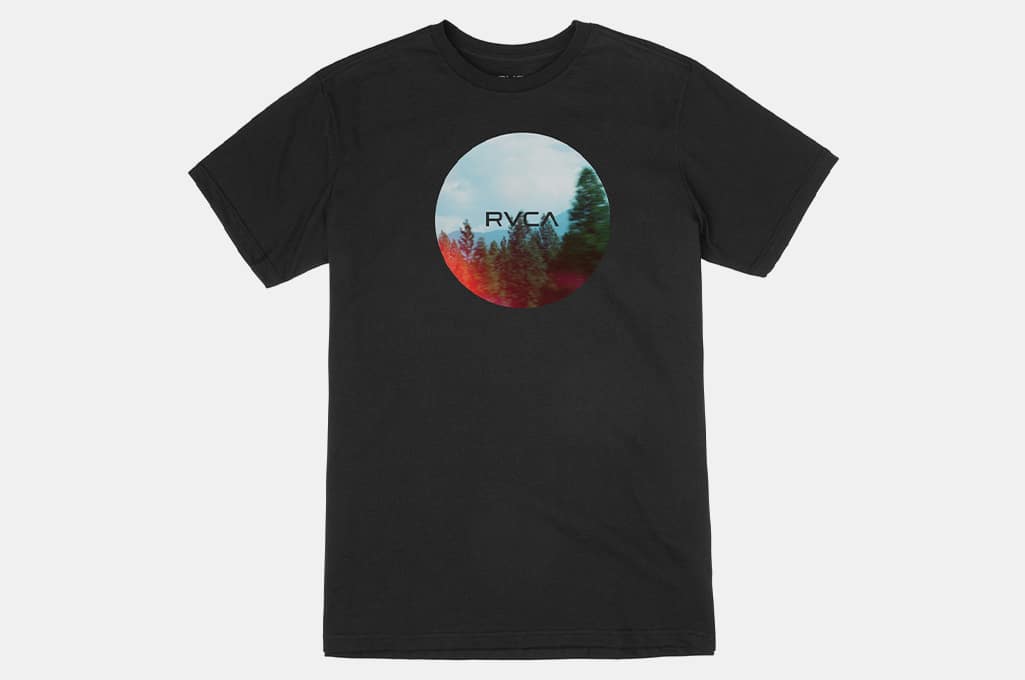 RVCA Motors Tee
The screen print of the beautiful tree-lined landscape on the front of this RVCA Motors Tee is so sharp and dimensional, you'll look as if you have a window into another dimension on your chest. The sensor flare at the bottom of the image adds a warm accent to the cool-toned visual, bringing even more depth. This shirt is actually made out of combed cotton, which means all of the short and breakable fibers were removed, resulting in a luxe and lightweight top. It also means it feels silky soft on your body.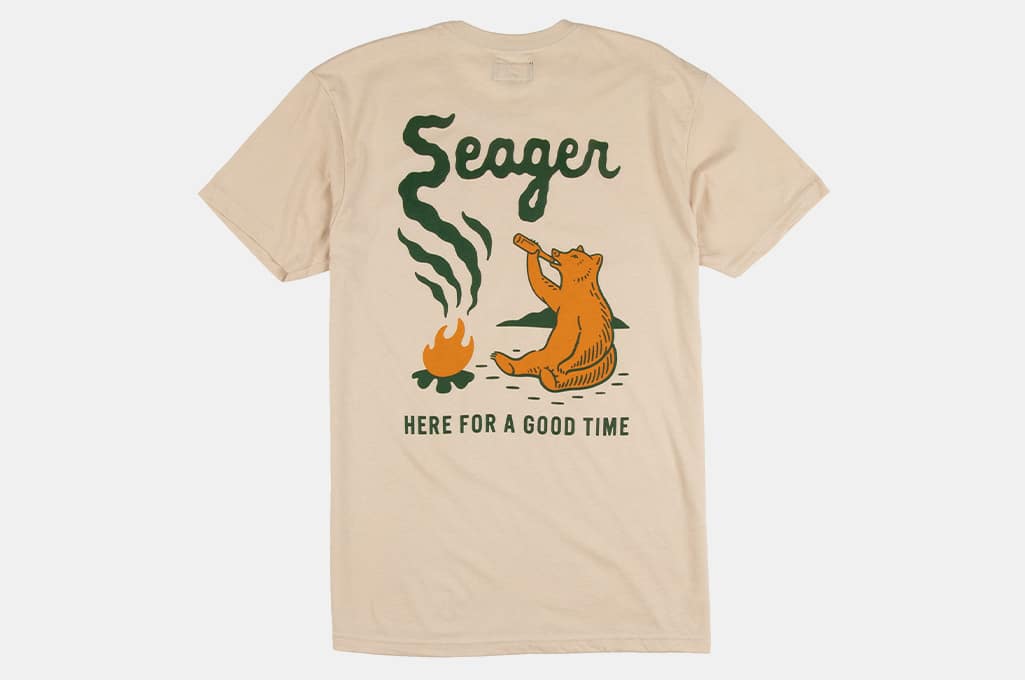 Seager Smokey Tee
The Seager Company is back with more hijinx, this time with their exquisitely cartoony Smokey Tee. The graphic of a bear enjoying a brewski by the campfire is undeniably fun and charming, cute even. It is, however, a genuinely well-drawn image, employing only two colors to create layers, balancing details and simplicity. This is why it works as a small chest accent on the front, and as a full-sized back image. The cotton-constructed top is decorated using water-based ink, and is printed and designed in California.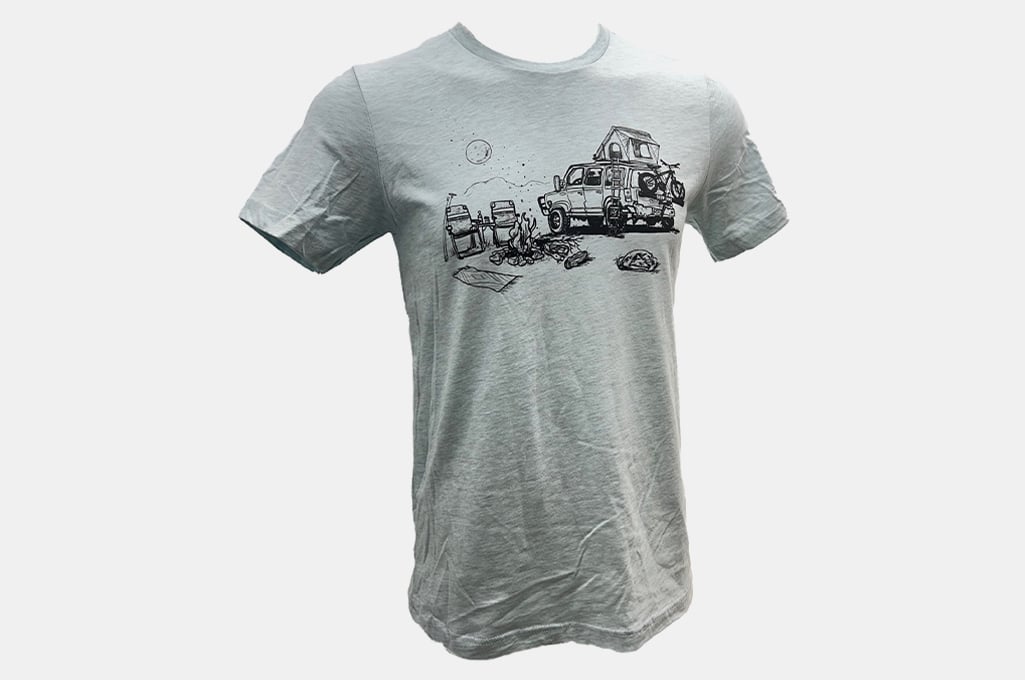 Slow Loris Fireside Camp T-Shirt
As if it came straight from a wildly talented artist's sketchbook, the Slow Loris Fireside Camp T-Shirt is embellished with an ink-only style drawing. With one color and stroke-style, the artist depicts a spatial image of a camping site, the visual art equivalent to a musician's unplugged performance. You've got the car, the fire, the portable chairs, and the full moon. The heather prism blue hue of the tee adds a touch of sophistication, while the triblend fabric is formulated to provide a balance of durability and softness.
BD Idea T-Shirt – Men's
If Sir Issac Newton were alive today, he'd wear the BD Idea T-Shirt. This pre-shrunk shirt is made of organic cotton with a hint of spandex, providing excellent fit and the range of movement of an athletic shirt. More important, is the line drawing of the lightbulb, the ultimate ah-ha symbol. The bold red colorway uses a traditional black line for the drawing. Meanwhile, the black shirt uses a white line while the blue shirt uses a lighter, brighter blue line, giving both of them a compelling photo negative aesthetic.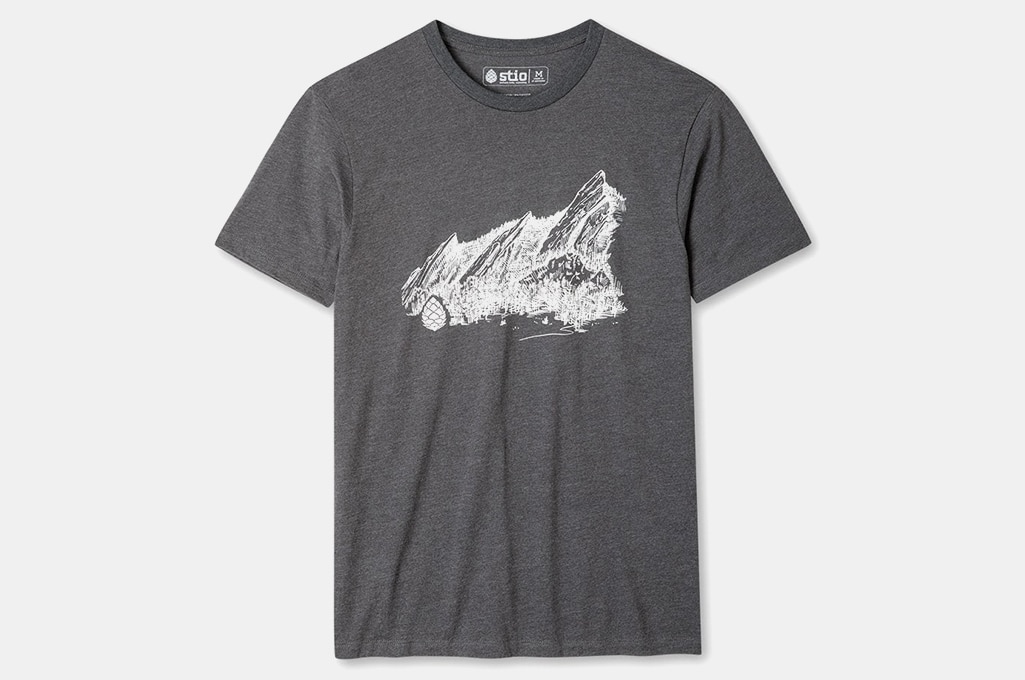 Stio Mountain Towner Boulder Tee
The hand-drawn artwork of the Stio Mountain Towner Boulder tree perfectly encapsulates the base of the Flatiron Mountains, where most would experience the arresting slanted sandstone formations in real life. Artistically, the cross-hatching seems like it's a nod to the brush and grass of Boulder's wilderness. The charcoal heather colorway sports a striking contrast style with the white lines, while the steel blue heather version is more understated with its blue-on-blue visuals. The fit of this cotton-poly is regular, but you can size down if you prefer a more body-con look.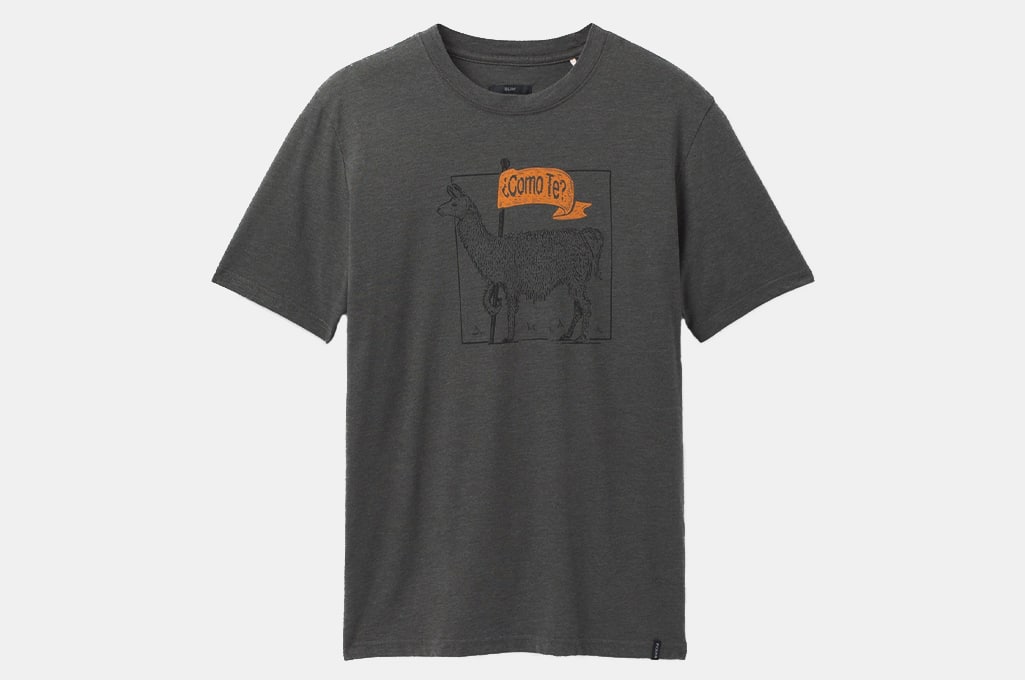 prAna Como Te Llama Journeyman 2
The prAna Como Te Llama Journeyman 2 is like a knock knock joke. You first get half of the bit, with the immediately bold orange flag that reads "Como te?", then upon closer inspection you see a bigger, detailed illustration that reveals a llama holding said flag. By the way, "como te llama" means "what's your name" in Spanish. This tongue-in-cheek top is made of organic cotton, recycled polyester, and is fair trade certified.
Disclosure: Clicking on these links and making a purchase may earn us a small referral fee, at no extra cost to you. Learn more here.
freestar.config.enabled_slots.push({ placementName: "gearmoose_leaderboard_btf", slotId: "gearmoose_leaderboard_btf" });