The 12 Best Accessories for Your iMac
So you've upgraded your work station with an iMac. You're ready to crush those reports, make the best designs of your life, or just have a nicer screen for your fantasy football or Minecraft endeavors. The next step? Optimizing that computer of yours. Our 12 best accessories for your iMac are a mix of fun but useful luxuries, and universal problem-solving solutions. After all, those of us who spend a lot of time at a computer don't have to settle for lower back problems or a boring-looking desk.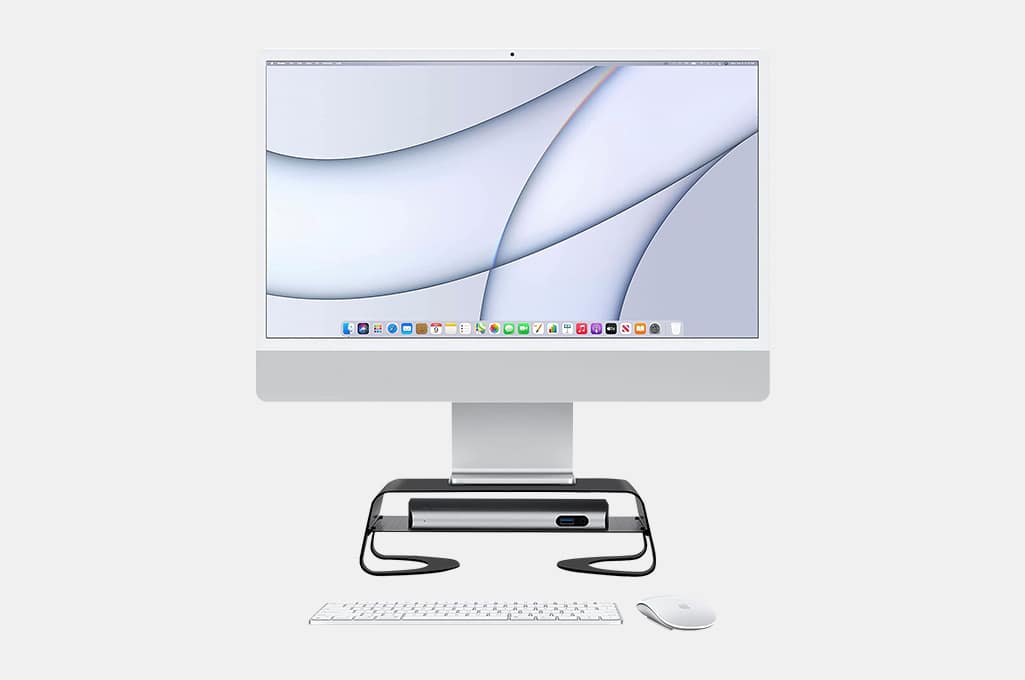 Twelve South Curve Riser
Who would've thought that one piece of metal, be it cleverly designed, can provide so much practical value? The Twelve South Curve Riser does three simple things that vastly improve your iMac experience. First, it holds your screen up at a much more comfortable height, like getting the perfect seats in the perfect row of a movie. PS watch your posture start to improve thanks to this. Second, its ventilated design provides airflow for your device, so it doesn't overheat. And finally, its storage space can be used however you deem best. You can put your keys in there instead of sitting on them, use it as a convenient but undistracting place for your phone, or just stuff it with beef jerky if you're a bit on the hungry side.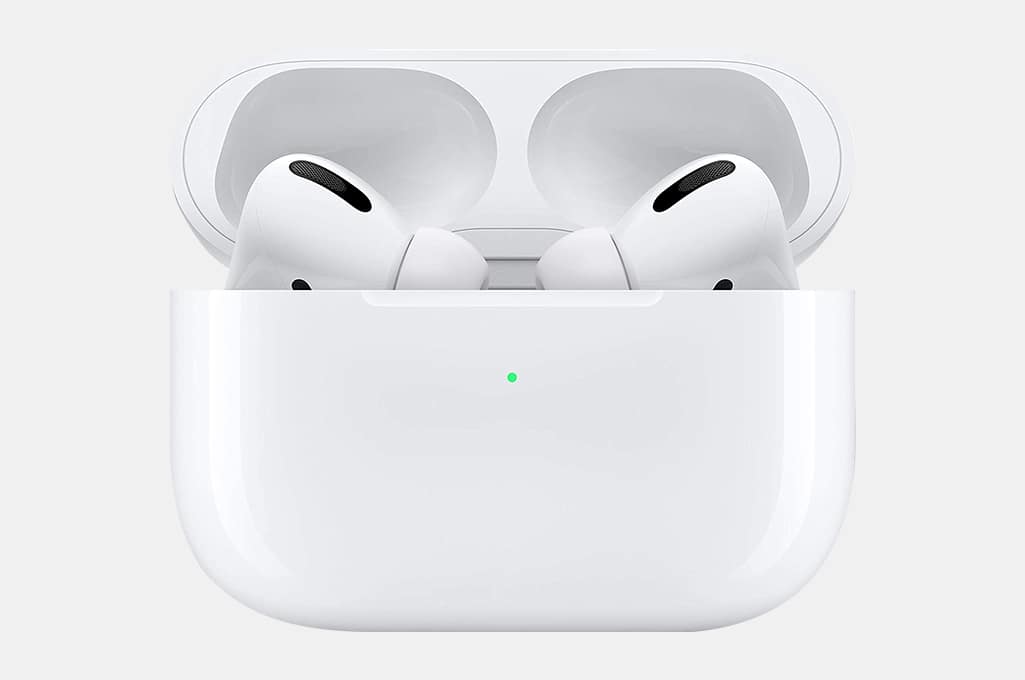 Apple AirPods Pro
The original Airpods walked, so these Pros could run, so I mean this with no disrespect: The Apple AirPod Pros are several steps beyond their predecessor on the evolutionary scale. The silicon tips come in three customizable sizes, so you don't have to worry about them falling out of your ears. The adaptive EQ automatically tunes music to, I kid you not, the actual shape of your ear. This means that you get customized quality in the low and high frequencies, as well as the mid frequencies, which the originals were frankly kind of weak with. The Pros also have a transparency mode, which allows you to let outside noise in without having to turn your music off, making these earbuds better at isolating than the original AirPods, but more flexible than over ear headphones.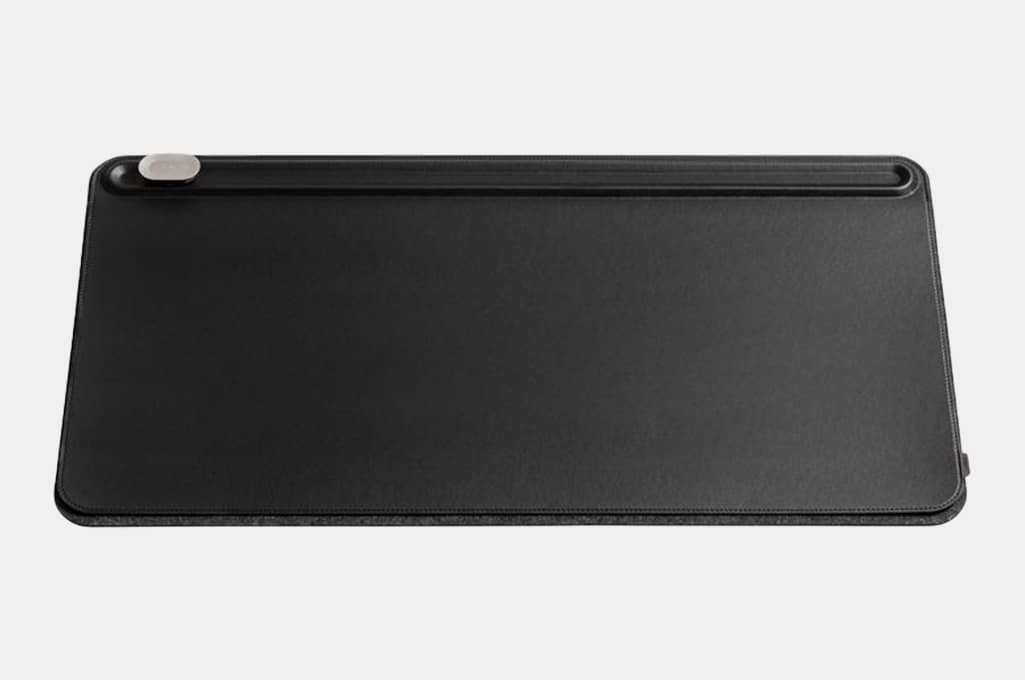 OrbitKey Desk Mat
The OrbitKey Desk Mat allows you to literally sweep your mess under the rug, but in an efficient and effortlessly organized way. We may live in a growingly digital world, but paper isn't dead, and this desk mat gives you an easy access yet out-of-the-way place for your most important loose notes and files. In addition to the document hideaway compartment, the vegan leather OrbitKey sports a magnetic cable holder for more desktop optimization. It's available in medium and large sizes.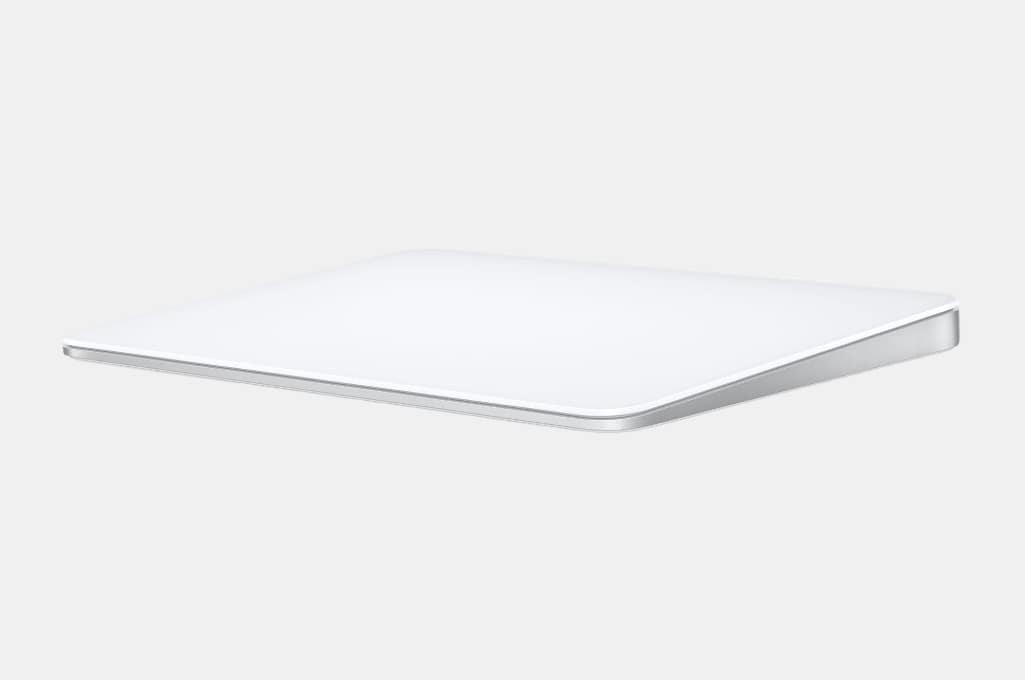 Apple Magic Trackpad
The Apple Magic Trackpad is one step away from that futuristic touch-screen in Minority Report. The sensors are so sophisticated, they can detect the most subtle and nuanced differences in the pressure of your fingers, literally empowering you with the magic touch. The Magic Trackpad gives your hands as much functionality and connection to your computer as a keyboard or a mouse. The edge-to-edge glass surface also provides you with a comfortable touch experience. Impressively, this trackpad lasts for a good month or more between charges.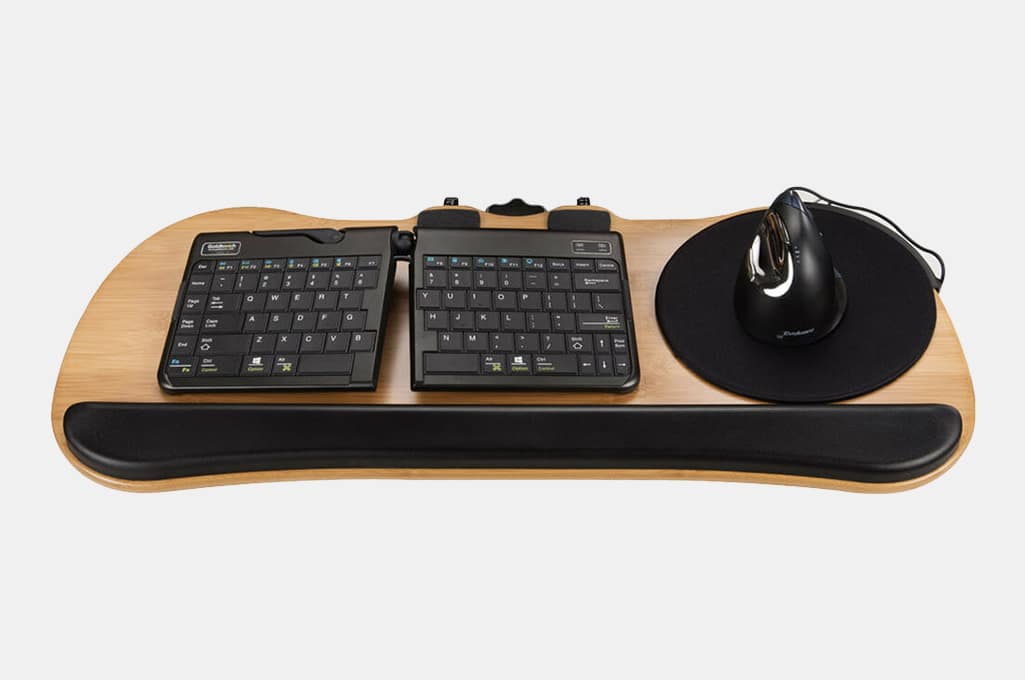 UPLIFT Desk Big Standard Bamboo Keyboard Bamboo Tray System
Despite living longer than our ancestors, working men of today experience back and shoulder problems at much younger ages. Unsurprisingly, part of the problem is where we place our keyboards, and the UPLIFT Bamboo Keyboard Tray System has come to the rescue. It boasts a roomy platform, a 360 degree swivel, positive and negative tilt, gel palm support for your wrists, and can be mounted on any desktop. It's made of sustainable bamboo giving it a modern and masculine look, all of it designed and built right in the good ol' US of A.
Courant CATCH:3 Essentials
Add a touch of (practical) class to that work desk of yours with the Courant CATCH: 3 Essentials. Wrapped in designer Belgian Linen, this case can charge your phone and hold your EDC items. It has a non-slip and durable construction despite its soft exterior, and fast wireless charging. The micro connector on my iPhone charger tends to get finicky after a while. This case helps me avoid that phase where I'm having to find the perfect position for the wire and my phone just to make sure they're connected. The Courant CATCH comes in a modern beige variation called Natural, a rugged and chic Charcoal, and a classy Camel shade.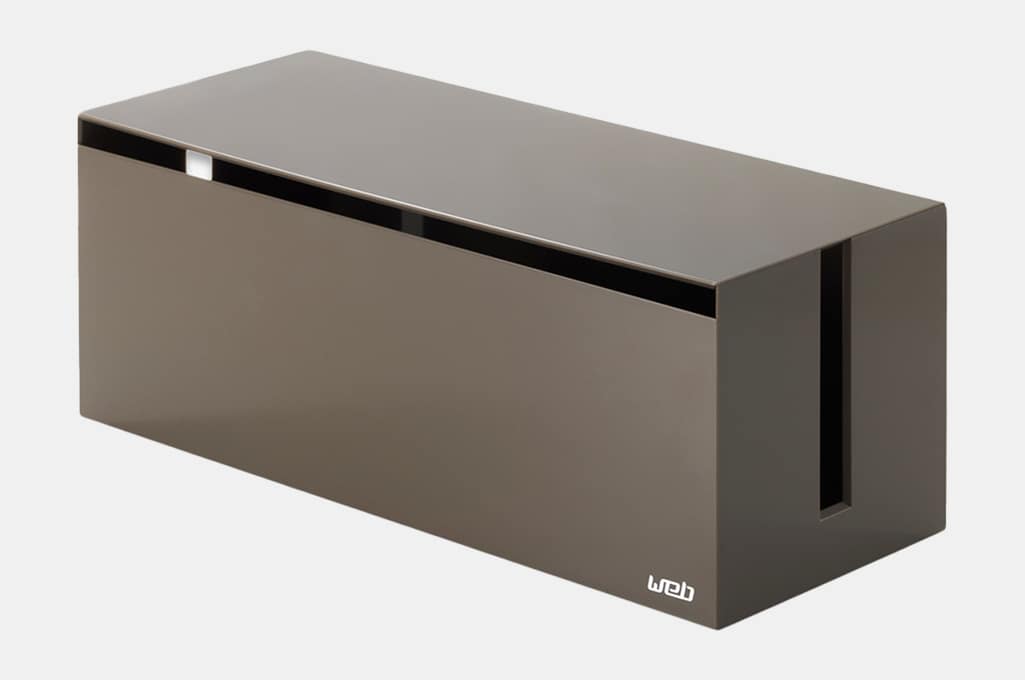 Yamazaki Home Cord Management Box, Grey
By the grace of Yamazaki, we no longer have to be subjected to the octopus cord tangle that has plagued our lives since the dawn of the computer age. Their Home Cord Management Box can hold a seven-outlet power strip. It features gaps on the top and sides so the cords can be neatly placed, while also being protected by dust and curious dogs and cats. Even if you aren't an organization buff, you can at least hide all those unsightly chords by just stuffing them into the box, plain and simple.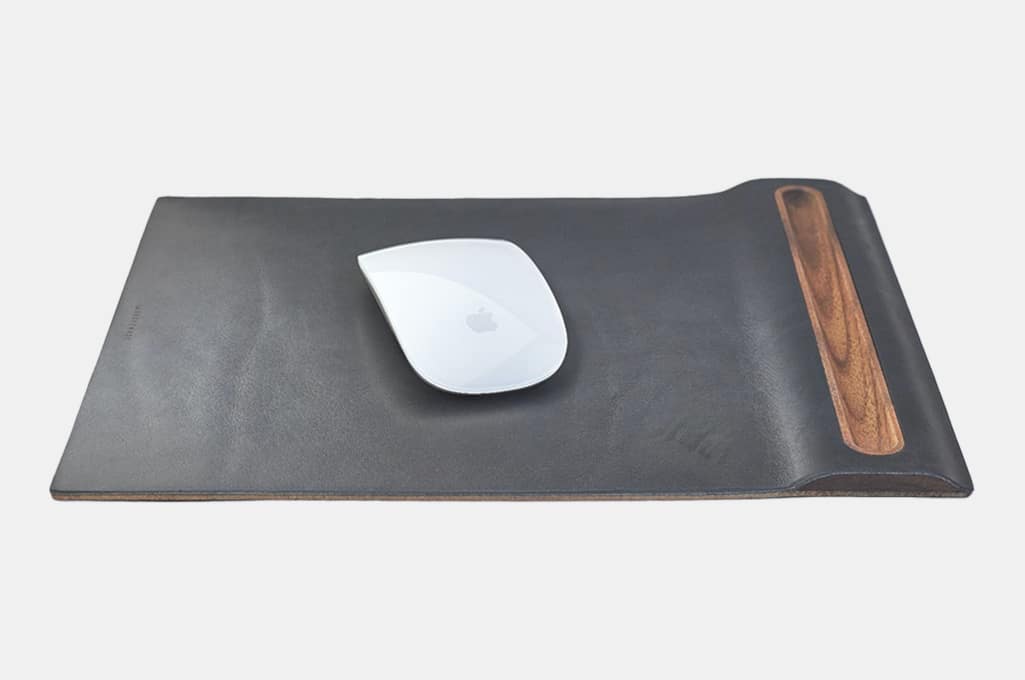 Grovemade Leather Mouse Pad
If you haven't upgraded from your company-provided free mousepad yet, it's time to do so in a big way. The Grovemade Leather Mousepad sports an exquisite and supple leather construction, vegetable tanned to perfection. This means the Grovemade Mouse Pad will last forever and just look better and better with age. The cork lining also provides comfort for your hand and wrist. Go for this classy mouse pad if you're trying to make your workstation look like that of a discerning grown man's.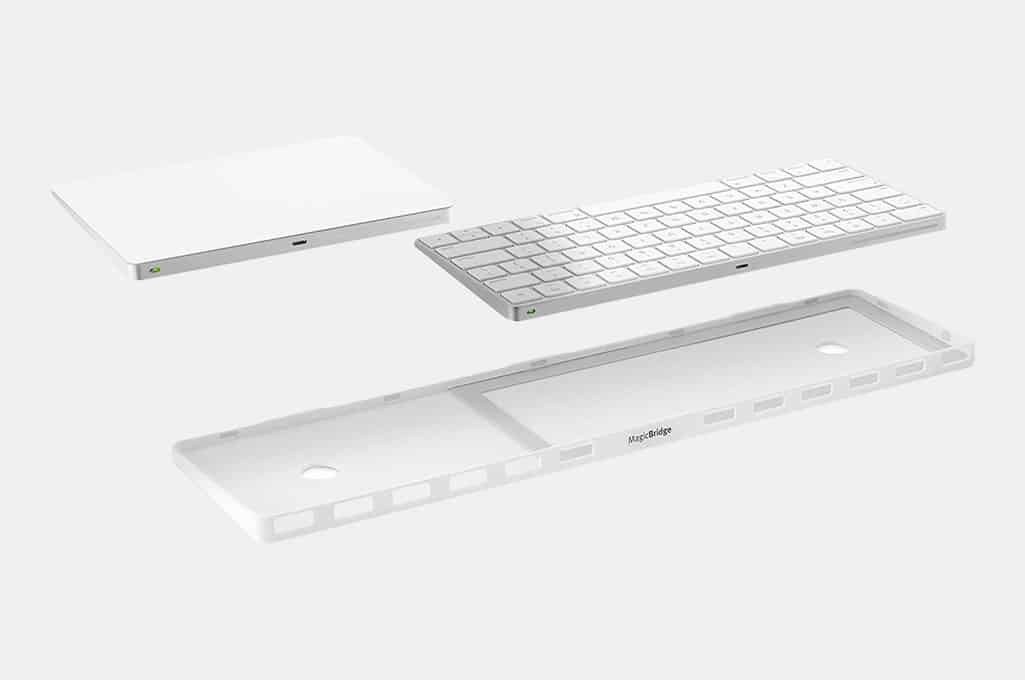 Twelve South MagicBridge
Make your iMac workstation as comprehensive as a DJ's turntable or Submarine's control panel with the Twelve South MagicBridge. It combines your keyboard and trackpad into a one-piece command center, making your space cleaner, sleeker, and overall easier to use. It's the control panel version of having two big screens. Ever versatile, you can actually use this guy on your desk surface or even on your lap.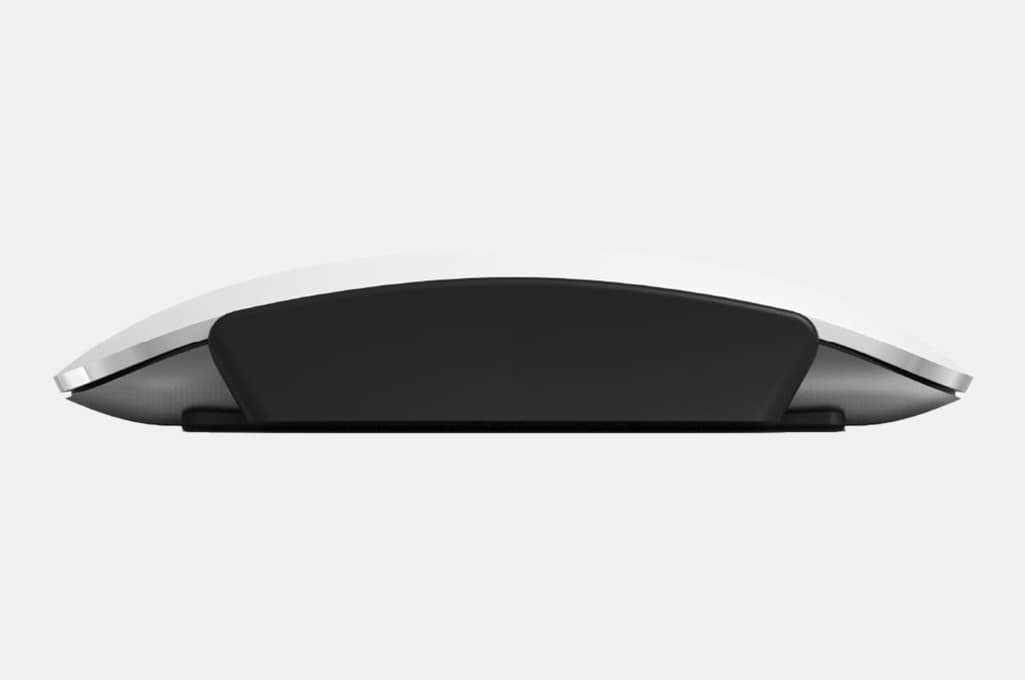 Elevation Lab MagicGrips
If you didn't know you could soup up your computer mouse, you've been mousing uncomfortably without even realizing it. By attaching the Elevation Lab MagicGrips to your iMac pointer, you expand and relax your grip. It provides widened concave surfaces to place your fingers, giving your hand much-needed breathing room. The MagicGrips are made of premium medical-grade silicone rubber and are fully ambidextrous.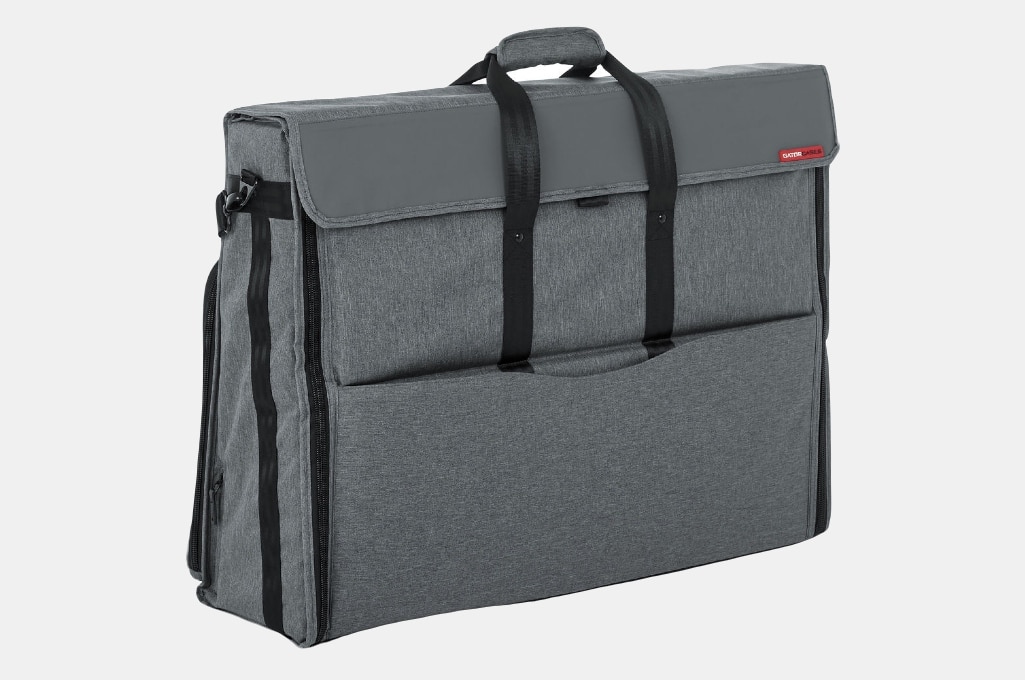 Gator Creative Pro 27″ iMac Carry Tote
Safely and stylishly take your workstation with you everywhere you go using the Gator Creative iMac Carry Tote. This padded nylon carrying case is designed specifically for the 27-inch Apple iMac. The dual zippers make loading and unloading your computer quick and easy, while the hard panel reinforcement in the front flap effectively protects your computer's screen. The iMac Carry Tote is water resistant and even has a rain cover, for those business trips to Seattle or the rainforests of South America. There's plenty of room and compartments in there for your cables and accessories too. And of course, you can carry it like a briefcase or a messenger, depending on your preference.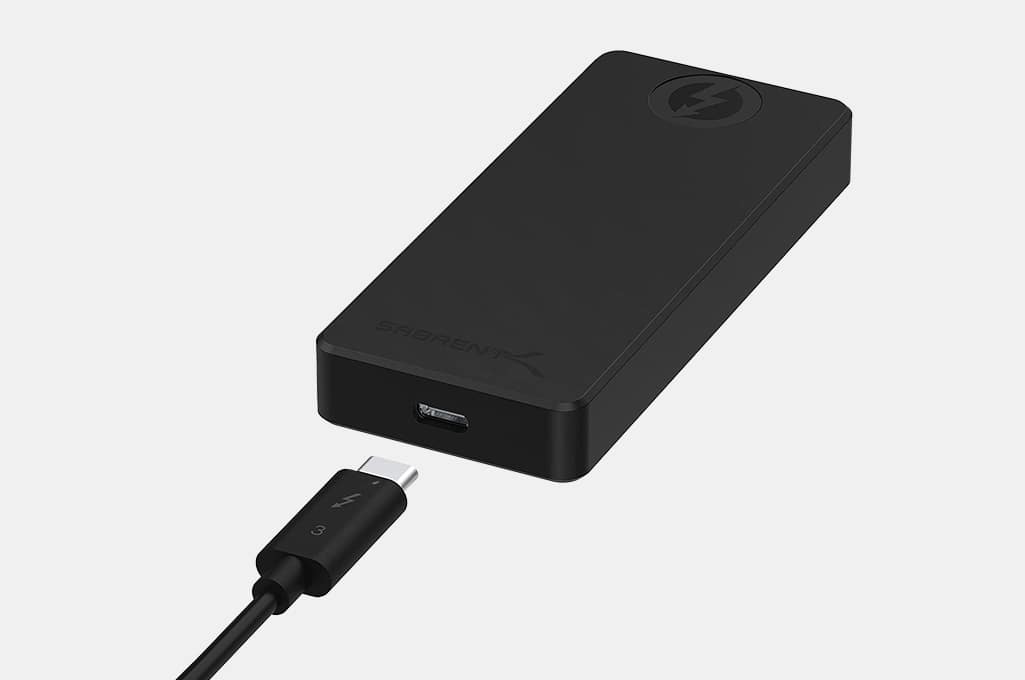 Sabrent Rocket XTRM-Q 2TB USB 3.2 / Thunderbolt 3 External
New sleek externals have gradually replaced the clunky stone-age (aka early aughts) harddrives of the past. However, the Sabrent Rocket Thunderbolt 3 has fully rendered them a distant memory, leveling up capacity and compactness like never before. The XTRM-Q 2TB USB 3.2 boasts a whopping USB transfer speed mode of up to 900 MB per second, and up to 2700 MB for Thunderbolt 3 mode transfers. This smart little machine automatically detects USB or Thunderbolt 3 Connections, and all you have to do is plug and play. No external power supply necessary. It features a durable aluminum construction, and an integrated health monitoring system.
Disclosure: Clicking on these links and making a purchase may earn us a small referral fee, at no extra cost to you. Learn more here.