10 Best Crewneck Sweatshirts
For versatile layering potential, rugged style and classic looks, it's tough to top one of the best crewneck sweatshirts for winter. With roots dating back to their use as athletic and gym wear, today's crewneck sweatshirts have received significant updates in terms of their fit, styling potential and design.
Plenty of brands you already shop are likely making a great crewneck sweatshirt — and possibly several variations on the style. It's the ideal mid-layer you need for winter, and that goes for whether you wear it atop your favorite chambray shirt or a thermal long-sleeve tee, or beneath a slim topcoat or denim jacket.
The styling potential is unmatched, and there are quite a few great options on the market — we picked our 10 favorites below, so shop on and wear away with broken-in denim, slim chinos … it's all fair game.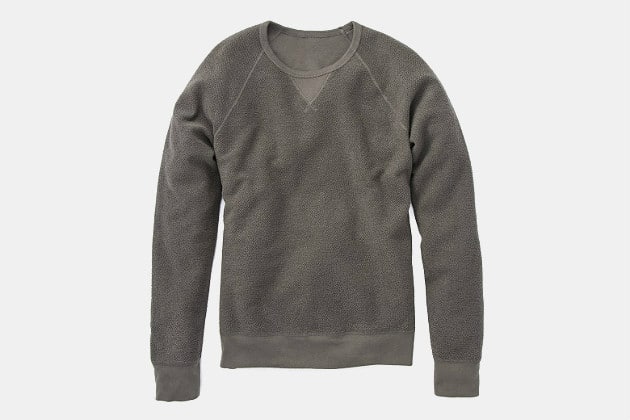 Flint and Tinder Reversible French Terry Sweatshirt
We start off our look at stylish crewneck sweatshirts with a unique, made-in-America option from Huckberry. First off, it's reversible — that's two sweatshirts for the price of one — with a loopback French terry on one side and a classic sweatshirt face on the other. Second off, the versatile Olive Gray color should stand out nicely alongside everything from navy chinos to dark denim. And next up — the price is agreeable and you're getting plenty of styling potential for the chilly end of winter ahead. What's more, the flatlock stitching provides a clean finish — the only touch you need to ensure this sweatshirt looks great. – $68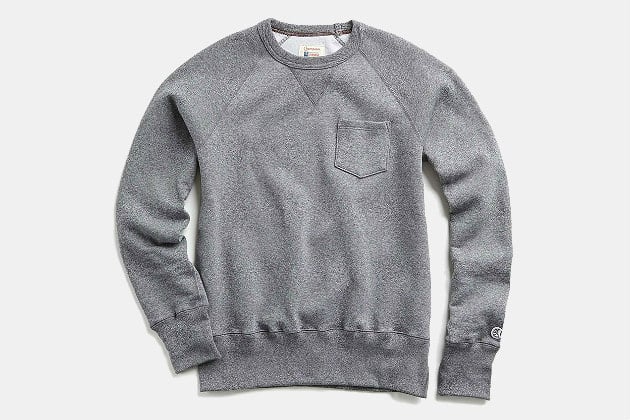 Todd Snyder + Champion Classic Pocket Sweatshirt
If there's any one brand that knows how to make a great crewneck sweatshirt, it's Todd Snyder. Thanks to the designer's love of retro style and sportswear classics, his ongoing partnership with Champion continues to be a hit, year after year. Take this sweatshirt — it's so simple and well-designed that you can wear it under a navy suit (trust us), or over your favorite chambray shirt with slim khaki chinos. This classic silhouette provides, in short, truly classic style. It's available in a range of color options, but this salt-and-pepper iteration gives you versatility that works seven days a week. – $98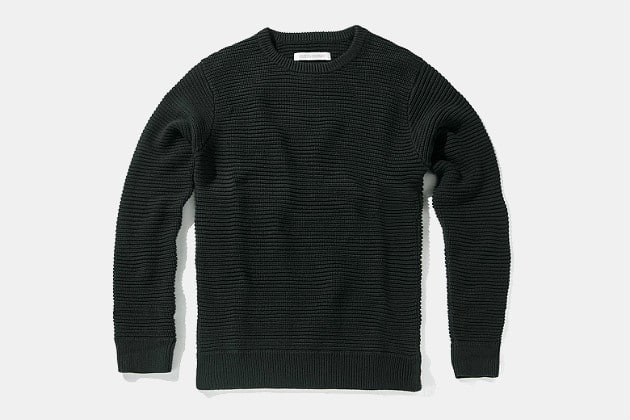 Outerknown Jetlag Crew
Brands that speak to both those who surf and those who explore seem to be somewhat rare. However, Outerknown has been bridging that gap handsomely, effectively and with functionality and style in mind. The Jetlag Crew blends alpaca and cotton for a unique sweatshirt feels soft, fits well and looks great — that goes for wearing occasions off the slopes or just out of the water. The horizontal cardigan stitch pattern also sets this sweater apart (fitting given the brand name), and it'll surely look stylish and rugged atop either your best pair of burgundy corduroys or your favorite pair of broken-in denim. – $228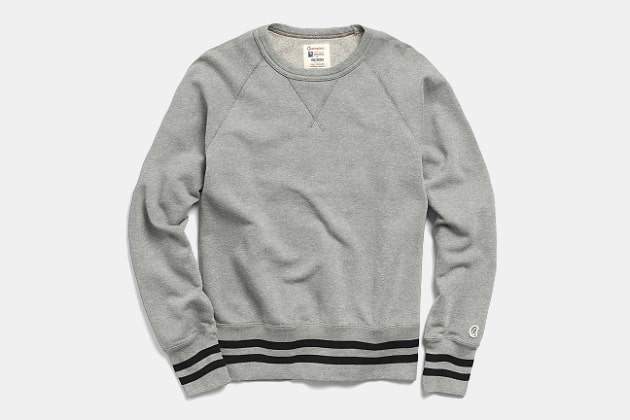 Todd Snyder Mr. Porter Collaboration Crewneck Sweatshirt
Leave it to Todd Snyder to once again deliver when it comes to an excellent crewneck sweatshirt. This time, we're talking about one with a more high-fashion bent, but regardless. The lauded American designer teamed up with Mr. Porter on a special collaboration crewneck that plays off 1950s styling via tipped details that add a bit of handsome refinement to a sport-inspired silhouette. It's the rare type of crewneck sweatshirt you could wear with tailored glenplaid trousers as easily as worn-in denim — and that's a very good thing if you want to upgrade your winter layering game in the weeks ahead. – $145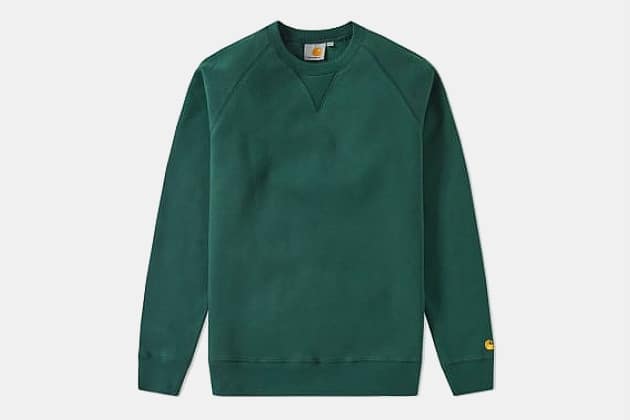 Carhartt WIP Chase Crew Neck Sweatshirt
Although Carhartt is normally known for its rugged outdoor gear and workwear, the brand's Carhartt WIP line takes a decidedly more fashion-centric focus. Don't let that scare you away, however — the Carhartt WIP Chase Crew Neck is every bit as wearable for a Saturday of yard work as it is for a Saturday night at the bar. Made with classic French terry, the rich green (or Fir) colorway in particular is a unique, winter-centric color. It would team stylishly with a dark brown leather jacket and your favorite jeans for casual style situations galore, whether heading out on a casual date or hitting up happy hour. – $78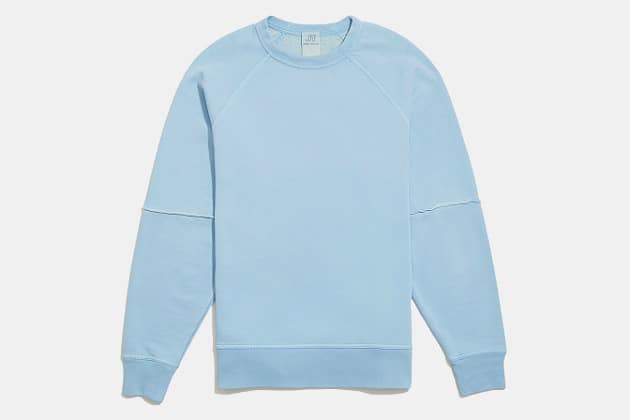 JackThreads Washed Sweatshirt
If a great deal – and a bit of spring color — is what you seek when shopping for a crewneck sweatshirt, have we got a solution for you. In a cool shade of washed, garment-dyed blue, this slim-fitting fleece sweatshirt from JackThreads is the right way to step toward spring style without being too chilly in winter. Because the color stands out so nicely, it's perfect to team with slim khaki chinos and brown leather sneakers for easygoing everyday style — and because it comes from JackThreads, it's an absolutely great deal you won't regret grabbing now and wearing later. – $30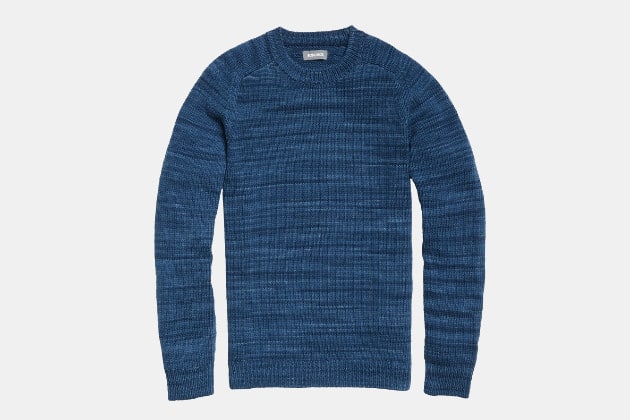 Bonobos Italian Cotton Crewneck
Bonobos is becoming a go-to for all manner of menswear, and that goes well beyond the brand's slim, essential chinos. Now, they've got a full run of apparel to match, and that means your next crewneck sweatshirt might arrive in the same package as your favorite pair of chinos. In particular, the brand's knitwear is luxurious, yet affordable and accessible. Made from space-dyed Italian cotton, it's a unique shade of blue that sets itself apart from other sweaters you've got in your rotation. Yes, the next chance you get to wear a navy sweater with a classic white Oxford, make it this one. – $198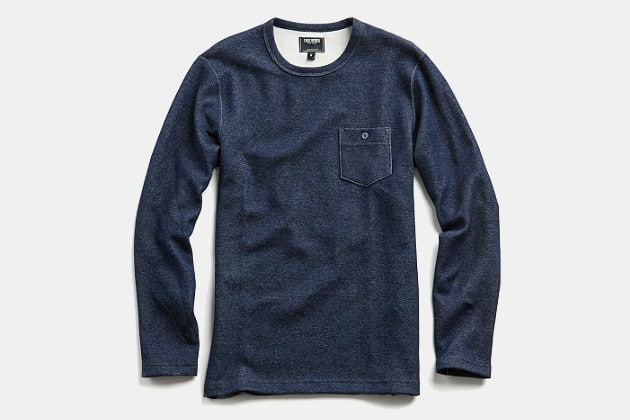 Todd Snyder Indigo Lightweight Sweatshirt
Before you hit 'Purchase' on those items in your shopping cart via Todd Snyder, consider adding one more handsome, versatile piece. It's starts with the versatile, luxurious and unique indigo-dyed Japanese double knit (some of the best stuff around). And its style points get another big boost thanks to the reliable silhouette, the chest button pocket and the contrast trim.This is the type of sweatshirt to layer up with your favorite bomber jacket and wear to Sunday brunch again and again. It'll serve you just as well on breezy spring days as it will during the chillier climes of winter when layered with a shearling bomber jacket. – $138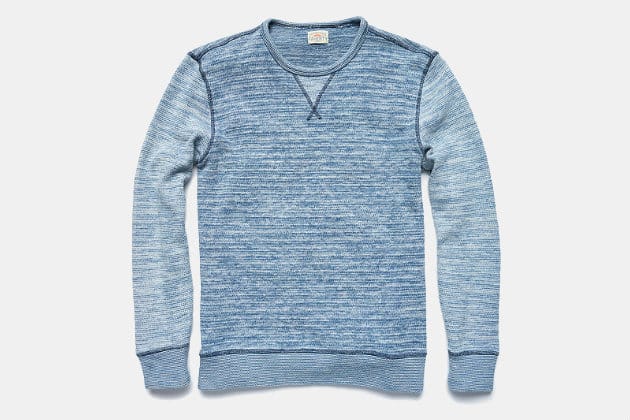 Faherty Brand Ocean Crew Sweater
Faherty Brand takes classic silhouettes and injects them with its own brand of laidback cool. Be it unique textures, eye-popping colors or a little of both, the results are definitely wearable and quite stylish. Take the Ocean Crew Sweater — like other entries on this list, it takes a winter-friendly silhouette and shakes things up with lighter color normally found in spring and summer. The standout color and texture means you can wear it now with dark denim, and then throughout transitional spring and summer seasons with ease — and because it's sold via Huckberry, you know you're getting a quality product, guaranteed. – $117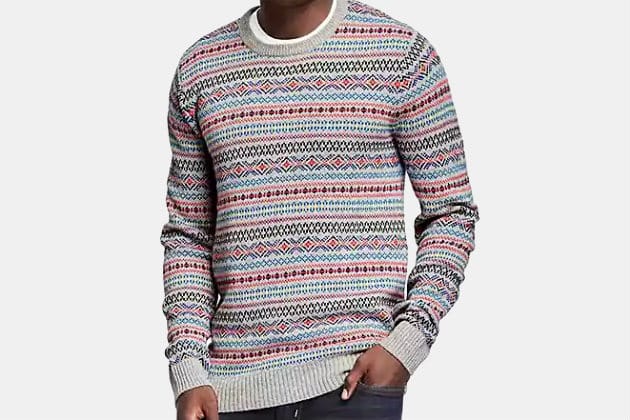 Old Navy Fair Isle Crewneck Sweater
Add Old Navy to your shopping list now, and do so quickly. The brand continually gets better, and that's remarkably true from its stylish chambray shirts to its slim denim and pieces like this Fair Isle crewneck sweater. It's available right now for a great deal, but it likely won't last long. It's a pattern that feels both Alpine-inspired and yet home in the city or the country, especially when you team it with other outdoor essentials (think a waxed field coat or a belted cardigan for extra warmth). Buy it now and wear it with your favorite Oxford for warm, comfortable style moments aplenty. – $39