The 25 Best Men's Swim Trunks
Heading to the beach or pool is now a time that's no longer an afterthought. That is, it's no longer an excuse to look sloppy — that starts with wearing a better T-shirt (try a slim V-neck tee, for starters), and it rolls right on through to the most important part of the equation. Namely, we're talking stylish swim trunks that help, not hurt, your sense of style — or at the very least, serve a utilitarian function for surfing or swimming.
There are brands that offer up tried-and-true takes on the swim trunk, there are picks here that offer maximum coverage and functionality for water sports, and there are swim trunks that just look plain stylish — never a bad thing, even when off-land. In fact, the most stylish swim trunks should probably wear a bit more like shorts — that is, cut to look great when in the water, and fit to be able to wear at a dockside meal or on the patio once your time in the water is done.
As with other style-minded ventures, our picks of the best men's swim trunks reflect a variety of price points, too. Shop on, and enjoy your time in the sun.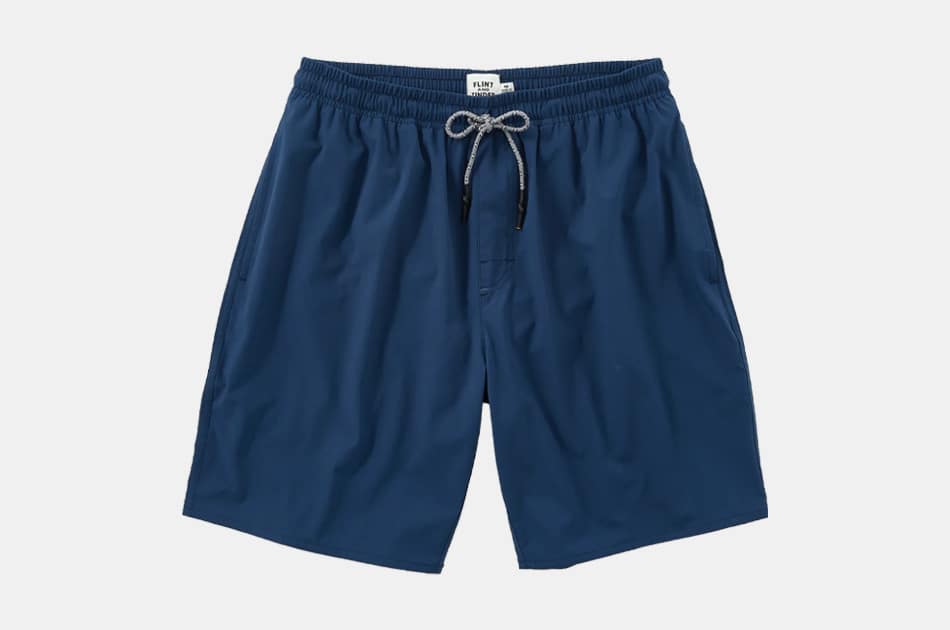 Flint and Tinder Breaker Trunks
First, Flint and Tinder perfected the zip hoodie. Then, they took on everything from canvas jackets to rugged denim jeans. Now, add the Breaker Trunk once again to that list. These in-demand swim trunks are now back in the Huckberry store, this time around with the addition of a touch of spandex, which renders them even more lightweight while providing a comfortable, all-day 4-way stretch. They're quick-drying and performance-ready, as you might expect, and they feature side seam mesh pockets to keep you moving easily. Throw in the tailored cut of these trunks, and you can rest easy knowing you're lounging poolside in style.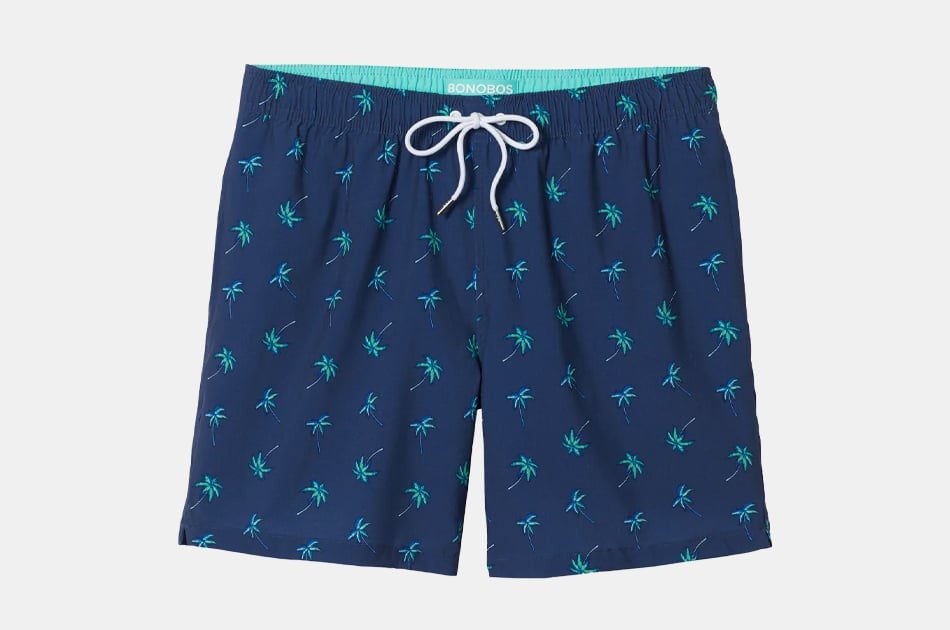 Bonobos Riviera Recycled Swim Trunks
For when it's time to step out of your slim Bonobos chinos and into something more comfortable and pool-ready this summer, you know where to go: Right back to Bonobos, of course. The lauded brand has taken the same attention to detail that makes its colorful chinos so essential, and simply translated it into a fun, easily wearable pair of swim trunks in a tailored cut. Add your own accessories (stylish sunglasses and perhaps a cold beer), then get ready to soak up the sun.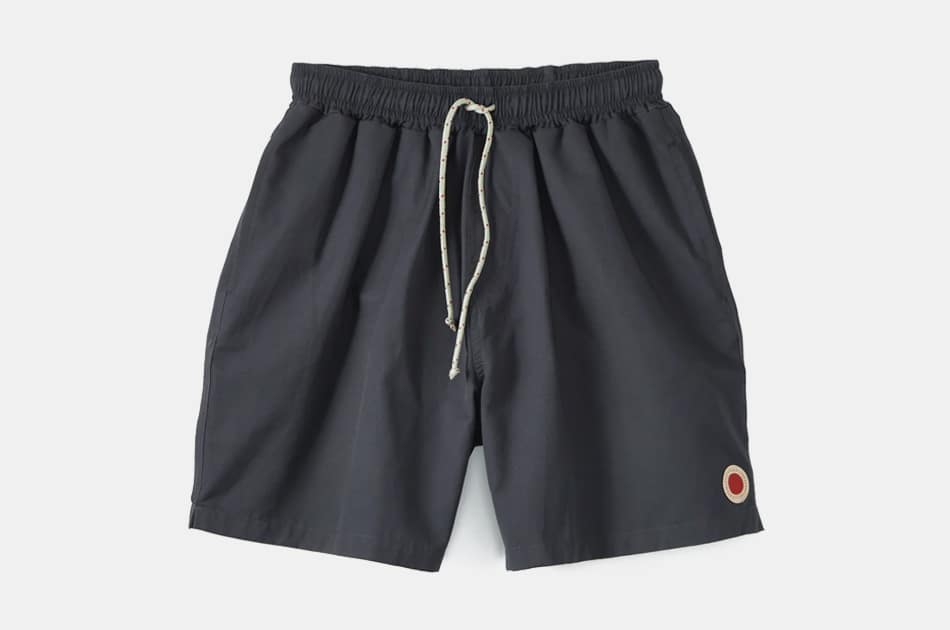 Mollusk Vacation Trunks
It's not a vacation (or staycation) without the right swim trunks to make the days a sunny and enjoyable haze, so that's where the Mollusk Vacation Trunks enter the equation. Simply designed and affordably priced, every guy needs a pair of classic swim trunks that deliver on quality, fit, comfort and style — just like these ones happen to do. While you're shopping the digital pages of Huckberry, consider getting a growler or some stylish slip ons, too.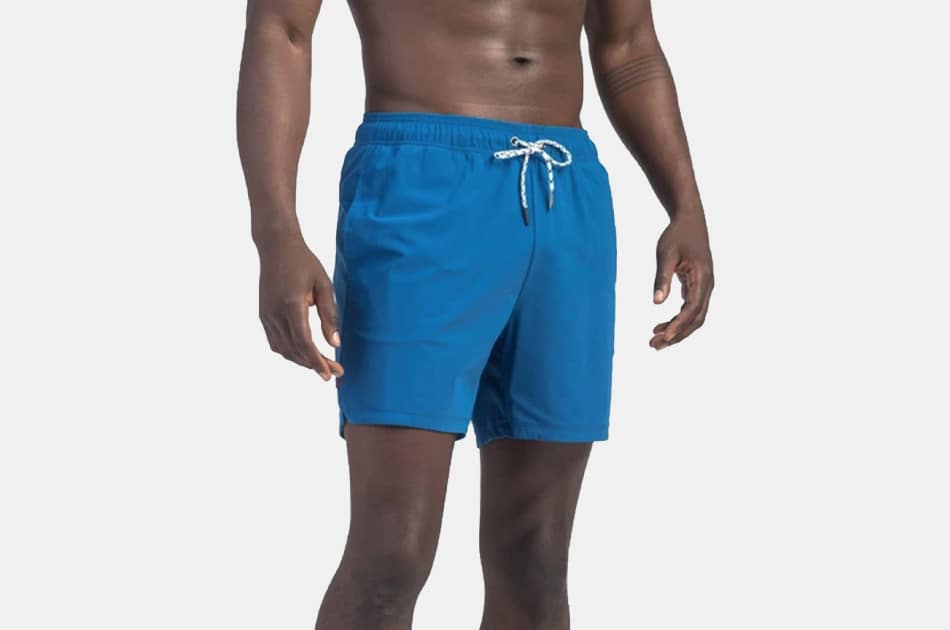 Rhone 6″ Fletcher Swim Trunks
As with other brands on this list, it's quite helpful — and these days, essential — that you can switch from one set of gear to another while keeping the same brand in your rotation. In this instance, we're talking about Rhone's stylish and functional athletic gear, complemented nicely here by some cool down-ready swim trunks in a 6-inch cut designed for a tailored look to show off your training sessions.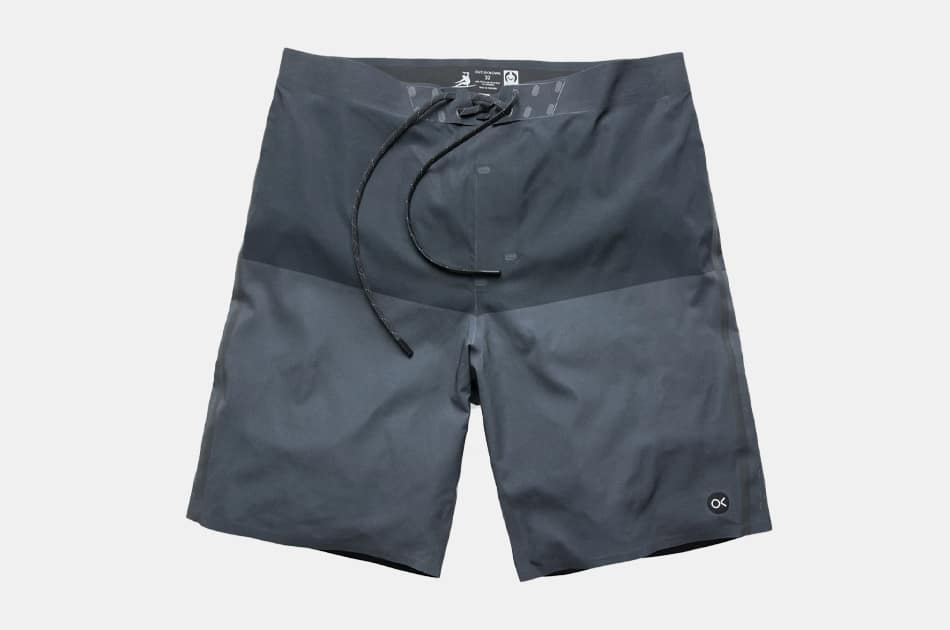 Outerknown Apex Trunks By Kelly Slater
What better place to start your search for your new favorite pair of swim trunks than with a pair crafted by none other than legendary surfer (turned fashion aficionado) Kelly Slater? Together with the help of standout designer John Moore, Slater has come up with Outerknown, a brand that consistently impresses us for its functionality, style and sustainability – we certainly think you're getting all three in spades with the Apex Trunks. Take it from the legend himself, will ya?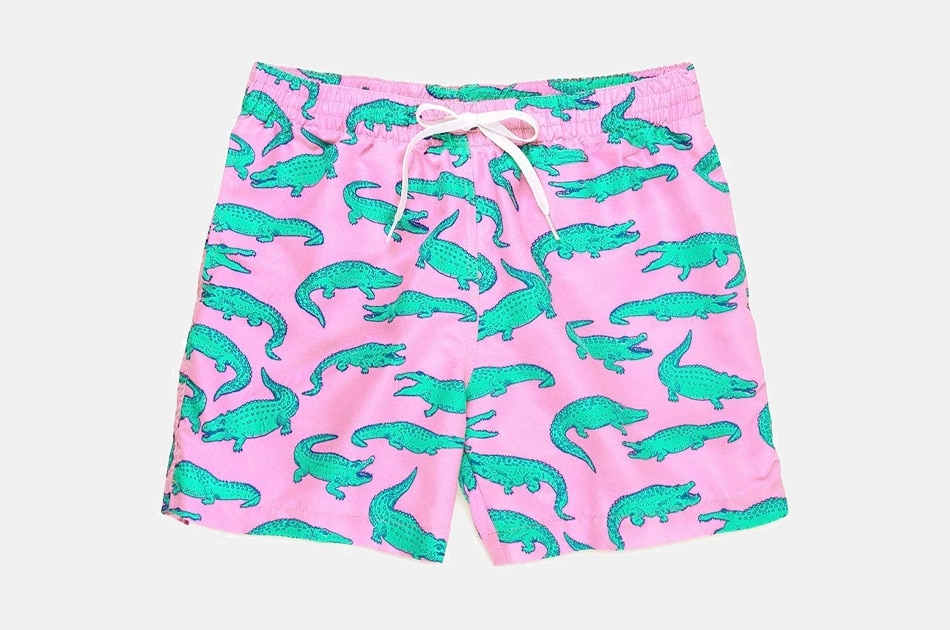 Chubbies The Glades 5.5″ Stretch Trunks
Chubbies offers up style that's instantly recognizable and not for the faint of heart. The Glades fit that bill quite neatly, with a short inseam and the type of looks guaranteed to turn heads at your local pool or beach. To style these the right way, opt for a simple, crisp white summer T-shirt and premium leather sandals — the Chubbies Glades trunks can definitely do the rest of the talking for you. The best part? You get them for an accessible price, with cash left over.
Olivers Apparel Zuma Trunk
Classic with plenty of performance thrown in the mix, Olivers Apparel is now looking to outfit you for your time off-land just as readily as the brand delivers when you're on the boardwalk (and in the city). We love the brand's functional tees and comfortable, stretchy and stylish shorts, and we're sure the Zuma Trunks are no different – the navy-and-white color combo is sharp, too. Some of the best men's swim trunks to buy right now? Assuredly.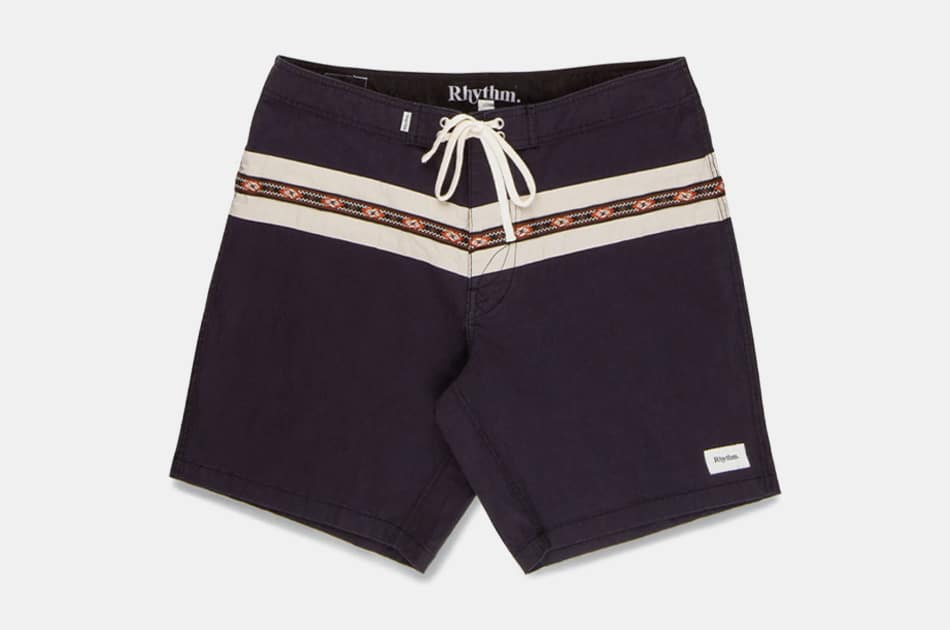 Rhythm Trim Trunk
These days, it's pretty neat — and very stylish — that swim trunks happen to be cut a heck of a lot more like your favorite chino shorts than baggy swim trunks of years past (believe us, we've all been there). The Rhythm Trim Trunks nicely symbolize a new era of stylish swimwear, complete with a cool navy-and-white stripe design and a very agreeable price.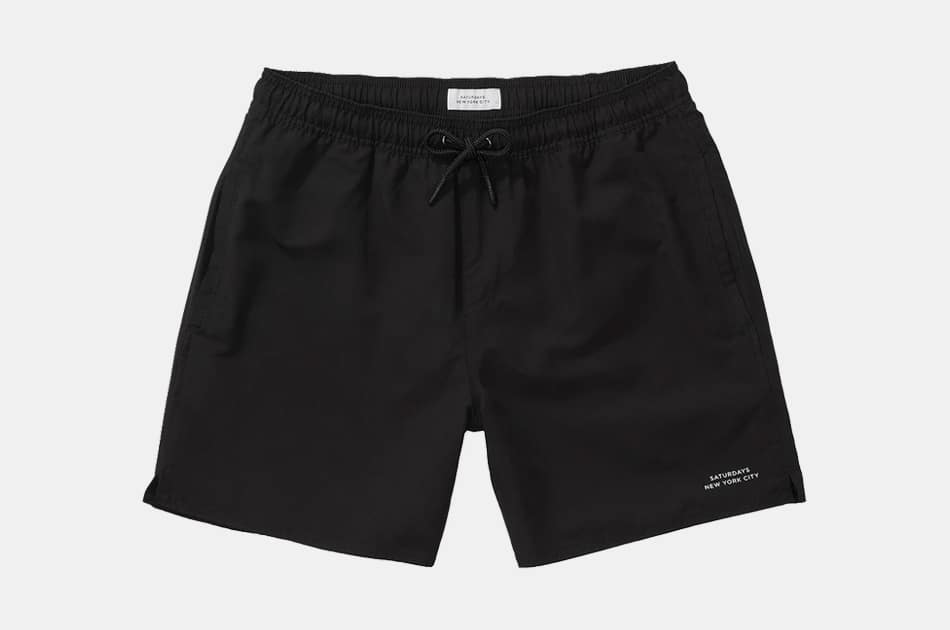 Saturdays NYC Timothy Solid Swim Short
When you feel like your swim trunks could use a major upgrade, one that's going to last you for seasons to come, there are certain brands that should become a go-to — take Saturdays NYC, for example. Founded in the unlikely surfing haven of, you guessed it, NYC, the brand now makes sleek, unique contemporary menswear for the man who values classic silhouettes and modern flair. Take the Timothy Solid Swim Short, made with a minimal logo and available in simple colors like bright yellow or a neutral black — perfect for throwing on with a tank top to get some sun and grab a beer.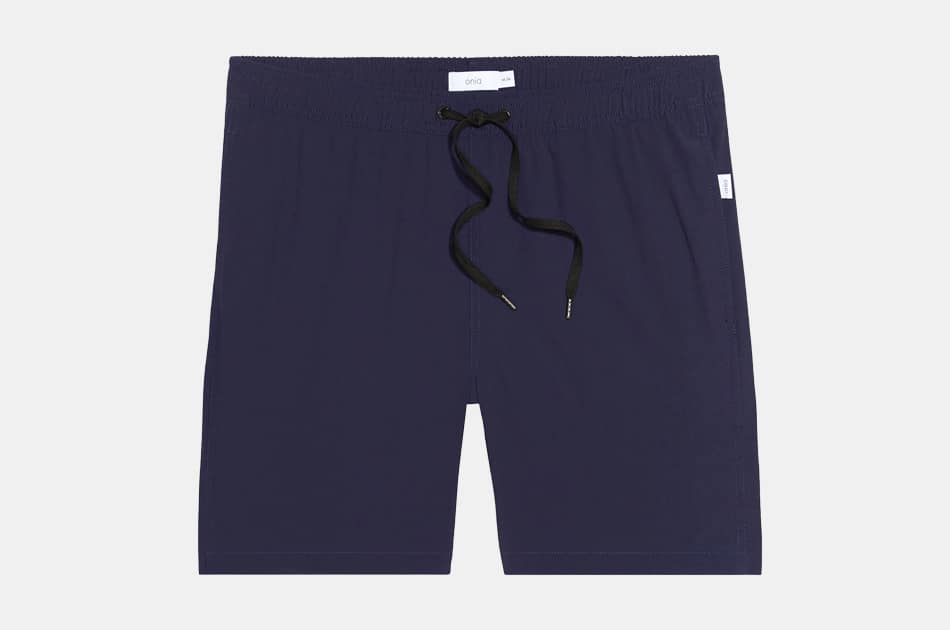 Onia Charles Swim Trunks
There are times where you need swim trunks that can take on anything, and do it reliably and stylishly. For all of those times — which tends to happen in the summer — the Onia Charles Trunks should be your go-to. In a range of solid colors and featuring an accessible price, the navy color is our favorite for teaming with a striped white tee or a red tank top. Finished with nickel hardware and made from a stretchy nylon blend, the Onia Charles Trunk is ideal and understated.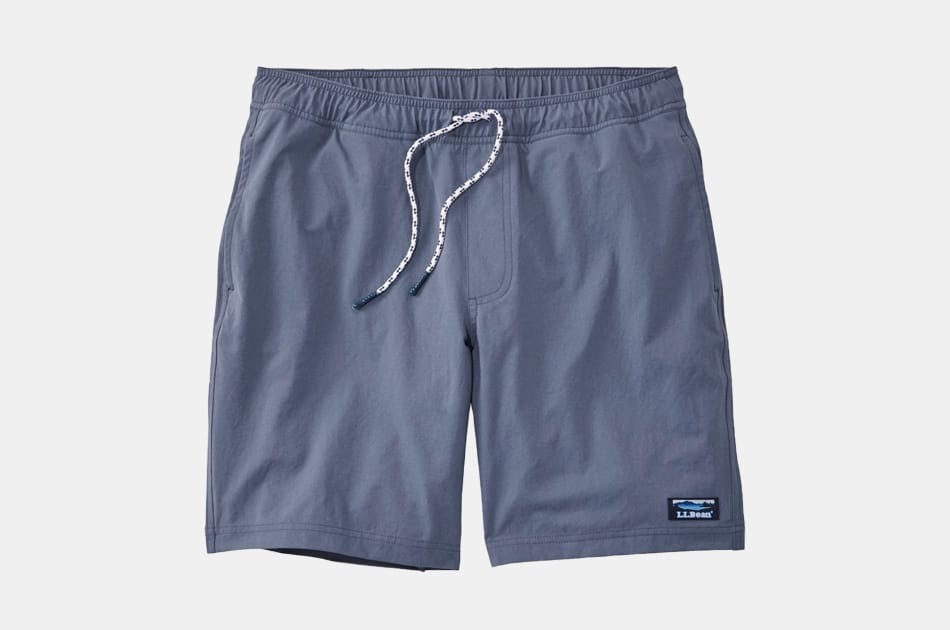 L.L. Bean Men's Vacationland Stretch Swim Trunks
That's right — L.L. Bean doesn't just specialize in making some of the best men's boots for winter. They've got a whole lineup of spring and summer style staples, including the aptly named Vacationland Stretch Swim Trunks, the ideal pair to take to your next weekend lake getaway. We love the Vintage Indigo color and the agreeable (sub-$50) price tag.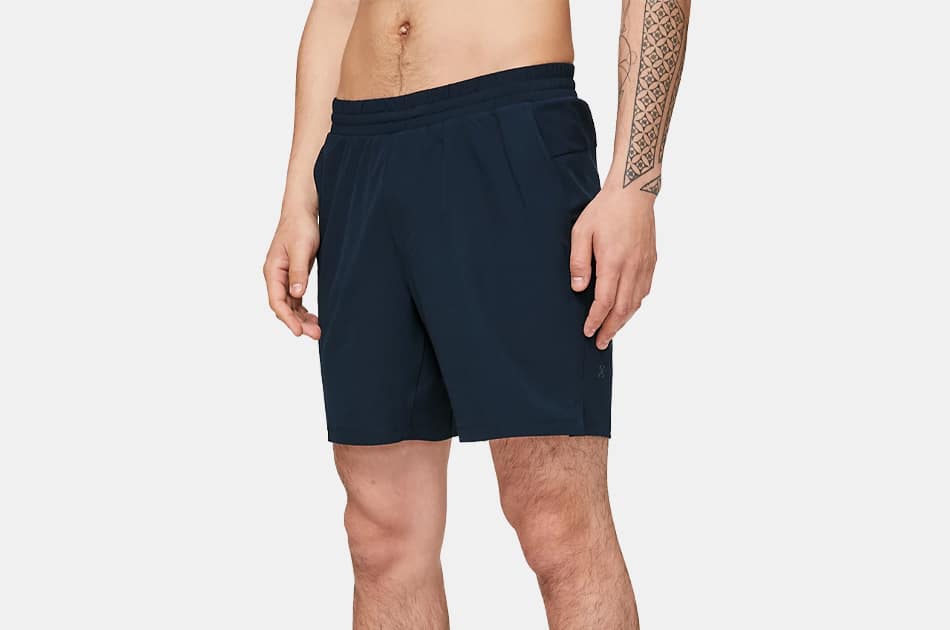 Lululemon Channel Cross Swim Short
Just as with some of our other favorite brands on this list, it's helpful to be able to stock your wardrobe with plenty of gear from the same dependable, stylish and functional brand — a brand like Lululemon, at that. The Channel Cross Swim Shorts are some of the best men's swim trunks to throw on when you want to take a refreshing cool down swim after your workout (powered by Lululemon gear, at that), and the high-performance fabric is also going to serve you well when you want to shift your workouts to the water.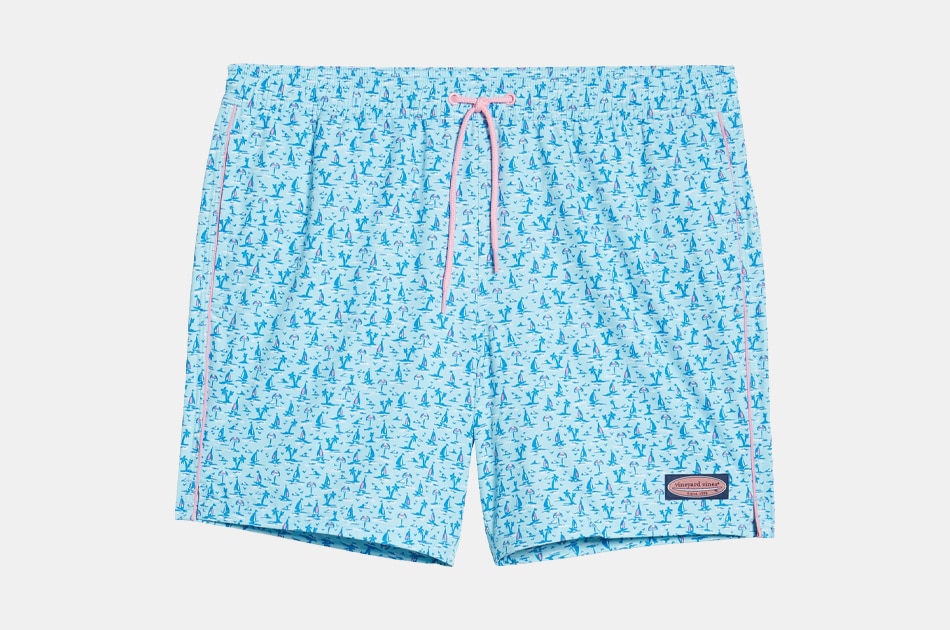 Vineyard Vines Chappy Swim Trunks
Some brands just scream spring and summer style to us, and Vineyard Vines is certainly one of those brands — its bright, colorful polos and shorts are the epitome of coastal style, and you'd do well to add some Vineyard Vines swim trunks like these to your weekender bag the next time you can get away.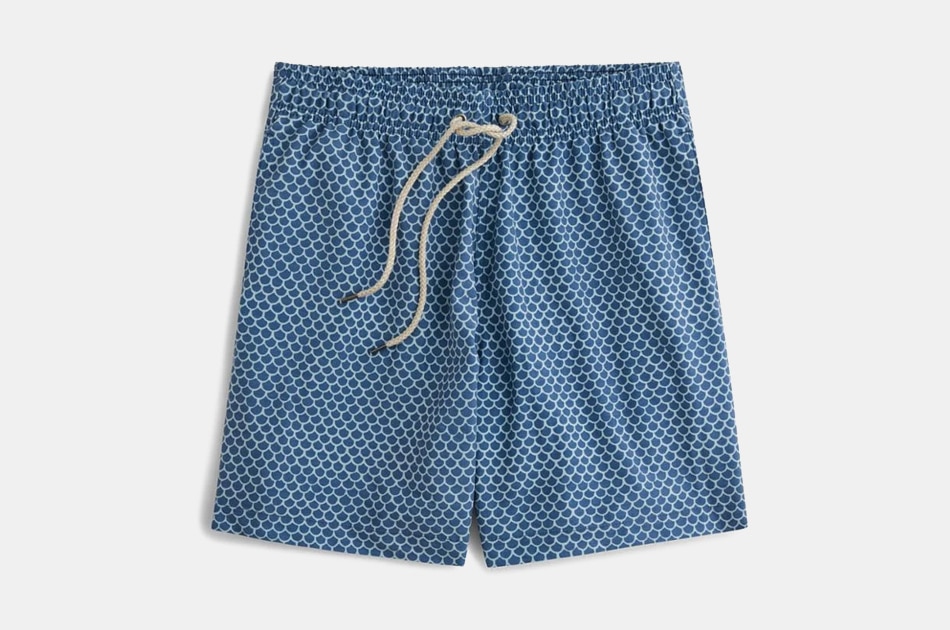 Faherty Beacon Trunks
The good folks at Faherty Brand specialize in making the sort of menswear that looks great just about anywhere — but especially on or around the water. Be it the brand's breezy shirts soft henleys or exceptional poncho sweaters, Faherty is always making gear with a laidback coastal ethos in mind — so it goes with the Beacon Trunks, which could just be your new favorite swimsuit this season.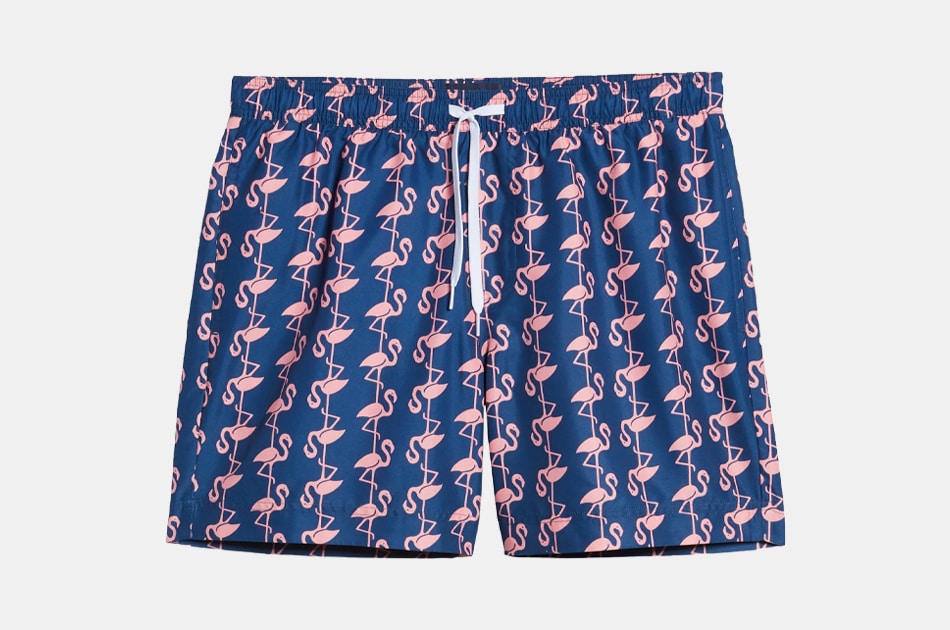 1901 Swim Trunks
Finding a quality pair of swim trunks means you've got to know where to look to start your search — and what better place to look than lauded retailer Nordstrom? The retailer's in-house brand (named for the year Nordstrom opened its first store) knocks it out of the park with these stylish, subtly functional swim shorts for summer.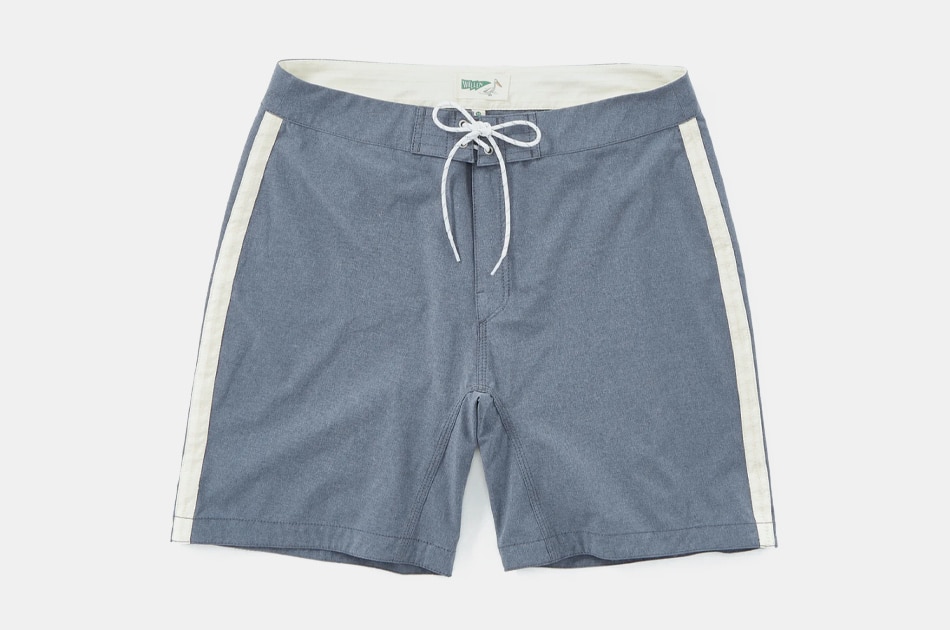 Wellen '66 Stretch Boardshort
When the good folks at Huckberry turn their attention toward crafting a new in-house brand, you can rest assured the results are going to be stylish, rugged and highly detailed. In the case of Wellen, that means using organic and sustainable fabrics to deliver easygoing warm-weather staples — such as your new favorite pair of swim trunks. The retro-inspired '66 Stretch Boardshorts cover every base when it comes to the best new swim trunks.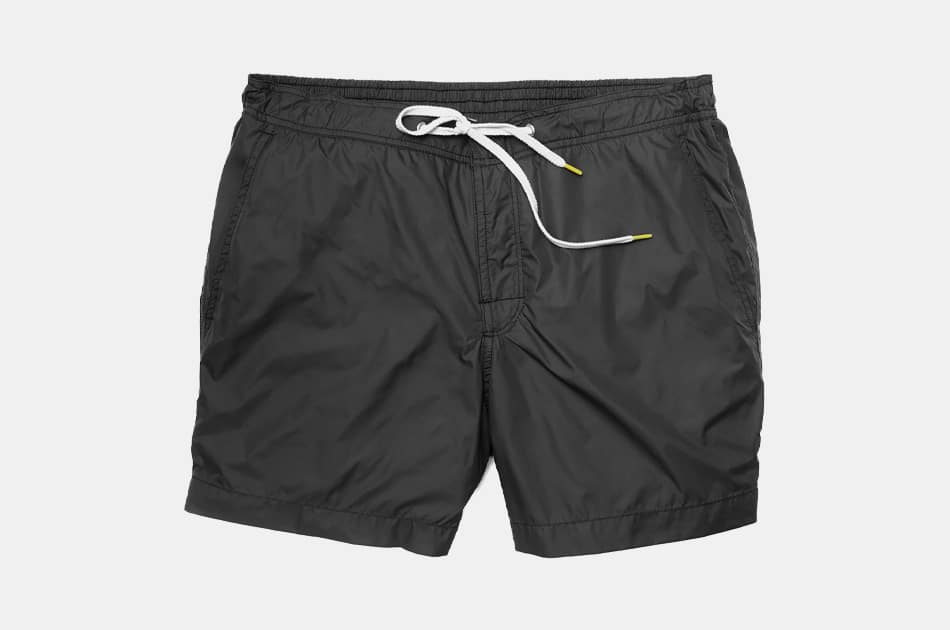 Hartford Kuta Swim Trunks
The iconic Kuta Swim Trunks by Hartford deserve a spot in your suitcase this summer before heading to the beach or your backyard pool. These trim-fitting nylon trunks are nearly as expertly tailored as your favorite shorts, all the better to wear from the beach to the boardwalk, and then to the bar without missing a beat. The cut and execution is simple, and while the price is certainly on the high end for swim trunks, it's worth it. They're sure to last many summer seasons in the surf as well as poolside — all while only looking better with age.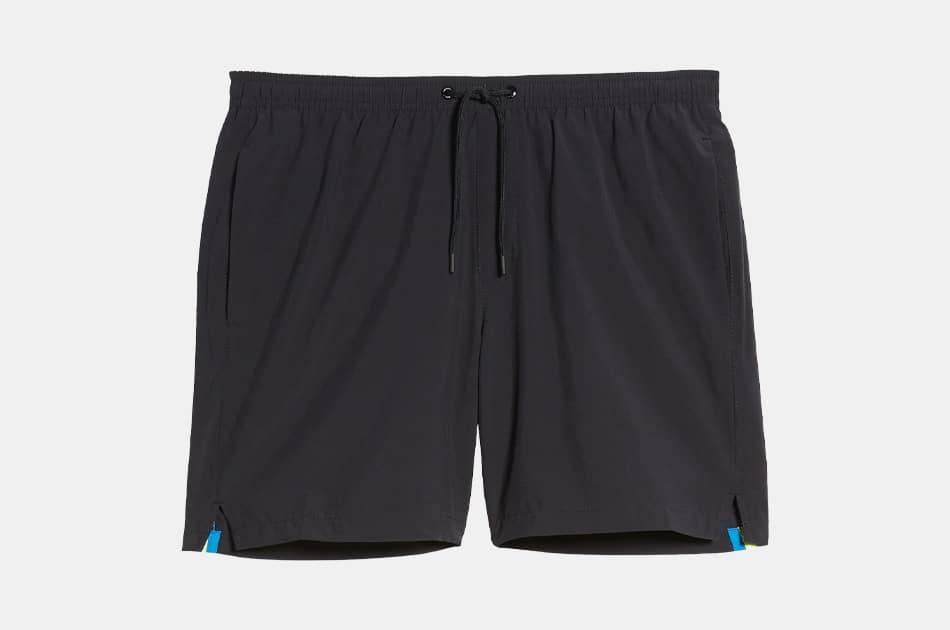 Sundek Back Stripe Volley Swim Trunks
The best swim trunks for men work at the beach, at the pool or on the boardwalk — but that means they've got to meet a few crucial criteria first. The fit should end above the knee for maximum style, the color options should be neutral and versatile, and the ideal swim trunks should be durable, too. Luckily for style-minded shoppers like yourself, the Sundek Back Stripe Volley Swim Trunks take care of each of those criteria handily.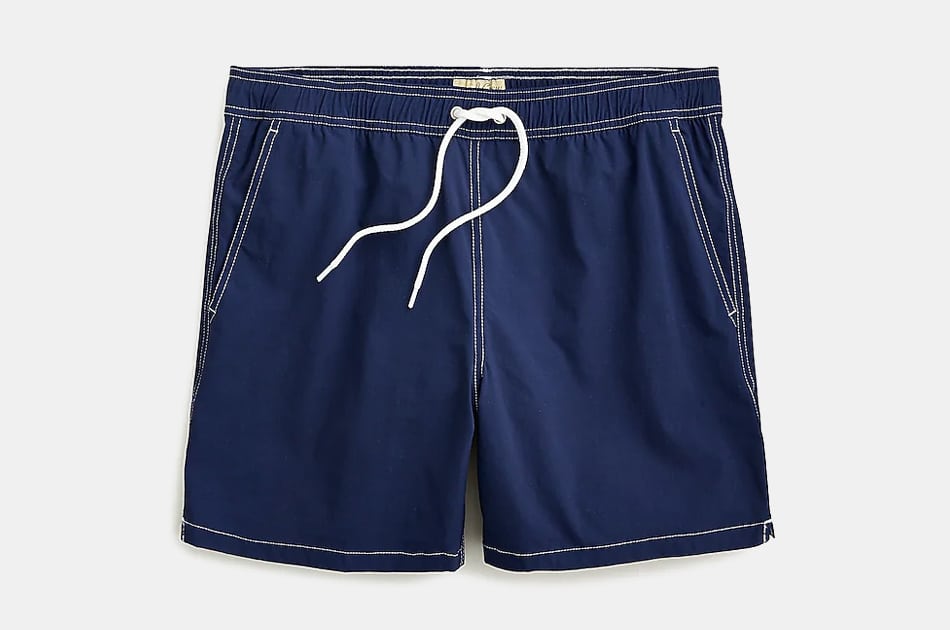 J.Crew 6" Stretch Swim Trunks
If you shop J. Crew frequently, you know the brand can really do it everything quite well for the modern, well-dressed man – a guy like you, that is to say. From suiting to garment-dyed tees to gear like the 6" Stretch Swim Trunks shown here, they've still got you outfitted from head-to-toe. For your next beach vacation, we'd recommend outfitting yourself accordingly with these stylish, modern trunks.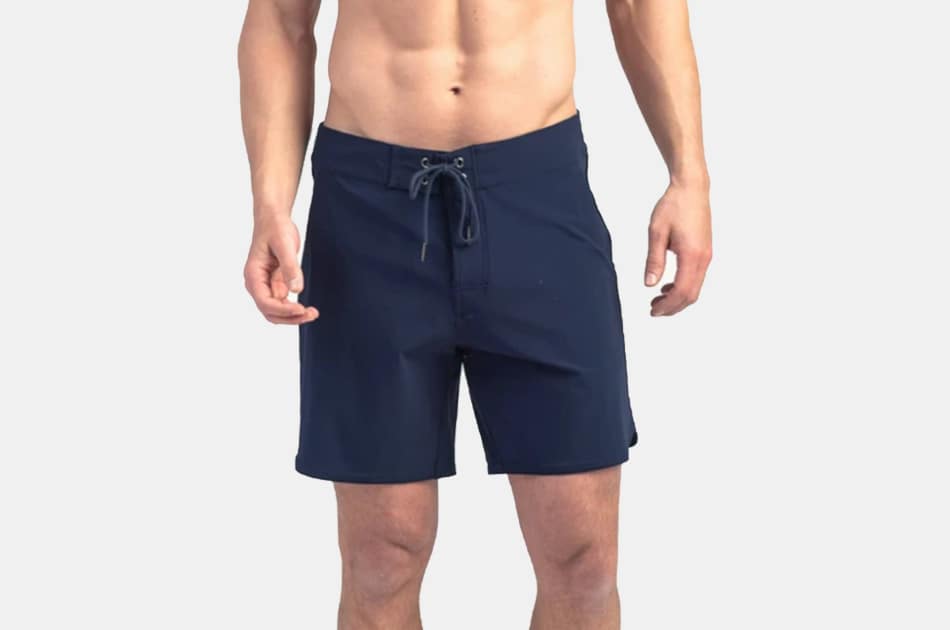 Rhone 7" Board Short
Anytime we're looking for performance mixed with minimal style, we turn to Rhone. This is a brand that can carry you through season to season, right on into the spring and summer months as you shop the best men's swim trunks. Water-flow pockets reduce drag on your swim, and the seven-inch length is classic board short length for the modern man, with a cut and functionality that's not obtrusive – -they're designed to keep you on the beach, and in the water, all day long. Guaranteed.
Patagonia Men's Stretch Wavefarer Volley Shorts
Patagonia's heritage and commitment to sustainability nearly overshadows the fact that the brand makes some pretty darn stylish and essential gear, to boot — including some of the best men's swim trunks. The Stretch Wavefarer Volley Shorts are cut like your favorite pair of shorts using a trimmer cut than the brand's Wavefarer Boardshorts, making them a critical addition to your swim trunks rotation.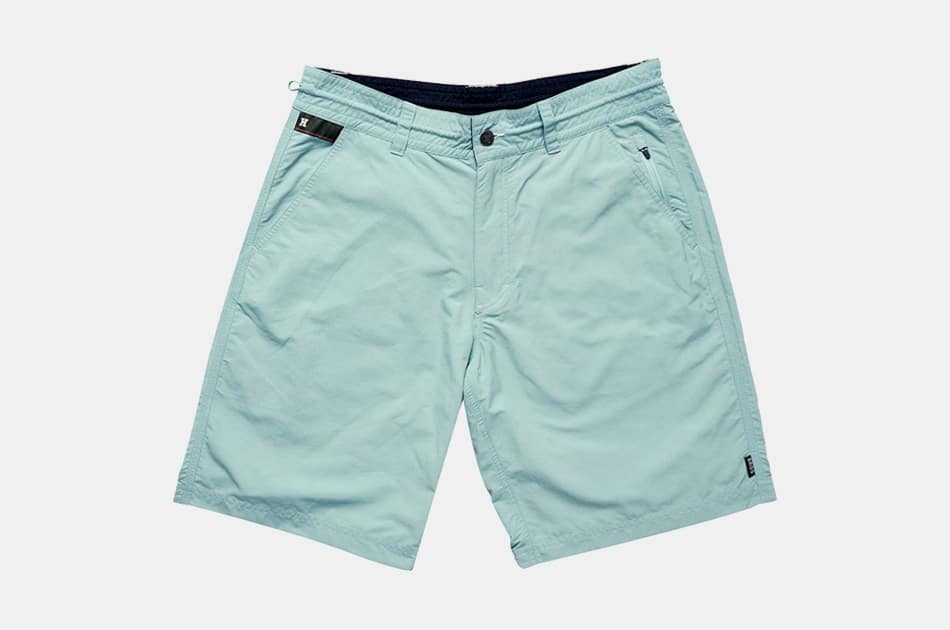 Howler Brothers Horizon 2.0 Hybrid Shorts
You likely know Howler Brothers for the brand's vintage-leaning, highly wearable snap shirts. They blend a throwback feel with slightly bold prints for the modern guy — and if you've been hunting for the perfect pair of swim trunks with which to pair 'em, we've got you sorted out. The Hybrid Short is just that — a pair of shorts that fit like slim chambray shorts, yet feature nylon ripstop construction for performance in and out of the water. Too good to be true? Buy them and see for yourself.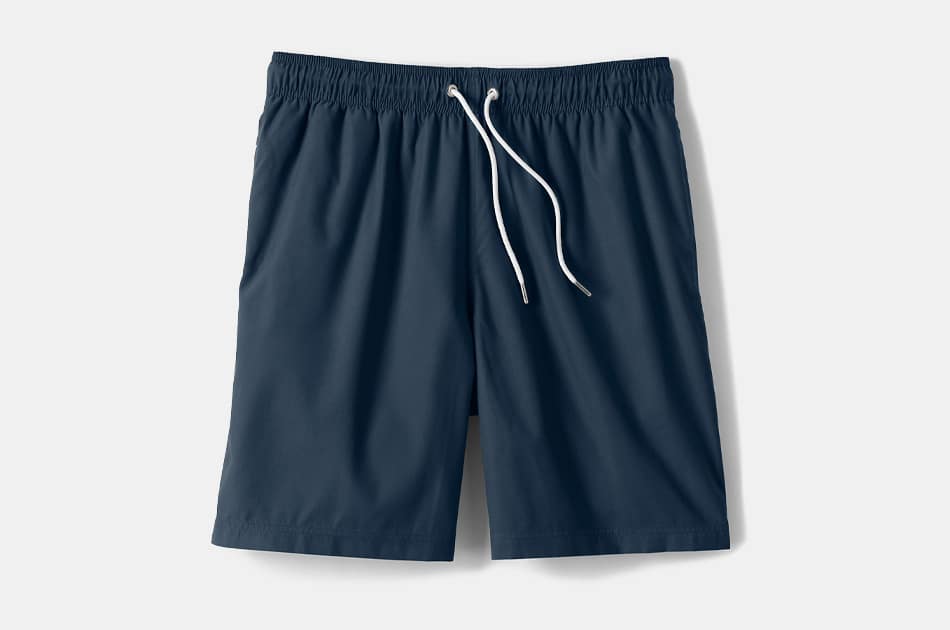 Land's End 8″ Solid Volley Swim Trunks
We turn now to a classic American brand to deliver a classic pair of swim trunks. Cut to 8 inches for the taller among us – or for those who don't want to leave too much leg exposed to the sun, these are the easygoing swim trunks your next beach vacation needs. And if you happen to live in a warm climate, all the better – you can wear these all year-round in that case.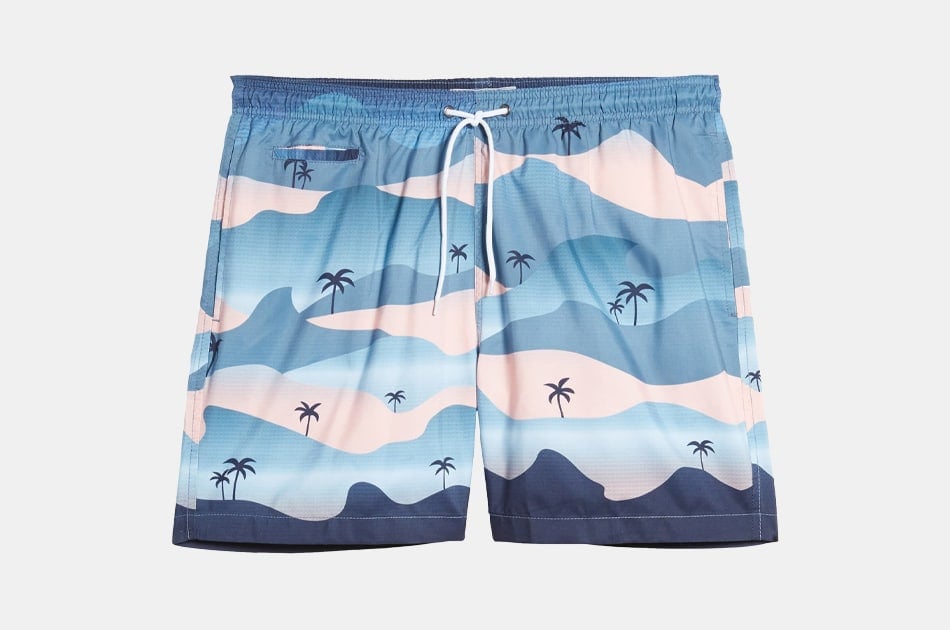 Trunks Surf & Swim Co. Swim Trunks
Heading to the beach or the pool should be fun moreso than anything, right? The sun, the sand and a cool pair of printed swim trunks from Trunks Surf & Swim Co. Swim Trunks should be on your "must-bring" list this spring and summer. The print does the talking here – pair these up with a classic white T-shirt and espadrilles when you're not in the water.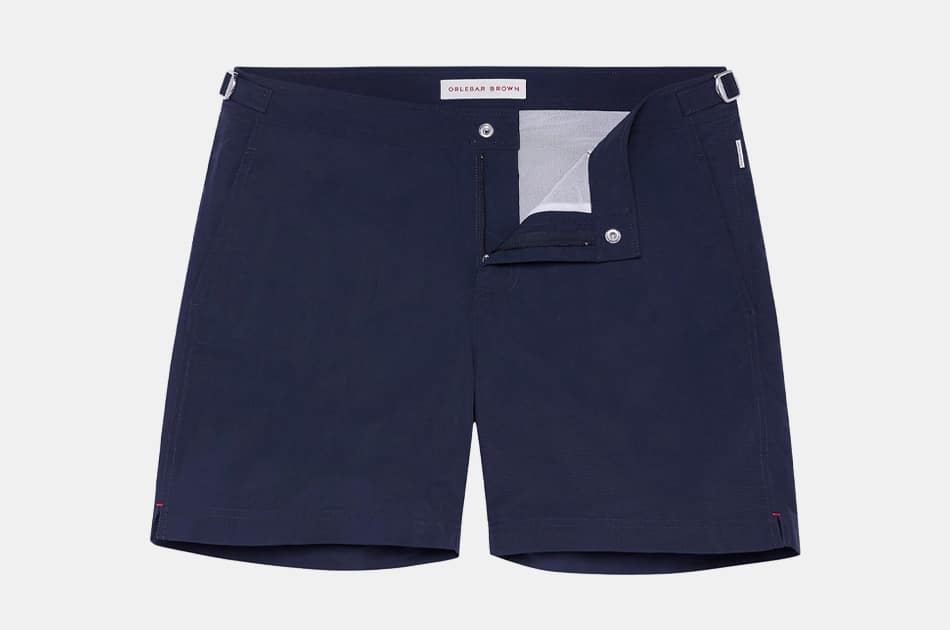 Orlebar Brown Bulldog Swim Short
Even after five-plus decades in the spotlight, there's not quite a style icon like James Bond. That's why it makes perfect sense to reach for the very style of swim shorts that the iconic character rocked in Skyfall. Orlebar Brown plays off its excellent heritage with a pair of swim trunks that combine tailored principles — like side tabs and side-angle front pockets — with quality construction you'd expect from an top-notch brand. These are the dressiest pair of swim trunks that money can buy, and they're worth every penny.
The Normal Brand Normal Trunks
The Normal Brand delivers on its promise to guys like us – normal, stylish, good-looking gear that truly won't break the bank. You can wear the brand's excellent shirting to a laidback beach dinner, you can bundle up with a zip hoodie around the bonfire … and during the day, you should be wearing the very aptly named Normal Trunks for all-day style and comfort, no questions asked.
Disclosure: Clicking on these links and making a purchase may earn us a small referral fee, at no extra cost to you. Learn more here.
freestar.config.enabled_slots.push({ placementName: "gearmoose_leaderboard_btf", slotId: "gearmoose_leaderboard_btf" });