The 25 Best Men's Swim Trunks
Heading to the beach or pool is now a time that's no longer an afterthought. That is, it's no longer an excuse to look sloppy — that starts with wearing a better T-shirt (try a slim V-neck tee, for starters), and it rolls right on through to the most important part of the equation. Namely, we're talking stylish swim trunks that help, not hurt, your sense of style — or at the very least, serve a utilitarian function for surfing or swimming.
There are brands that offer up tried-and-true takes on the swim trunk, there are picks here that offer maximum coverage and functionality for water sports, and there are swim trunks that just look plain stylish — never a bad thing, even when off-land. In fact, the most stylish swim trunks should probably wear a bit more like shorts — that is, cut to look great when in the water, and fit to be able to wear at a dockside meal or on the patio once your time in the water is done.
As with other style-minded ventures, our picks of the best men's swim trunks reflect a variety of price points, too. Shop on, and enjoy your time in the sun.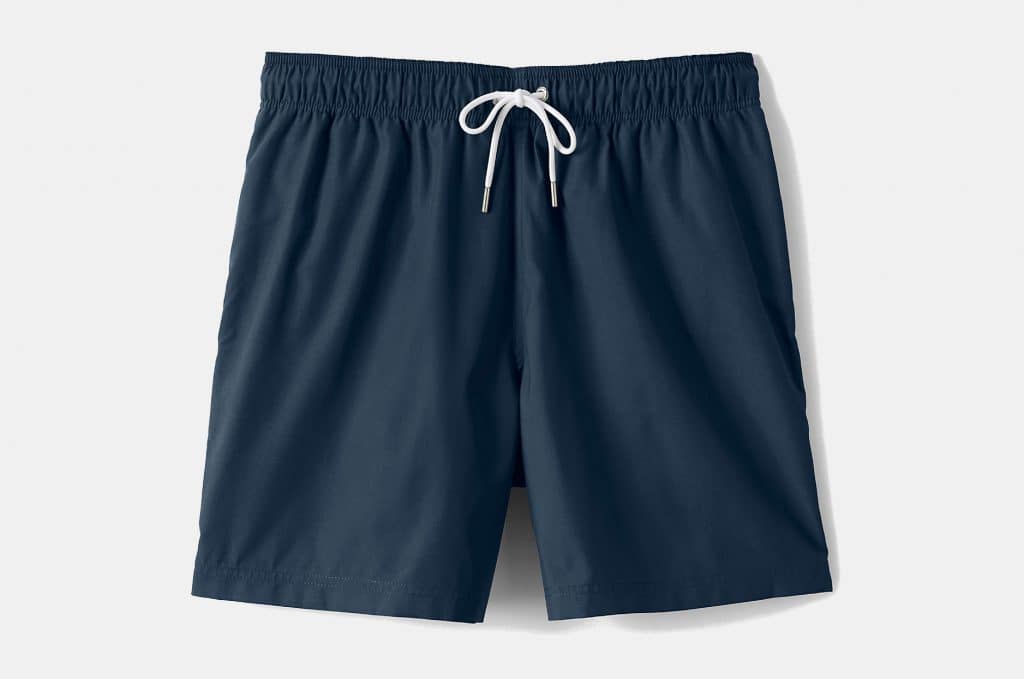 Lands' End Volley Swim Trunks
Less flash, better features. Forget the board shorts this summer. Sometimes the best swim trunks nail down the basics better than Nike's next $100 pair of micro fabric. Lands' End's Volley Swim Trunks feature a three-piece mesh liner, a fast-drying polyester construction that dries quicker than most other fabrics, and, of course, two sides and a back pocket that drain quickly in the water, and hold your valuables when you're bellying up to the bar beachside. The best part? no flashy color schemes. Only the essential solids in navy, red, …..etc.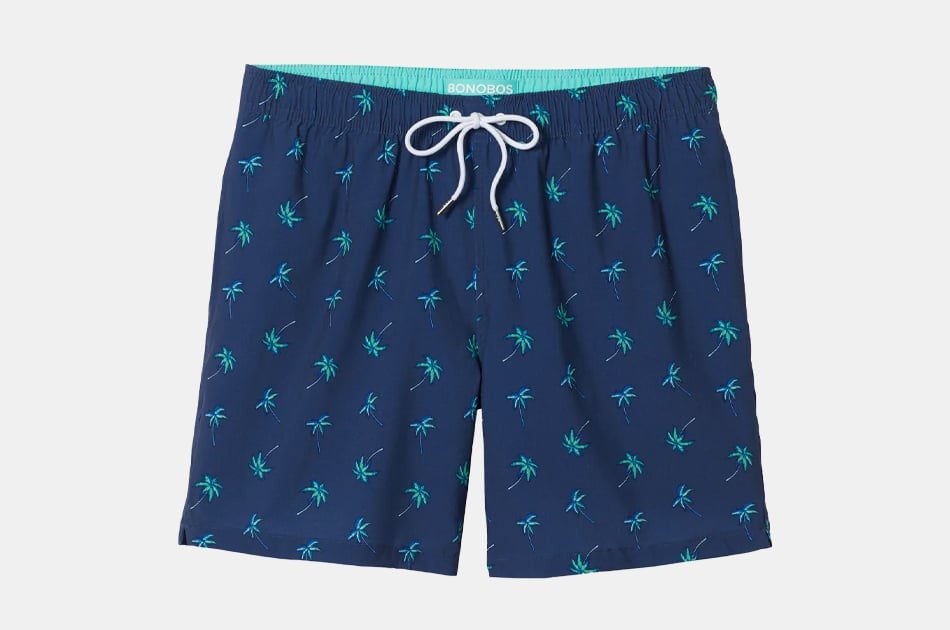 Bonobos Riviera Recycled Swim Trunks
For when it's time to step out of your slim Bonobos chinos and into something more comfortable and pool-ready this summer, you know where to go: Right back to Bonobos, of course. The lauded brand has taken the same attention to detail that makes its colorful chinos so essential, and simply translated it into a fun, easily wearable pair of swim trunks in a tailored cut. Add your own accessories (stylish sunglasses and perhaps a cold beer), then get ready to soak up the sun.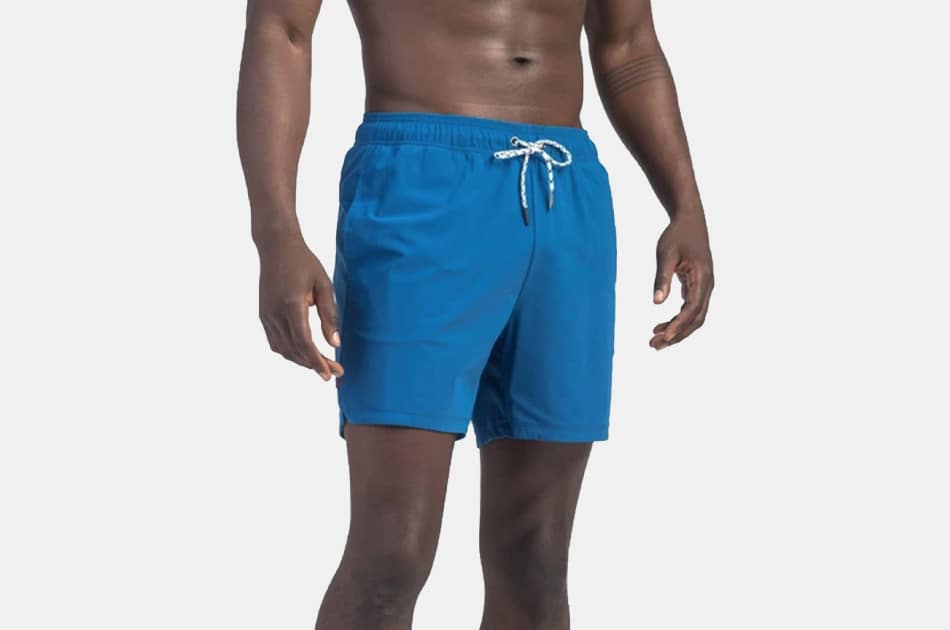 Rhone 6″ Fletcher Swim Trunks
As with other brands on this list, it's quite helpful — and these days, essential — that you can switch from one set of gear to another while keeping the same brand in your rotation. In this instance, we're talking about Rhone's stylish and functional athletic gear, complemented nicely here by some cool down-ready swim trunks in a 6-inch cut designed for a tailored look to show off your training sessions.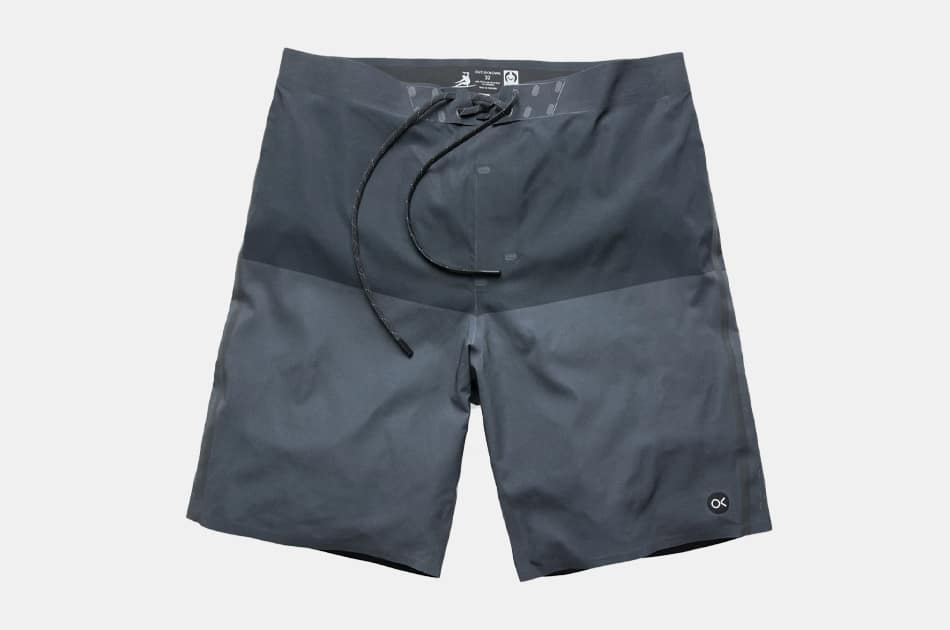 Outerknown Apex Trunks By Kelly Slater
What better place to start your search for your new favorite pair of swim trunks than with a pair crafted by none other than legendary surfer (turned fashion aficionado) Kelly Slater? Together with the help of standout designer John Moore, Slater has come up with Outerknown, a brand that consistently impresses us for its functionality, style and sustainability – we certainly think you're getting all three in spades with the Apex Trunks. Take it from the legend himself, will ya?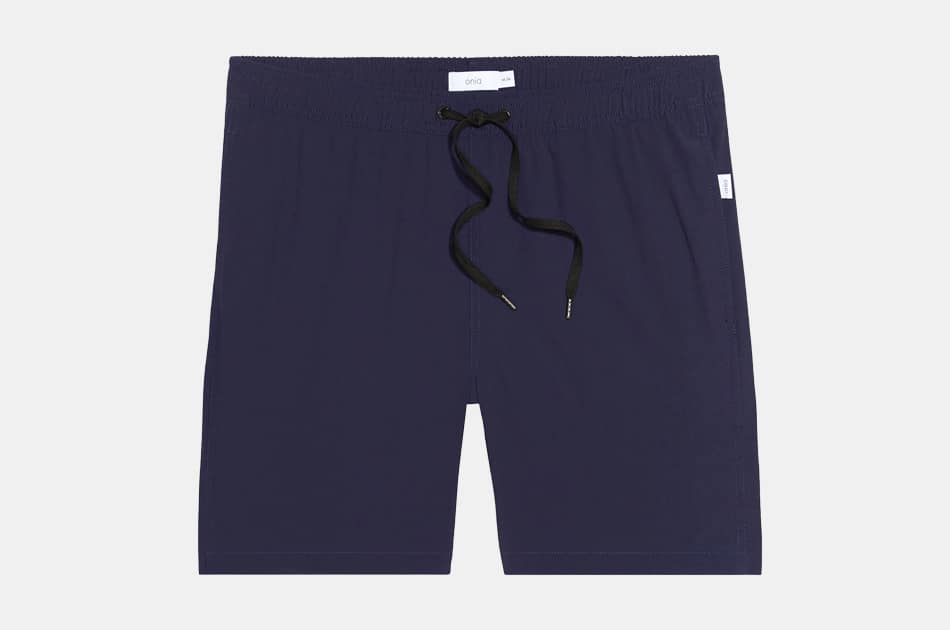 Onia Charles Swim Trunks
There are times where you need swim trunks that can take on anything, and do it reliably and stylishly. For all of those times — which tends to happen in the summer — the Onia Charles Trunks should be your go-to. In a range of solid colors and featuring an accessible price, the navy color is our favorite for teaming with a striped white tee or a red tank top. Finished with nickel hardware and made from a stretchy nylon blend, the Onia Charles Trunk is ideal and understated.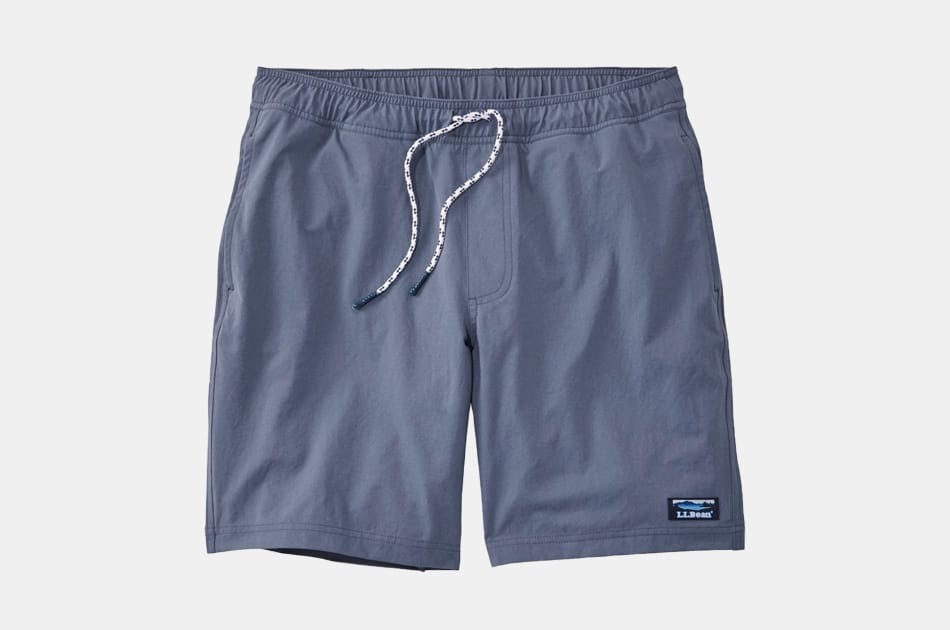 L.L. Bean Men's Vacationland Stretch Swim Trunks
That's right — L.L. Bean doesn't just specialize in making some of the best men's boots for winter. They've got a whole lineup of spring and summer style staples, including the aptly named Vacationland Stretch Swim Trunks, the ideal pair to take to your next weekend lake getaway. We love the Vintage Indigo color and the agreeable (sub-$50) price tag.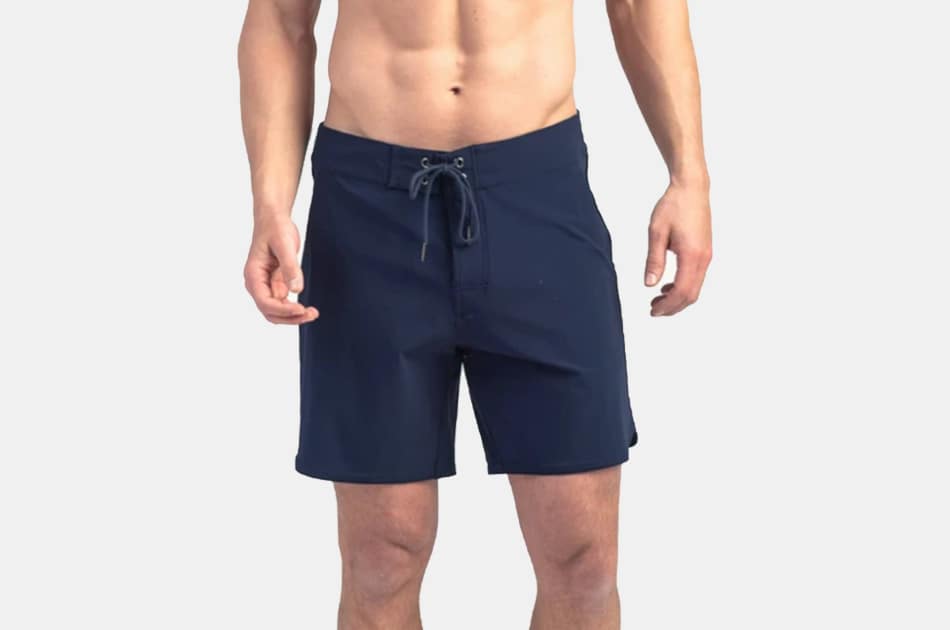 Rhone 7" Board Short
Anytime we're looking for performance mixed with minimal style, we turn to Rhone. This is a brand that can carry you through season to season, right on into the spring and summer months as you shop the best men's swim trunks. Water-flow pockets reduce drag on your swim, and the seven-inch length is classic board short length for the modern man, with a cut and functionality that's not obtrusive – -they're designed to keep you on the beach, and in the water, all day long. Guaranteed.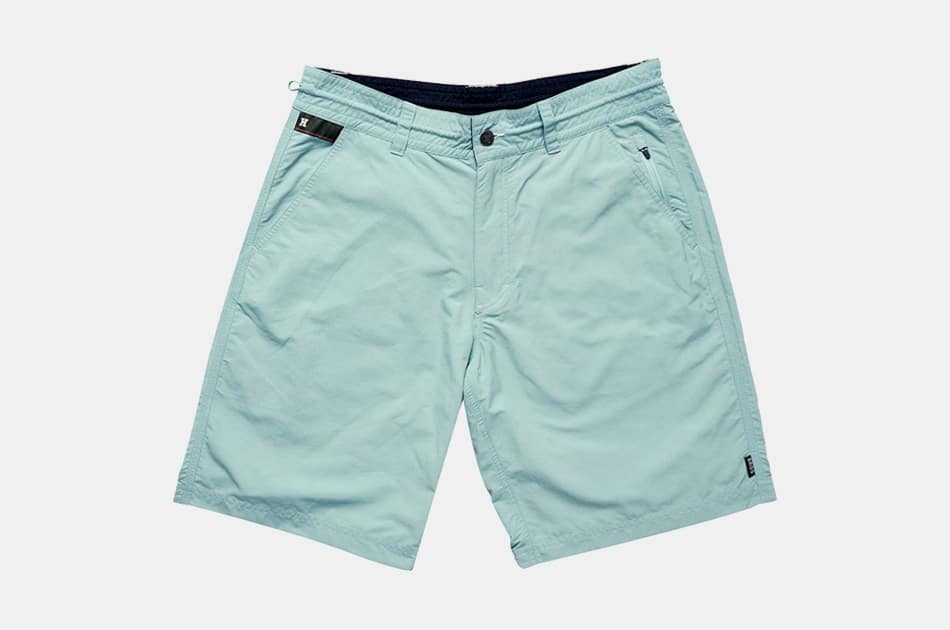 Howler Brothers Horizon 2.0 Hybrid Shorts
You likely know Howler Brothers for the brand's vintage-leaning, highly wearable snap shirts. They blend a throwback feel with slightly bold prints for the modern guy — and if you've been hunting for the perfect pair of swim trunks with which to pair 'em, we've got you sorted out. The Hybrid Short is just that — a pair of shorts that fit like slim chambray shorts, yet feature nylon ripstop construction for performance in and out of the water. Too good to be true? Buy them and see for yourself.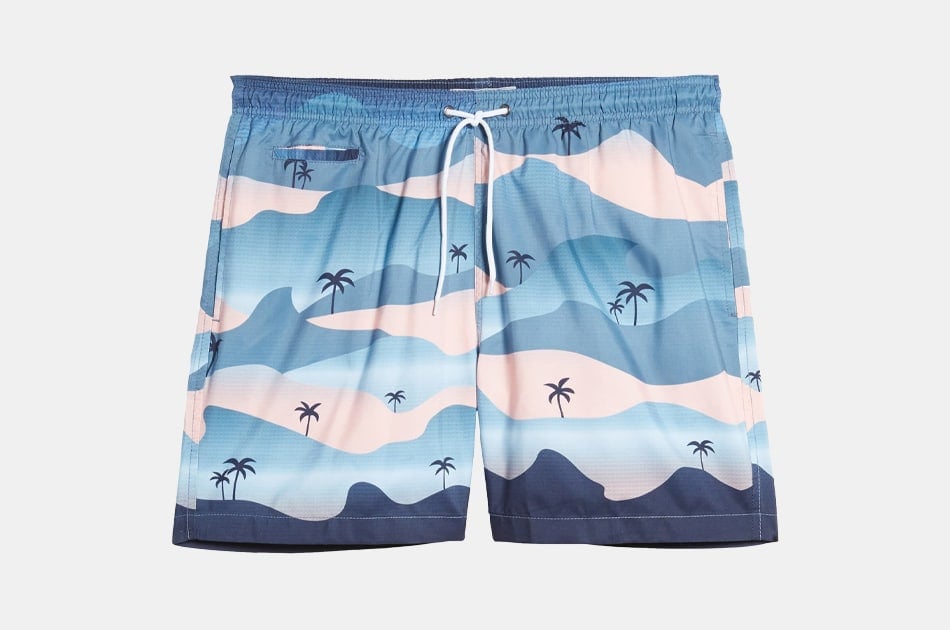 Trunks Surf & Swim Co. Swim Trunks
Heading to the beach or the pool should be fun moreso than anything, right? The sun, the sand and a cool pair of printed swim trunks from Trunks Surf & Swim Co. Swim Trunks should be on your "must-bring" list this spring and summer. The print does the talking here – pair these up with a classic white T-shirt and espadrilles when you're not in the water.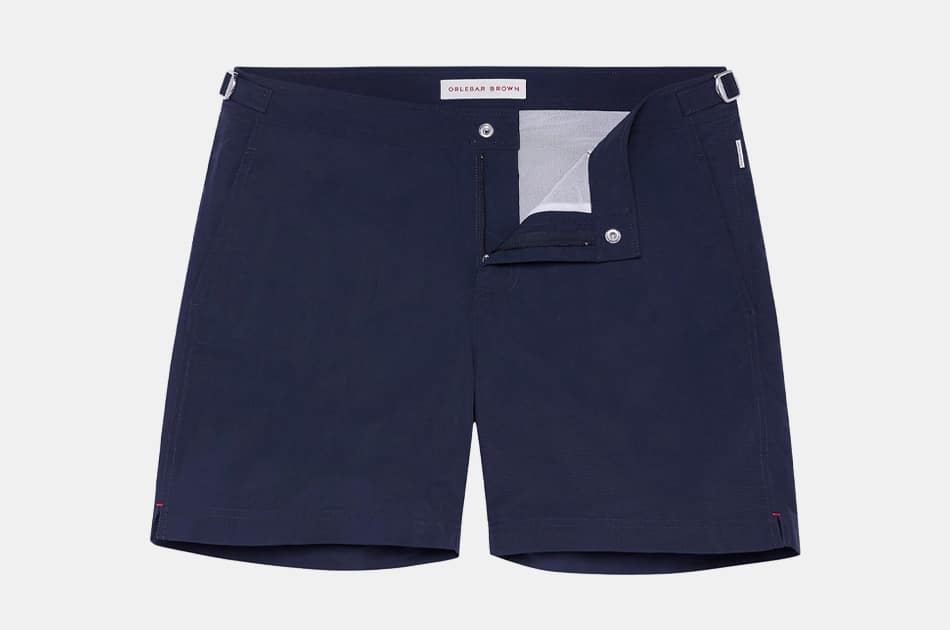 Orlebar Brown Bulldog Swim Short
Even after five-plus decades in the spotlight, there's not quite a style icon like James Bond. That's why it makes perfect sense to reach for the very style of swim shorts that the iconic character rocked in Skyfall. Orlebar Brown plays off its excellent heritage with a pair of swim trunks that combine tailored principles — like side tabs and side-angle front pockets — with quality construction you'd expect from an top-notch brand. These are the dressiest pair of swim trunks that money can buy, and they're worth every penny.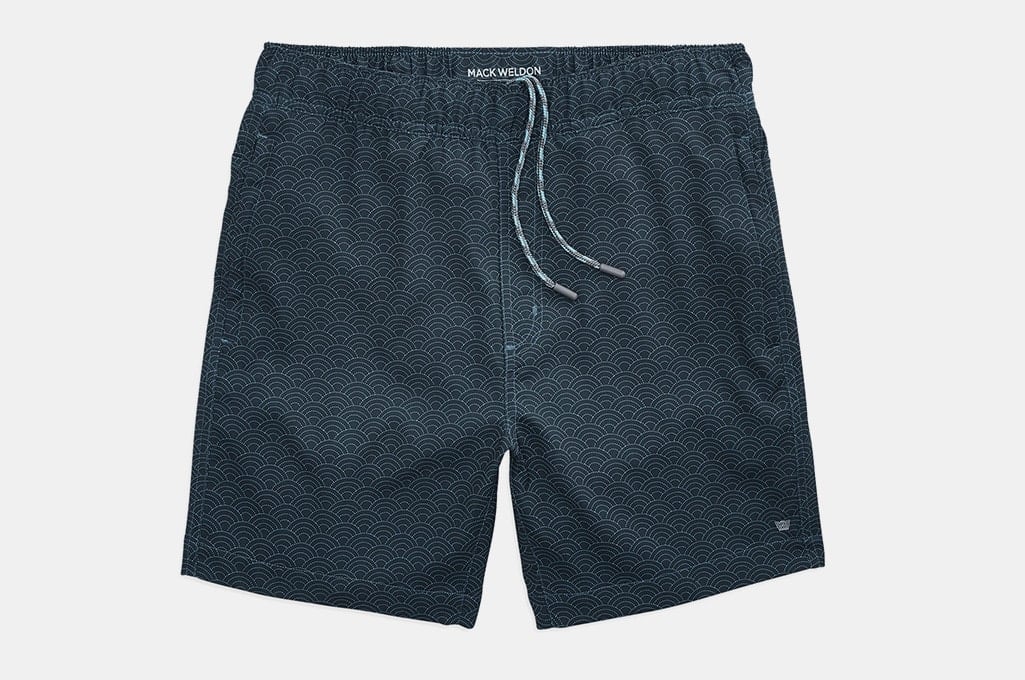 Mack Weldon Swim Trunks
Mack Weldon basics are the stuff of legend around these parts, the perfect blend of premium quality, soft performance fabrics and utility. It should come as no surprise that Mack Weldon swim trunks carry on that same lineage quite handsomely, too. These are a technically inspired pair of swim trunks made to take you into the water with the same ease as wearing Mack Weldon basics back on dry land. Stock up on both accordingly.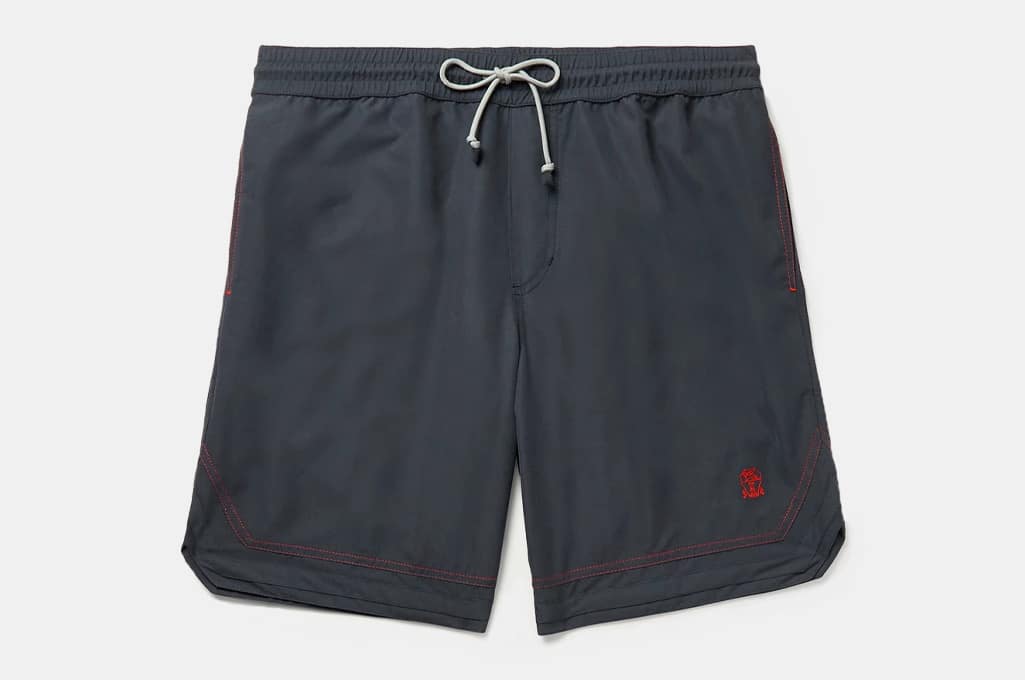 Brunello Cucinelli Swim Shorts
Who said swim shorts can't be refined and stylish, right? Gone are the days of tired swim trunks made from thin fabric, replaced instead by a pair of ultra-luxe Brunello Cucinelli Swim Shorts that are perfect for fans of the revered luxury brand. These are the perfect swim shorts to pack for a resort getaway, and they're so well-cut and well-made, you can even wear them to a patio lunch with a Brunello Cucinelli polo shirt without missing a beat. Those are swim trunks we can get on board with wearing.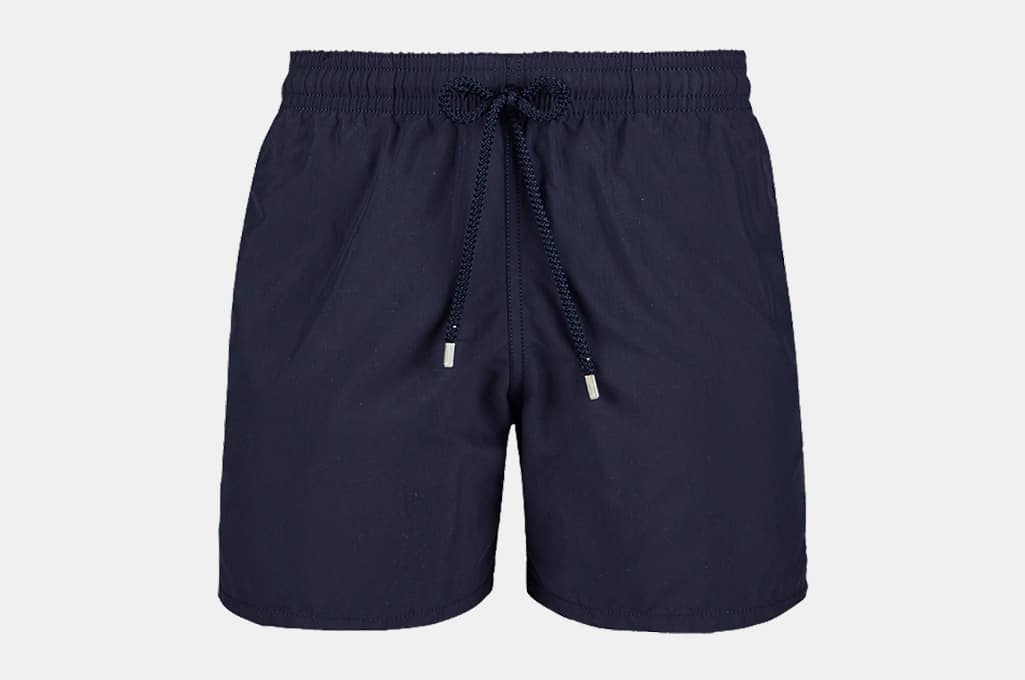 Vilebrequin Men's Solid Swim Trunks
Vilebrequin is throwing it back to the 1970s here with these premium and retro swim shorts.The cut is tailored and stylish, akin to your favorite pair of chino shorts and yet with the functionality you need for long days in the water. The quick-drying fabric and the navy color in particular are two huge bonuses in matters of both utility and style, making them truly one of the best pairs of swim shorts we've seen on the market in some time.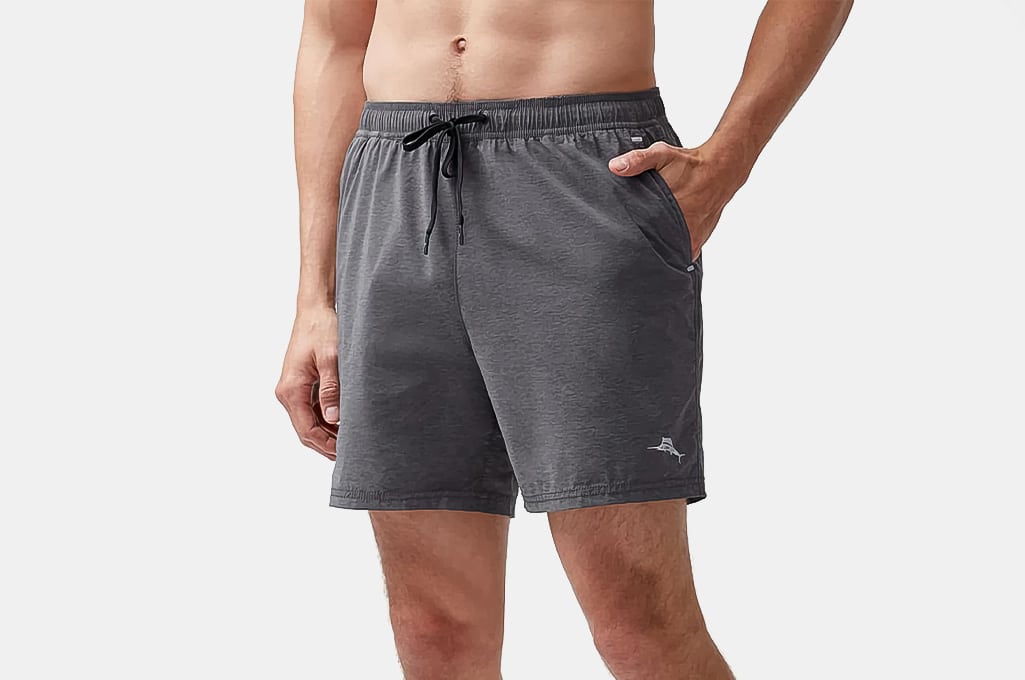 Tommy Bahama Hybrid Swim Trunks
We think we know exactly what works well when getting dressed for summer, and we think Tommy Bahama knows a thing or two about that topic — in that sense, it's fitting that the brand's Hybrid Swim Trunks are but the latest and greatest addition to your rotation of summer gear. They're made with all the quality and premium design you've come to expect from Tommy Bahama, and they pair very well with one of the brand's super-soft and stylish T-shirts, for starters.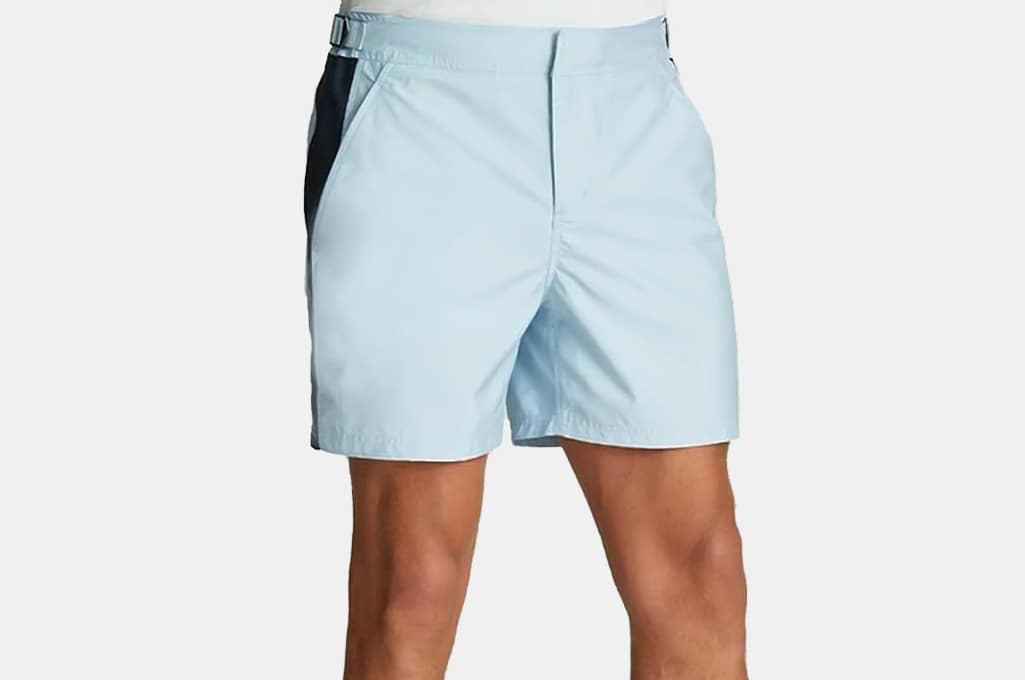 Aether Hydro Shorts
Just when you thought you were done with your Aether Apparel gear for the season (as in, the brand's durable and rugged outerwear and hard-wearing boots), the brand comes through in the clutch with the perfect pair of swim shorts for the modern man on the go. The Hydro Shorts are worth the price in every way possible, the result of meticulous research and development in a way that only Aether Apparel can commit to making work. They're your new go-to pair of swim trunks, easily.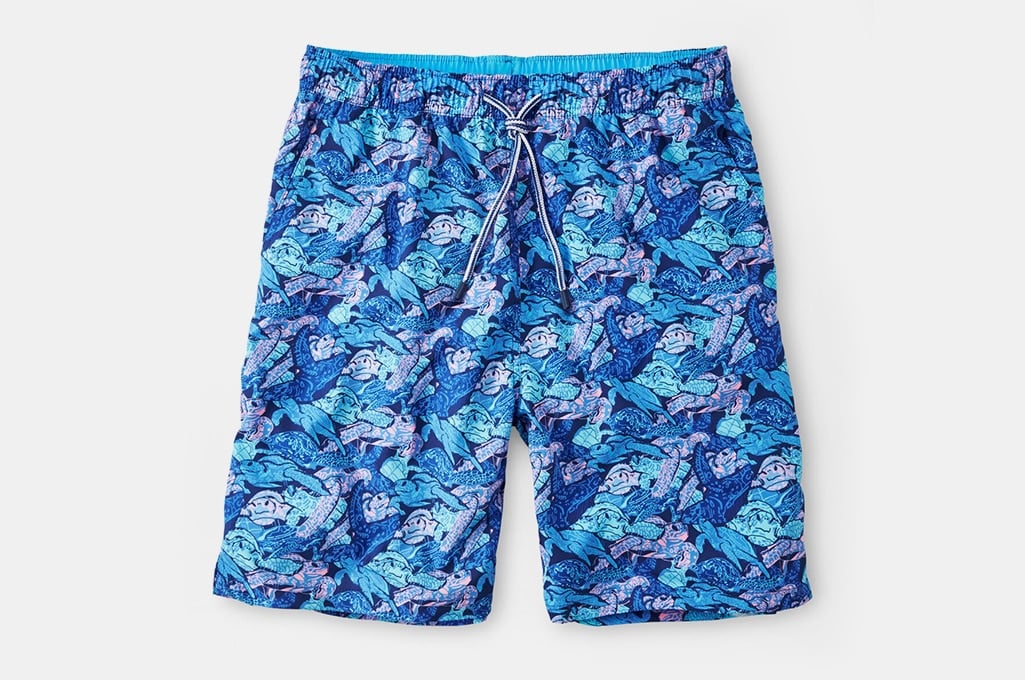 Peter Millar Swim Trunks
Peter Millar has a knack for making breezy, easygoing, and yet finely crafted warm weather style staples, the kind that look great on the course, in the water, or back in town for dinner. As far as "in the water" is concerned, the Peter Millar Swim Trunks deliver with plenty of style points and the kind of classic functionality you need in a no-nonsense pair of premium swim trunks. For your next vacation, there's a very good chance Peter Millar gear could be all you need.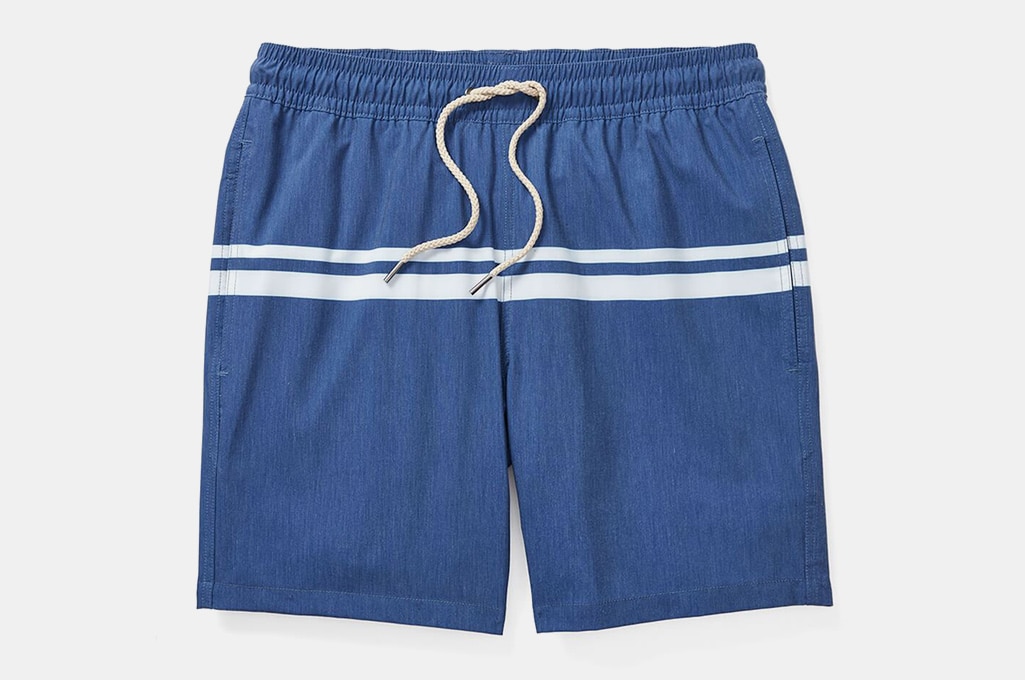 Fair Harbor Bayberry Swim Trunks
We appreciate a brand that takes sustainability and eco-conscious design as seriously as it does style, and that's what we absolutely can't help but appreciate about Fair Harbor. The brand has been making some of the best swim trunks on the market with material that incorporates recycled plastic bottles, and the range of colors and patterns in which you can get the Bayberry Swim Trunks is but another huge positive.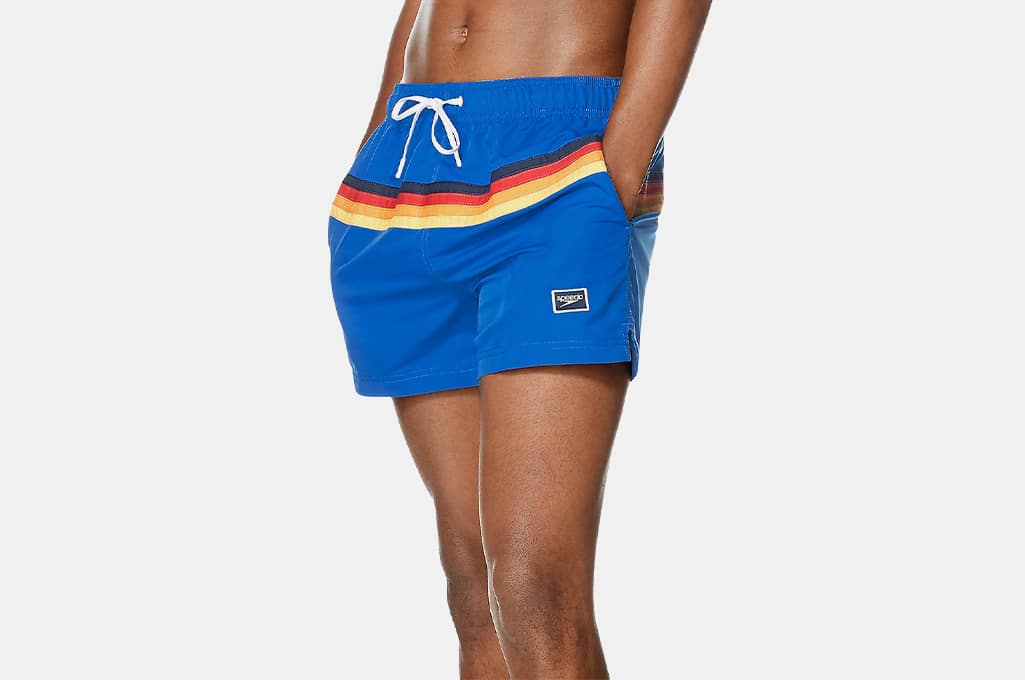 Speedo Vibe Colorblock Swim Trunks
These Speedo swim trunks certainly have a lot going for them, from the retro stripes and color combinations to the fact that they're priced more than affordably (under $50, to be exact). That makes them a can't-miss pair of swim trunks for fun in the sun and in the water, and they're an especially wise bet if you don't feel like wearing one of Speedo's shorter options (I.E. An actual speedo). They're all the better for it, as is your summer wardrobe.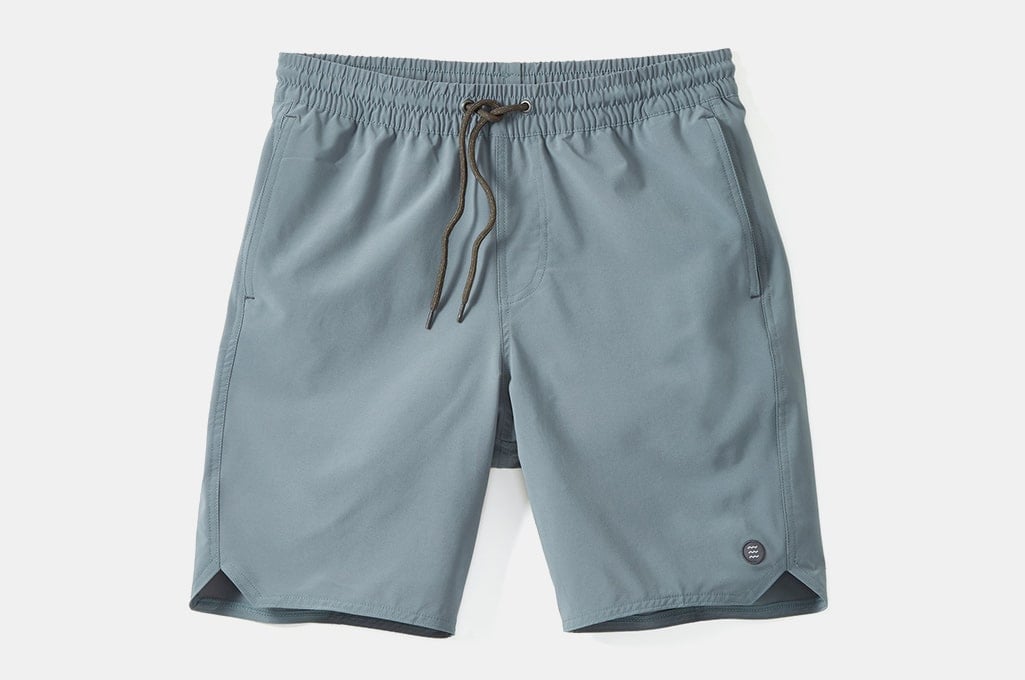 Free Fly Lined Swell Shorts
To say the least, we know we can trust Free Fly when it comes to the most dependable gear on the planet, especially the sort that functions as well in the water as the Free Fly Lined Swell Shorts. SImply designed and nicely priced for the quality and careful construction (they're made with recycled coconut husk fabric), these swim shorts are next-level when it comes to providing some serious bang for your buck.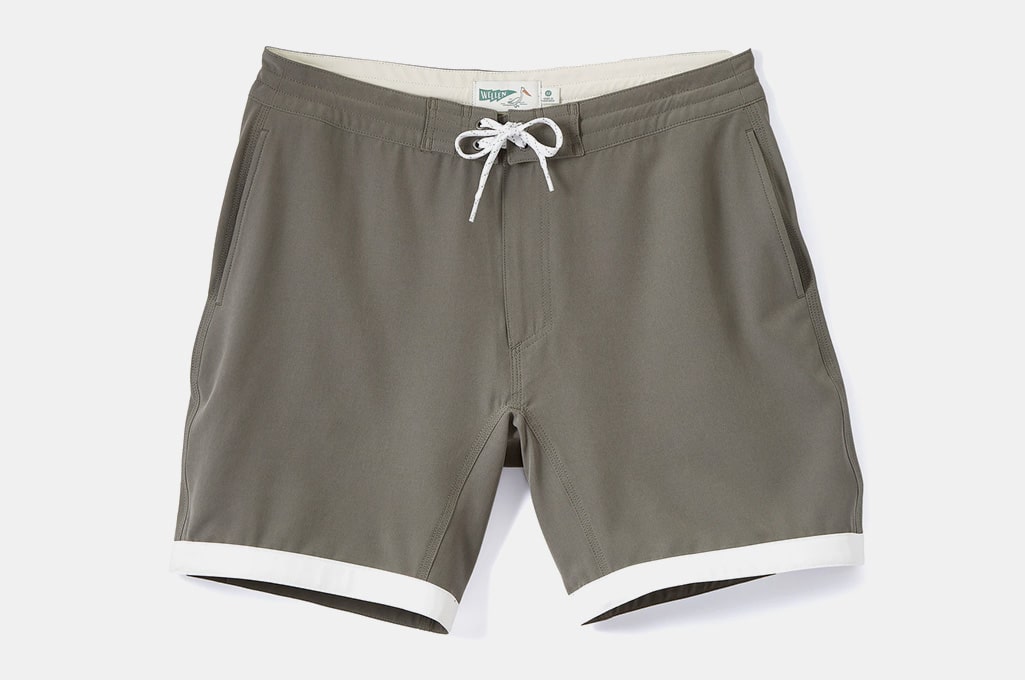 Wellen '66 Stretch Boardshort
When the surf's up, all you'll ever need is a good board and these '66 Stretch Boardshorts. Designed in the vintage fashion of the rebellious sixties, these Wellen shorts bring comfort, style, and a performance edge you'll find nowhere else. The soft-washed polyester fabric is ultra-luxurious, but it incorporates just enough spandex to give it excellent four-way stretch. Whether you're popping up on a surfboard or hitting the wake on a skimboard, these flexible shorts can handle any movement you throw at them. With their moisture-wicking and quick-drying fabric, you'll be comfortable all day long, anywhere you go.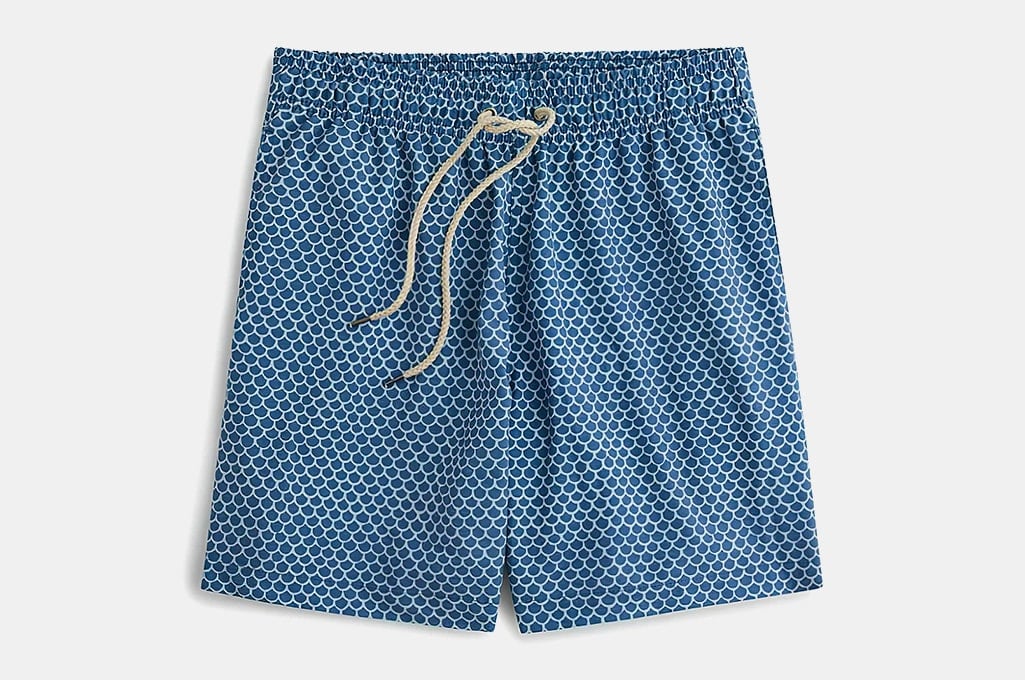 Faherty Beacon Trunk
What do you wear when you want to lounge by the pool or beach but aren't in the mood for swimming? These Faherty Beacon Trunks, that's what. Cut in the classic "swim trunk" style, they're interwoven with just enough cotton to keep them ultra-comfy and lightweight for all-day use. The vintage design looks cool when paired with a polo, tank, or tee, and you'll love how the wrinkle-free fabric keeps their stylish appearance all day long, no matter what you do.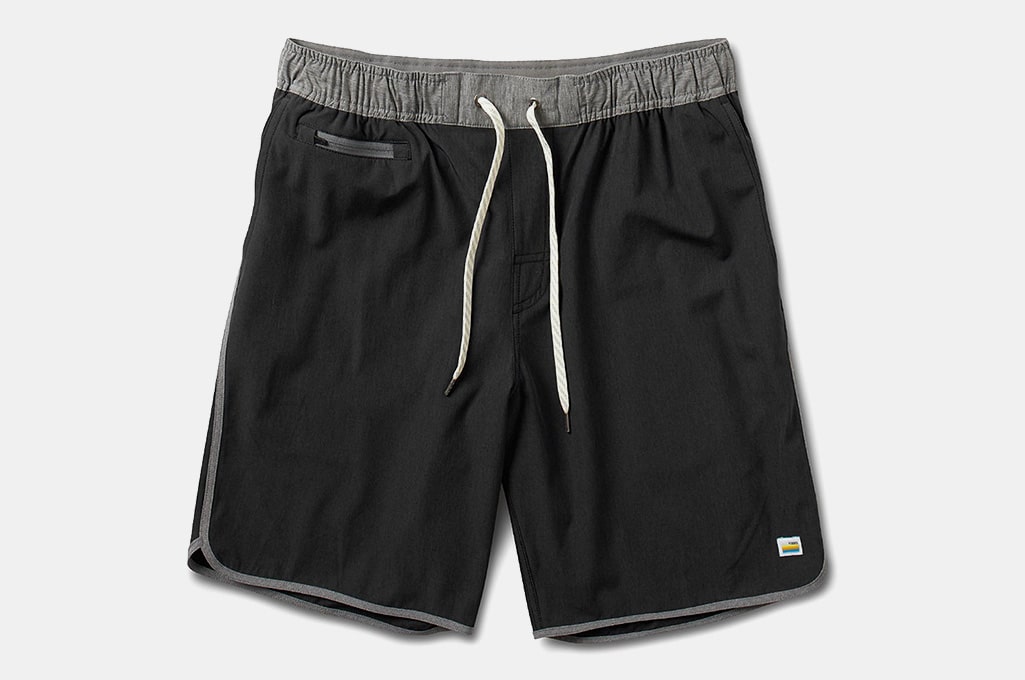 Vuori Banks Short
Athletics meets sustainability in these sleek Vuori Banks Shorts. Cut to just above the knee with the scalloped leg, perfect for runners and surfers alike, the shorts deliver excellent performance for any sport, training, or recreational activity you want to include in your summer. The mid-weight fabric makes them durable and comfortable, and you'll love the lack of lining — no bunching up your underwear while walking or running. And, if you love the planet, you'll be glad to know each pair of these Banks Shorts are made from four to five recycled plastic bottles.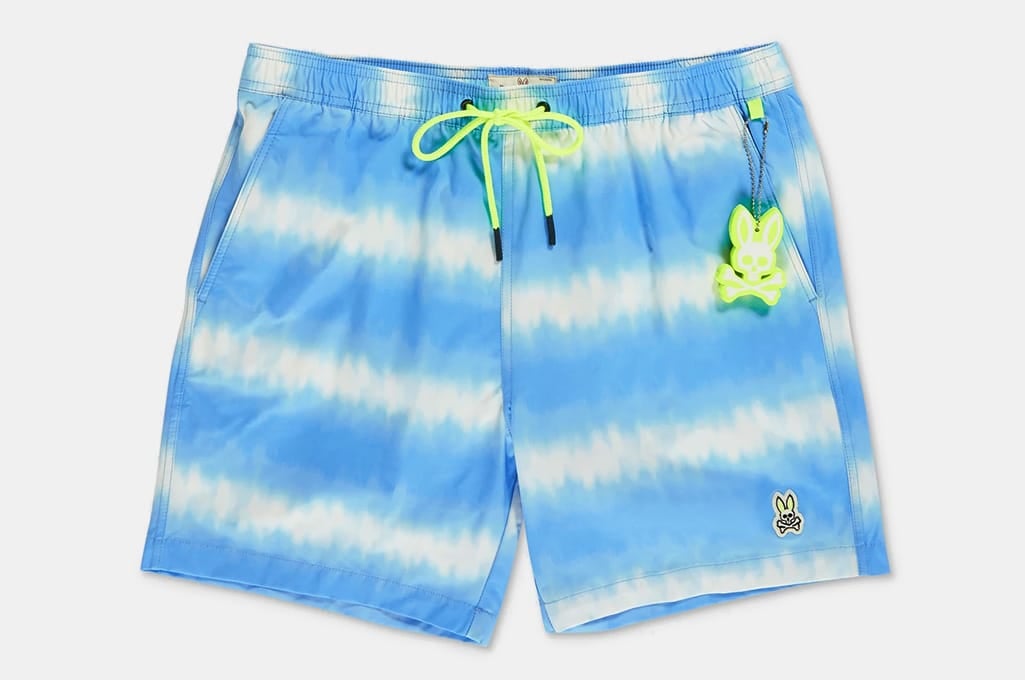 Psycho Bunny Mens Palling Swim Trunks
Stand out and be bold with these Psycho Bunny shorts. The Palling Swim Trunks come in three vibrant, eye-catching colors that pair with the "summer sky" pattern. They're fresh and funky, giving you an edge over all the guys who just wear the classic black or blue shorts. But they're not just about style — the quick-drying fabric is beautifully lightweight yet surprisingly durable, making them perfect for any summer activity. Bonus: you even get pockets to store your keys, wallet, cell phone, and credit cards.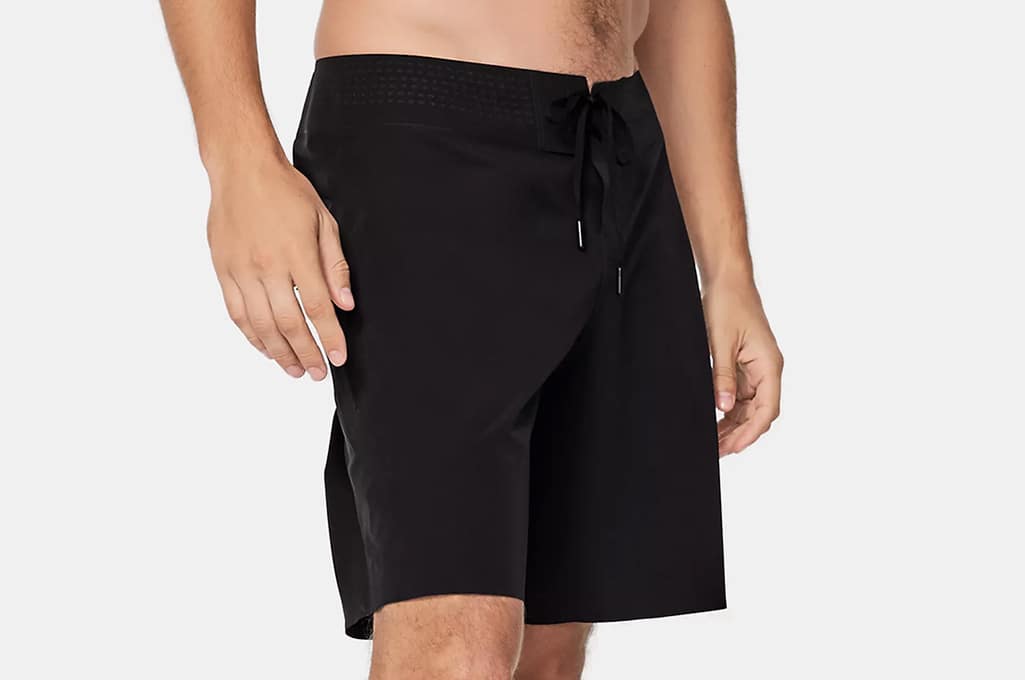 Lululemon Current State Board Short 9" Online Only
Considered a "vacation essential," the Current State Board Short is a beach runner's best friend. Lightweight, super breathable, with the stretch that makes Lululemon a winner, these nine-inch shorts are cut just above the knees for maximum comfort and versatility. The flat waistband and drawstring guarantees that the shorts will stay firmly put no matter how volatile the surf, and you'll be amazed at how the spray just rolls off the water-repellent fabric.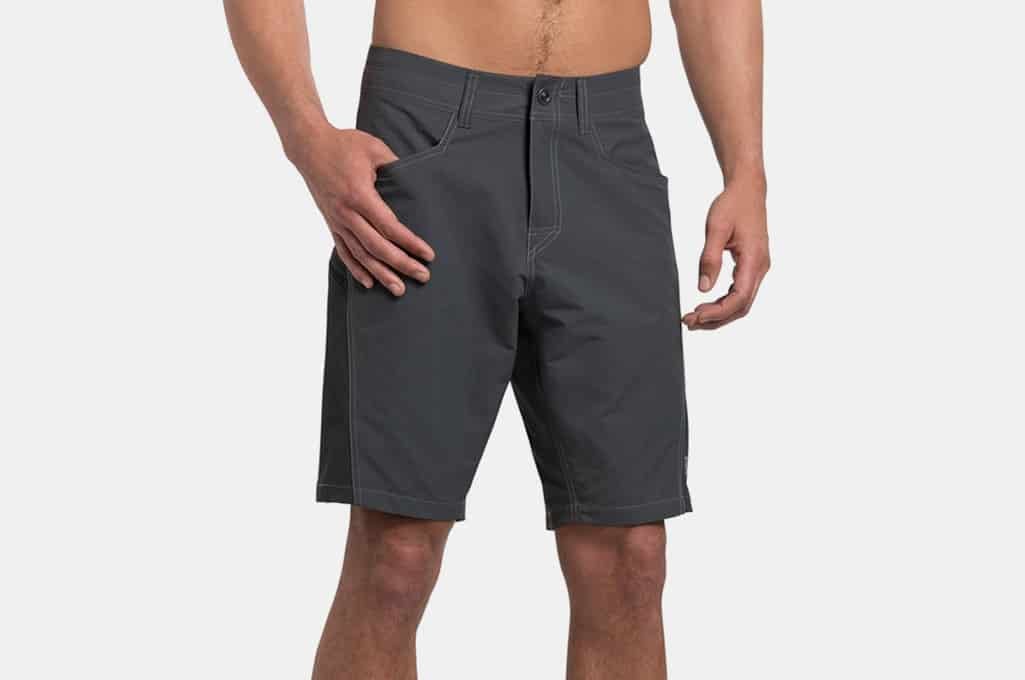 KÜHL Mutiny River Short
Get ready for hardcore durability. These KÜHL shorts are built for kayakers, surfers, whitewater rafters, and anyone else daring enough to take on water at its most powerful, and you'll love how the Mutiny River Shorts are designed to reduce chafing and friction of any kind. You even get built-in SPF50 UV protection to shield your skin on the hottest summer days.
Disclosure: Clicking on these links and making a purchase may earn us a small referral fee, at no extra cost to you. Learn more here.
freestar.config.enabled_slots.push({ placementName: "gearmoose_leaderboard_btf", slotId: "gearmoose_leaderboard_btf" });